Mum and Dad are getting frazzled in work so this weekend we are all going away to St Andrews for a break. I don't know why we are going there because its always cloudy and wet when we go. Mum and Dad were both working on Friday but since it was only going to be a few nights we didn't need to pack much into Betsy. When mum came home it was a quick turn around and soon we were in Betsy and the open road with Serious Jockin on the radio.
It was a nice drive, good weather, not many cars and it was still light by the time we crossed the Forth and got onto the smaller roads. The woman in mum's phone was up to her usual tricks, she led Betsy a merry dance all the way to a place called Leuchars! Enough was enough, Betsy decided to follow road signs and soon we were all camped up ready for the weekend. Mum phoned for Pizza to be delivered to our pitch, dad took me out to stretch our legs.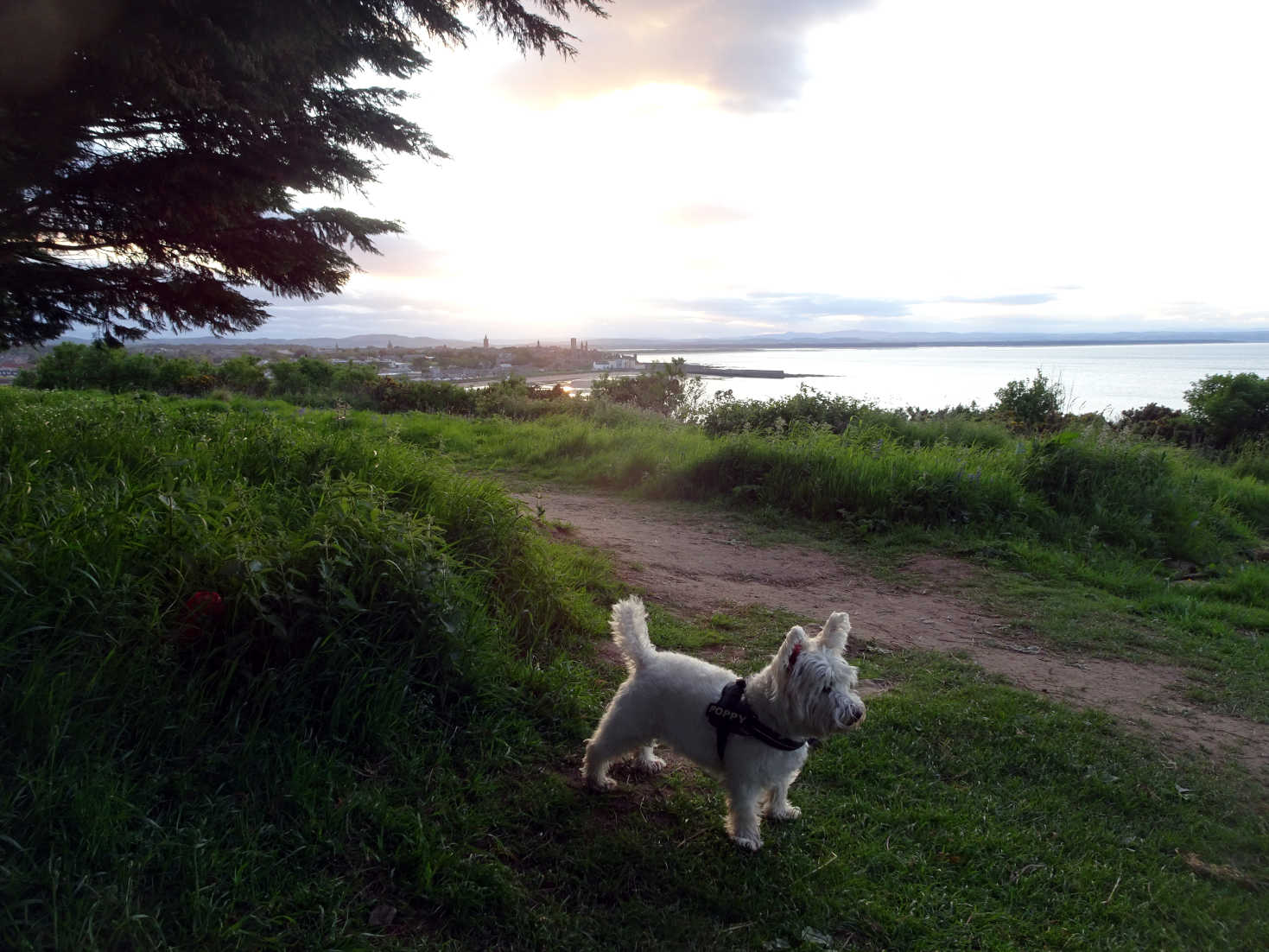 It's been a long time since we had food delivered straight to Betsy, but sure enough within twenty minutes a peoplesees chapped her door and the smell of pizza wafted in. Dad handed over a note and got two packages and coins back, what in the wee bag? Something for Poppys? " They are called Bee Stings and defiantly not for Poppys" said dad. After dinner we went out for a walk on the Fife costal path was at the bottom of the field as the sun set over St Andrews.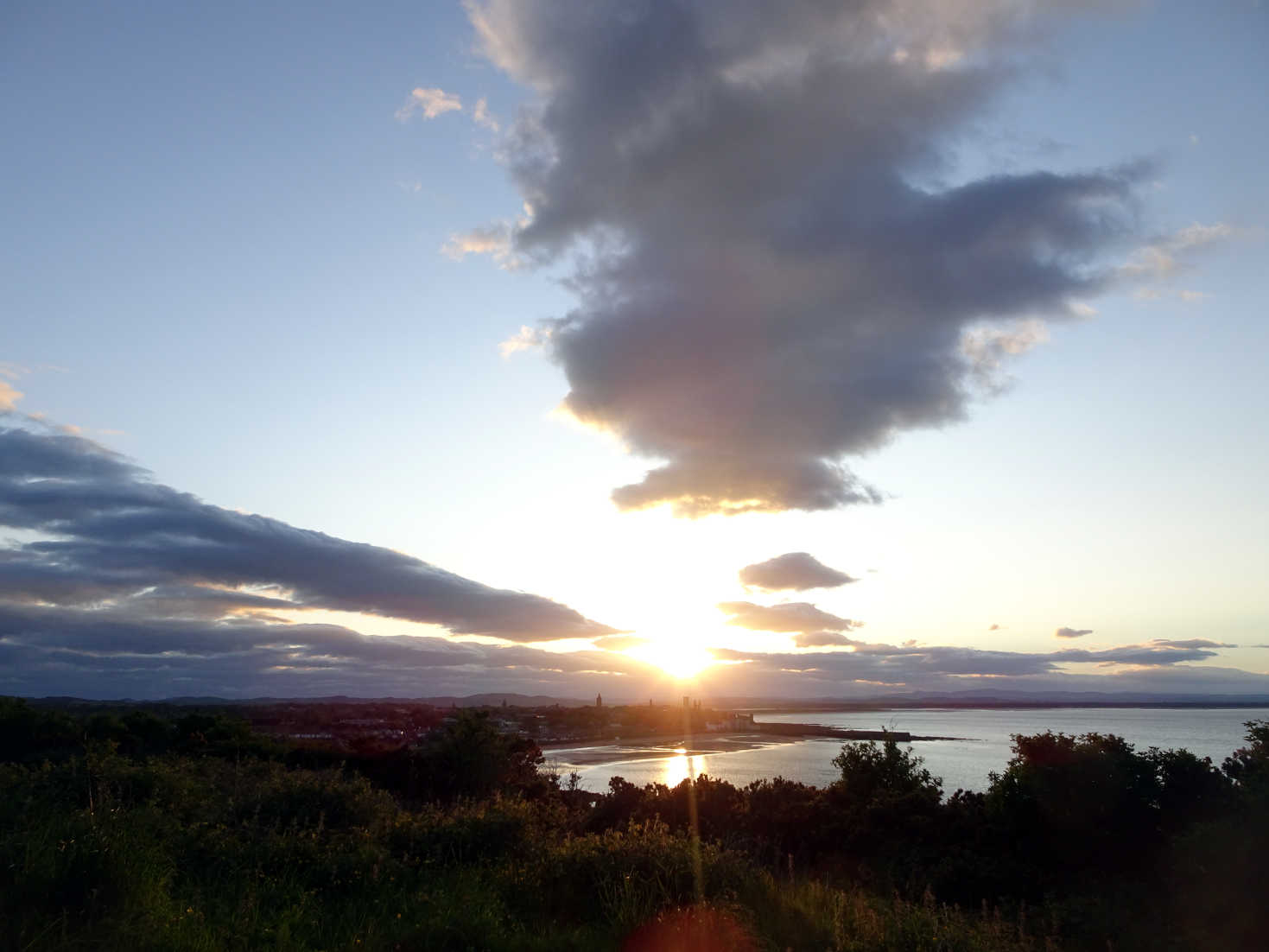 Suns Up! Breky dispatched let's go. We locked up Betsy walked to the gap in the trees that opened on the coastal path. St Andrews looks different in the morning. You can see the beach.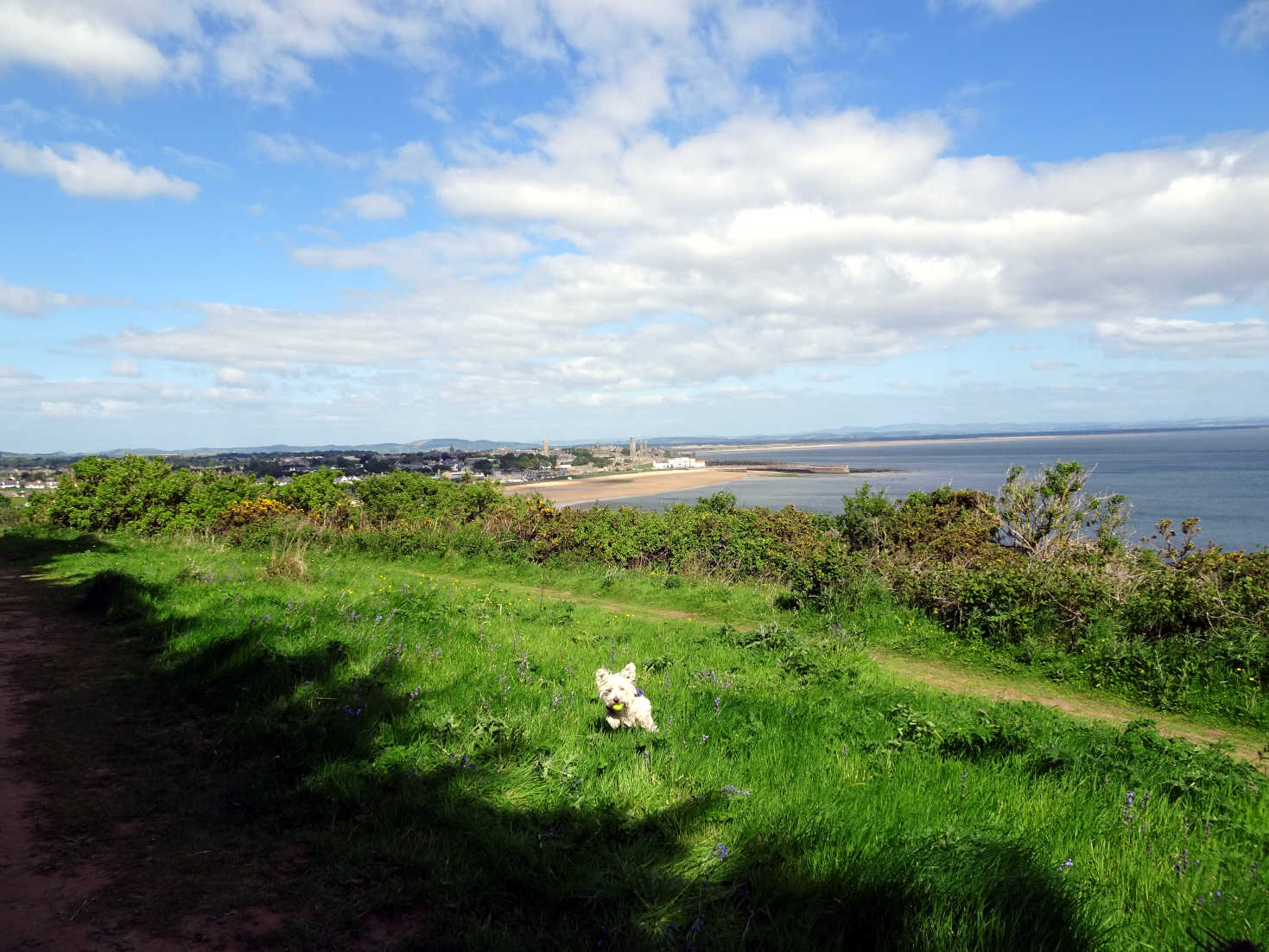 We walked along by the campsite playing ball. As the path slowly descended until we came to some steps. Steps are no place to play ball, we soon postponed the game.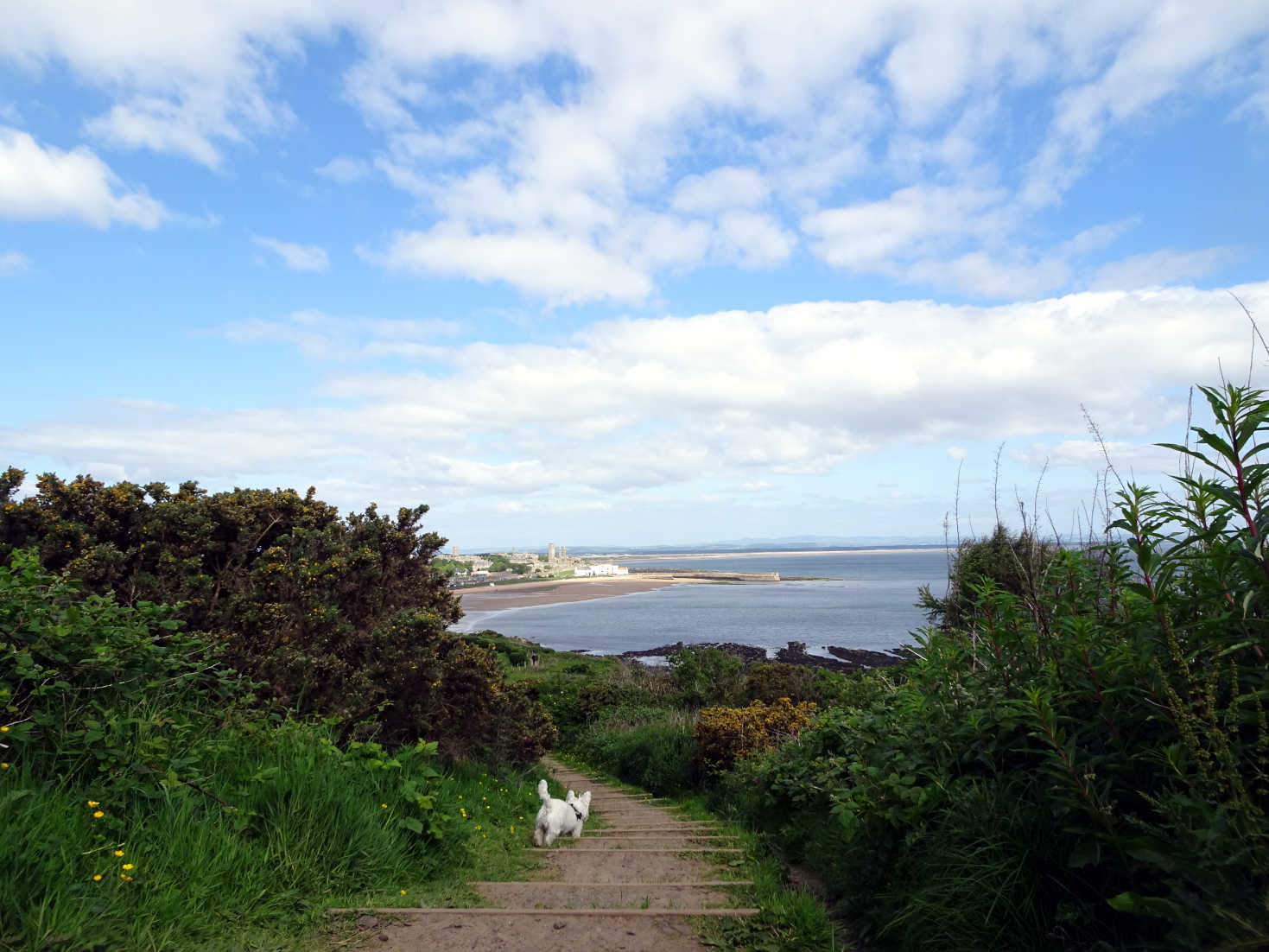 After the steps the path led us beside the mane campsite where there were lots of big caravans with balcony's. Beyond those it went down a hill to the East Beach at St Andrews. I have never been on the East Beach before it's protected more from the wind and is a great place to play ball. As we walked along it some students were going out for a swim. Not for Poppys, BALL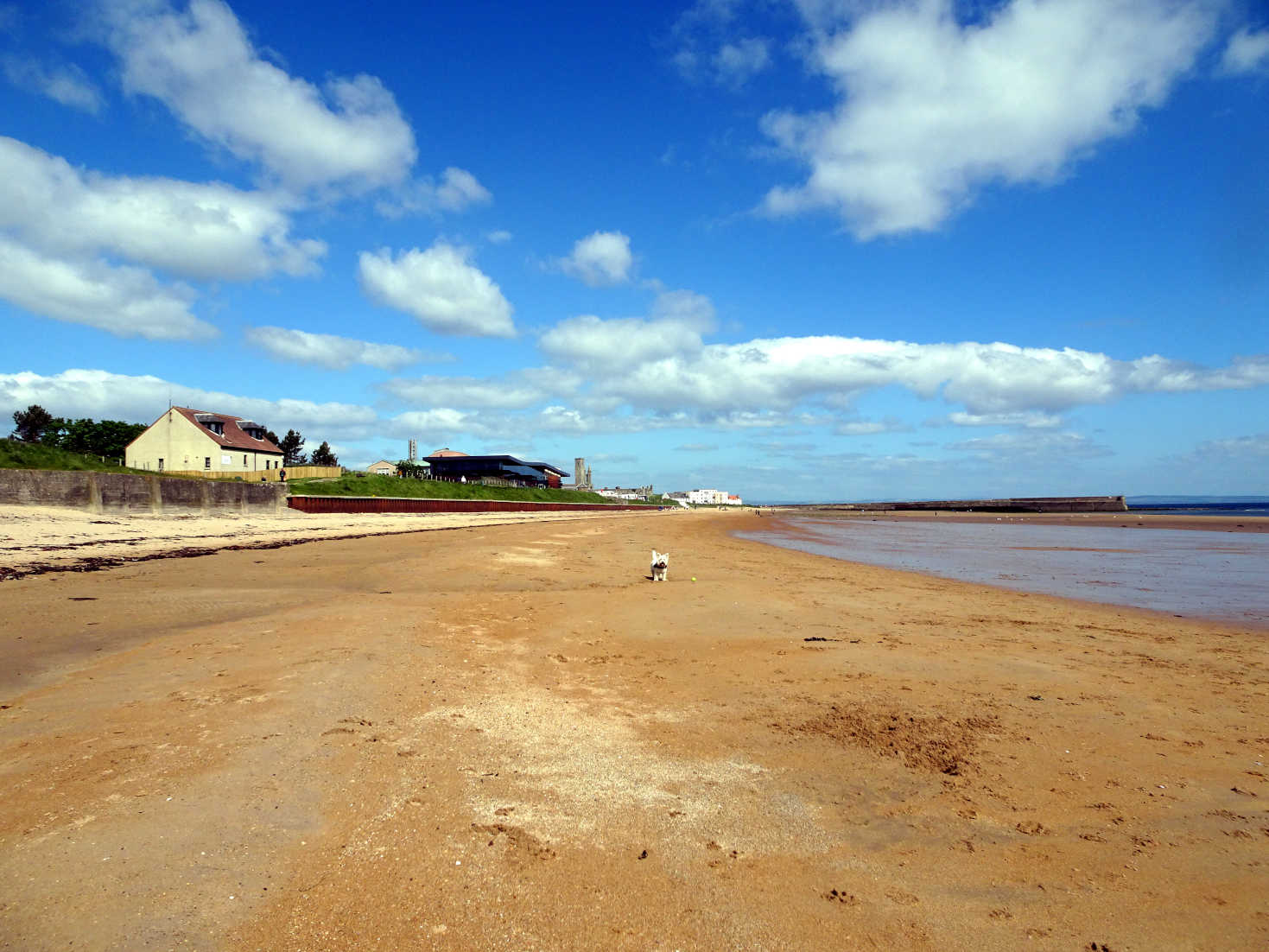 It was a nice walk along the beach at the end we came out at the harbour, I never knew St Andrews had a harbour! I crossed the small bridge by the Coffee Hut and mum and dad followed, where next?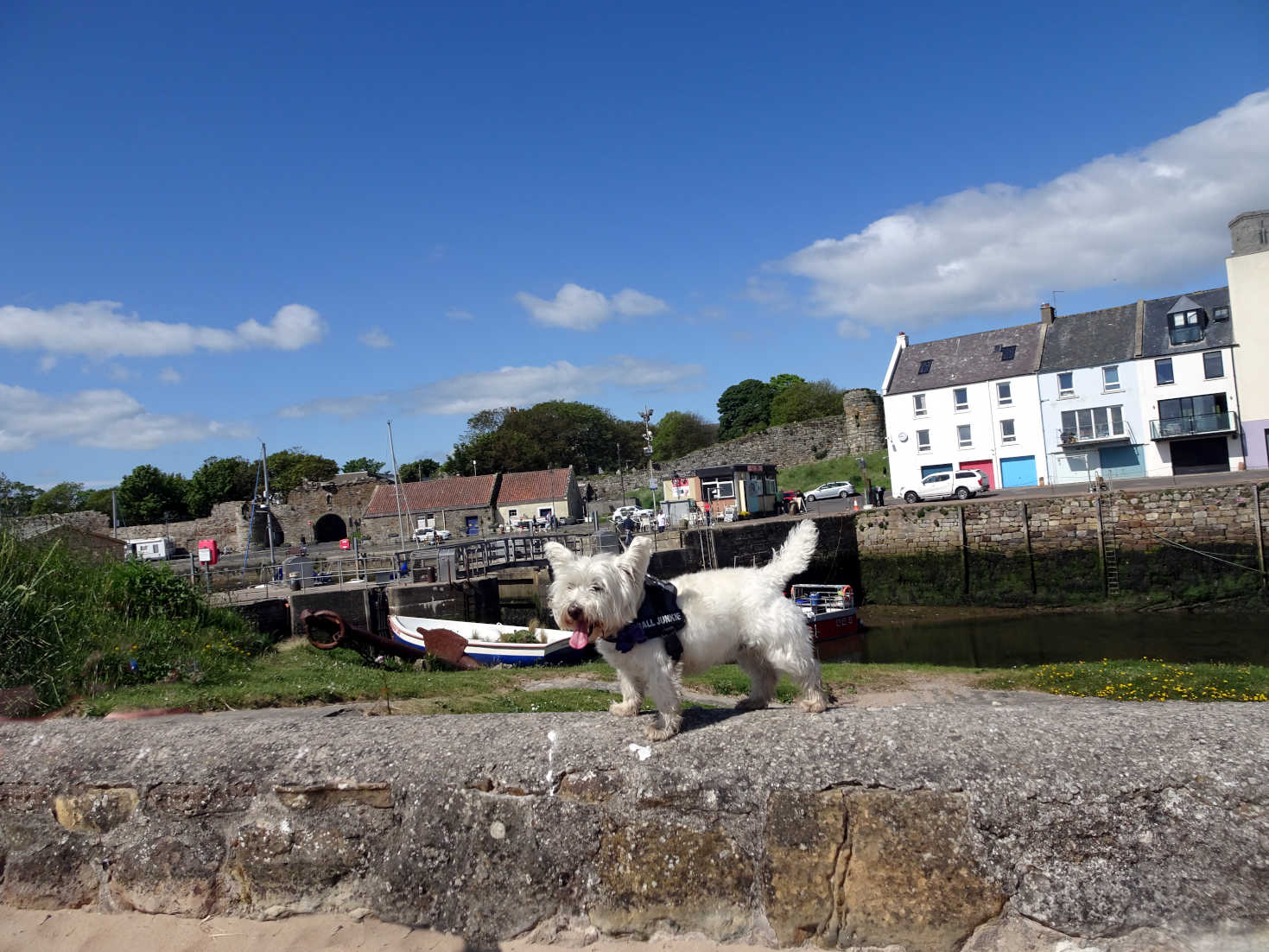 Still off leash I scampered up the hill to the Abbey, it was closed for covidsees. Dad said It was ok to be off leash because there were no cars.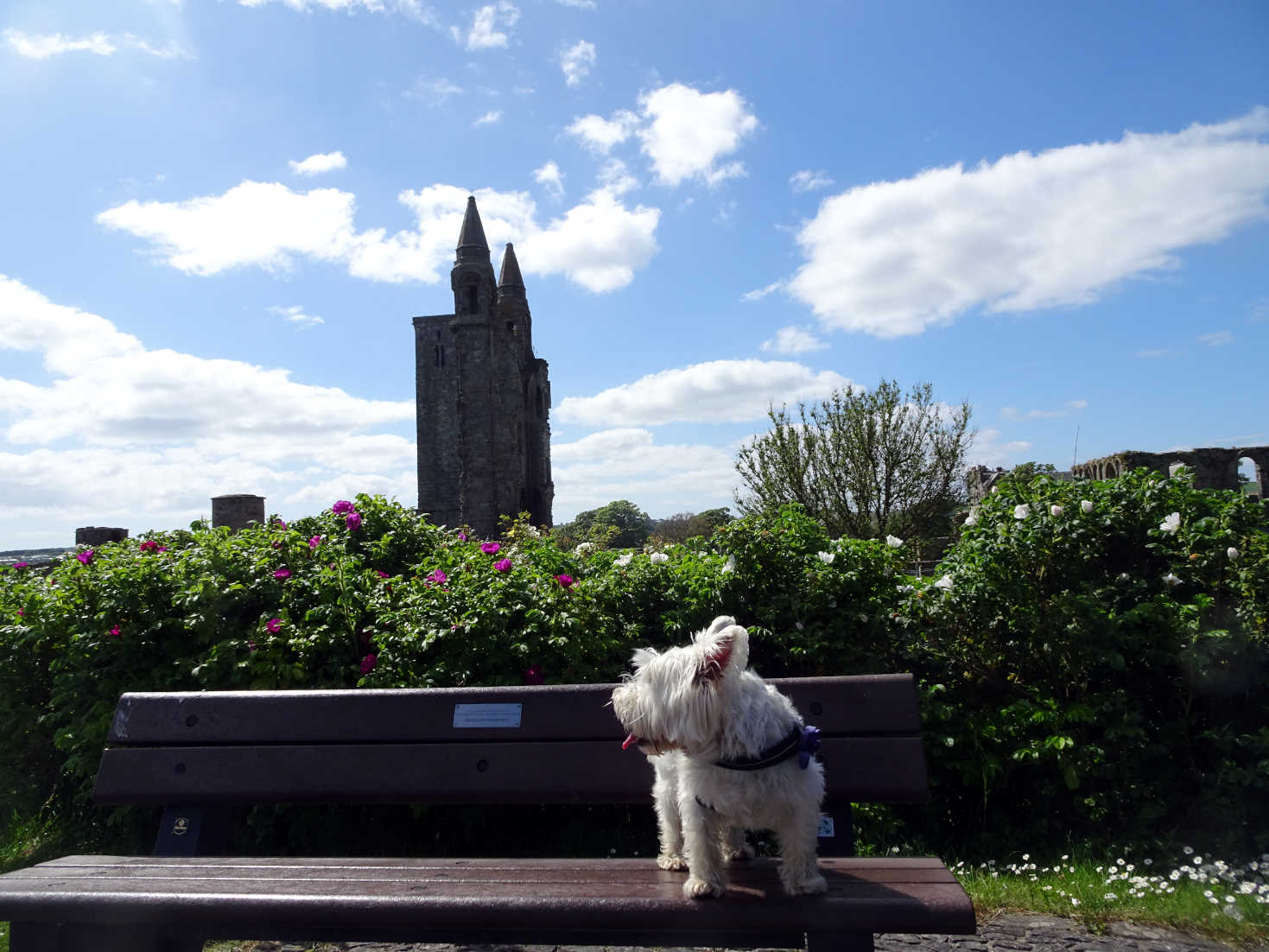 We walked a bit further playing ball along the way I got to explore lots of strange buildings.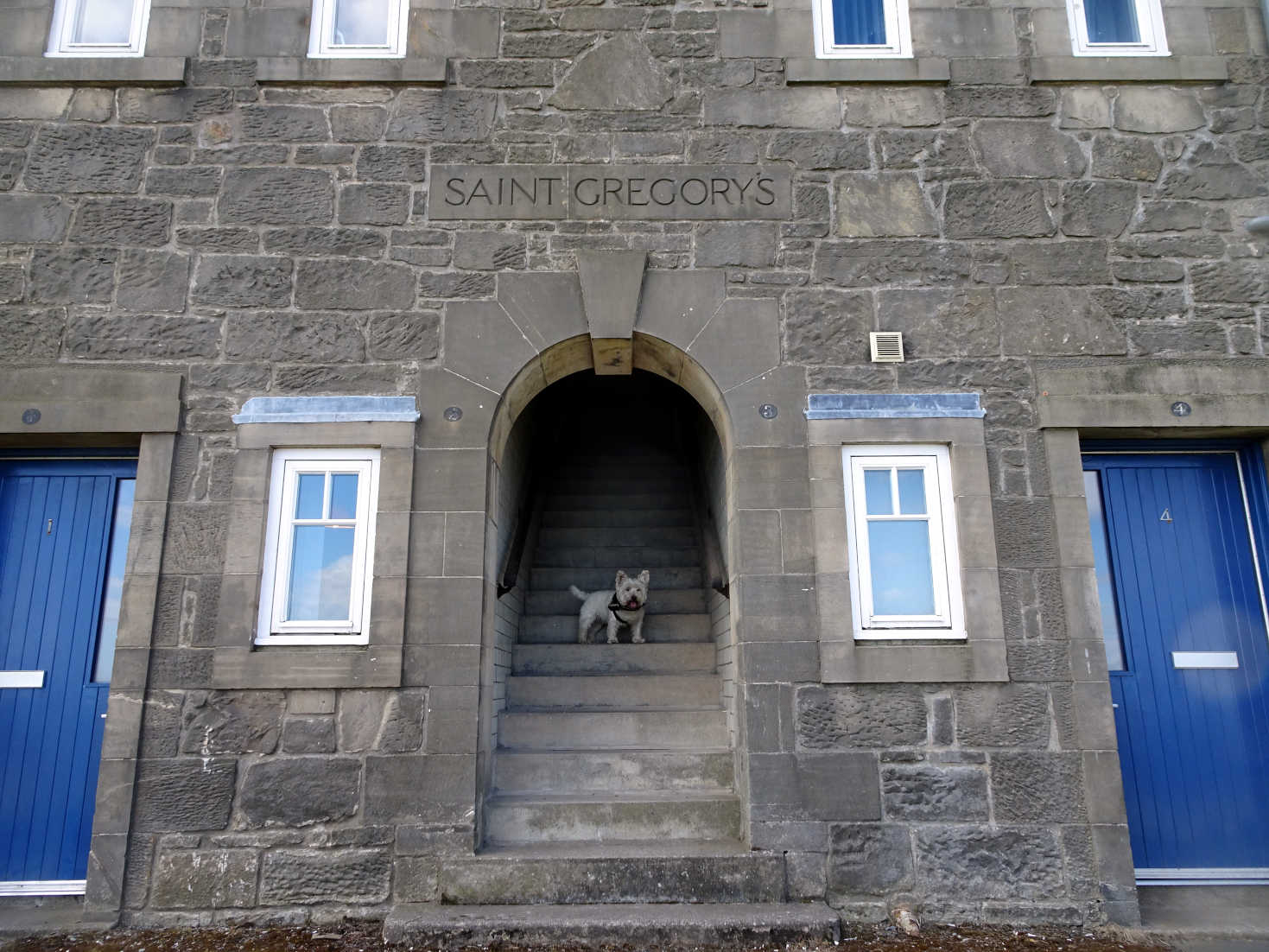 Well this is all well and good but I wanted to go to the big beach! Passing the castle and University buildings we arrived at the golf course. I had to be put on leash here because the road was very busy. Mum remembered we couldn't get to the beach from here because of the burn so we went further before heading down. The beach was odd, firstly it was sunny! Much stranger though was all the nets that were set up on it. Dad what do they hope to catch with those? "Volleyballs" said dad. Mmmm, what's a volleyball? Enough of that where's my ball?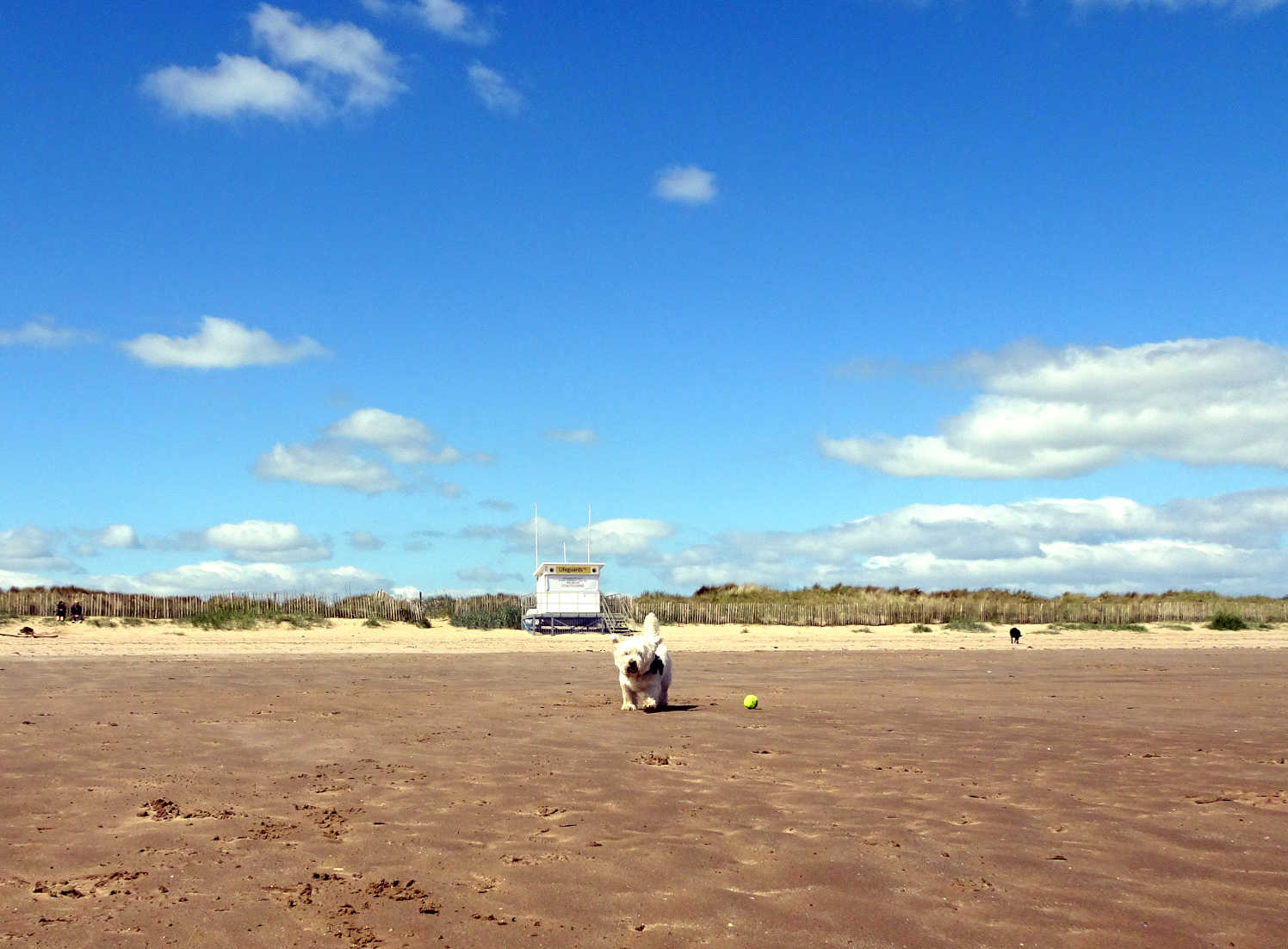 We had walked a fair way before mum said we should go back, we took a more direct rout back. On rout a big ball blew past heading for the sea, that will be a volleyball then, the peoplesees set their nets too high! I found a way over the burn and we were soon back at the golf course.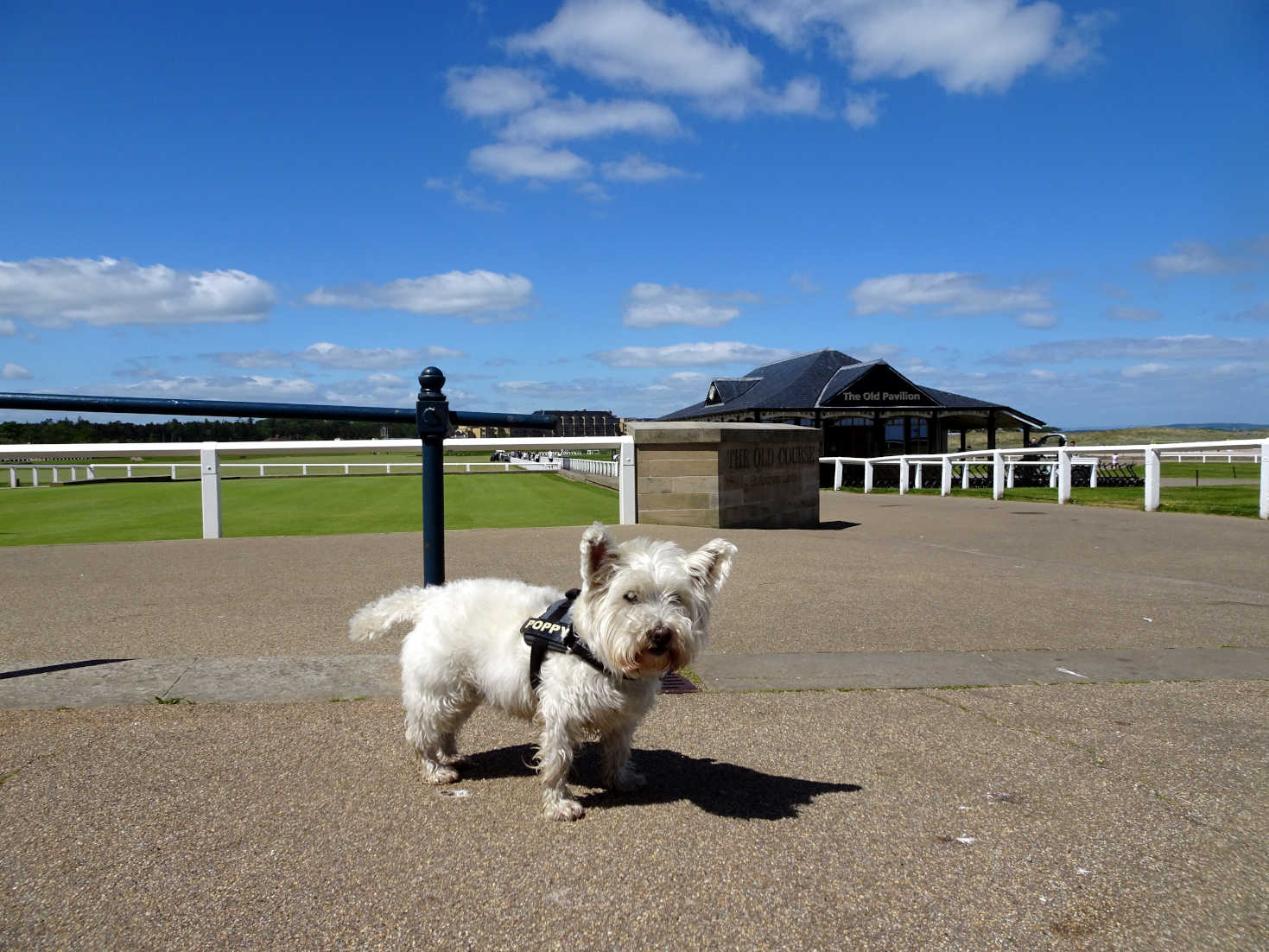 I watched the golf peoplesees hit their wee balls with sticks for a while. Now us Poppys into balls OR sticks, not both, never mind hitting balls with sticks that is just wrong. It was a nice day, the wind was less once we were off West Beach. Down here at the club house it was quiet, almost no peoplsees about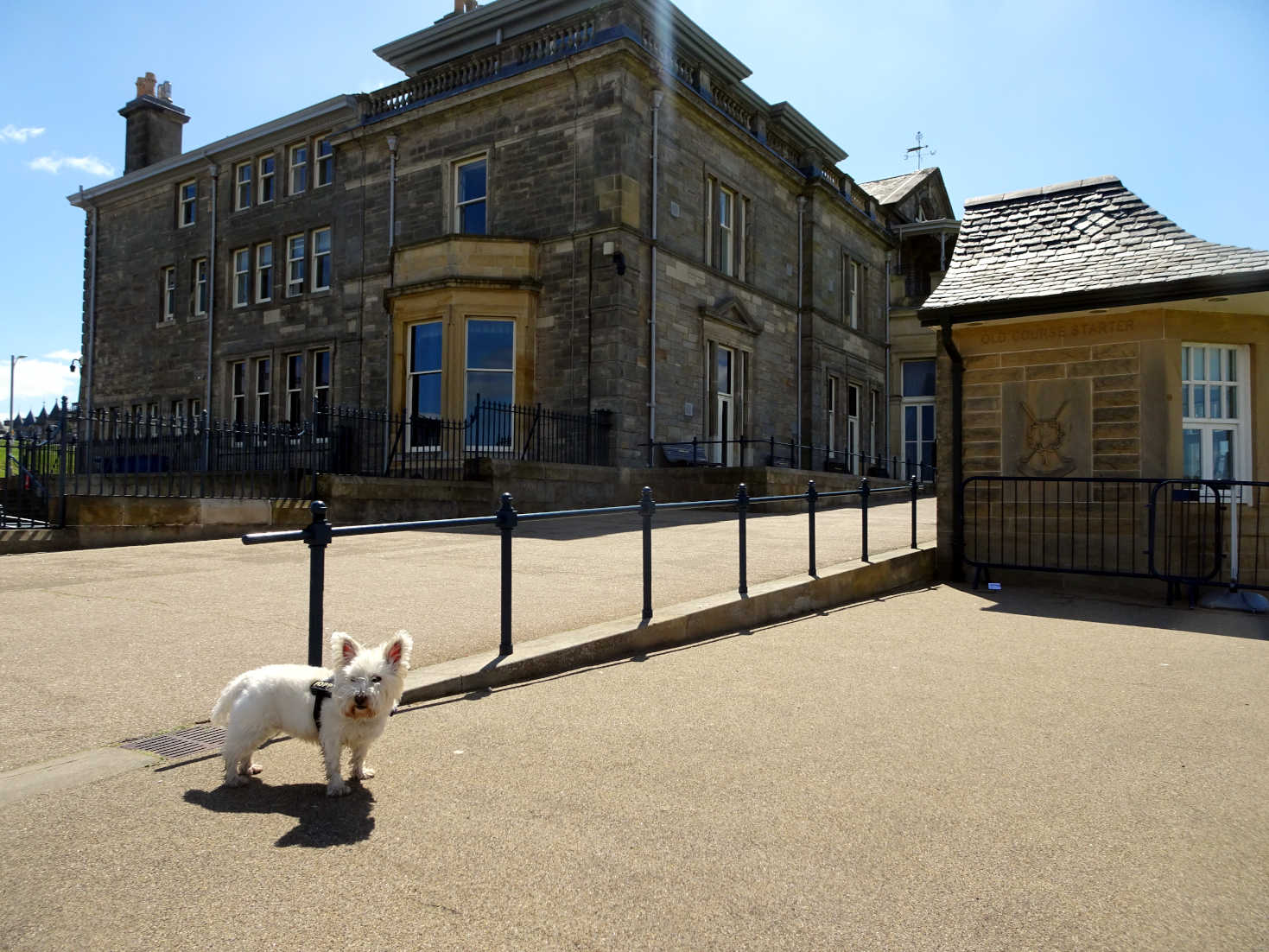 As we walked past the golf club all the seats were chained off to peoplesees, nay danger to Poppys, obviously they are to keep pepolesees and big dogs out. They even put a sign on the chain that said Poppys Welcome! Well, I thought that's what it said but Poppys can't read.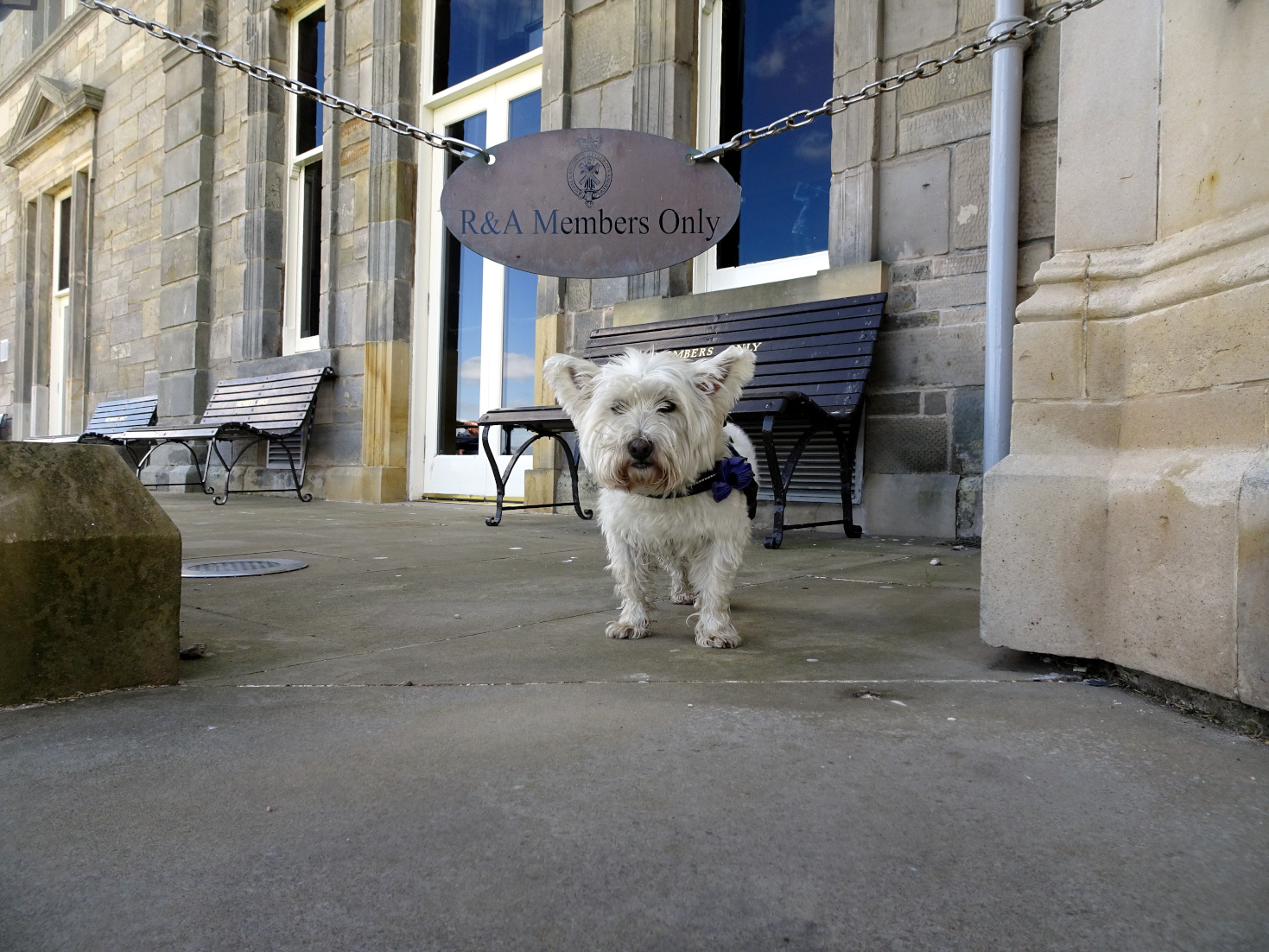 Mum wanted to buy a book and get some nice things for lunch so we left the golf course and went into town. It was very busy. Lots of peoplesees everywhere I had to have my leash on. Me and Dad wated outside a book shop as mum went to buy her book. After me and dad waited outside the deli as mum went to get nice things for lunch. Me and dad waited outside the clothes shop as mum went for a browse, Me and dad waited…. All shopped out it was time to go back to Betsy.
We plodded back though the town making our way back to Abbey and the East Beach. St Andrews is best experienced off leash, only then can you get in the thick of it and explore every smell.
On the way back I met one of my young cousins called Hamish, Not as bouncy as me but he is only 8 months old. We had a nice chat but time was getting on and I was starving! The East Beach was much busier than the morning, probably because there was little wind and the sun was shining, of the two beaches defiantly the one to spend the day on. When we got back to Betsy I had a nice lie in the shade as mum made lunch.
Afternoons like this are made for rest and relax, especially after chickensees and mozzarella. Not too hot not too cold, radio for background noise bliss. Mum and dad spent rest of the afternoon reading and snoozing in the sunshine. I had a sniff about, a nap, another sniff about and a wee rest. Its good to have a day off.
We were supposed to go out for dinner tonight but to be honest I just couldn't be bothered. Dad do we not have a ton of pizza and bee stings left from last night we could heat up? "I'm with Poppy" said dad. "OK Poppy you win" said mum. After dinner I wandered over to a picnic table and jumped up on it to have a better view point of the camp. Nice view from up here dad.
As the sun started to get ready for bed dad took me out for an evening stroll along the Fife Coastal Path. It was a long day so I decided to cut it short, should have told Dad he kept walking, dafty.
St Andrews is not always as sunny as today this was the first time I came here