This week was very hot, too hot, I couldn't even sunbathe. One day mum and dad took me out with my cool vest on, even then I was too hot. Mean Dad got angry with me because I kept lying down. He shouted at me because I wouldn't move, at one point I thought he was going to spank me. When we met mum she was mad at dad because she was in a hurry. Mum picked me up and carried me till I cooled down. When I got home I went for a long snooze in the cool of the front room.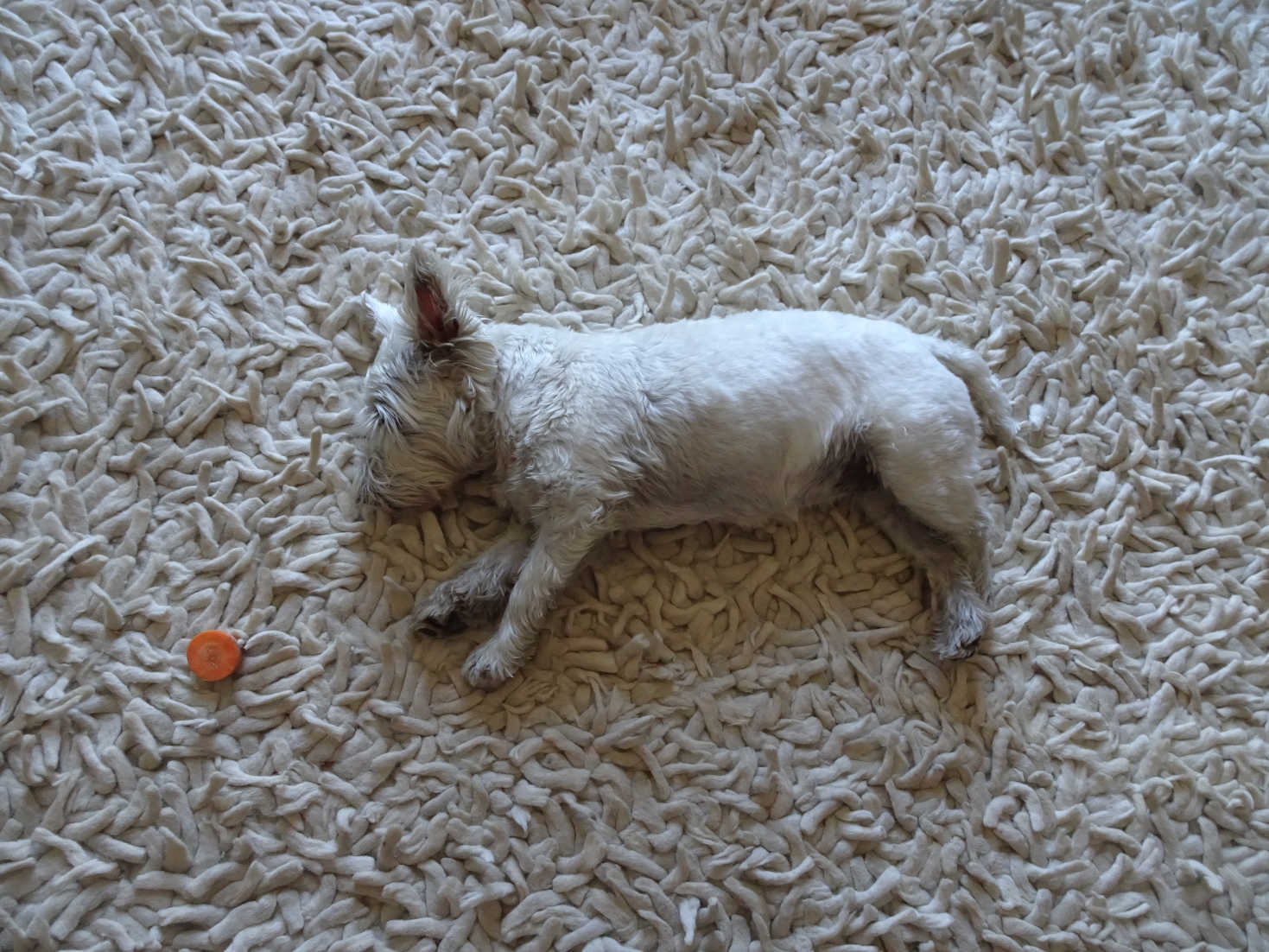 Because of the warm weather Mum and Dad have been getting Betsy ready for travels at the weekend. When Friday came Granpa came over as usual to take me for my lunchtime walk. I still knew something was happening because when I got back my toys and cushion were missing, mmmm we are going away in Betsy. Later Mum came home from school and in a whirlwind of running about daft we were in Betsy and off.
Betsy made easy meat of the journey out of the city and in no time she was trundling into the Luss campsite. Poppys like Luss campsite. I have been here lots of times. Dad and mum were upset because Betsy did not have her usual spot but I think the spot she had was more than OK. Betsy settled in for a rest bashing a post as she settled. This is the second time Betsy has done that here! I went to explore as Mum and Dad got camp together.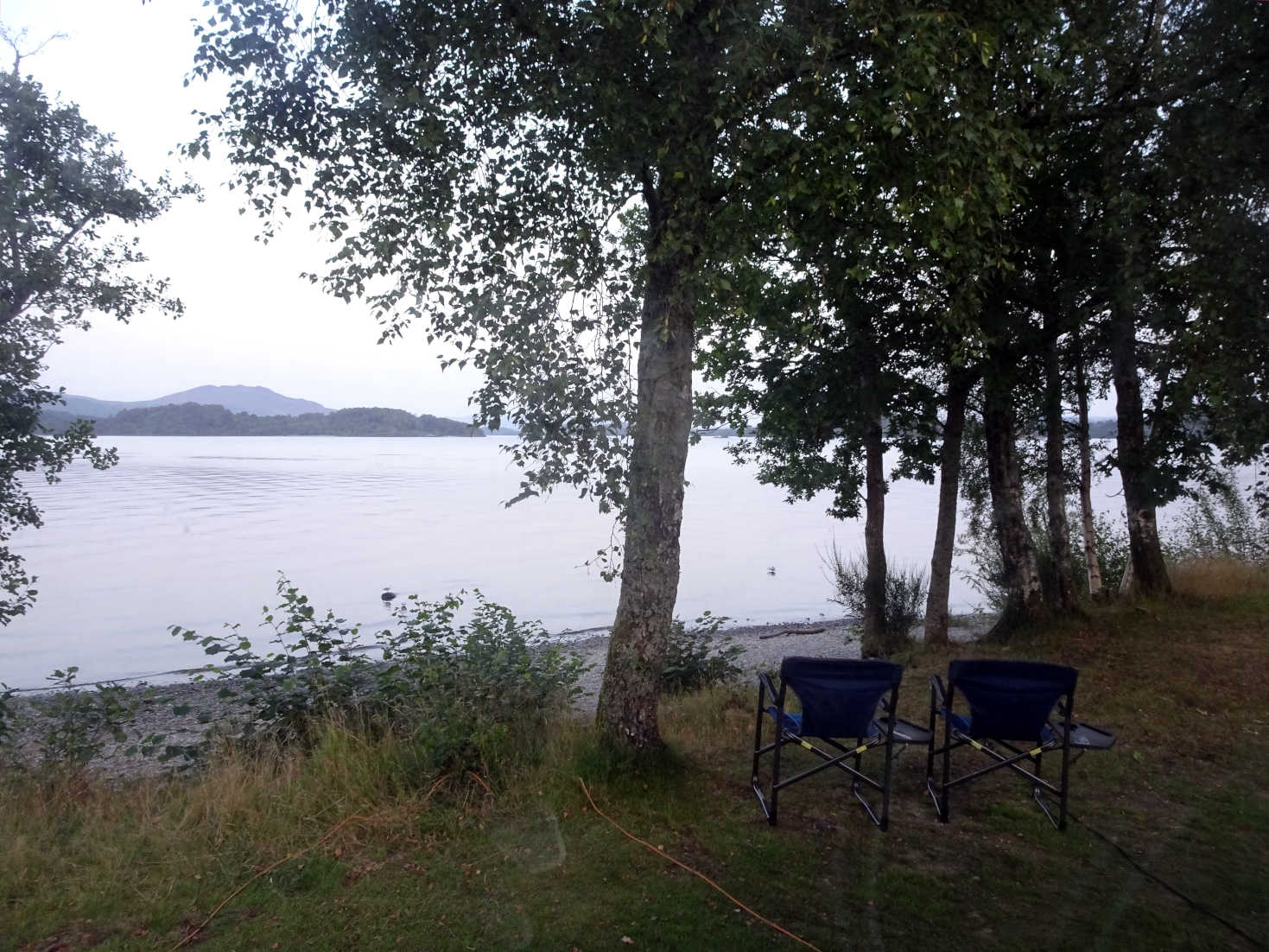 We all sat outside beside the loch listening to music Mum and Dad drinking daft juice. Dad helped the girl in the next pitch put out her caravan tent. It was not as hot, just perfect for Poppys.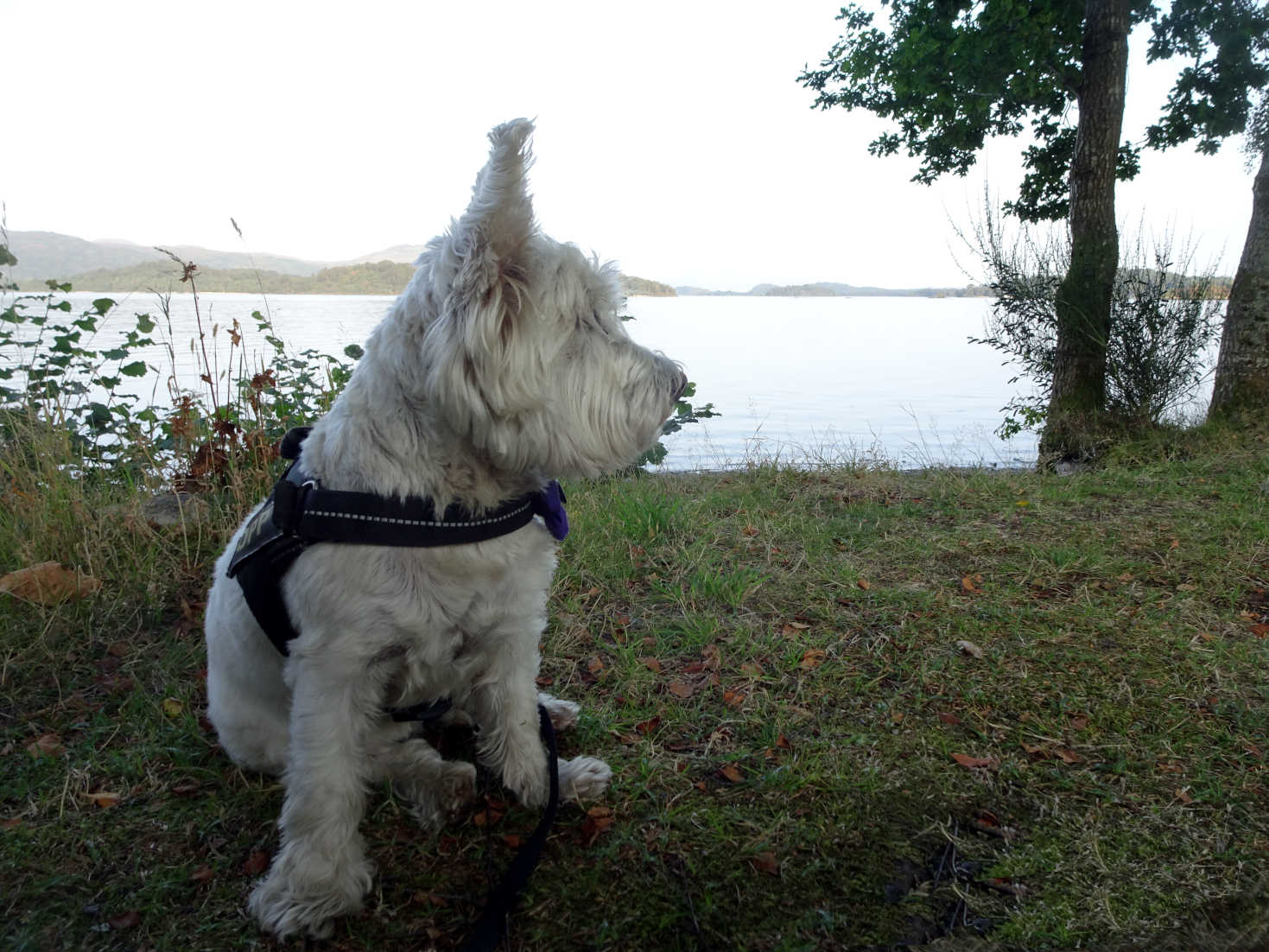 The mood in camp was relaxed, we stayed outside till dusk because dinner was easy tonight, pizza for mum and dad, mackerels for me.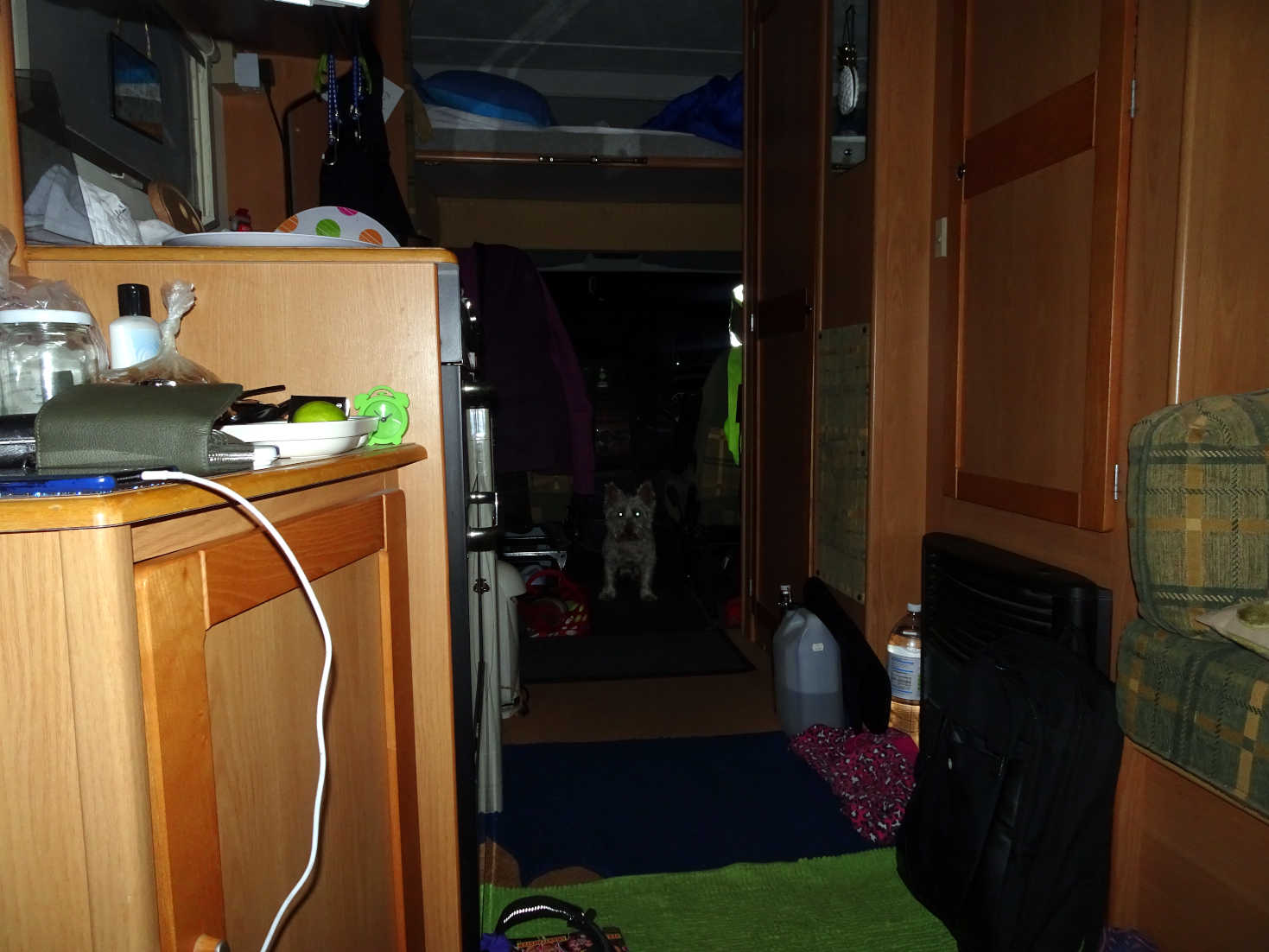 Soon the week of early rises took its toll, Mum started to drift off to sleep, I pawed dad then the door, Dad? Walk? Walk was a quick plod down to the beach where we could here peoplsees from the island across loch. Mmmmmm beddy boaz.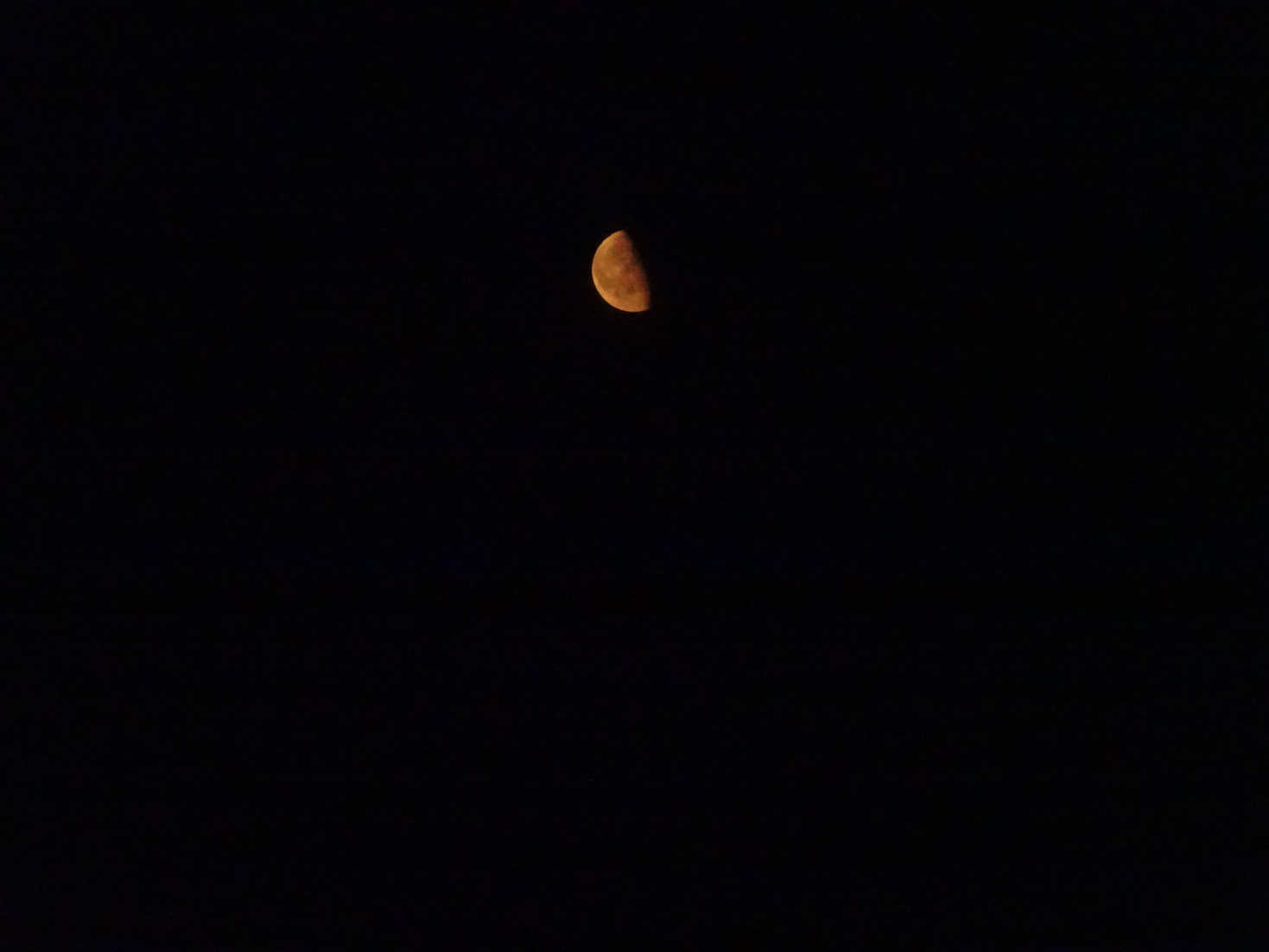 Next day we were up early and away into the village. It was still quiet but coaches had already started to fill the carpark and there was a que at the roll n sausage shop, no role in sausage for poppys then. Our walk came to an end at the pier. We go on a boat?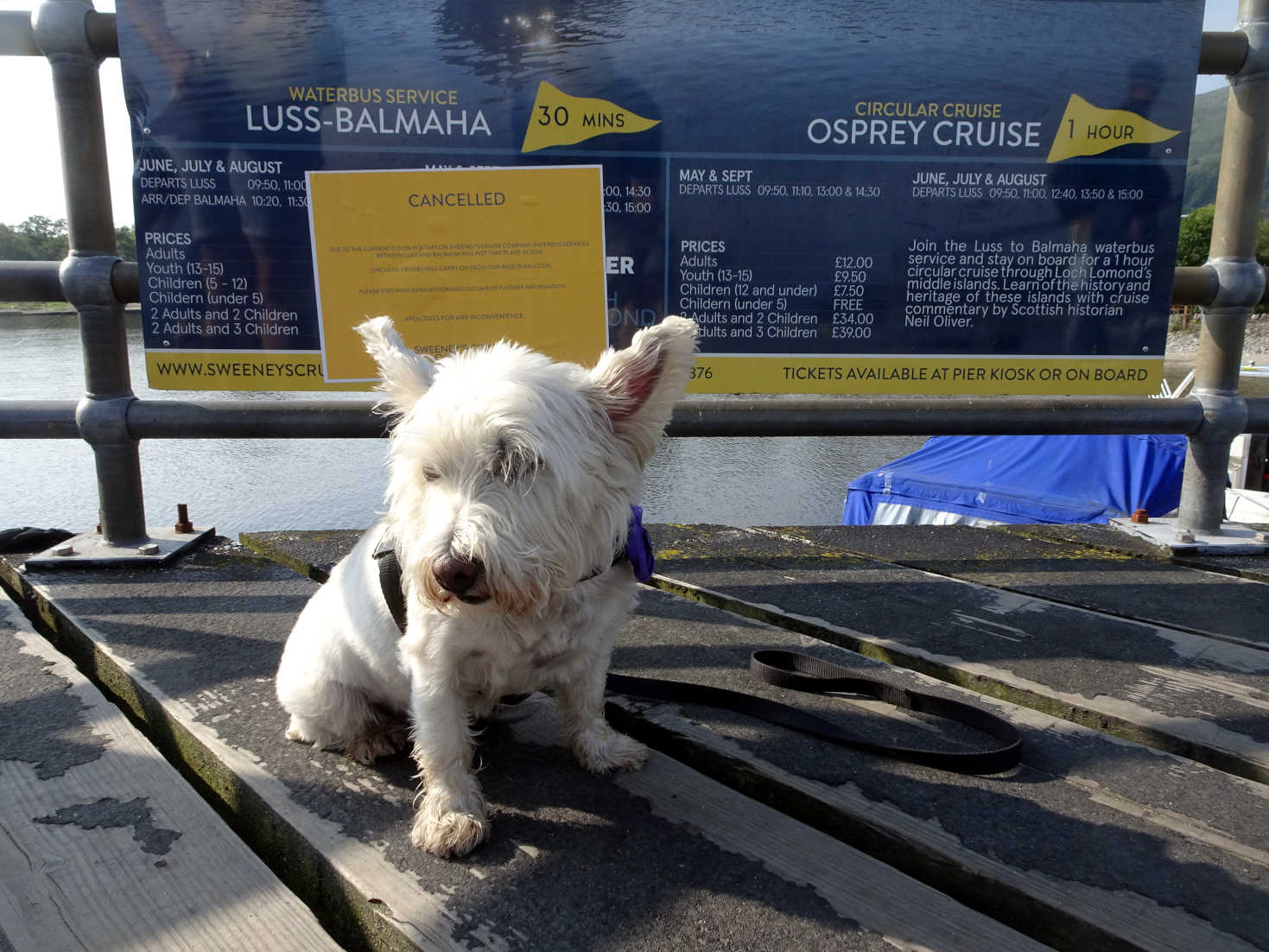 As Dad picked me up he had to speak to peoplsees from Englandshire who tried to jump in front of everyone, they looked at him as if he was mad, still they got the point, will I growl at them dad? The boat pulled away and everybody got their picture machines out.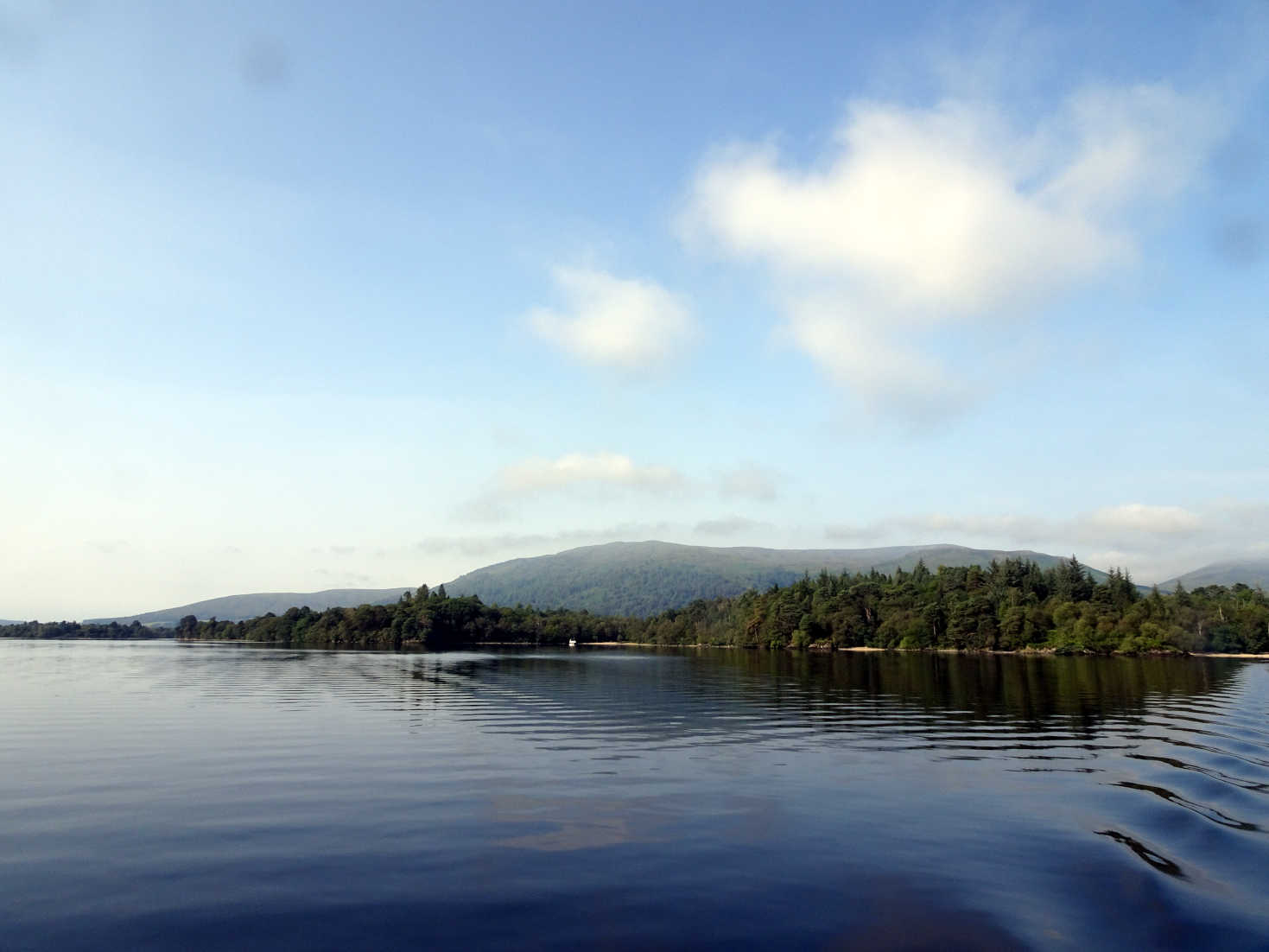 The driver of the boat was talking and talking when he pointed out the island where the wallabies live. Dad why we not go there? You promised me a wallaby hunt? The next island was where the Ospreys live. Not Mum, Dad uncle Richard Andrew and Jean Ospreys are sea hawks that are named after my family. We saw one on its perch and watcher go fishing. One thing we have in common then we both like fishees, I wonder if she likes sausages?
Soon the boat stopped at the island of Inchcailloch, another island bagged this year! I wasn't slow in getting off the boat to explore, mum dad hurry up!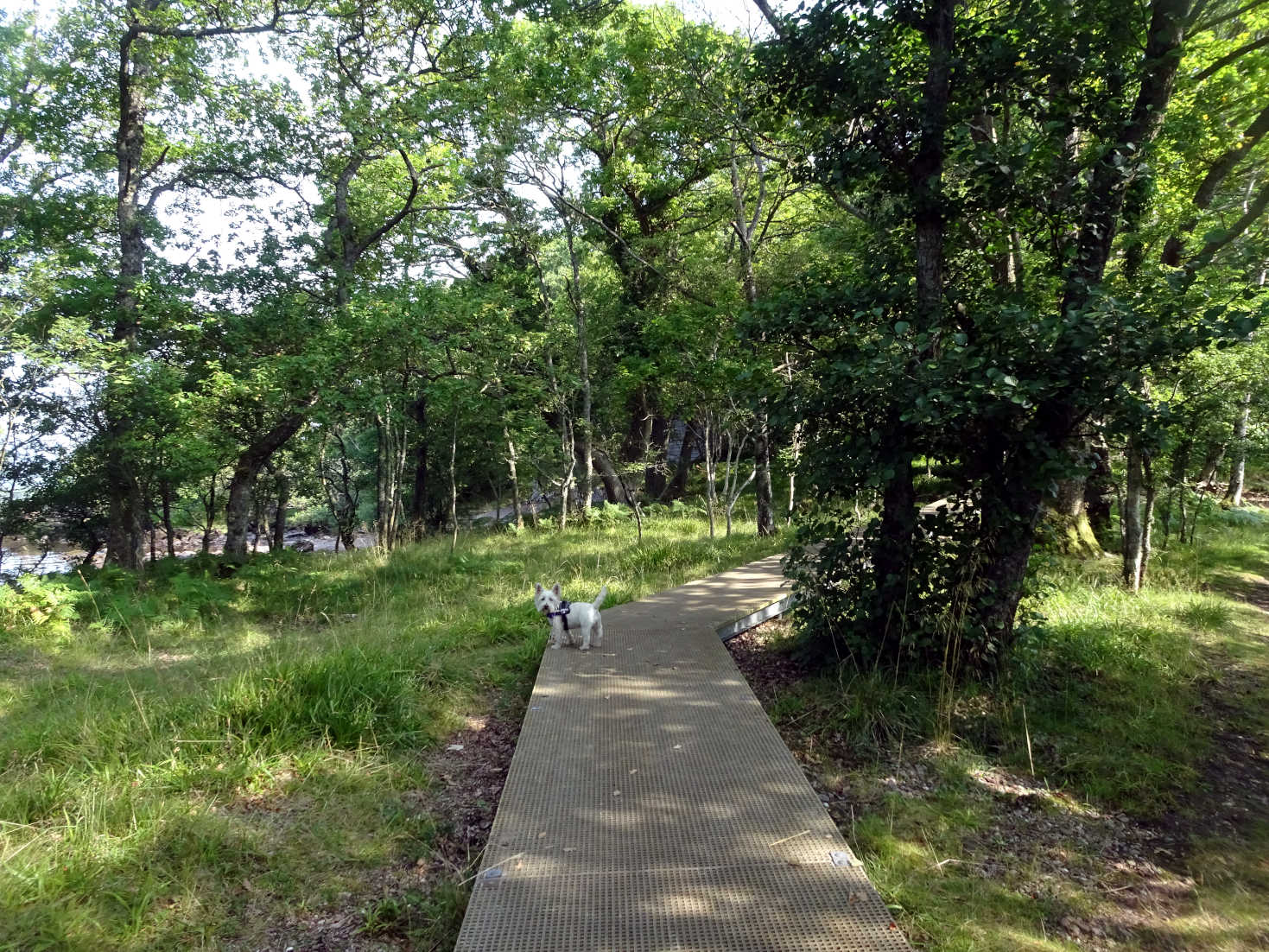 Most of the peoplsees on the boat headed straight to the beach, fine by me it meant the rest of the island was ours! Before we go explore how about a game of ball?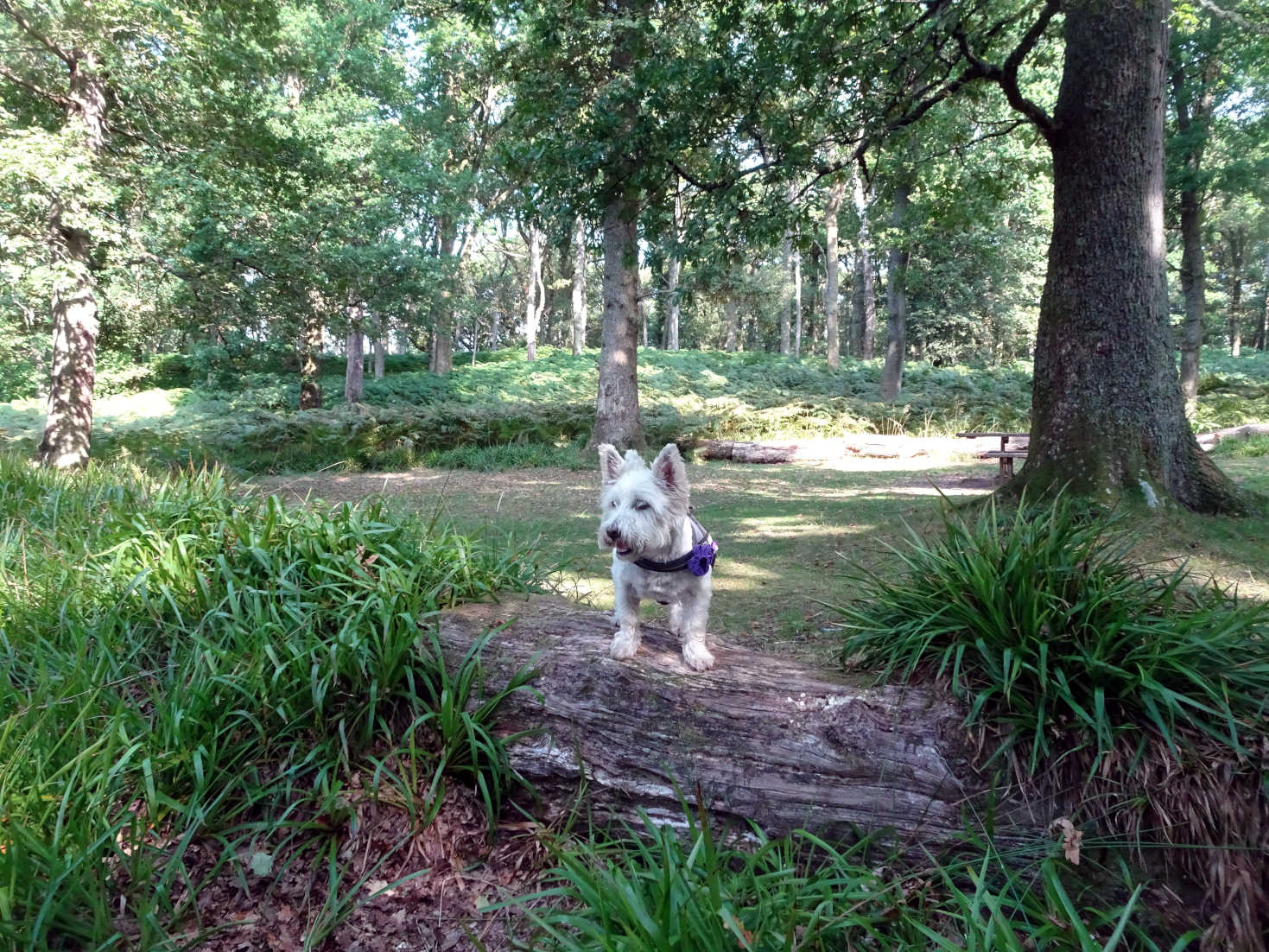 The island was great, my nose was full of new smells, no wallabies but I think I can smell dear! Let's go mum up this path dad!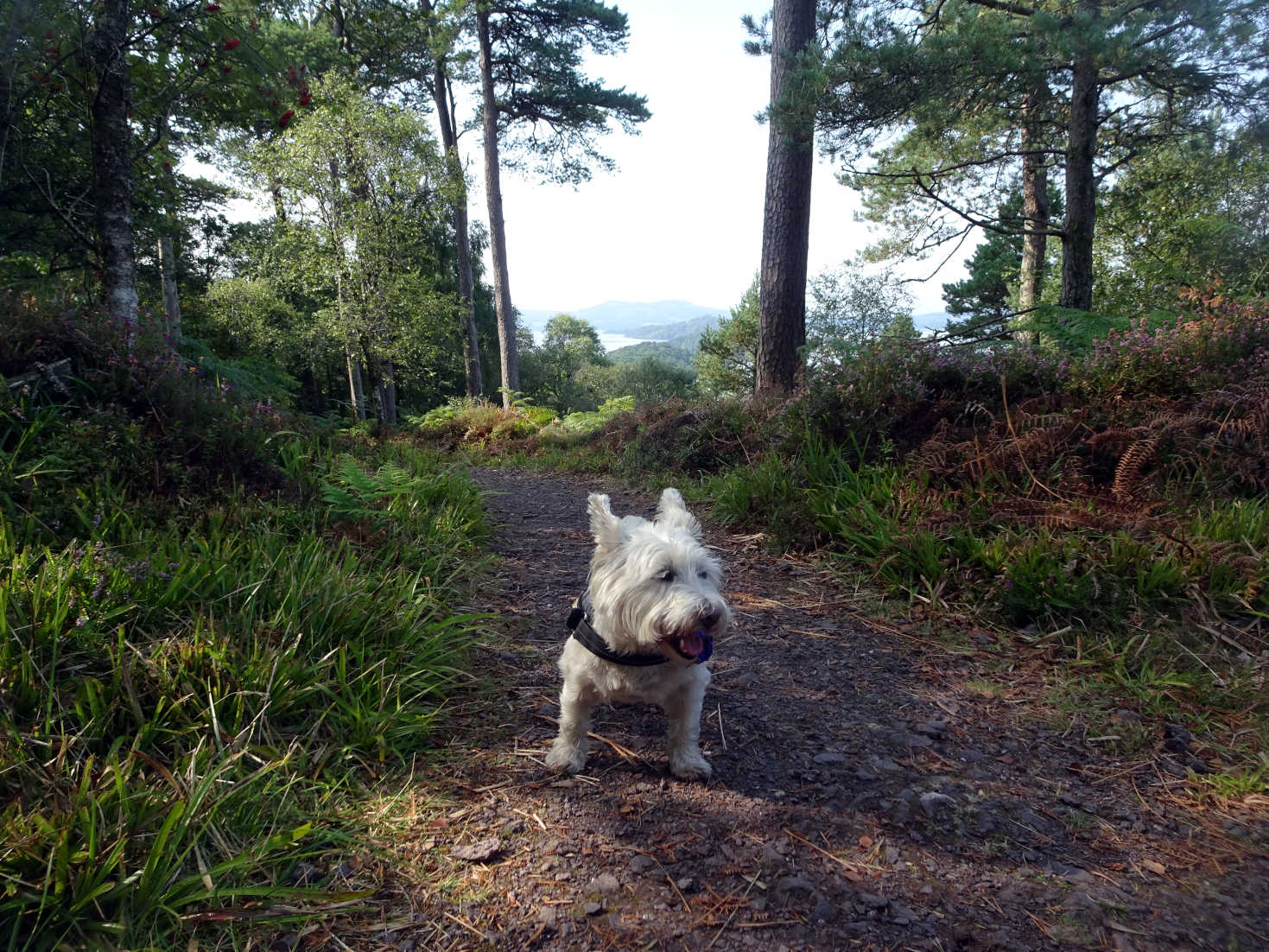 We climbed the path up and up, the only people we met were a group of peoplsees coming down, they came to the island from Balmaha. At the top it was just us. Mum and dad liked the views.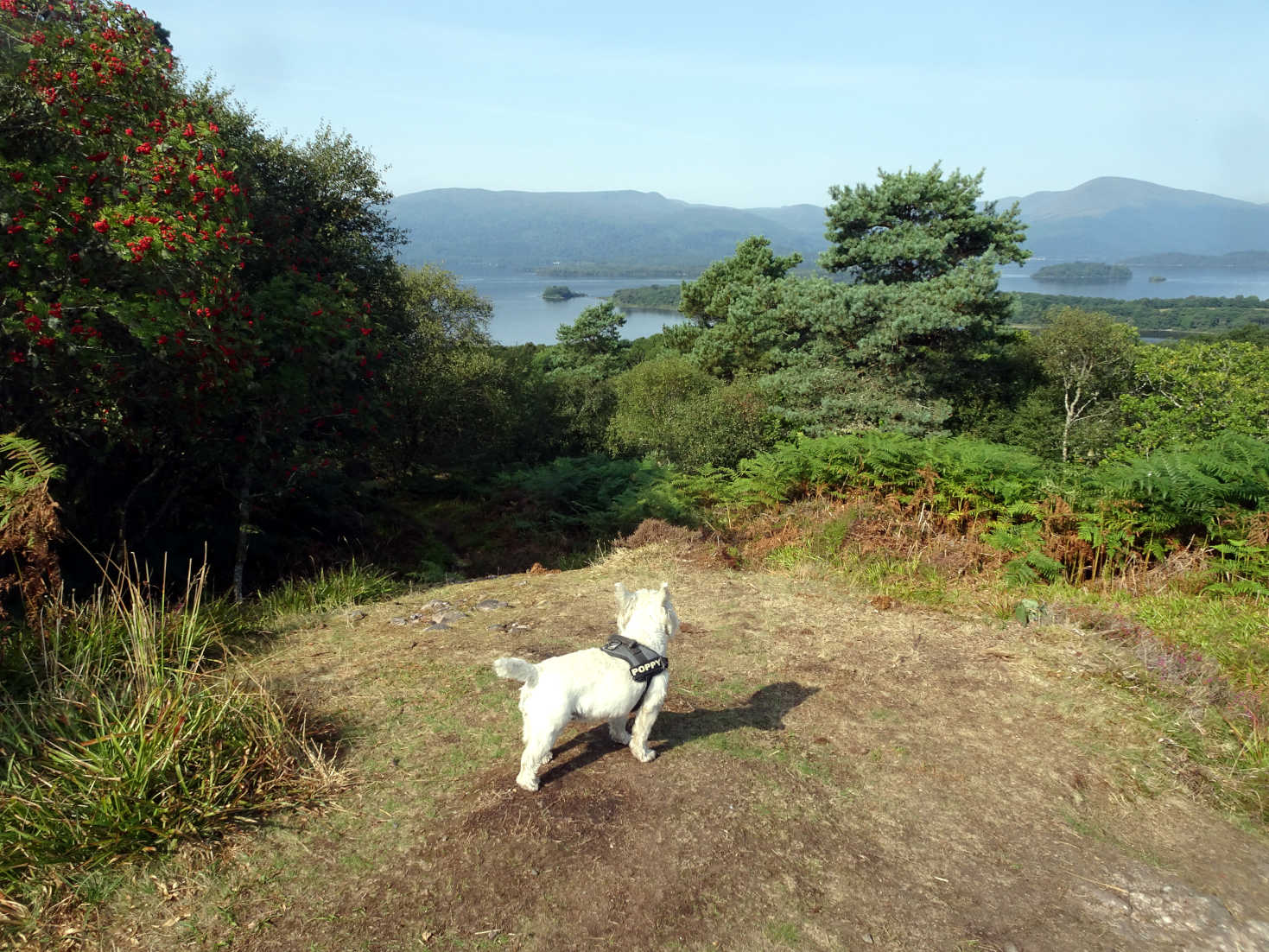 What goes up and all, at the bottom I bumped into a wee doggy called Charlie, she had just got off the Balmaha boat with here Indian family, I told her about the walk to the top, she said her family wouldn't walk up hills, poor Charlie it the flat for her then. Next we discovered a stone park! Ball?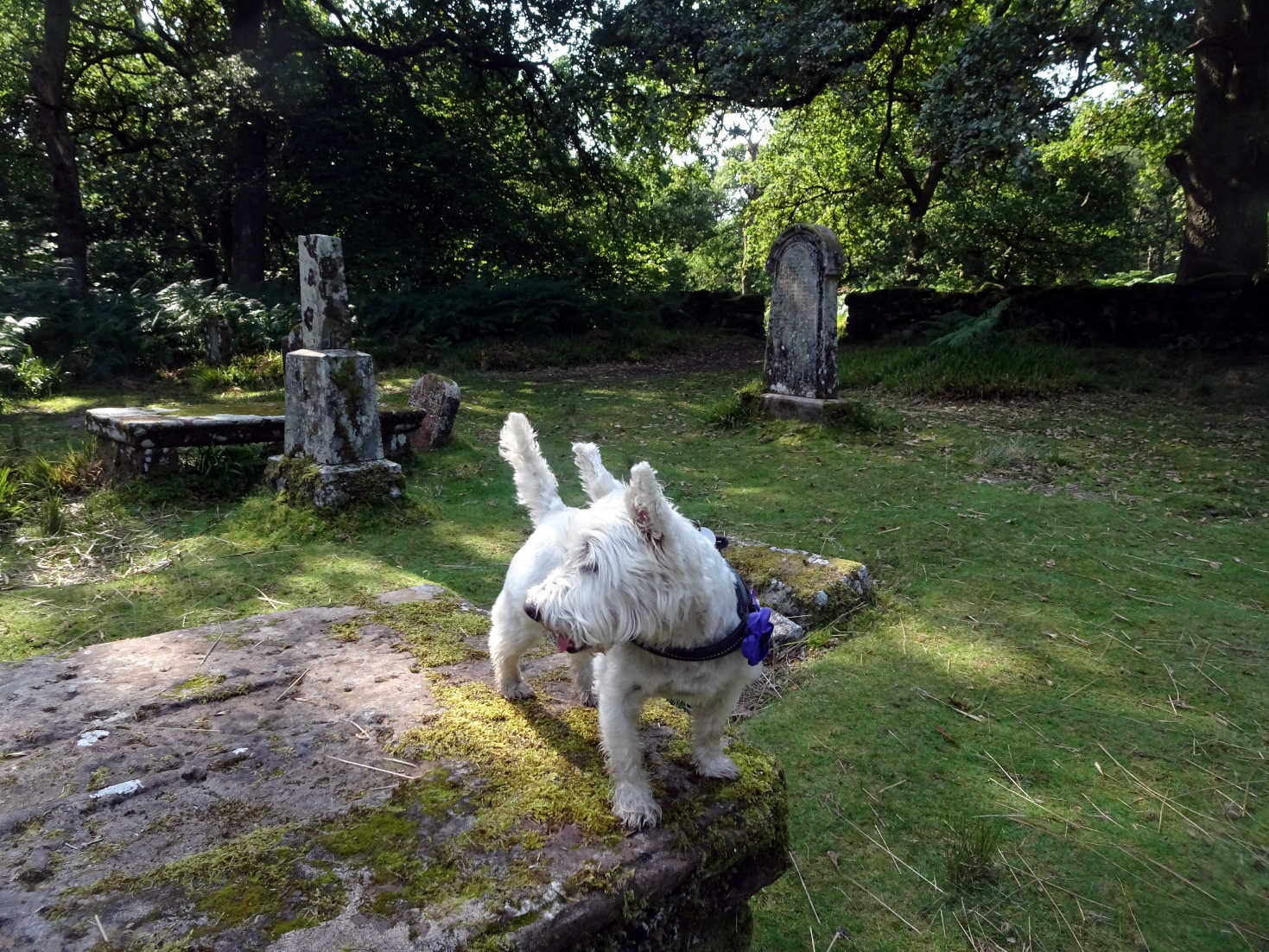 We were not alone though, out of nowhere a white flash sped past. Huh he thinks he's fast! I shot after him! Round and round the gravestones I chased him, Gordon was a quick and very bouncy. He went under a plinth I went over it eventually I caught him, my turn catch me if you can! Soon we were shattered time for a rest.
After a quick rest it was time to explore the rest of the island. On the way to the shore we passed an old ruined farm, where did the peoplsees go? Look mum water, soon we were on the shore. Will we take the shore or path back to the boat dad? "Shore" said dad, bad move. Walking along I saw a man sitting on a rock in the loch. I gave mum a look, "He's just having a rest Poppy, he's a swimmer" she said. Swimmer? Daft is what he is. That water is freezing. The shore came to an end, what do we do now then dad? The only way back was to bash through the bracken up the hill to the path. Not such a bright idea now. Finally we reached the bay, Picnic?
Picnic was ham, treats and muffins, Poppys loves muffins! After a while we plodded back to the pier. I explored and looked over to the beach where the peoplsees from the boat had setup for the day. Mmmm I think I'll claim this pier.
I hadn't been there long when I heard a noise coming from the loch. I'ts a boat. Is this our boat dad?
Back on the boat we went passed Osprey Island. As we got there she flew in and rested on a high branch. Looks like she has had her lunch dad. The sun was warm on the boat so I went for a wee snooze. When I woke we were coming back into Luss.
Dad had to carry me off the boat because the steps had big holes in them and my paws would fall though the gaps, thanks dad. He put me down at the top on the pier. It was very busy, back to Betsy?
Mum and dad wanted smoked salmonsees, suits me I love smoke salmonsees so we went to the shop. Mum something is not right, it's closed. Did coronaviruses kill the smoke salmonsees shop? "Looks like it Poppy" said dad. That's Rubbish no smoke salmonsees for afternoonsees. Back at camp we had an easy day on the shore.
As the sun moved we went back to the grass. Mum and dad sat and read in the sunshine I guarded camp from the jet skis.
Day turned to dusk and that means dinner. Dinner was at the Lomond Arms Hotel. I eat here every time we come to Luss, tonight was different. It was quiet. An accident on the big road meant nobody could get here. Another accident on the big road. We ate outside because it was such a nice night, we even got a hut all to ourselves! Dinner was good I got venison burgers and fishees YUM!
We walked back to betsy though the village
The village was empty after the day trippers go home.
Even the beach was empty, Poppy likes it when it is like this. Tomorrow we go home but today was magic. Time to go back to Betsy.
Next day it was time to go home, the big road was closed…..agian, Mum why is this road closed so often? Car accidents Poppy.