It was nice and sunny when we got to Shell Bay. Not like last time when Mr Wind tried to knock me off my paws and blow me away. As dad got Betsy all hooked up, I made a new pal. She was called Trudy, a miniature schnauzer, just like Bernhard. She was even the same age as me. As I played with Trudy a camp peoplesee told dad he would have to move Betsy because of fires. Dad? There are no fires. Dad convinced the peoplesee every thing was OK and Betsy didn't have to move.
The next morning dad's mood was still low. I tried to cheer him up by giving him lots of big licks. How about a walk then dad? The plan was easy. Get to the beach and explore south. First up BALL!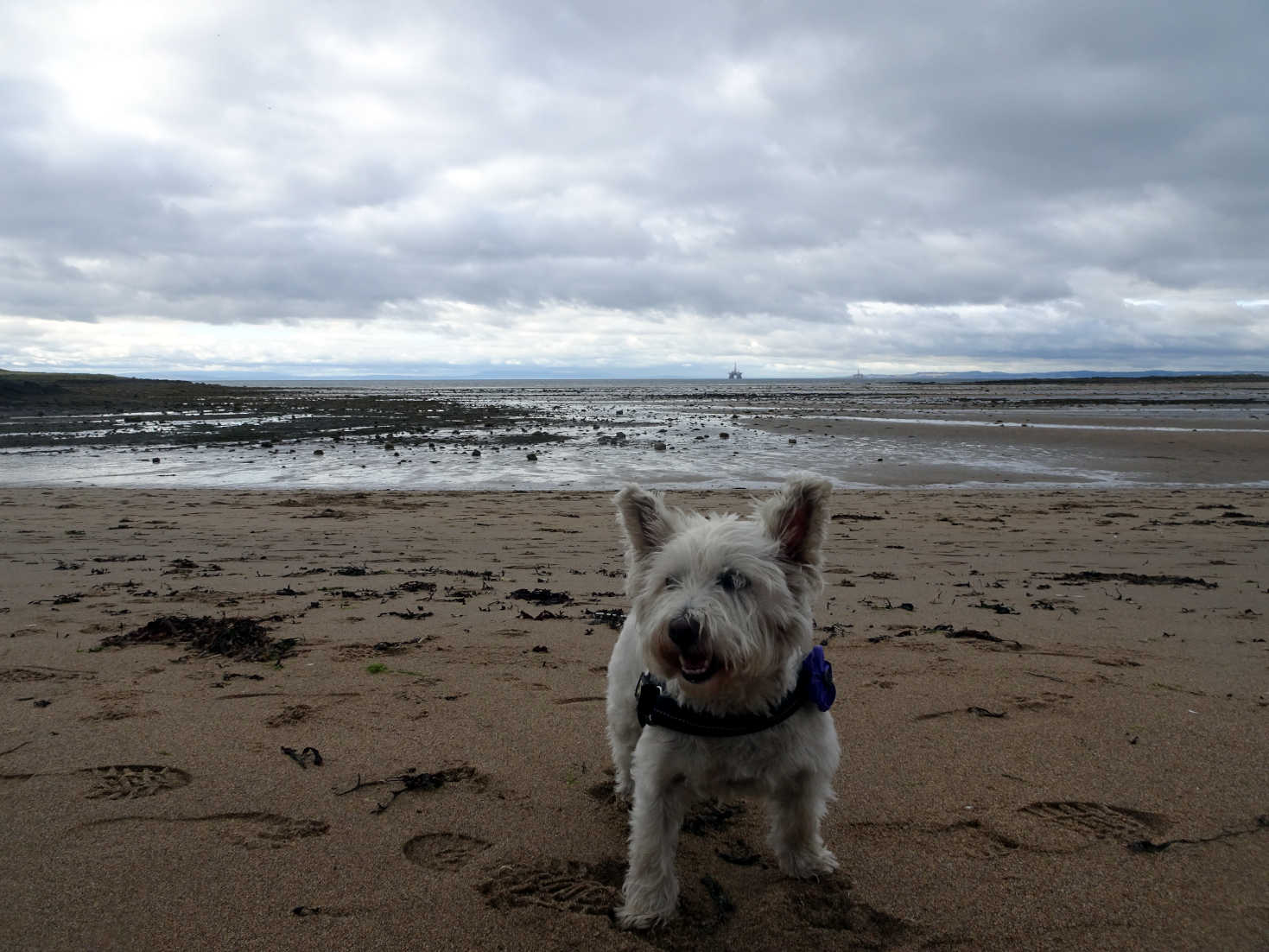 At the end of the beach was a big bench with stones on it, mmm better have a closer look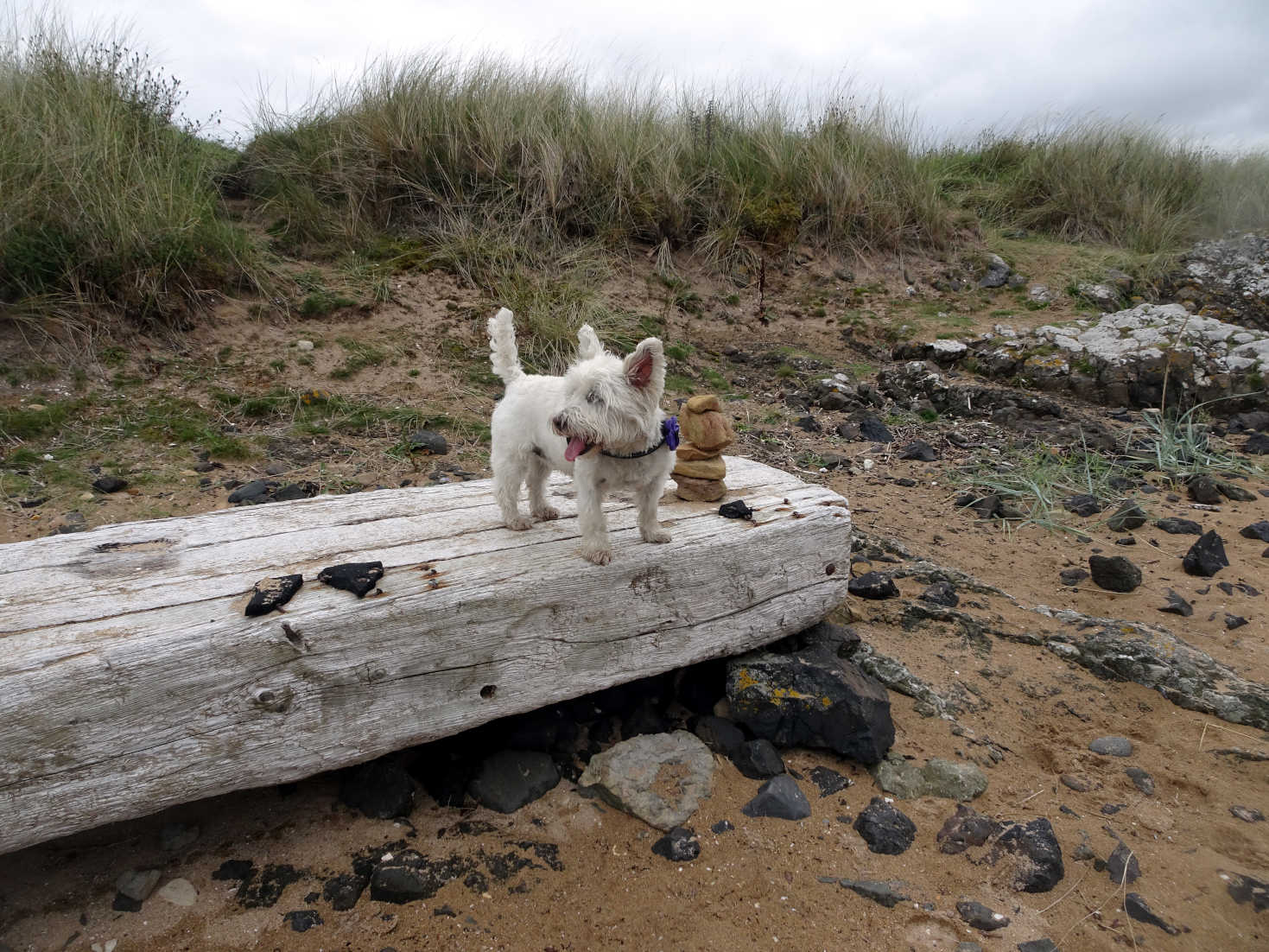 We played along Shell Bay Beach making for some strange flags that were flying on Ruddon's Point. The plan was walk along Lower Largo Beach but mum wanted to go to Elie. "We could take a short cut across the sands" she said. Dad was not too sure. As we crossed the sands dad was getting grumpy. His shoes were getting very close to being filled with water. "Lets head back" said dad so back we went.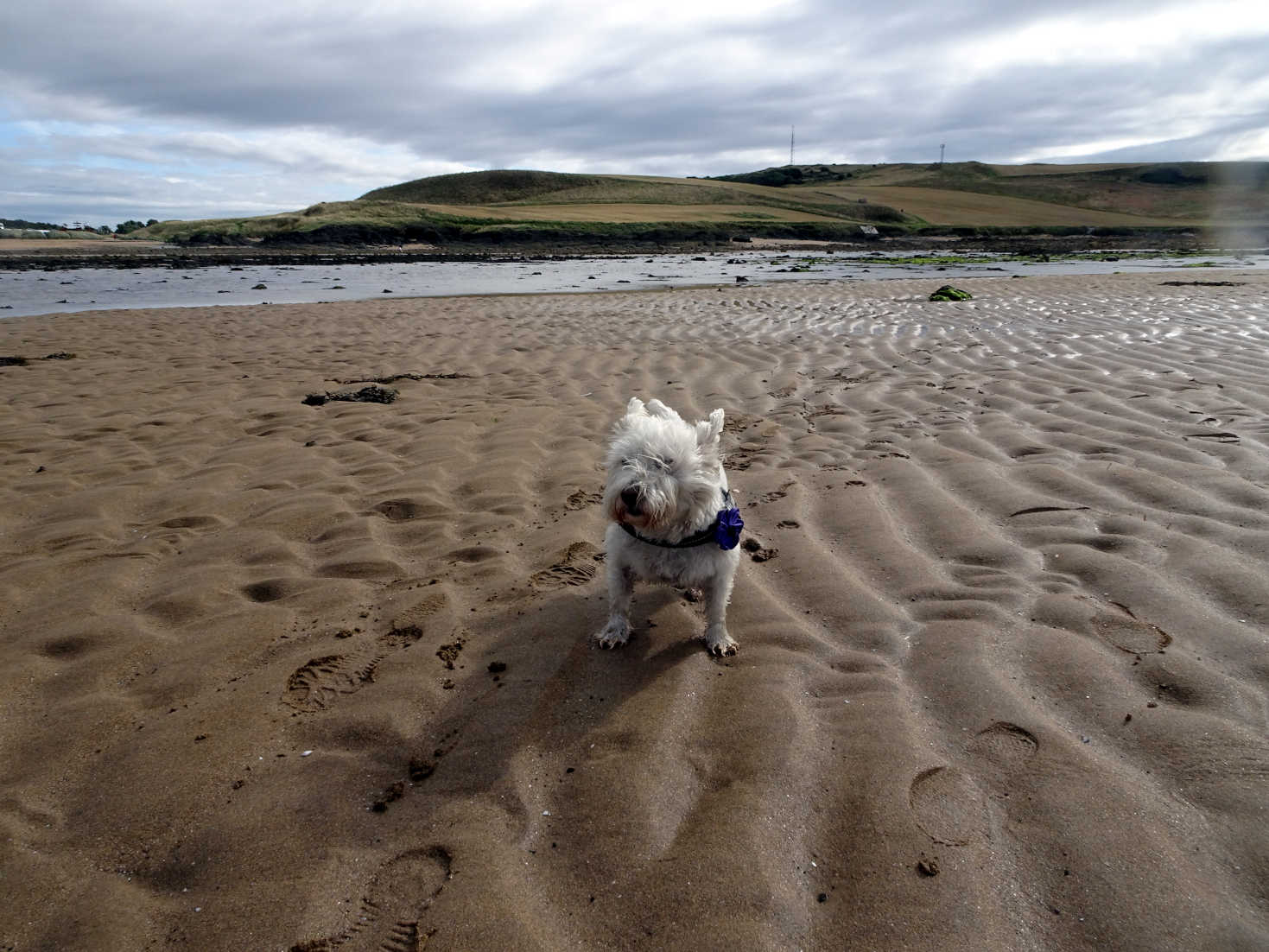 As we were so close to Betsy mum took coats and fleeces out of the bag and took them back to Betsy because it was too hot for coats and fleeces. Fine by me as long as my water doesn't come out of bag. Soon we were back on the costal path heading for Elie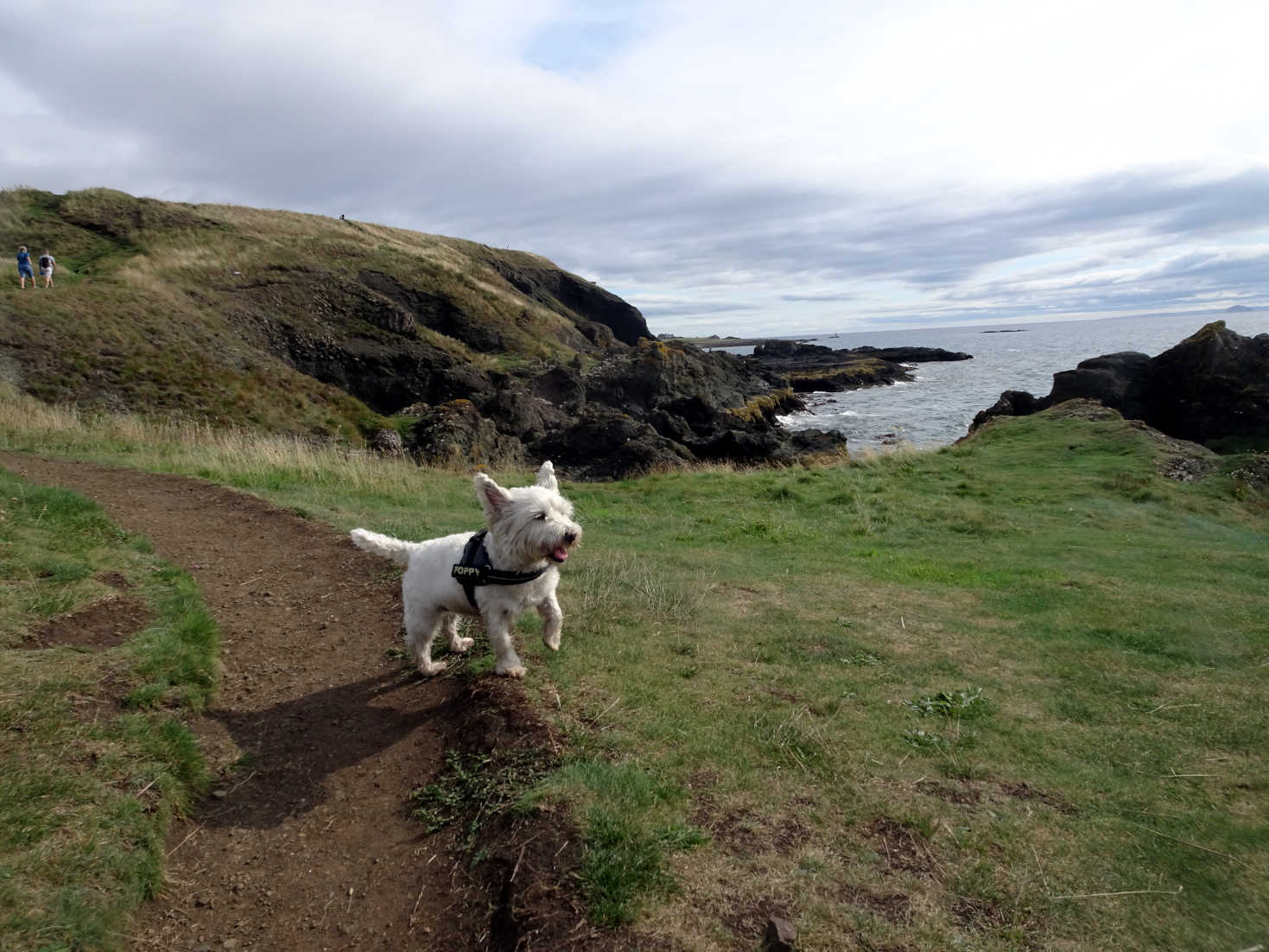 The last time we walked to Elie Mr Wind tried everything to stop us. This time he was not as strong. He kept us nice and cool even when we climbed the steps.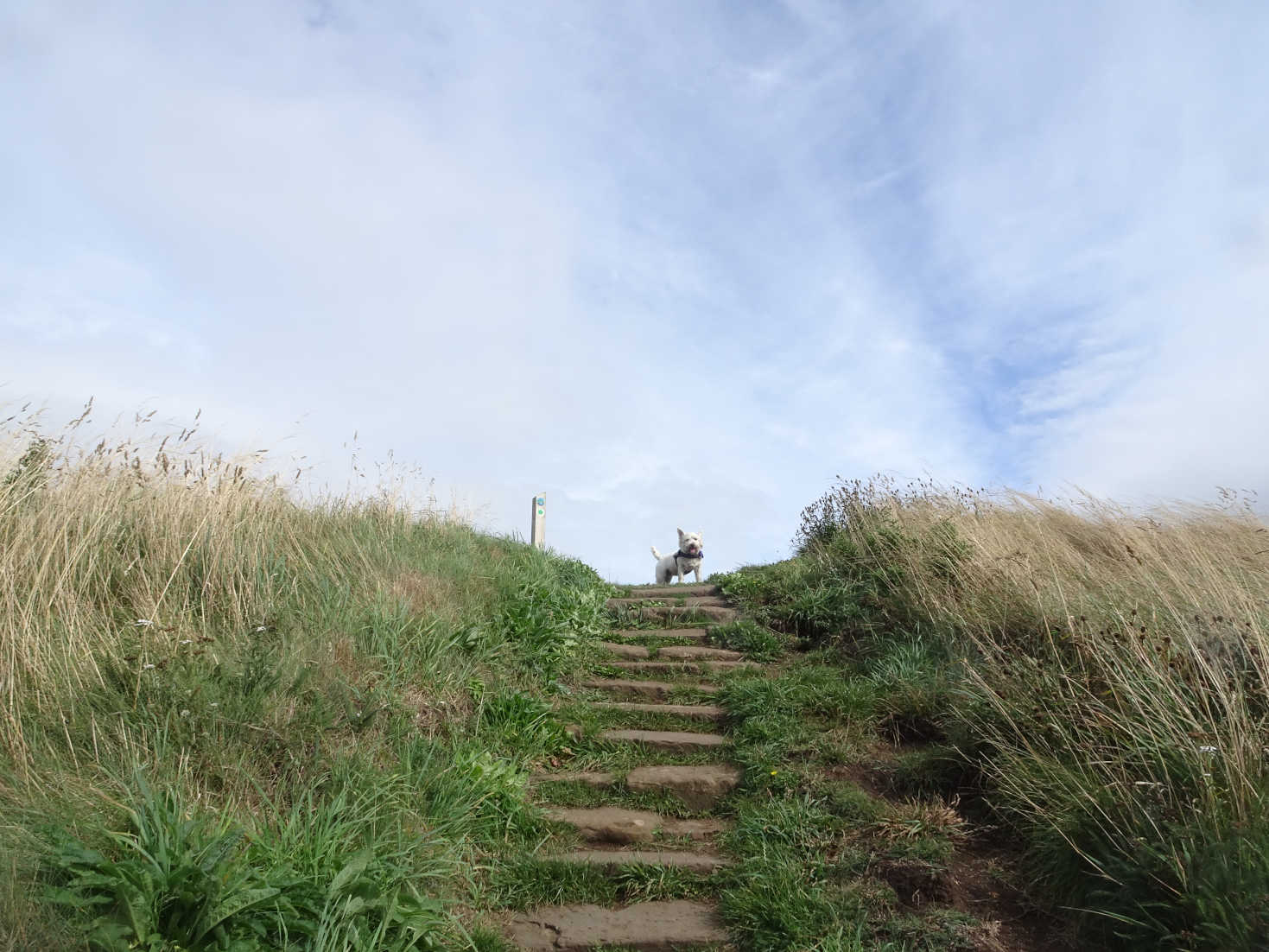 It was on the top where mum discovered that my leash was in dad's fleece. Dad's fleece was in Betsy. What are we going to do Mum? I'm not allowed near cars with no leash. "We will think of something Poppy lets keep going".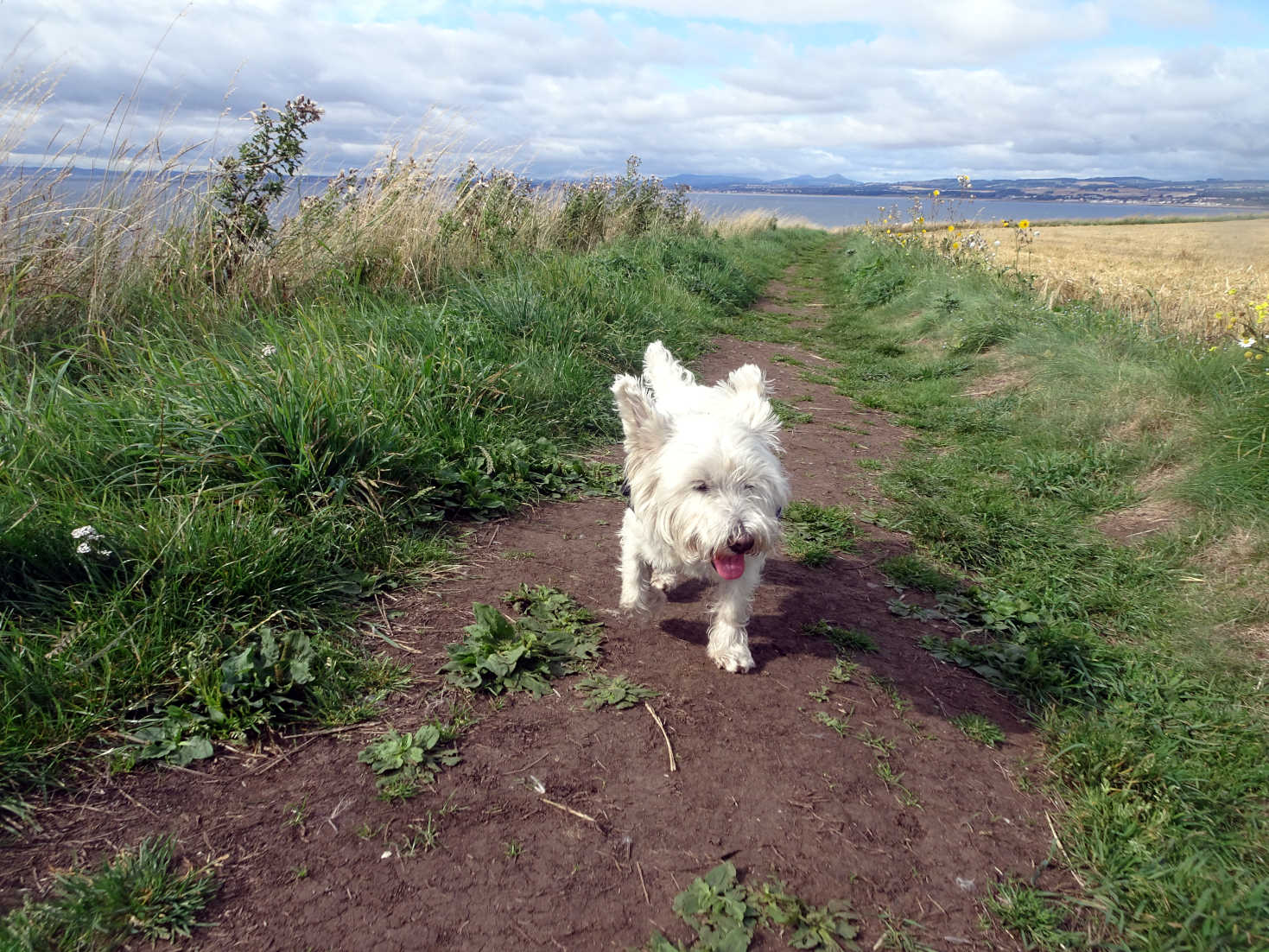 When we got to the end of the cliff we met young peoplesee with her dog. She looked out of puff and panted "I'm never going up those stairs again!" There were a lot of steps and they looked very steep, but at the bottom was the beach. Lets go! This was when mum said if I go down there, I'm not coming back up.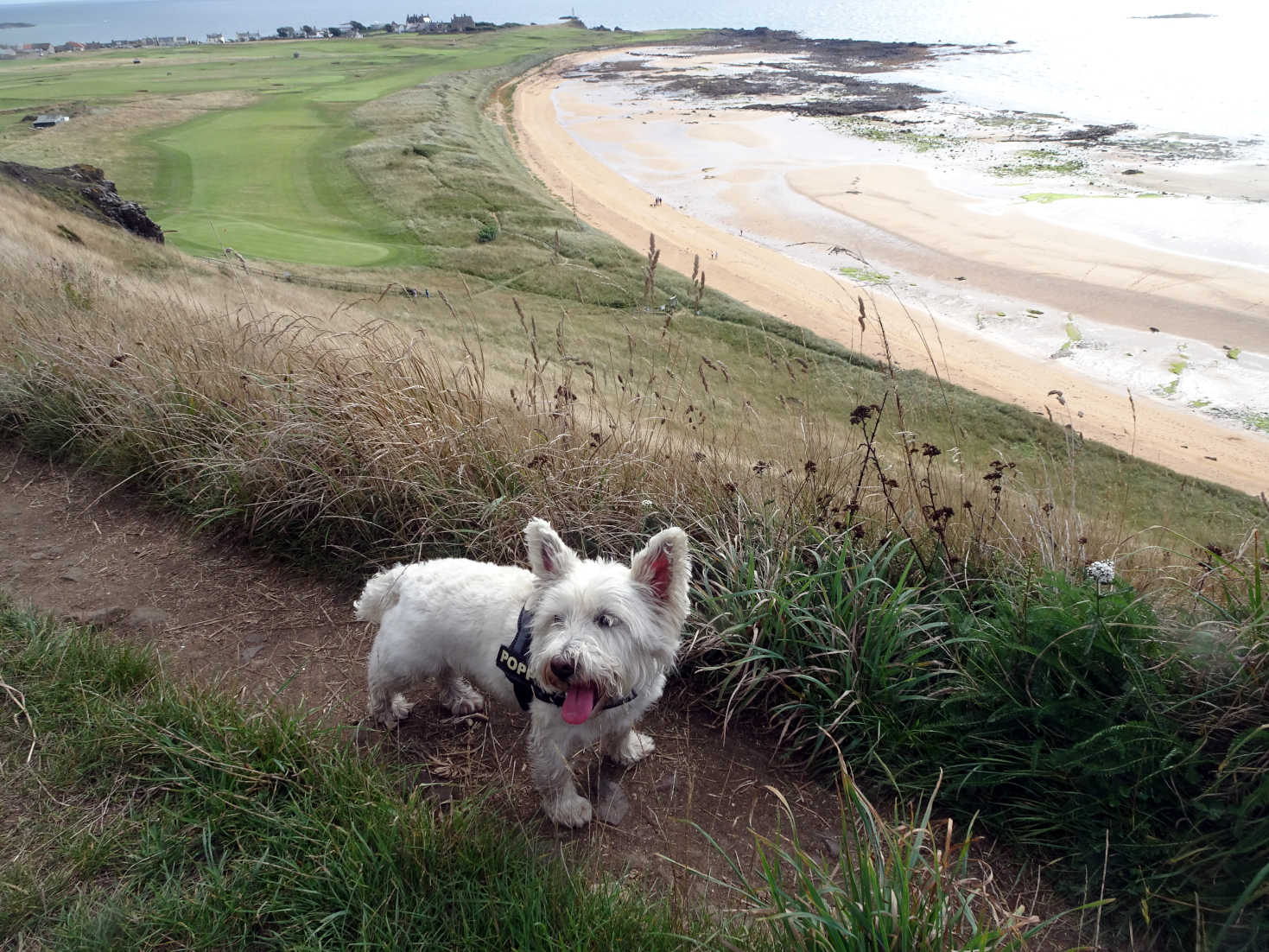 Down and down we went step after step, lots of steps. Good job Poppys have 4 paw drive. I kept my eyes on the prize, beach, and beach means ball! Poor mum and dad could not keep up with me! At the bottom dad suddenly stopped. What you doing dad? He was fiddling with a fence at the golf course. A few moments later he had a big piece of rope. What's that for? "It's your new leash Poppy". Mmmmmm not convinced but first things first BALL.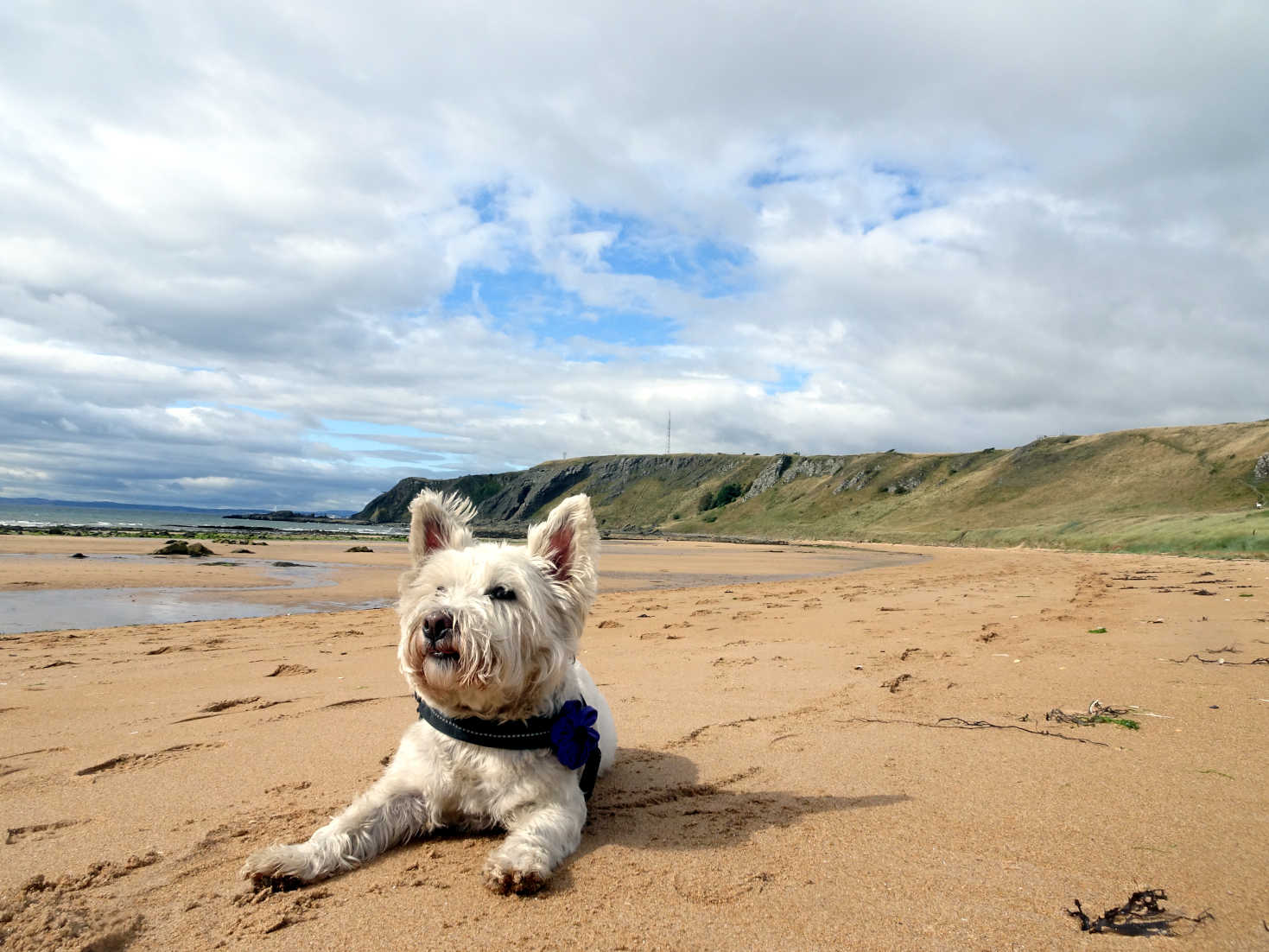 Earlsferry Beach was nice, Mr Wind had gone away and Mr Sun had come out to play. We played along the full length of the beach all the way to the end where we crossed the golf course. It was quite so I did not have to ware my new leash. Soon we were on Elie Beach.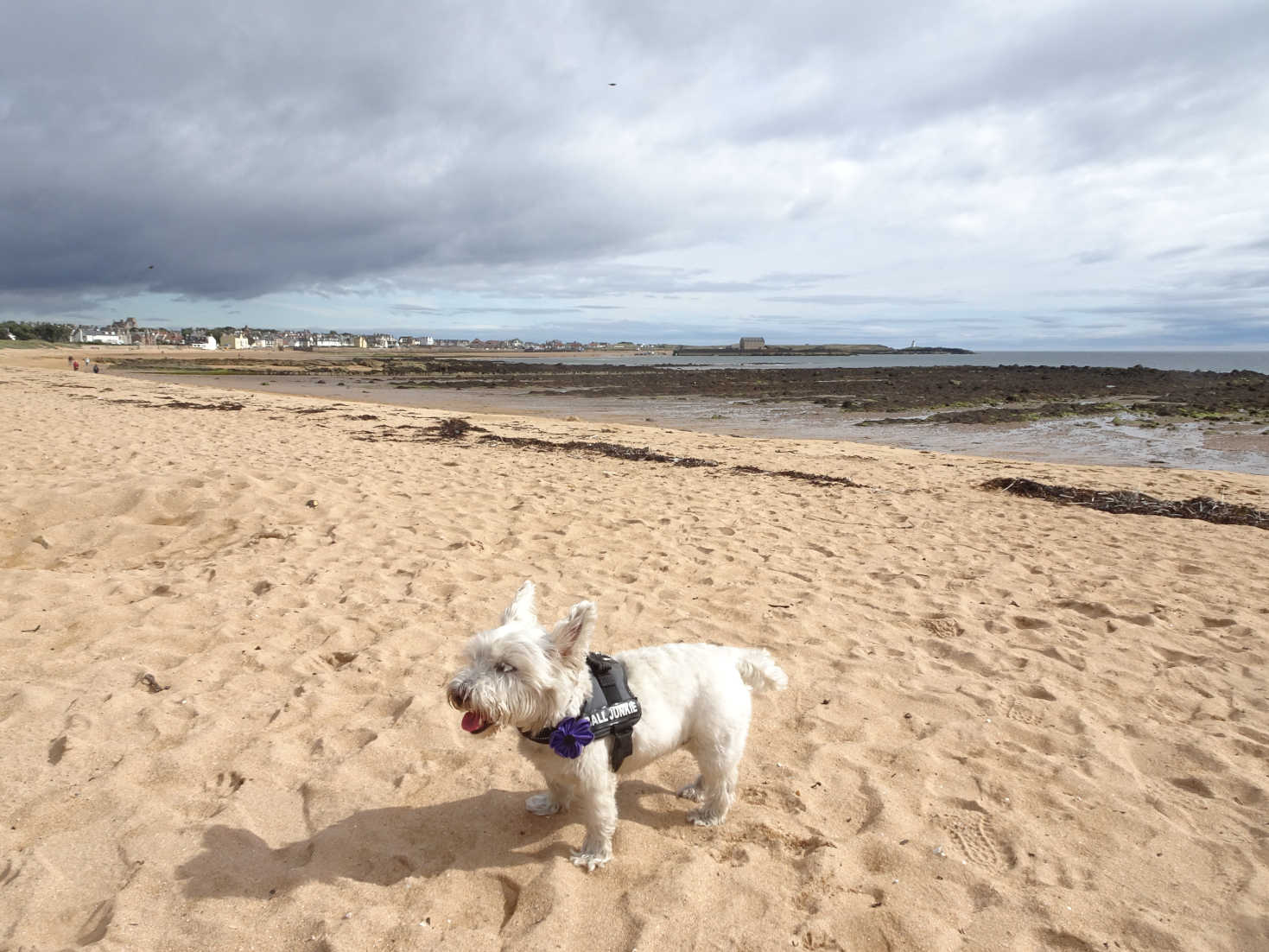 Now I had a leash we headed into town. Dad went into a paper shop to get a paper. We stayed outside. Lots of peoplsees were across the road with fancy clothes, what's this mum? "It's a wedding Poppy" Oh OK. Dad came out and brought me over to the door. The papershop peoplesee had a knife! What's going on? Dad held new leash out and she cut it, "Much better Poppy". No sooner he was in he was back in the shop again, Mum's muzzle was in her fleece, her fleece was back in Betsy, so dad had to buy her a new one.
Mum saw peoplsees eating ice creams. I knew she couldn't resist, two seconds later she had a rum and raisin cone dad went for a Scottish tablet one. We walked to the bus stop when mum discovered one was due and the next one was an hour later. How are we going to get on? You have muzzles on and are carrying cones.
The bus came and the driver let us in, he didn't even take any money! The bus ride was funny, dad sitting there with ice cream melting onto his hands not being able to eat them because of his muzzle. It got funny in a different way when the driver asked mum where the camp site was. His bus wasn't going past it. Before the bus turned off the main road he let us off in the middle of the country, what now dad?
The road was very busy and the cars went very fast, I couldn't walk on the grass because it was spiky grass. The cars came so close to me I could feel the wind, one nearly hit dad, dad was not happy and shook his fist at it, I barked at it as well. All was well when we saw the entrance to camp and I got off leash.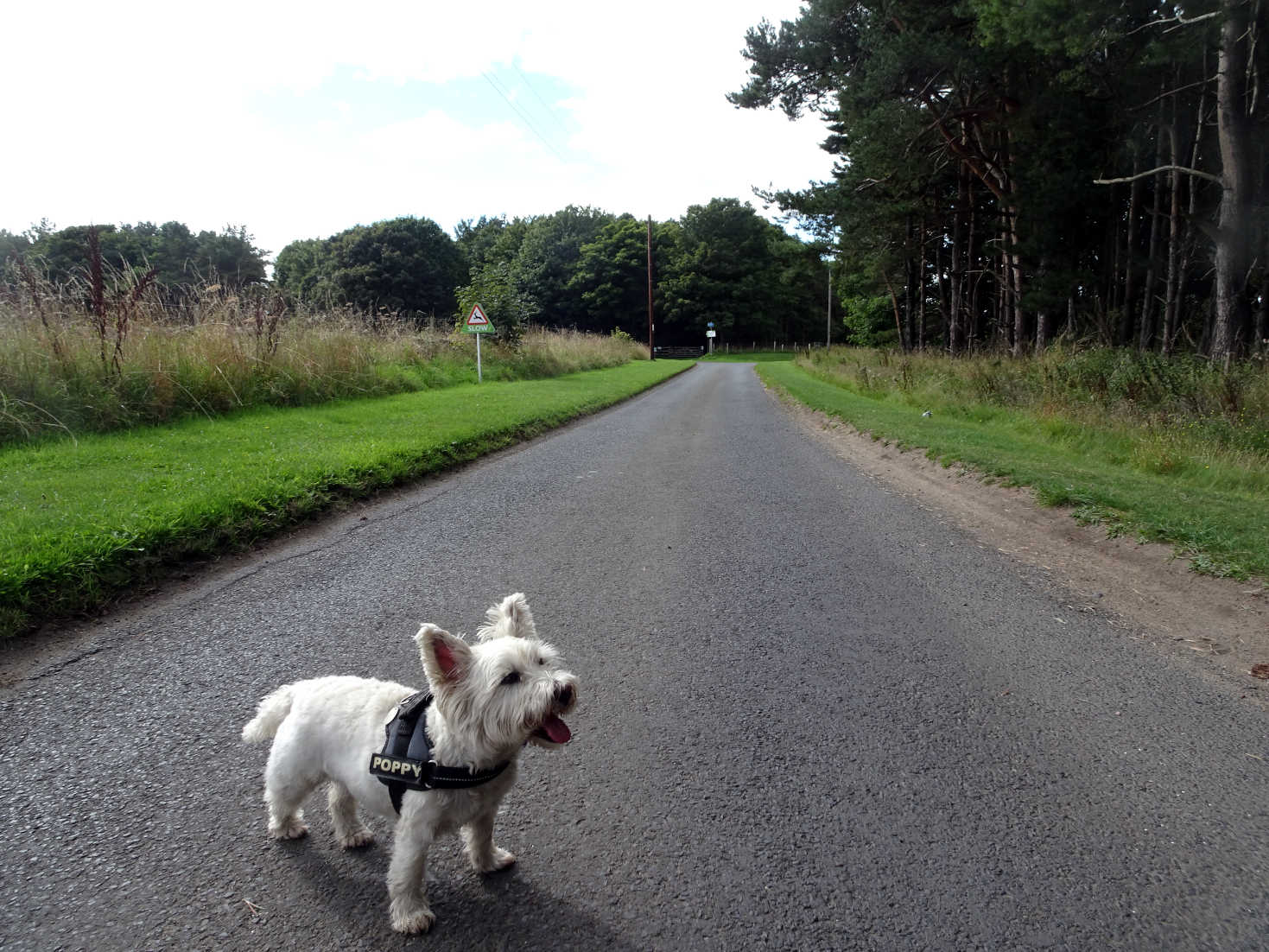 The road to camp was a lot longer on paw than it was in Betsy. Every time a car went passed mum and dad stopped and kept the cars safe from me. I don't know why they did that I wasn't going to bite them. Back at camp I played with Trudy for a bit. Her dad picked her up, I growled at him. He then made her growl, grrrrrrrough don't worry Trudy I'm here! He stopped teasing her. Nobody messes with my pals.
Soon it was time for dinner. We were going out to place at the top of the camp called Kincraig View. Dinner was good, I got some haddocks in batters and a denti stick. Poppys likes fishees in batters.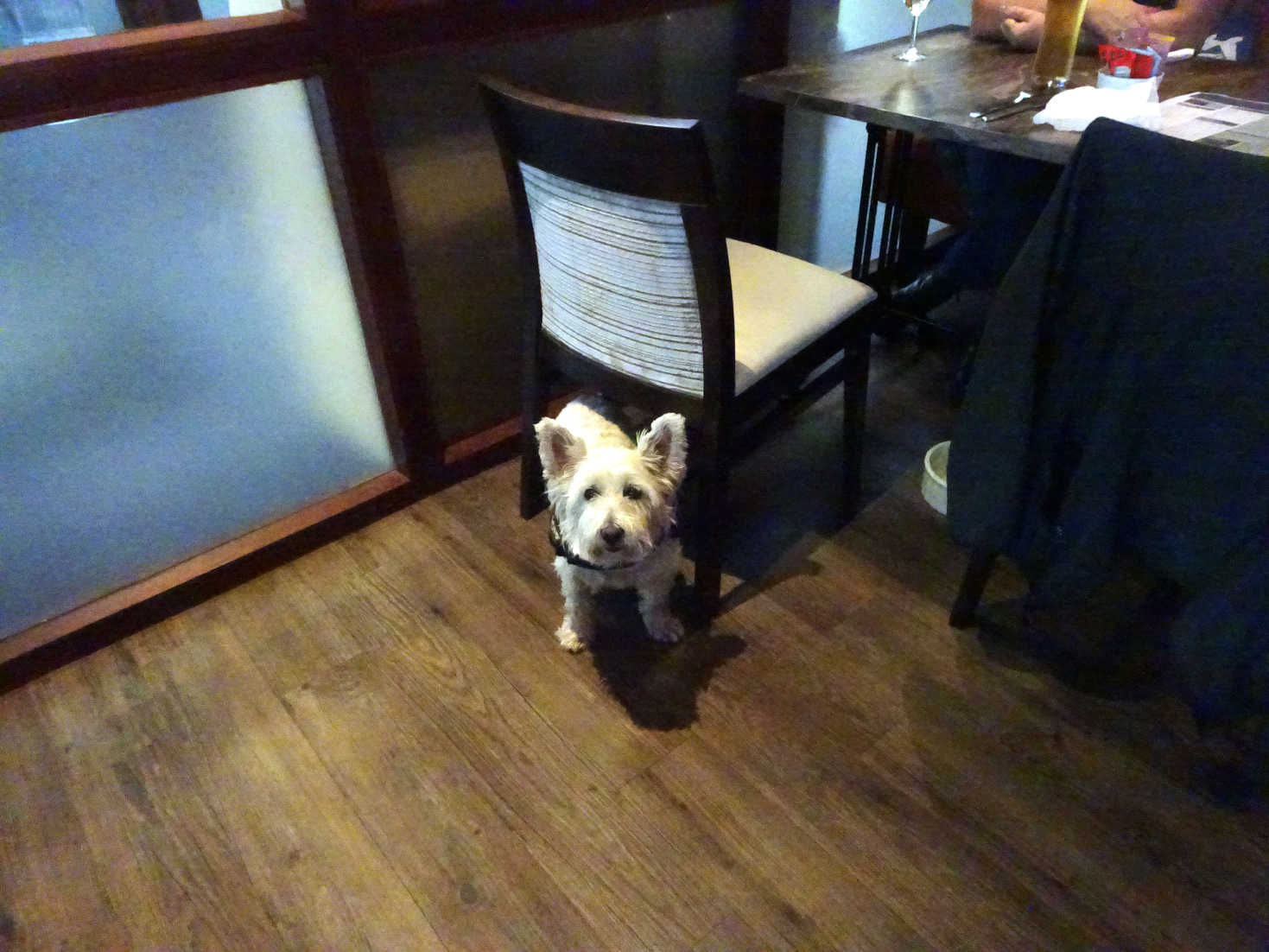 When we got back to Betsy it was getting late and time for my walk. I like night time walks here. Down to beach, go for a nose around and back to Betsy.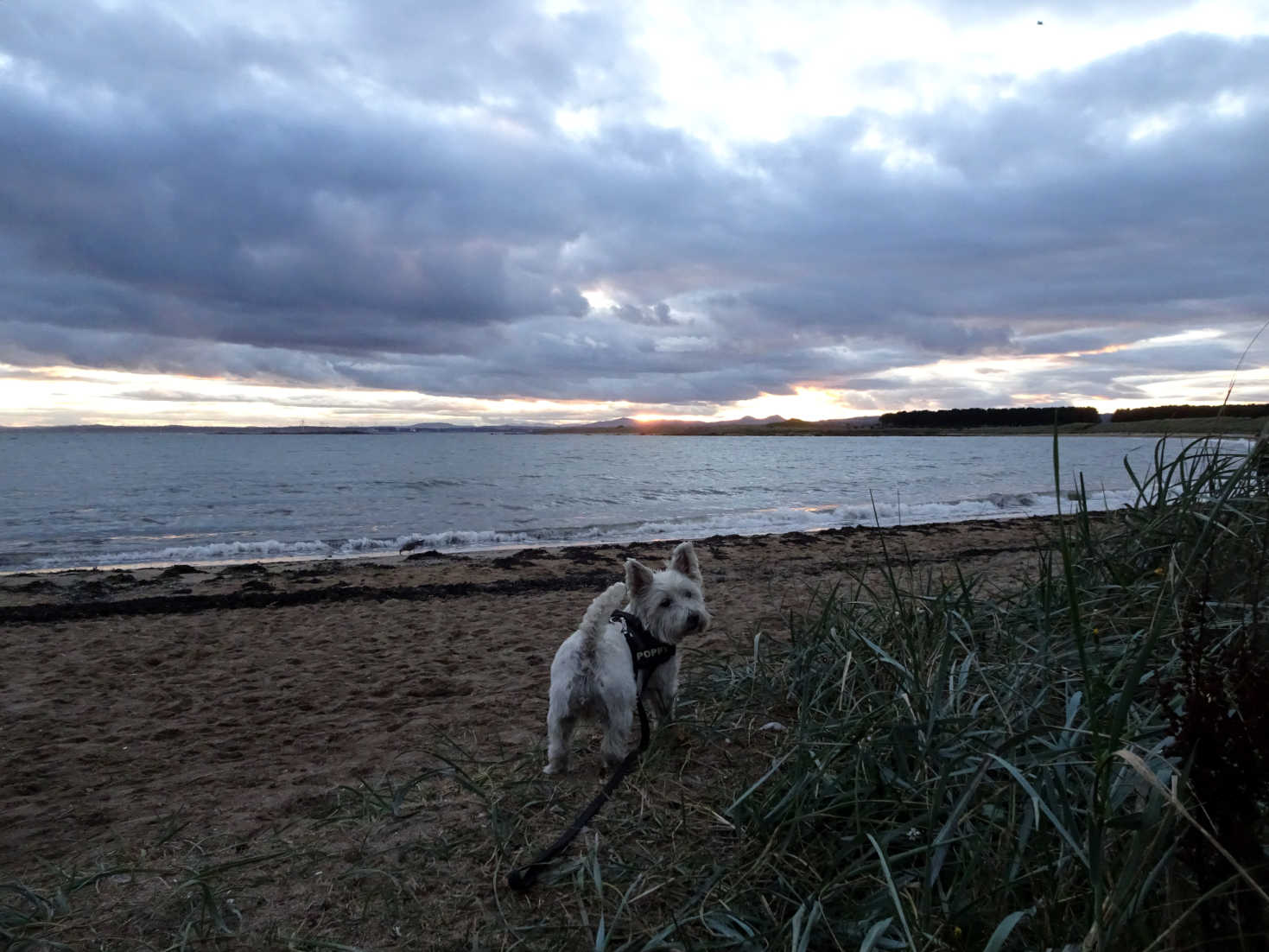 The night came and I was very tired after the long walks today so I went for a snooze in my chair. It's been a long day.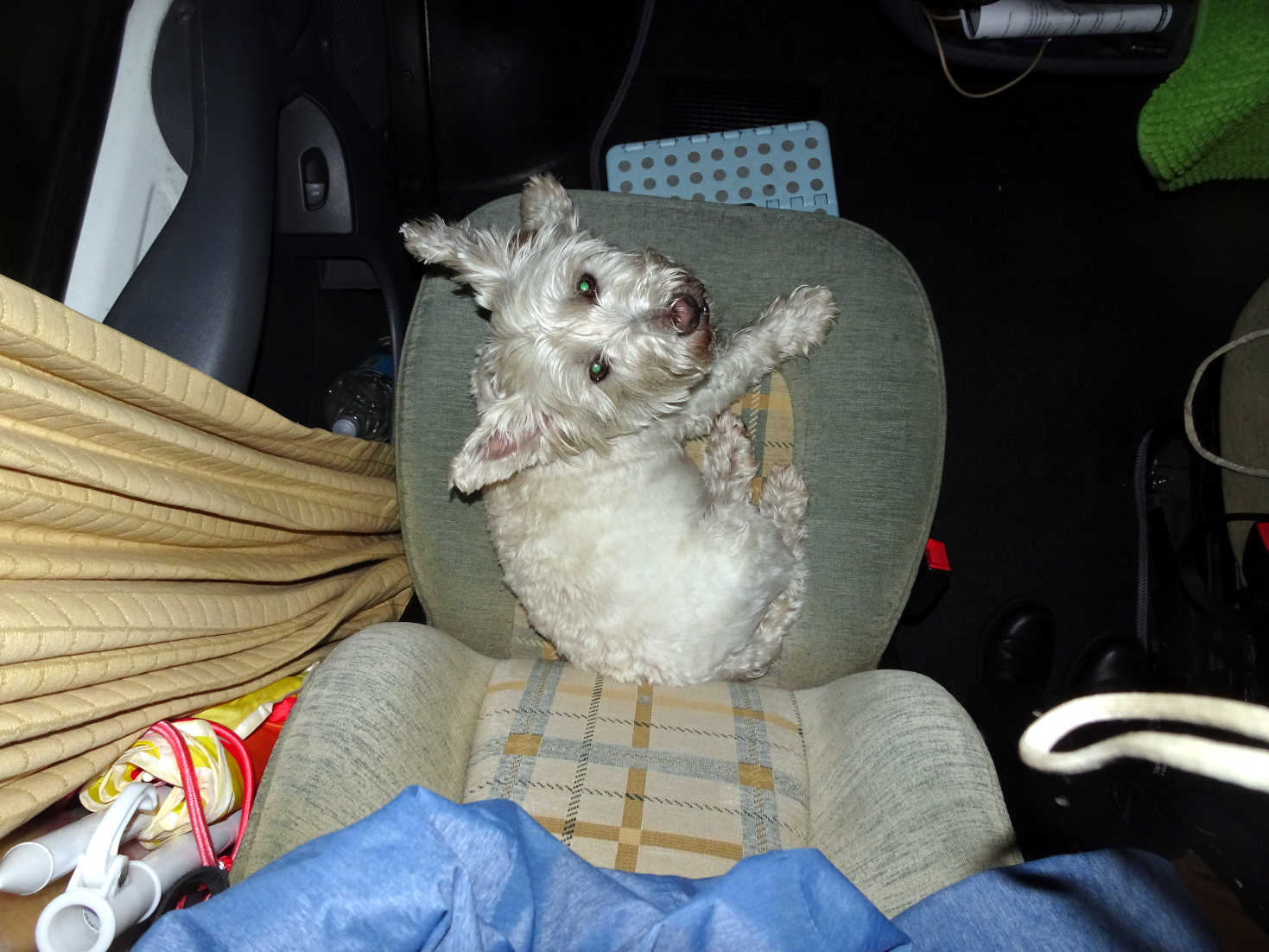 The next day we had to pack up to go home, dad's mood started to get low again. I think we should just stay here dad, "Wish we could Poppysocks". I said my goodbyes to Trudy, hope we are neighbours again sometime, Trudy's dad clapped my head and gave me a treat, hope to see you at the next camp.