Mum came home early on Thursday mmmm, we going somewhere? Dad had been shuffling about Betsy all week, must be adventures. No puling the fur over my eyes, soon we were in Betsy trundling south. Hold on I know where we're going, this is the ferry to Arran, I was here last week with granny and auntie jean.
In the ferry we were beside a family with 3 dogs and a crazy wee boy. The old dog was nice but I was not convinced with the other two. Better stay on the seat with mum and keep an eye on them. Soon we were back in Betsy and on Arran. Betsy went through the town so we were going to Lochranza. Motorhome in front Motorhome behind, hope Betsy has a spot to rest. As we rolled into camp the sky started to sob, water everywhere. Mum and dad were very sneaky. They loaded up kong with goodies chipped to the back of Betsy when I had finished it they were gone. They do this to me every time we come to Lochranza. Where do they go? They woke me when they got back, but something was wrong, there was a strange smell, mmm I know what that smell is, deersees.
Dad was well impressed with me on our night time walk because Poppys found dad beer. Dads loves beer and the only thing better than beer is free beer. We snaffled the cans and took them back to Betsy for laters.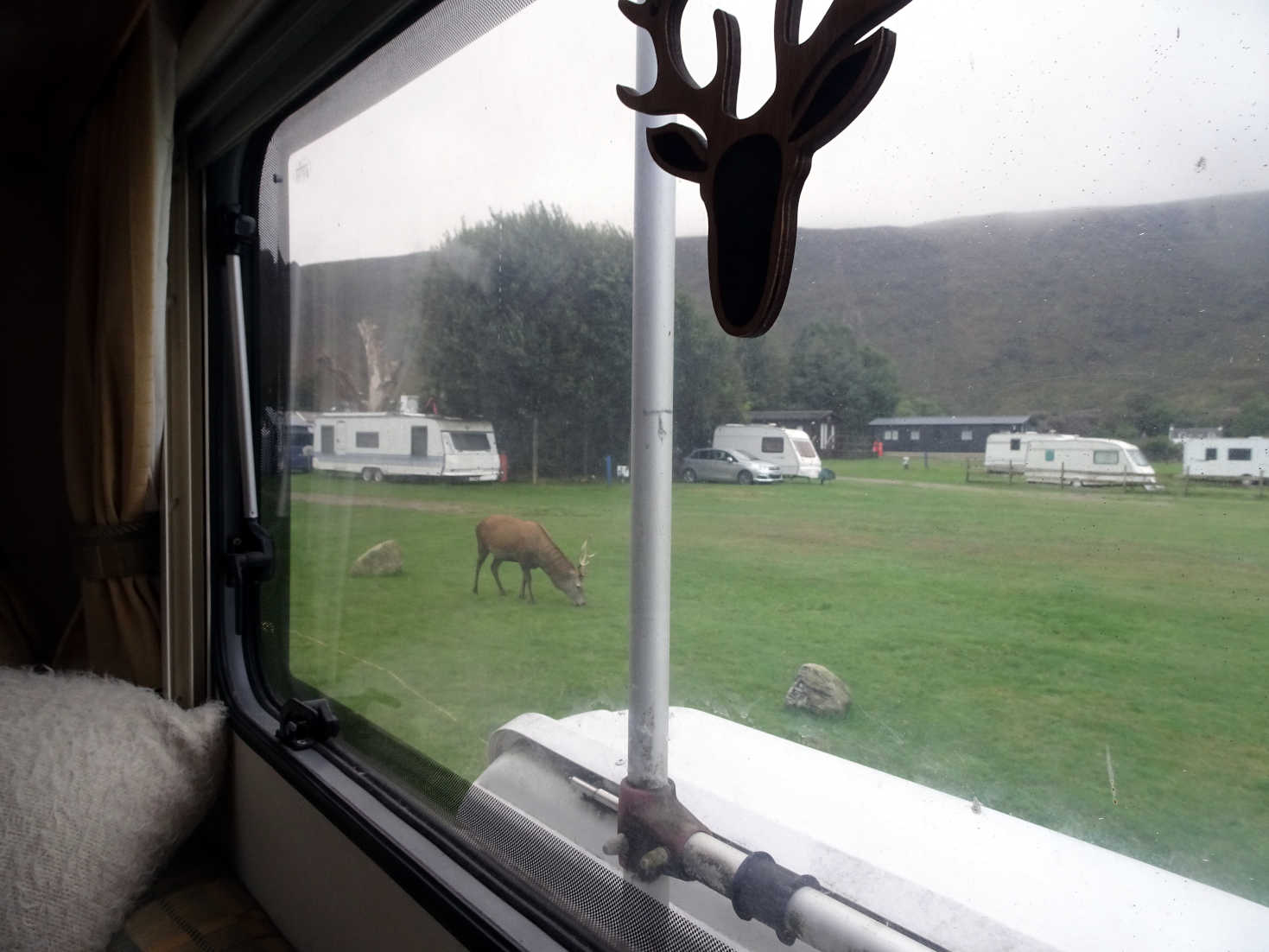 Next day the sky sobbed stopped then started again. I went out for my morning walk when I saw it. I knew I recognised that smell, deersees. Let me chase it dad, let me chase it grrrrrrrrrrrrough!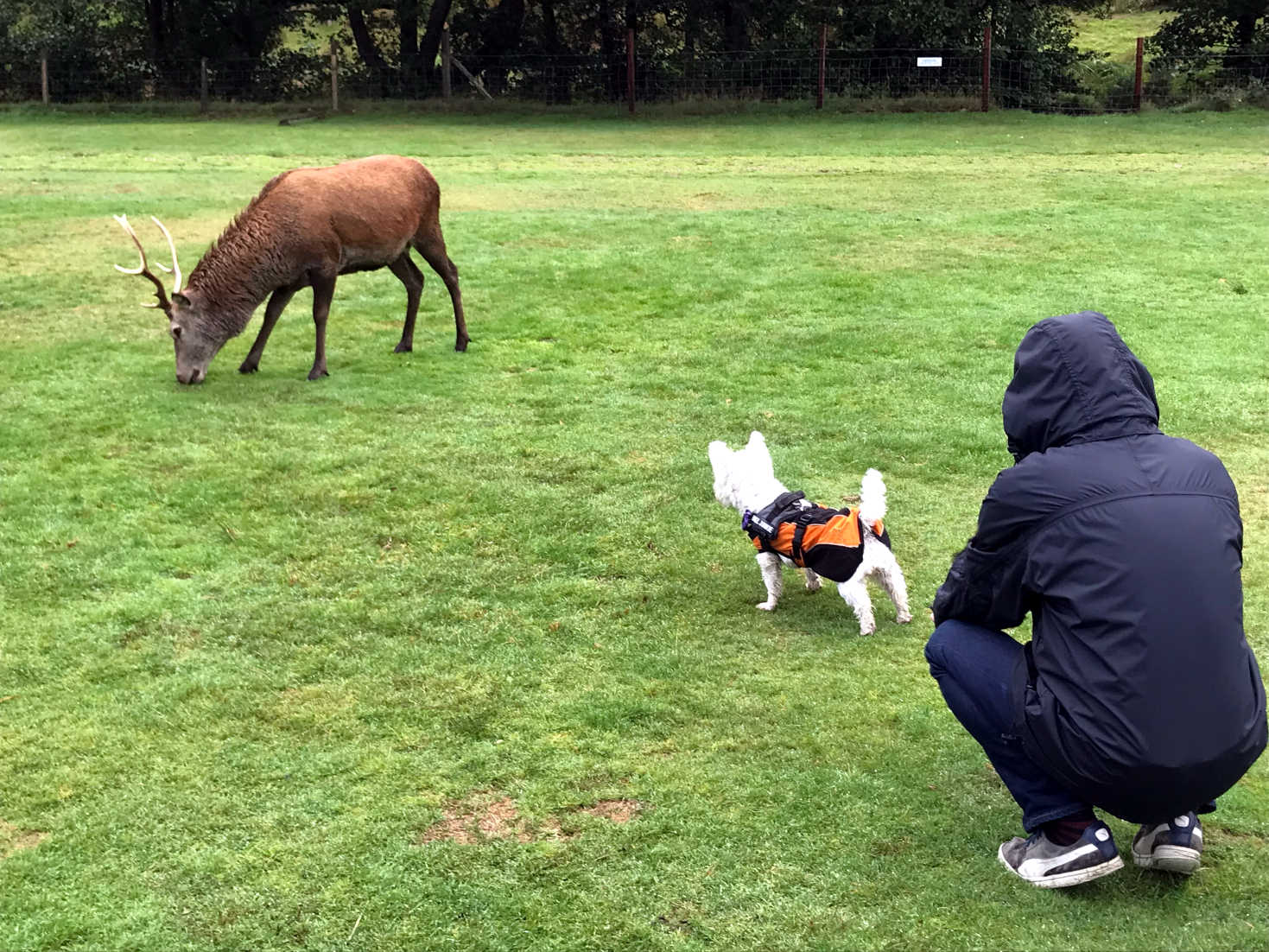 Dad you're a spoilt sport!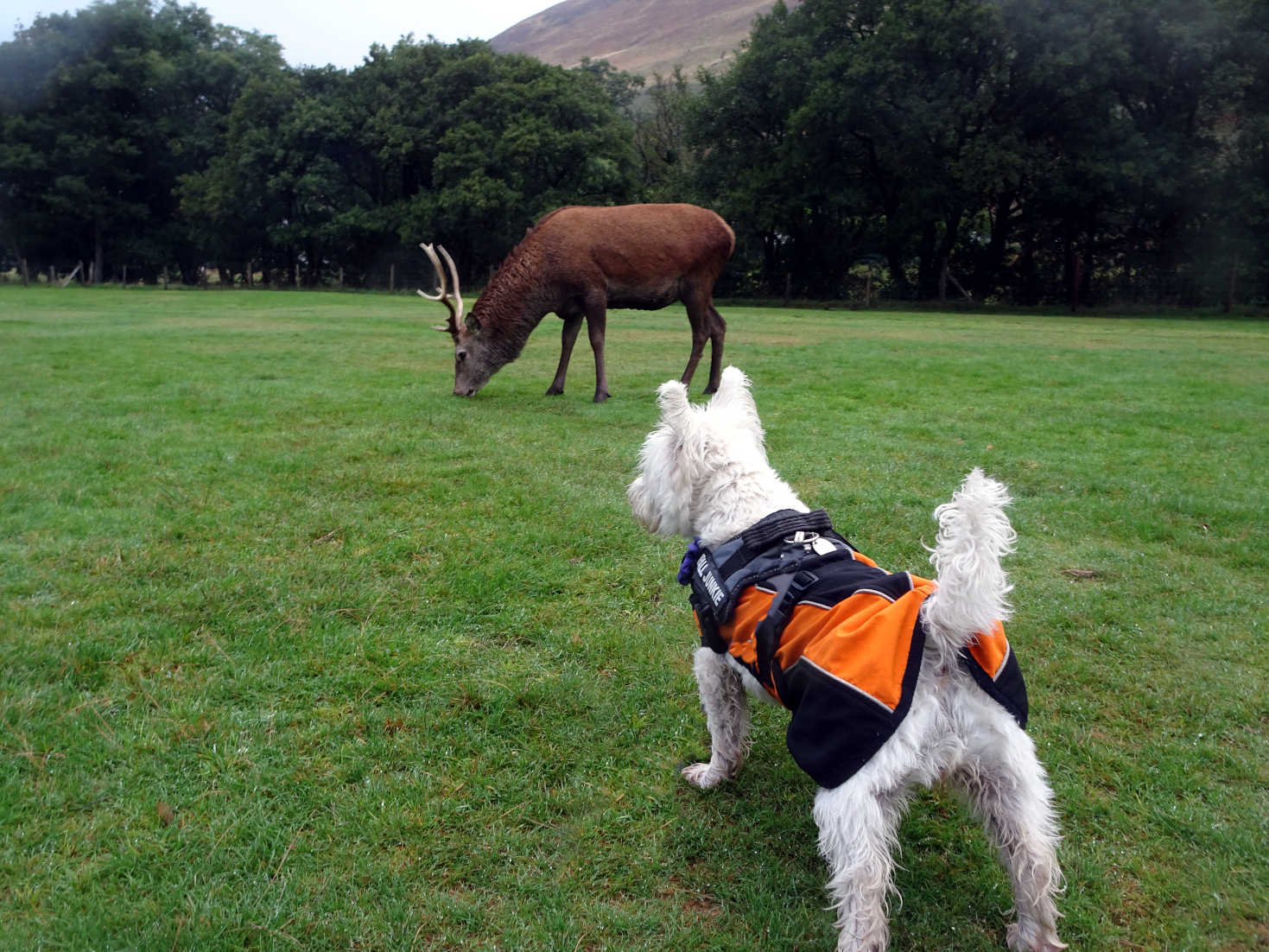 We sat about Betsy for a bit then she fired into life. What's going on dad? We just got here why we leaving? She didn't go far, just as far as the small ferry. Hope we don't stay here as long as the last time, we were here for hours! The ferry came in and caught us off guard. Dad had to run to the front and drive Betsy in his socks!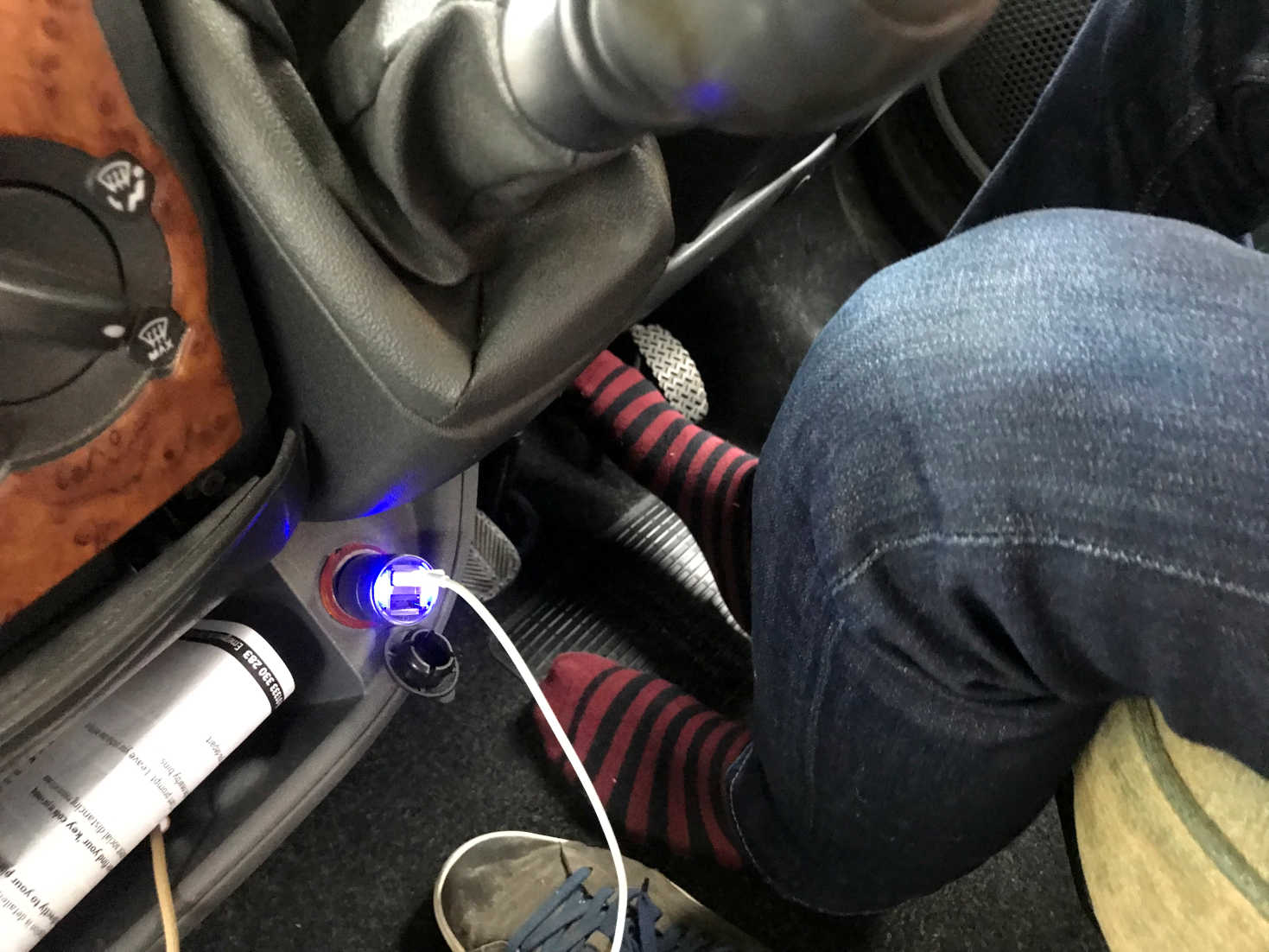 As we crossed over Mum went to show our tickets. She said we have a problem with tickets and we would have to sort it out or we would be stuck. The ferryman said we would have to go to Kennacraig to get it sorted out, so we joined the long line of cars leaving the ferry down the wee road.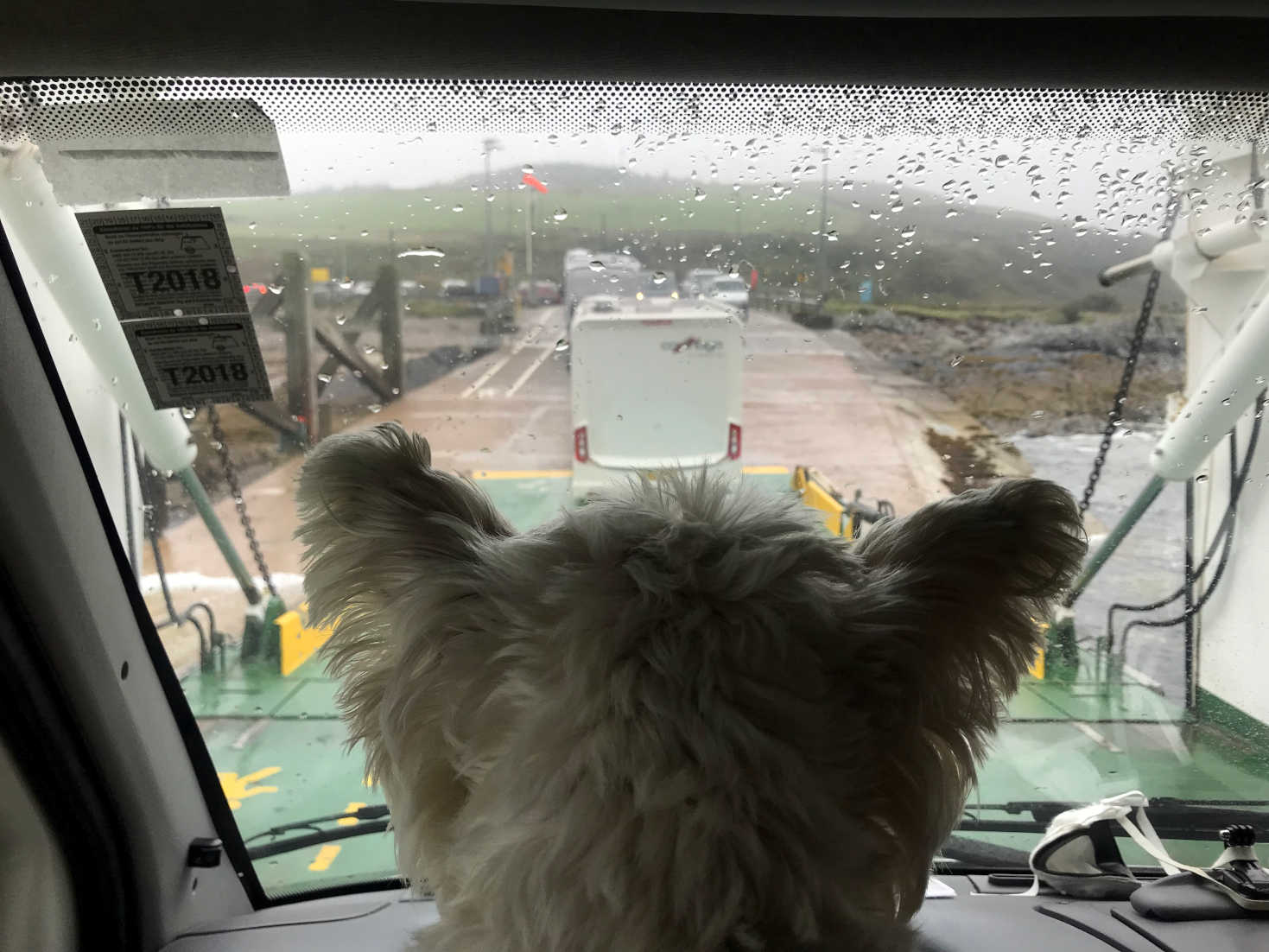 As we went I heard gunshots! Poppys no likey gunshots. Slowly the cars crossed over the land to the sea again where the big road was and the ferry to Islay. Betsy pulled into the port and mum got out to sort the tickets. The stupid peoplsees in Ardrossan never printed them!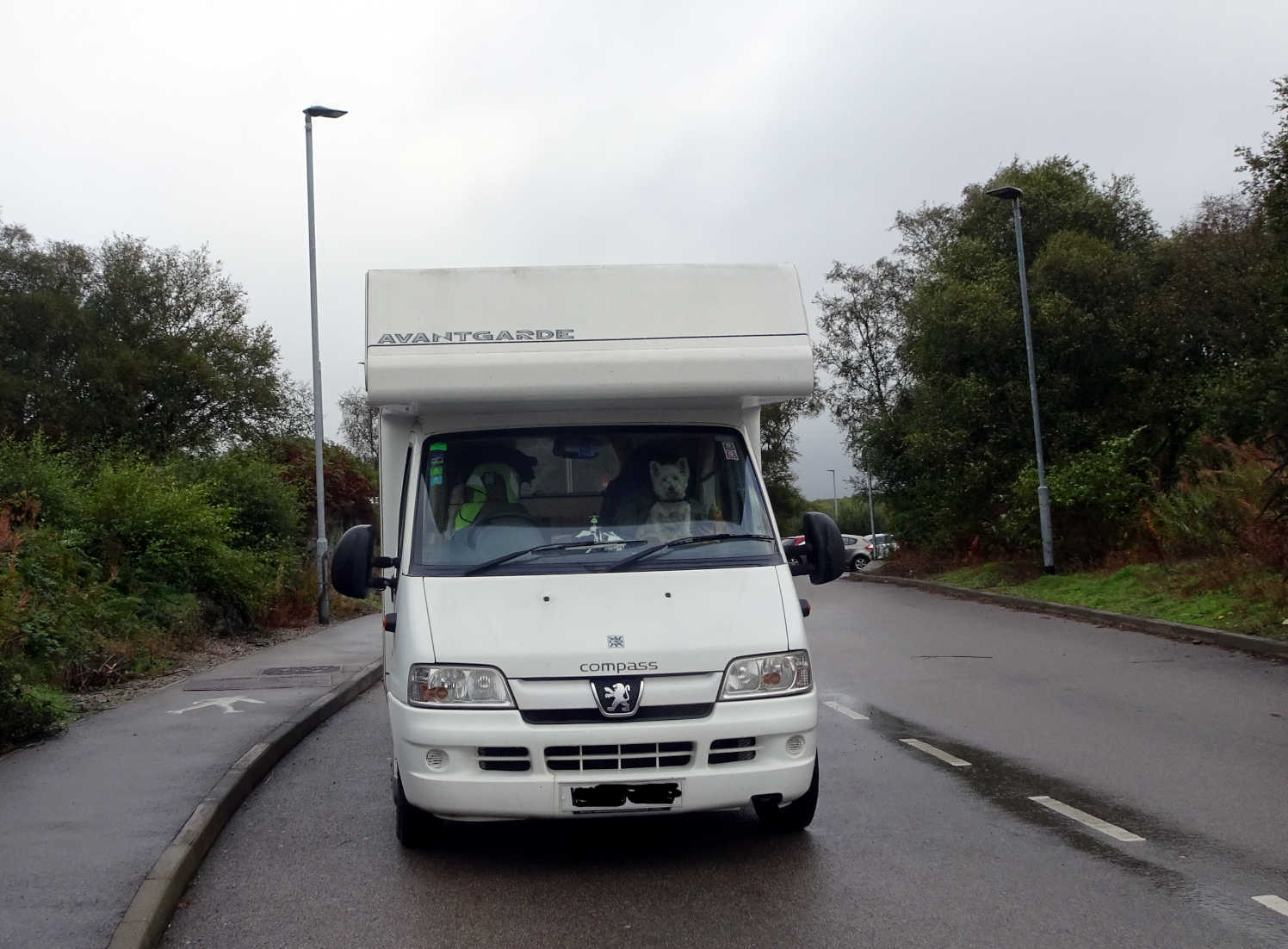 Back in Betsy she retraced other steps all the way back to the ferry, but Betsy didn't stop. Good job there were still peoplsees with guns about. She followed a tiny wee road that we had walked last year. It was still wet outside but not as wet as it was last time! At the end of the road she rolled into the muddy carpark beside Skipness Castle. Mmmmm we ate here last year and it was good. Dad picked me up so I didn't get mucky and soon we were sat down and ready to eat.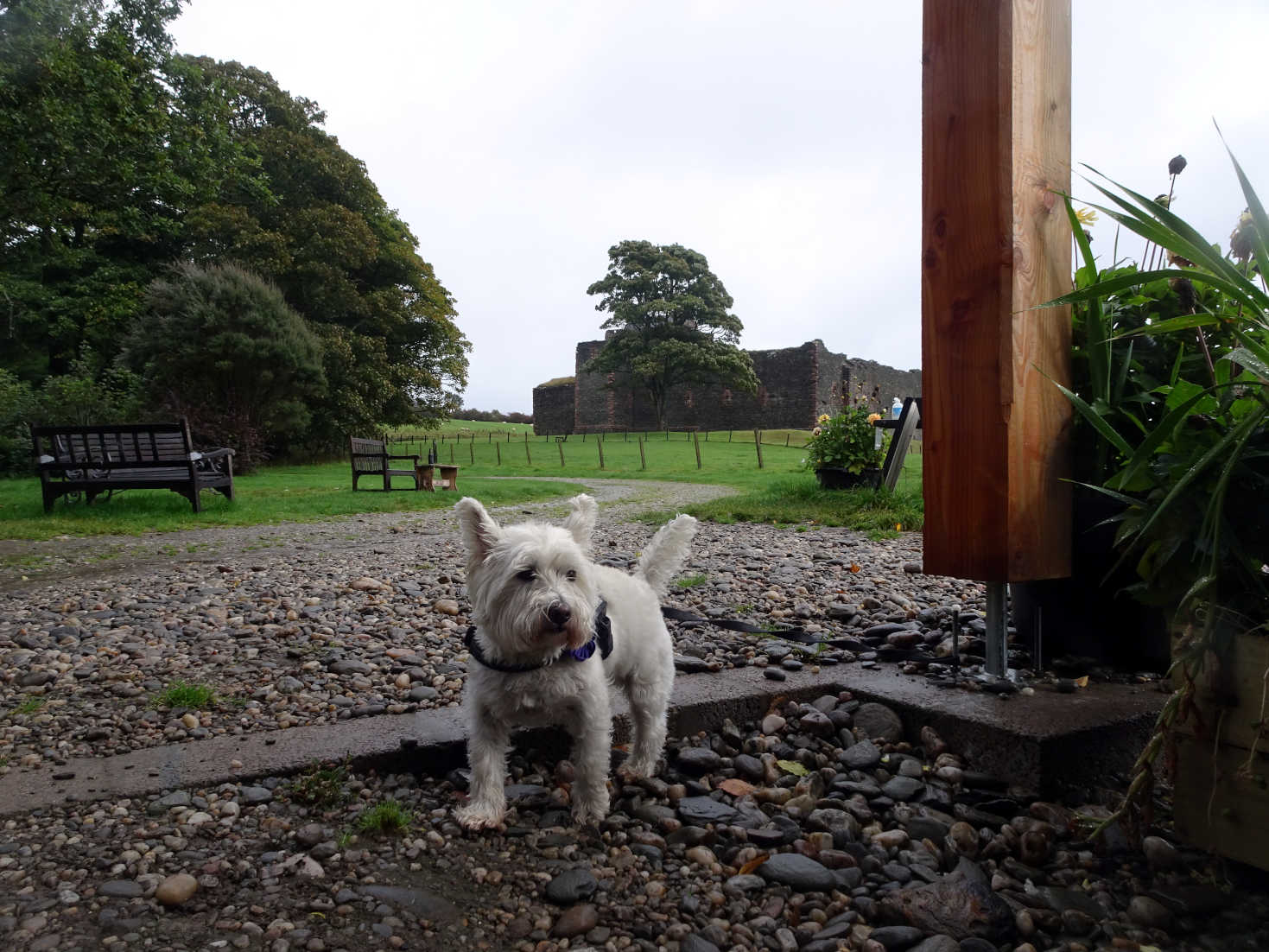 The waspees had other ideas. Mum and dad batted them off but it was too much for them. Inside? Inside was much better. Lunch came and it was as good as the last time. Smoked salmonsees YUM!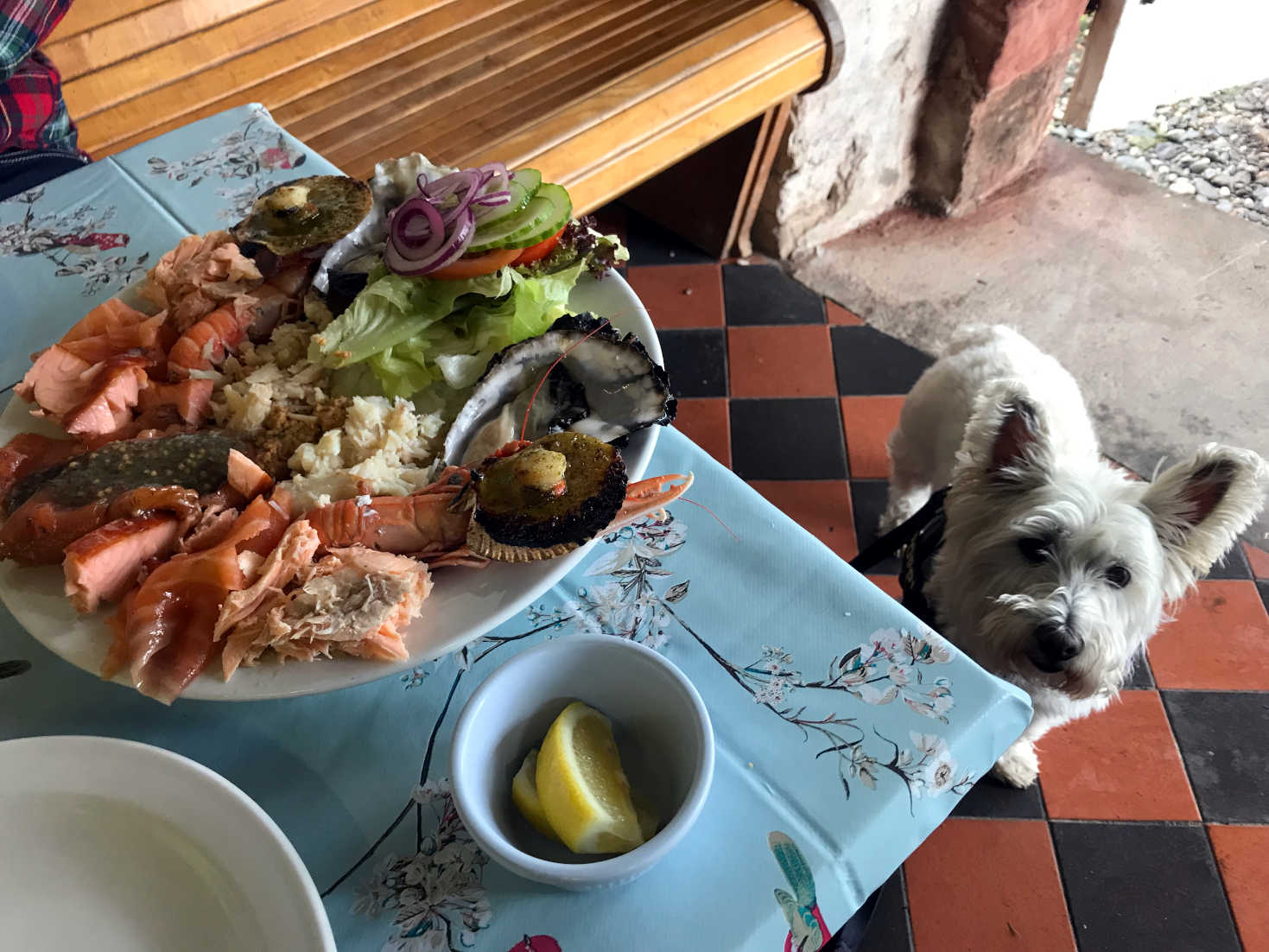 The sky was still grey as Betsy followed the coast, it was so grey that there was no colour anywhere! Grey sky, grey sea, grey forests. We were going through the clouds. Where are we going? Betsy came into Carradale and drove straight past the campsite, mum was looking for a shop to buy a tv guide. She took us nearly as far as the port before turning back. This time she took the track into camp. Mum said the weather would turn so as soon as we settled in walks. I remember here, beach, ball and sinky sand to run on! First up the sea!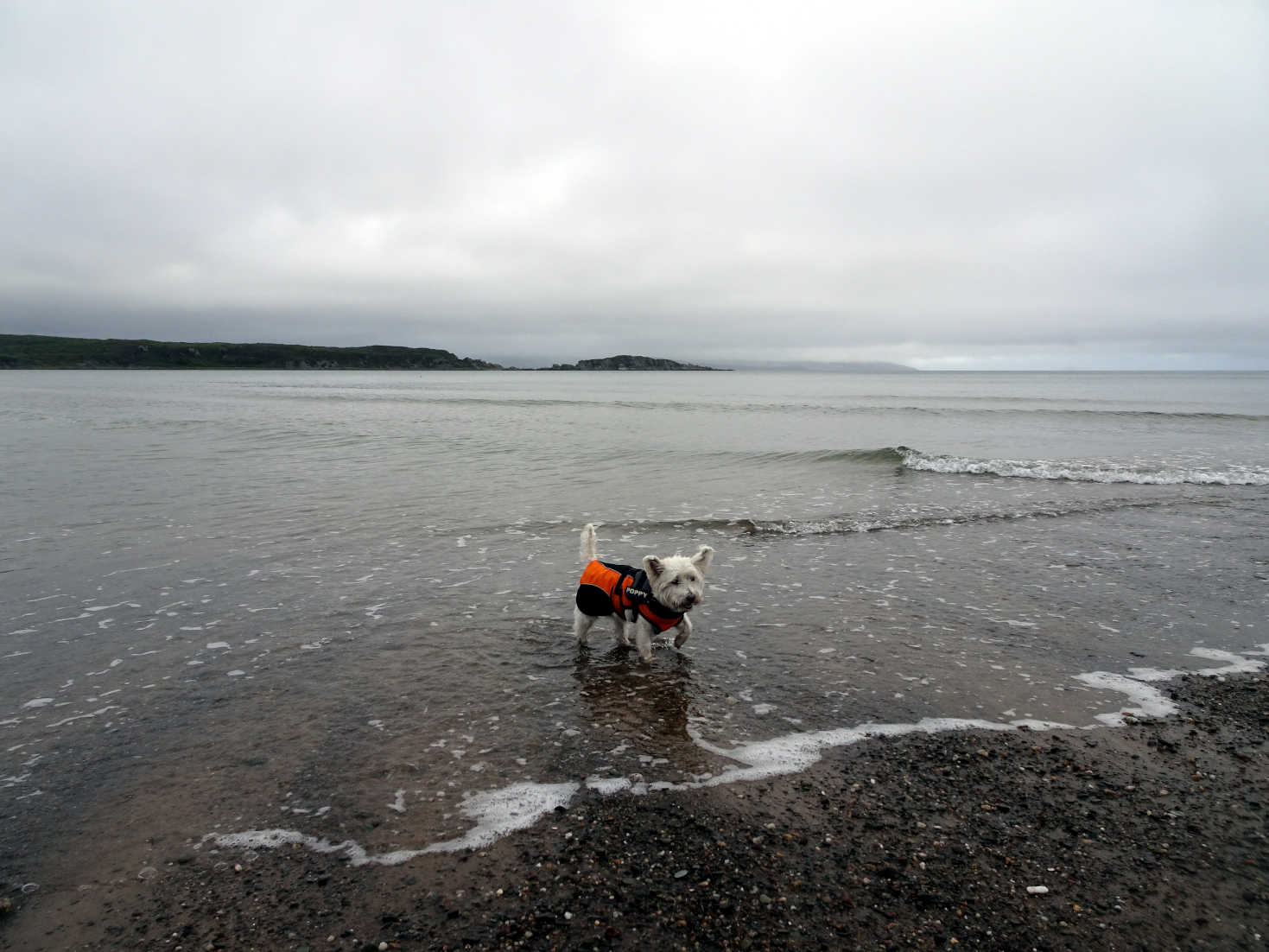 Ball was lots of fun, its what beaches are for.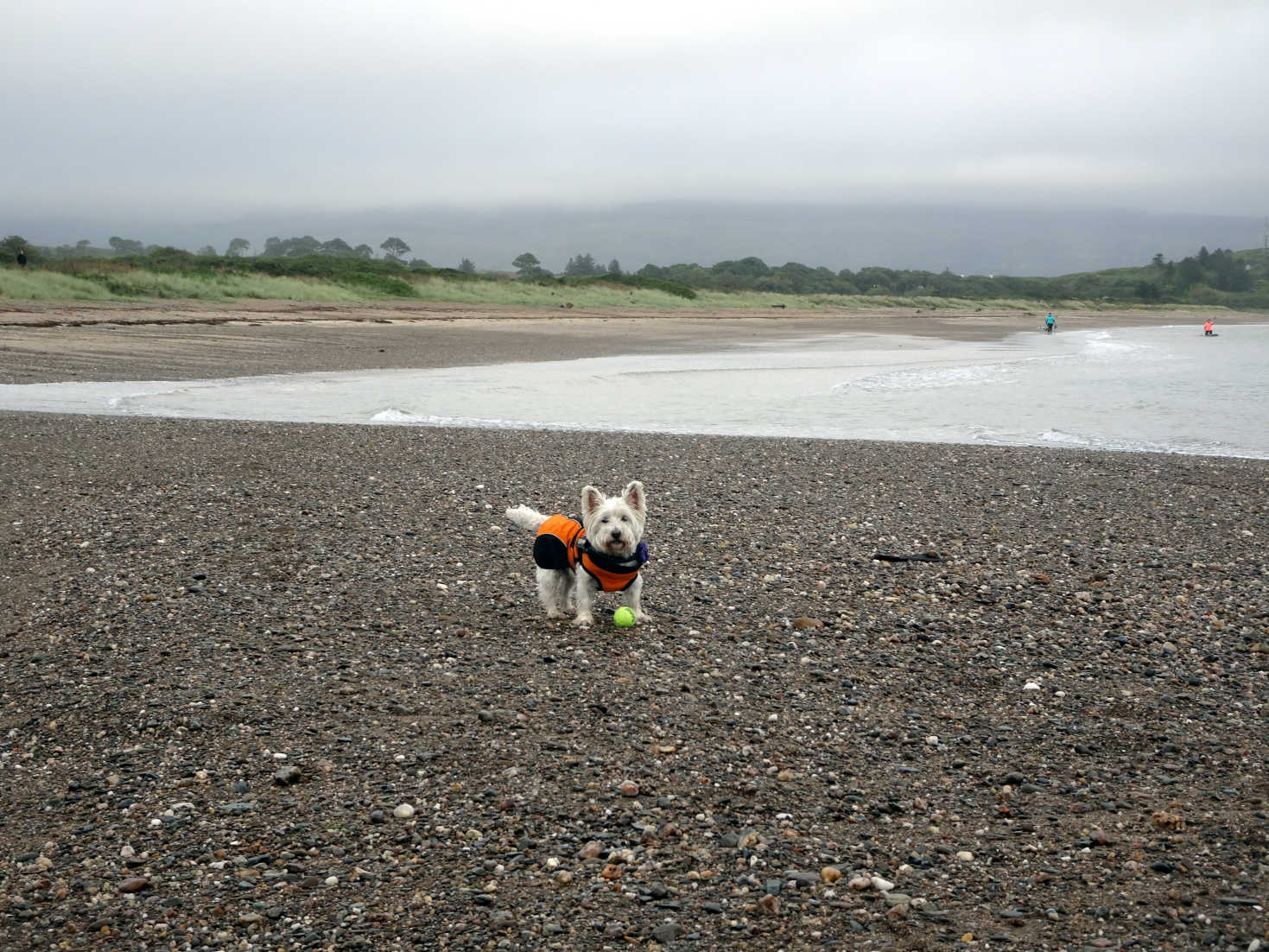 We followed the beach down to the village at the bottom, but, there was a problem, the beach ran out. Dad warned Mum about the sinky sand but too late she nearly lost her shoes!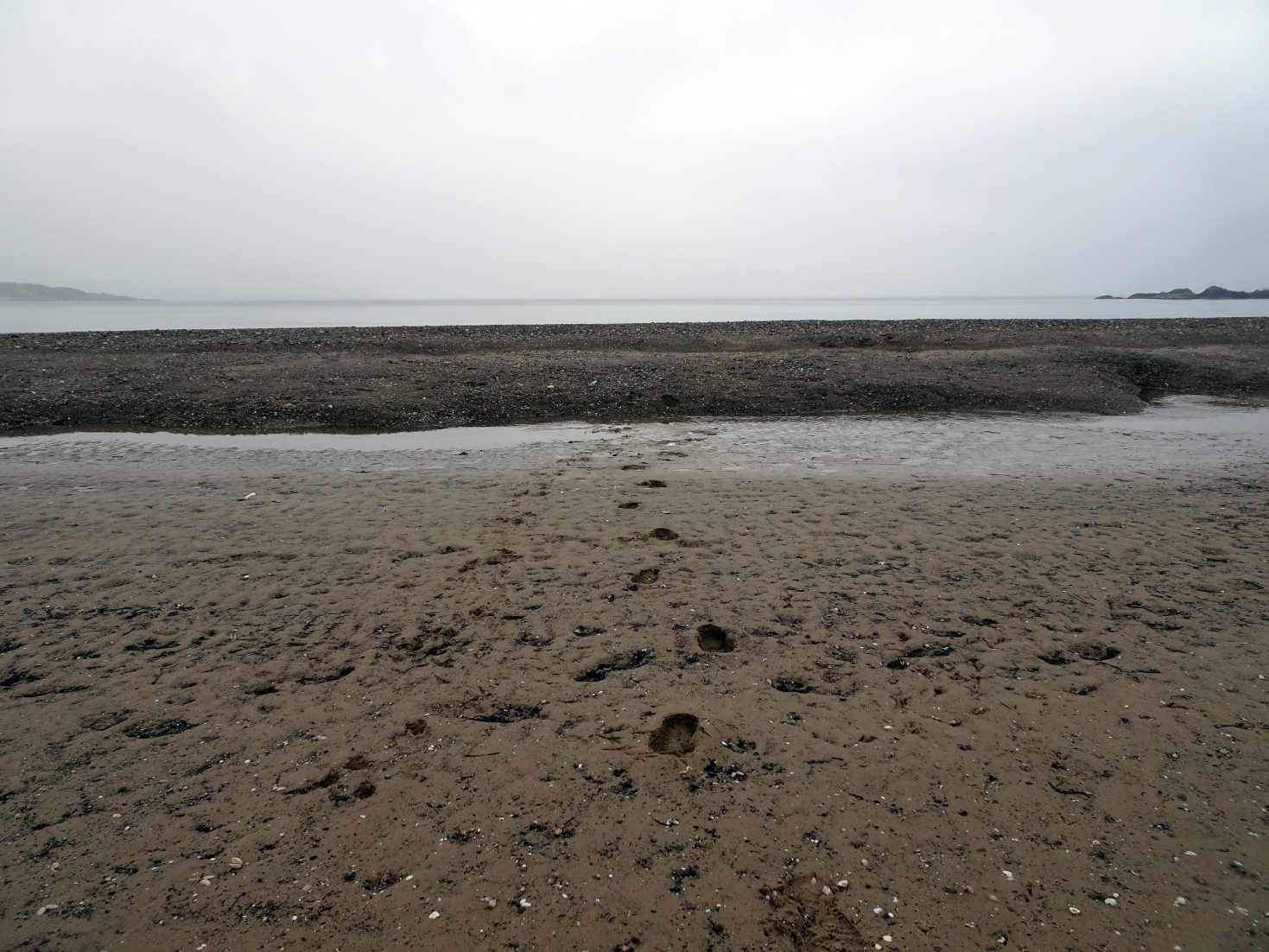 The beach came to an end as a big river crossed to the sea. Can't cross here to deep and to fast for poppys. Better head back.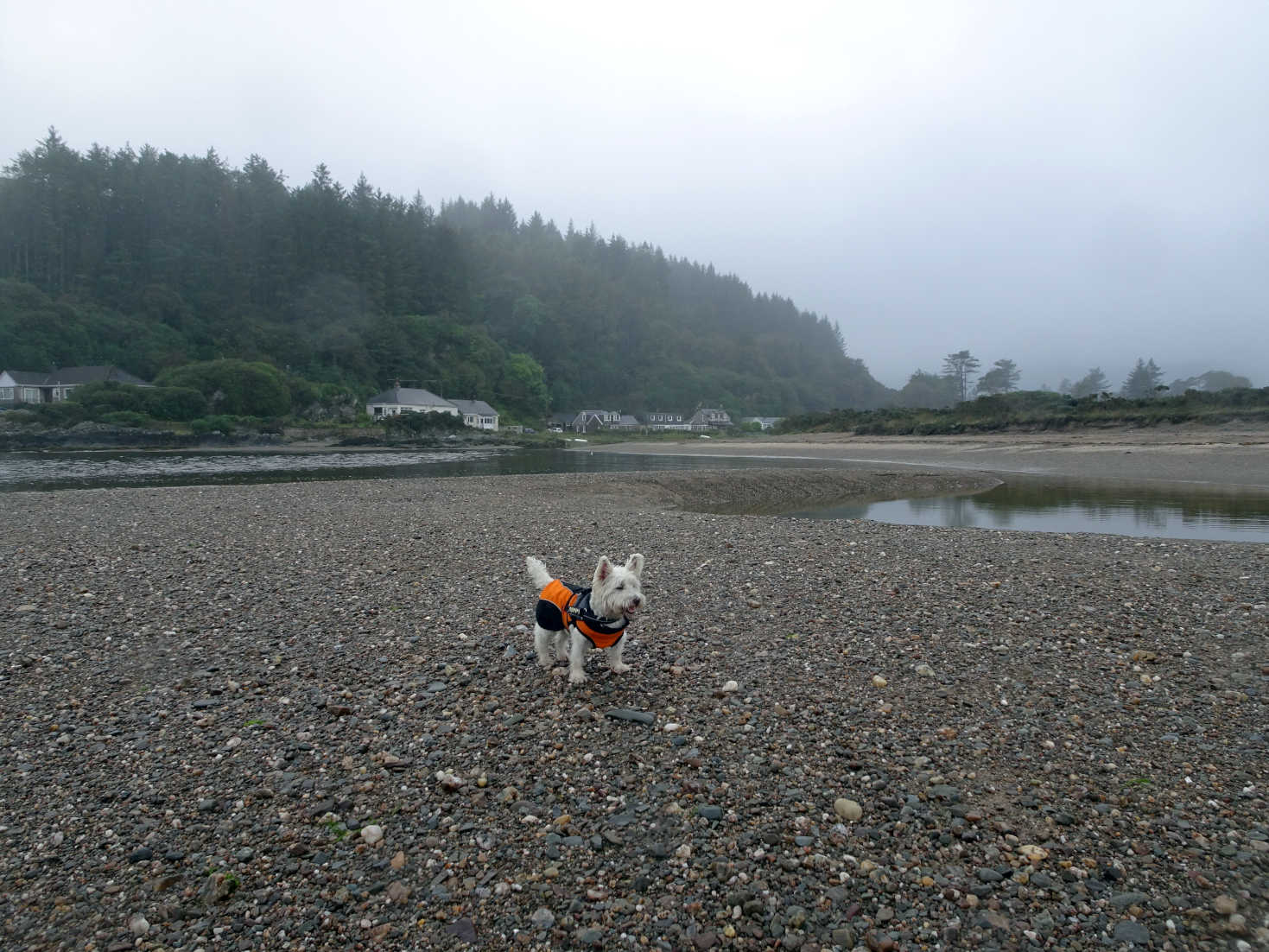 On the way back I met two of my cousins Hamish and Roory I introduced myself and had a play with them.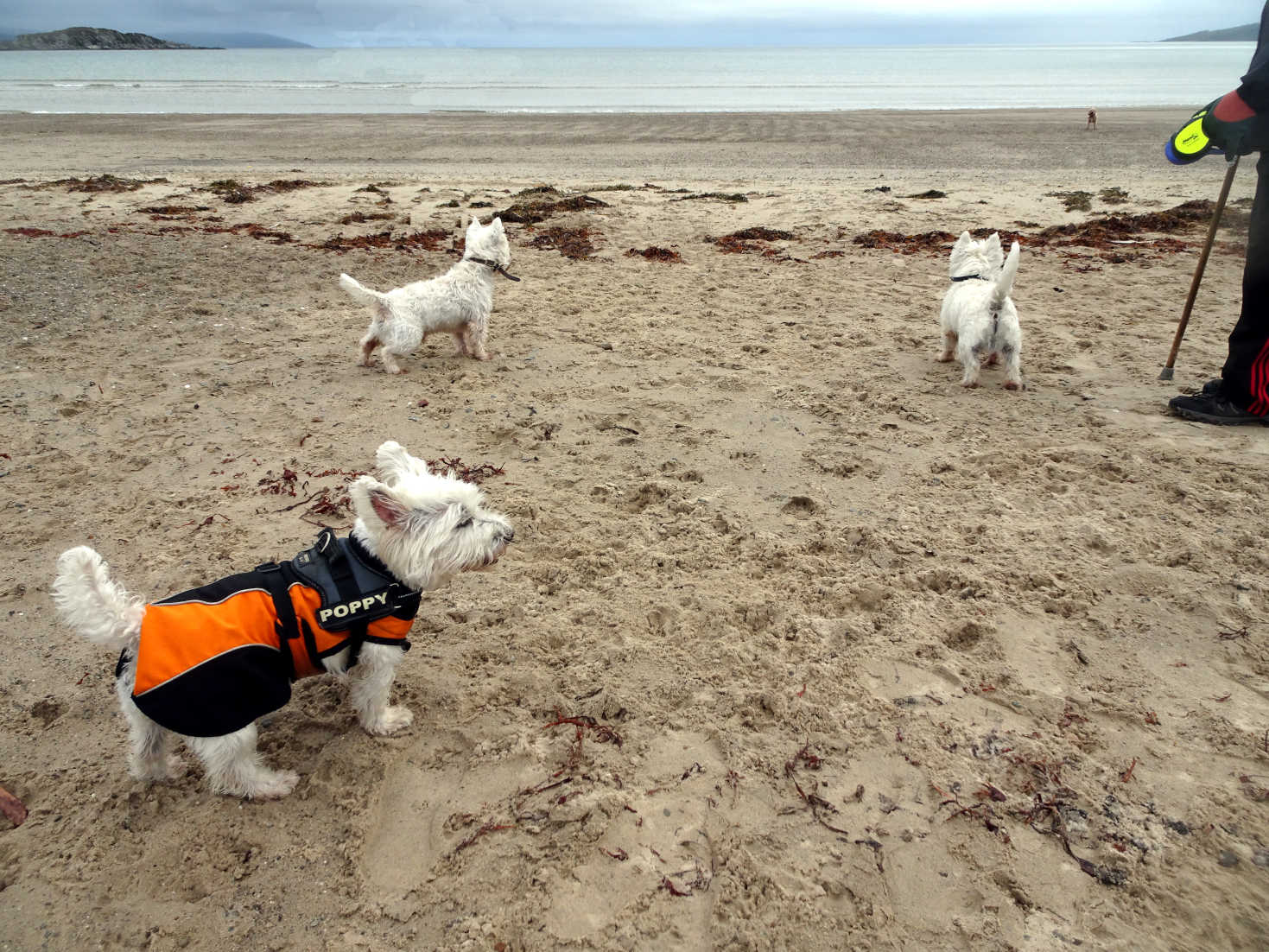 Soon we were joined by two Scotties and cockapoos! This is defiantly the in place to hang out.
I said my goodbyes and went for another game of ball before the sky started to sob all night.