It was raining when I got up this morning for my walk so it was a short run to the beach and mum had doggy bag when I got back. Poppys don't mind doggy bags gets me nice and dry. After checking the tides a trip to Davaar Island was off the menu. According to mum's computer it was going to be dry for a bit today. "Let's go to Saddle Bay and try and find the statue". Mum and dad thought this was a great idea so Betsy was unplugged and we were off. Parking was easy at the castle but before we got out.. horror! No dad no not the equifleece! Nope your not getting me that easily! All it took was one misjudgement and it was over my head. Poppys hates onesees! Ok I'll help you out here is my paw…grrrrrrr. Out of Betsy we were walking down the dirt track road to the castle. It was very mucky. My onesie was all muddy before we even got to the beach. When we got there we had to clamber across slippy rocks, too slippy for mum, no probs for me with my four paw drive! The statue was called Grip, mmmmm funny name for a statue, think dad is yanking my tail.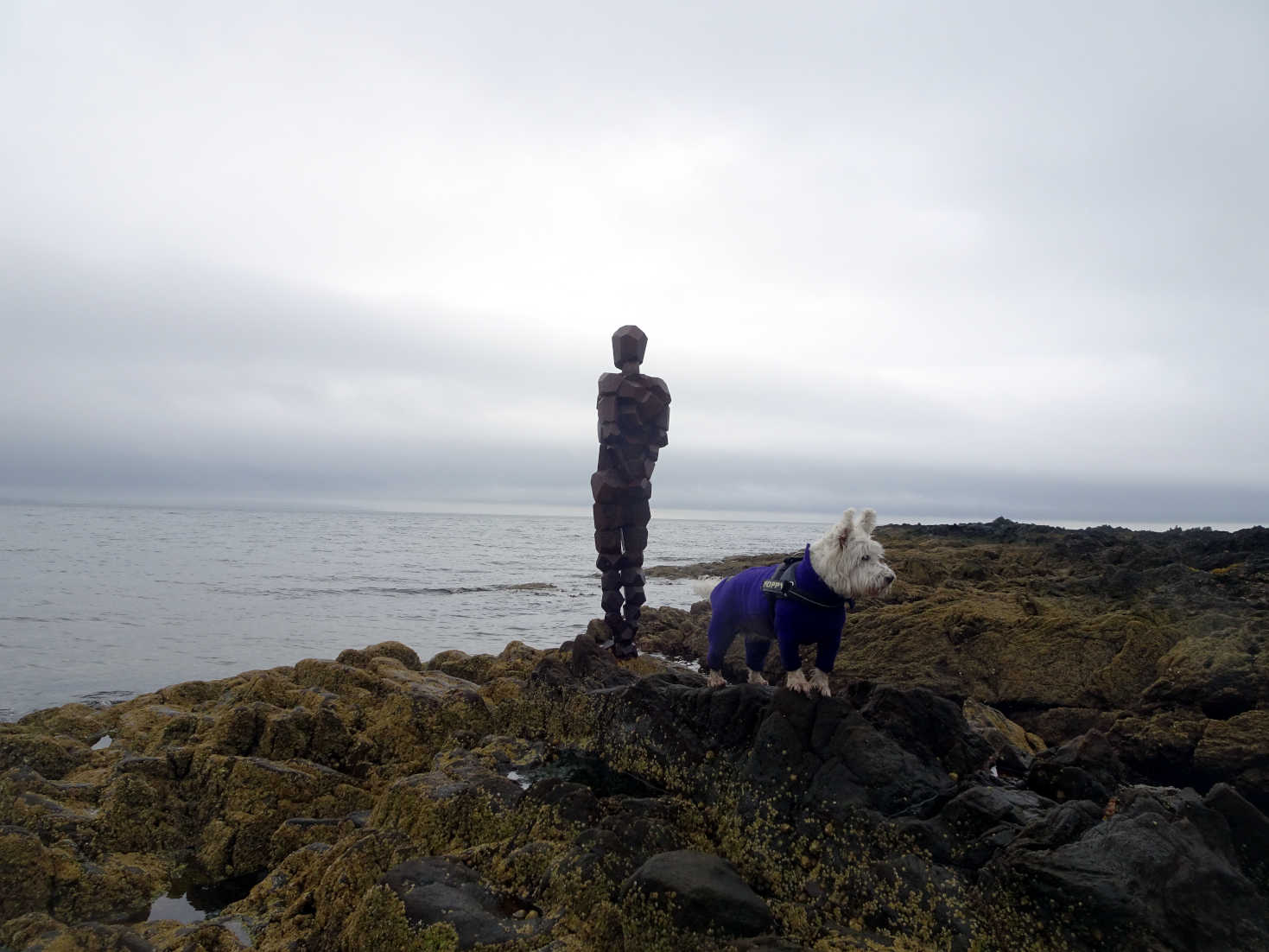 Lets go to the beach! Look its empty perfect for ball. To get to beach we had to go through the castle. Sniffing about I don't think there are dogs here.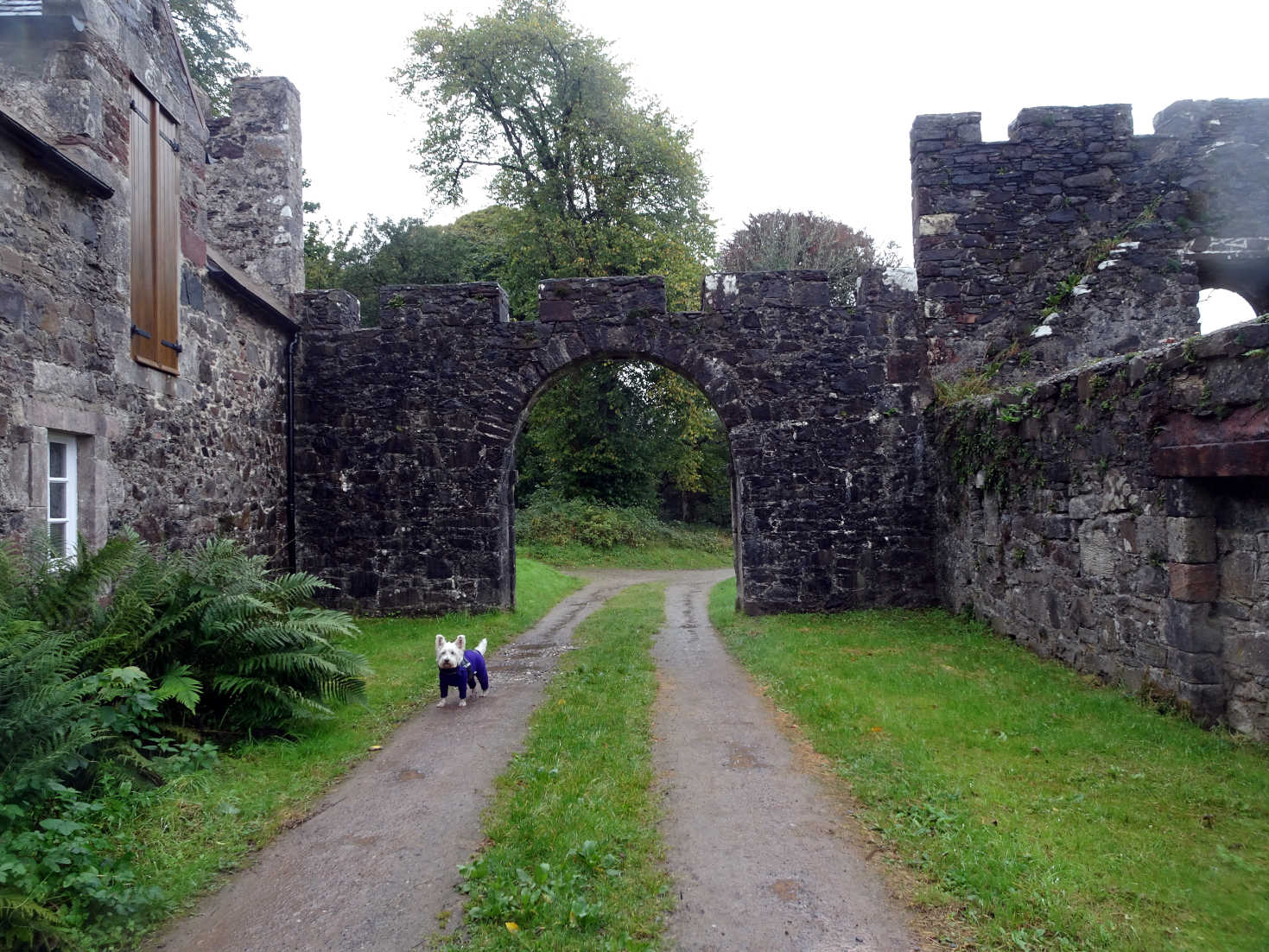 We went down a path over a bridge and onto the beach, totally empty. OK dad you know the script where is the ball? Mmmm maybe mums got it, Mum? "I don't have it Poppy" she said. Dad? He took it out of his jacket and booted it as hard as he could BALL!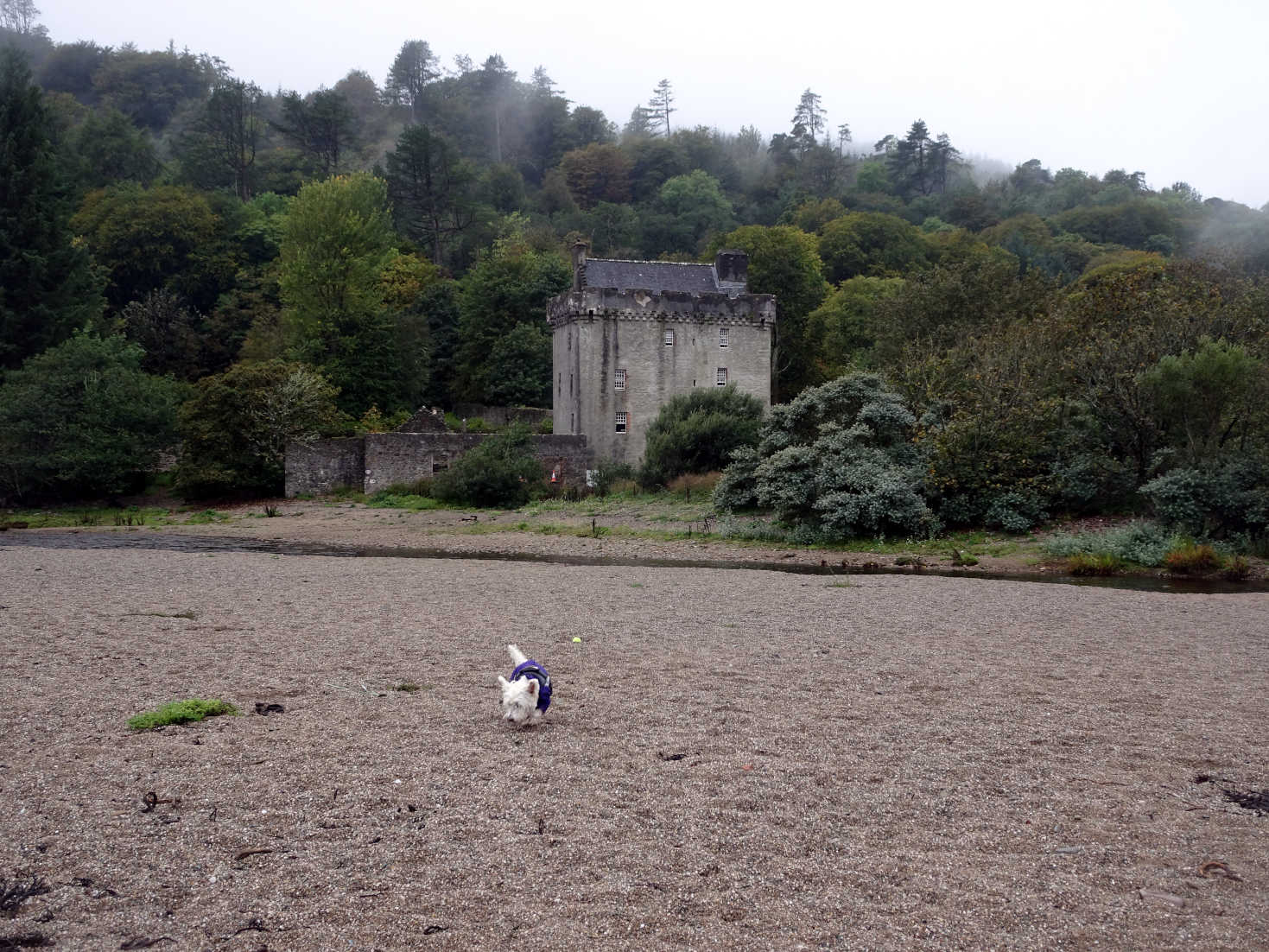 I love the seaside, I love chasing the waves and playing ball on the beach. I love all the nice smells and I love the salt water beneath my paws. I just had a great idea. My onesie was bogging, I'll clean it in the sea. Look mum I'm helping out!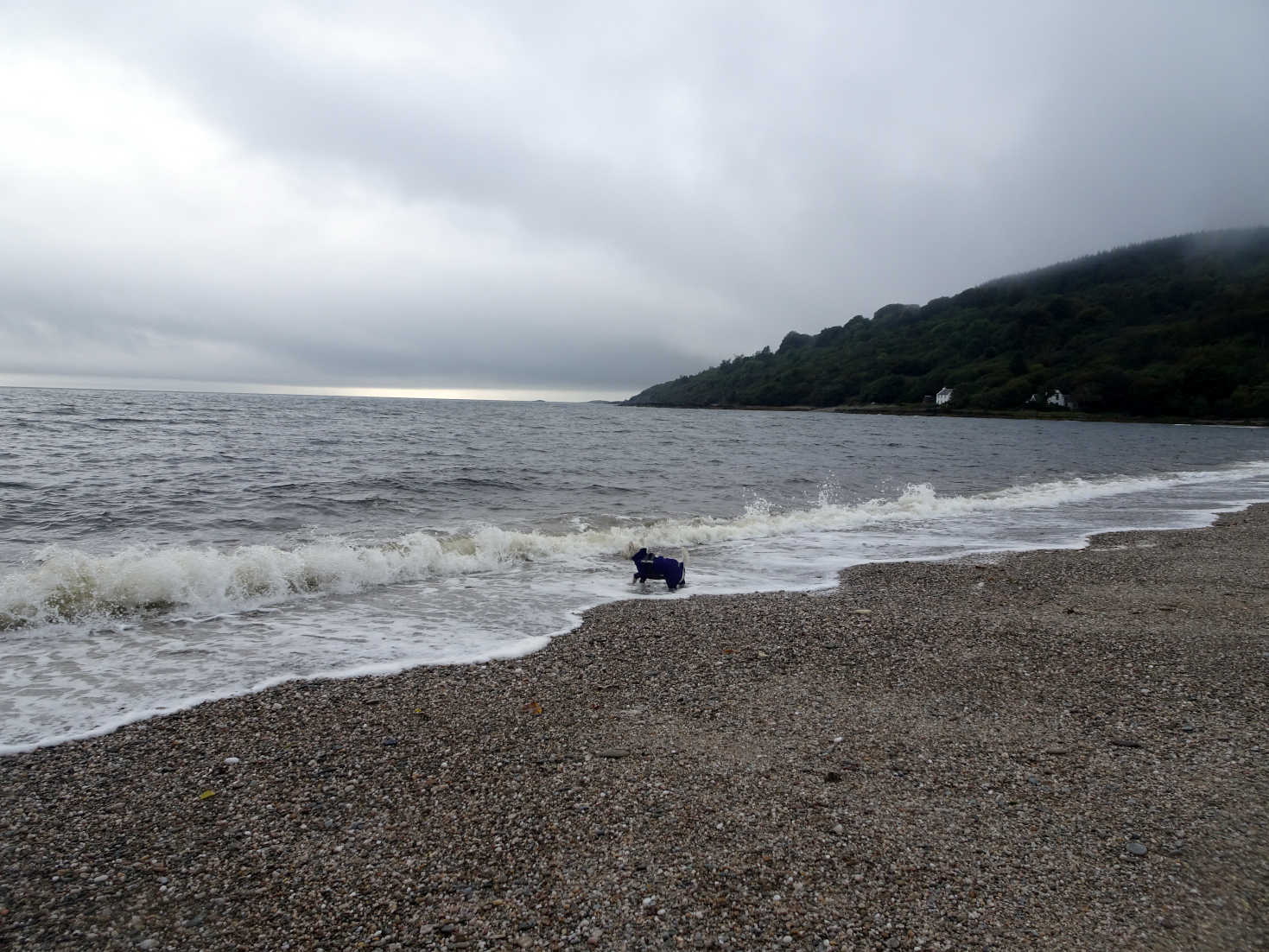 As we plodded down the shore the beach was no longer ours. A couple of walkers had joined us on the bay. I looked at mum, "do they not know its our beach?" Suddenly I caught a new smell. "Lets go investigate". At the end of the beach we followed a small path that led us to a hidden cottage. "Don't think anyone lives here dad". "They soon will" said dad. Mmmm why you think that?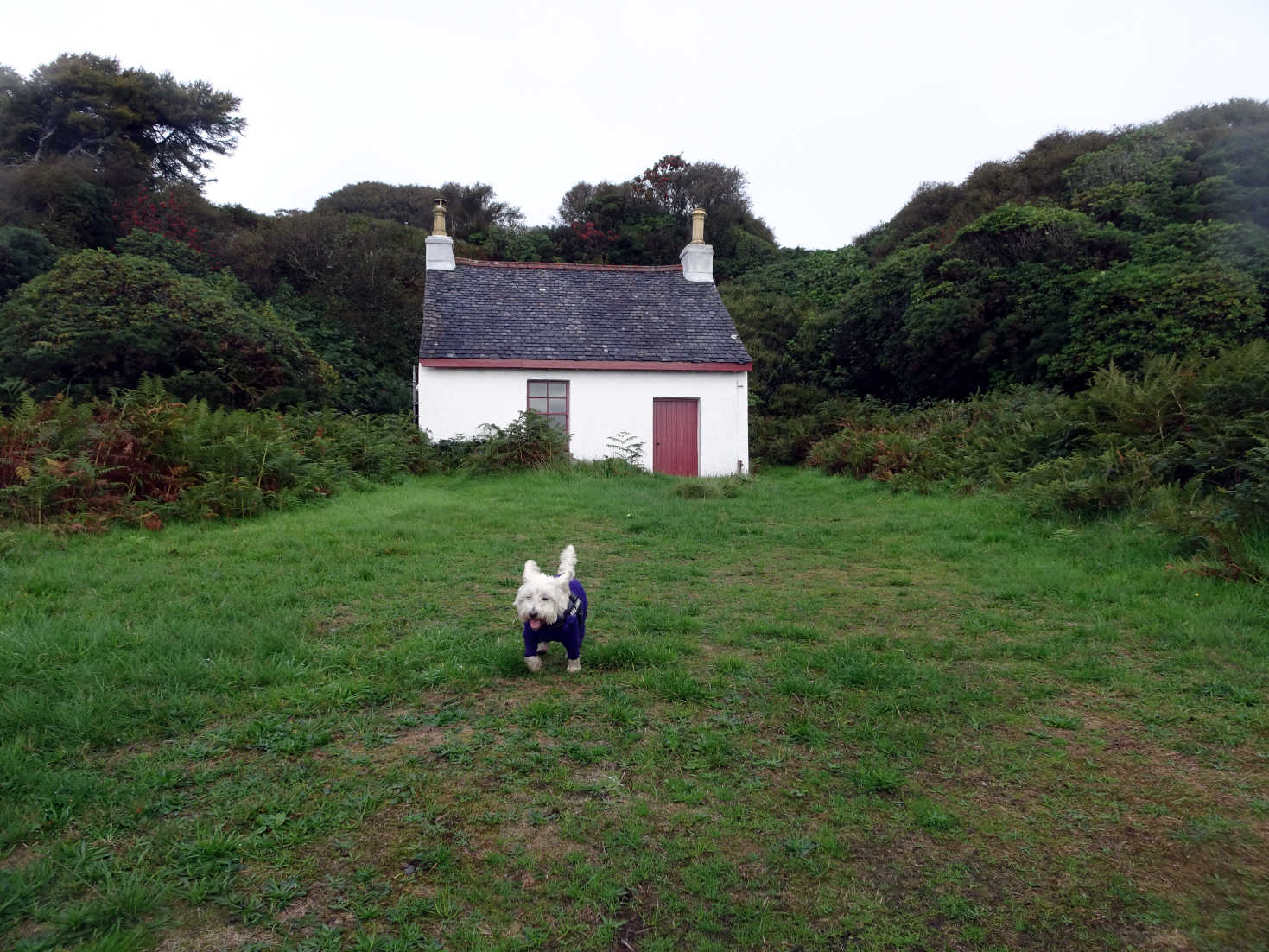 I headed back to the beach when I spied some rocks. Rocks are good. You can climb on them which is fun, but what is even better is that it makes me the same size as mum and dad. Poppys loves to see the same as mums and dads.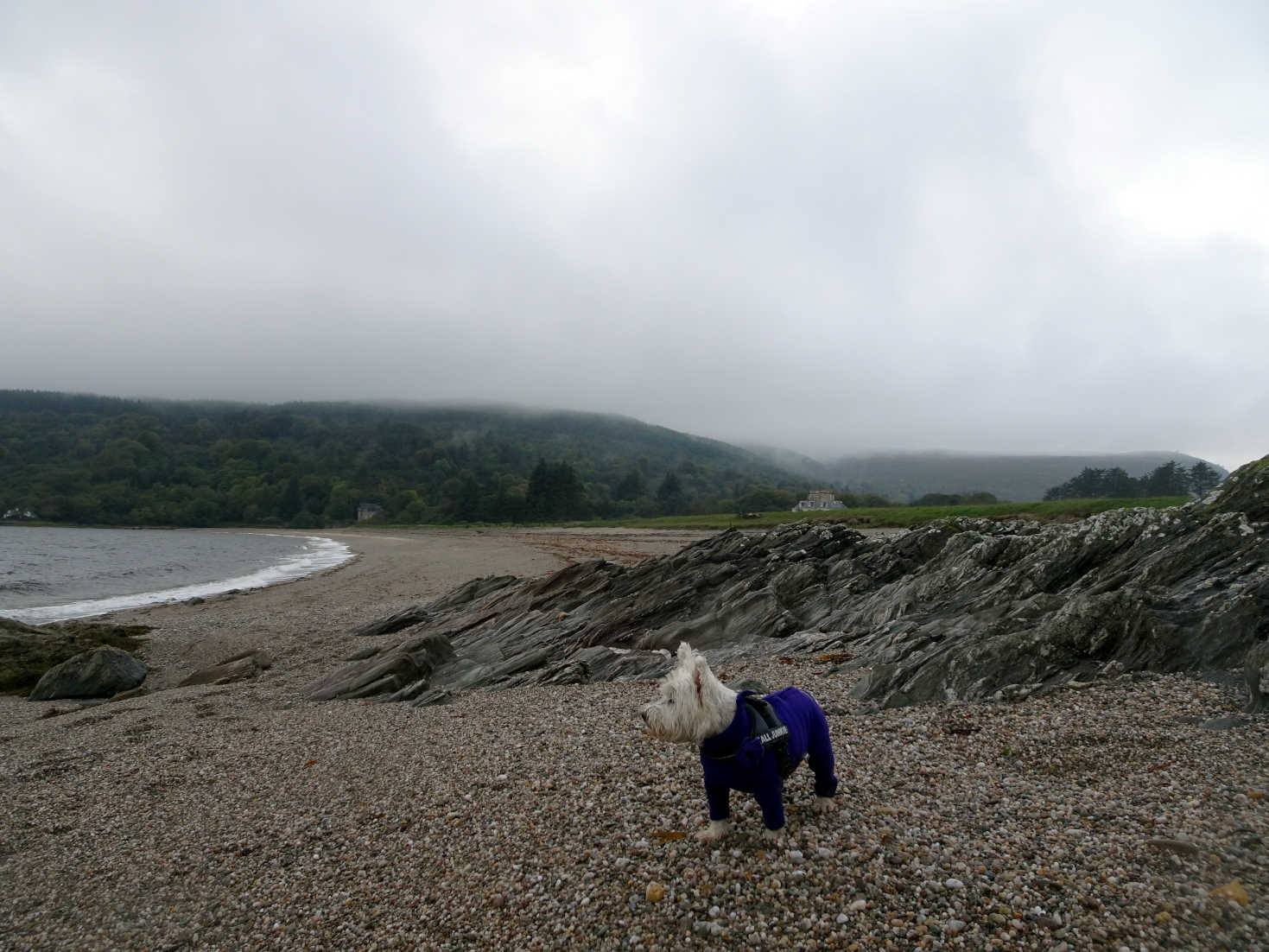 Walking back dad headed along the grass path because he wanted to look at the big house set back from the shore. Dad looks at funny things sometimes, I mean it just a house dad. He got a bit too far away for my liking so I had to round him up. Mums and dads should not be that far apart, too hard for me to keep an eye on them.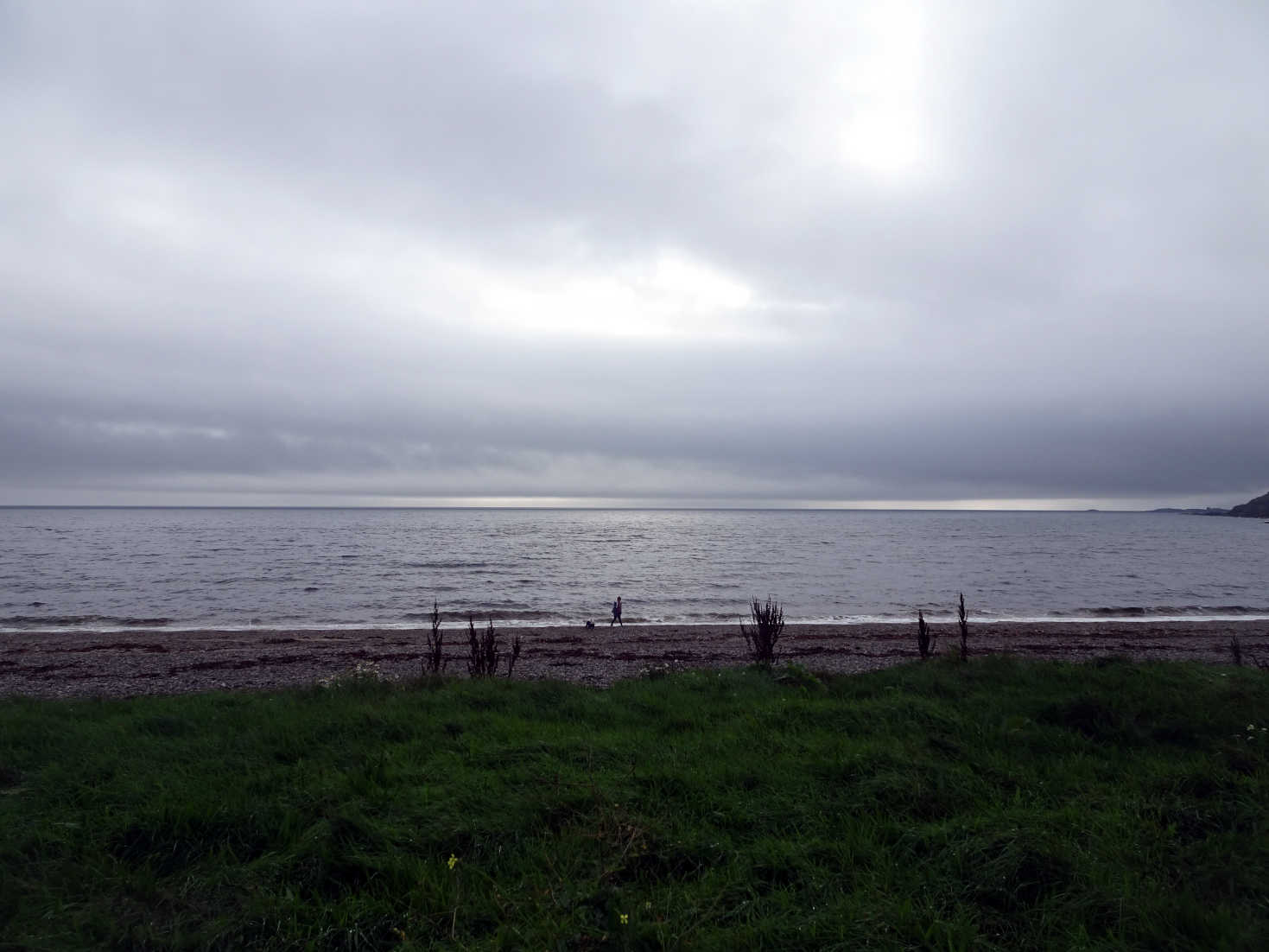 Back together again we were nearly back at the castle when more peoplsees arrived at the beach. What are they doing??? Why they taking their clothes off its cold. Mum, Dad look at those dafties they are jumping into the sea, Its freezing in there, I know I have been in! We left them to there daftness and headed back to Betsy.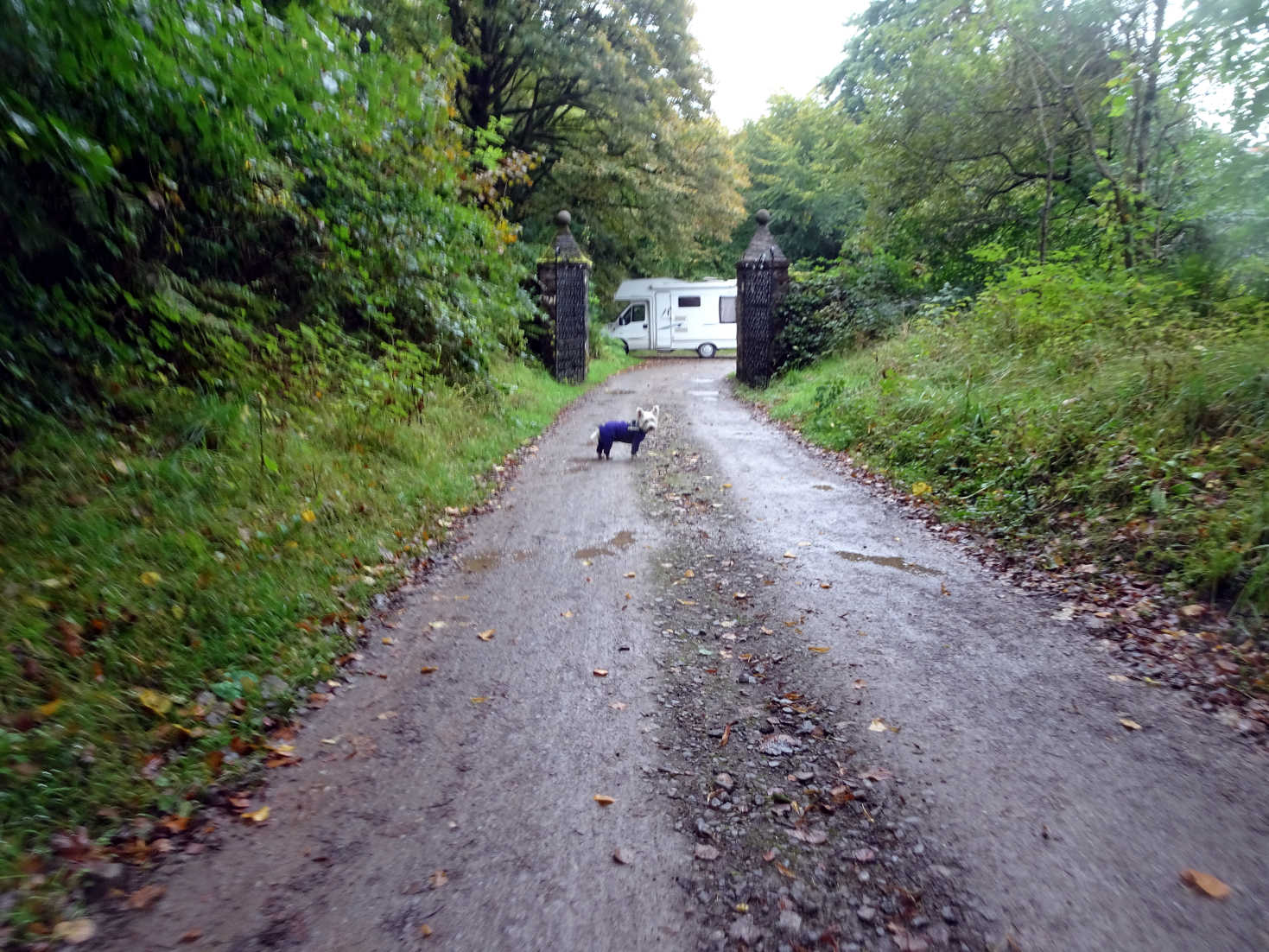 Where to next, Mum was still on the hunt for a tv guide so we headed to the next village called Peninver. There was nothing really in the village save a carpark, useful it meant Betsy could turn back without any drama. She trundled along the wee road back to camp only stopping for a few moments to take in the view.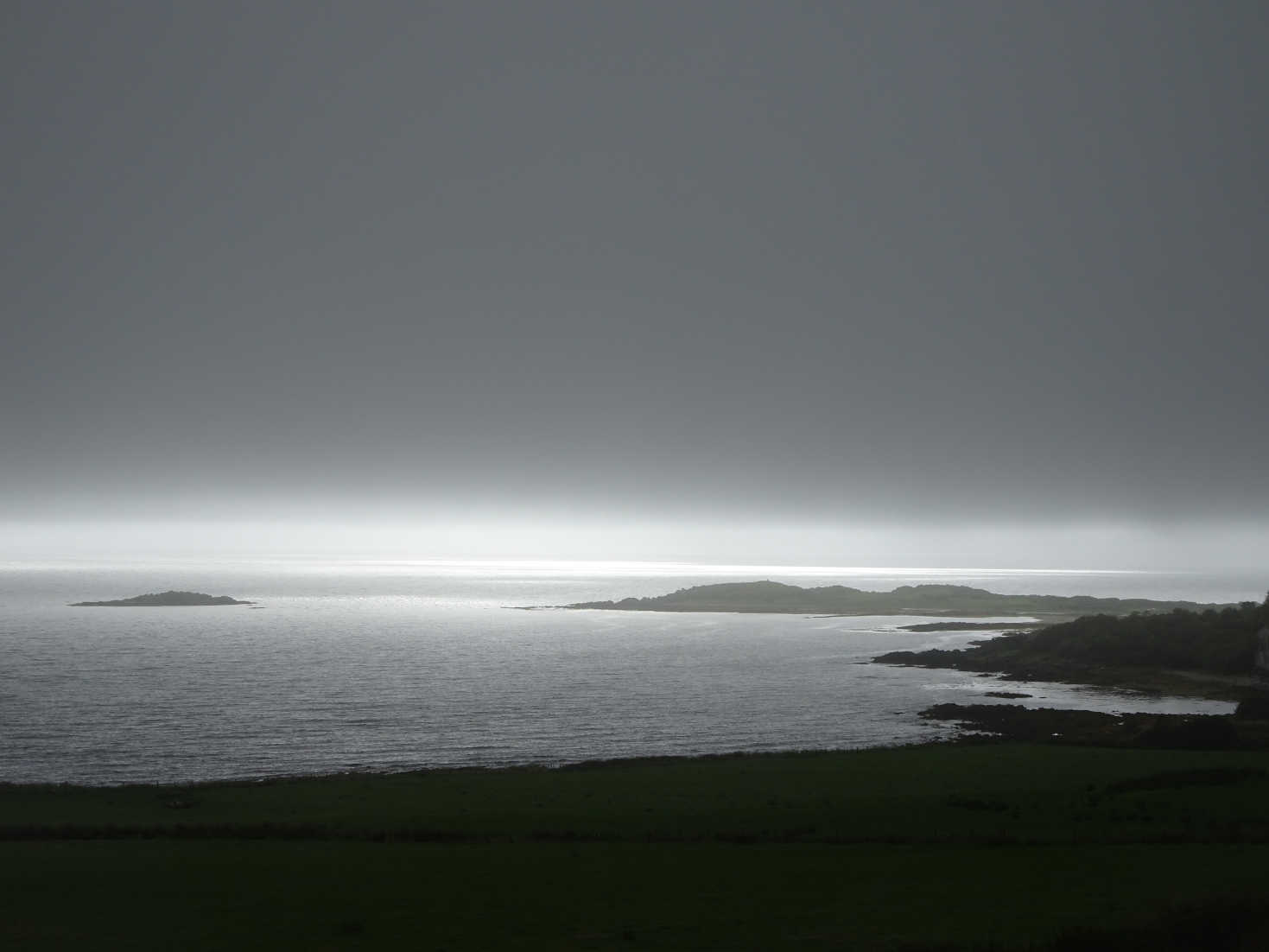 We had a spot of lunch in Betsy and lazed away the afternoon. Later I noticed dad going for my other equifleece, mmmm that doesn't look good. He came at me with it. Too late it was over my head, suppose I better go along with this. Where we going? We walked along the long track to the entrance. As soon as we got to the road I was surrounded with big dogs all off leash. Dad, Im not liking this! We skipped past them and were soon at the back of The Glen.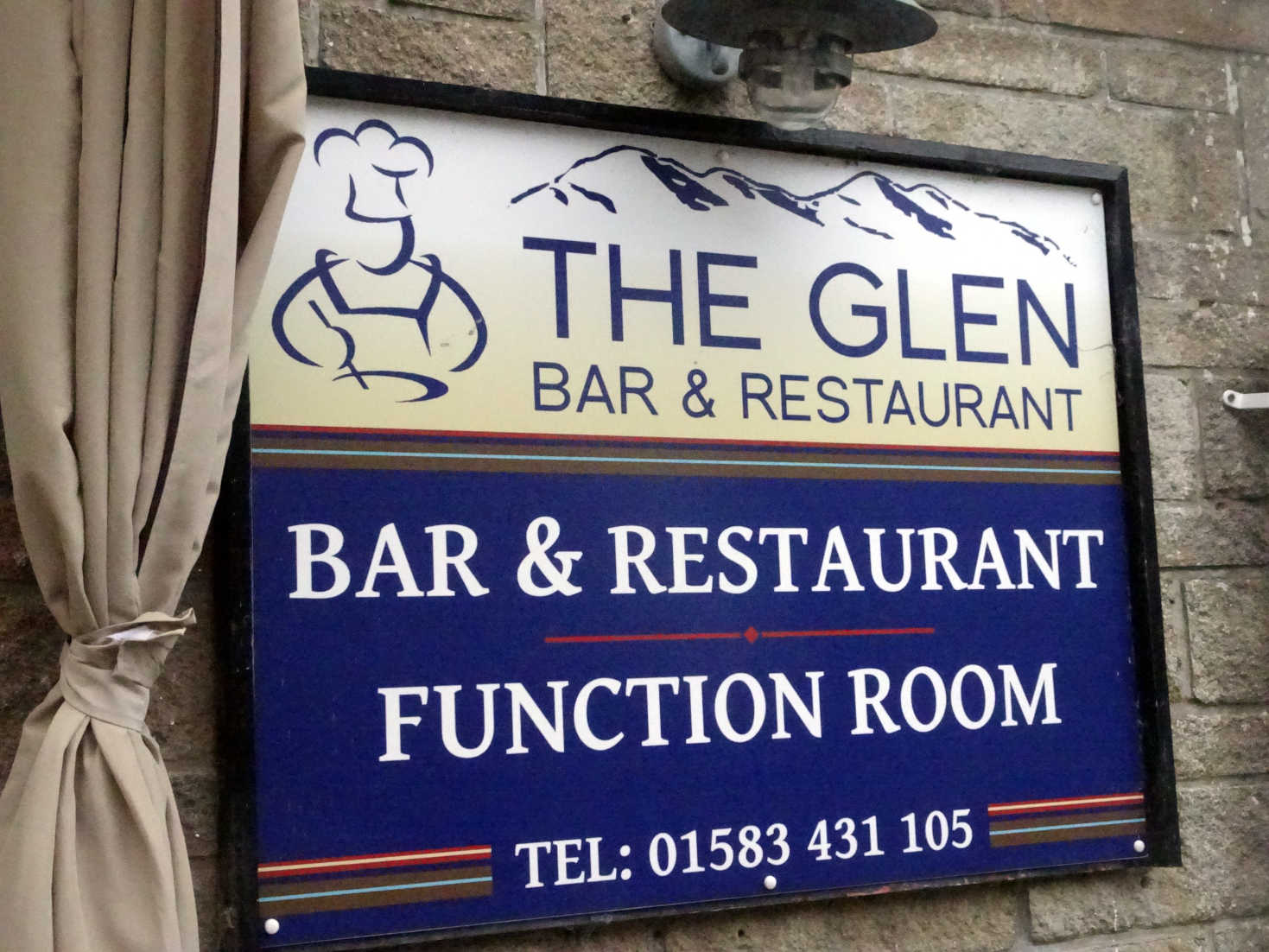 I have been here before last year, do good fishees. Because mum left Betsy with my leash before me and Dad, Dad had to use big leash to take me to Mum. It must have been meant to be. Big leash was perfect for exploring The Glen.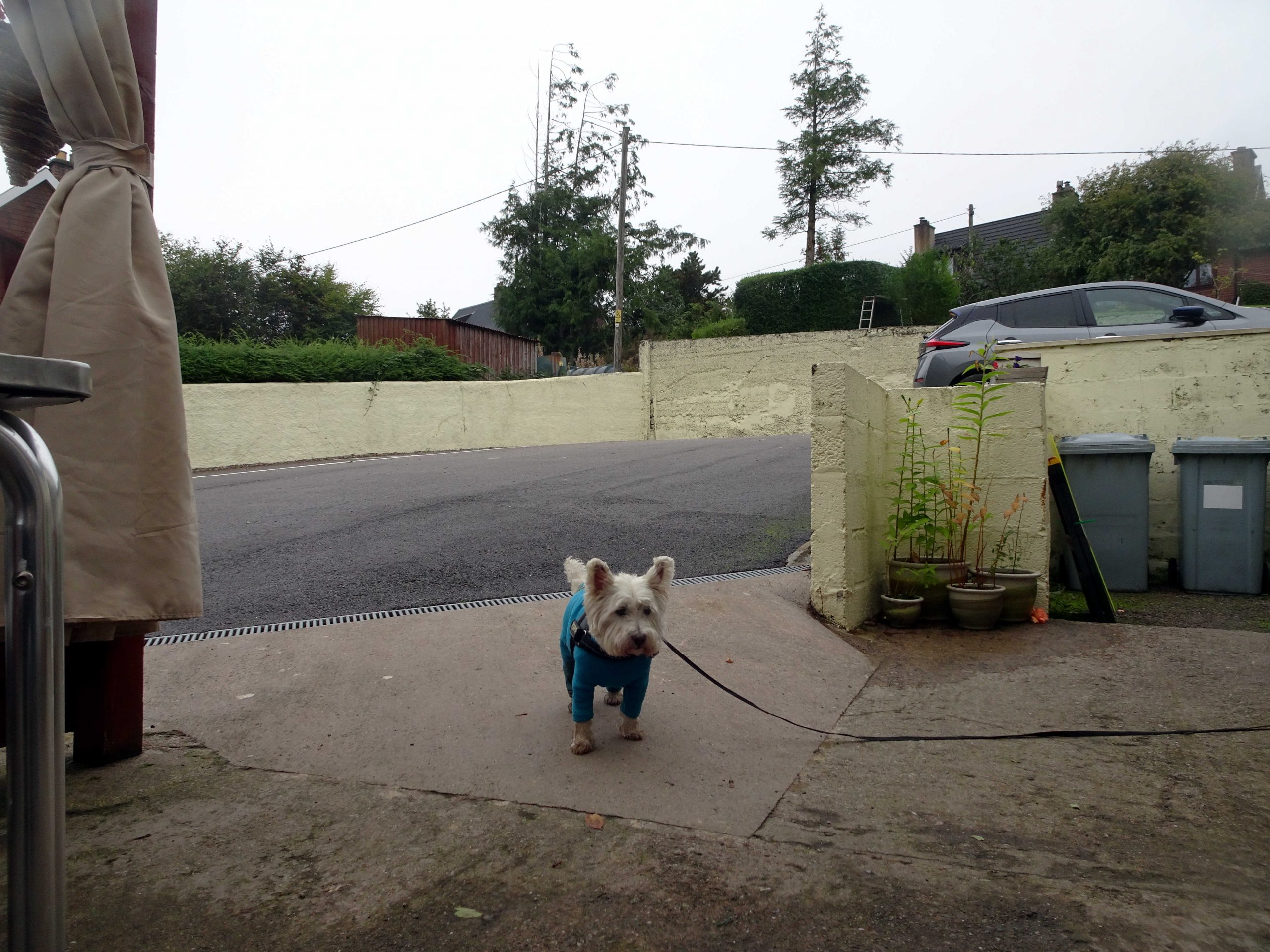 Dinner was good, I don't normally like langoustinees but these were great, coated in breadcrumbs and deep fried like scampiees! Mum and dad were surprised at the bill, £70. That's the price of my dinners for three months! One last sniff about before the long walk back to Betsy.