Dad said this would be the last of the snow this year and Home park would be mobbed with peoplsees on Sledges and Snowboardersees. Yesterday I got to chase my first ever Snowboardersee! He said we should go to Pollock Park. It was still very cold when mini stopped outside Pollock House. Mum and Dad soon let me off leash and I got to play ball. It was very slippy and while chasing the ball, one paw, then the next, then the next started to slide from under me. Bang! My head hit the path. I got up and had a good shake. Better learn from that or this could be a sore walk.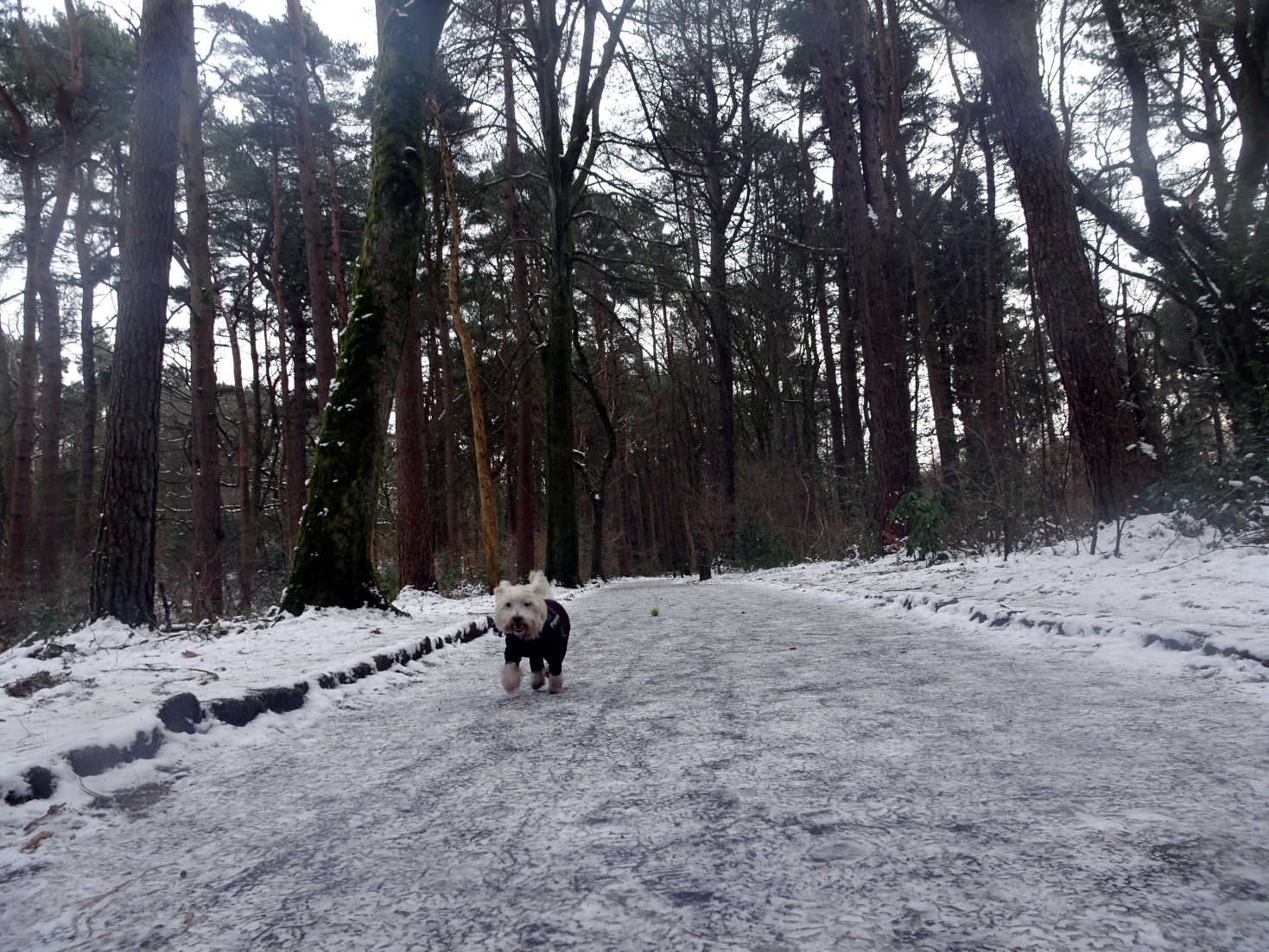 The path opened and where the flood normally is was a big ice rink. Dad stood on the edge of it and didn't sink mmmm if he doesn't sink I won't sink!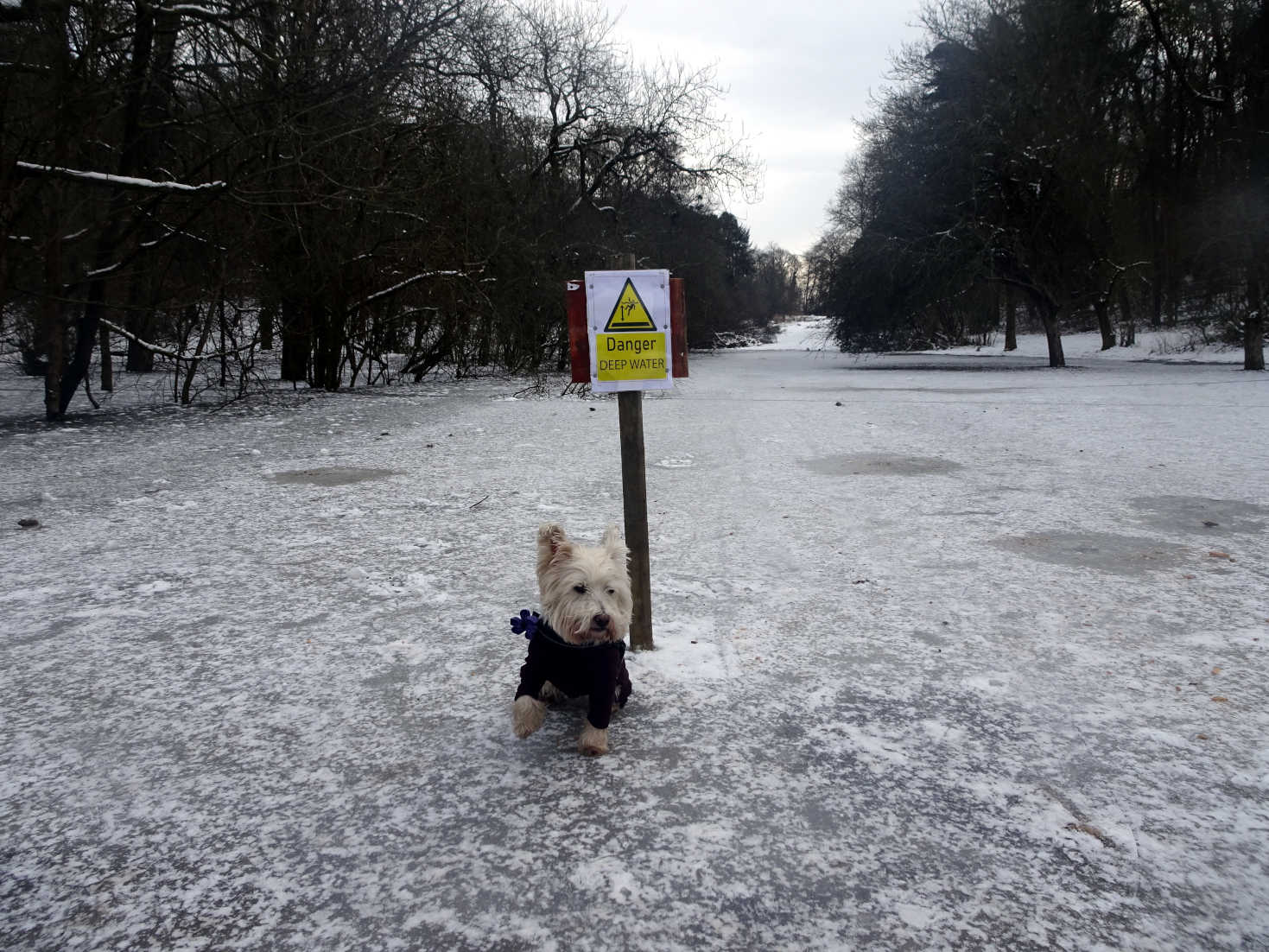 Further along I saw something very strange. I don't like the looks of that. Grrrrrrrr what is it mum? Grrrrrrrrrrrrrrrr. "It's OK Poppy its just a swing" Mmmmm. What's a swing? Dad what you doing? Why you pick me up? Why you go to swing? What is happening? I'm not sure of all this! Let Me OFF!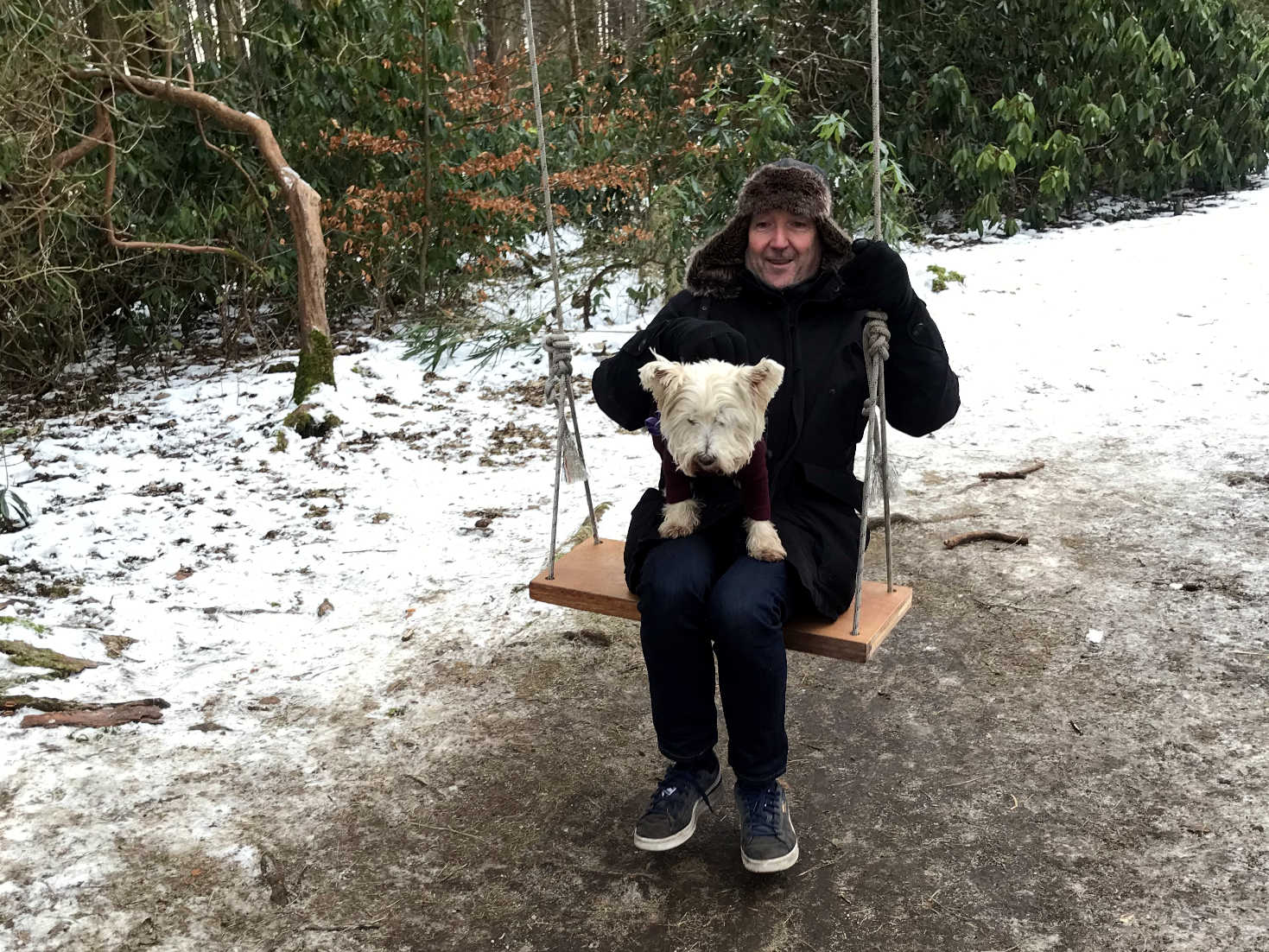 Poppys are not convinced with swings, they are just not natural. I was glad to be back on the ground. We went along the path and came to a bird feeder. I bolted to the tree stump. No dinner for you birdies!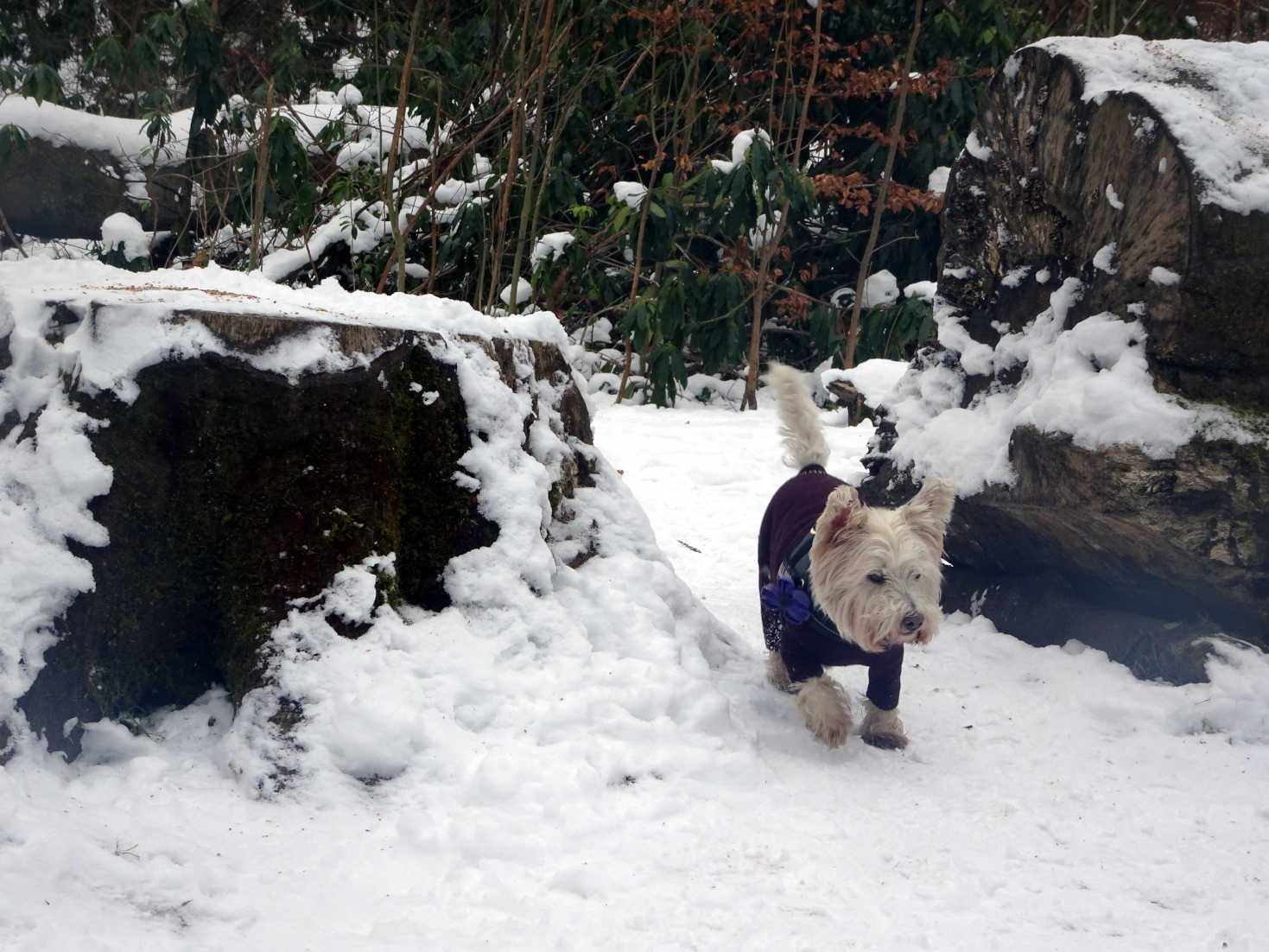 "Poppy leave them alone!" Said mum Oh ok then, ball? After a few goes of chasing the ball I saw the fish pond. Dad look at that! I went down to the edge, dad the ponds hard!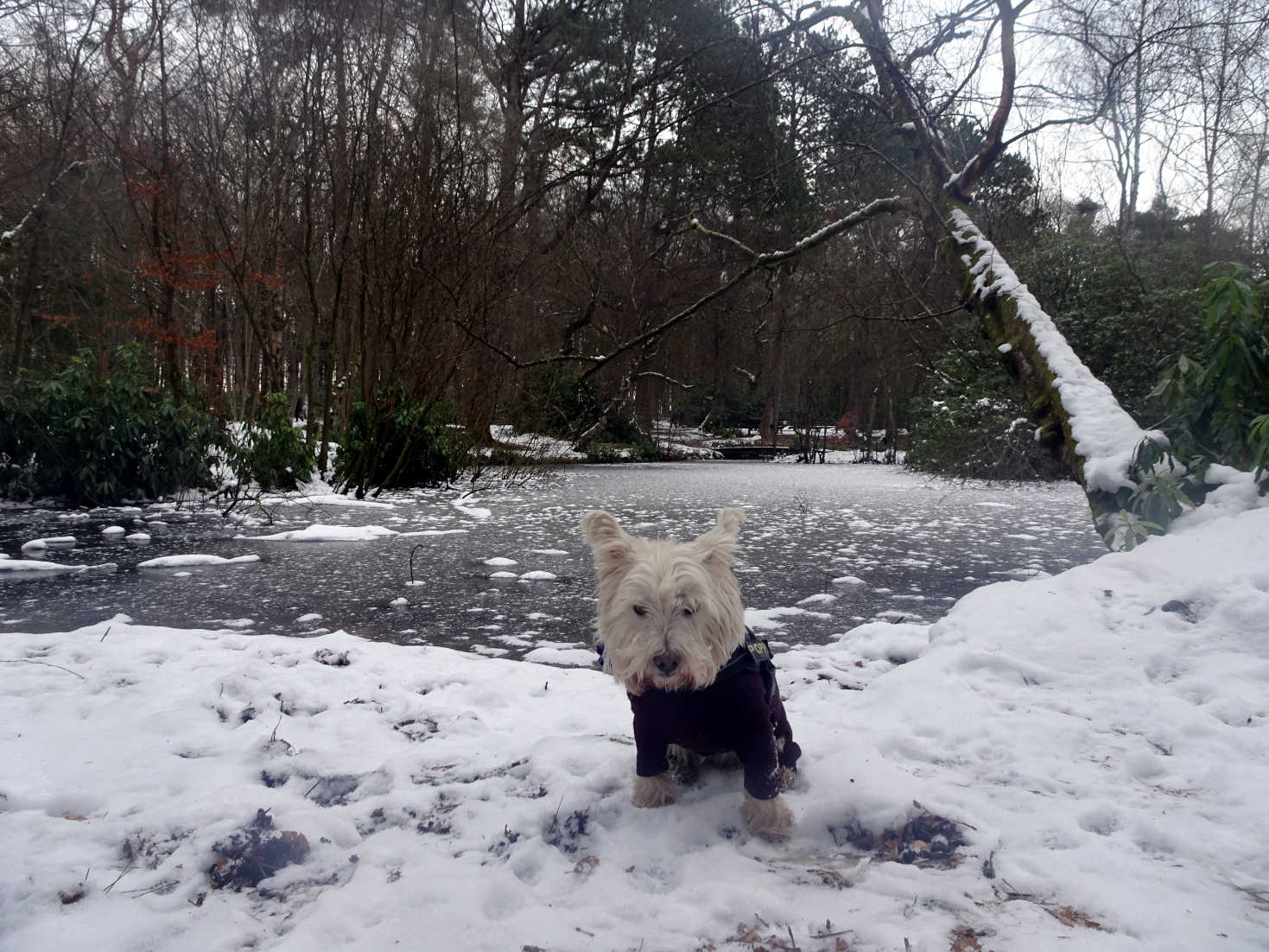 The pond was hard enough for all of us to walk to an island. Dad, we have never been on this island before have we? Mum and dad staid on the island as I went to explore the pond. Ponds are quite slippery when they are hard, but better slippery than wet. Poppys hates wet.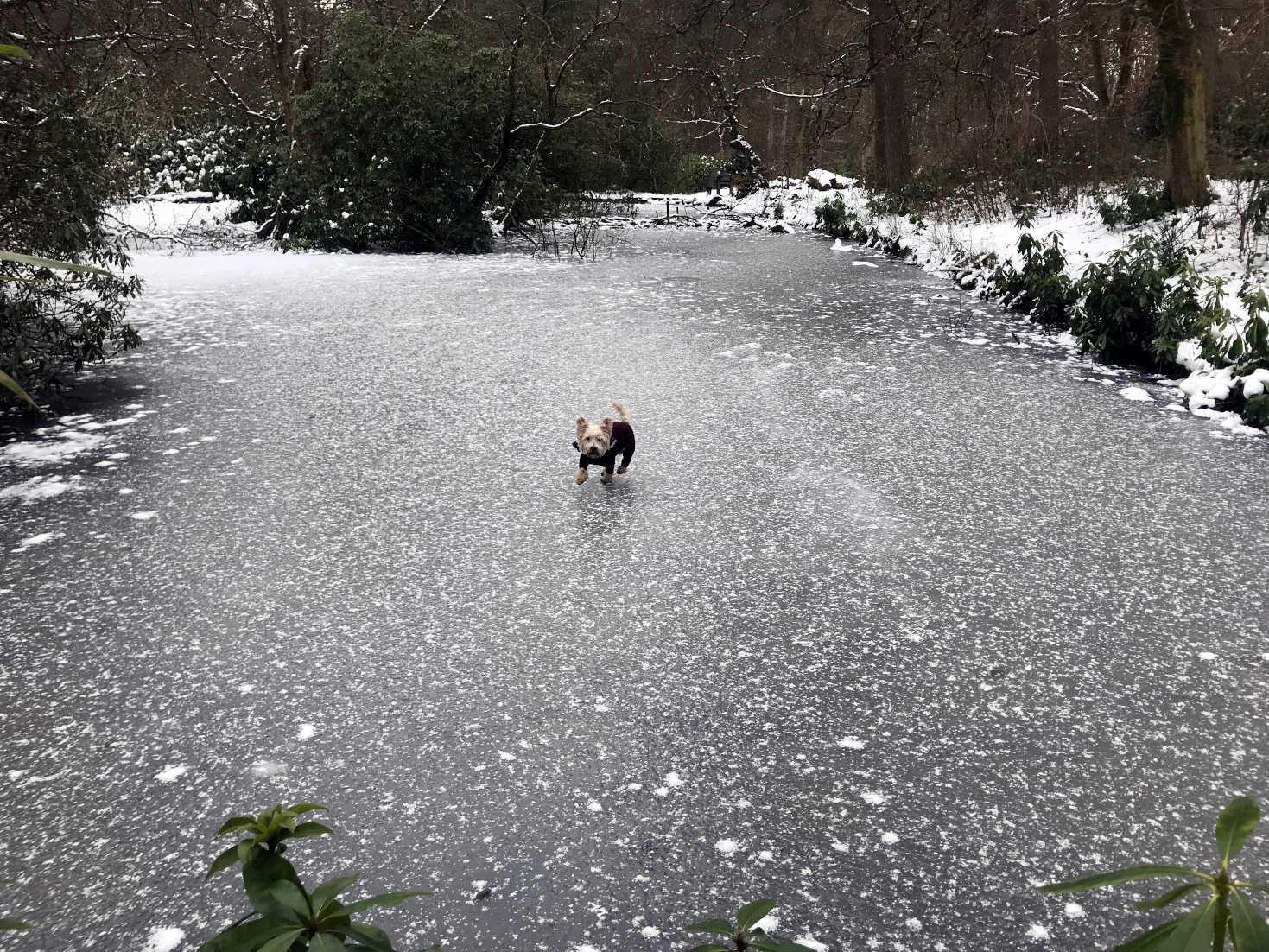 Onwards and upwards we went into the forest. The paths were very icy, it was much easier to walk in the snow. As we were coming out of the forest we met some peoplsees who were having a hard time pushing a pram up the hill towards us. Huffing and puffing their wee legs were going to the nighties but they weren't making much progress! They need 4 paw drive!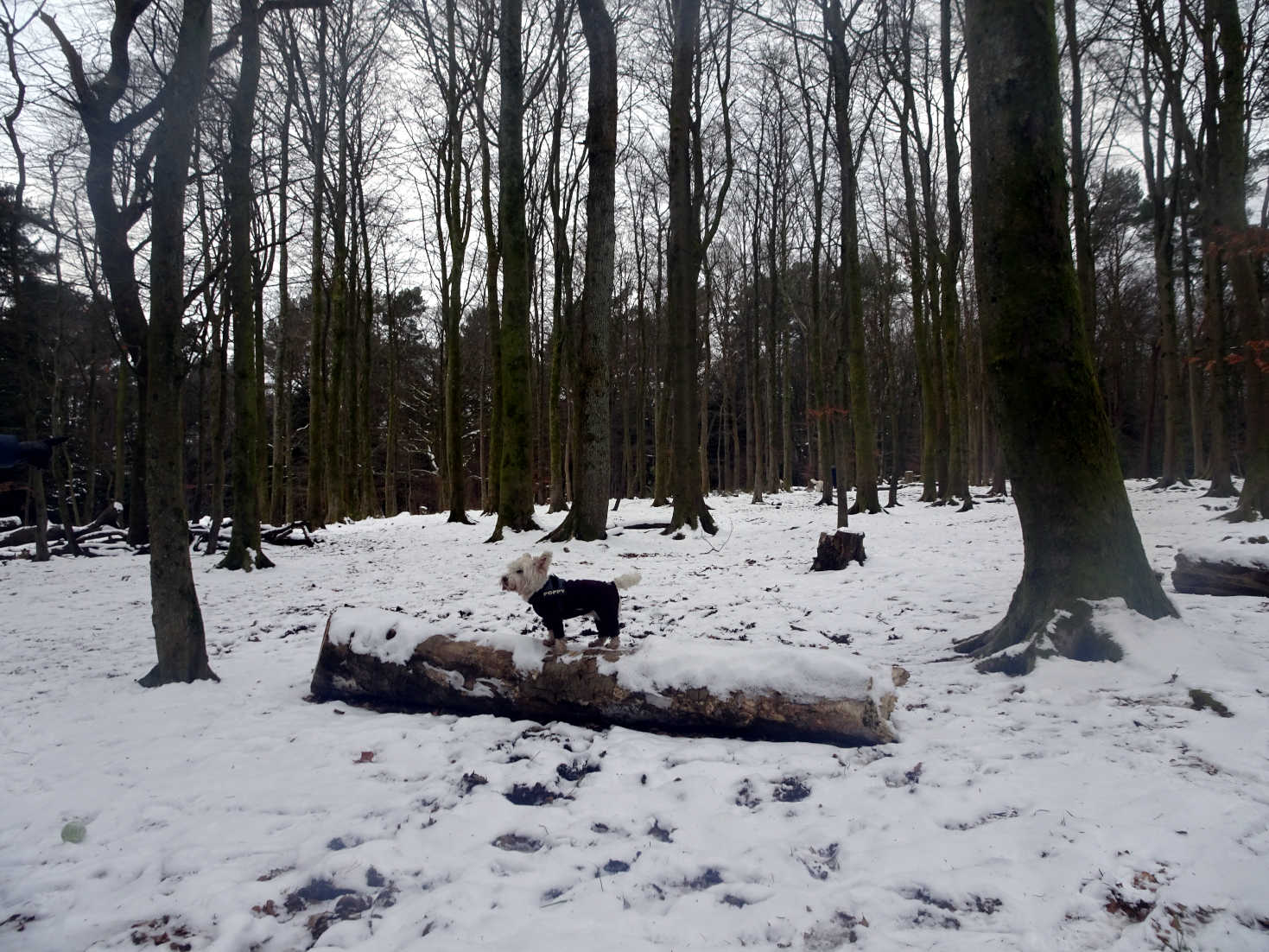 Out of the forest and back on the path we were heading back to mini. Dad whats happened to the path? Its gone. I walked on to the hard water, had a sniffed about, mmm ok for poppys but I think mum and dad will need another way.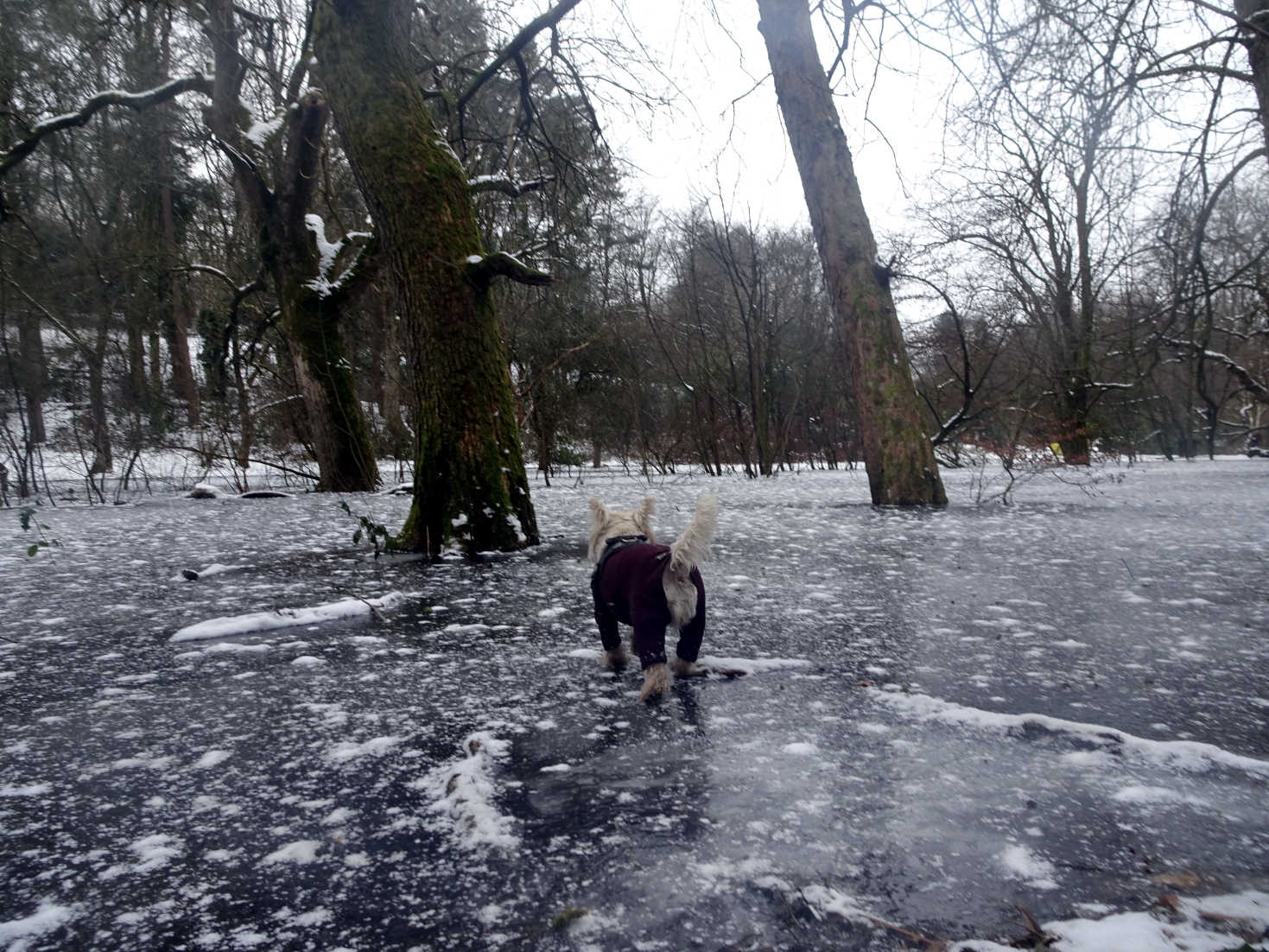 Pathfinder poppy to the rescue, come on dad come on mum I'll get you to the big path follow me.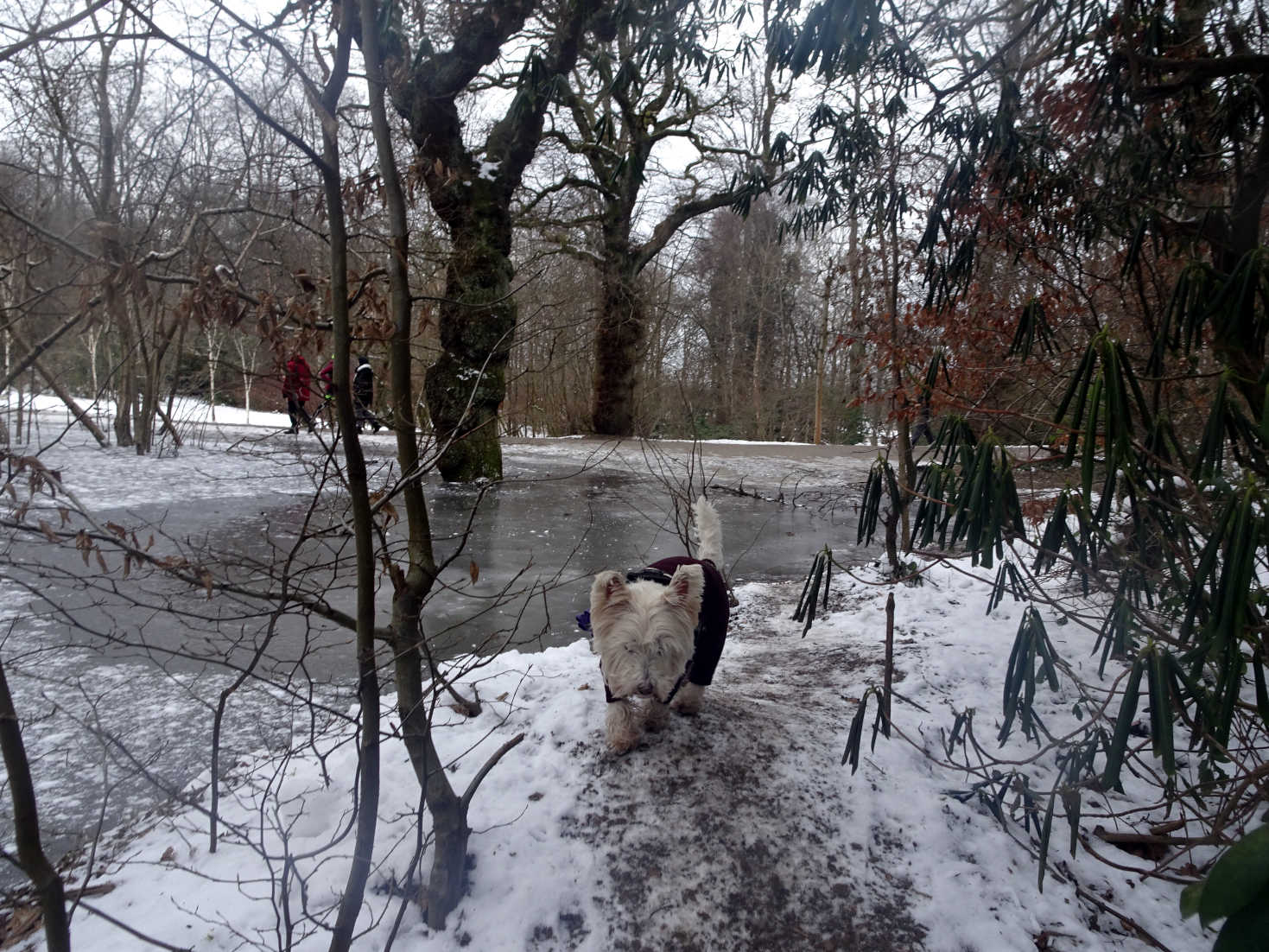 The big path had got very busy with lots of peoplsees and dad pet hate, joggers. We didn't stay on the main drag for long, instead we took a path less trodden.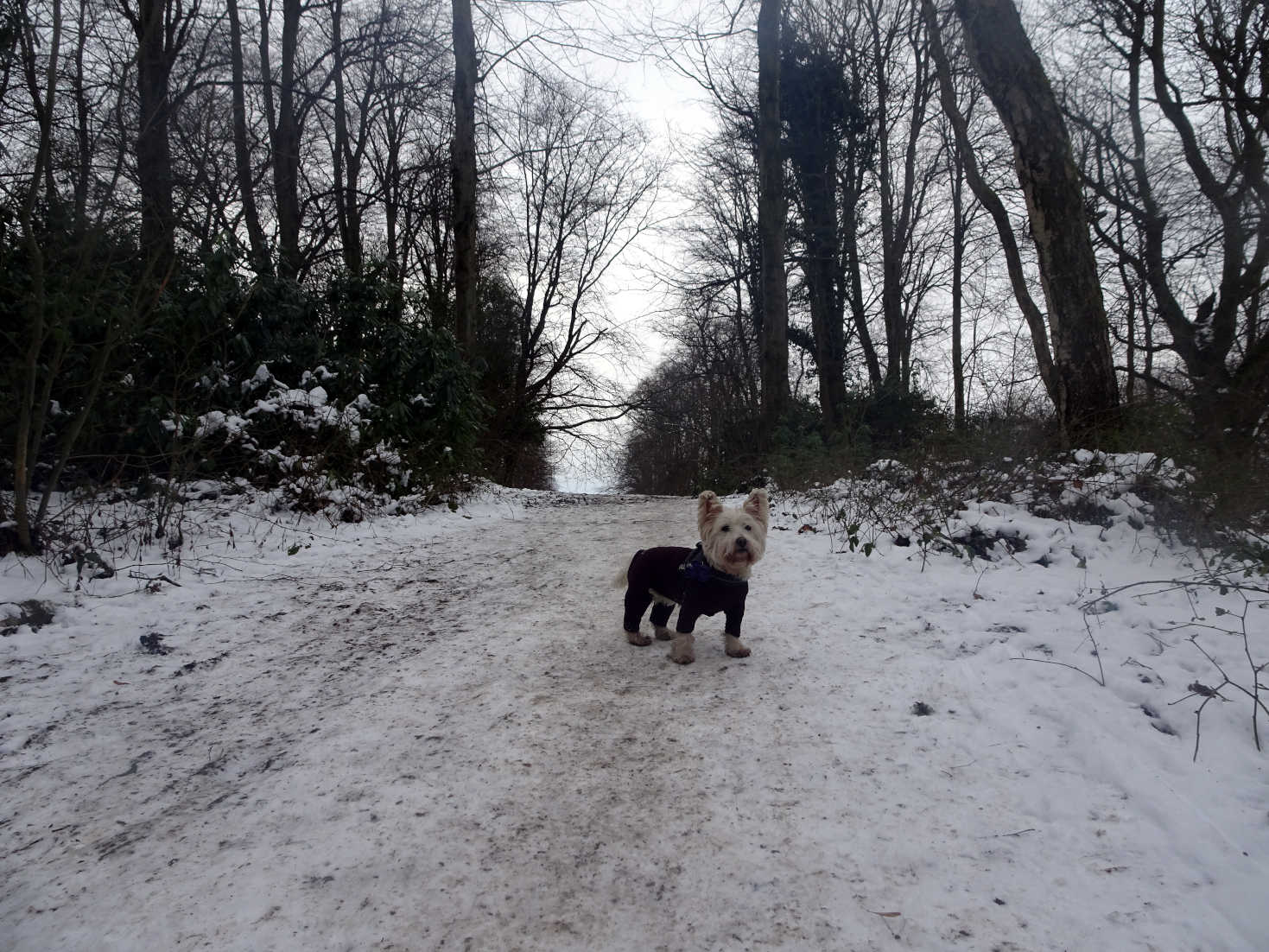 At the top of the hill was the remains of a sledging slope. All the snow slushed, melted then frozed again. The ground was still hard, but the ground was coming through. Good enough for a game of ball though! Down the hill we went towards the big house where mini was resting. It was time to go home, dad said that would be the last of the snow, I hope he's wrong.