March has been a funny month. No adventures to be had because of lock down. Poppys is getting a bit hacked off of coronanvirusees. One thing that is good is that winter has gone away and Mr Squirrelsees has decided he wants to live in my garden. Ha he wants to live in my garden? This is better than home delivery! I don't have to go to the park for hunting Squirrelsees!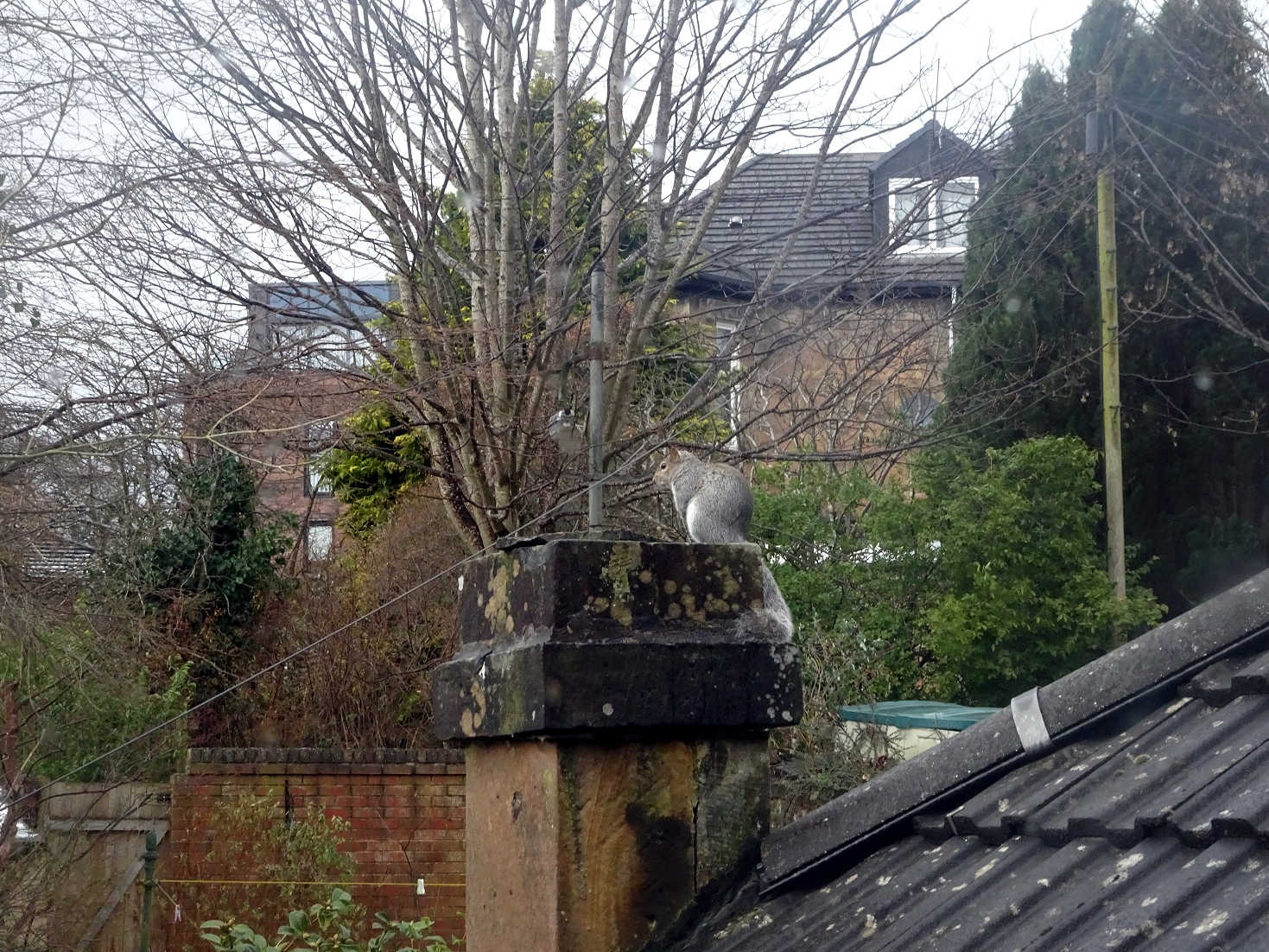 Because we can't go on adventures mum decided she wanted the back garden to be different. I don't know why, I like the back garden the way its is. Mum said the first thing to go was the band stand. Dad didn't look happy. I'm with dad I like the band stand.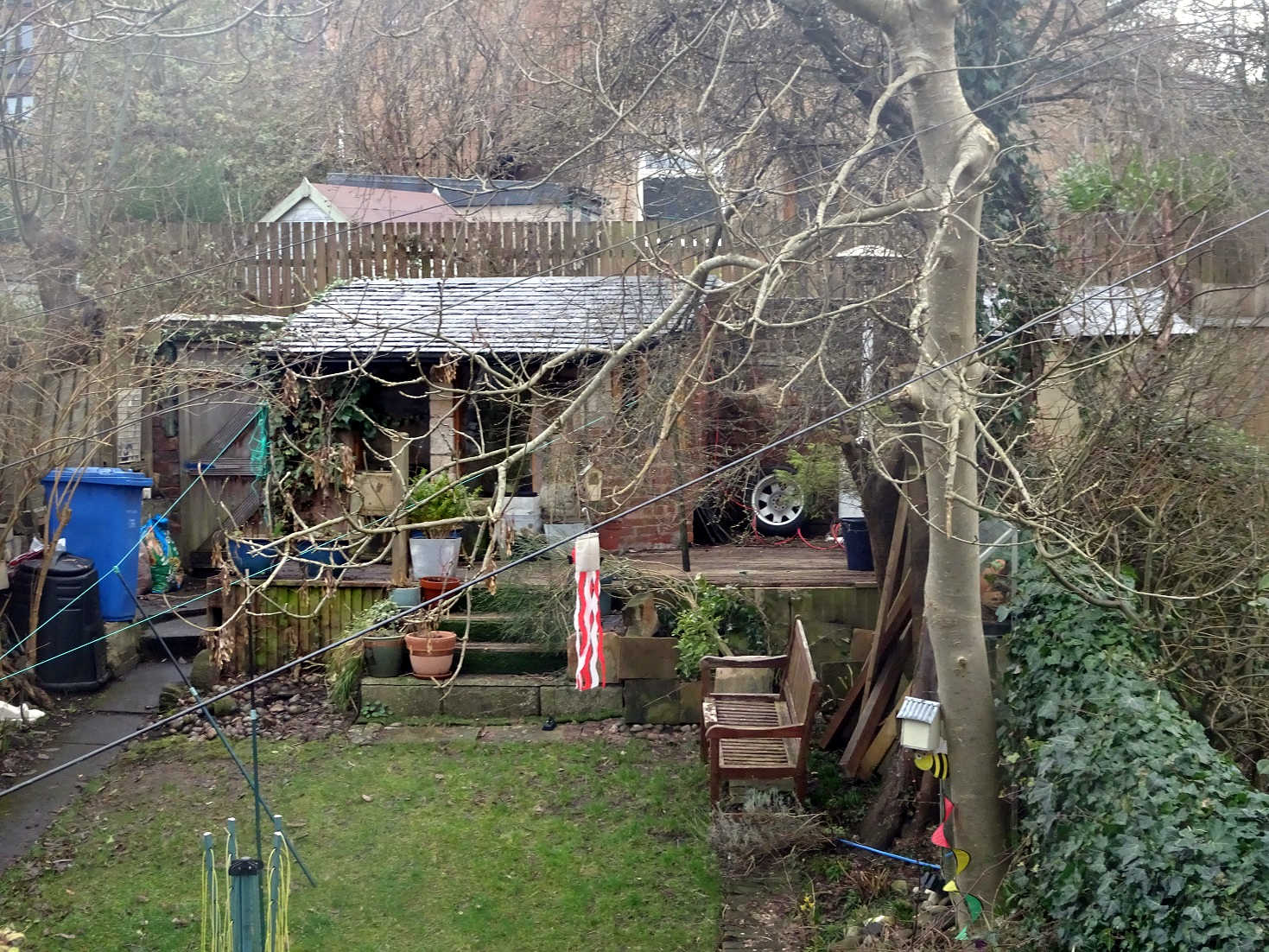 Over the next few days, the same thing over and over. Dad breaks up wood, takes wood into back lane, fill up Audi, goes to tip and fills a big metal bin. Days and days later the band stand is gone. Now I can get to work. This ground needs digging. Soon I made a big hole.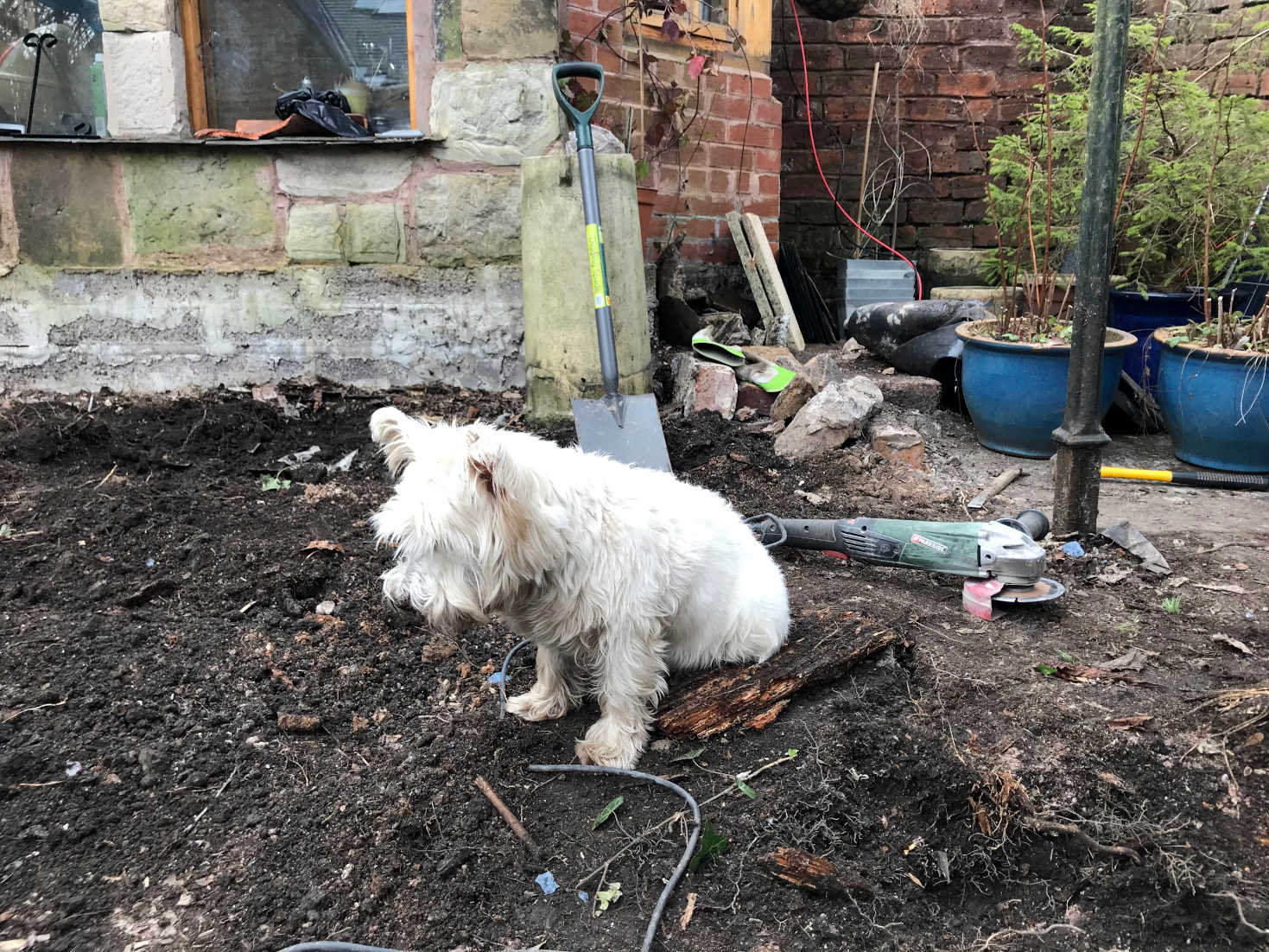 The more I dug the mountain of dirt got bigger and bigger. Dad look at the size of the mountain I have made. Gardening is hard work, I was shattered, time for a snooze in the sunshine, Poppys likes snoozes in the sunshines.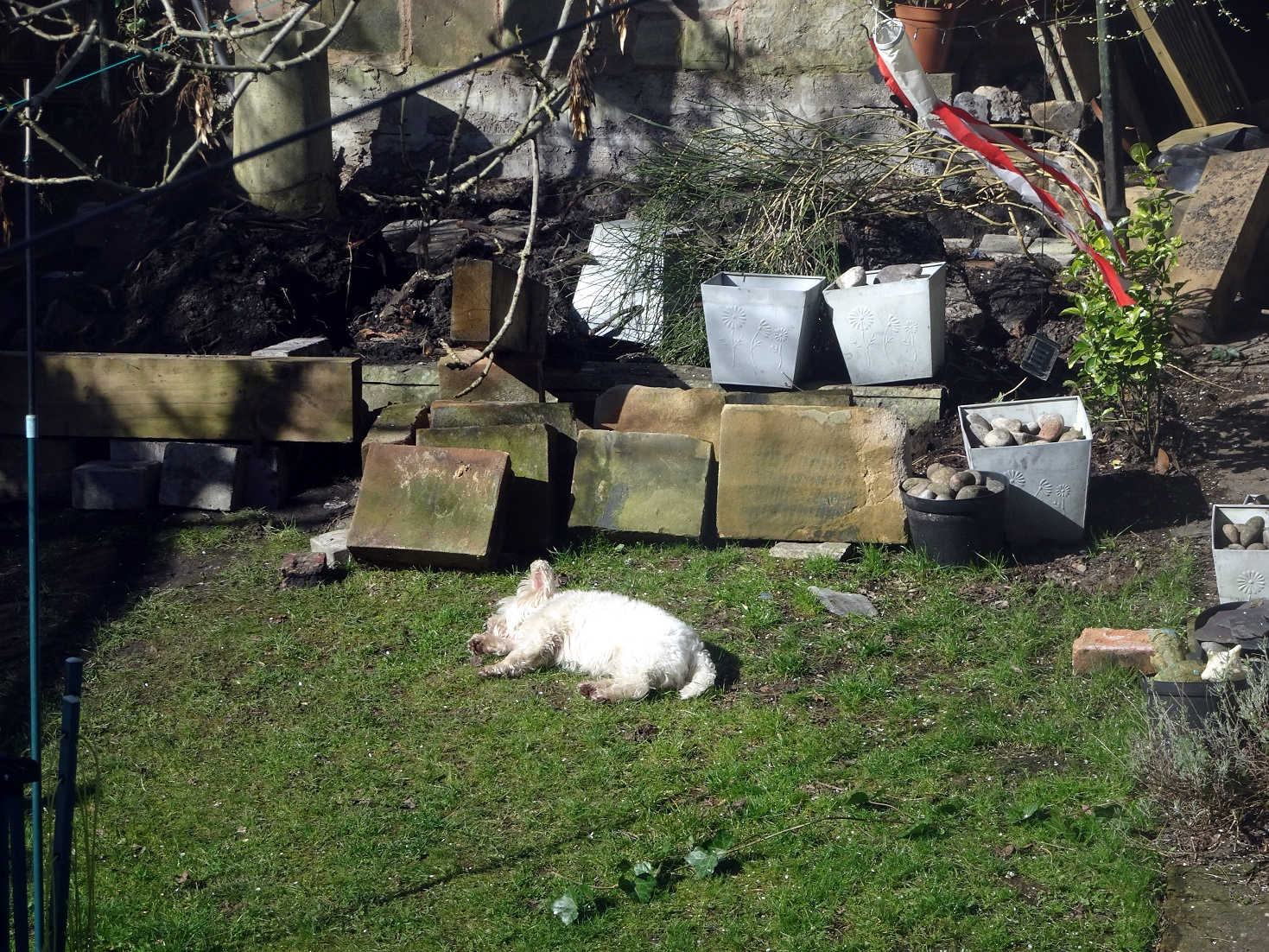 March took a turn for the worse. It all started with a bath on school day. Mum came home from work as normal, we had dinner, mackerels yum! Then I heard the noise. Mmmmm water going into baths….better make myself scares. Mum eventually caught me in the red room hiding under the table, no escape! Poppys hates baths. We a bath on a school day? The next morning I found out. After morning walks dad put me into Audi and we went for a drive. When Audi came to a halt I knew where we were and what was happening…..Groomers! No, No, No I'm not going!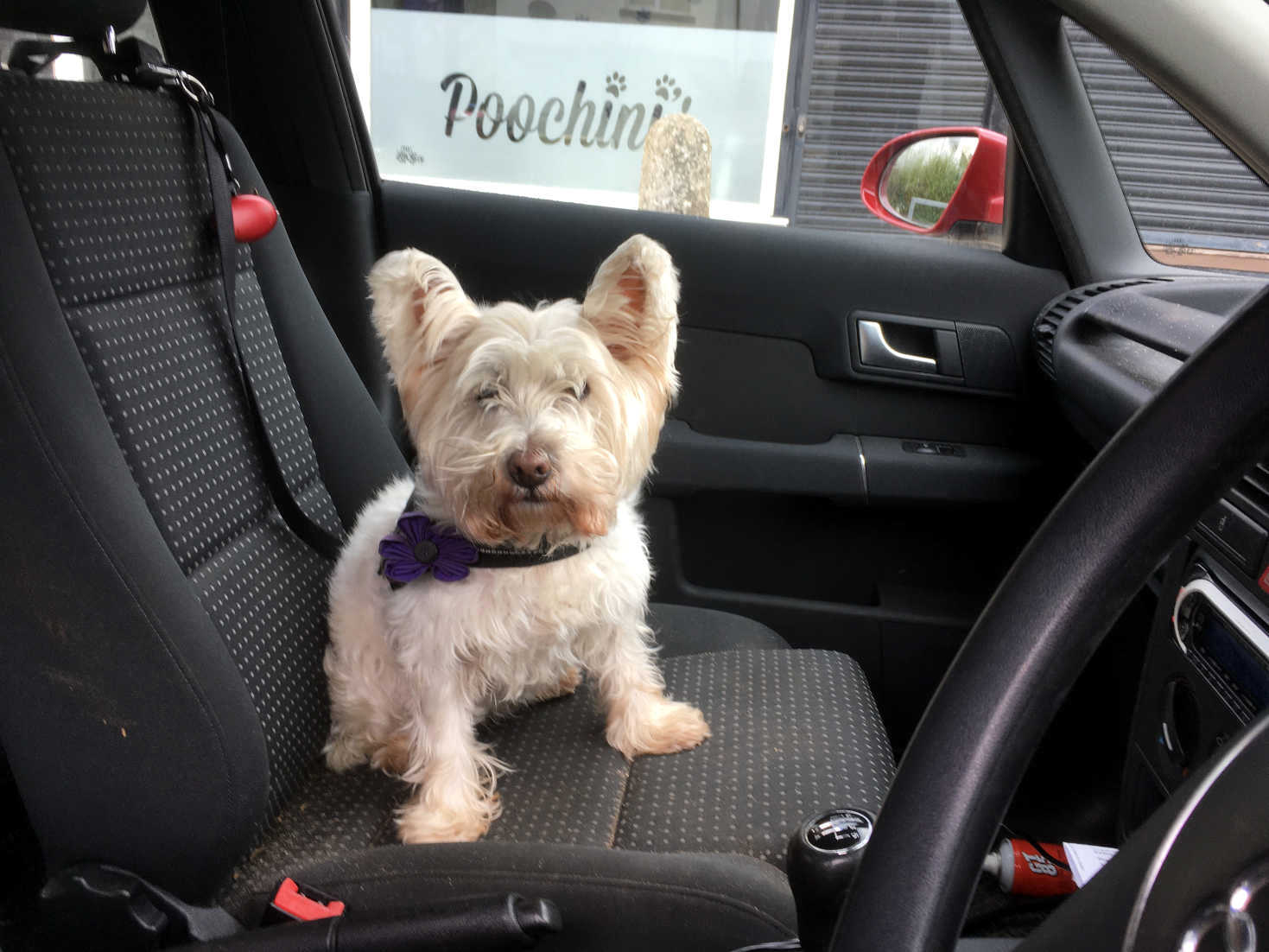 Groomers was not as bad as I thought it was going to be, maybe the goomers is getting better at cutting poppys hair. Next day every thing was back to normals. Granpa came over to take me for walks. We were going on the river run. Since dognappers have been around Glasgow we always do the river run. To day was great. I was dry which meant no equiflease. After a bit of ball, my nose started to twitch, whats that smell? Perfume!!! Well free perfume? I checked to make sure granpa wasn't watching and went for it big style! At the end of the walk granpa went to give me chinsees, I discovered granpa hates perfume as much as Mum and Dad. "Poppy, what the….. What is this stuff its smells like …. Poppy wait till Dad sees you!" Dad was not impressed when we got home. He put me straight out the back.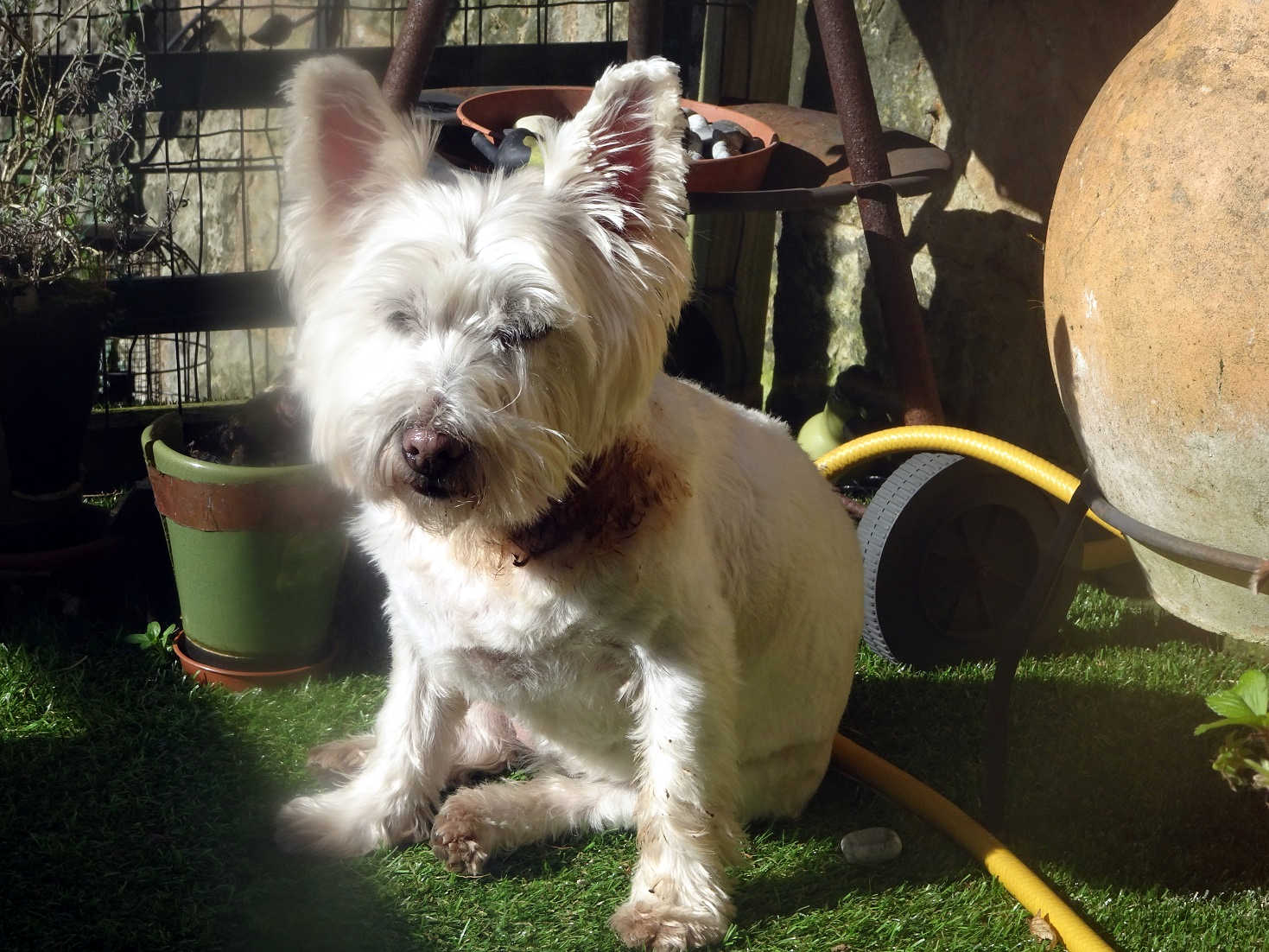 Two baths in two days, this is pure rubbish, why me? The month went on and dad kept working in the garden. The hole got bigger and bigger, poor dad he looks tired. He needs me to help out, besides its fun working with dad in the garden.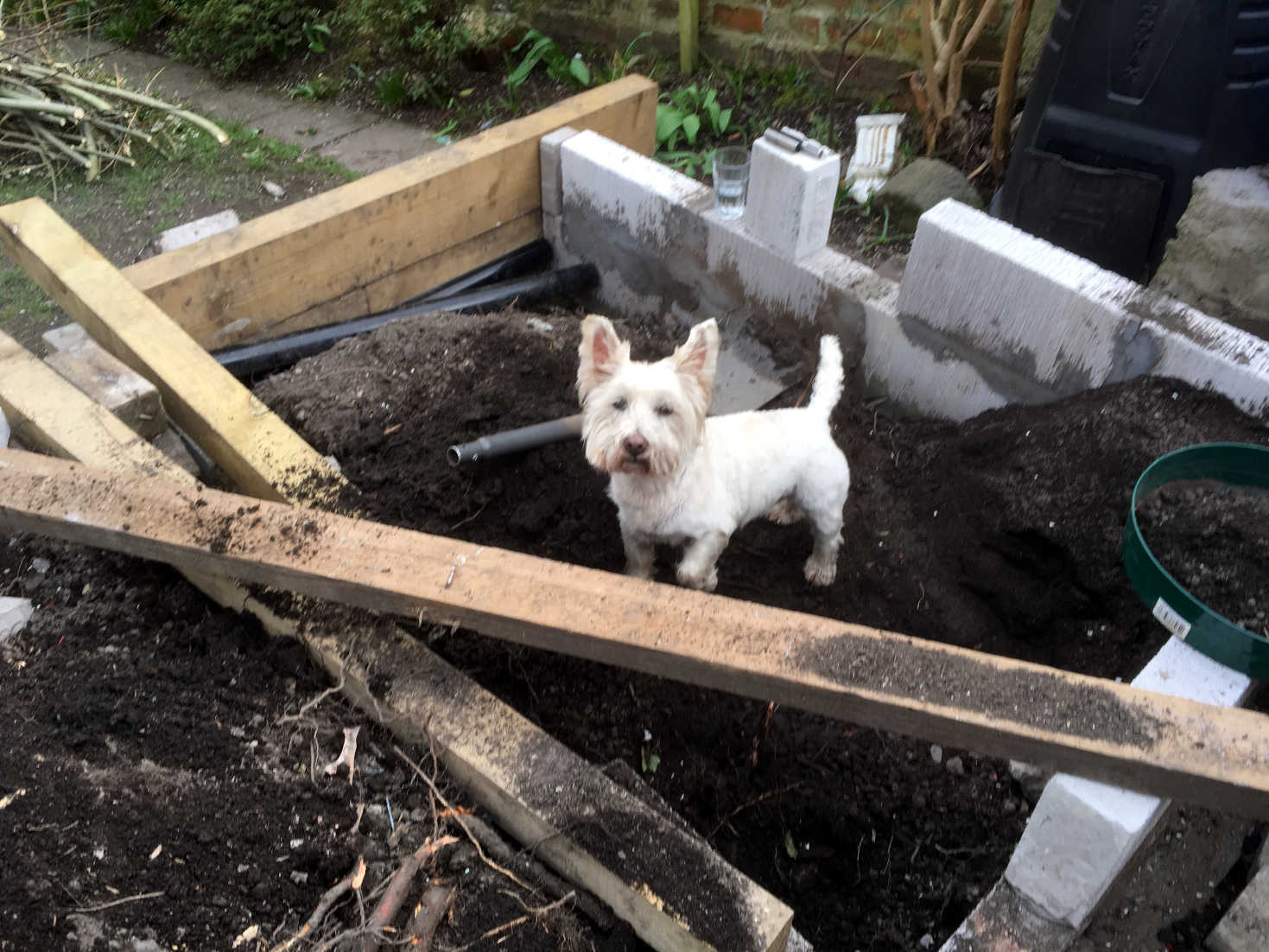 At the weekends we have only been going to home park because of lockdowns. Home park is not so bad. Every week it changes. At the start of the month it was wet cold and muddy. In the middle white flowers came out of the ground, soon followed by purple and orange ones, now the big yellow ones are coming up.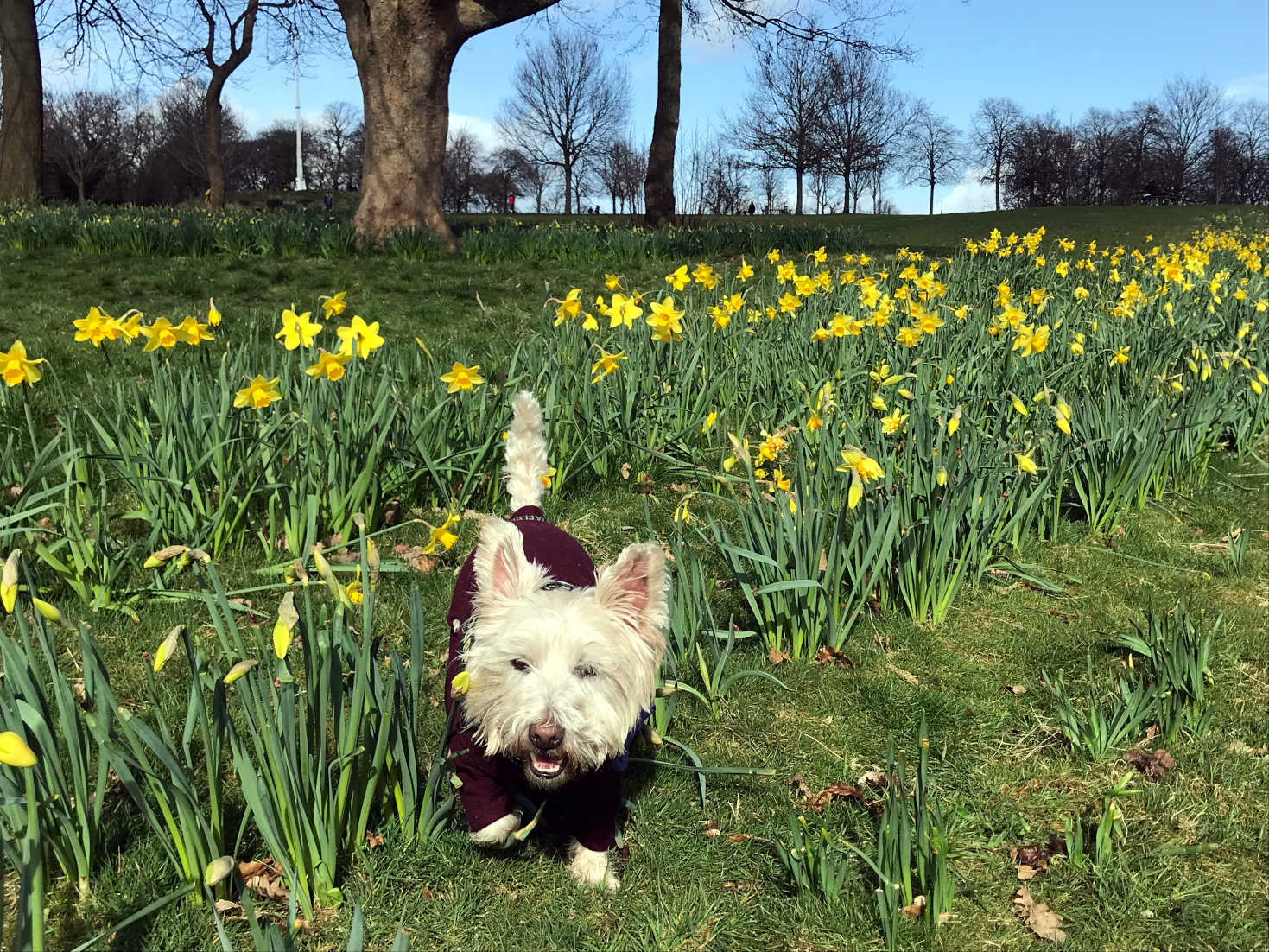 Poppys likes to play in the daffodils. They are great for playing ball. Poppys can jump over them and they are not spiky like brambles! March is ending. Mum and Dad had to go to the humansees vet to get a covid stab. Mum got a sore head and sore arm, Dad got unwell and had the shivers. Now they know why poppys don't like nasty vets. It truly is a funny time we live in, humansees wearing muzzlesees and getting stabbed at the vets. Poppys don't need to wear Muzzlesees and have not gone to vets to be stabbed. Funny times.