Poppy Goes to Kelburn Castle
The weekend was here, Poppys know this because the night before the weekend Dad drinks the frothy daft juice and is always a little slow the next day. I got up late mum had gone to work and dad was tippy typing on the box he always has on his lap. A few nudges later he got the drift and took me for my morning walk. Lunchtime came and granpa came over. Granpa always comes at lunch time he loves taking me out for walks. I love granpa coming over, he always brings carrotsees and poppys loves carrotsees. After granpa left dad started acting very strange. He was putting lots of bags in the hall. Adventures? Can't be It's too late to go on adventures.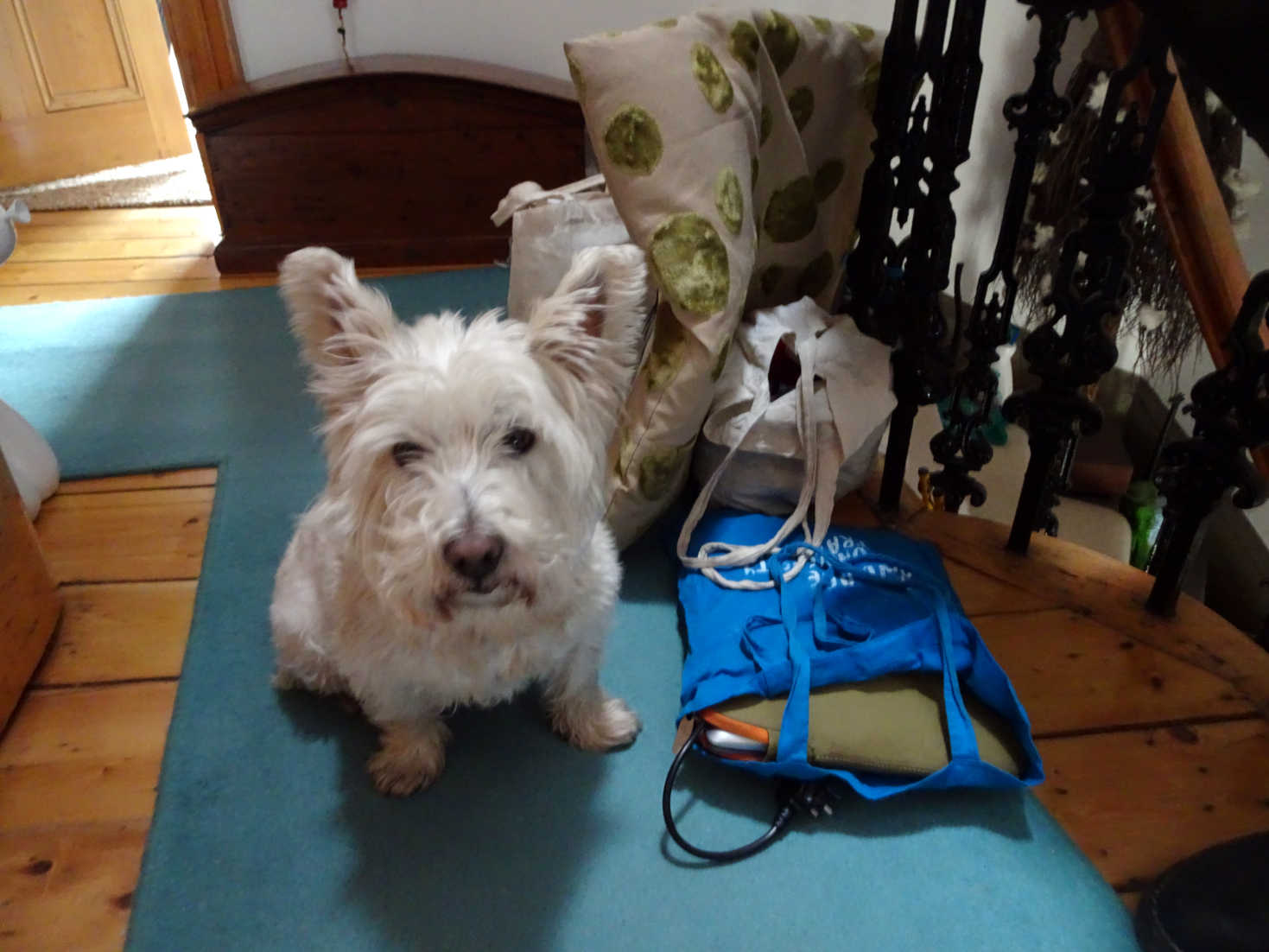 I went out to patrol the back garden, cats and pigeonsees have been invading of late, when I got back all the bags had disappeared! Mmmmm, very suspicious. Weekend starts proper when Mum gets home, but when she got home she was rushing all over the place! Before I knew it we were all in Betsy and rolling down the road. Where are we going? It's too late to go anywhere. Betsy headed for the country and in no time at all she was resting in a field next to the sea. Where is this Mum? Dad open the door let me out! This is great I can scratch and role in the grass!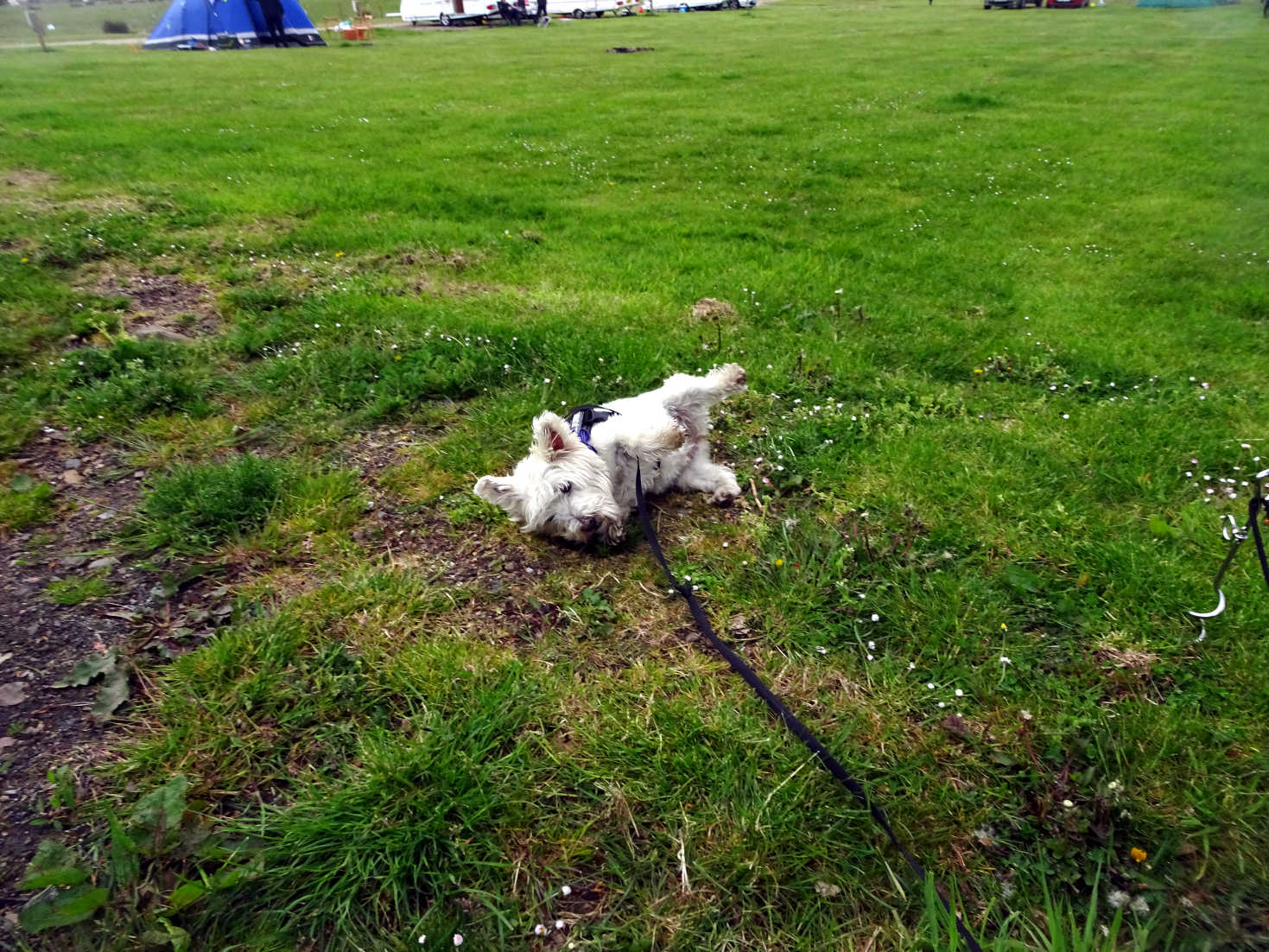 Dad started plugging Betsy in as mum unpacked inside. Soon dad had Betsy's big TV ear up and telly box was talking. More peoplsees came and started putting up a big house made of cloth. Another van came in and there was a big black doggy with them. Better keep an eye on them.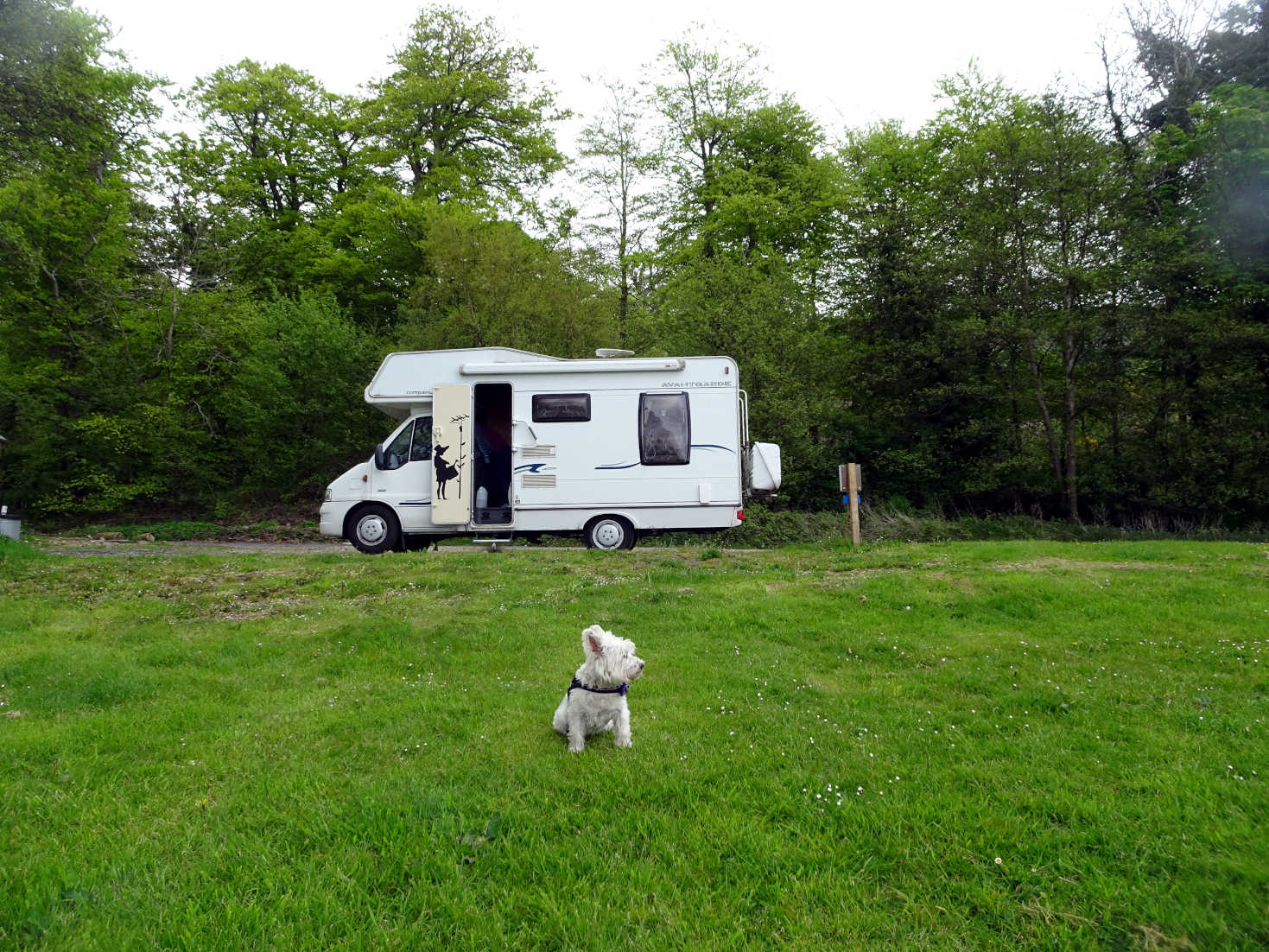 "Come on Tink, lets go" said dad. Go? Go where? We left the camp and passed a car park that was all chained up. Mmmmm there were cars when we came in, where did they go? We followed the path and came across a huge tent. Well you don't see theses every day I better check it out.
Nothing too interesting, what's next? We walked through a courtyard, lots of smells here! Doggys, chips and fishees! At the end of the courtyard a path took us past a witches cottage, further on tree houses and a pond. In a glade I found a bench and table, good enough place for a look around, Mum! Dad! What's that? "It's a castle Poppy" said Mum. Castle? Your pulling my paw! Castles don't look like that!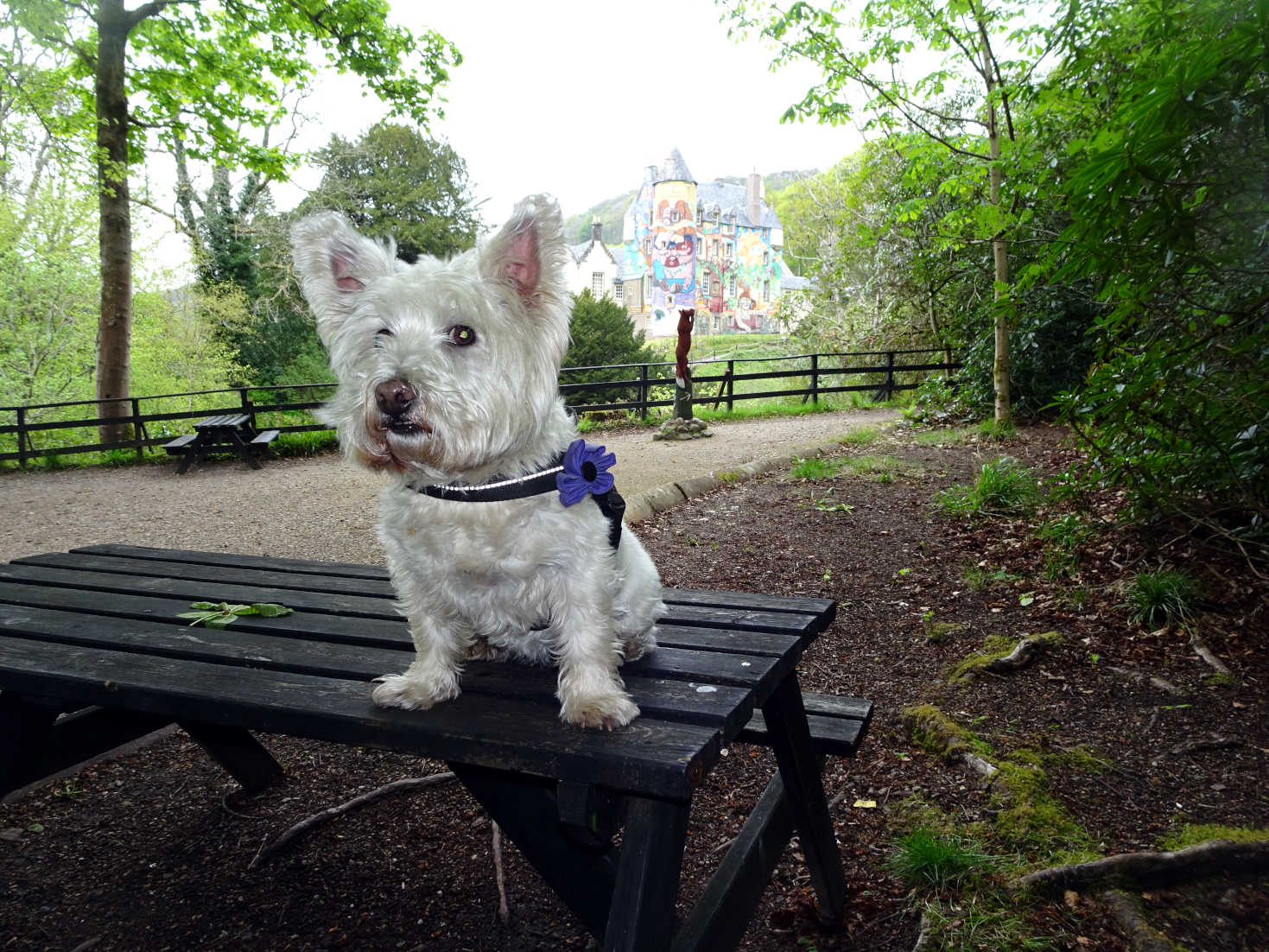 I heard running water, lets go for a sniff about. The water was at the bottom of a deep glen below the "Castle", we had to follow a steep path down the glen, smells everywhere my nose was going mental, too many new smells!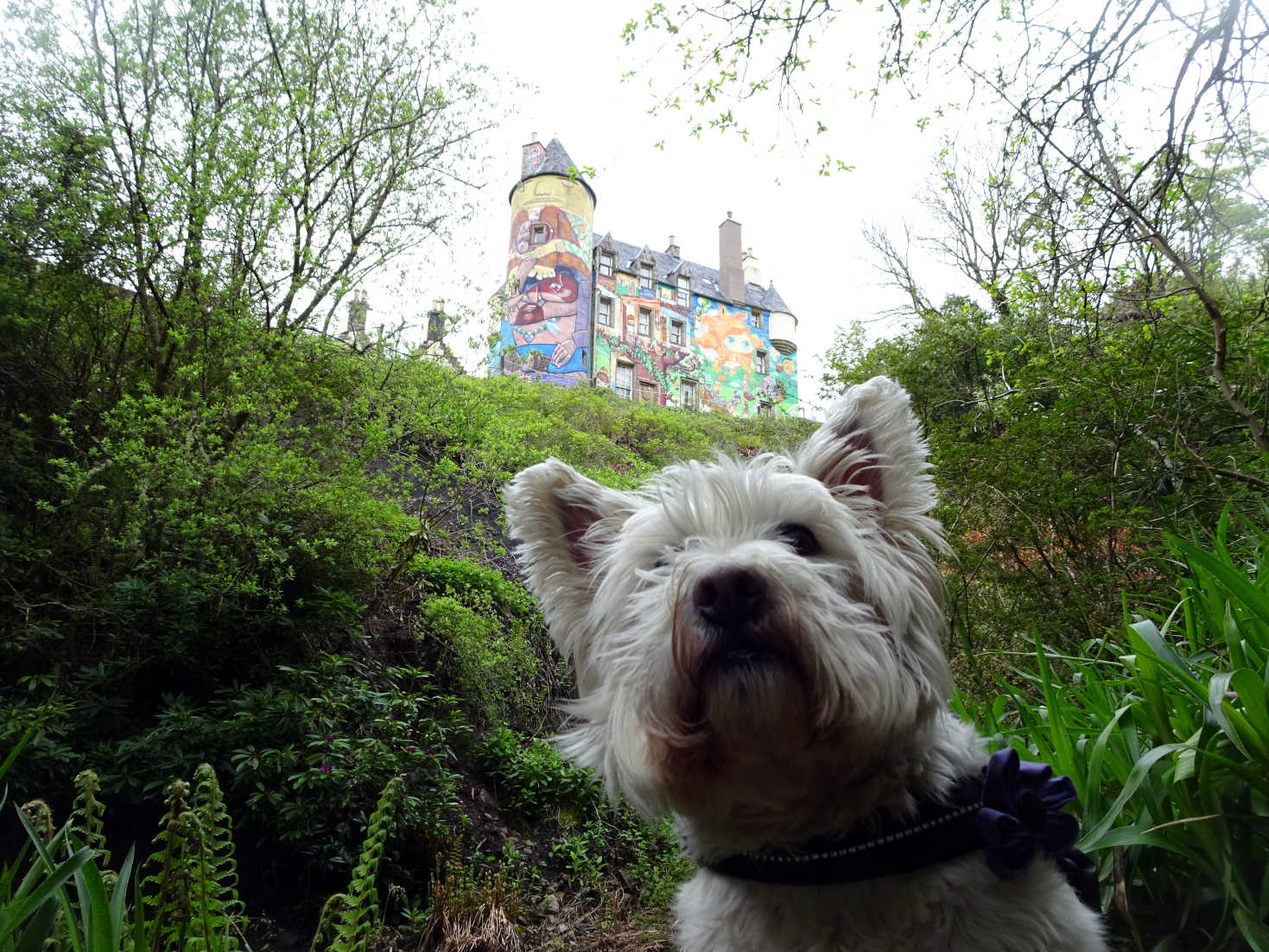 At the bottom of the glen we followed the noise of the water. As we walked along it got louder and louder. I climbed on some rocks to get down for a drink.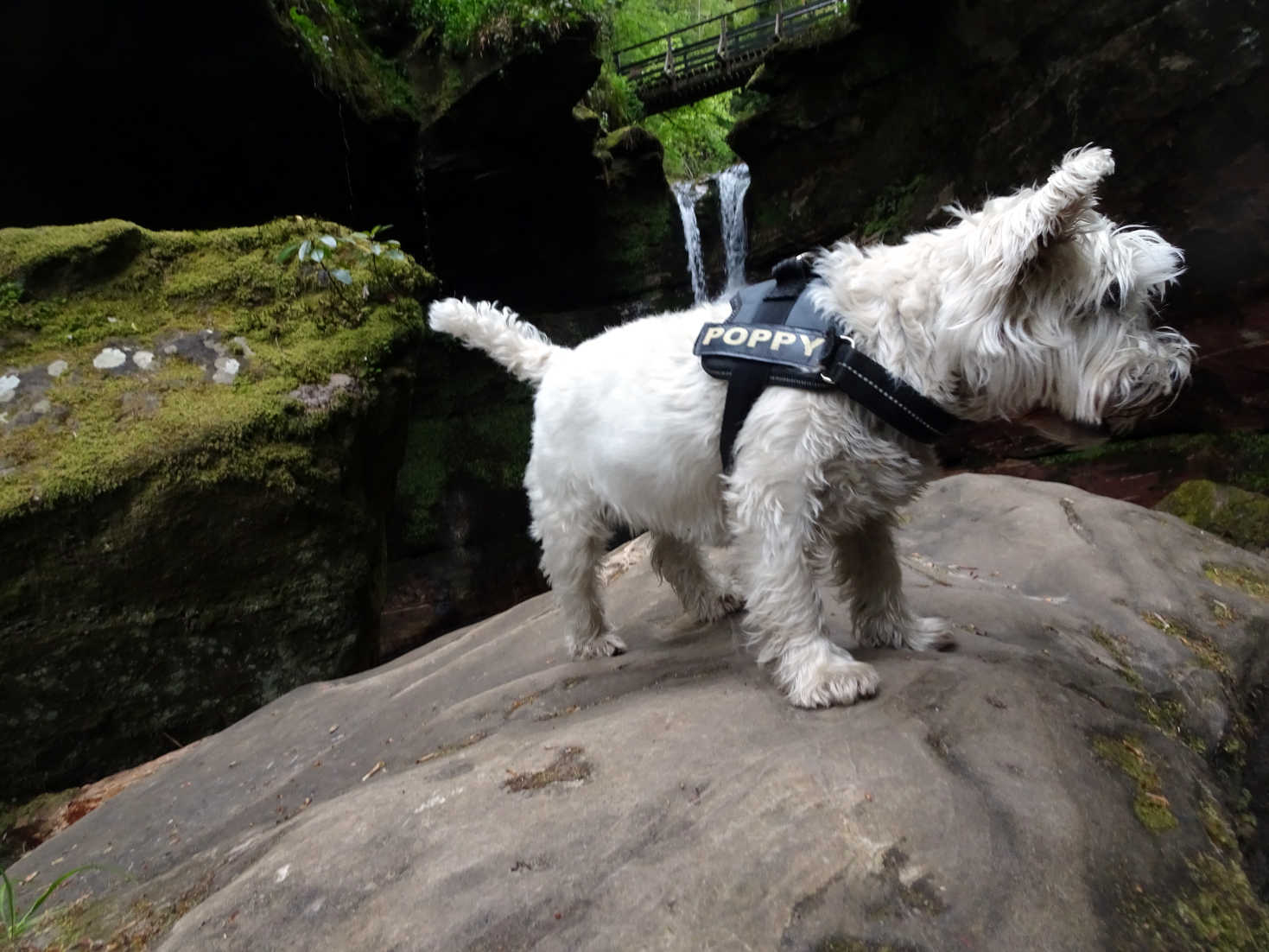 Finally I found a way to the water, Dad come! Dad came down with me and we jumped across the rocks at the bottom of the fall. Dad showed me a good spot for a drink of water. The water was cool and fresh, Just what the vet ordered!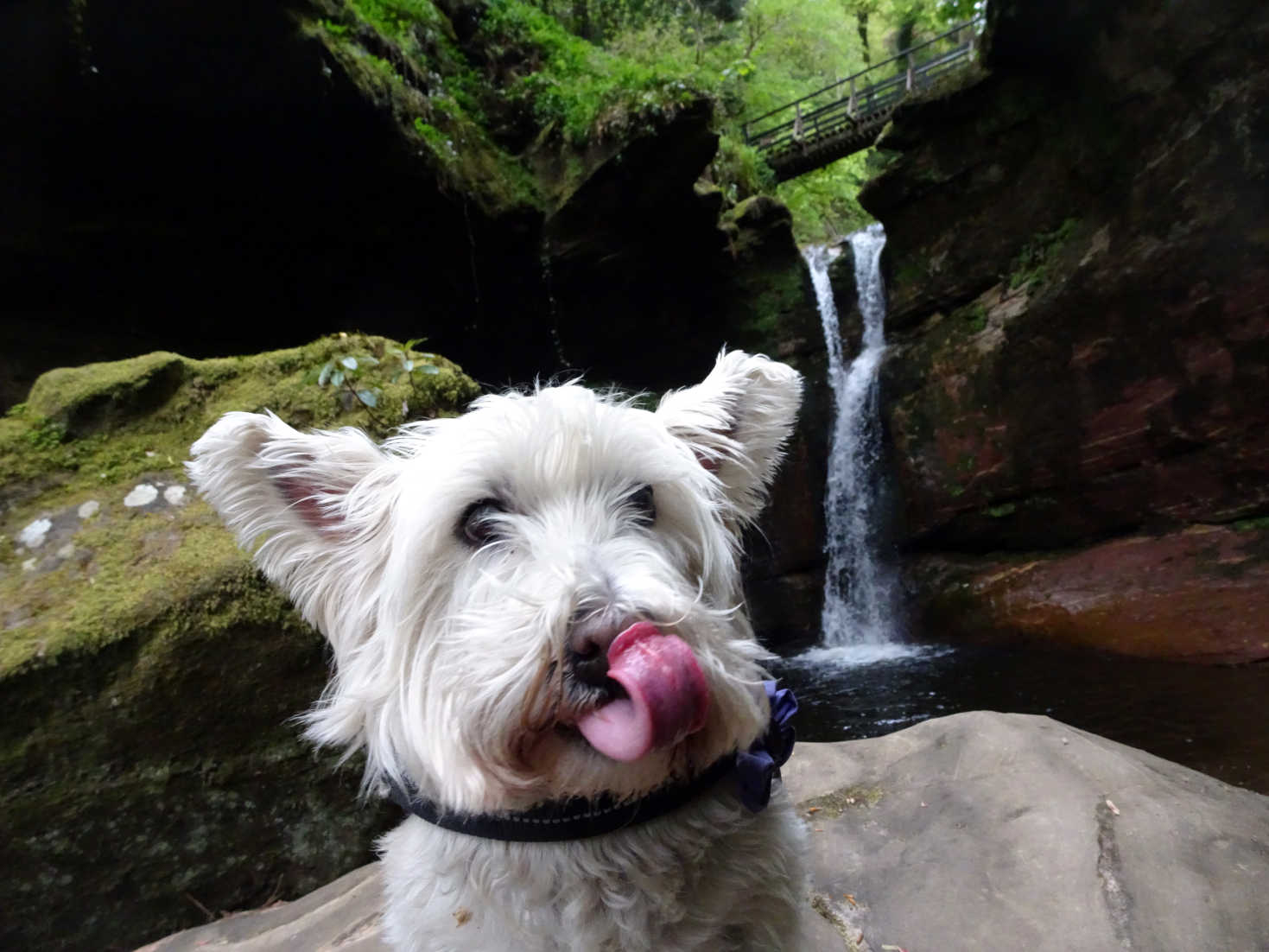 MMM that's me watered but not fed. I looked at Mum, "OK Poppy we will go back for dinner" said Mum. Back up the Glen we trotted. As we left the courtyard I spotted a strange ship. Dad why is the big grey ship got a French flag? We are not back in France are we?
When we got to the car park I remembered BALL! BALL! BALL! We played along the road and paths back to Betsy. Dad LOOK! Betsy is hiding from us behind the shed. I can see you Betsy!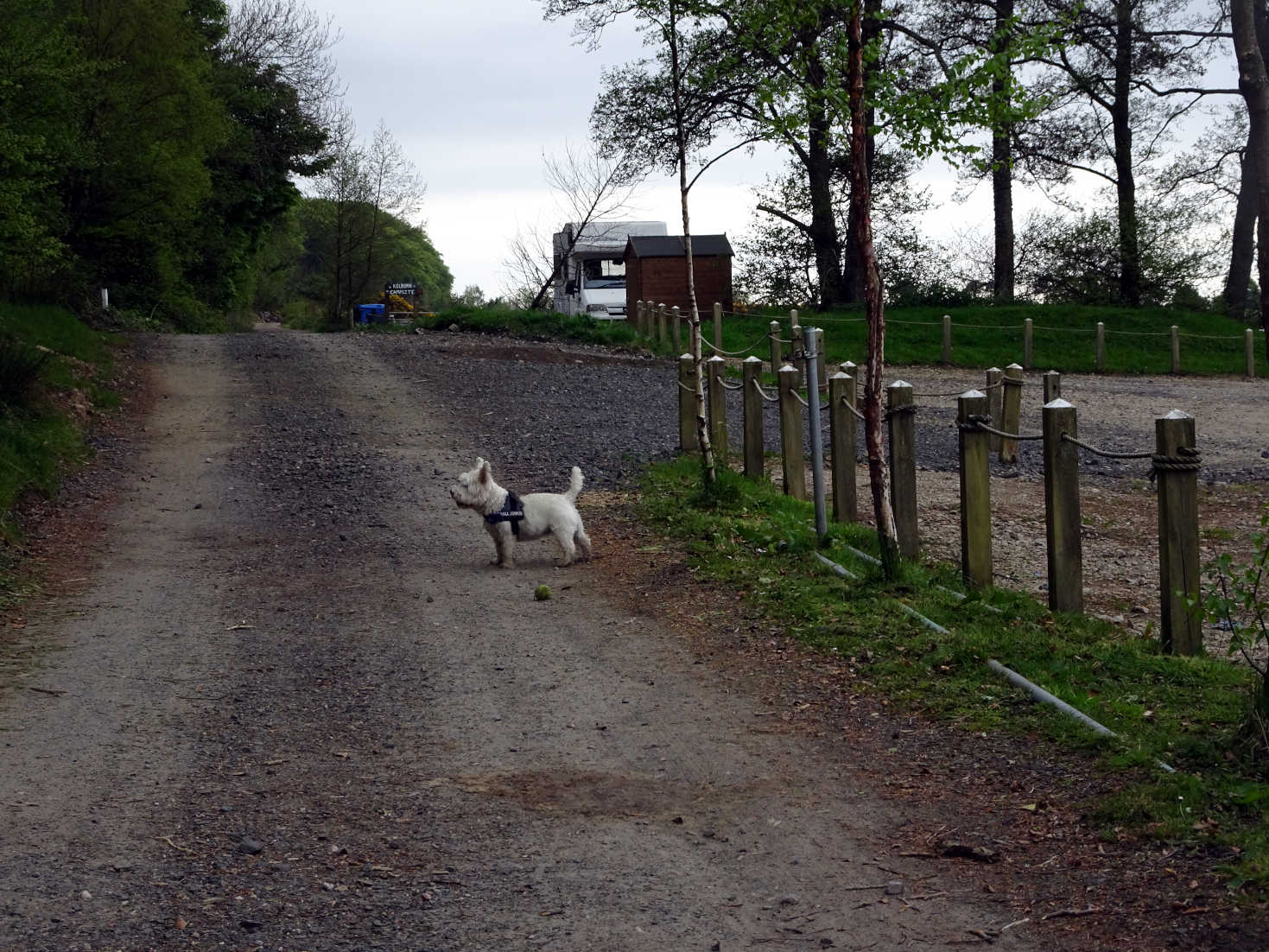 After dinner camp was alight with fires, on the water the big ships twinkled like chritmasee trees. I went to see the doggy from the van that came in after us. He was called Sparky. We played for a bit before bedtimes. Daft Sparky loves sticks. He even went into the burn after them, Daft doggy. Time for sleepees, I settled down for the night, all these smells sure tier a poppy out!