Mum woke me up at stupid o'clock for a weekend. "Come on Poppy, we have to go before the tourists arrive" said mum… Are we no tourists? " We'are residents Tink". Oh ok then. Quick bite to eat and off. We followed our steps from last night but instead of going to the waterfall we crossed Sanham's bridge, look down there mum, it's the waterfall from yesterday.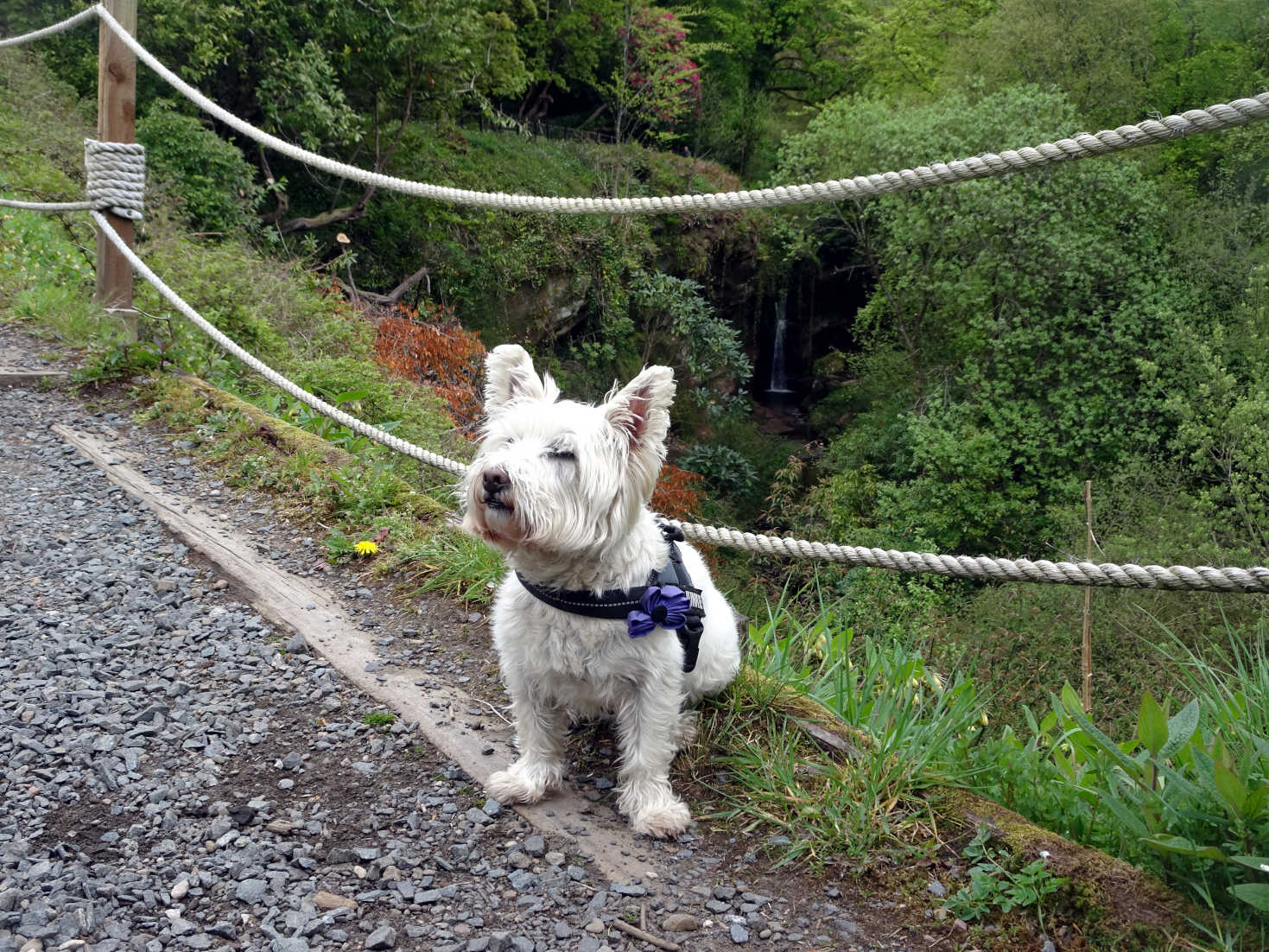 Over the bridge we climbed up lots of steps to the top of the ridge. Lets go se the funny castle! We couldn't go past the fence because peoplsees live in this castle. Who would live in that dad? "The Earl of Glasgow" said dad. Aye right dad, I have lived in Glasgow all my life and I have never seen the Earl punter!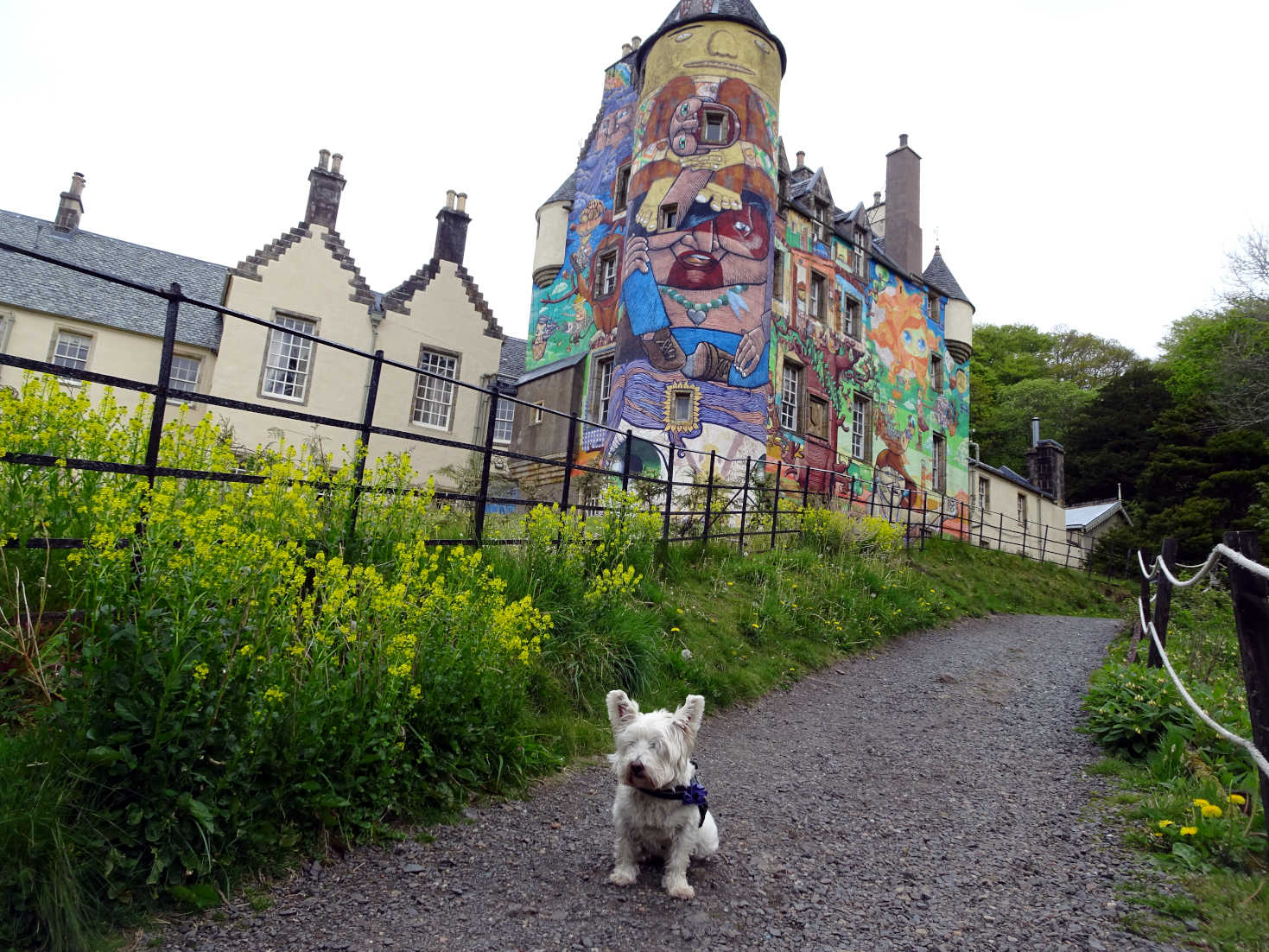 The grounds were empty only us. This is good dad everything is ours! There were signs every where saying "Poppys must be on nasty leashes", because it was empty nobody could see this poppy was not on nasty leash! The path went further up the glen and we came across a strange thing. Dad this is just like in the stone parks. Do peoplsees rest here forever too?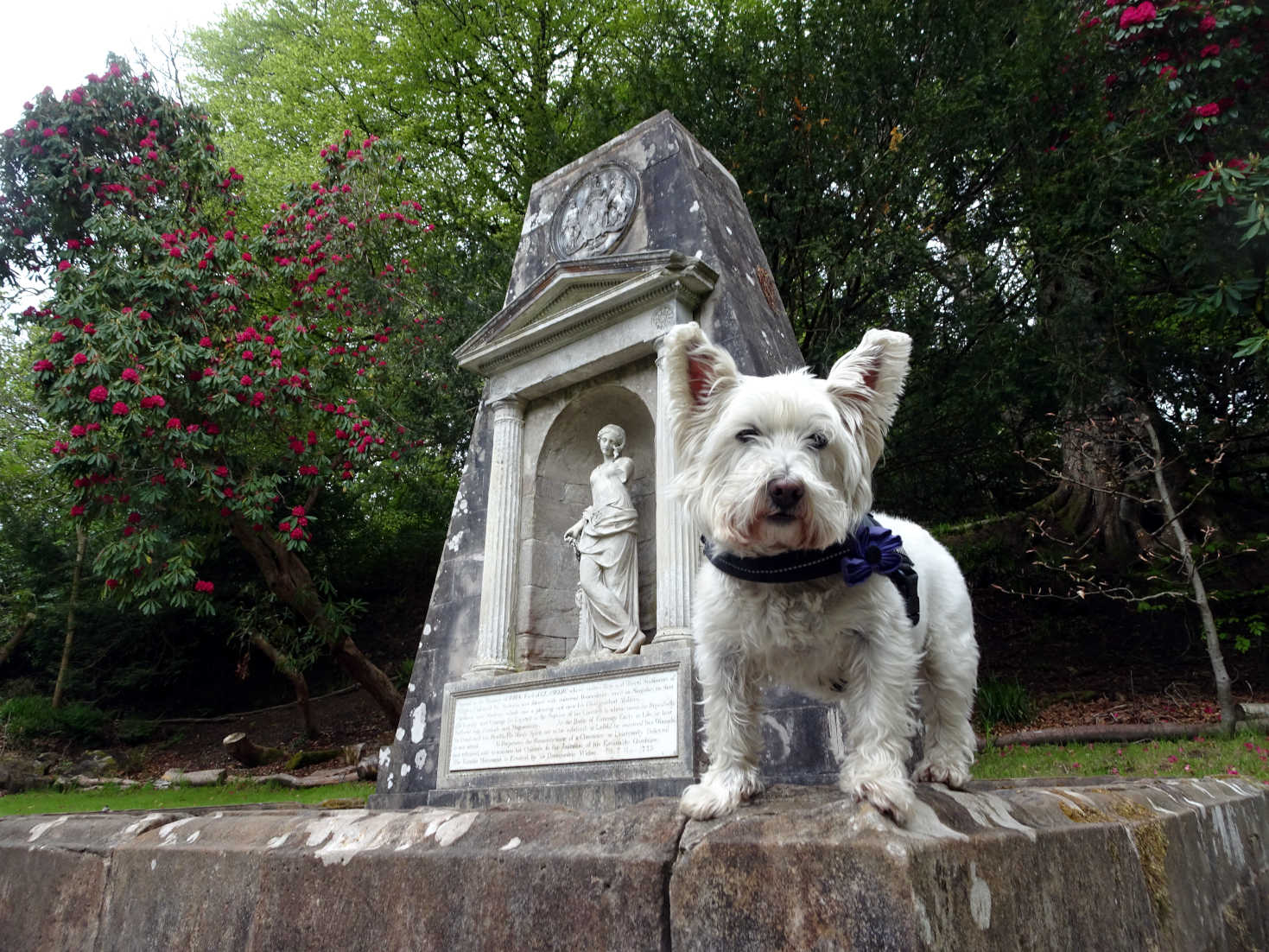 The North Glen path forked in two. I had a good sniff at each path. This is the way, we'll go higher up. Up we went though the forest, up and up. We past a magical stone circle glade until we came to a fairy village. There has been trouble here dad, look their bridge has been trashed, at least most of their houses have survived.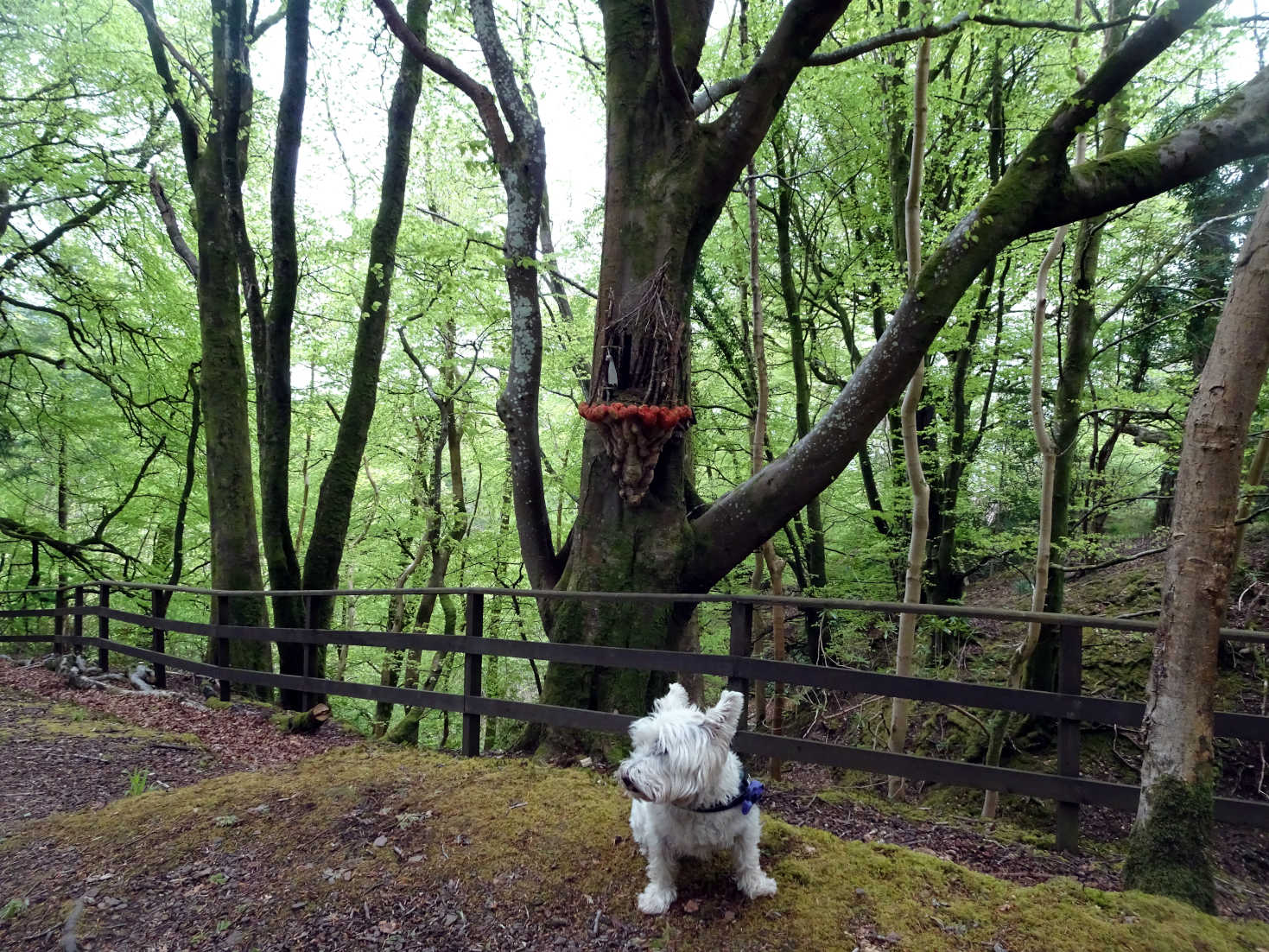 We left not seeing a single fairy, they must be too feart to come out. Again up and up we climbed, all the way to the north upper estate road. "Which way poppysocks?" asked dad, sniff, sniff,sniff,sniff, this way.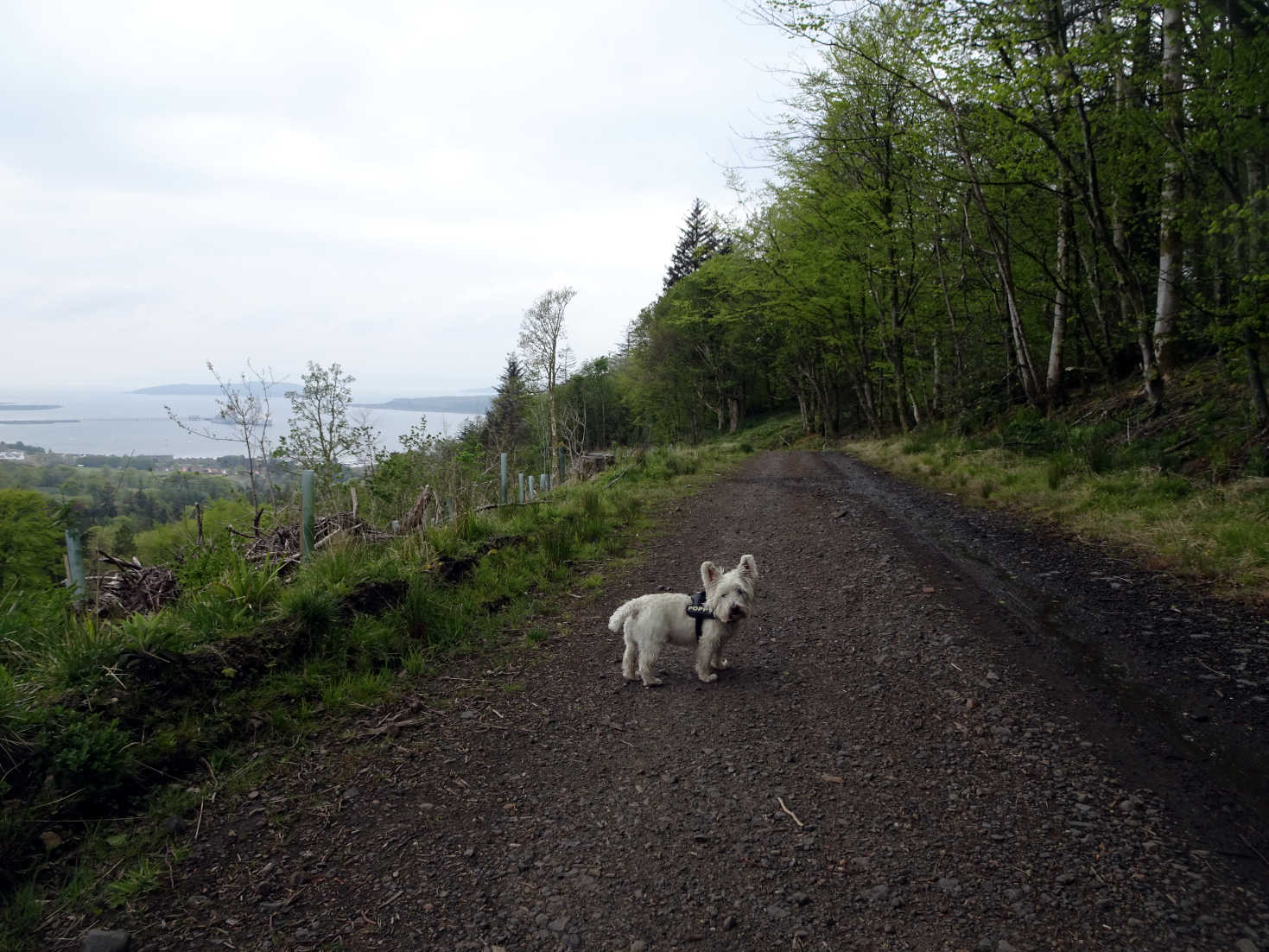 Mum wanted to go to the Countess Walk, this is defiantly the way mum. We followed the path until we cleared the trees and could see where we were and where the path was taking us. That countess path will take us out past the golf course!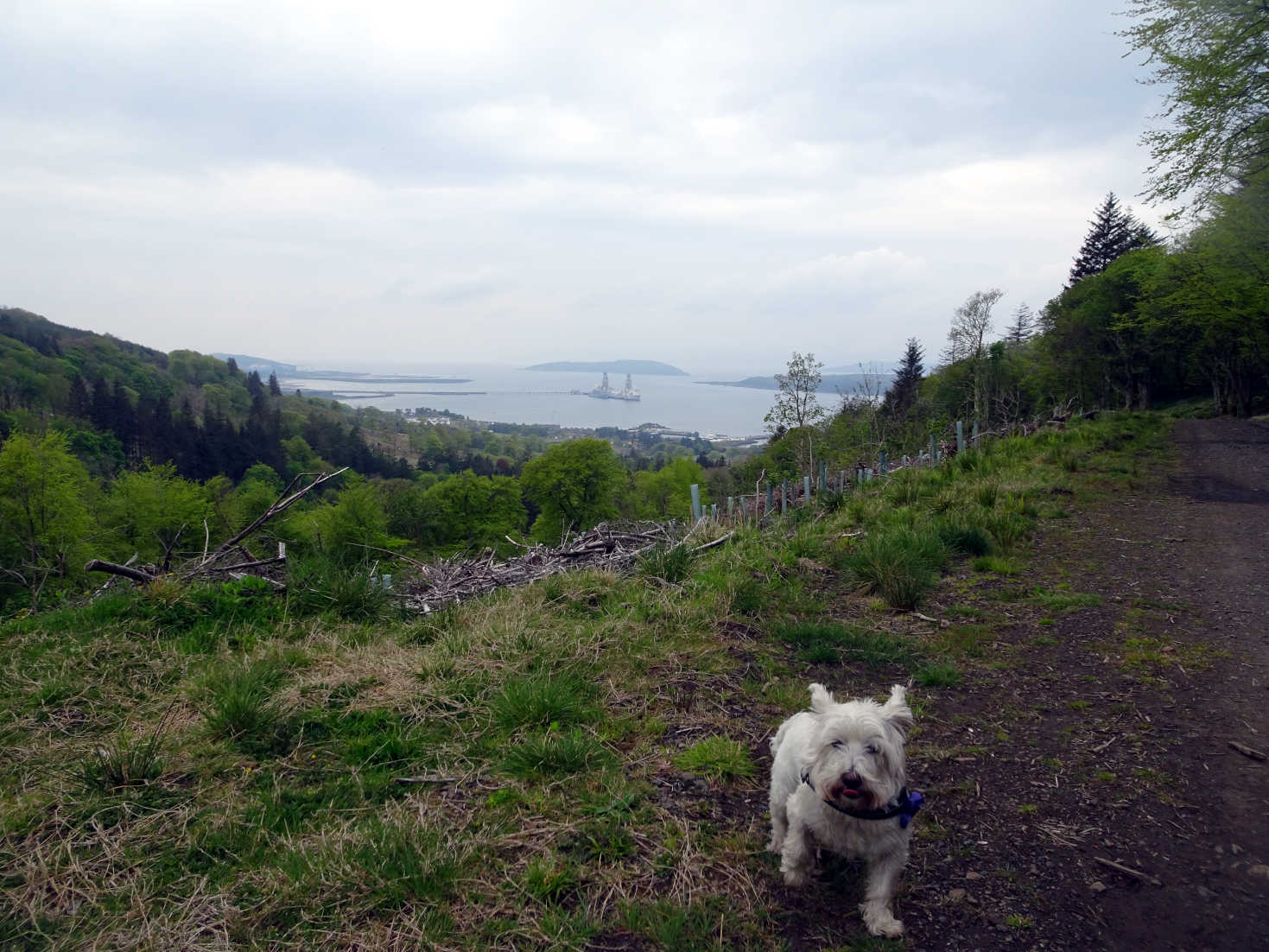 This was not my idea of fun, too many peoplesees and cars. Are you sure mum? You want to go down there? Joy we turned on our paws and headed back. Game of Ball?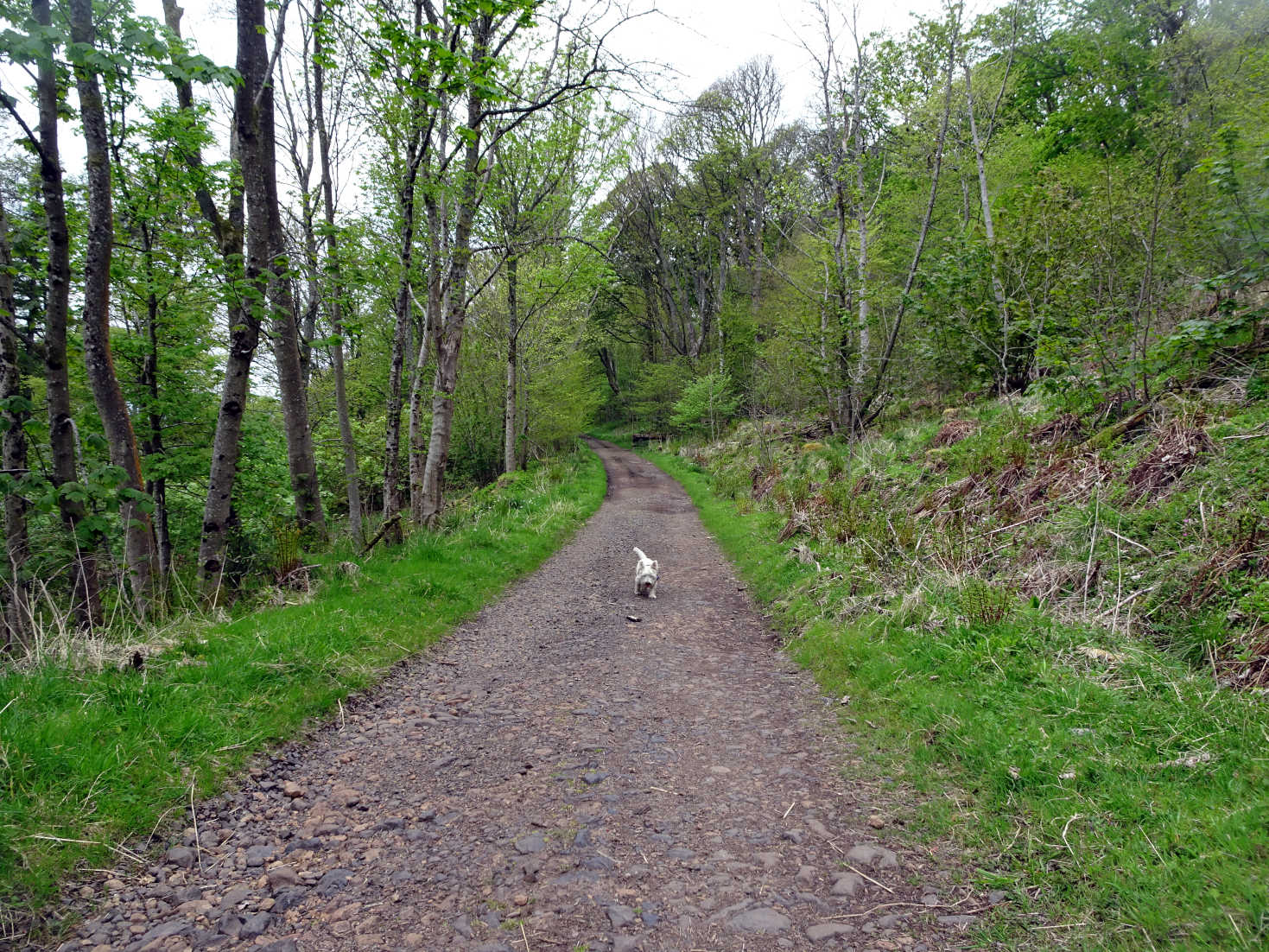 After a while I found another path, sniff, sniff this one works for me. At that moment we heard something we had not heard all morning……Peoplsees. Quick lets head down the Corkscrew road!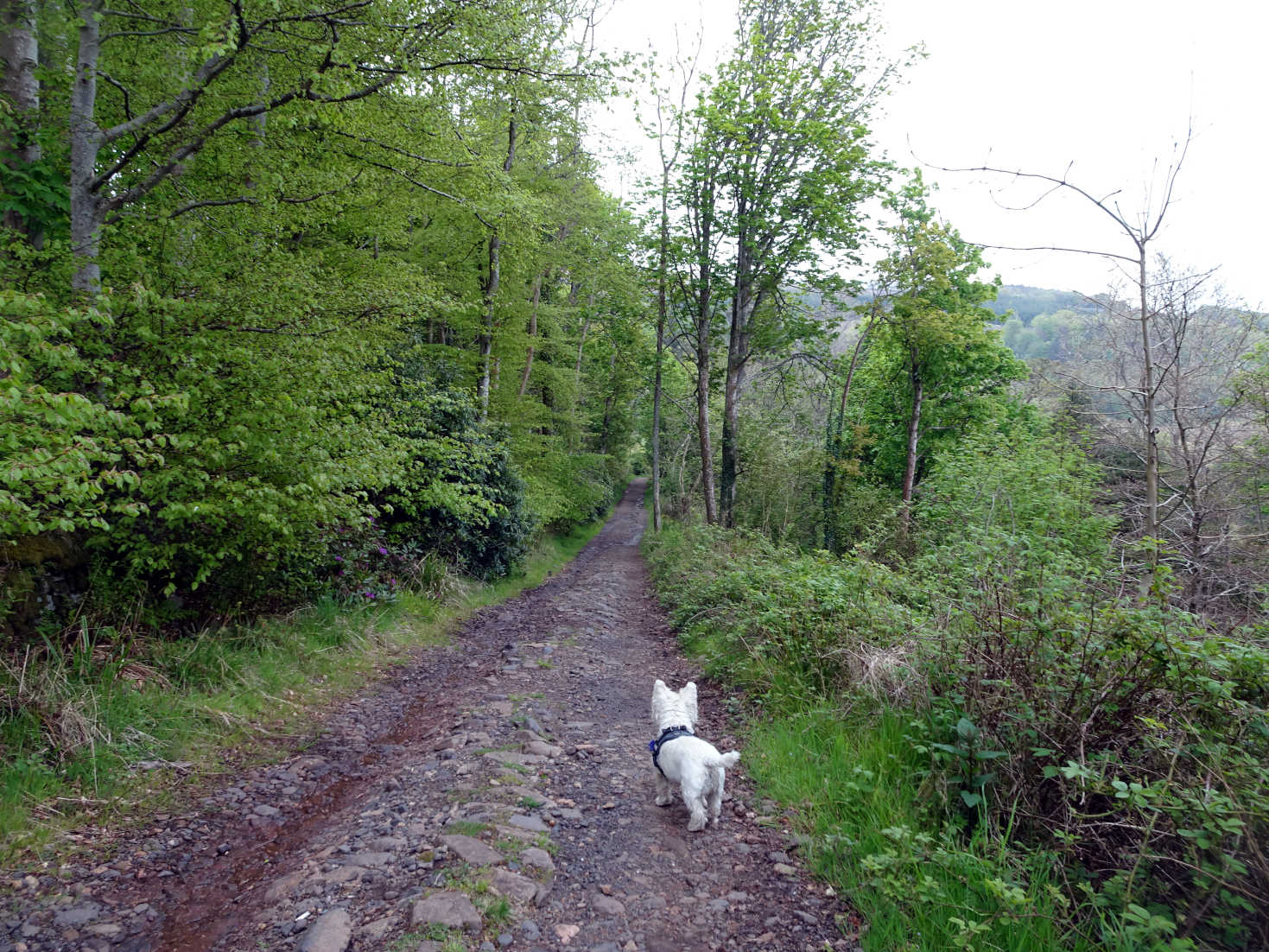 Down we went back into the silence of the forest. Suddenly I could not believe my eyes. Mum, Dad, you seeing this? Is that a boat? What's it doing here? This is the forest! This is just not right.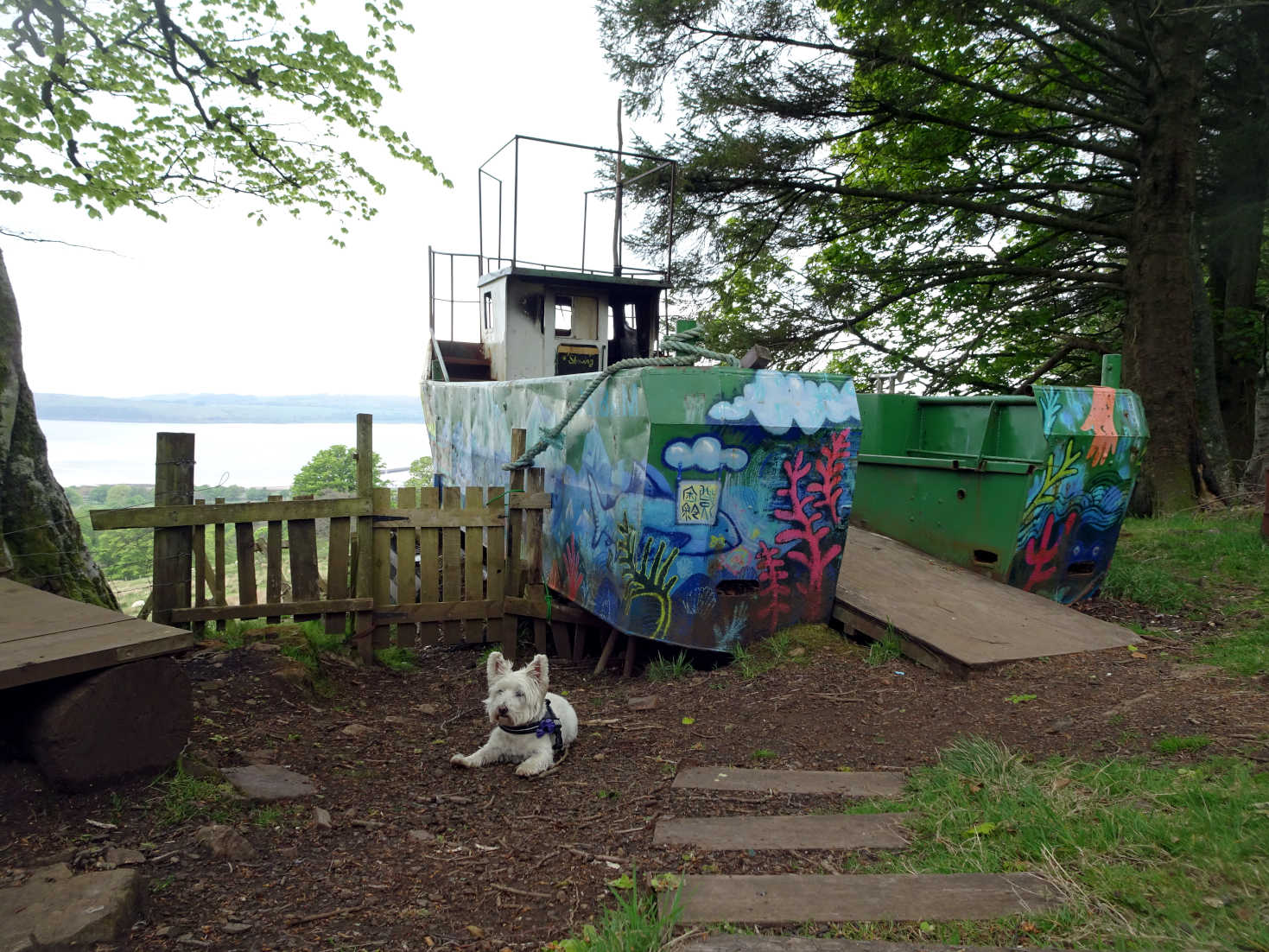 Well there is no way I'm not going to investigate this, I jumped onto the boat, mmm smells funny, this is not like any boat I have been on before. I spotted the steps to get to the front, well steps is irresistible to poppys so up I went. "Poppy! No! get down from there it's dangerous" shouted mum. Auch Mu-u-um, but you can see for miles up here.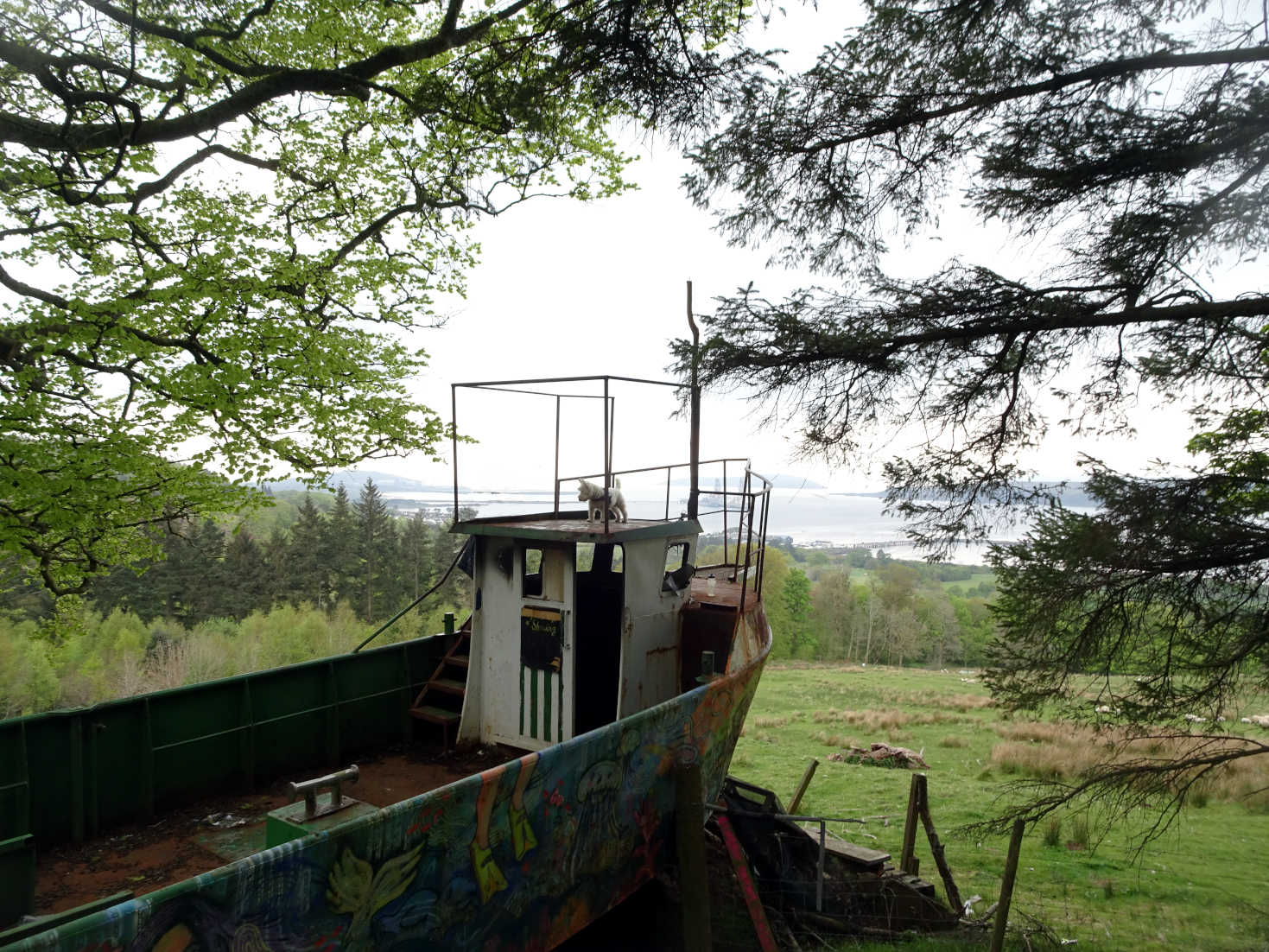 Leaving the boat we kept going down, past the stone circle to another fork in the path. I could smell water and I needed a drink this way, I shot ahead. Hurry up mum hurry up dad!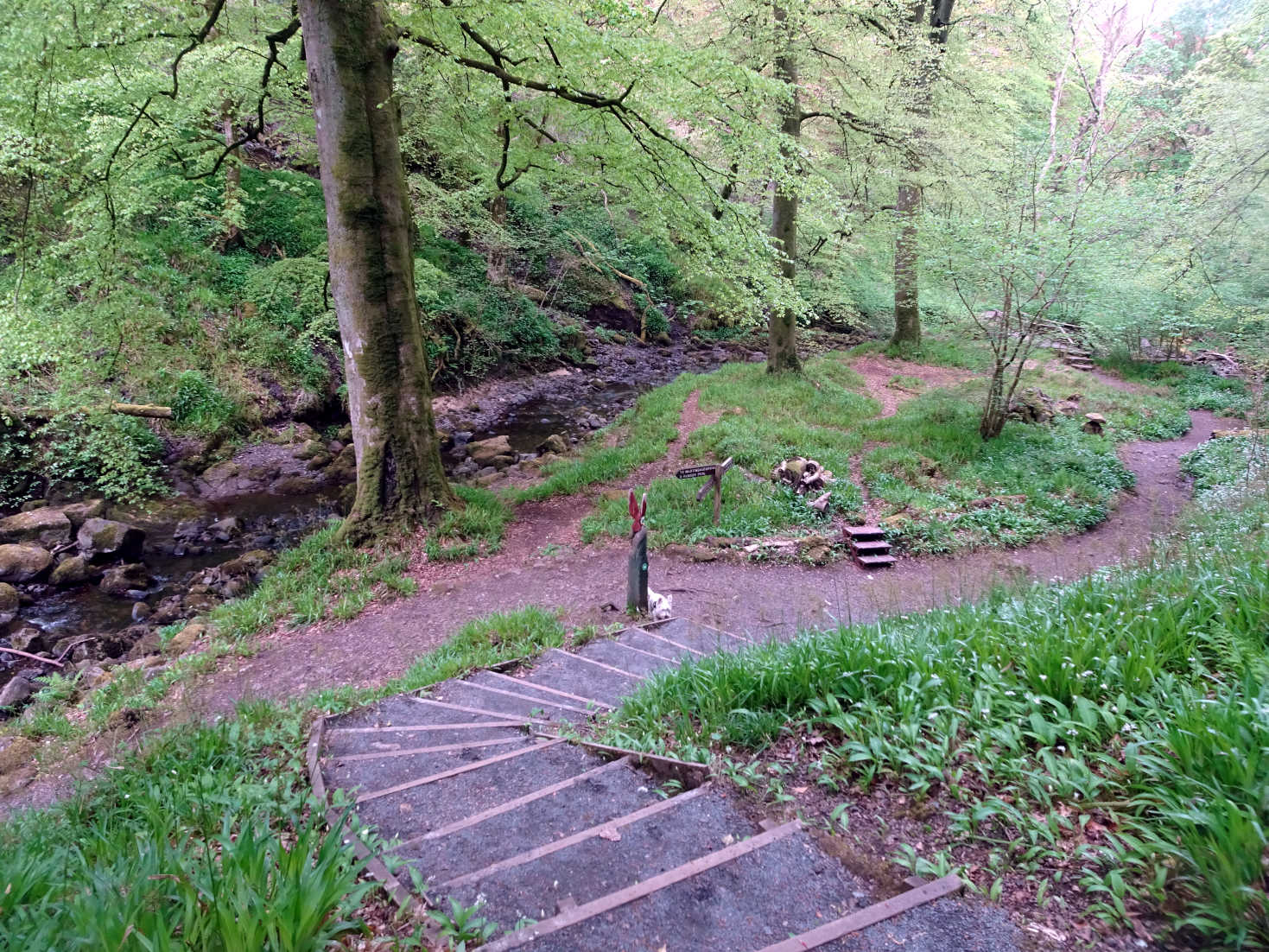 By the time mum and dad caught up I was all over the rocks for a nice cool drink from the Kel Burn. Thirst gone time to explore, Off again, hurry up Mum!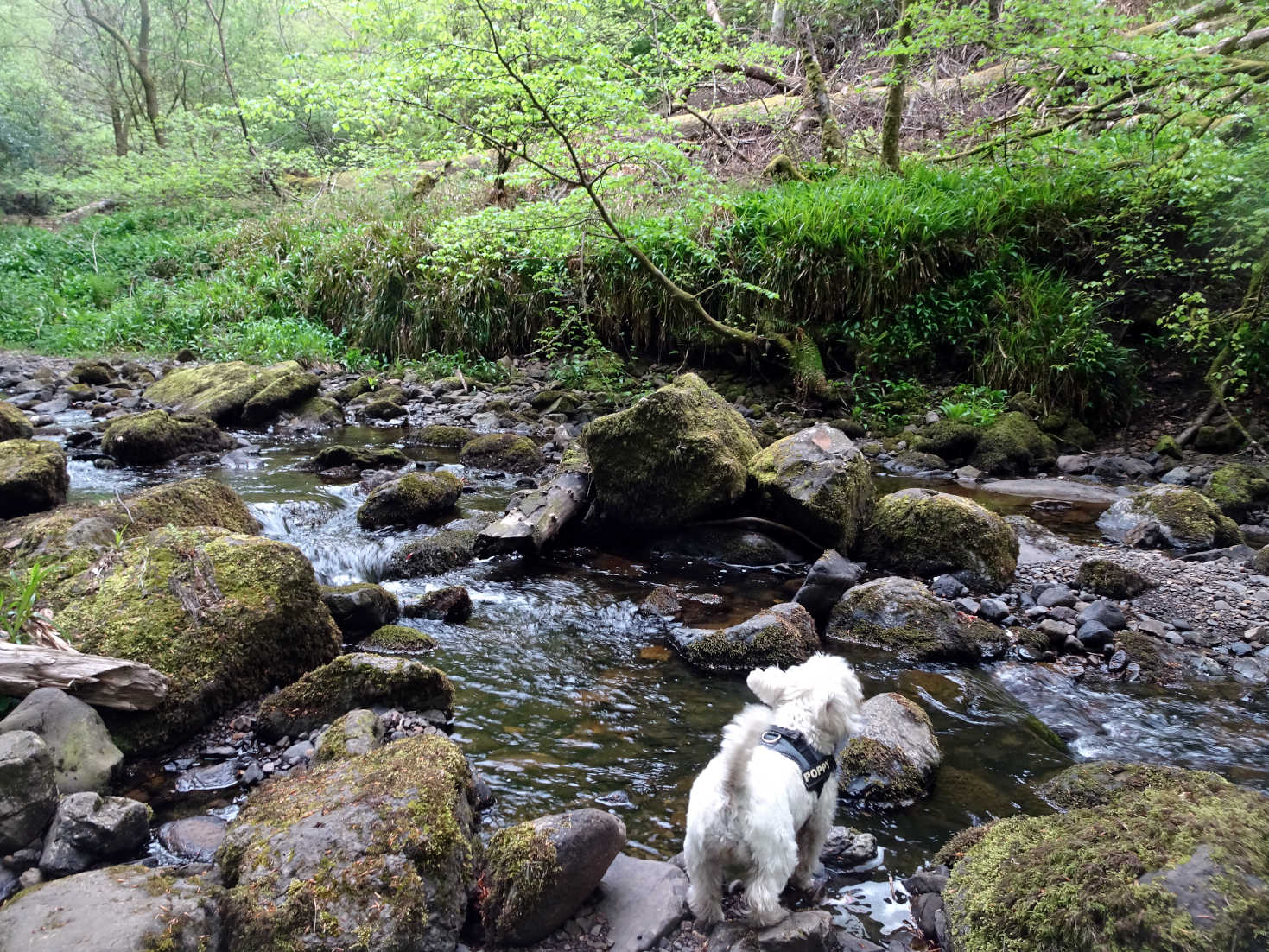 I found a bridge and was over it like a shot! Oh O, where's mum and Dad? I left them paw prints to show them the way.
Better go back and get them, don't want them to get lost. Back over the bridge, this way!
As we followed the path back down the glen it got busier and busier with peoplsees. Dad put nasty leash on me, mmmmm bloody tourists! We passed the castle looking for very old trees, Dad said they were over a 1000 years old! I found them in the walled garden. Mmmm never jumped on a 1000 year old anything before, this is a chance not to be missed!
Time to go back to betsy for lunch. On the way back the garden gave me one last surprise. It gave me the pink carpet treatment, made me feel really special, thanks garden!
After lunch mum wanted to get a paper, so off we went. Down the big path that leads to the main road. Ball? We were taking the main road into a town called Fairly where there was a shop that sold newspapers but before we got there I spotted a marina. Let's go see! What is it with this part of the world, the boats here were not in the water either! I suppose at least they were close.
Mum got the last paper in the shop, that was lucky. We made our way back to camp. It was getting on and dads mind turned to dinner. "How about we get take away from the caff at the courtyard?" he said. "What do they sell?" said Mum. Dad went to find out. When he came back he showed mum what was on offer. FISHEES and YIPS!
After dinner mum and dad had some glasses of daft juice and settled into watch TVs. Good time for a we nap.
When I woke up dad said we should go out on camp patrol. I went over to the camp fire, no sign of Sparky. No sign of Sparky's van or family. They must have left. I looked out over the clyde, look dad the American boat is going away just like Sparky.
Nothing else amiss in camp we went back to betsy, camp was quieter tonight. As night time crept up on us it was time for one last walk before bedbows, Mr sun was going to bed and so were the ba lambs. Back to Betsy for sleeps.