Poppy Bags Berneray, North Uist and Grimsay
We left camp to go to Croft36 to pick up supplies, it was shut. Next we went to the Hebridean mustard honesty box for some Mustheb mustards then on to the ferry at Leverburgh. I plodded about the jetty. The smells from the Butty Bus was amazing. Then I saw Zac, the dog I met two days ago in Camp. Where you off to Zac? "North Uist" he said. Me too, see you there. The ferry came in and we were off. Not long after we landed in Berneray. All the other cars went left but Betsy when right, where are we going Betsy? "The Beach, where else?" she said. As usual Betsy got lost. Dad had to ask a croftersee where to go. Soon she was crossing farm fields passed the village hall and onto the macher. She came to a halt and we all got out. Where is the beach Betsy?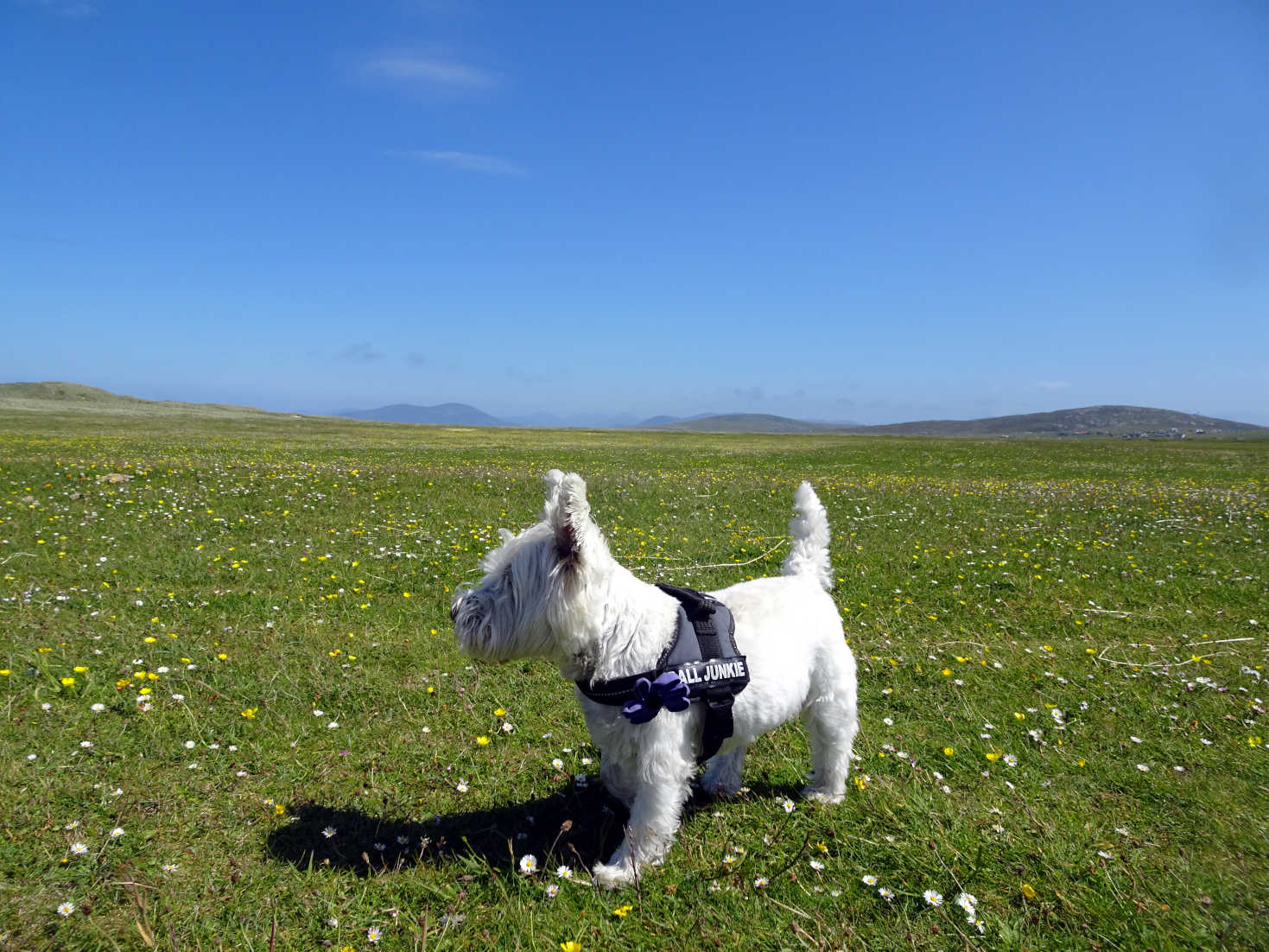 We followed a path across the macher then we saw it, Berneray Beach. What a beach it was white sands and blue seas. Best of all it was empty!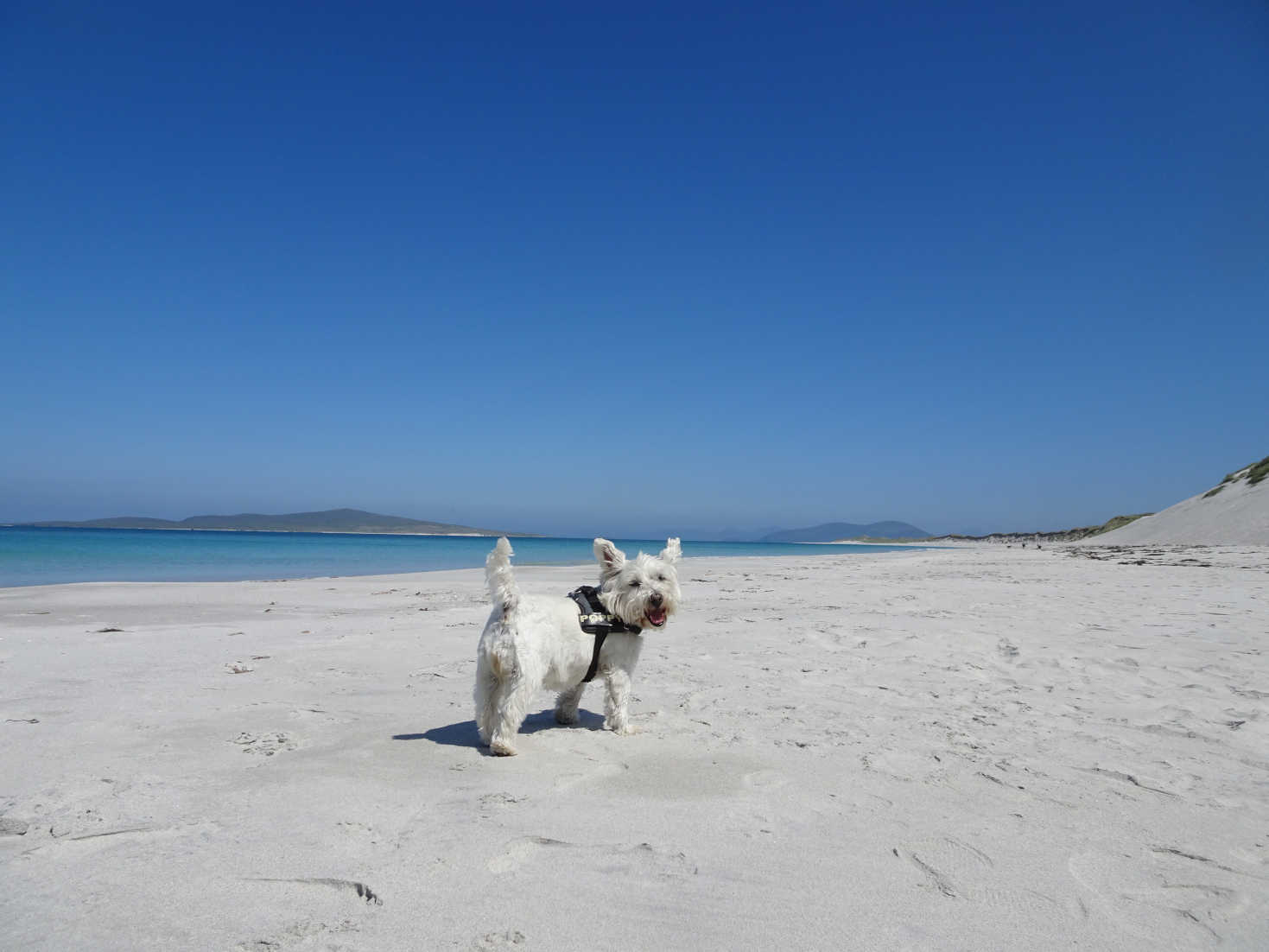 I had a great time chasing the kelpies up and down the white sands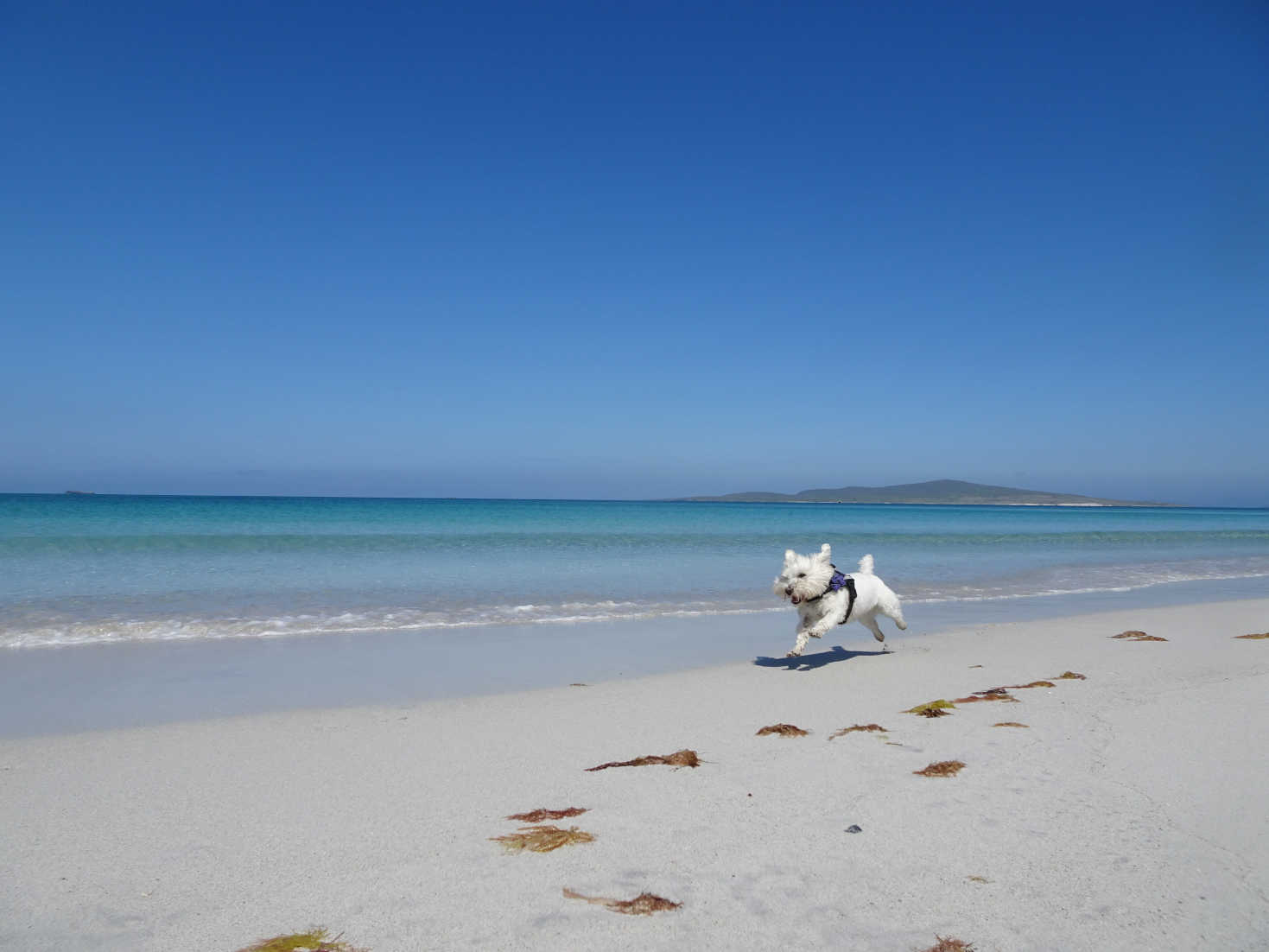 After a game of ball it was time to say goodbye, more adventures await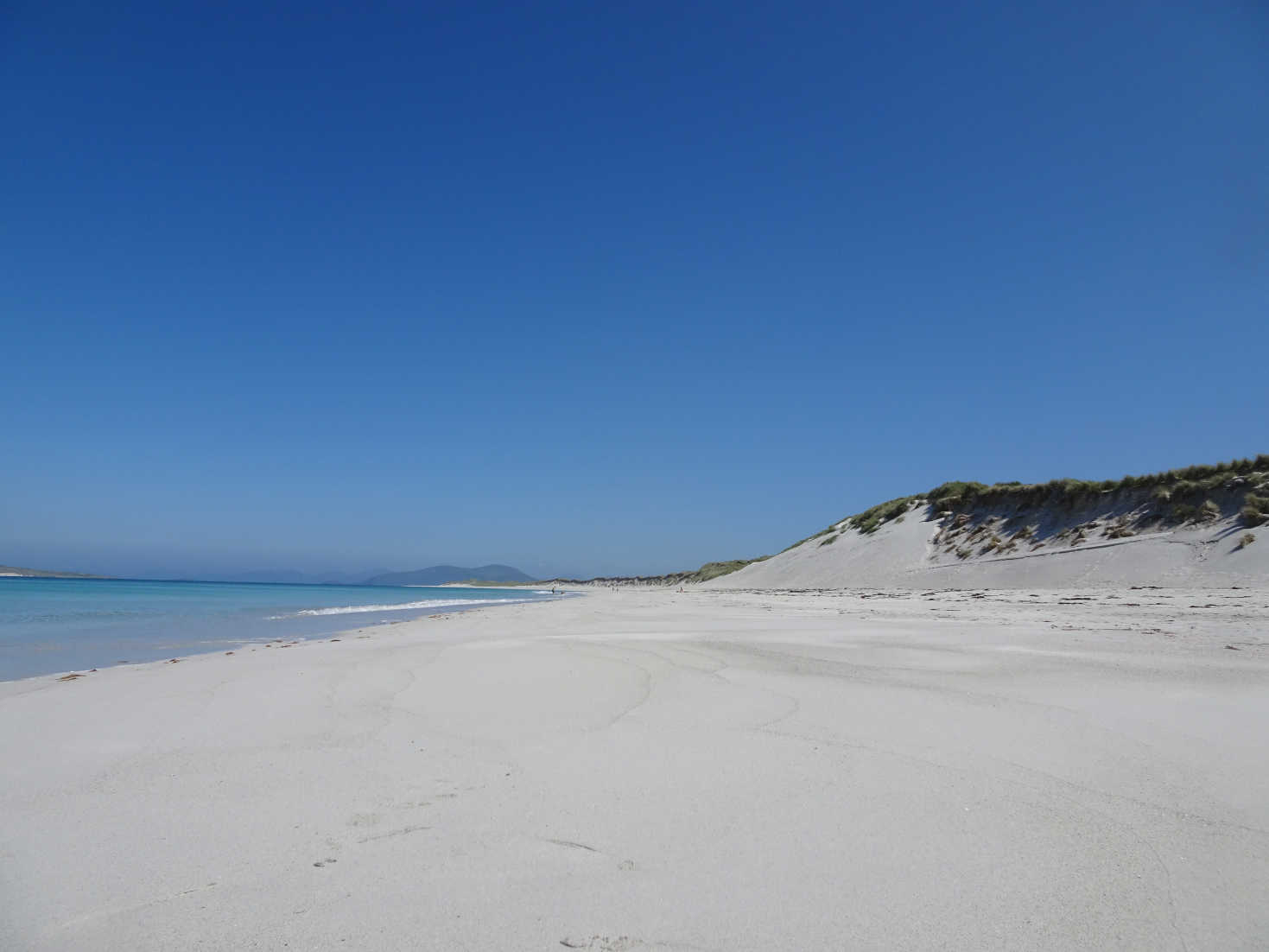 As we were leaving who did we see, Zac. Hi Zac what you doing here? "Were having a picnic and going for a swim" he said. Have fun, see you in Uist.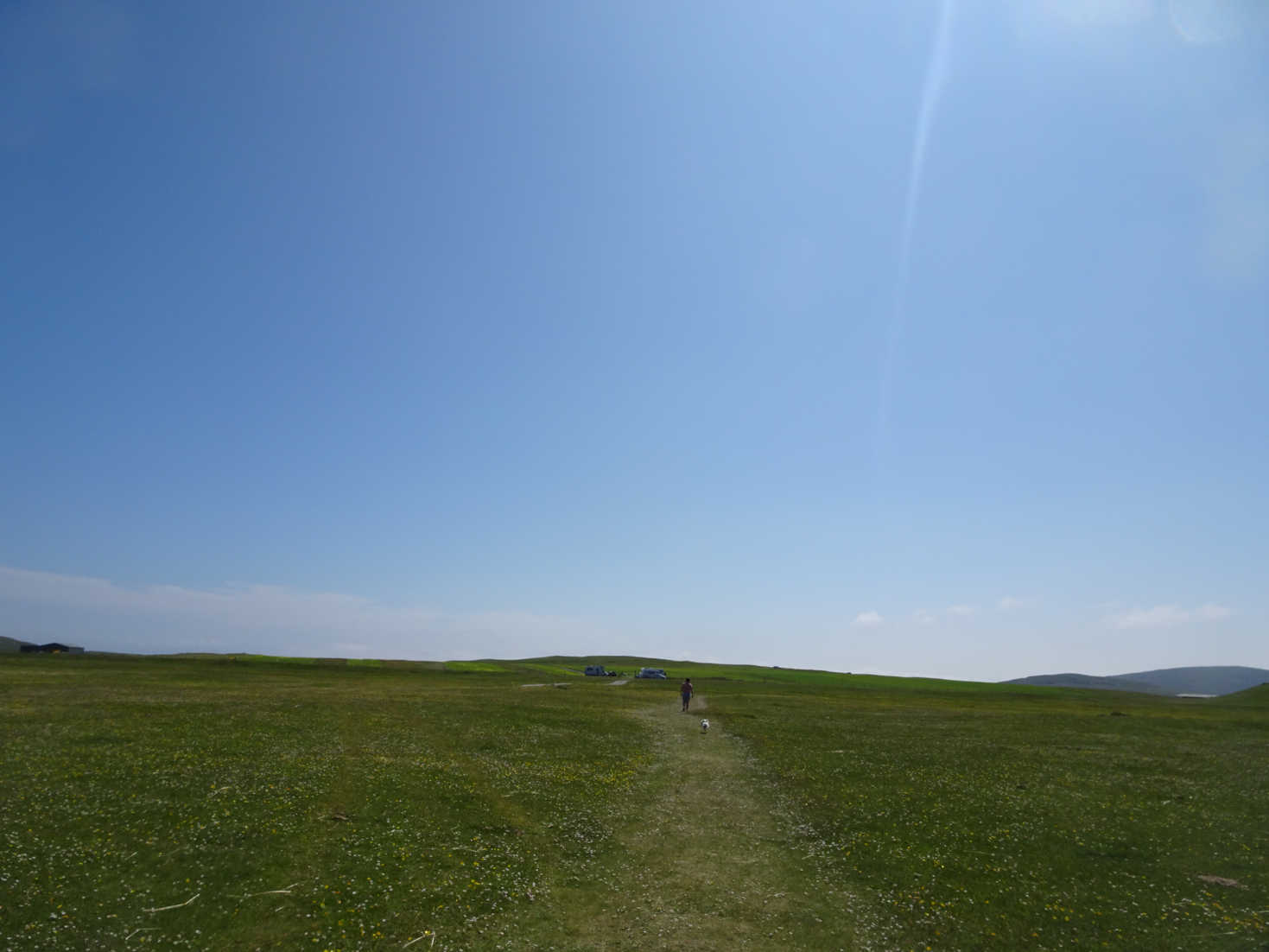 We left the beach and headed back to Betsy. Soon she was crossing the causeway and we were in North Uist. First stop the COOP because dad needed beer, then down to Lochmaddy for a magnet and a van sticker. No Joy on the soovies. Camp? We drove back round the Island but Betsy drove straight past the camp. What's up Betsy? "Lunch" she said. On she went to Ceallan on the island of Grimsay and the NAMARA Seafood Café.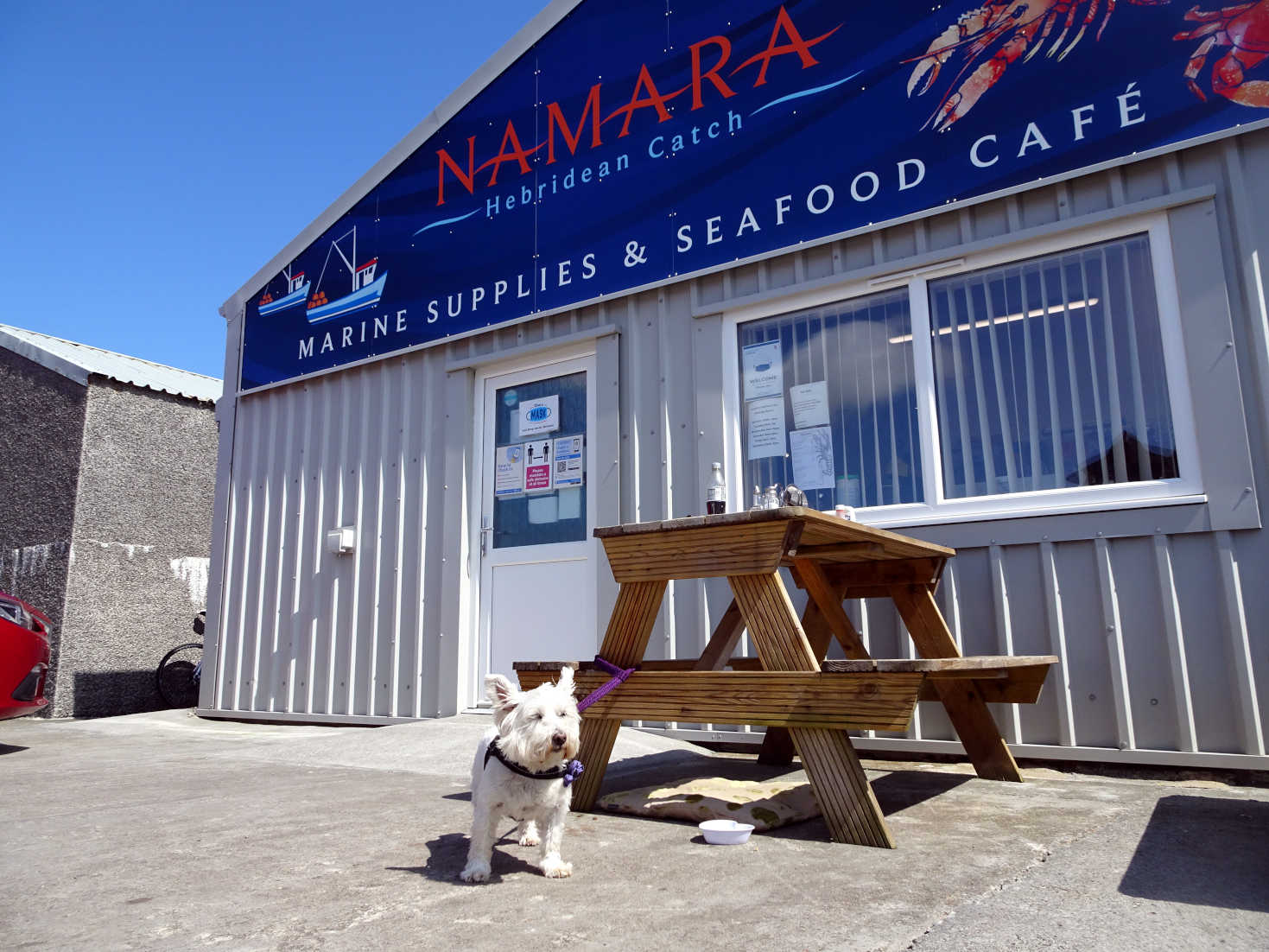 Lunch was great! I got Lobstersees! Mum and Dad got Rolls in Scalopsees and Black Puddings! Dad said £6 for a roll in Scallopsees and Black Puddings was really good. I don't know about that but the Lobstersee was fantastic!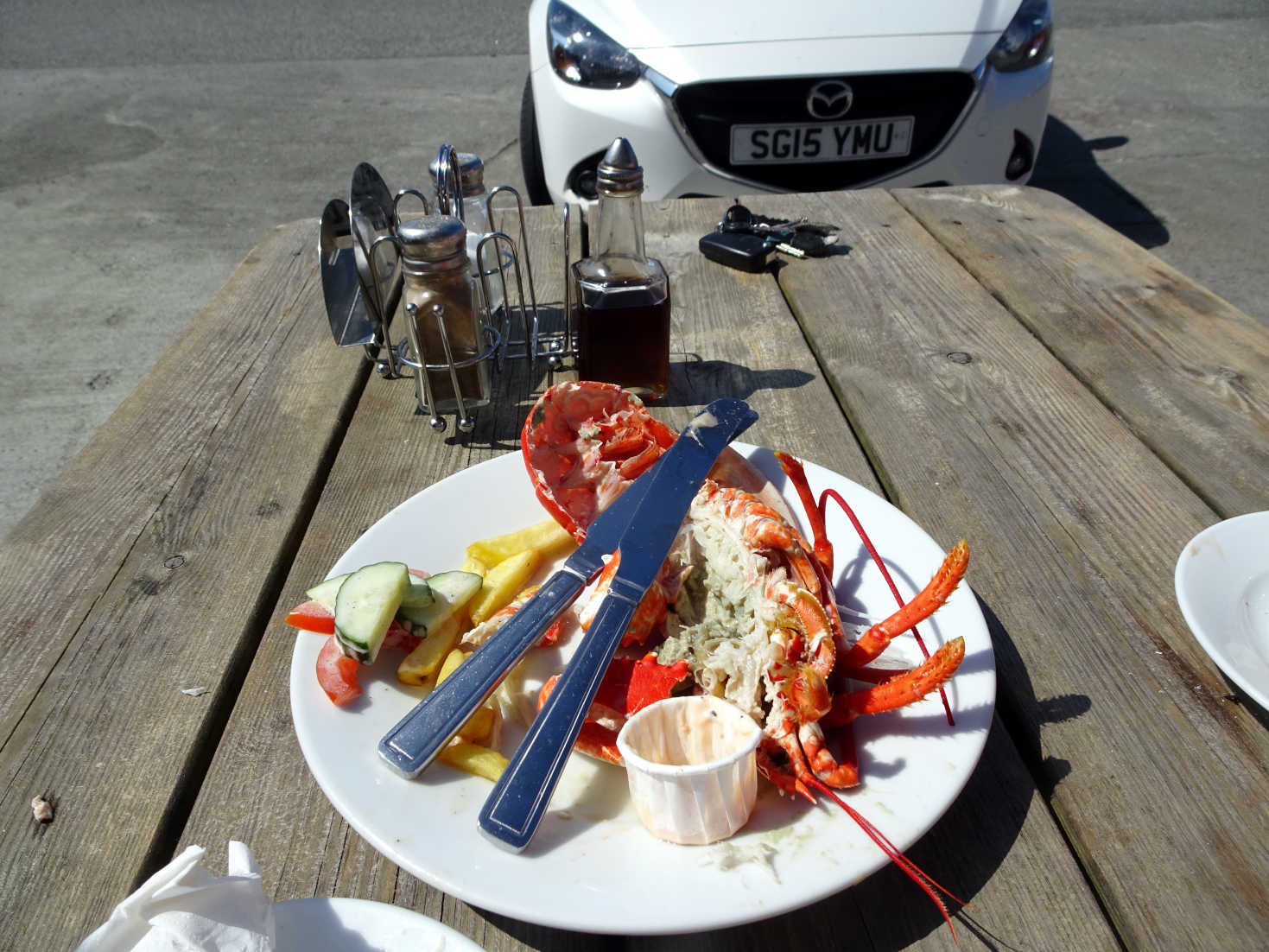 After lunch Betsy took us to camp. When we got there Mum got the washing together and went to the washing machine hut.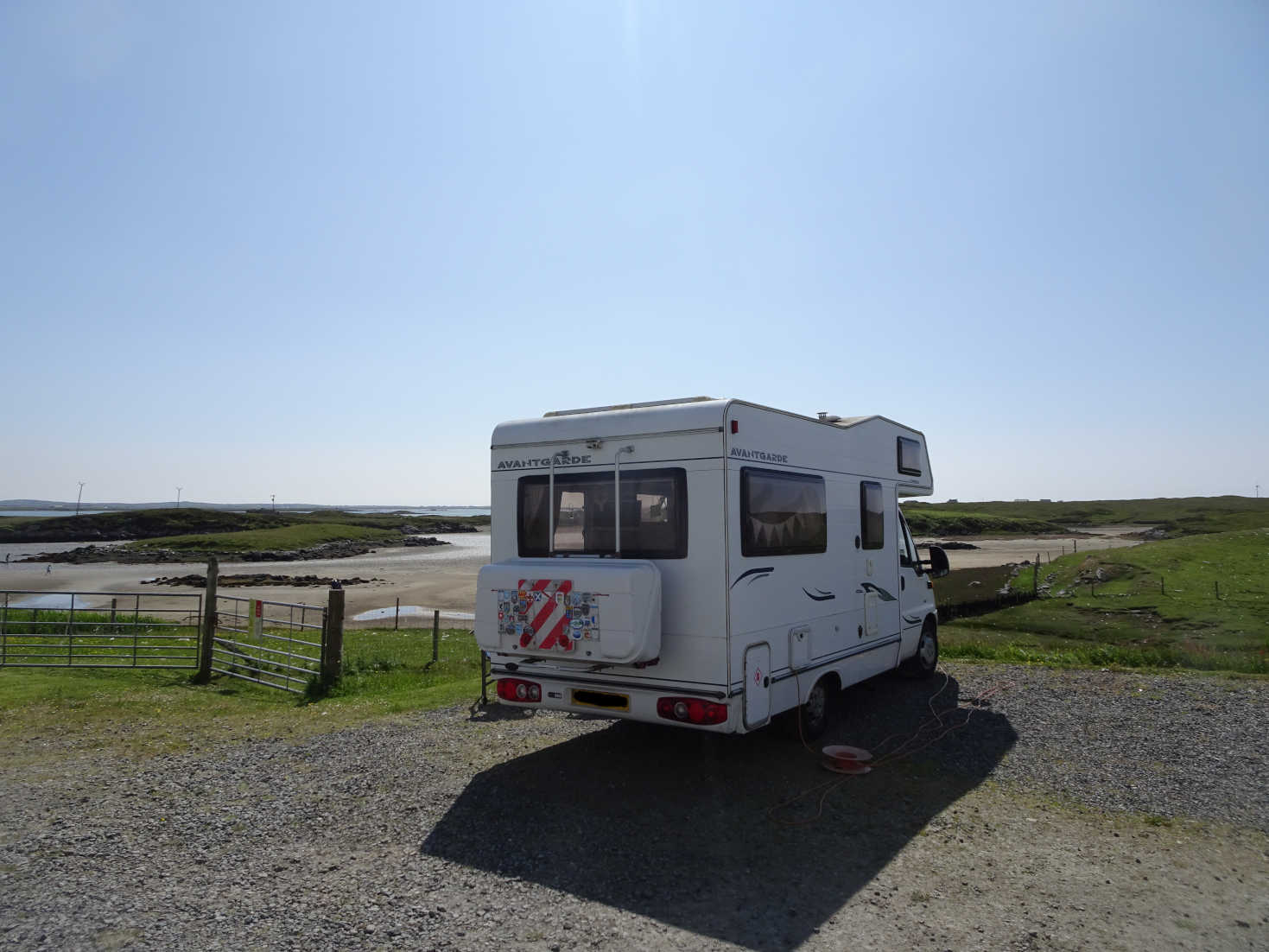 It was getting hot and the cool grass was just the ticket to have a snooze on.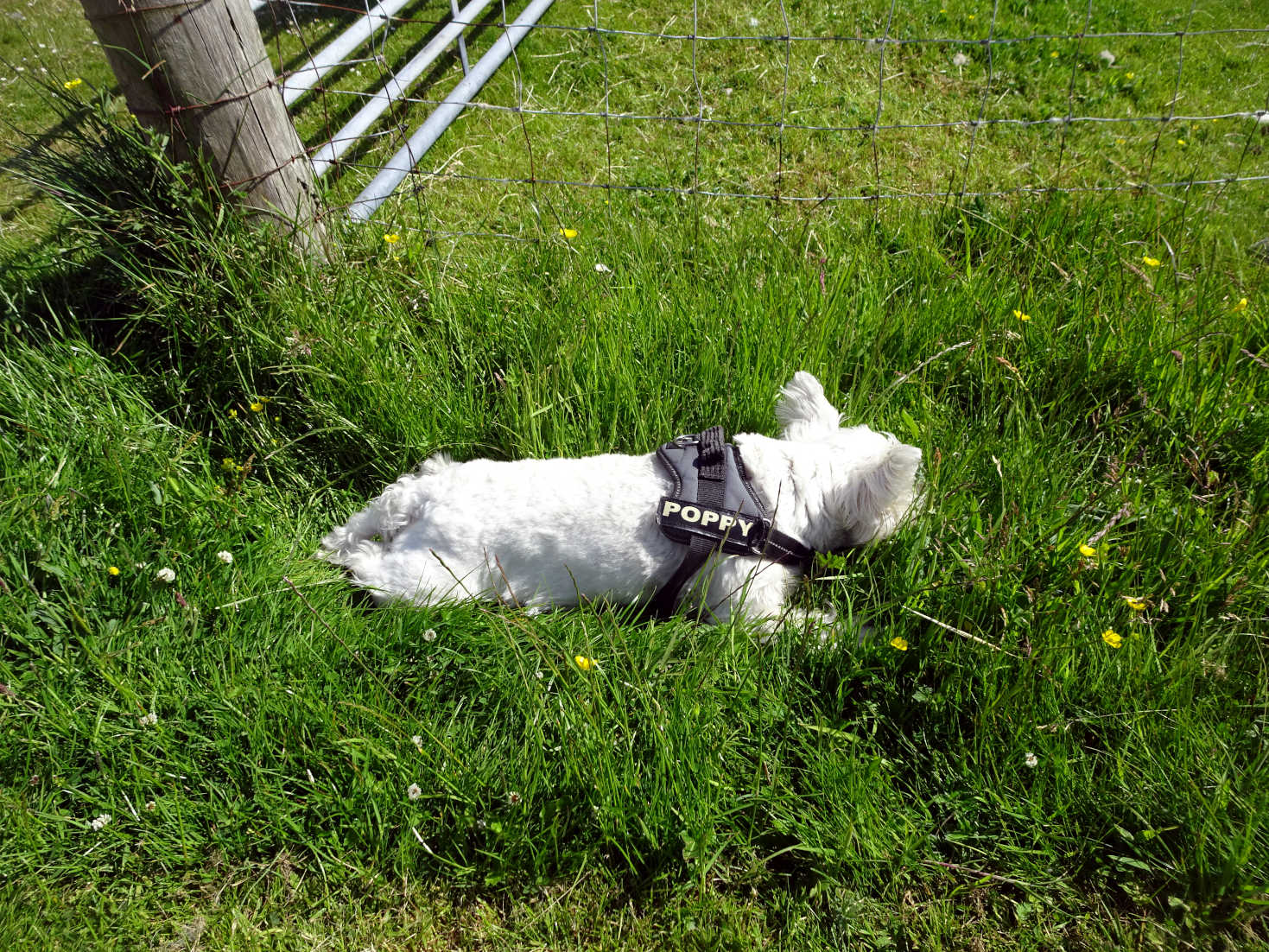 All of a sudden my nose was twitching, mmm another dog. I got up and followed my nose. Its coming from underneath Betsy! Whats a dog doing under MY Betsy, grrrrrrrrrrr. Soon sort that out!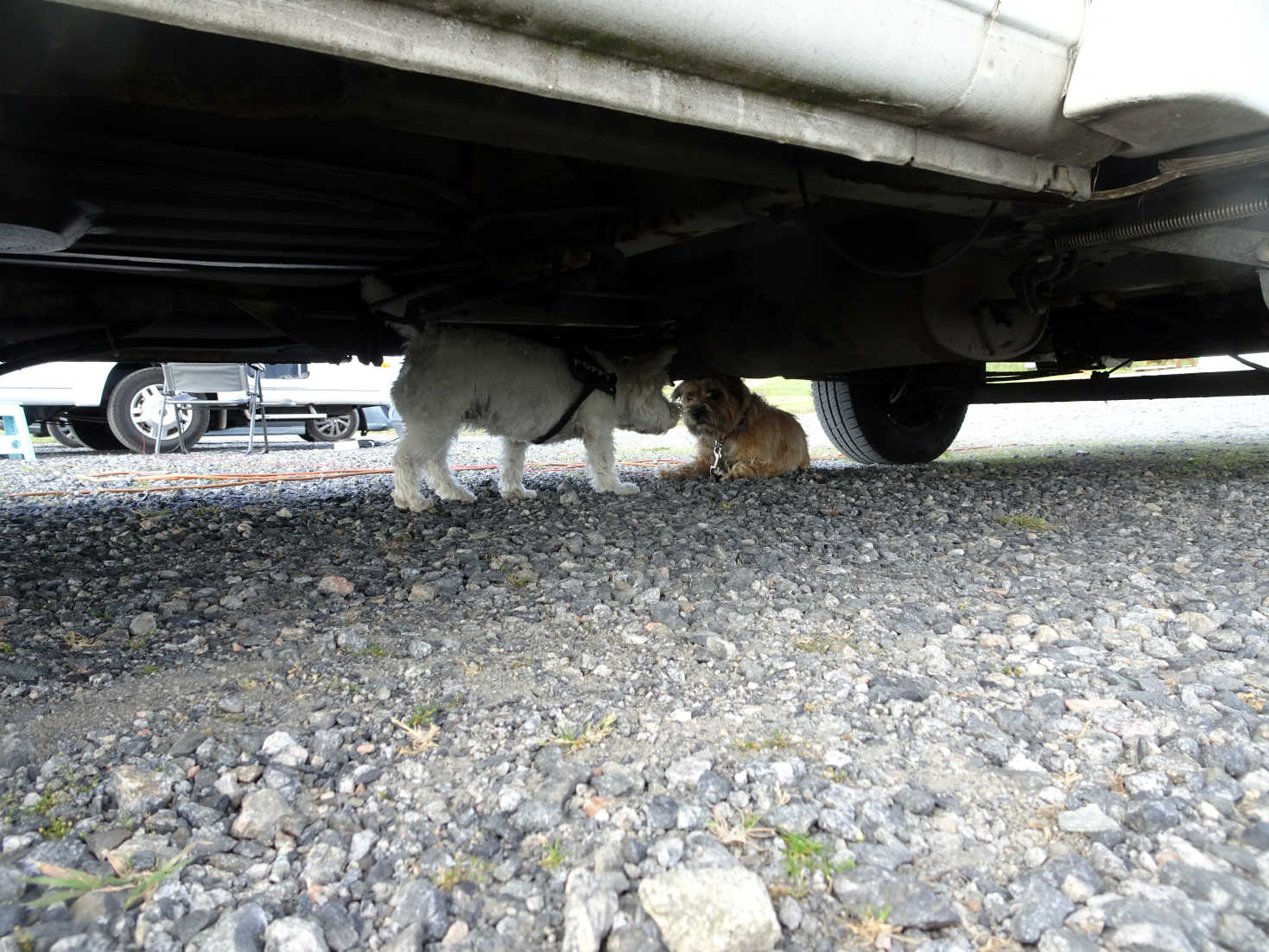 Ended up he was called Jack and was just a daft pup. We played and played, Jack is Daft. He kept getting all tangled up on his leash. It was fun getting him all tanged up! Jacks mum and dad came from Newcastle and come here every year. They were only staying one night then they were going to Clachan Sands Camping Area in the north.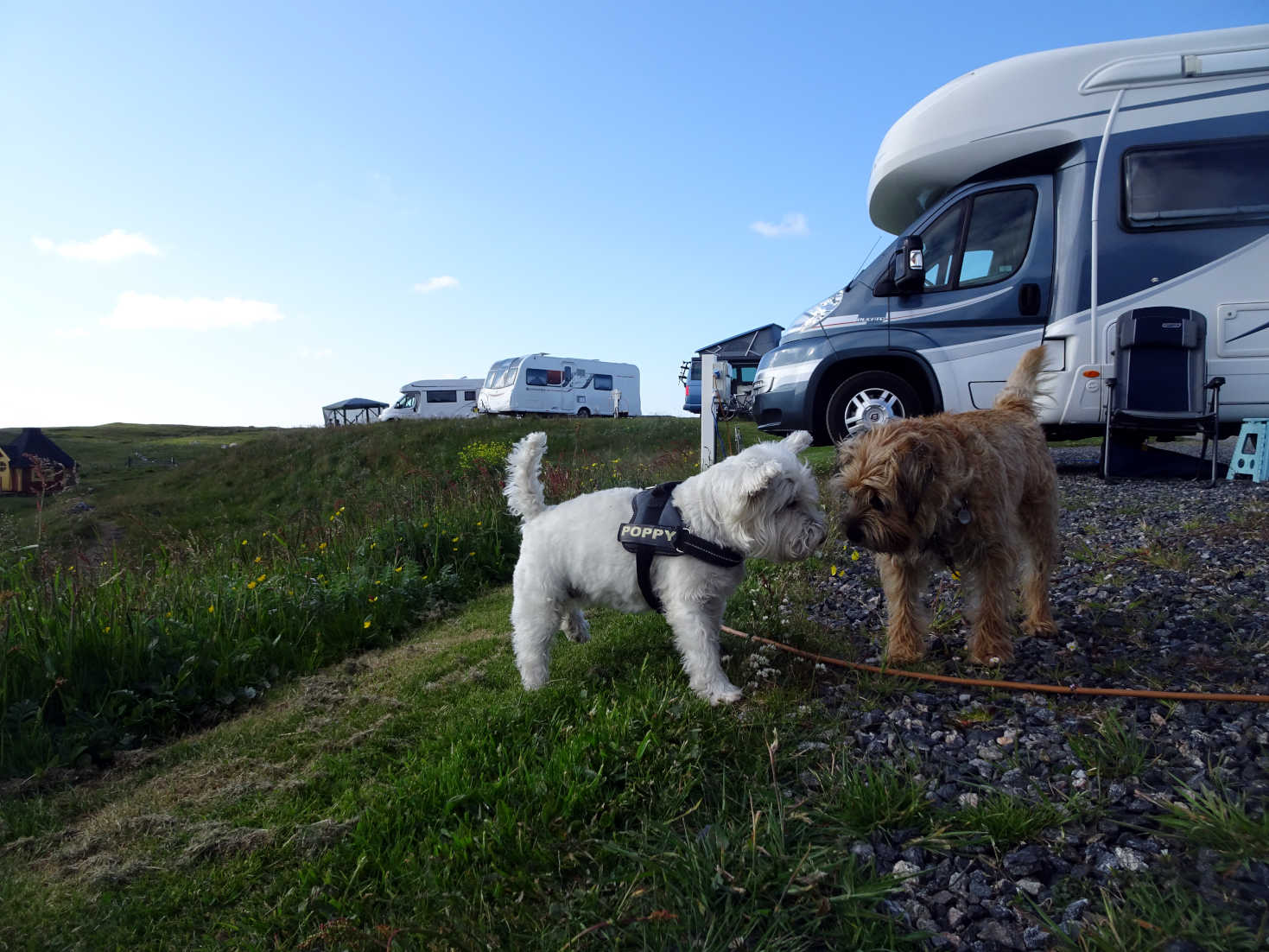 We had an easy evening once mum had hung the washing out. My night time walk was great made lots of new friends in the campsite.