Poppy's first Arran Ice Cream
Woke up on dad in the back of Betsy. Big Stretch, big shakies climb on dad to look out the window. Skys are blue today perfect for big walkies. Mum took me for my morning walk and put long leash on me when we got back. After brecky mum and dad walked into the field, Mum! Dad! Have you forgot something? ME! They were only going for some water from the taps, what a relief, I thought I was getting left behind.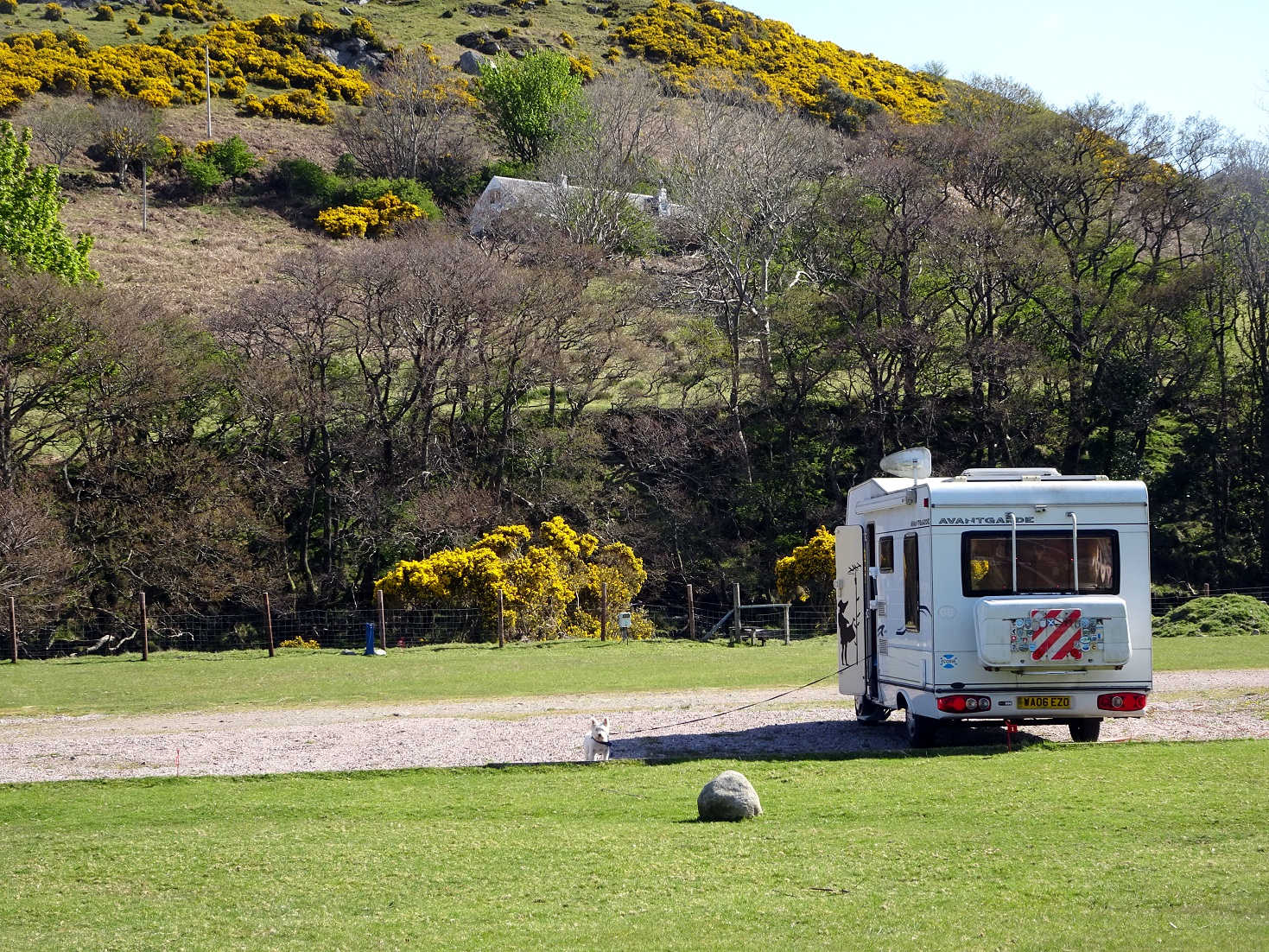 "Ready for adventures Poppy" said dad, daft dad Poppys are always ready for adventures. We headed for the golf course, that only means one thing……BALL!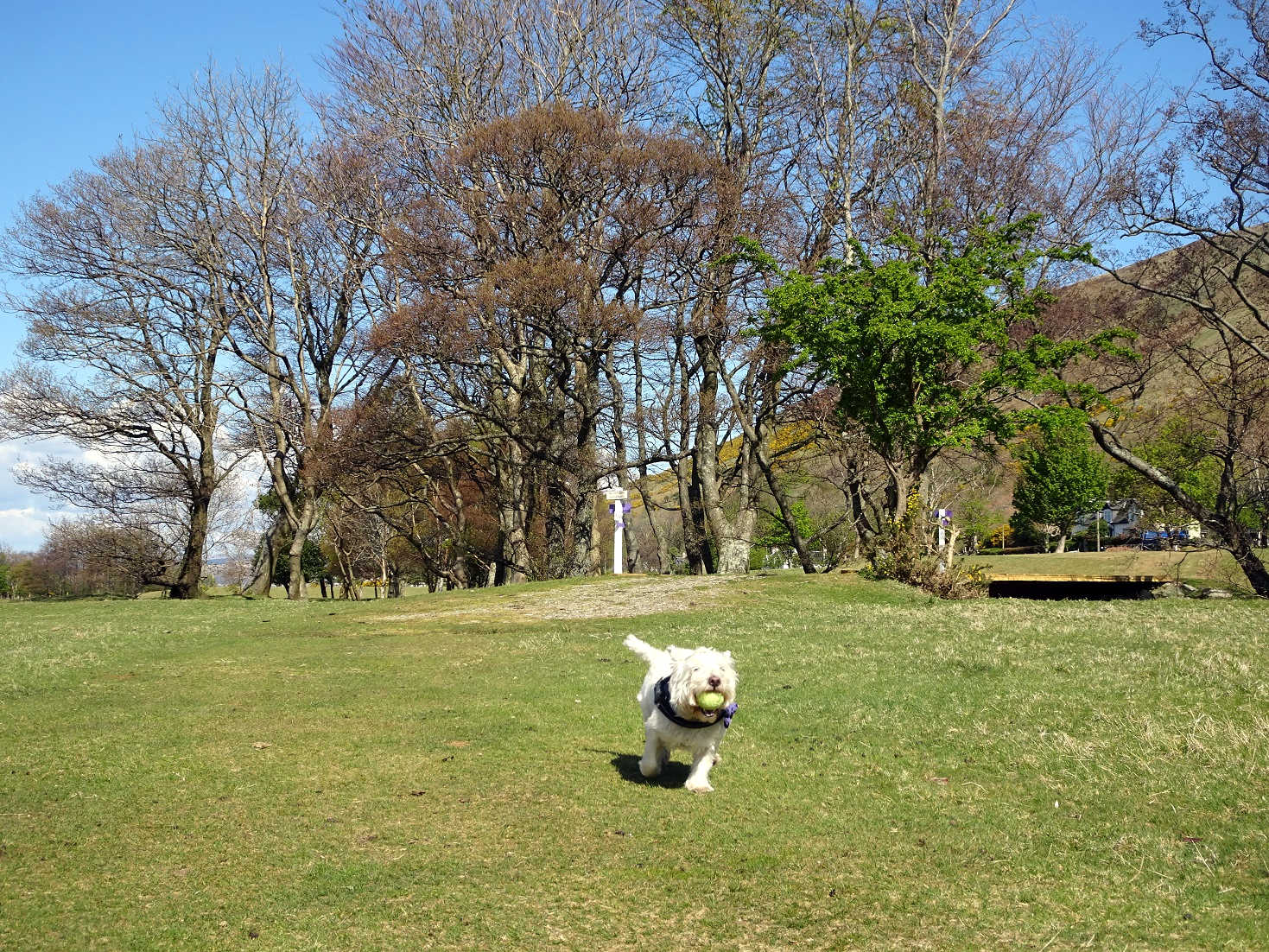 We played for a while as wandered to the bridge. Mum and dad looked into the water. What you looking at? Its only water. Have you not had enough drinks before leaving?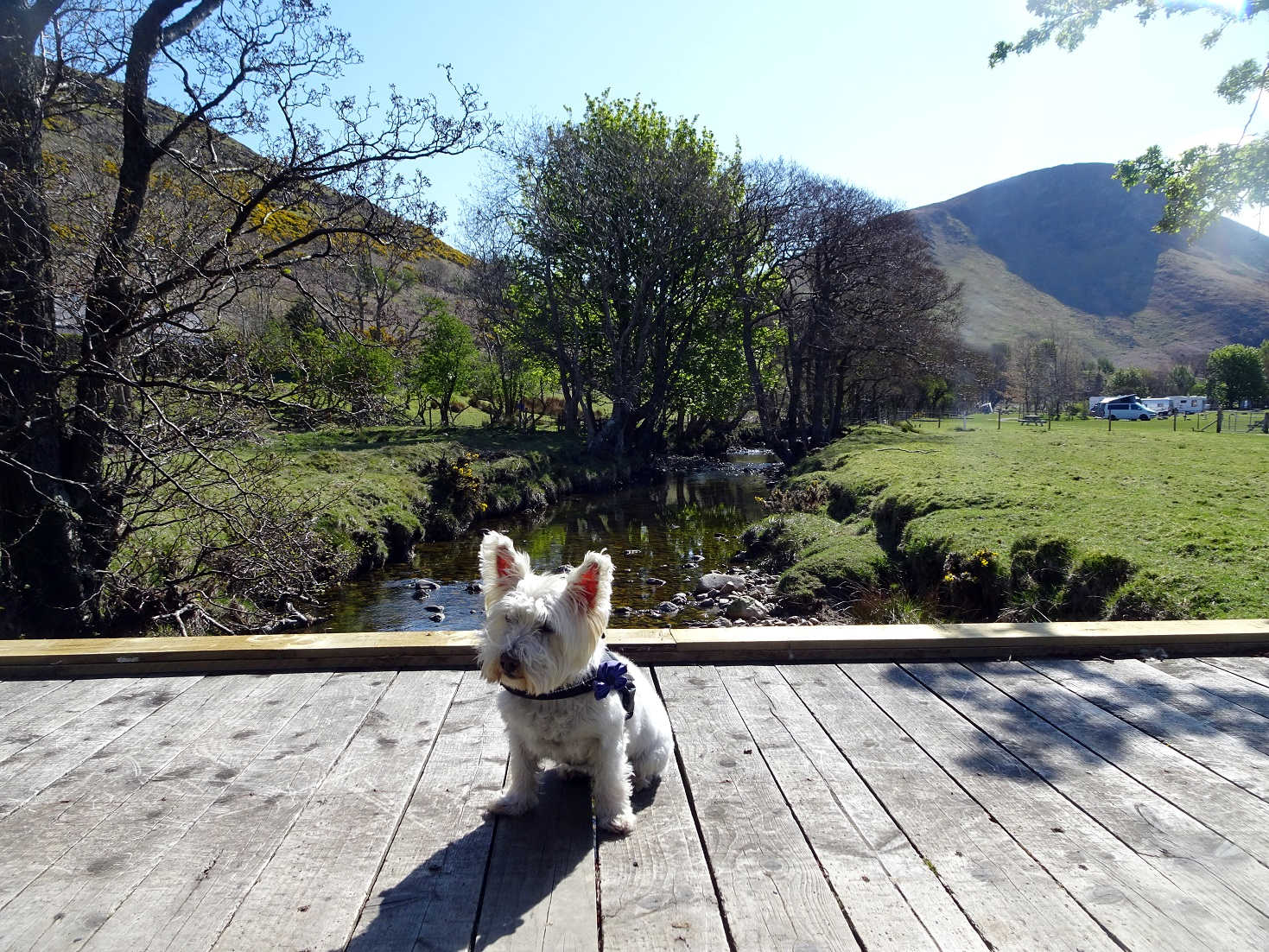 Over the bridge we climbed the hill, following the path to the road. It was very quiet. Dad let me stay off leash. As we walked through the village I spotted something very odd. Look Dad, deersies in peoplsees front gardens. Just then JOY! A rabbitsee! Well I was offski. I chased it along the road and into a field but sneaky rabbitsees picked a spot too tight for me to follow, next time Mr Rabbitsee.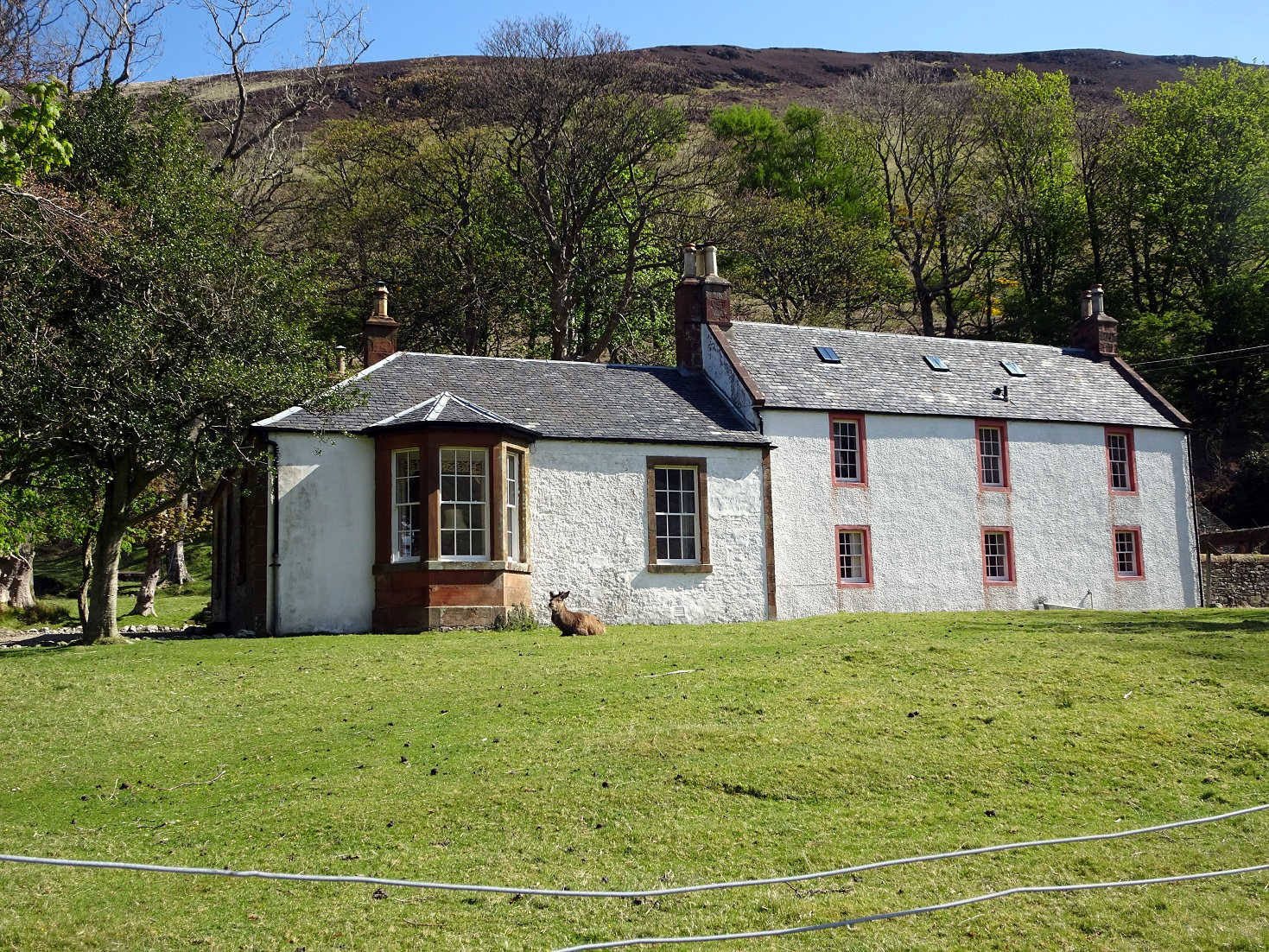 Leaving the village behind we followed the coastal path, the rain from yesterday didn't make it to muddy because the ground was so dry. There were still some bits that were muddy but the nice Arrans peoplsees put big jumping stones down so you could jump across without getting your paws bogging.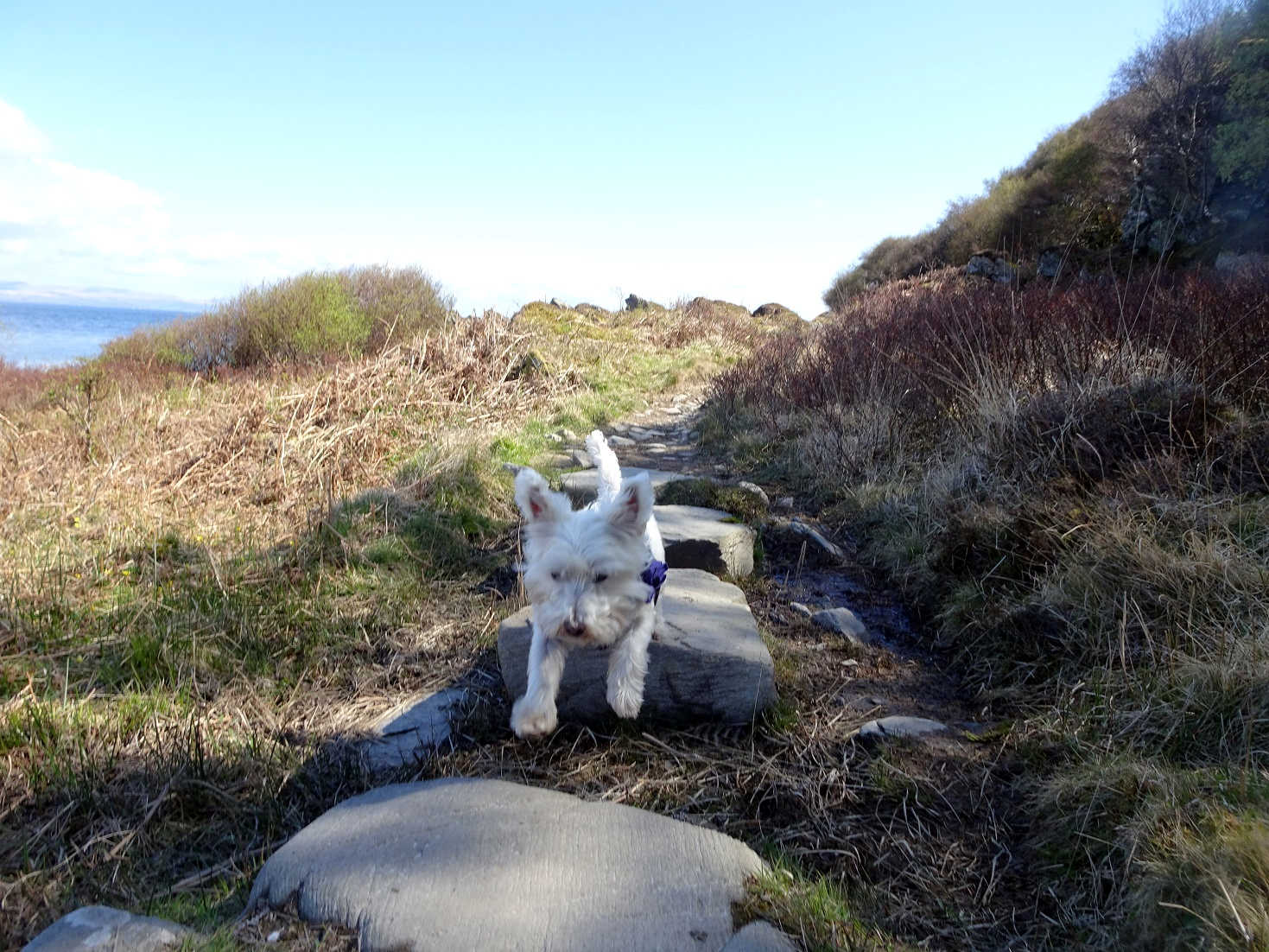 I was thirsty when we got to the fairy dell so had a big drink out of Allt Mor burn. It was cool, clean and sure did hit the spot.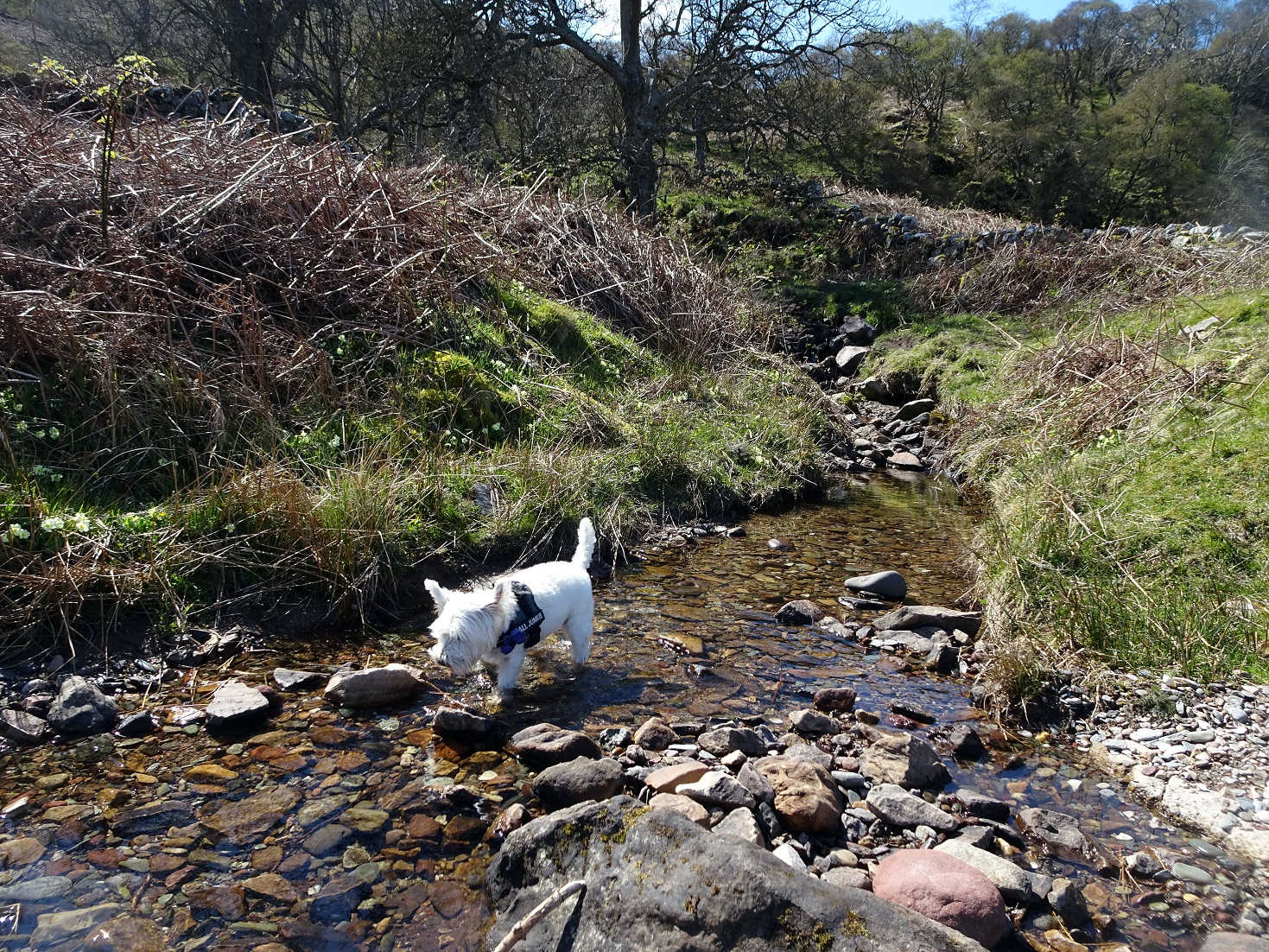 We decided to follow the bay till the end and pick a place for a picnic. Then we saw them, peoplsees, the first peoplsees since we left camp! Dad apologised to them for spoiling the illusion that they were the only peoplsees on the island.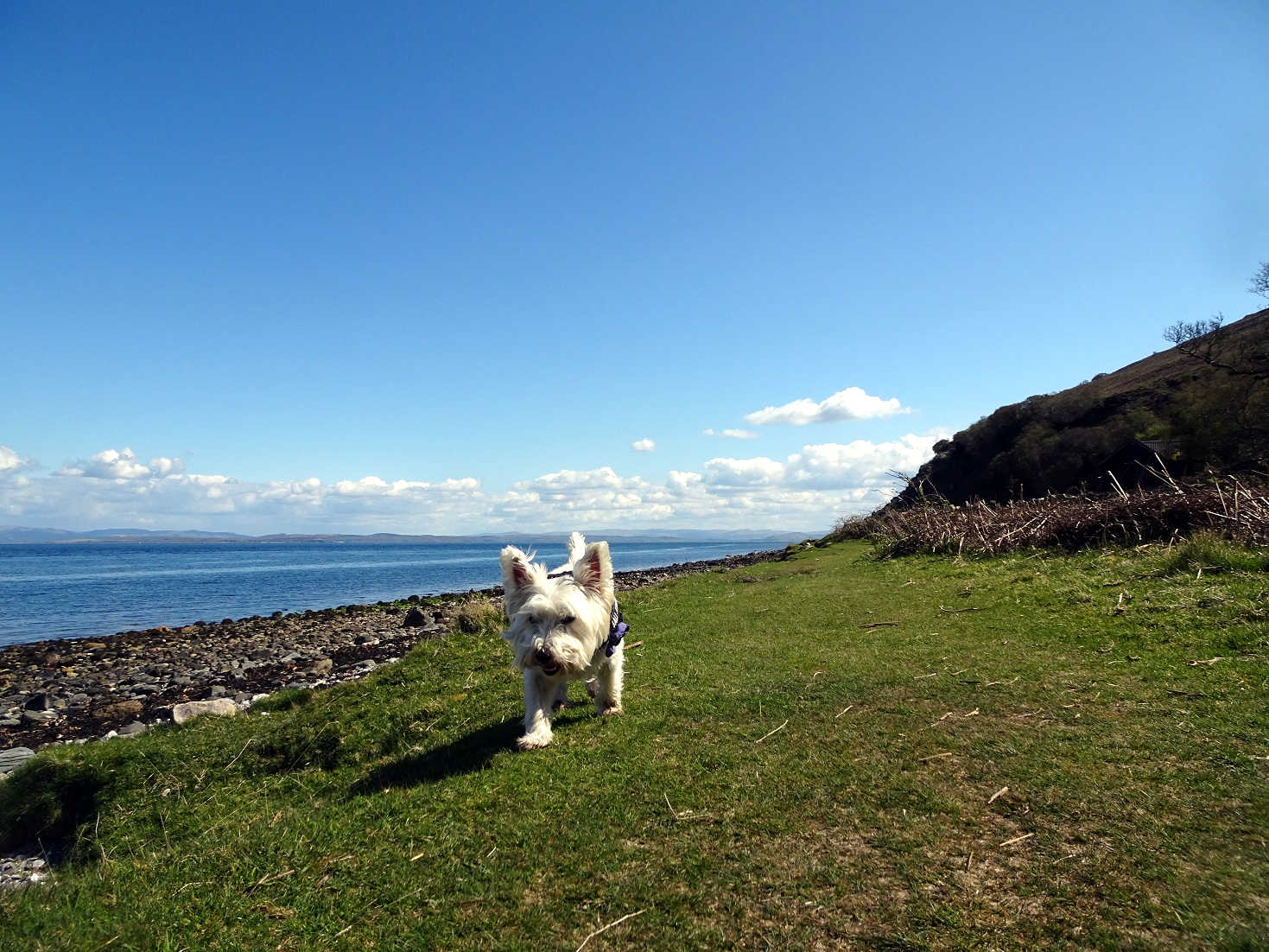 We walked to the end turned and headed back to a nice spot on some rocks to have our picnic.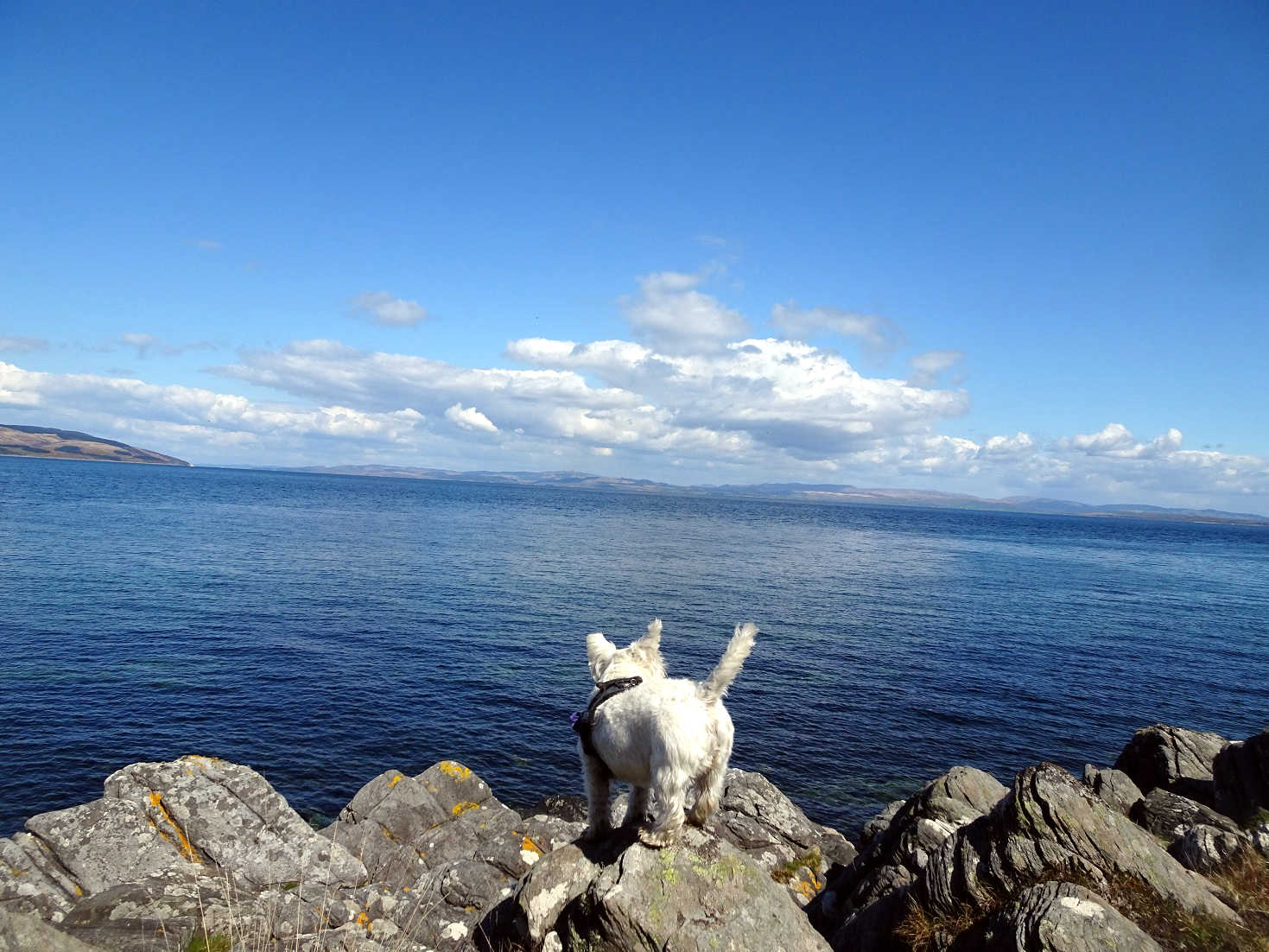 Picnics are good, I mean really good. I got some meat, cheesees, treats, a bit of duck but best of all MUFFINS. After picnics we went to explore an old croft on the beach. Does anybody live there? "Looks like it, its freshly painted and has new gas tanks round the back" said dad. Mmmmm Poppys could live here, why don't we live in a house like this? "Work Poppy" said dad.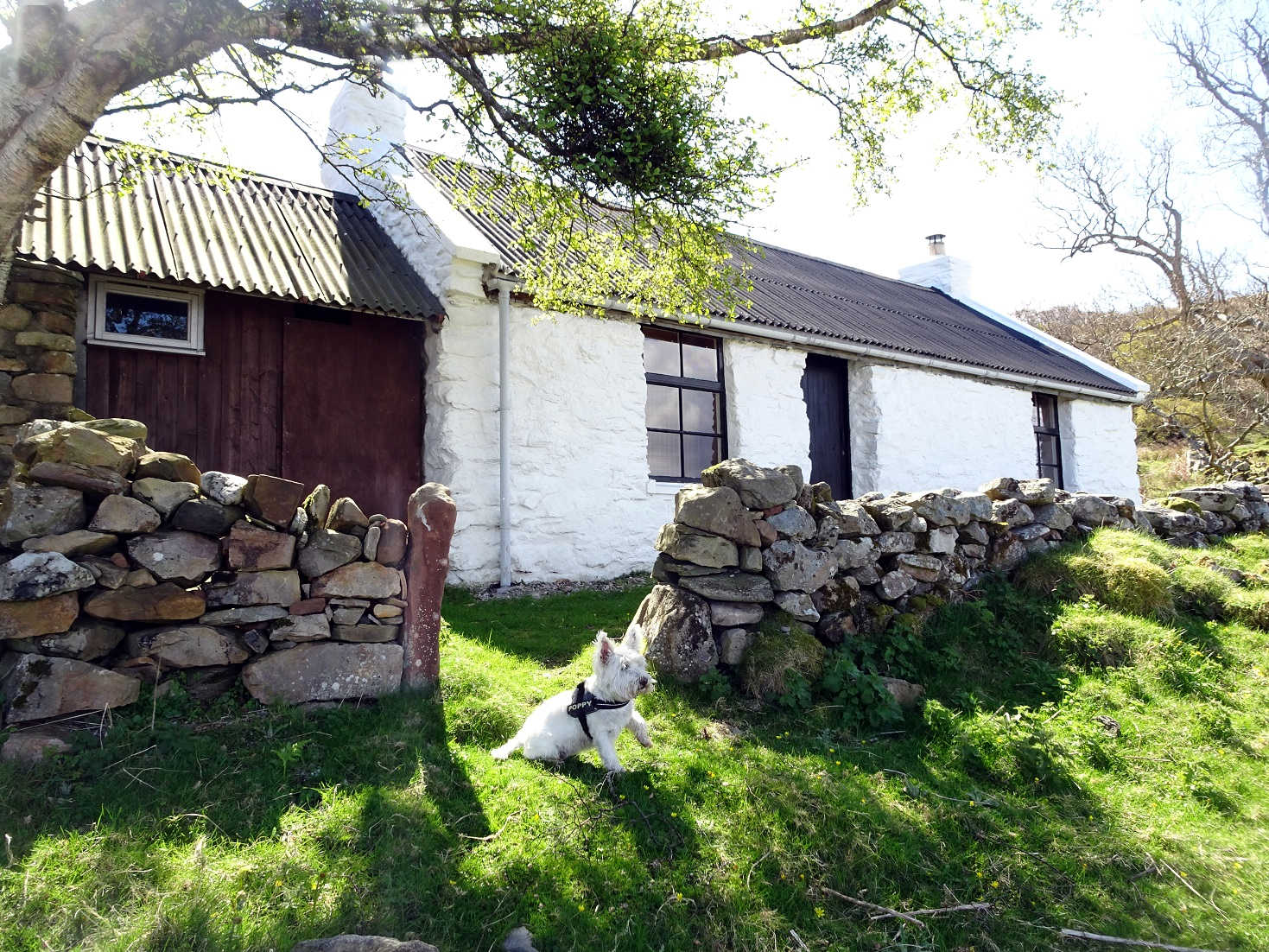 We started to clamber up the dell stopping for breath halfway up when we saw our camp neighbours. Dad said he had told them about this walk, it looked like the woman was cursing dad for passing on this info to her husband.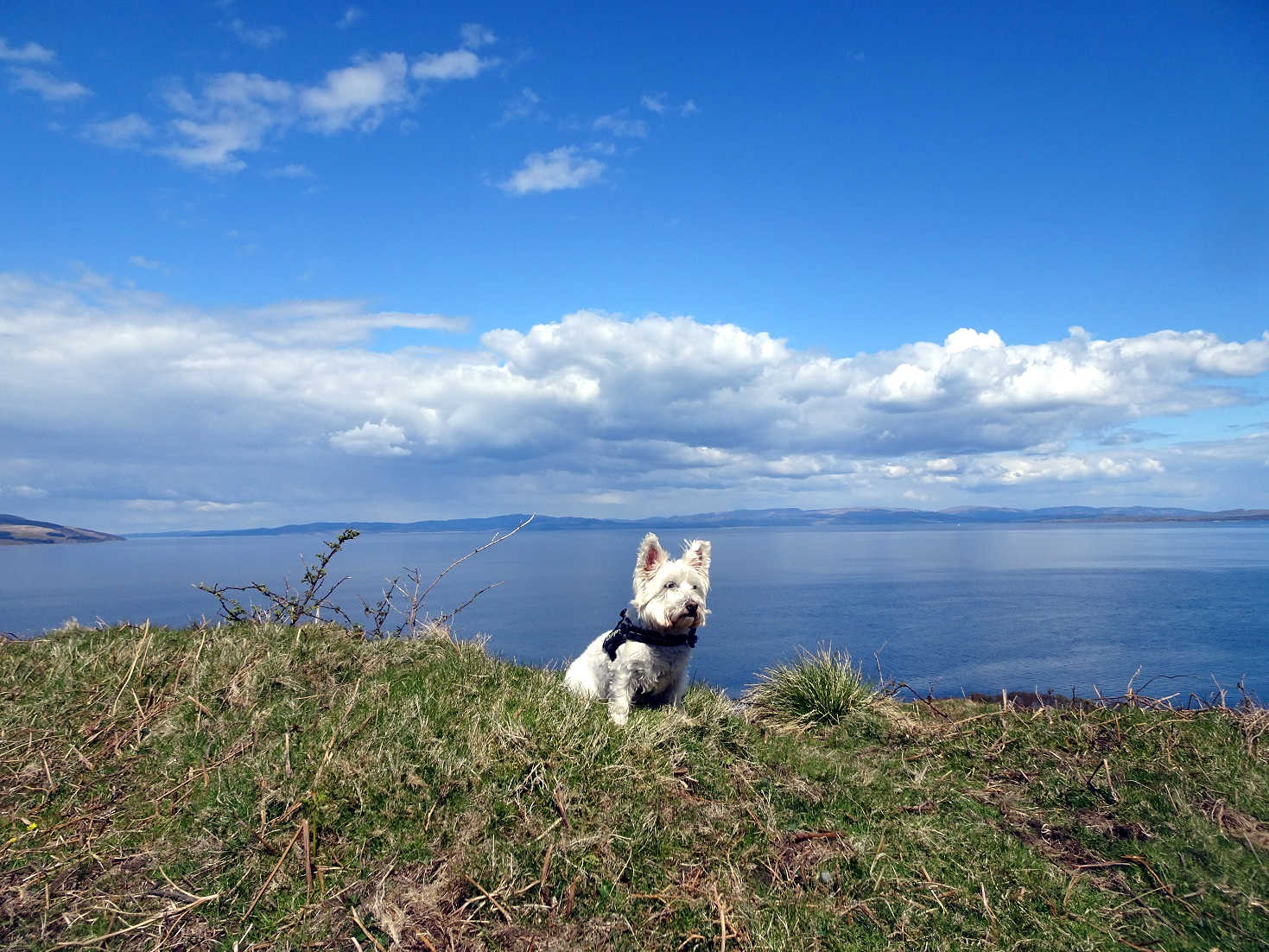 Onwards and upwards till we got to the top and the path turned back into a road. It was hot and my wee paws were getting sore, "Come on Poppy, we will have a rest in a little while, maybe even ice cream" said dad, mmmm what's ice creams?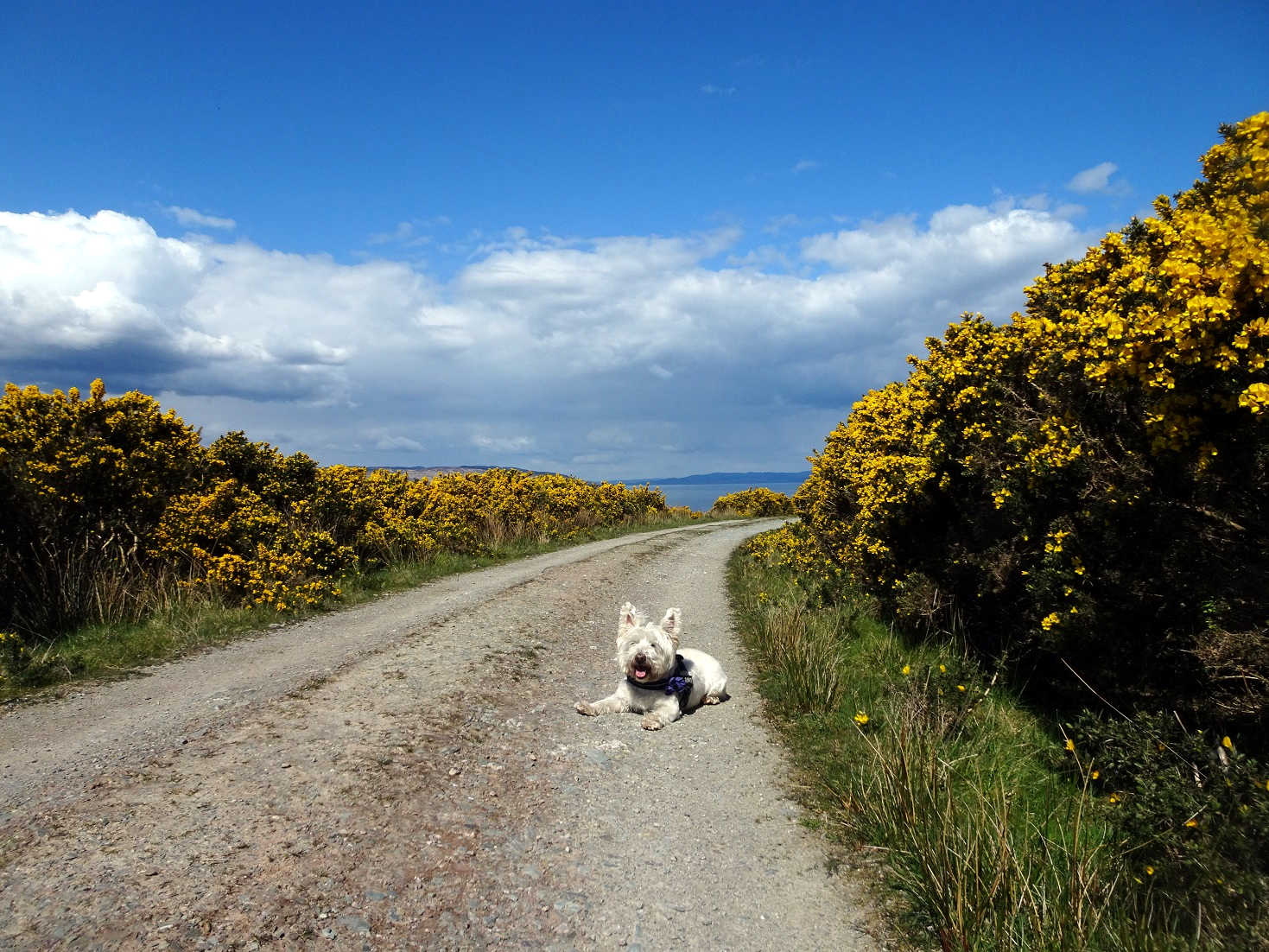 As we came down I jumped up on a bench at The Whins Craft Workshops. "How did you know we were stopping here Poppy?" said Mum. Mmmm, we are stopping here? Place to rest in the sun suits me just dandy. Mum put some water down for me and I had a bi drink as dad went into the shop. When he came out he has small tubs of food. What's that dad? "Ice Cream" said dad. Well I have never had ice creams before but what I can say now for sure is YUMMMMM.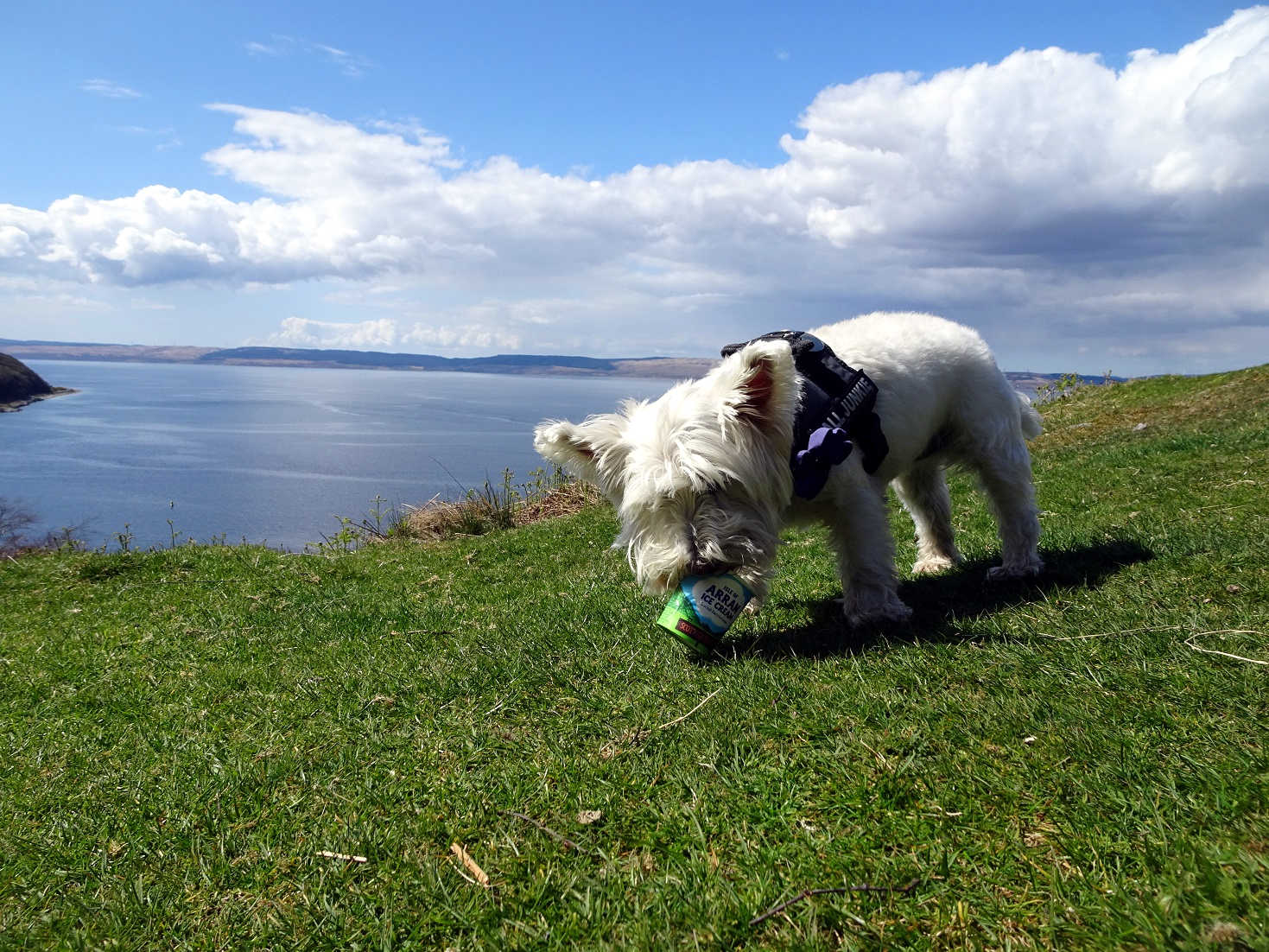 All fed and watered it was time to come off the hill. As soon as we started walking a big nasty doggy came out of nowhere barking and growling at me. That's when I noticed the fence, so I came out from behind dads legs and gave him a piece of my mind. No sooner than that a huge deer decided it wanted to have a go! It had second thoughts.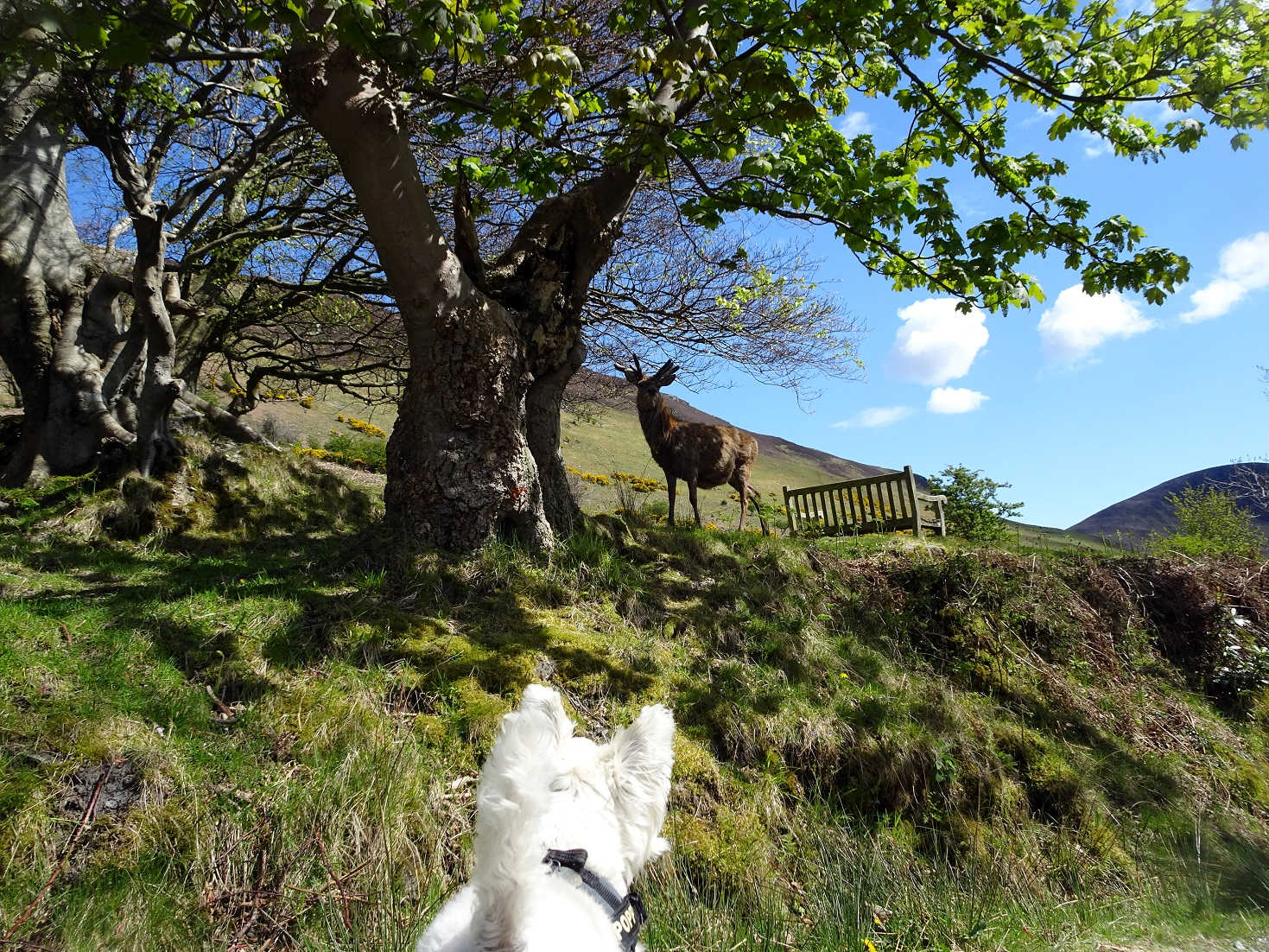 Further down we plodded until we could see the village and the campsite.
When we got to the golf course I got a sudden burst of energy. I felt bionic! On the short grass I belted about everywhere, Mum said I sounded like a racehorse as I zoomed by. Must have been the ice creams.
We didn't go back to Betsy but went to the distillery instead. It was deserted. Even so they still wouldn't let poppys in. Me and dad played ball in the carpark while mum went in. The lady at the door petted me as I was shouting on mum to come out. When se did she had a small parcel. "Well I have only been there second customer since yesterday, I felt I had to buy something" said mum. Mmm what is it? It's not whisky. It was a wildflower book.
Back at Betsy dad decided to clean all the green of winter off the back of Betsy. Not before time dad it looked manky.
We all had an easy afternoon, sometimes in the sun sometimes in Betsy, really easy afternoon. Just as I was getting my dinner sneaky Mum and Dad Vanished! I looked everywhere. Gone. I looked out the windows there were nowhere to be seen. All I could do was roll up into a ball and sleep, I hope they come back, Poppys don't like being by themselves. I shouldn't have worried. They woke me up when they came back. Mmmmm they smell of food. We all cuddled up on couch for the rest of the night.