It's been a funny week, Mum has been going to work coming home and working some more. Dad is at home and grampa still comes over every day to drag me around a park. It's times like these it's good to get away. We are going on adventures this weekend. I know this because mum and dad have been going out to Betsy a lot and dad is wearing shorts. Mum came home late afternoon and was very stressed. Dad split and went back out to Betsy. I gave mum lots of licks that will cheer her up. We piled into Betsy and were off. The sun is out, I'm sitting on Mum, the radio is on…Bliss. I like riding in Betsy. Mum puts my cushion on her lap and I am so high I can see for miles. Dad was happy because the roads were quiet and Betsy was making good progress. Soon we had crossed the big bridge and were next to the big puddle. Hold on, we are in Luss. Dad you said we would never be allowed in here ever again? You said it would be gone. But its here. Betsy rolled into site and rested beside some trees. Mmmm back in Luss, Poppys likes Luss.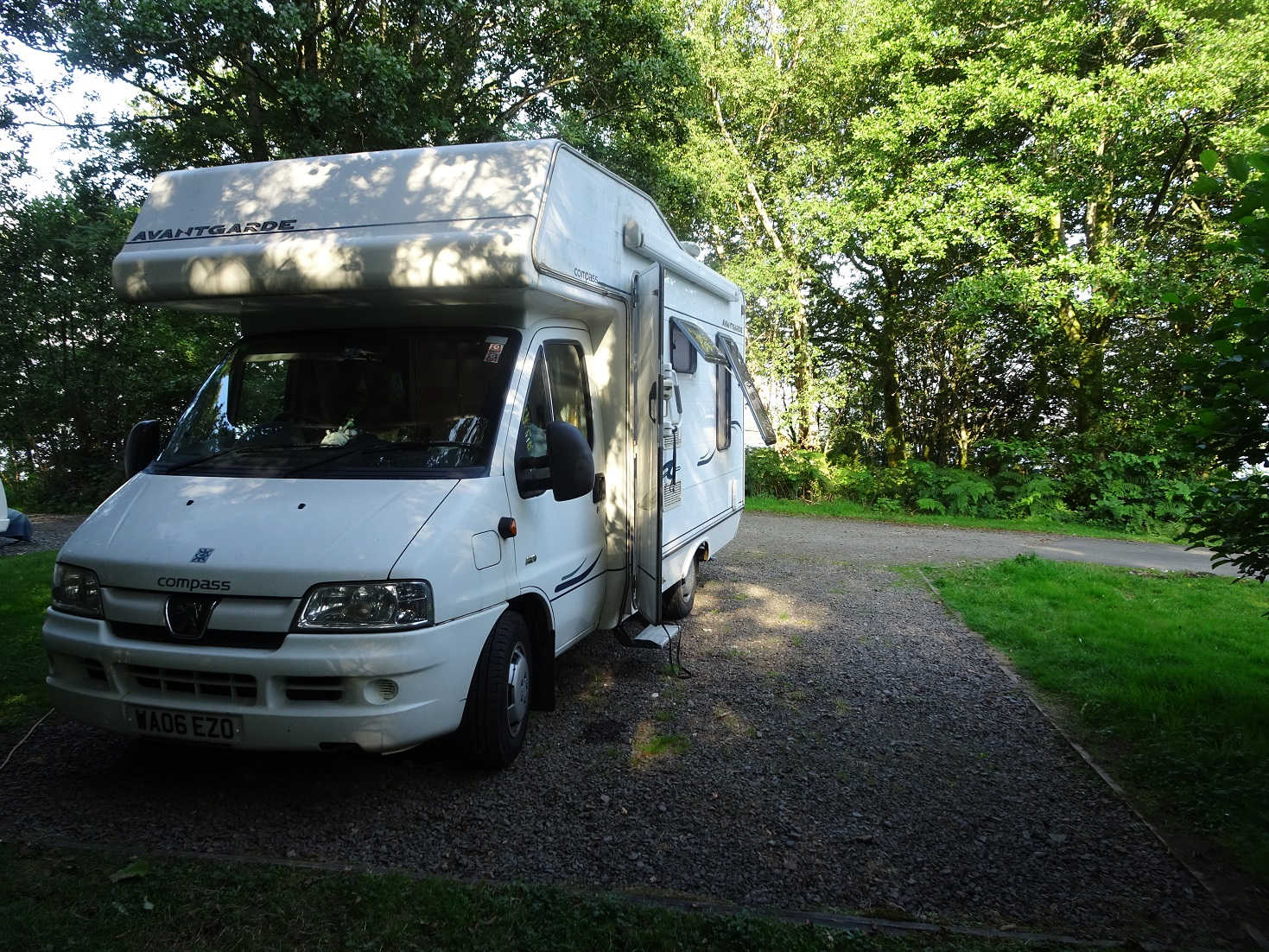 It didn't take long to settle in, the sun was still high in the sky. Too nice to stay in can we go for a walk mum? It was a year since we were here I thought it would be a good idea to see what has changed. Dad, how come bridge to fields has vanished? Dad, how come Betsy is not resting over there like last time? Dad, how come there are so many tents??? Dad, Beach? He got the camp chairs and put them on the beach next to the big puddle.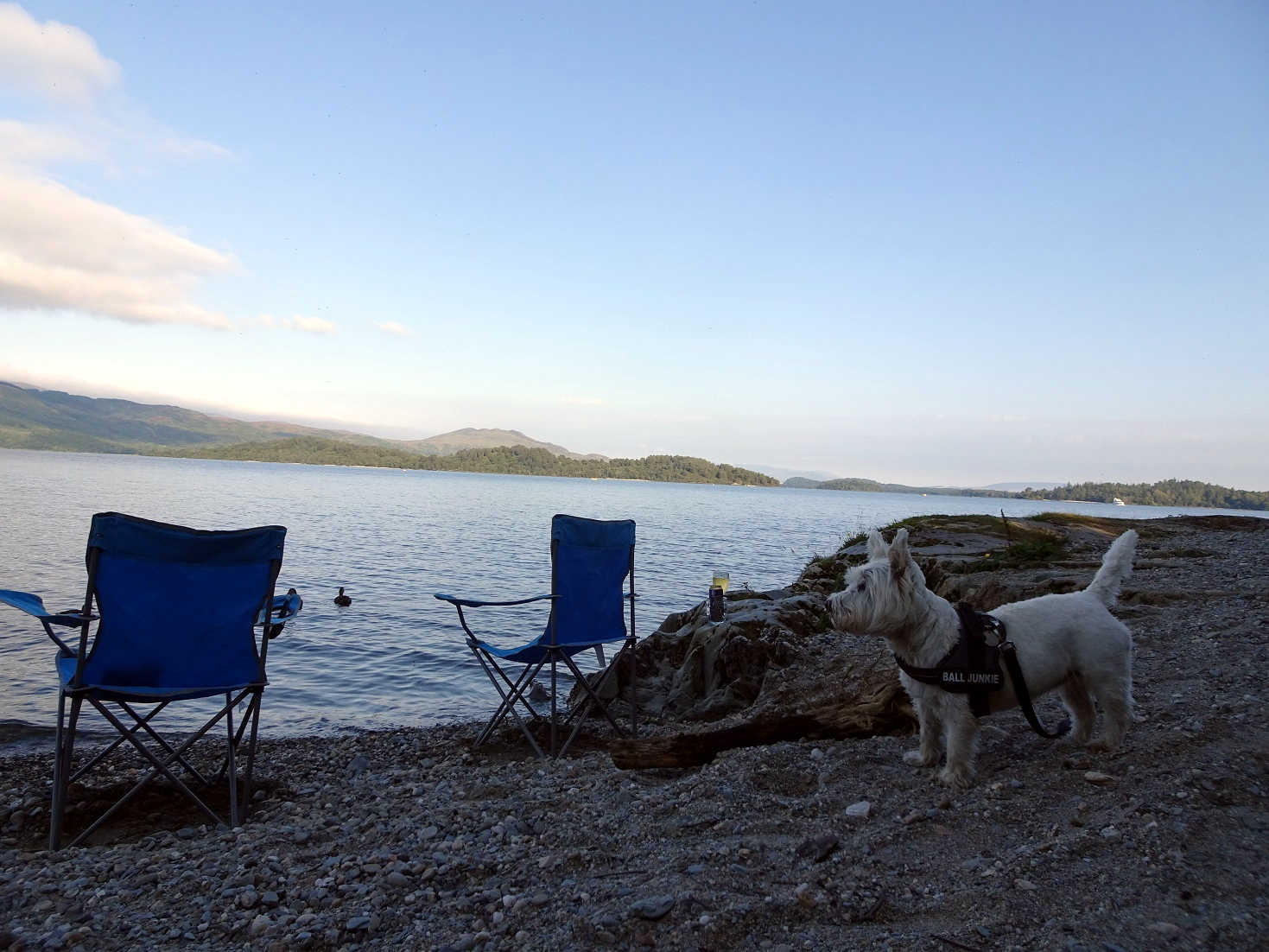 Mum and dad were having drinkies, dad let me off leash so I went to explore. One end of beach was flat and went into the puddle, lots of smells and its fun chasing the horses as they crash against the shore. It's only spoiled be the sound of dad……"No Poppy" "Poppy, come here".. Spoil sport.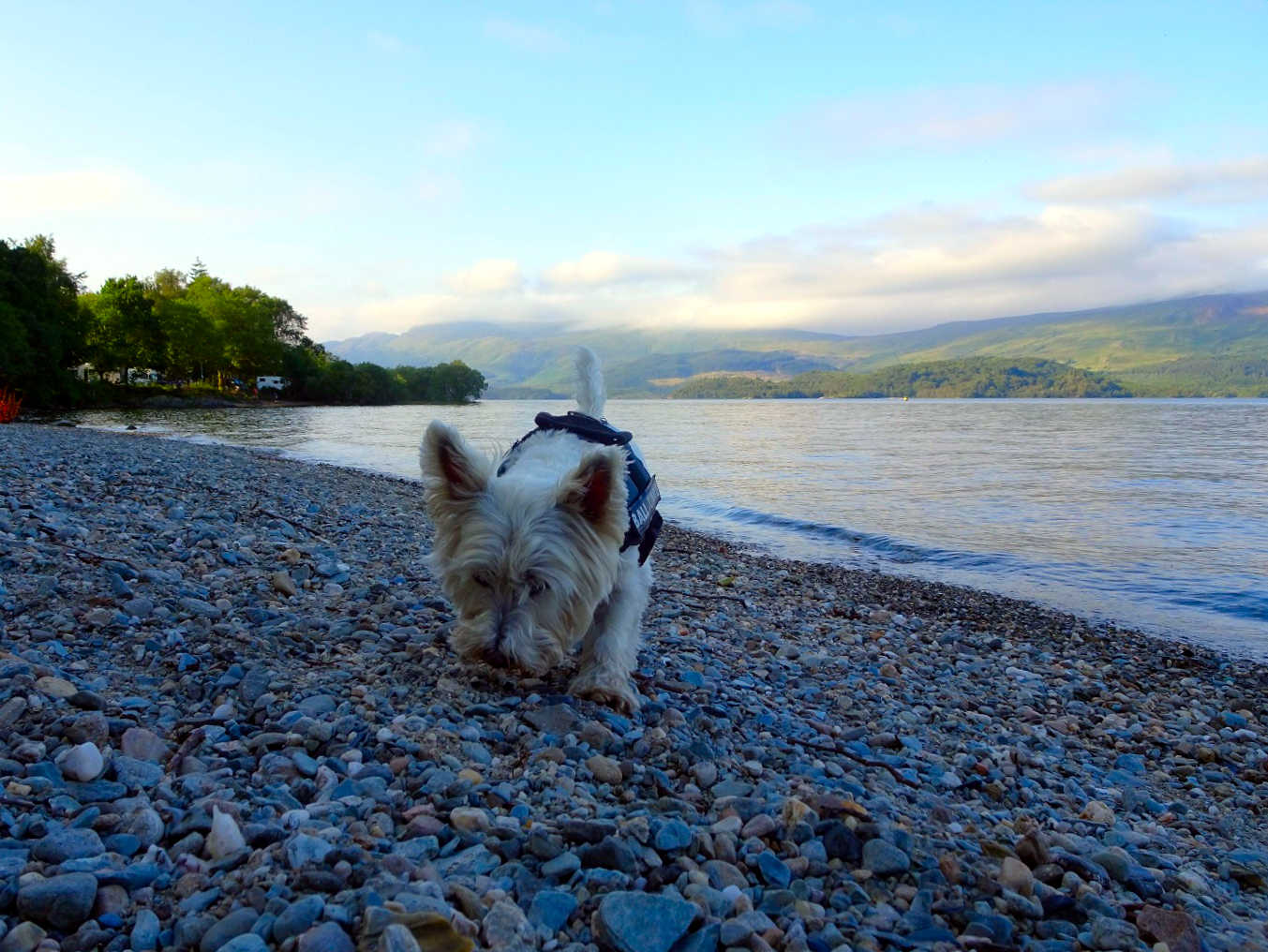 Never mind the other part of the beach has rocks to climb on, Poppys likes climbing. Everything was good. Smells, sweet water to drink rocks to climb then it was spoiled. ROAR, WHINE, SPLASH, THUMP, CLATTER, THUMP, SPLASH, WHINE! Grrrrrrrrrough! Waoo waoo woo waoooooool. Grough roughf roughf roughf. Poppys don't like jet skisees.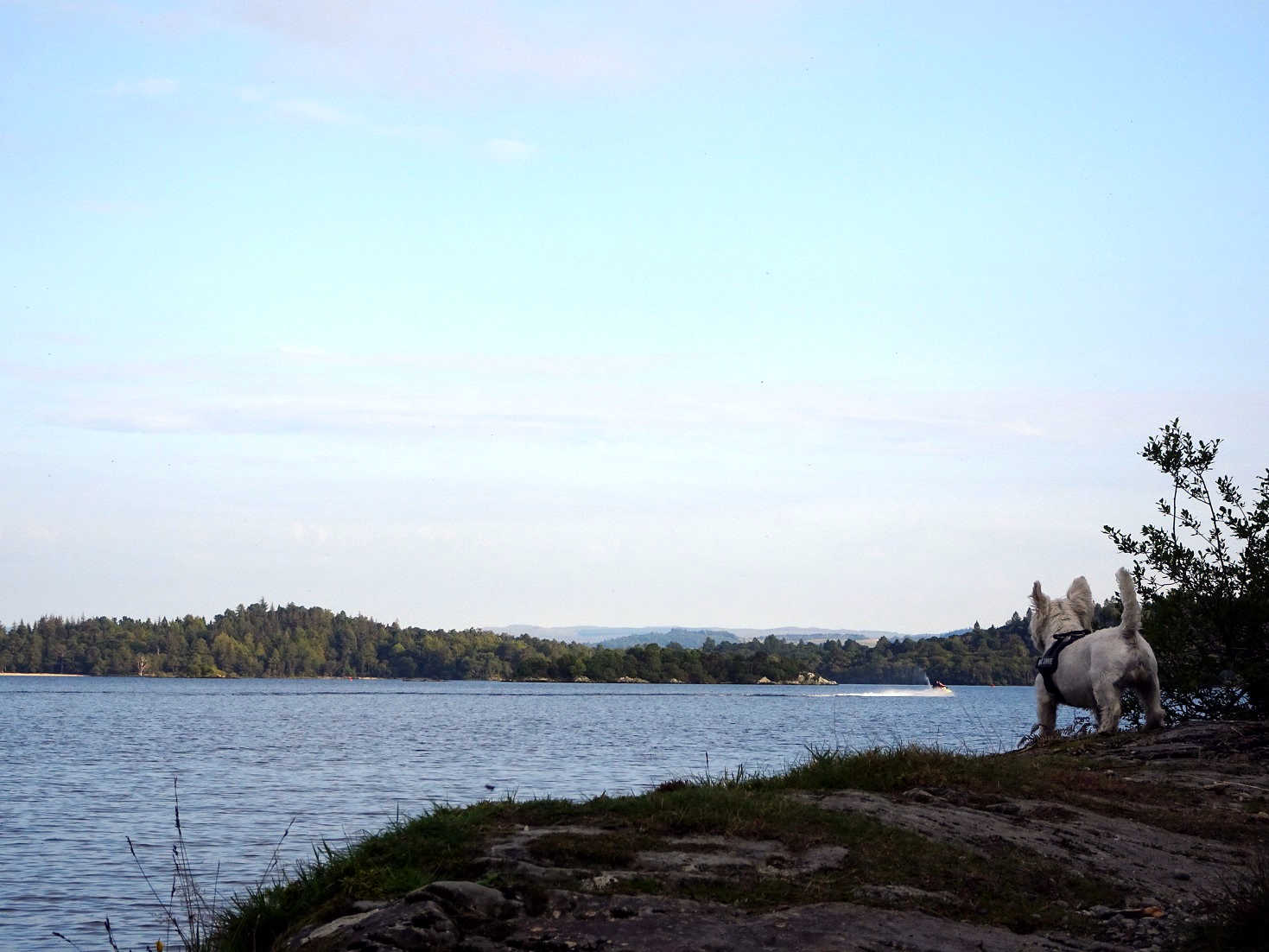 As the sun was going to bed, a menace was waking up, Midgees. Poppys don't like Midgees, Mum and Dad really don't like Midgees, they attack mum and Dad So one last look out over the puddle time to escape to the safety of Betsy.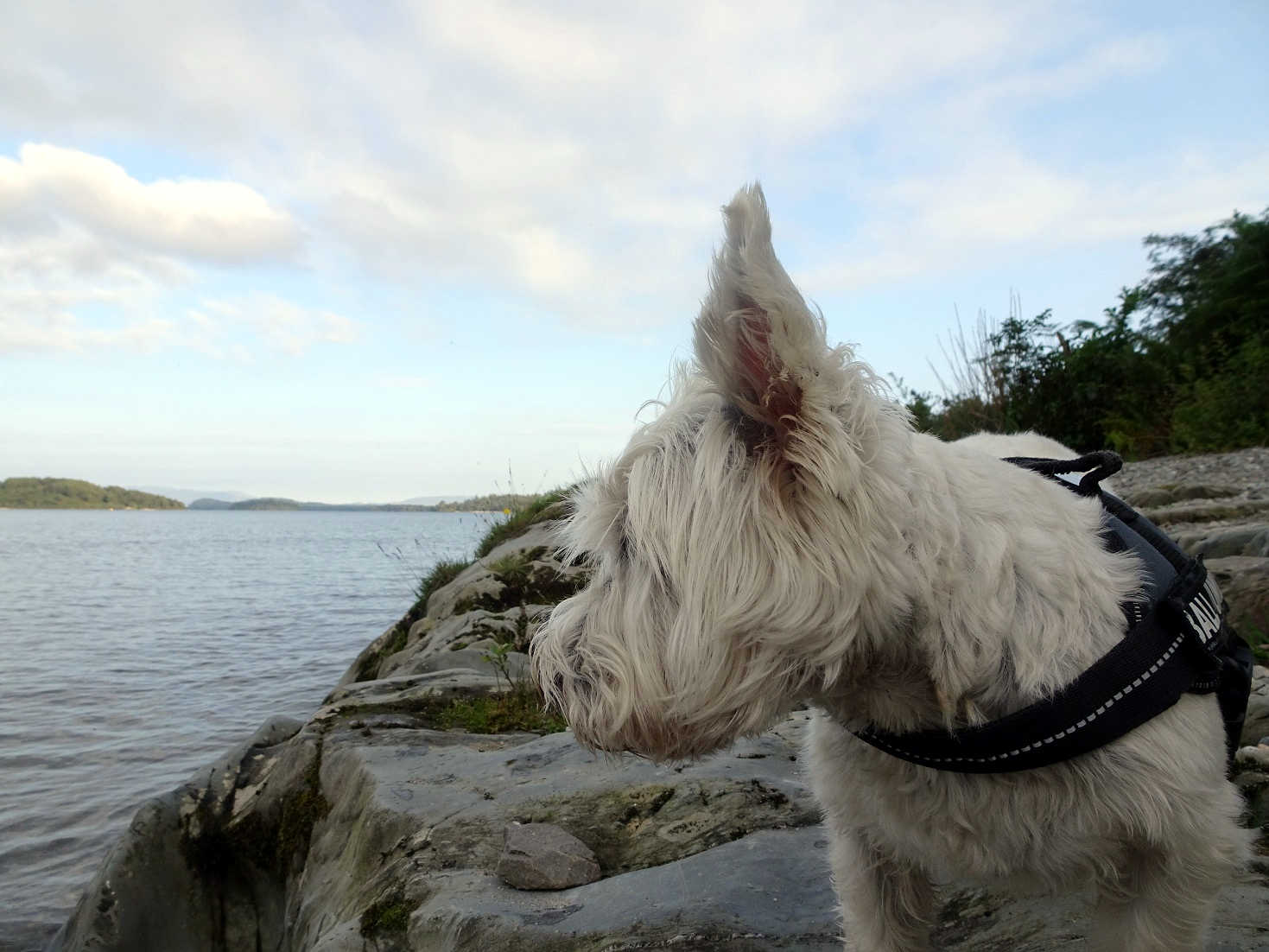 Soon it was dark and Betsy was cooking pizza for dinner, the smell of cheese and sausage YUM. Dad broke a tooth on pizza but his amber frothy juice made his mood better, mmm tired now……….bed.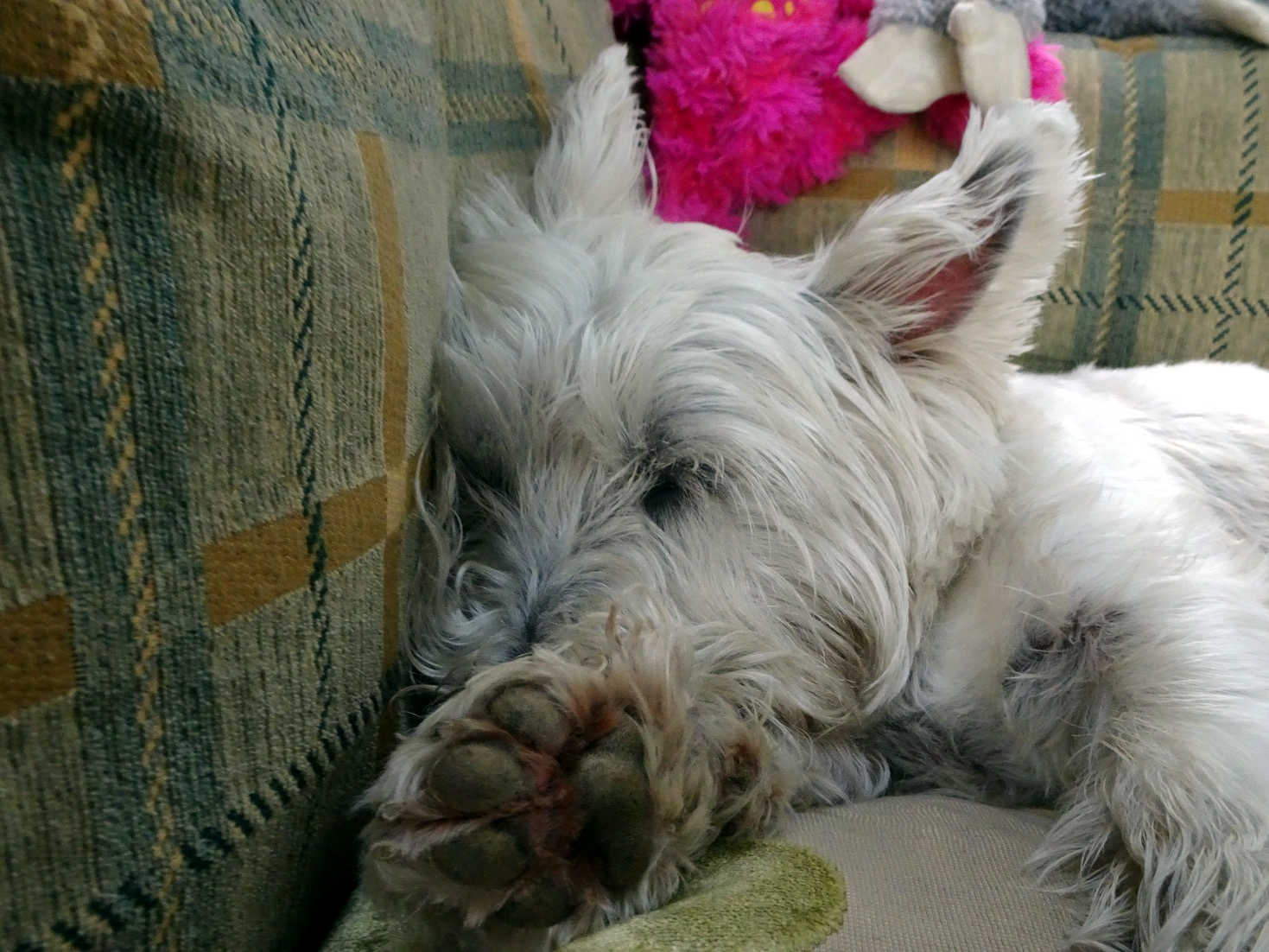 I opened my eyes mum was working and dad was sleeping. Strrrrrrrrrrrrretch. Big yawnsees. Stratchees. Hey Mum, Here I am, nudge, nudge. Walks? After brecky mum wanted to go into the village, I didn't fancy it. "Come on Poppy", nope this grass smells great! "Poppy, hurry up", mmm a rock to sniff, you say something mum? I stalled as much as I could but it was no good, I got dragged into village. The village was heaving with peoplesees, how about we go to the glen?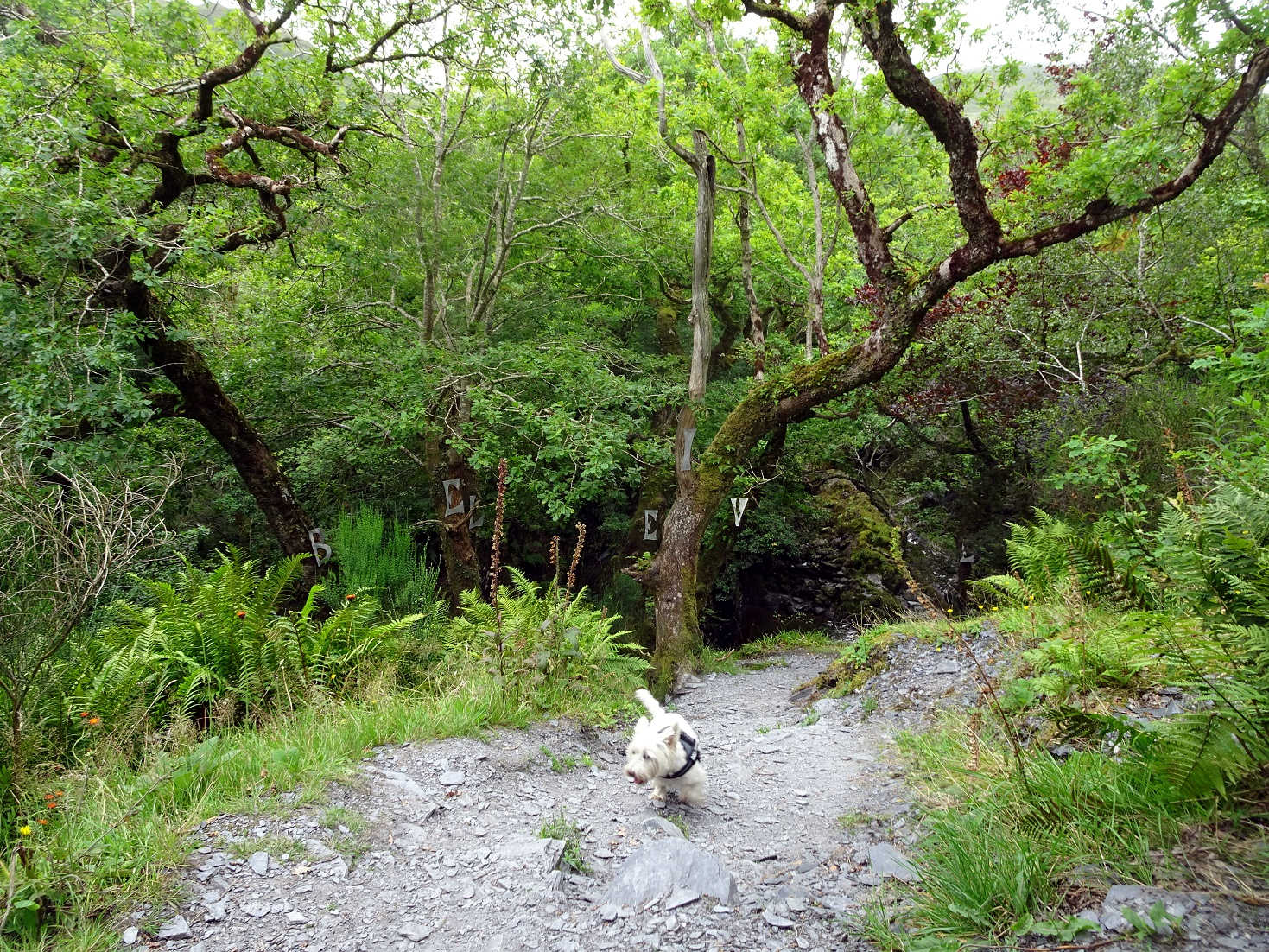 The fairy glen is great, space, water, trees and smells. Bestis of all off leash. The glen leads down the river side all the way down under the big road. At the end of the path dad put my leash on, but only for a few seconds, as soon as we crossed the wee road back off leash….BALL.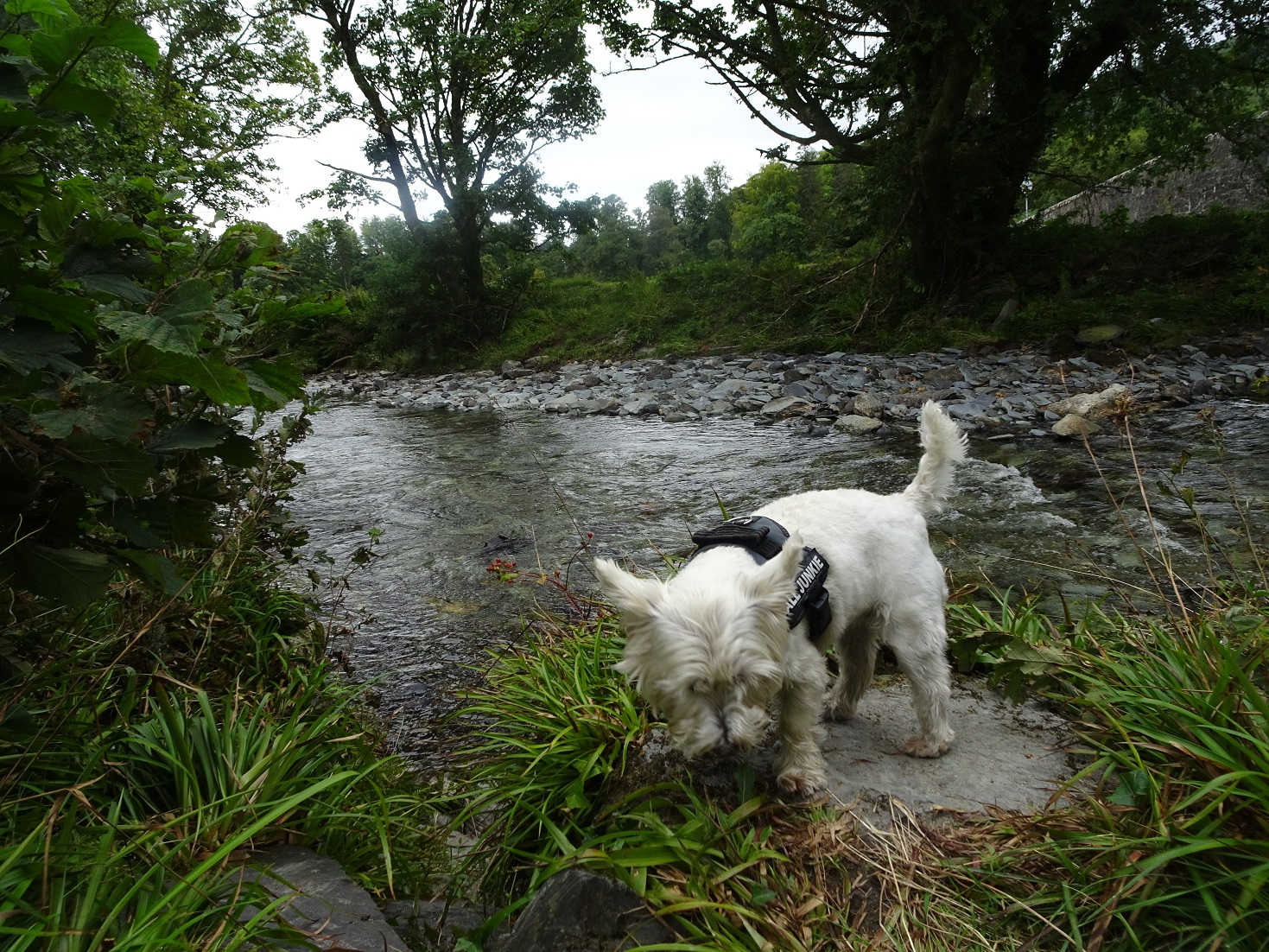 As we wondered back to the village all the banks of the river were full of peoplsees. Dad look, a stone park! Stone parks are always empty of peoplsees, lets go! I liked this stone park. Dad said it was the stone park of St Kessog who was Scotland's first patron saint.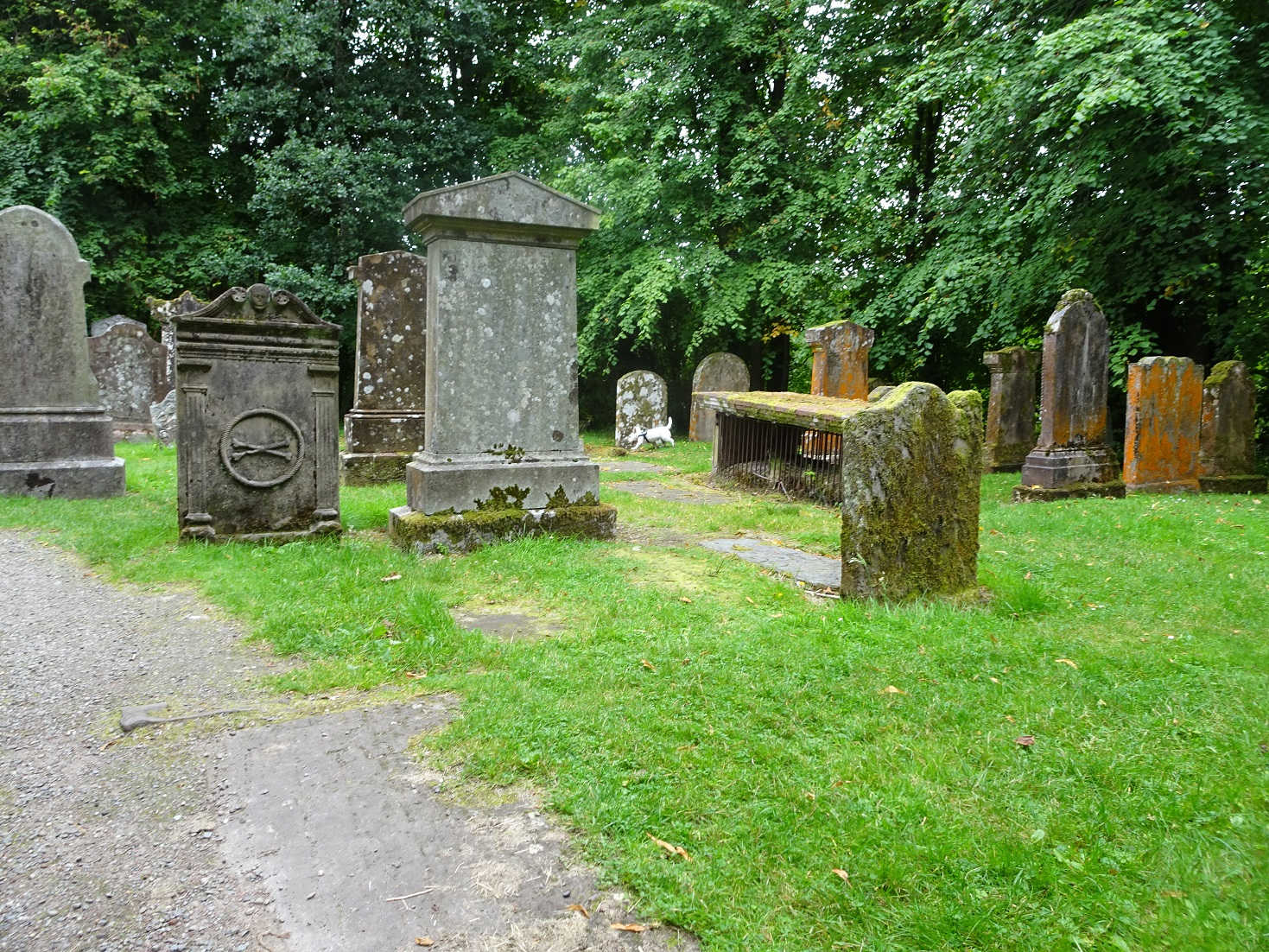 This stone park was great ball, would hit off the stones and go in different directions. Some of the grass was so long it tickled my tummy. Lots of smells. Thankyou St Kessog!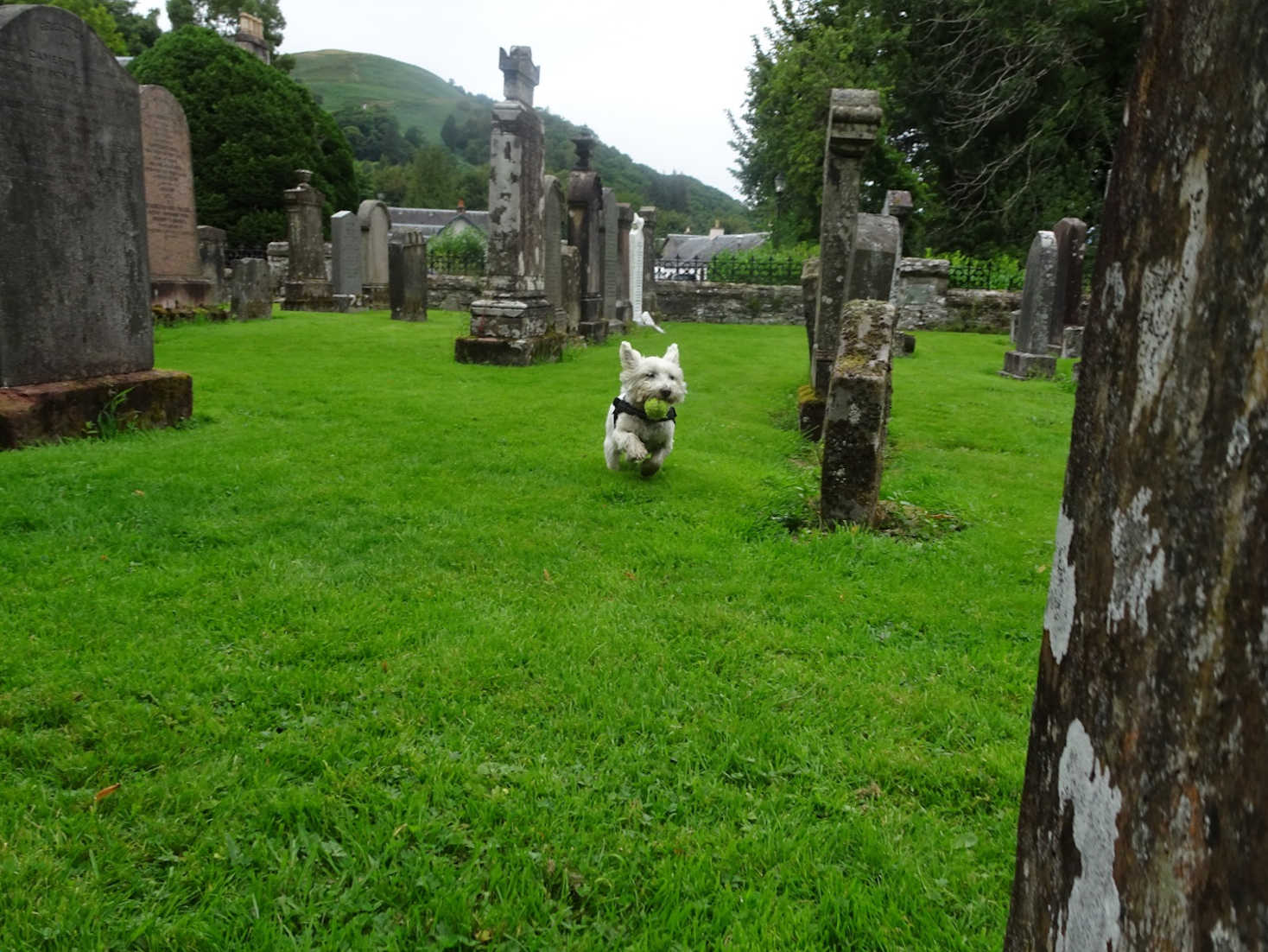 We explored all round the church, mum and dad were reading the stones, poppys can only read a wee bit so to me the stones were boring, but fantastic for hide and seek. The park was ended by a low wall. Well poppys always like to see over walls, better investigate.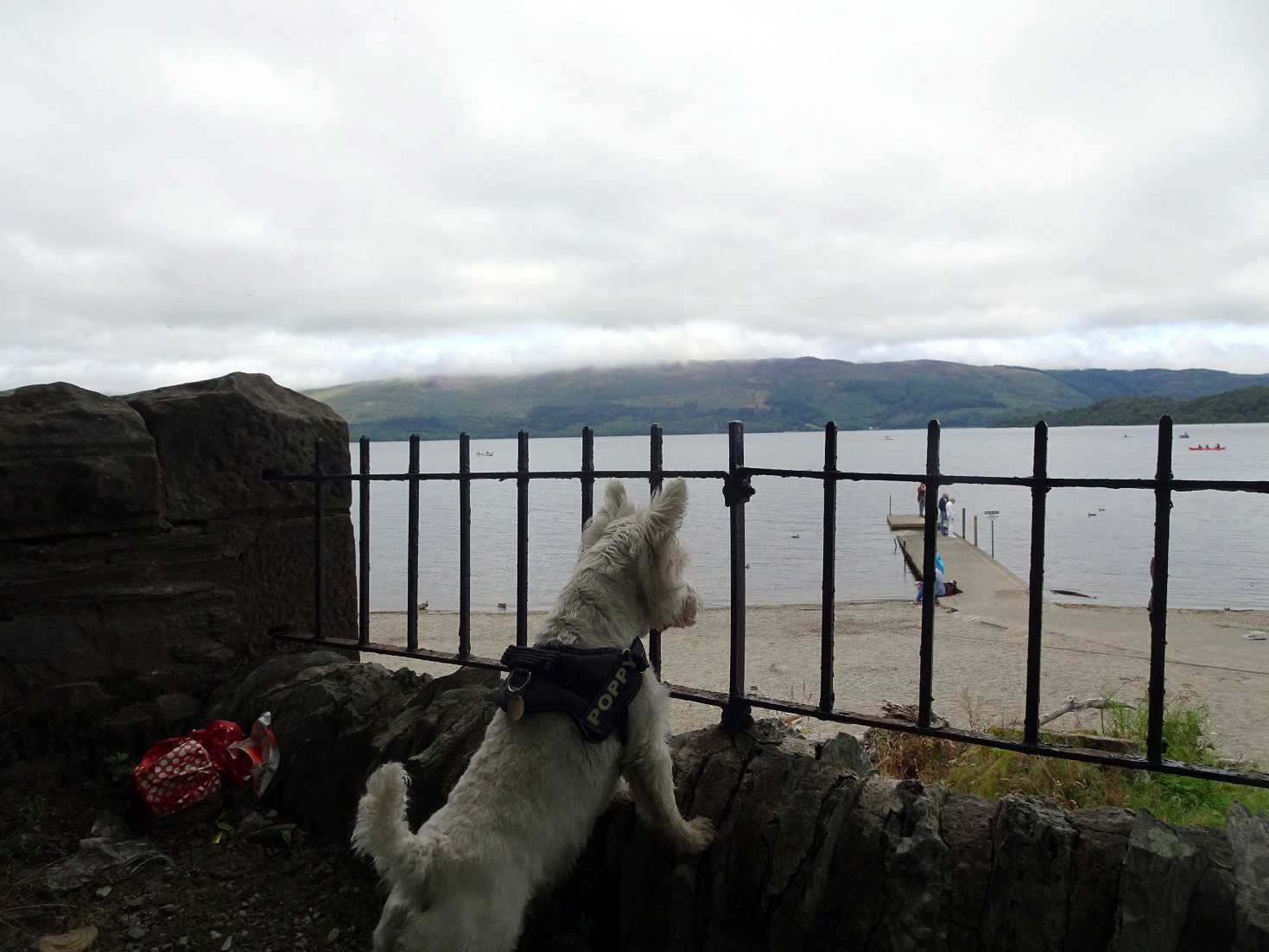 Dad look jetty! Can we go? Can we go now? Lets go. To get there we had to leave the church and o down the lane to the beach. The beach had less peoplsees here so mum thought it was ok to go on the jetty. To get to the end I had to jump over water as it was broken in the middle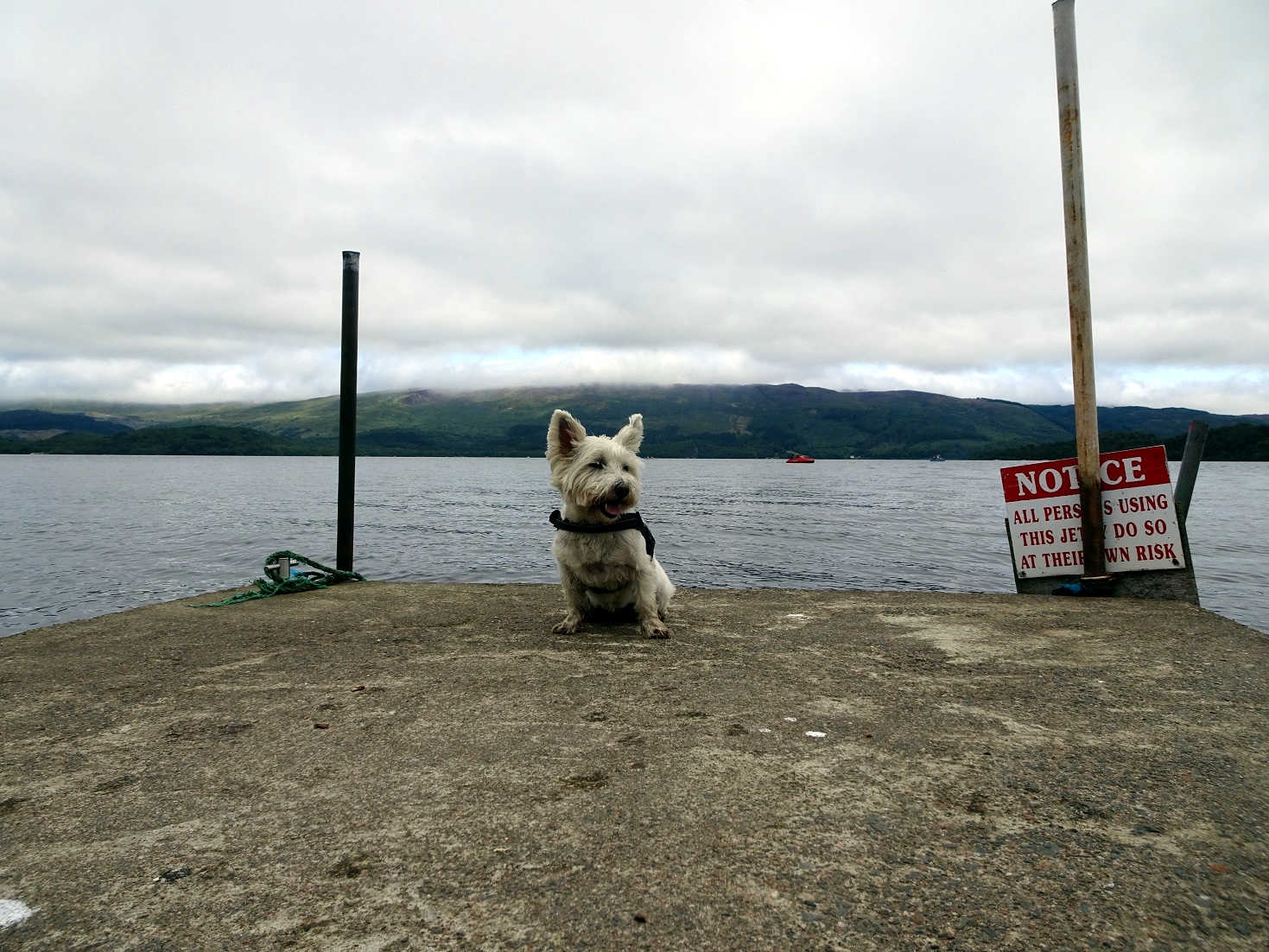 Where to next? How about exploring the woods? No peoplsees in the woods. I ran to the start of the path and looked back. "OK Poppy" said dad. The path led us to small beached beside the river. We followed the river until we could go no further. The only choice was get wet in the river, go back or climb the old steps that were once locked up a long time ago. No choice needed poppys love steps! At the top of the steps I could not believe where I was..back in the stone park! BALL.
Sunshine was meant to be coming so we headed back to Betsy for a lazy afternoon. Mum made lunch and dad put some chairs out in the sunshine. I'm getting sleepy almost time for my afternoon nap in the sun.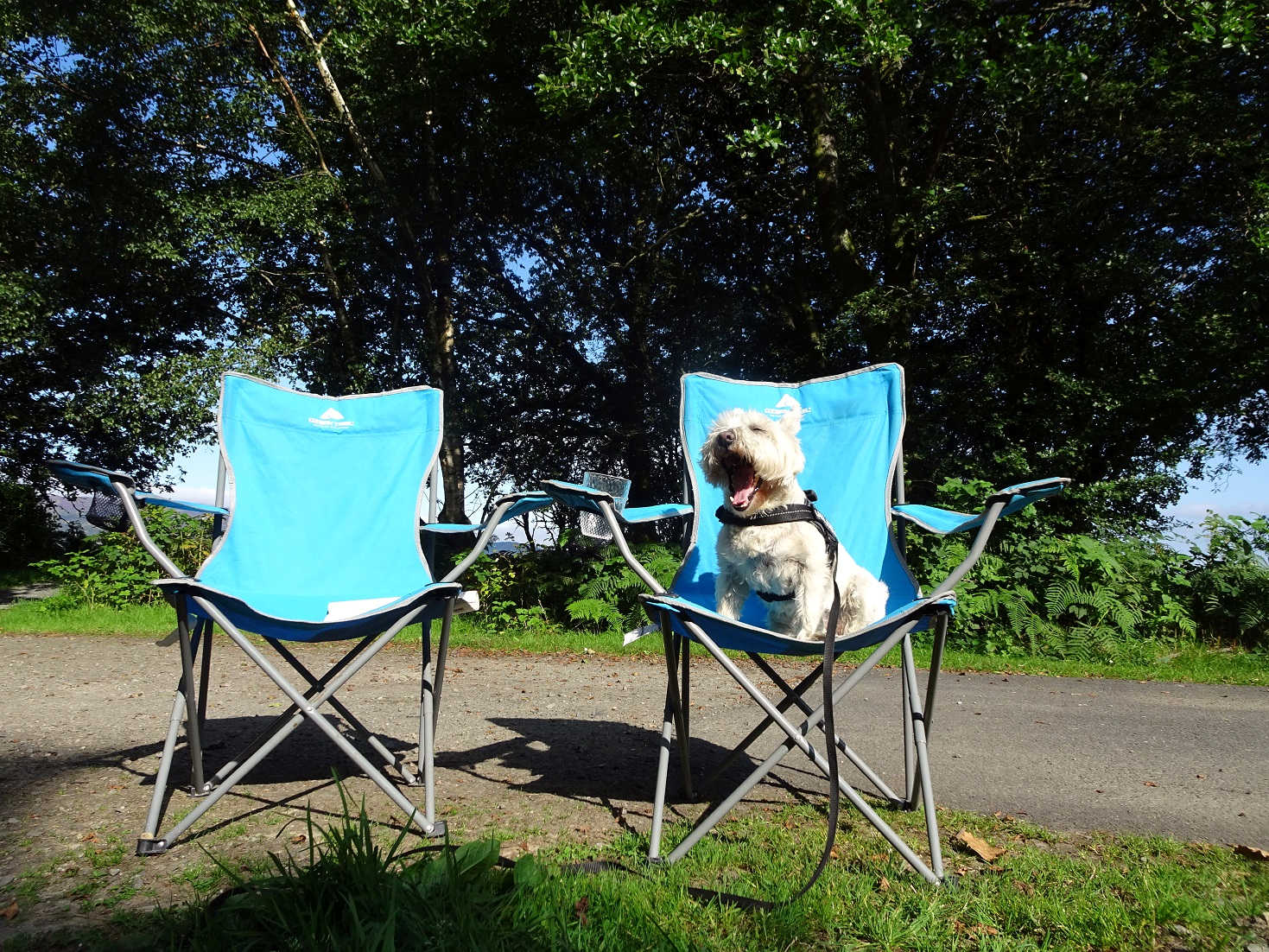 When I woke up it was still sunny, mum and dad spent the afternoon sitting in the sun and reading. I had my long leash on. I spotted my neighbour and old cousin Archie. Archie lives in Englandshire. He is much older than me, he is 14! He might be an old man but we still could play.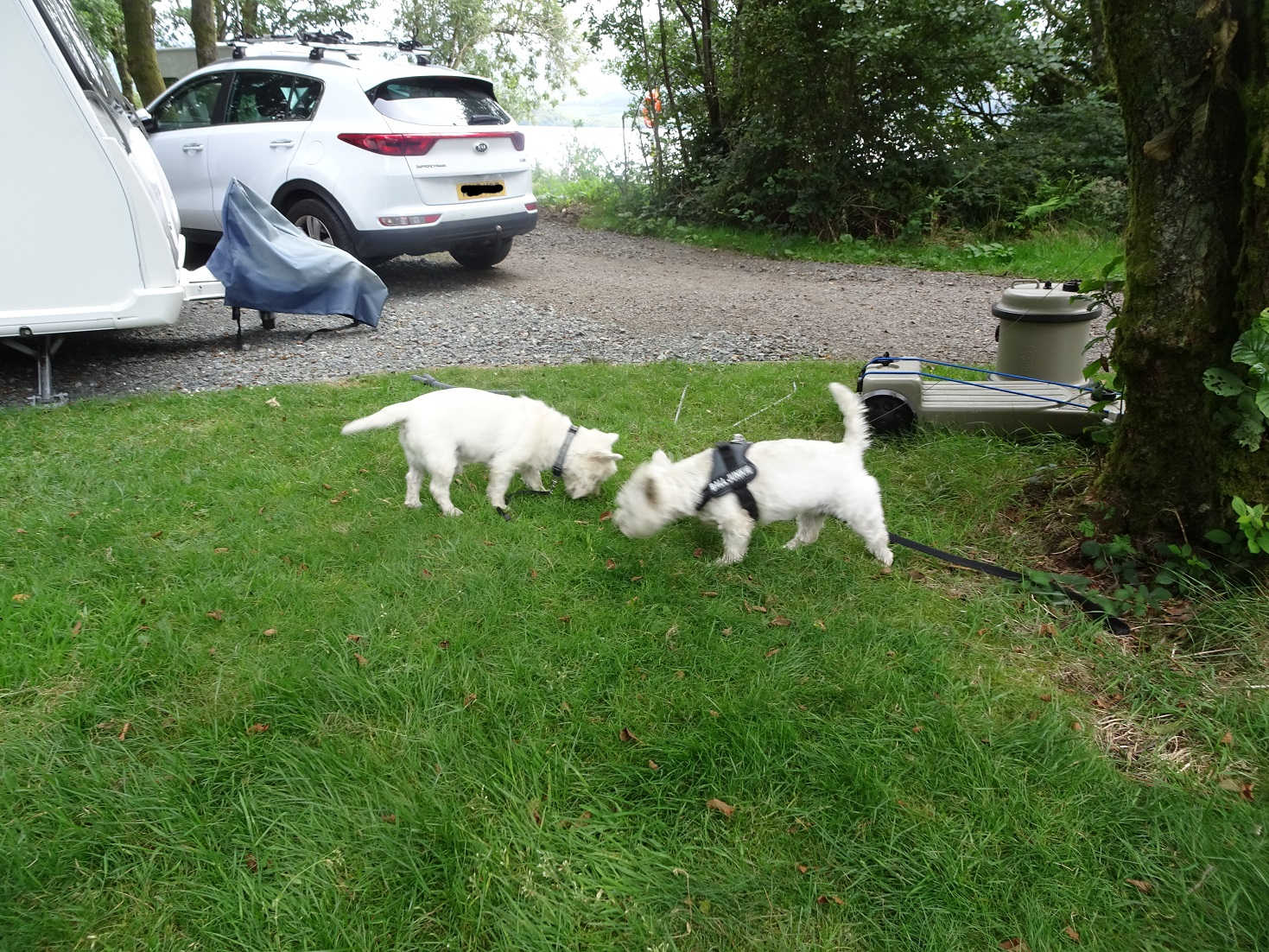 I know when mum and dad are going out at night, dad changes into long trousers and mum puts on pretty clothes. What I don't know is if they are going to be sneaky and disappear leaving me alone in Betsy. I better keep a close eye on them. I spot the move mum put denti stick into Kong. I must resist kong. Dad put harness on me. IM GOING TOO! We went to a place called The Loch Lomond Arms, I have been here before, It serves fish and game pie YUM.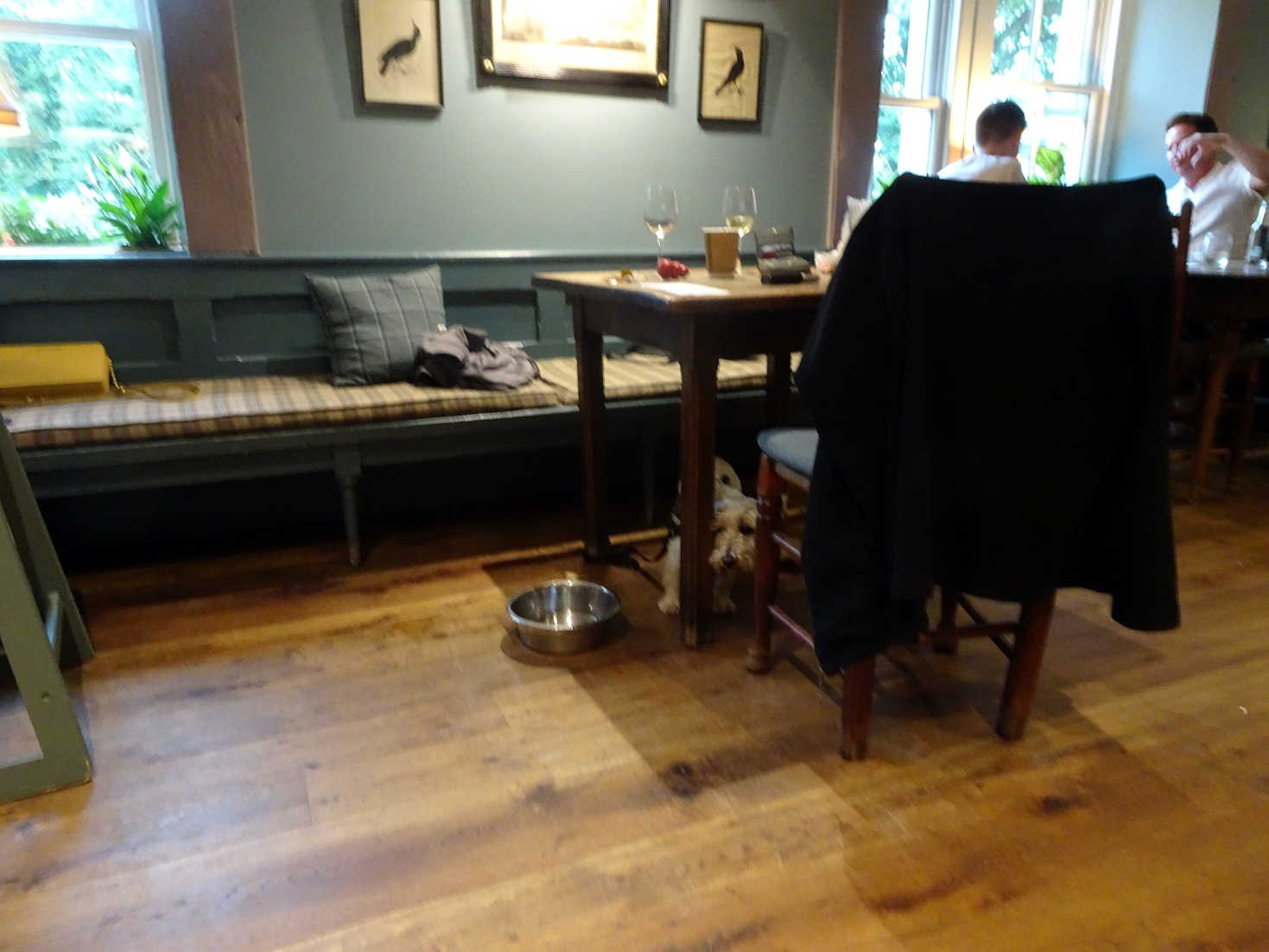 After dinner we wandered back to Betsy through the village. All the peoplsees had gone and the village was all ours.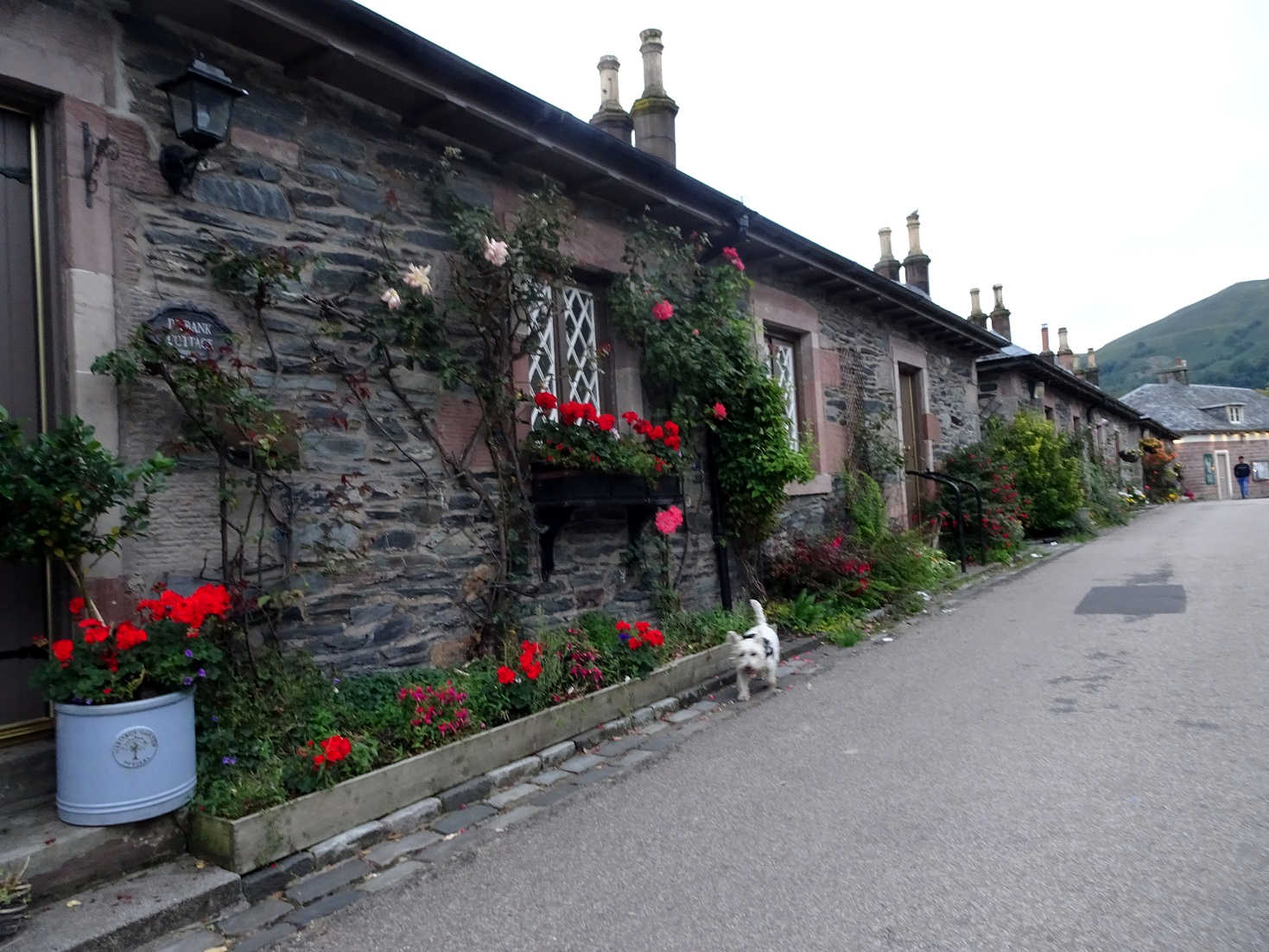 We could even play ball along the big beach. It's getting late bedtime? Back to Betsy? Good, its been a long day.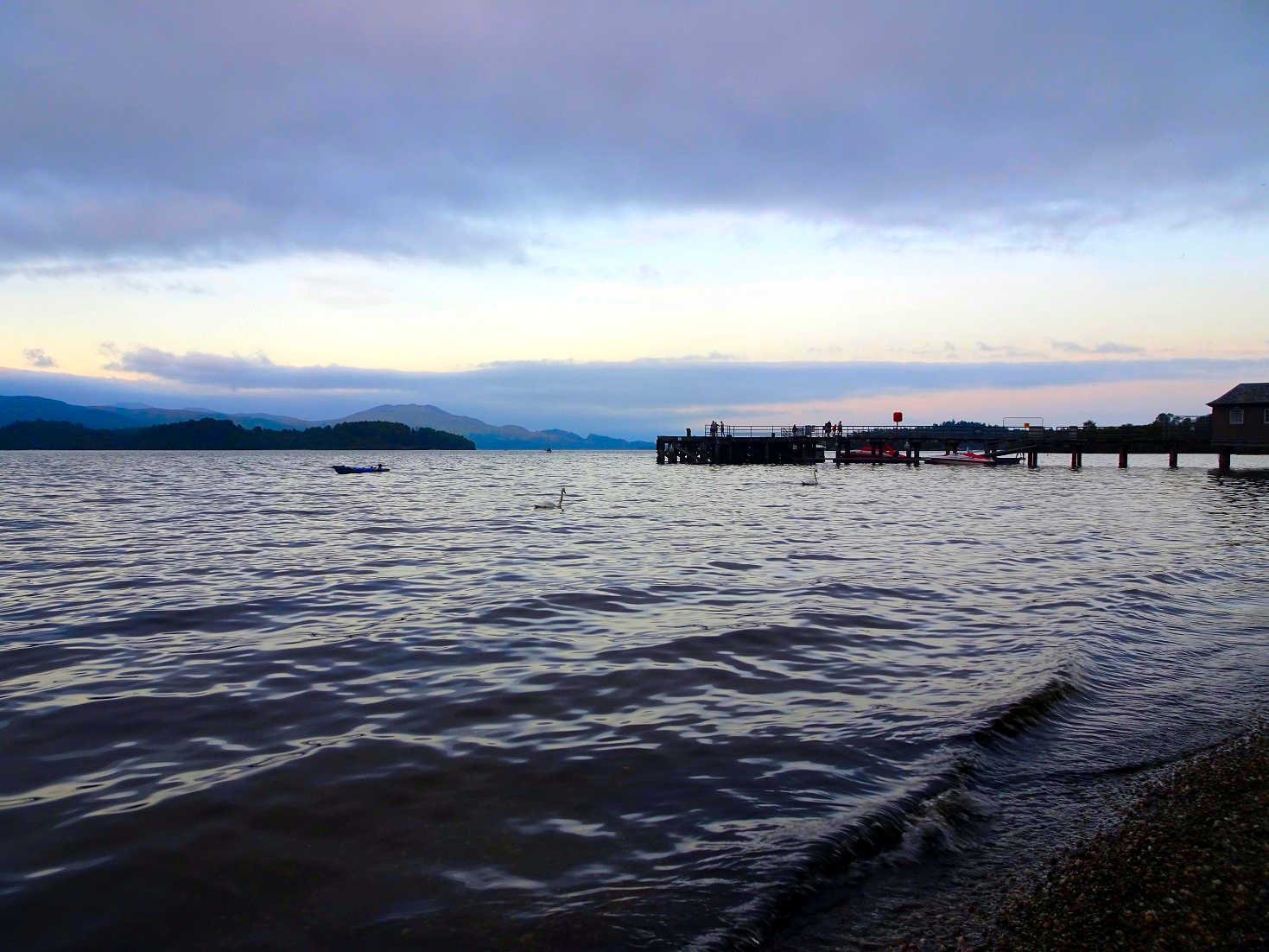 Sunday morning another day. It's early for me so we must be going home.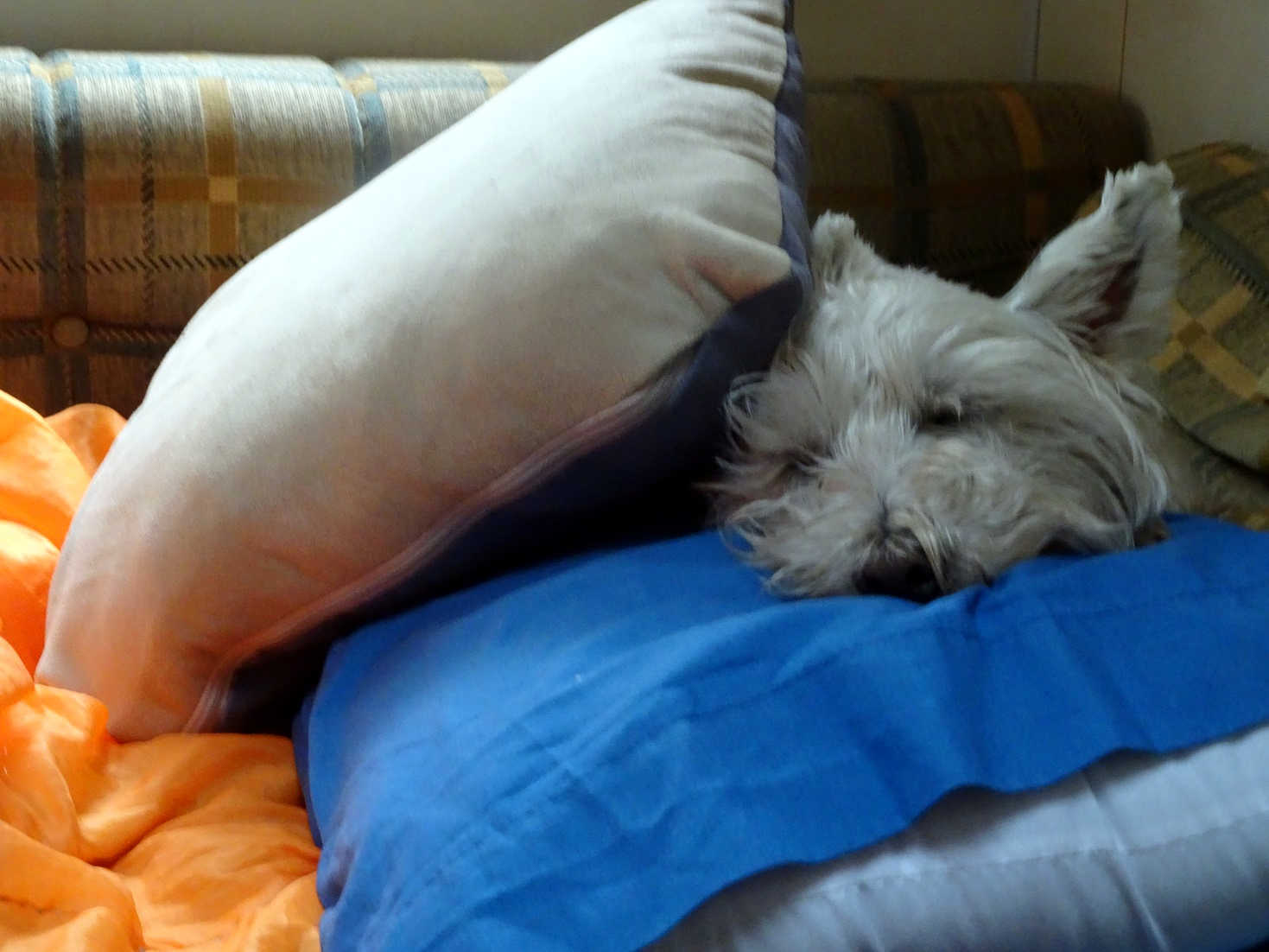 Mum and dad packed up Betsy, our neighbours were packing up to. I look to see where Archie is to say goodbye when I see him in the back of their car. Poor Archie, surly they don't put him their when they travel? Archie! Archie! If you make your self sick in the back they will move you to the front seat and you will be able to sit on your mum. Front seats are great you get to see hundreds of things and get millions of smells when the windows is open.