It's the time of year everything goes upside down. The first signs were mum and dad put a big tree in the front room with lots of lights on it. I don't mind the big tree but makes getting on the windowsill very hard. What Poppys don't like is getting daft hats on for photographs.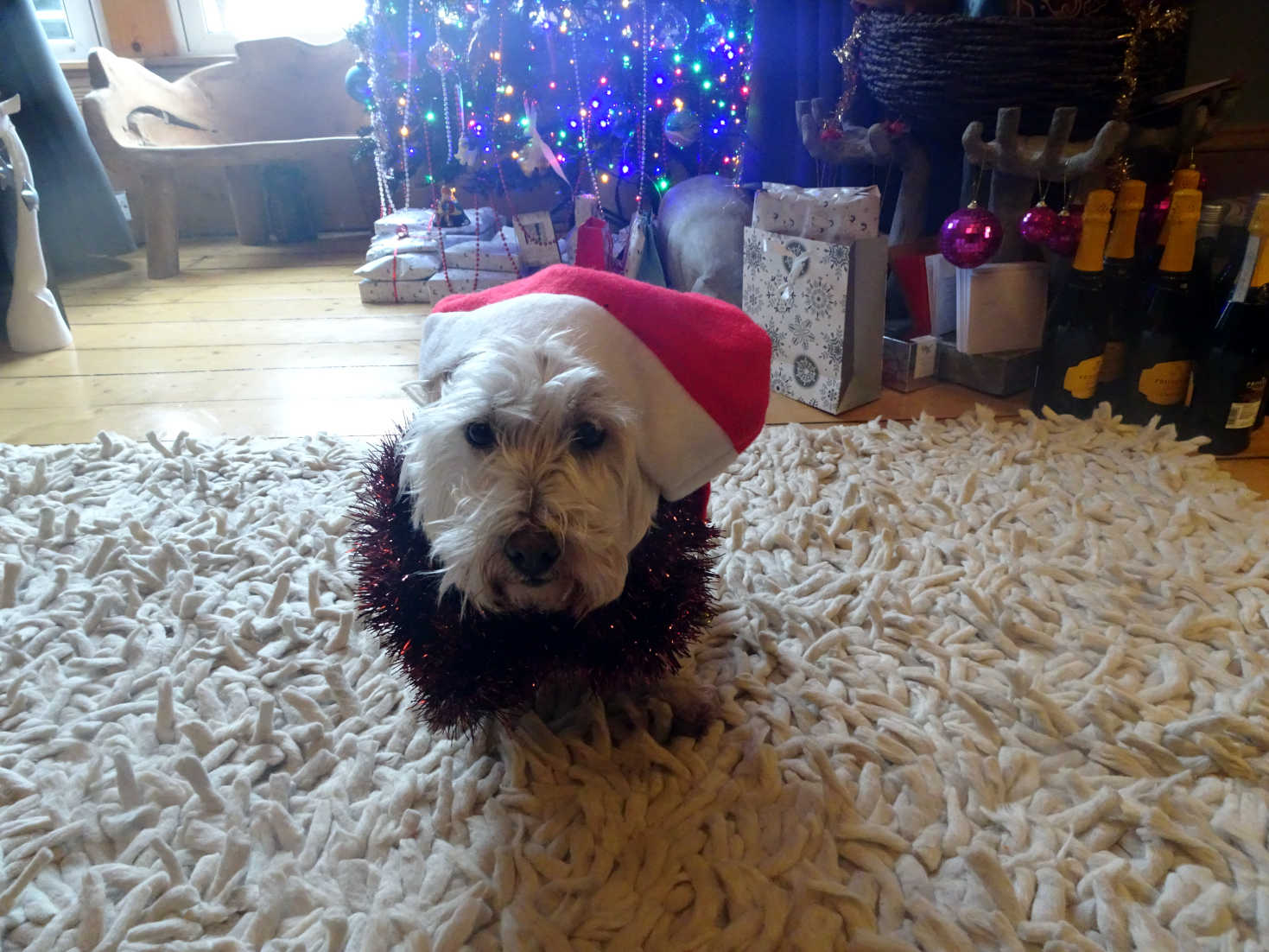 At this time of year weekend walks in the park are always followed with baths. Poppys hates baths, Poppys really hate baths! But Poppys are clever, I know as soon as the water splashes to hide behind bath. Ha you will never get me out of here Mum!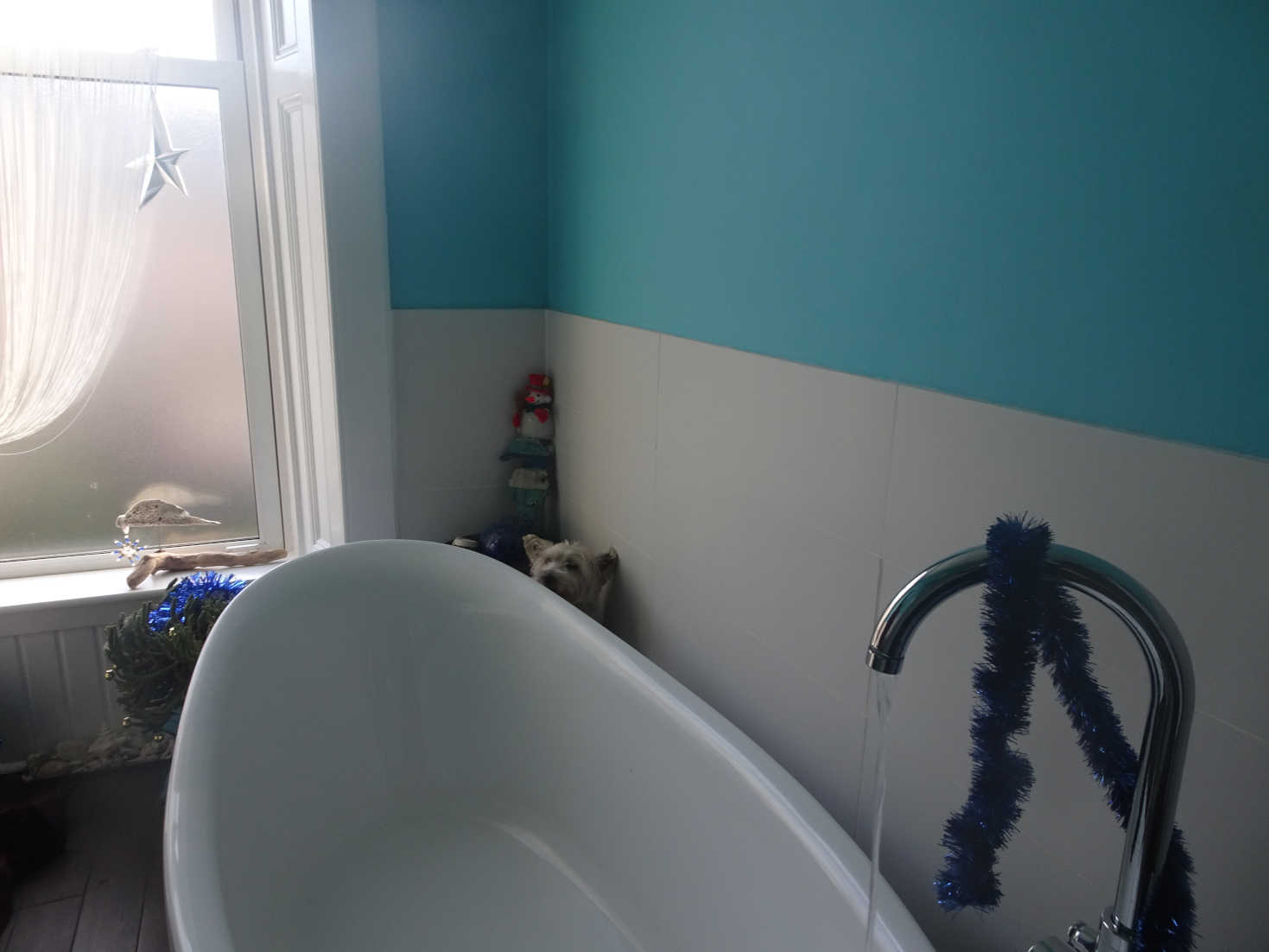 Dad said this weekend was very special because super nicky off the telly was going to let the shops open this weekend. Are we going out shopping dad? Normally poppys don't like shopping. All the shops where we live don't let poppys in and I have to wait outside with dad till mum comes out. "It's OK poppy we are going to get presents for mum, poppys are allowed in the shops we are going to", mmmm that means we are going to the west end! Poppys likes the shops and the park in the west ends. We all jumped into mini and set off. Sure enough we went over the river.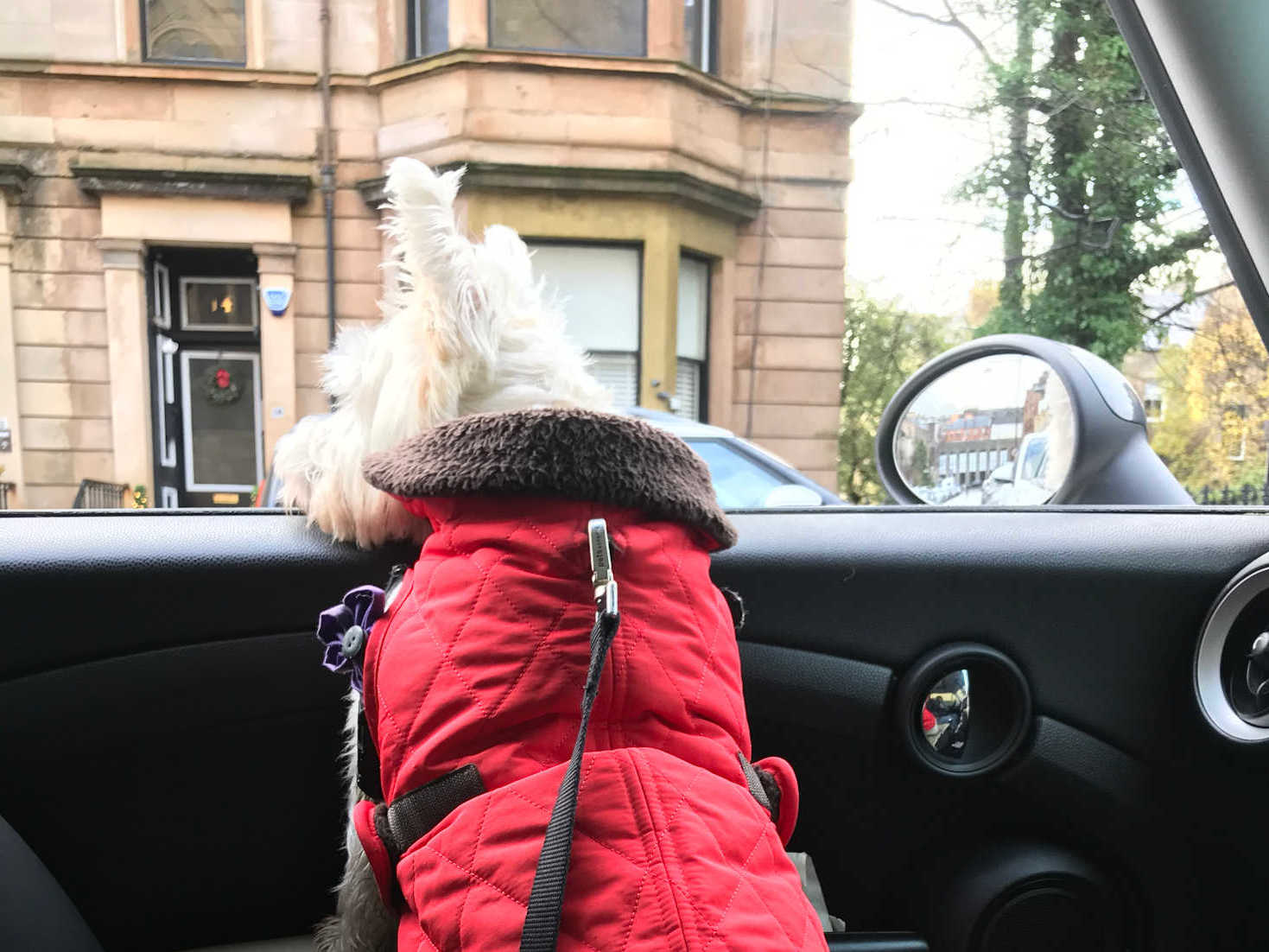 Once mini found a place to rest we got out. Lots of new smells everywhere. I sniffed every pole and bush all the way down to byres road. The first shop we went to was CCW International Outdoor Clothing. I wandered around as mum went looking for things that dad could get her for Christmasees. Two very nice young ladies came up to me and gave me pets and made a fuss of me. One of the ladies even gave me a tasty mini, the cheese and beef type, my favourite! Most shops only give me a gravy bone or a mini marky if I'm lucky. This is a class shop!
Mum saw a few things she liked, but then she showed dad a coat that would suit me down to the ground. The only coats that were there were too wee for me or the size for a great dane! Dad asked the man at the till if they had any poppy size coats. He looked high and low and found one that was on a dogakin. Dad took my coat and harness off so I could try it on, well how daft was that. I was off. All the smells and free to go sniff them! Soon mum had naptured me and put the new coat on me. Yeah mum it's OK. Funny we were going in for a prezzy for mum, she got nothing and I got a coat!
The next shop we went to was very different. It was very clean and smelled of floor cleaner. Not much to smell here. Orro is a shop where mum buys her collars and chains. She likes it but it doesn't do it for me, everything is high up so all I see is furniture legs. Also you don't even get offered so much as a gravy bone. Lets go. We crossed Cresswell Street to go to Nancy Smillie. You always get mini markies at Nancy Smillie. Nancy Smillie is where mum and dad got my step for the windowsill. Mum still found nothing she liked, so off down Cresswell Lane we trotted.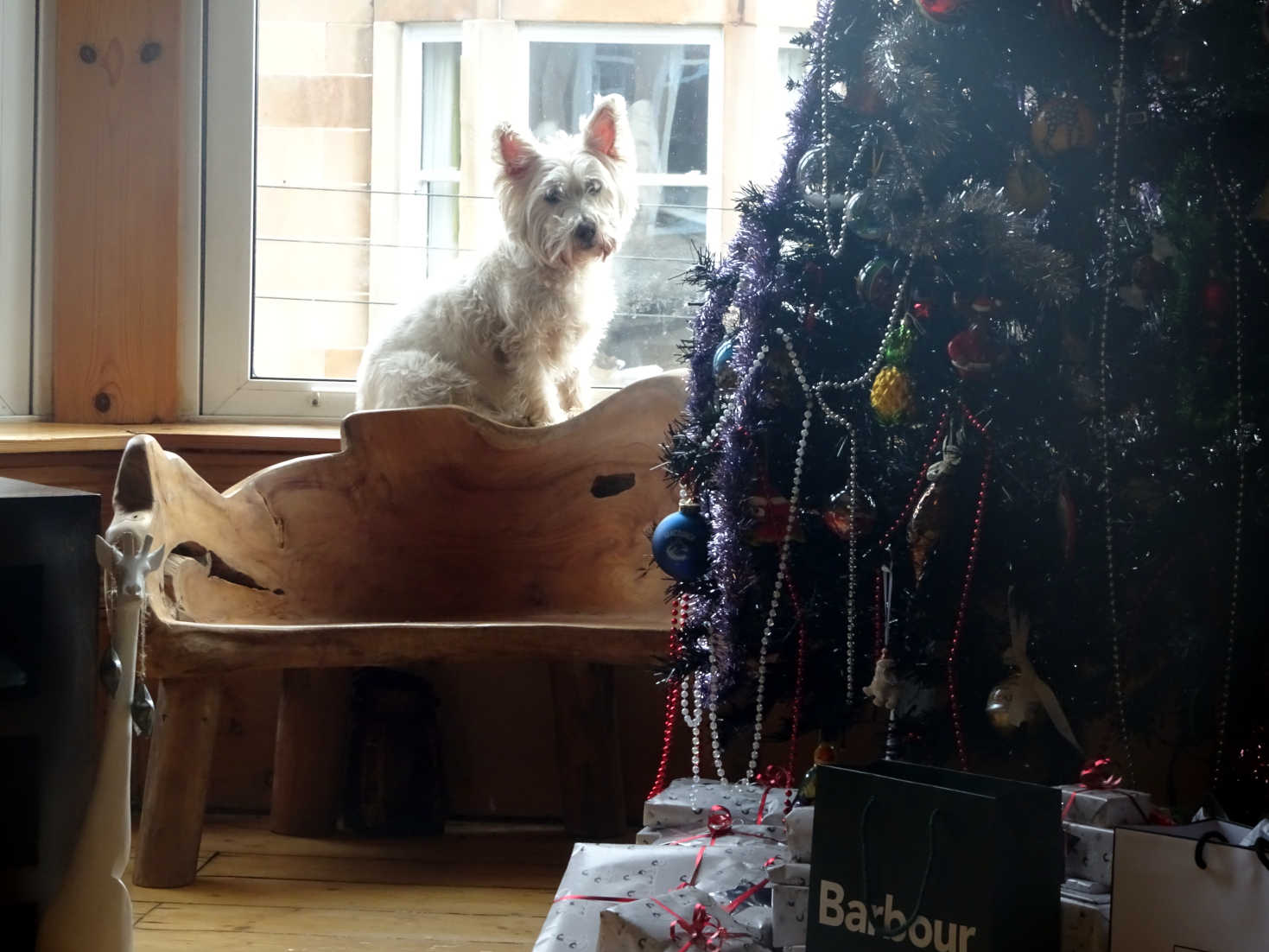 Poppys likes Cresswell Lane. Lots of nice smells. The next shop we went to was Oliver Bonas. We had to wait to get in because of Corronavirusses. These corronavirusses are starting to get on my paws. When we got in a nice girl offered me a gravy bone, poppys don't like gravy bones but it was nice to be offered. Mum picked a few dresses and soon it was time to go back to mini.
When we got home my new coat got put under the christmasees tree and I was told I was not allowed to have it until santa paws day. How can I not have it now mum?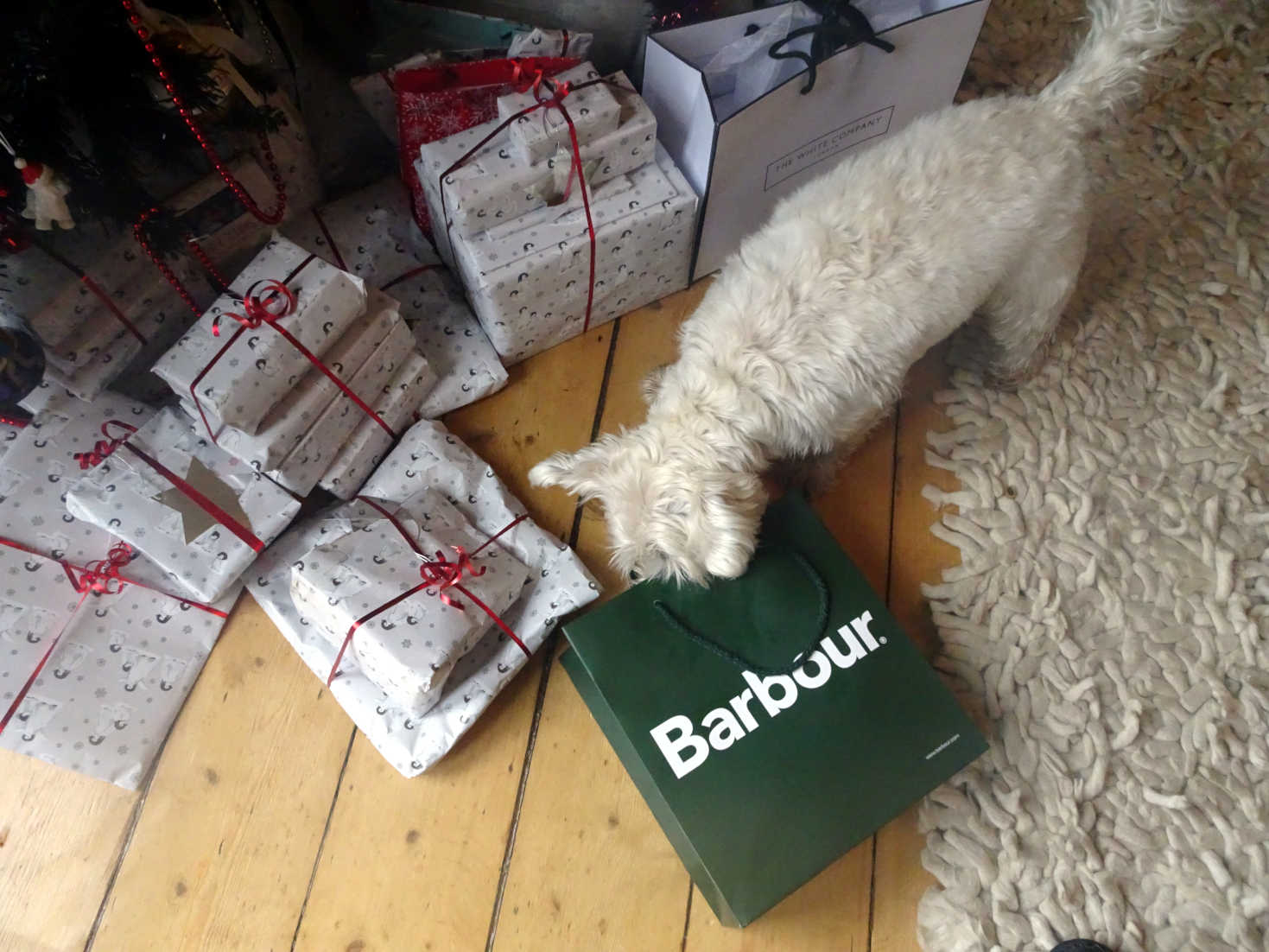 The weather turned nasty and I didn't want to go out for more walks, so I decided the bestis thing to do was to curl up in front of the telly and watch all creatures great and small. Poppys likes going Christmasees Shopping