A new day and time to play with Zoo Zoo. Zoo Zoo is a lot of fun but still a bit young, he doesn't know when to play and when to rest. He has learned not to bump into me when I growl at him.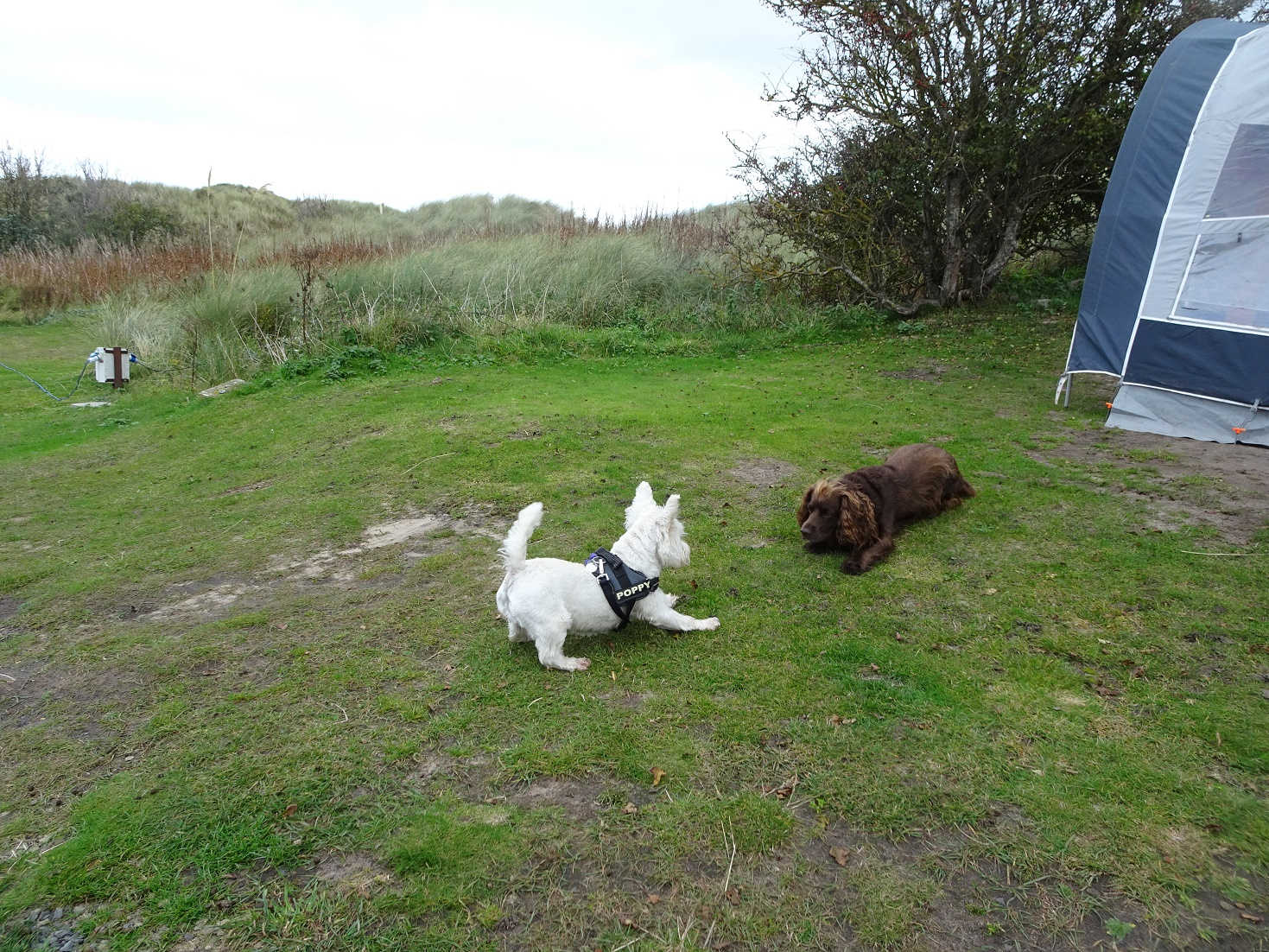 Playtime over, off for brunch at The Salt Water Cafe. Mum wanted to go inside Dad wanted to stay out. We met a type of peoplsee called a Geordie with his big dog called Max. Geordie couldn't go inside because he didn't have a mask. Max likes this cafe because he gets a free cheese scone here every week. We all got the full Northumbrian breakfast. Max got half of Geordie's! Mum? Dad? where's mine? Max even got a scone! "Don't fret Poppy you'll get yours" I did! sausage, bacon and egg followed by more sausage and bacon! Geordie and dad were talking football Geordie reckoned Rangers would beat Celtic at the weekend, Dad took it as an good omen.
After we went to explore a Annstead beach towards Seahouses. A barbed wire fence blocked our way to the beach, Das asked a peoplsee how to get round it, the peoplsee told us to follow her. Another nice beach, this one was had dunes and some rocks in the middle to explore.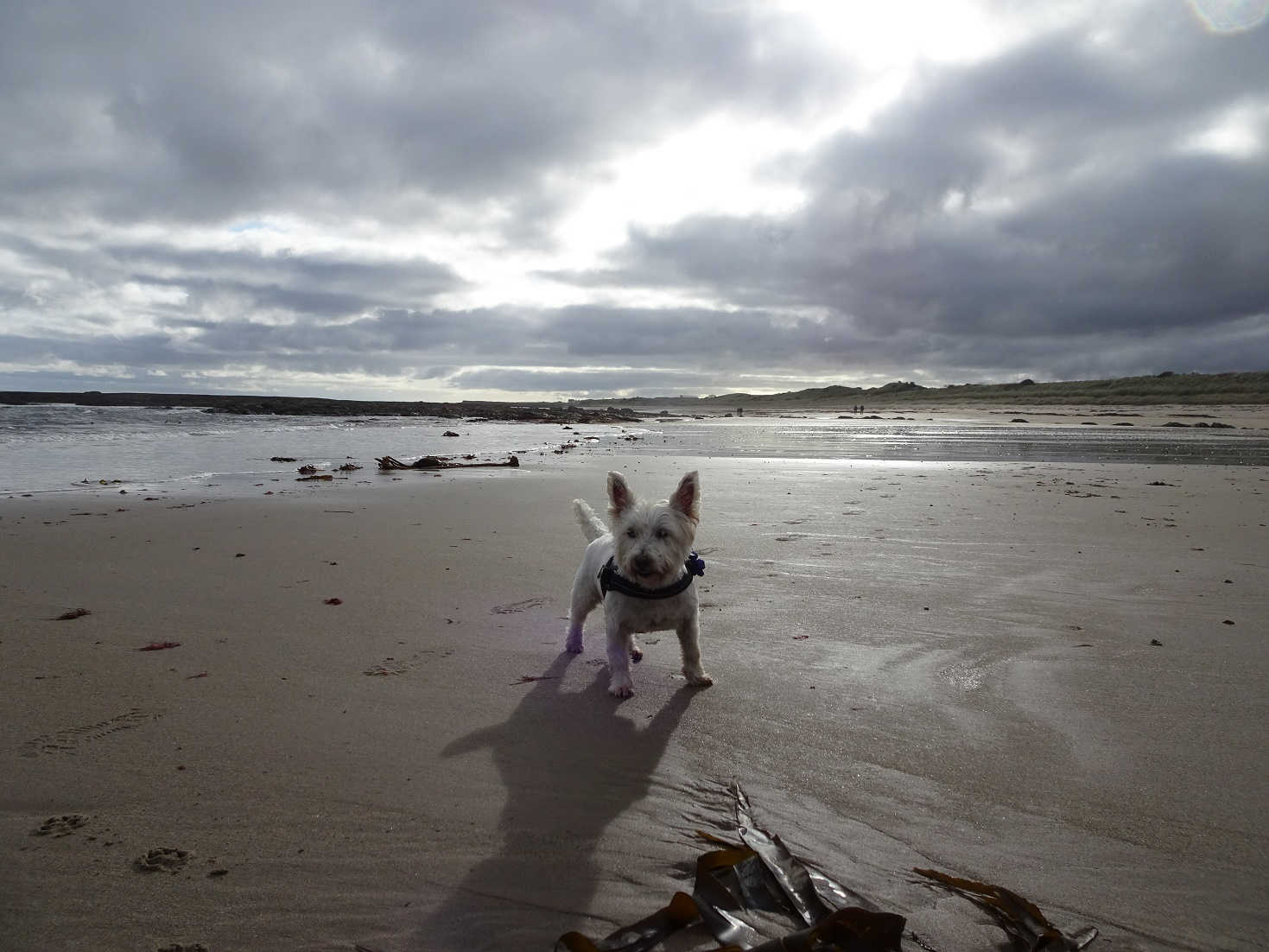 It wasn't too windy today that means one thing BALL.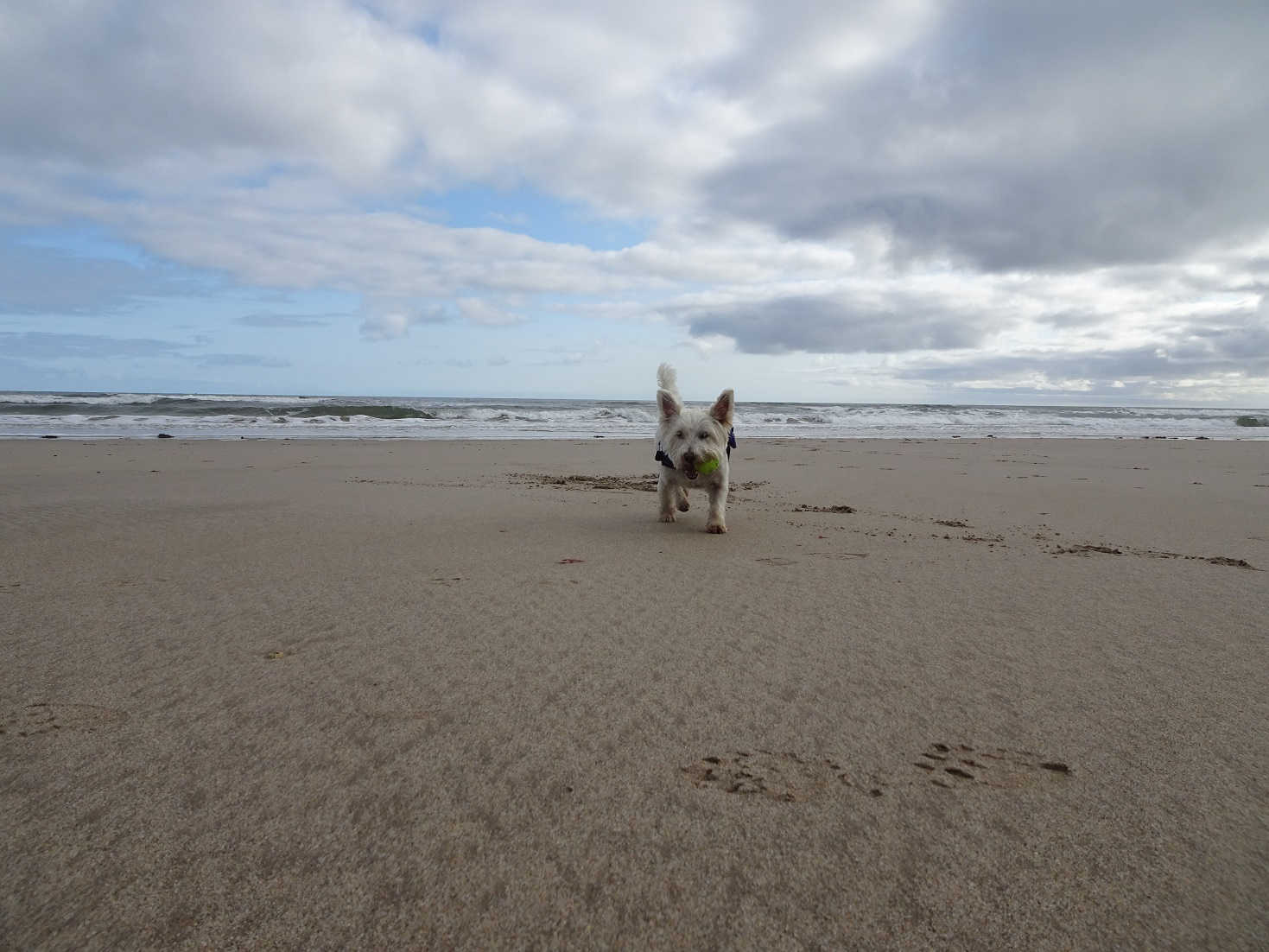 We plodded along all the way to the end until dad came across a problem. A problem called the Annstead Burn. Mum was ok because she had good boots on, I was ok because the water only came up to my knees, Dad was scuppered because he was wearing daft training shoes! Shoes and socks off Dad!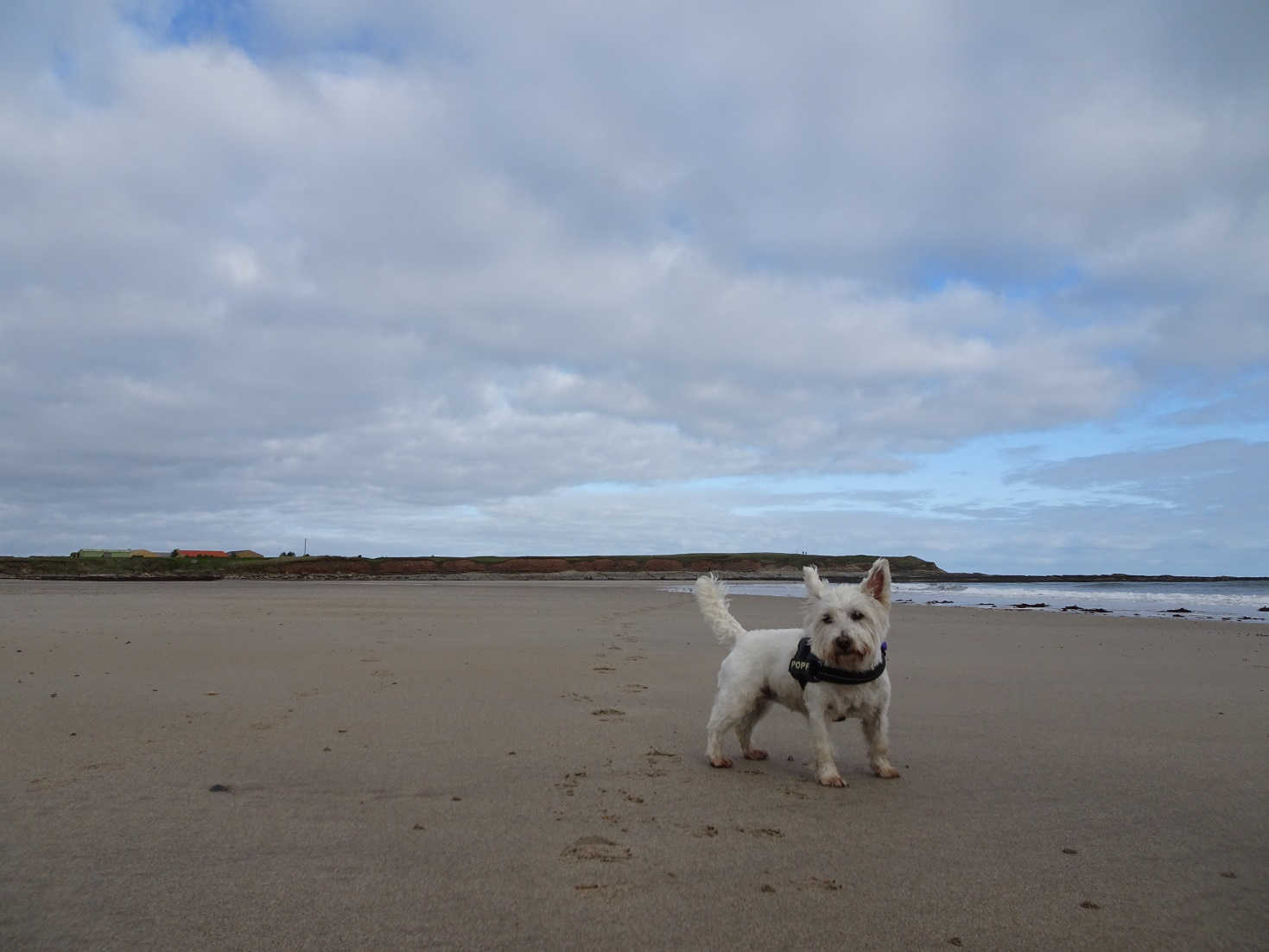 On the other side of the burn we got to climb rocks up to the Golf Course. Dad was mean he didn't let me play ball on the golf course, he said it was because there were too many golfers. Poppys loves Golf Courses but Poppys pure hates golfersees. At the end of the path we were entering Seahouses where stopped for a rest on a bench.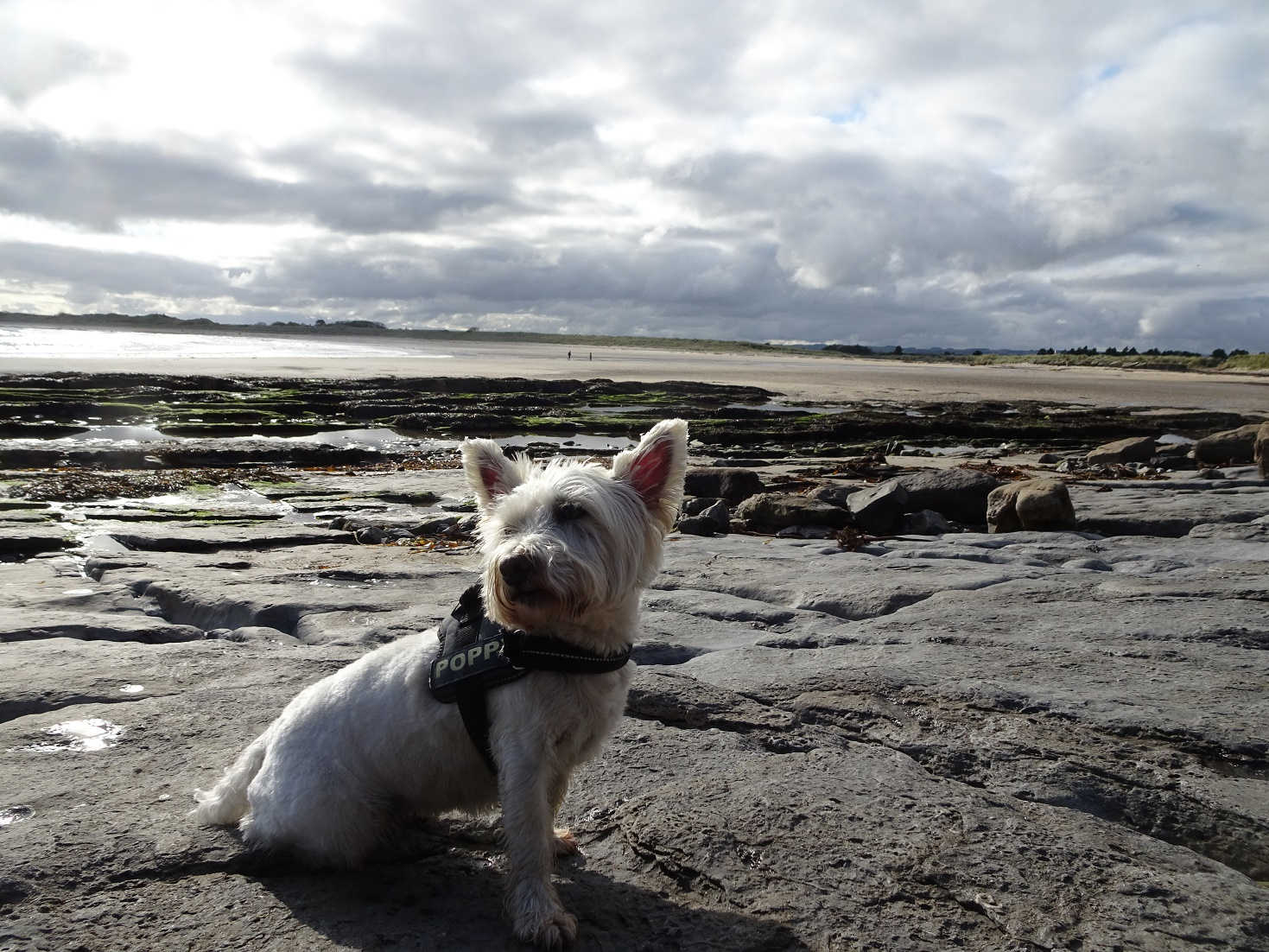 Seahouses was full of eoplsees, mum saw a doughnut van, I smelldeed it, it smelled great. "No prices for doughnuts" said mum "No Doughnuts for us" said Dad. Da a a d said me! We passed though going to North Sunderland Beach. I have been here before, good job today was not like the first time! Howling winds and buckets of tears from the sky! Still today its perfect for a game of ball.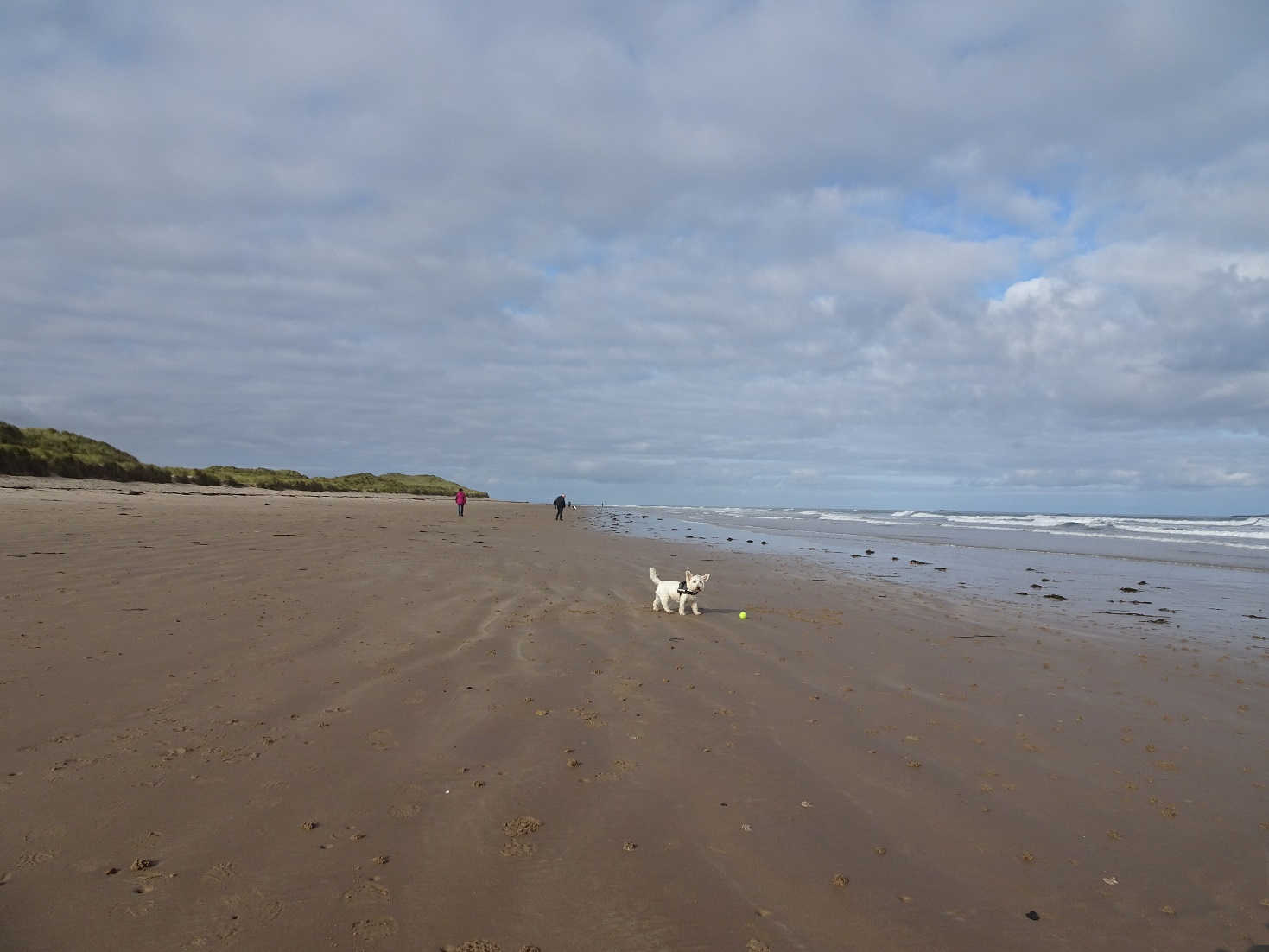 It was getting on and mum said we should head back, good call mum my legs are sore and it's a long way back. One last look at the beach, say goodbye to Bamburgh Castle perched on the dunes back to town.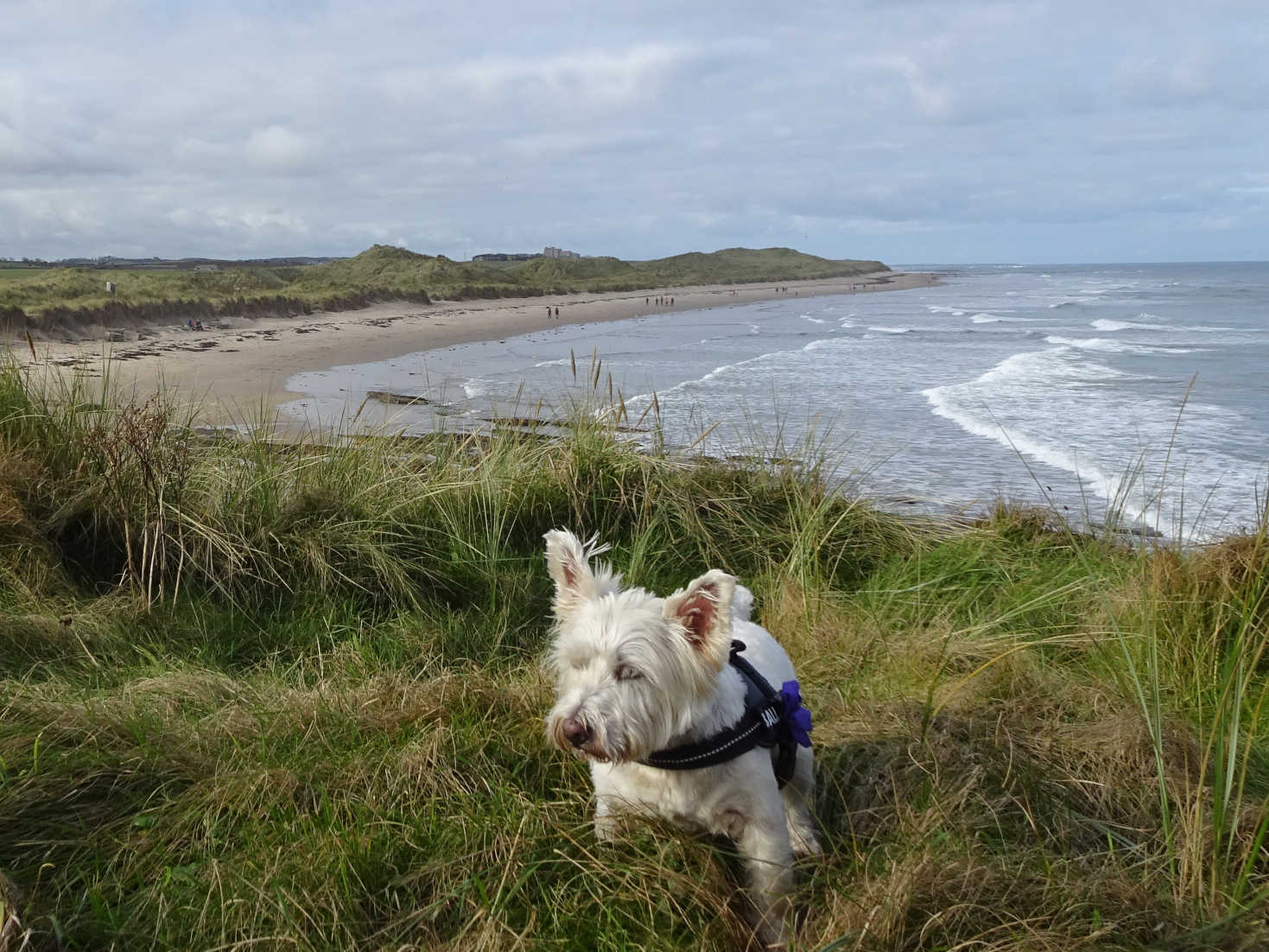 We went a different way through the town so mum could get some fridge magnet. On the way out we crossed the golf course. Odd, this doesn't look right. Everything has gone! Again! We clambered across to the burn but it had changed. Dad, it's a river, how we going to cross that? Mum and dad took their shoesees off, mum picked me up and carried me over. Mum, Dad, everyone has wet paws today!
The walk back to Betsy was not as good because the sand had been changed for sea. At least the sun is out. We had to leave the shore because it had ran out so we followed the costal path back to Beadnell and Betsy where Zoo Zoo was waiting for me. Later Zoo Zoo I'm goosed.
As the camp was cooking dinners, our cooker was silent. We were going out for dinner tonight at the Crastors Arms. One last peek at the beach. Dad what's that? Thats a surfer Poppy. Mmmmmm he is mad, that water is freezing, why he do that dad, numpty?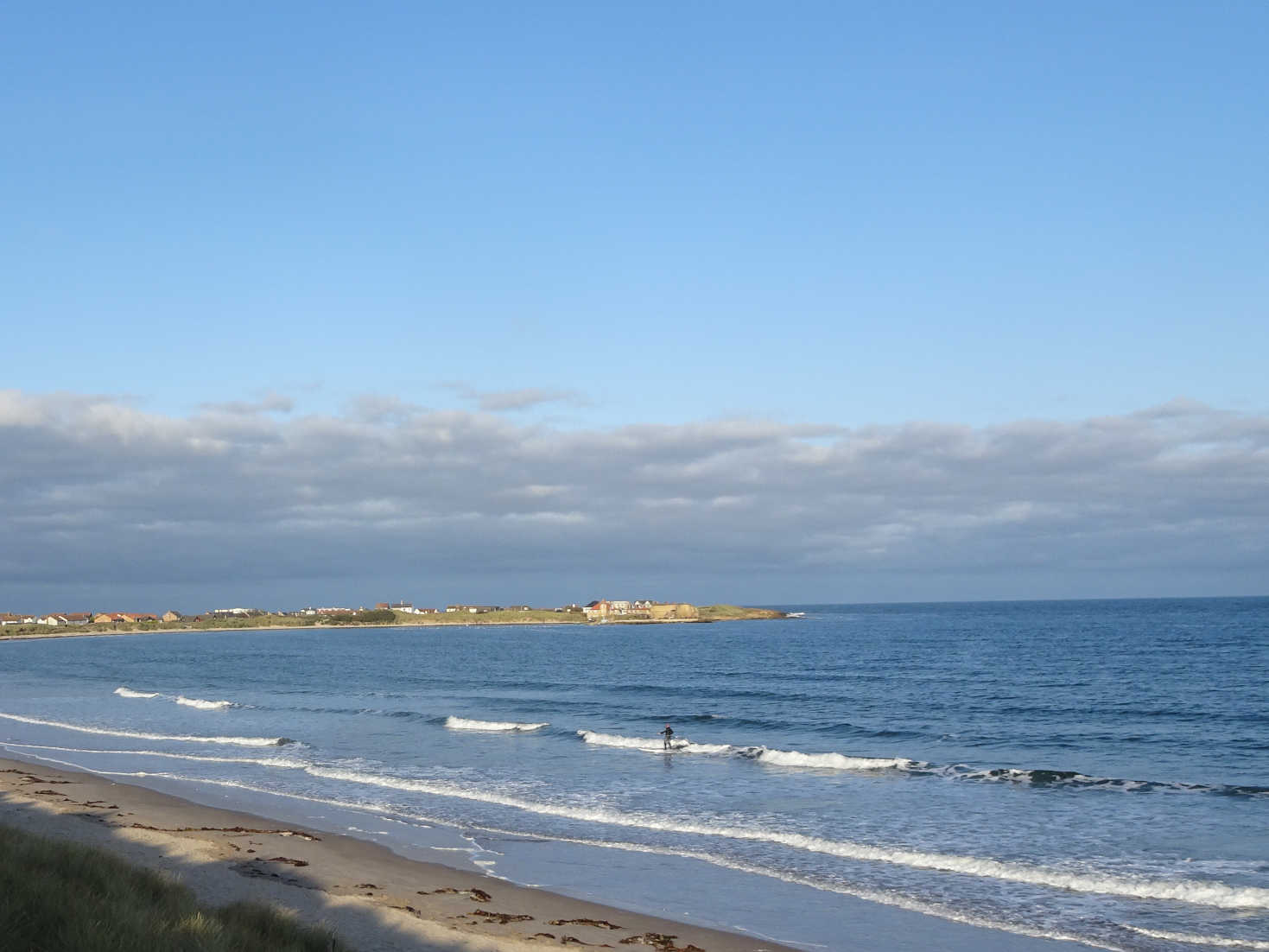 Dad was on edge at dinner, he said the pub was too full and peoplsees to close, dad still worries about Coronavirusees. I have already told him, if a Coronavirusees come near I'll bite it and scare it away. He still worries, fool.