Mum was up early this morning so early she saw our neighbours leave. She said it was raining and even took a photo to prove it to dad.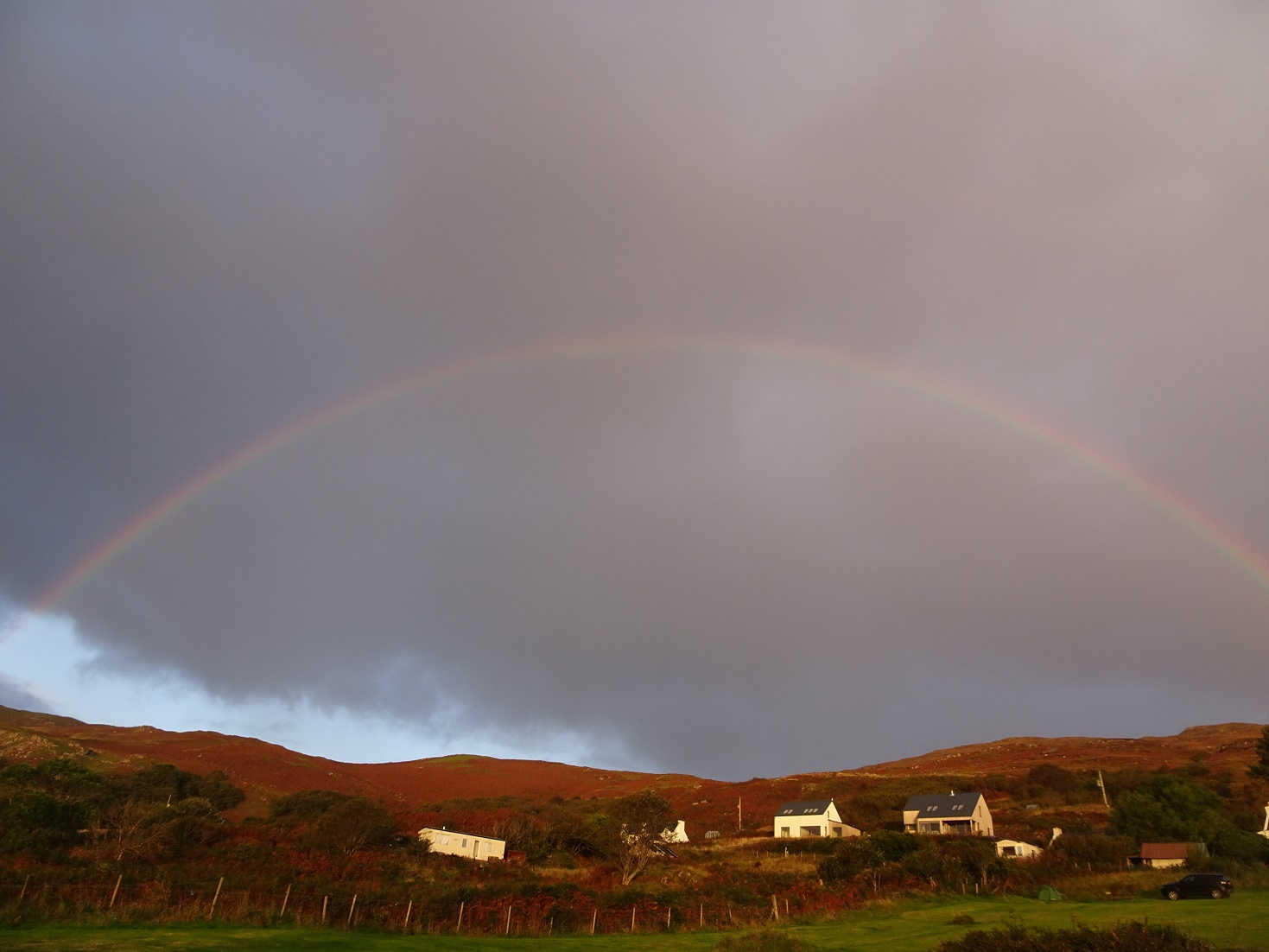 When me and dad opened our eyes Mr Sun was in the blue blue skys. Where we going today Mum? "If your a good girl we will go to the beach" Auo Auo Aou Poppys loves beach! All packed up Betsy climbed the steep track to get out of camp and onto the tiny wee roads. As soon as we left the village Betsy had to stop. Moo Moos were stopping us from getting to the beach. I told Betsy to shift them, Moo Moos are big but Betsy is bigger!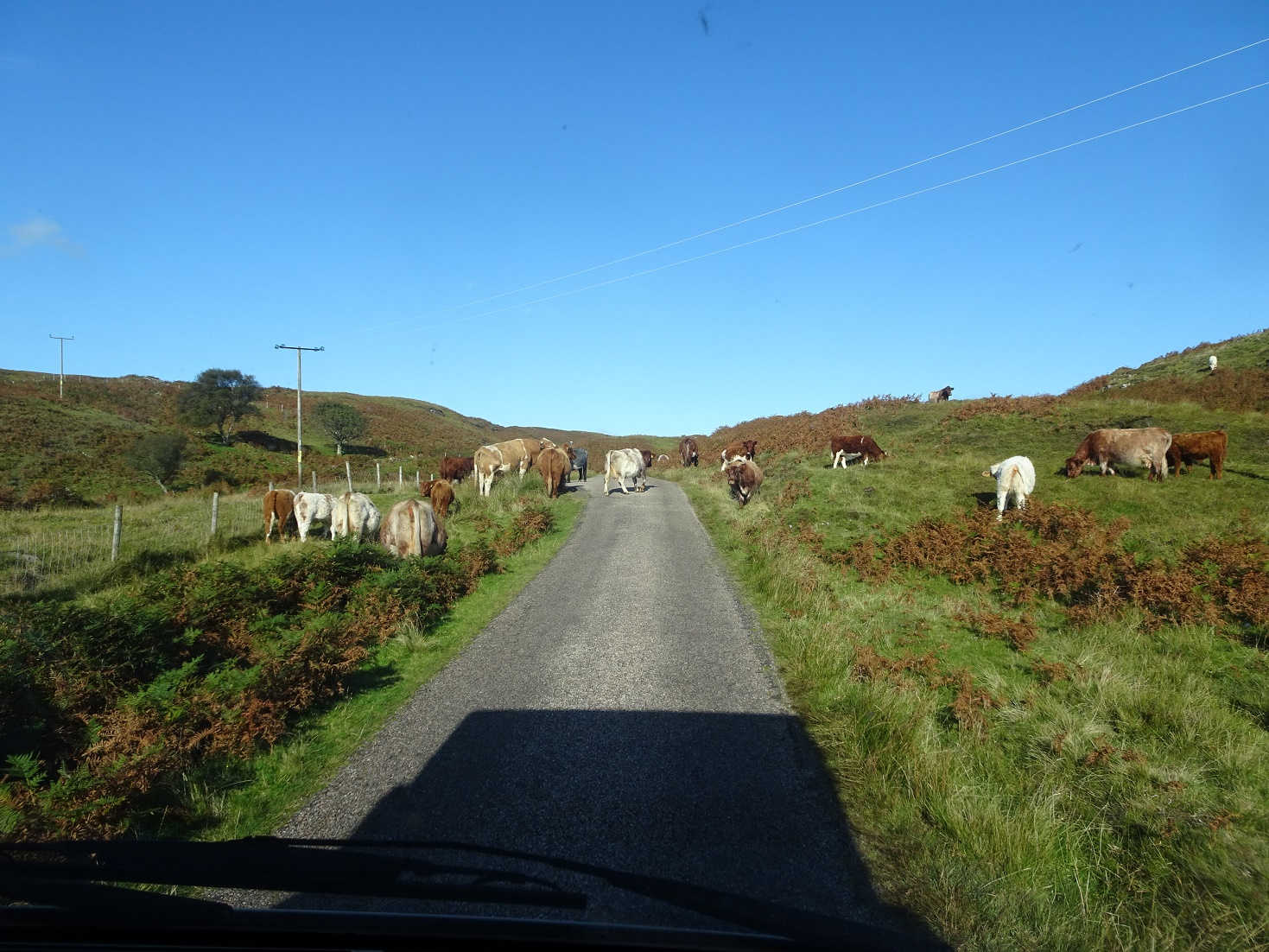 Betsy found a place to rest above the village of Portuairk, Betsys are not allowed to sleep in the village. When got down to the village I wasn't allowed to play on the beach because it was full of Ba Baas. What's going on with this place?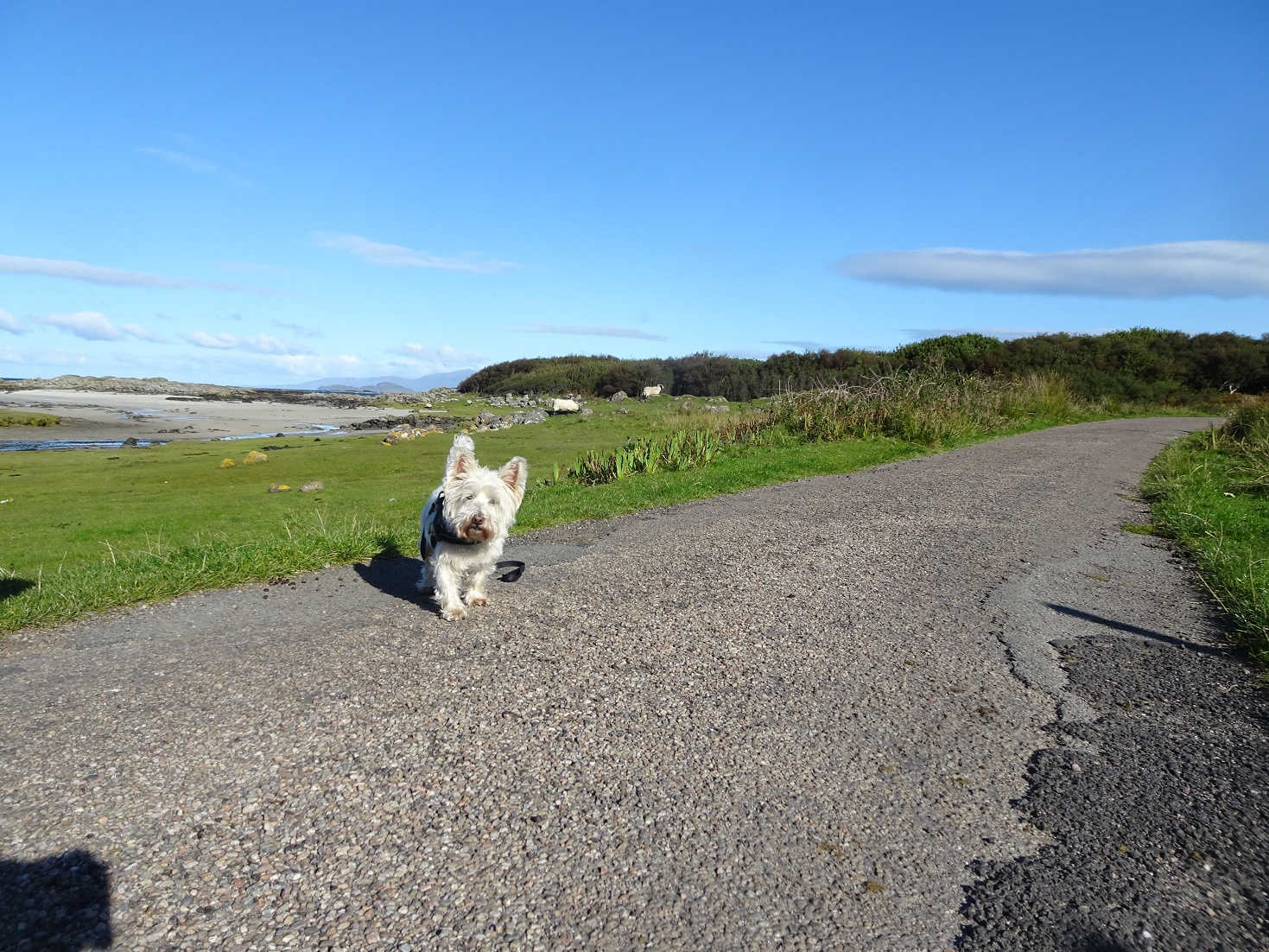 "Never mind Poppy, this isn't the beach were going to" We turned right past some cottages to a water field, we had to jump across the clods to get across the water dry.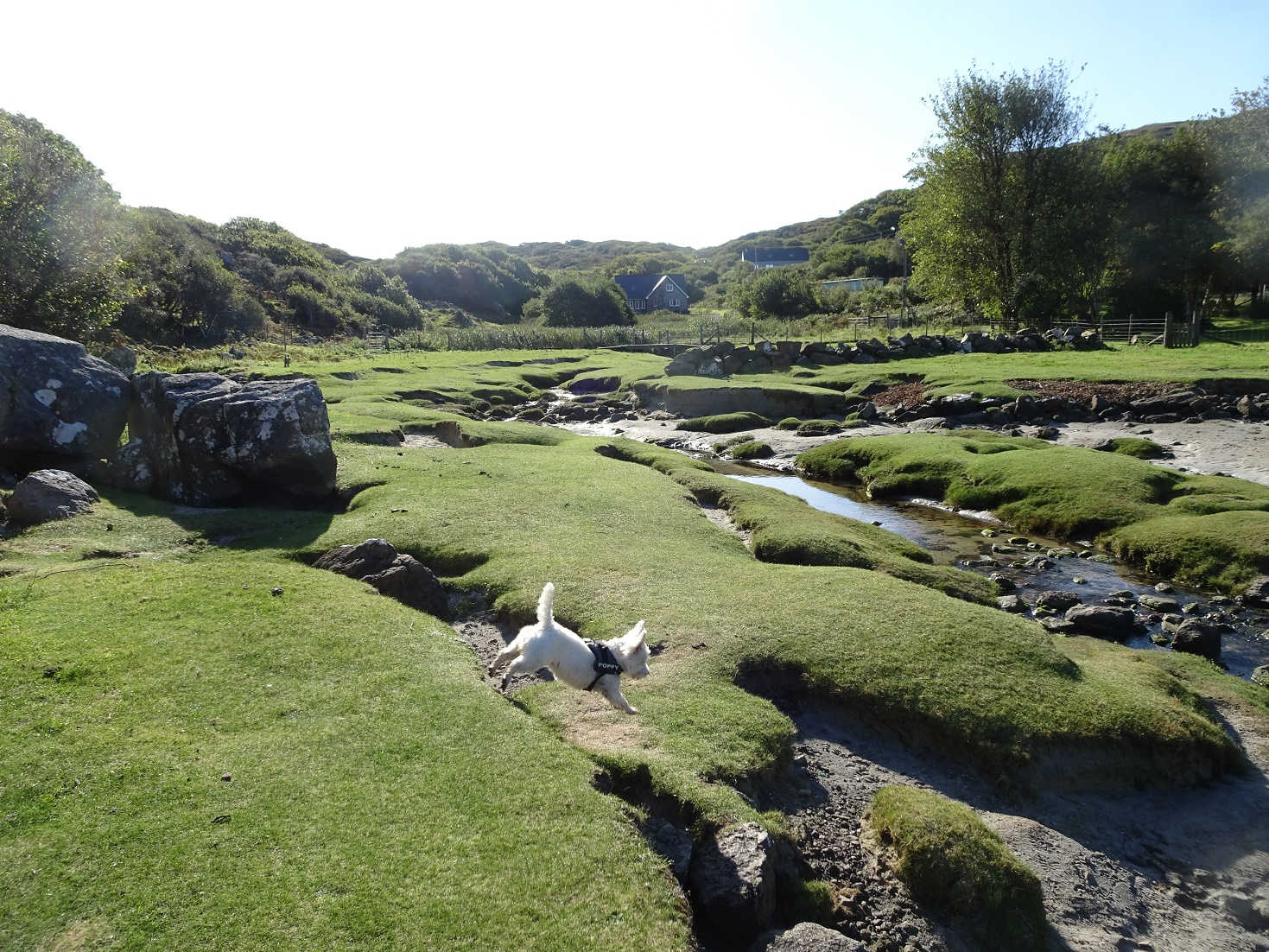 We passed a hut I had to explore it oh oh, somebody's home better scarper. The path got rocky. Soon it was too hard for mum, where is this beach dad? Lucky for dad he found away to a proper path!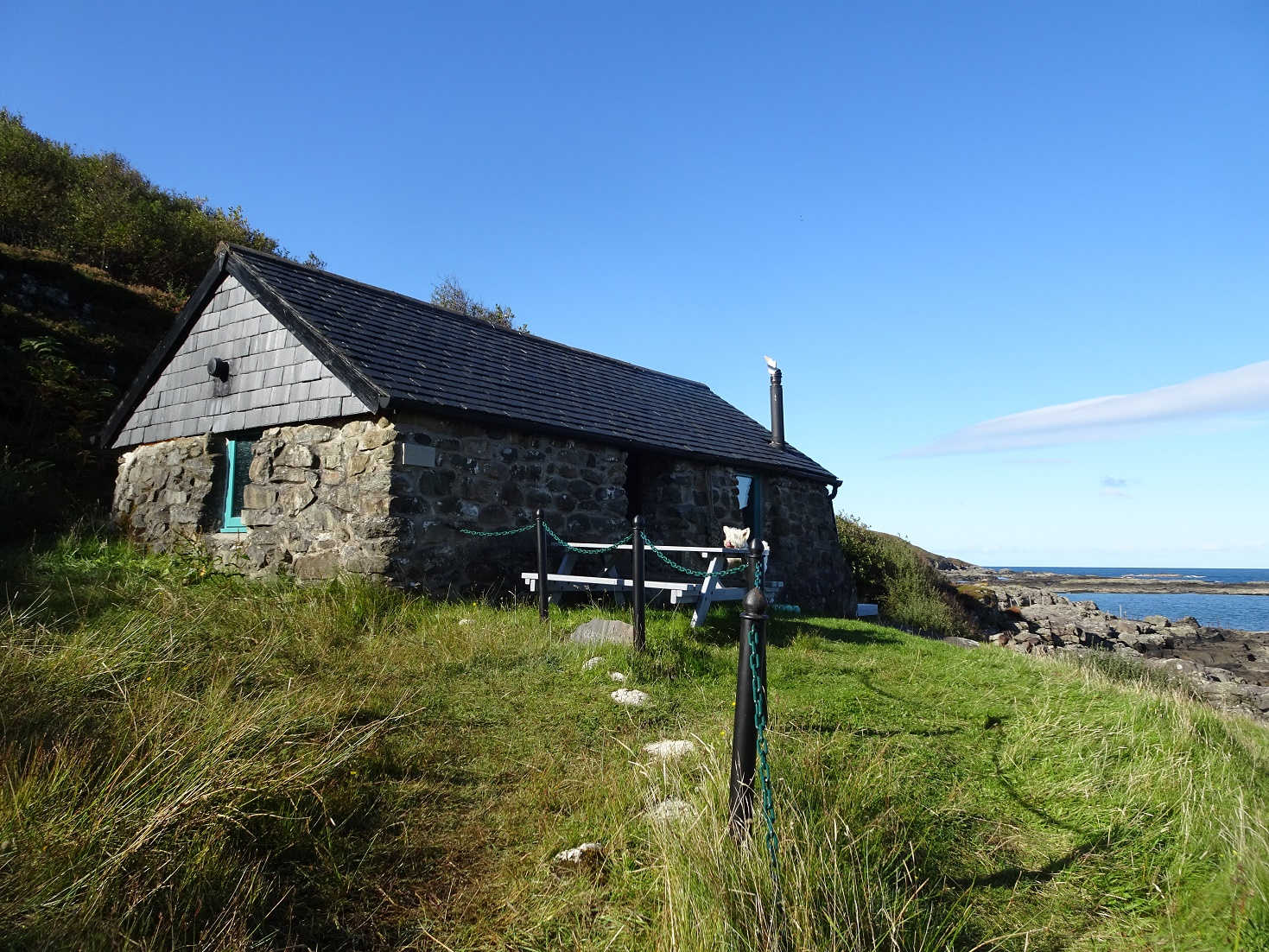 Proper paths have one problem, peoplsees walk on them and make them muddy. Still no beach we plodded up and up and on and on just as I got to the top, hurry mum hurry dad LOOK! Is that Sanna?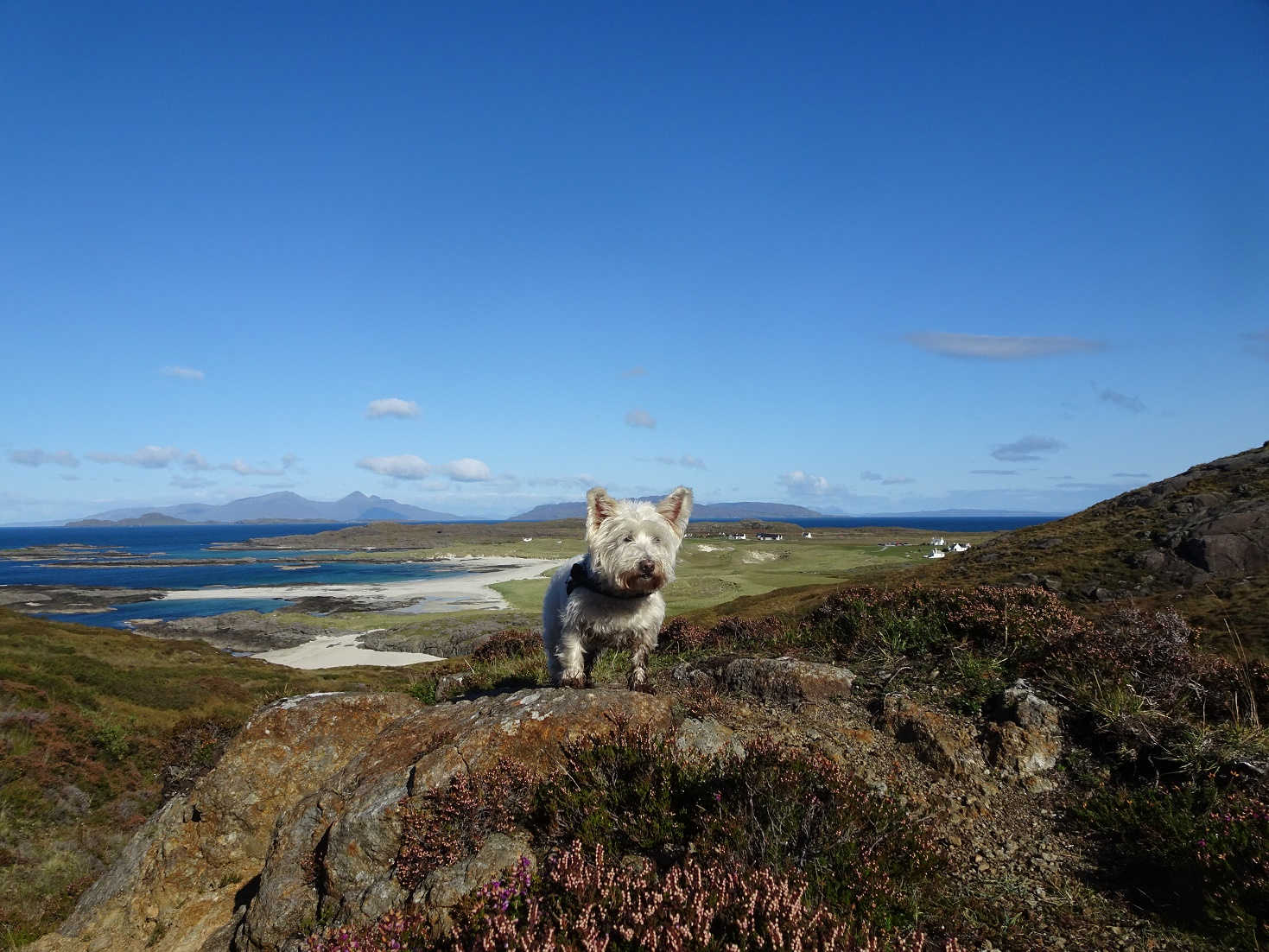 I scampered down the hill having to look over my shoulder to see if mum and dad were keeping up. Finally we were at the first bay and it was all ours no peoplsees anywhere! When i got to it I discovered four peoplsees in swimsuits sunbathing in a hollow in the sand, humph, as long as they keep off my beach when I'm playing ball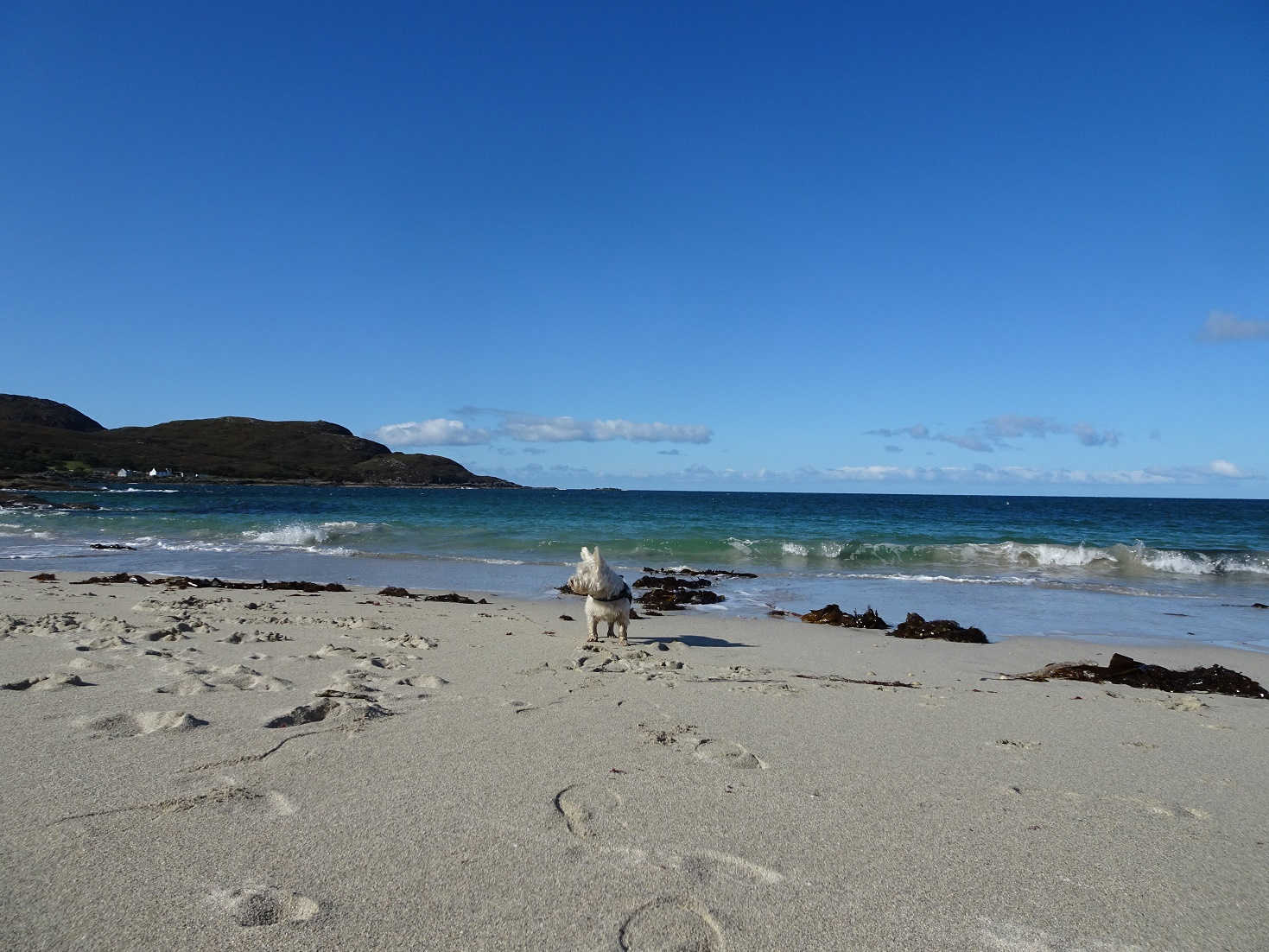 Mum, Dad, next bay, rocks, explore, lets go! Daft dad tried to get camera to take a photo of us all together, hah how was that going to work?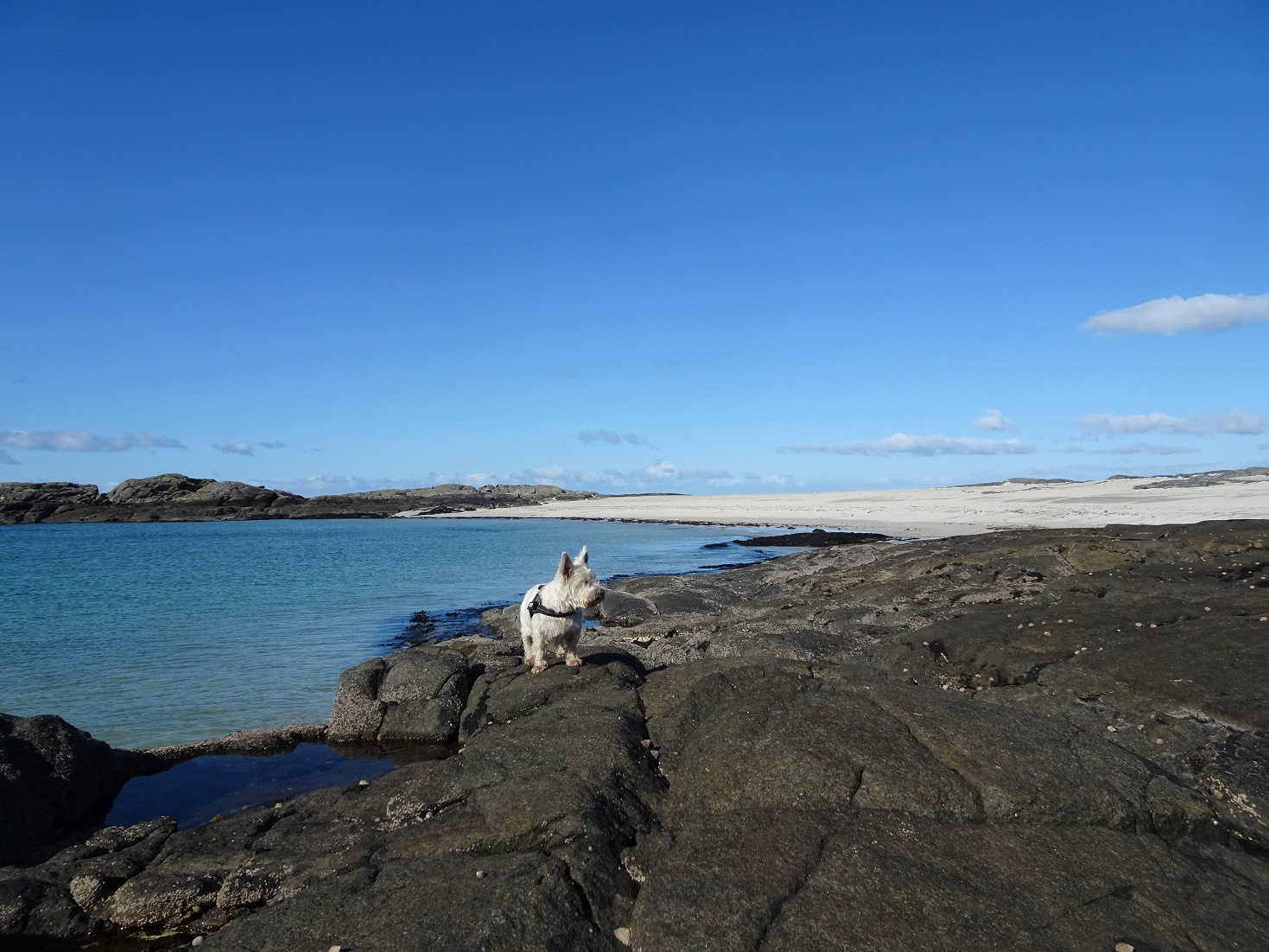 The next beach was even bigger than the last one, BALL BALL BALL. All this playing is hard thirsty work, picnic mum? We sat down at the end of the beach for cold drinks and cooked ham, YUM!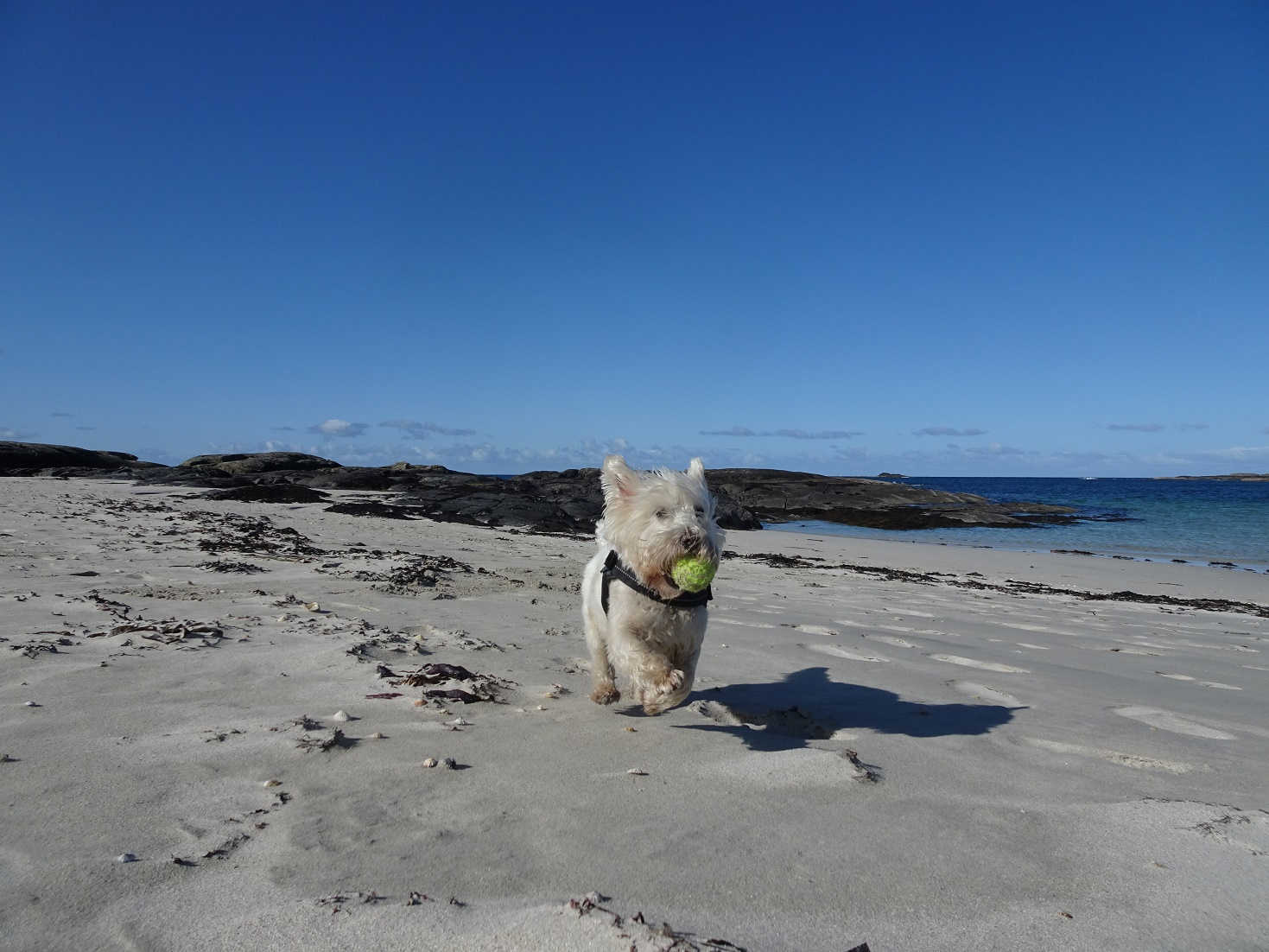 We sat down at the end of the beach for cold drinks and cooked ham, YUM!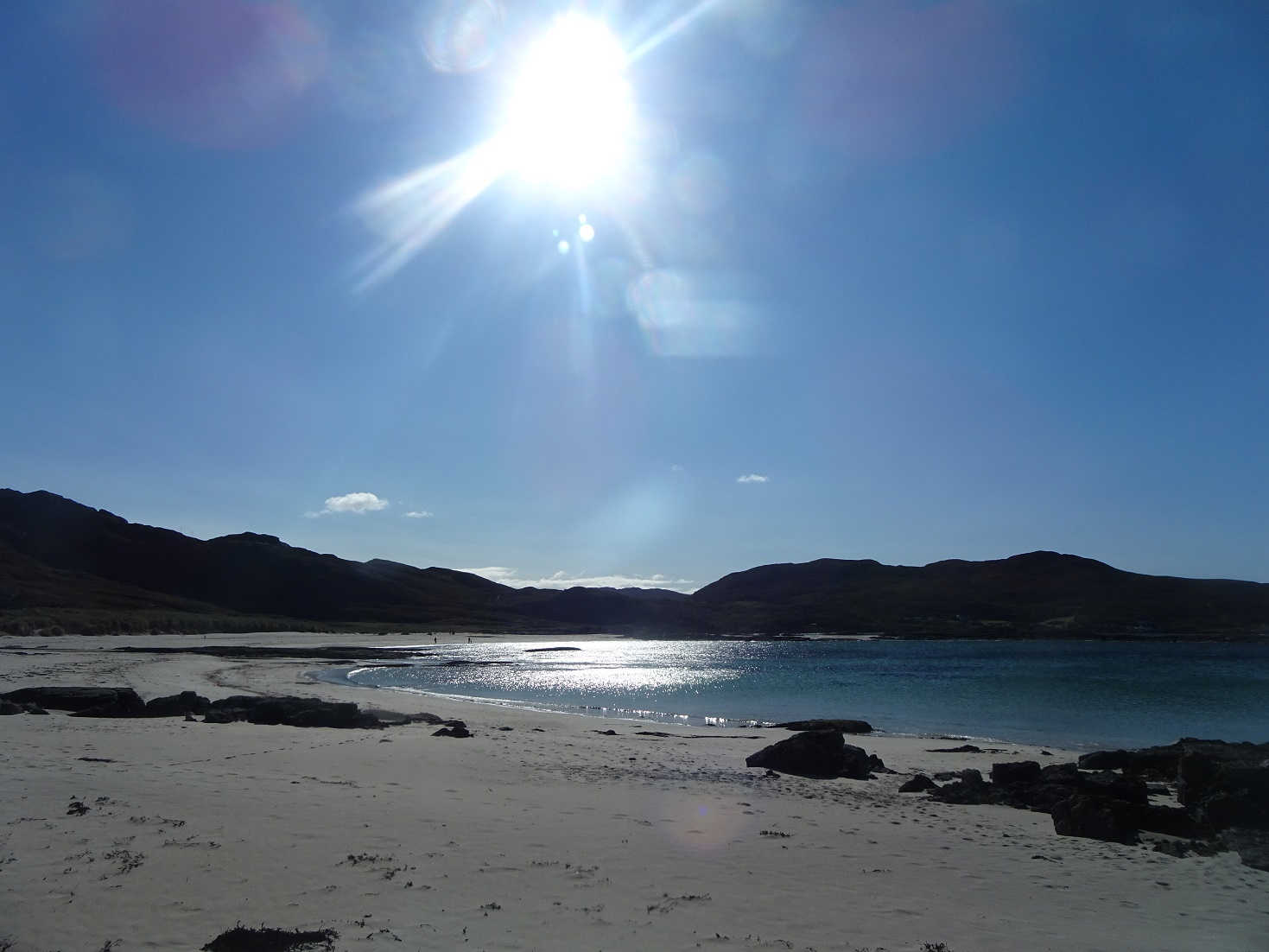 After we finished off again. We passed Sanna point and crossed a rickity bridge. Dad wanted to climb to the cairns to look over the sea to the small isles and Skye. We went along with this for a bit, Stuff this dad lets go back to the beach. Beach! Beach! Beach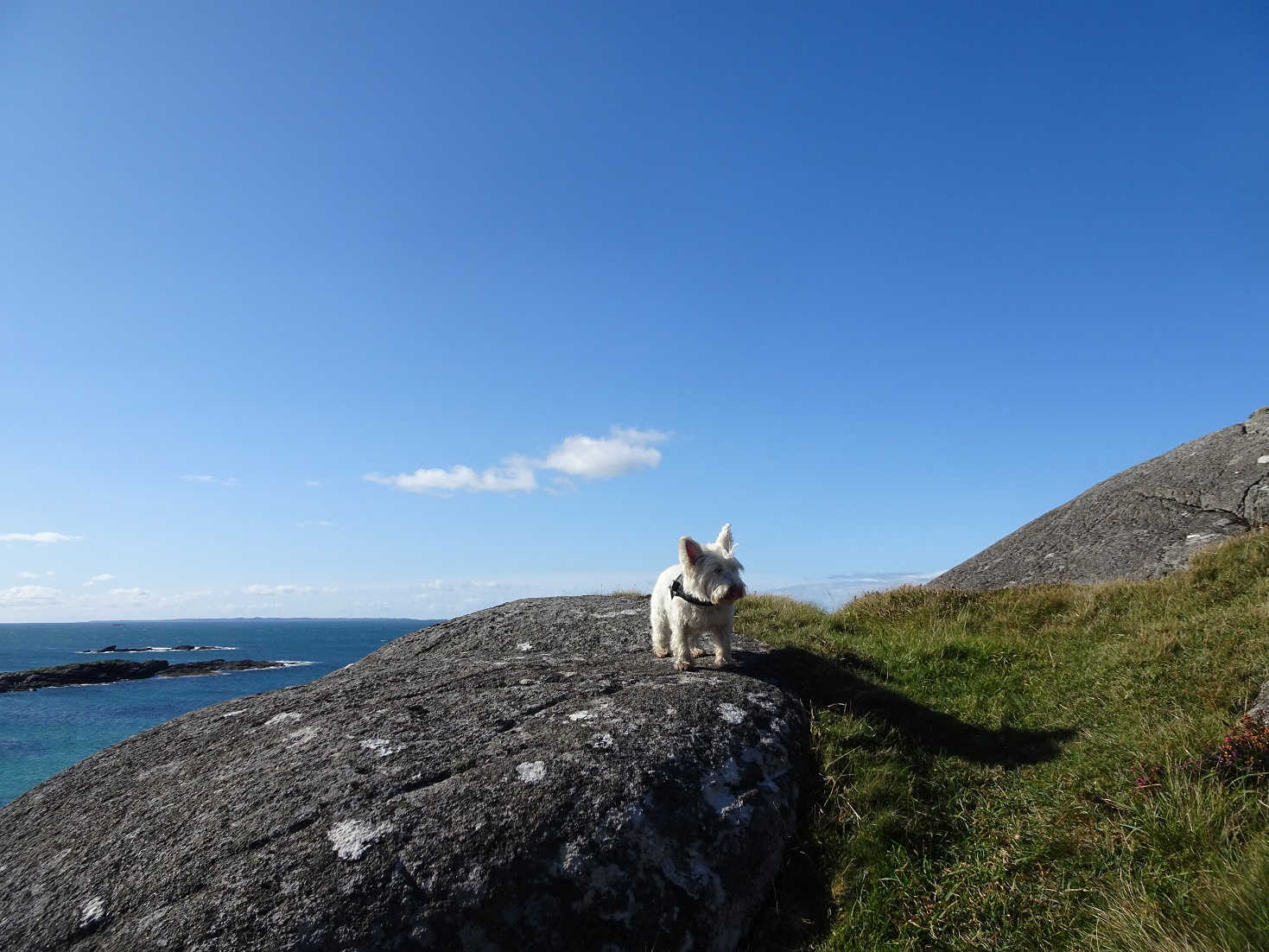 So back across the peat bog, and back to the wee bridge to the sand.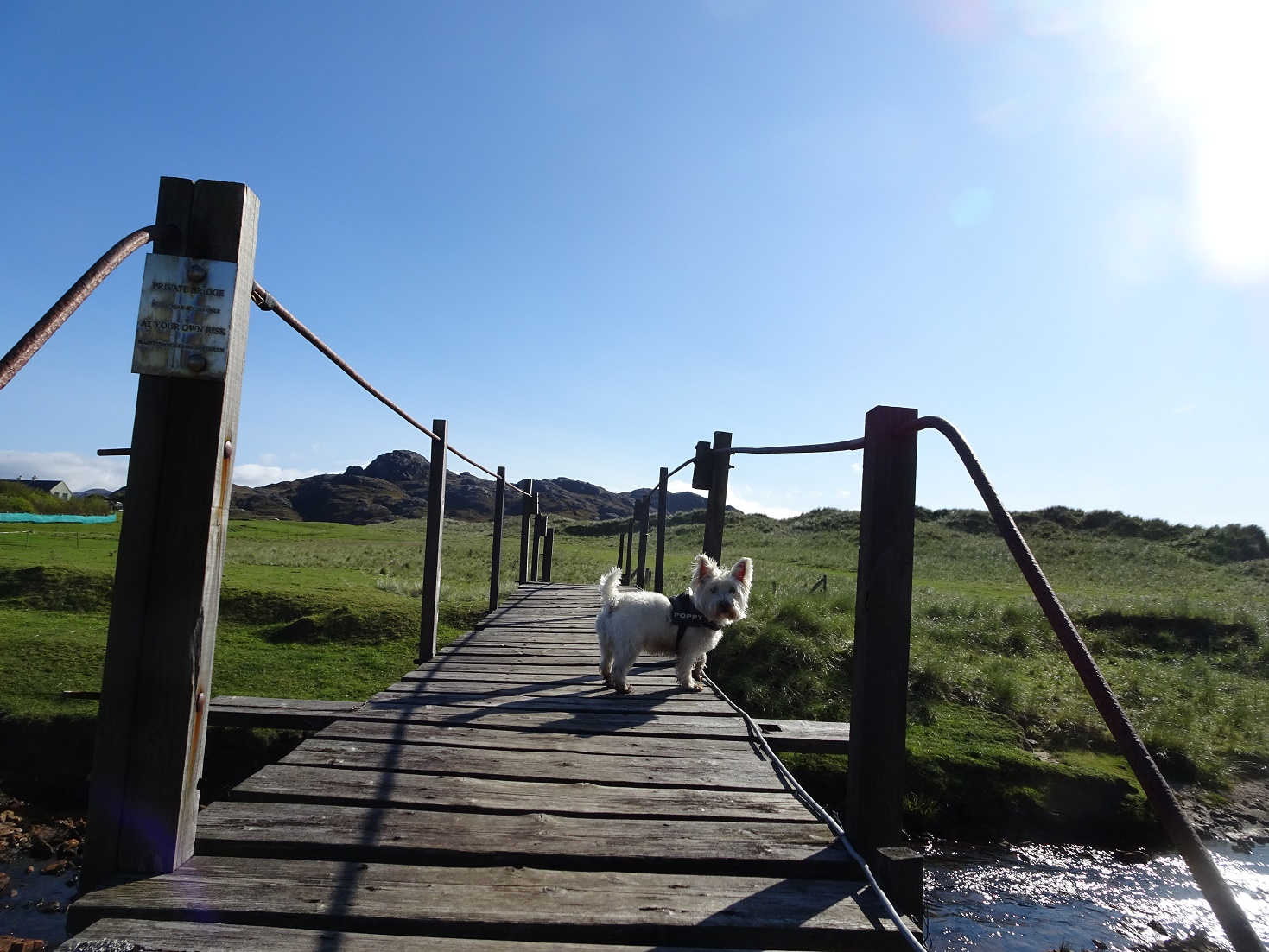 The beach had shrunk! Half of it has gone. What's going on dad where did all the sand go? It was hard for me to find the path back to Betsy, it looked so different and all the smells were underwater. Dad, I found the path come on. The path was different on the way back, it was very steep and by the time I got to the top I was bushed. Time for a wee rest till mum catches up.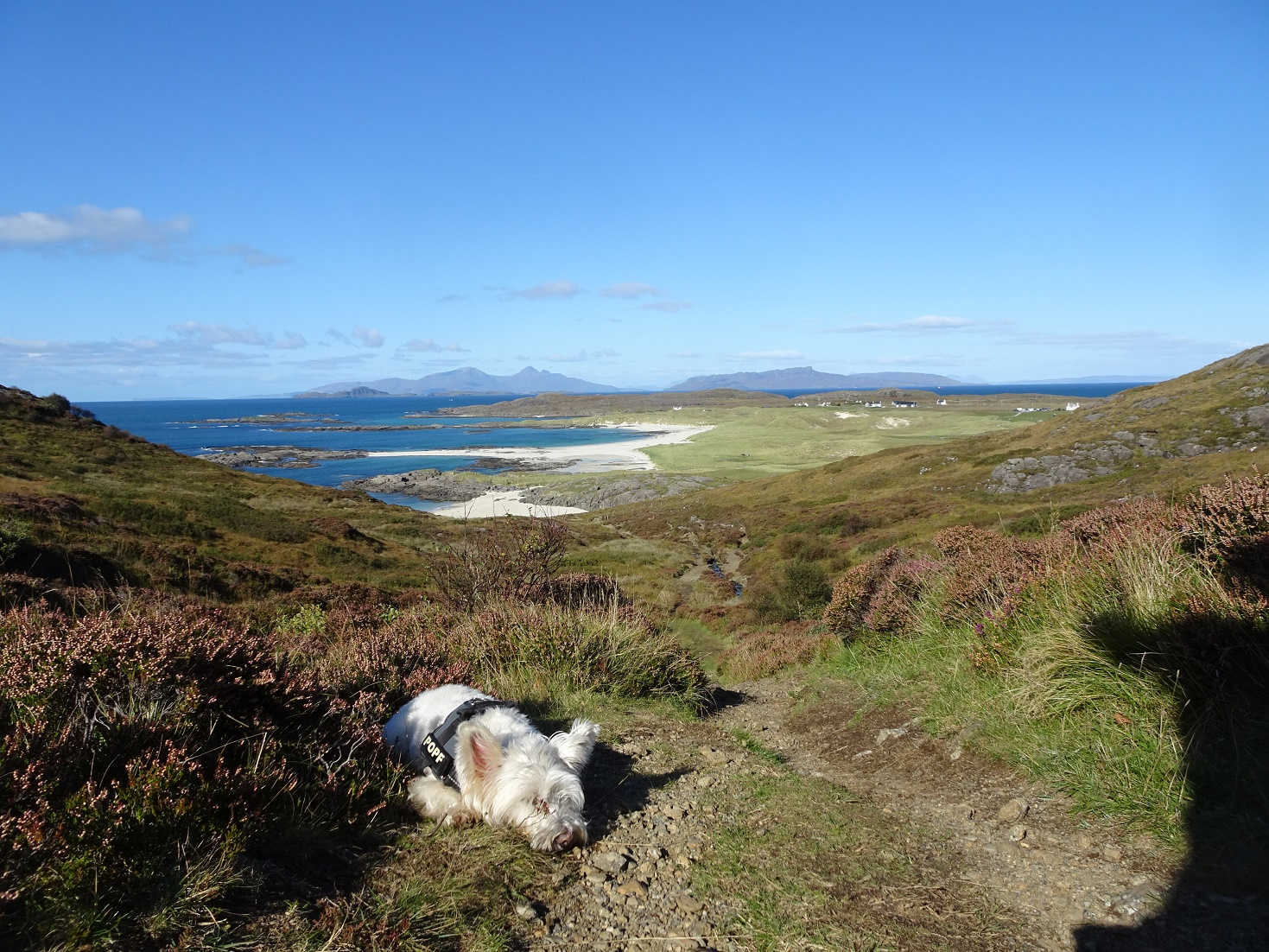 I was so glad it was all downhill to Portuairk. When we got there I remembered where Betsy was….at the top of the hill. It was very hard going back up the hill. It was so nice to be in Betsy, soon she woke up and we were off again. Oddly Betsy had to stop a light pole, I haven't seen one since the ferry days ago. It turned green and Betsy edged her way along a very scary wee path. She perked up as it got wider and rested beside a huge lighthouse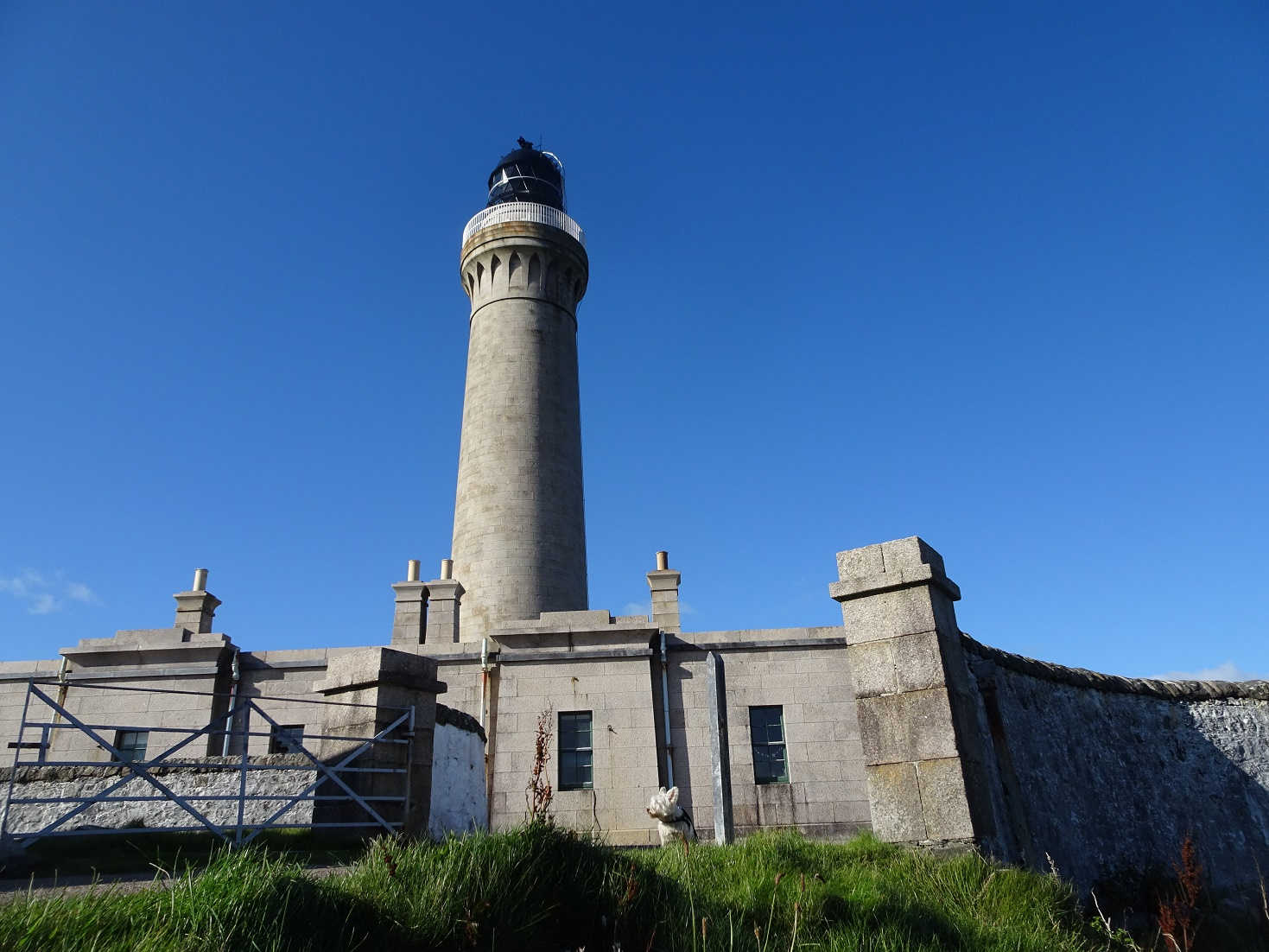 Off leash I got to explore, dad told me not only have I now been to the furthest north, east and most southern parts of Scotland I have now bean to the furthest western point of Great Britain!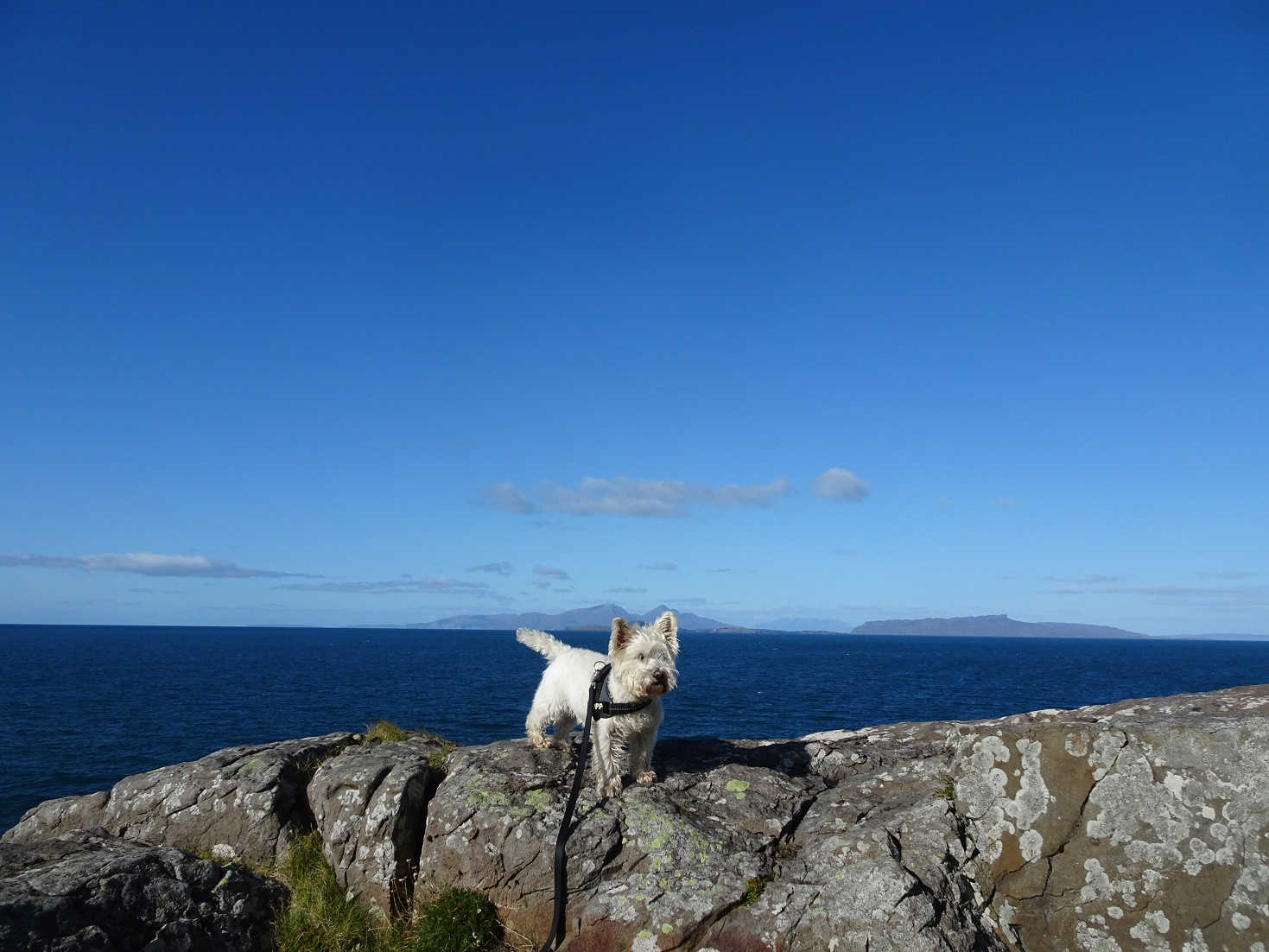 I went for a good sniff about the place, mum and dad got worried when I was close to the cliffs, daft mum and dad, 4 paw drive poppys don't fall off cliffs. Mum went to the café shop Me and dad hung out with the local sheepdogs, didn't like them much so gave them a big GGRRRRRRRRR
Betsy took us back to camp, I was so happy, couch, cushion, nap time. I was not happy when dad woke me and put harness on. Dad just leave me. No joy. Mum and dad put leash on and dragged me out of Betsy. We passed our new neighbours, 3 big dogs, I'm not to sure about them. Up the hill and onto the road to Kilchoan. I really can't be bothered, in fact I'm going no further!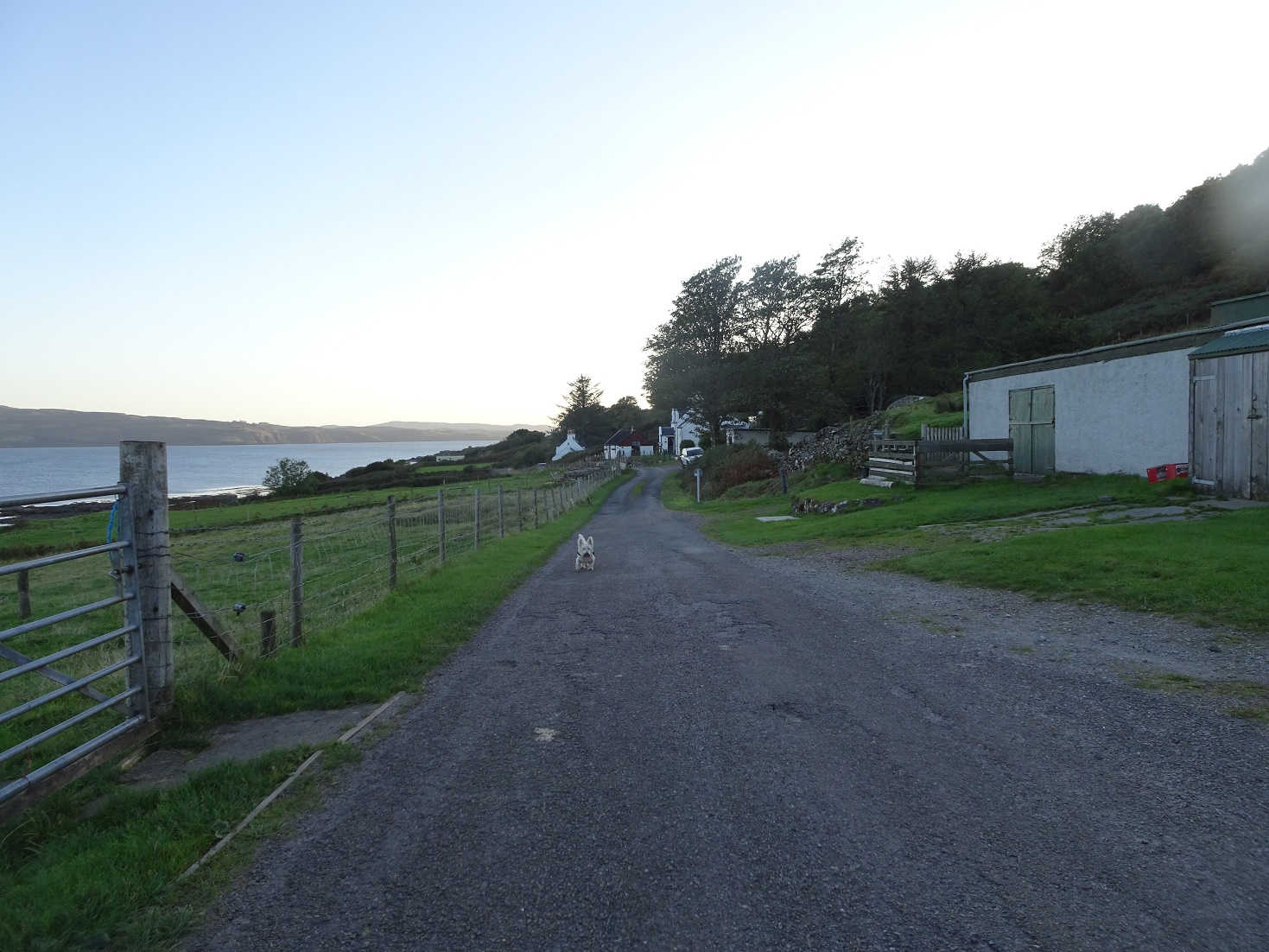 Mum and dad vanished again, grrrrrr, better catch them and make sure they are safe. mums and dads can be so frustrating but what can you do? After ages and ages we stopped at the Kilchoan Hotel for dinner. It was the same hotel we took shelter from the wind and wet yesterday. Dinner was good I got yummy fishes and scampis. The only sore point was my legs. It's dark outside and its a long walk back to Betsy.