Silversands and Portnadoran
Sunny days at Silversands. We are going to visit the old campsite at Portnadorn today. I can't remember exactly but I don't think its far away, I was a pup when I last was there. Well it was a bit longer than I remembered, after a quick whirl round the old camp BEACH!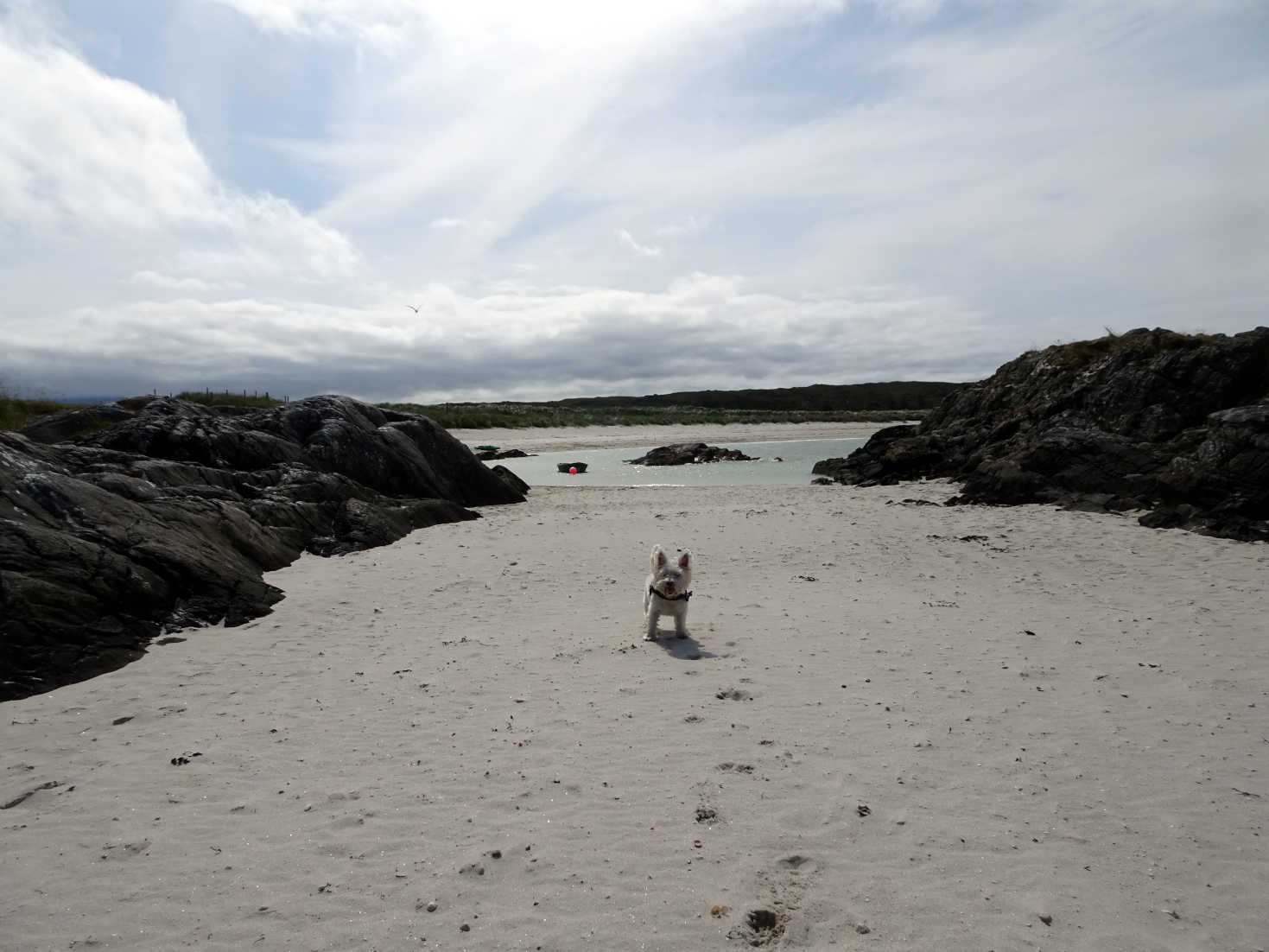 We jumped down and went to the big part for a game of ball, It's just like I remembered nice water and good sand for ball. What are those islands dad? "Eigg and Rum" said dad. I haven't been there have I? "Not yet Poppy" said dad.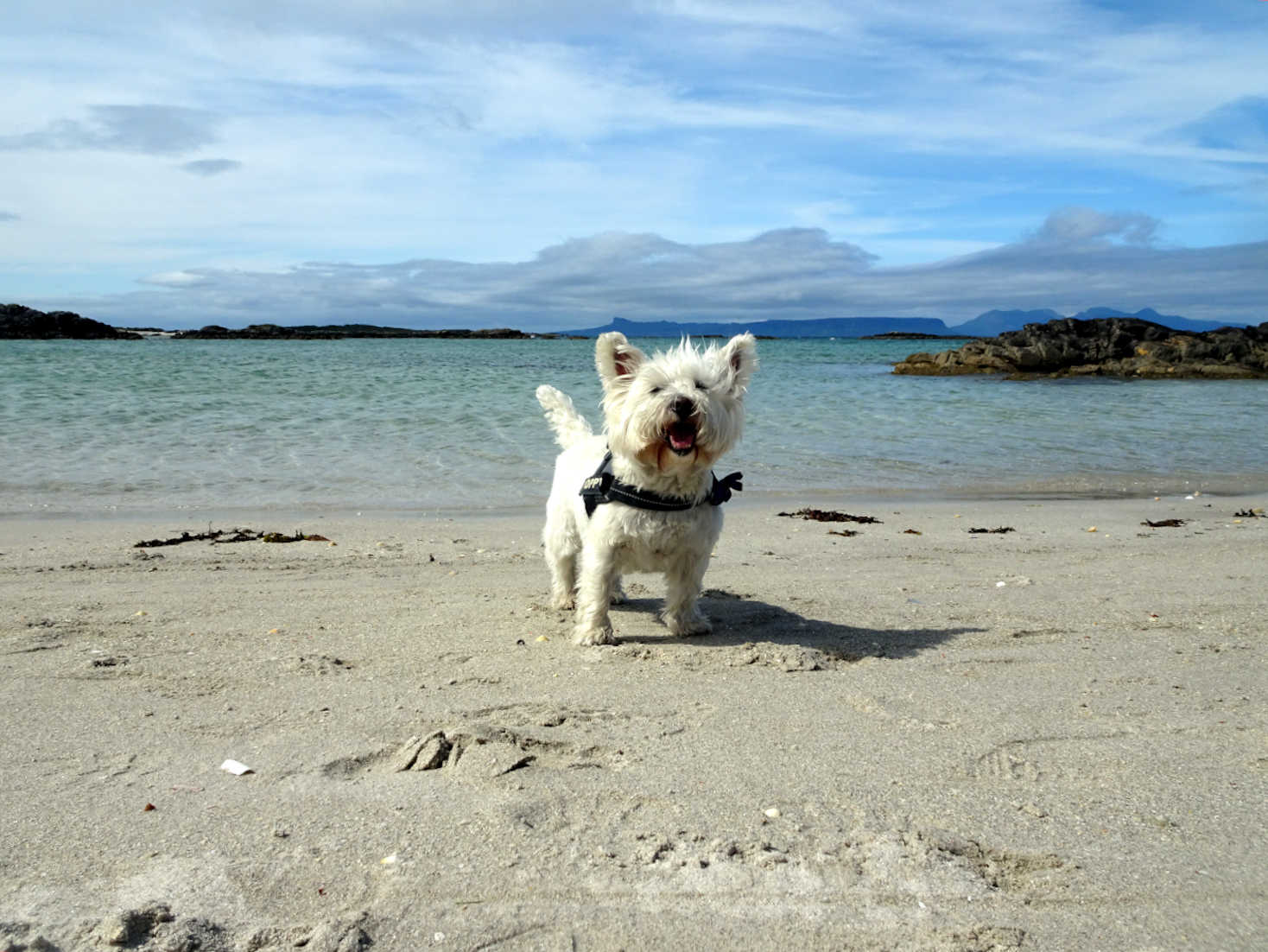 At middle of the beach there are rocks to climb on and get a higher view. I can see the whole beach from here.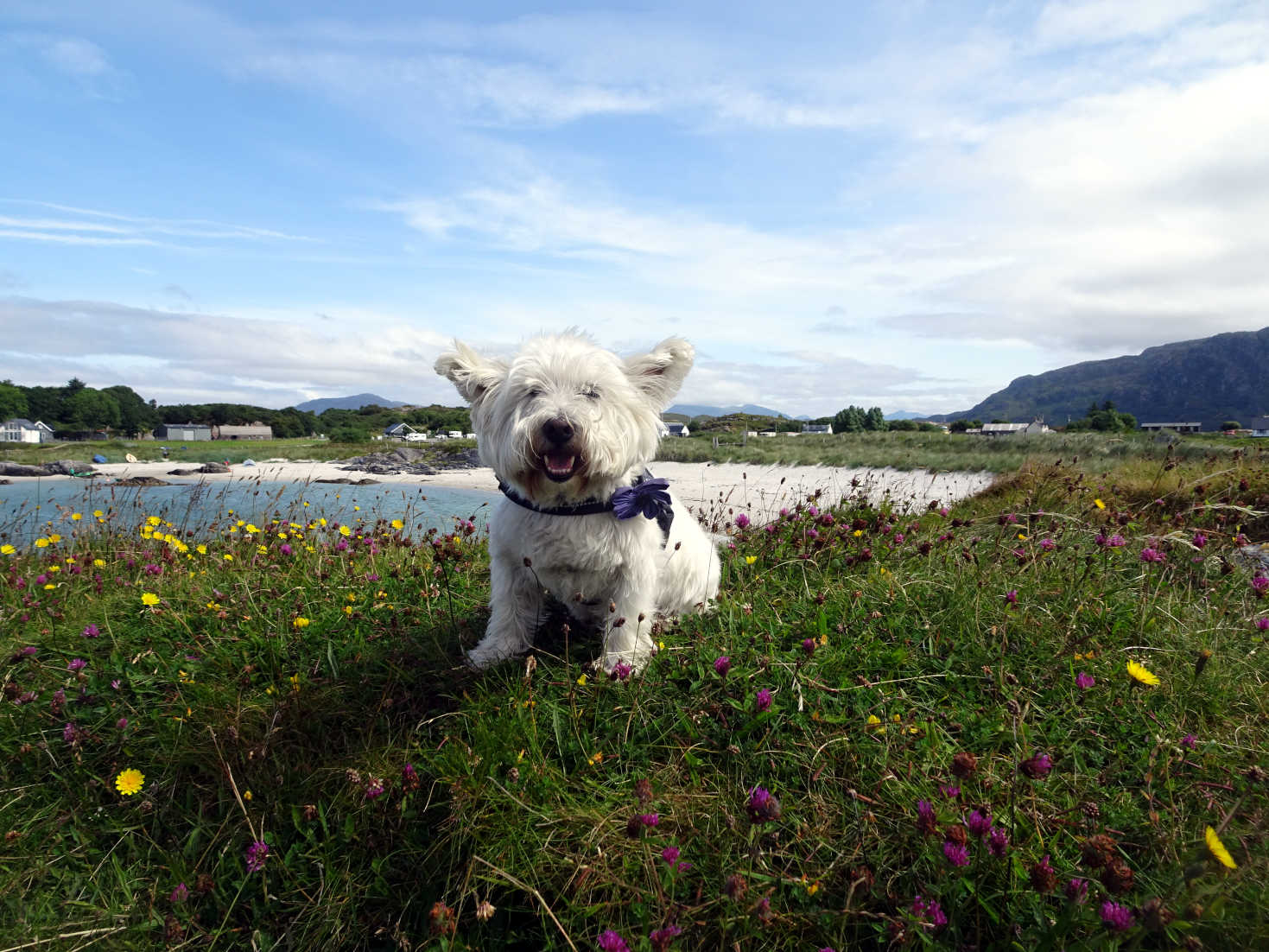 Lets go further. The beaches here come to an end at a river. On the last beach were two funny poles with hoops at the top. Dad? "People play ball games with them Poppy" said dad. Peoplsees are daft! How would you use them to play ball?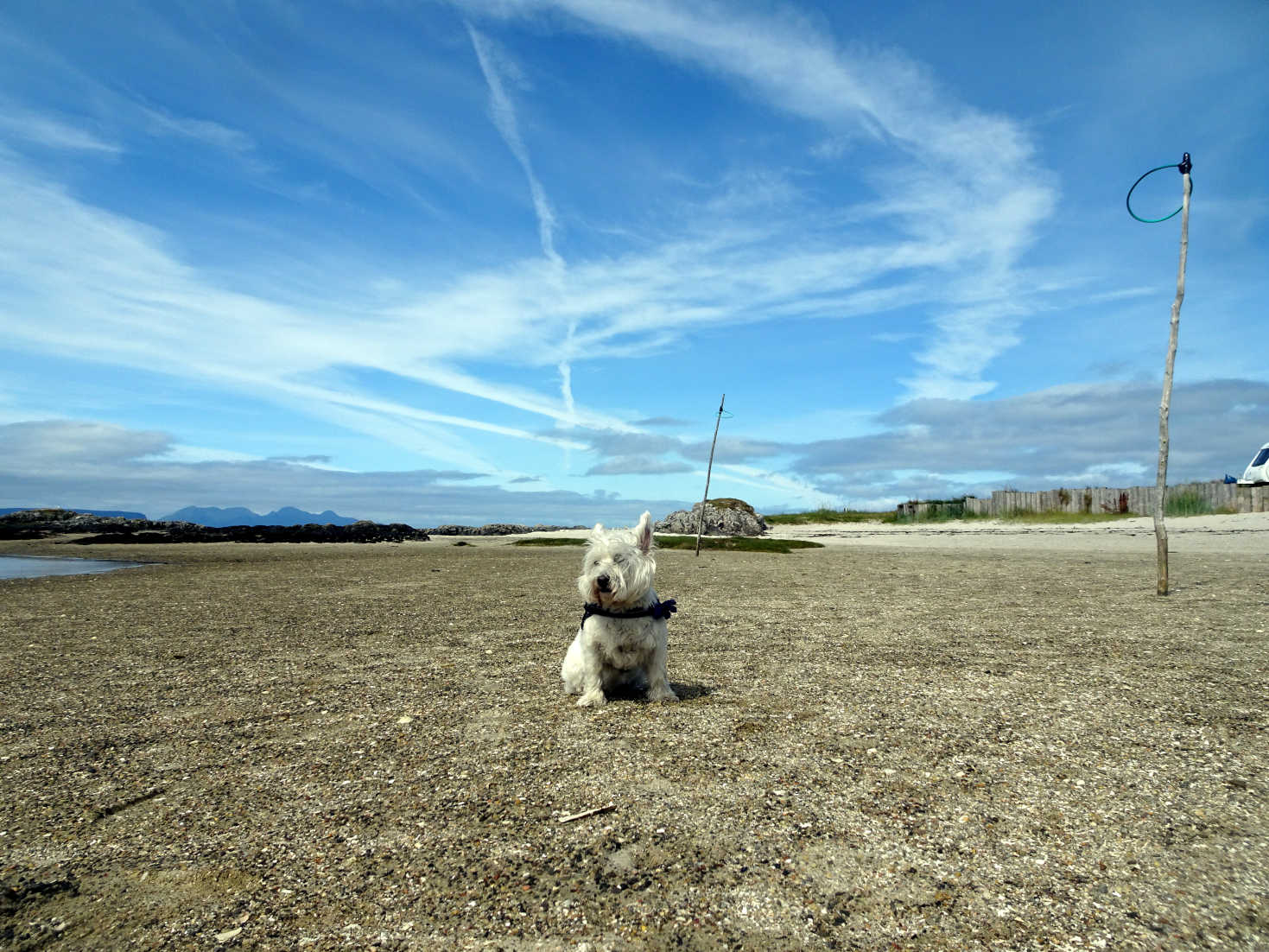 Dad decided to take a short cut back to the road through another campsite. It didn't work out quite how he planned. We followed the path by some tents, over flat boardwalks up towards the road. Hold on dad, how do we get into the camp? Its protected by jaggy wire. Worse than that it goes to a peoplsees house! "We will just sneak past" said dad. Dad I don't think sneakin is going to work, we've been rumbled. The big sheep gang have spotted us and they are not happy. Quick you guys run and I'll hold them back.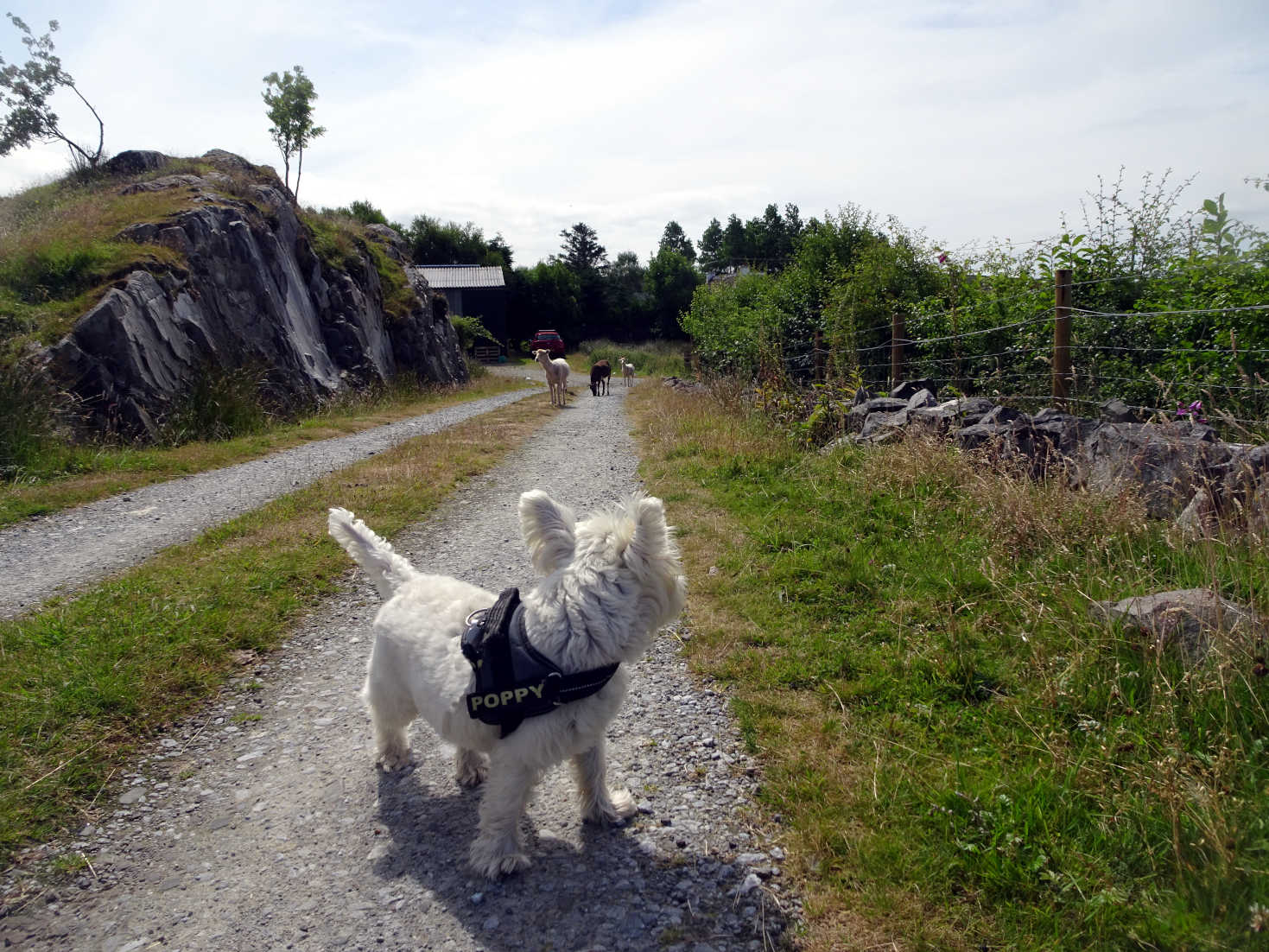 The walk back to Betsy was nice, hardly any cars and was off leash the whole way, look dad there is our beach down there.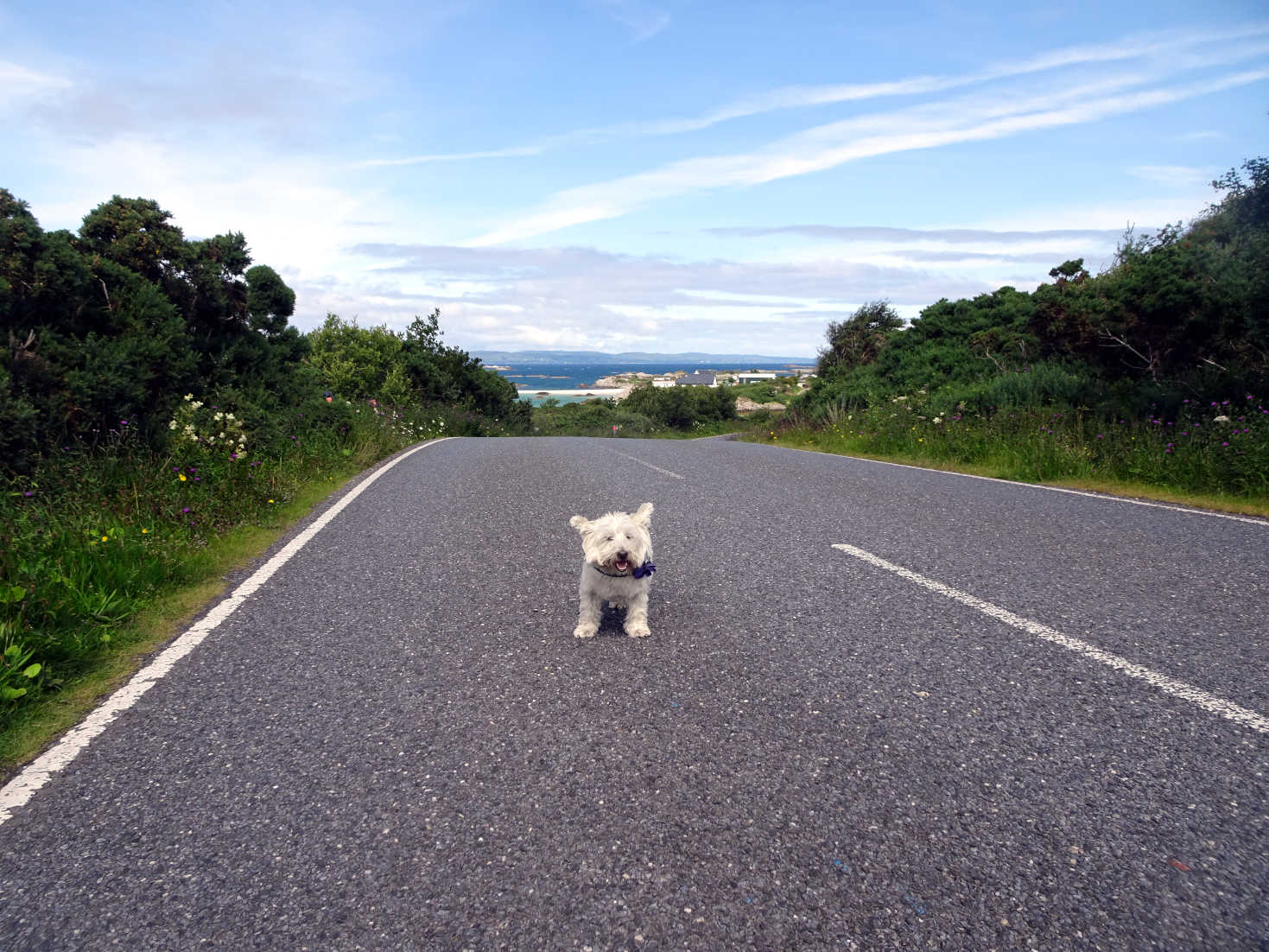 Back at Betsy lunch. Cheese, ham and gammon YUM! Dad beach? Look its empty, Ball?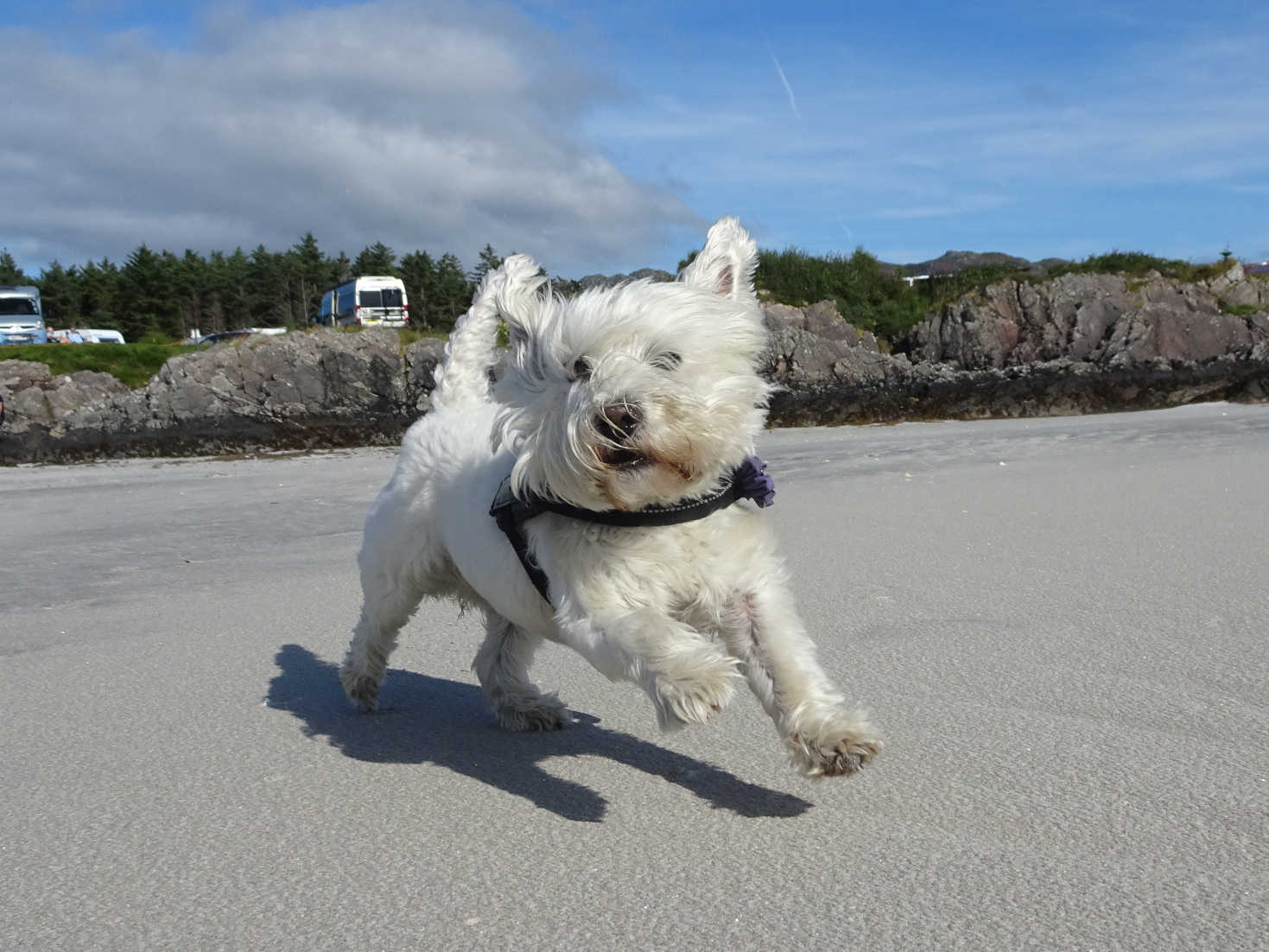 Back at camp mum and dad were tearing Betsy to bits looking for a pump for the kayak. What they want with the kayak I have no Idea. I'll guard out here to frantic in Betsy.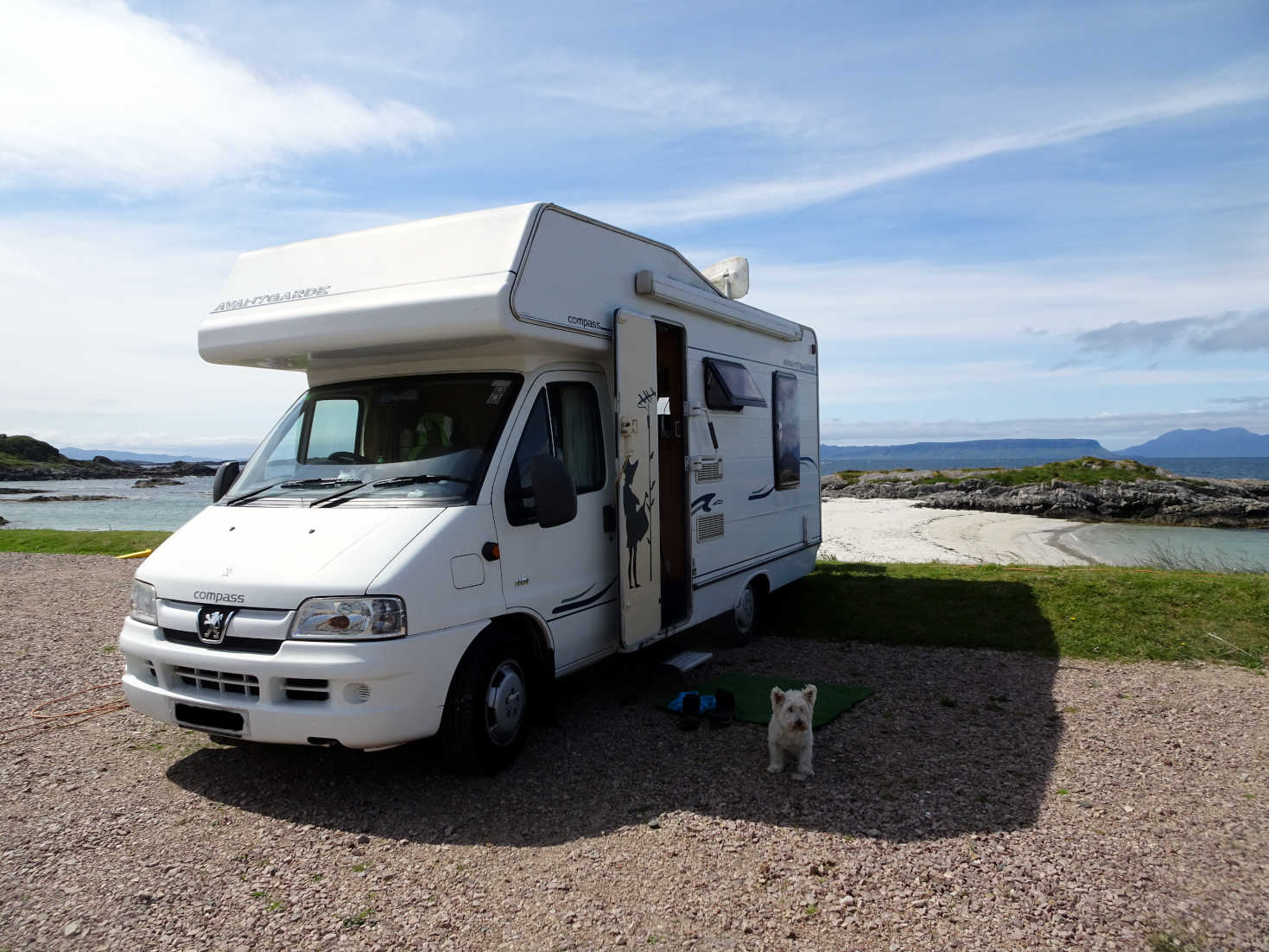 Betsy turned Inside out and upside down Mum and dad started emptying the back box! Poor mum and dad, chairs sitting with a nice view sitting empty.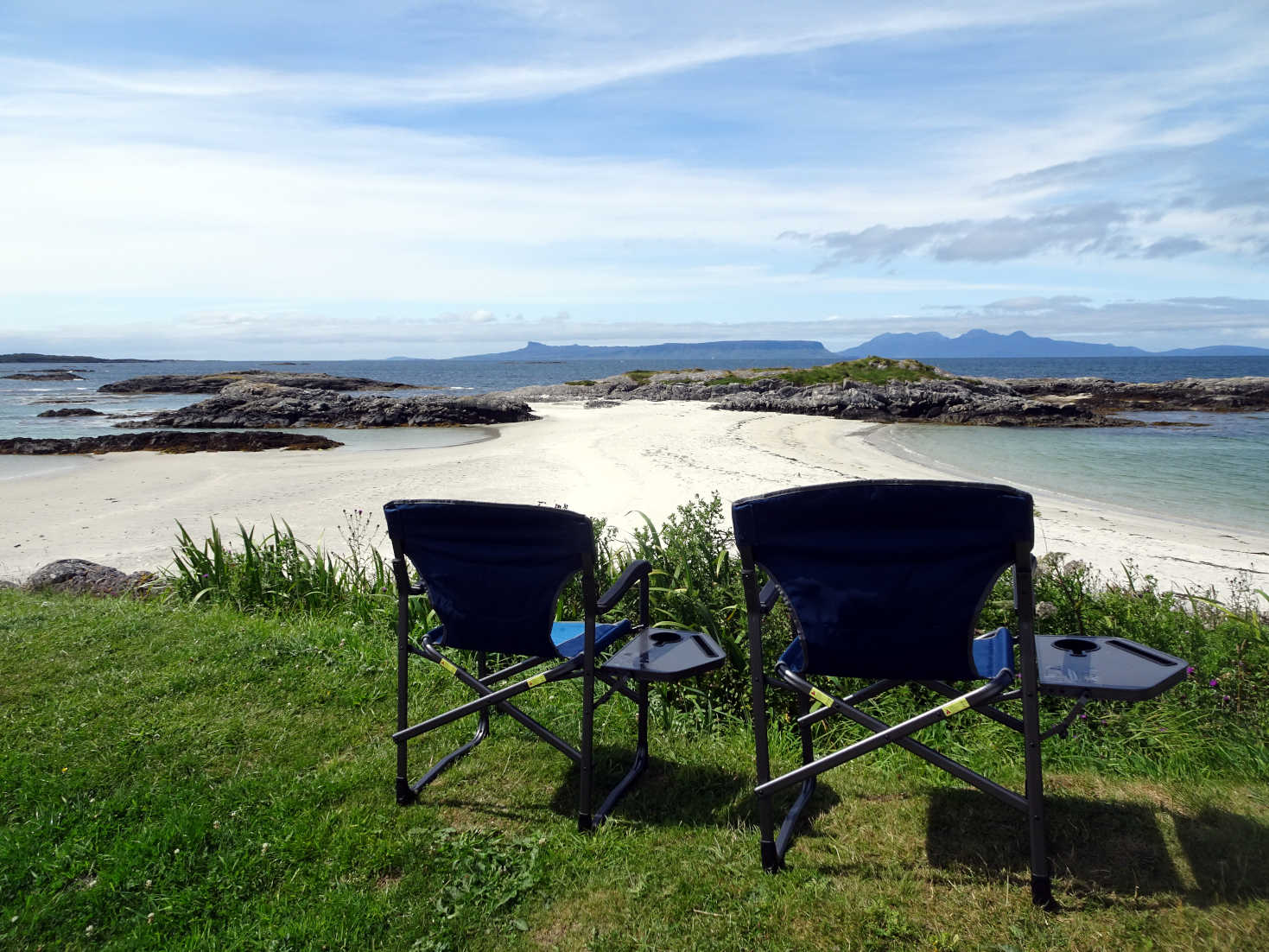 Finally they gave up. Mum was very upset. She went on tinternet and phoned peoplsees to try and get replacements, no joy. Tonight we are going to get Thai takeaway, mum made us go via Arisaig to find a kayak shop, it was nowhere to be seen, good try though. When we got back to camp dad made her a sprits to cheer her up. Finally their chairs got used. I plodded about the front of camp till it got late and we all went into Betsy for the night.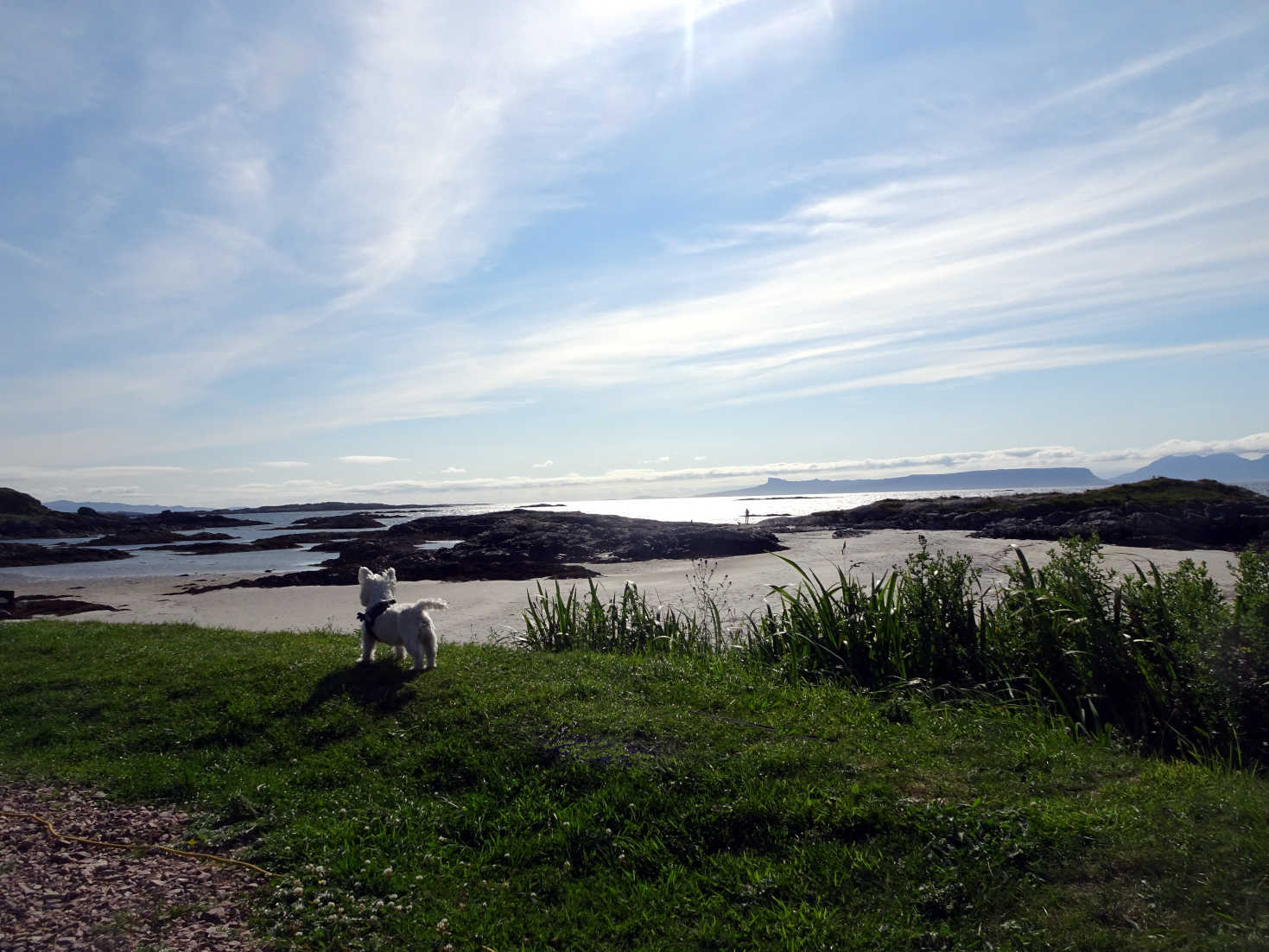 One last walk as the sun went to bed, brighter than last night dad.