Betsy was ready to roll early this morning. By the time I had finished my morning walk she was raring to go. She headed off by the airport then swung right. New roads to follow. First she took us to Castlebay. Castlebay is a small town in a bay with a castle in the bay. She stopped at the COOP where mum was going to buy bread, she got the last loaf. Dad wanted to by light bulbs for Betsy because both of her stop lights were broken.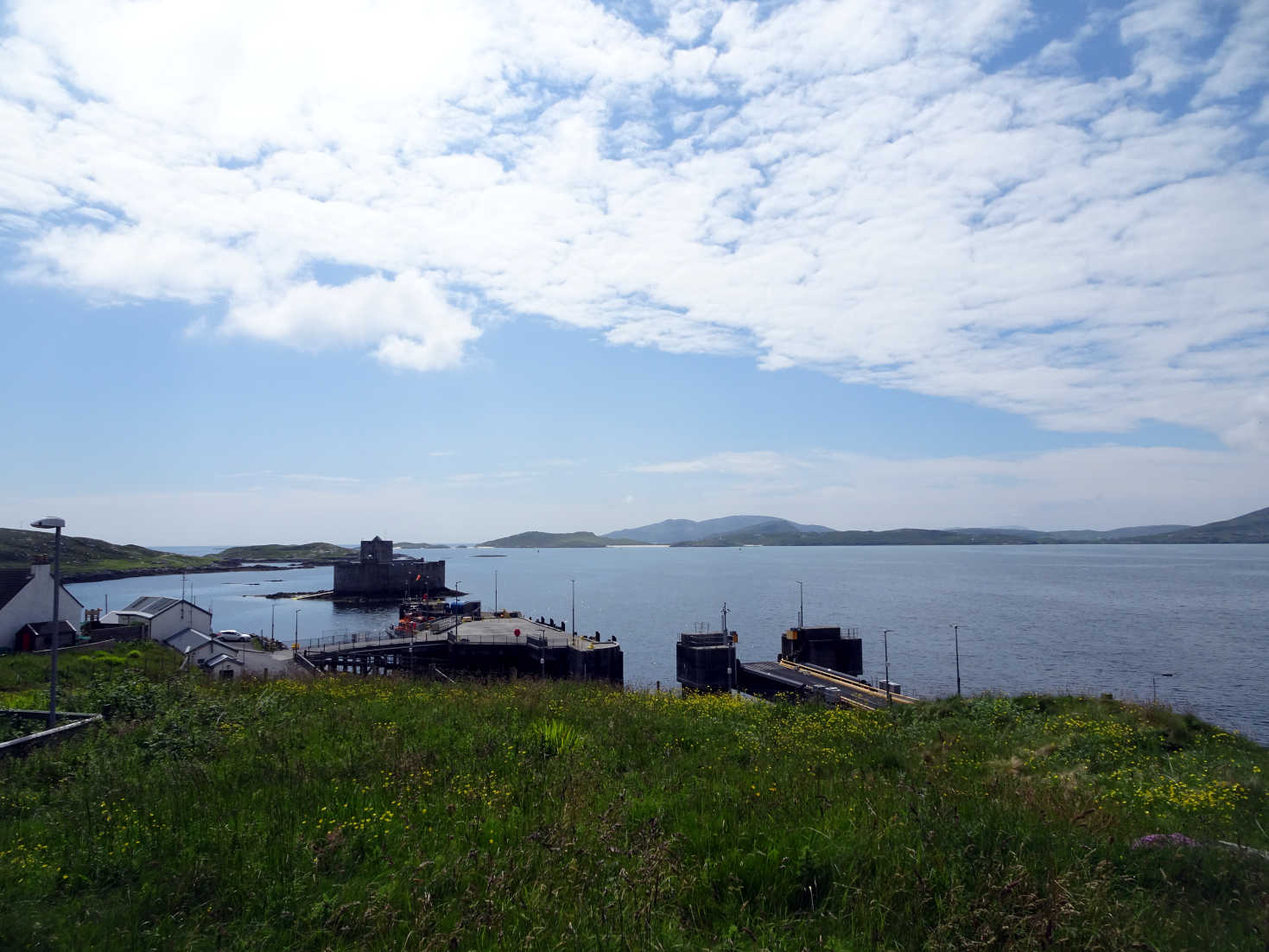 Mission accomplished she fired into life and was off again. As she headed out of town she pealed off to the left. Soon we came to the end of Barra and crossed a causeway onto Vatersay. We were meant to stop at Vatersay Hall but it was full of cars and vans, no space for Betsy. She went a little further and found a place to rest at the side of the road. Out we got and headed across a field. Mmmmm, poppys can smell perfume! To mum and dad's horror I covered myself in the free perfume. "Poppy! No!" screamed mum, too late mum! "Bath time for you then" she said.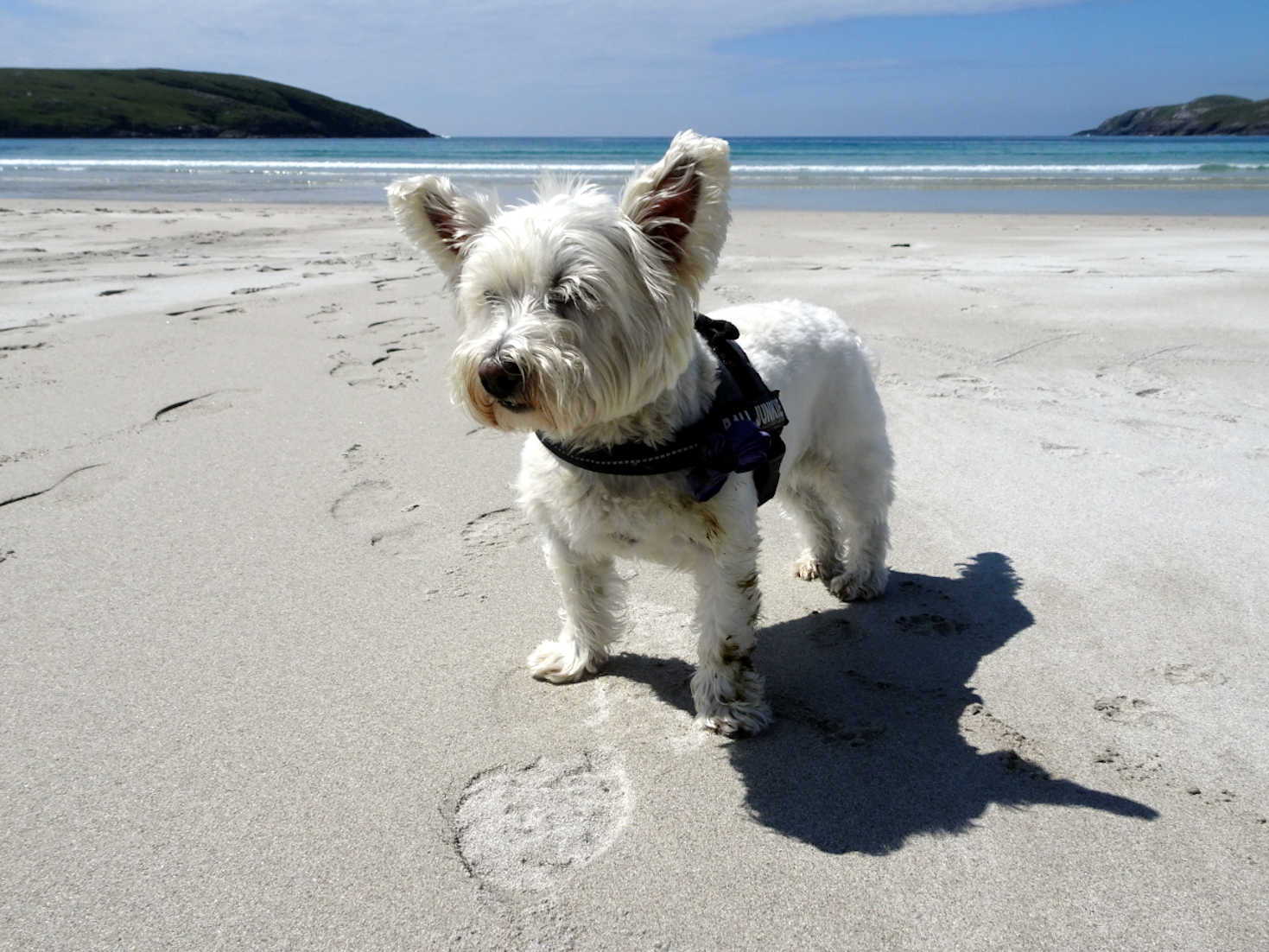 As soon as we hit the beach mum and dad had me in the ocean and were scrubbing all the perfume off me, I was drookit. At least the sun will dry me off quick.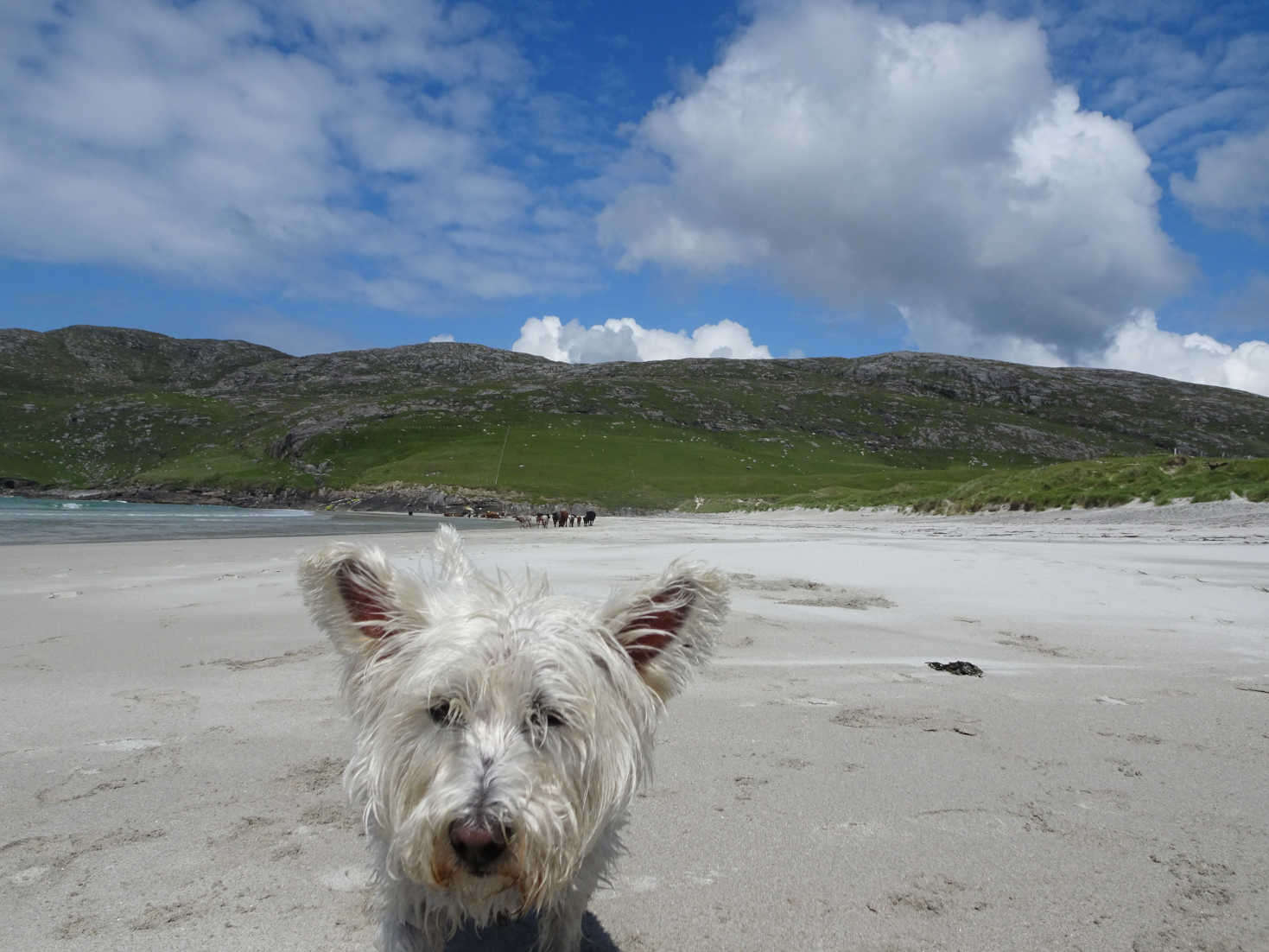 We were not alone on Traigh Shiar beach. A big bunch of cows decided today was a beach day. We let them have one half and we played on the other. After a while it was time to explore further.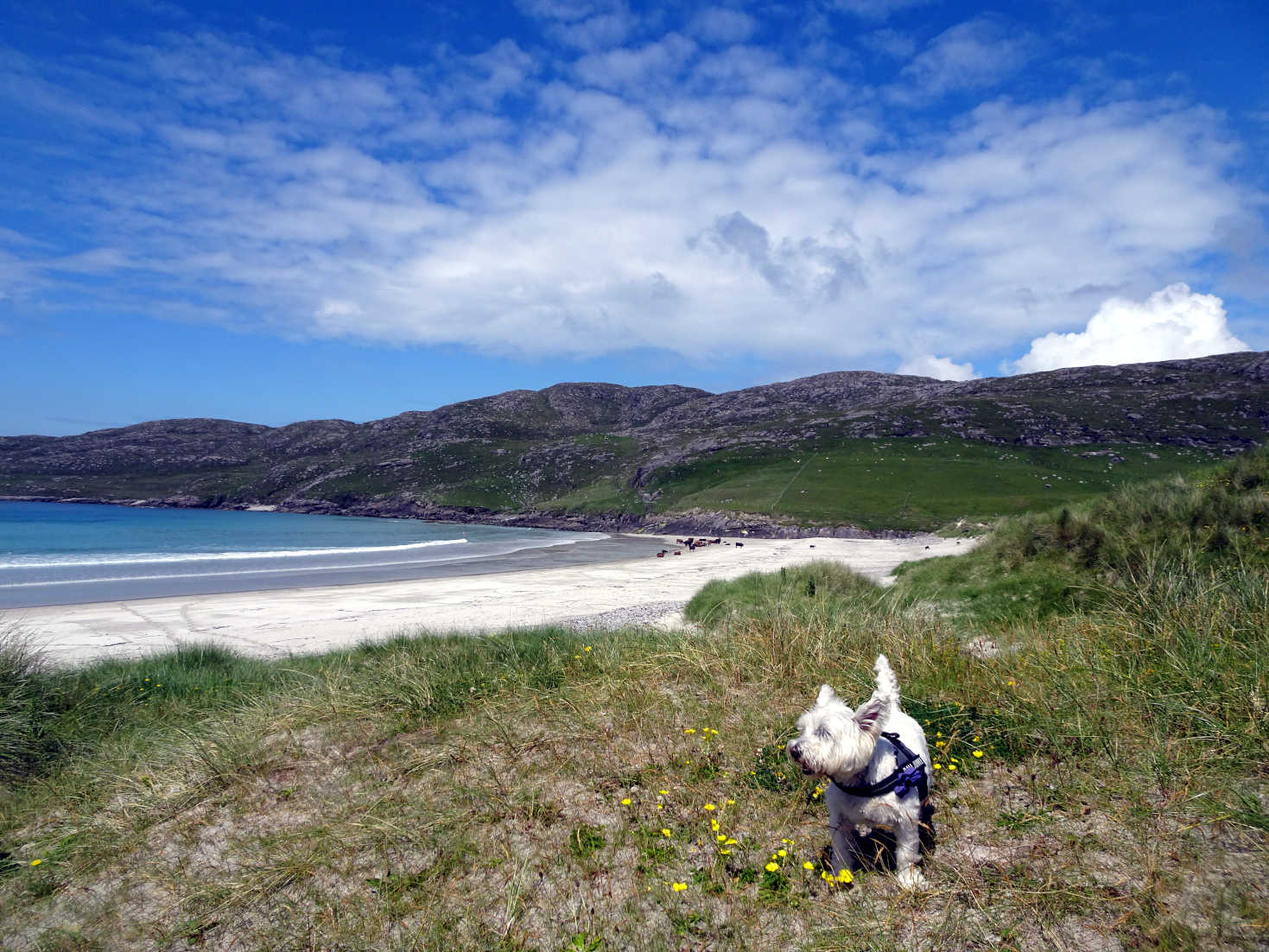 As we were going back to Betsy a huge bull took a dislike to us and started to shout at me. I didn't like this one bit, quick! Mum, Dad lets get out of here. As we made our way to Betsy the bull followed, we just got to Betsy in time. Good job Betsy is bigger than bull eh mum? We hid in Betsy until the coast was clear and crossed the next field to Traigh a Bhaigh Beach.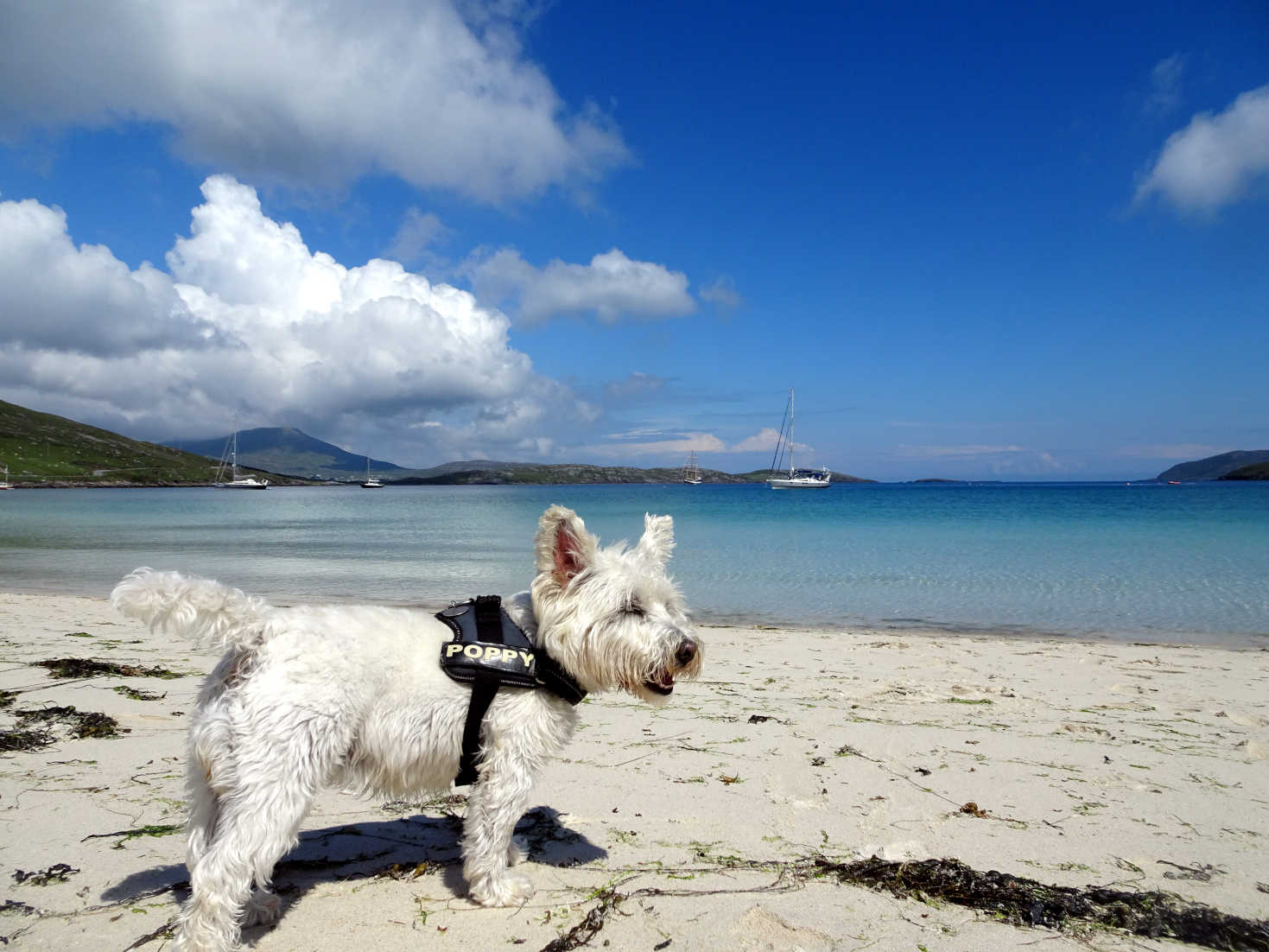 This beach had lots of peoplsees and dogs but no cows on it!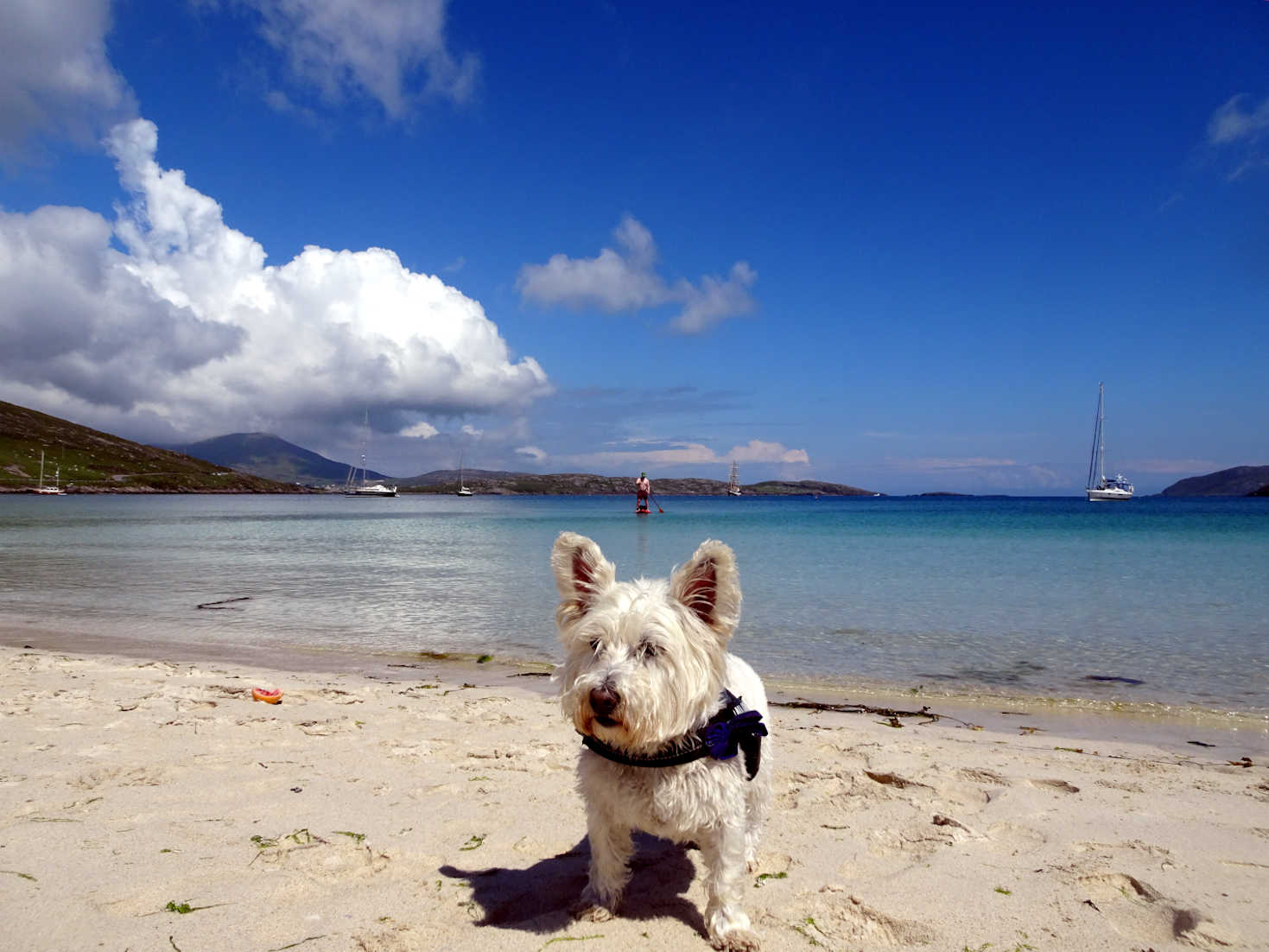 I got to play ball all along the length of it. I met some nice doggies to play with along the way. One of the doggies was even on a paddle board. Mmmmm not right in my eyes.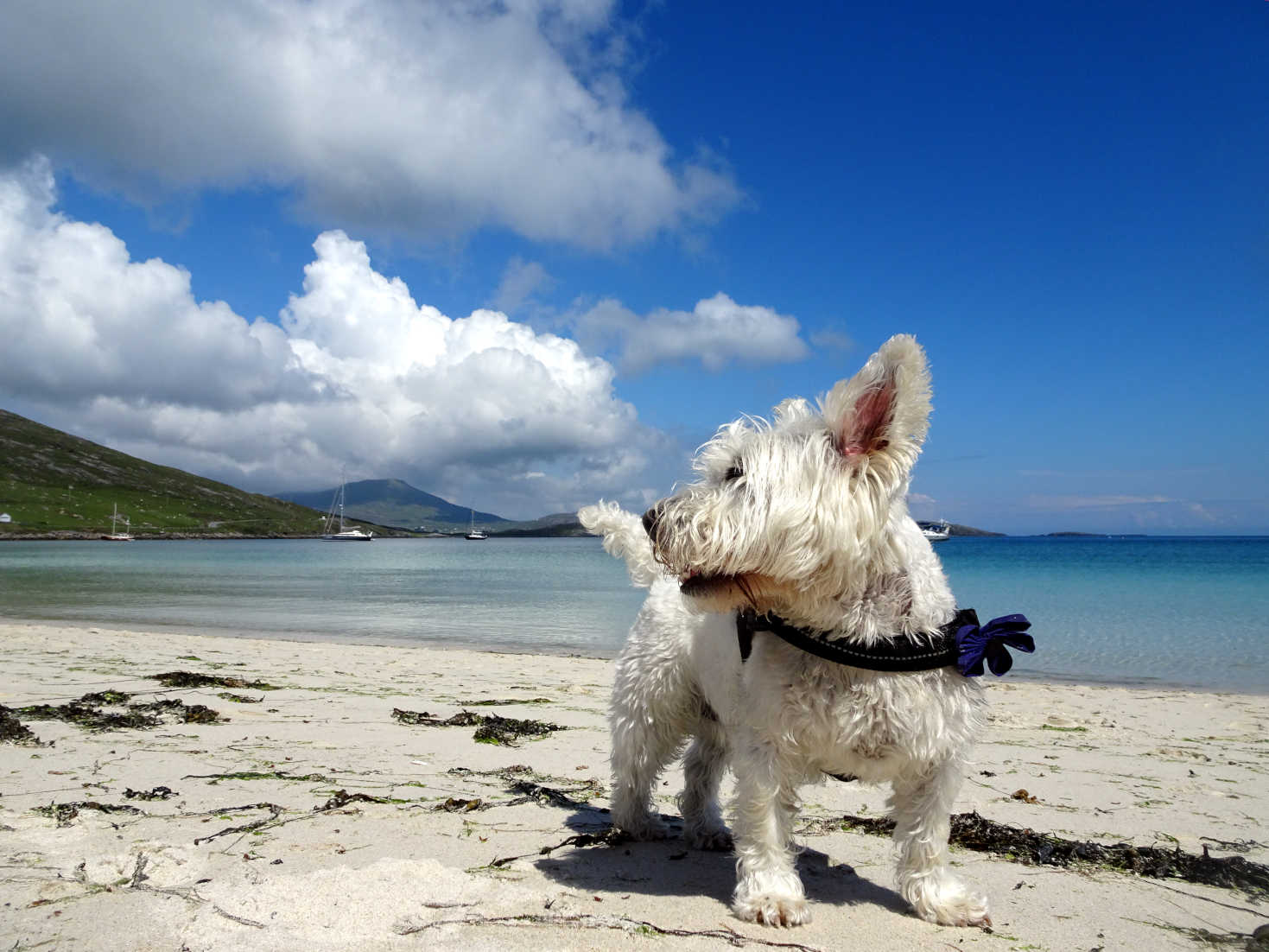 It was getting time to go we still had to get to picnic beach. Betsy took us a little further to the village of Vatersay. Dad got out and asked a peoplsee who was painting a fence the way to the beach. She pointed to a path that headed out into the machair. I so could not be bothered. If I stay still and don't move they will come back for me. Mum and dad got smaller and smaller, grrrrrrrrr I better go look after them.
Bagh A Deas beach was empty, all ours, great place for a picnic.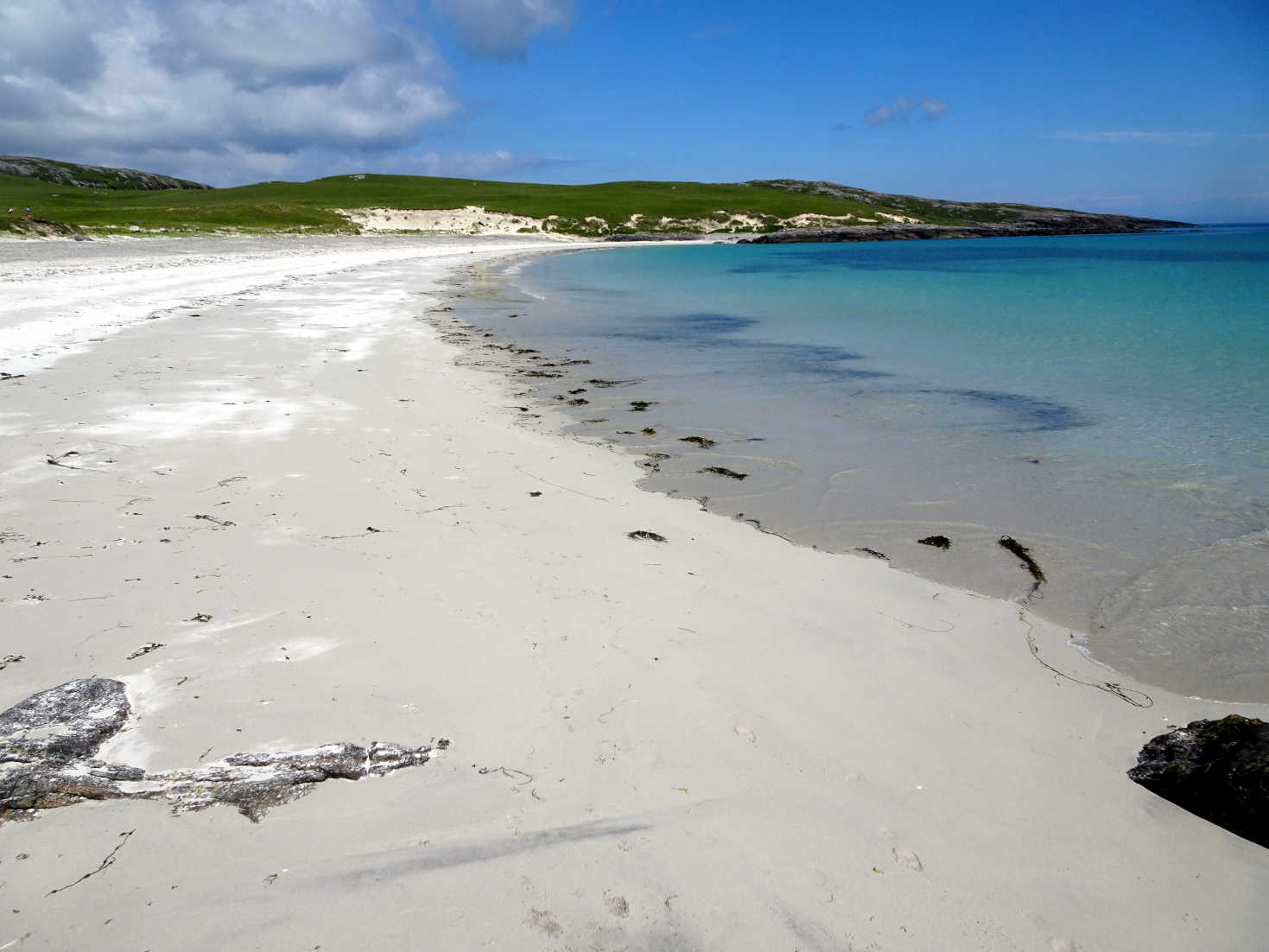 Bagh A Deas is another good beach for playing ball. Mum, Dad, look, peoplsees. I thought this was our beach? Soon it was all ours again. We wondered to the end and went to explore the rocks.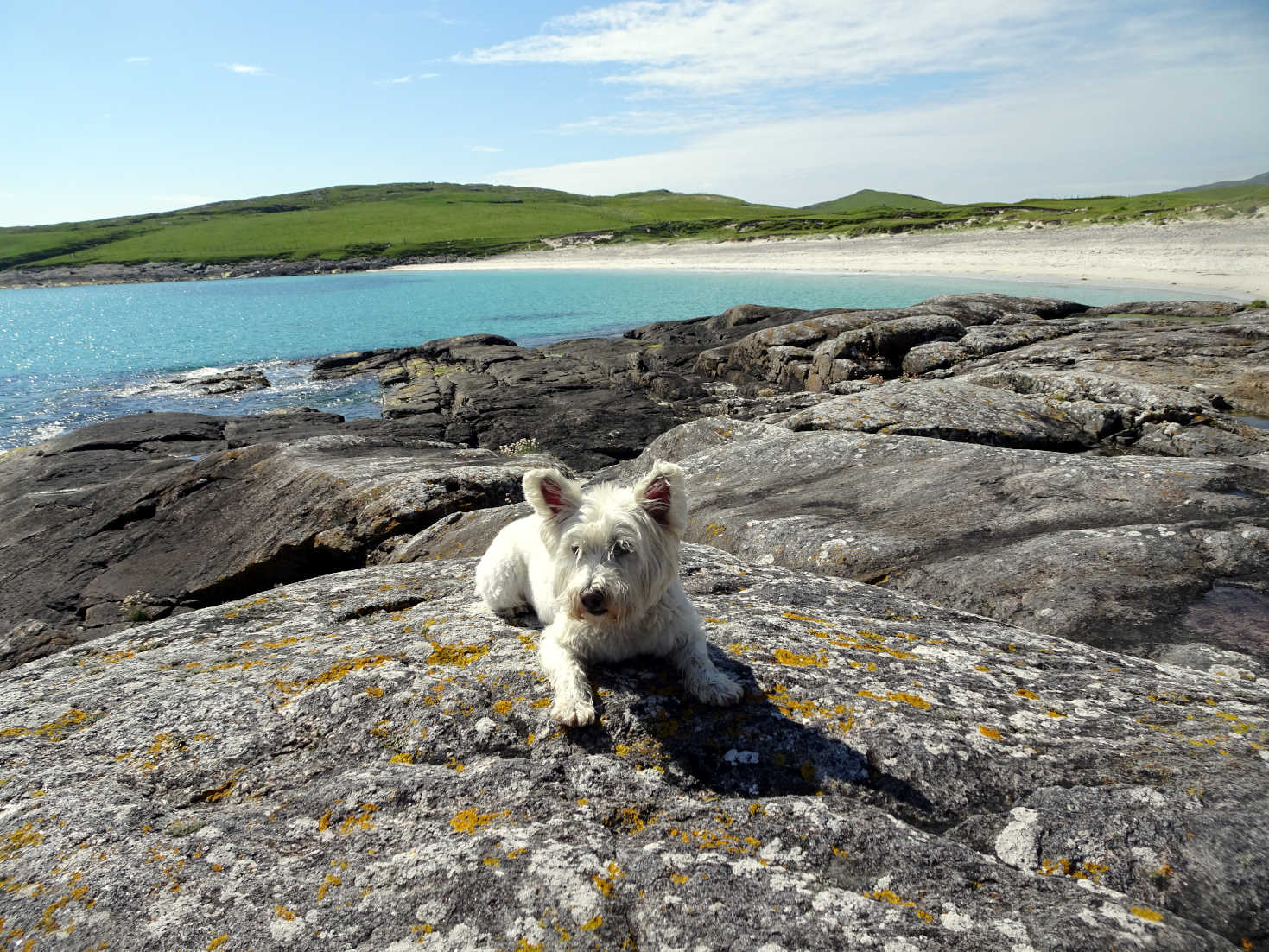 Time was against us as we had to go get a carry out from the Kismul Café in Castlebay. Mum phoned ahead and told them we were coming.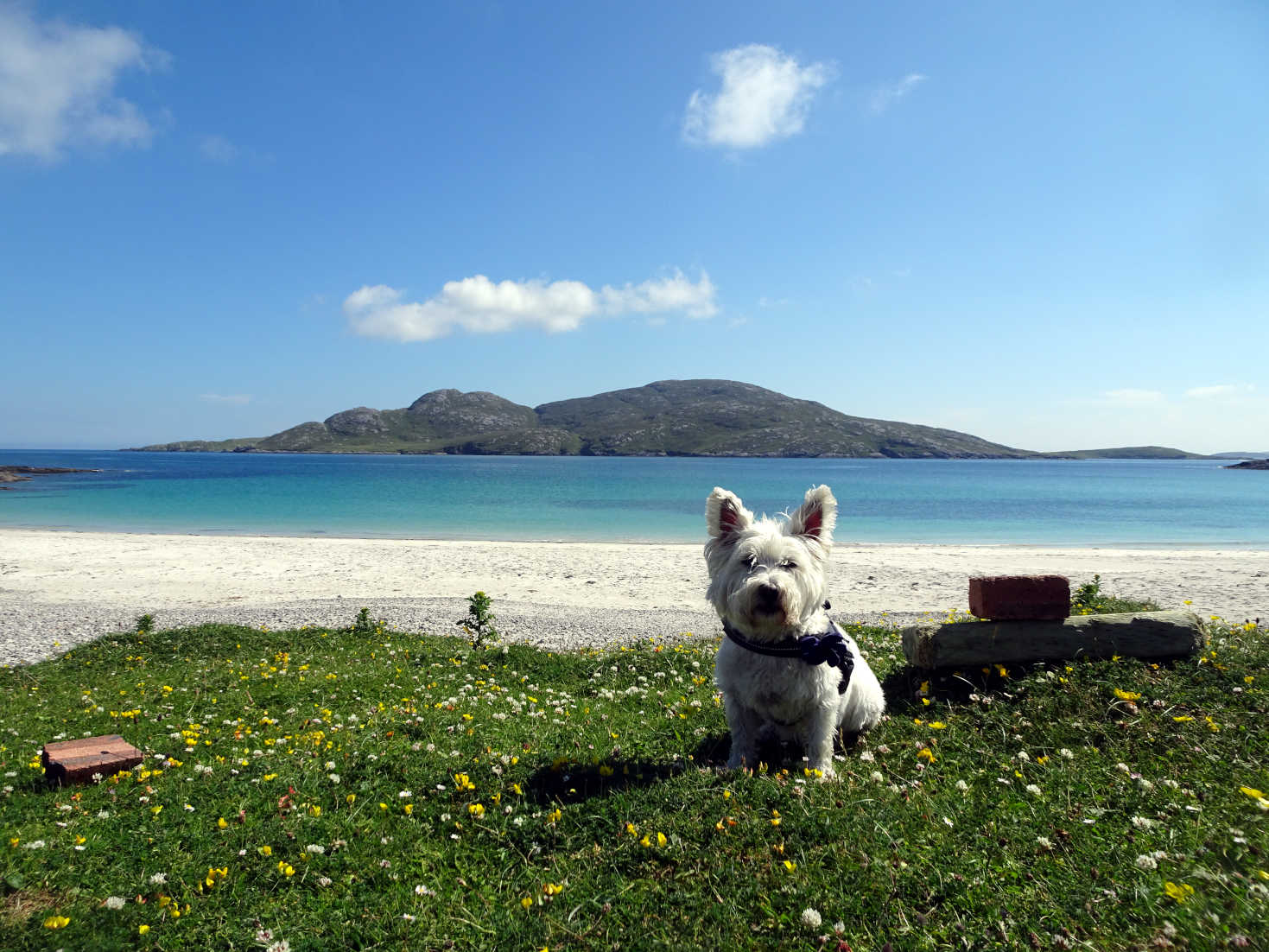 Betsy got lucky in Castlebay a spot beside the café. Mum went in and me and dad explored. When we got back still no food. We waited and waited still nothing.
We waited for ages, so long we took a table. When the food did come bits were missing. Mmmm good job dad doesn't write reviews any more! Scallop pakora sounds nice though.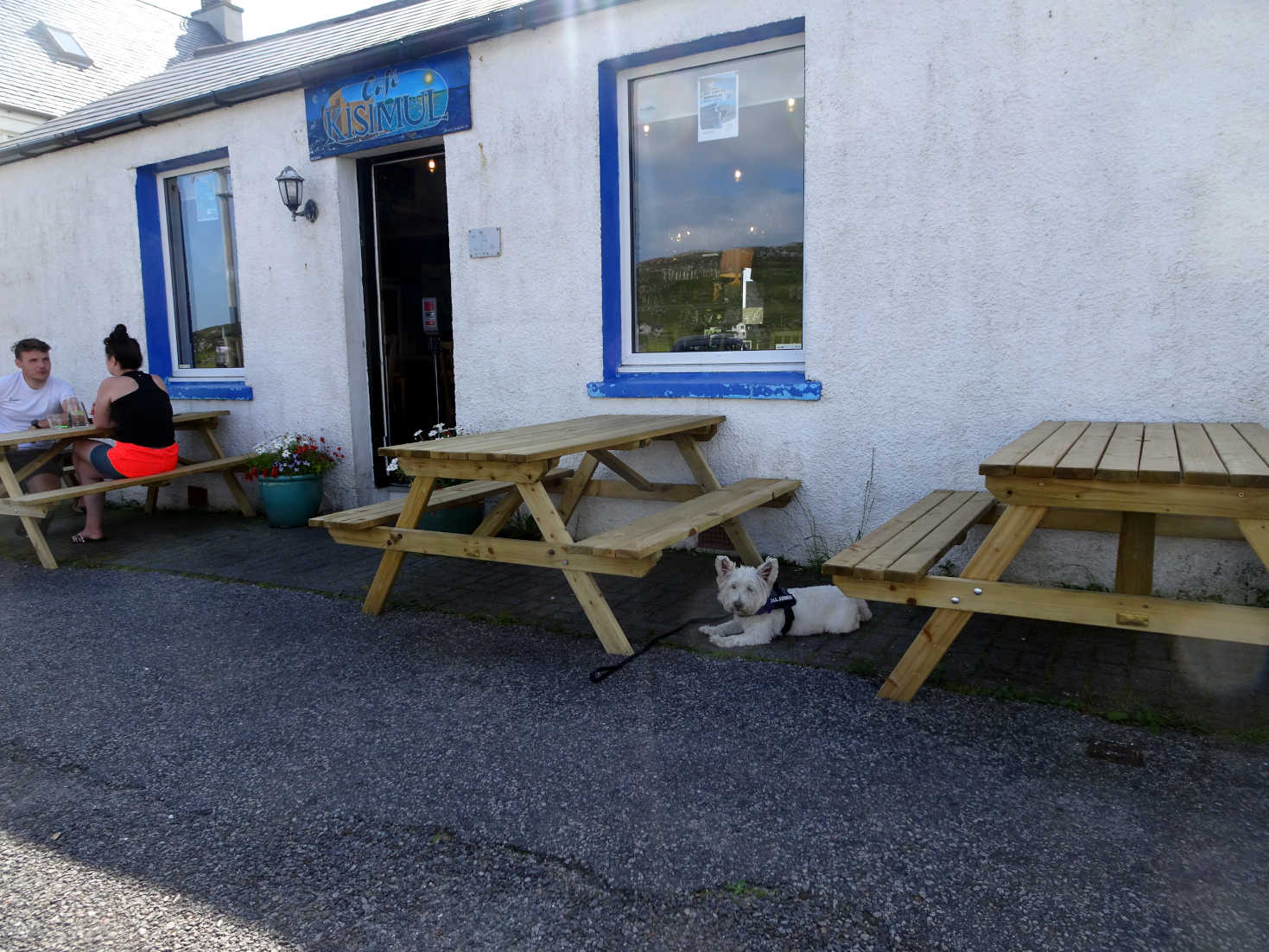 Back at camp it had got quite busy. Lots of new vans in and even some new dods to play with. The only bad thing about camp is the cat. It thinks it owns the place, lucky for him dad keeps me on long leash.