All packed up and campsite paid Betsy rolled out and onto the open road. She headed back the way we came and started the long decent from the mountains. The further down she went the hotter it got, even with the windows open it was roasting. After the man on the talk box sent us on some wild goose chases Lake Garda came into view. First stop Supplies. Mum went into Euro Spin while Dad got a cool coat ready for me. I don't like putting on the cool coat but I like how it cools me down. Mum then went into Lidl and we were good to go. Before we could go to camp we needed to give Betsy a drink. Not as easy as you would think, the first place would only take paper, the second place the talk box took us to didn't even exist, finally we found petrol station that could feed Betsy. Once she was full it was time to go to camp. Betsy's resting place was big. She came to rest so the door and shade gave a great view of the lake. Time to setup camp and have some lunch.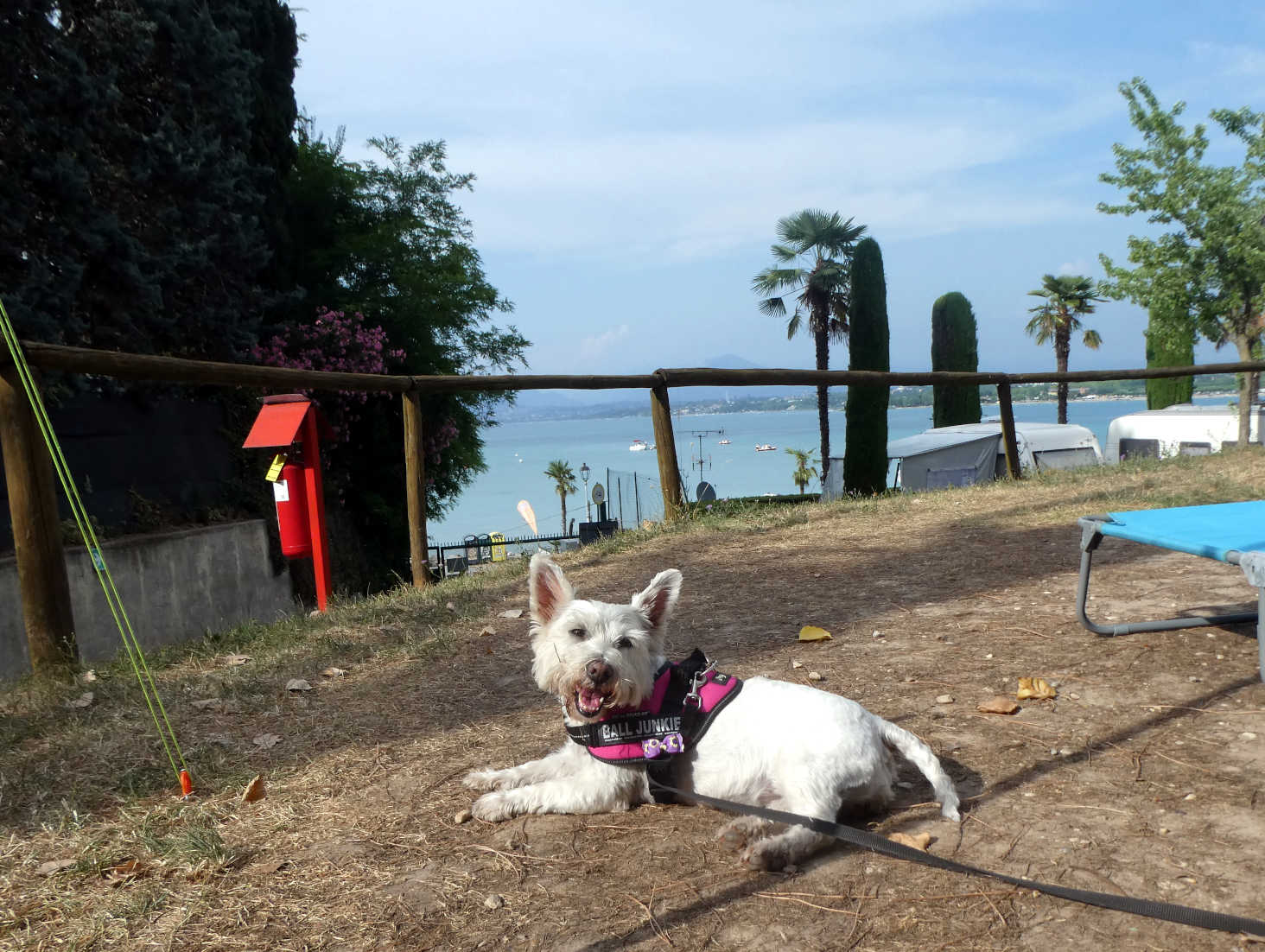 After lunch mum wanted to go to the pier to get a ferry timetable. I looked at Mum, are you mad it roasting out there. It was no good, soon I had my cool vest on and we were heading into town. To get to town we had to walk along a long road beside the lake. The road had trees all the way along it. The shade helped but between the trees the pavement was burning my paws where Mr sun had kissed it. I couldn't even dip my paws in the water because the bank was so steep and the water too deep. When we got to the pier, I found a nice place to cool down while Mum talked to the ferry peoplesees.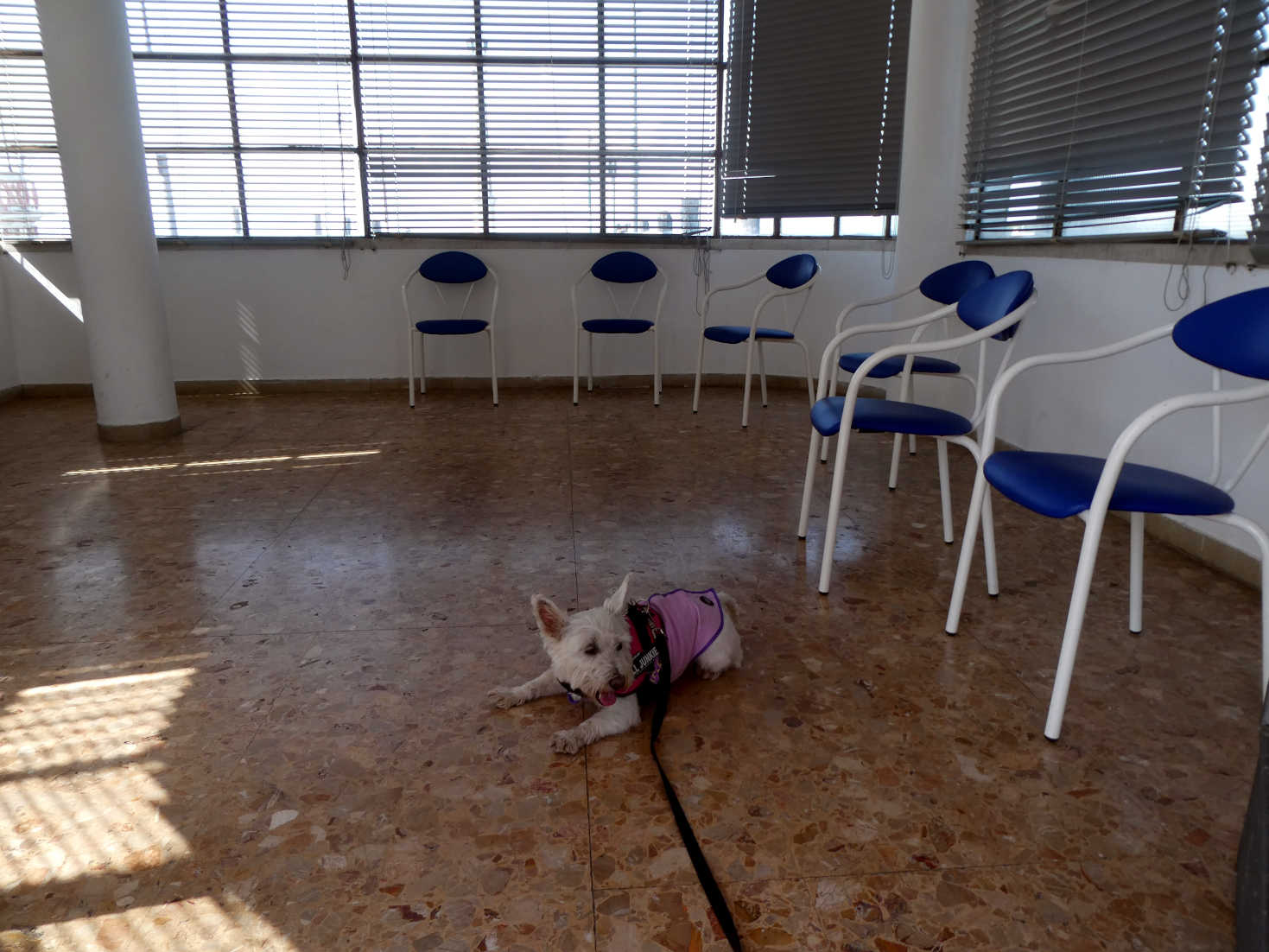 Ferry sorted we walked to a big square at the start of town. It was empty, no wonder it was too hot. Dad got what he wanted from the tourist office and not before time. Dad hurry, my paws are burning. Mum had to lift me to the shade. Mum can we go back to camp its to sore on my paws? I gave Mum and Dad one of my bestis pleeeease looks. "OK Poppy we'll go back."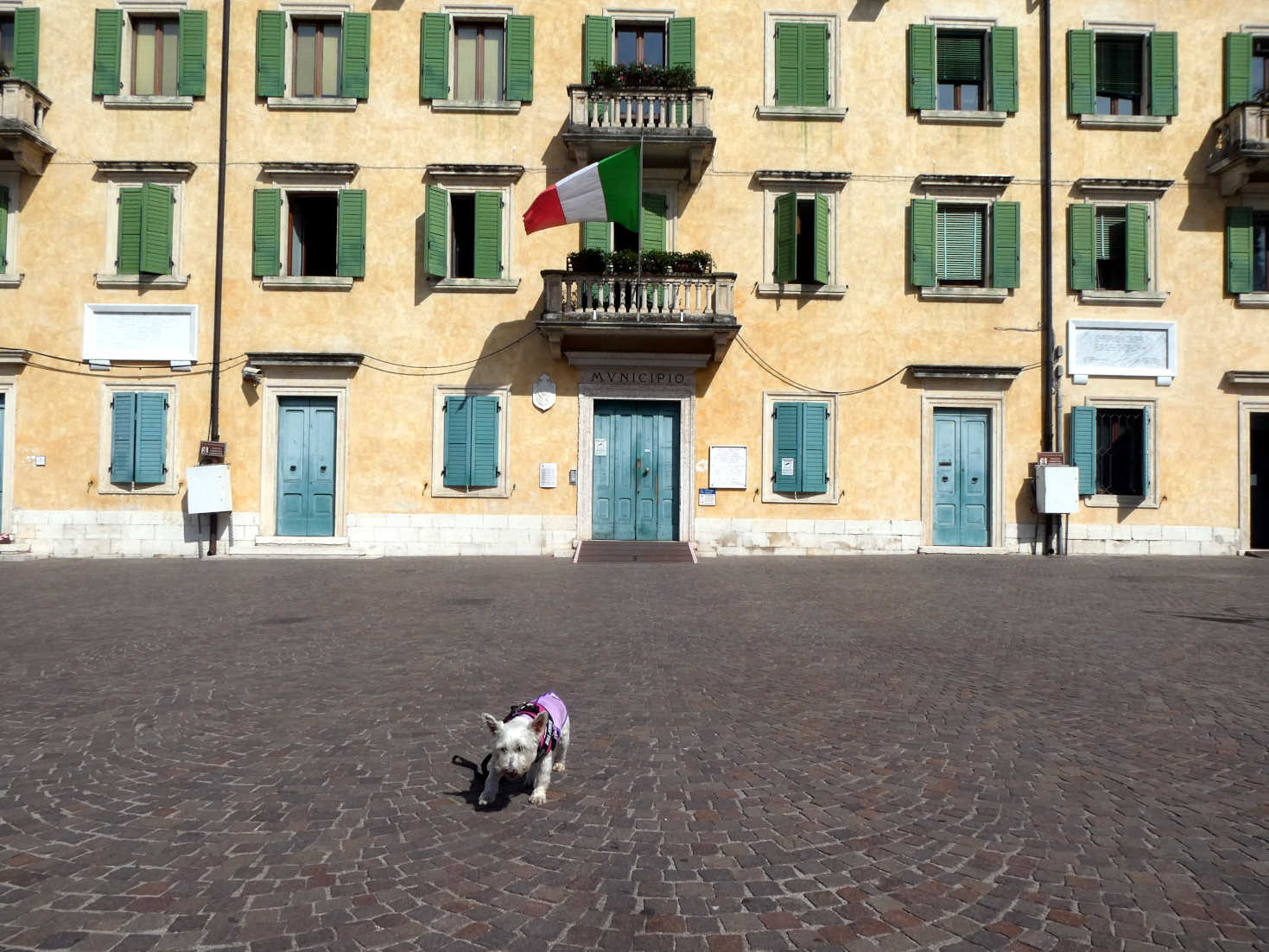 Going back was long because it was so hot. We walked along the path next to the lake, dad picked me up climbed down some steps and dunked my paws in the lake, Thanks dad, it was too steep and too deep for Poppys. The trees along the path made islands of cool shade and even better cool pavement. Scamper across the light slow down in the shade was the best way to get back. When we got to our beach I saw lots of other doggies on the beach. Dad? I thought Poppys were not allowed on the beach? "It's Italy Poppy, the rules are optional here" Oh, optional is good! Dad took me down to the lake side for a nice paddle.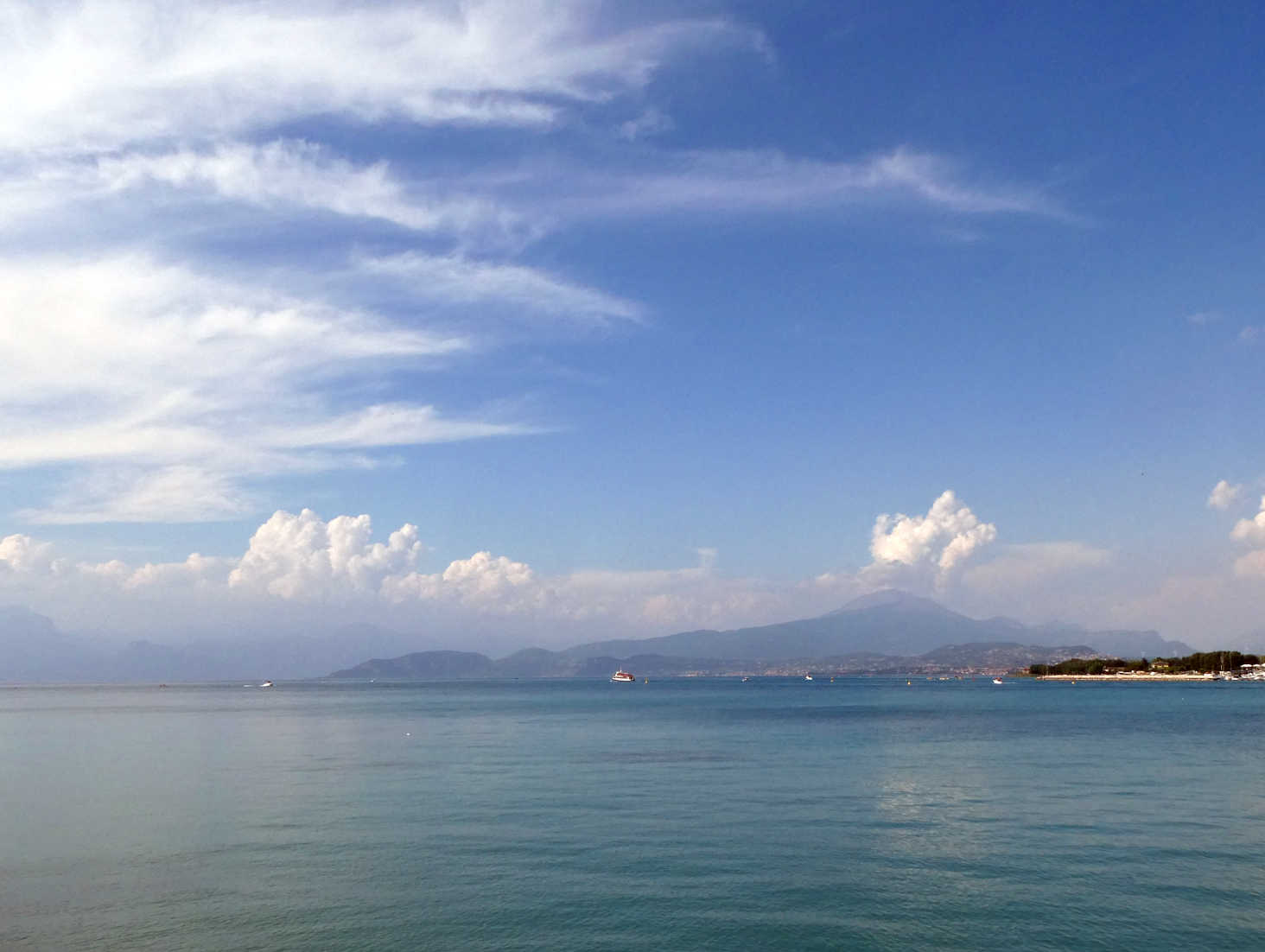 Back at camp, it was still hot. We were going to stay in for dinner. Mum and dad sat in the shade having drinks and I just lazed around. Every time I went to sunbathe a few moments later I had to go under Betsy to cool down.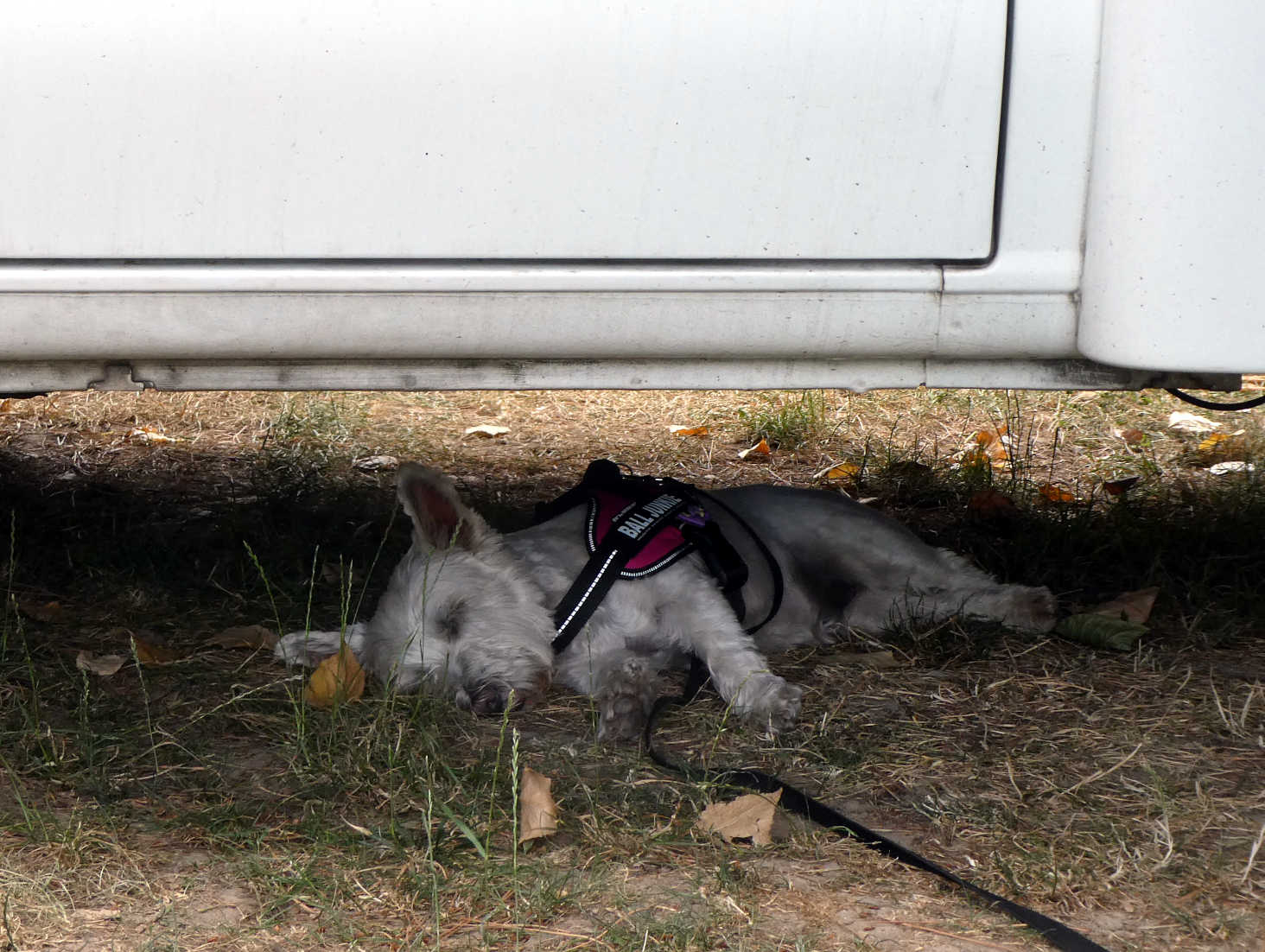 After dinner mum and Dad were worried because I couldn't be bothered to eat. It's just too hot Mum. Mr Sun started to get ready for bed and it started to get cooler. The pavement was cool now so the evening patrol was nice with the breeze coming off the lake. The peoplesees of Garda were still out and in full holiday mode, playing in the warm waters of the lake. Not for Poppys, Dad can we go back?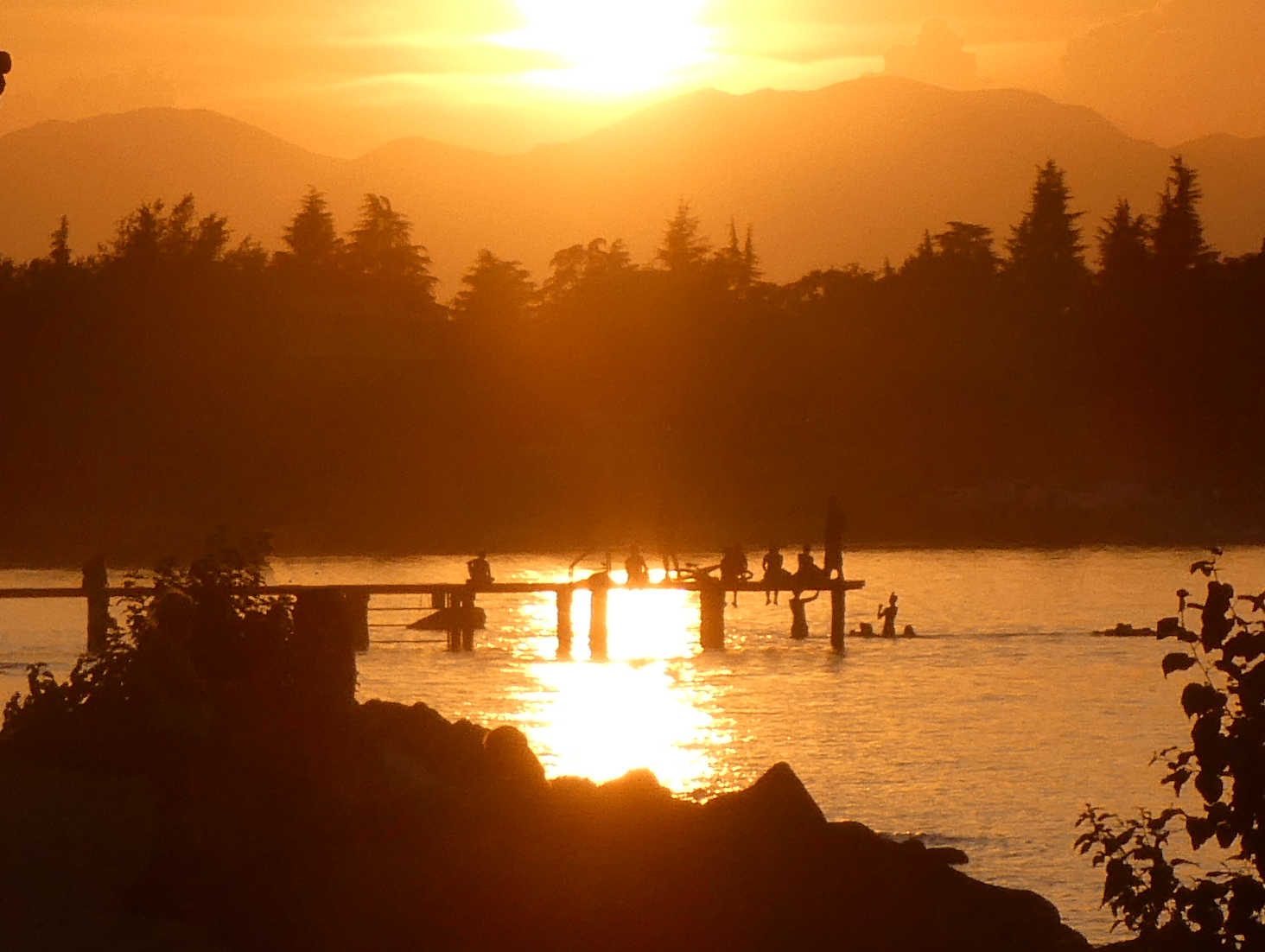 It was a long day. When we got back all I wanted to do was sleep.