My Italian Cousin in Bardolino
It was warm when the Mr Sun woke up, I had a big stretch, right dad dawn patrol time. We only went a short walk because we had a trek into town. It was a bit of a walk, this time we walked on the other side of the road as it was more shady and cooler. At the ferry terminal Mum went to get tickets, I found a great place to wait, shady and a breeze!
The ferry came and we got good seats. I could move around and rest in the shade if I wanted. Poppys likes ferries, especially when it's hot. Ferries keep you cool when it's hot. As it left another came it, I barked a hello but nothing came back, mmm No Poppys on that one then.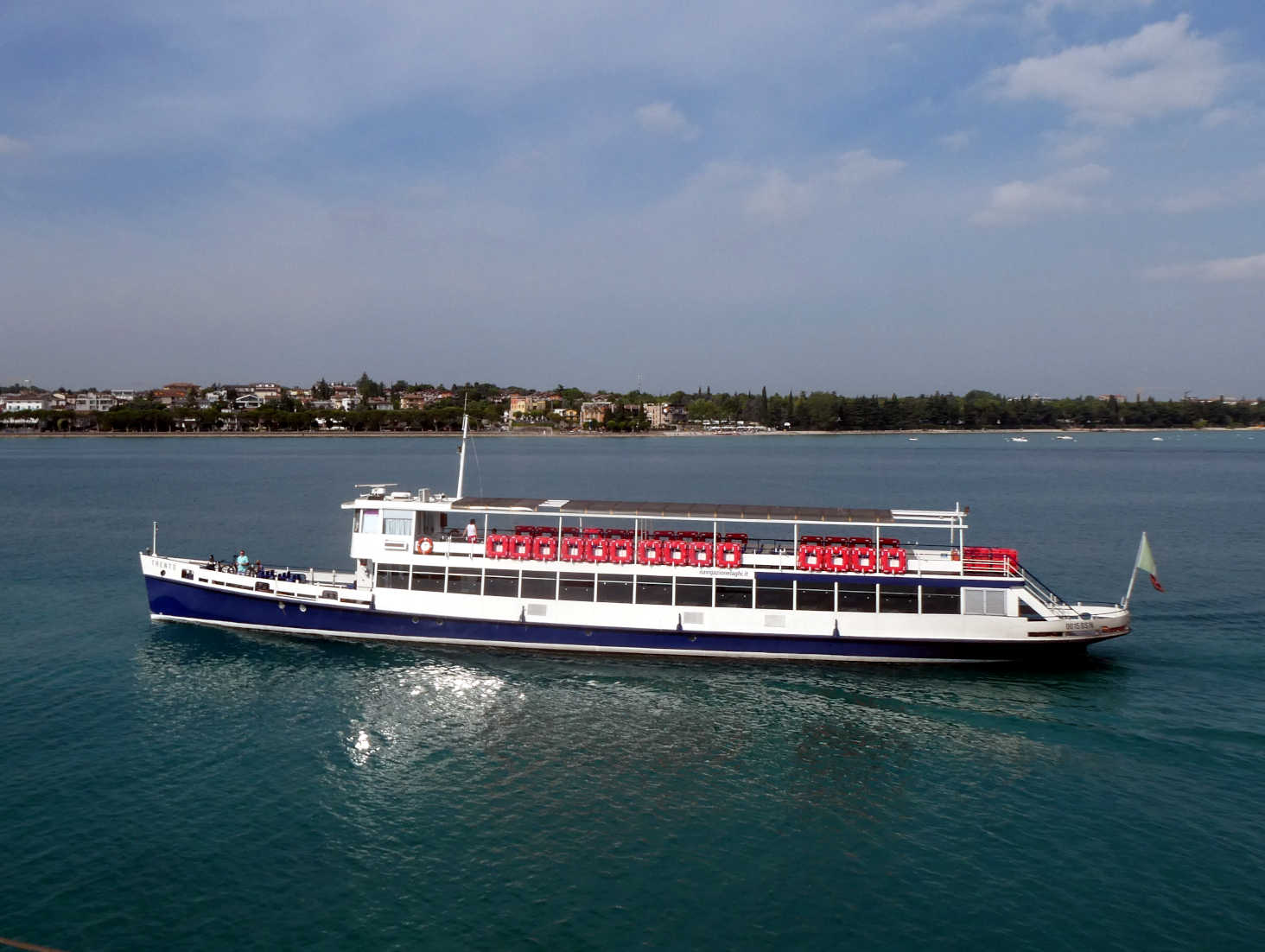 The first place the ferry took us to was Lazise. It looks nice here Dad are we getting off? "No Poppy, we're going to Bardolino" he said.  
A few peoplsees got off and more got on. This ferry is just like a bus. Soon it left Lazise.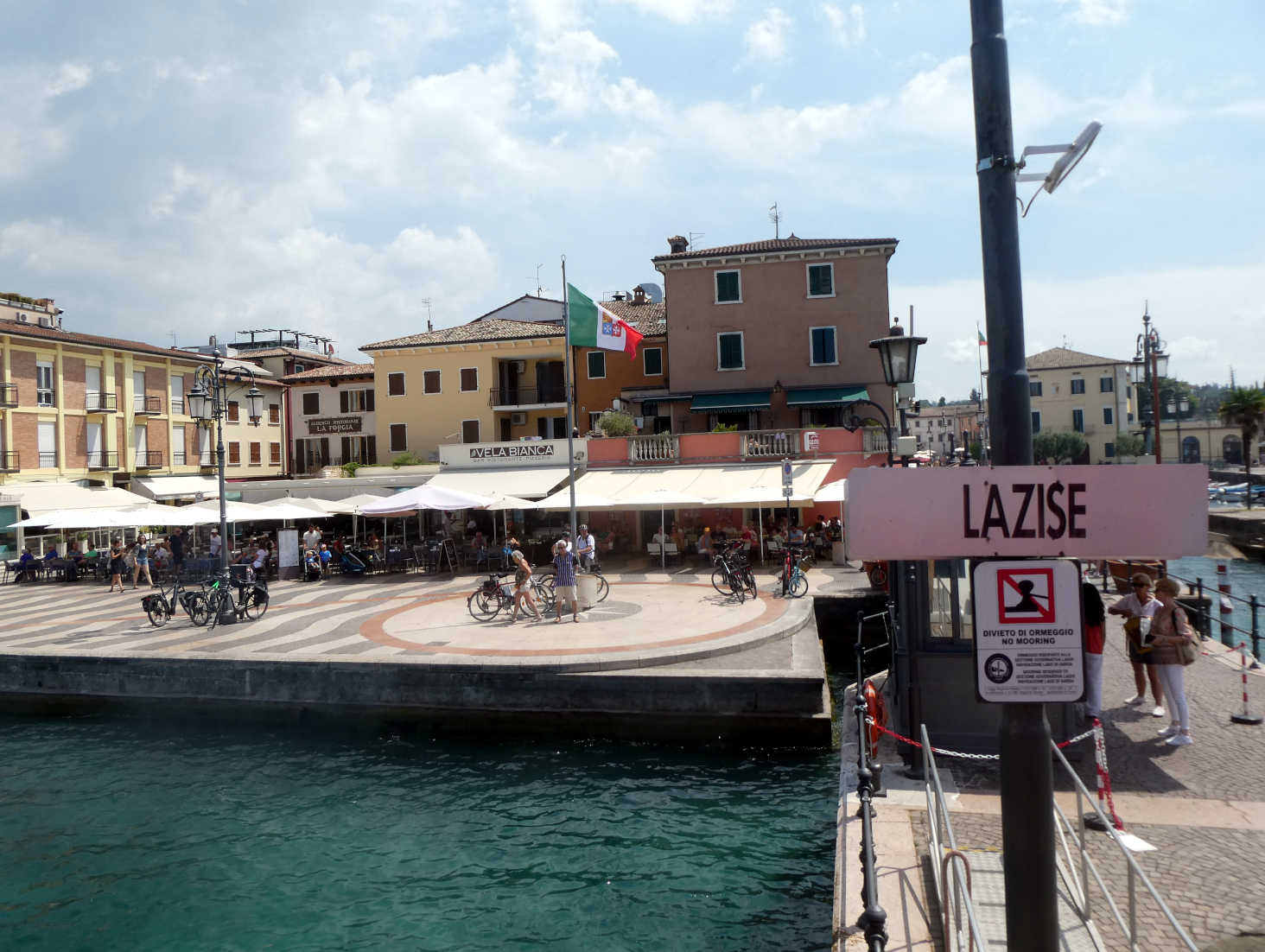 Next stop was Bardolino where we were getting off. Mum and Dad put on their Muzzles and soon we were on dry land. What street will we explore? How about that one? The Streets of Bardolino were full of shops.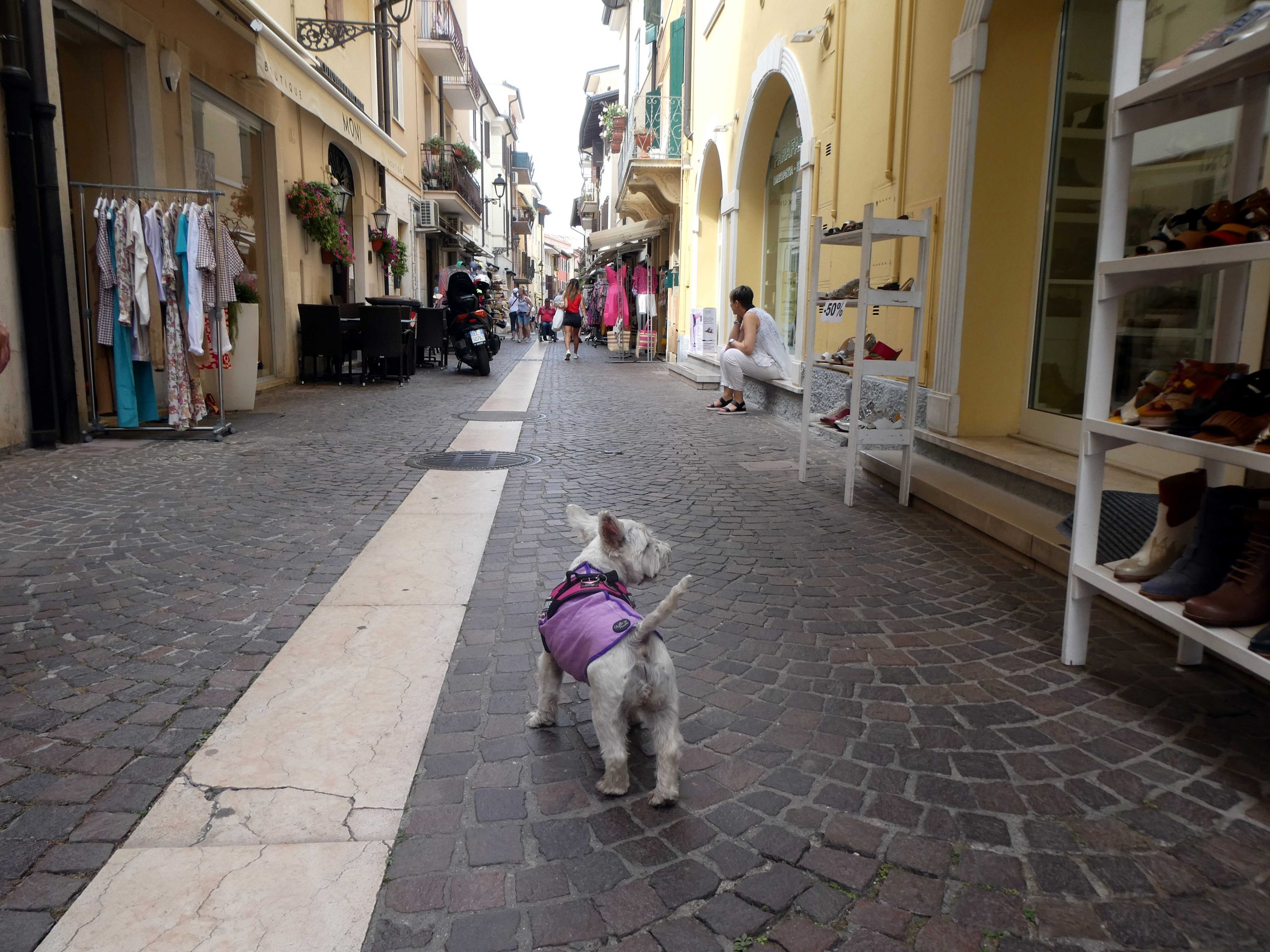 Wondering around I got a strong smell of sweet flowers. Look Mum a shop that puts flowers in the street, just like stalks and stems in Shawlands, looks better mind.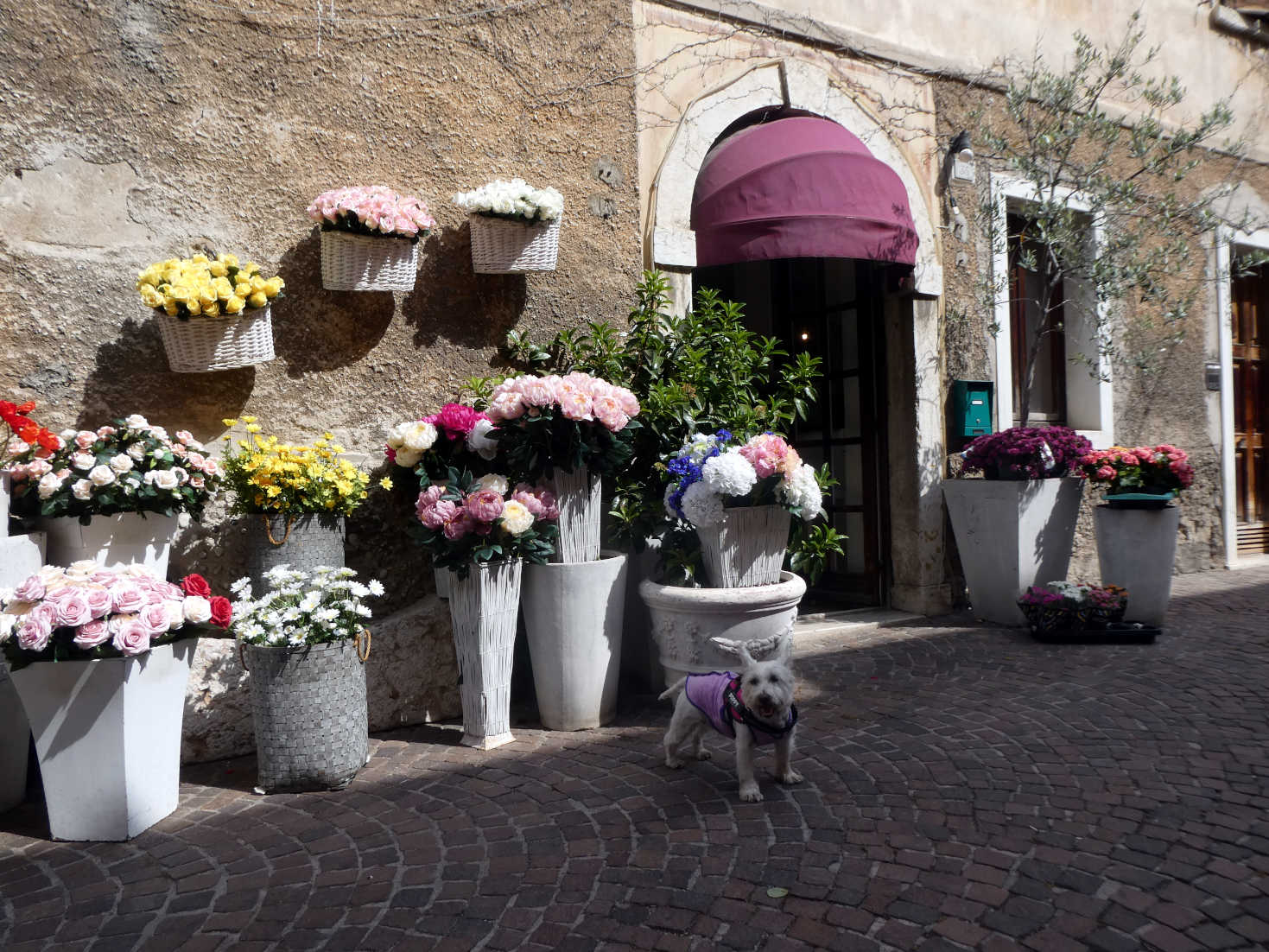 We went to explore the quieter side and found lots of courtyards to explore. One thin I will say about Bardolino Dad, It's cooler here than camp.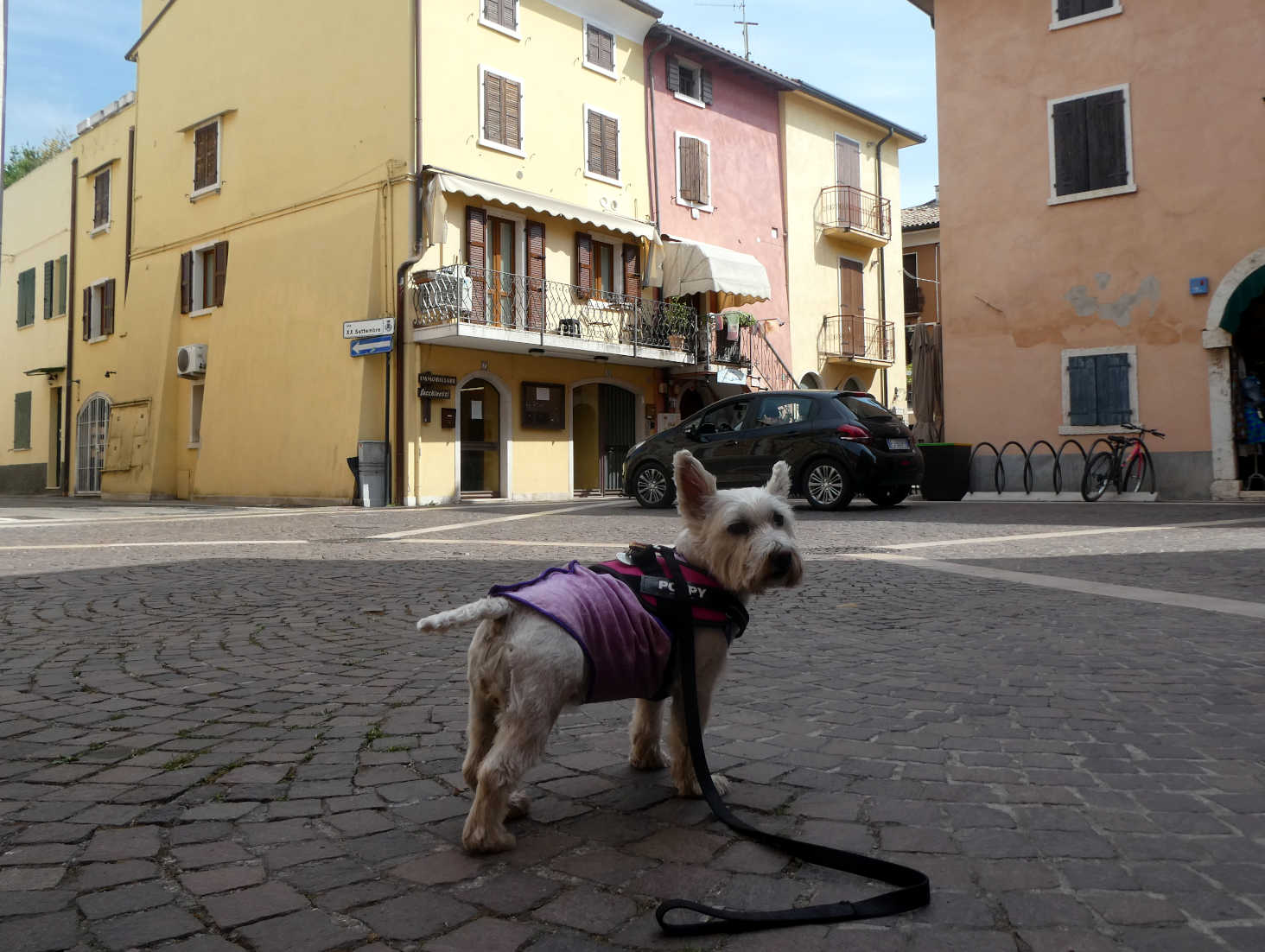 At the end of the town we needed water, all this exploring is thirsty work. That's when I found a park. Can we? Can we? Look, Park! The sign on the park fence said "NO POPPYS". Mmmm, Dad? You said rules in Italy are optional…Lets Go.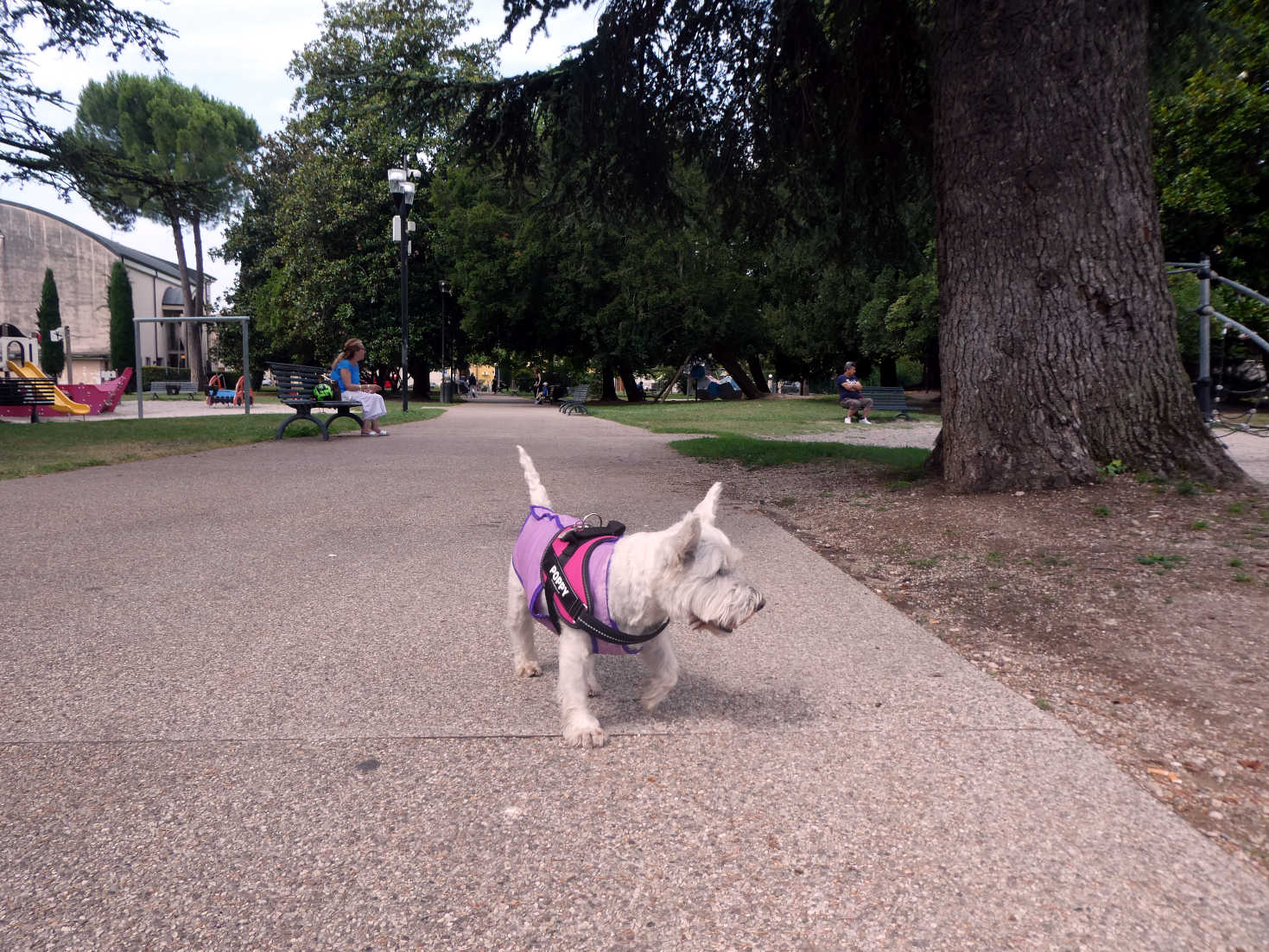 Heading back into town we were surrounded by shops again, dad looked in a few, he was looking for a new hat. I sat outside and took in the view.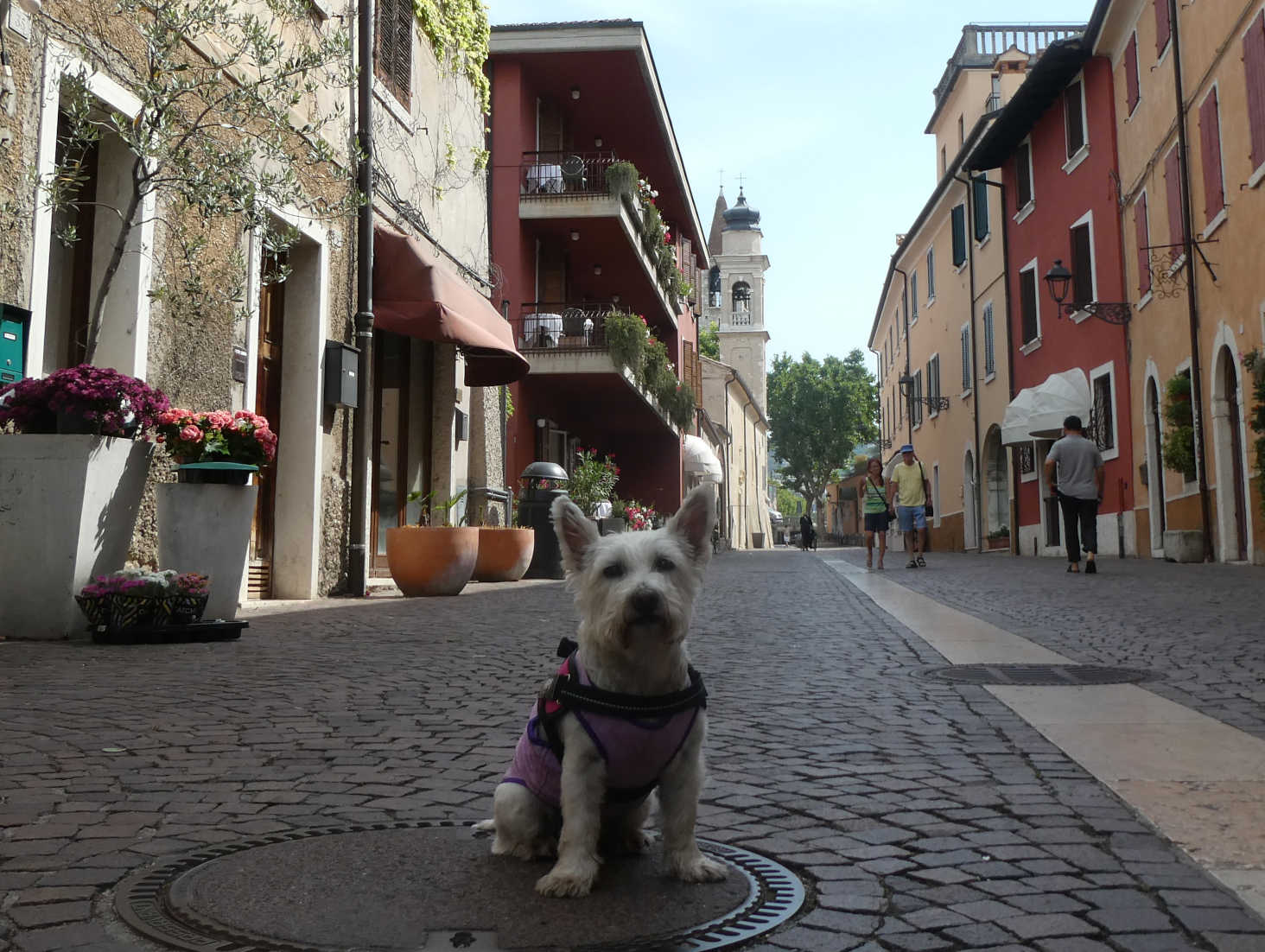 That's where I met Millie one of my Italian cousins. Millie why do you sit in the basket of that thing? "It's because it too hot to walk in the day time" she said. Mmmm. Don't like the looks of that, I looked at Mum, don't even think it. I'll stick to the cool vest.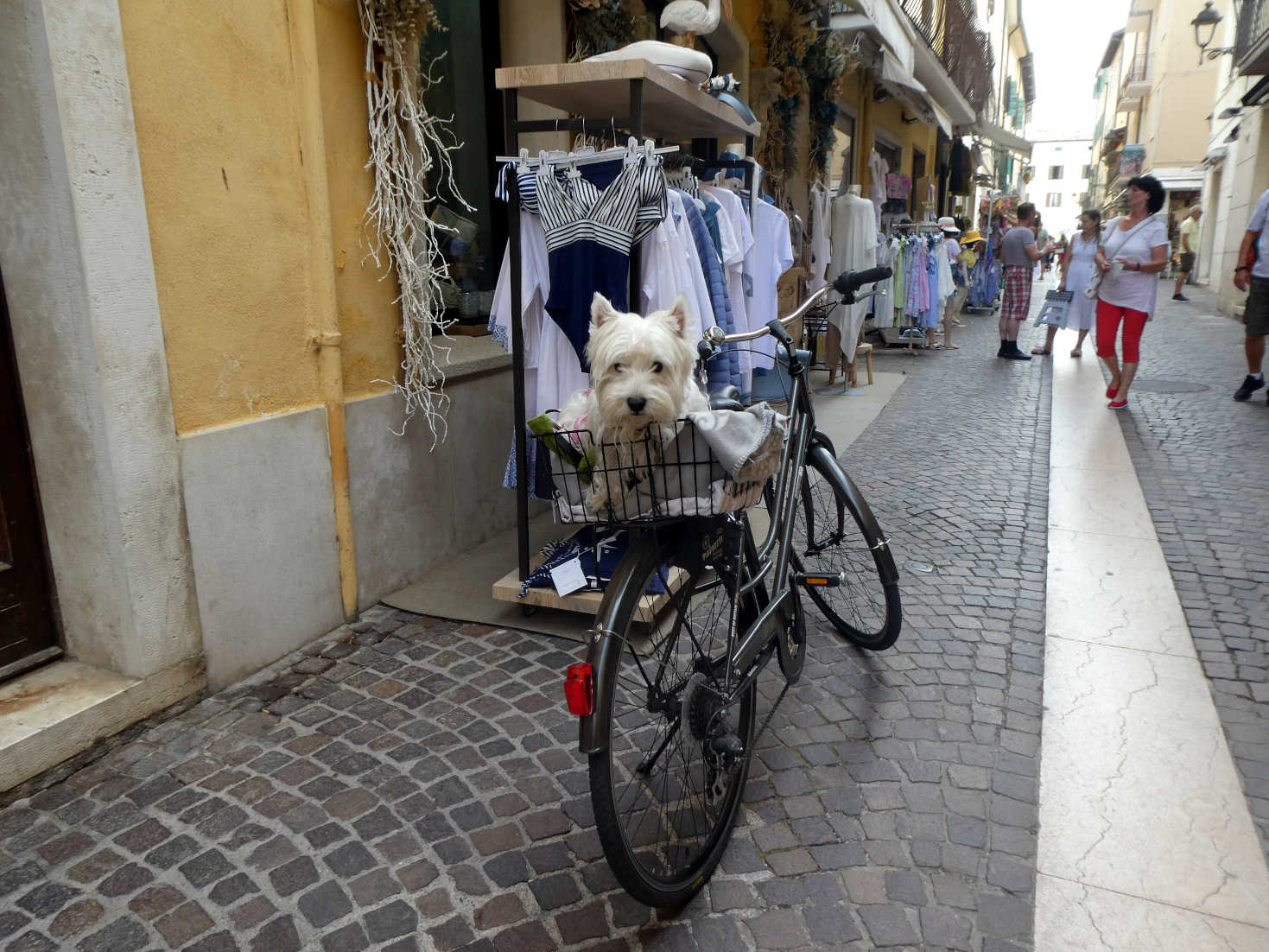 I told Millie about the park and she told me I better be careful as the Polizia might catch me. Me? Not a chance Poppys can be fast when we want to be. I thought I better check out the opposition anyway. Mmmm they do have fast cars.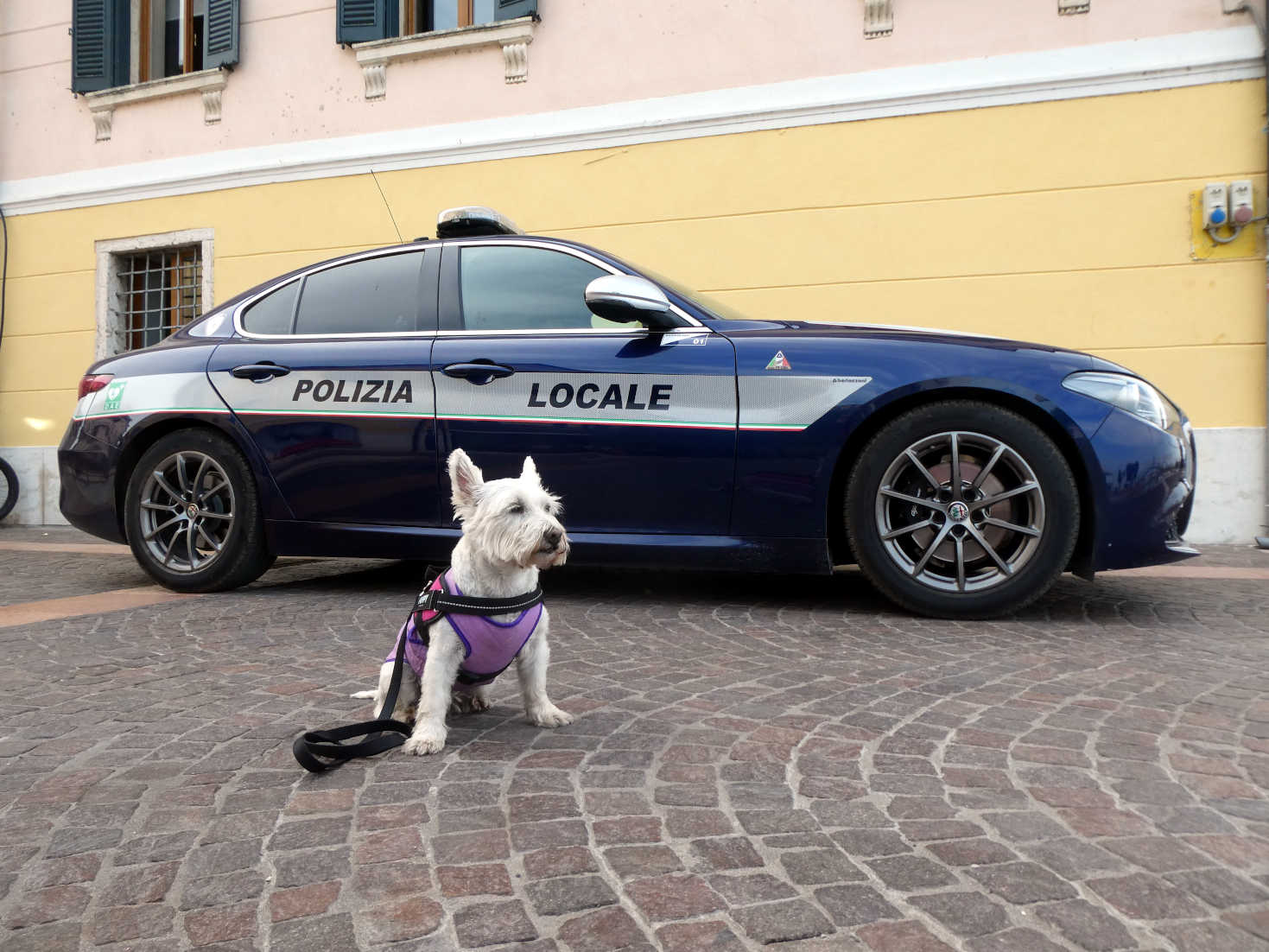 Bardolino done and dusted it was time to go back to ferry. As we waited two peoplesees started arguing over a bench. When it was over one took a photo of a flower. Nothing as queer as peoplesees, especially Italian peoplesees. Too hot let's catch the ferry.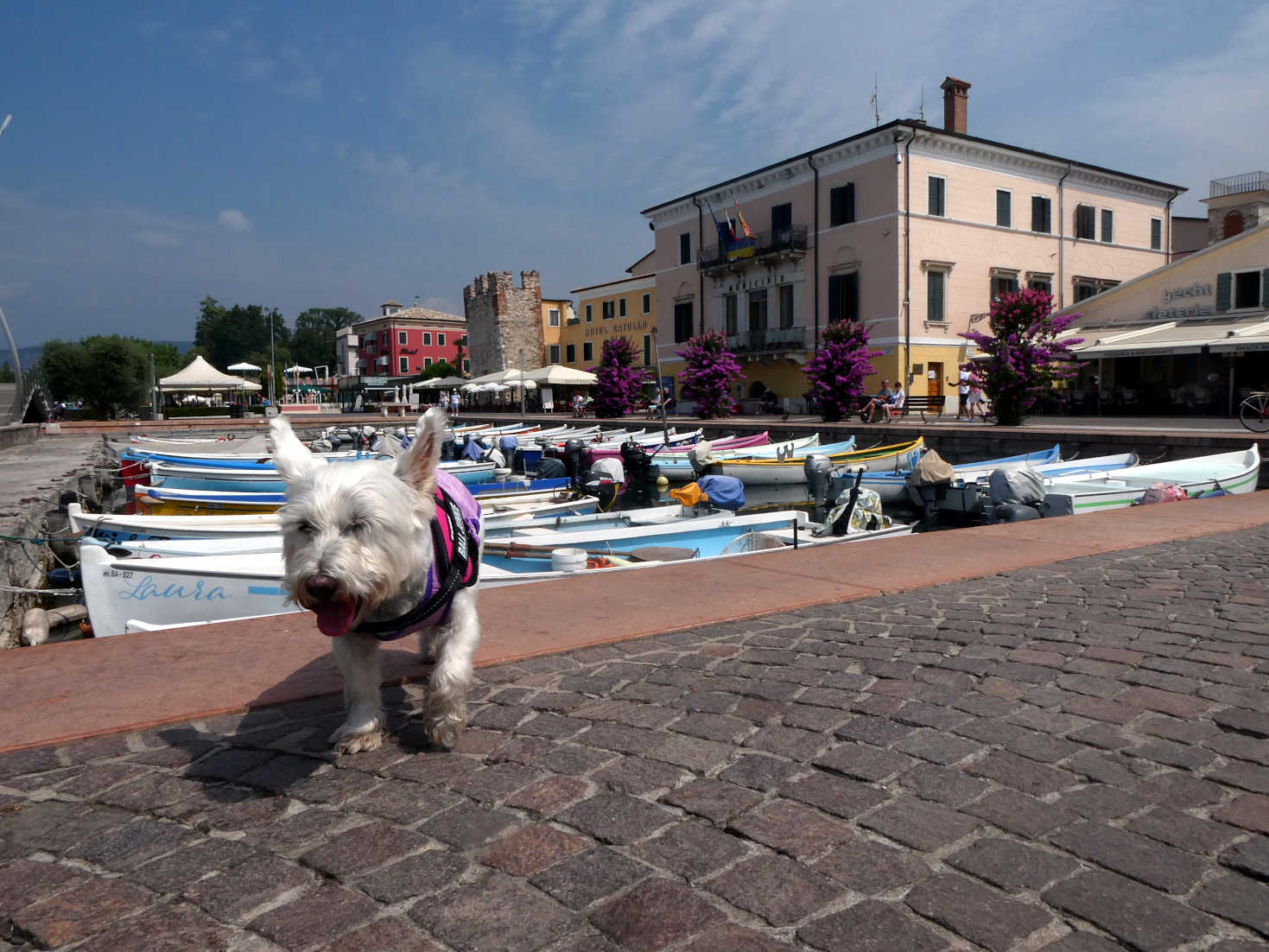 It was a different ferry, but it went the same way back, first stop Lazise.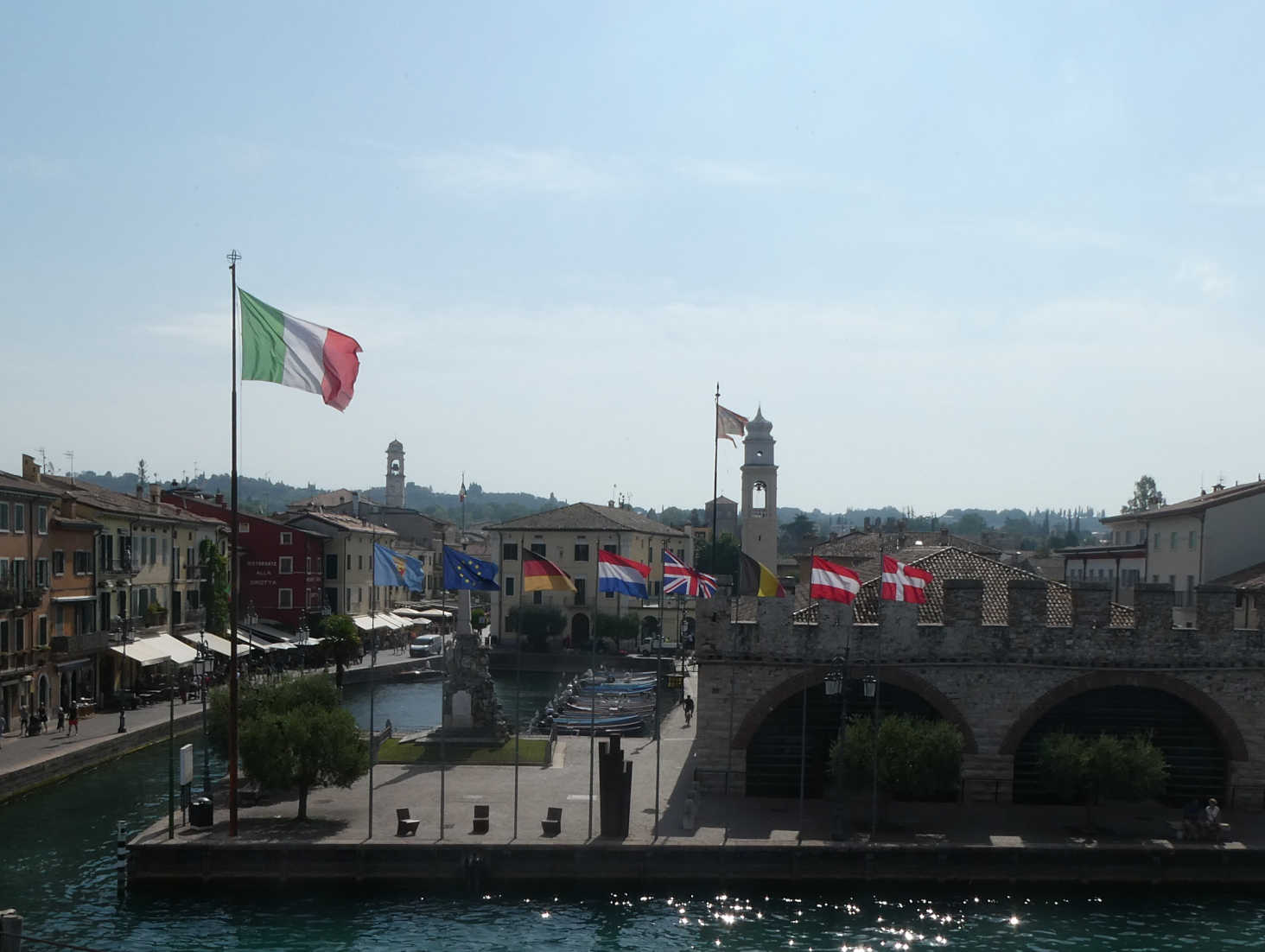 Peoplesees got off, Peoplesees got on, Mum and Dad took some pictures. As it left I just noticed the castle. Look dad a castle, and look a campsite, are we going there next?
Ferry took us back to Peschiera and we plodded back to the camp. Mum was still worried about me not eating. Mum, it's too hot, just let me snooze in the sun.
When it got cooler we had one more plod into town, this time for dinner. We just couldn't decide where to eat but settled on Da Forte, Dad really wanted a Pizza, who am I to stop him. It was Ok but I know there is better out there. They never even had Squidees!