Yesterday was a funny day. Betsy left camp in Lochranza and plodded down the road to Blackwaterfoot where we stocked up on food from the butchers and fresh milk and coffee from the local shop. The sky was grey and started to weep. When we got to Seal Shore in Kildonan it was pouring and Mr Wind had come out to play.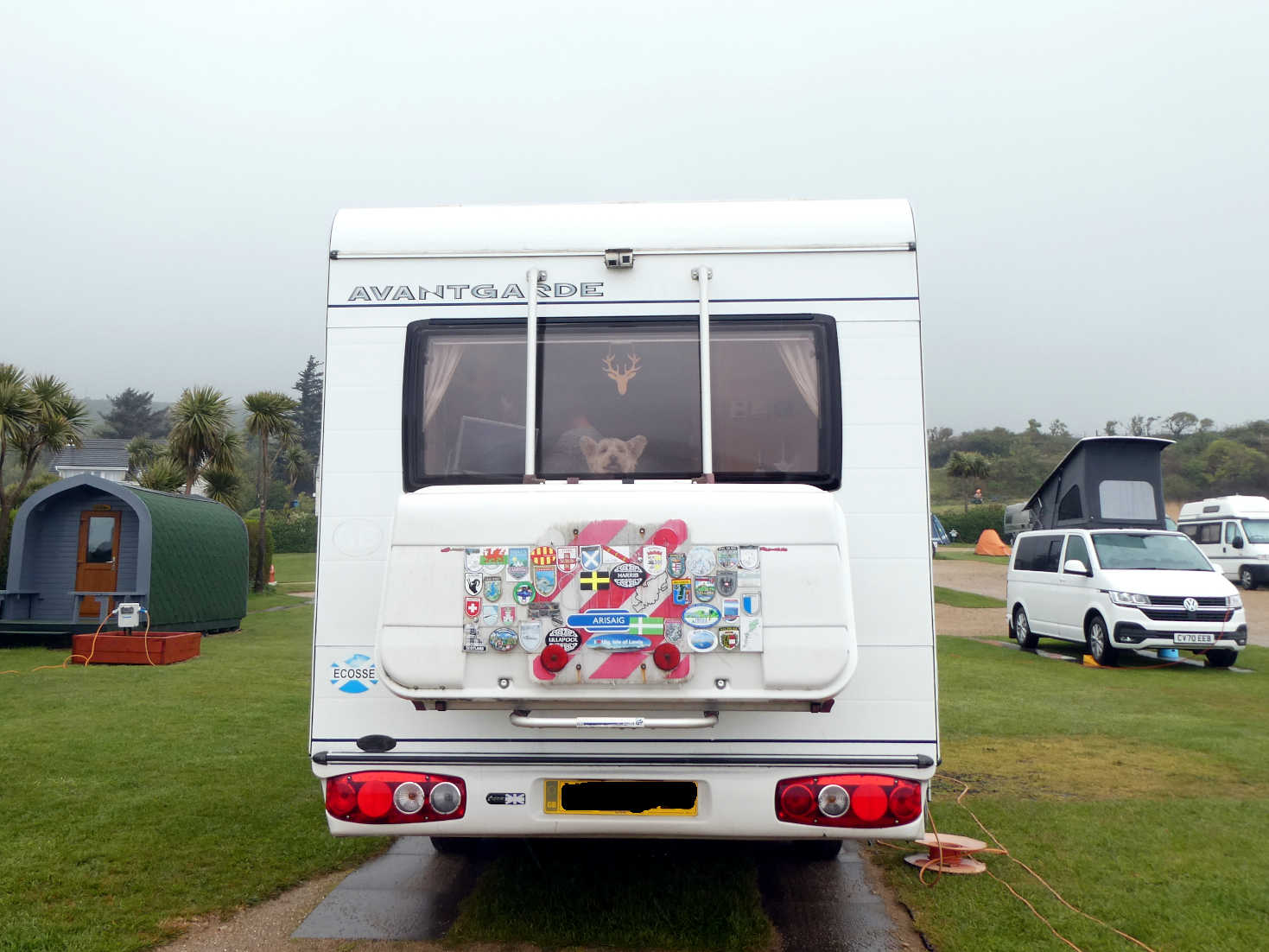 I didn't want to go out for any walks, too wet too cold. We spent the day catching up on movies and TV series. It was later in the day three Indian peoplesees came in with a small tent. They looked miserable. Are they mad Dad? Don't they know the best way to camp is with a Betsy? How will they fit in that small tent? Look at the size of them, they are bigger than you! I checked on them later and the tent was gone.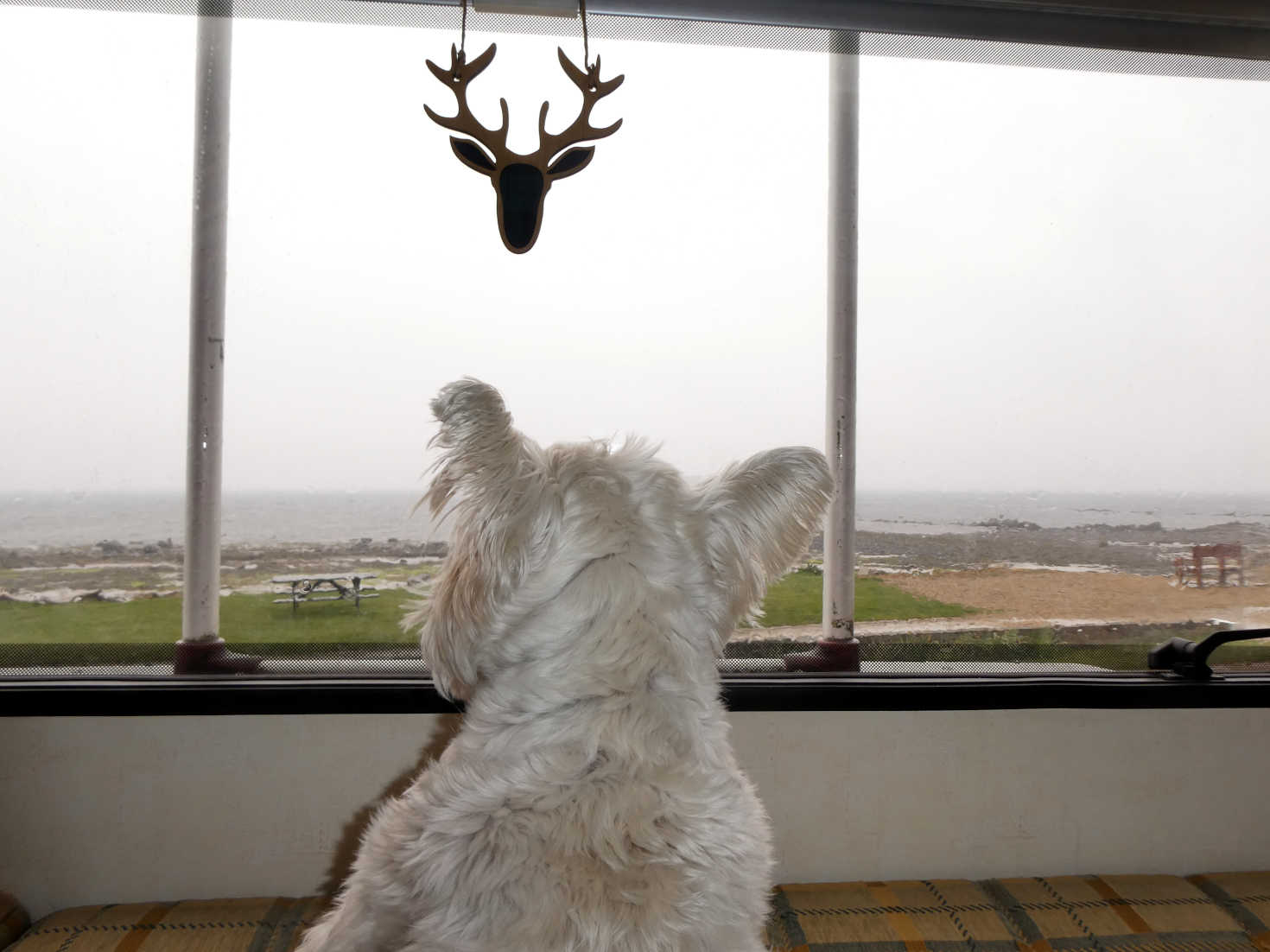 What a difference a day makes Mr Wind was gone and the sky was back to blue. Morning walk was a lot of fun. We were going our walk later because dad wants to watch Rangers v Celtics on the telly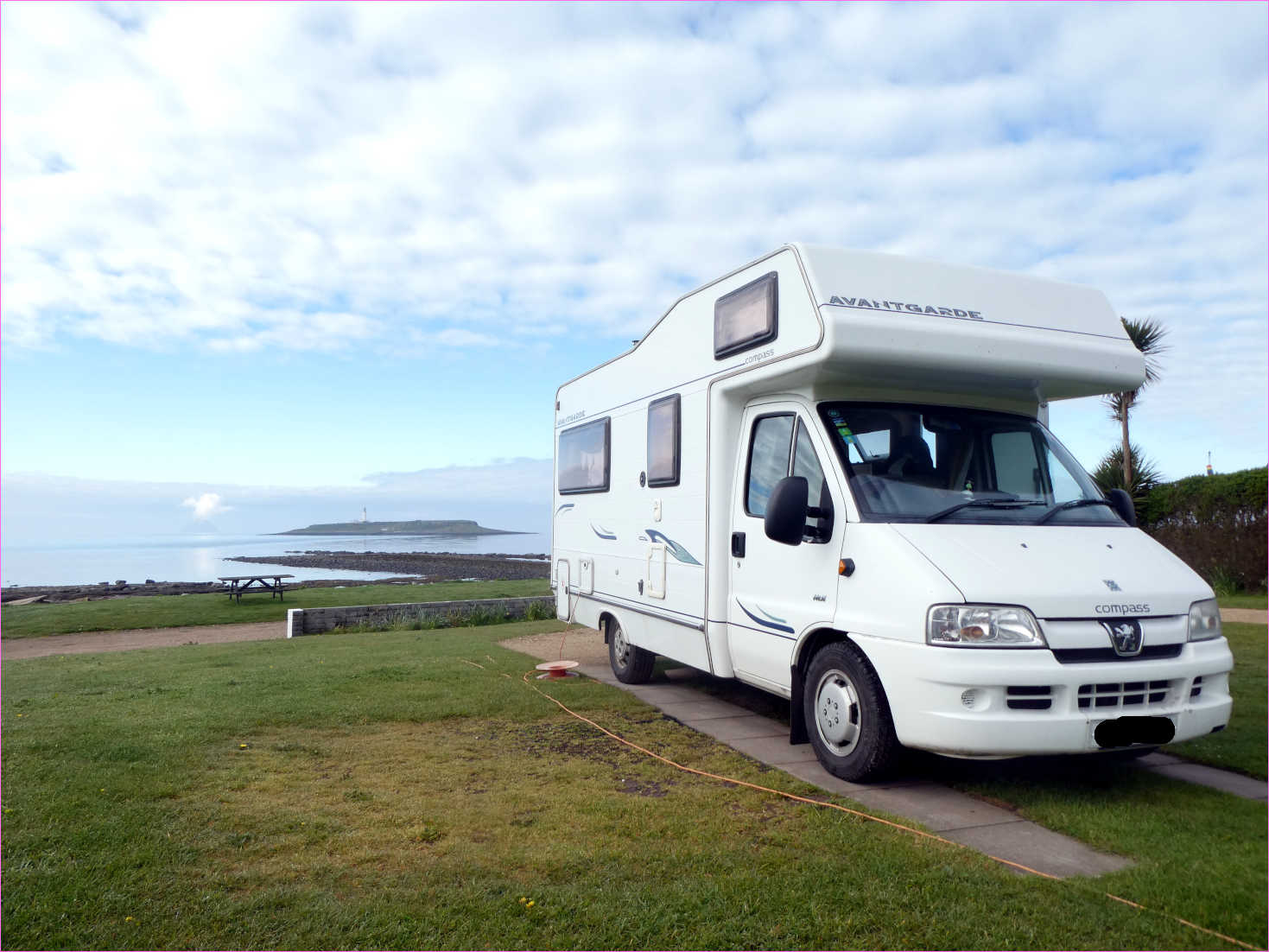 The game ended as a draw, Dad was not too upset as we headed out and along the beach. Peoplesees were all on the beach looking at a rock. What they all looking at Mum. Mum got out her big glasses and said "Otters. Look Otters playing on the rocks."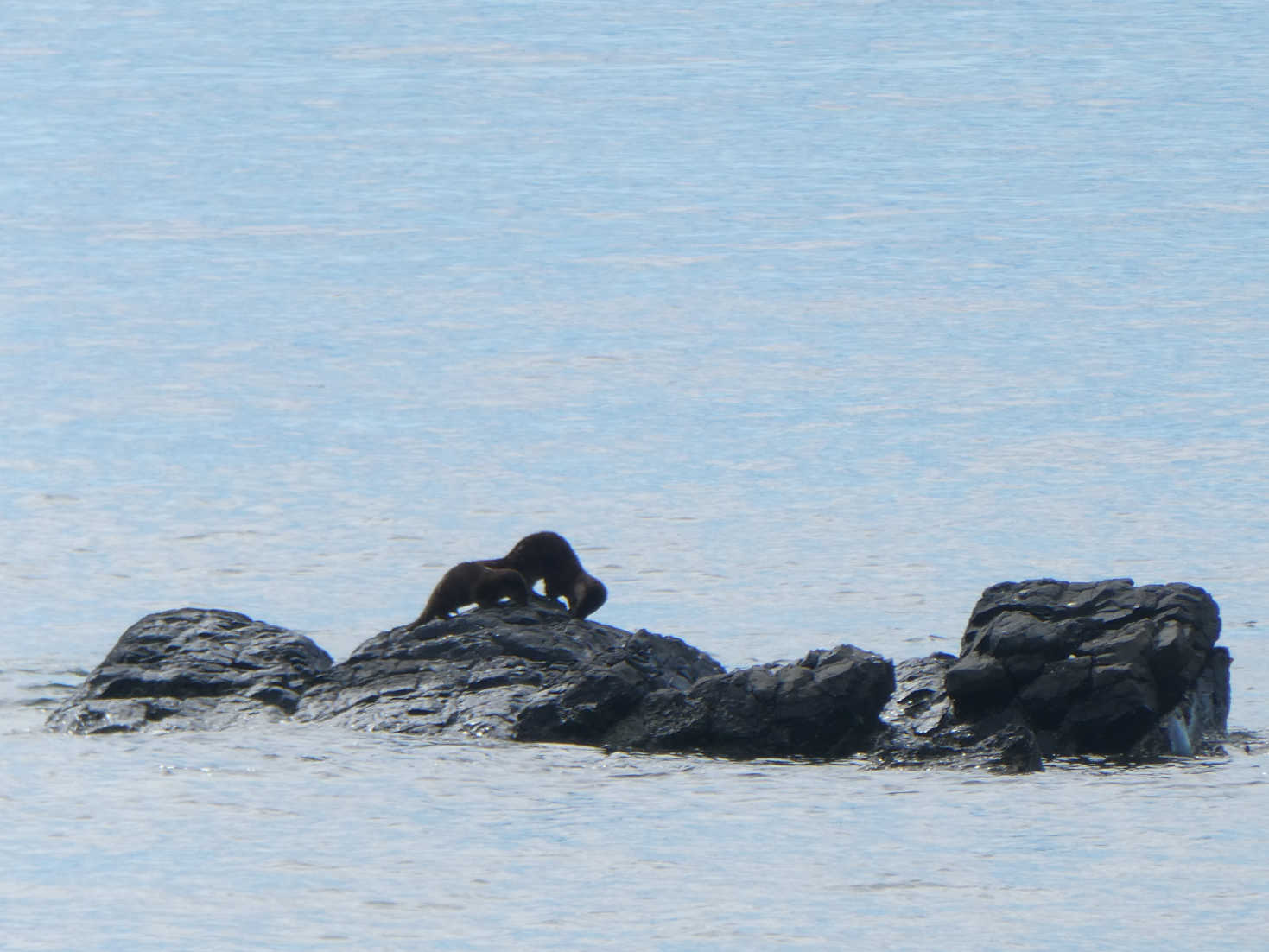 I don't think I have met Otters before, but they look like big rats to me. Probably a good job for them that they are out of reach. I don't think they would like the games I would play with them grrrrrrrrr.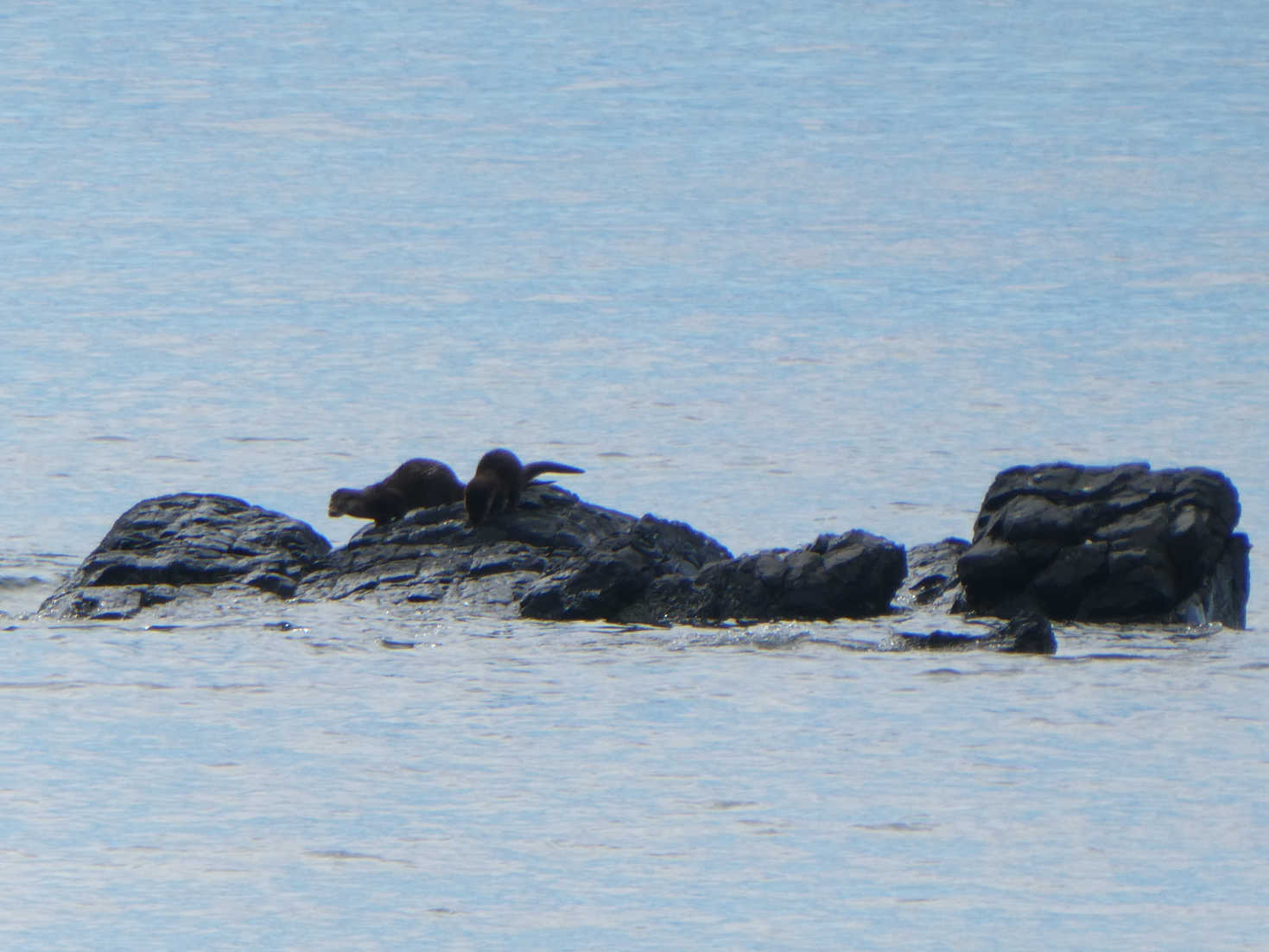 Dad how about a game of Ball? Mum told dad to keep it away from the Swansees. Mmmm I suppose Poppys and Swansees have got history.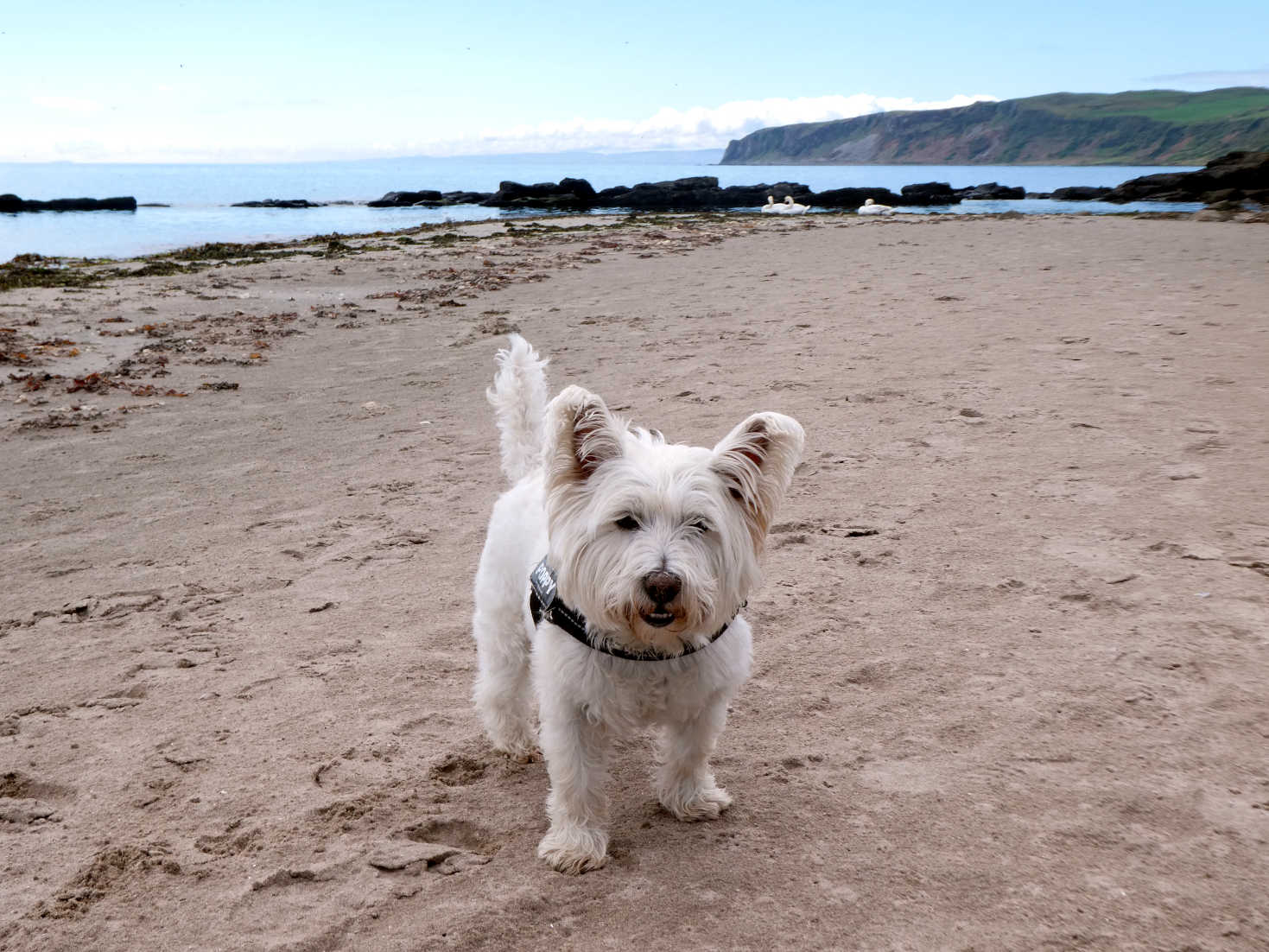 On the bigger beach we played some more ball. It was great but got cut short when the beach was closed with a tape. How come? "It's for nesting birds Poppy" said dad. Oh, OK then. We scrambled off the beach and onto the main road. The main road is quiet so dad didn't put me on leash but he made sure I was close.
At the end of the village the road goes up a steep hill to the rest of the island, but we take the small path to the last few houses in the village. At the end of the path there was a sign on the gate that takes you to the fields and beaches. What dose it say dad? "It says we have got to be careful, the cows have calves and can get protective of there young. We will go by beach, it will be safer." Said dad. It all went well till we had to walk through them, Dad picked me up to sneak past them. Cows are big eh Dad. Finally we have escaped the cows and I found the best place to get back scratchees.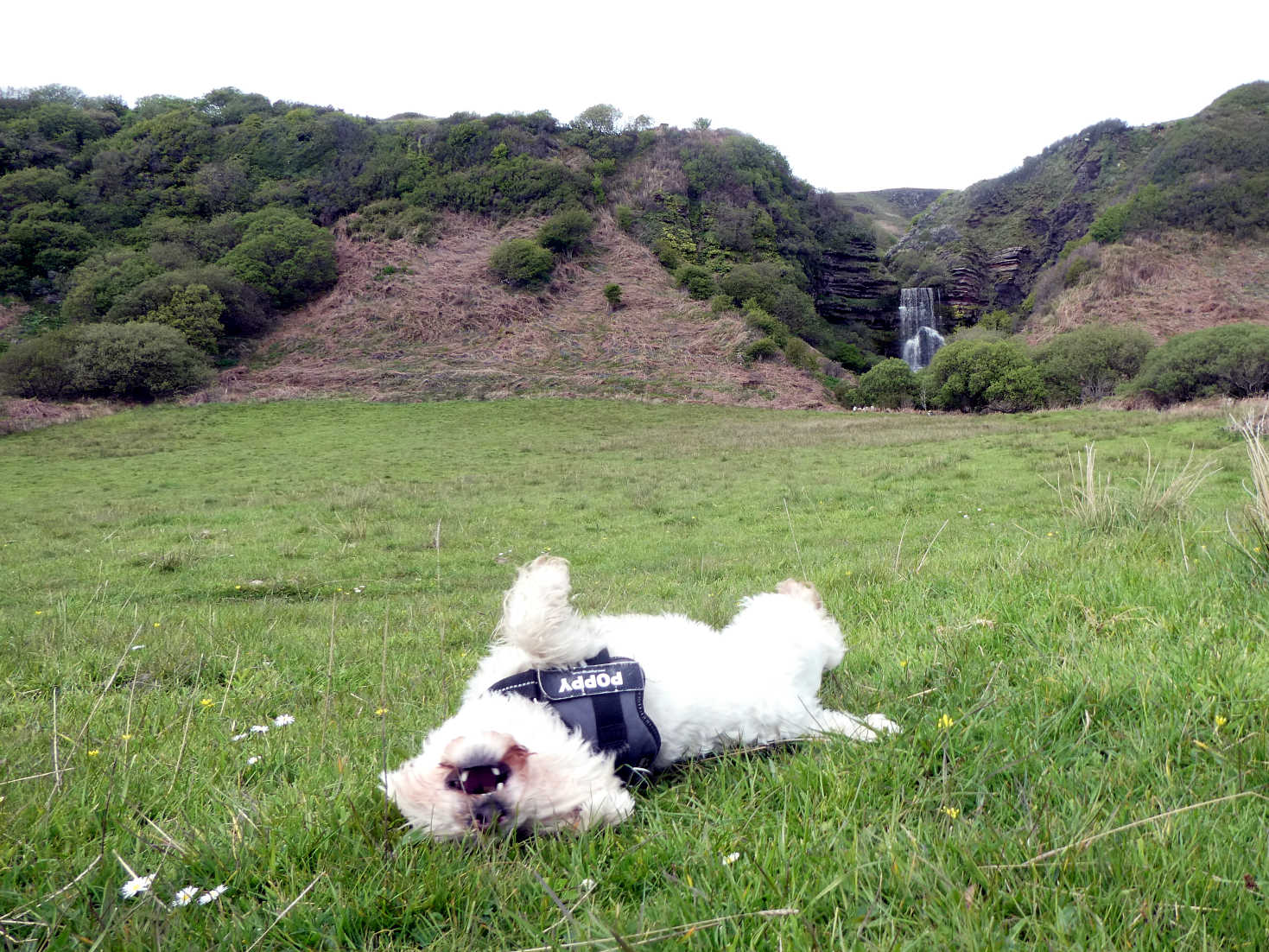 Sniff, Sniff, Sealmonsters!  Mum Dad Sealmonsters!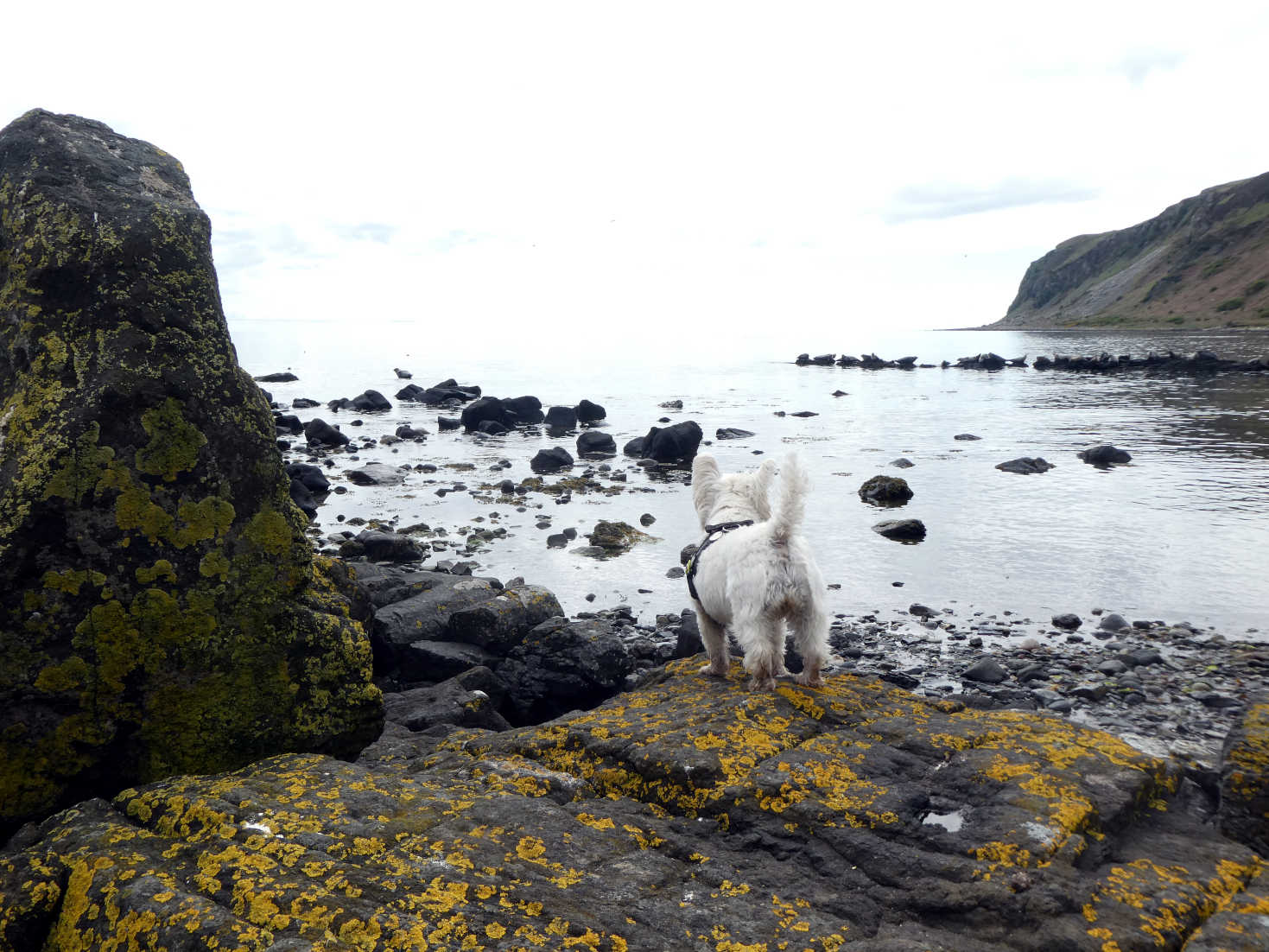 The must have remembered me from the last time when I chased them all into the sea. They are certainly keeping an eye on me.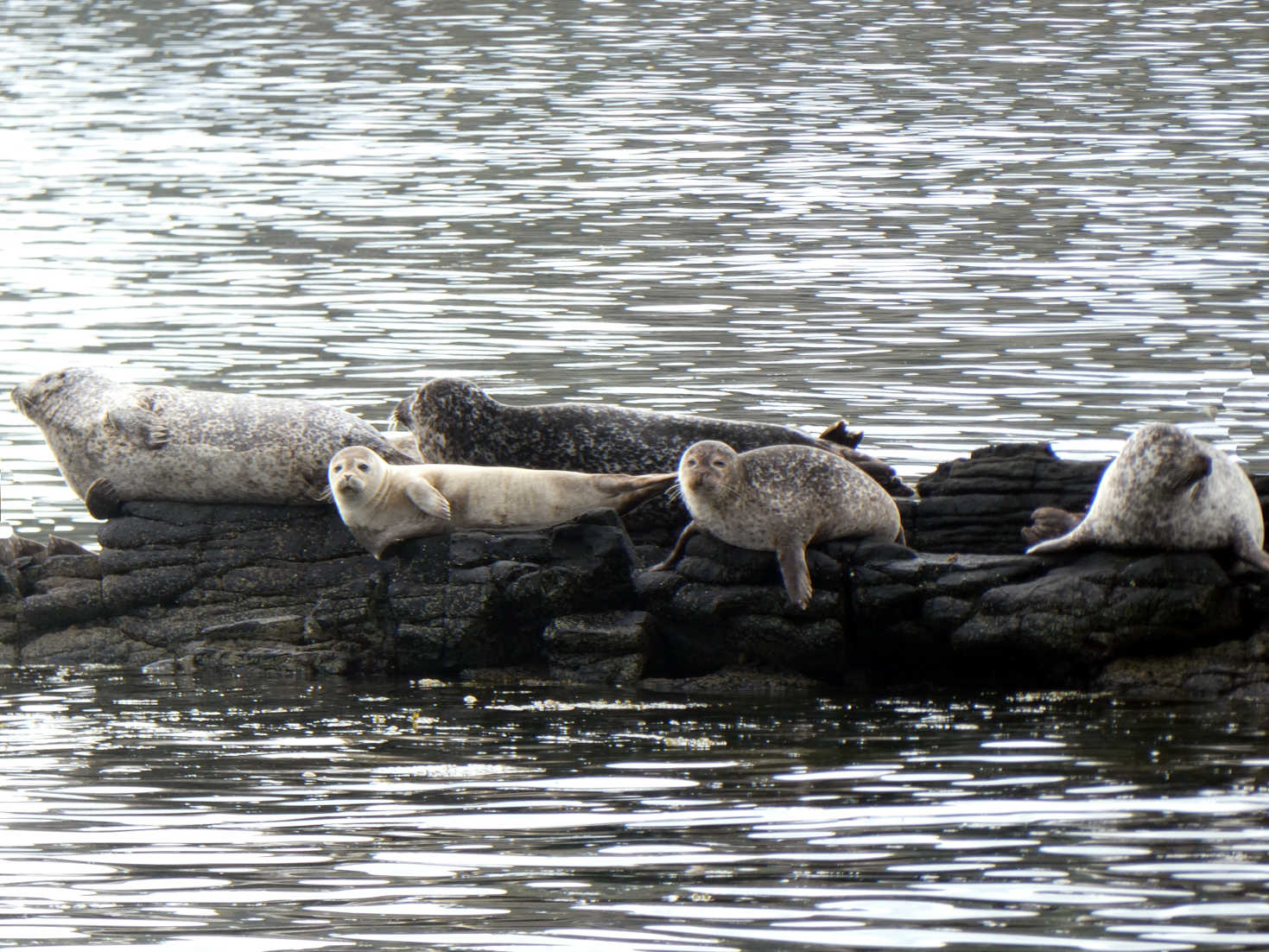 I'll pretend I don't notice them.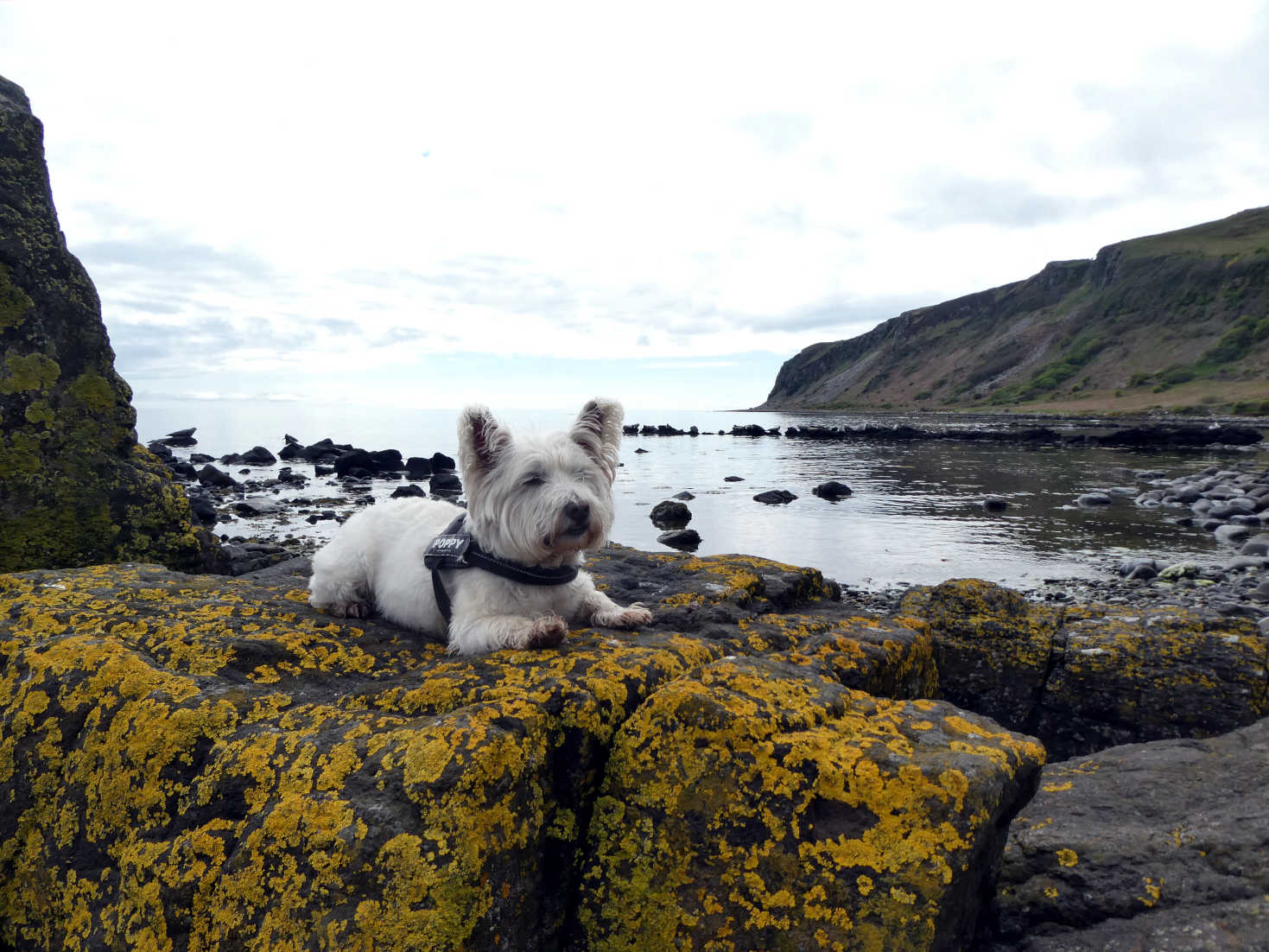 Is he still looking at me?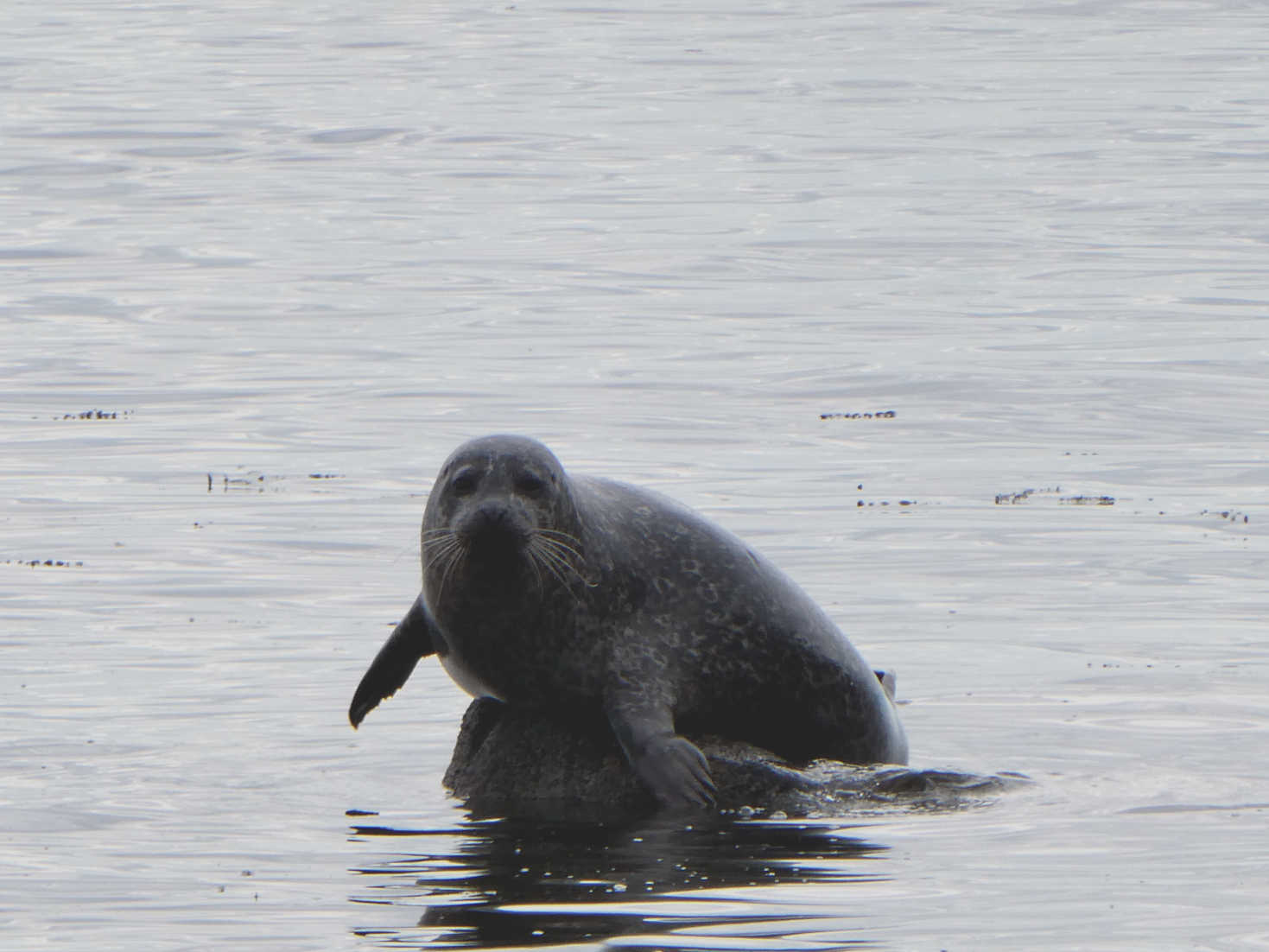 Let's try and out flank them Dad. We walked across the small bay, but they were still watching us as the Campbeltown ferry sailed by.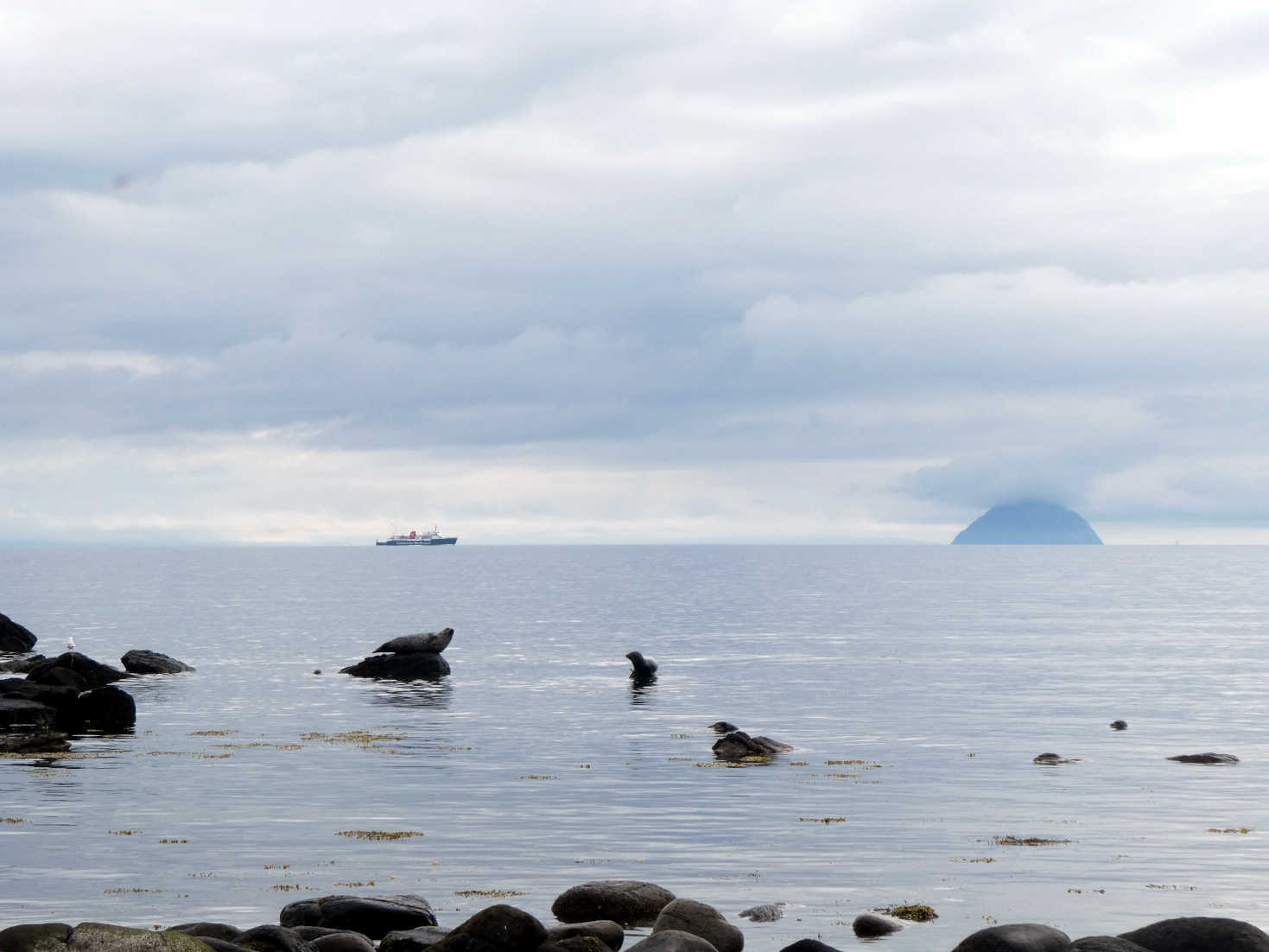 I think I have found a way to get them Dad, this is they way I went last year. Dad, some of the rocks are still under water? Is this the tide thingy again? Grrrrrrrr
I just couldn't get to them. Lucky seal monsters. Nothing for it than to have a picnic and wait
Tide didn't go out, I had to give up, Lucky sealmonsters. Poppys just don't swim. So we had a last look at the bay and headed back.
The walk back was great lots beaches for Ball.
The cows had now invaded the beach Dad had to pick me up again, but once past them it was a nice walk back to camp. Otters were still fishing and dolphinsees were playing far off the cost. We sat outside for a bit as the sun went to bed.
I was shattered, so nipped into Betsy for a wee snooze.