Grampa came over early today and took me for my lunchtime walk. As soon as I got back, sniff sniff, Mums home. I barely had a chance to get a drink of water when we bundled into Betsy and were offski. She rolled all the way down the beside the big river passing towns and the places where boats live until she came to a stop at a slipway. Dad rushed out to buy tickets as the big ferry came in opening its huge mouth to swallow all the cars and vans.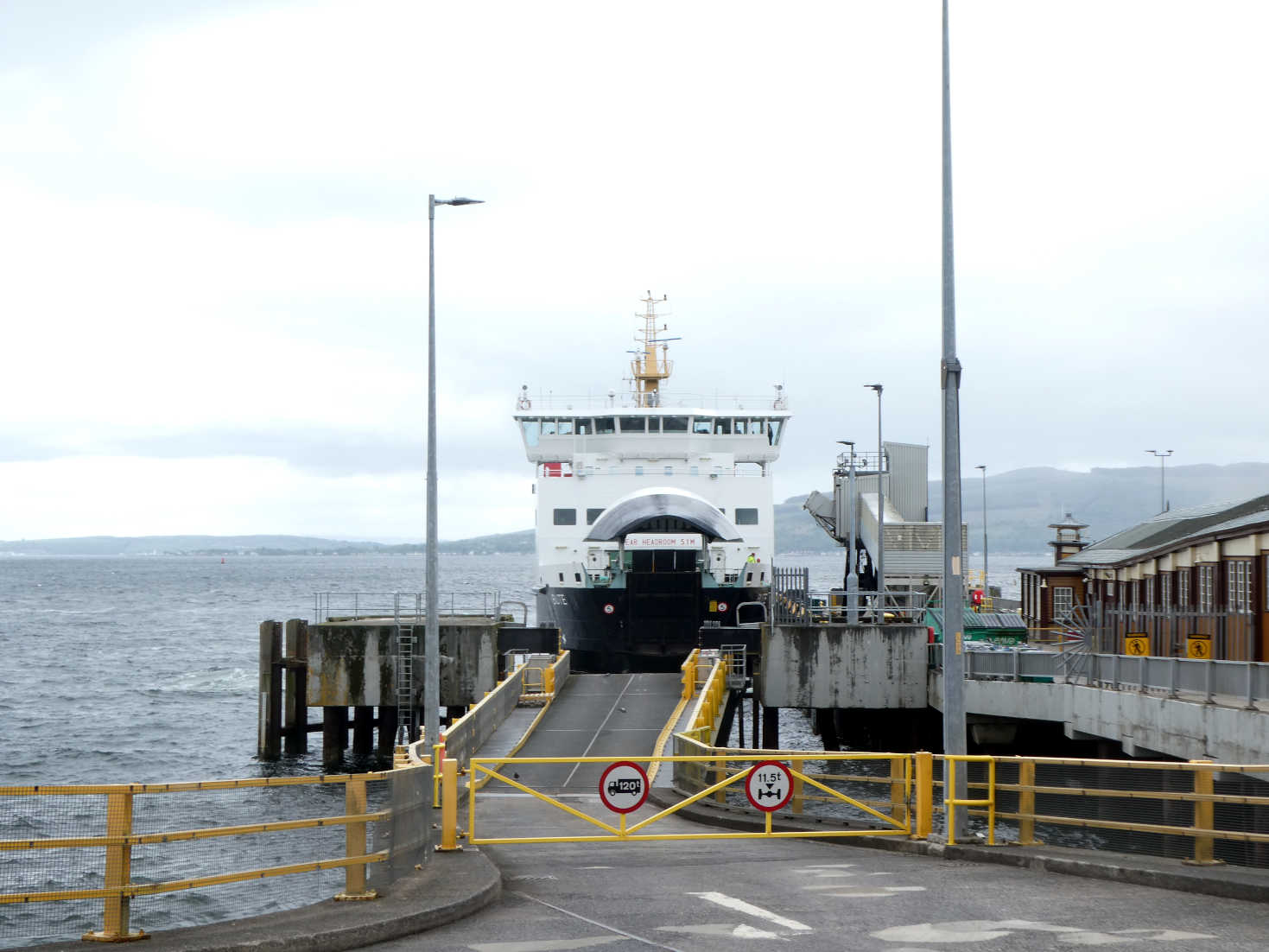 Once in a boat peoplesee told us to get out of Betsy. "This is new dad, I have never been out on this ferry before" Ok lets go. I had to climb millions of steps to get to the Poppy area of the ferry, dad went outside but it was too windy for mum, so I kept her company.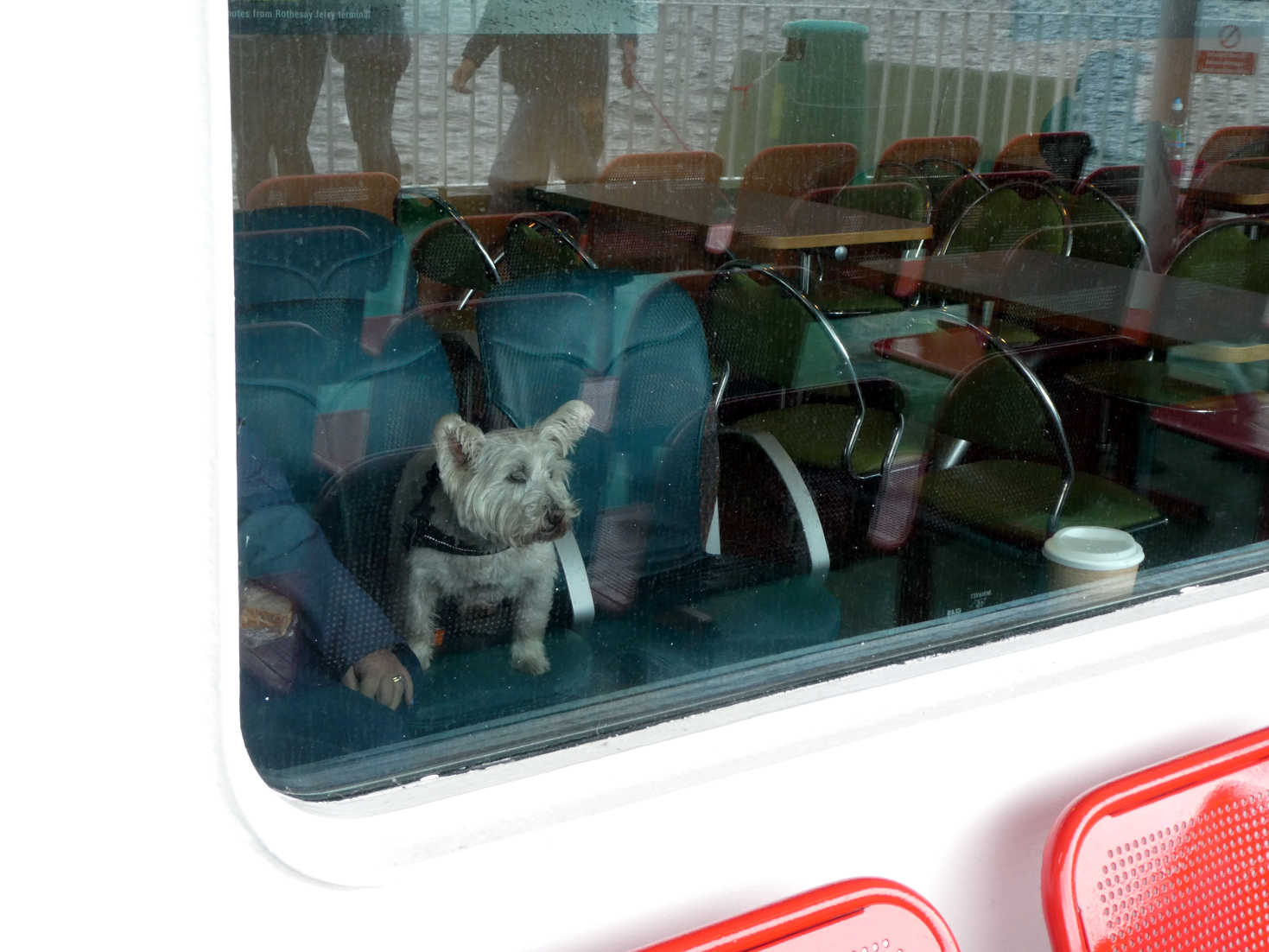 Soon the ferry was on the move leaving Wemyss Bay behind her.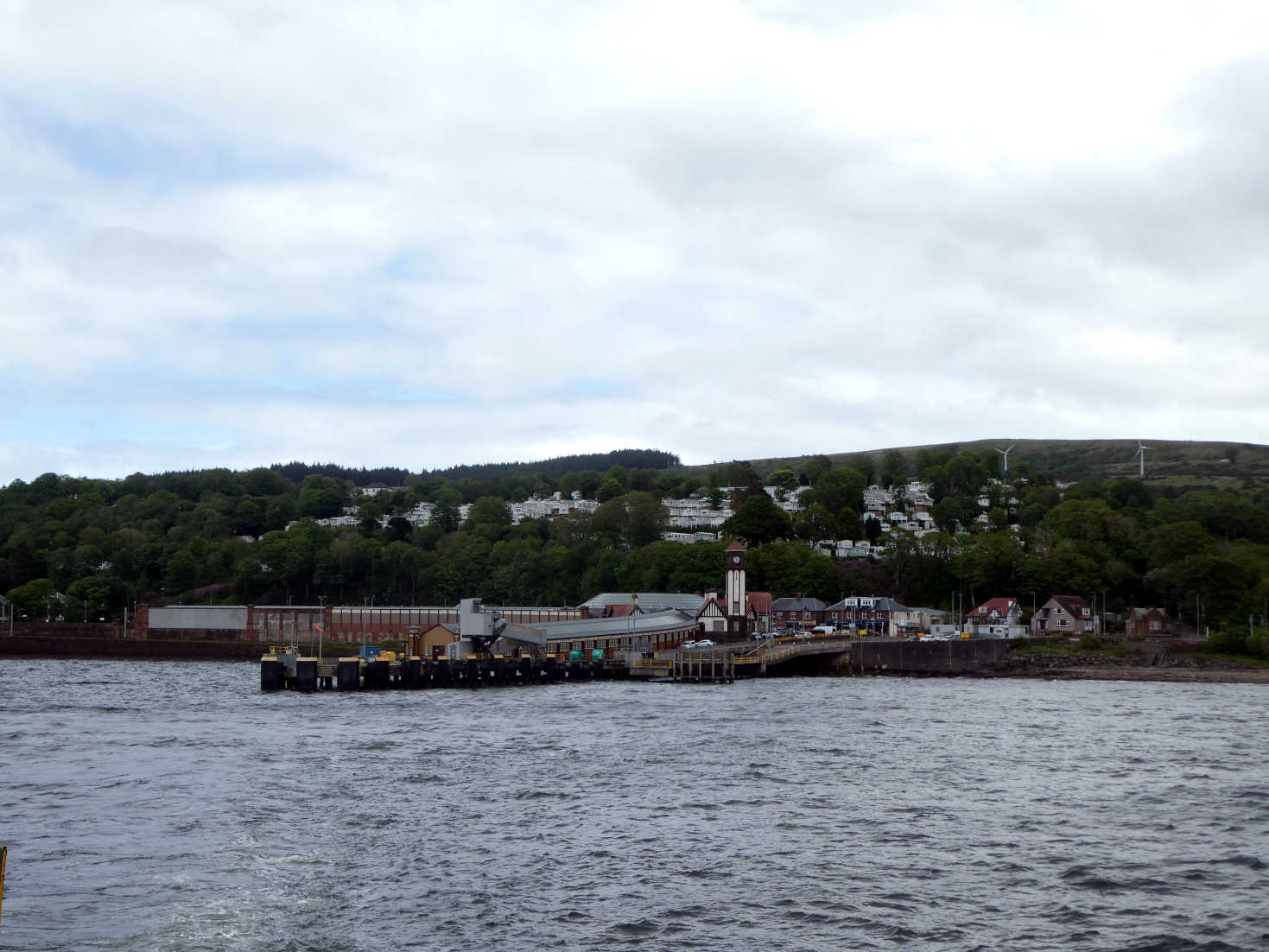 I really needed to stretch my legs so dad took me out for a runabout. Mr wind was up to his old tricks again, "Dad how come Mr Wind comes out to play so much this year?"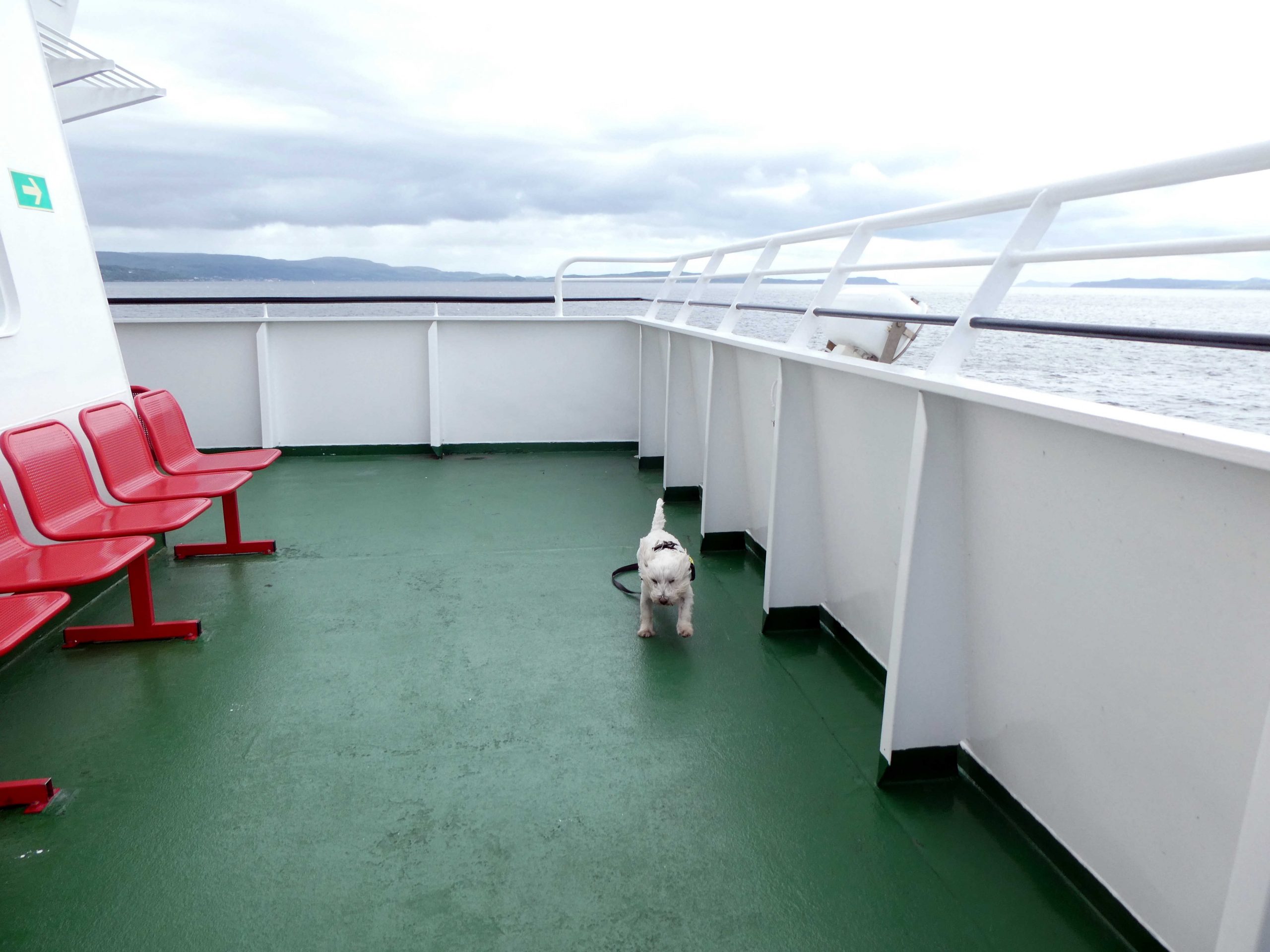 We found a bit of the ferry where we could hide from him where I met a Scotty called Doris. I only know one Scotty and he is very yappy, Doris had a voice but was much quieter than Rory.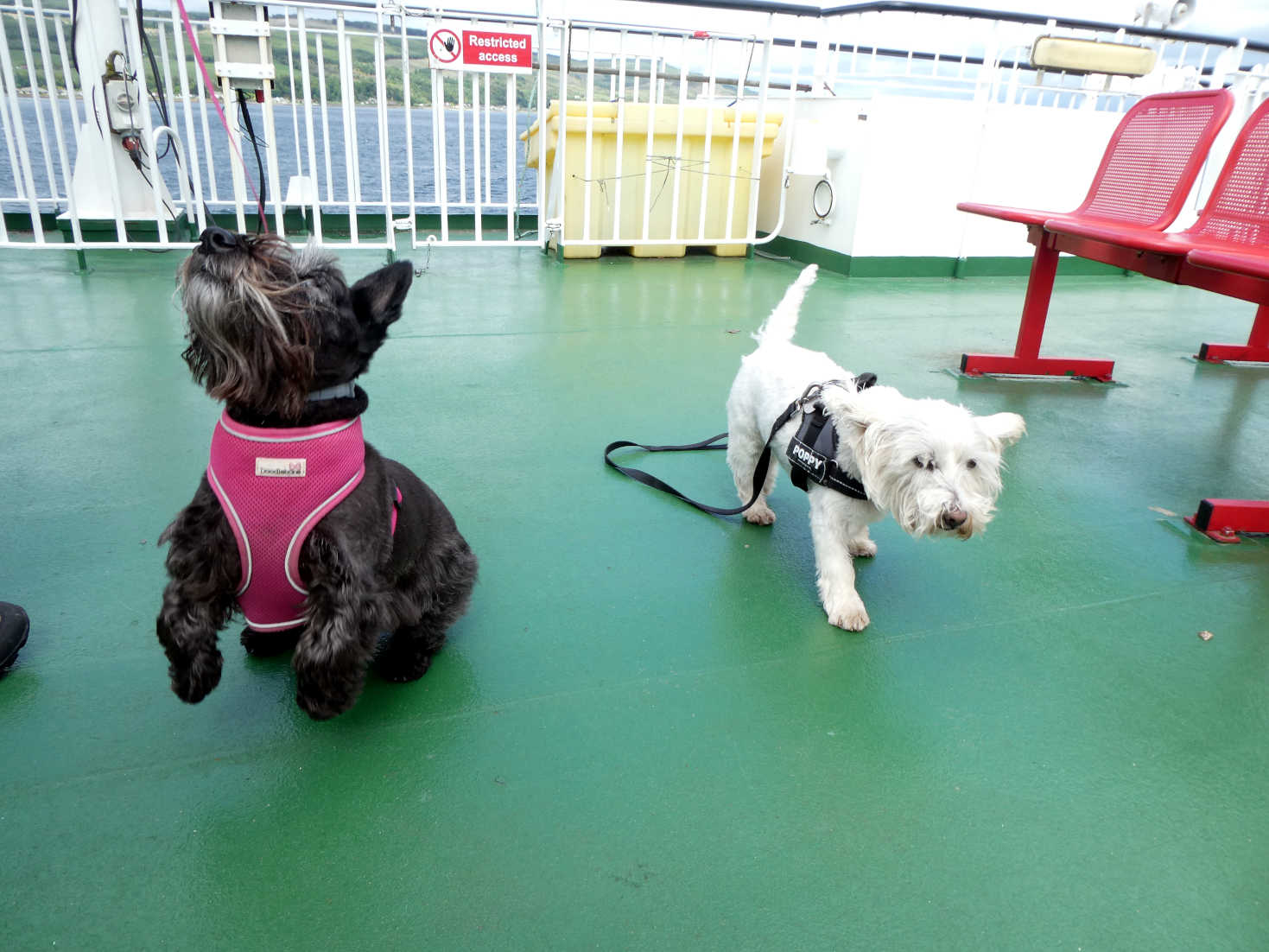 Sooner than I thought the ferry started to slow down and I could see Rothesay. Are we going back to the hilltop campsite Dad?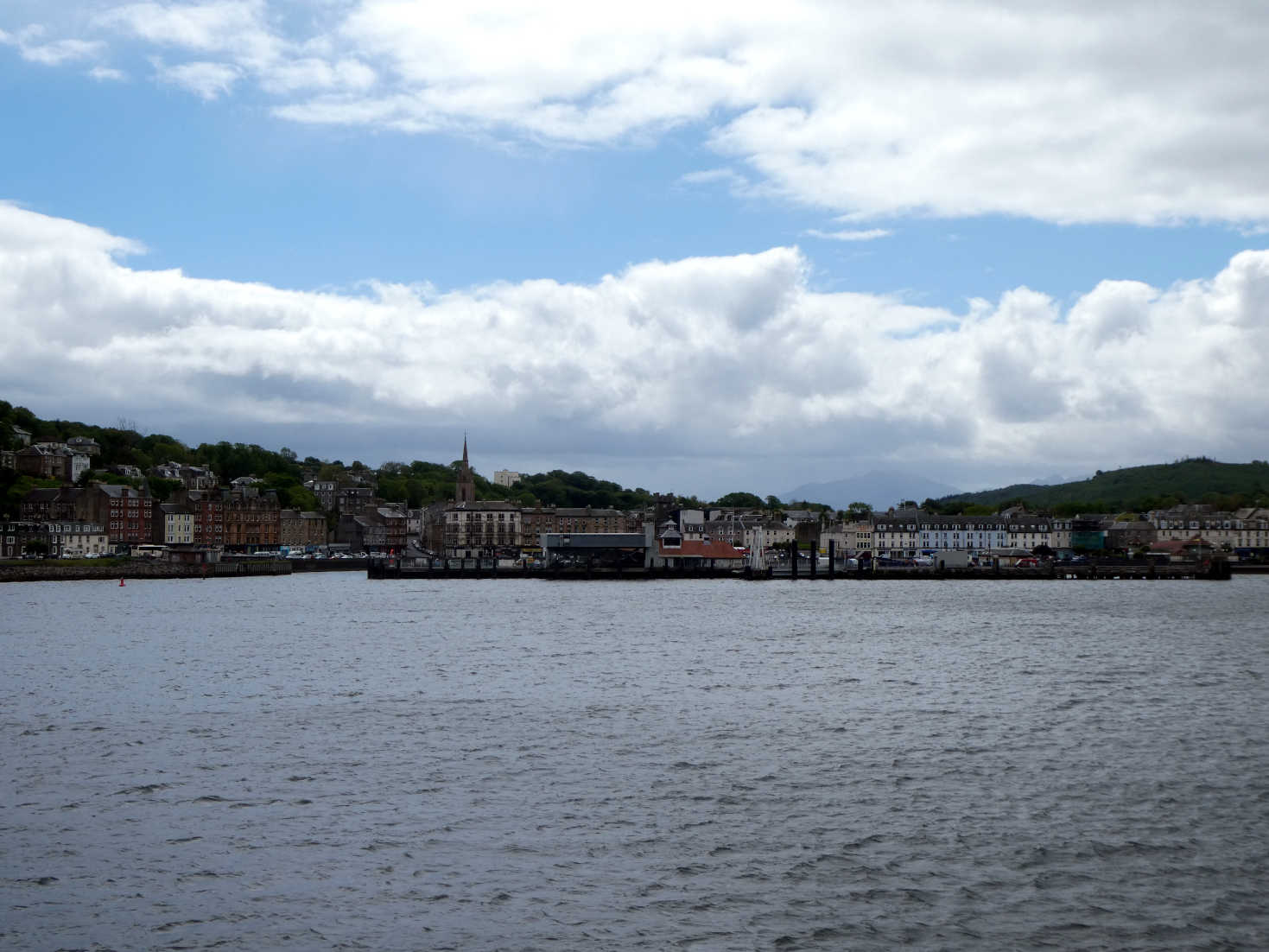 The ferry told us to go back to Betsy. As we got in it started to open it's big mouth and Betsy rolled back onto the Isle of Bute. We didn't go to the camp site, instead she headed up the coast. Mmmm where we going? Betsy pulled of the main road and headed inland. I know where I'm at, we're going to the beach! Sure enough Ettrick Bay! Mum was talking to Aunty Ray on the talkbox so we had to wait before going out but as soon as we did I headed straight to the sand.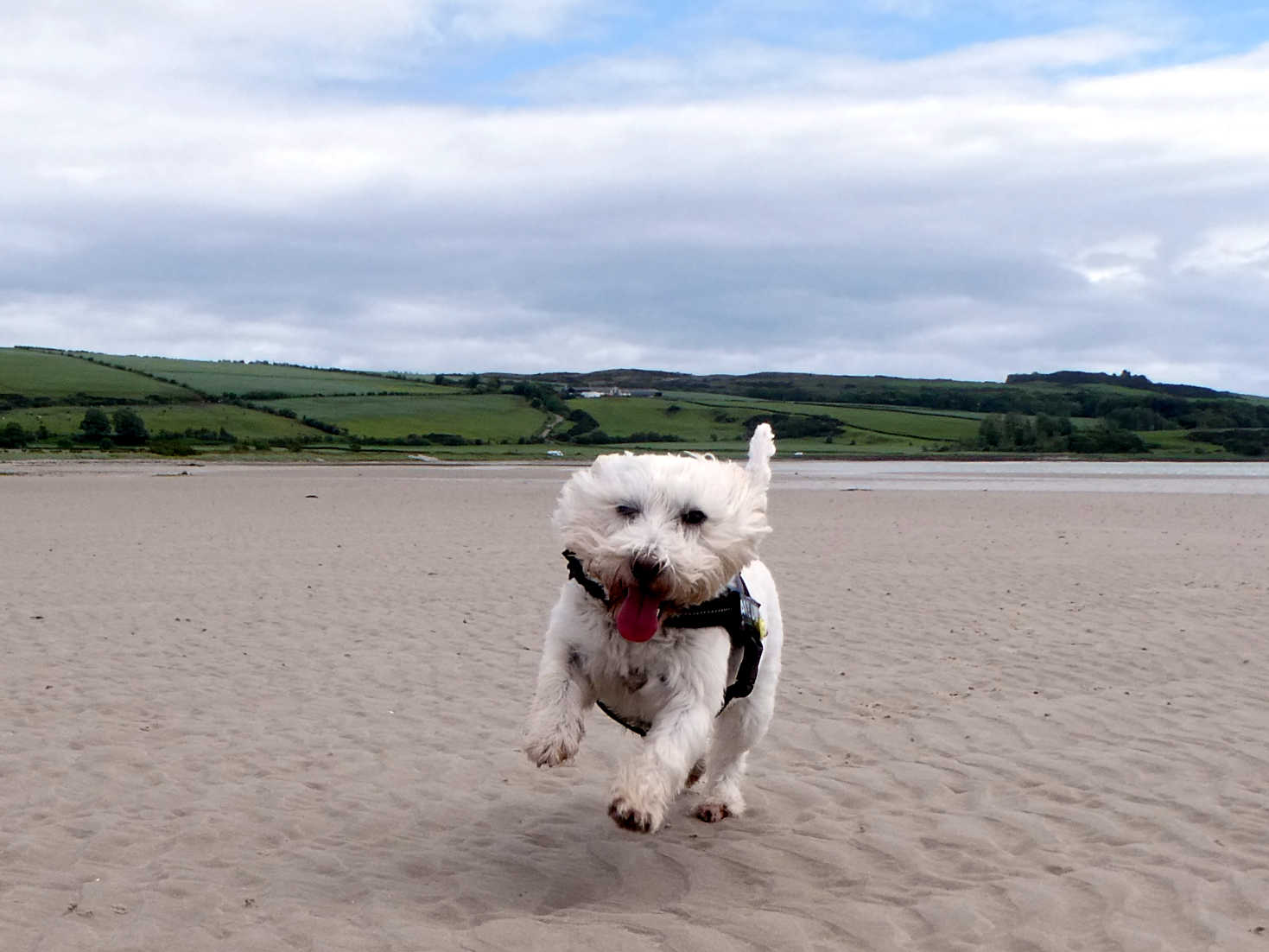 Dad this arrow. It's Pointing to where we were two weeks ago. "Yes Poppy, that's picnic beach way over there."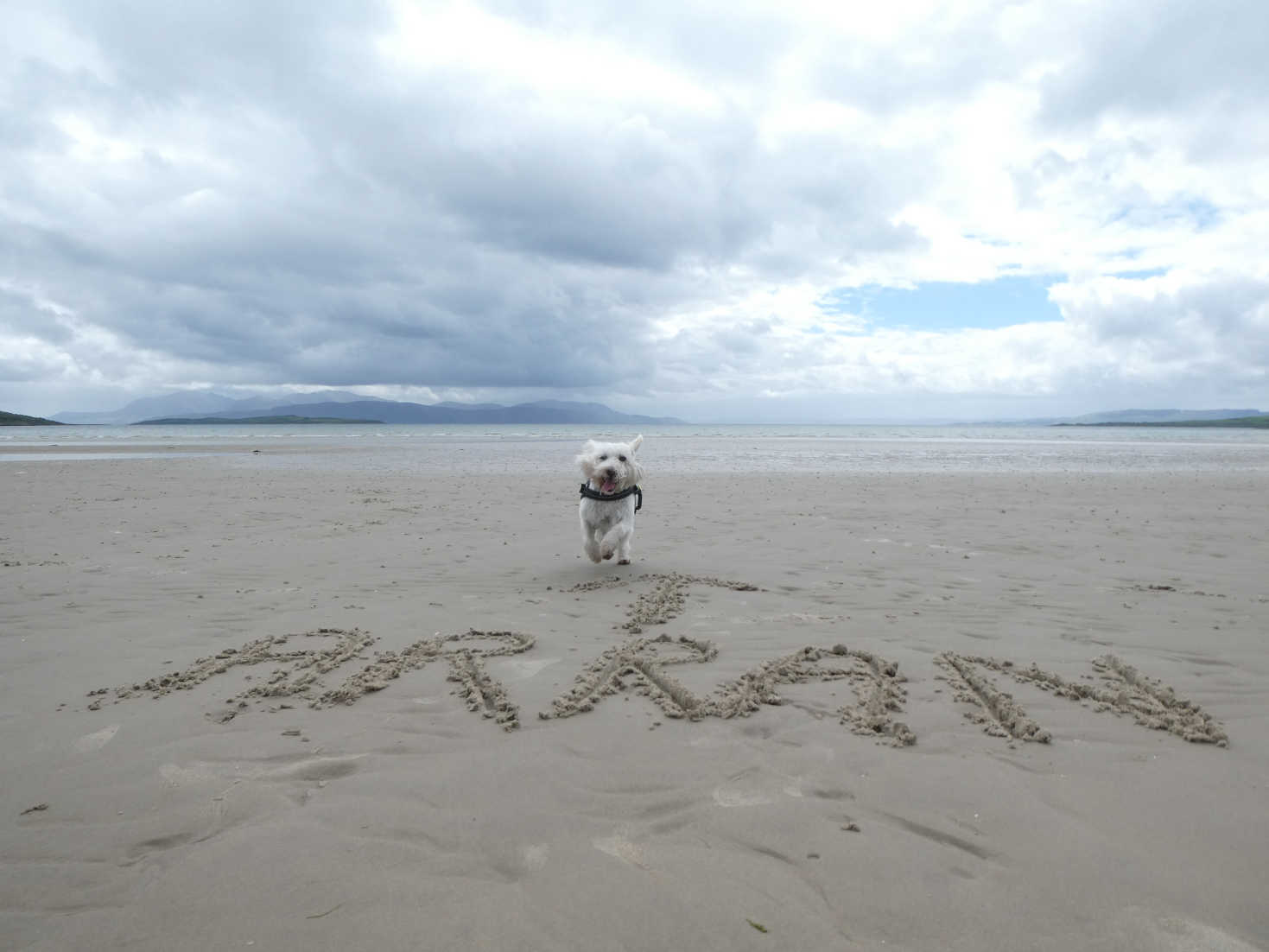 Enough of this chitter chatter BALL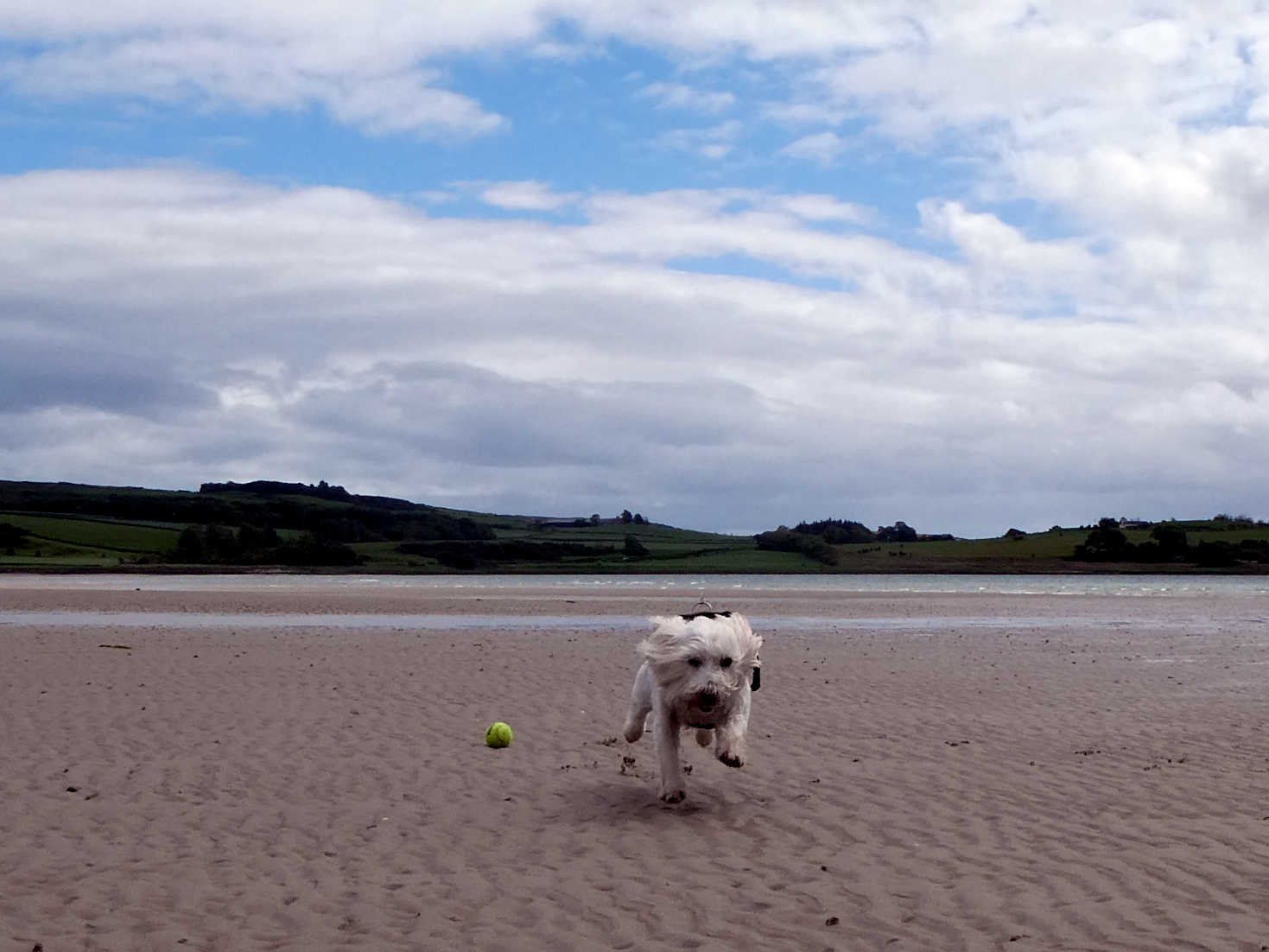 Dad picked up a stick and wrote on the sand. "What you doing that for Dad?" "So peoplesees will know where they are" he said. Uh? Your pulling my paw.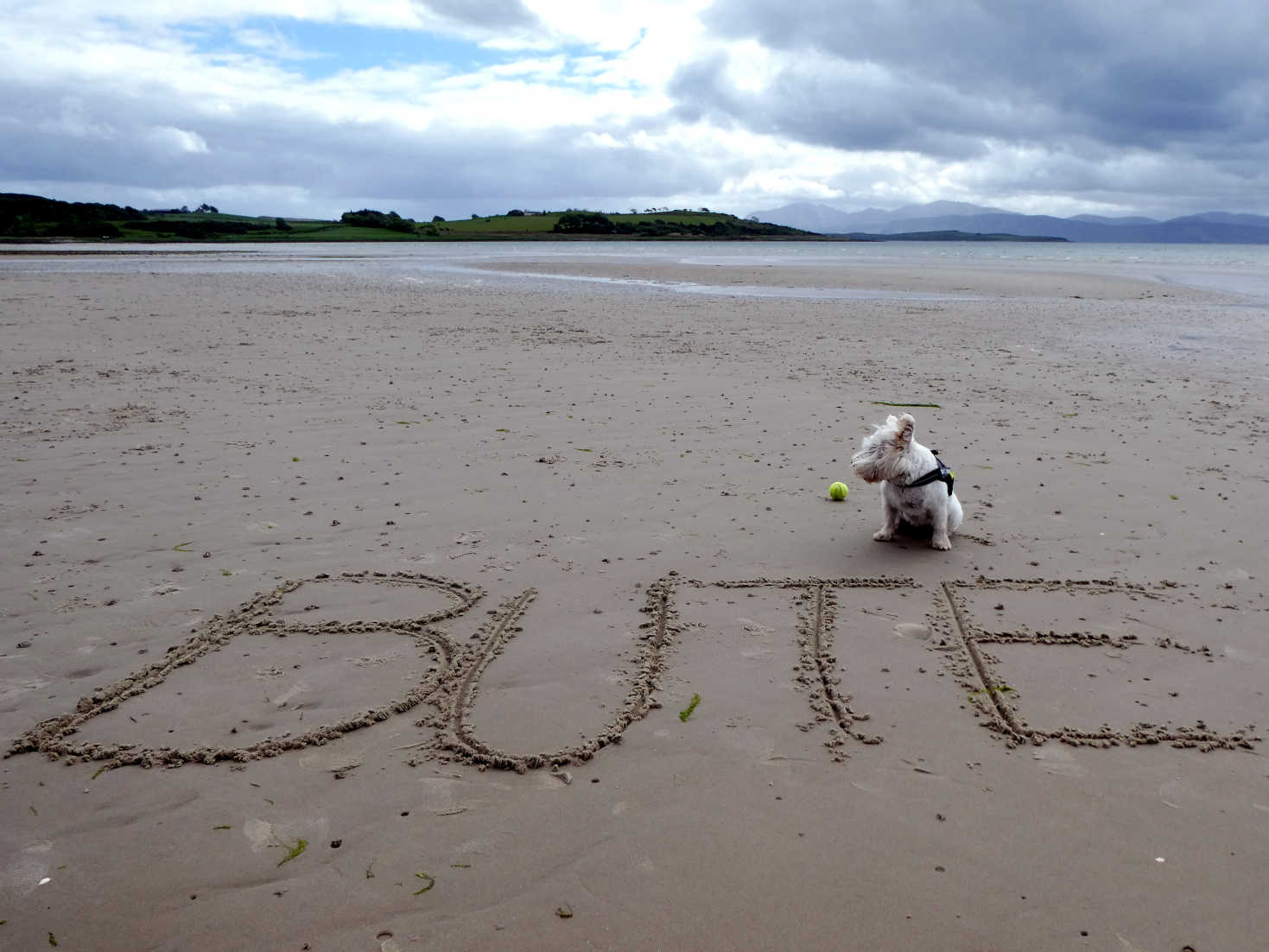 We played ball all the way to the end of the beach it was quite a long beach and it got bigger as we went along it. A few times I had to stop for a wee rest.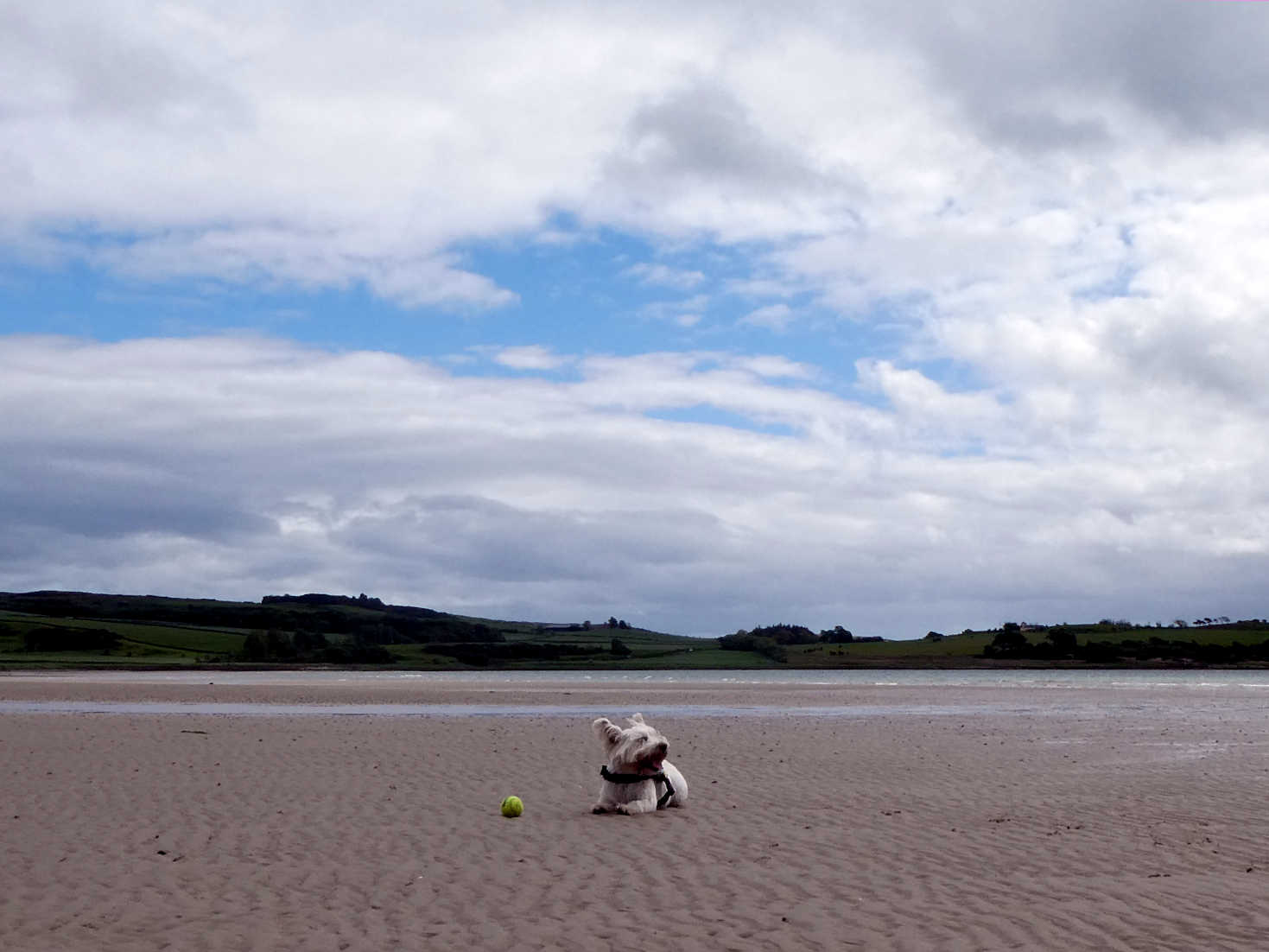 On the way back we cut across the bay. There were a few bits where Mum had to give Dad a coal carry because dafty Dad had not put his boots on. Good Job you have lost weight Dad. Mr Wind had been with us for the whole of the walk, making my ball go for miles but now he had upset the sky and she started to cry. Better get back to Betsy.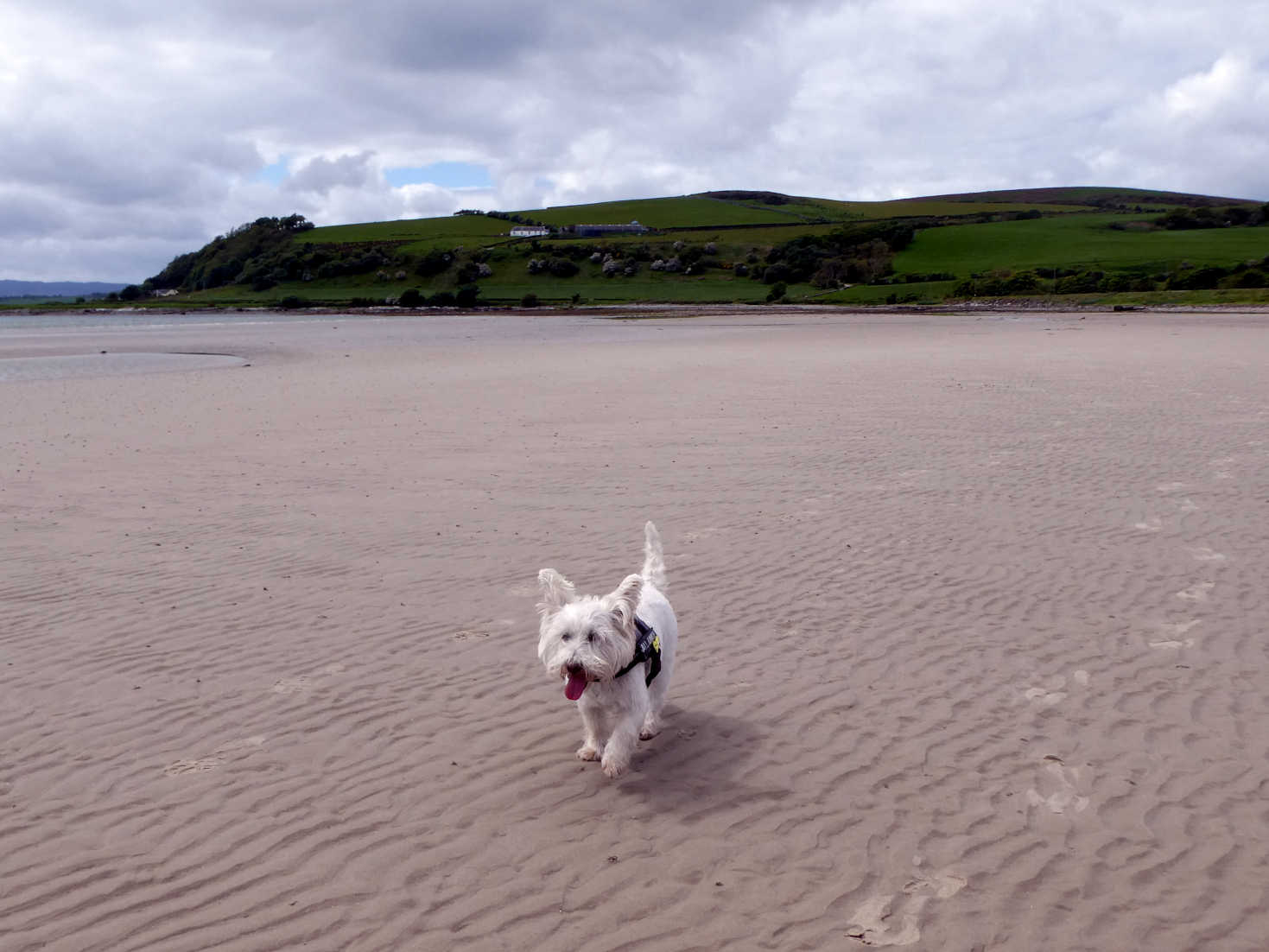 Betsy set off chasing the sun, looks like it's over Rothesay. She pulled into camp a rested at the exact same spot as last year. As Mum and Dad got her ready for night, I thought my eyesight was playing tricks on me, another Betsy! Is that your cousin Betsy?  I mum finish off setting up too much hard work I think I'll go for a nap.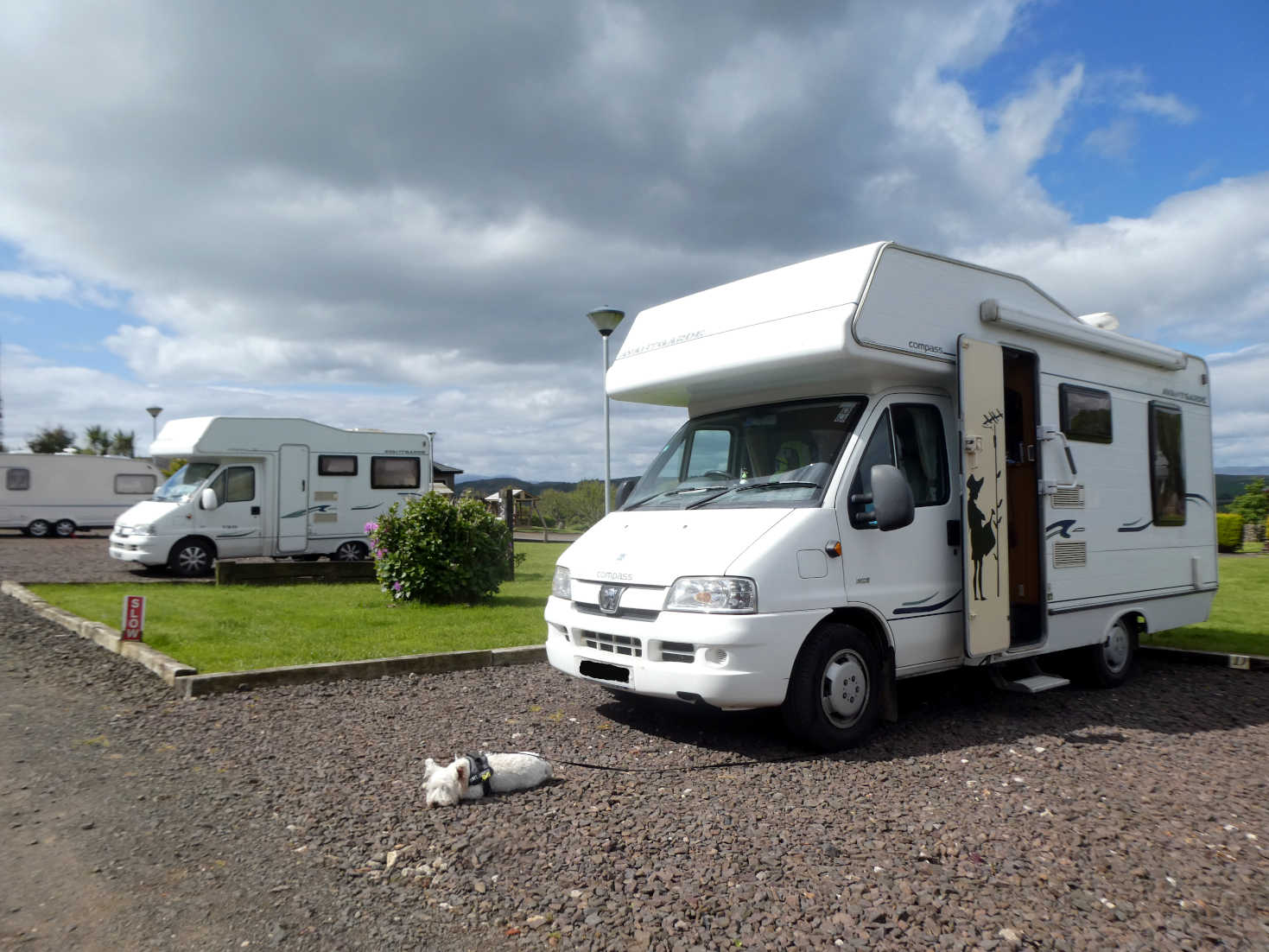 Where we going for dinner? Are we going back to the Bonny Clyde? They have yummy fishees in the Bonny Clyde. "Yes Poppy" said mum. To get there we had to walk down a steep twisty road called the Serpentine at the bottom Mum had to buy a bottle of wine for dinner. She was miffed that Dad only brought big bottles. I waited outside because Poppys are not allowed inside Co-ops.
I was getting hungry. Hurry up lets go for din dins!
Dinner was good, fishees, YUM. It was still light when we left so we plodded along the sea front.
I looked at Mum then Dad then the hill with the campsite at the top of it. Will we walk home? Aye, that will be right! To this date we have never walked up that hill after dinner! Taxi it is then.