Another Day Another Ferry
The Sky was blue when I woke up, Mum and Dad were already up and about. Mum started getting Betsy travel ready when I went my patrol around the camp. Back in Betsy she roared into life and we were off. She plodded down Canada Hill into town. Just after the harbour she pulled into the side and stopped. "Why we stopped here?" I asked dad with a look. "Mum wants to see a shop called Green" he said. Oh, OK then. Poppys weren't allowed into this shop, so I waited at the door for mum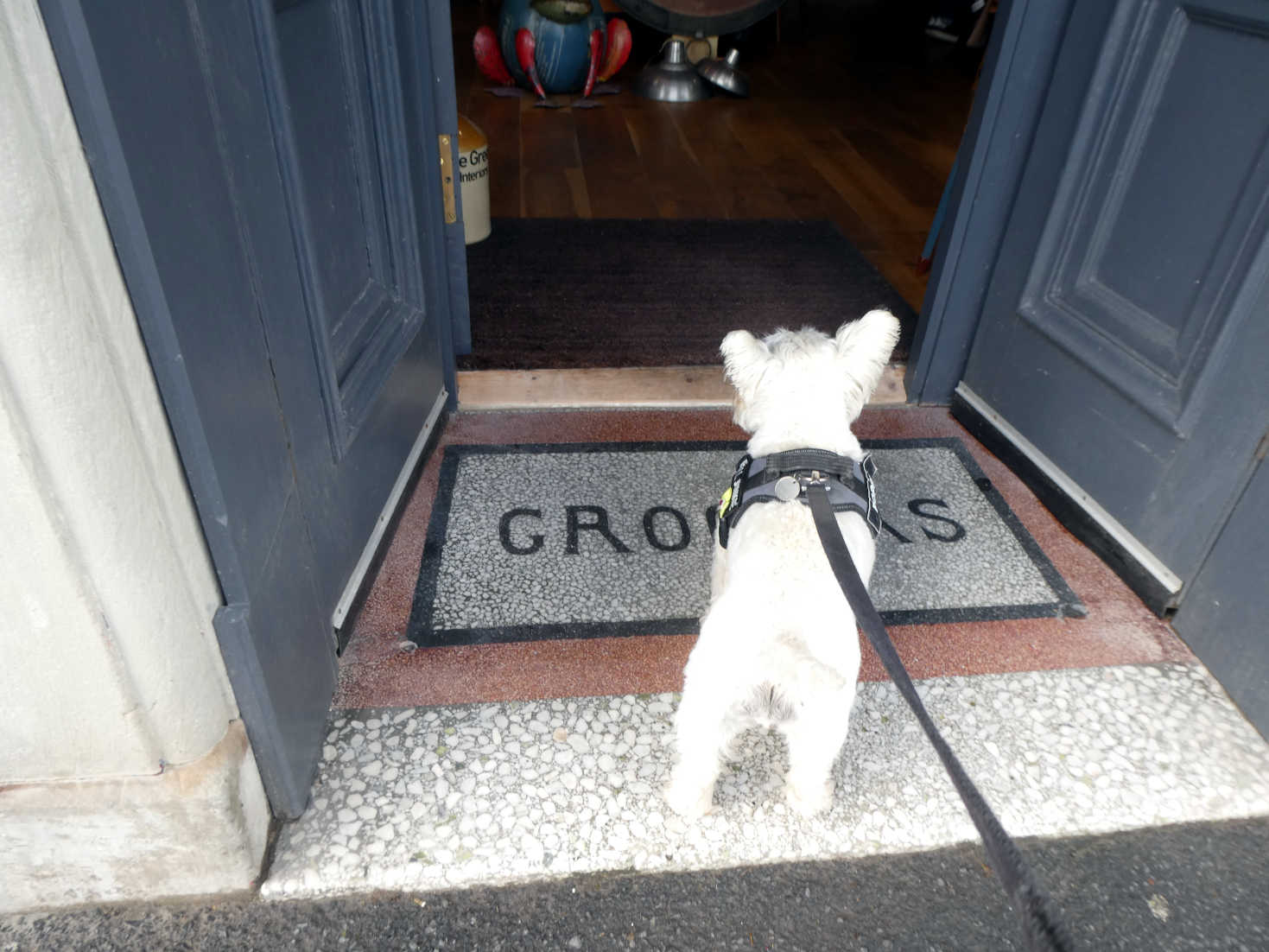 Mum liked the shop but never bought anything. Back to Betsy then. Betsy trundled out of town and into the countryside keeping the Kyles of Bute on Dad's side. I liked this run. Easy and laid back everyone was in good moods. The road ended and Betsy had a big space to have a rest. I got out to explore, mmm slip way, are we going on a ferry?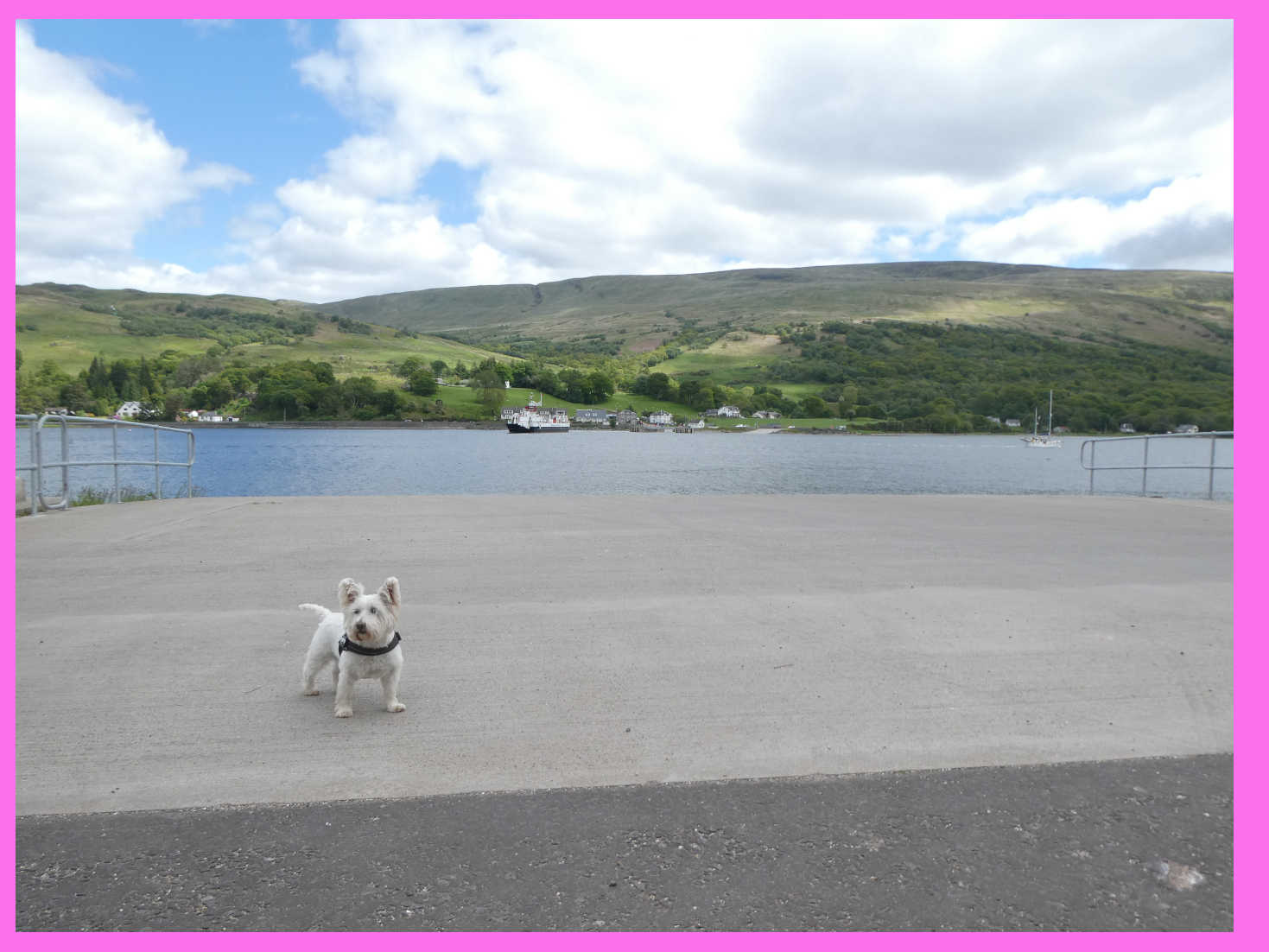 Sure enough the ferry came in and we jumped on. It was a quiet ferry with lots of space to roam about. Soon we were off I could see Betsy left behind, "We are coming back for her?".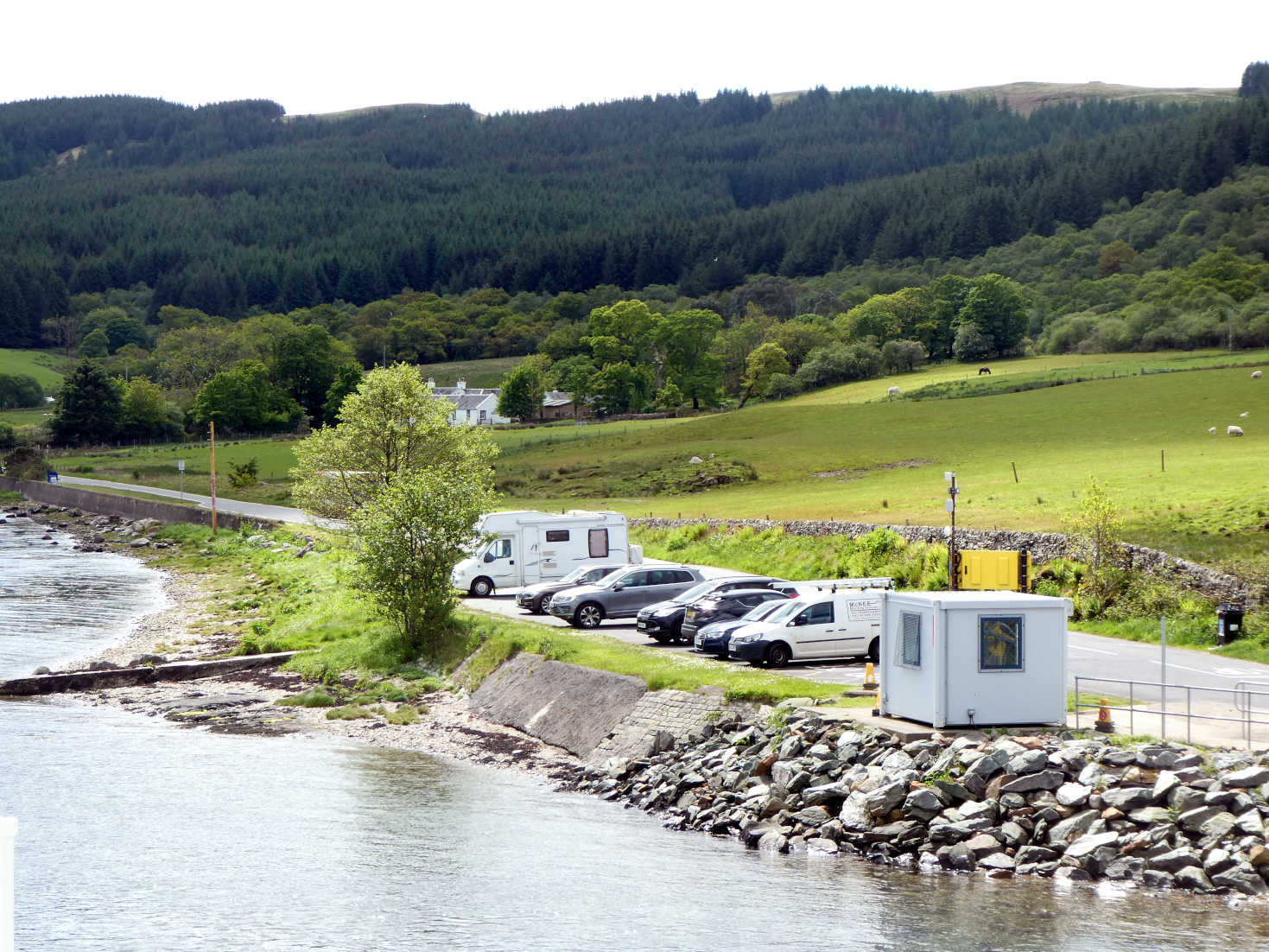 Ferry was good, I even got my own seat.
Dad did have a miss hap when taking my picture, poor dad is still not use to his camera!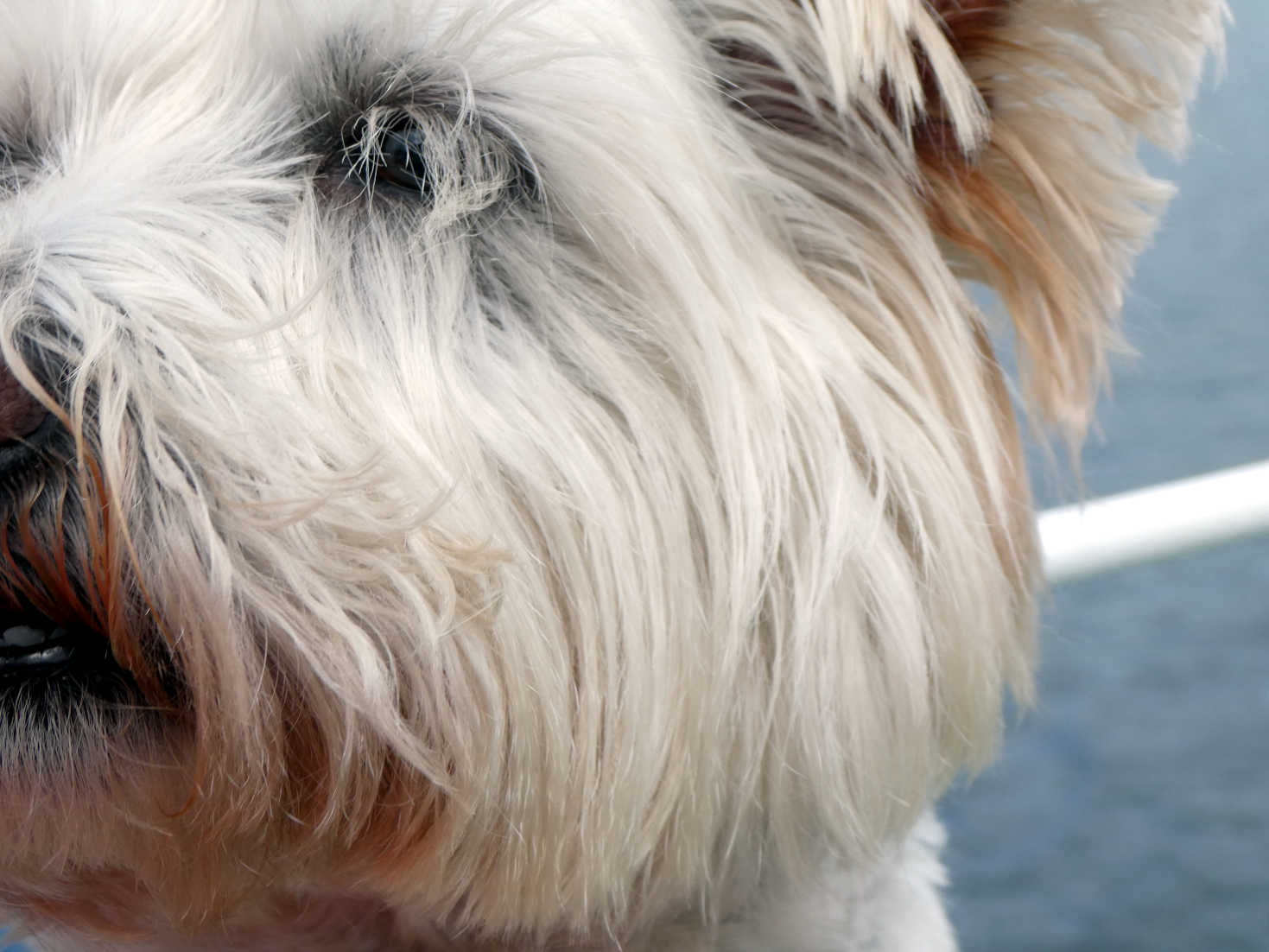 Mum and dad staired over the side of the ferry looking up the kyles to Loch Ruel. I think its going to be a nice day today.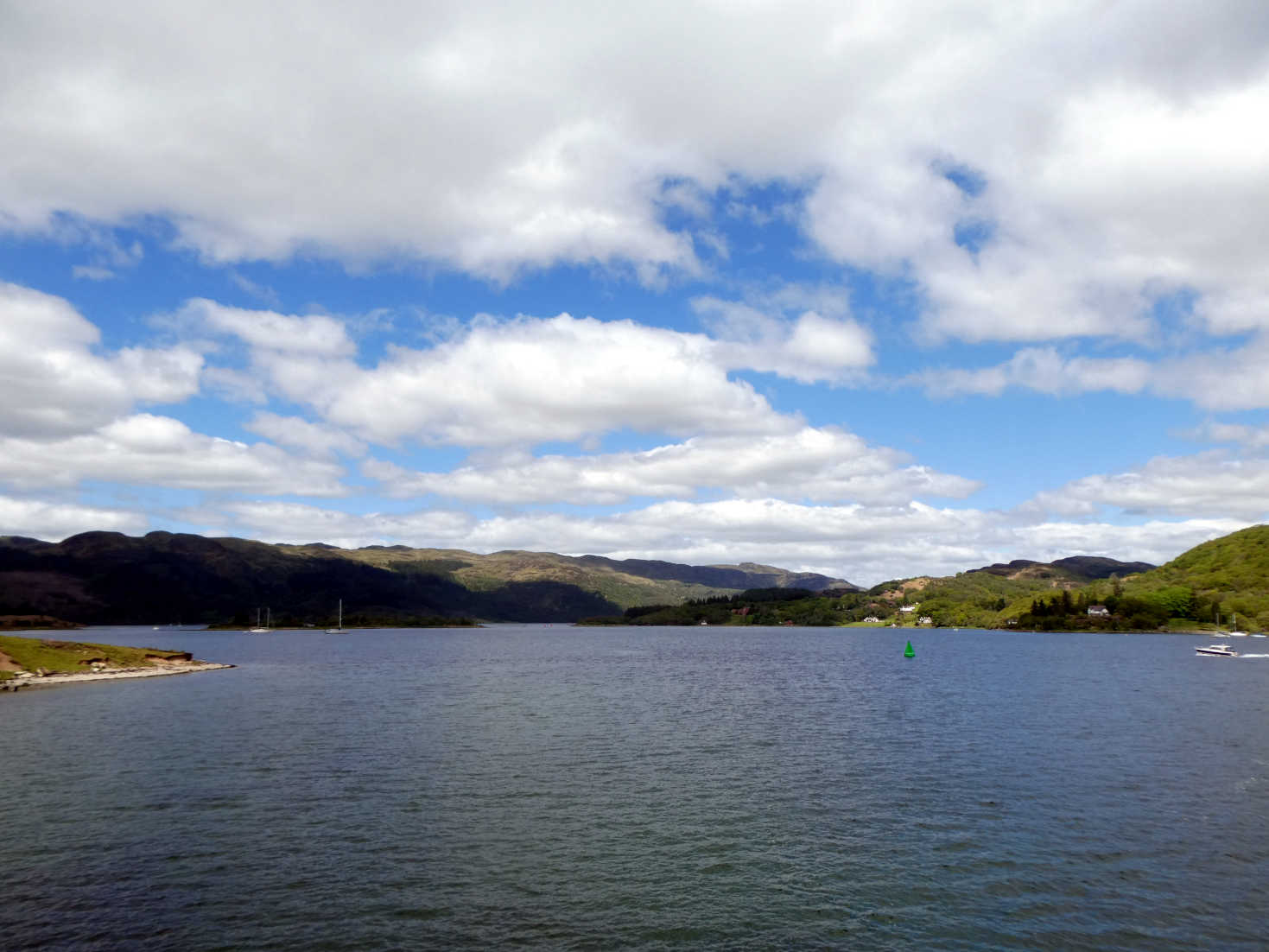 When we got off Mum went to pay for the ride, she bought tickets to go back at the same time. "That cheaper than expected, walk along the shore?" she said. Sound good to me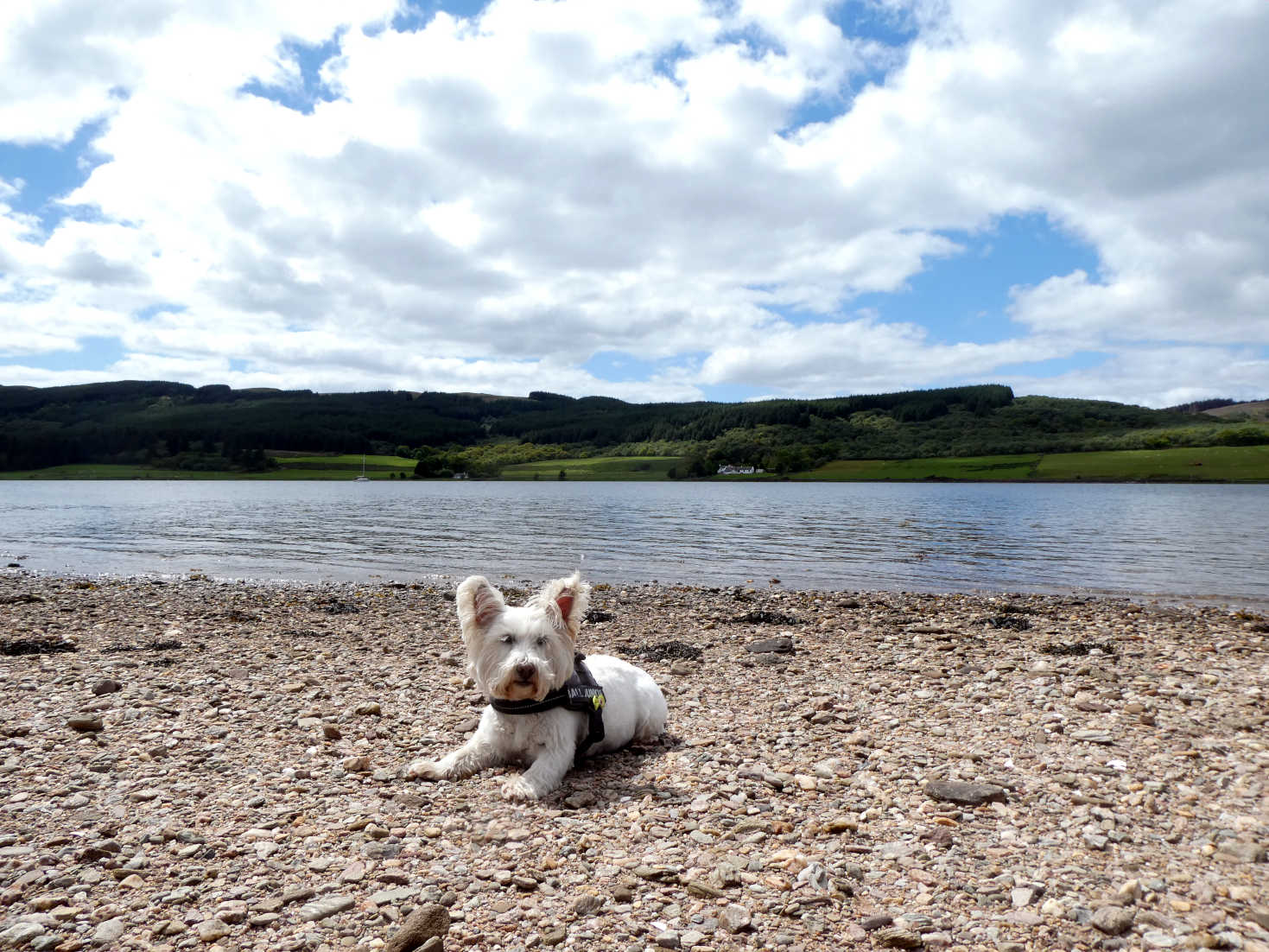 The beach was pure rubbish for playing ball. Too many rocks in the pebbles to run. This is rubbish It hurts my paws and I can't run, lets go to the machair.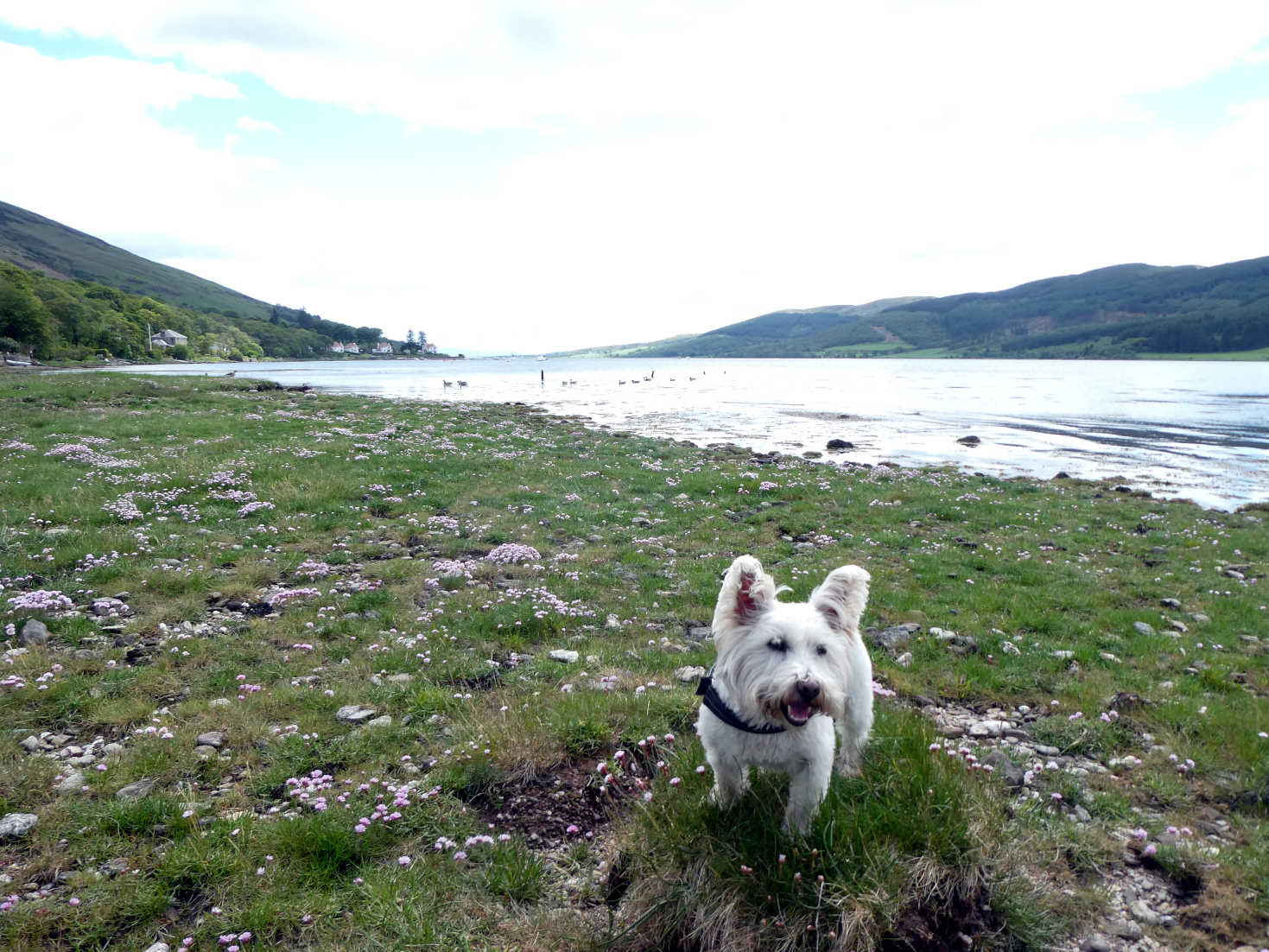 I was getting thirsty. Mum, Dad, look a burn, can we go over and get a drink? Dad went ahead to find path but came back head down. I looked at dad cocking my head. "Sorry Poppy we will have to double back. Back we went. This time we took the road into the village. I was off leash but is was not a problem because there were no cars. It was very quiet. Finally we found a way down to the burn and I dipped my paws and had a big drink.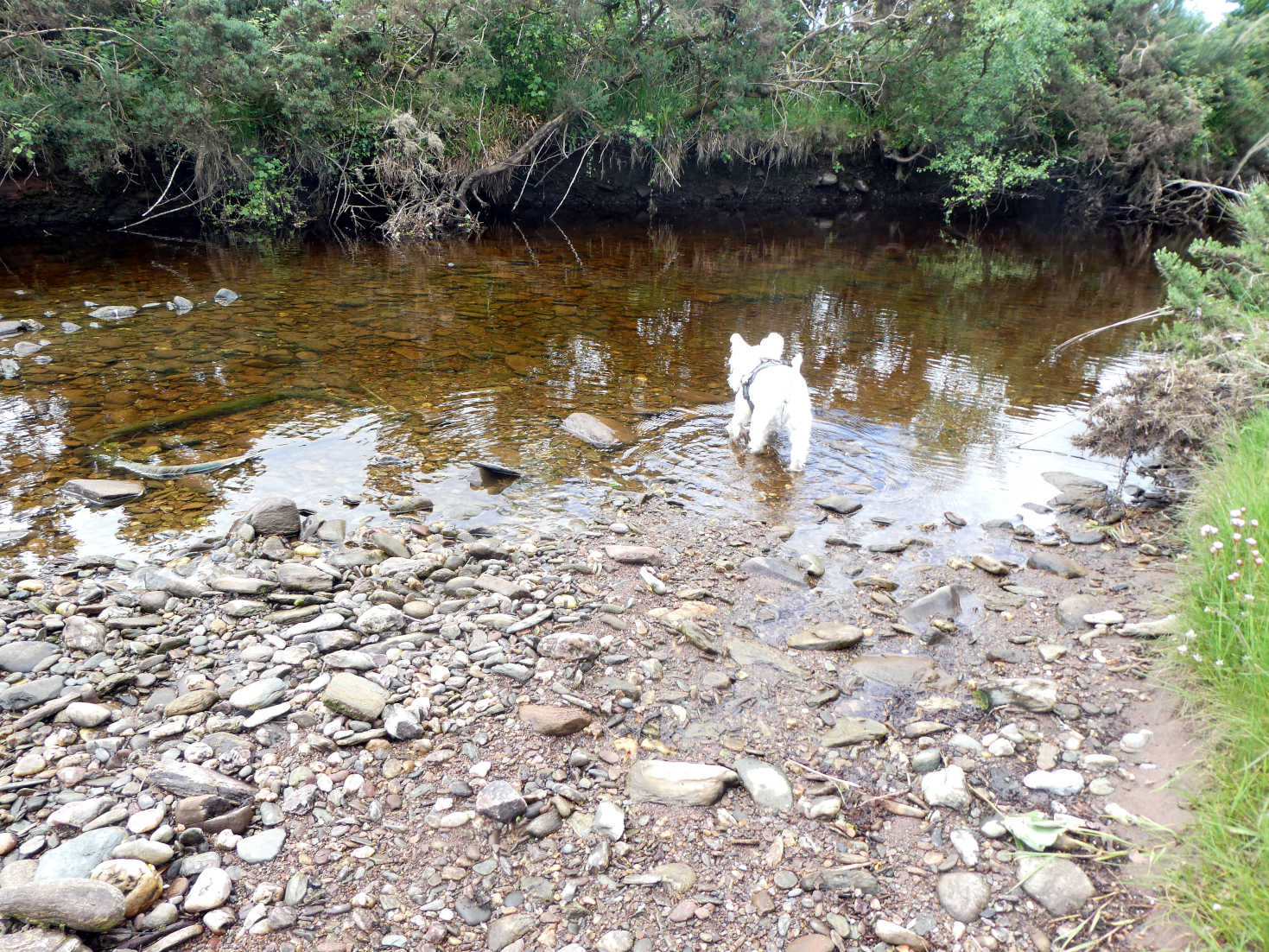 We plodded back through the village, the last time I was here it was full of peoplesees having a party with games and old cars and tractors, today it was so quiet, even the wee shop was shut. Mmmm I wonder where they went, maybe the pub?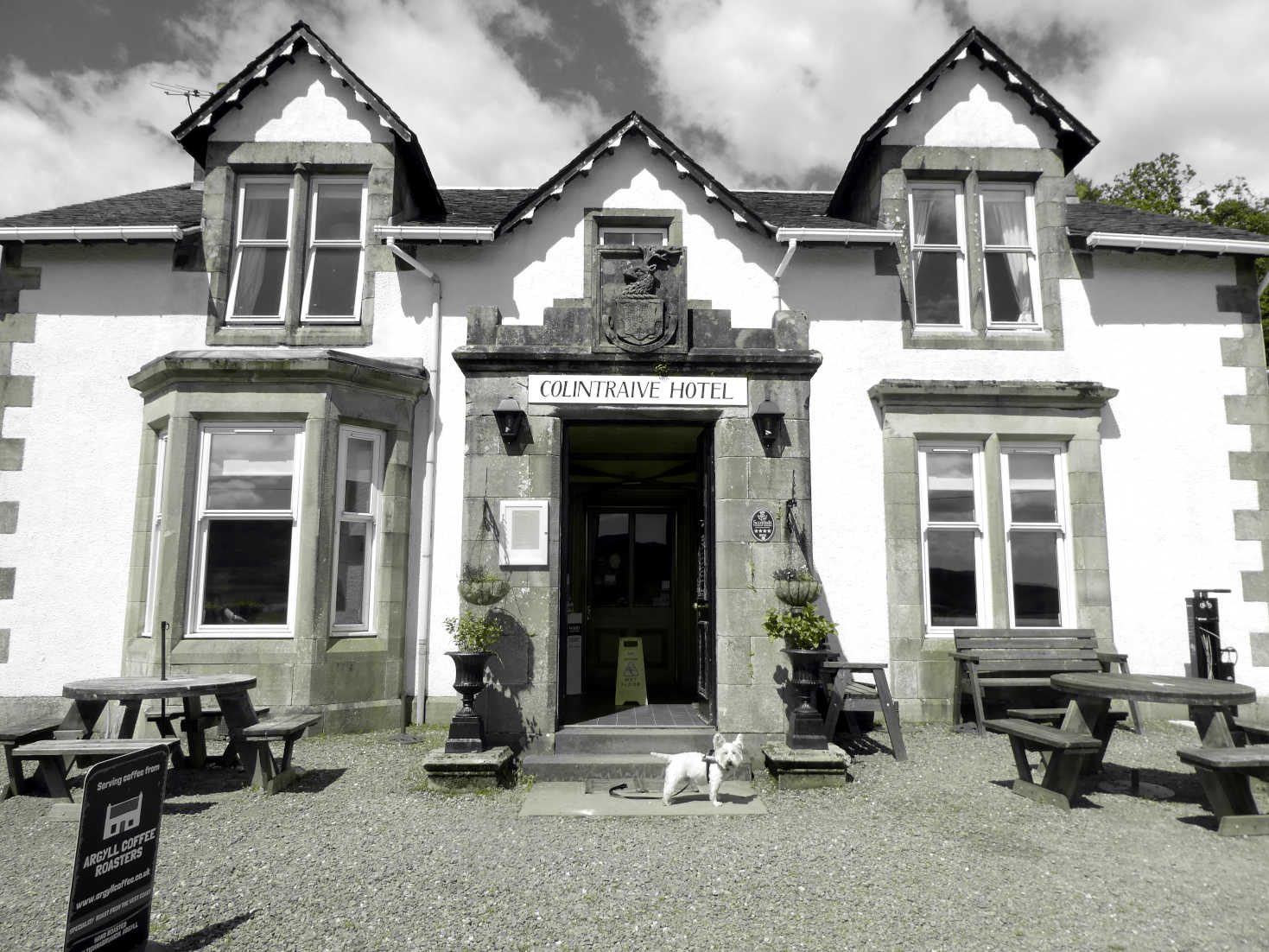 Nope they were not in the pub. It was quiet too. "Good spot for some lunch" said Mum, Sounds like a good idea I'm starving. Peoplesees got all excited because an old paddle steamer sailed past, mmmm probably just the Waverly.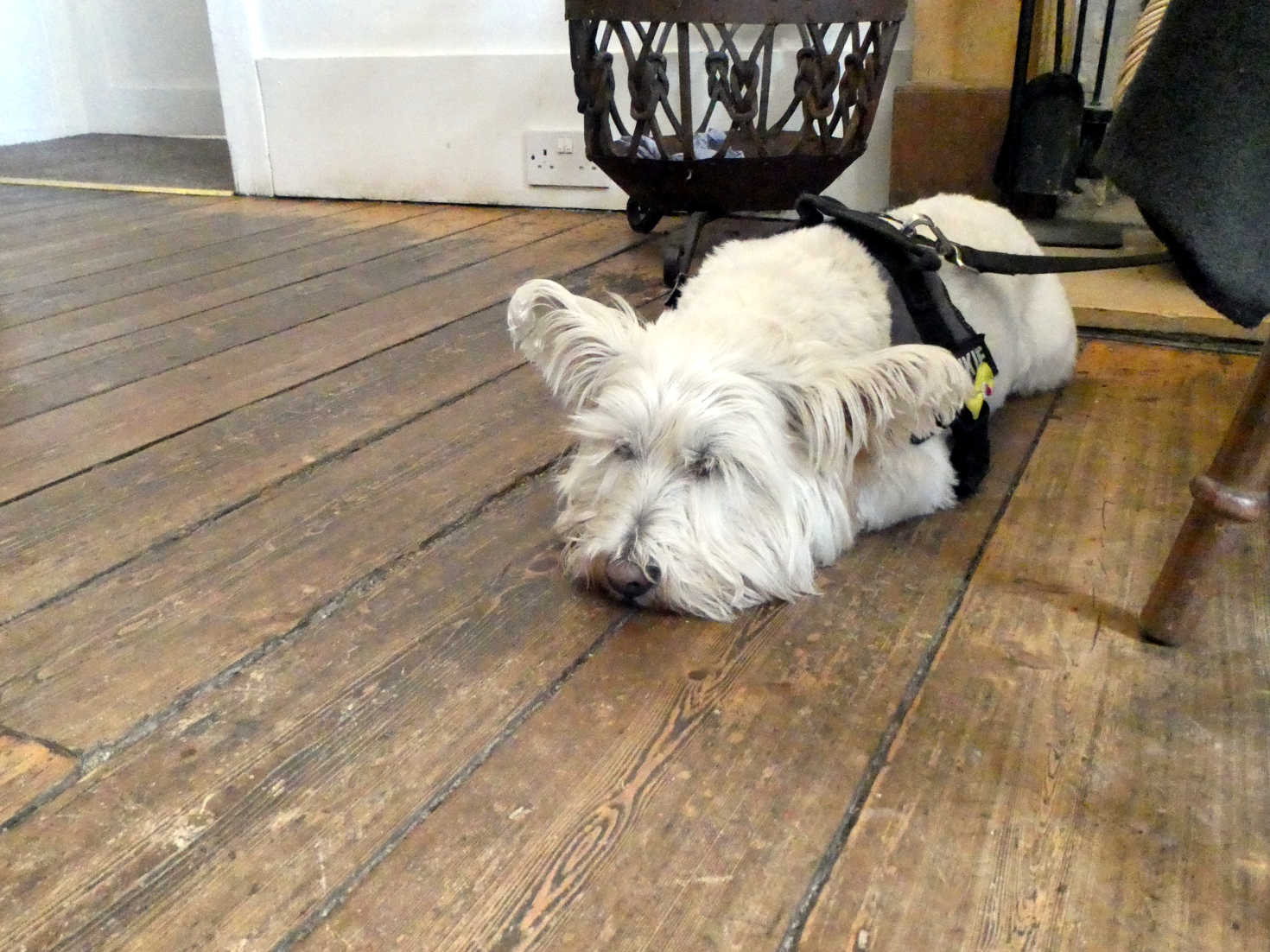 Dad was miffed. He asked for some brown bread instead of a bun with his burger and was told brown bread was for guests only, not a happy bunny. Fish and chips instead then, I fancied a bit of burger as well. I went for a wonder, mum caught me and tied me to the fire guard, spoilt sport. That's when a wee peoplesees came up and gave me pets. A waitress came buy and I had to get out of the way of the big leggys then CRASH! The fire guard was dragging behind me! Not my fault Mum I said with my eyes.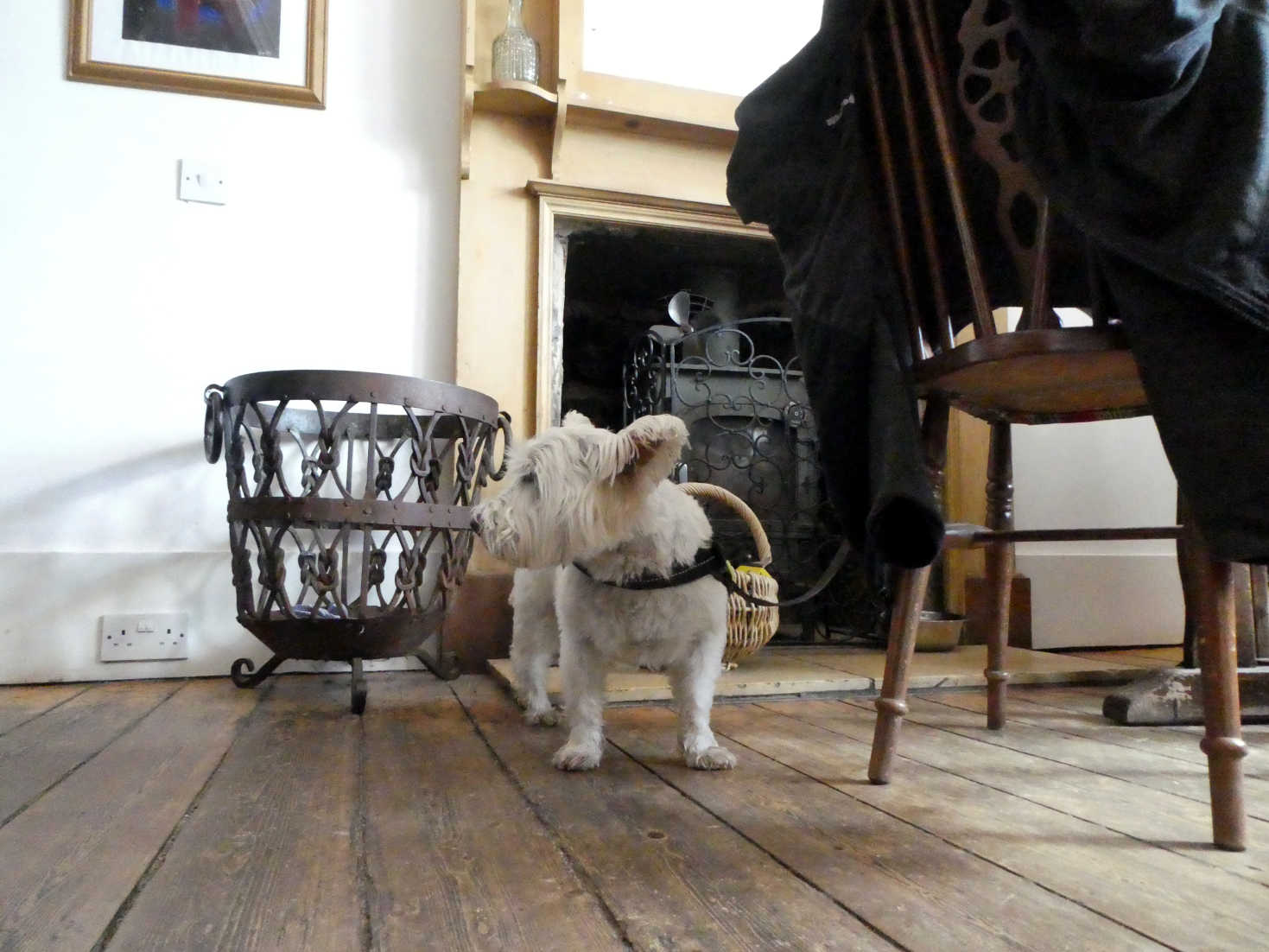 Din dins over we went back to the ferry, it was already in but having a rest.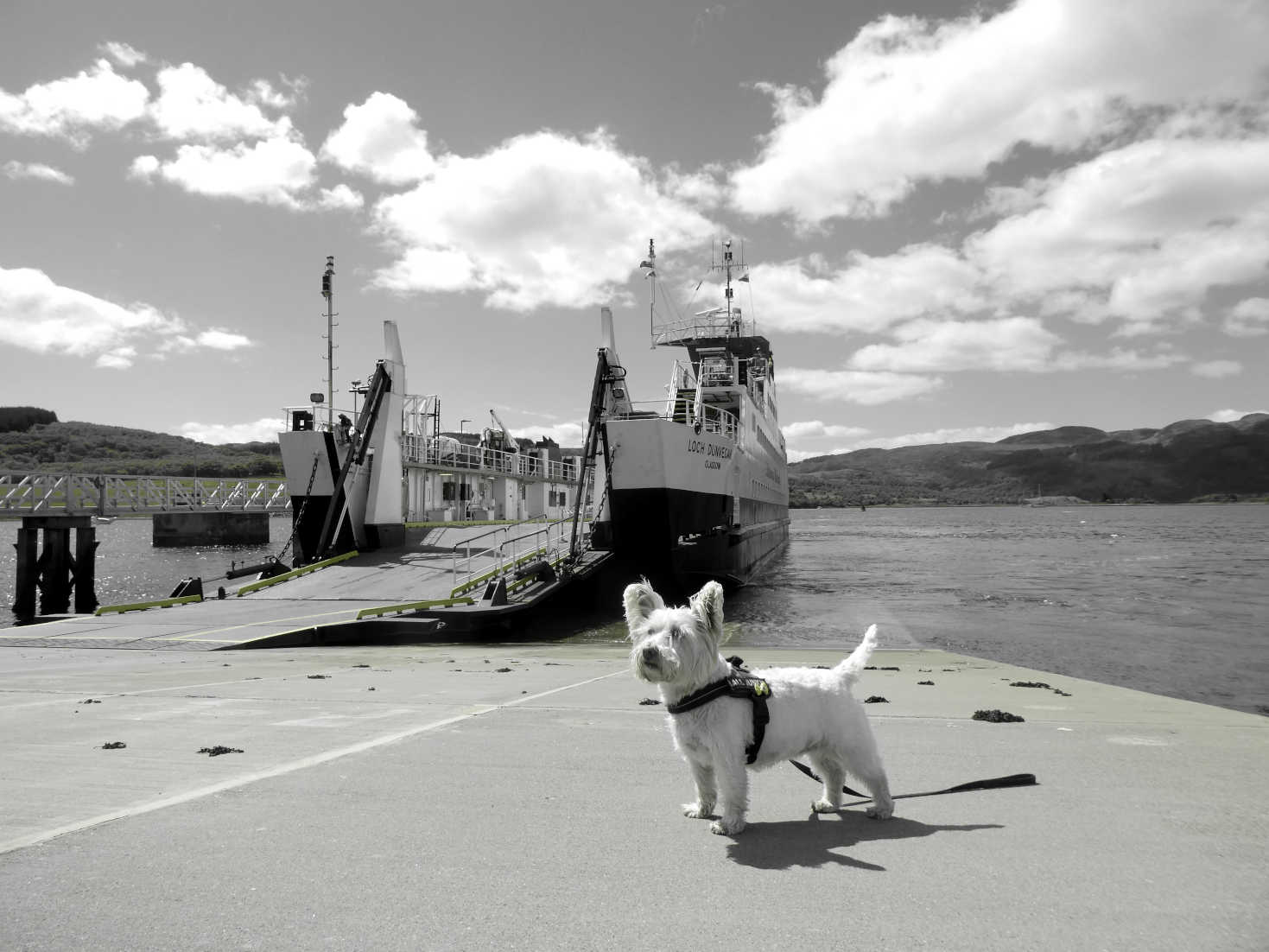 Time to explore a bit more, looking over the water I could see Betsy waiting for us on the other side of the Kyles.
Time to go, upstairs we had the whole deck to ourselves I had a great time wondering around.
Mum and dad took some pictures of the Kyles looking down to Loch Stiven.
Betsy was pleased to see us when she woke up and soon she was purring back to Rothesay. She pulled over and we all jumped out. Walk along the front?
I got to play ball all along the promenade. Where we going next? Beach? The beach was small but at least I could run on it. Mum said we should check out the Glenburn, mmm good idea It was great for ball. On the way there I found some great grass for scratching my chinsee.
Steps Steps and more steps, Poppys loves a good step does me. Hurry up Mum.
At the top Disaster! What's going on? Peoplesees! It was deserted the last time we were here. Now I know where all the peoplesees from Colintraive went! No game of ball up here then.
We went back down the hill and plodded back to Betsy, as we got there the paddle steamer pulled out of the harbour and headed back to Glasgow. 
We got back to Betsy and headed back to camp. Mr wind was still about but dad put up a wind shield, mmm perfect for a nap.
Dinner was kebabs, I couldn't have any because its to spicy for my tum I had mackerels instead. Dinner was good. As mum and dad sat in the sun having drinkys , I found a nice log to use as a pillow and snooze off din dins.
Mr sun started to get tiered and was getting ready for bed. Not bed time for Poppys yet, I will guard the camp a wee while longer, just in case monsters come in. They do that at dusk you know.