Today we are going to explore Malcesine. The walk in is a killer on a wee westie like me, in the morning its as hot as a good day in Glasgow. Once in town time to sniff out what Malcesine is all about.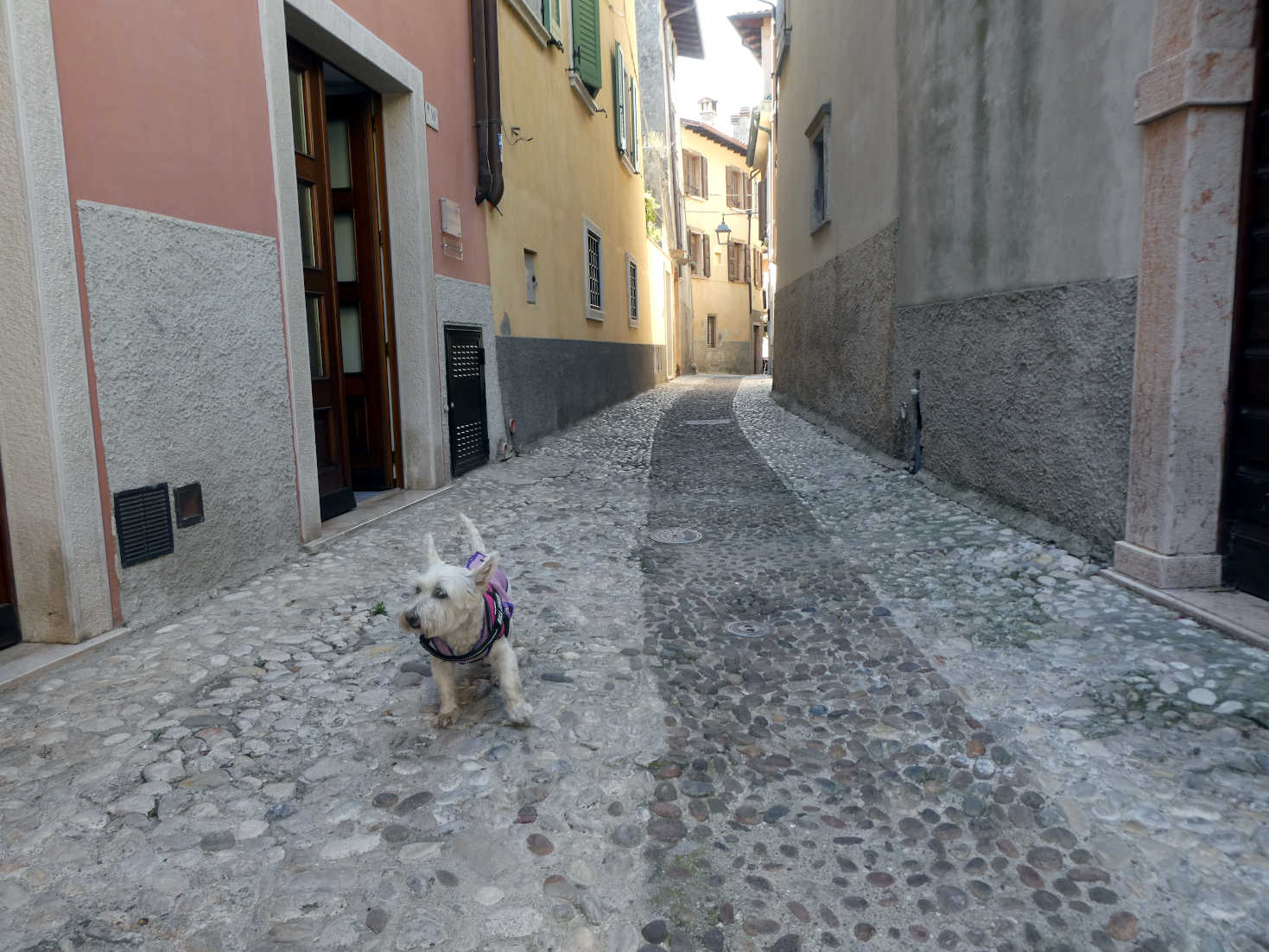 In the old town most of the main streets have lots of shops. Not my bag but the food shops, cafes and bakeries smell great.
Mum and Dad hadn't had breaky this morning, one thing for sure we would not be going back to La Ristorante la Pace al Porto Vecchio! As we plodded to the pier Mum saw an ice cream she really liked the look of, "The Gelateria Andreis, this is the place for breakfast" she said. The breaky at The Gelateria Andreis was not like any breaky I have ever seen before. Ice cream and sprits Hugo? For Breaky? Mum called it the breakfast of champions.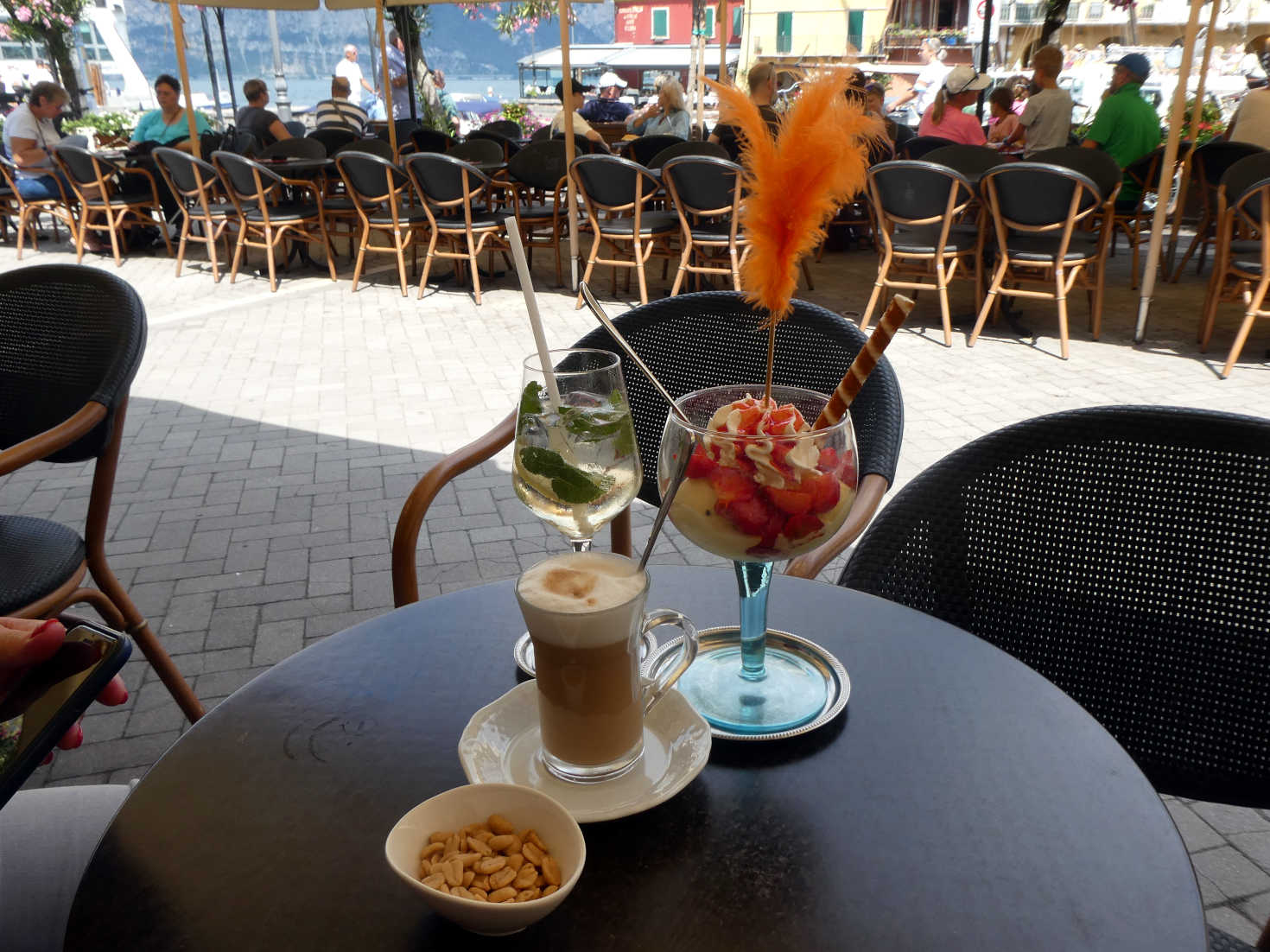 Fed and watered we explored the nooks and crannies of the town, my nose took me to some very quiet places.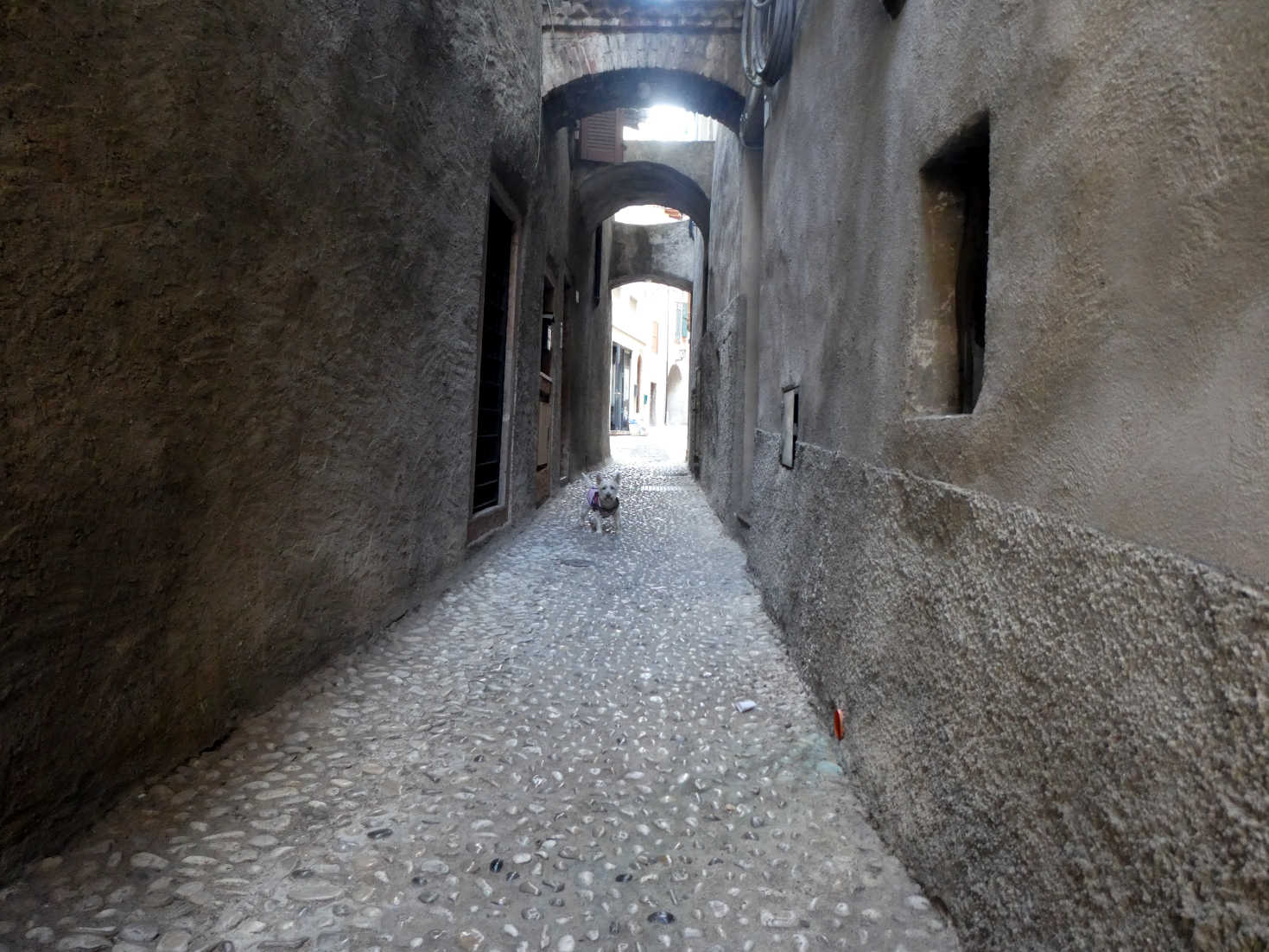 Dad, Malcesine is weird. Some times its packed with peoplesees, some times it's empty, and sometimes you go through a wee door and end up in a park like this one. How come the peoplesees no kick about here? You could even play ball here.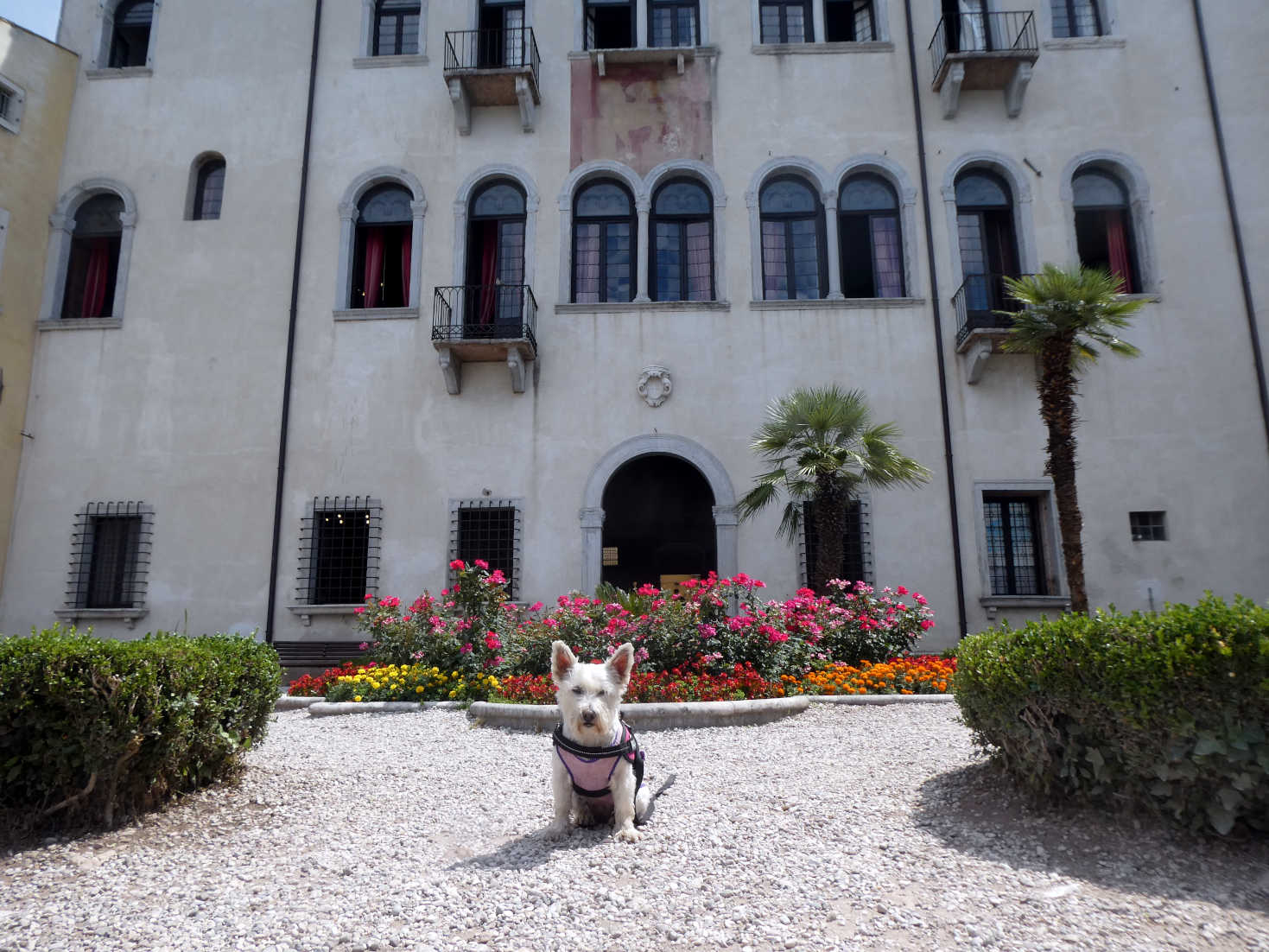 Plodding around we ended up at the castle. The sign said all Poppys must be on nasty leash. Stuff that Mum Lets go down to the water instead. Down some step I stopped at a platform, mmmm lots of new smells. As I had a good sniff around Mum and Dad took some pictures.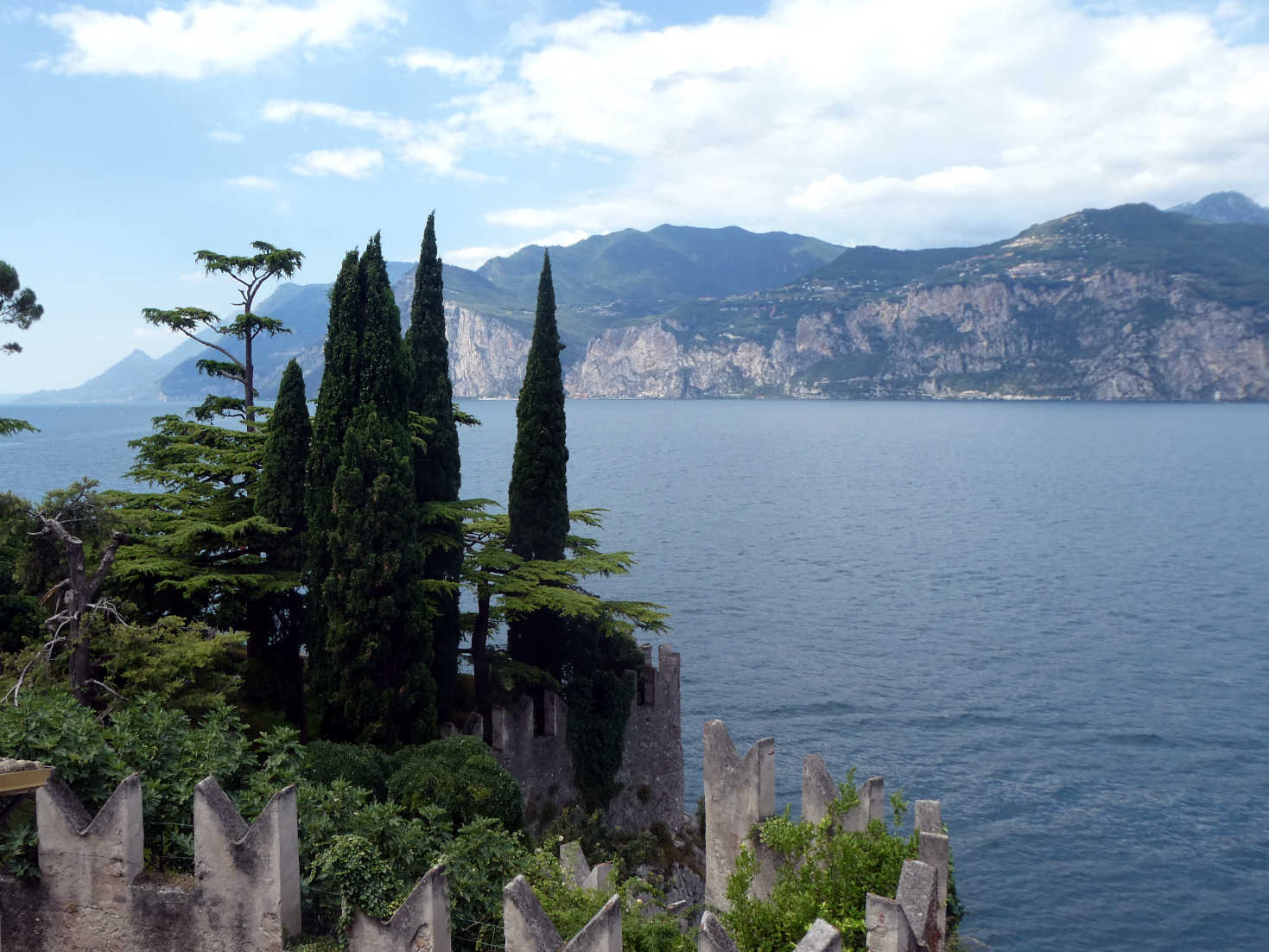 Lets go further. I followed my nose and found a new path with more steps this time going up to the castle. Lets go this way I bet it's a secret way into the castle. "No Poppy, if you get caught they might put a muzzle on you" dad warned. Mmmm, nasty muzzlesees, not worth the risk. Oh OK then.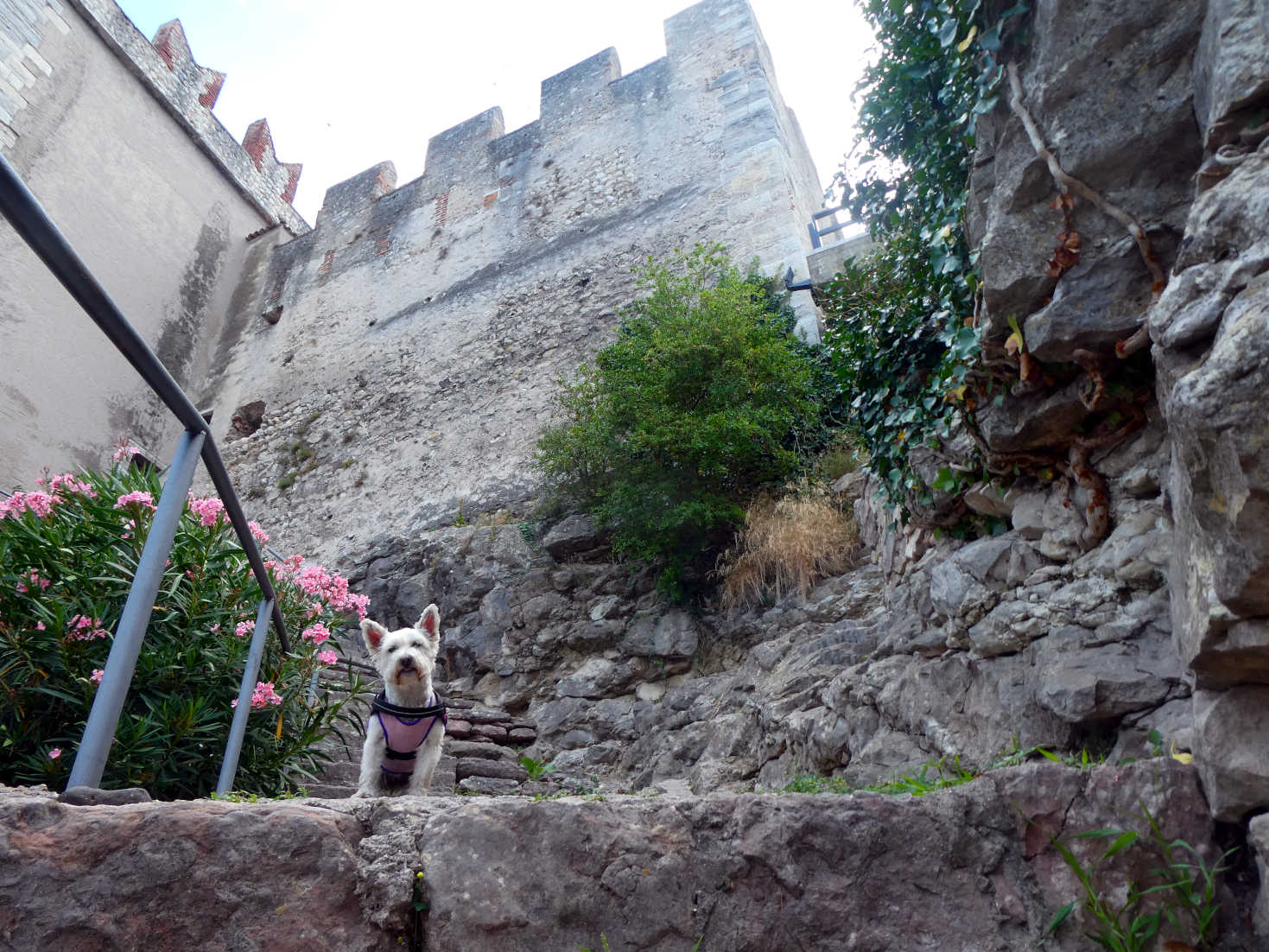 As we made our way back up from the lake I found lots of quiet streets which were just perfect for a game of ball, even better because of the shade it was cool. BALL, BALL, BALL!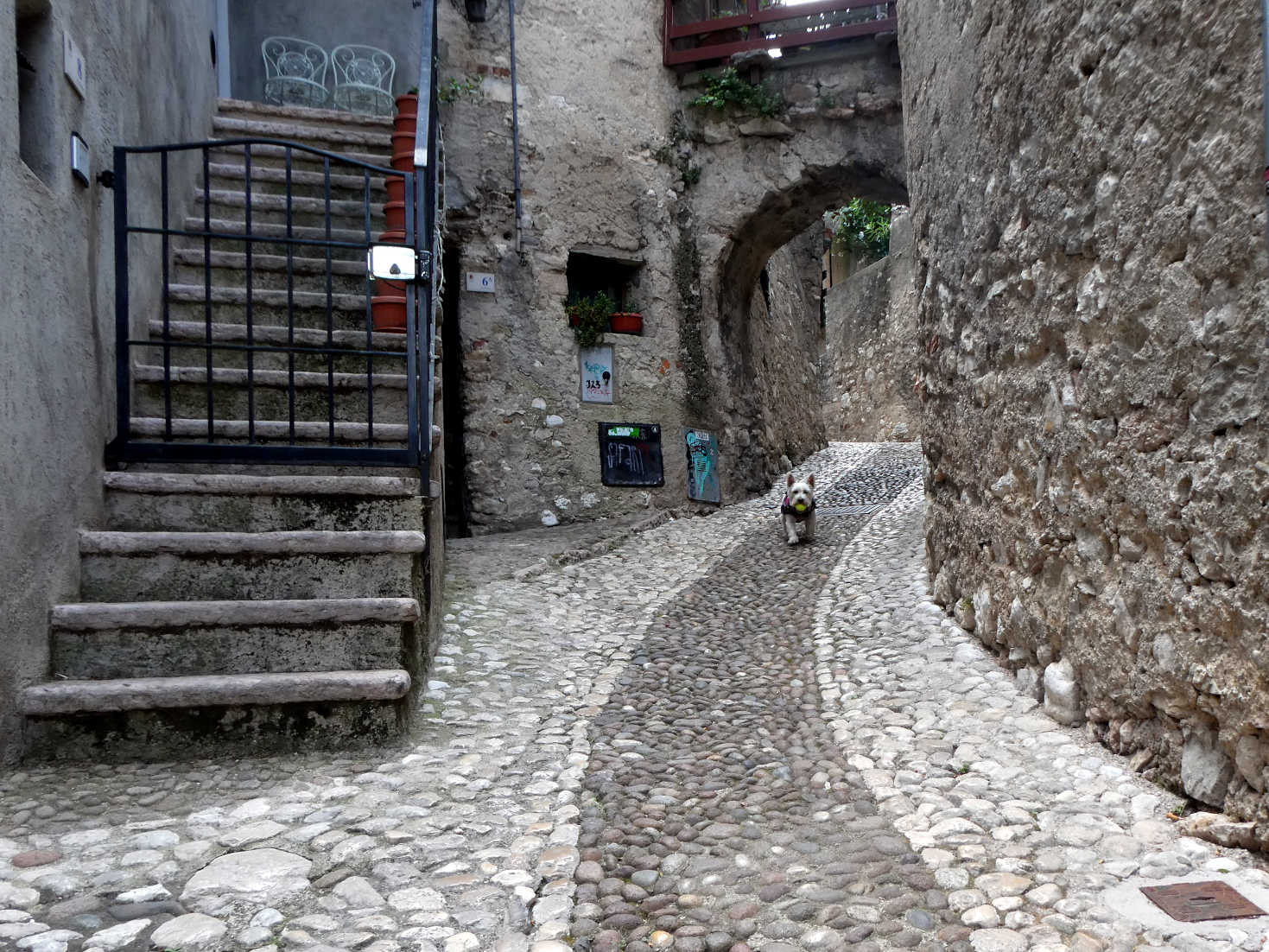 Up and Up we went, through lots of narrow winding lanes. It was so quiet compared to the shop streets it was as if we were the only ones there. The peoplesees who visit Malcesine must only come for the shops and the coffee.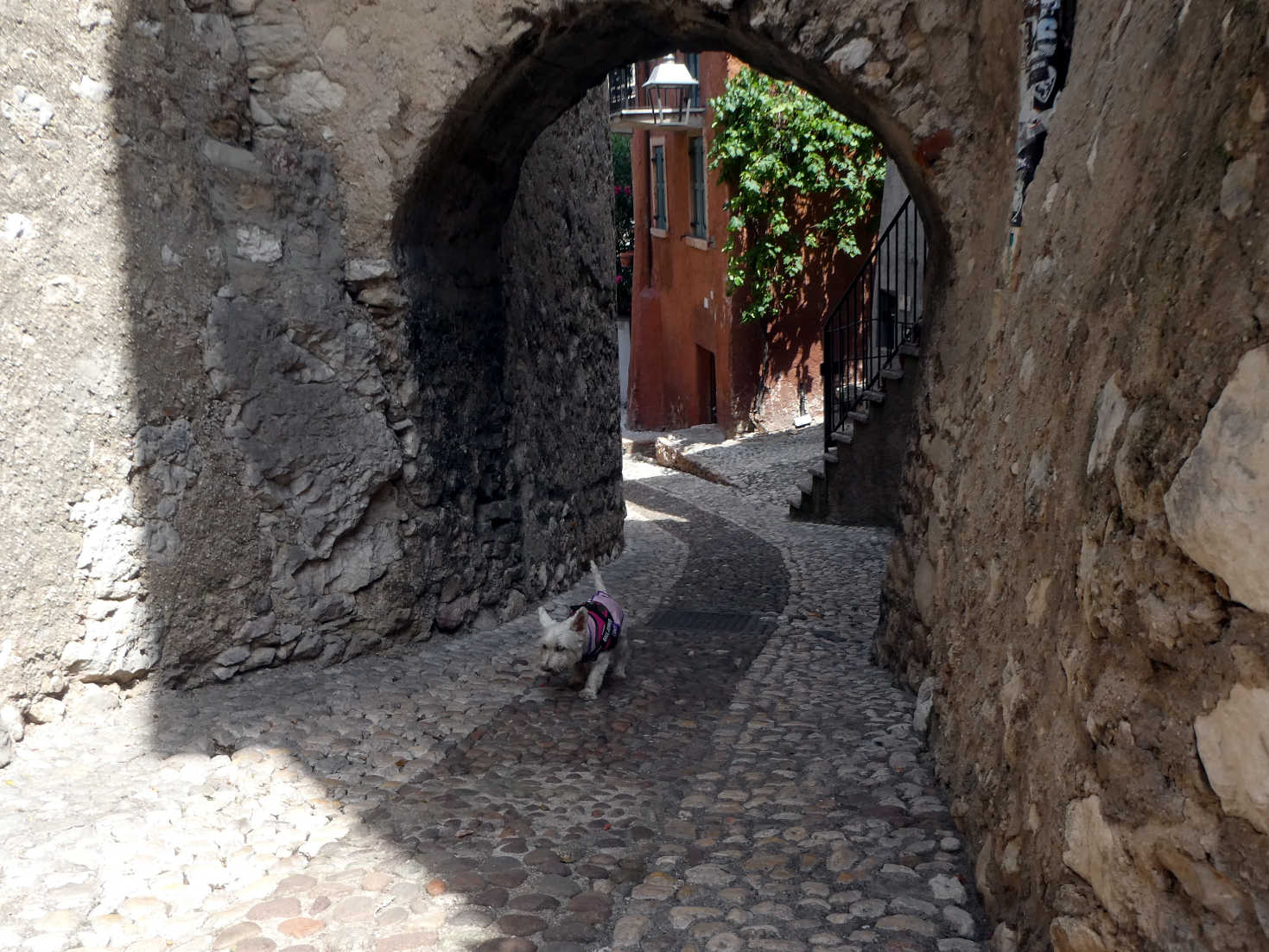 We followed the signs for the theatre, and it took us to the back of the castle, sniff, sniff sniff sniff. Nope no theatre here.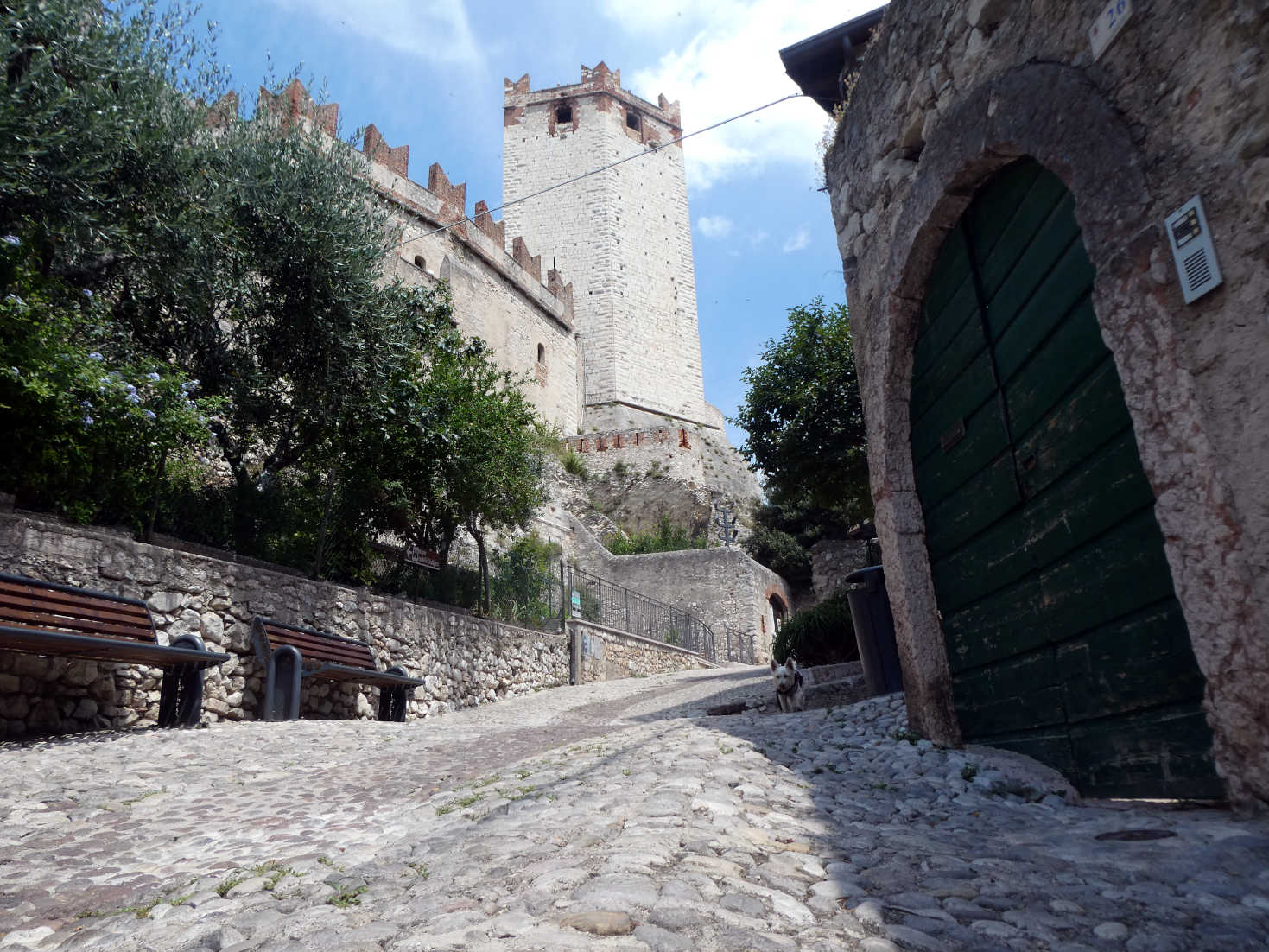 It was getting on, mum wanted to buy some food for dinner as we would be eating at Betsy tonight, She saw a place on the way in but hoe do we get to it from here? I can smell food from in here.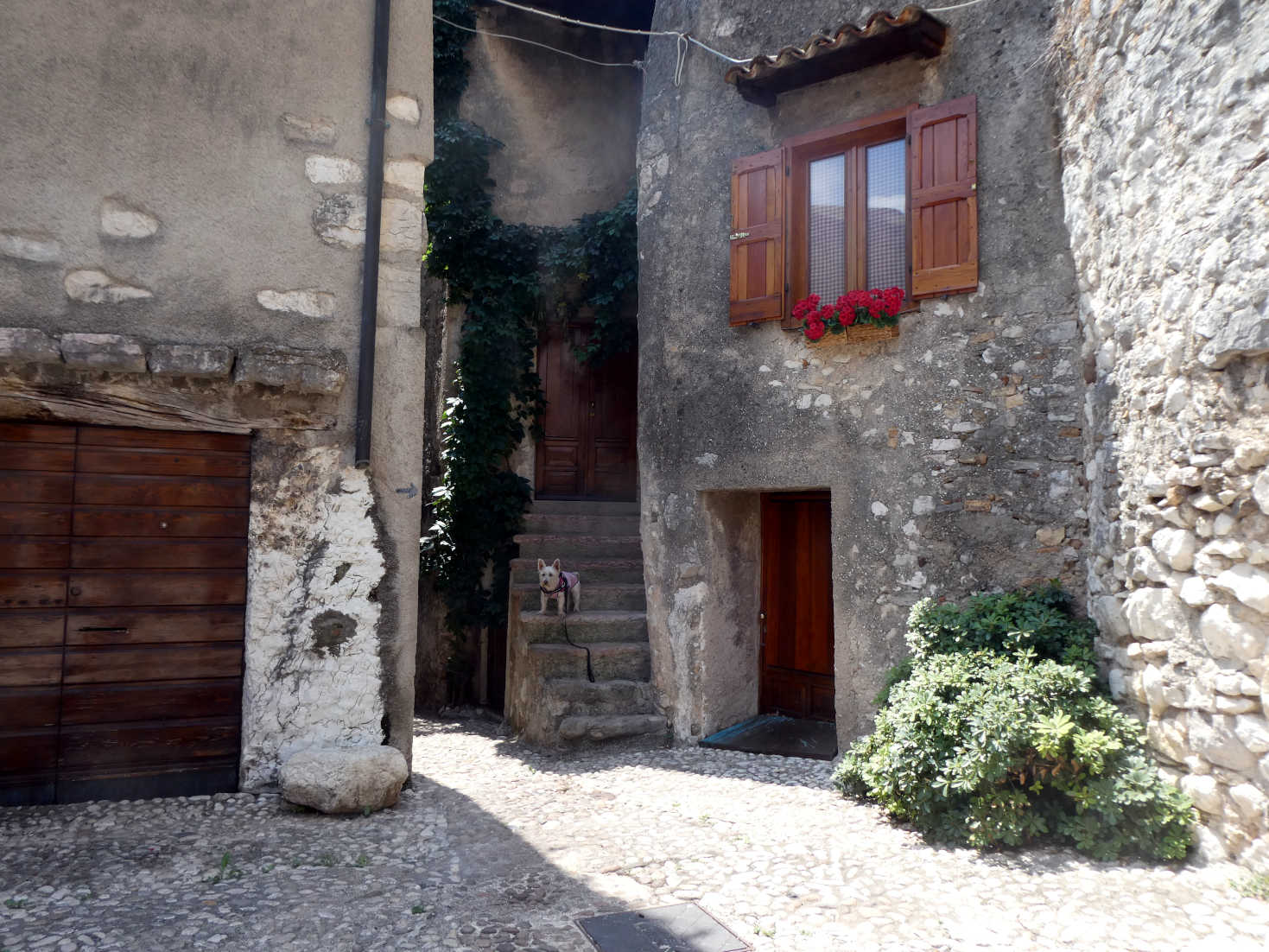 After a few wrong turns we found the place. It sold pizza, calzone and other street food. Dad bought lots. On the way back to Betsy Dad took a few more pictures. Why take pictures dad? We will be back again? No?
The walk back to Betsy was long and slow. Even with cool vest on I couldn't stay out in the sun for long. On one long stretch with no shade Dad carried me because the pavement was too hot for my paws. Thanks Dad. You don't see Italian Poppys out walking in the afternoon. Back at Betsy I had a mellow afternoon shifting from the sun to the cool underneath Betsy.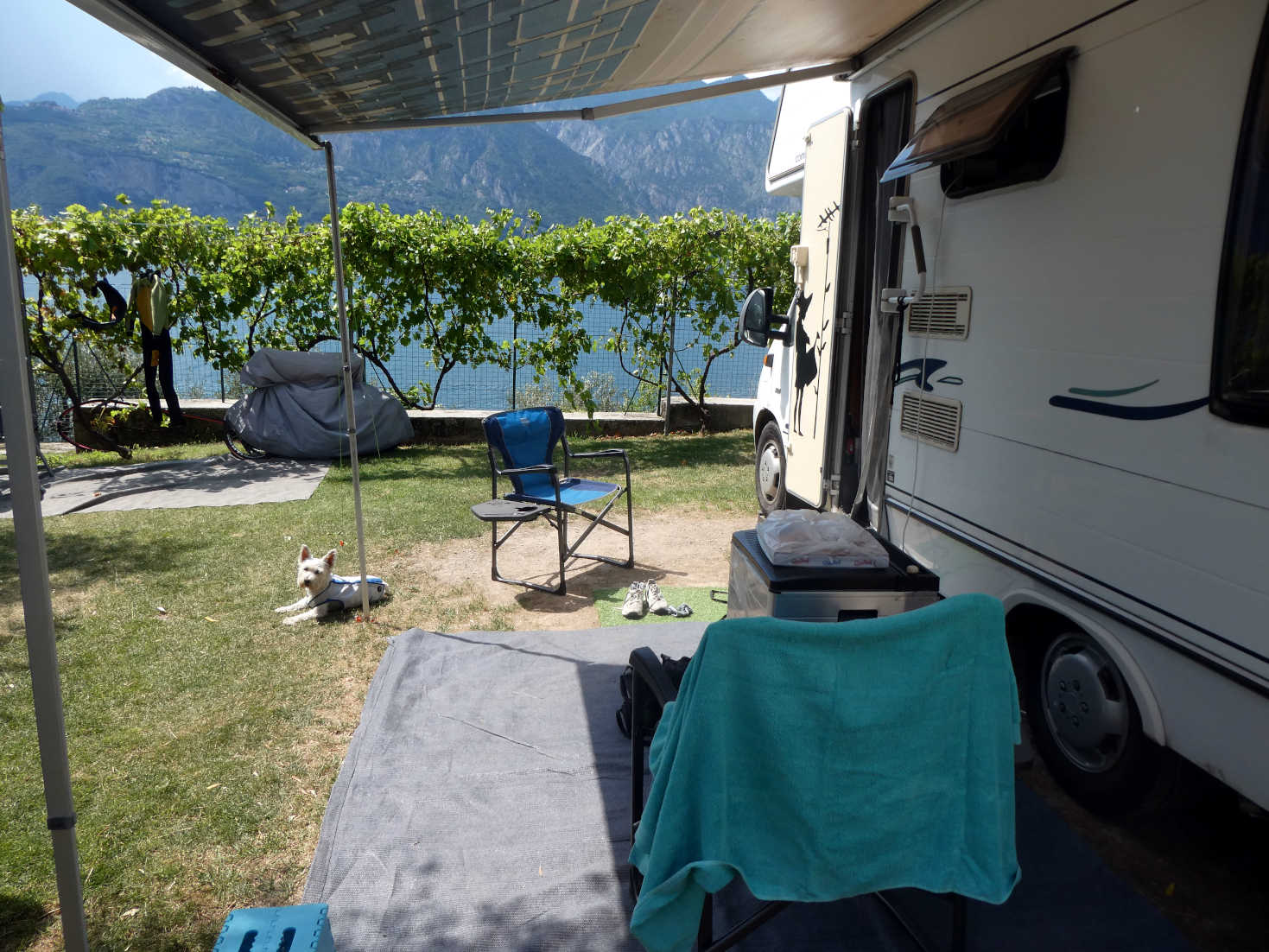 Later Mum and Dad wanted to cool down in the Lake, Poppys don't Like water when it's too deep. I went with them anyway, somebody has to keep an eye on them. As they went into the water I had a paddle by the shore.
Mmmm, I think they are getting too deep. I can't see their bodies, just there heads. Not happy with this. WHA WHA WHA WHAOOOOOOOOOOL! GRRROUGH ROUGH ROUGH ROUGH! Somebody save them! MUM, DAD, GET BACK TO SAFTY!
I was glad when we were all back on dry land at the safety of camp. I soon forgot about the near miss when I spotted Sherman. Sherman! Lets play!
Mum said I was to give poor Sherman some peace. So we settled in for the night. Mum and dad had the foods from the shop. I think they liked it because they gave me none. "This food is not for Poppys". They always say that when it's the really good stuff. I went for a walk around camp, you can see all the way to town from here.
We sat out till the Sun went to bed, Mum and Dad drinking daft juice listening to music, me snoozing in the balmy air.
Dad brought in the awning just before bedtime.  Mmmm we must be moving on tomorrow. Time for a last night patrol around camp. Sherman was already in bed. I hope I see him before we go.