Poppy goes back to Germany
I knew something was up, first I got a skinhead at the groomers then when Betsy pulled into Newcastle I knew we were going far away. The only time we come here is when we are going on big adventures. Sure enough, she rolled onto the big ferry and soon we were in a doggy cabin.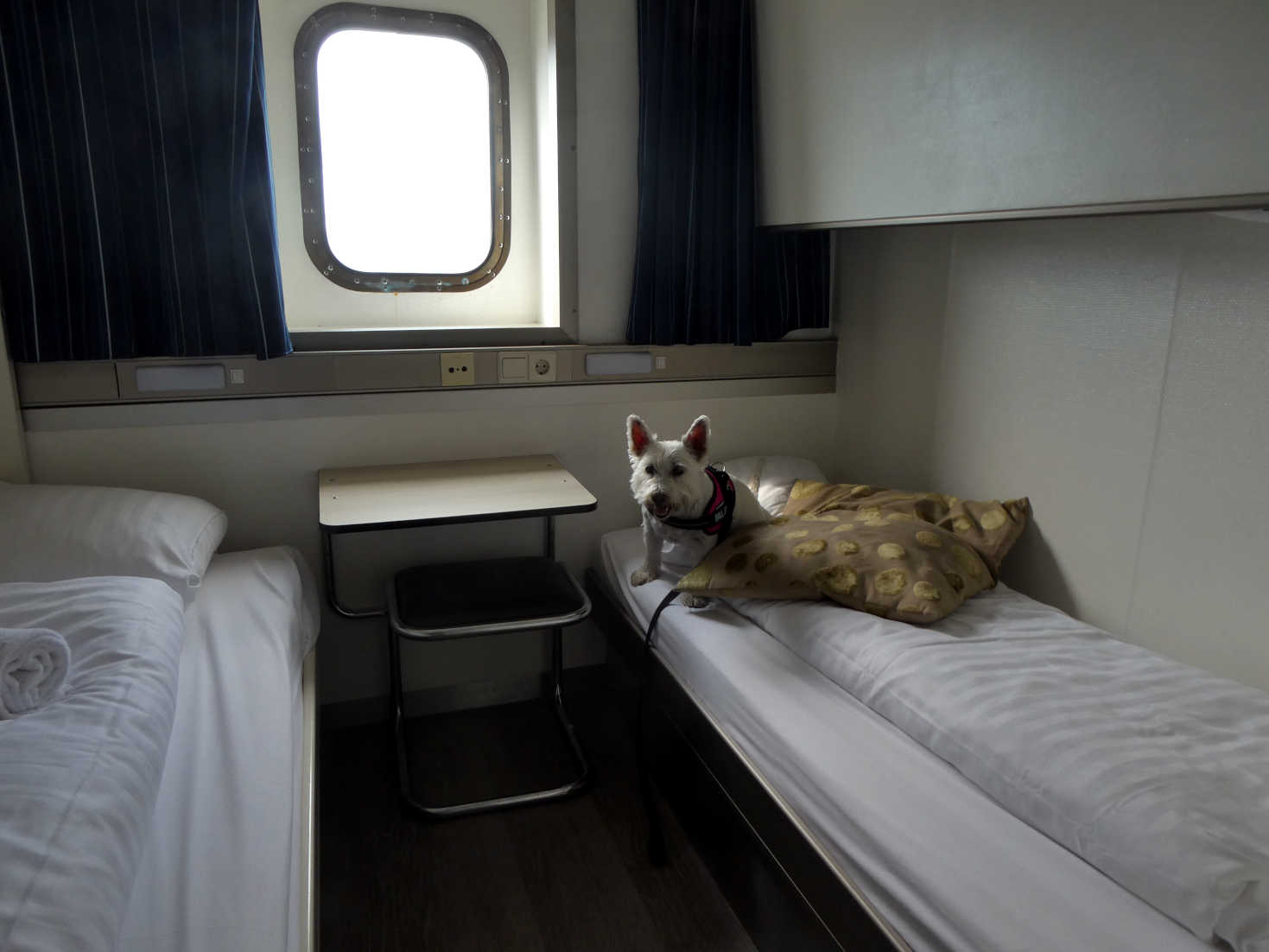 Once the ferry started to move Mum and Dad vanished. I hate it when they do that, I waited and waited, eventually they came back. Good job they had treats! After a quick walk on deck it was time for beds. Dad was in a mood because his new camera had stopped working.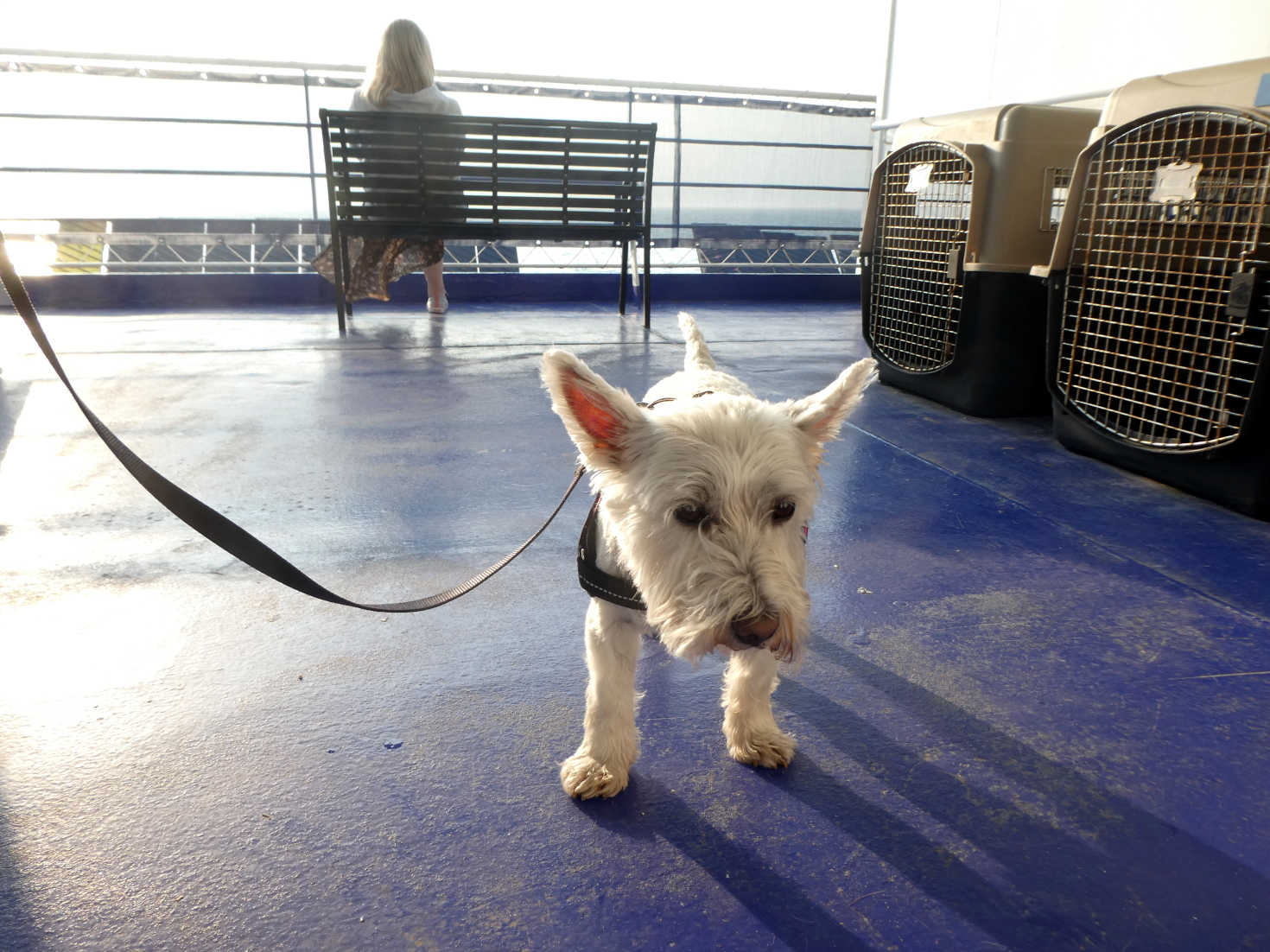 Next morning the ferry parked at Amsterdam. Dad was worried because all his pipes stopped working, Mum was worried dad would have to blow into a machine but all was good and we were off. After an age we stopped, long time no see Kaldenkirchen. This is where Betsy always gets a big drink of diesel and mum and dad get supplies. Mum and Dad were worried. Time was ticking and we were running late. Mum tried and tried phoning the campsite but no one would answer. Betsy got the message and boy did she start to run. As we left the autobahn mum got through to the campsite, by this time Betsy was speeding as fast as she could on the wee roads leading to a town called Freiburg. We got there just in the nick of time.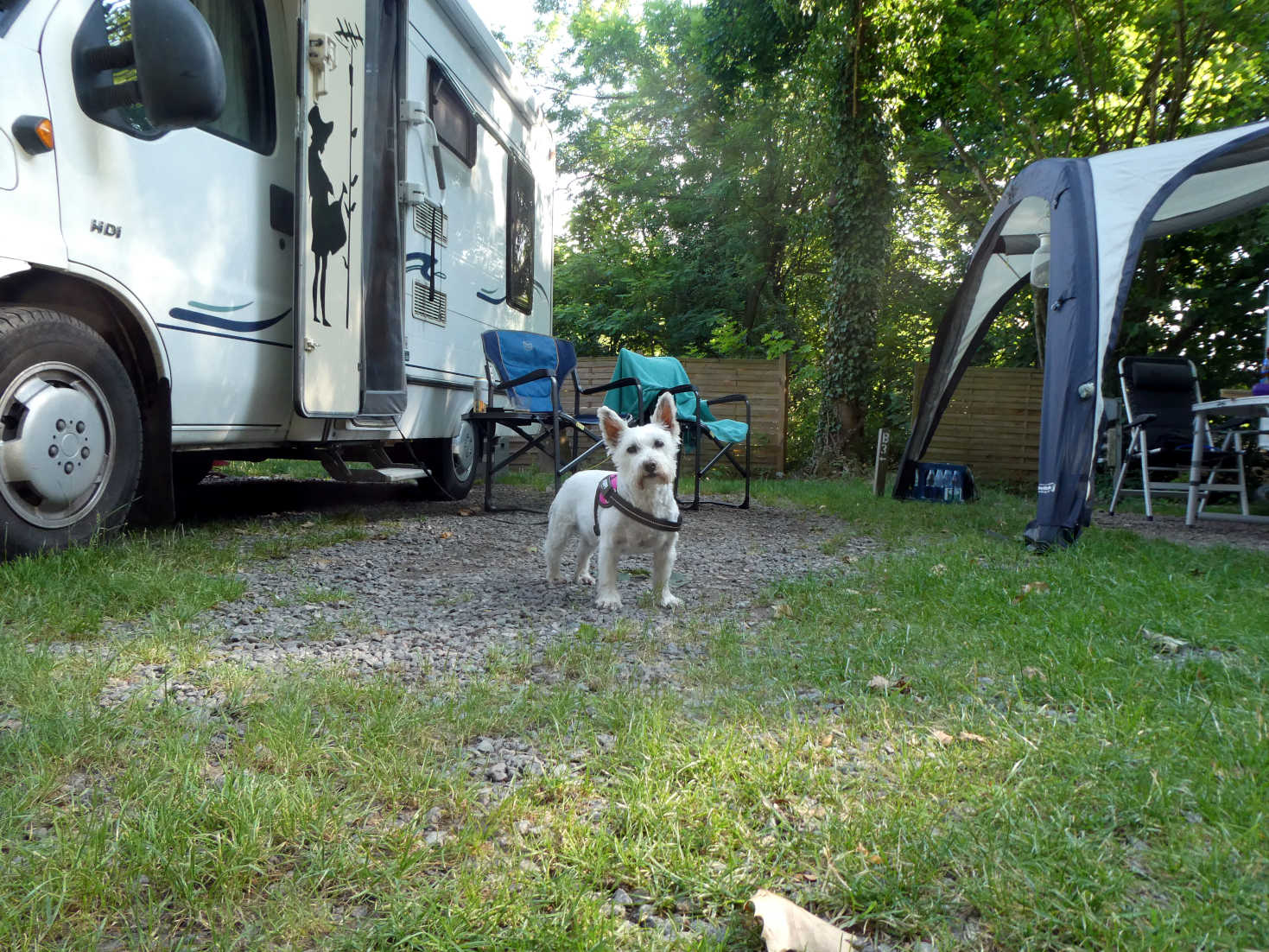 The Sun went to bed and when she woke again we were off to explore the town. A path by the river was far enough away from the road I could be off leash right to the start of the town. Mum look, Germans support the Ukraine too!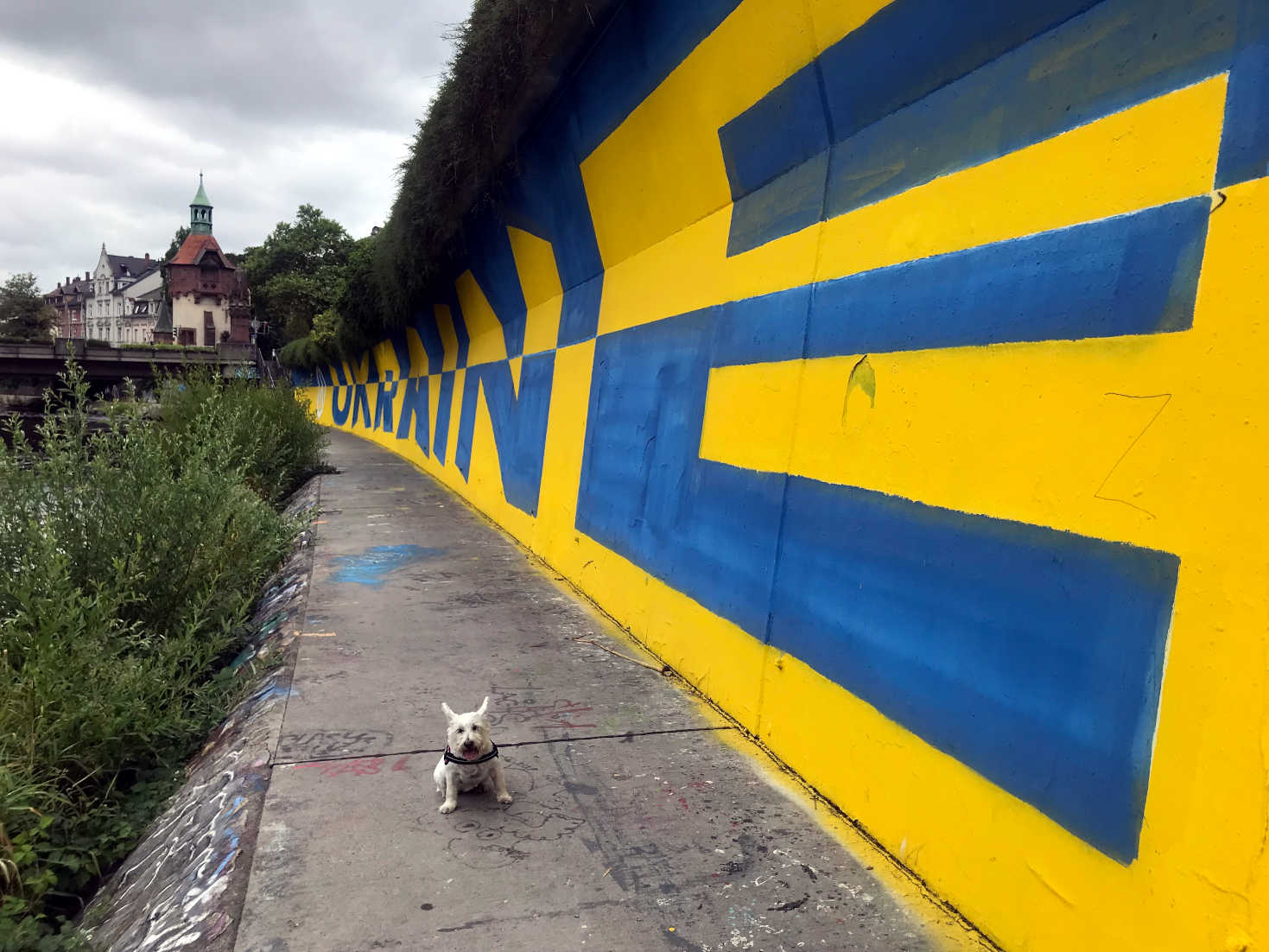 It was very quiet in town Mum said it was because Germans don't do shopping on a Sunday, mmm, suits me, I don't like cities, peoplsees never sees me and I get kicked or stomped on.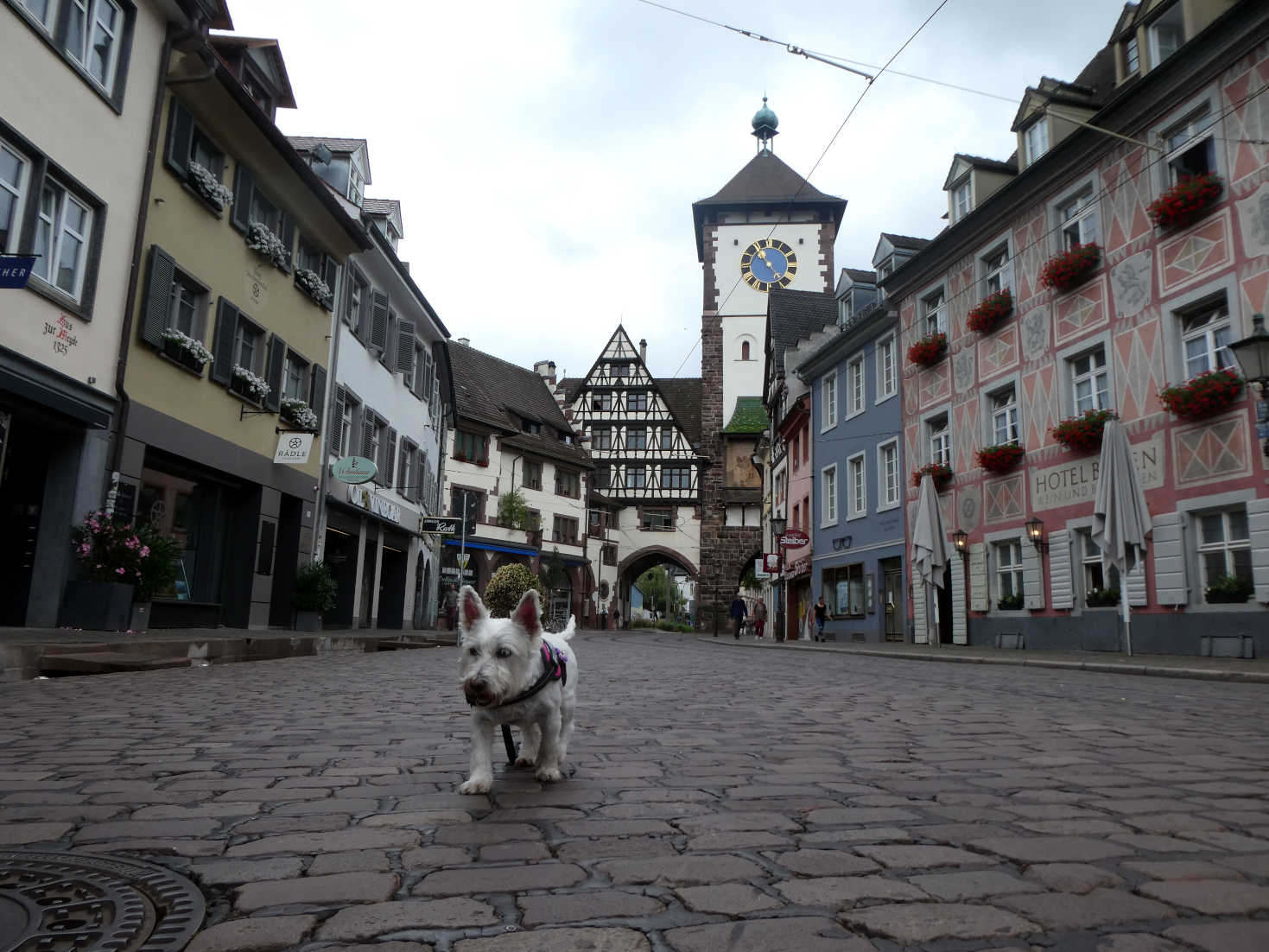 The old town was nice they even had places where Poppys can have drinks or wet our pawsees.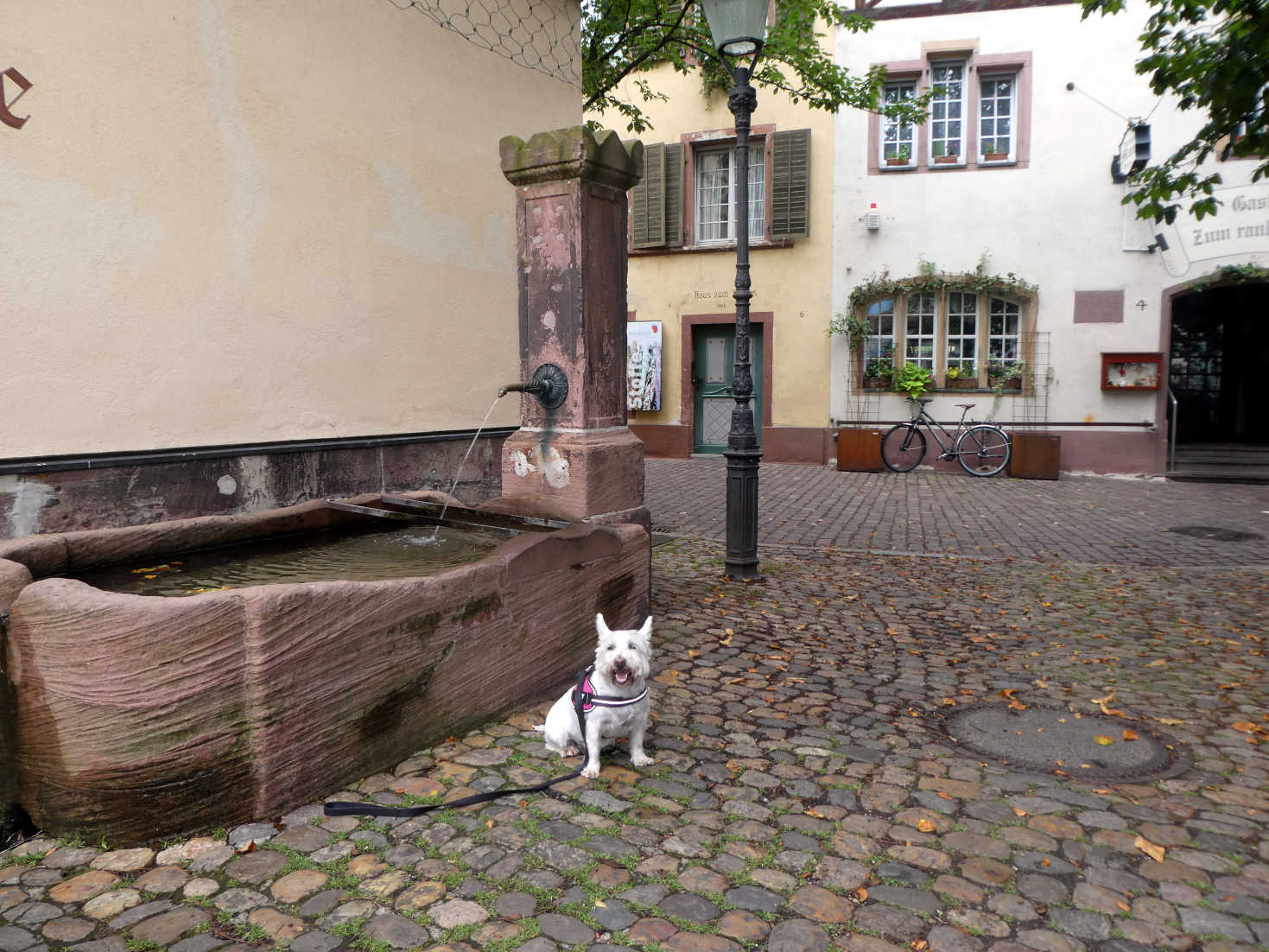 We explored for a bit, went over big railway bridges to a park that was being setup for concerts. By the look of the amount of bottles lying around they had already had a few. Let's go back to the old city.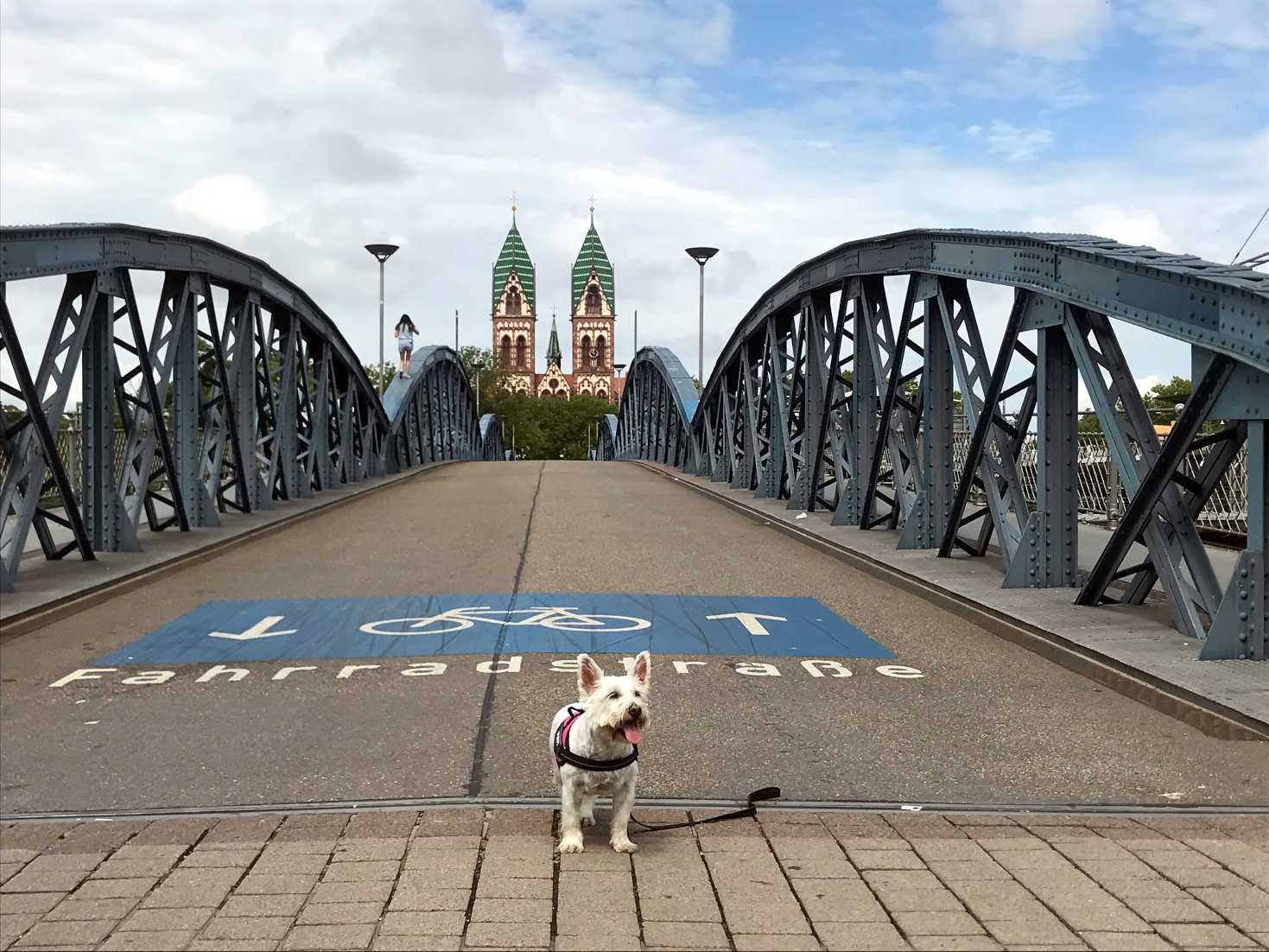 It was getting hot. We headed for the main square where the big church was. Mum wanted to go on a cable car ride so sent dad to find out about it. When he came back he told mum it was 4 bus rides and that mum and dad would have to ware mussels. Worse they wanted six euros for my tickets! She thought about it as we went round the main square.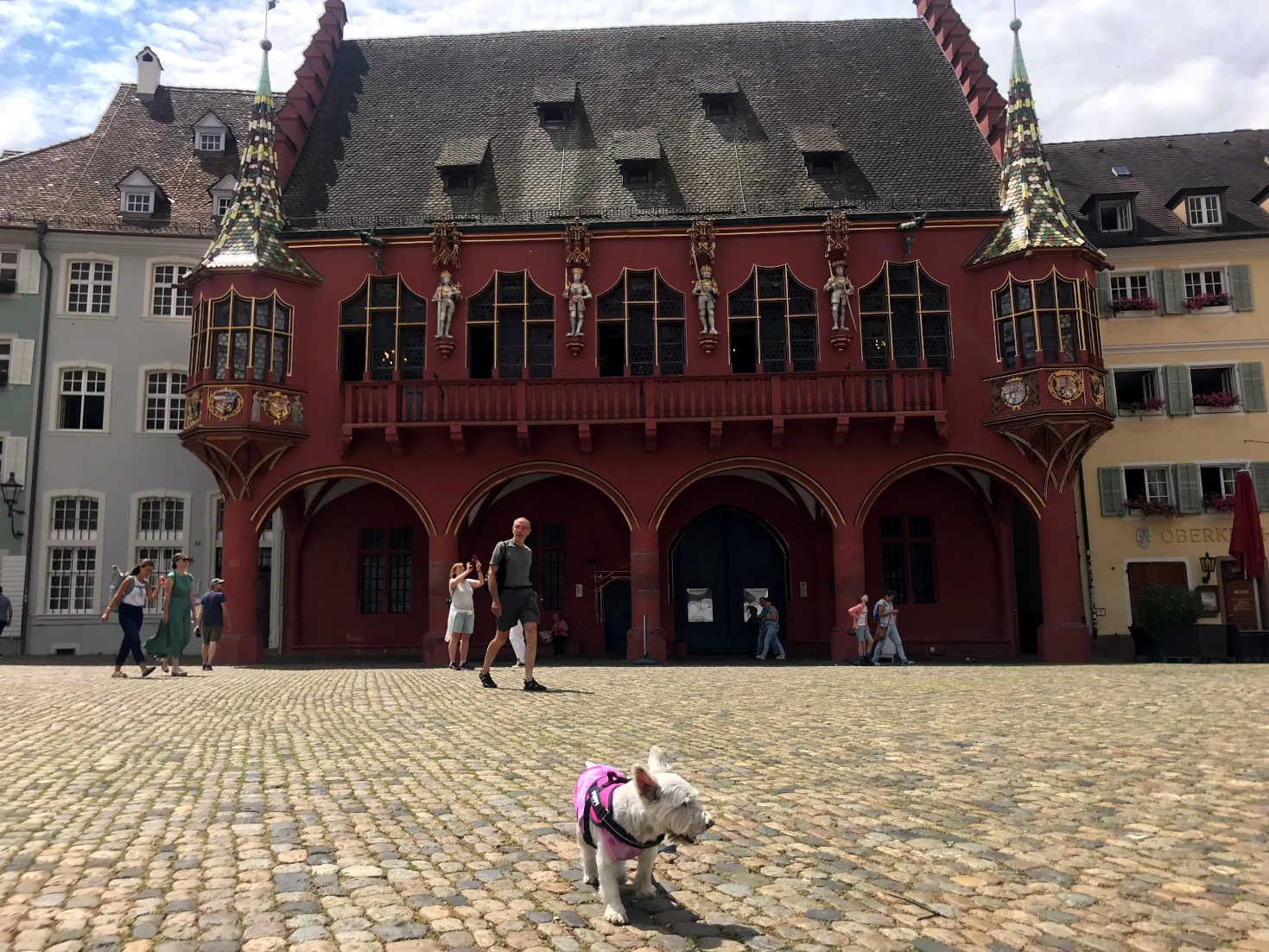 To get on a bus in Germany we all have to wear a mussel. I was ok, but mum and dad needed to buy one.  Because it was a Sunday it was harder than you would think. Everywhere was shut. Dad was told he might be able to get them at the train station. Off we go back to the train station. On the way there Dad spotted a mobile coronavirusees testing station. He talked to the peoplesees and came out with two mussels! Back to the square then. Mum and dad looked at the plan and decided to go for the easy funicular train, this meant we could get McDonalds for lunch, YUM.
The funicular was a funny train, the last time I was on one of these was when I was young in Switzerland. It wasn't big, we were the only ones on it but the train peoplesee still made us all ware mussels. At the top it was cooler than in the town. Lots of trees and smells, I got off leash, joy!
We wandered around the trees Dad got happier because his camera started to work! After a while we took the wee wyndy  path  back to town.
Time to go back to camp as we wanted to relax a bit before going out for diner and it was getting hot.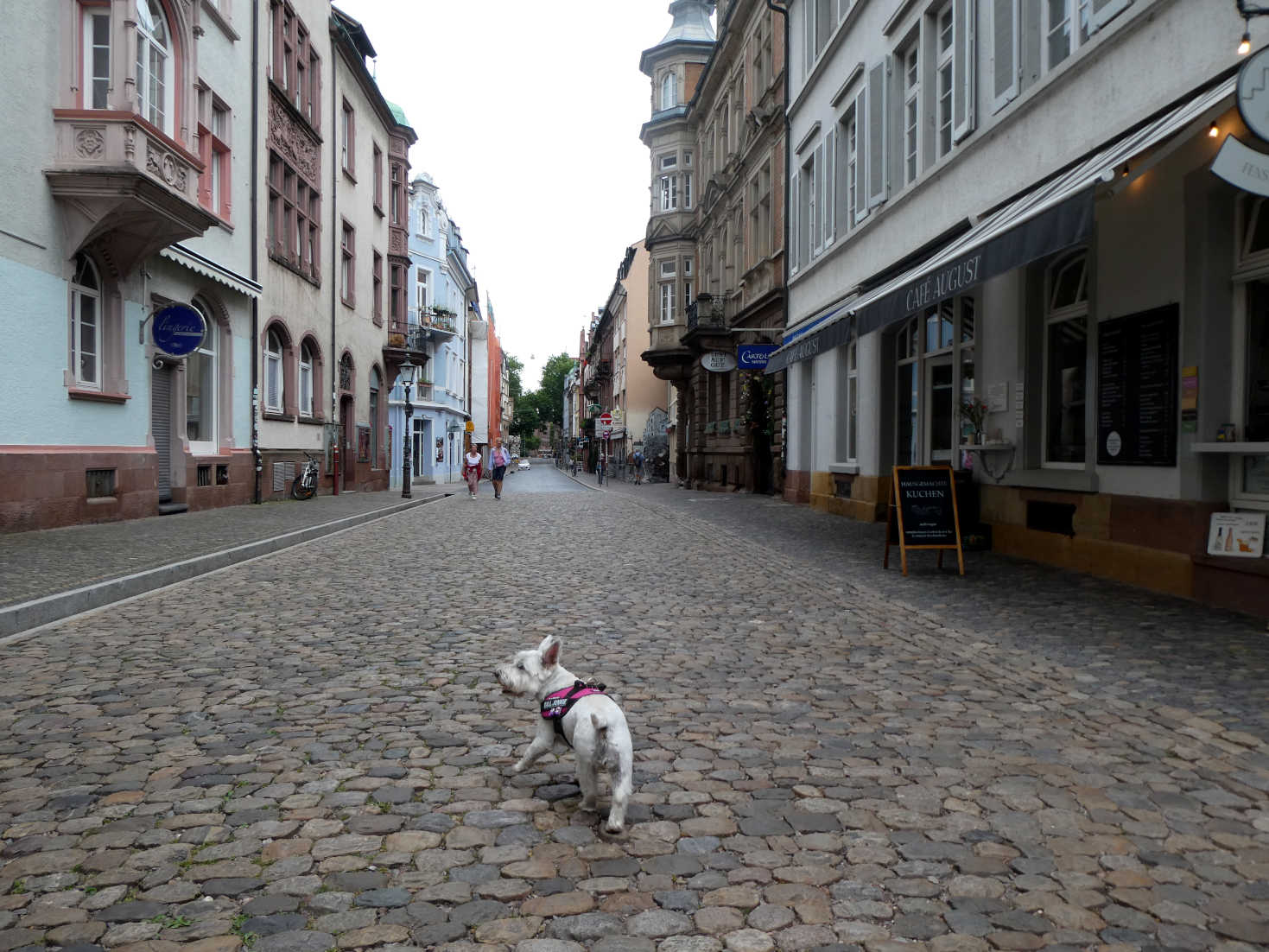 Mum managed to find a shop that was open, Dad bought a sticker for Betsy.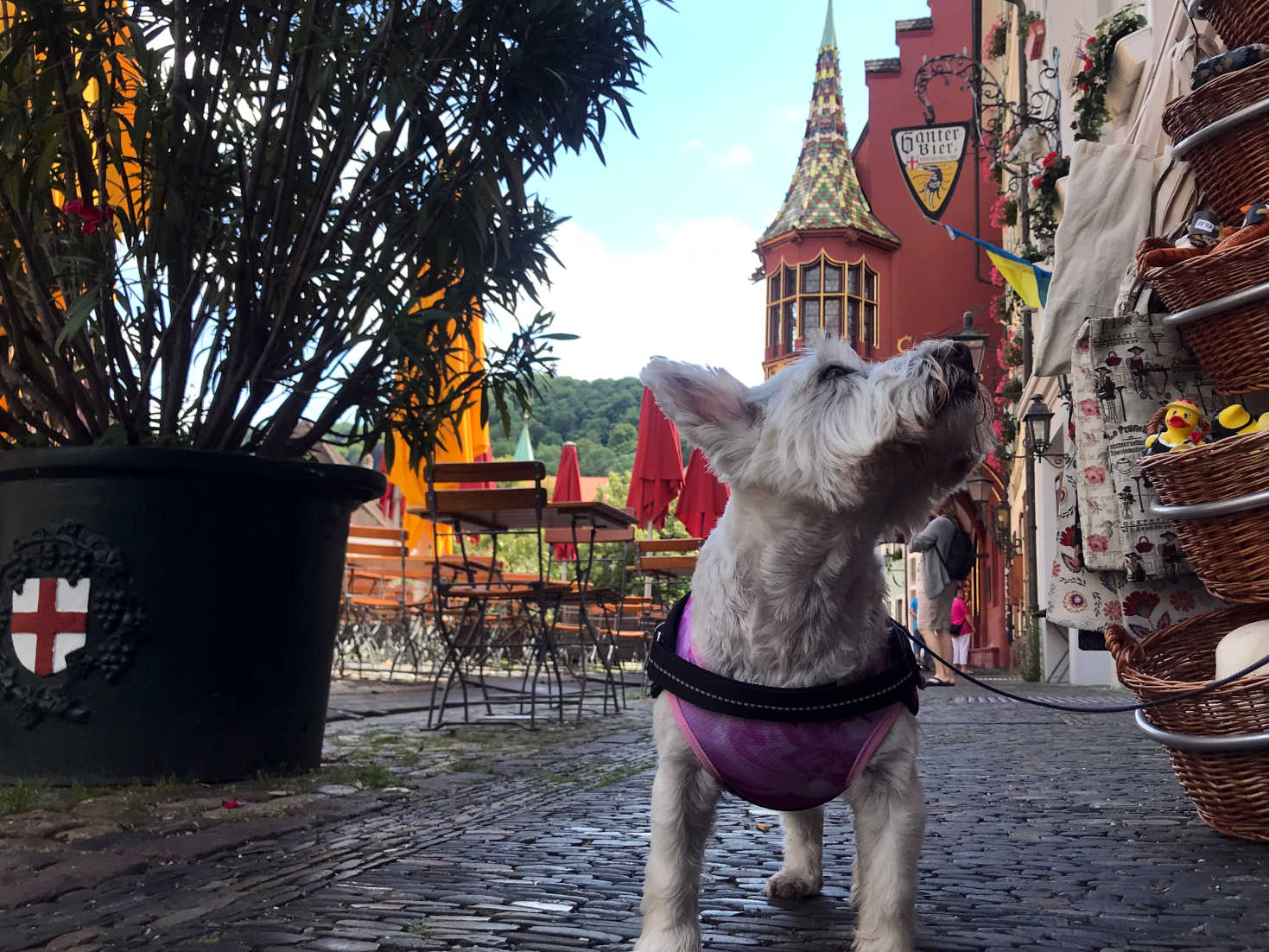 Back the way we came we took the river path. Walking along the river the German peoplesees were keeping cool by sitting on rocks in the river. They don't do that in Glasgow do they Dad! I was thirsty, so went to dip my paws and have a cool drink. It was Great.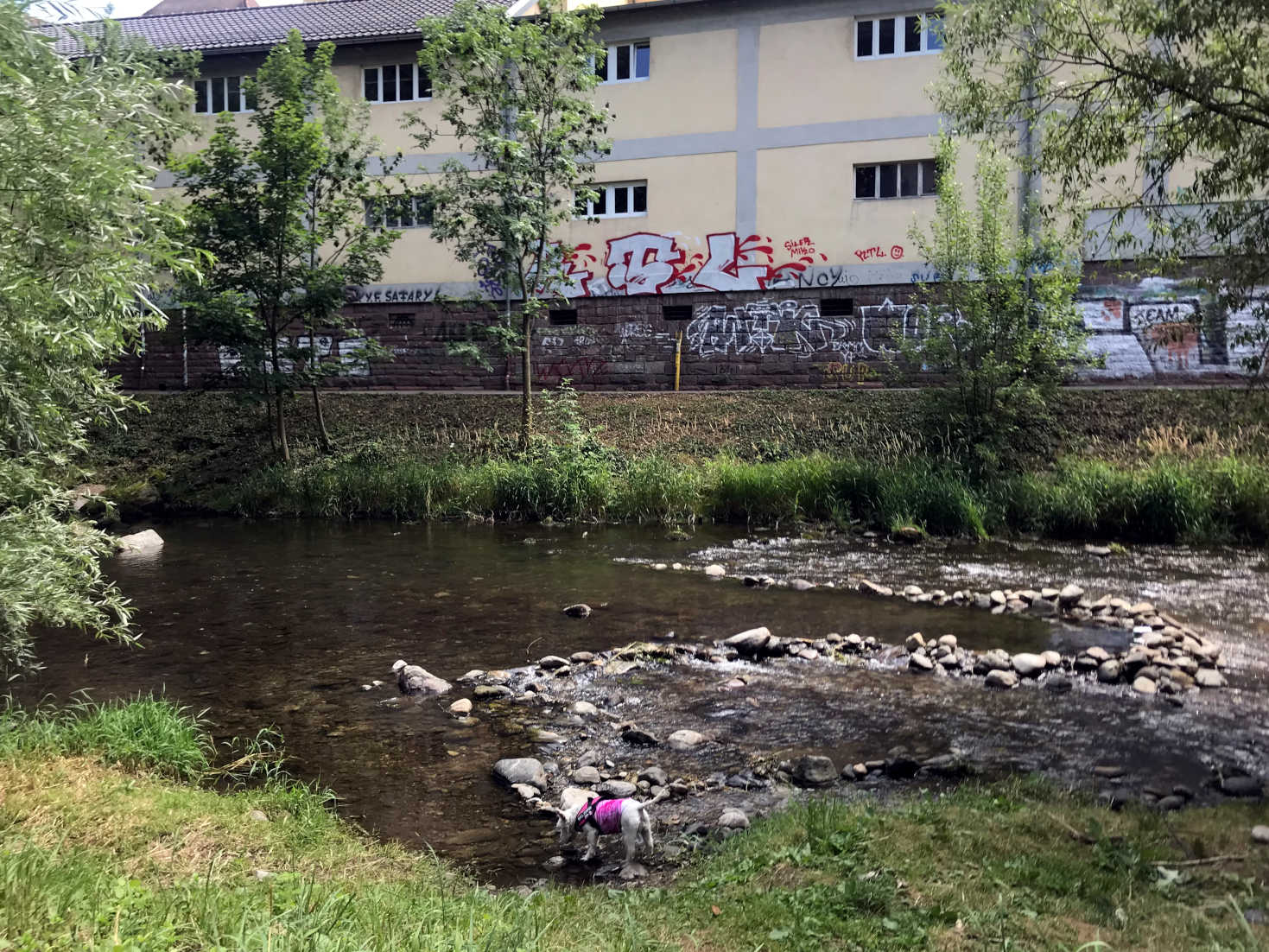 After my paddle I was in no hurry to go to camp. Can we not just chill and do a bit of sun bathing here? "The beer is on the wrong side of the river," said dad. Mmmmm OK then.
It was a bit cooler at night and we went to the Zum Stahl for dinner. Dad got a big glass of beer from the Brewery on the river, I think he liked it.
Dad asked a local what local dish he should order, mmmm, chips sausage and curry sauce, sounds Scottish to me. Ho hum, I don't care I like sausages and these were good.