We are going on a boat ride today, being Italy this means nasty musselsees. The pier was at the end of the beach so it was easy to get to. As soon we were onboard dad took off nasty musselsees and the boat left the pier. Poppys loves boats. Boats are nice and cool even when its roasting. First the boat crossed the lake to Anfo, then back again to Vesta where peoplsees from our campsite got off. Ferry then took us to Baitoni,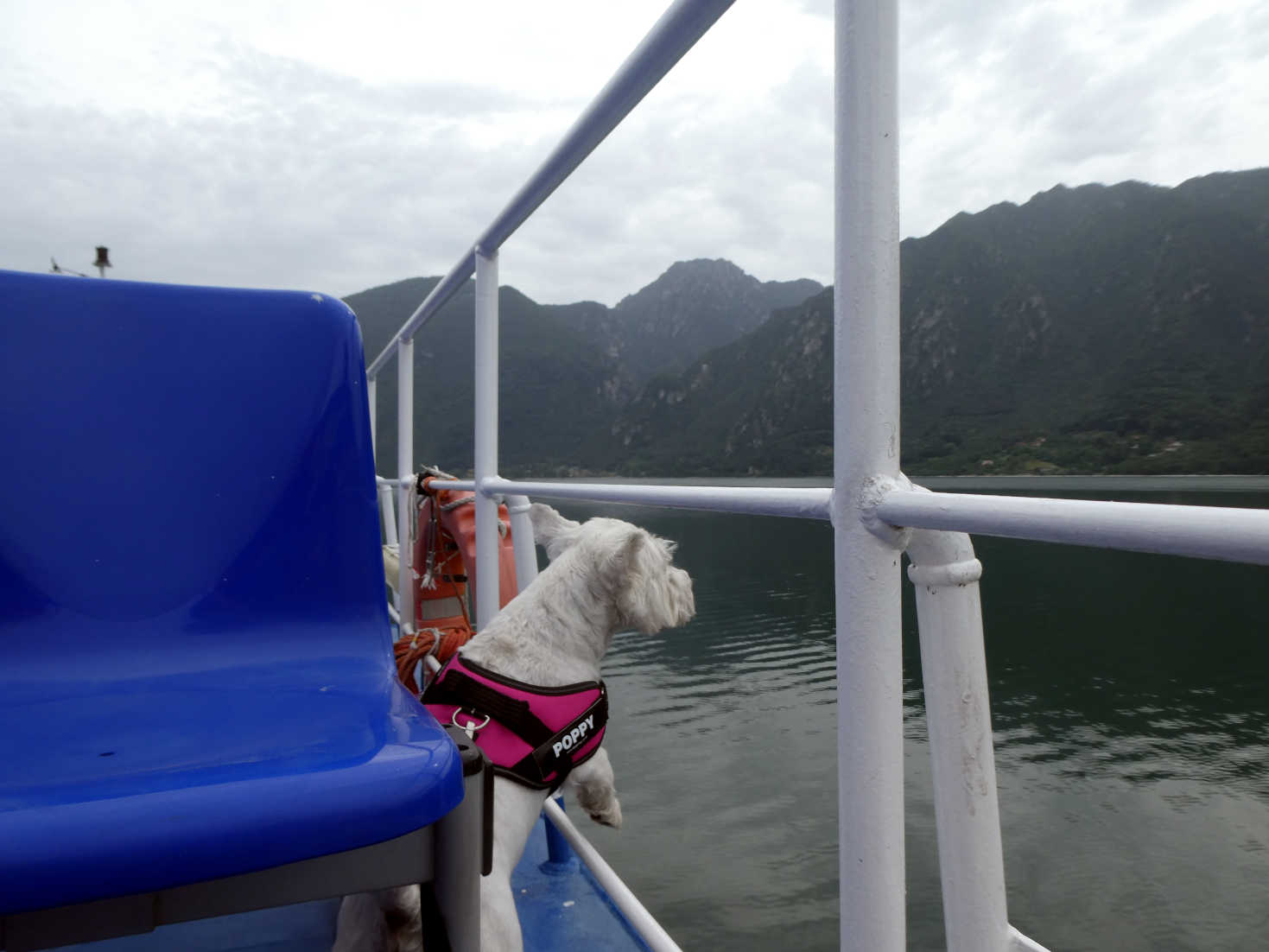 Off again it then went to Ponte Caffaro where there were small buildings around the shore but big buildings above it.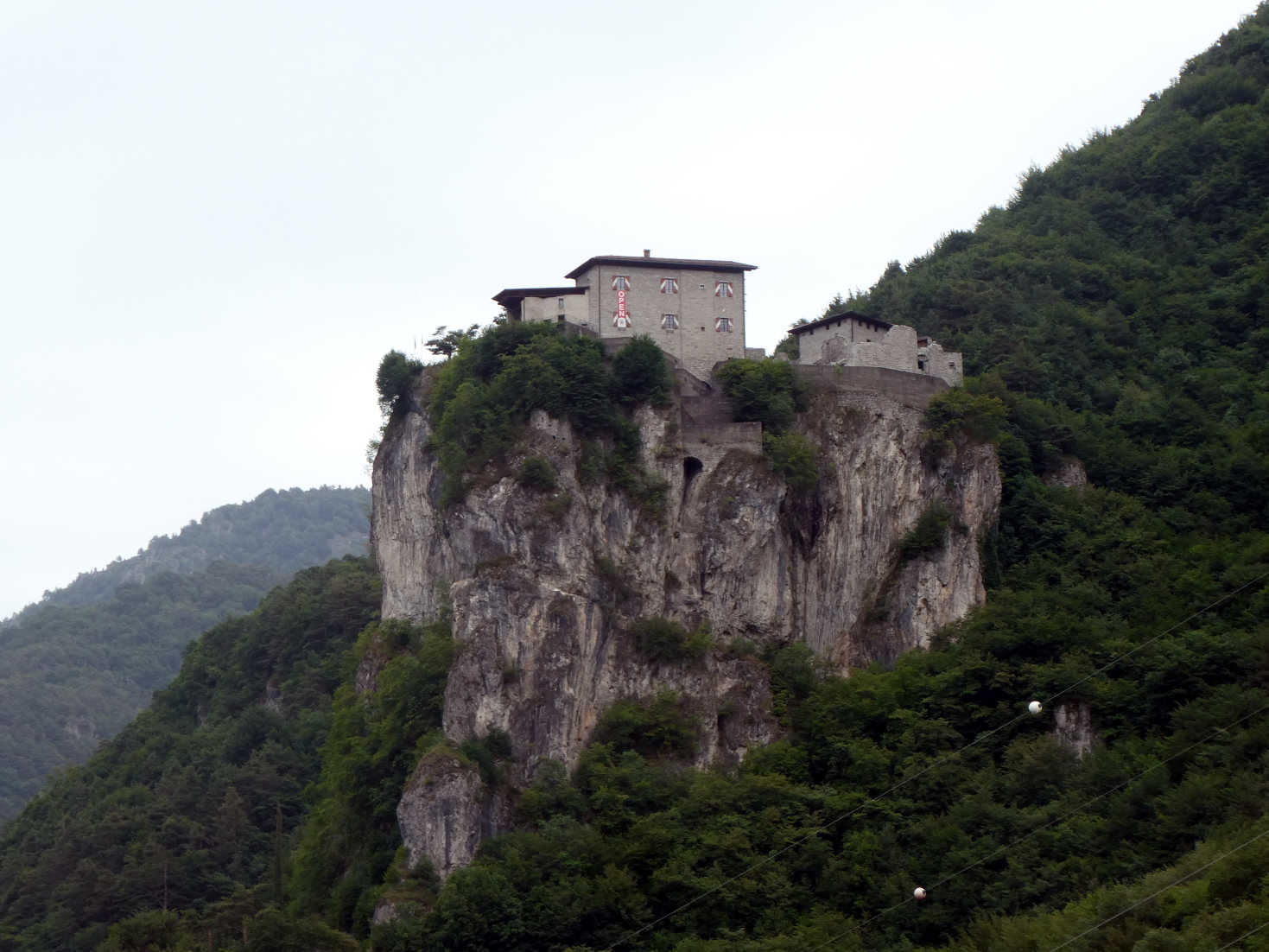 Ferry started her wat back going the same way she came. Look Dad there's Betsy, Hi Betsy! Betsy never said anything she must be sleeping.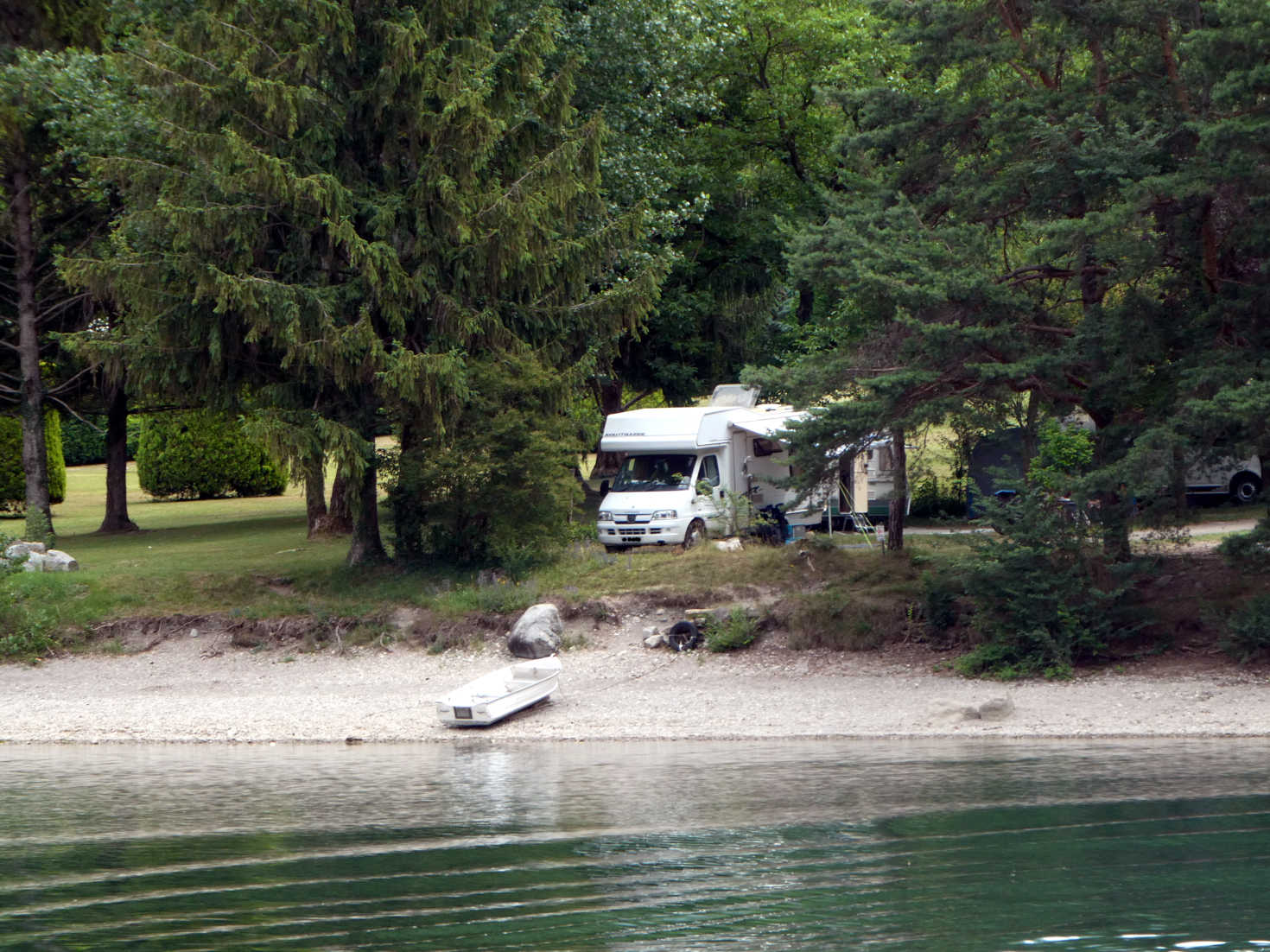 When ferry pulled into our stop I got up to get off. " we're not getting off here Poppy we're off to Lemprato" said Dad. Oh OK then, ferry left Vantone.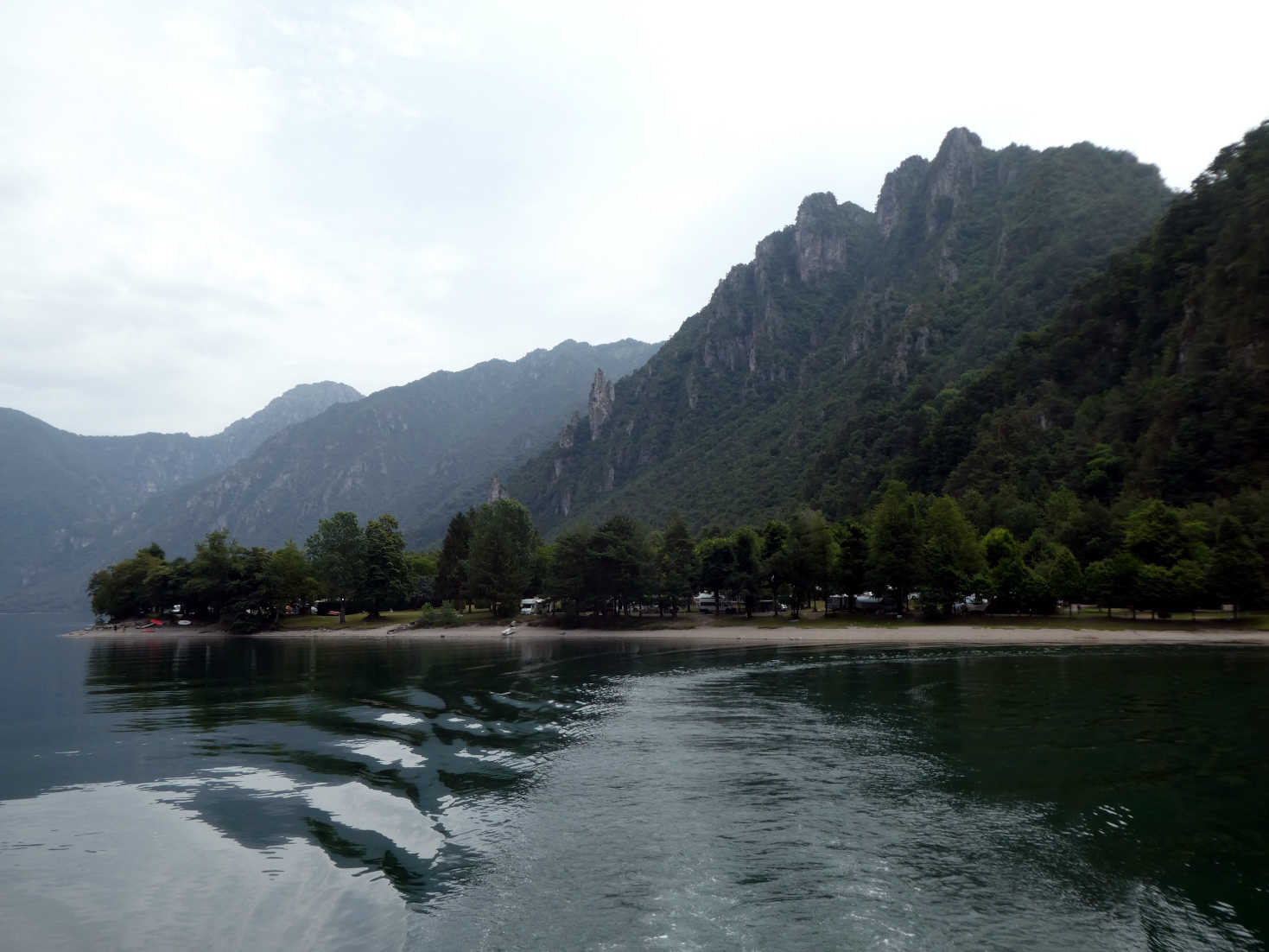 As it rounded the corner to the next village mum really liked the houses by the side of the lake.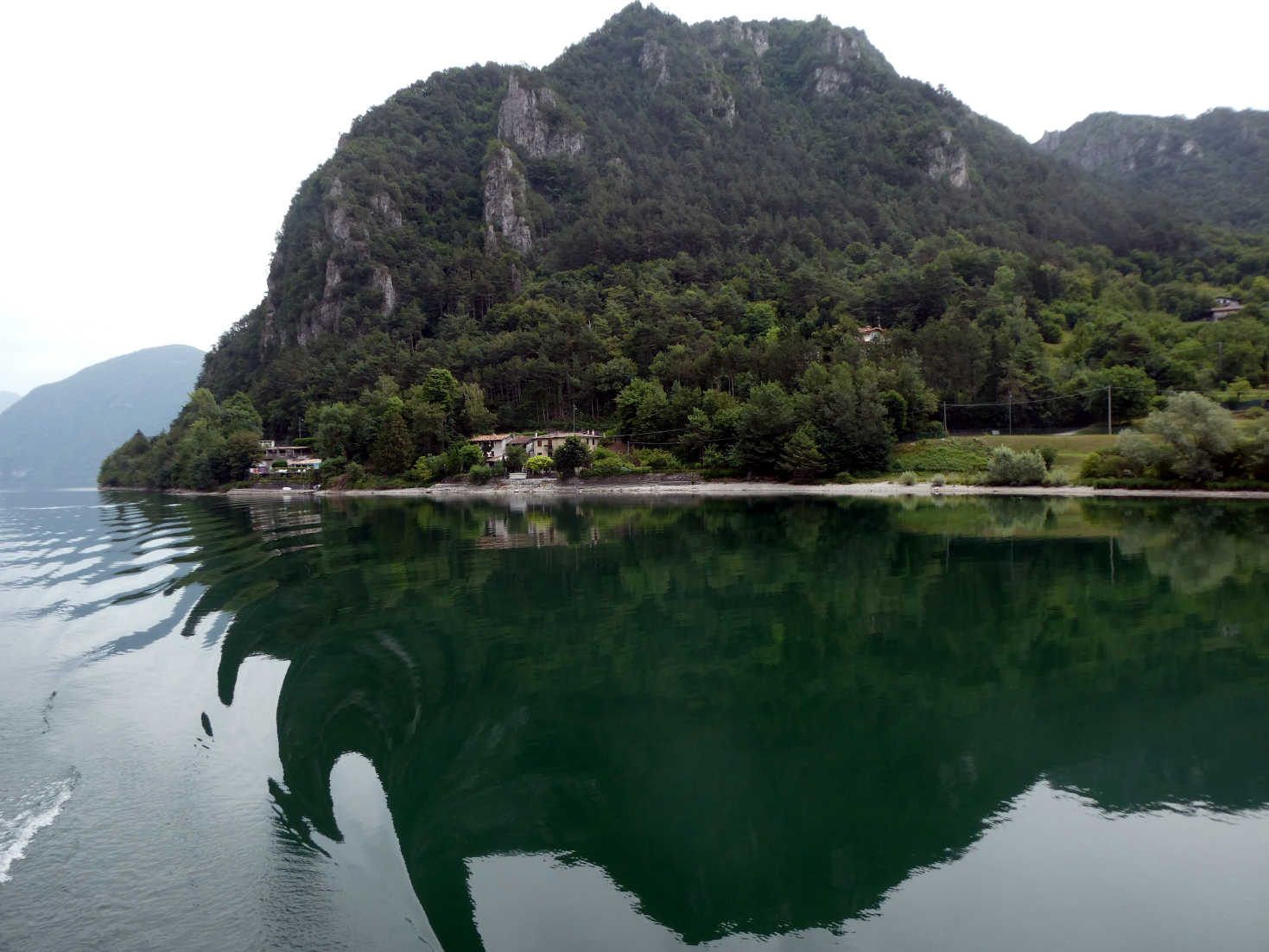 The next stop was Crone, but we staid on and the Lemprato came into view. Is that where we're going? "Yes Poppy that's where we off to" said dad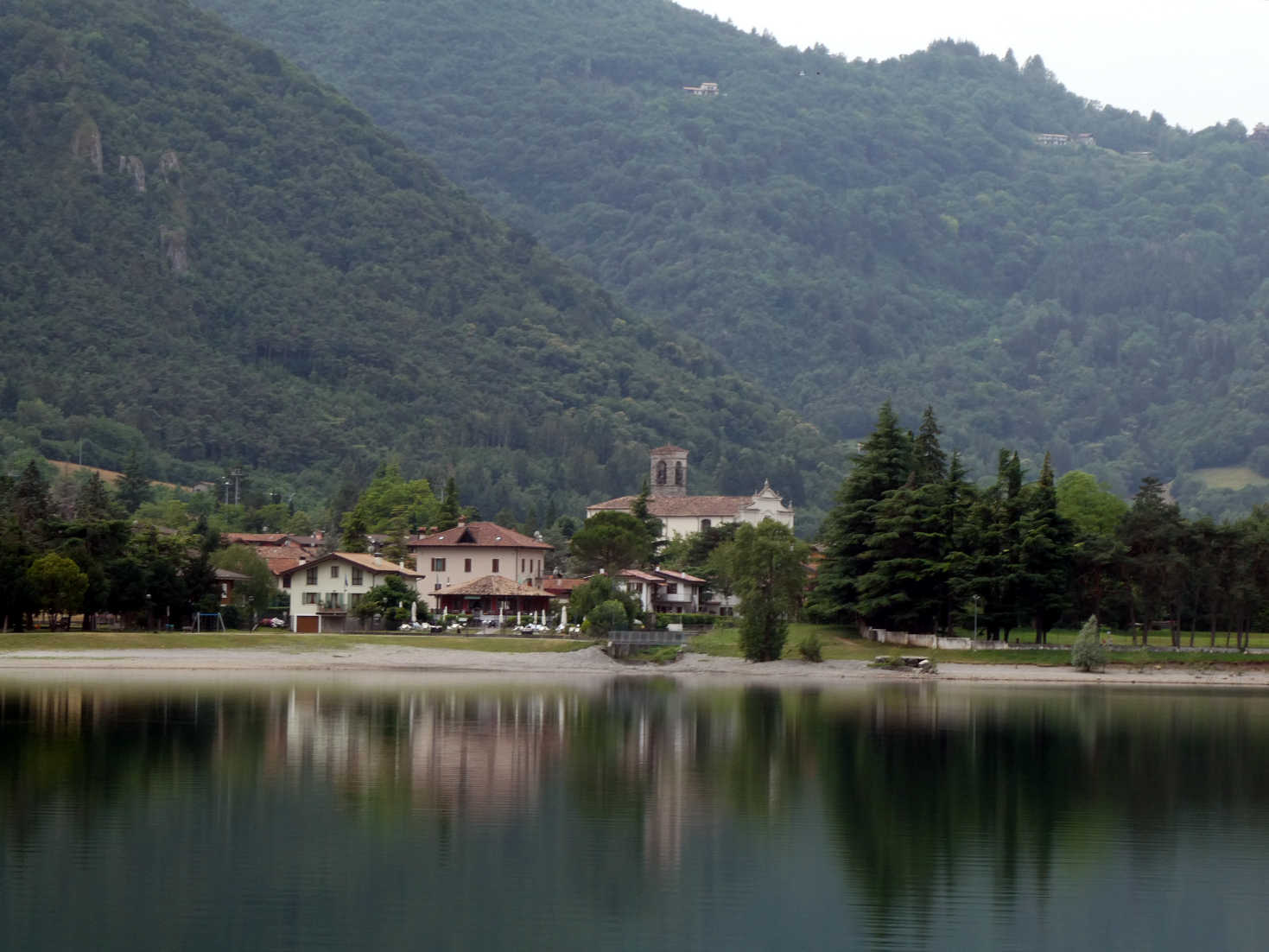 We got off the ferry and now I feel that I'm in Italy. Leaving the shore, I went to explore the village. It's been ages since we have been in Italy Dad isn't it dad? I almost forgot how good it smells!
Off leash I could run about the narrow wynds and follow my nose to explore the courtyards, it's great here mum.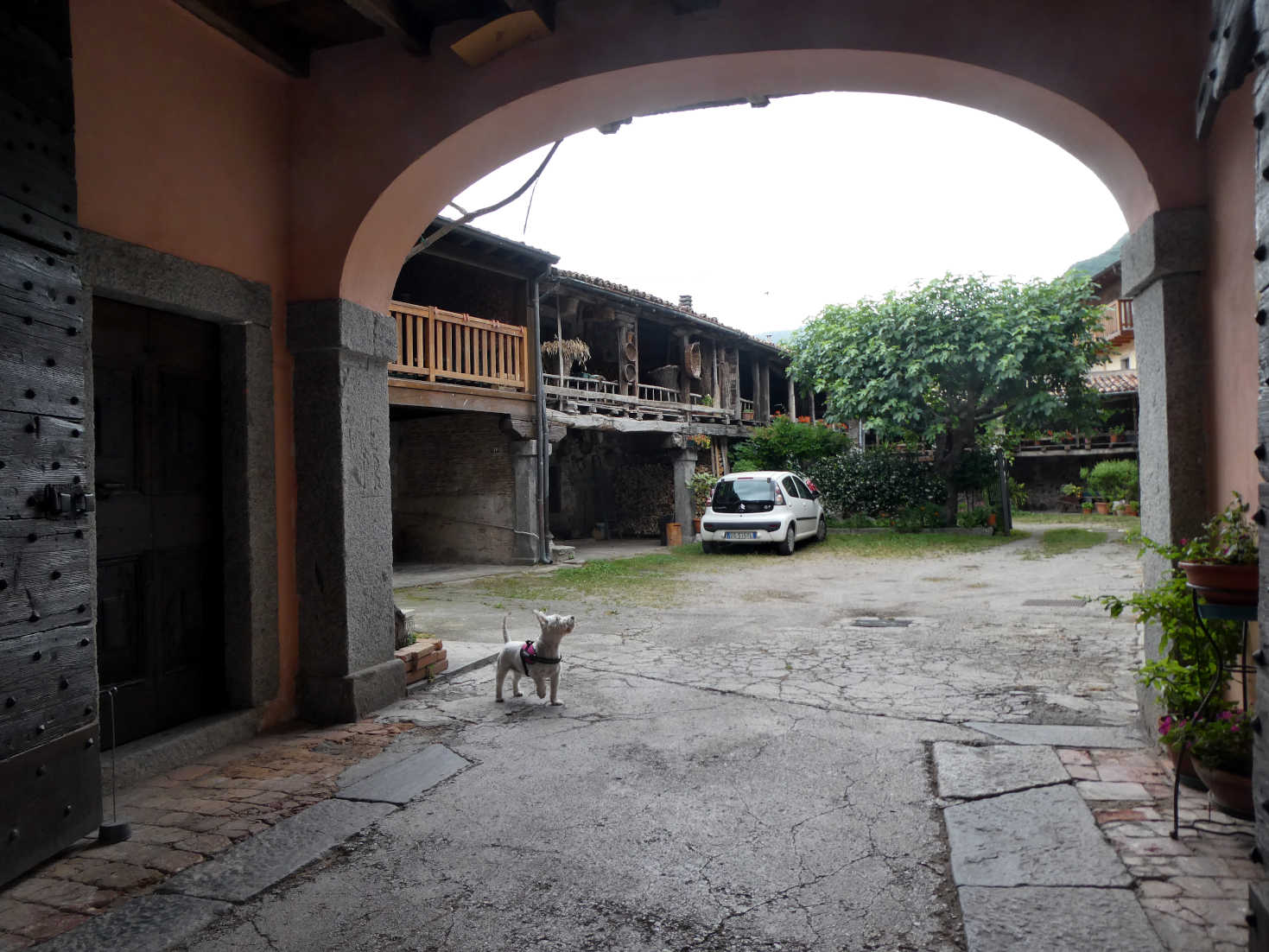 Wandering around we followed the alleyways and paths upwards till we came to the church. Mum was looking at something and I couldn't see anything because of a wall, I jumped up on the wall and Mum nearly had a heart attack. "Poppy be careful!" she screamed. I looked over the edge, it was a bit high.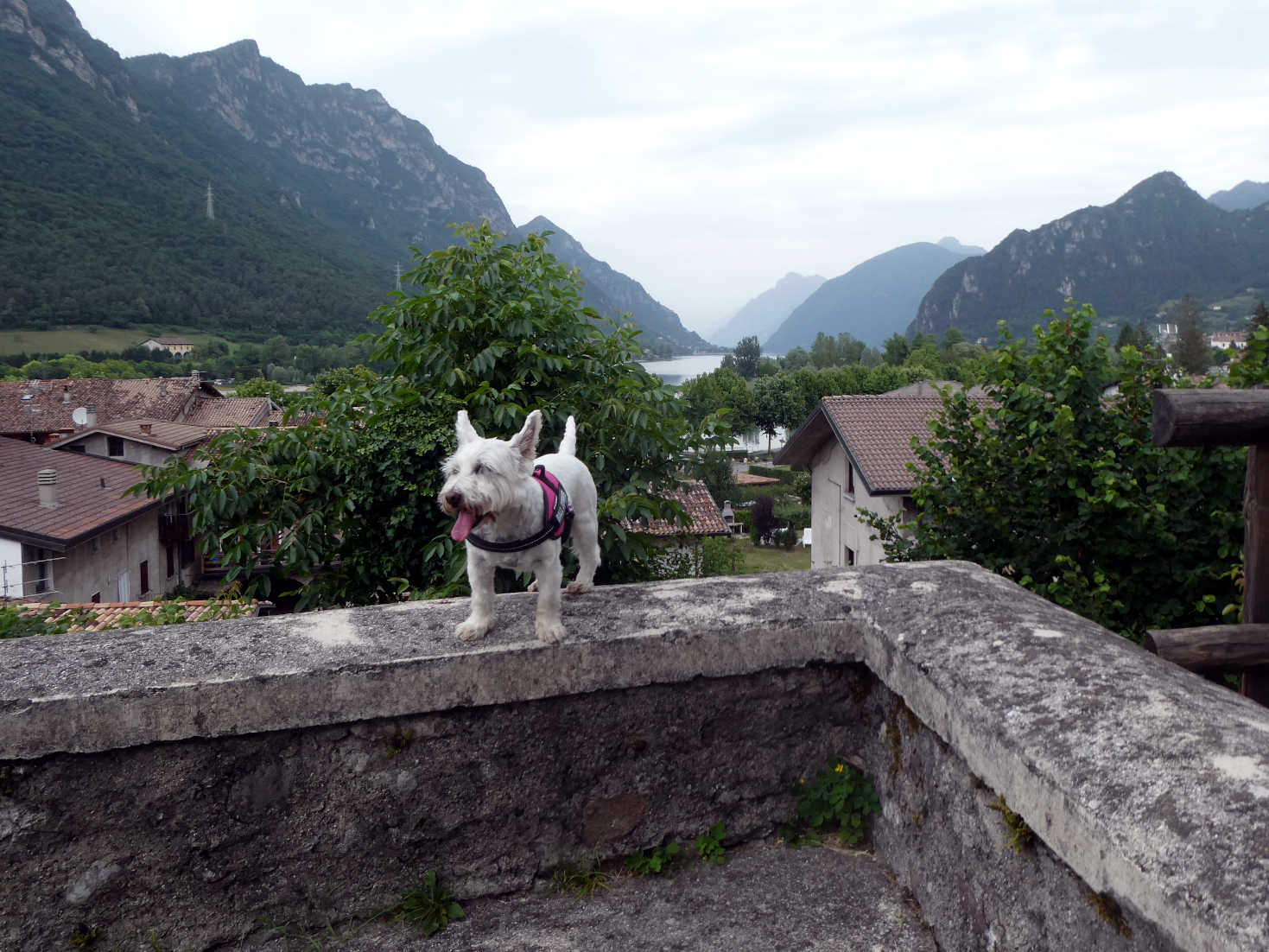 Heading back down I saw some scooters, dad look scooters. Poppys don't likes scooters, nasty smelly noisy things, don't get what dad sees in them. They are ok when they are asleep though.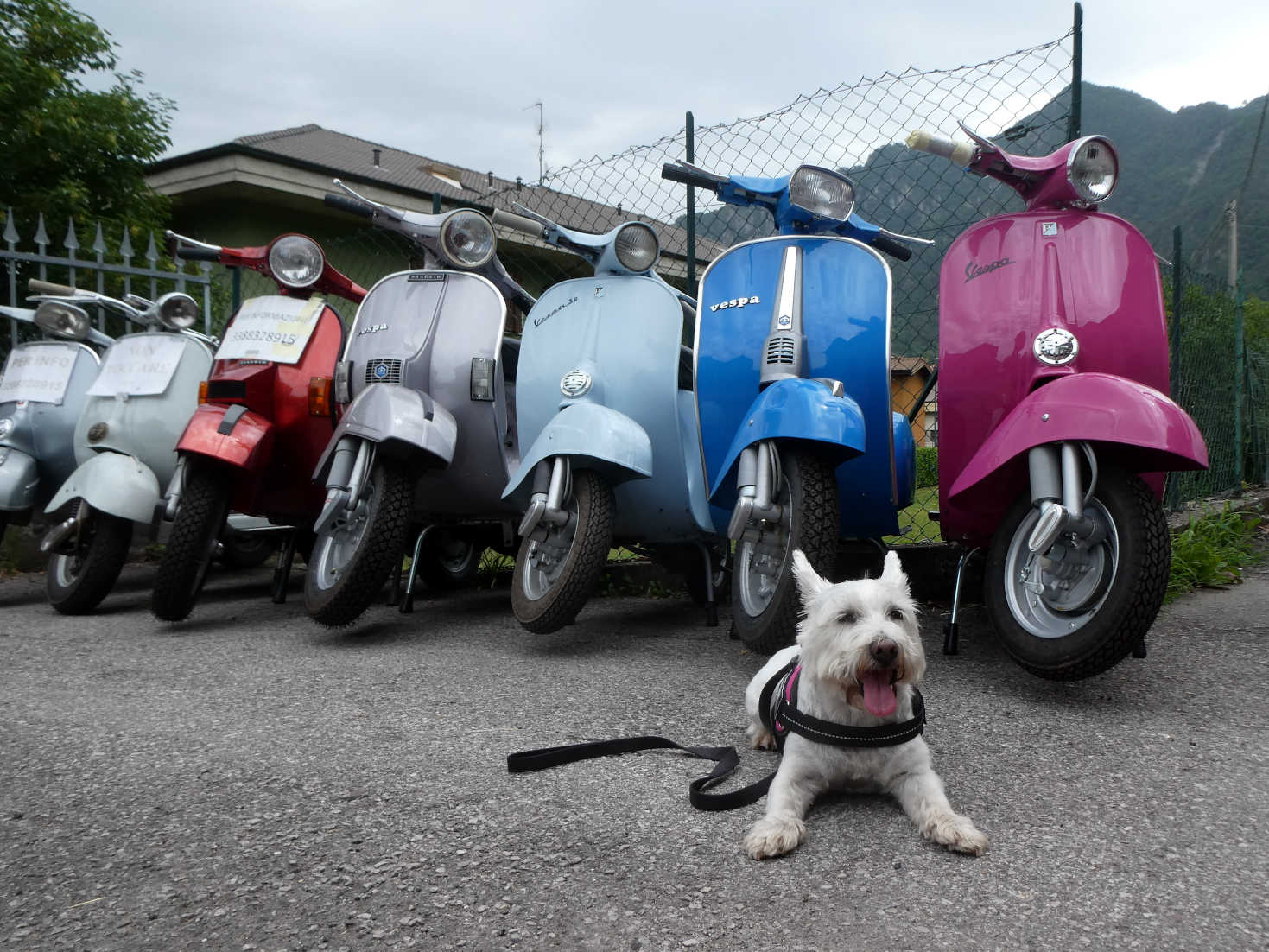 On the way to the next village Dad managed to get a shop to buy guy ropes just before it shut for the afternoon snooze. When we got to the village the last shop closed, Crone was deserted.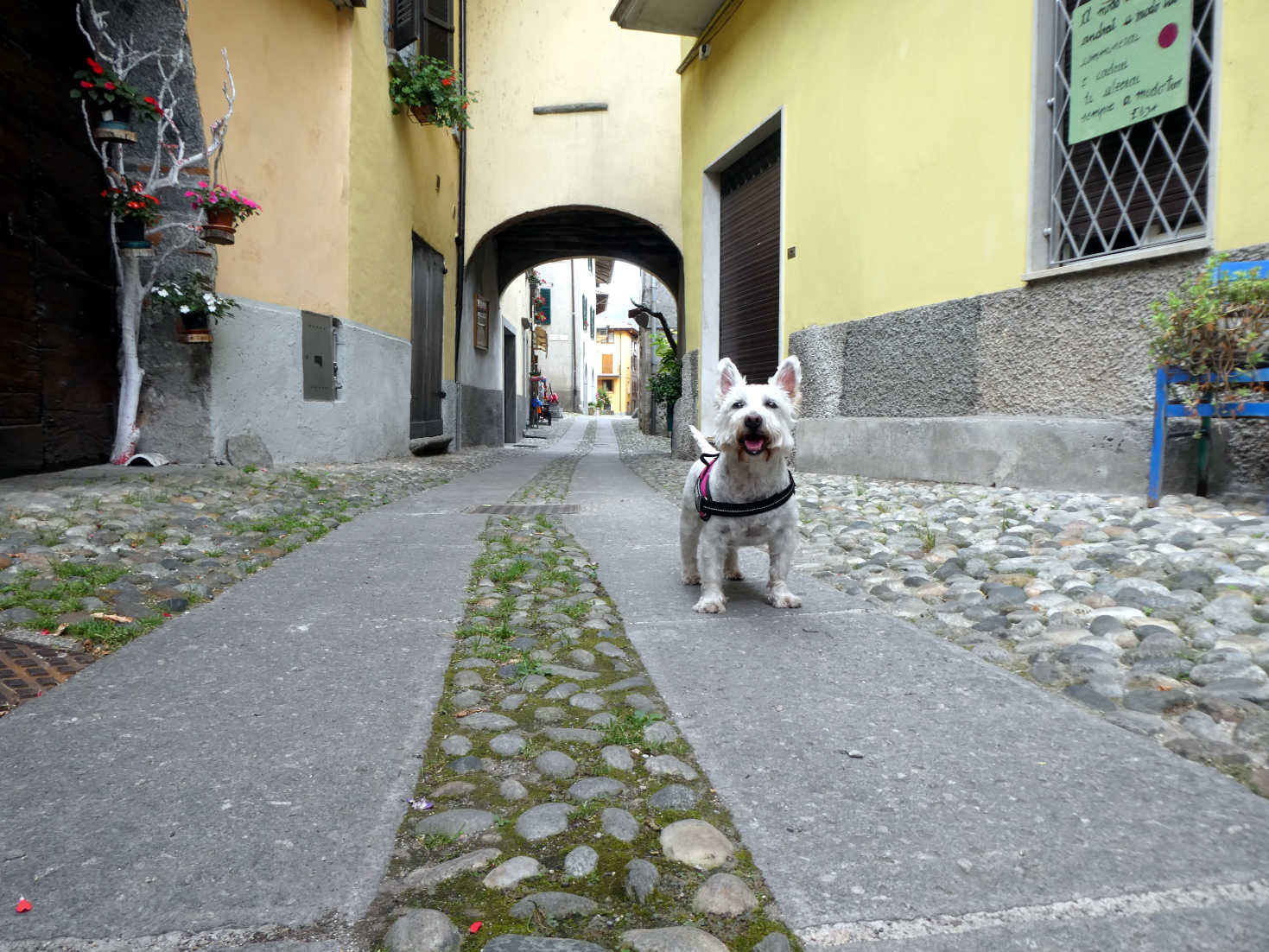 The good thing about deserted villages is that poppys can be off leash. I even played a bit of ball in the empty lanes. Every way we went another empty road, where are the peoplesees? "Sleeping" said Mum.
We walked back to camp but didn't go in, instead we went to the place next door, why we here? "We're booking diner for tonight," said Mum. Mmmm looks OK to me. Mum let's take a short cut, I'll take you through the garden back to Betsy, Poppy the pathfinder me. Back at camp it was getting hotter. After a long walk the only thing for it was a snooze in the shade under Betsy.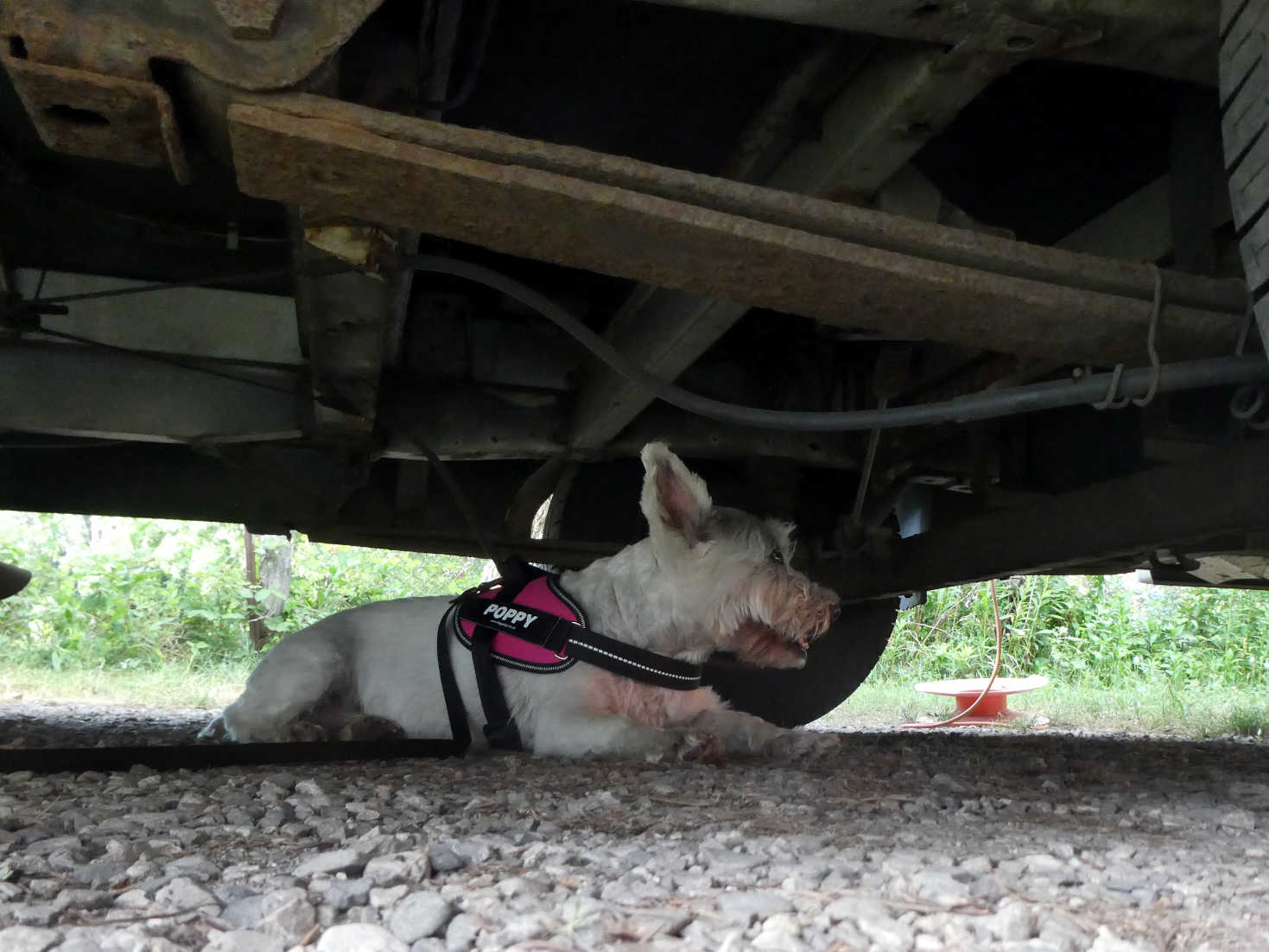 I can tell when I'm going out for dinner, Dad always puts my posh harness on. We took the short cut I found this afternoon and were soon in the restaurant's gardens.
Dinner was good, mum and dad liked theirs too. I would come back here again Poppys, Mum and Dad all liked The Ristorante Di Genny
All full back at Betsy we all settled in for the night, first full day back in Italy has taken its toll.