Dobby's Grave and Church Rock
It was sunny when we left camp and Betsy trundled off The Gower and into Pembrokeshire. We were hunting for a grave. No ordinary grave but a house elf's grave. Poppys have no idea what that is or what a house elf is. Mmmm If I don't like it I will scare it away. The longer Betsy went the more the weather was turning. When we got to Freshwater West Mr Wind came out to play and now he's made the sky cry. Mum put on my onesie because she thought I would get wet and turn into a mucky pup. Soon we were on the beach and nothing was going to stop me from having fun.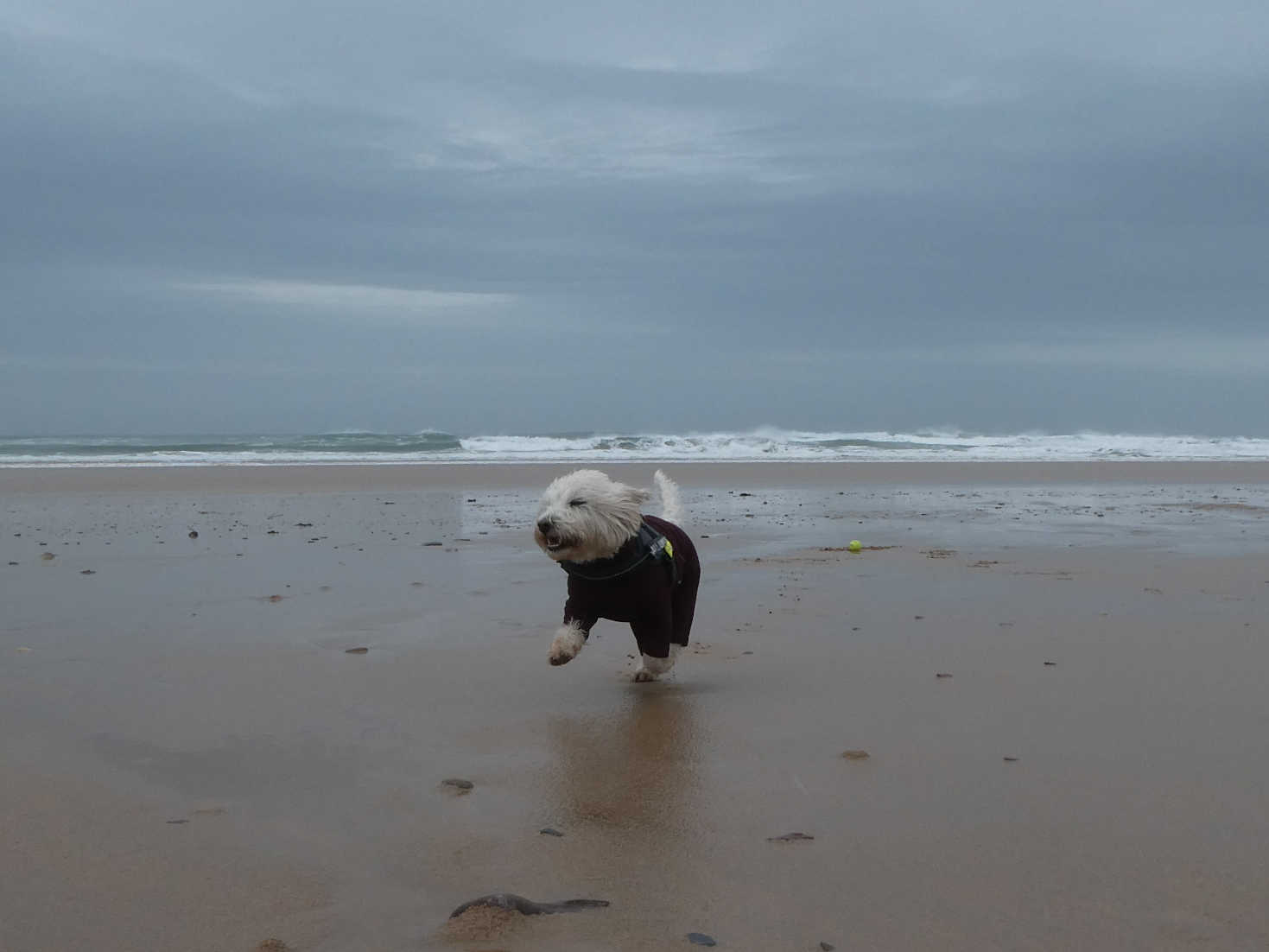 I played along the sand until something caught my eye, grrrrrr that's not normal. Grrrrrrr I don't know what it is but it shouldn't be on a beach.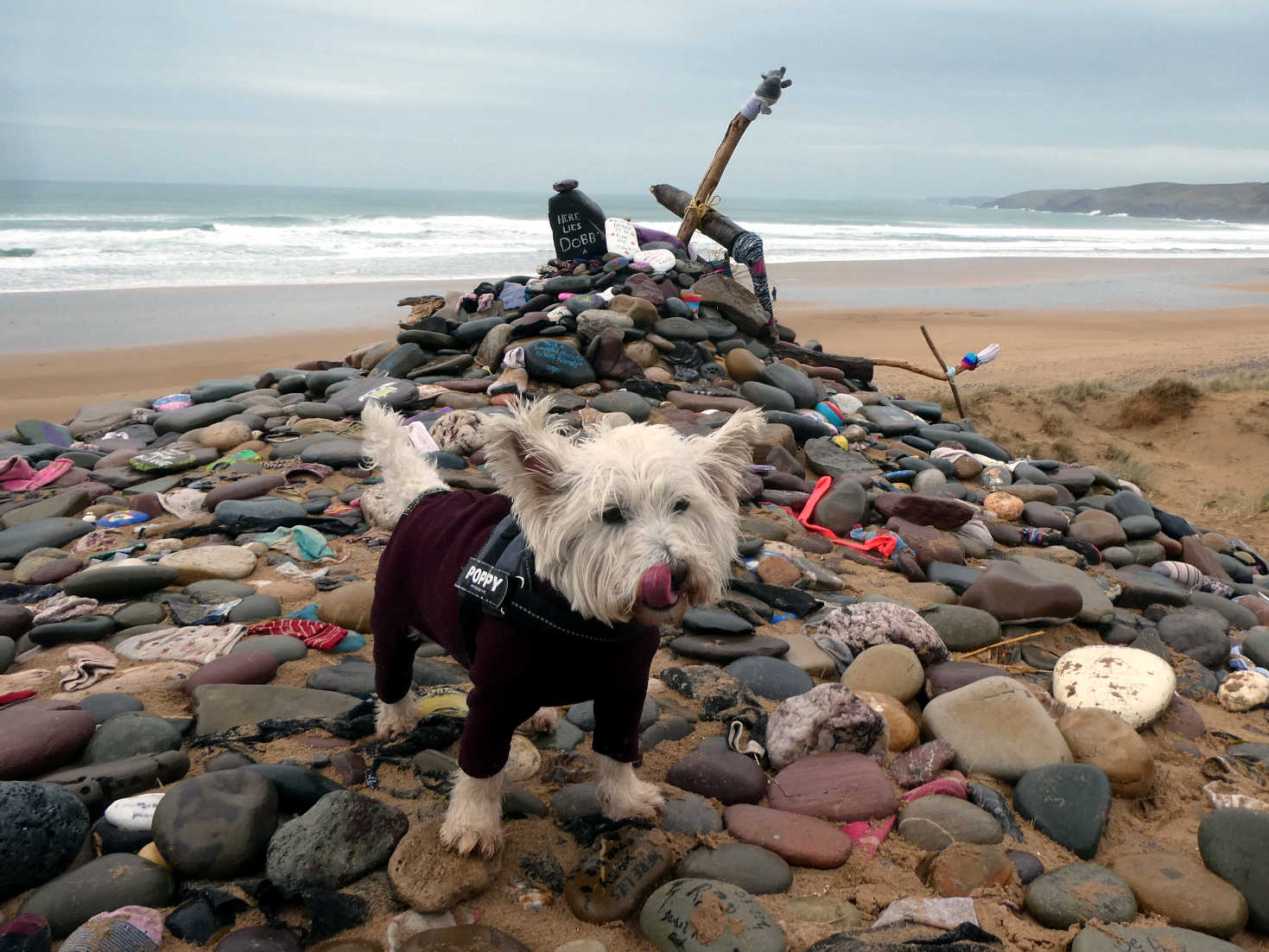 "Well done Poppy" said mum "you have found Dobby's grave". Ehe? Grave? Don't look like a grave to me and what's with it with all the socks?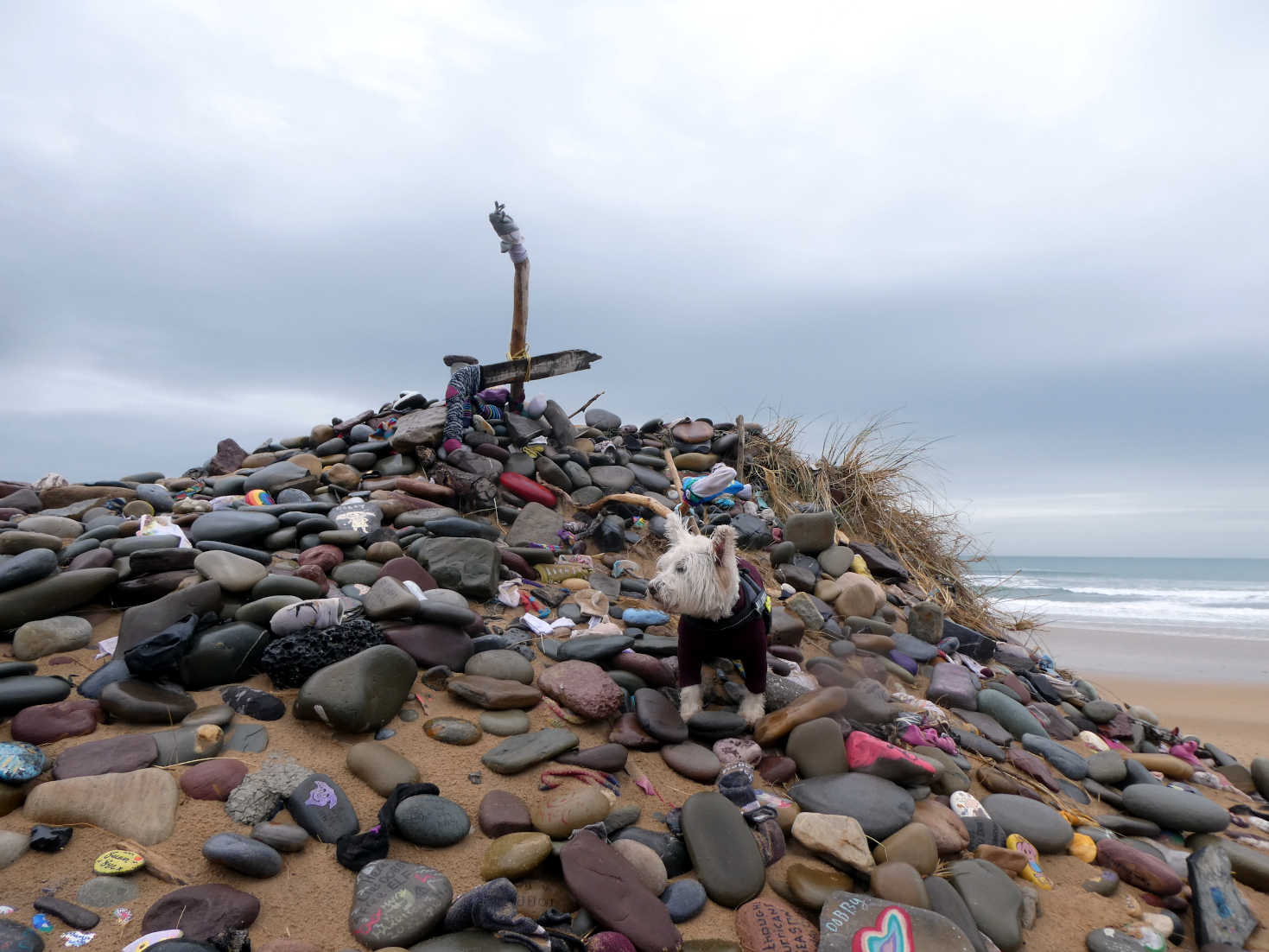 The sky stopped crying as we played ball along the beach back to Betsy.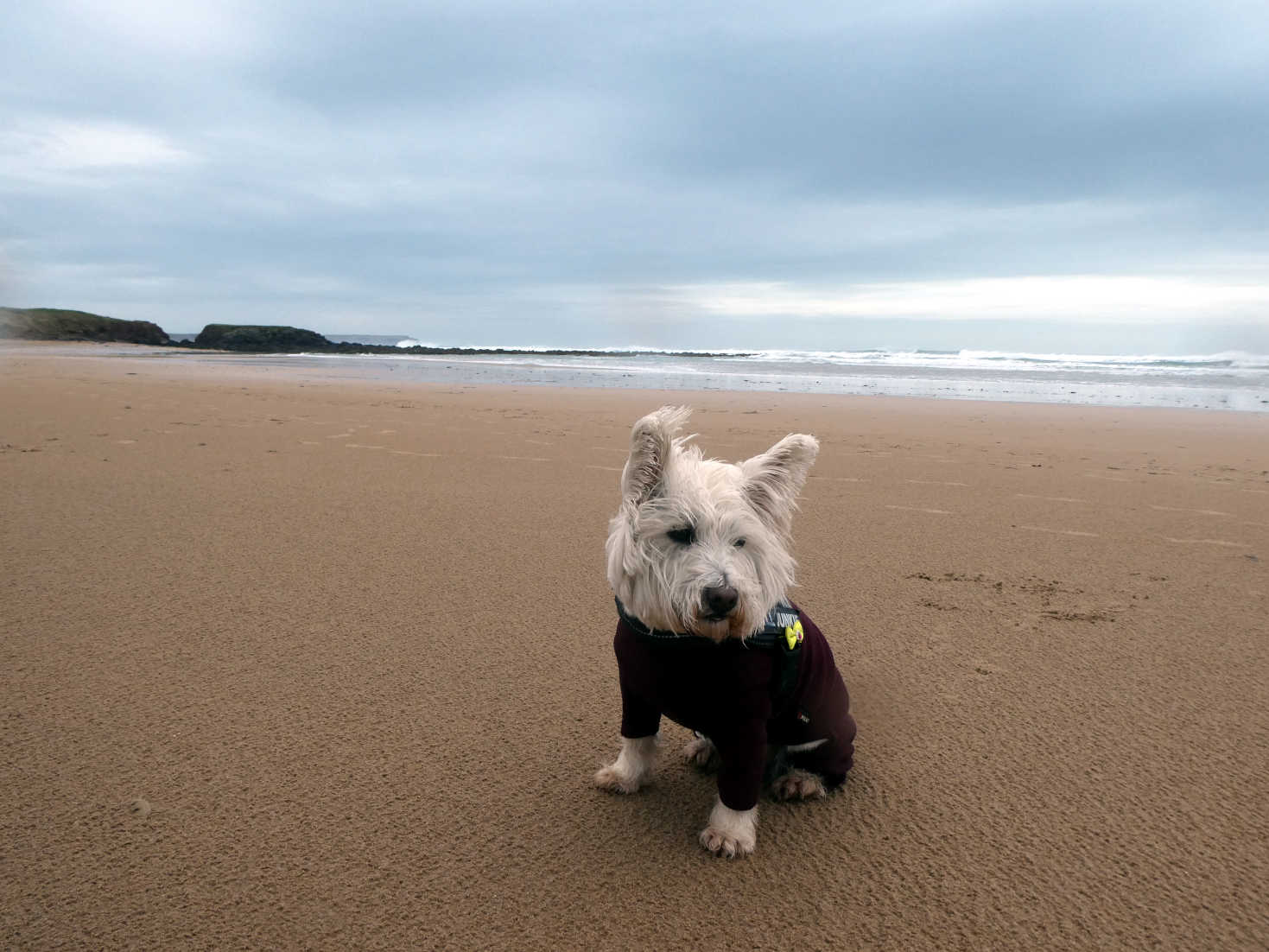 We were off again, the roads were very narrow and Betsy had to breath in sometimes just to squeeze through. We were looking for a beach but were lost. The woman in the talk box had taken us nowhere and now she decided to leave in a huff.  Betsy pulled over at a place called Bosherston so Mum could read a map. Everywhere were signposts for lilyponds, we don't want lilyponds we want beach!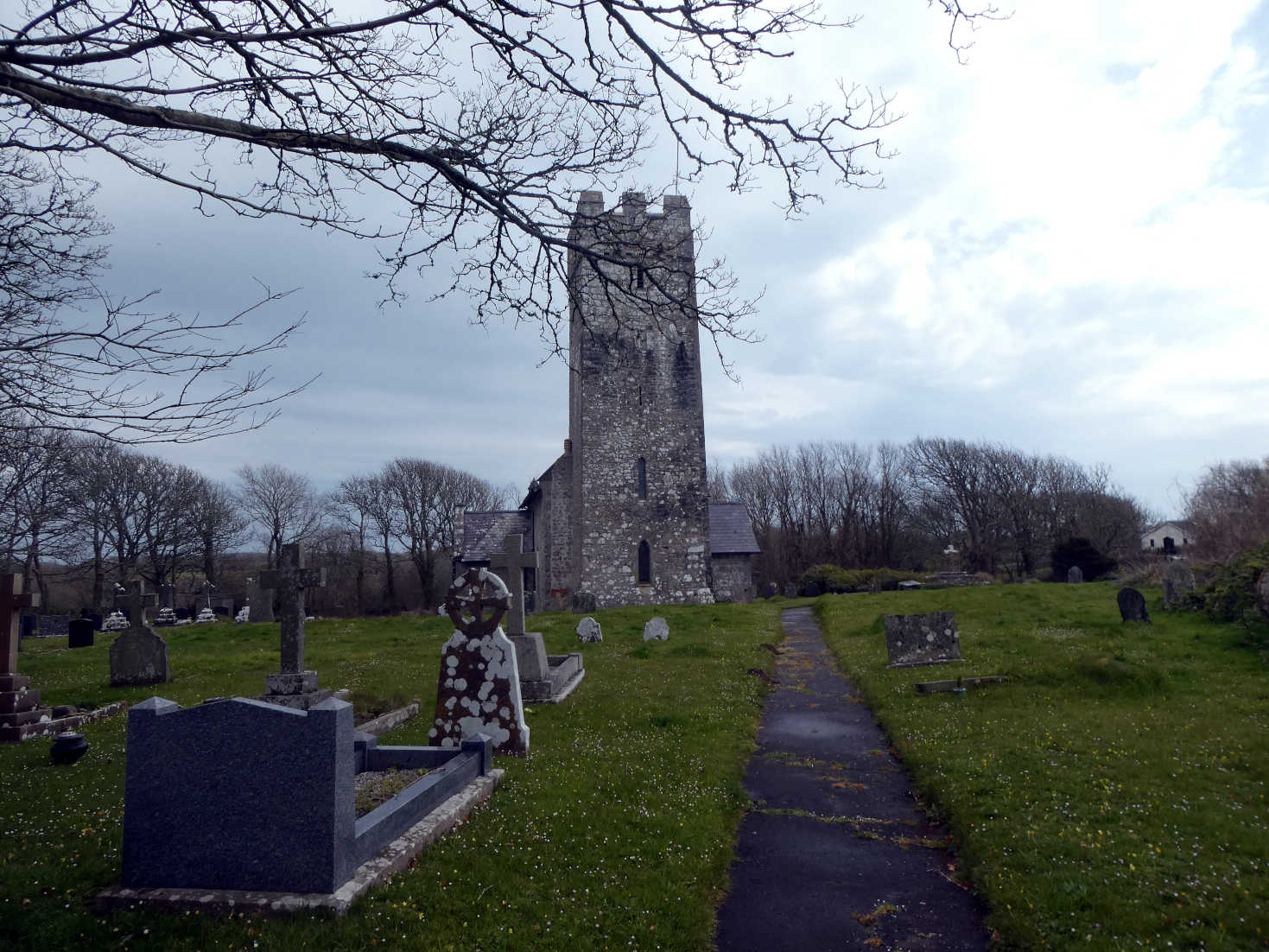 Mum found a way and soon Betsy got a big rest at a place called Broadhaven. We all got out and started the search for the beach. I found it first, mum dad look beach!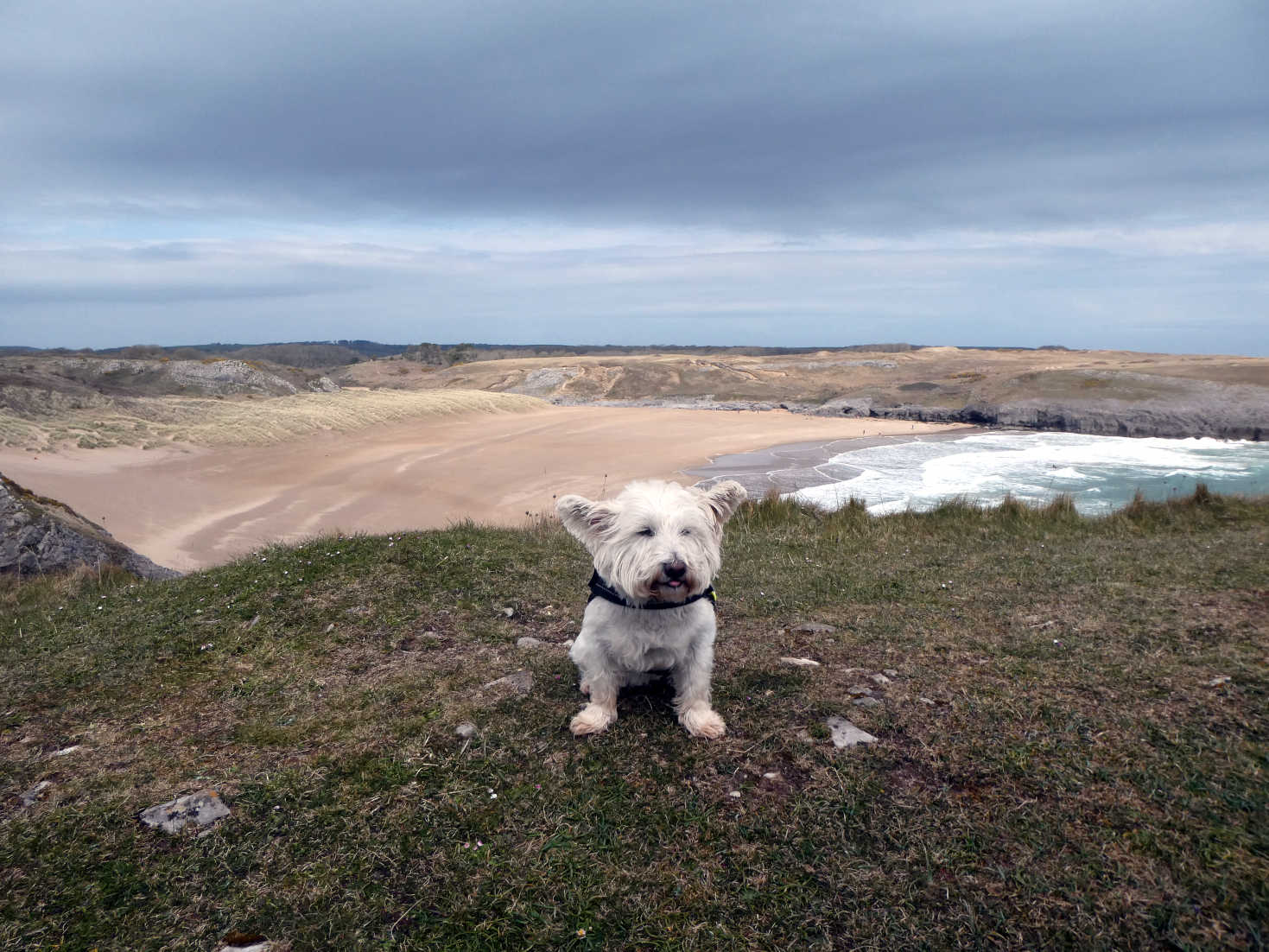 The sand was soft and the beach was hidden from Mr Wind. Great for ball. The sun even came out to play.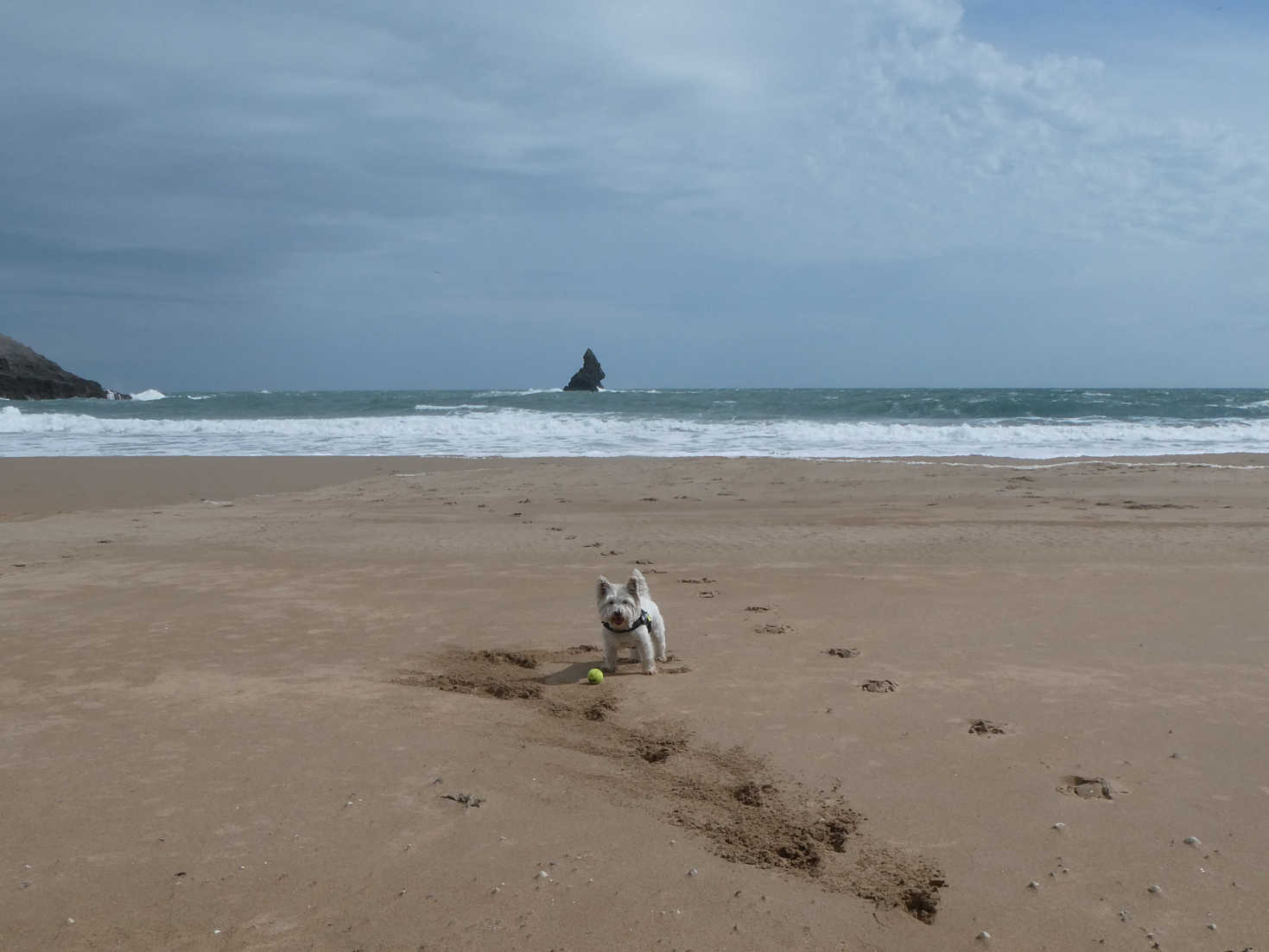 Whats that thing dad? "Its called Church Rock Poppy" Oh, Ok. The Welsh Peoplesees pick some funny places to put churches.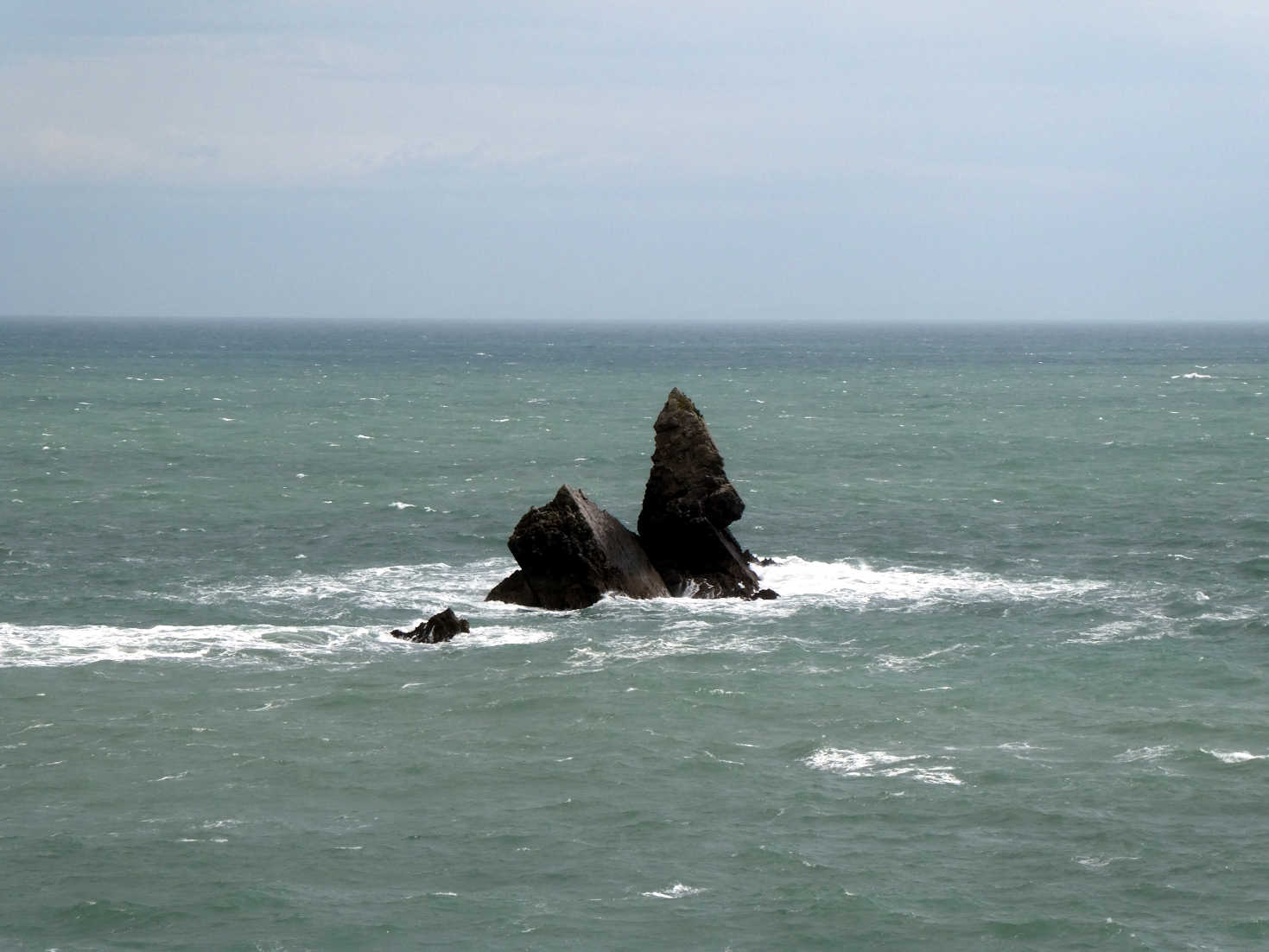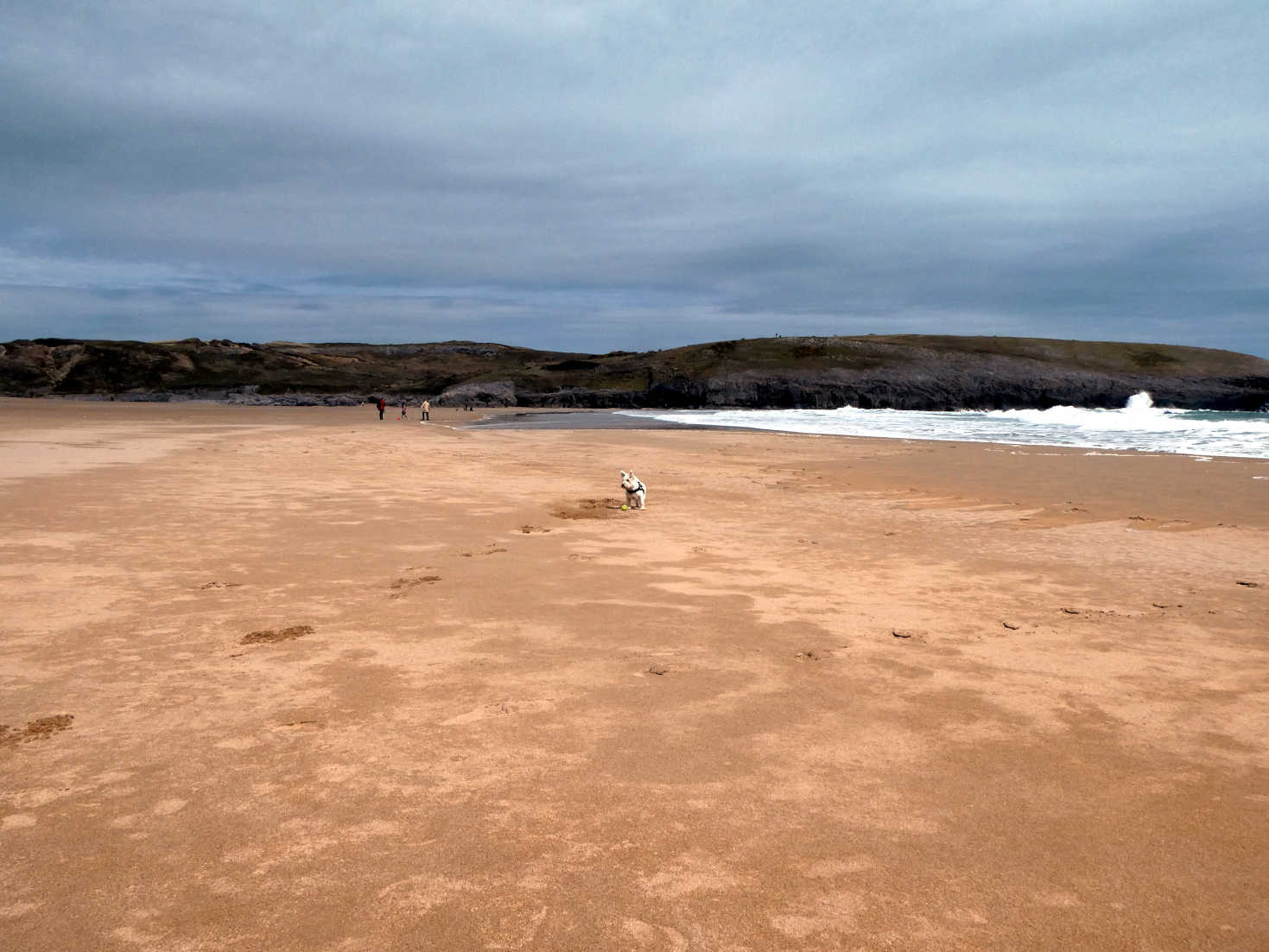 I had to take a wee rest. Playing ball is hard work and we still have to climb the sand dunes to get back to Betsy!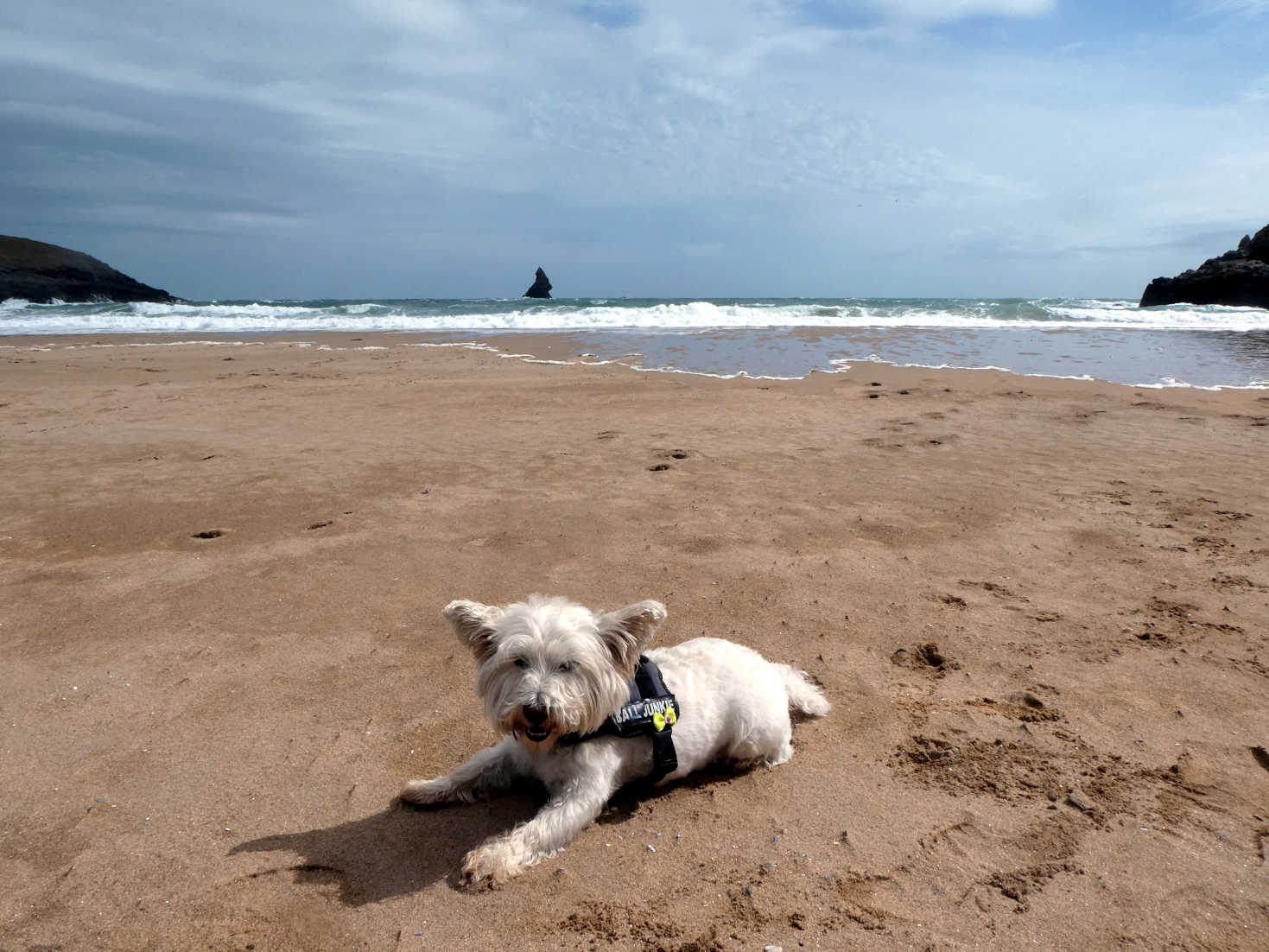 Betsy's next rout was very tense. Dad was getting worried. The woman in the talk box was talking to us again. Dad was getting very angry with her. She had told Betsy to go down a road where Betsys were not allowed. She sneaked down it very slowly. The road was really wee and very bumpy. After an age she was free. Where to next dad? "Tenby and our next campsite Poppy"
When we got to Well Park campsite the peoplesees told Dad where Betsy could rest. When we got there another bigger van had already picked our spot to rest. Mum said to dad "You really need to listen" She was not happy. Dad phoned the peoplesee and told him there was no van on the spot. Really? Shure looks like a van to me. The peoplesee on the phone told dad to pick the spot behind it.
Betsy all set up we went for a short walk before settling in for the night.