My toys got moved into Mini, mmmm this means one of two things. I'm going to stay with granpa or we are going on an adventure. Mini went over the big bridge so its an adventure! We were only in Mini a short time when she stopped in Dumbarton. Pets at Home? Funny place for an adventure. Mum bought some biscuits for me. On the way back to Mini we had to avoid the blue shiny rainbow ground. Dad said it would be bad for my paws. The ground smelled funny I didn't want that smell on my paws. Back in Mini we are off.
We went up by Loch Lomond are we going back to Luss dad? I could not get comfy, dad wanted to sleep but I wanted to see what was outside. I prefer it when dad drives mum is much comfier to sit on. Luss passed and Mini went onwards. The sun came out and Mini pulled in for a rest Ruff Ruff Ruff RUFF let me out dad RUFF. Dad got annoyed with me and tried to hold me. I wriggled and wriggled but dad held on Grough Rough Aool Aool Aool dad put his hand over my mouth "Stop it Poppy your hurting my ears!" Mum came round and let me out.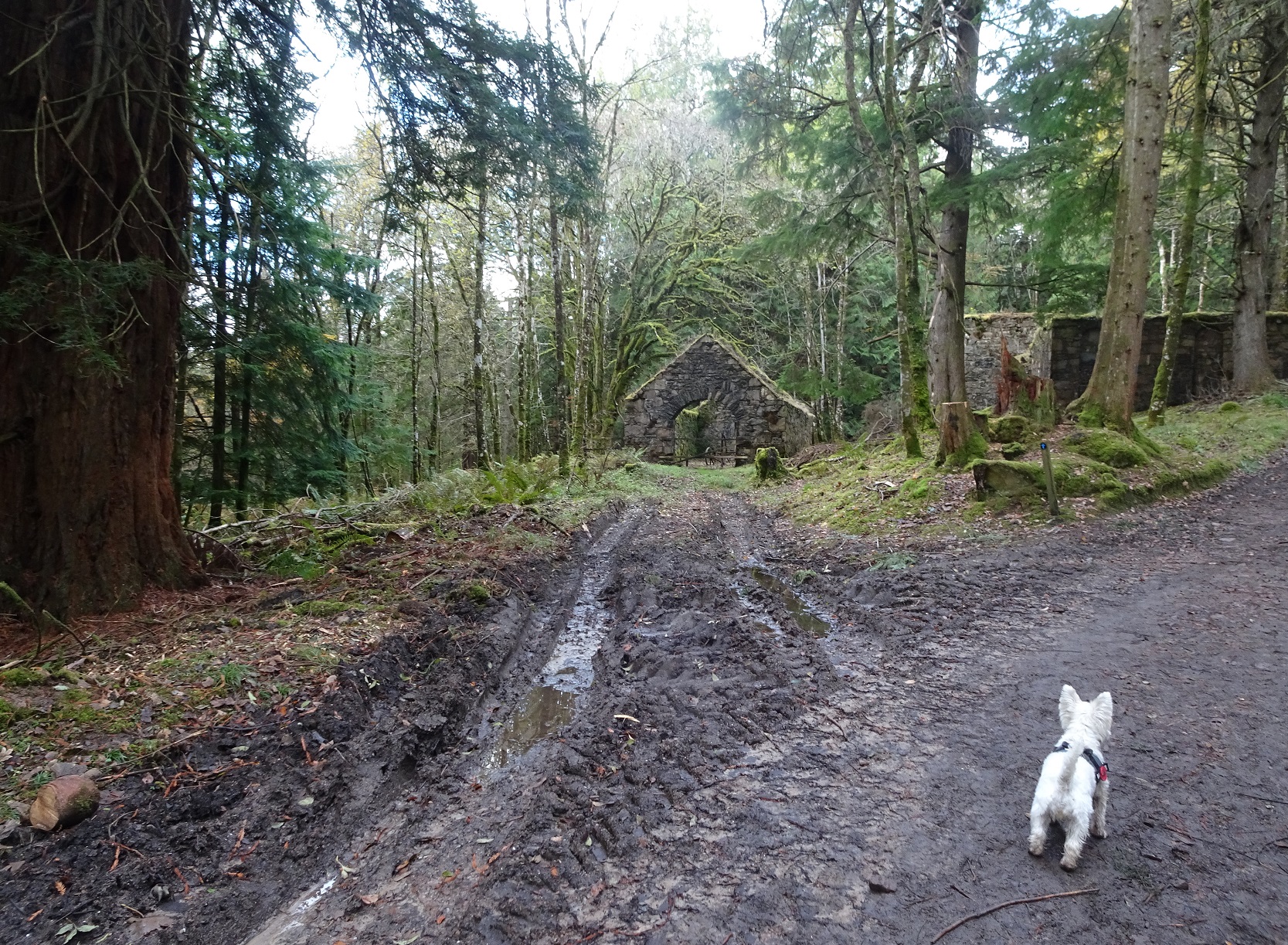 We left the car and went to a castle. The castle was closed so there were few peoplesees about and no cars. Dad was still not fit so he went to a café while me and mum went for a walk. We walked over a bridge and into the forrest. Smells everywhere. Up and Up we went, come on mum lets go. We walked for miles I got a drink along the way from streams all the way up the trail. At the top the trees disappeared and I found a lookout tower. What in there mum? Mum helped me in but she wouldn't put me up on the windows. I needed no help getting out of the tower, I can jump down higher than I can jump up. Time to go get dad. On the way back down I met a cousin called Hector. He was 10 years old and had a nice haircut. His owners put him on leash because he sometimes nips other dogs he dosen't like. No worries all my cousins like me.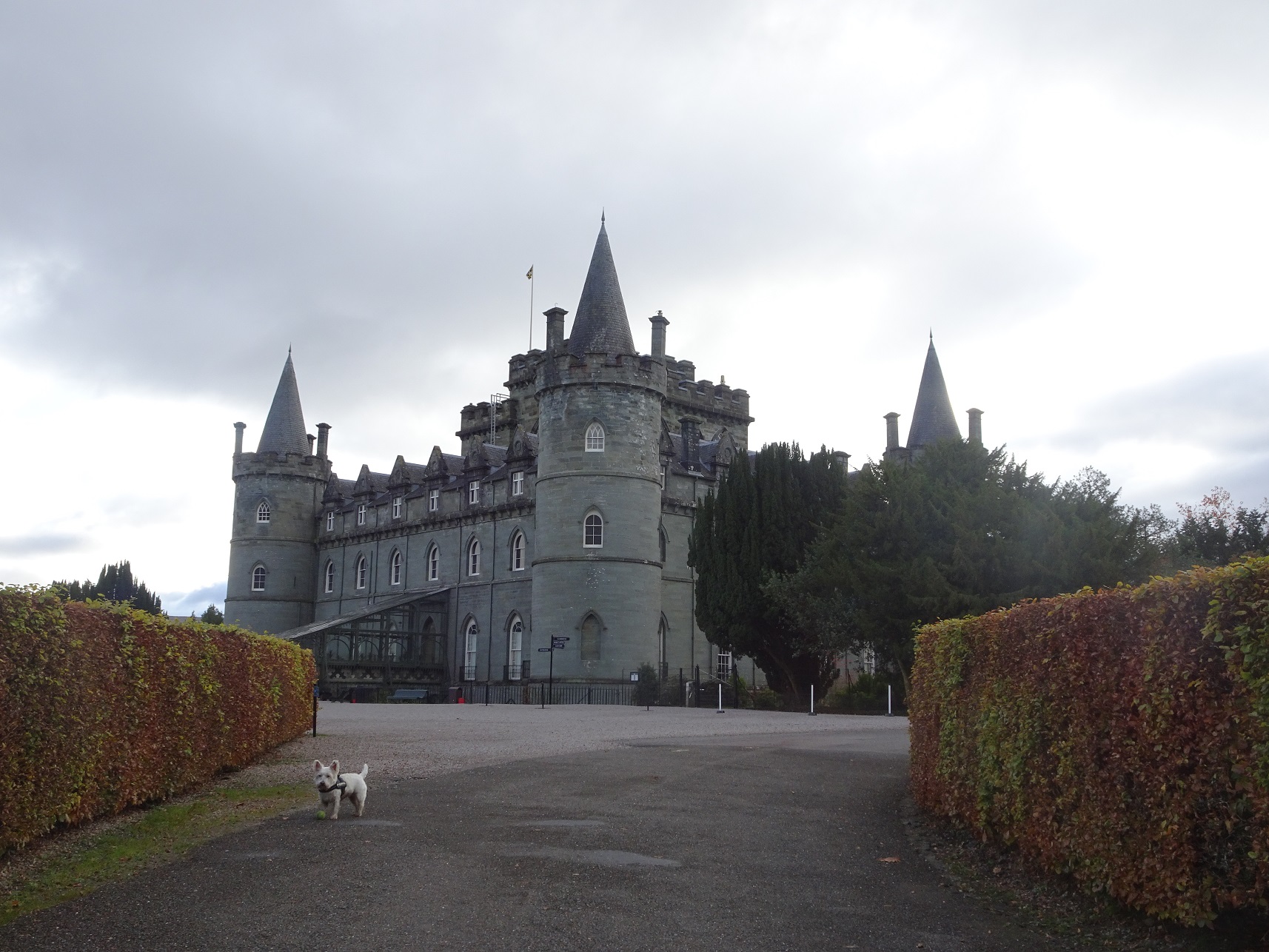 Back at the bottom I got to play with a big puppy, he was twice the size of me and very jumpy. When we met up with dad Mum wanted chips. We found the chippy on the main street and me and dad sat outside where tables and chairs were on the street. I was not happy, mum was out of site. Lots of peoplsees came up to me and tried to comfort and pet me, They don't understand I can't see Mum. Suddenly I heard a rumpus. Lots of growling and barking. Then I saw Hector again we said hello and off he went. A moment later I saw the big puppy from the castle. His owner told dad another westie had a nip at him. MMmmmm it must have been Hector.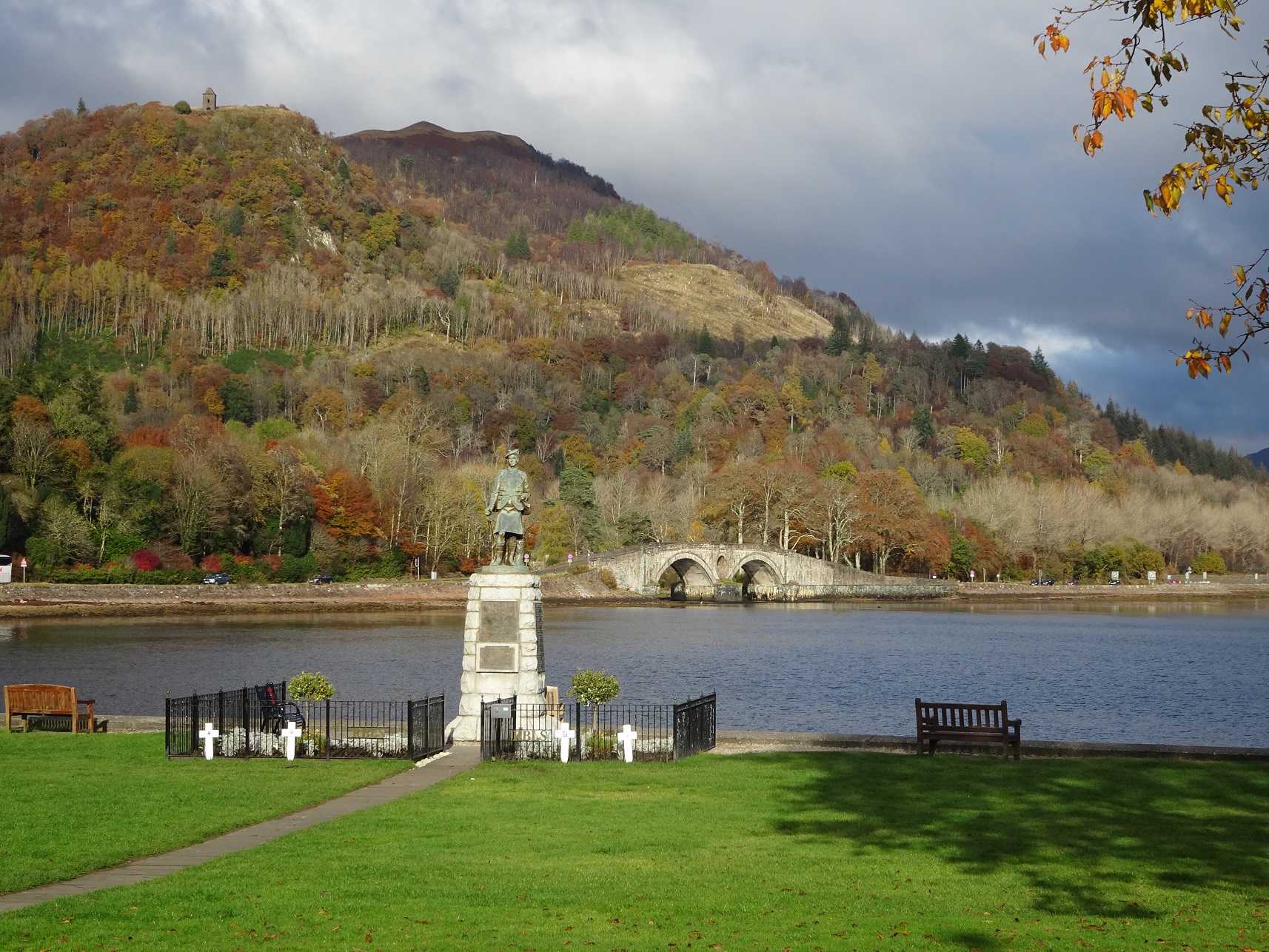 Mum came out with food it smelled great. She had Pie and Chips, dad got a roll n sausage. I got some of dads sausage yum. Mum gave me some of the mince out of the pie double yum! Time to go. On the way back to Mini I saw some more of my cousins but they were on the other side of the road so I couldn't say hello. Oh well back to Mini.