Mum woke me up and we went for a walk into the village of St Monans. The rain had gone away and the pavements were nice and dry. We got to the corner shop mum tied me to the gate. I was not happy. I cried and cried and cried. Mum told me to stop whinging because she could see me the whole time but what happens if she goes behind the wall of papers and tins? Monsters could get her and I would be all alone. Finally she came out the shop and we could get back to Betsy for breky.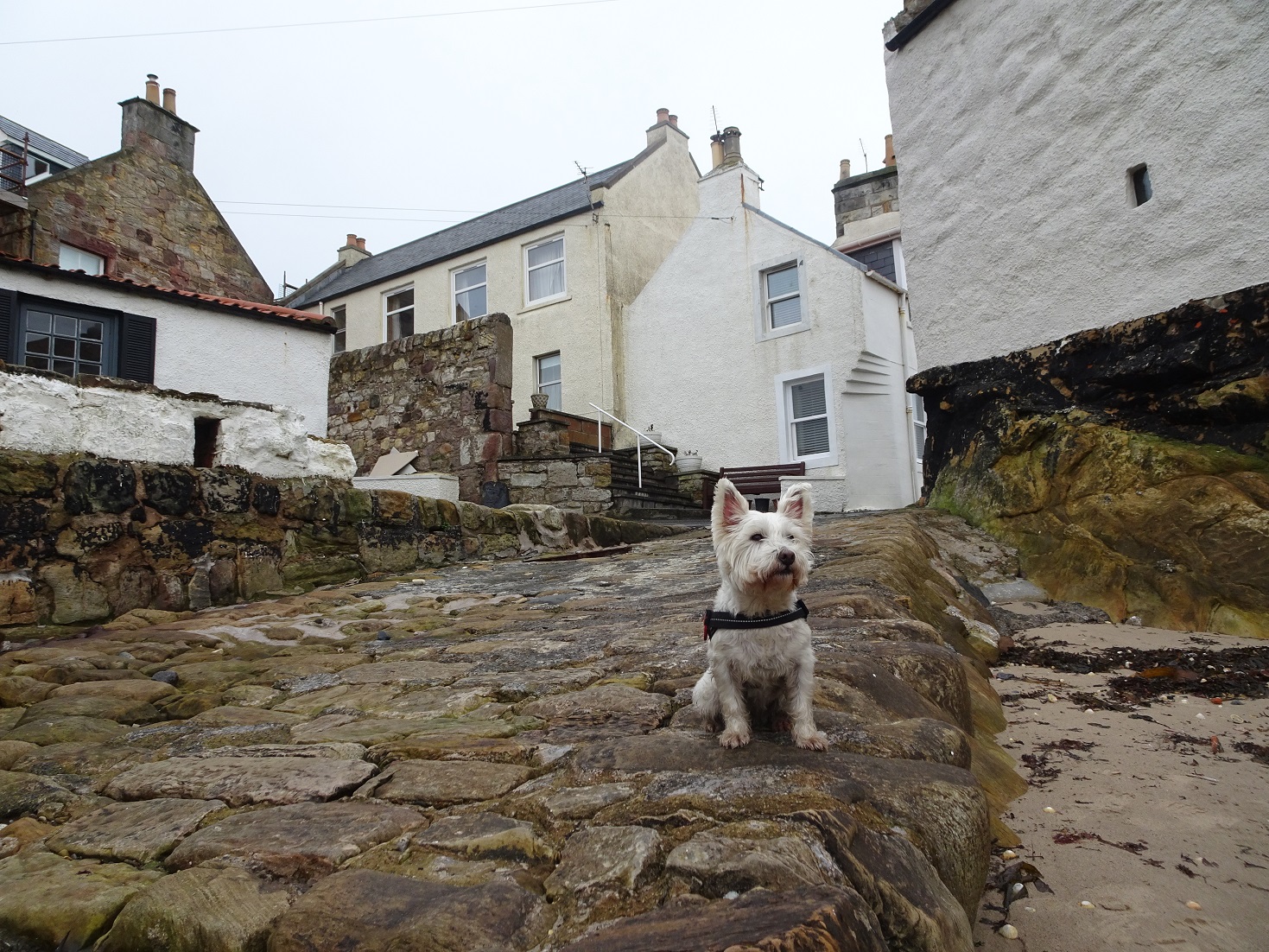 No time for hanging about we have a long walk ahead. Down to the windmill and off we go. A quick game of ball in the salt pits and we are off. Just as we started an old couple with a black lab warned us of muddy paths, I'm not scared of mud, soft on paws. The path was muddy and soon I was two tone. Further along we met a nice dog. It's owner had him on a leash because he had kennel cough poor soul. We got to the Pittenweem open swimming pool. Nobody was in the pool today dad was not going to let me go in either. So up the stairs to the crazy golf for a game of ball. This was a good place to play ball but we had a long way to go down the cliff path to Pittenweem we trod. I can get the feel of a village quite easily, the big dog lying on its bed on the pavement outside the ice cream shop was a good sign I would like it here. Mum went into the Larachmhor Tavern she told me we were going there for dinner tonight, long way from Betsy I thought.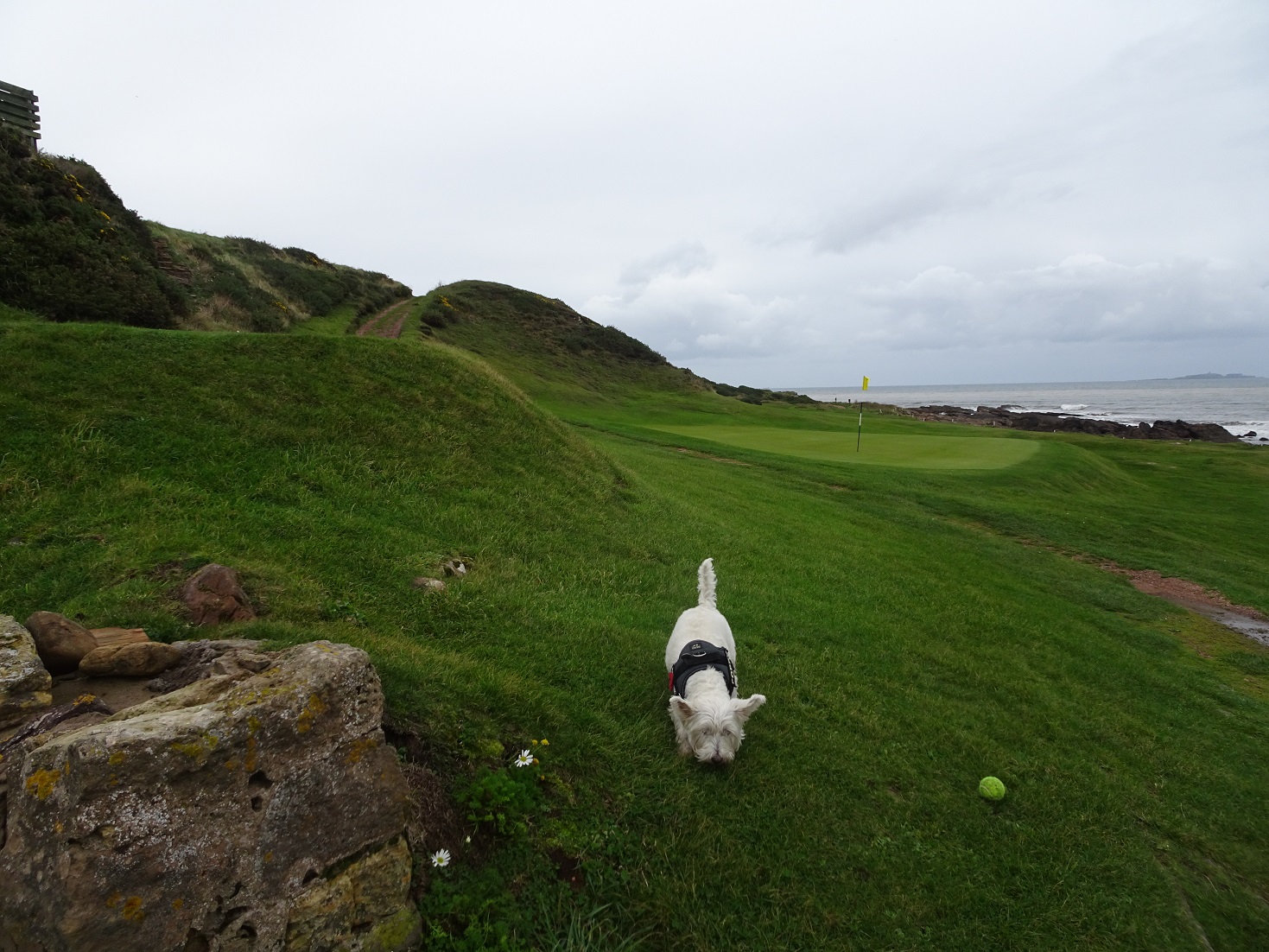 The town was quieter than the last time we were here but the beaches were the same, this time I got to play on the two of them! Clever mum had checked the bus timetable so she knew when it turned three it was time to walk up to the bus stop. At the bus stop I met two huge dogs, these were giants from Tibet 100 times the size of me. We said hello as mum and dad talked to their owner. The Bus came on time back to St Monans we went.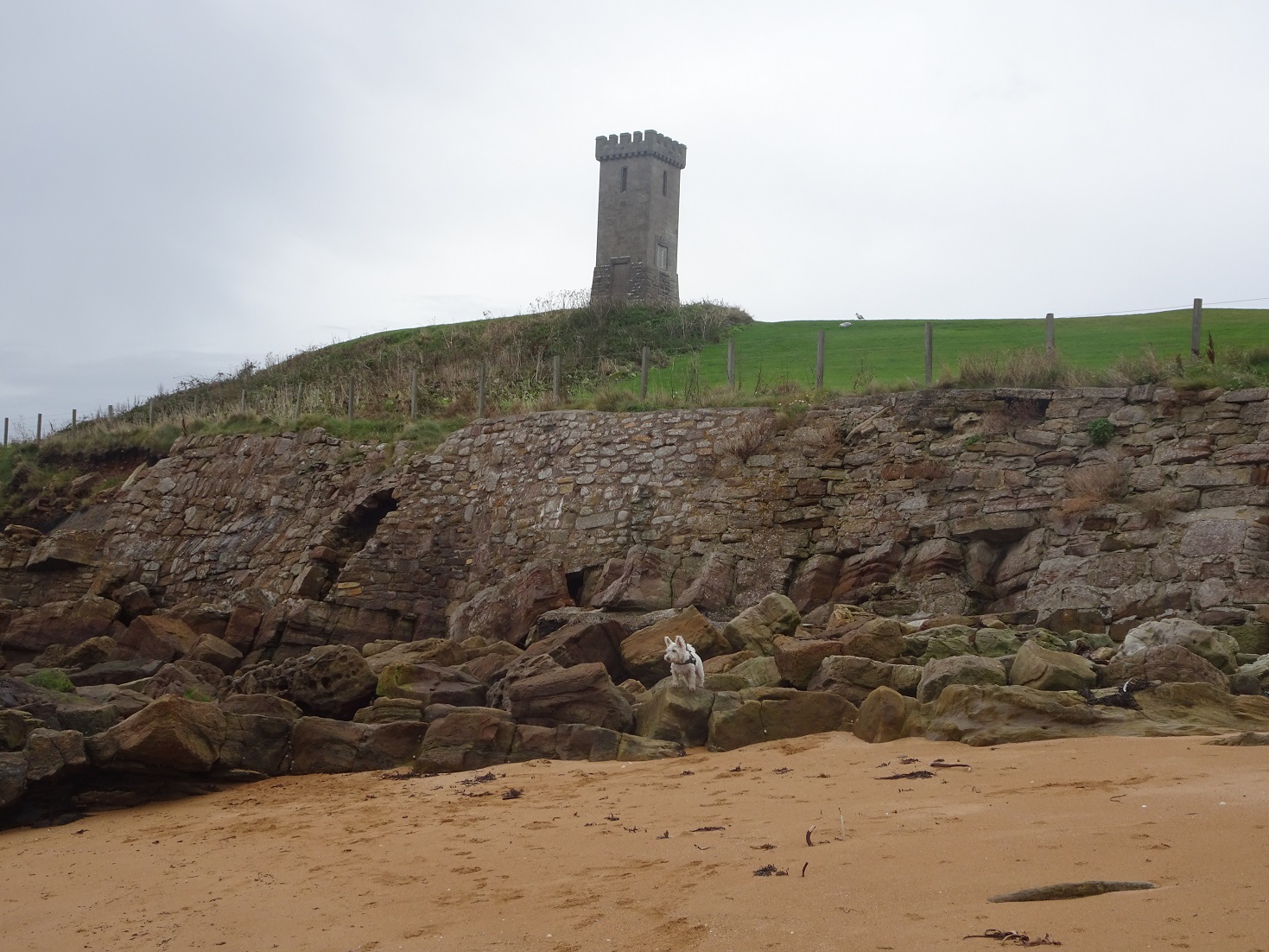 We got off the bus and went for a plod around the village It was nice and quiet but not enough to be off lead. We took a short cut along the pebbly beach but I had to be lifted to get off the beach, mum and dad had to clamber over the wire and stone sea wall to get back to windmill park and back to Betsy.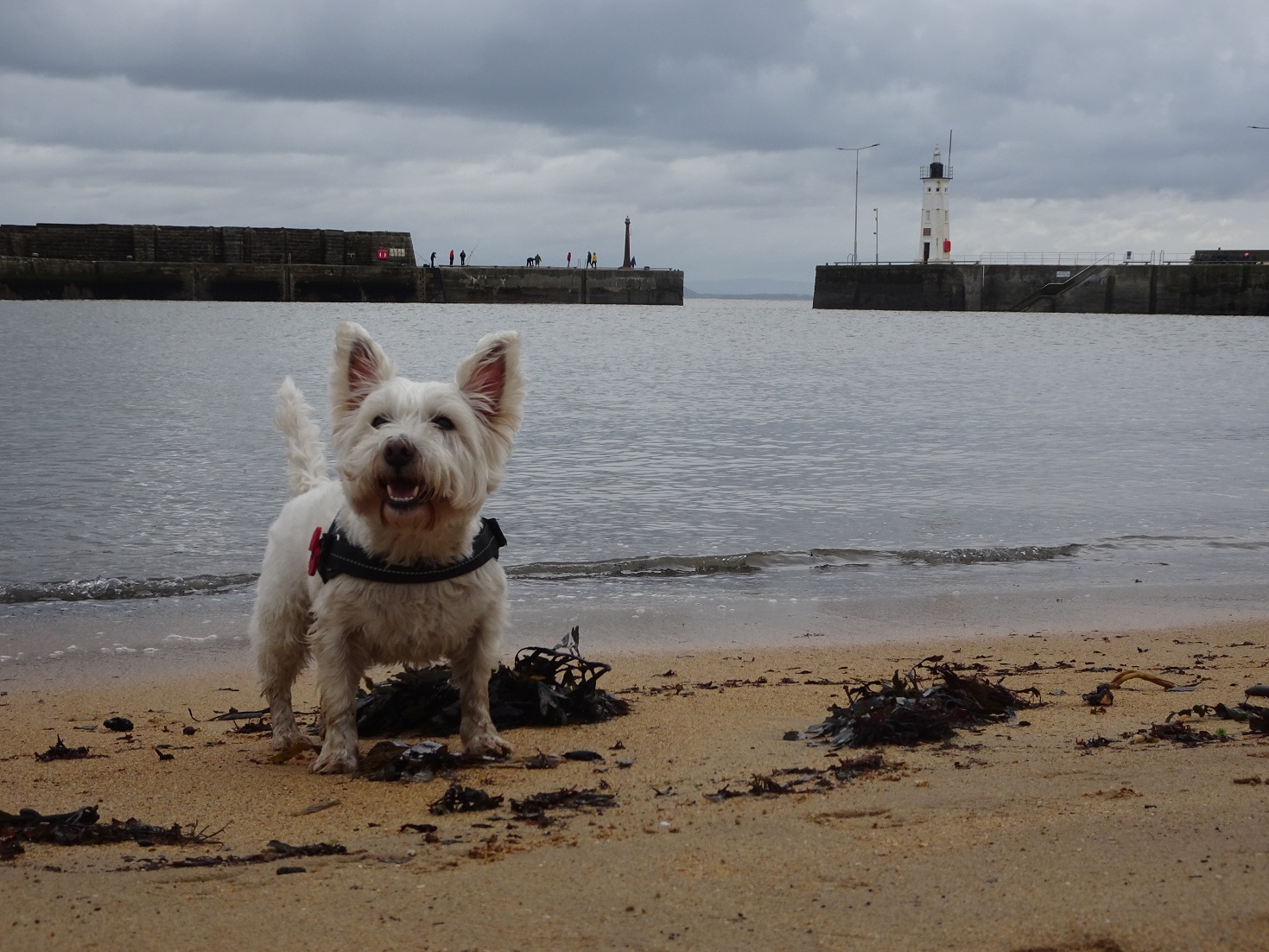 After a long snooze in Betsy we were off again back along the path to Pittenweem. We couldn't dawdle because it would be dark soon an the path is dangerous in the dark. When we got there mum and dad did not put me on lead. This is the first time I have been allowed to walk in a town off lead.
When we got to The Larachmhor Tavern I went straight in then STOP! mum dad watch out! Grrrrrrrrrrrr, grrrrrrrrrrrrrrr. Dad came in and spotted the witch. Dad petted the witch and told me it was ok. I'm keeping an eye on her anyway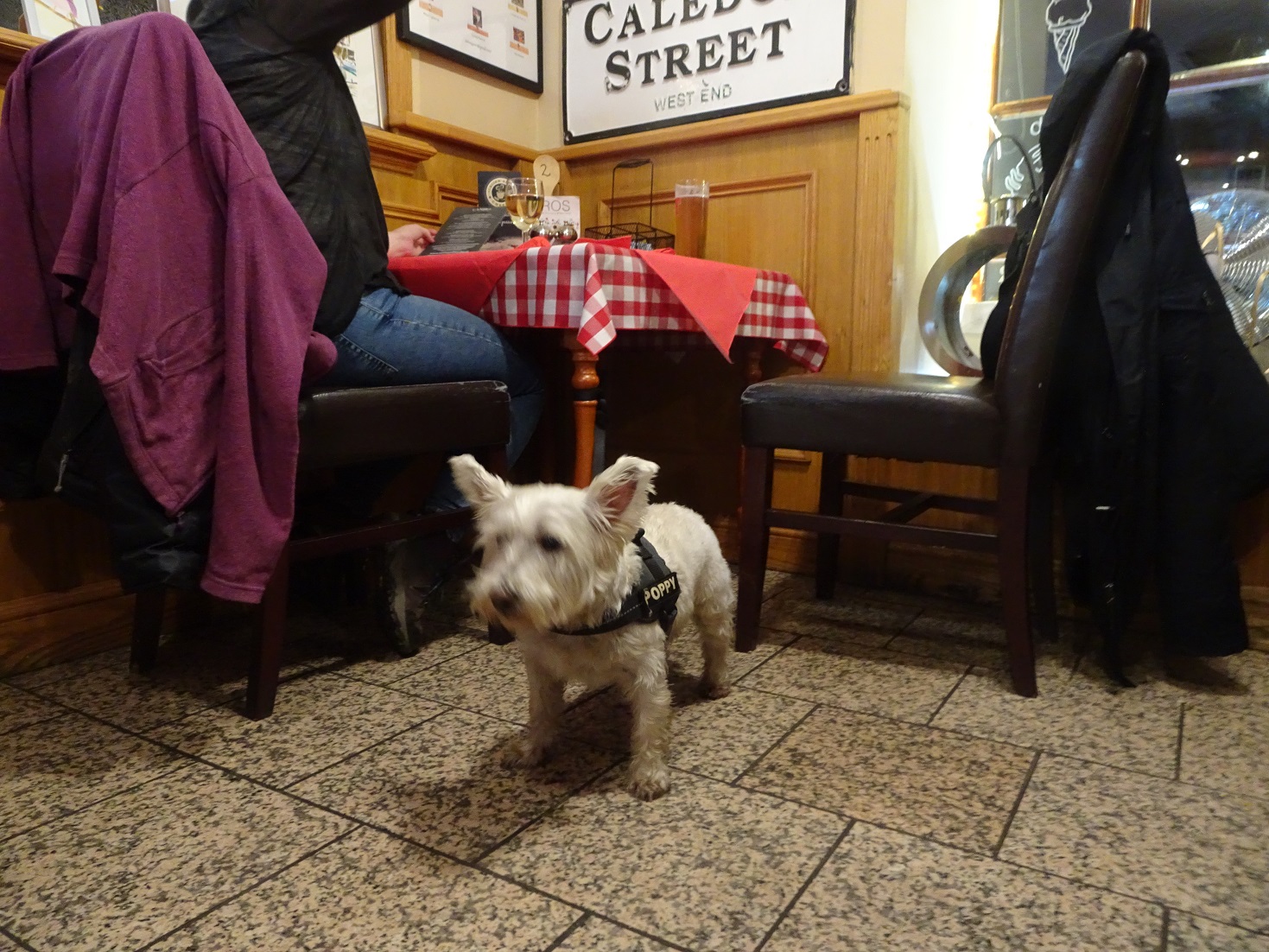 Dinner was great I got fishes yum, mum and dad liked their dinner too. Soon it was time to go back to Betsy. A nice Australian took us home in his cab. Long day time for snooze.