When I got up the sky was grey. The noisy neighbours were still asleep when Betsy roared from her long nap. She rolled out of camp and headed inland. After a while the countryside changed and she started to climb into the mountains. We left the flats of Lewis and entered the hills of Harris. Mum told Betsy to come off the big road and go down a wee tiny one. After a while dad said he was glad we wont be driving this road again, poor dad, mum let on we would be coming back this way. Betsy came down to a bay but it was being guarded by a big highland cow with big horns!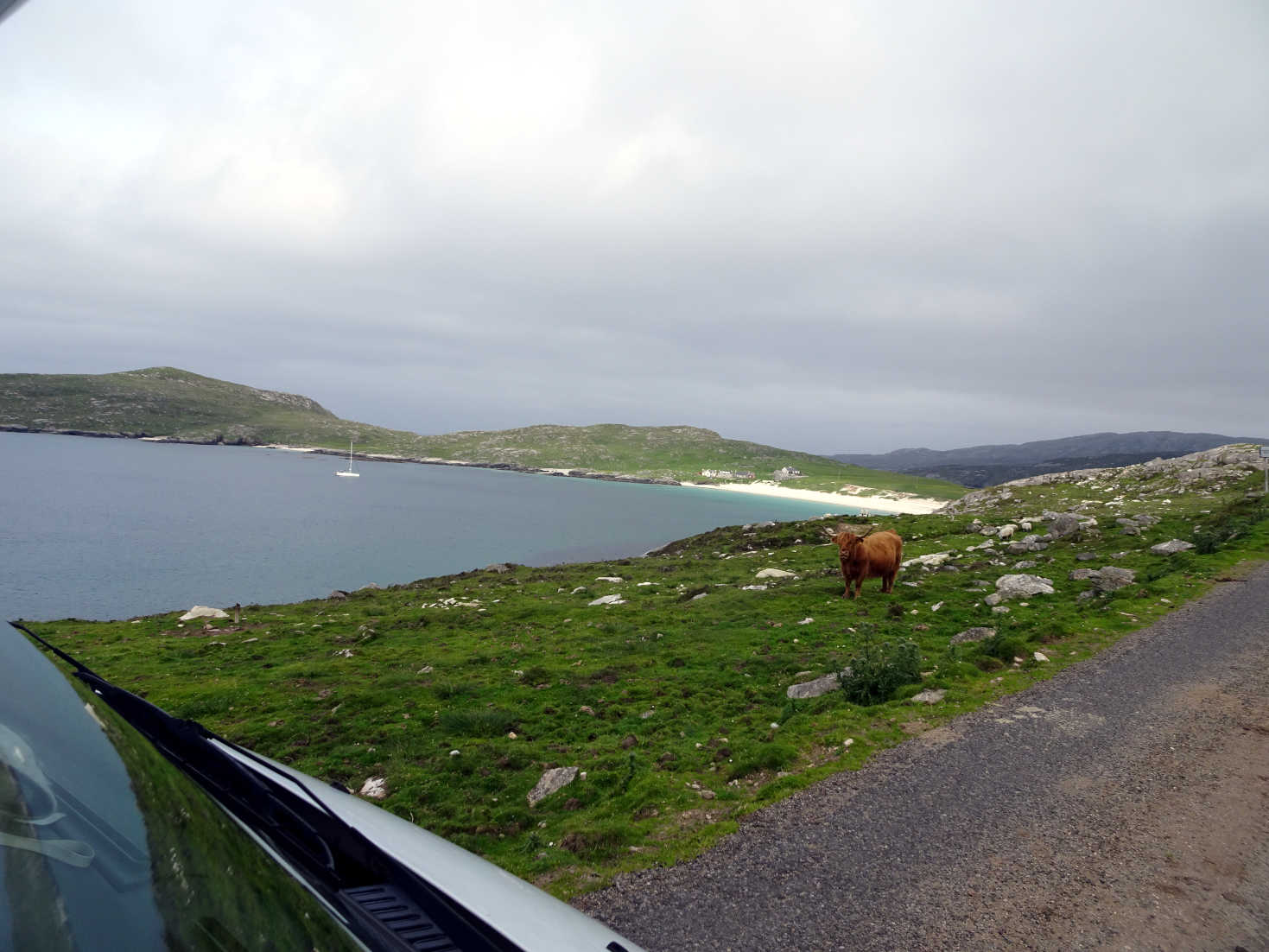 Betsy found a place to rest by the camping places, other motorhomes were resting there and we could smell the coffee. Bays and sand mean Ball!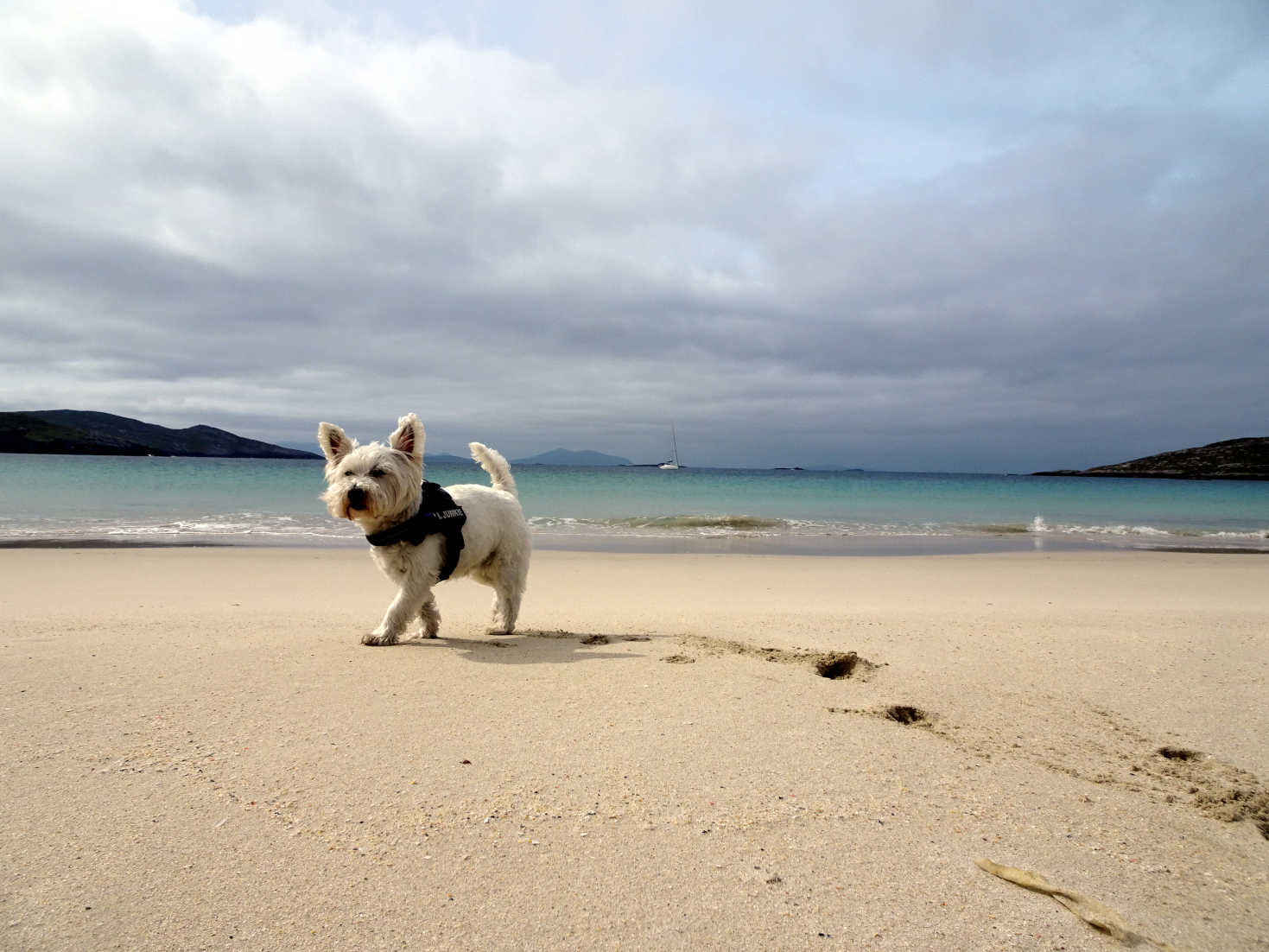 Ball was good on Hushinish Beach, I even made gad go into the sea to get it back. How you do it is to be right up for the game. You let dad throw it further and further. Just when he throws it far enough, you don't fetch it! Dad has to run really fast to get it and if done it right, he won't catch it have to go into the sea to get it back. I love that game. At the end of the beach we explored the rocks. Nice views from up here. I was getting thirsty, back to Betsy?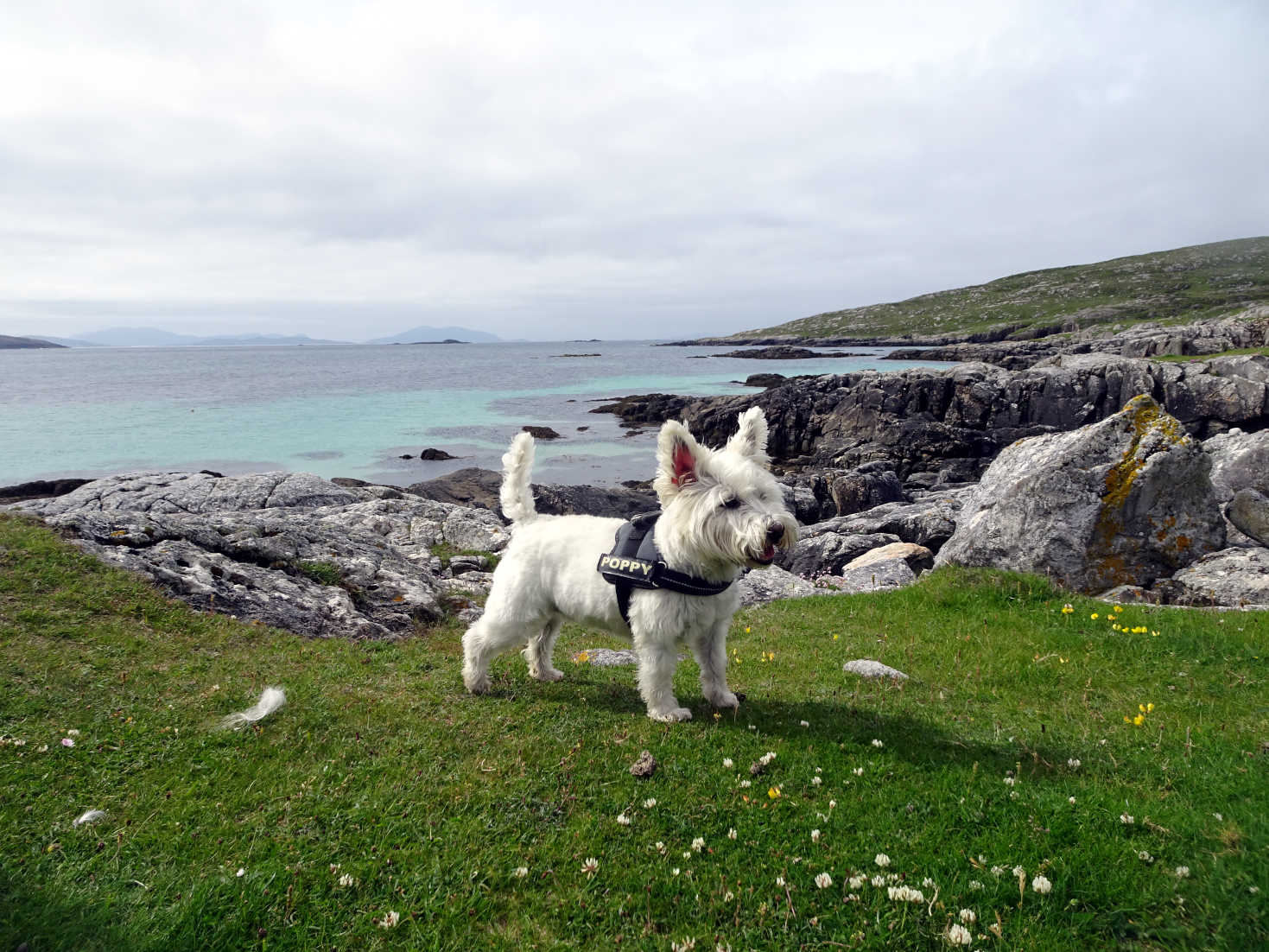 Betsy retraced her steps to the big road, where to next? "Were going to Tarbert Poppy" said mum. Oh, OK then. Betsy found a spot and we got out to explore. Tarbert is a small town but I did notice a fish and chip shop and a snack bar!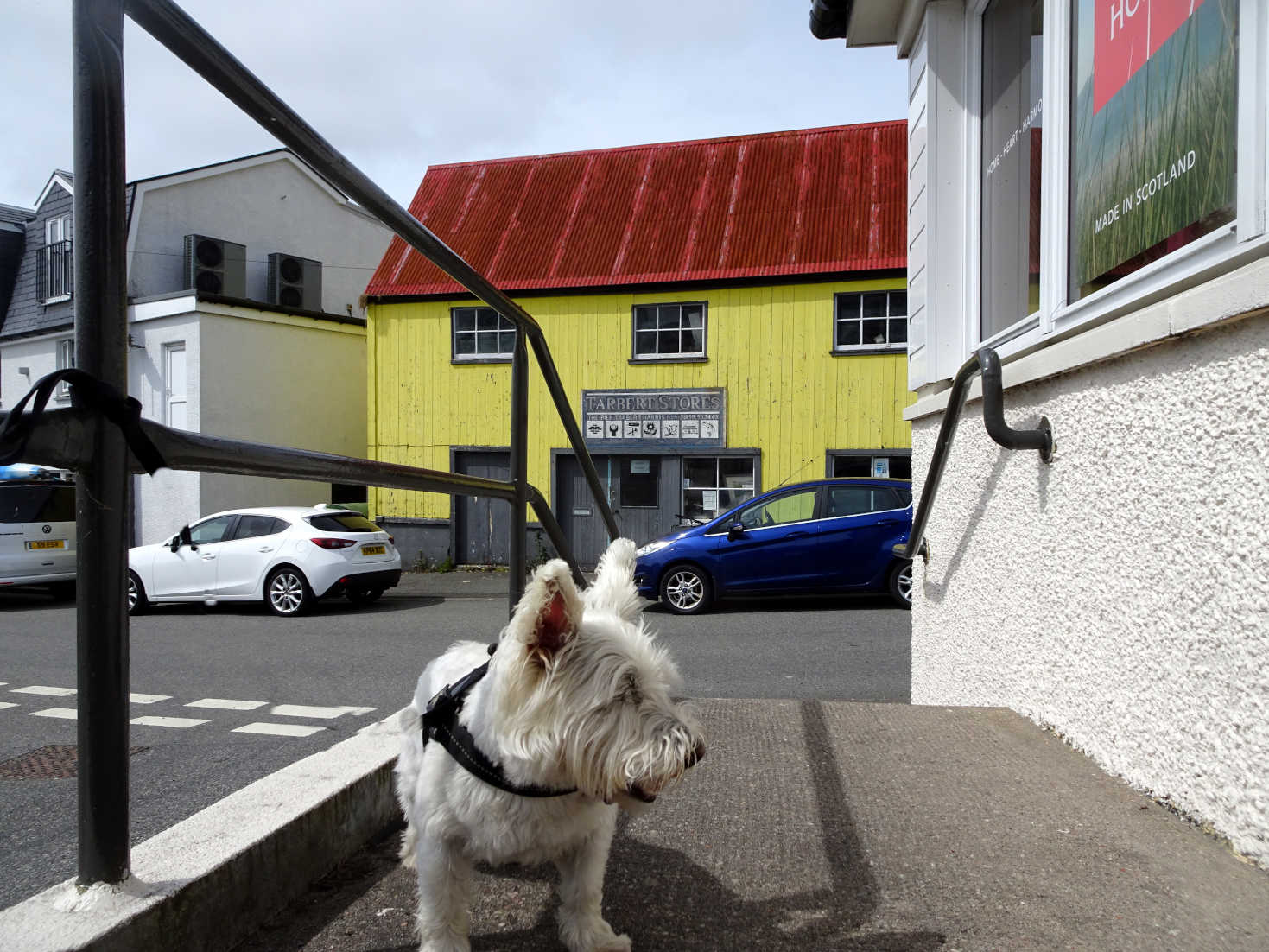 We plodded around the town and stopped at the distillery. I was allowed in this one unlike Arran's. After a wee explore we left for another shop. Mum went into the Harris Tweed shop and bought me a new leash. While I was waiting a nice American Nun stopped to have a chat with me. She was nice and she had greyhounds.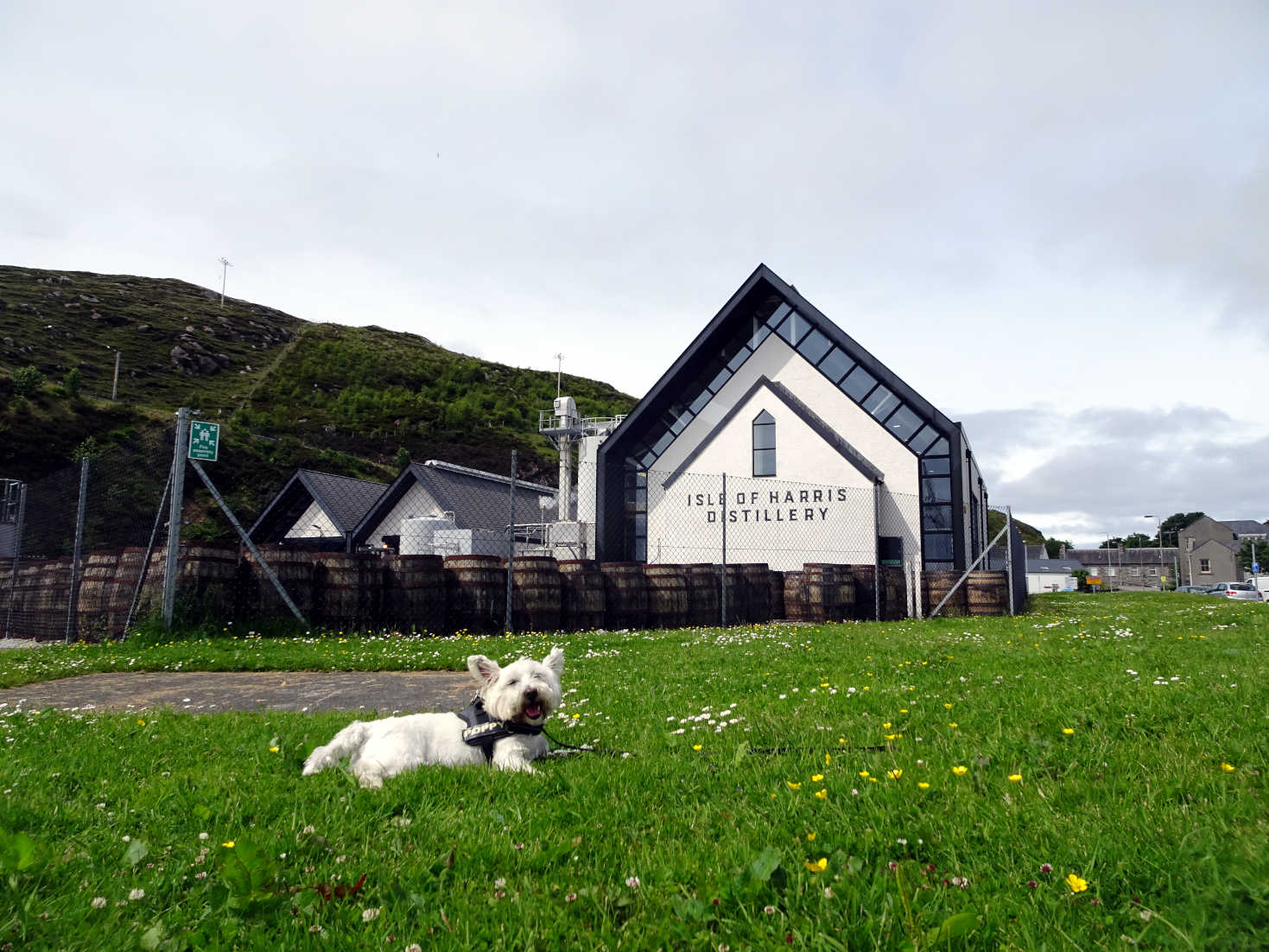 Time to go, where next? Mum said we were going down the golden road. I don't know about golden road, wee windy road was more like it. Poor Betsy. She got a rest at the Skoon Gallery. Mum and dad got some coffee and brownies with ice cream, I got some Ice cream, Yum.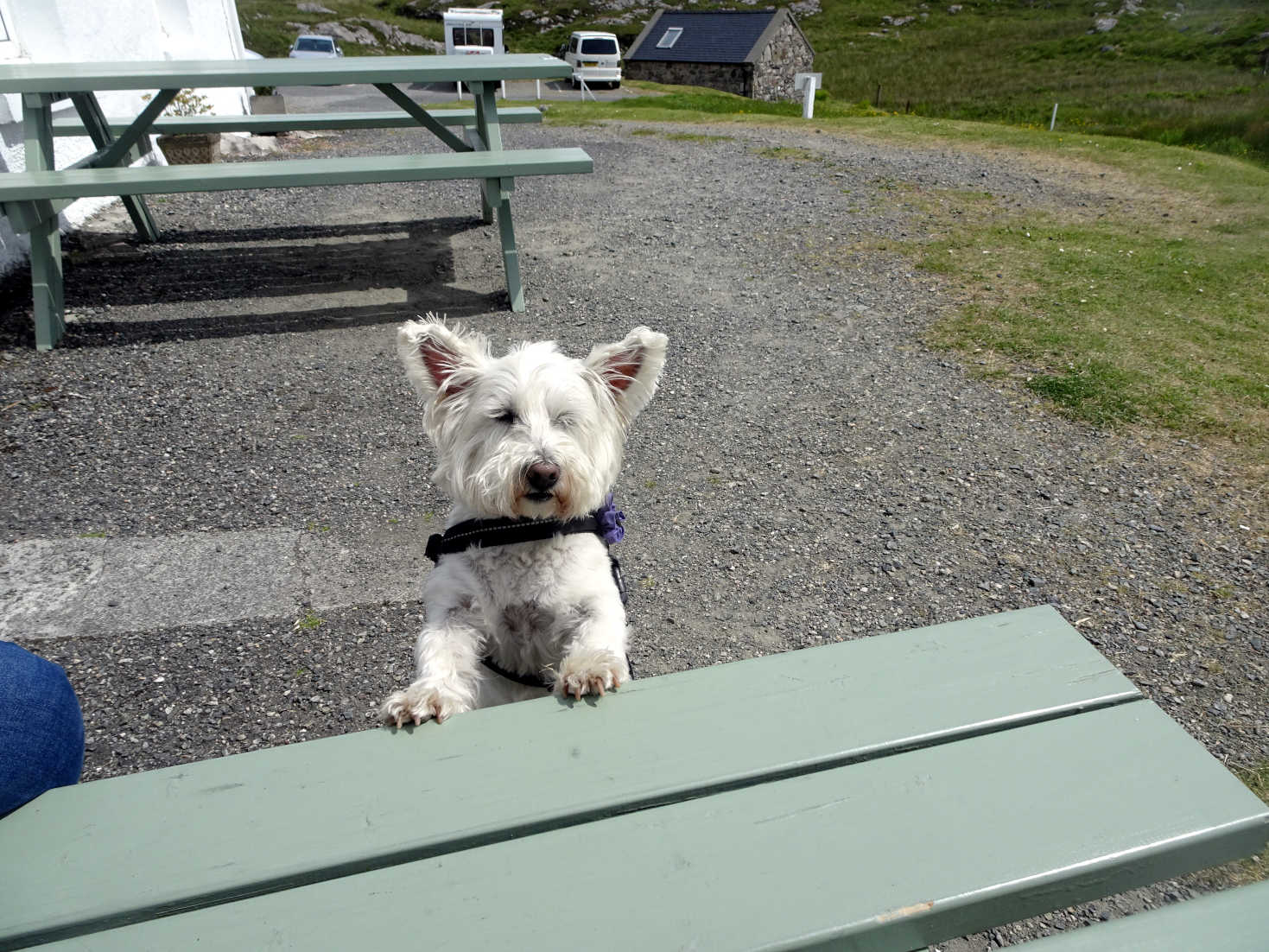 Mum and dad talked to some peoplsees who were well into Betsy as I explored the garden. A peoplsee told dad Bosta Beach was the best on the islands, we will see. Mum went into the gallery and came out with a big parcel, What's in the parcel mum?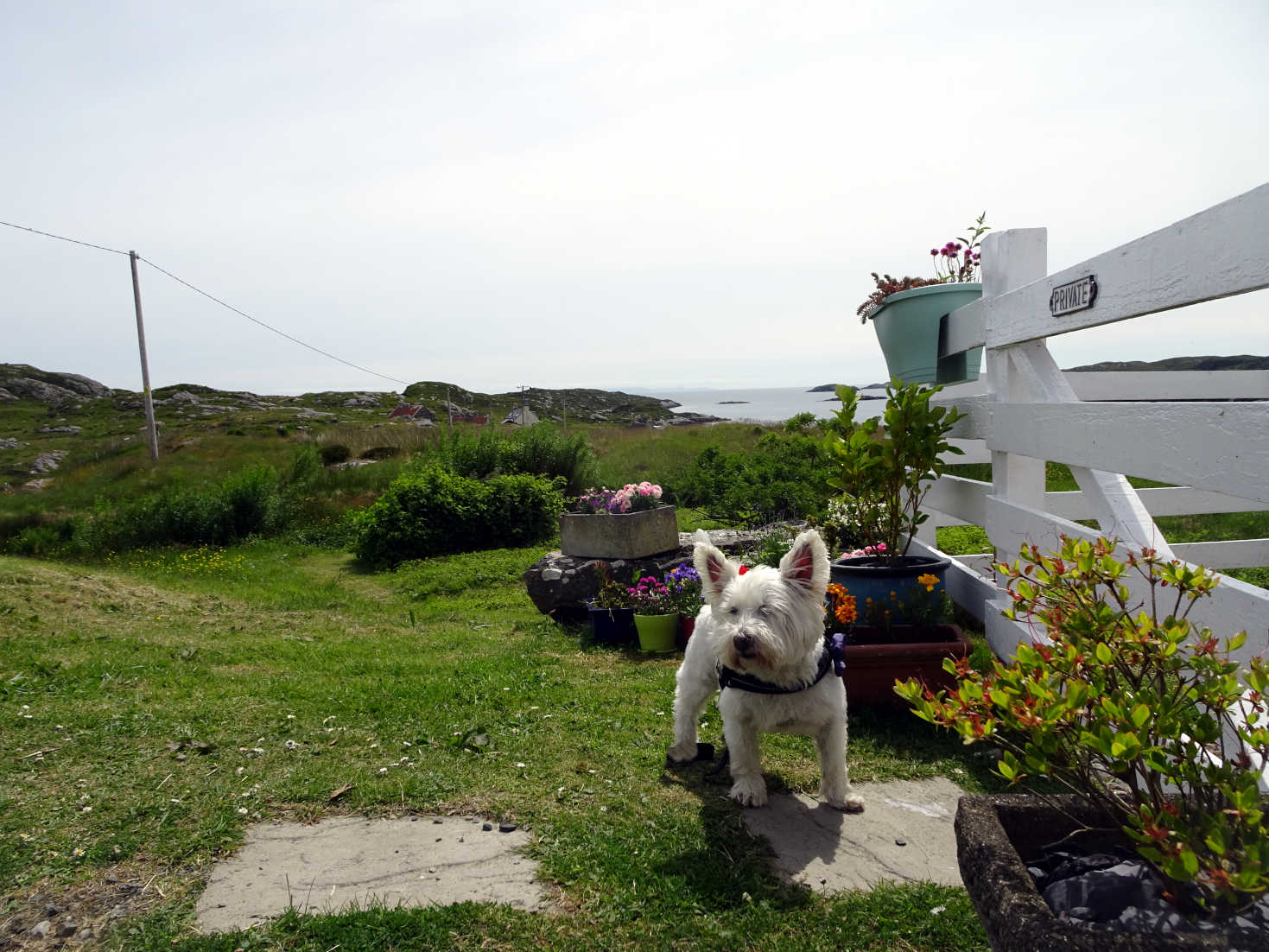 Time to go again, she rolled all the way to the end of the road before stopping for a drink of diesel at Leverburgh. It wasn't a long stop we had a new camp to go to at Talla Na Mara. Before we got there Betsy pulled over. Look at that, that is a big beach dad! Why can't we go there now?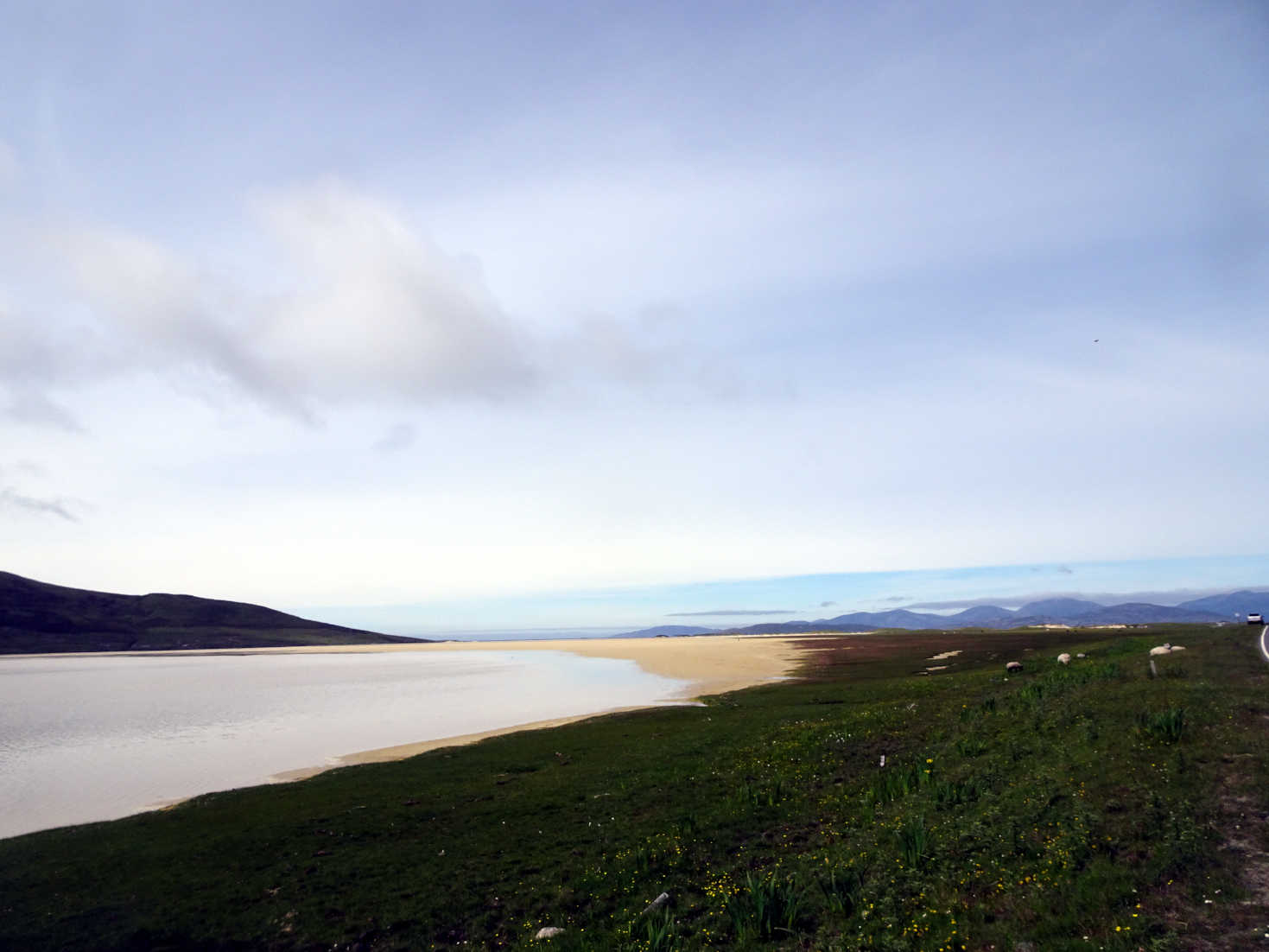 No time we have to get pitched up. Betsy rolled into camp and went to sleep. We went to explore the new camp. At the top of the hill were a few shops and a café. From here we could see another beach. Can we go to that one?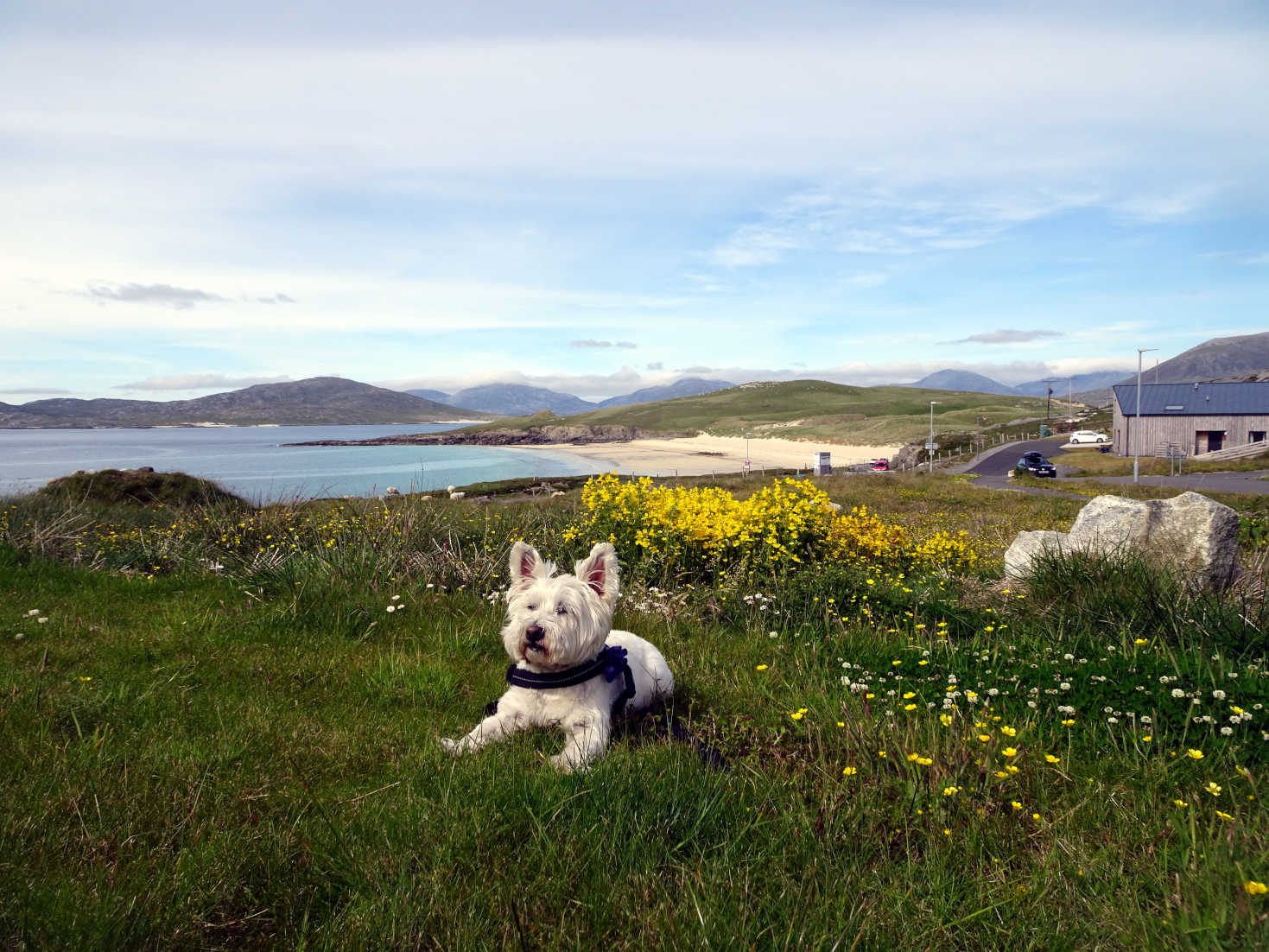 Well it would be rude not to explore our own beach. We walked up the road and found a path down to Nisabost Beach. The beach was so nice and cool and I was so hot I had to have a wee lie down.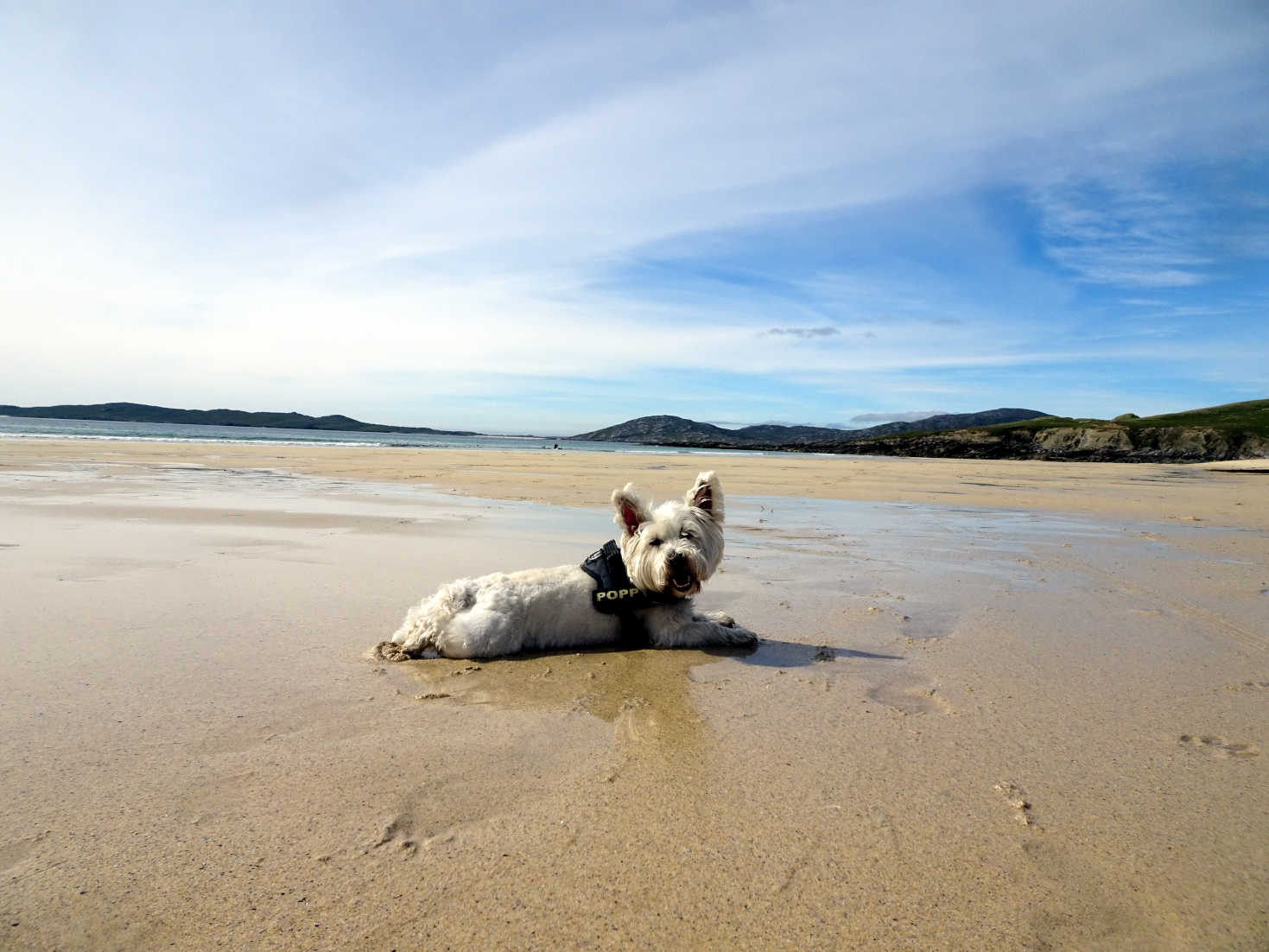 After a nice cool down a game of ball was just the ticket to end the afternoon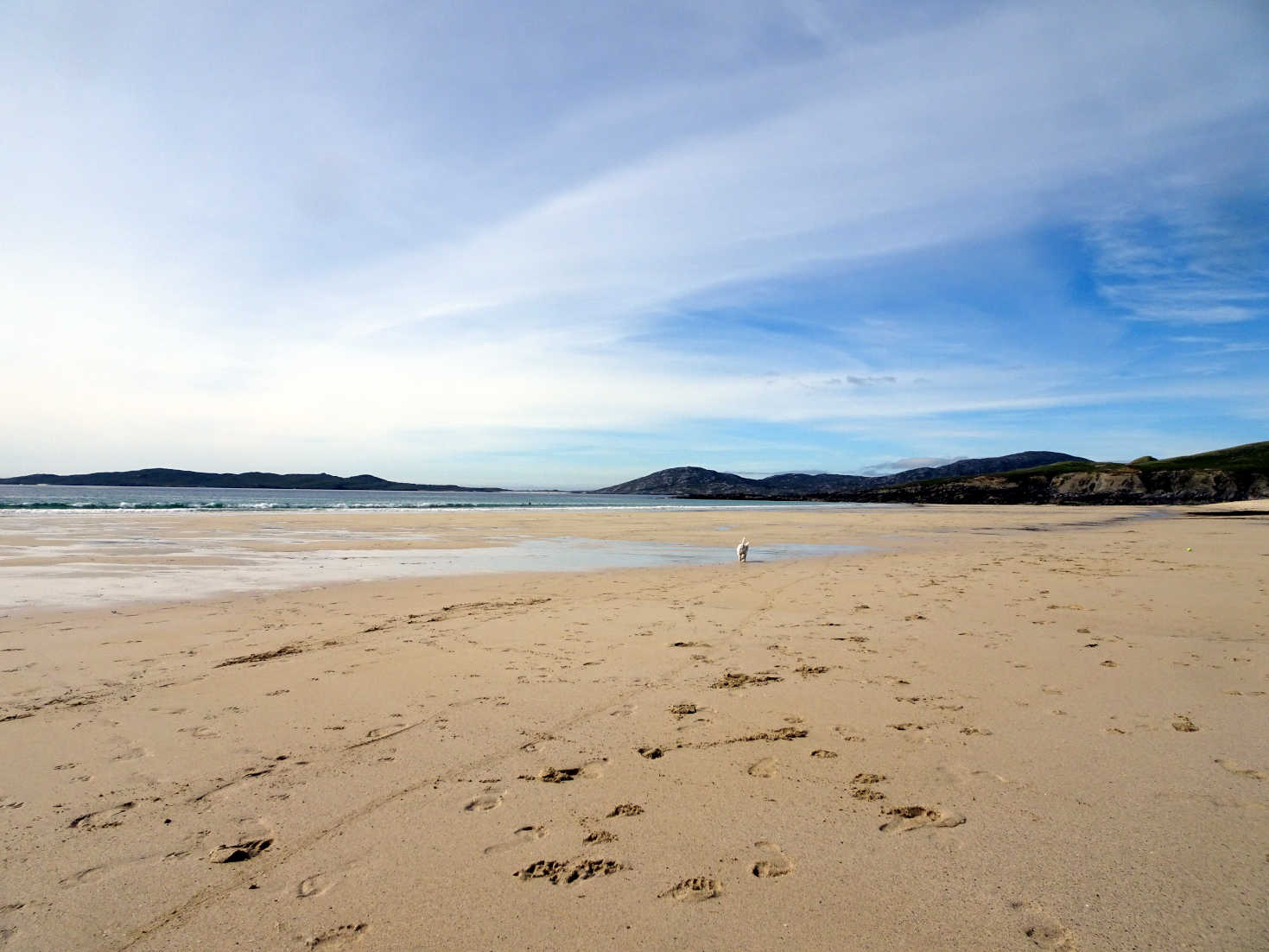 We all went back to Betsy, dad got the BBQ going and it was burgers for dinner. We sat outside for a while and watched the sun go down over Tarensay.