Mum was up early and went down to the loch side. She woke dad and sent him to the high bed so she could work. Mum doesn't play with me when she has the big books open so I moved away and went for a snooze. Later she woke me and we went for a walk. I didn't like this walk there was a scary nasty bridge mum made me go over, bad bridge.
Back at Betsy dad was up and we were ready to go into the village. We passed the nasty bridge but it wouldn't mess with the three of us, I gave it a good grrrrrrr. In the village It was busy. I got a pat off an Irish biker. Bikersees always stop here for coffee before riding into the mountains. Mum was not happy because already there were busses parked up. This means lots of peoplsees. She had to que in the shop for rolls. Back to Betsy for brecky dad?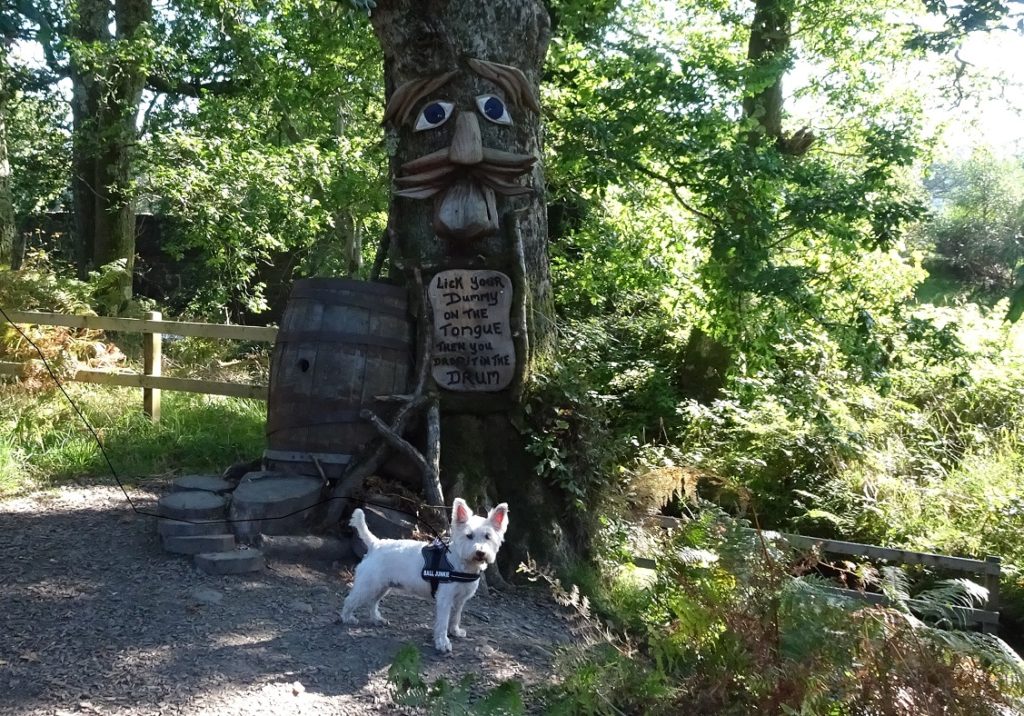 After brecky mum decided we would explore in the morning and chill in the afternoon. Back to the village then? Dad still had bad legs so we couldn't go up the mountains. To the glen. The glen is very odd. Fairies live there everywhere you look you can see where they have been and where they live.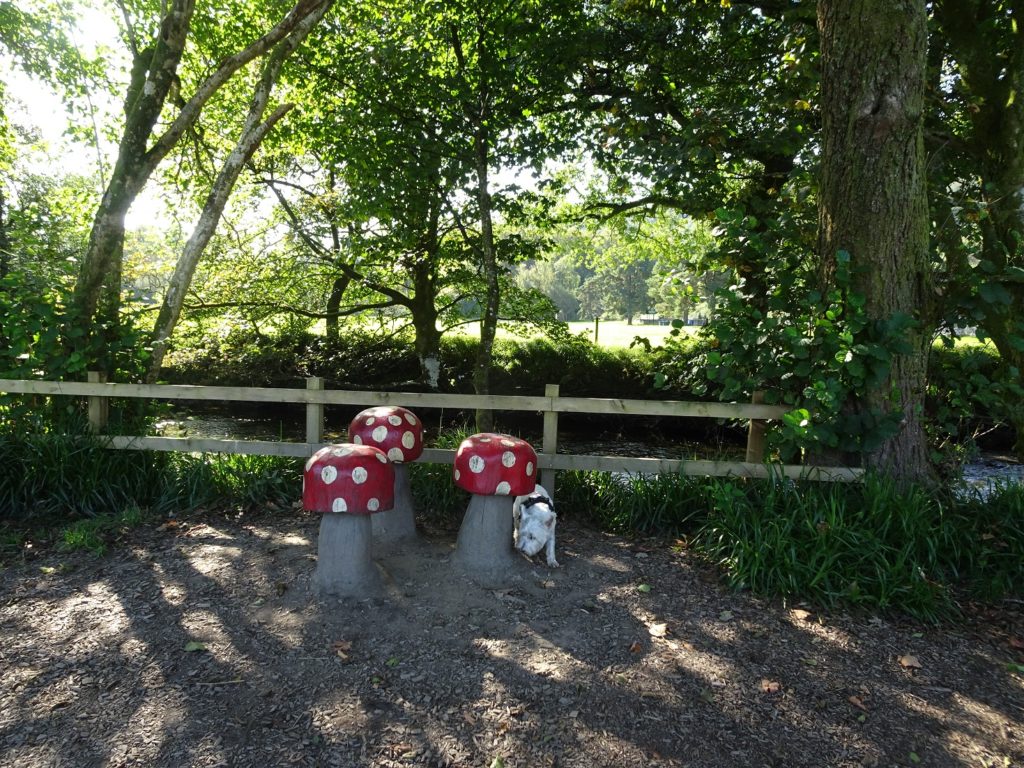 Fairies are very very sneaky, they always cover up their smells so you can't track them, they are also very good at hiding. The glen was full of loud small peoplsees. What chance of catching a fairy with them making all that noise, they even made the trolls hide.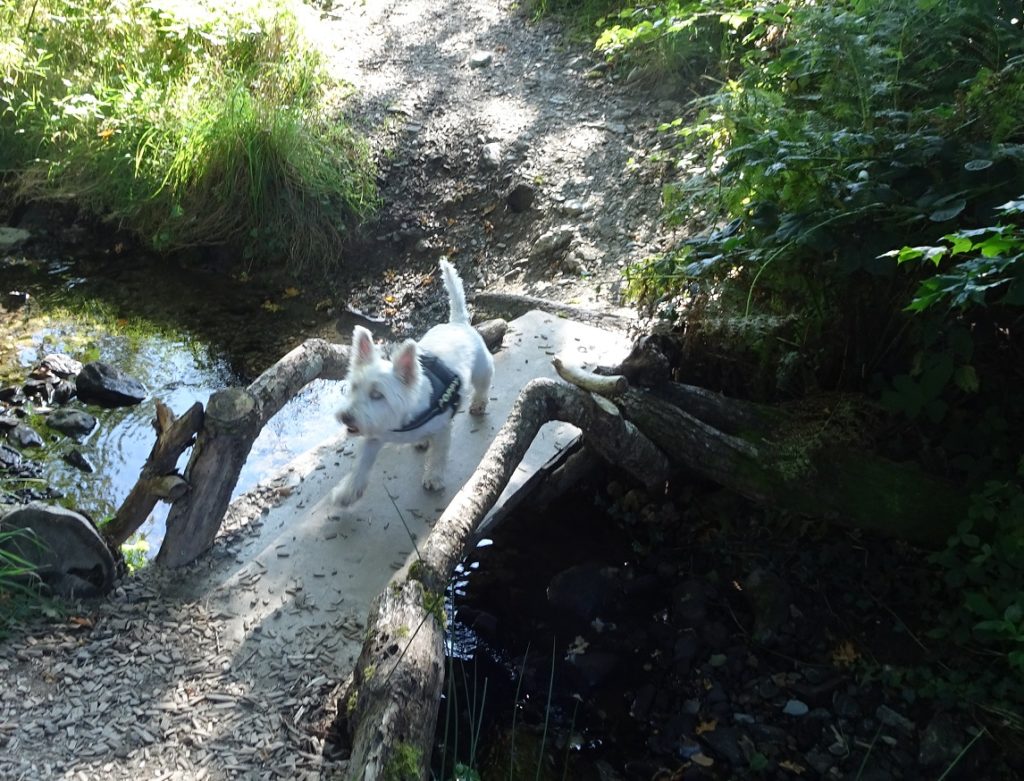 At the bottom of the glen we went under the big road, over a fairy bridge and crossed the village road following the river.Lots of smells. On the riverbank I went for a paddle it was getting warm. I like rivers that are shallow and clear even better this one tasted great.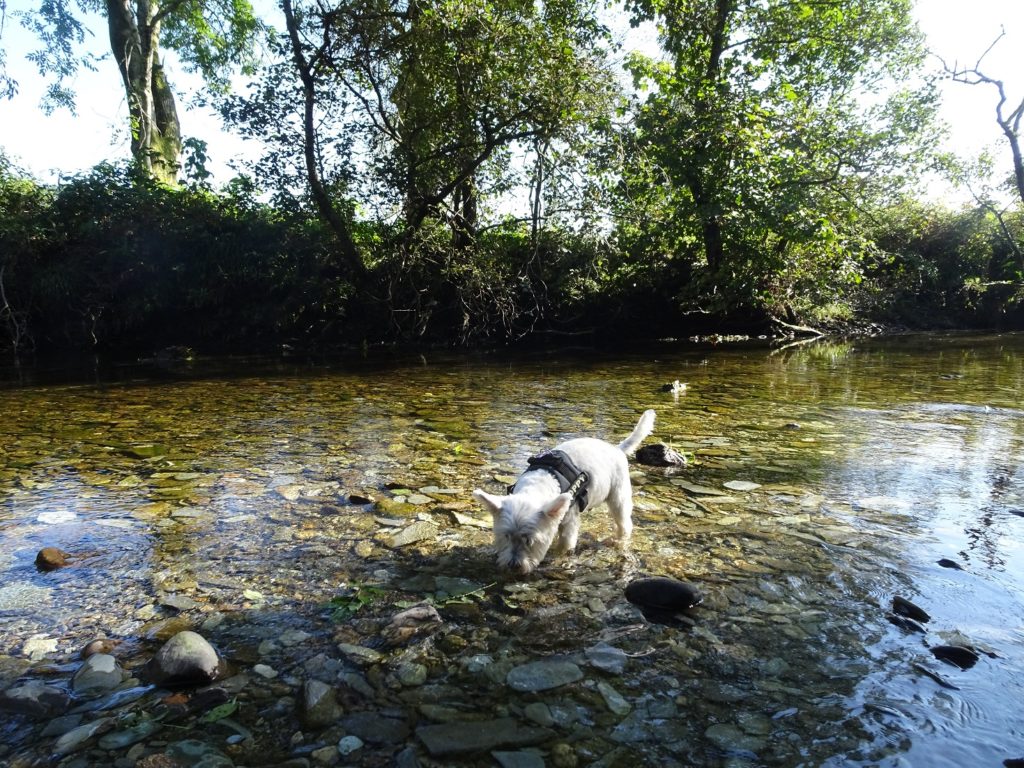 In the village there were lots of peoplsees from all over the world. Mum and dad went to a smoke house, they bought salmons, yummm! Can we eat them now mum?
Back at the camp dad got the chairs out of Betsy's big white box and we went to bay. When we got there, there were already peoplsees there so we went to the smaller one with the rocks.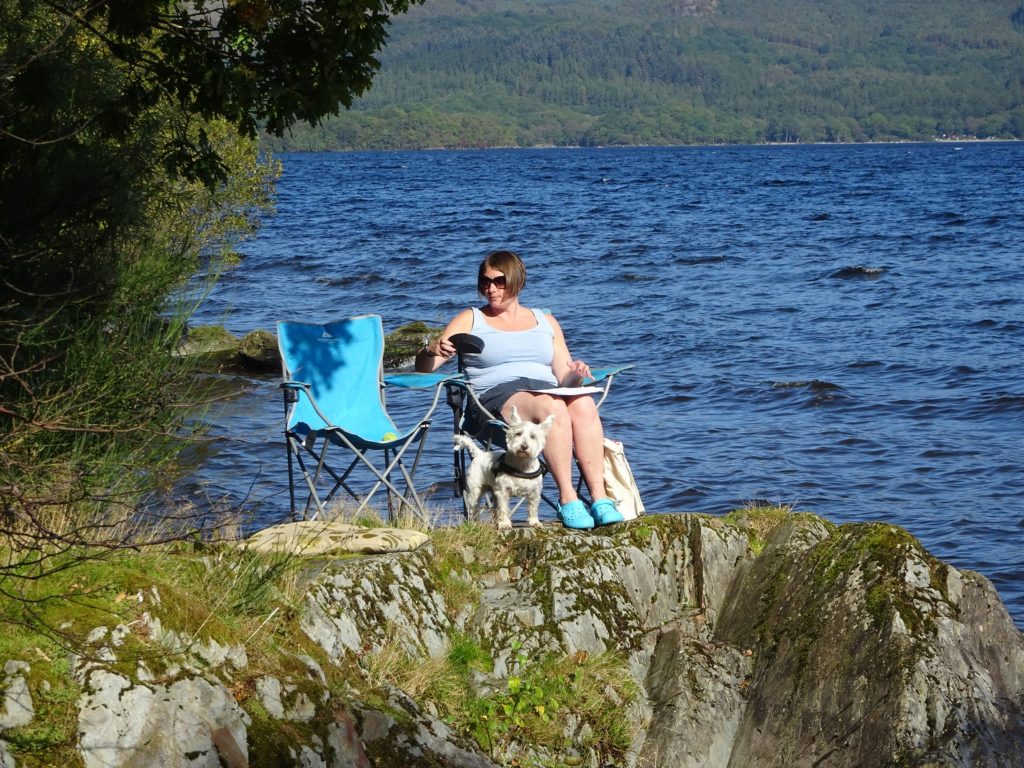 I got to explore, dad was worried because the rocks were slippy, silly dad I have four paw drive. Oh oh, splash, scramble scramble, I'm all wet, nasty wave, nasty loch nasty rock! That was a close one. Better stay a wee bit further back.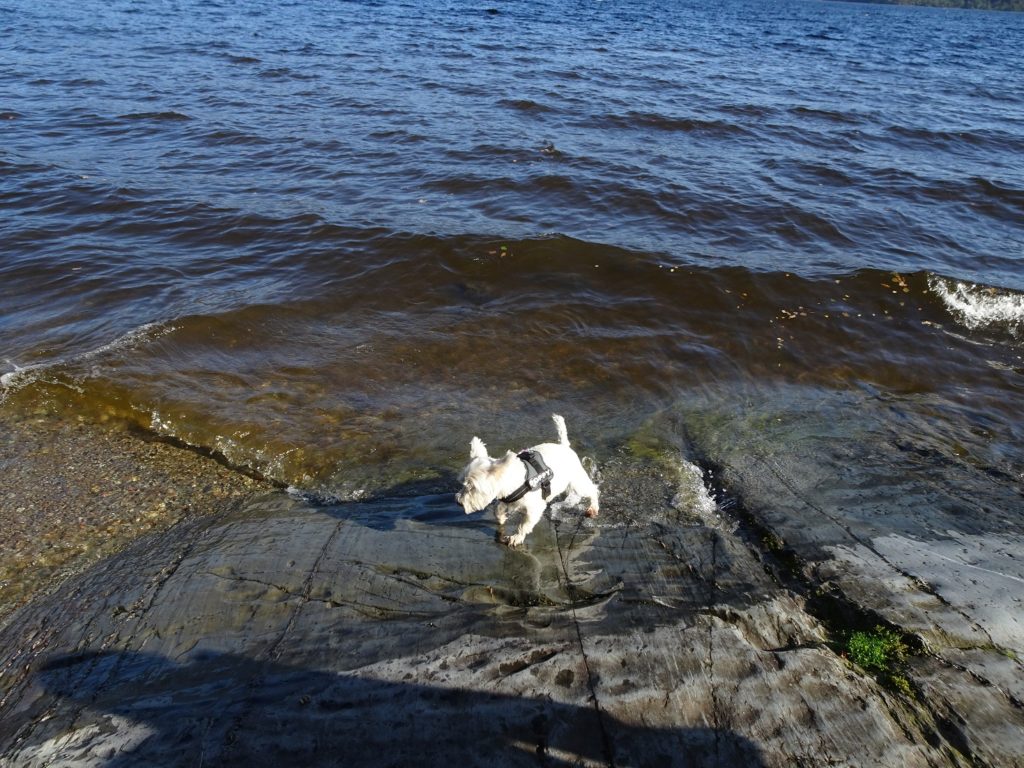 Mum and dad read there books in the sun, then it came. I know that noise I remember it from the house in Ireland, grrrrrrrrrrr awoooooool GROUGH, GROUGH, GROUGH, GRRRRROUGH ROUGH ROUGH. Mum and dad did not get the danger, These water motor bikes will come and eat you, eventually they listened to me and we moved up to the fields for the rest of the day.
As the sun started to go to bed we went for dinner at the Loch Lomond Arms, I was very busy when we got there, the nice man gave us a big table and he fussed over me. He told me he has a westie at his house. In a flash the room emptied, a big buss was outside and the peoplsees dad called booze cruisers all left and went on the bus. The only peoplsees left were us and two young girls wearing very posh frocks, the nice man would not let them have drinks unless they showed him some cards. There was no way they had cards their frocks had no pockets!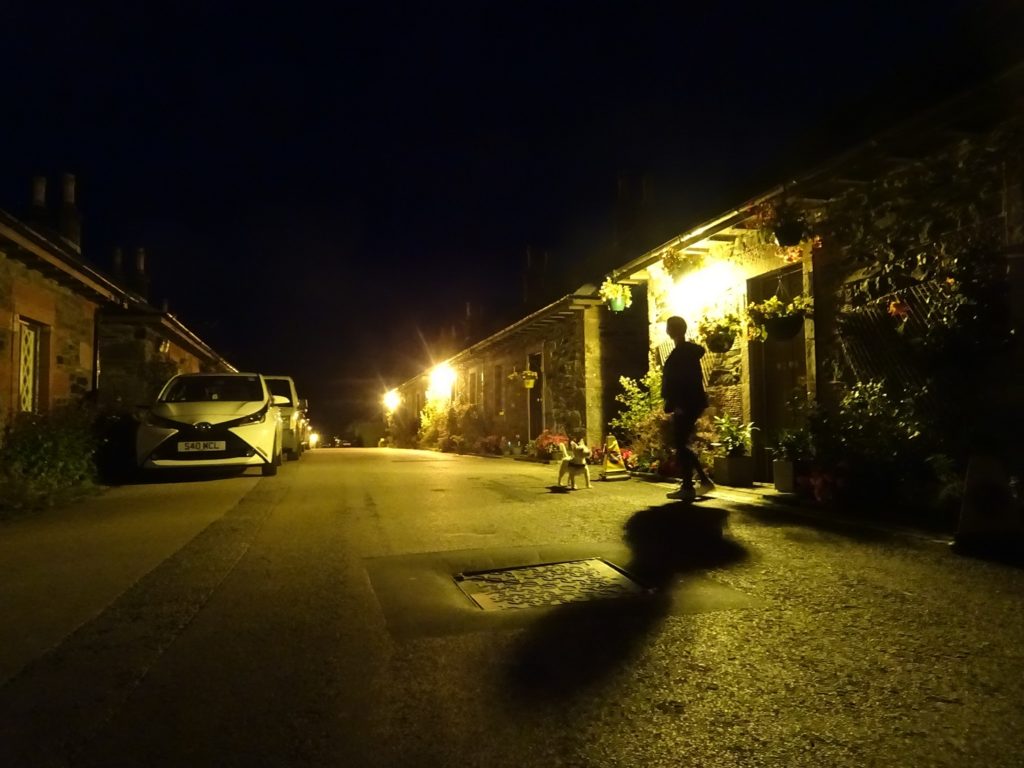 It was dark when we started to go back to Betsy and the village was empty. Down at the beach it was dark. We plodded along in the darkness and then headed back to camp and Betsy.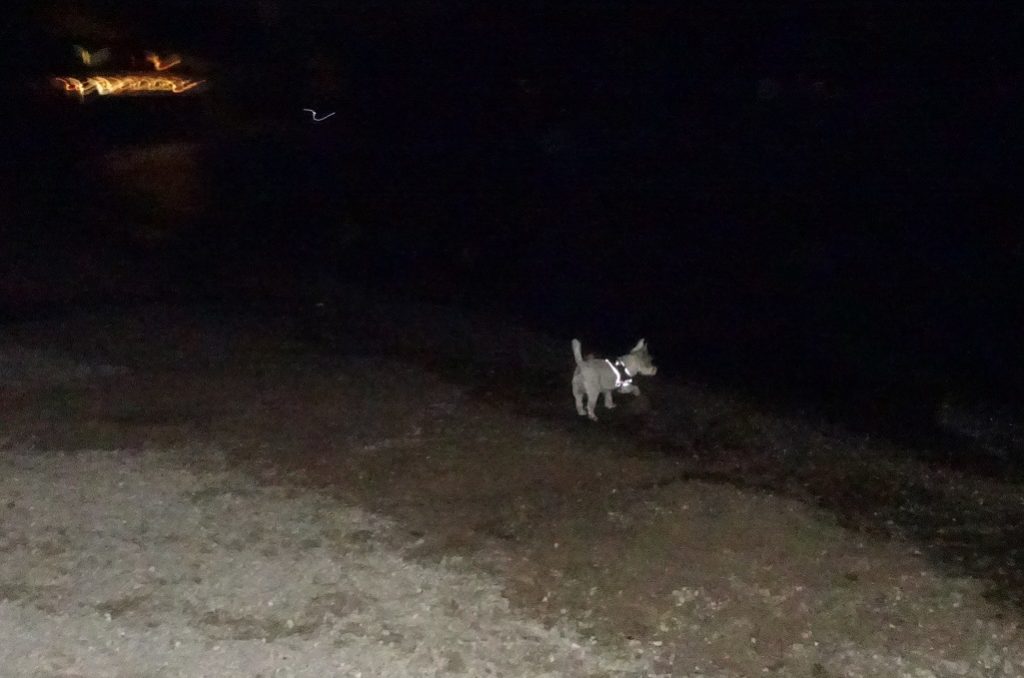 Mum and dad started to watch a movie but soon were fast asleep. Crash! Grrrr, grrrrrrr Mum got up and was not happy with dad the floor was wet, nothing to do with me back to bed.