After the rain and wind during the night morning was calm but grey. We were going to travel around the island today in Betsy. Arial down, steps up and the hook up disconnected Betsy rolled up the gravel path past the football pitch to the road and we were off. She went he same way she always went past Bruichladdich until we got to Bridgend. Betsy decided to turn right for a change.
This might have been a mistake as the road was narrow and had more cars on it than the other roads on the island. The first town we came to was Bowmore. We passed PEATzeria on rout to the square, Betsy found a place to rest so we got out to explore. We climbed the main road up to the odd church at the top of the street. The church was round, had a ships mast in the middle a peoplsee in the church told dad it was so the devil couldn't hide in the corners. mmm all they needed was a poppy, devils can't hide from Poppys no mater where they try.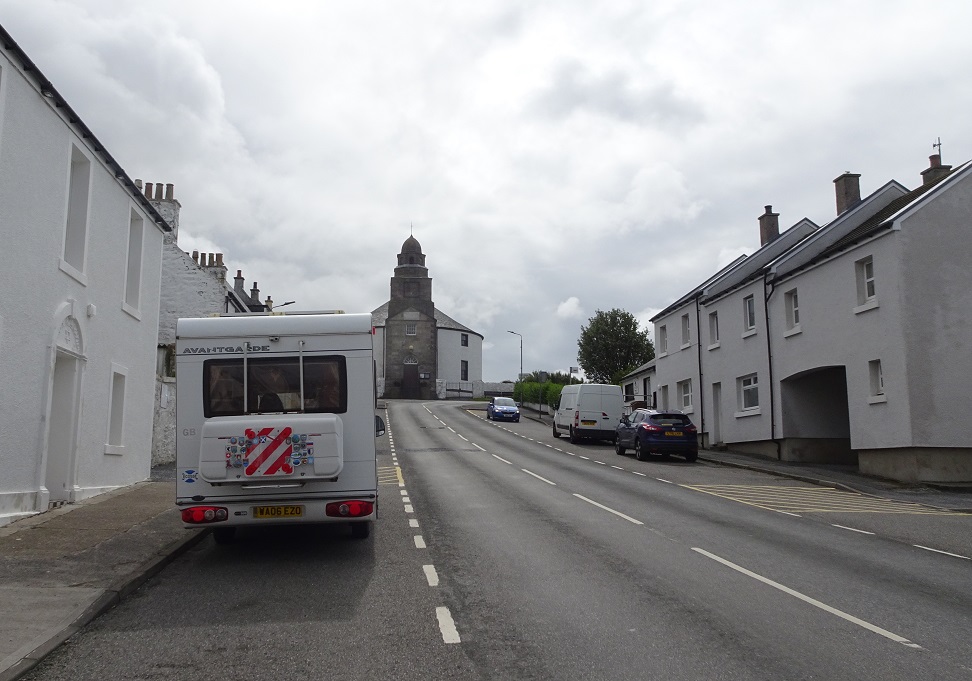 We plodded about the town, everywhere was shut because it was a Sunday. At the pier we met the dutch peoplsees we met yesterday at Bunahabain.
They had already been to a distillery and had three drams. They were waiting for The Bowmore to open. At that point there was a terrible loud noise. I barked and barked and barked. Dad told me to shoosh. Are you mad dad Auw Auw Auw Aouooooool Grough GROUGH ROUGH! ROUGH! DAD CAN'T YOU HERE IT!
He pulled me out of the distillery and the noise went away, bad noise.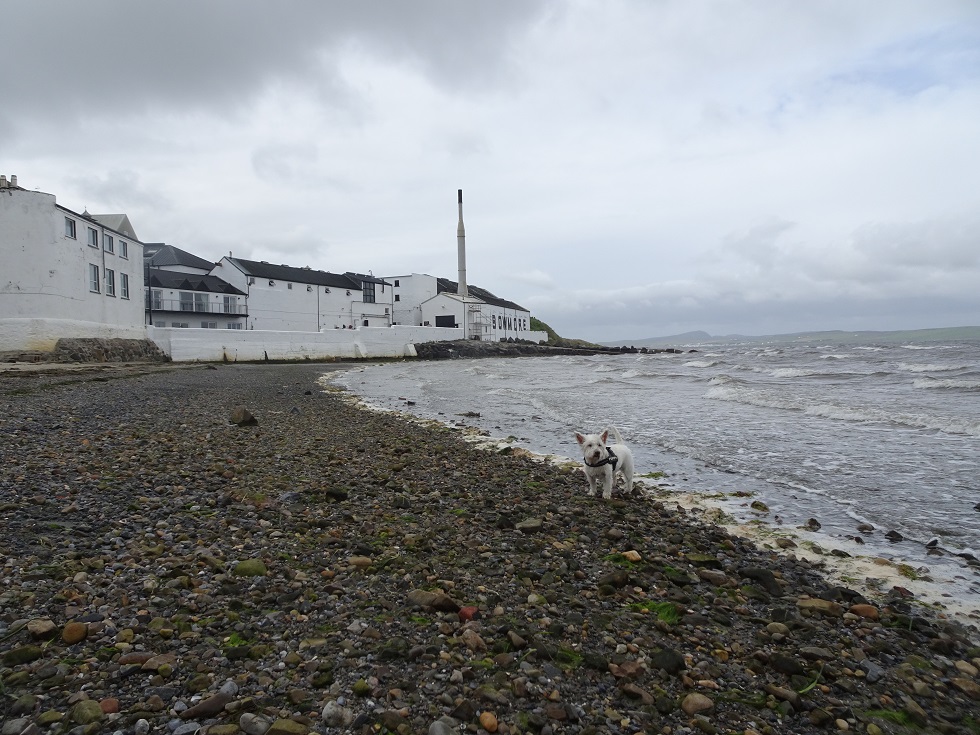 For dinner tonight dad fancied something from the Chinese. Phad Thai.
He asked about the Peking sauce and was told it was brown sauce mixed with ketchup. He didn't fancy it. Tonight's dinner in tow Betsy headed towards Port Ellen.
This was the longest straight road I have ever seen. It went on for mile and miles. Although it was poker straight it was far from level. Every now and then Betsy would buck and I would be lifted from mums lap. After an age there was a bend followed by another and suddenly we were in Port Ellen.
It was pretty enough but we just passed through.
Betsy kept going, past Laphroaig, Lagavulin, Ardbeg until the road went to single track and still she trundled onward.
We left he single track to an even smaller one, up hills, through glades eventually Betsy stopped at a ruined church called Kildalton. The first thing I spotted was a strange white box in the middle of the road.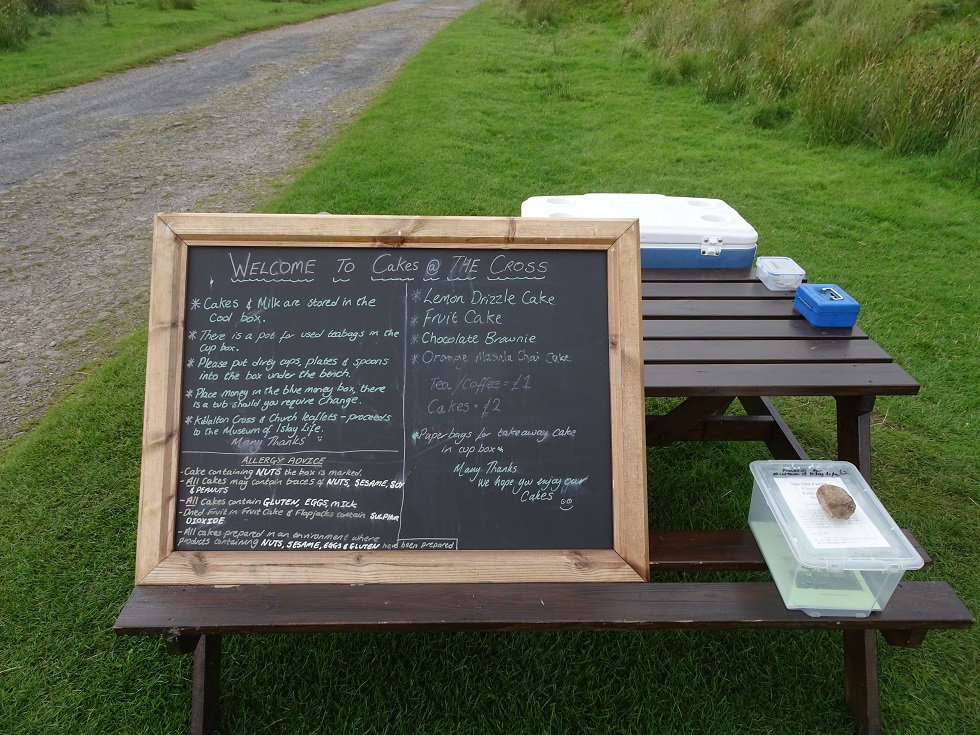 Mum and dad investigated, it was full of cake! Well cake siting in a box all by its self? it would be rude not to try some. Mum and dad looked like they loved it! They told me cake was bad for poppys so I never got any, mean mum and dad.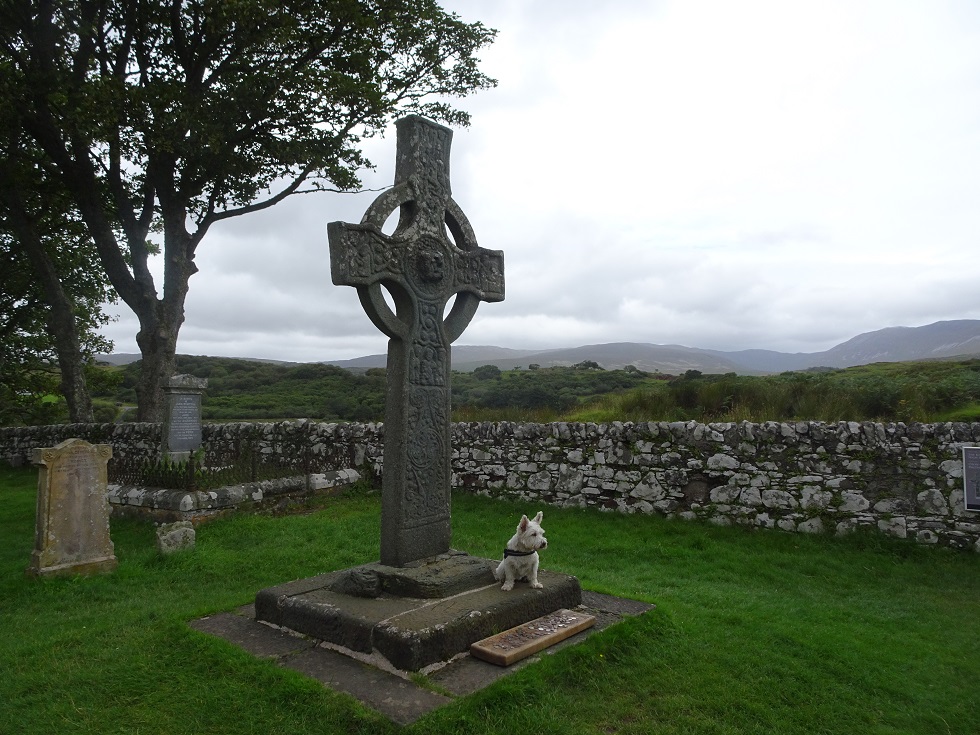 Once the gate of he church was open I was in, lots of smells! Smells everywhere! Mum and dad explored the church but it was outside that had my nose twitching.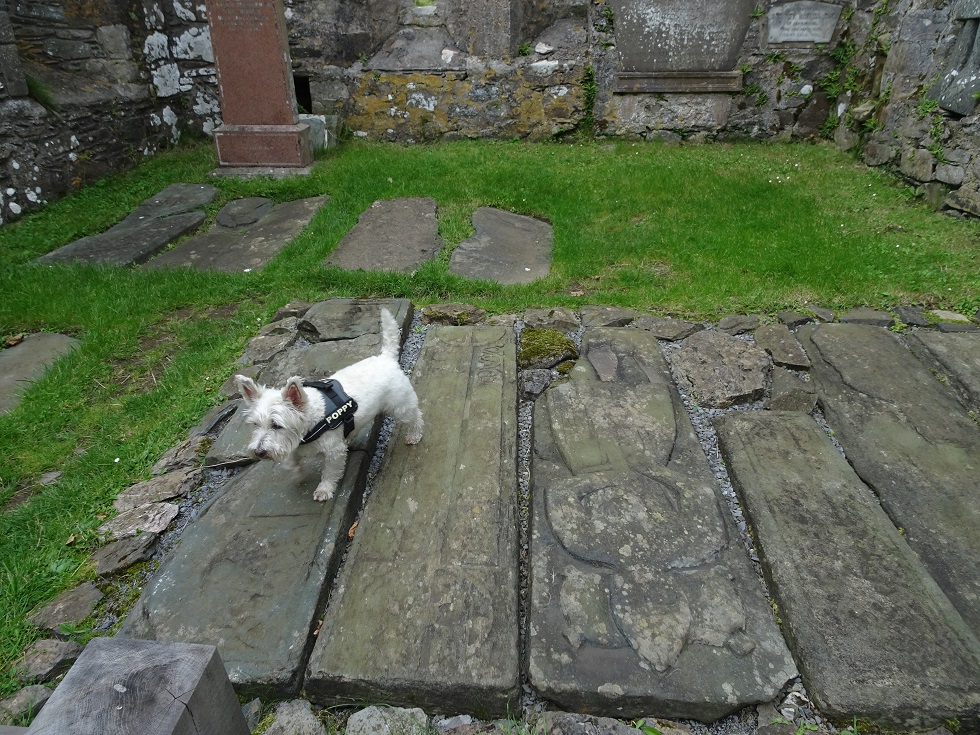 That smell, when mum wasn't looking I rubbed my neck paws and legs all over it, it was great! It wasn't so great when dad saw me. Back to Betsy and wet wipes soaked in cold water.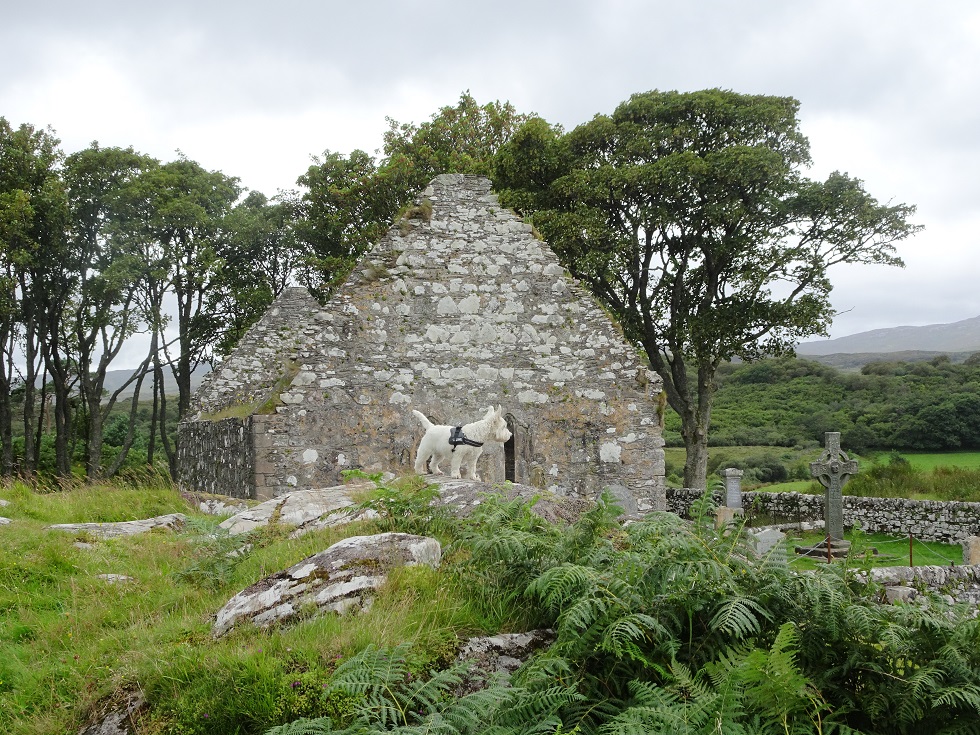 We left the church and were almost at Lagavulin when a taxi driver stared making strange signs with his hands at Betsy and hooted his horn. Dad wondered what his problem was he called him a phud. Retracing out steps almost all the way back to camp Betsy stopped turned round and headed inland. Betsy climbed the hill up and away from the sea, she passed farms full of sheep in green fields. Suddenly she turned off the road. The road she picked was very very bumpy. She had to go very slowly. She rattled and rattled and rattled, she swayed from side to side and it was very noisy inside. On and on the seamed to go on for miles. Occasionally a car would come in the opposite direction. Betsy had to leave the road to let them pass, she was very careful because she did not want to sink in the Peat. The road came to an end Betsy took a rest with some Land Rovers.
We left Betsy and entered a field. There was a fool path that led us down the hill to the sea. Following the shore we scrambled over some rock to a huge beach.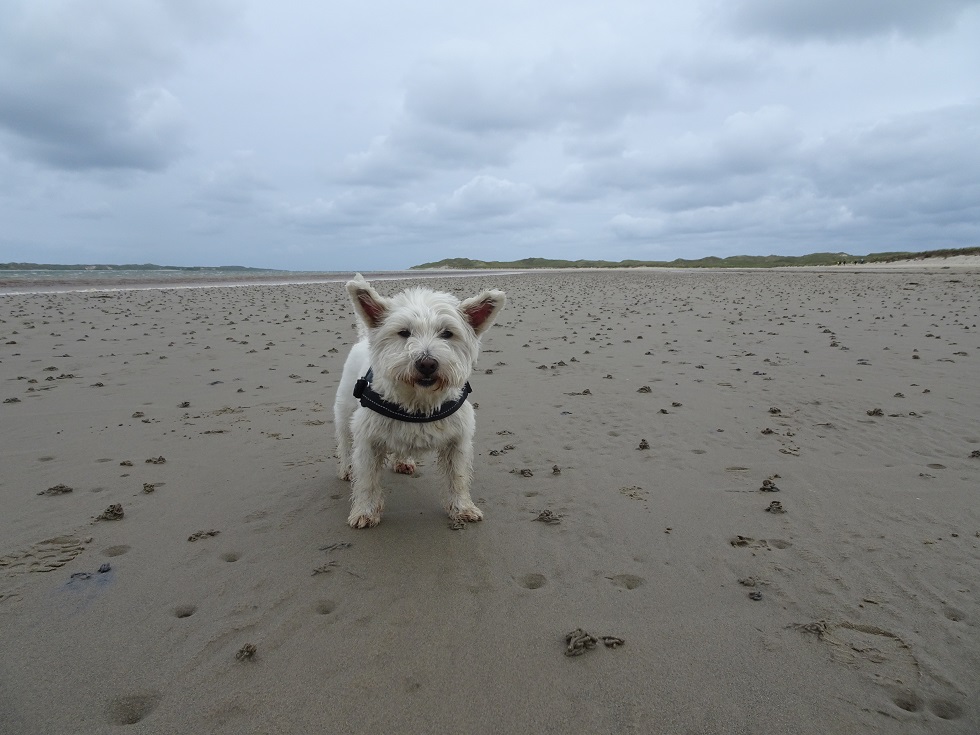 This beach was massive. That means only one thing …BALL. Dad tried to get me into the sea, I think he was trying to clean me. Stuff that lets play ball!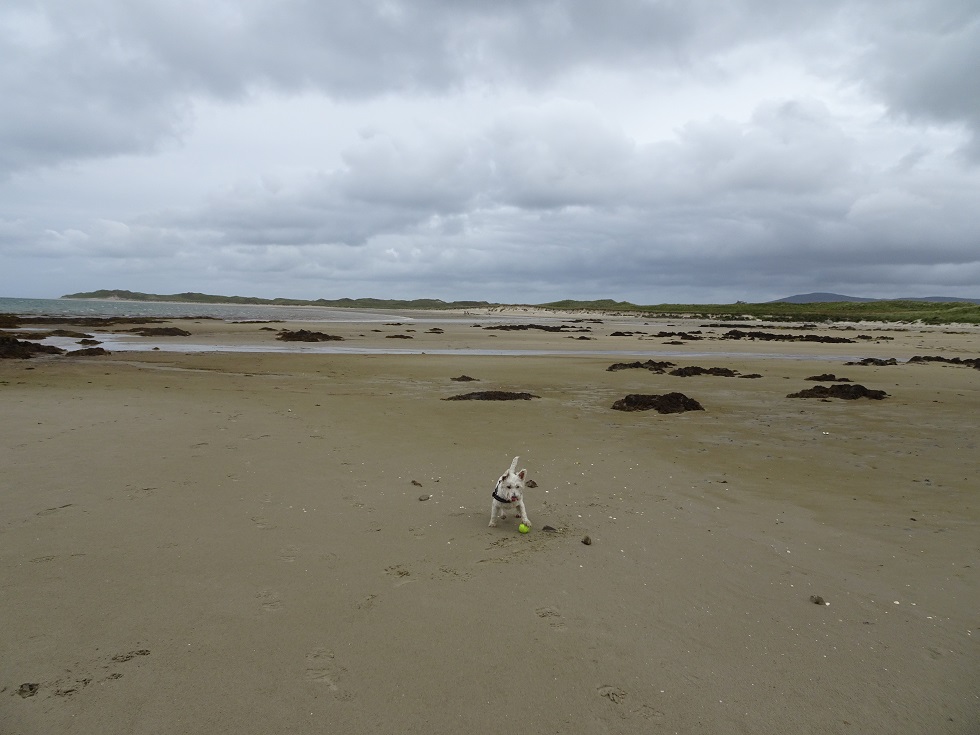 We had a great time but it was time to go back to Betsy. Back along the long bumpy road Betsy made it to the end in one piece. On the smoother roads she stretched her legs and we were soon back at camp but she didn't stop. She kept going all th way to a place called Portnahavin.
Betsy could not find a place to rest, she drove up a narrow road but it led out of the village. She stopped and tried to turn back. She was struggling to turn. She bumped up on some stones and made her turn. At that point a peoplsee run up to her and started shouting and screaming at dad. Dad apologised and Betsy drove off. She found a big place to stop and we got out. As we got out a car sped by and screeched to a stop in front of her, this was odd I growled at it. Mum took a photo of it with her phone and we walked back to Betsy as we walked back the car sped off. How strange. Dad said we shouldn't explore this village as the peoplsees are weird, I agreed not nice peoplsees here. Back in Betsy we went trundling back to camp.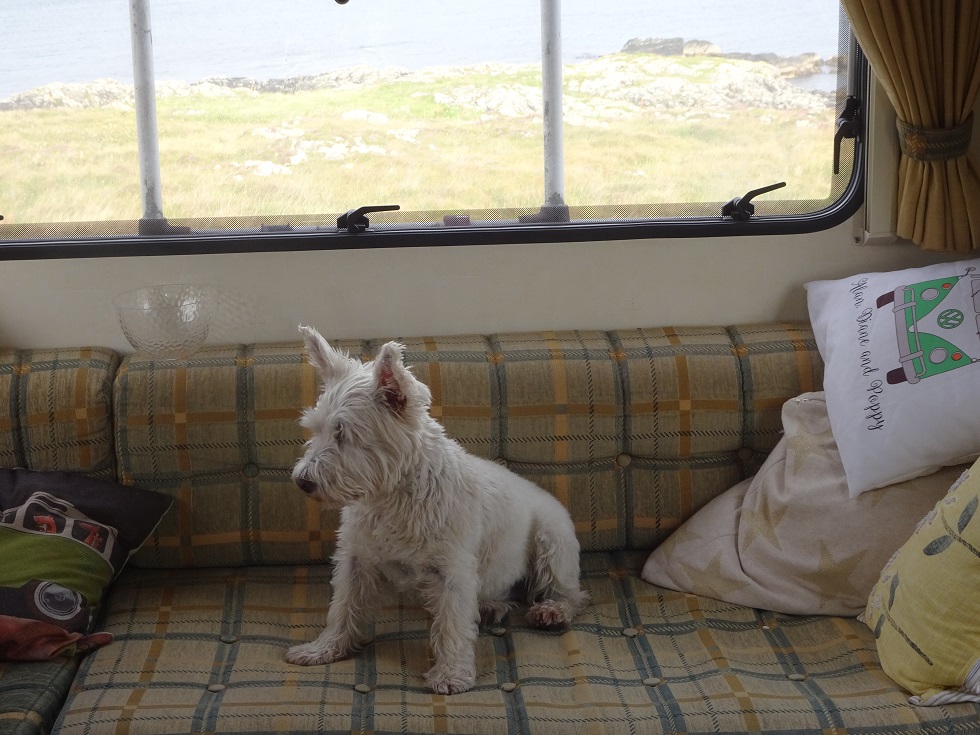 Dinner tonight was Chinese. Mum and dad were not impressed the chicken balls got eaten as did most of the noodles but the special fried rice and satay sauce was ditched. You can't get a good Chinese on Islay.