We got up early today because we were going on a long walk. After breakfast mini took us down to the harbour where she went for a rest as we went out. Down a small lane was a lot of steps going up the cliff. Dad let me off the lead, well steps are made to be climbed. At the top of the steps was a view of the harbour. Dad I can see mini from here. "Poppy away from the edge" said dad.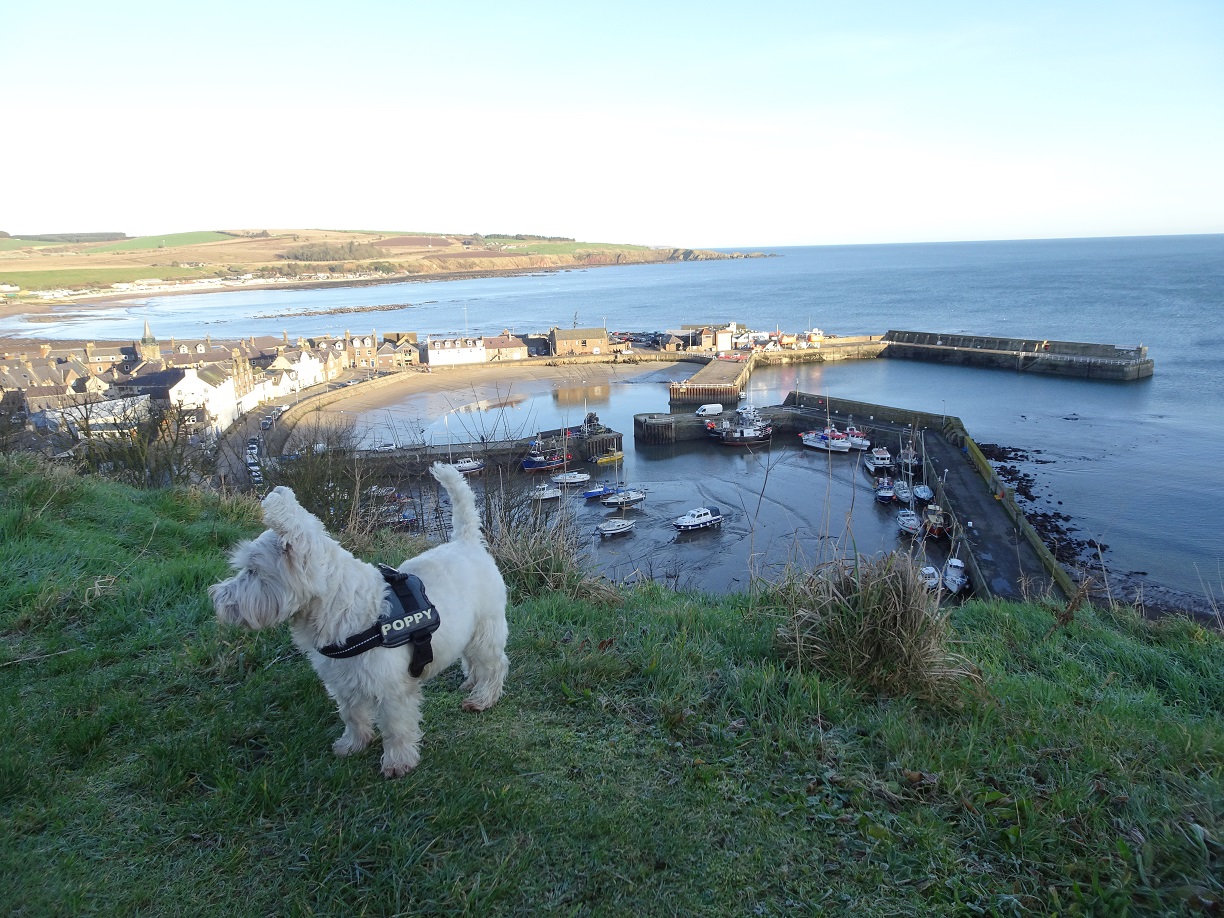 No time to hang around I had a castle to explore. We left the town along a clifftop path. Lots of smells. The rain from yesterday was gone and the sky was blue. On we plodded. Mum and dad staid on the path as I nosed into every bush and side path. When we got to the castle there were lots of peoplsees with funny voices. They weren't Italian or German peoplsees, I didn't understand a word they said.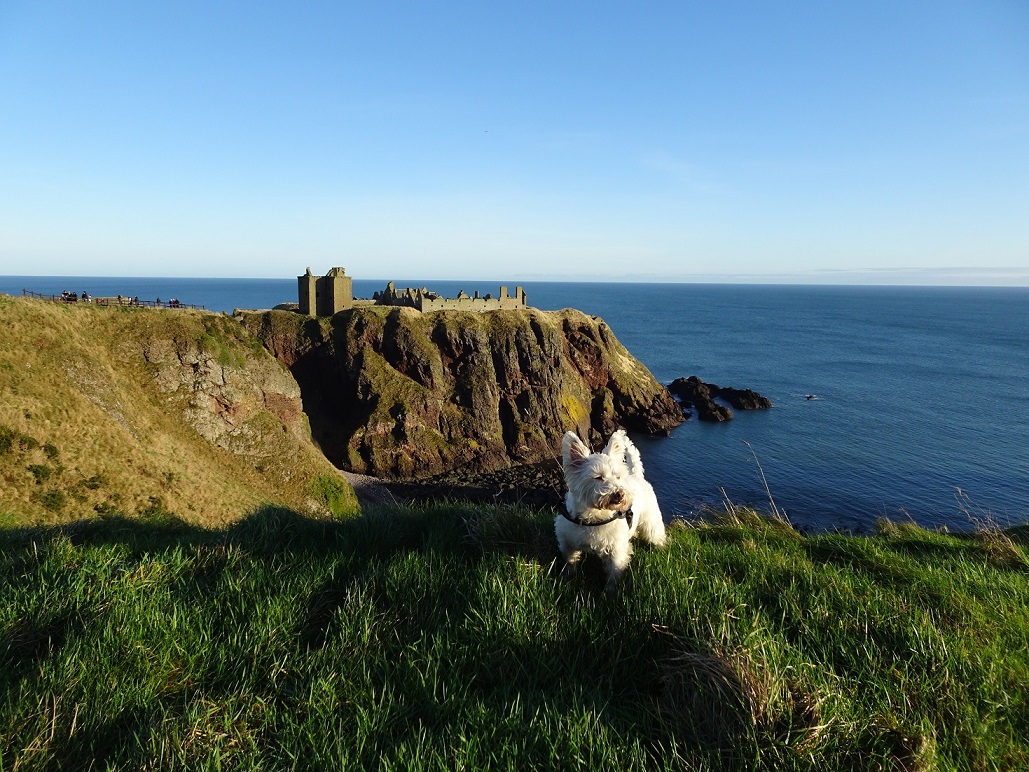 To get to the castle we had to go down a big stairway, grrough love stairs me. I met a poor dog who was wearing a vet collar. I asked him what was wrong? He had been to nasty vets and they had cut his tail off! He must have been slow, no nasty vet will ever get my tail! Grrrrrrr bad nasty vets. At the bottom it was very rocky, mum said she could see a path at the end of the bay so we went cross it. I was hard going even for me, can't play ball here. All they way across a pesty dog kept annoying me I had to growl at her. Eventually we got to the path. It was easy for me with my 4 paw drive but mum and dad struggled.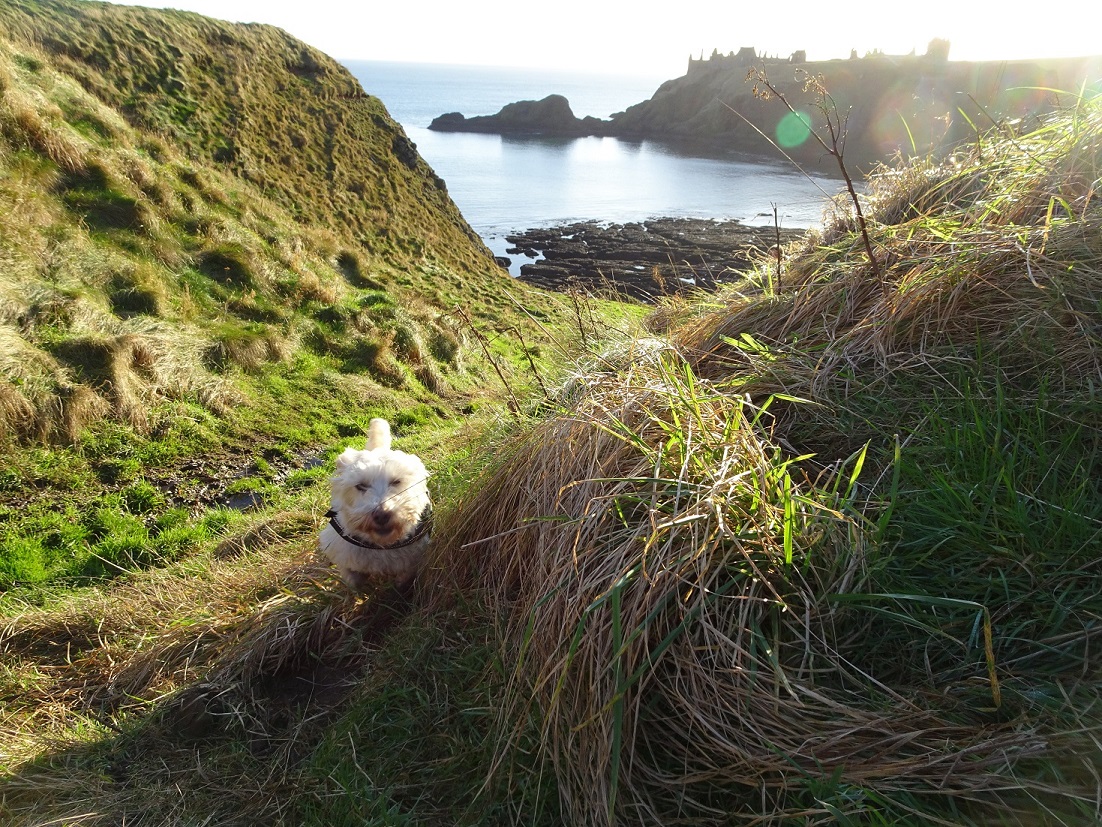 At the top mum and dad had a drink of water, time to get back to mini. Mini took us to the square I wasn't allowed up because Poppys aren't allowed inside butchers! I don't know what mum bought but I want to know what's in the bag. Mini fired up and took us to a place called Catterline. This is where the pub was where I got fishes.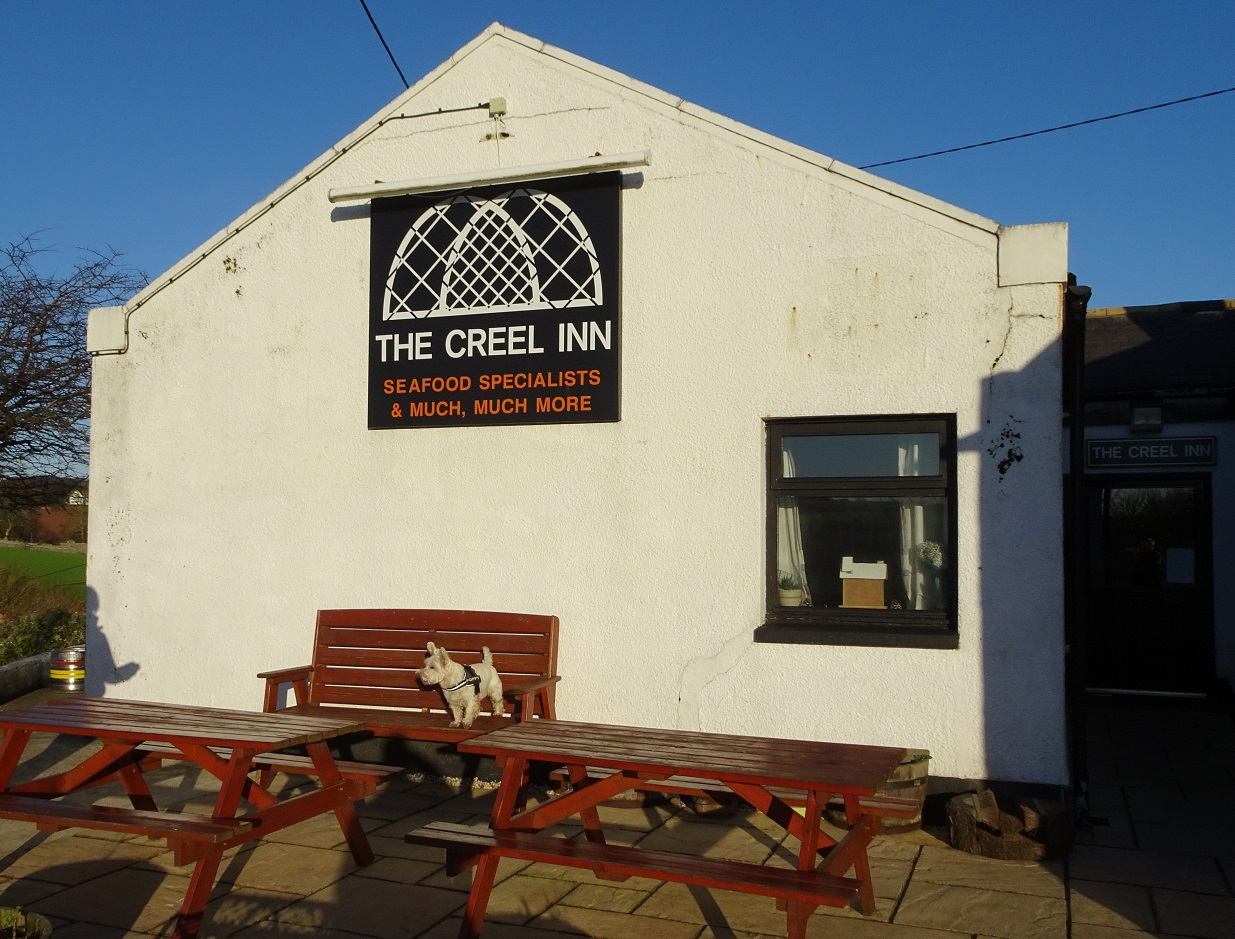 We never went into pub but went into the village where I discovered rabitsees. I love to chaise rabitsees! Dad let me off the lead grough, rough, rough, rough, wuff wruff aooool! Dad did not play ball but dragged me away. A little later I did get off lead we went down to the bay and I got to explore a pier and the bay.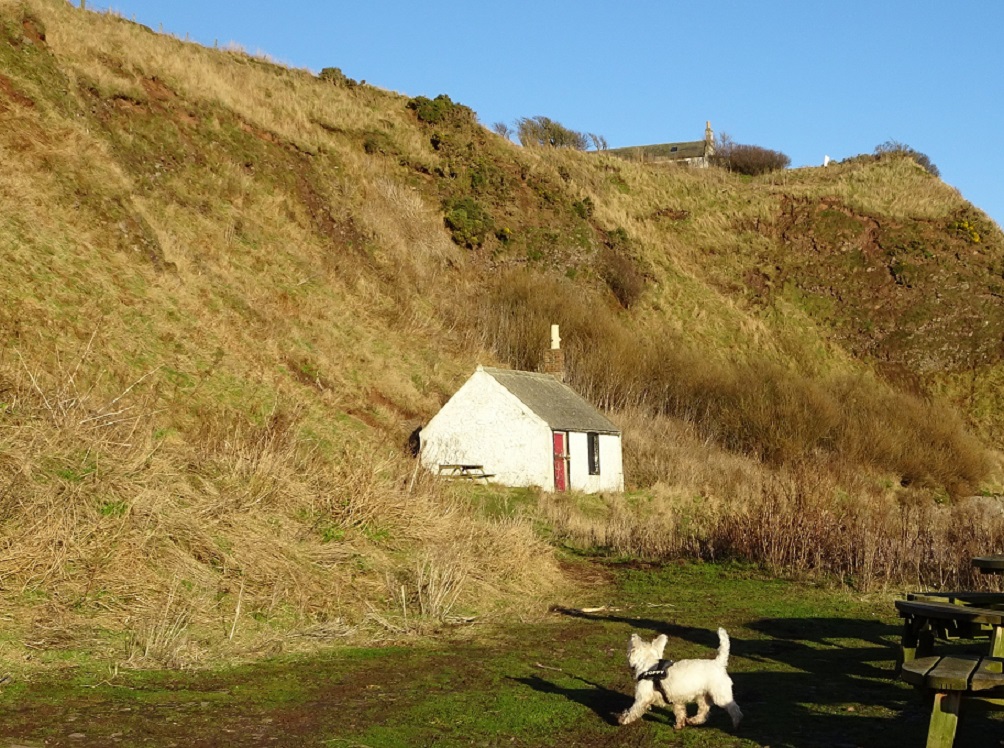 It was getting late so time to get back to the farm. One last time to play ball!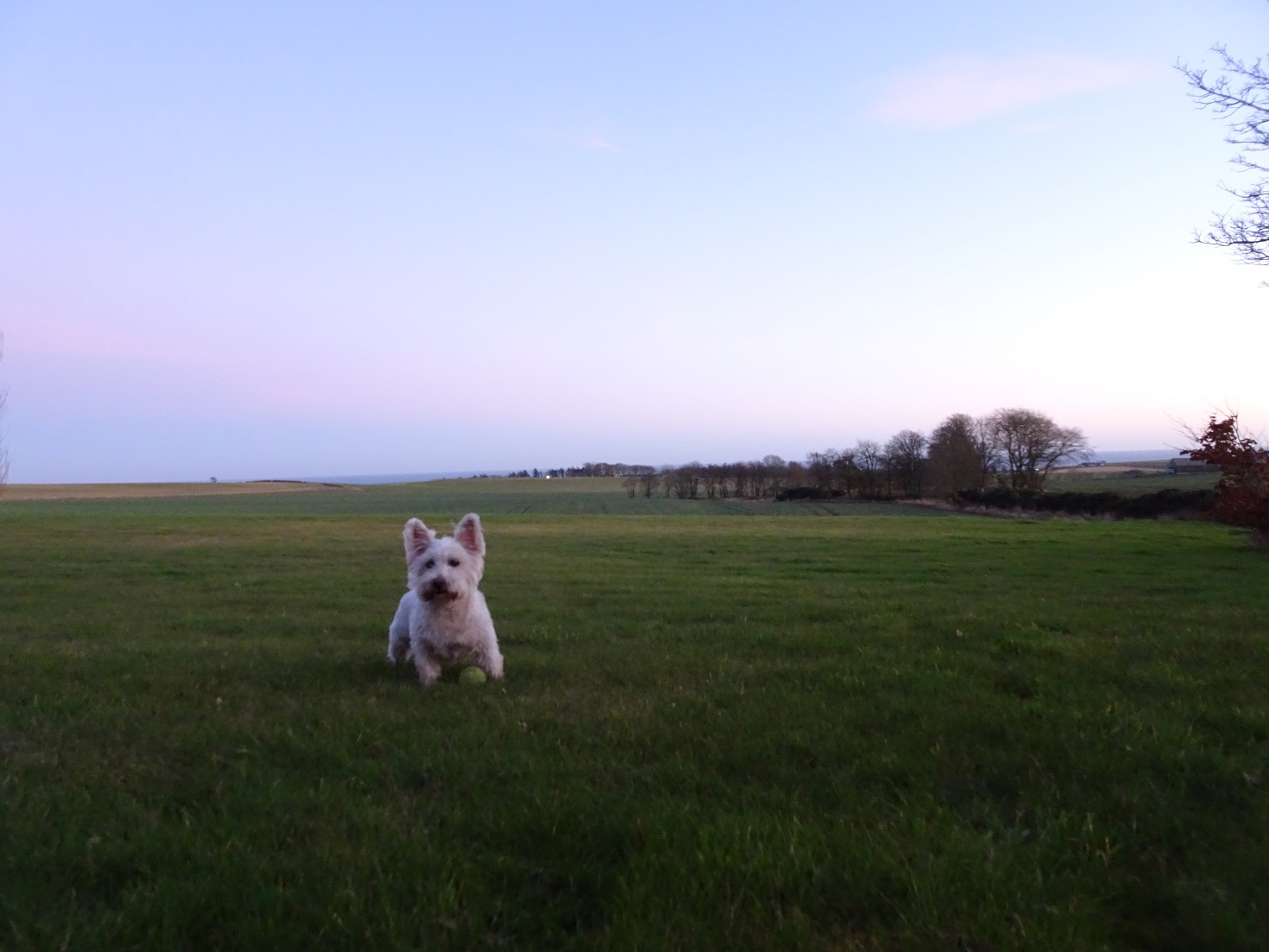 Mum and dad were being sneaky. The did the denti stick trick, I heard a car and they had vanished. I wandered about the house but they did not come back. Nothing for it but to go to sleep.