Up early bus to train station and off. At the station German peoplsees never got tickets and skipped the train. Dad made mum buy them 1 euro and 80 cents it cost for mine!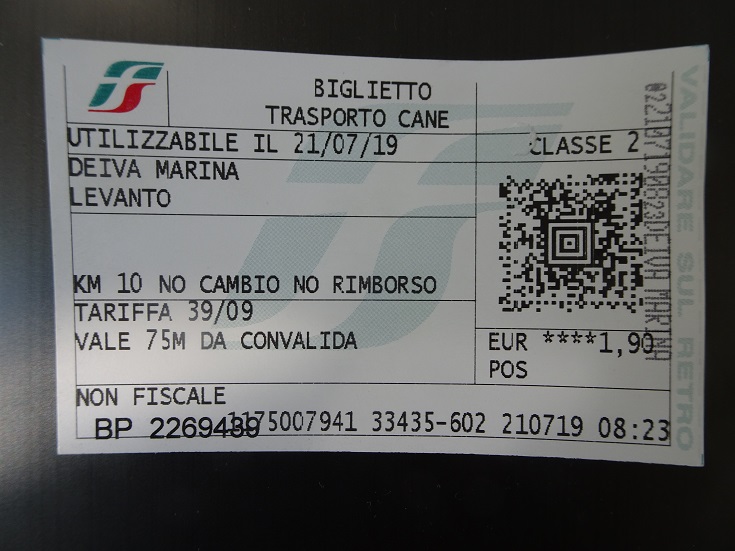 We got off train at Corniglie, dad was worried about bus. On tinternet everyone said it was a bad smelly crushed bus. It was fine I got a seat. We explored the village I was off lead because there were no cars. It was nice and cool.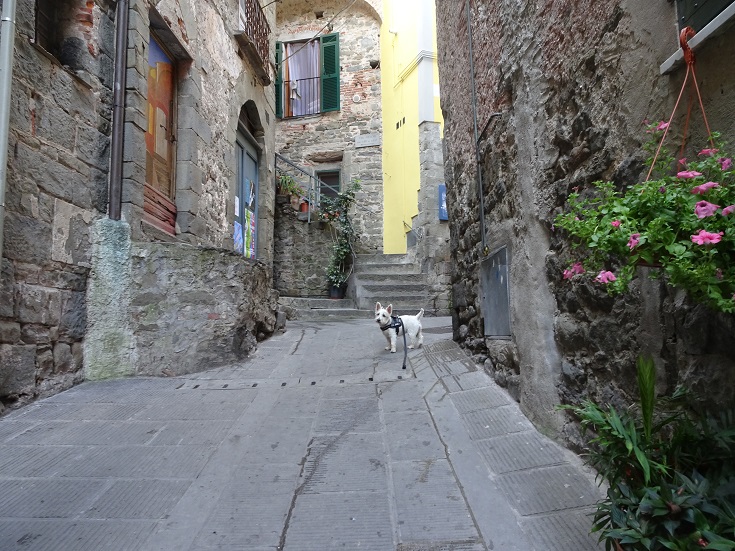 The village was small and we went back to the bus. The bus was nice going back to station, faster than Betsy going round the twisties. It was very busy at Vernazza again Tinternet told us to climb 100s and 100s of steps to look at Vernazza from the trail. I'm not liking this Tinternet, if I meet it I'm going to bite it.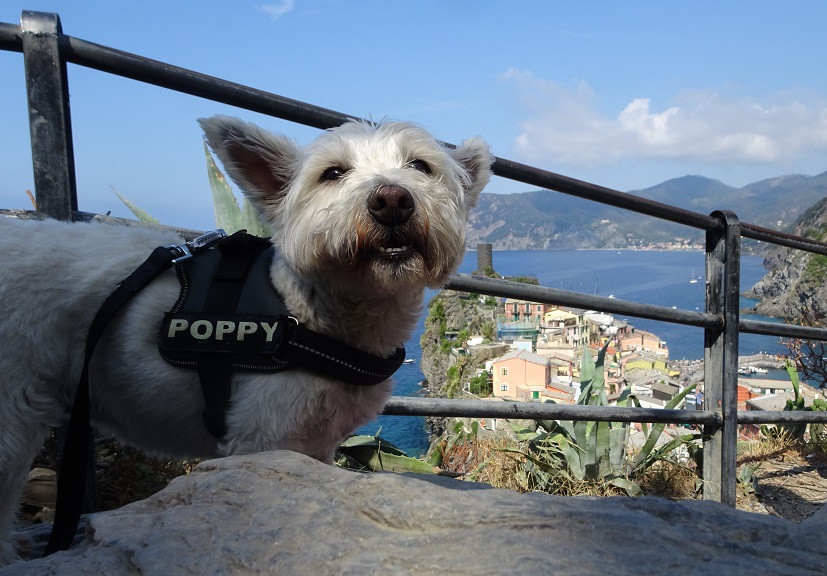 What goes up so we went back down. The town was pretty and in the back streets very cool. As we left to back on the trail (thanks Mr Tinternet) We got stopped by a trail guard who wanted to see mums tickets. Alls good lets go. A shot while latter we stopped to take photoes and went back. On the way back an American peoplsees said that all dogs in europe have harness like mine with their names on. Rubbish, all the ones I have seen say Julius K9. Daft American.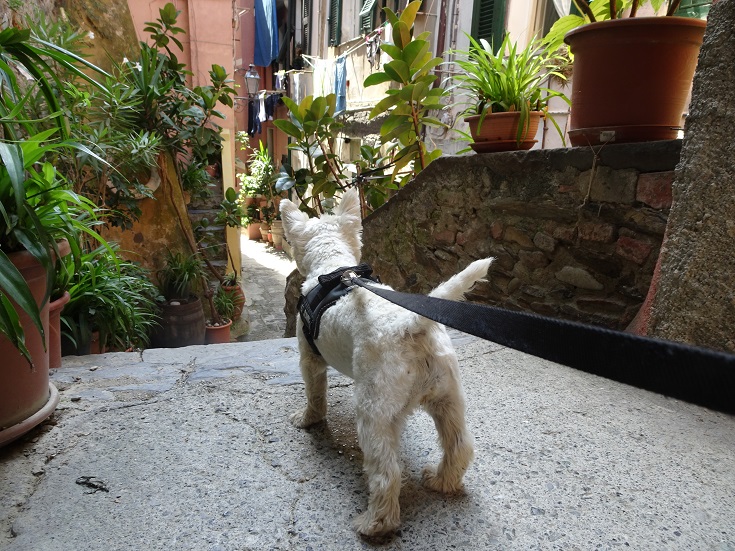 The main town was very very busy and very very hot. I needed to put cool vest on. We wondered about mum got something called fig and ricotta gelatto. Dad struggled with his because it was melting and he had to watch after me.
We were going to a boat, dad carried me on. boat was good. Hardly any peoplsees on it. I got off lead!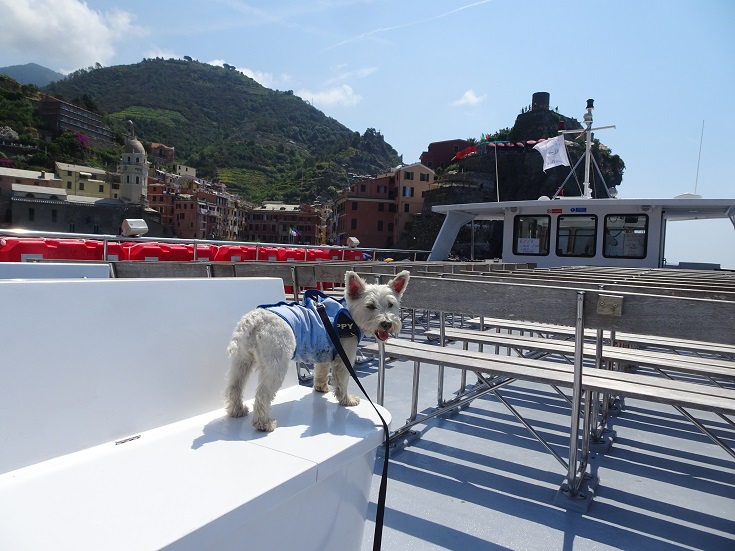 Monterossa came in two halves. Old town was nice to plod around I even got a shot on an ape.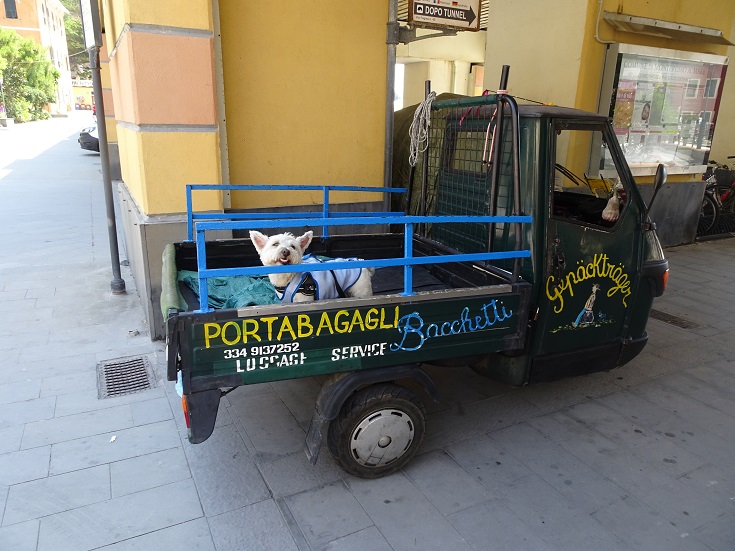 In the main street of the old town I got to play with a white dog like me but he had a curly tail. Mum went into a shop it had air con, I like air con!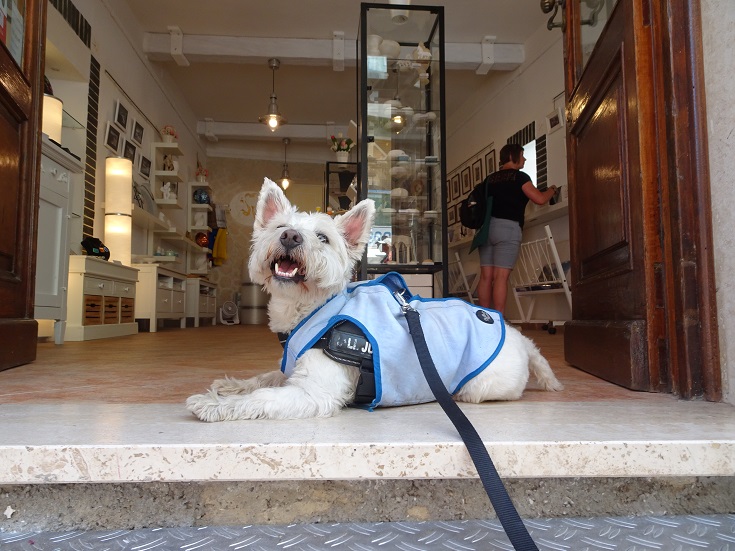 Time to go to the new town. To get there we went through another tunnel. When we came out everything was different. Lots and Lots of Peoplsees, everywhere, you could not see the beach for peoplsees.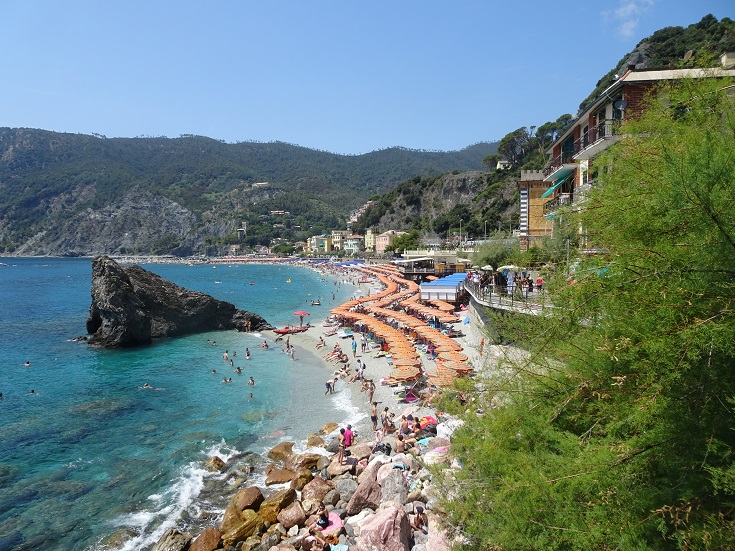 I did not like new town too hot no shade and legs everywhere. Station Mum?
The train came we got on. It was a long day for a wee white westie like me, Train was cool, I think I will go for a nap.