When Mum came home on Friday it was like a whirlwind hit the house. Dad scarpered to Betsy, I just tried to keep out from her feet. Dad came back in put harness and leash on me, grabbed a bag and wheeched me into Betsy. Betsy roared into life and crossed the road when mum jumped in and we were off.
Where are we going Dad? The seaside? An Island? The Mountains? "We are off to Falkirk Poppy" Betsy was going well until Mum's talking box started to tell her where to go. Betsy stopped in a street in the middle of a town. Dad we not staying here are we? Mum vanished, where did mum go dad? I'm not liking Falkirks!
Eventually mum came back with a big bag of yummy good smells. Maybees Falkirks are not so bad. The talking box started barking orders to Betsy. First it told Betsy to go up a steep winding road only just wide enough for her alone, then it told her to go on a cycle path, Betsy ignored that order. It then told Betsy to go through a locked gate, when Betsy ignored that order it kept shouting "proceed to the rout" at her. Dad had had enough and parked her up. He used mums talking box to talk to the peoplsee at the camp. Back along the road she went, past horses, down a big hill, under bridges, over railways until she came to a big wheel. Dad talked to the peoplsee again, mmmmm, he said turn right at the main road!!!! Back we went, over the railways up the hill under the bridge and then turned left.
When we got to camp it was mobbed! Betsy got a small space squeezed between two vans. The peoplsee came over, he was called Hoggy, he took money from dad and disappeared. By this time it was late so mum put the yum box in the cooker to heat up. After dinner a walk and bed for Poppys, strange day.
It was bright and sunny when I woke. The campsite was in full motion, lots of peoplsees packing up and van after van leaving. Mum and dad talked to Hoggy, today we are going to see a big wheel and even bigger horses! We walked out of camp then down a small path to the Union Canal. Dad its this way! Dad said Falkirks was the other way, OK dad if you say so.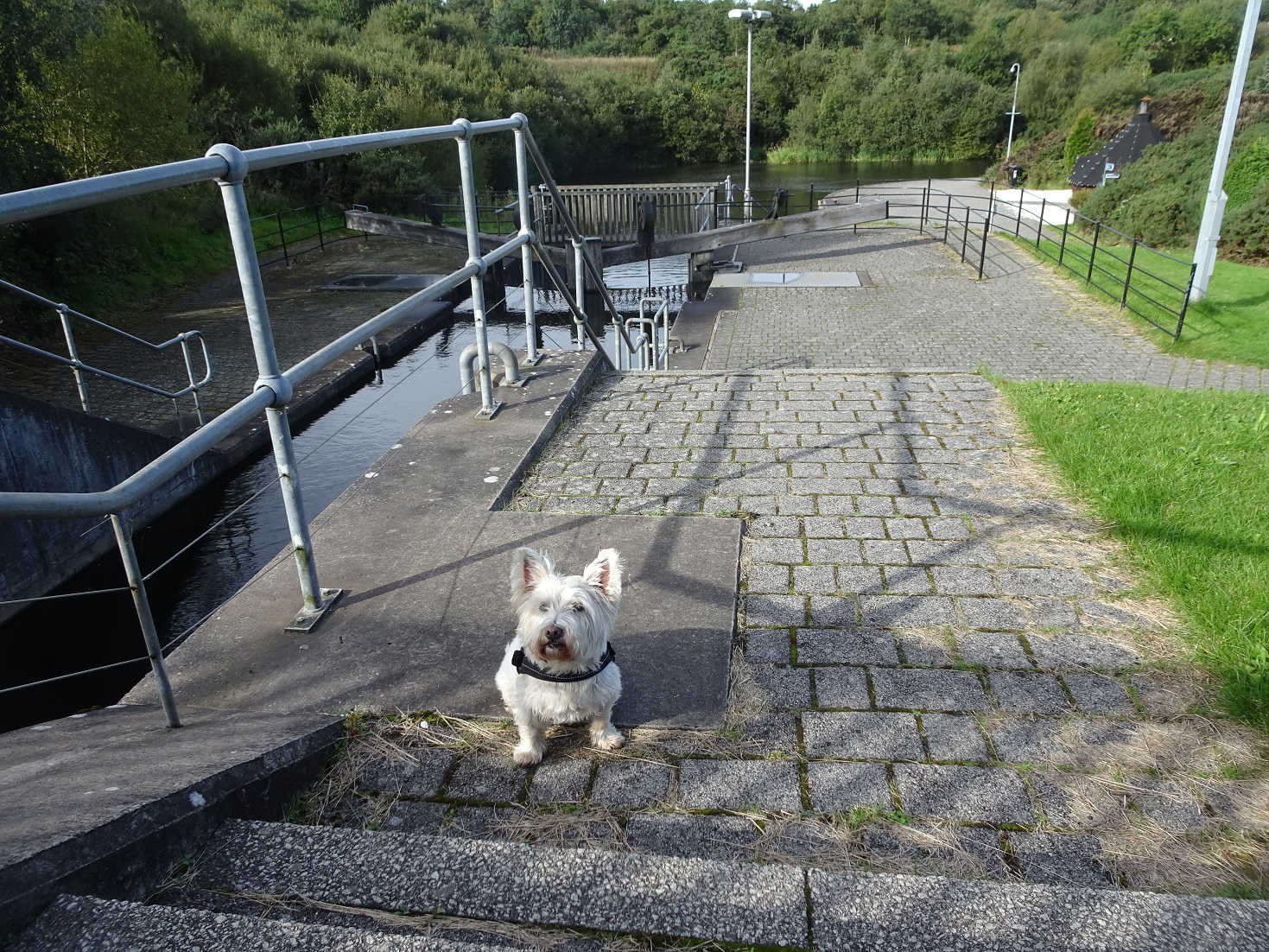 Hoggy said it was 15 min away to the big wheel, after an hour I gave dad my "told you so" look. By now he should listen to Poppy the pathfinder! The walk was nice along the canal the sun was out and there were lots of smells along the way. Mum came up with plan B. Go see the horses first. The horses were on the other side of Falkirks we could see them from the canal bank. As we went through Falkirks it the sky started to cry. It got heavier and heavier, Mum put on her waterproofs and I got my coat on. As we got to the firth and forth canal the grey skys had turned the path into puddles. I was drenched.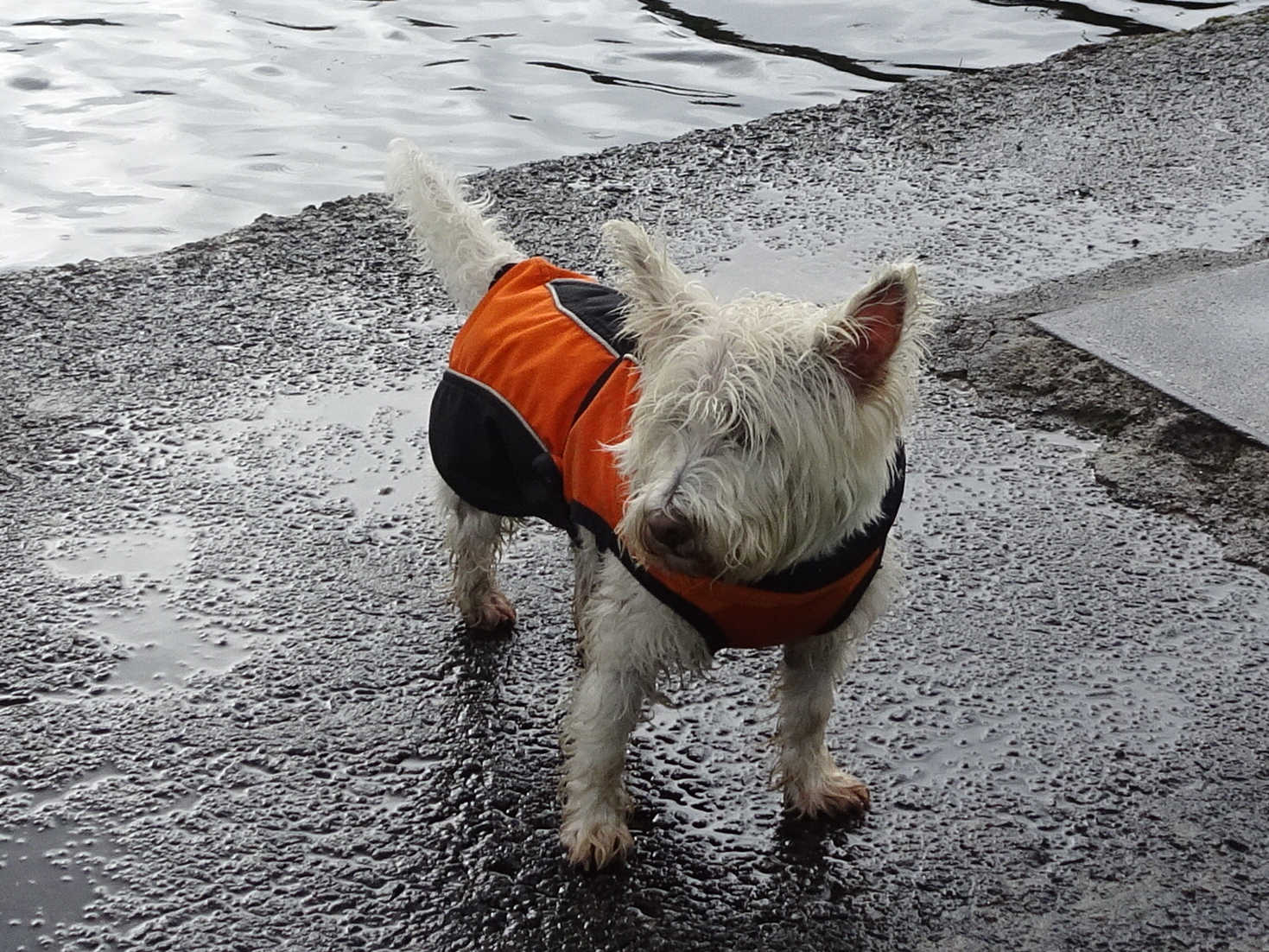 The canal took us all the way to the horses as we got close I found a great place to play ball, the grass was wet but who cares I was wetter.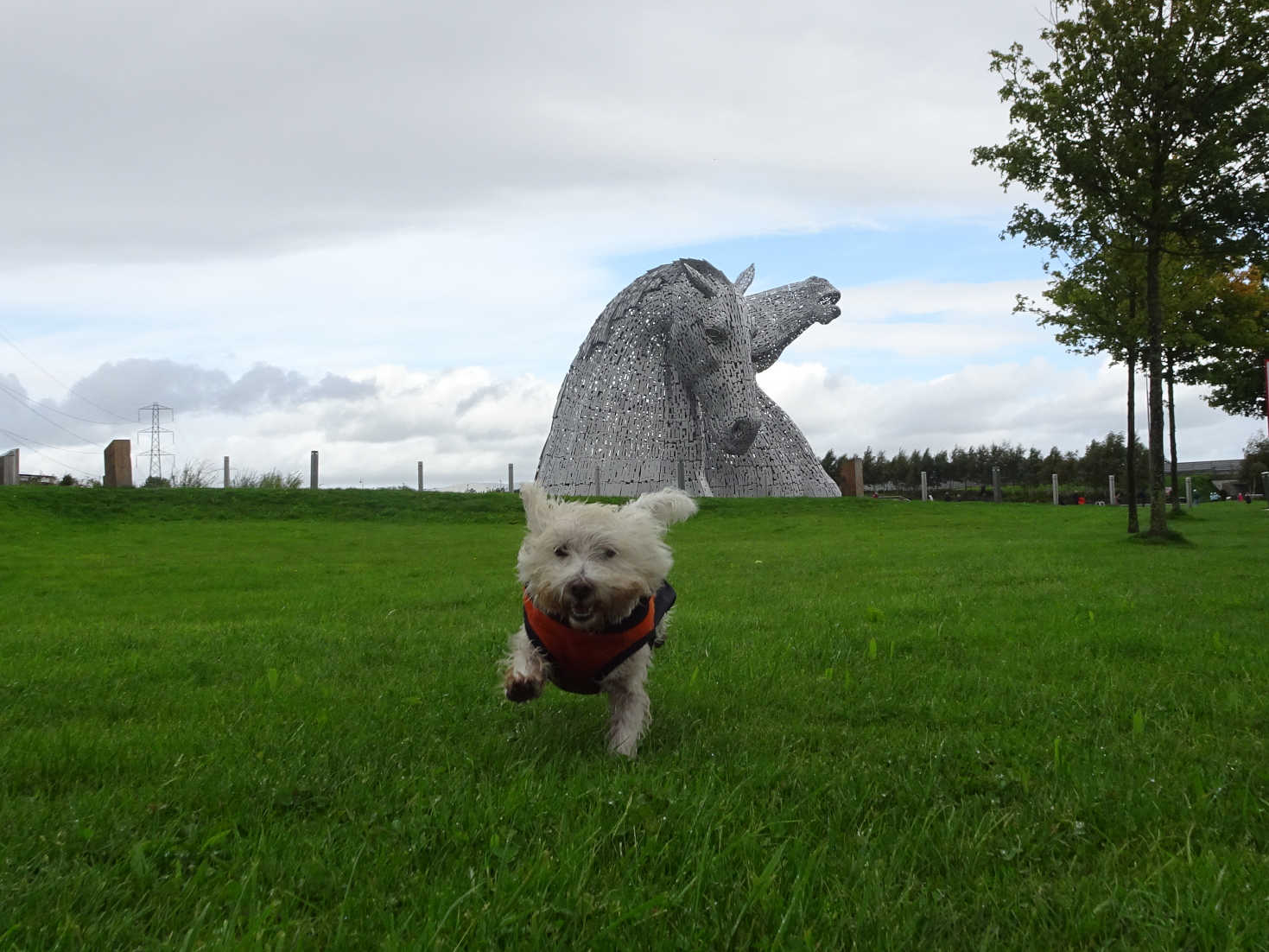 These horses are big, they get bigger and bigger the closer you get. At the bottom of them there are ponds and puddles but best of all there are bridges to explore. Dad got a fright when I jumped over the water onto one, no worries dad 4 paw drive!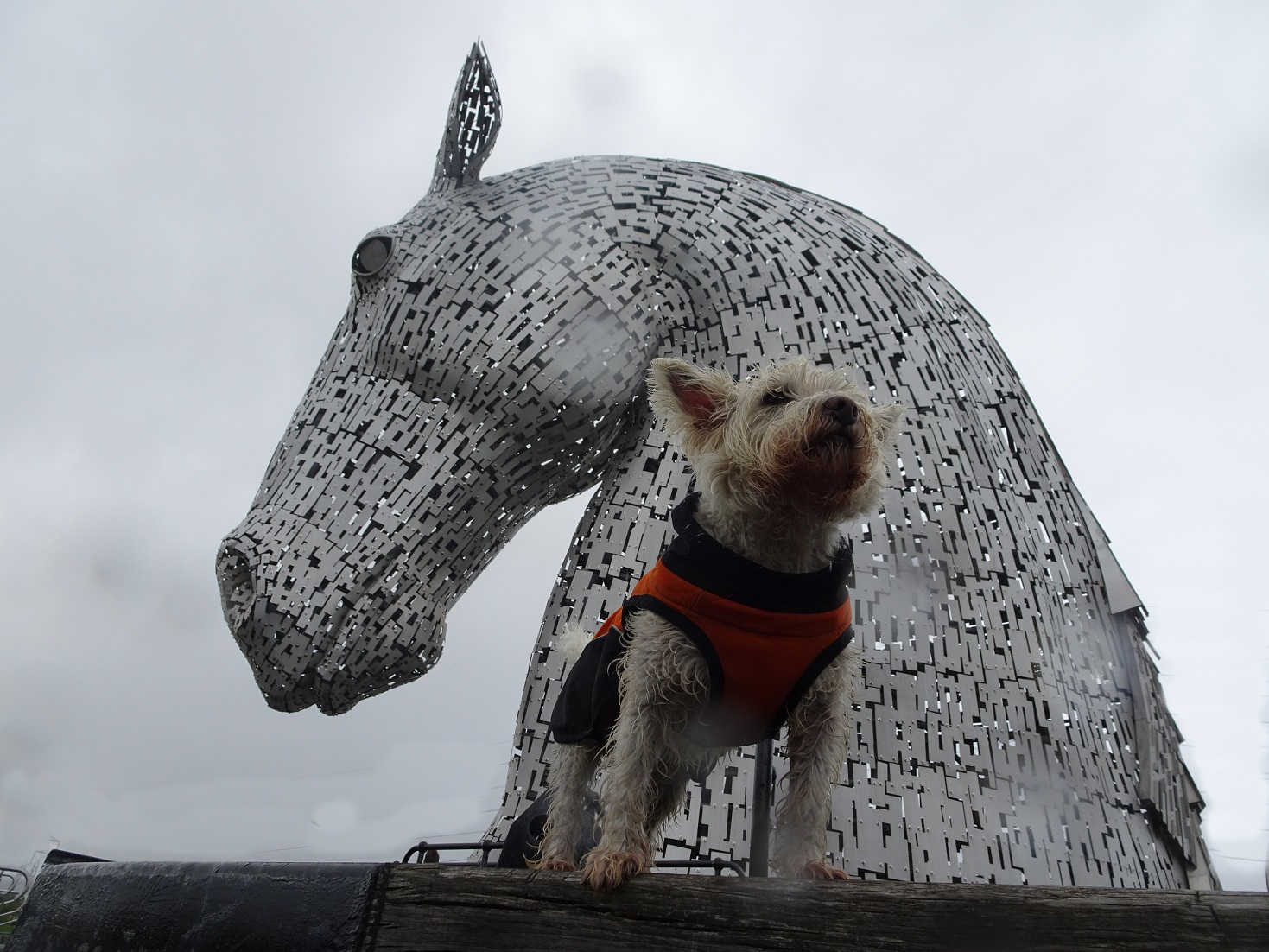 The sky had not cheered up yet and was still weeping. I explored the locks and went to say hello to the locals, NOOOOOO! The locals are big white hissy birds, time to go.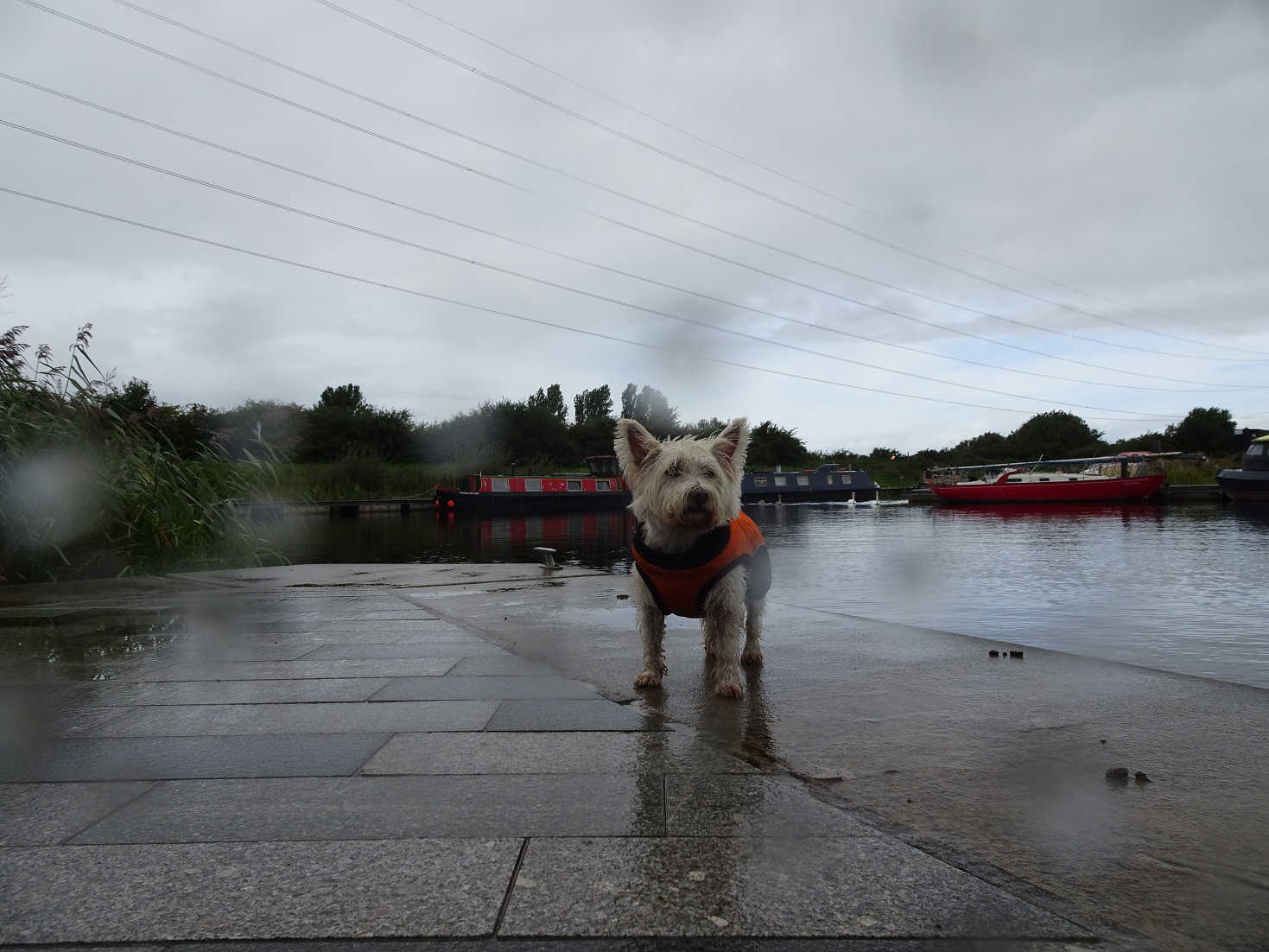 No buses here so we had to walk to the Falkirks stadium, It was a good walk off leash almost all the way through Helix Park we played ball all the way, but at the stadium no buses. Mums said since the sun was out lets walk to the train station and grab a cab. The nice cab driver took us all the way to the wheel where we ditched the waterproofs and stopped for lunch. Lunch was great I got bits of ham and cheese!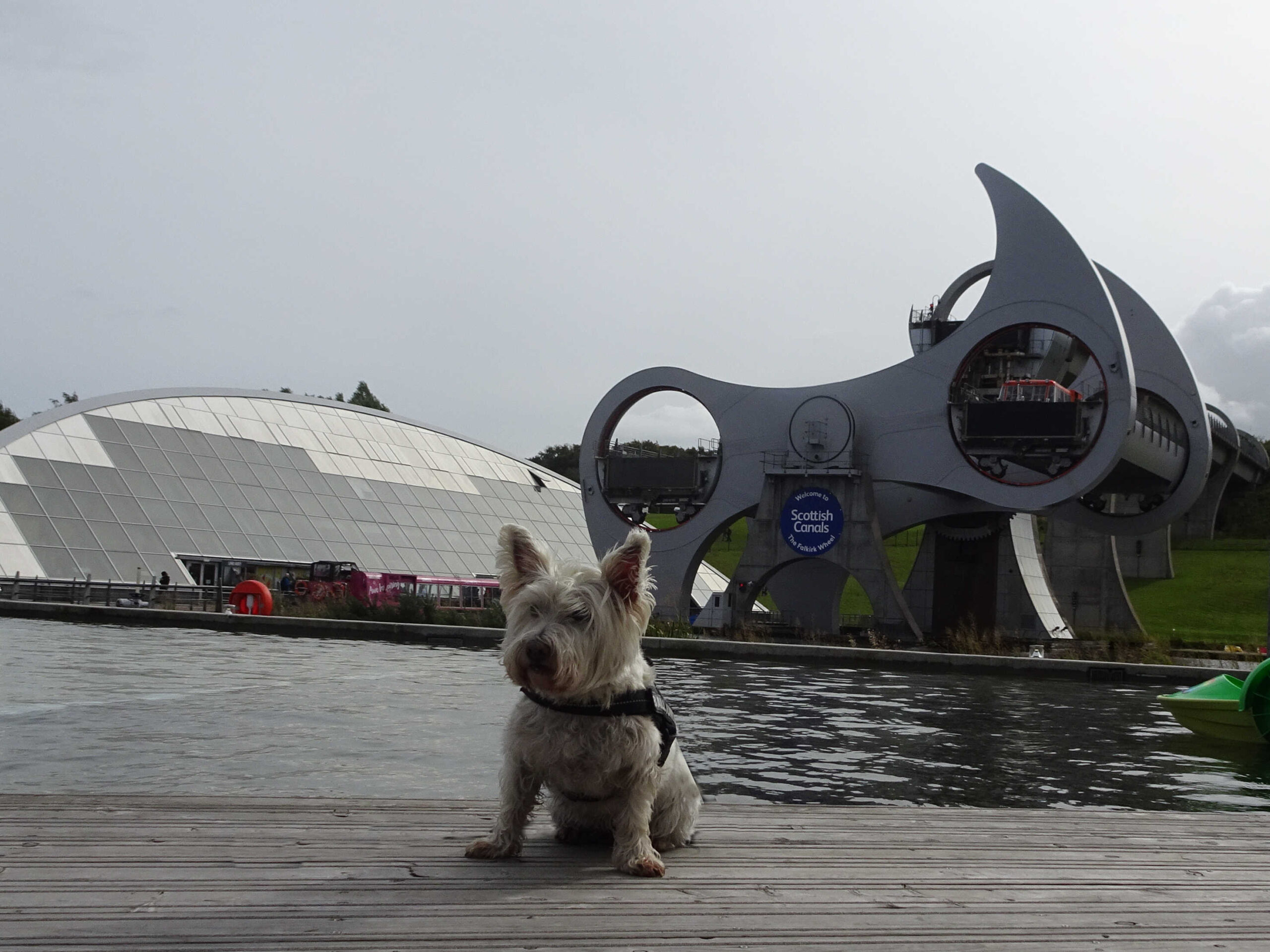 After the wheel did something very strange, first it ate a boat, then it turned on its head and spat the boat out at the top! Dad can we go see? We went up the hill where there were thousands of motorhomes in the car park, what they doing here dad? At the top was another canal. Dad hurry up lets go see the boat. Mmmm, where did it go? I saw it get spat out.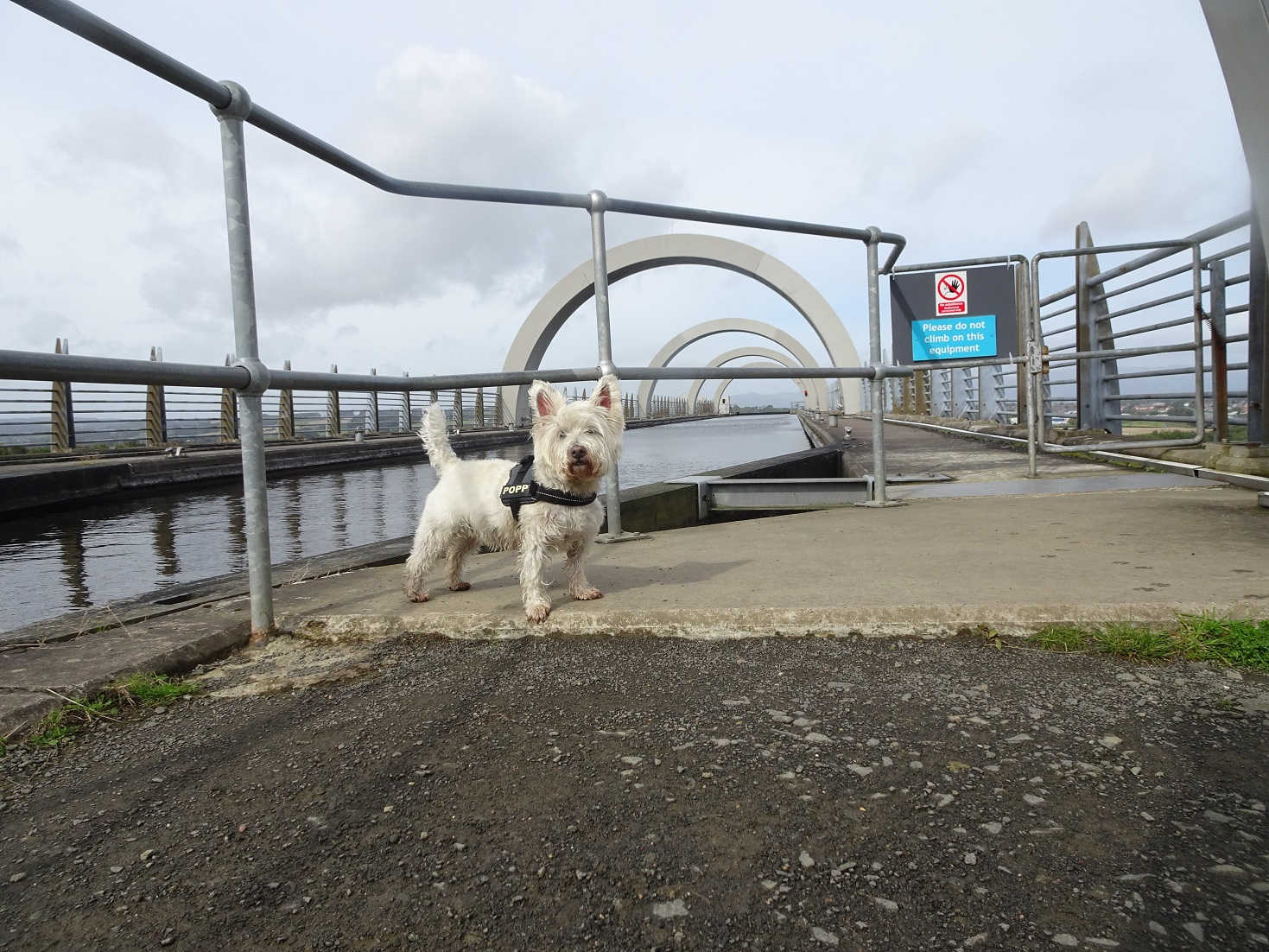 Do you think it went into the black hole mum? Can we go see? Lots of smells in the black hole. In we went but there was no boat to be seen.
When we got out the other side I knew where we were. Dad guess where we are. Ha, Told you so! I said we should have went this way!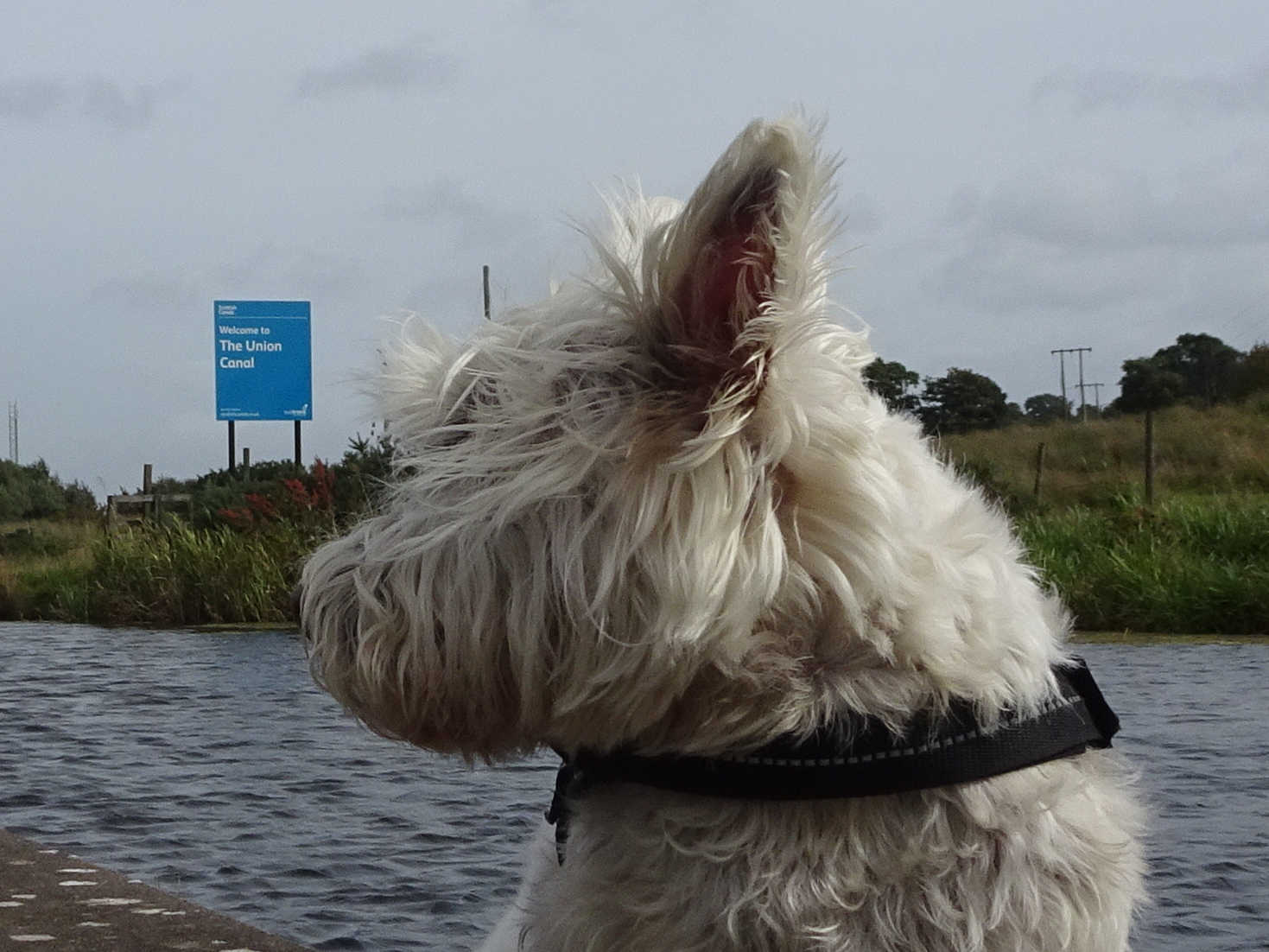 We crossed the canal and took the path back to Betsy. On the way we saw a strange sign. What's a U.F.O. mum? Let's go see. Up the path we trotted, up and up. I'm not seeing anything except trees and muddy puddles. Do you think we will find the boat up here? We have walked for miles and miles, no boat or what ever a U.F.O. is. Dad had had enough and wanted to watch the football so we turned tail and headed back to Betsy.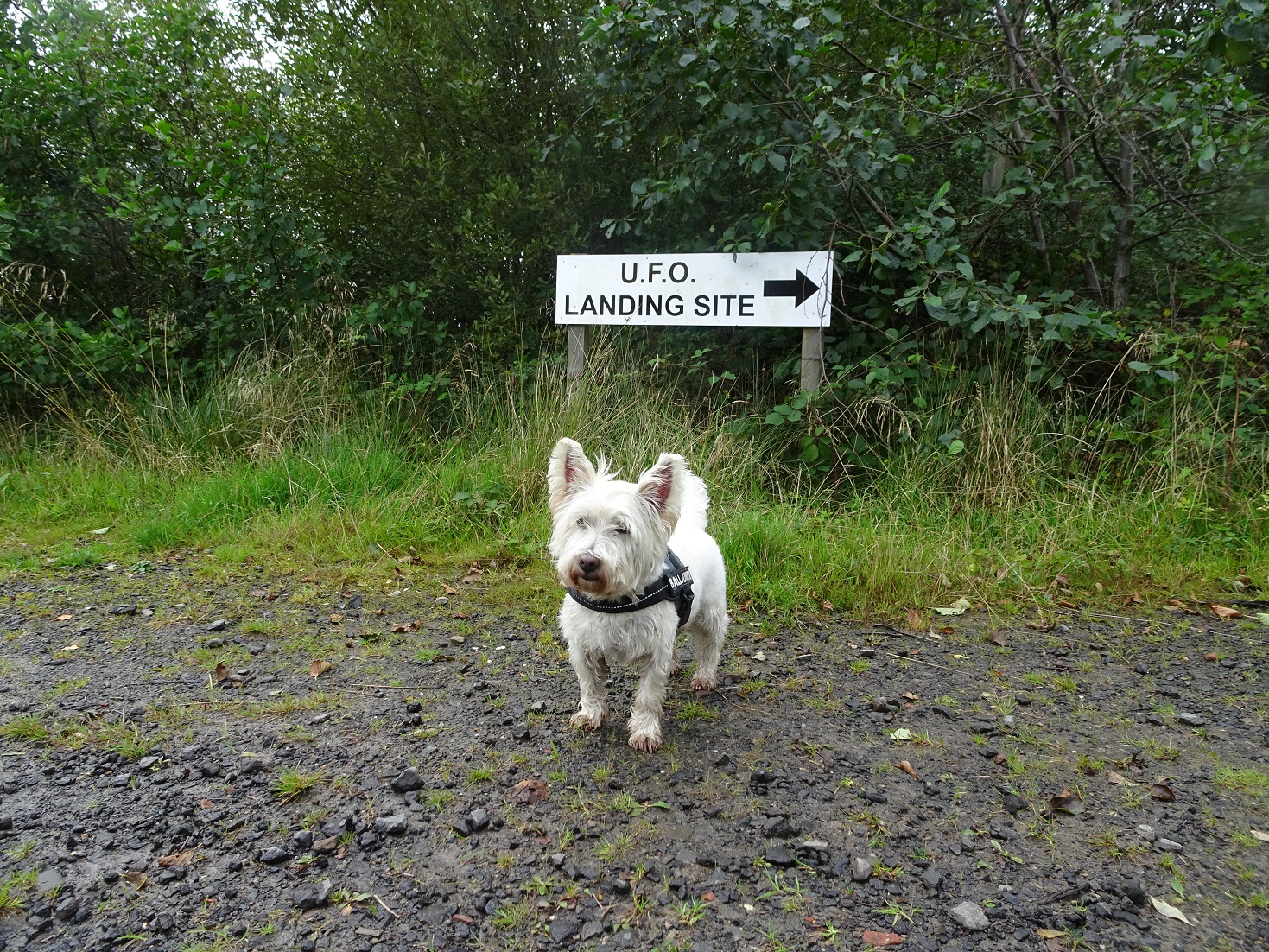 On the way back we passed the dancing hut, but it was quiet. No Dancing tonight then. Good, Poppys don't like baggy pipes, grrrrrr.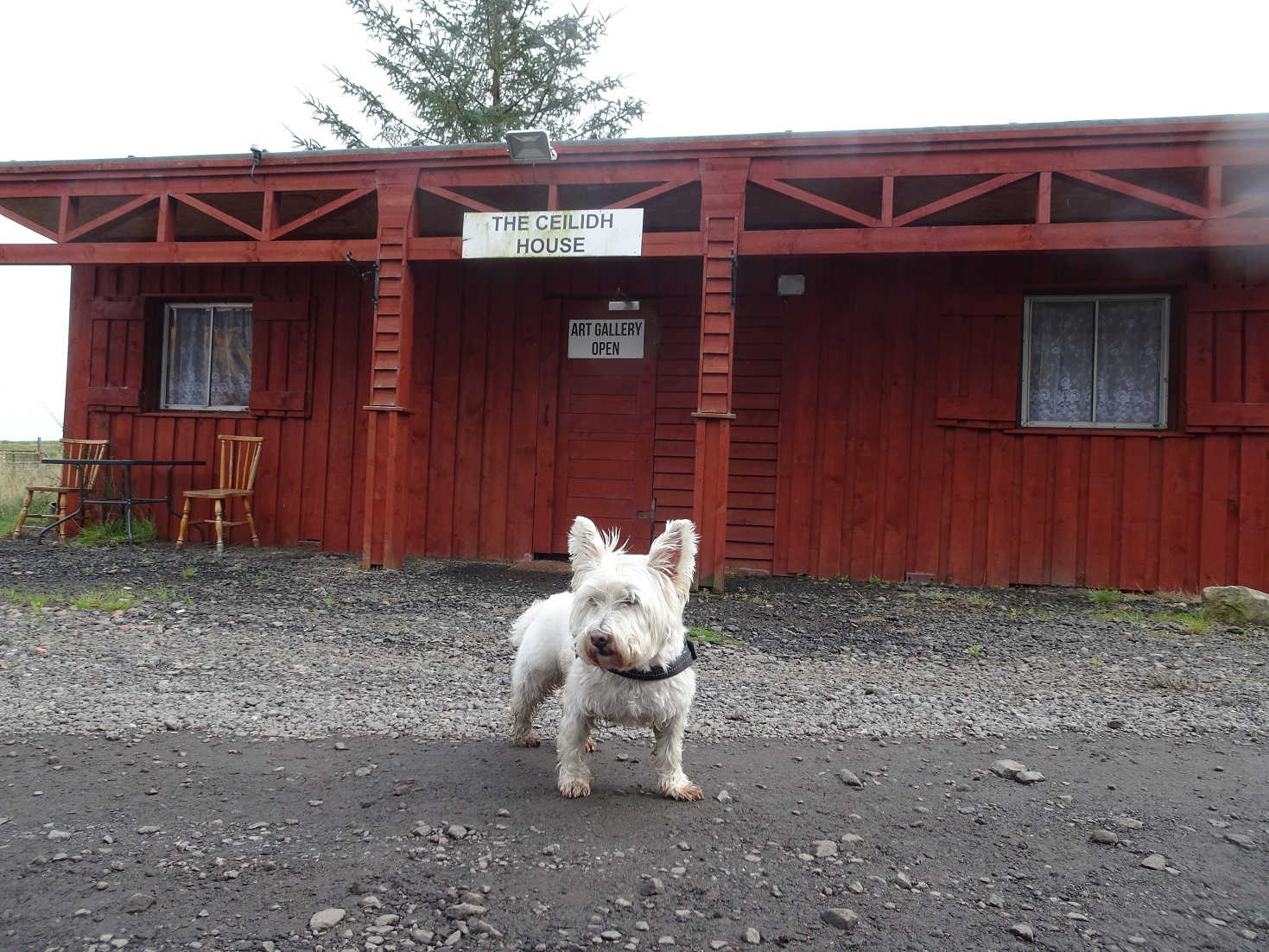 Back at Betsy she decided to move to a spot with more space, it was a better space I could go out on long leash.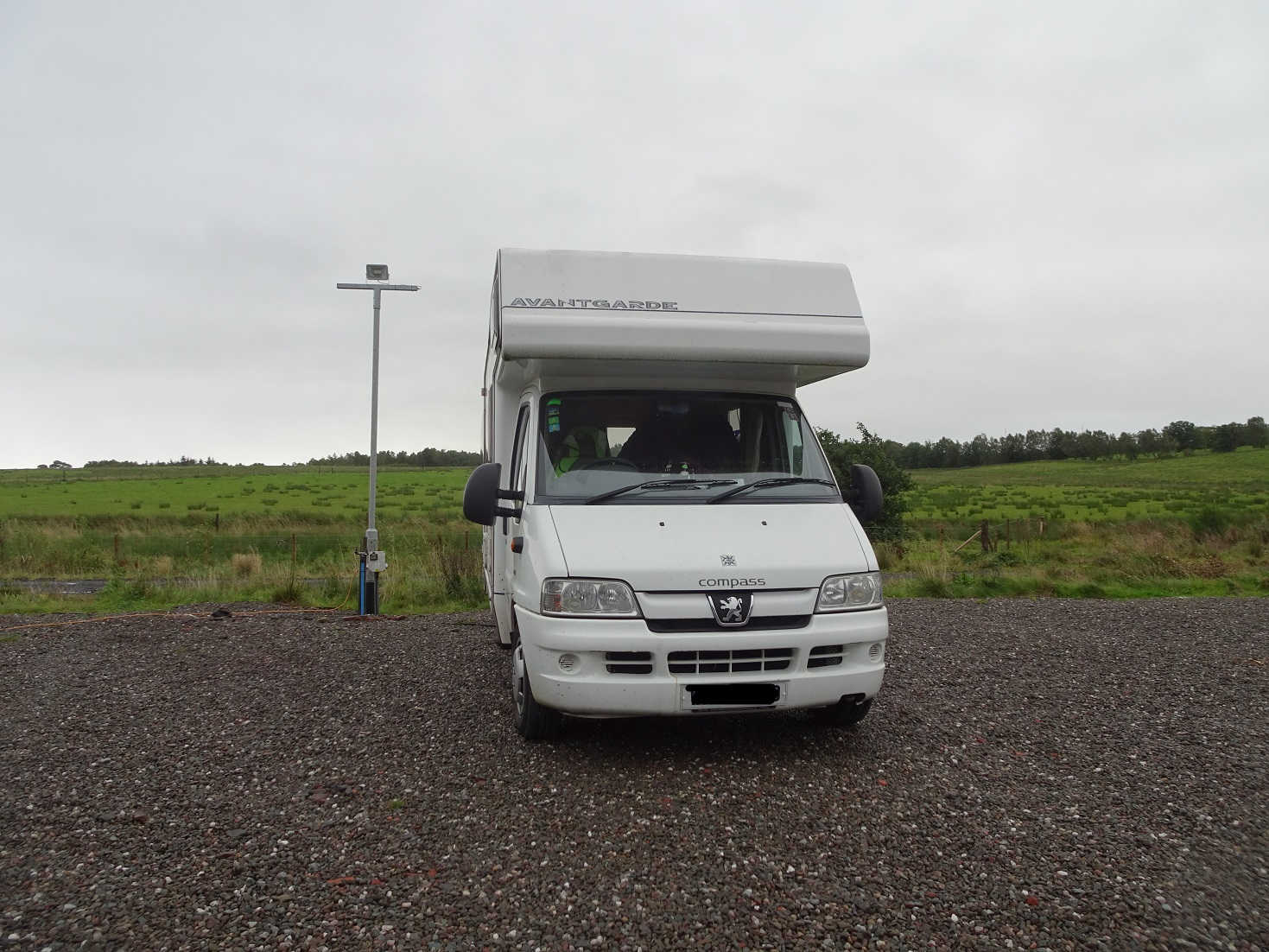 Dad settled into watch the football, time for me to rest my weary paws, so so so tired.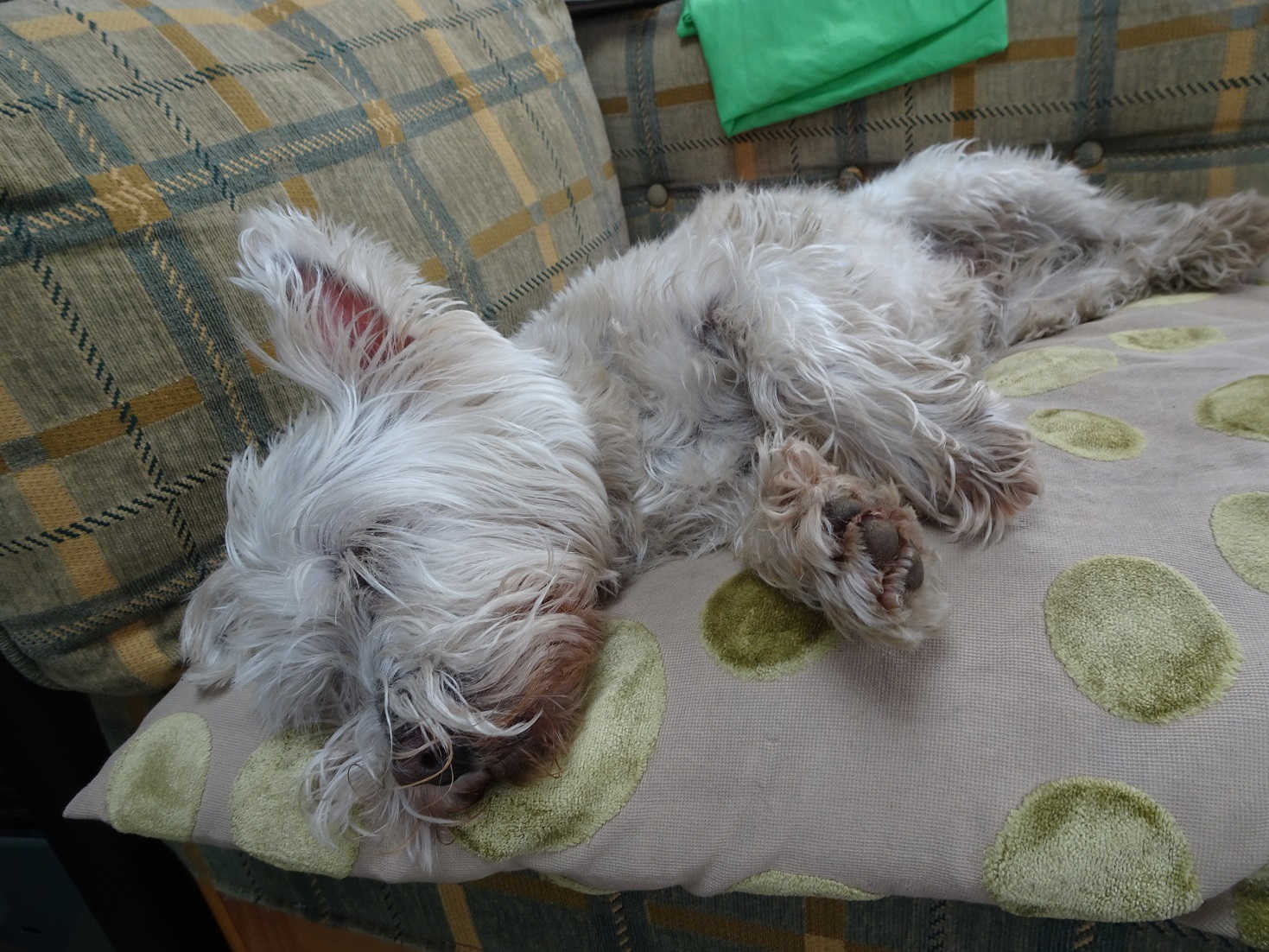 Dinner was last nights leftovers, suits me, I love left over YUM. For afters I had a carrot, So tired time for beds.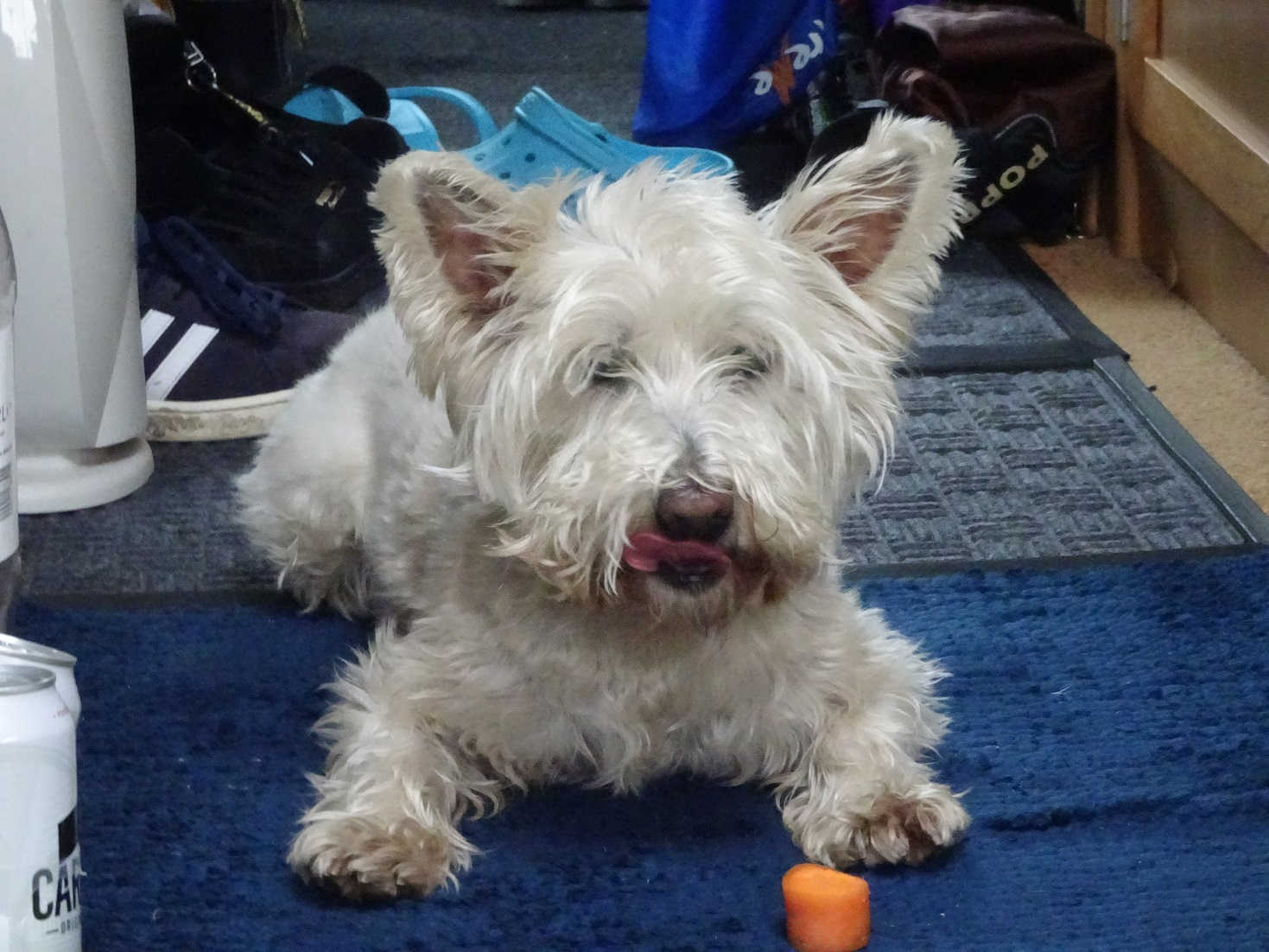 Funny, we left the next morning and were home in under an hour! How come it took twice as long to get there? Must have been mum's shouty talking box.