The sun is up and mum and dad have been talking to the very nice owners of the campsite. The upshot is Betsy is going to the Vets and the the lady campsite owner is going to show her the way. We said good bye to the Swiss peoplsees who gave mum and dad some shower tokens. Betsy avoided the tree and we went out the camp site following the lady's car. When we got to a place called Omegna the lady took us to a place called Spetzia Gomme the Motor-home vet.
The vet did not speak English but communicated that Betsy needed two new paws. Mum and dad had a talk and decided Betsy need 4 new paws. New paws for Betsy is expensive 640 Euros! We went for a walk while the vet worked on Betsy.
New paws Betsy was happy, she sped back to camp getting a big drink of Diesil on the way. When we got back new peoplsees from Germany were next to us. Dad managed to get Betsy back in her spot without hitting the tree. Time for Holidays to realy start. Campsite was made ours, sunbeds out awning out relax.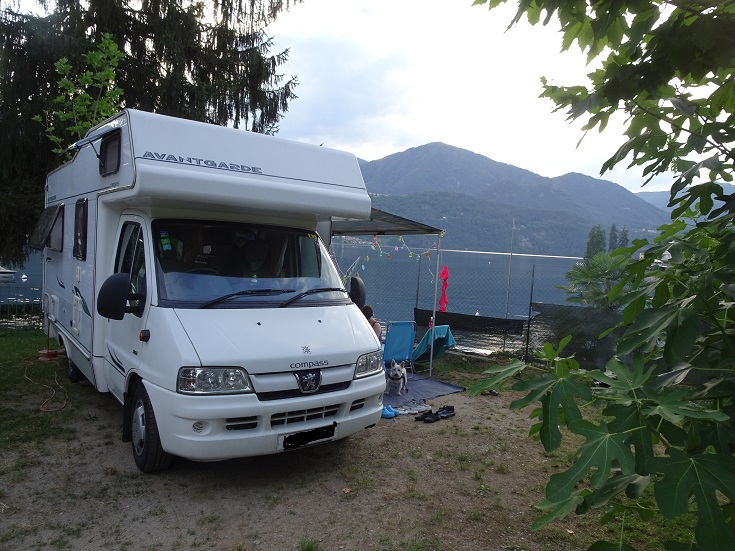 The Germans next door have a dog, he is called Baloo, Baloo is nice. It got hotter and hotter, Dad put on my new cool vest for me, I am liking cool vests. What Im not liking is cold deap orta! Mum and dad took me down to its shore they went in They tried to get me to go in but I was having none of it. as soon as dad turned to mum I was offski. Had chased me along the path into camp and found me with Baloo. He was not happy. I got the job to guard camp as he went back to Mum. After he forgave me I had a right old lazy afternoon. For dinner dad made a barbeque, sausages yum.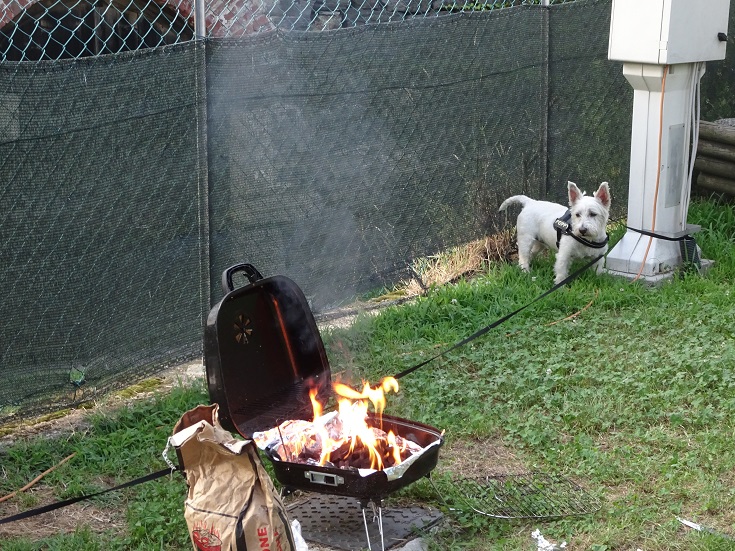 The sun went down we moved inside and chilled the night away.