Today was to be an easy day. It started like every other, blue skys and hot. After brecky and we headed out the camp. The german peoplsees with the happy pill van had already gone but we said hello to the other German peoplsees with the old dog. We were going to the weekly market I like weekly markets, Dad always lets me sample the cheese and if I'm lucky salami if it's not to spicy, YUM! The market was held in the car park just across from the Carrefour. In the market there was stalls for everything. Dad tried to buy a shirt but they did not make them big enough for dad. The Cheese shop had mum and dads favourite "Occelli" Testun al Barolo. But it is too expensive so we never bought any. Mum went to the Carrefour for something to drink as I followed I could not belive my eyes, a long lost cousin! Two westies in two days! I went over to say hello. He was 5 and came from Switzerland.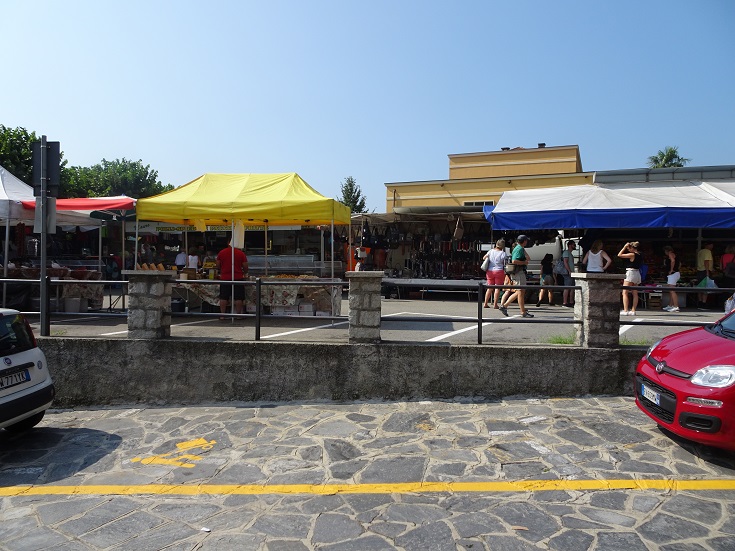 Mum came out and we went to Sano Banano, the place we had swidees the other night. Daft da could not remember if he had booked a place for tonight so had to go check. He had.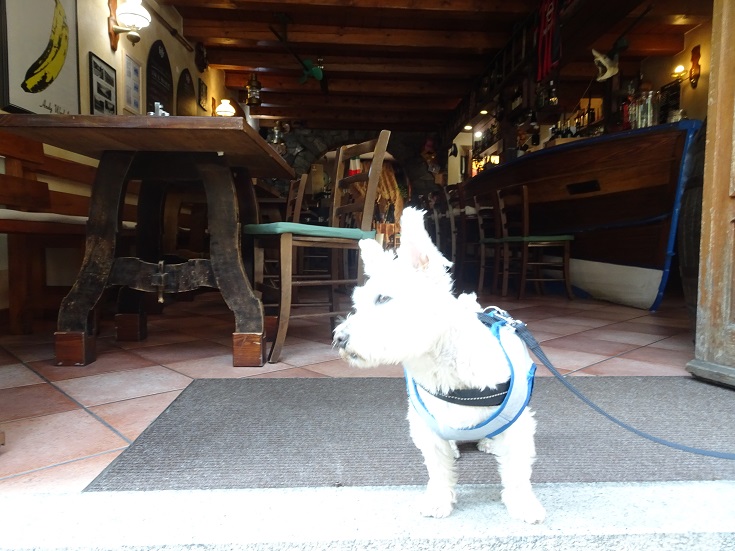 Mum wanted a fridge magnet and the only place to get one was down at the boat stop. Look mum! another one of my cousins! This cousin was Italian and lived on the hill above the town. His coat was long. I asked him how he copes with he heat? He told me he only goes out at night and the morning. Good idea. Mum time to go back to Betsy?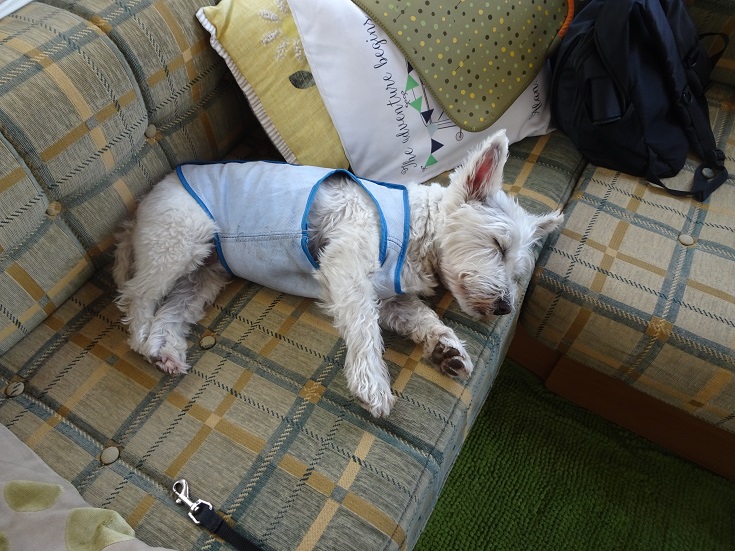 Back at Betsy I spent most of the afternoon inside in front of the fan. Suddenly things changed. A gust of wind blew through Betsy followed by more. Outside everything was getting blown and the Betsy's sun screens looked like they would be ripped from the ground. Dad went out and tried to pin everything down, he soon gave up,wound in he sun screen, put he beds into the back box and settled for pinning the ground sheet. Every thing was covered in dust, even dad!
We all took cover in Betsy for the rest of the afternoon. The wind died down at the start of night time. We ventured out for dinner at Sano Banano. The Germans with the old dog decided to pack up as well. Dinner was great mum gave me Kong with a denti in it, dad gave me squidees. When we left Mum forgot Kong. Poor Kong lost forever in Italy. Maybe my cousin will find it. Walking along the front I got to play ball. It was fun but then disaster! mum chucked ball it bounced along he path over the edge and into Lake Maggiore! It was too far out to get back. Mum why you chuck ball into the lake? Some night Lost Kong, Lost Ball what next?