I woke up on the big bed mum and dad were faffing about. No sooner than I had a big stretch dad was giving me a denti stick. YUM Poppys loves denti sticks. I have started to notice something about morning denti sticks, they make mum and dad vanish. As soon as I finished it they were gone. I checked the room they were nowhere to be seen. Suppose there is nothing else for it, snooze.
When mum and dad got back, they had a treat for me SAUSAGE YUMMMMM. As I munched on sausage mum and dad put things into bags and bags into mini. Time for morning walks. We walked back into town through the carpark and into fields. We met a man and his dog he told dad about a temple in the forest, that sounds like an adventure can we go dad? The field was ok for playing ball but the woods surrounding it looked better. No matter what path we took we couldn't get down to the river, so it was decided, to the temple in the forest. Back in Mini and offski.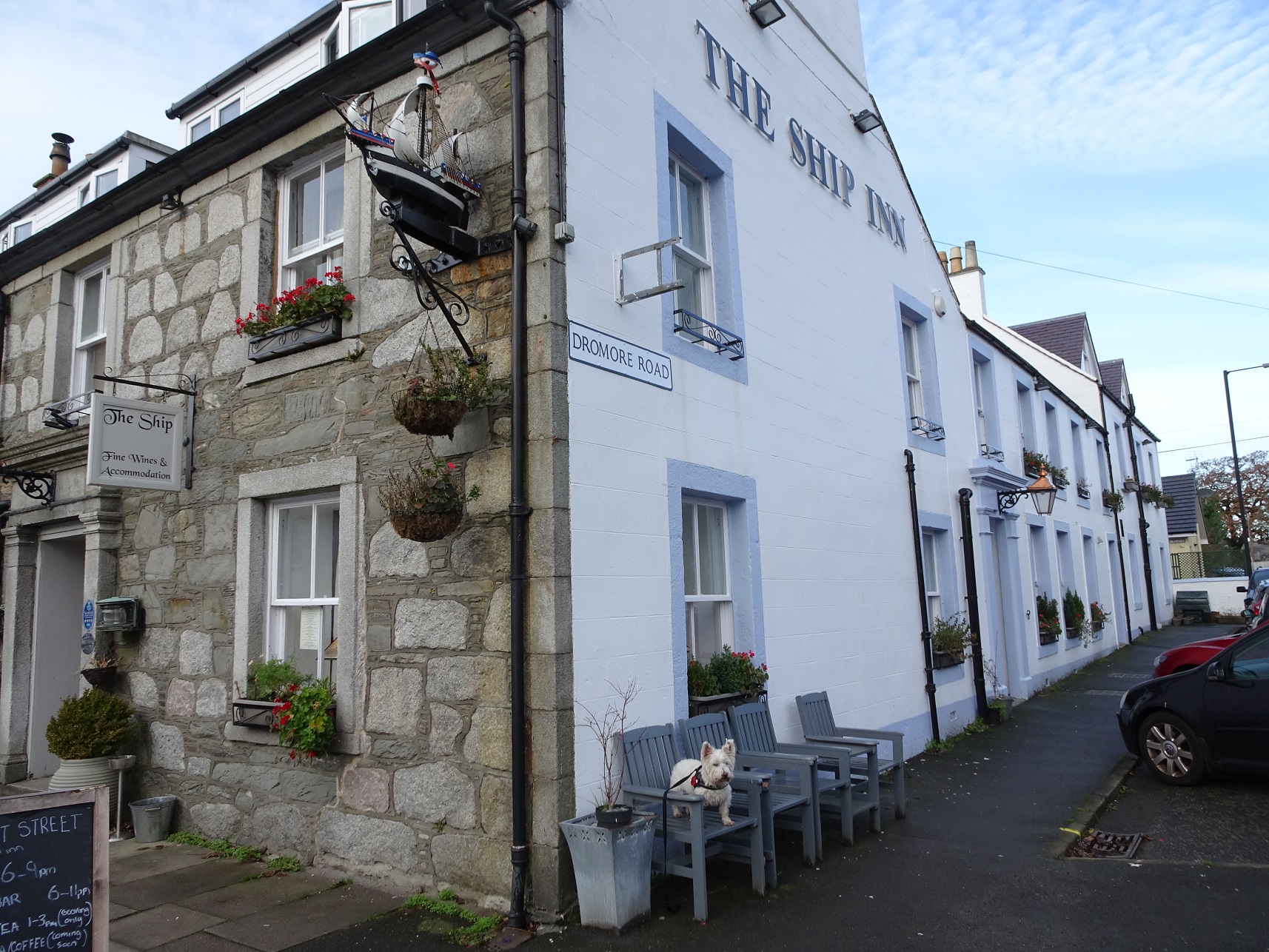 Mini went the same way as yesterday but stopped a lot earlier at a place called Cally Wood. We got out but because it was a road I had to stay on the leash. It wasn't long till we left the road into a field and freedom was restored. The path through the field ended with a strange wooden bridge that took us into the forest. Poppys likes forests. Lots of smells and places to explore. Deeper into the forest we saw it. It was not a temple it was a small castle in the trees. I bombed over to it, Mum, Dad hurry I barked. When mum and dad got here other peoplsees were exploring it as well. I was inside it, on its steps and even on its windows. Funny place for a castle. Can we go to the beach now?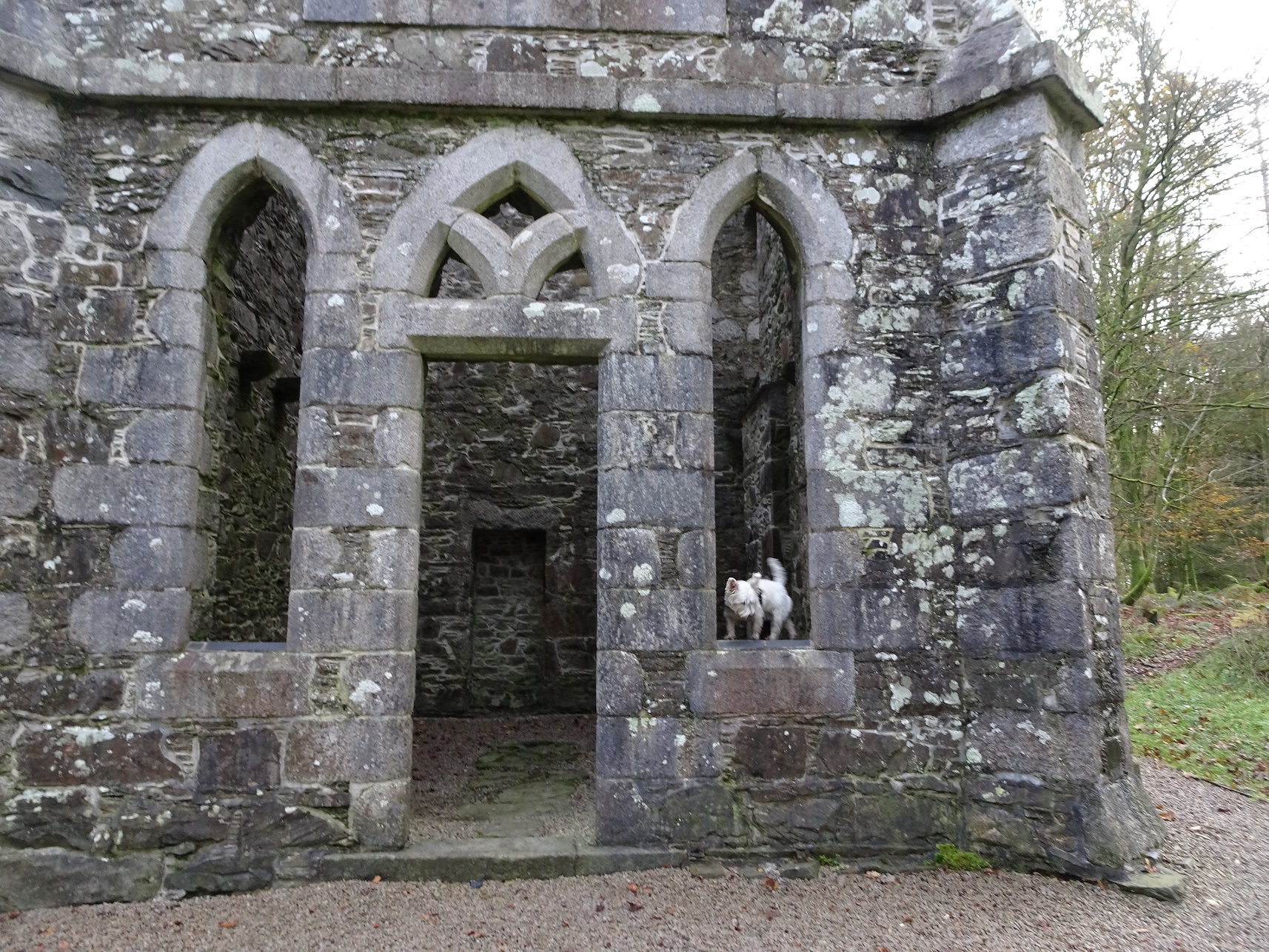 Back in the sun Mini went down the same road all the way to the scout camp carpark at Shorefield. We got out and headed straight for the beach. We met a lady who was picking up rubbish from the bay, nice of her to clean up beach on a Sunday morning. The tide was going out so we got to play ball. It was then I remembered that some beaches in Galloway are very very muddy! Soon I was black. Unfortunately mum found a rock pool to clean the ball……..and me! I dried off a bit on the walk back to mini.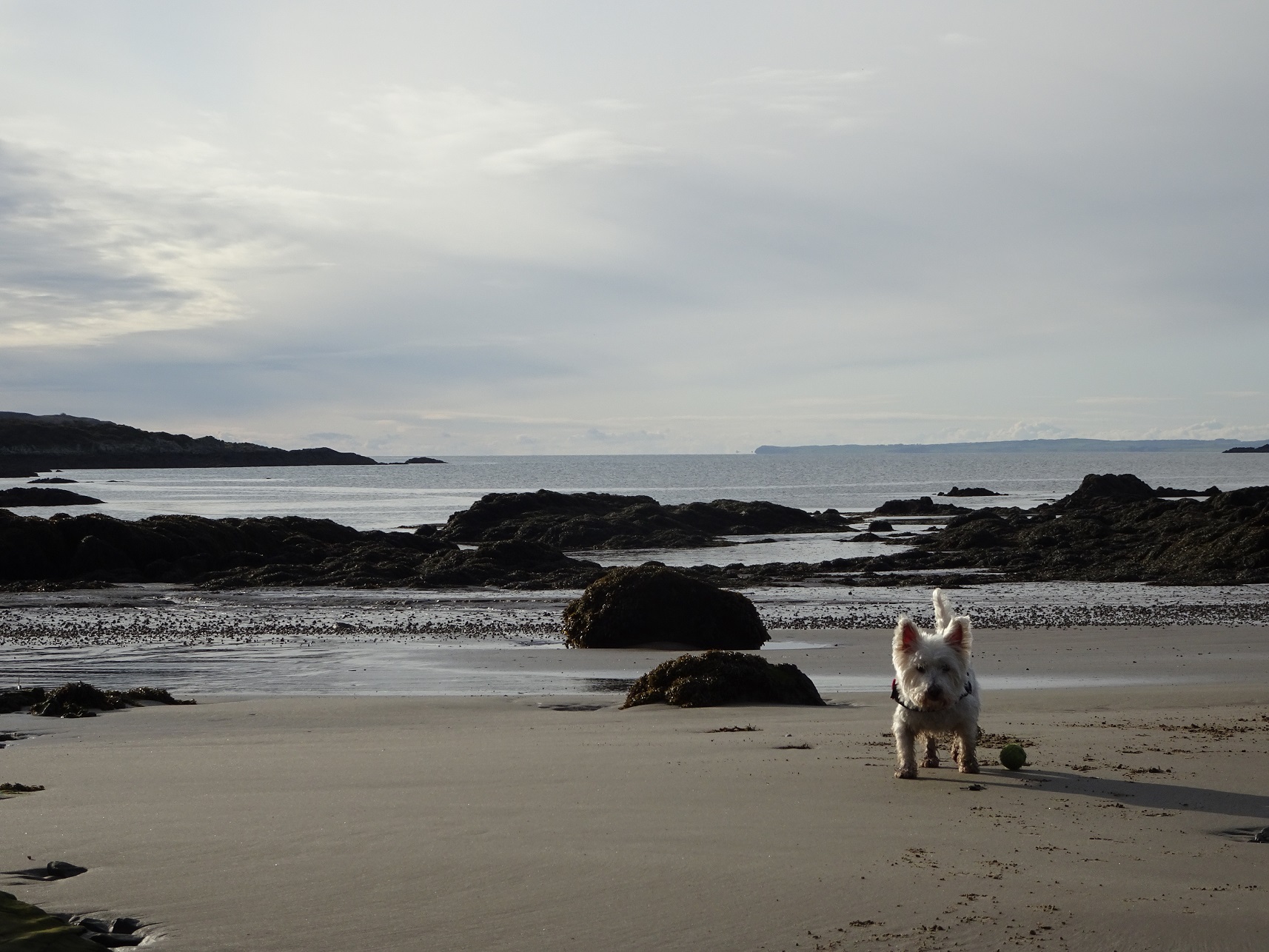 Time for the long journey back up the road. Before that we had to find a place for mini to have a drink of Diesel. Dad said she only had 18miles left in her. Castle Douglas to the rescue even if we did have to wait at the convoy roadworks, we made it.