Up early and off in mini. Because of a car crash we had to go the long way. It took ages down the wee road, over hills, tight bends, through forests and all the time by the Loch. After a snooze mini eventually found a bigger road, look dad this one can take two cars! It took a while but eventually I recognised where I was. Dad look it's Ardfern.
We going there? Mini zoomed past, not Ardfern then. Up the hill she went, past Craobh Marina, not the marina then. Mmmmm only other place is Arduaine. Been here a few times when I was a pup. Must be Arduaine.
Nope she wizzed past. So where we going? A little later mini came to a large town, I put my nose out the window, sniff, sniff, I know this place we were here in the summer its Oban. Mini found a place to rest high up from the harbour. Where we going? "Going to play ball poppy" said dad. Sounds good to me. First we had to climb a big hill and at the top steps. Up we go then. At the top was a big castle, castles are good places to play ball.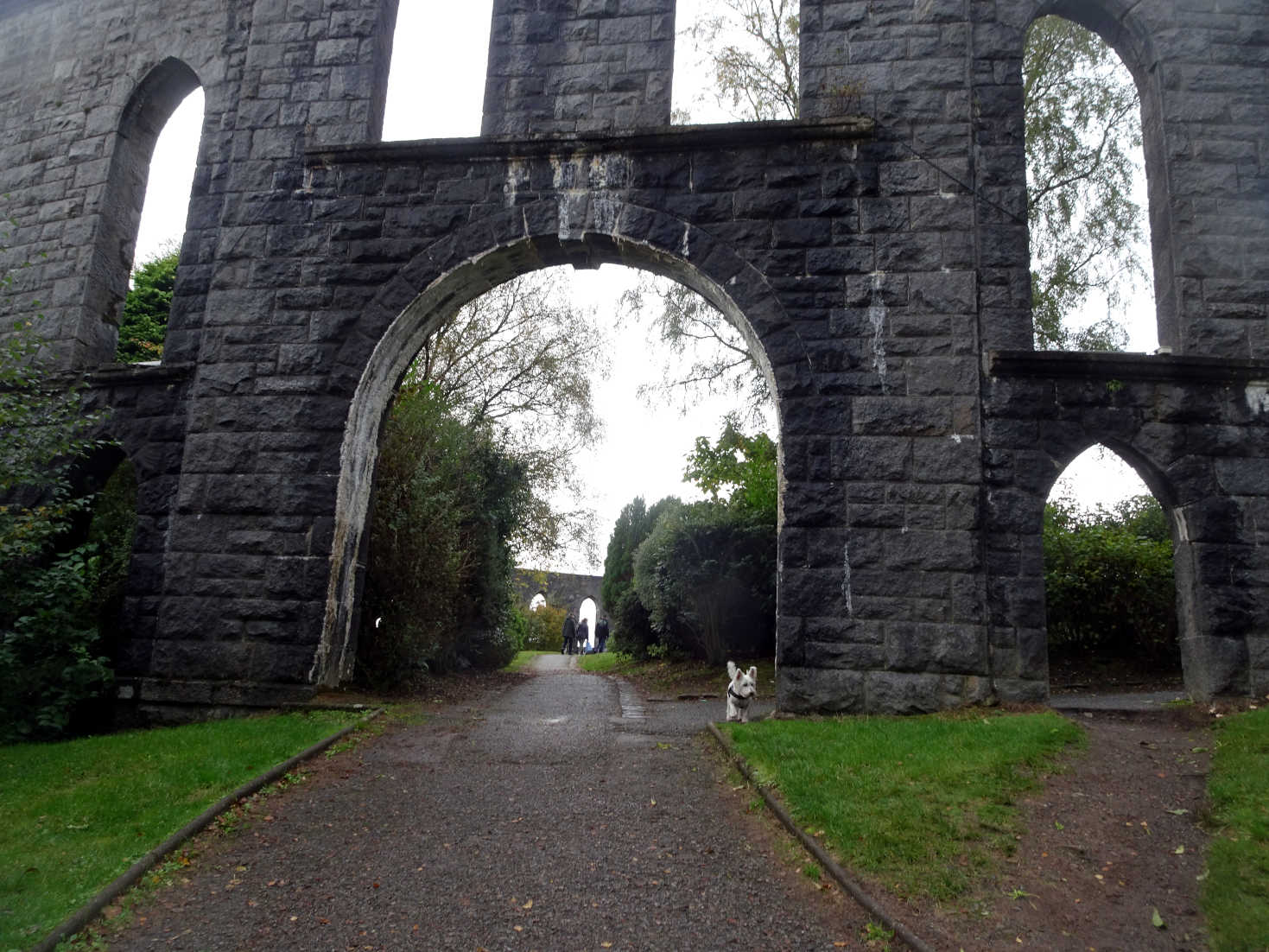 Inside there were lots of smells and places to explore.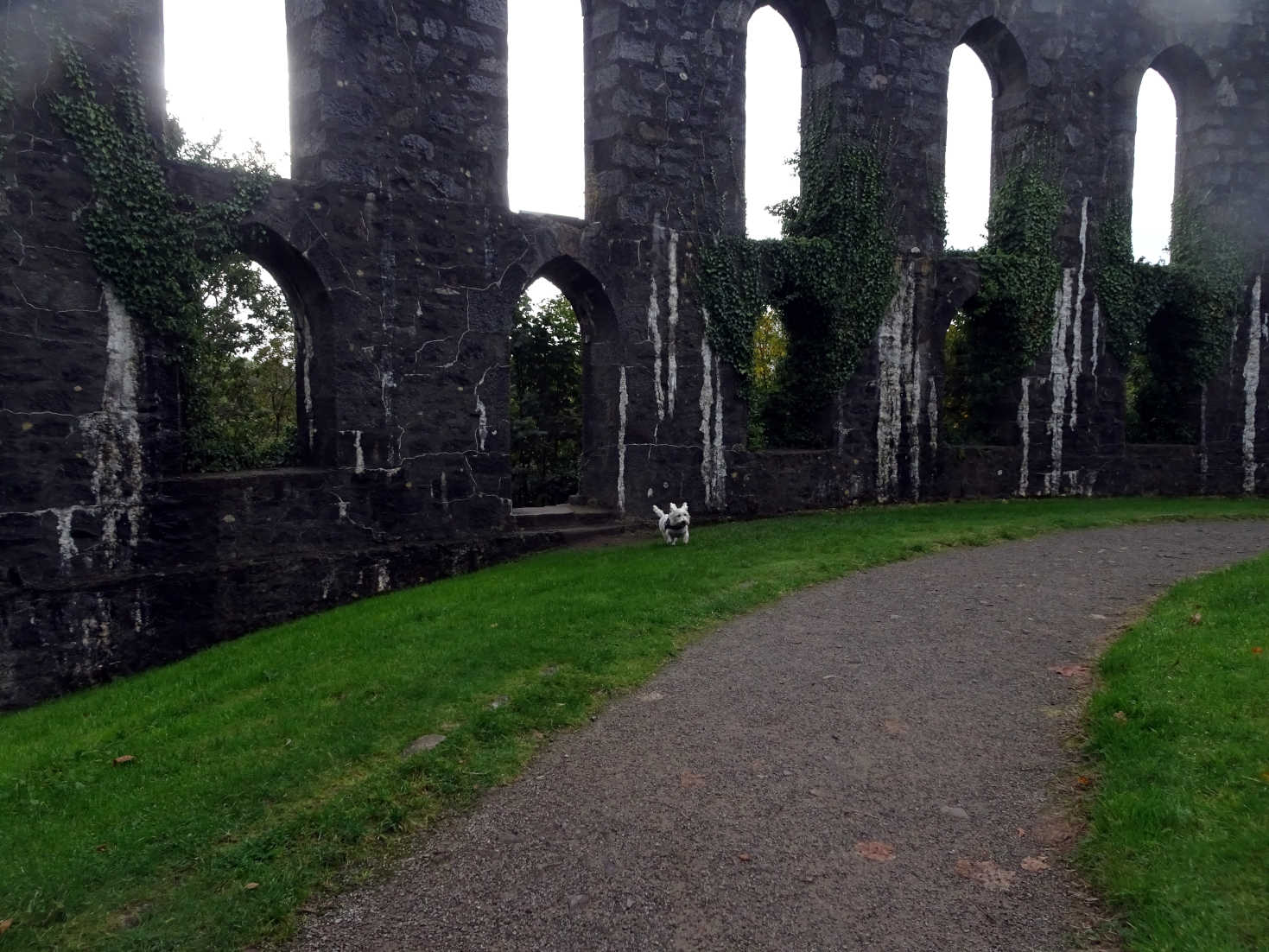 I was happy just having a sniff around, mum and dad liked the views, views? What views?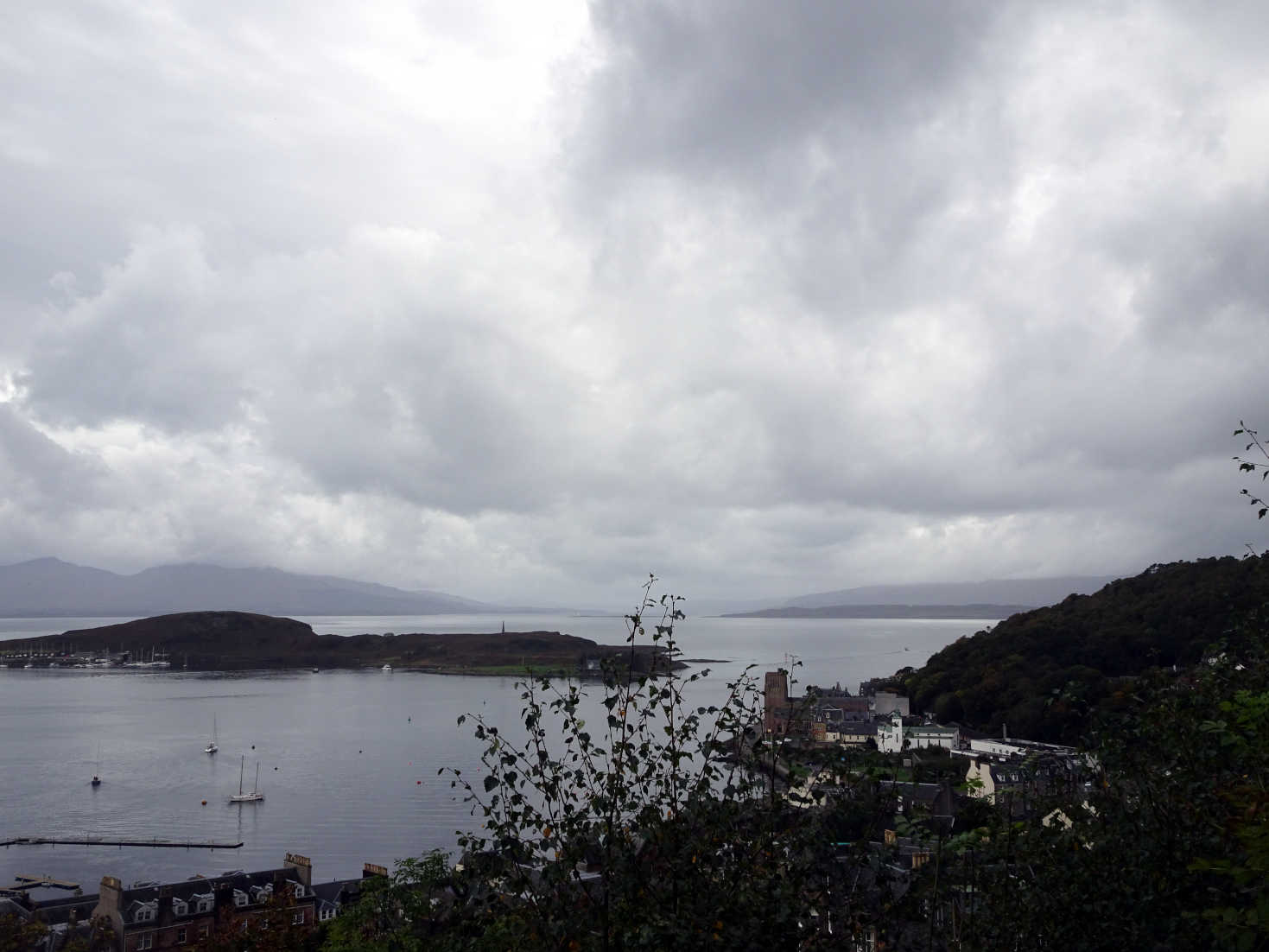 I couldn't get to play ball because a cat was on the grass, mum put leash on me, bloody cats why not let me chase cat? On the way down back to mini Dad talked to an old peoplesees about her garden, it was a big Garden. Mini took us down the winding roads to the front then she left. She headed away from the town and stopped beside some parked cars. Mmm can smell the sea. Look beach……BALL.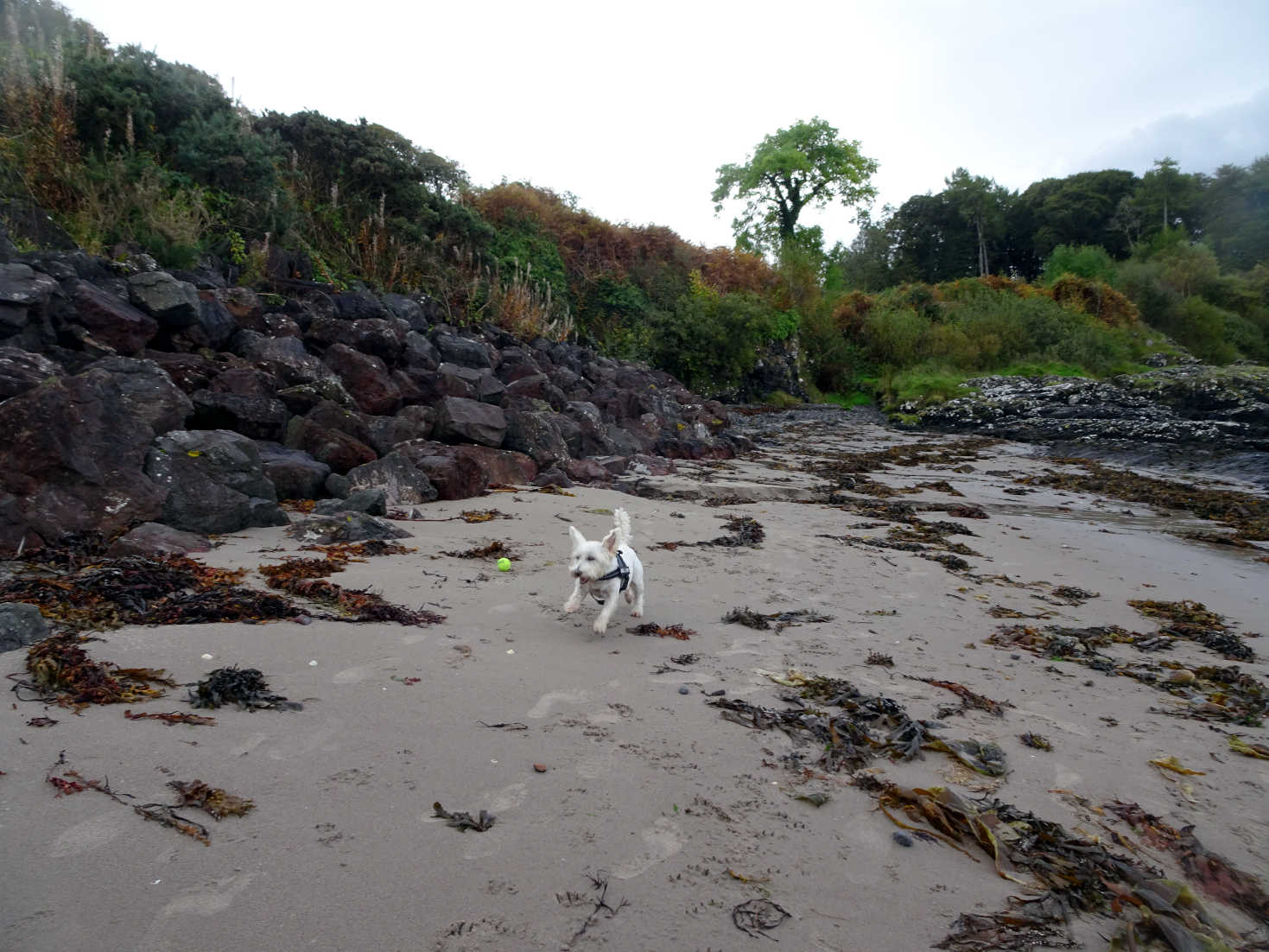 The beach was small and full of seaweed so we jumped back into mini and went further out. She stopped at a big car park in a place called Ganavan Bay. This is more like it better sand, no seaweed and much more space BALL BALL BALL! I looked at Mum, she said "Ive not got it Poppy." Dad? His hand went to his pocket BALL BALL BALL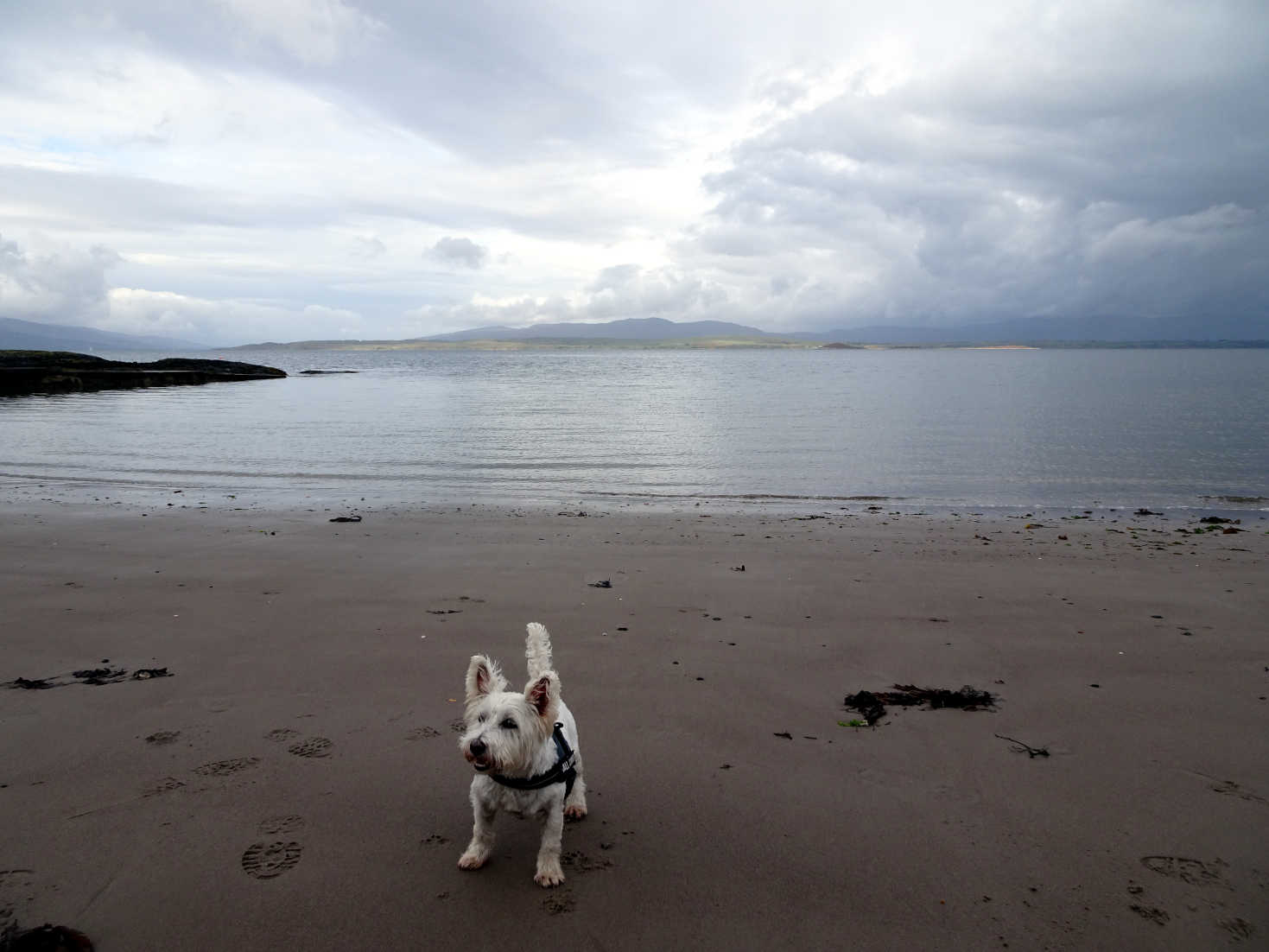 Good things don't last forever and soon Mini was taking us back to Obans. I wonder where we are going. Every time we have been in Obans we get a boat to the Islands. We going to Mull or Barra? Mini stopped in Tesco. Mini you daft? You don't get boats in Tescos! Why we here? Never mind lots of smells. I took mum and dad down to where the best smells were coming from..the port. On the way I saw a few of my cousins. We said hello but I couldn't stop long because my nose had a date by the Barra Ferry at the Oban Seafood Hut. As we waited the nice peoplesees came out and gave us free Muscles in wine, Poppys don't like musclesees, the peoplsee was shocked. "Take no offence, Poppys prefer scalopsees and smoked salmonsees" I said. Mum and dad got a seat at a big table and soon lunch came.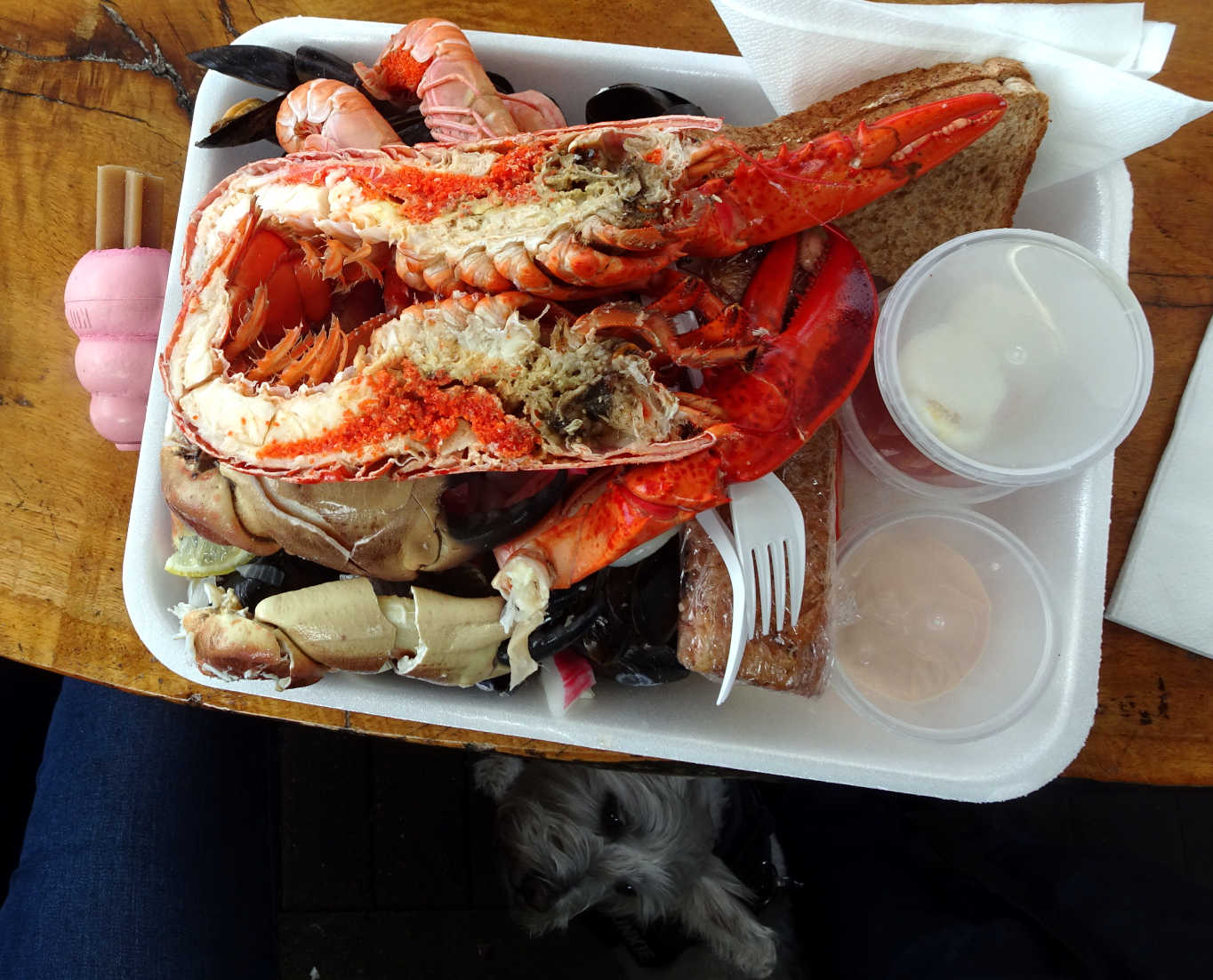 After lunch we went back into town where I met another of my cousins, dad met peoplsees from his work too. He didn't look too comfortable. I think its because they had escaped from the computer where he normally talks to them. He didn't act normal, wonder why? We explored the town and went back to mini. To get home mum put Taynuilt into her talky box. The woman in the box started to take us out of Obans, the roads got weer and weer soon we were in the middle of nowhere. On and on we went further and further into the wilderness. Wouldn't want to breakdown here!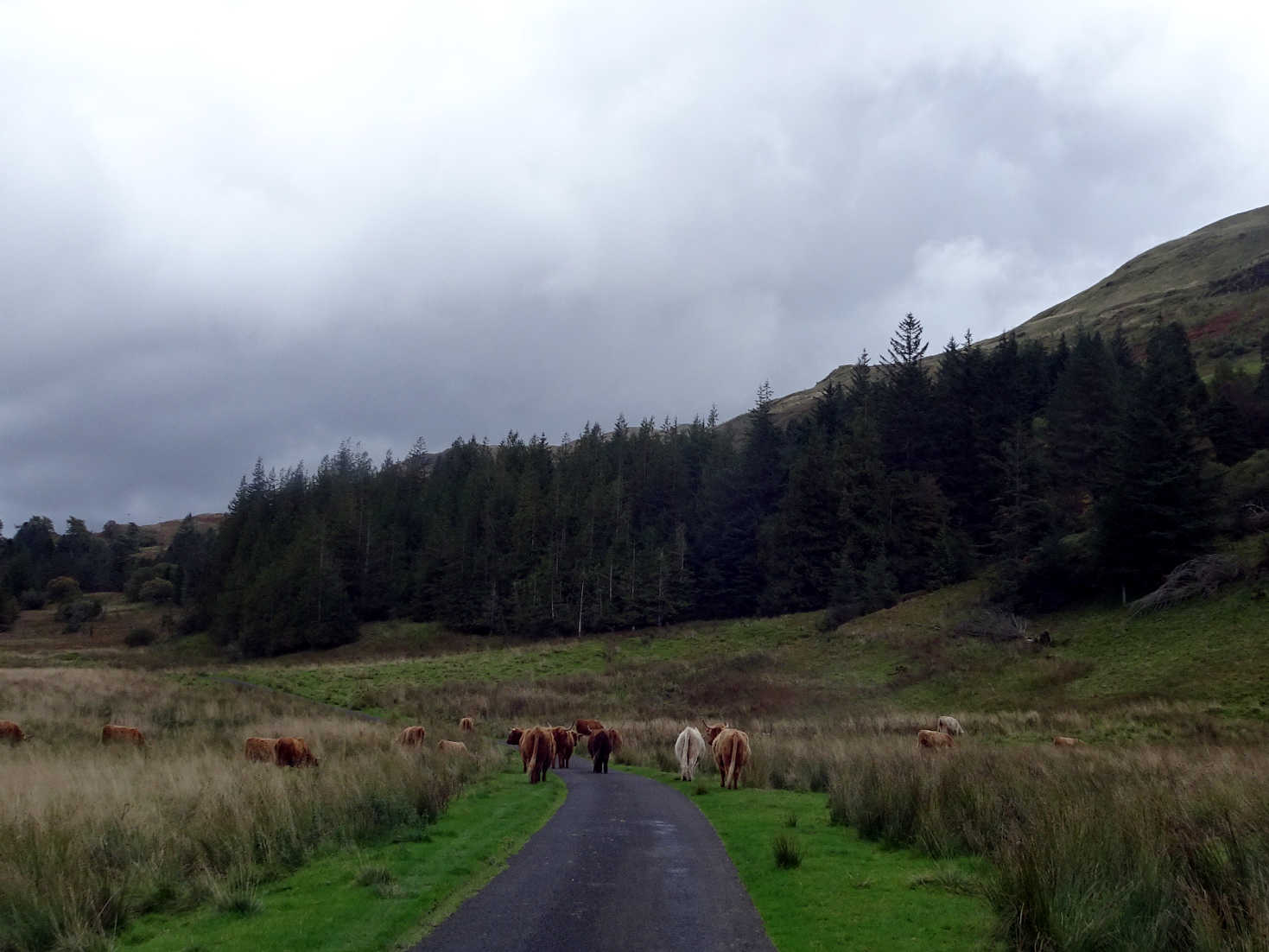 After an age we got to Taynuilt. Dad asked a peoplesee if road to Dalavich was open, she said give it a try, so we did. Mini had only gone a little way when a police girl stopped him. Road Closed Still. She said we could skip round the road block by going through the village. Sounds like a good idea dad. Three shakes of a westies tale later we were on the wee road that takes us to Dalavich and our wee hut. That was lucky Ahy dad?