Poppy goes back to Beadnell
Yesterday we got home from Dalavich, I checked the garden apart from the trace of a vampire dog and fresh squirrel smells all was normal. Mum and dad were buzzing about bags from mini into home bags from home into Betsy. Mmmm now that's not normal. I was right, this morning, after walks, we were all in Betsy and offski. It was a long journey, the sky was dark and she was crying so since nothing to see,snooze time. Betsy woke me up when she came to a halt, I opened my eyes and was dazzled, bright lite, blue skys. Mum and dad were getting out I jumped down to get out but dad said no. How come dad? Let me come. "Poppy, we are just going to Aldi to get supplies, your job is to guard Betsy" said dad. Grrrrrr not happy about this, anything can happen if I'm not there to protect them. The door shut. I jumped up on the seat and watched them go then disappear into the shop. I was so relived when the doors of the shop opened and they escaped. I gave them big wags when they got back. Betsy full of food and beer she was off again. We passed Lindisfarne and soon rolled into Beadnell. Mum, Dad, Betsy has brought us to the sandy beach camp site! I was so happy my tail would not stop wagging! Betsy went slowly through the camp all the way to the end and stopped at the very top in the sand dunes. I helped mum and dad pitch up so we could go and explore.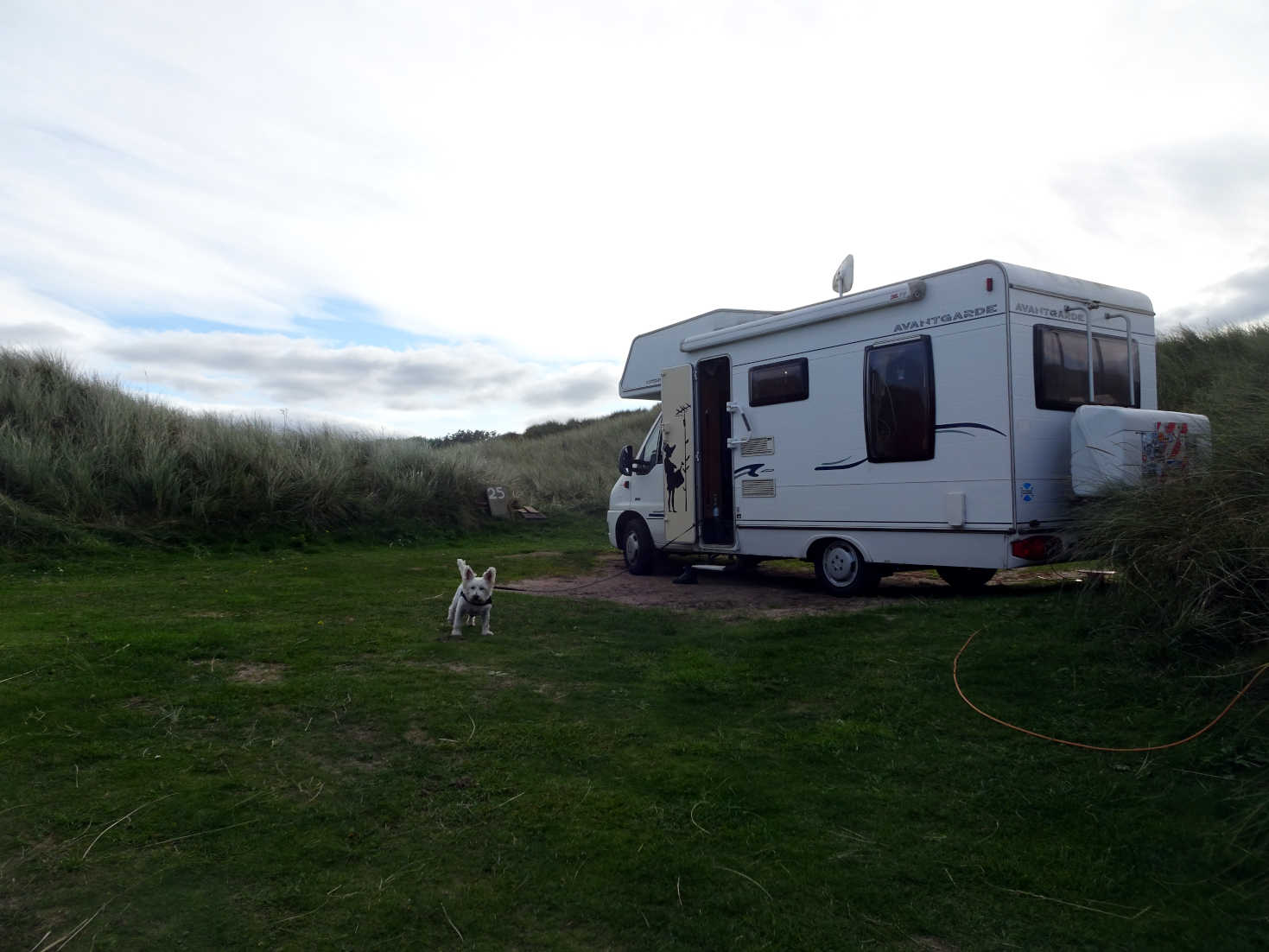 Beadnell is great because I'm off leash nearly all the time. As soon as Betsy's door shut I was off. I ran to the top of the hill through the grass and down to the beach. Mum, Dad, Hurry! Where are they? Better go back and round them up.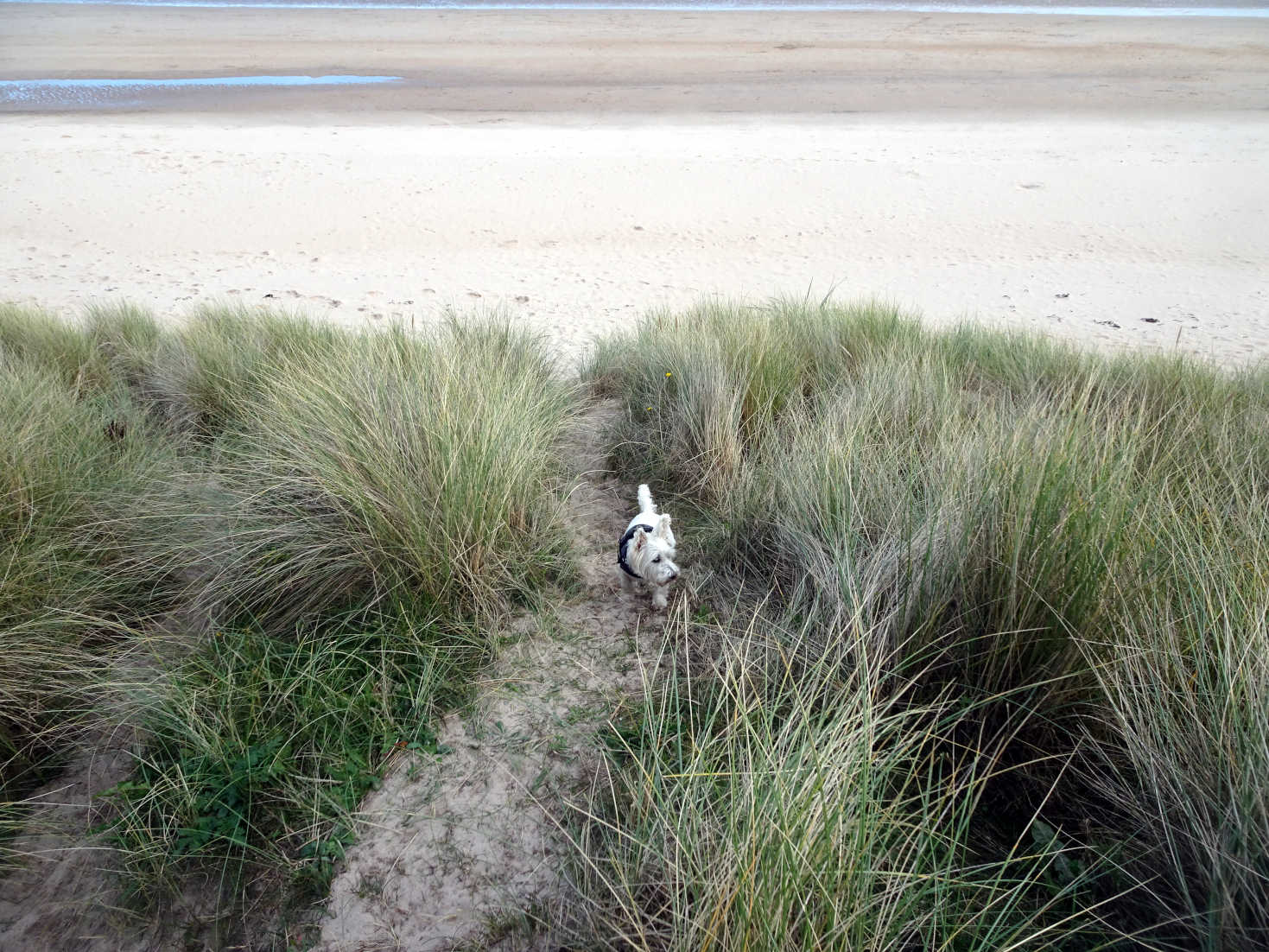 Dad started making a big arrow in the sand so we would know where Betsy was. Dad, stop being daft my nose knows exactly where Betsy is. Mum, Hurry up Mum.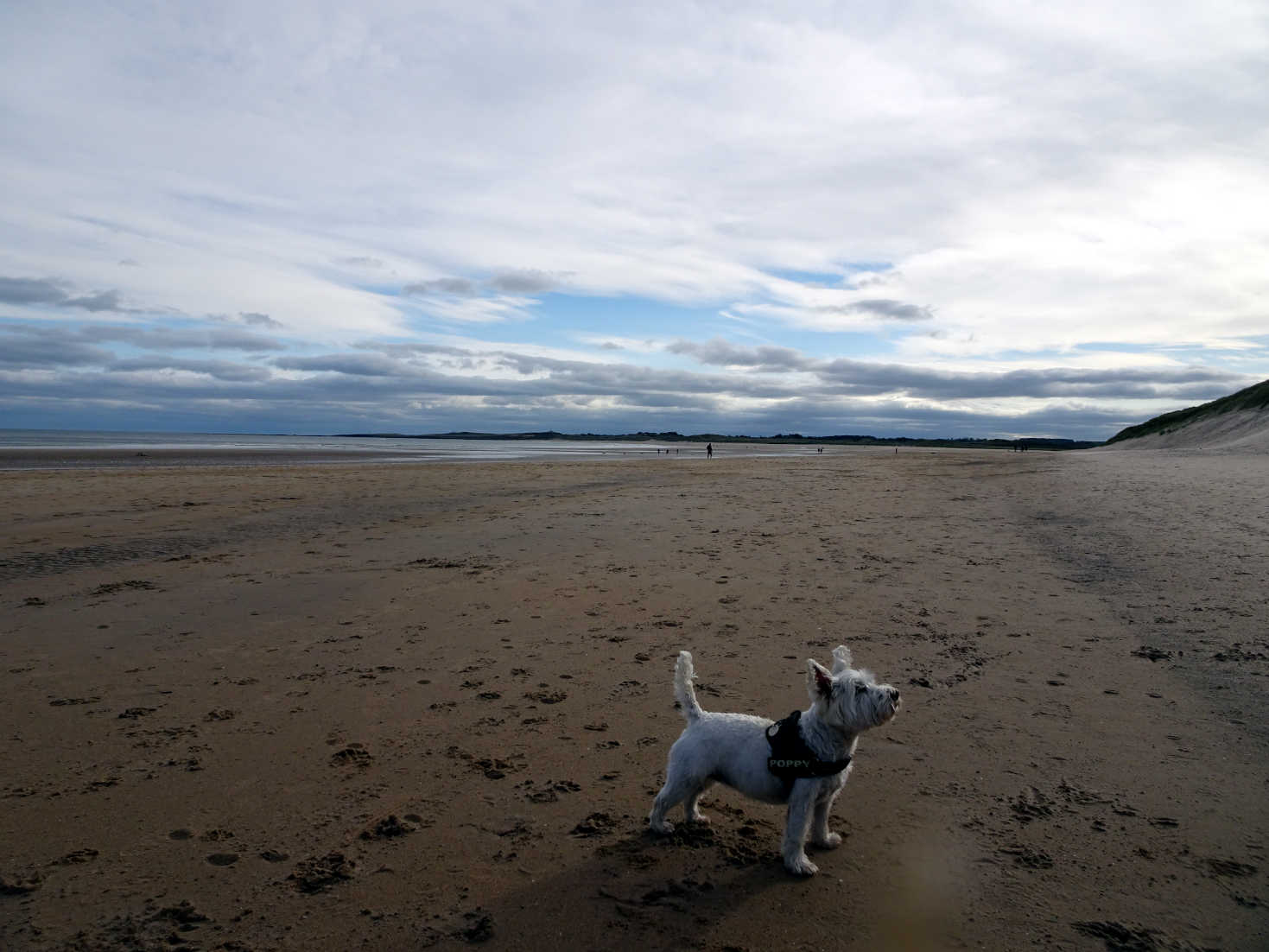 Eventually we were all on the beach, lets go. I jumped in front of mum pouncing backwards keeping eye contact, "I don't have it Poppy" she said showin me her empty hands. I jumped in front of dad Grough, rough, I looked into his eyes, he has it! Grough, rough, BALL! His hand left his pocket and game on! Through the sky it went, I was off, full pelt. One bounce, two bounces, Got it.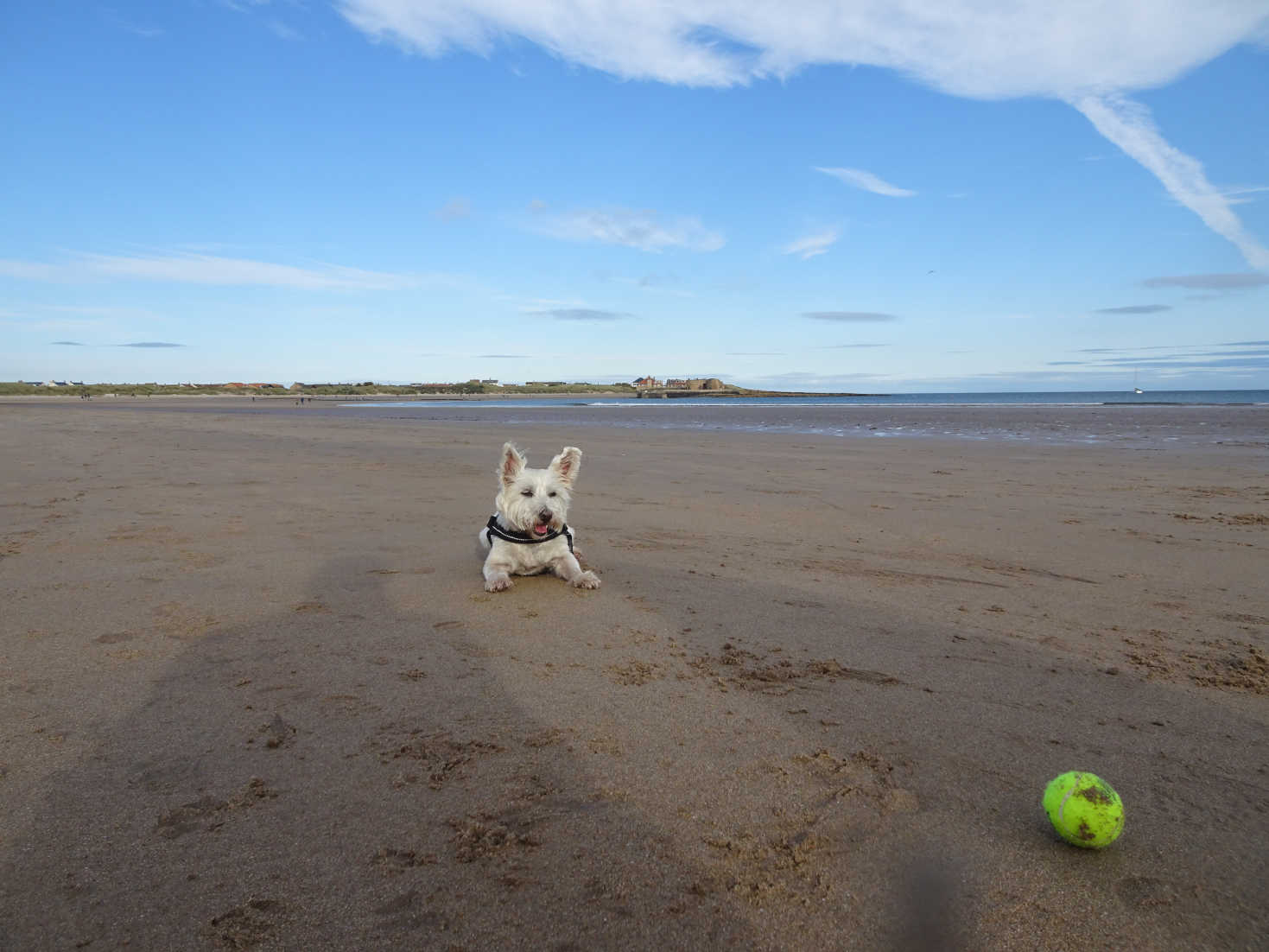 Again! Again! Dad tried to trick me. He pretended to kick it one way the the next. Punt. I was off, trum, trum, trrum. My paws pounded across the firm sand, bounce, quick birl to the right, bounce, I'm on it. One last sprint, focus, pounce, gotcha.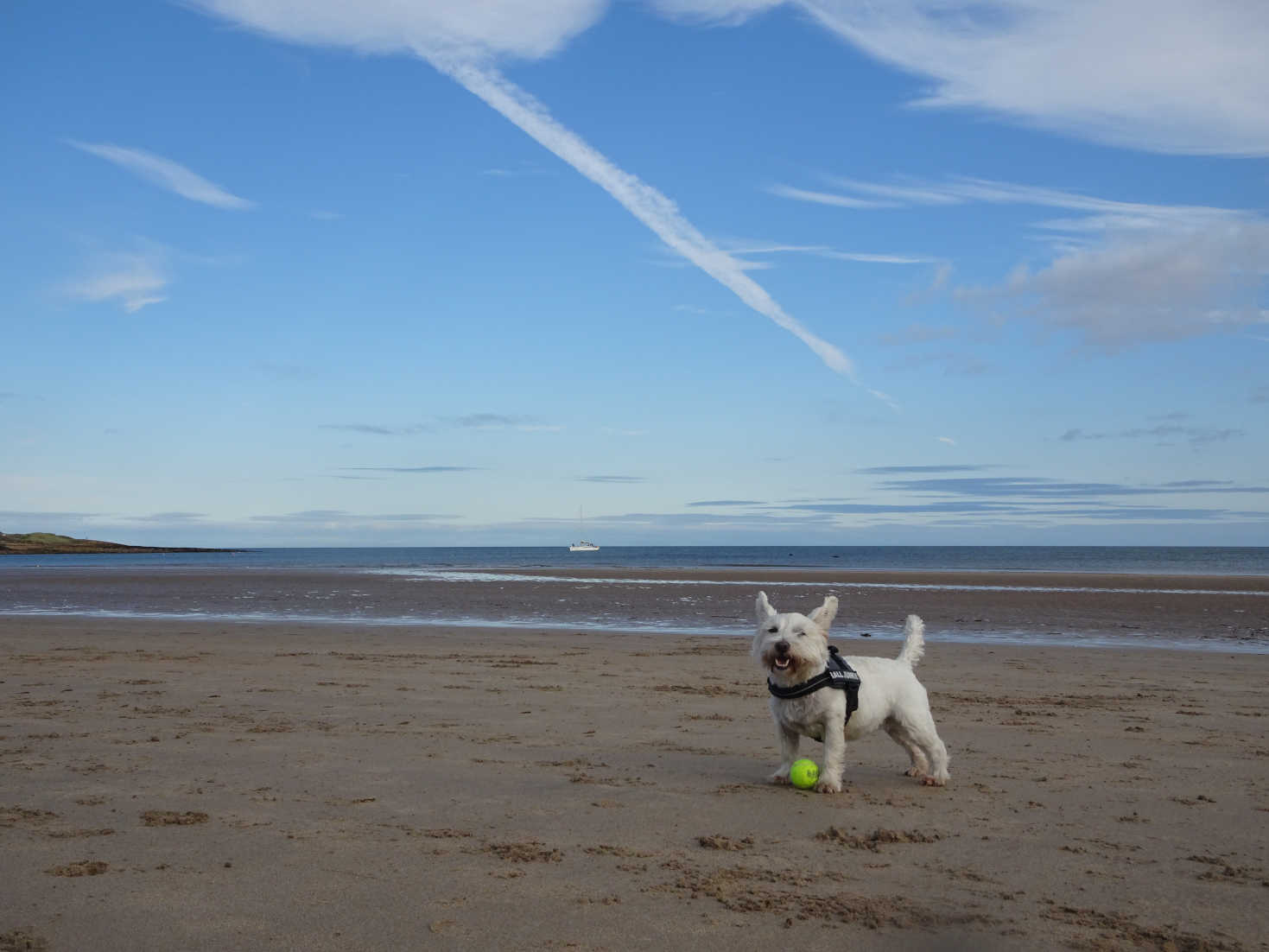 Mum and Dad kept walking towards the harbour. Mum, Dad what you doing? This is the best part of the beach for ball. I'm not moving. I knew if I stayed here long enough they would come back. They didn't. Grrrrrrrr, suppose I better catch up to them before they get into trouble.
I caught them up and gave dad a look. OK dad I'm here, might as well make the most of it, BALL! He chipped the ball, I was off again, as it bounced I jumped to catch it. I missed, it hit my nose and shot off to the boat on the beach by the harbour.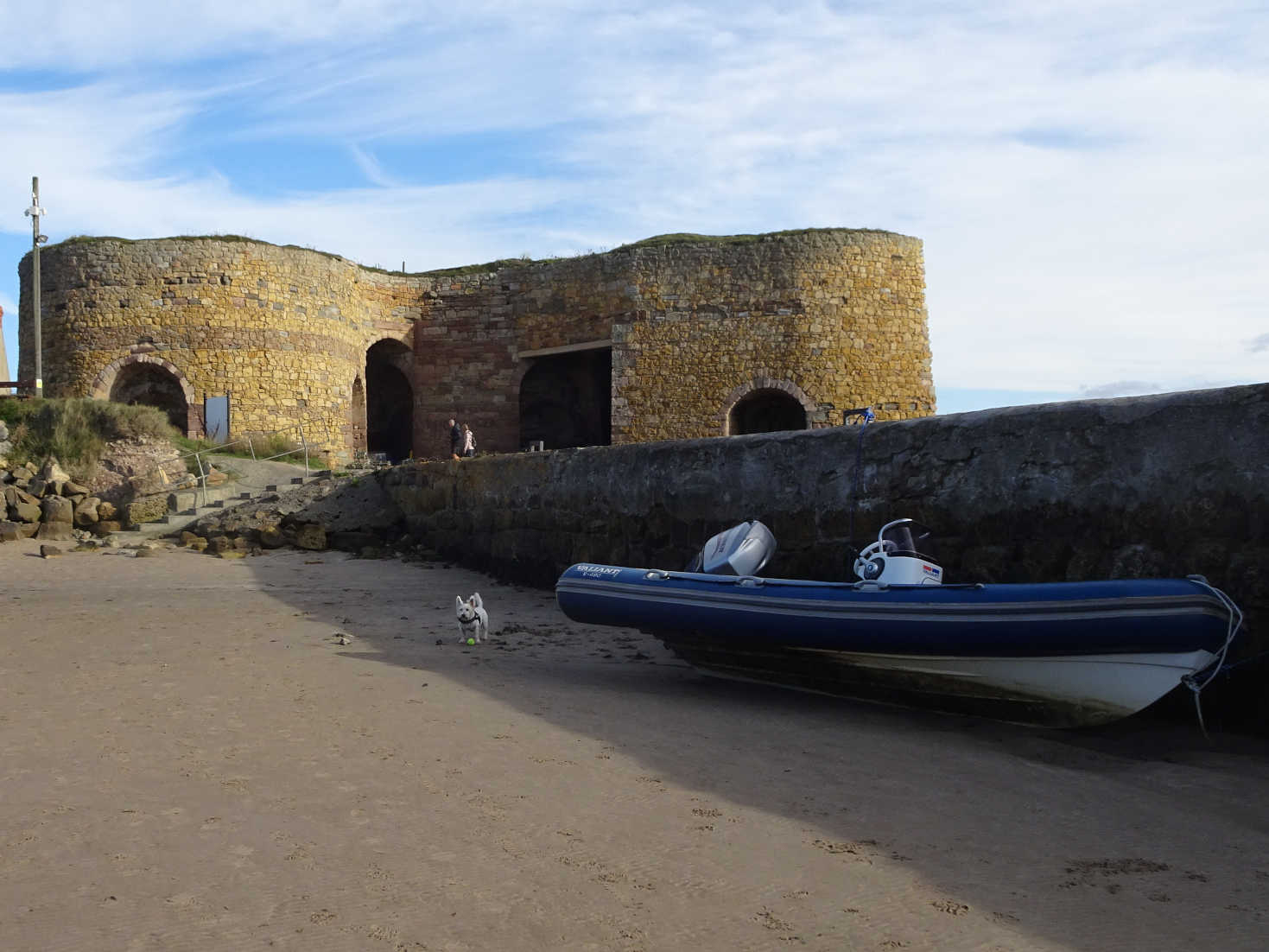 Sniff, sniff snif sniff sniff. Goto follow that smell. Nose down and track. When I raised my head I was surrounded by nets and the smells of crabsees and lobstersees, sniff, sniff, sssnnnniiiiiiiffffff bliss. This is pawsome.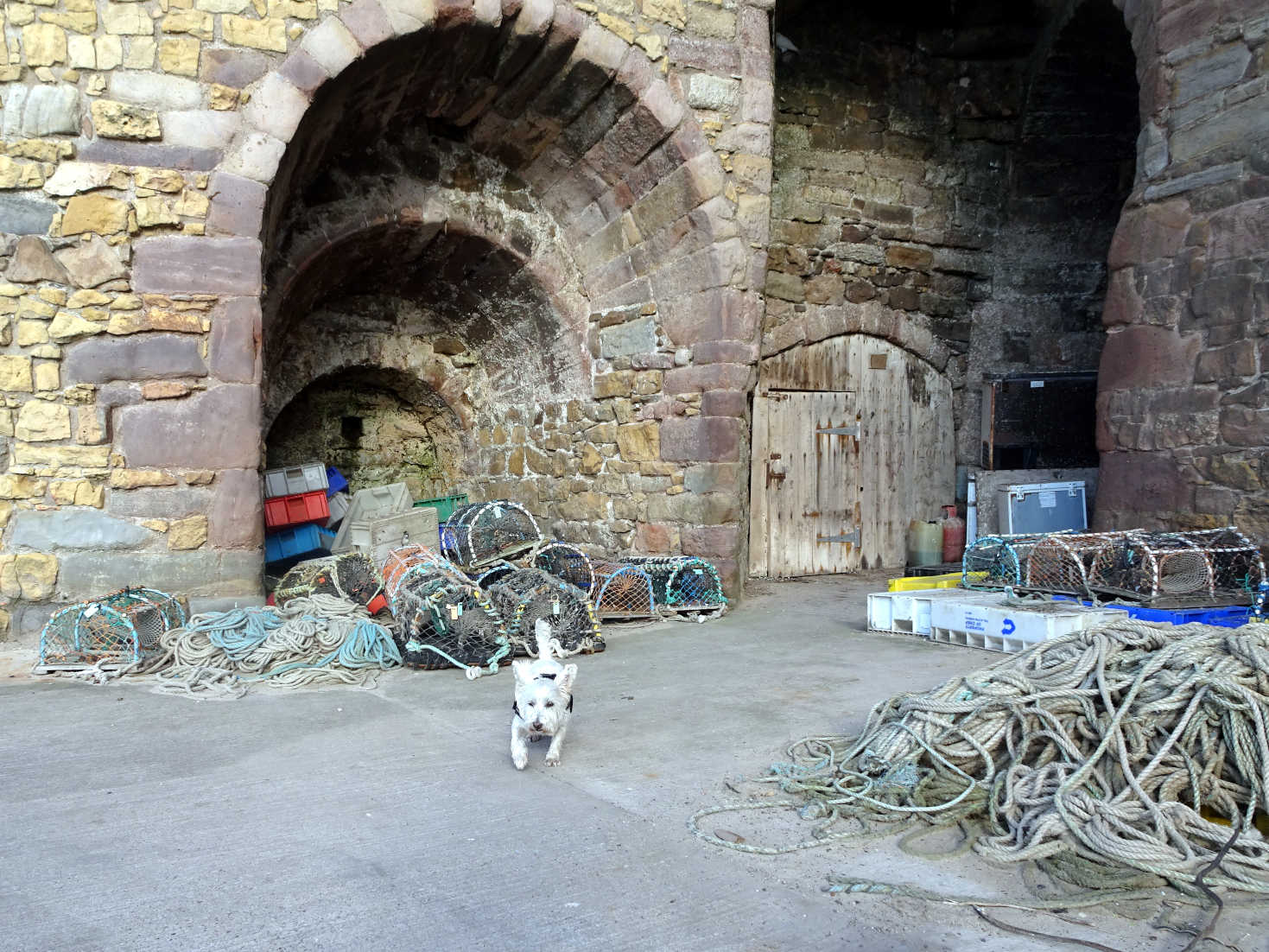 Since I was here I thought I'd explore the rest of the pier. I could smell fishees and seagulls, Poppys loves piers.
"Ok Poppy time to go back to Betsy" said dad. We plodded back along the beach. Playing ball along the way till we got to the sand mountains.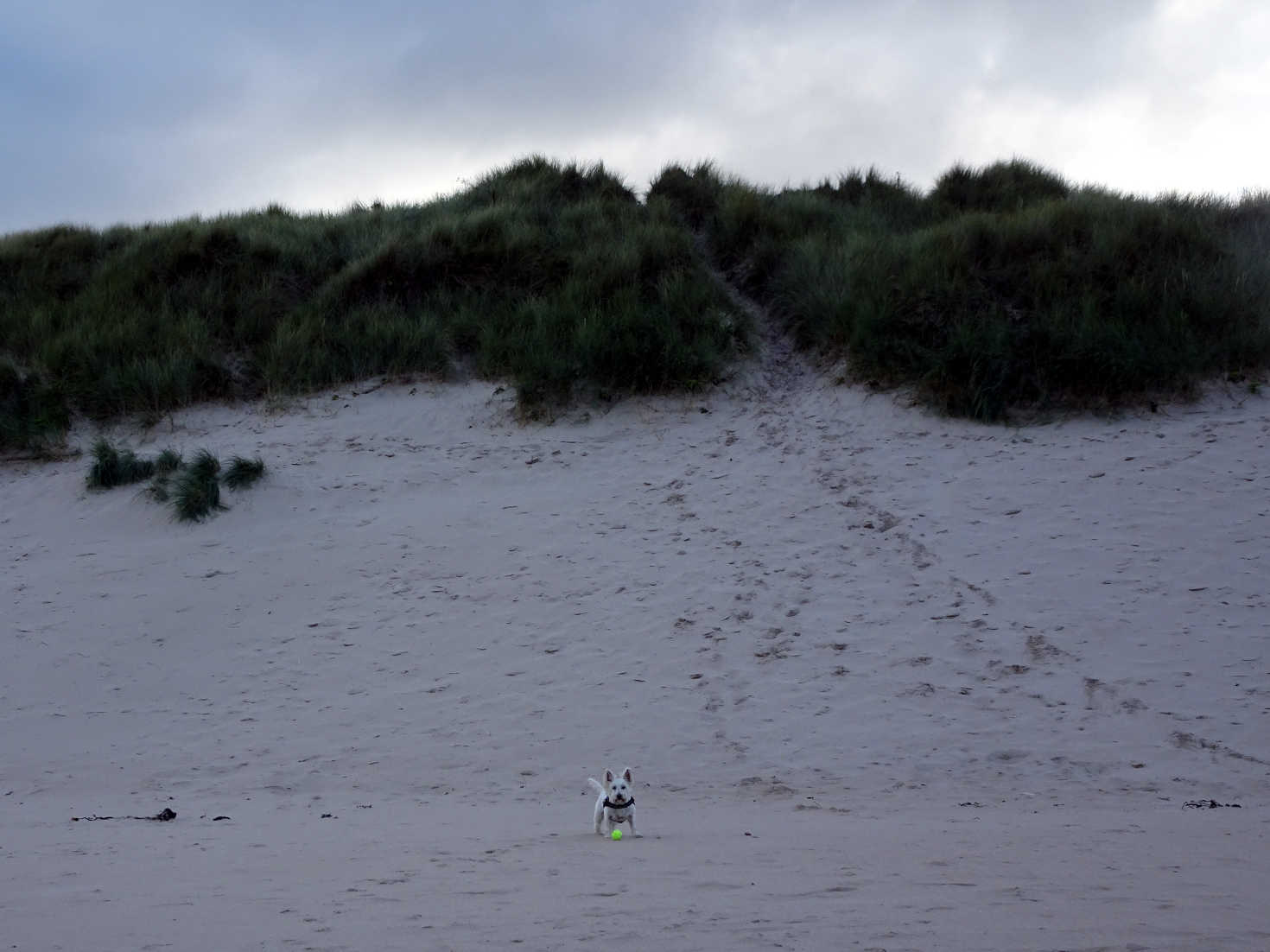 I ran up the sand mountain. This way to Betsy. "Poppy come down" said dad. Dad its this way to Betsy, my nose is never wrong.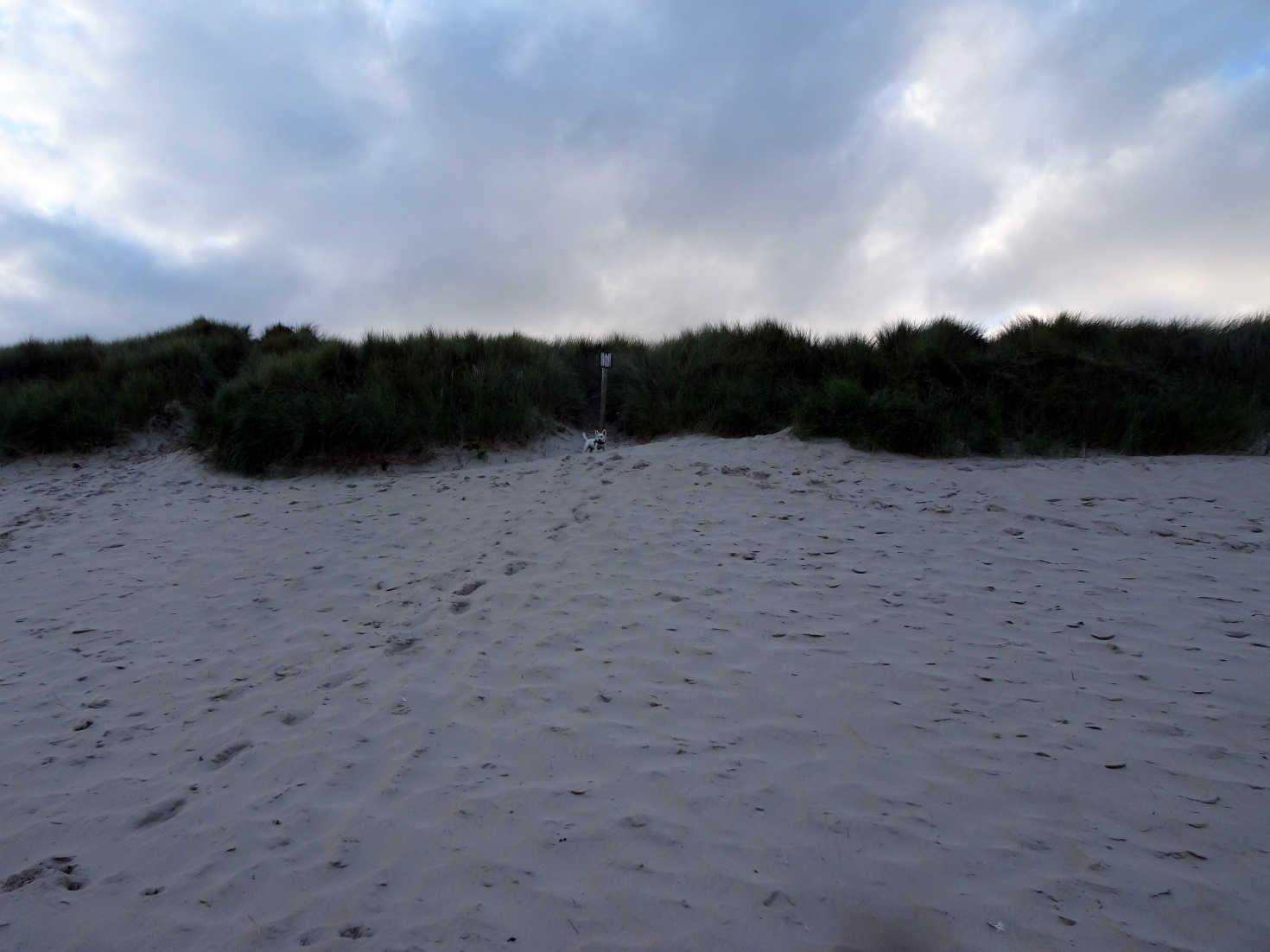 Mum and Dad were not happy but they clambered up the sand mountain, slipping and sliding as they climbed. It was dead funny, dad nearly went flat on his face. Come on, what you girnning for?
"Poppy, so much for that nose of yours" said dad crabbitly, "You picked the wrong way up". Aye right dad me wrong? I gave dad a stair, cocked my head, look there's Betsy over there! Poppys are never wrong.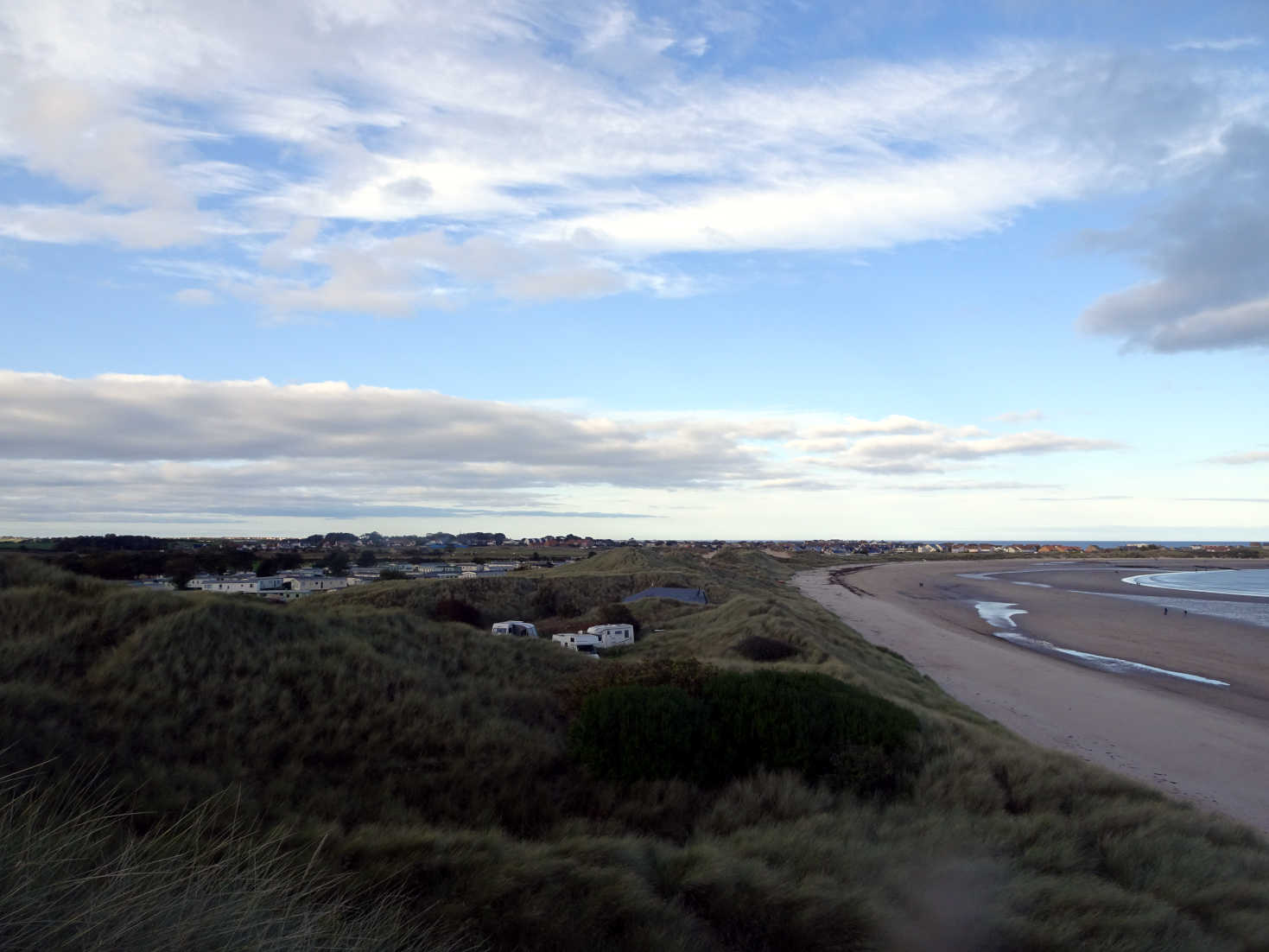 We got back to Betsy and settled in for the night. Mmmm all this sea air makes poppys hungry. Mum, Dad, where's dinner I'm starving.