Poppy goes to Blair Atholl
Saturday morning mum was at the shops, dad woke me up and we went out on morning patrol. It was grey and cold not long before the sky starts to weep, I was glad to get back home. Saturdays are pure great coz Mum is home all day. I heard mini, mums back. Something strange happened, as mum was bringing bags into the house dad was taking bags out! OK what's up? I asked mum. Mum didn't answer, instead she put harness and leash on me. Bit early to be going up the park, no? Mum locked up and we bundled into Mini, mmmm different park today then. Mini shot off, soon we were out of the city and heading north. We passed Stirling then Perth still heading north, as we did the sky stopped crying and the grey even had an occasional splash of blue. Mini pulled up to an old Inn and stopped, she must be tired she had been running for ages. Mum got bags out of Mini and we all went in. We staying here? "Yes Poppy" said mum. I ran up the stairs along a long corridor into our new room. Beds OK Mum.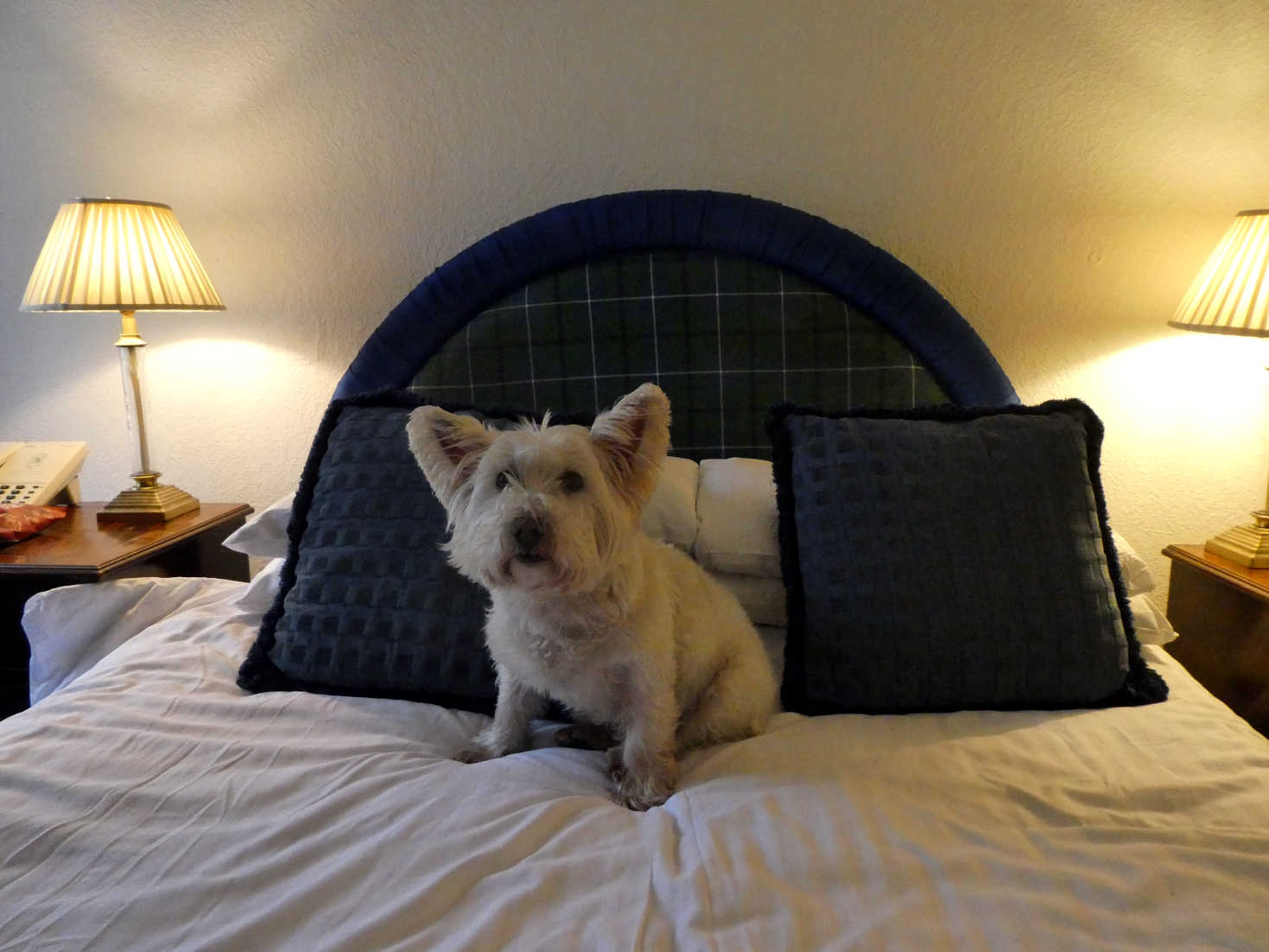 All unpacked it was time to explore. We headed to the village, dad wanted to do a river side walk, Mum wanted to invade the castle so I hung about while they decided.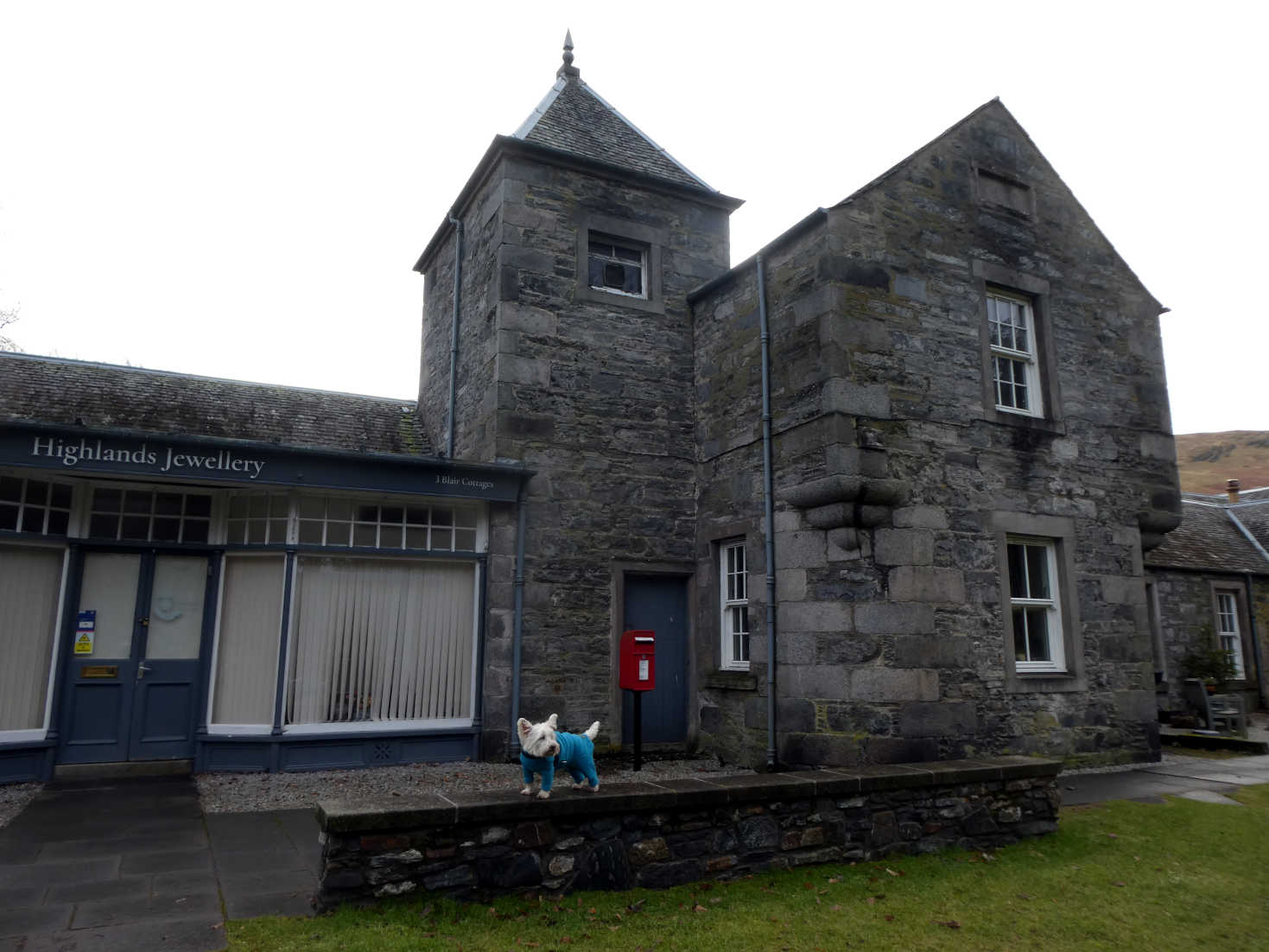 "The castle and grounds are closed until April" said dad. "OK, so how come are they people the other side of the gates" said Mum. She had a point. Sometimes Poppys have to make their minds up for them. I dragged them across the road and found a secret way in across from the gatehouse. Sorted?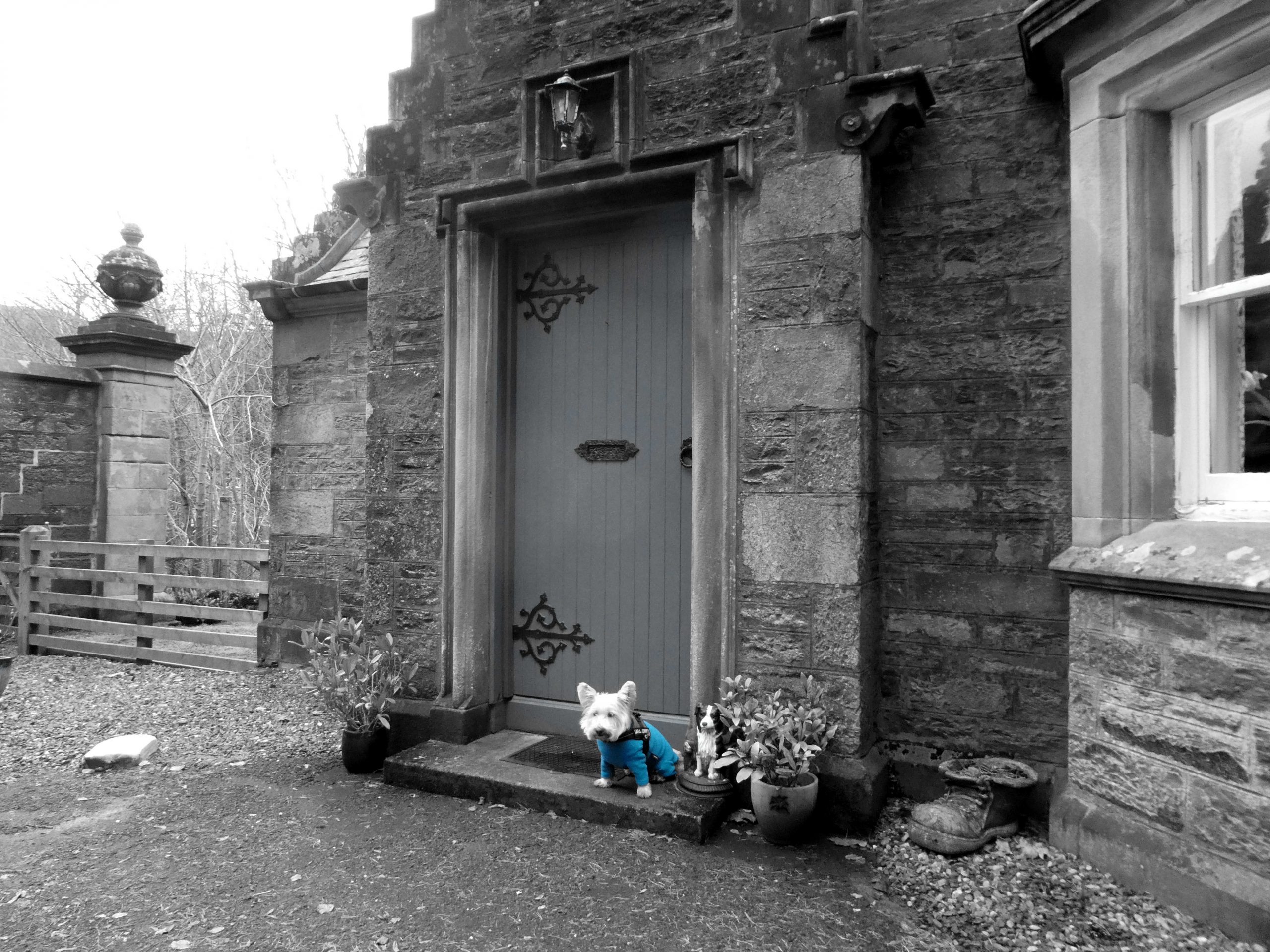 Dad wanted to play with his new camera, I was sitting for a picture when we were photo bombed by a huge dog called Bounder. I got the fright of my life! He was young, daft and too lively by half. I said my hellos and made a quick exit.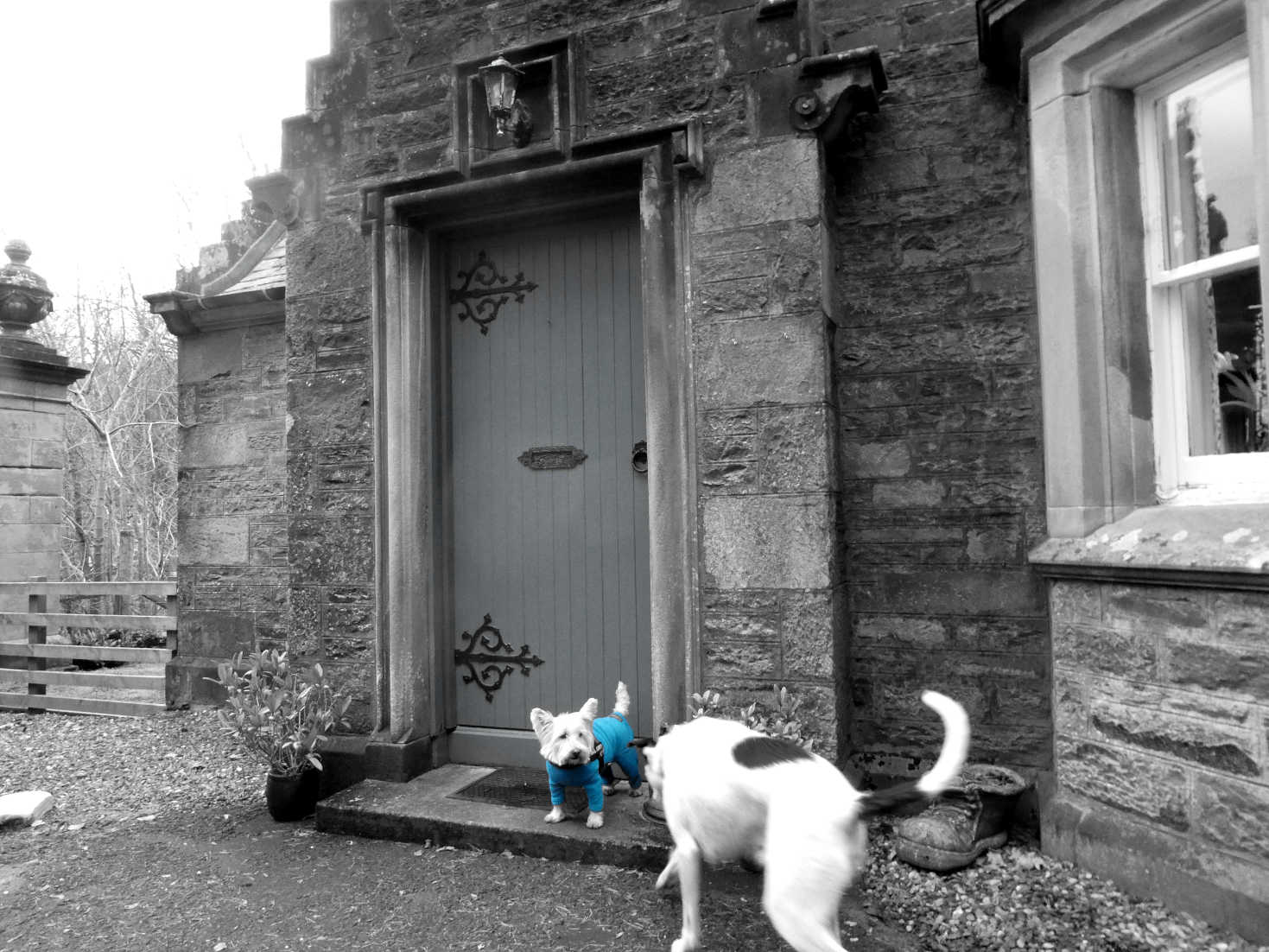 We walked towards the castle along a long row of trees, great for playing ball and better still lots of new smells. It gave dad a chance to play with his new camera.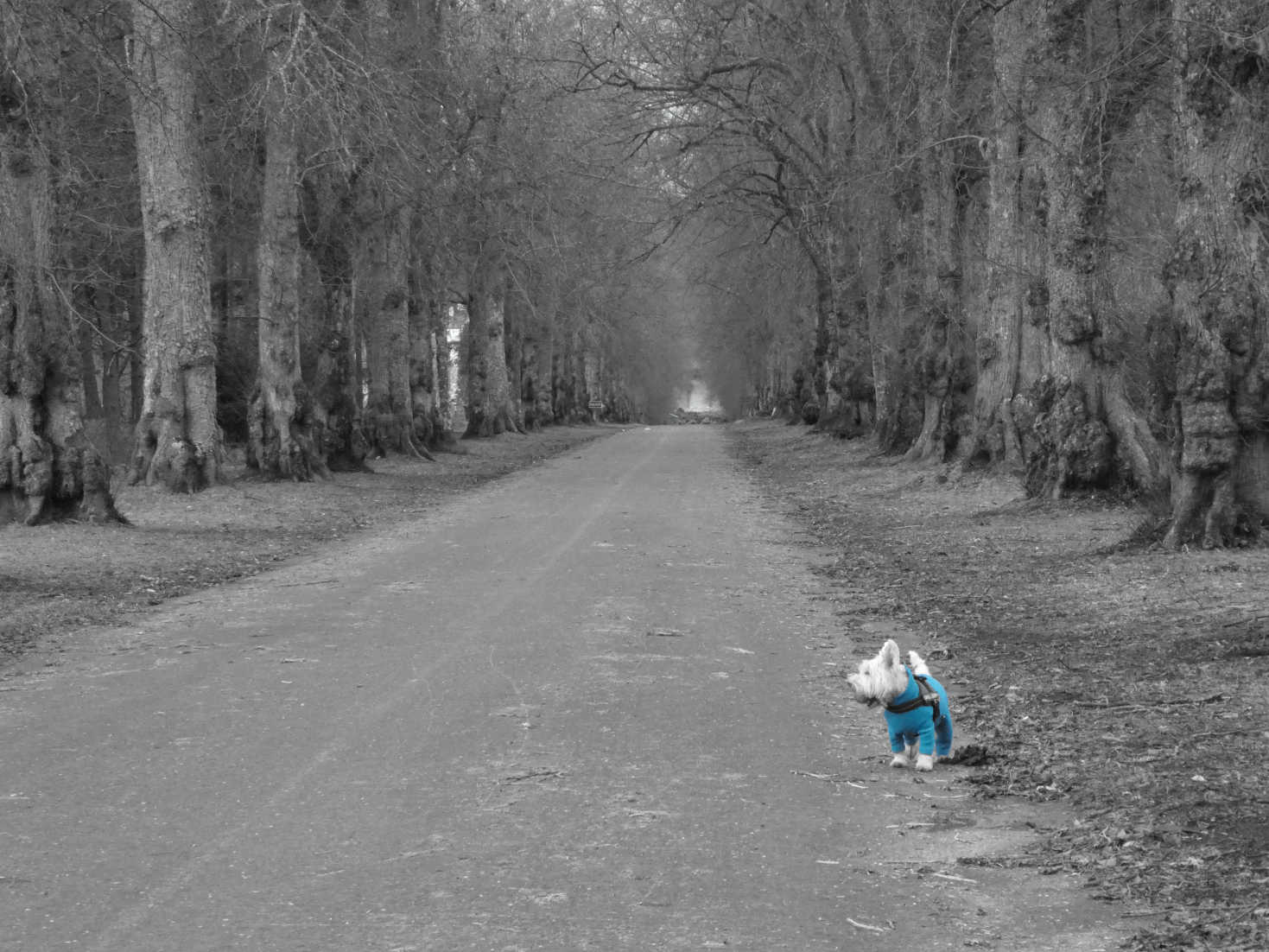 At the top of the road the trees fell back it was dry so mum took nasty euafleace off. No sooner free the castle came into view. Not much of a castle this dad. Looks more like an old hotel. Still its lawns were good for a game of ball.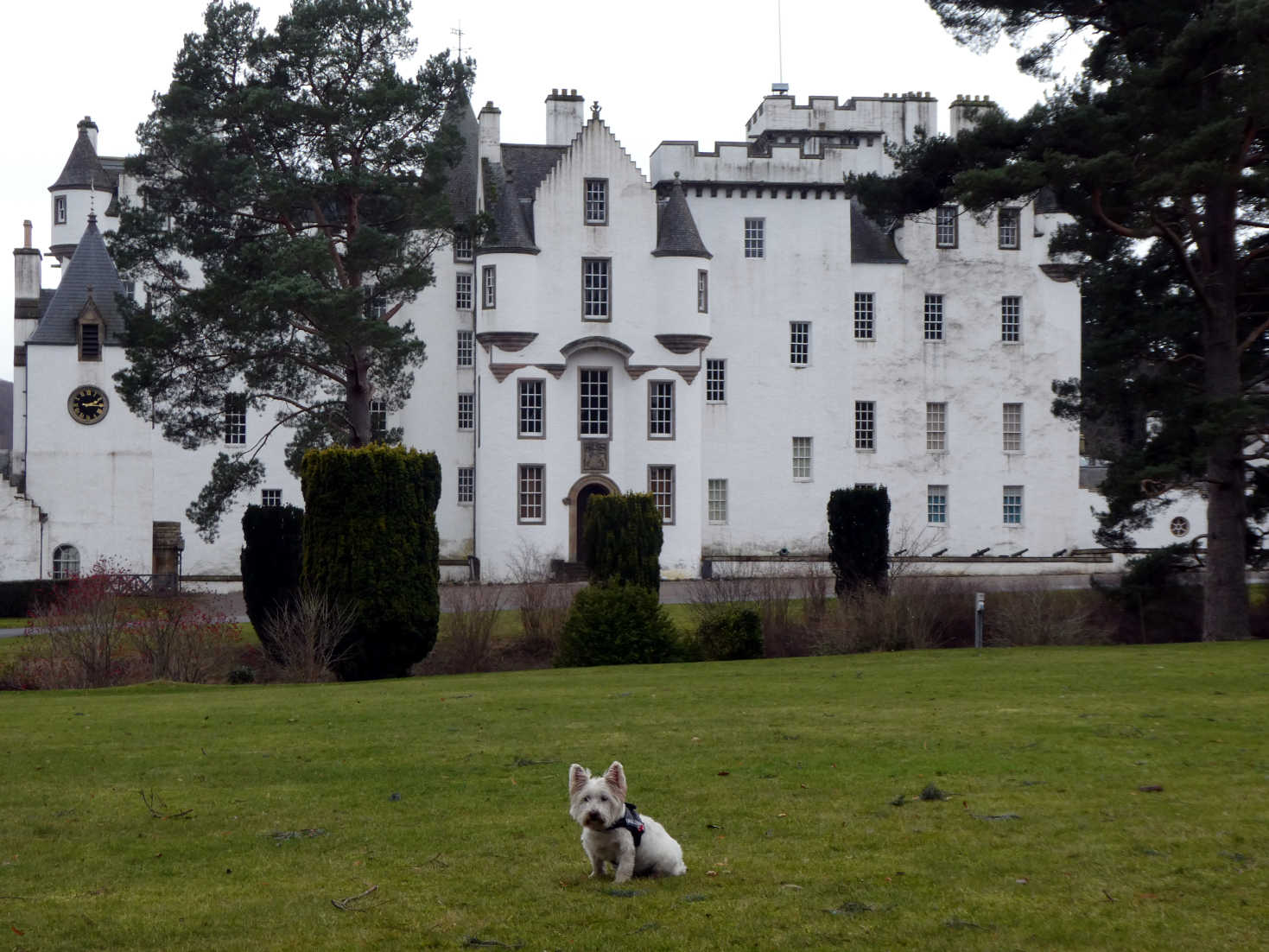 I investigated the castle, well at least its got cannons. I sniffed my way to the front door and tried to push it open with my front paws, nope, castle is closed. "Don't worry Poppy" said dad " they wouldn't let you in even if it was open, no Poppys allowed, South Africans are funny that way". Mmmm why do South Africans not like Poppys? This is Scotland what's it got to do with South Africans?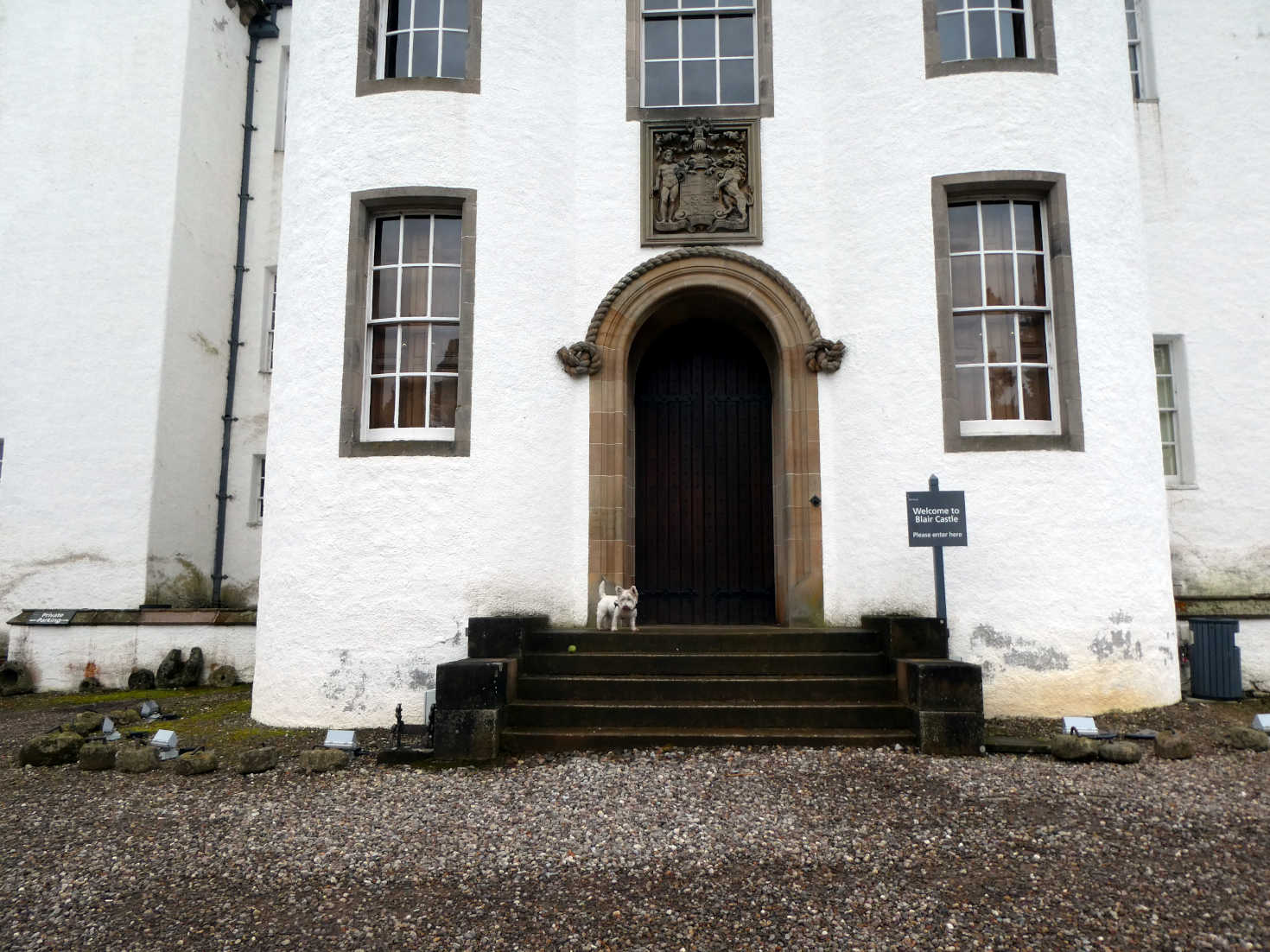 Enough of that lets go to the big trees! A short plod away were lots of huge trees in a place called Diana's Grove. As we went in the world was silent, even for my supersonic earsees. The trees were so big even squirrelsees couldn't climb them. I heard water and followed the noise to a stream. The water was lovely, cool and tasted great.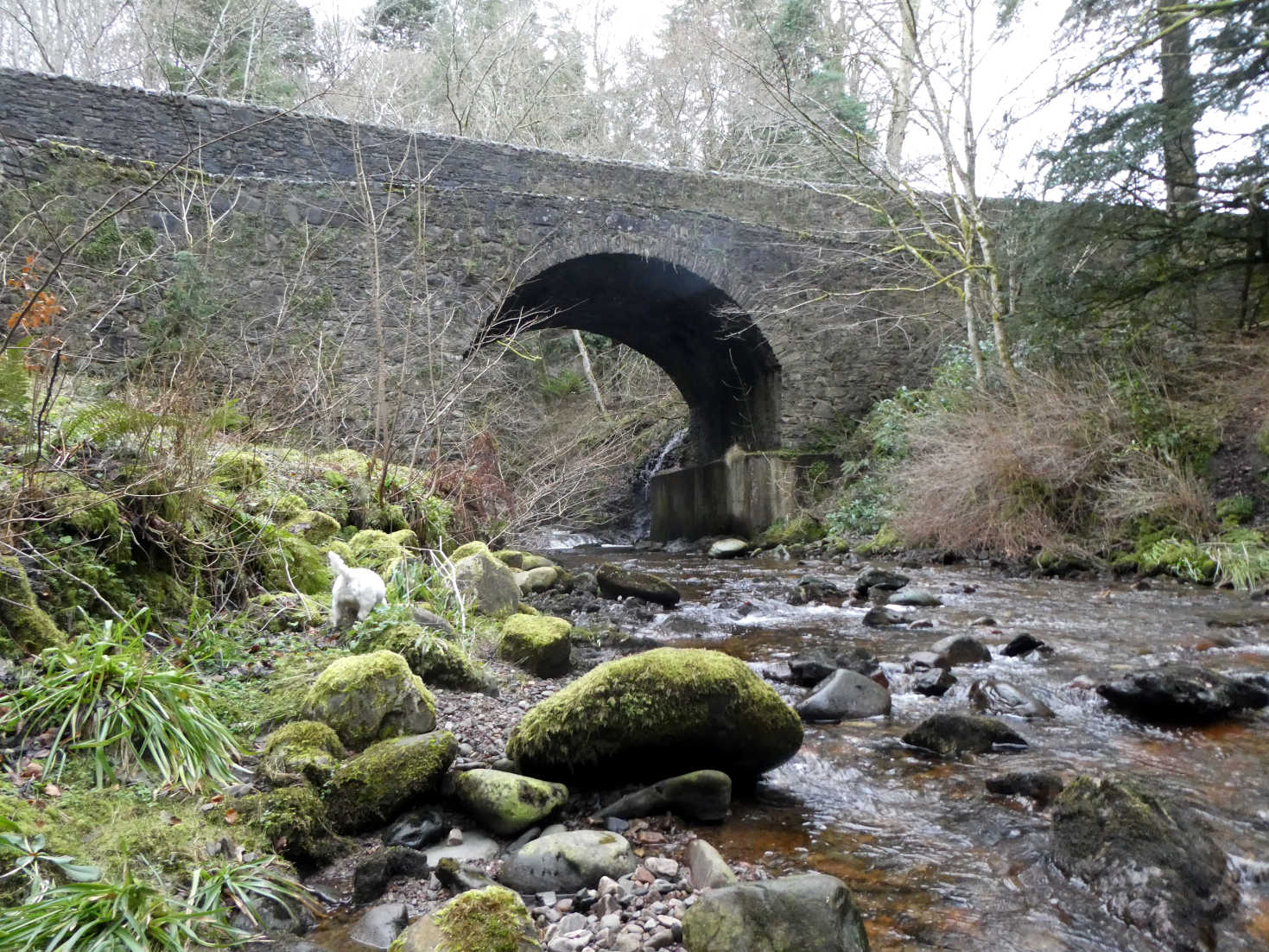 After I filled my boots I dragged mum and dad over an odd bridge.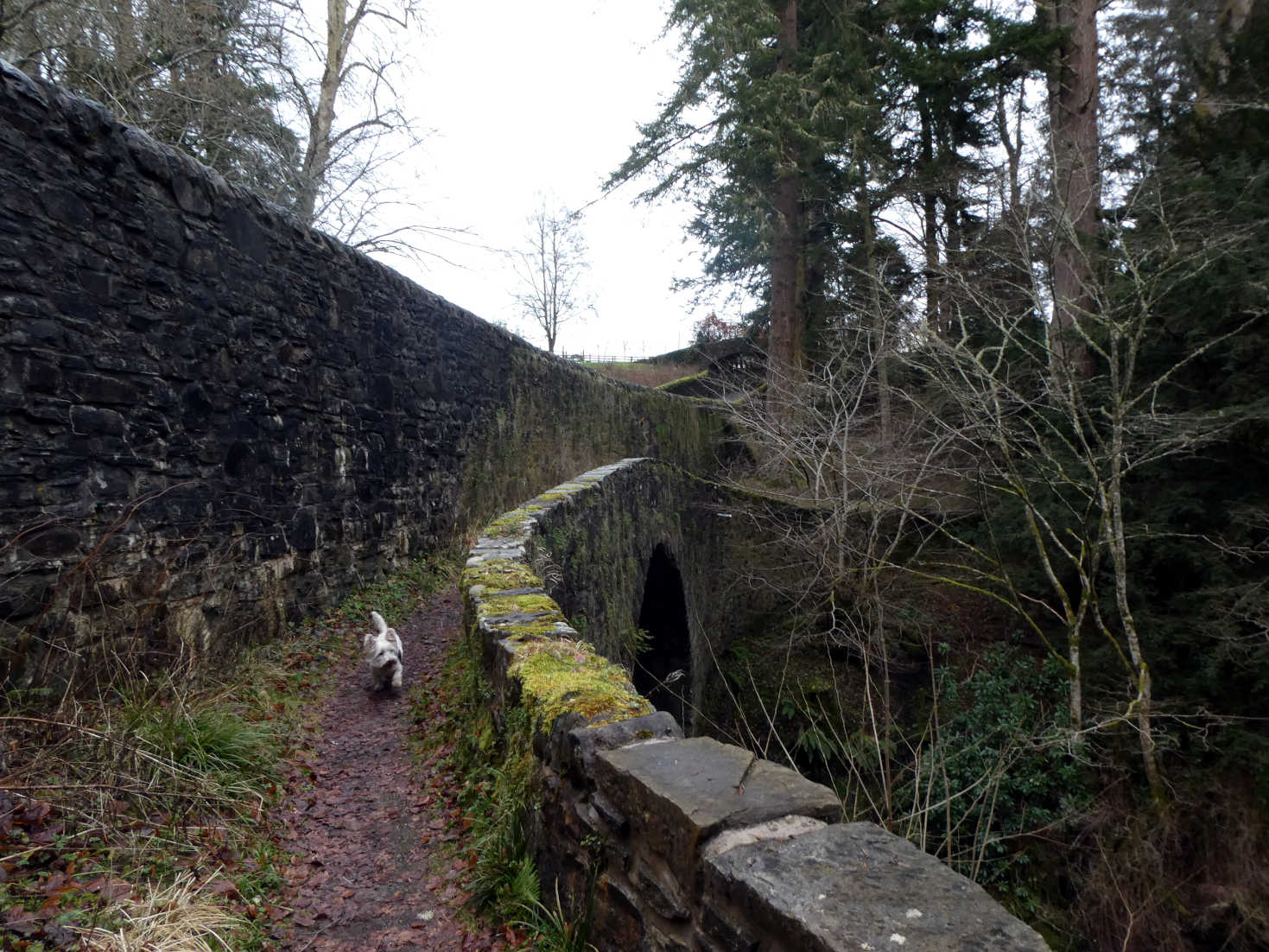 Where to next? How about a stone park? Poppys learned how much fun stone parks were during lockdown. As luck would have it we found a very old one. Ball?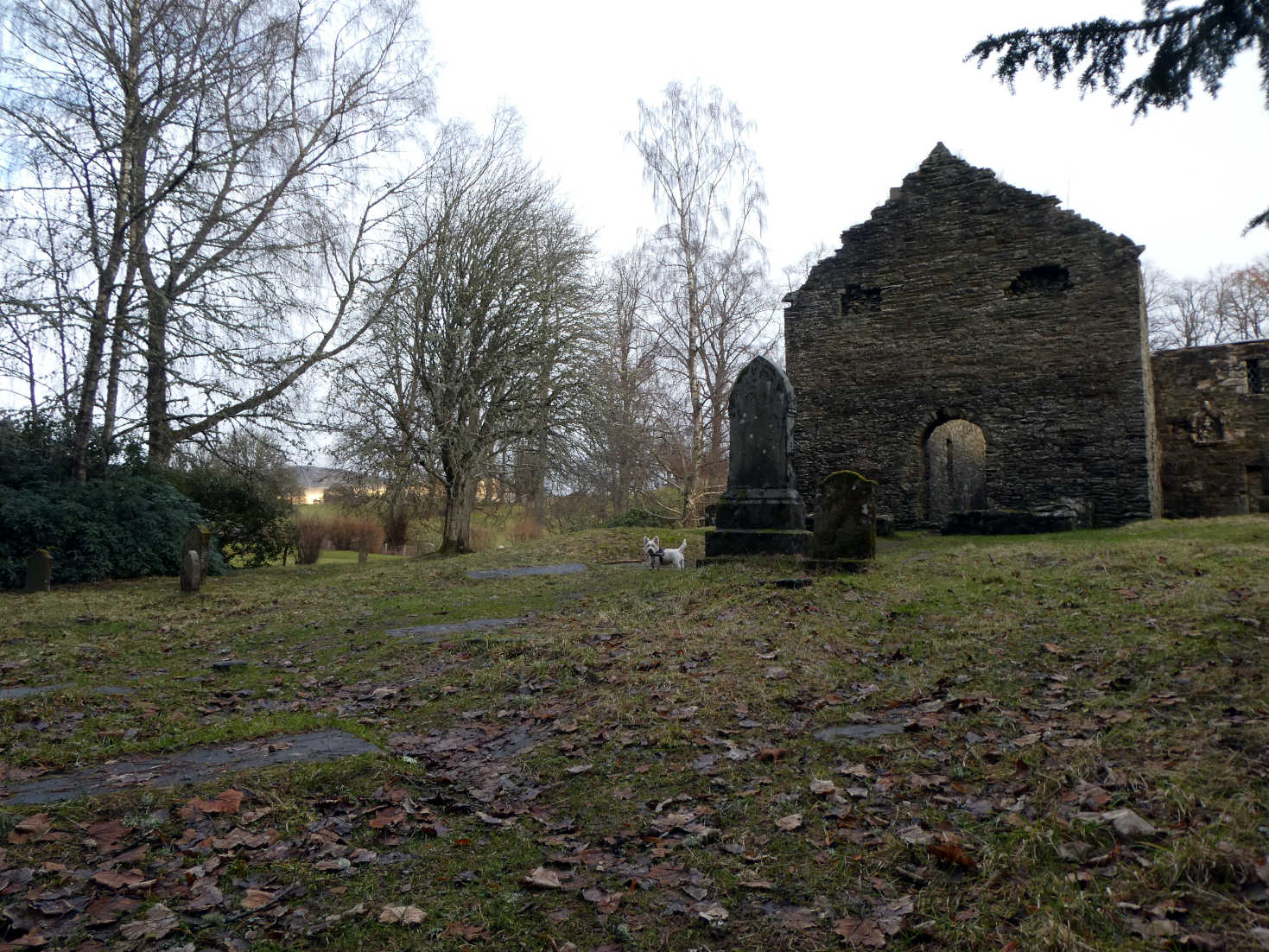 Look dad can I explore the old church? Poppys loves exploring old places. Bet they didn't think poppys would be running up and down here when they built the place.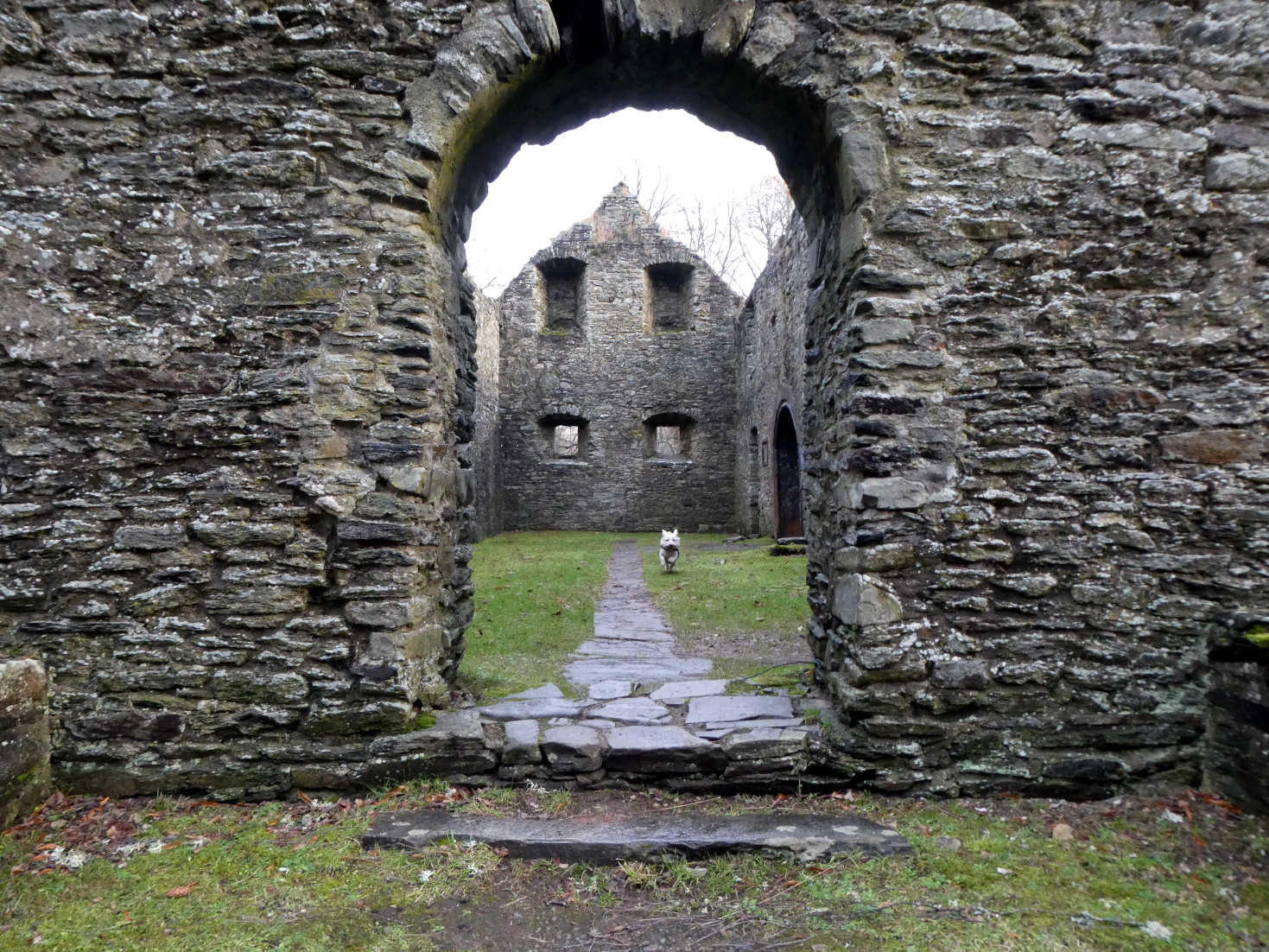 On the way back to the castle the silence was broken by a strange noise. What is it dad? Sounds like a motorbike way in the distance but it was much closer. We were walking up to the Hercules Gardens when a bunch of peoplesees whizzed past on strange contraptions, I growled at them, me no likey this. What's that dad? "They are called segways Poppy" he said. Segways? Mmmm Not convinced. The gardens were nice but we couldn't get in because of covids, at least I got to see over the wall.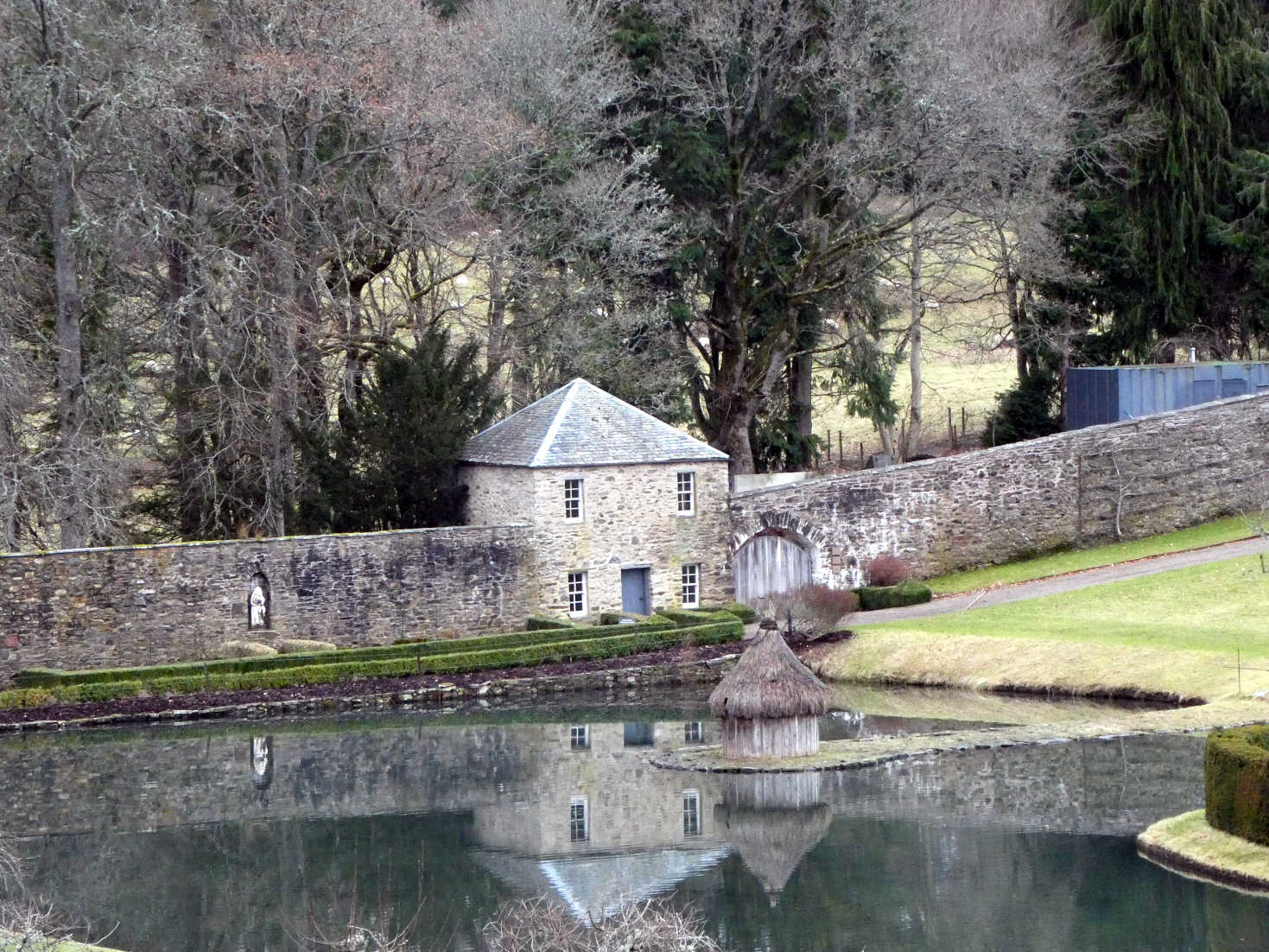 Where to next? How about the river walk? We plodded down the path where we came to a track. Which way? I decided away from the village was the best bet and soon we were on another trail heading towards the river. What does the sign say dad? "It says that the bridge is unpassable and we should take the high path" mmm we are not walking back up that hill are we? Lets just chance it.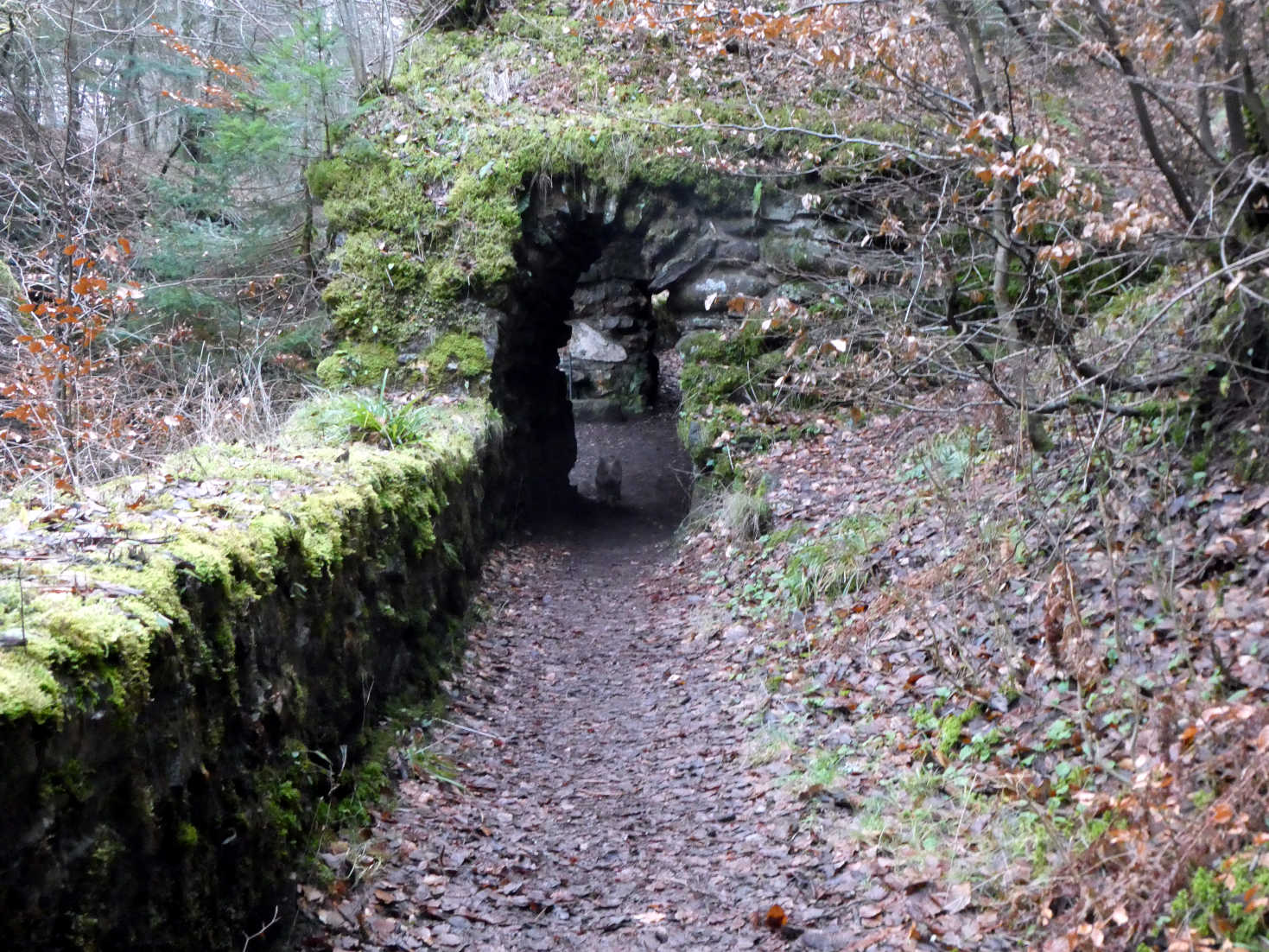 I liked the walk along the banks lots of smells, not so good for playing ball though.
When we came to the bridge It didn't look too safe, Mum, Dad this way. I found a way round so we didn't have to walk on it.
Mum wanted to go down to the river, I'm game mum I need a drink, sniffing about is thirsty work. Well poor mum got more than she bargained for, she stood on a big poo! Mum that dose not smell good, better go back to the river and clean it off.
Once mums boot was clean we plodded back along the river to the village.
At the back of the village I found a football park. Football parks a great for a game of ball, not as good as golf courses but near enough.
As we explored the rest of the village a huge train roared past, way to close for comfort, lets get back to the hotel and get warm in front of the fire.
We were going out for dinner tonight at the pub beside the Inn. Poppys are not allowed in the hotel's dinner room. When we got to the pub it was full. The peoplesee said we should go back to the hotel and she would get us when a table became free. Mmm OK then. I went for a wee lie down.
The peoplesee came back in and told mum that a table was free. Yay Dinner!
The pub was very busy. Lots of dogs to talk to. I made friends with an old couple that made a fuss of me. I dot some of mum and dad's dinner as well as a denti stick and treats. After dinner we went for a wee plod then bed. It was a long day for a wee Poppy.