The journey from Dinkelsbuel to Schloss Neuschwanstein near Fussen was uneventful. Betsy was in fine fettle after her visit to the vets where she got her paw surgery. The sky however was very unhappy, she cried and cried. When Betsy eventually slowed down a man told her to squeeze between two other motorhomes in a field. The peoplsees in one of them came all the way from Denmarks.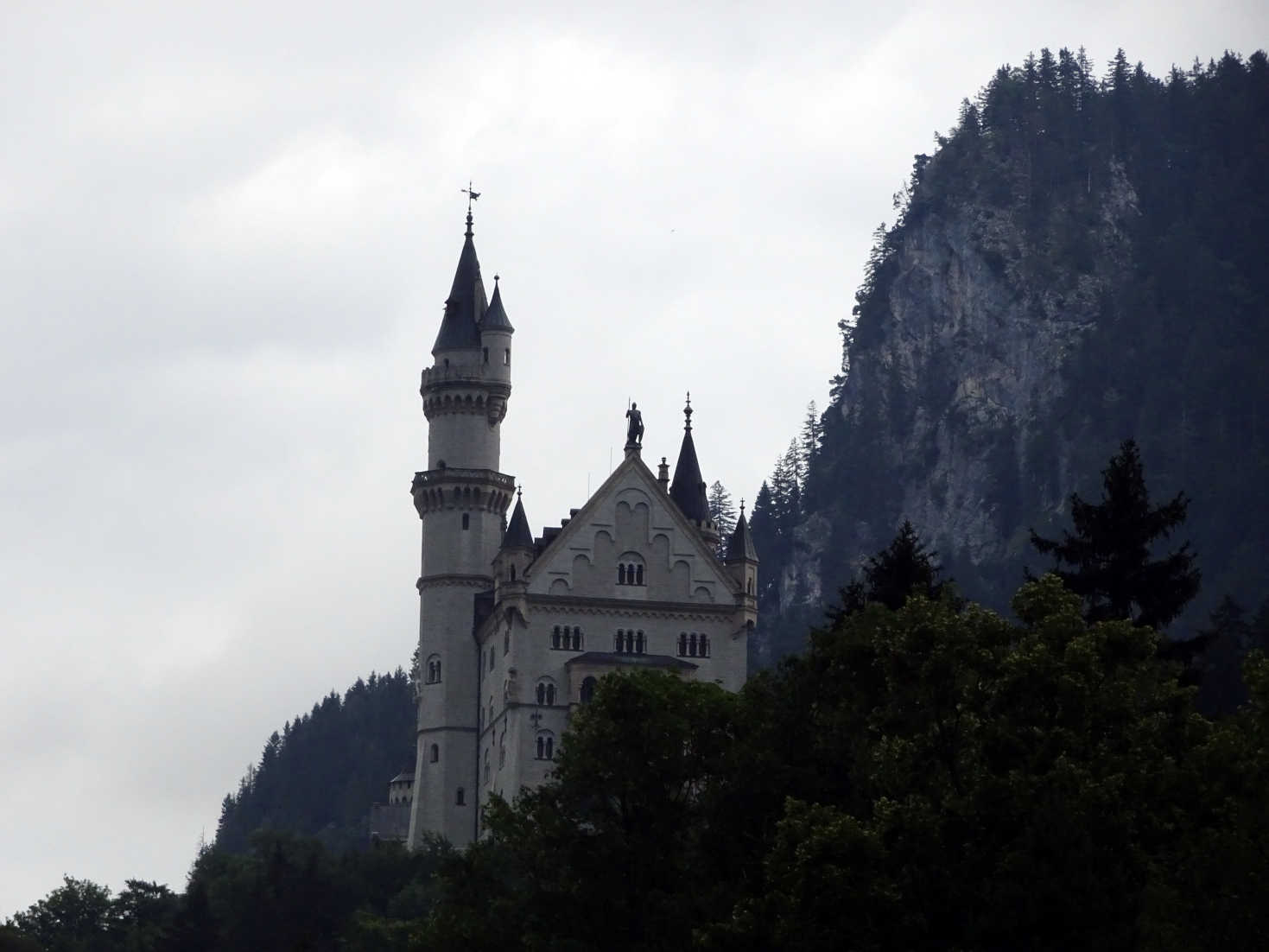 We walked across the field then through the town, at the end of the town was a great big hill. Up the hill we went, on and on, up and up.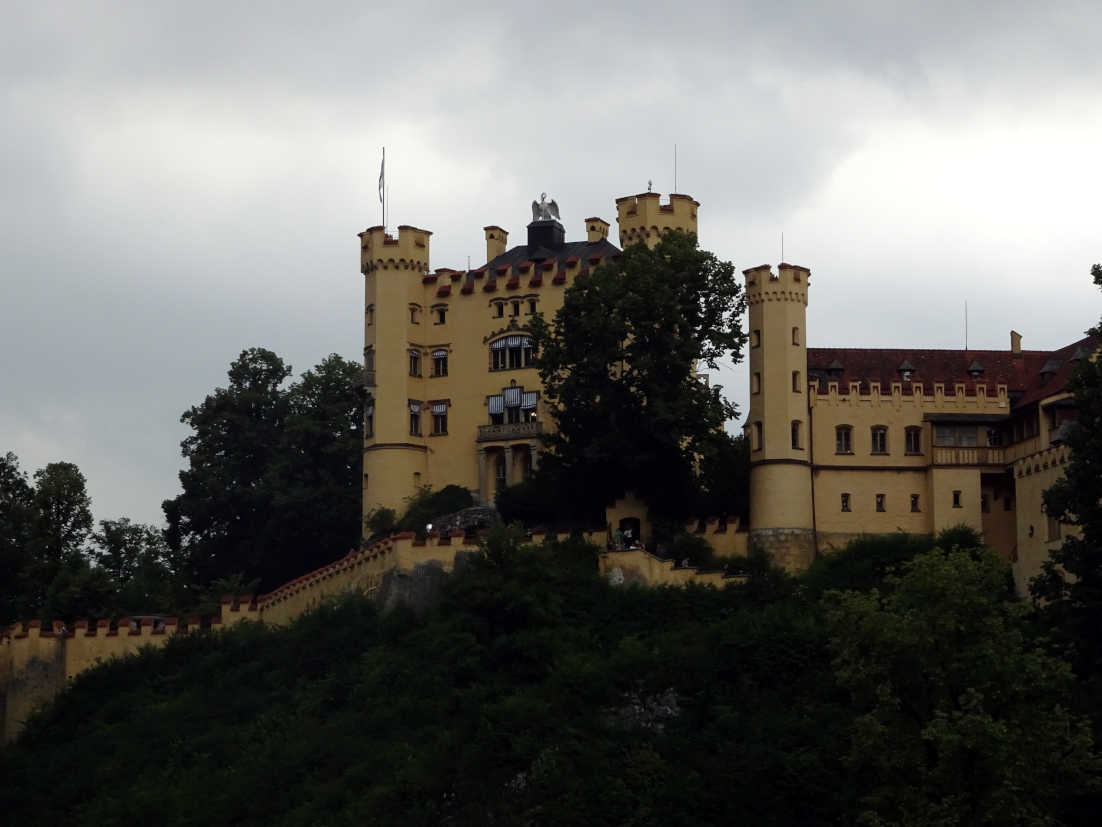 We finally got to the top where there was a big castle. I was not impressed but mum and dad were. They said it looked like Disneyland.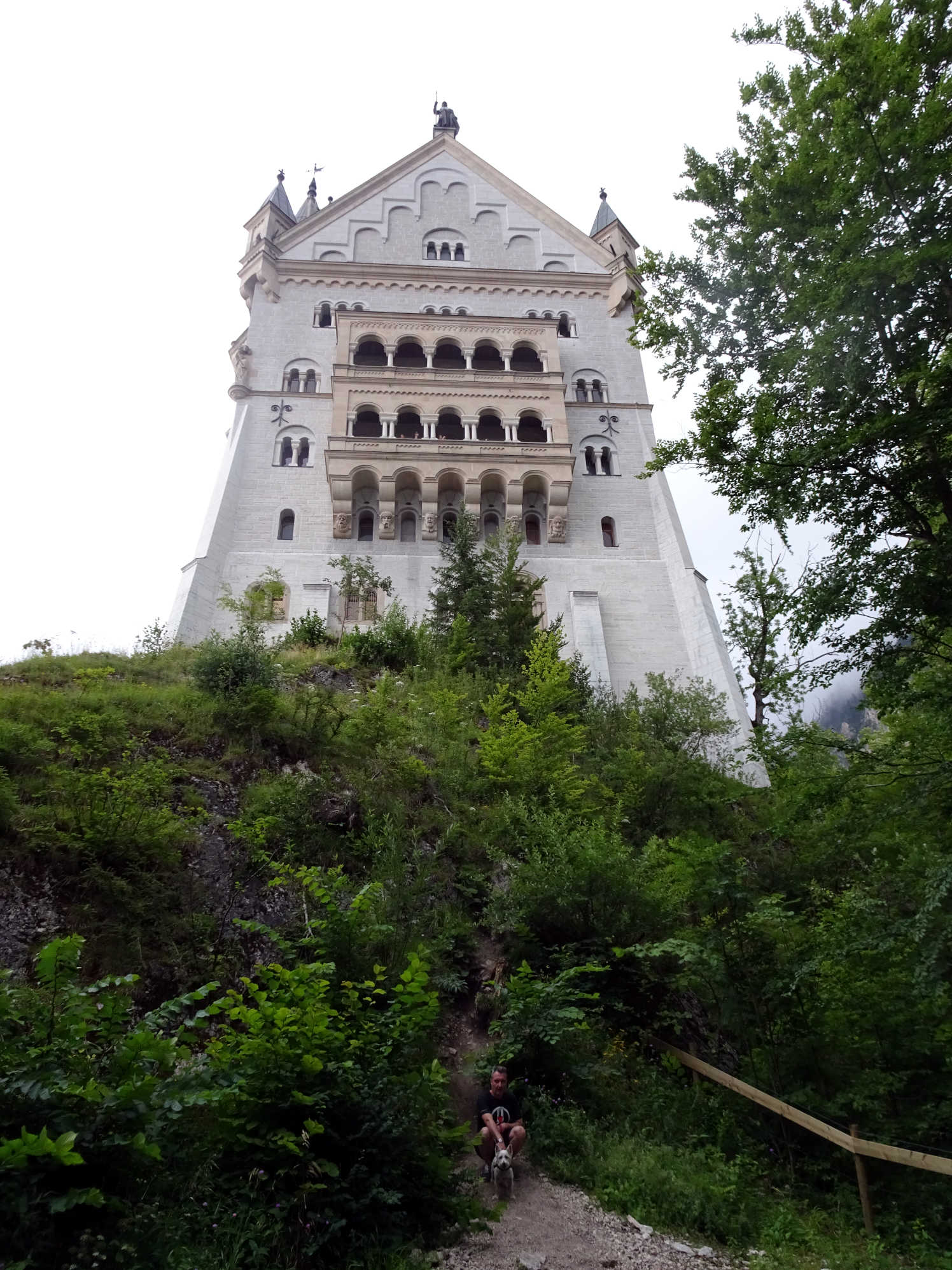 Back down the hill to Betsy The sky opened her eyes again and sobbed and sobbed. We went in Betsy to a Lidl, then tried to find the pet shop. Daft dad thought he was going into the pet shop but instead went into someone's house! The confused peoplesee showed him where the pet shop was. We were going to the pet shop for something called a mussel, Poppys don't like musselsees Poppys hates them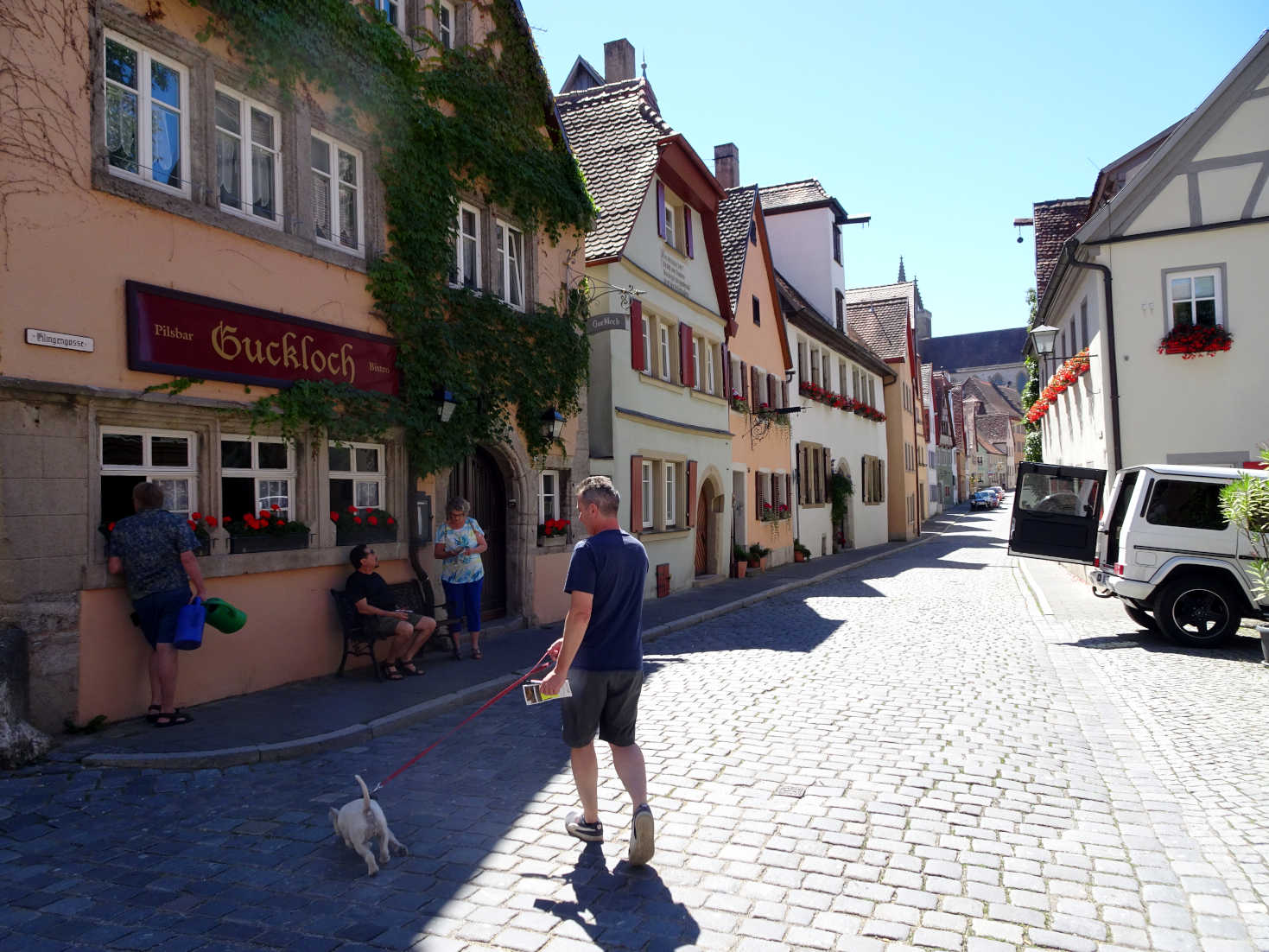 In the new camp it was called Camping Hopfensee. It had a nice lake and fields to explore but it was very busy. It even had a Poppy shower! All the motor homes were white close to each other. Dad had to pay for the electrics up front, so how much electrics do we need dad?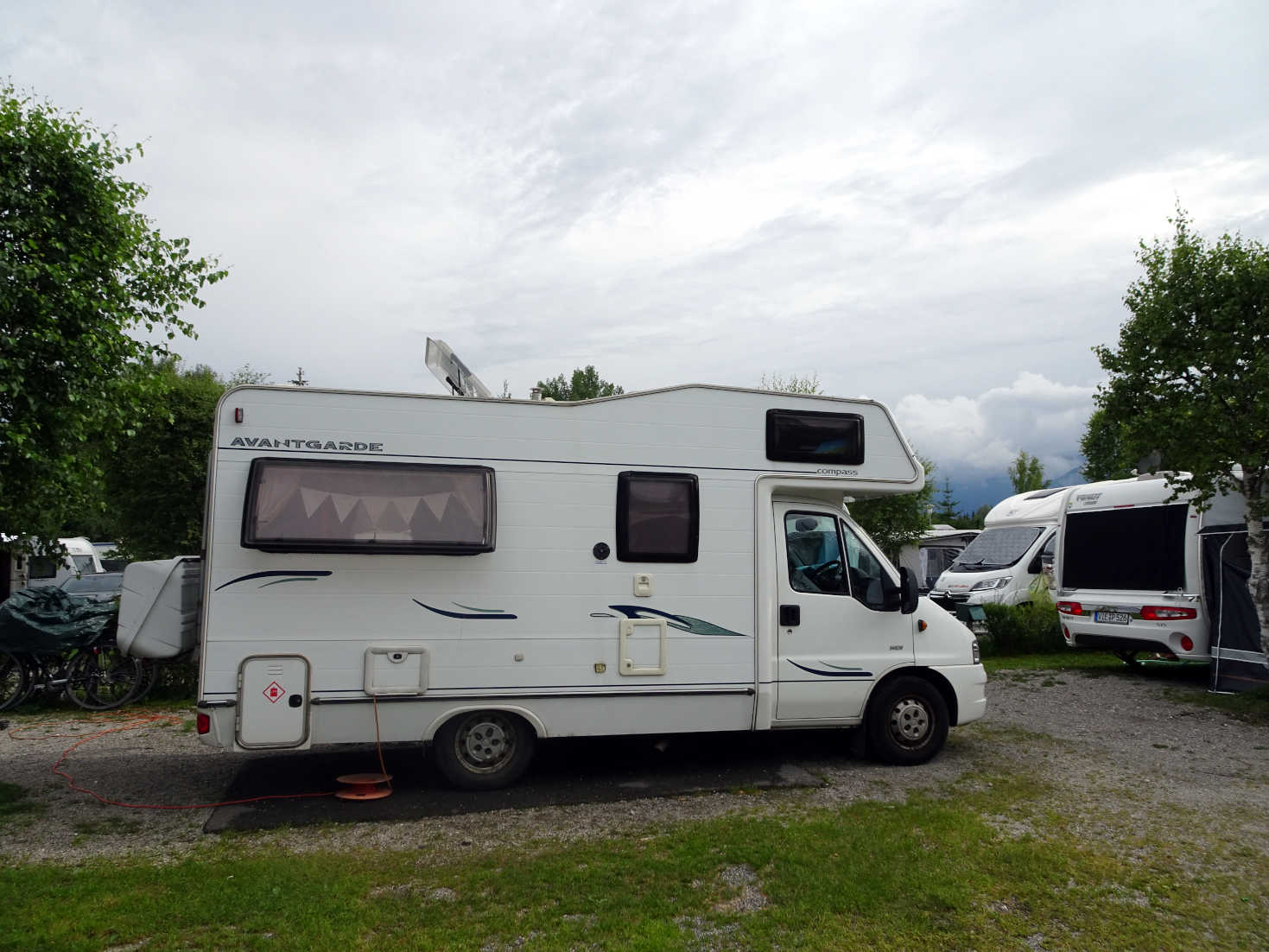 The sky did not know if it was happy or sad when we went down to the lake.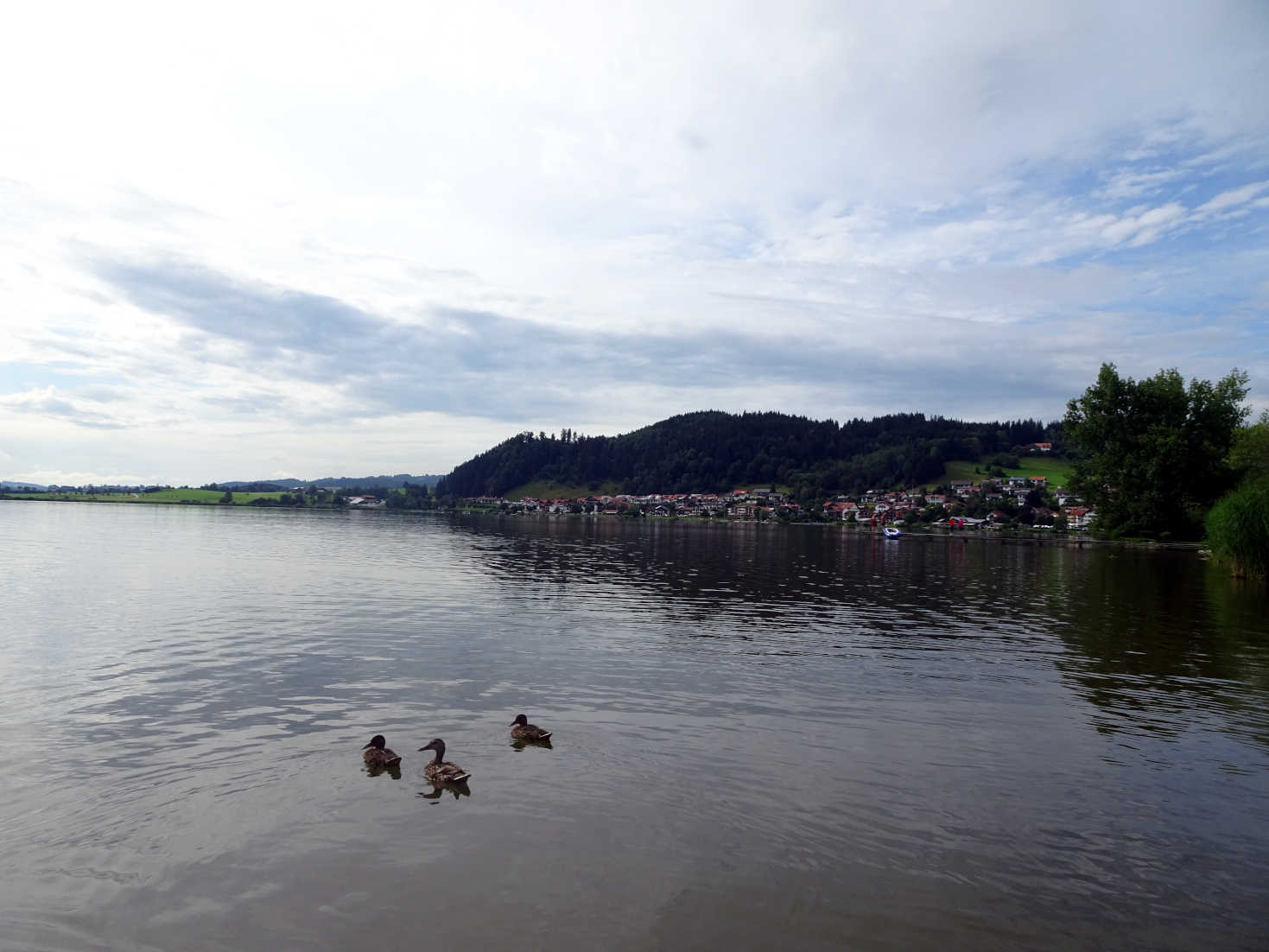 I have not had a game of ball in ages can we go play ball? The mountain meadows were great for playing ball.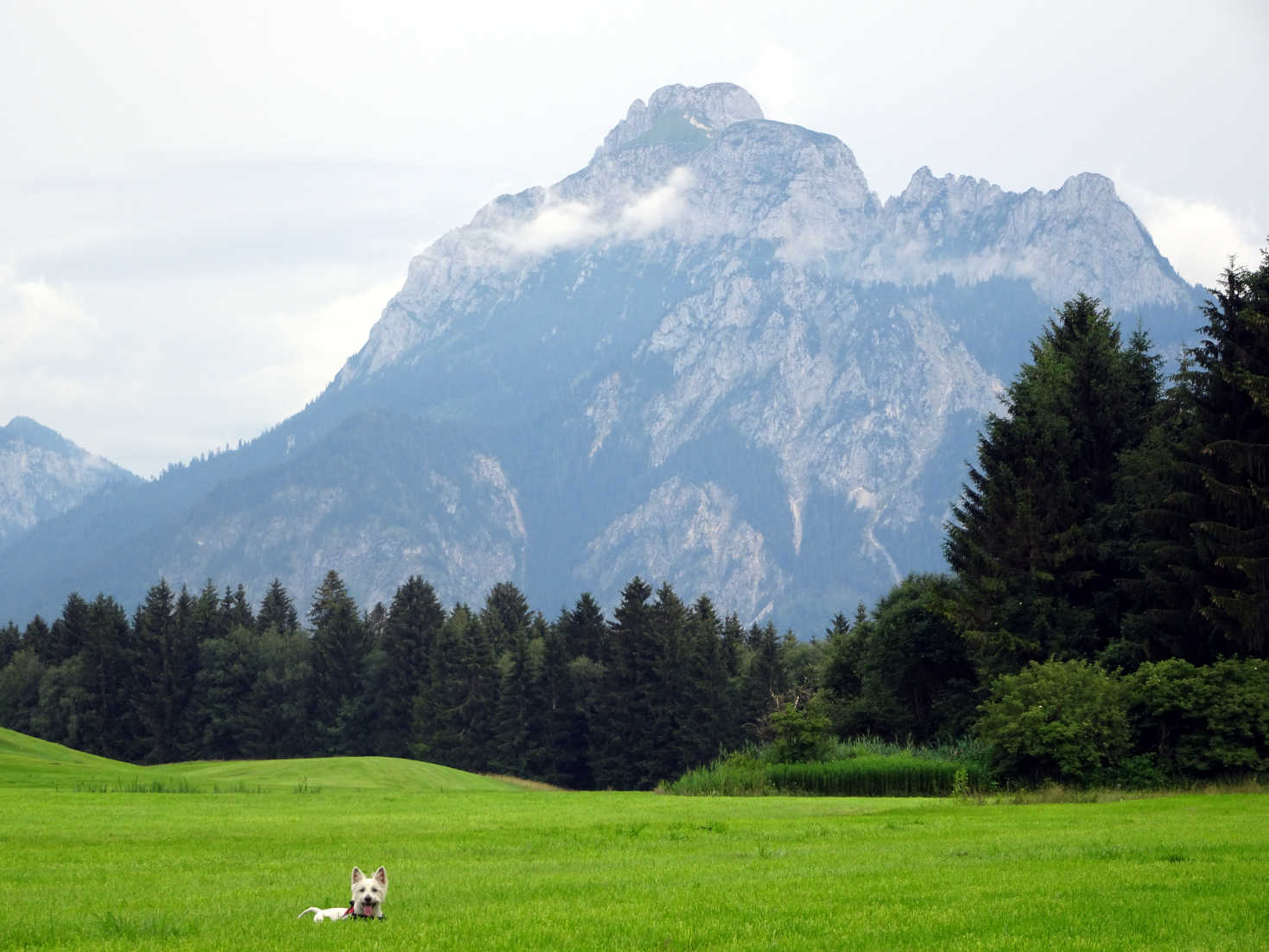 All the way back to camp were funny big Dog houses. What size are the dogs that live in them dad? Poppys don't live in dog houses, Poppys live in Betsys!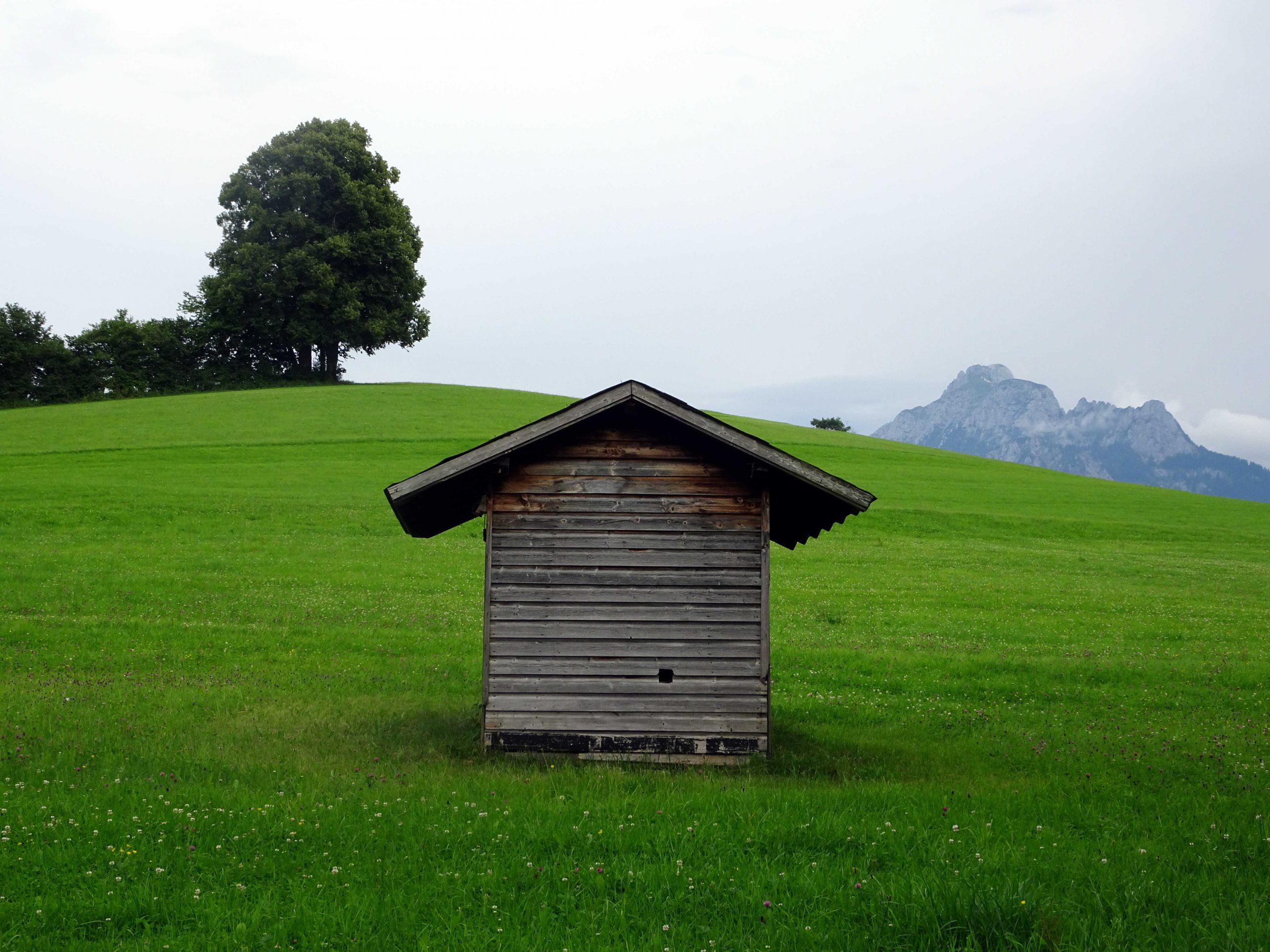 The day ended very strangely, a German knocked on our door. Dad went to see what he wanted. The German was not happy with us because we were too noisy, I never barked all night! Besides that it wasn't even midnight!
We got up and left before 8. Betsy was flying through the twisty roads of Bavaria, her paw must be good again. We went onto the big road and headed for Austria. When we got there, we doubled back into Germany again. Before we could get back Police were checking everybody for a motorway badge. We were ok because dad had bought one earlier. Sneaky Police. We were going to see the eagles at their nest. A guy called Adolf lived there once.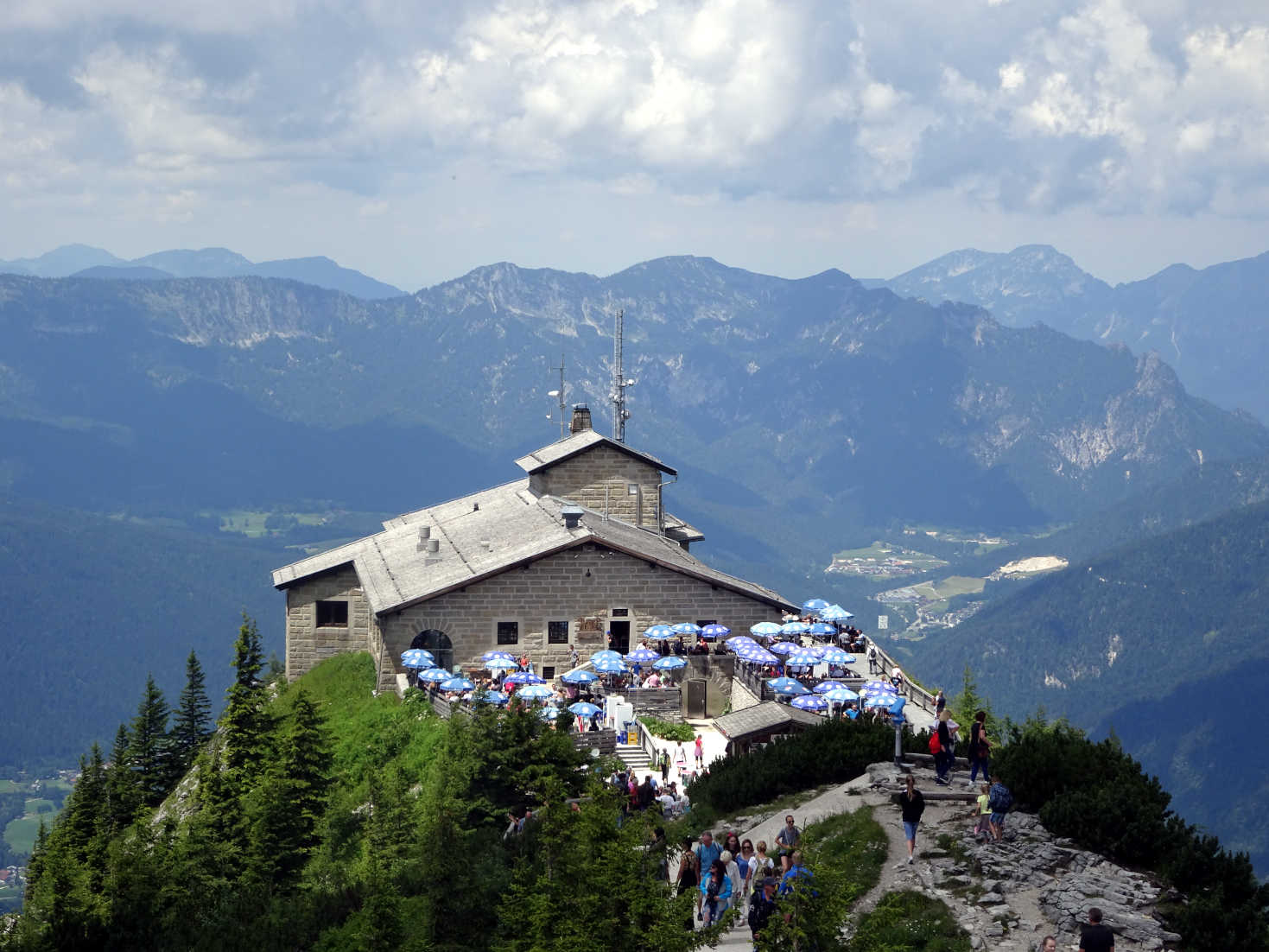 Betsy was really tired and hot after climbing the big hill worse still she couldn't find a place to rest when we got there. Round and round we went eventually after a lot of wriggling she squeezed into a space. We left her to cool down and went on a bus that took us up a scary road. When we got out we went into a long cold tunnel. At the end was a brass elevator. This took us to Adolf's house.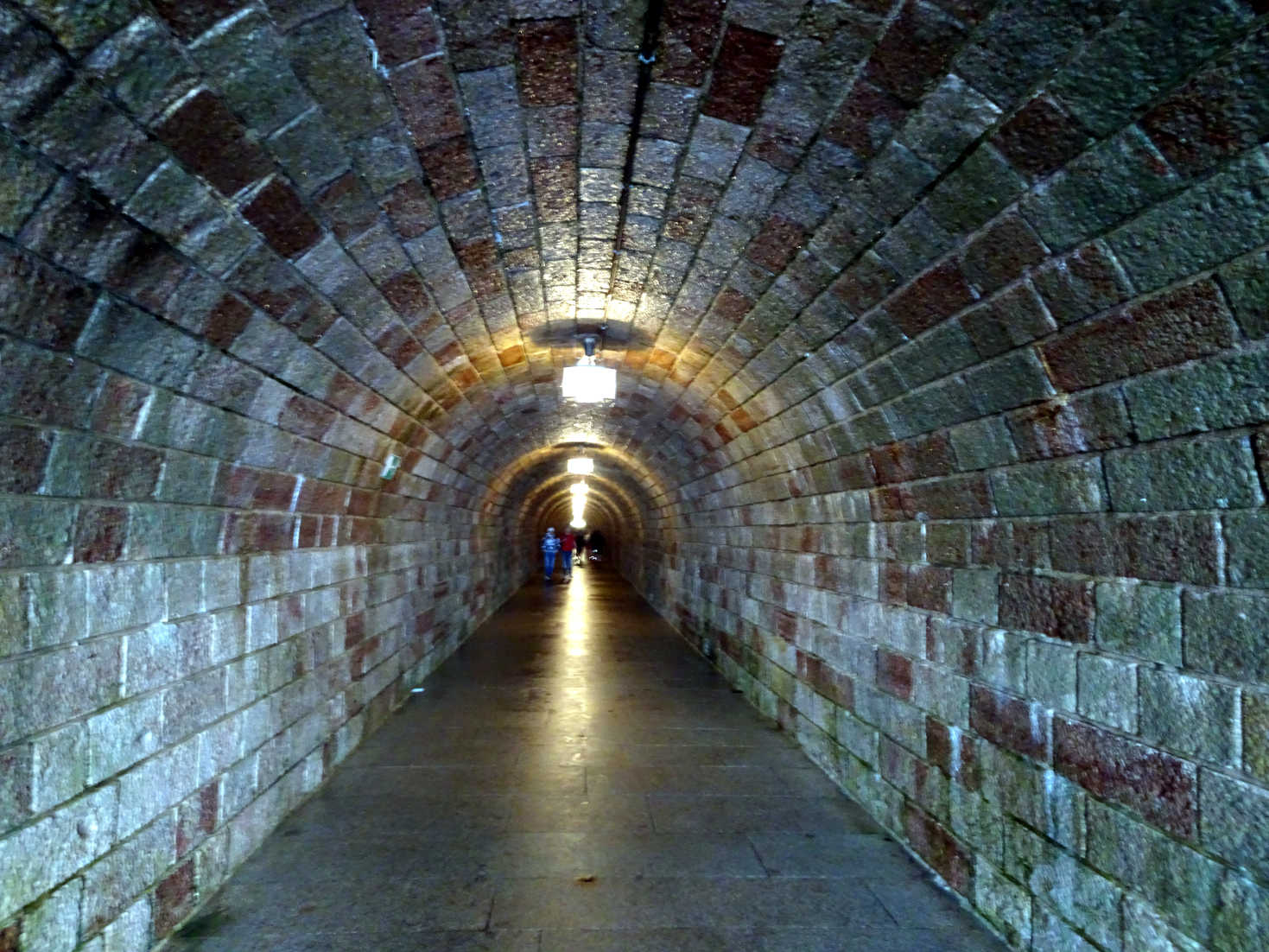 When we came out of the lift we were in a restaurant, odd. Lets go out side. Dad got mad at me, but when a girls got to go she has to go, I had a huge big poo. Good job you have poo bags dad! Sorry Adolf.
some views from up here, how come its cold dad?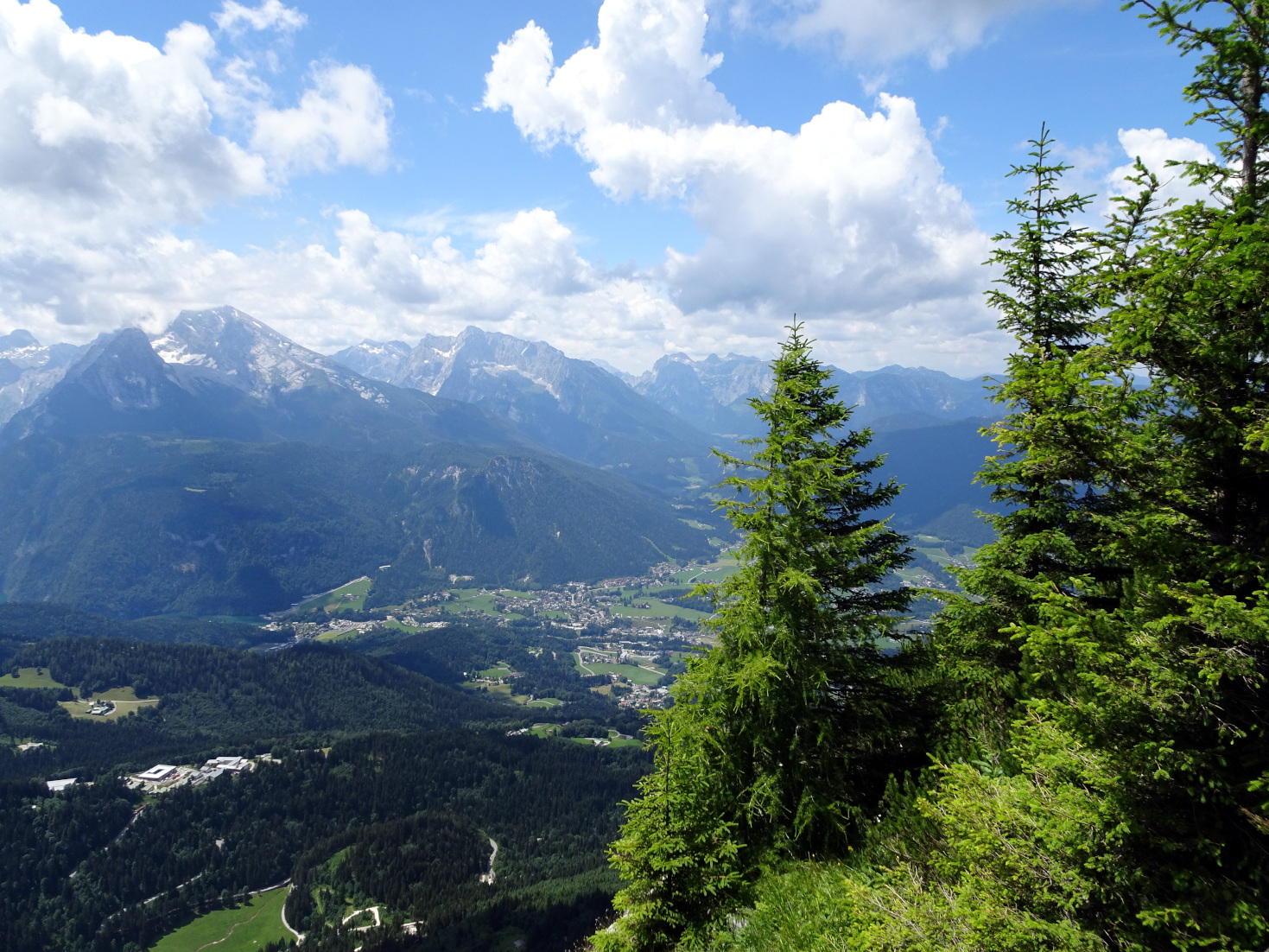 We got back Betsy started down the hill, it was steep. A 1 in 4 gradient. She didn't like it, you could smell her paws burning.