Smiles in the sunshine and tears in the rain, what a difference a day makes. Betsy was all packed up for travels. Dad was in a better mood when he took me for my walk along the beach. By the time we were back in Betsy and ready to go the tractor went by…..again. Betsy was only on the road for a little while before she pulled off and stopped at Tayinloan, all out lets go.
We were in a carpark by the see, the air was fresher here. Dad had to go to the WC, This one was open so many were closed for Coronavirussess. When he came out his face was grey. He was whingeing to mum about the state of them when a local peoplsee said it was because of a bus load of kids yesterday.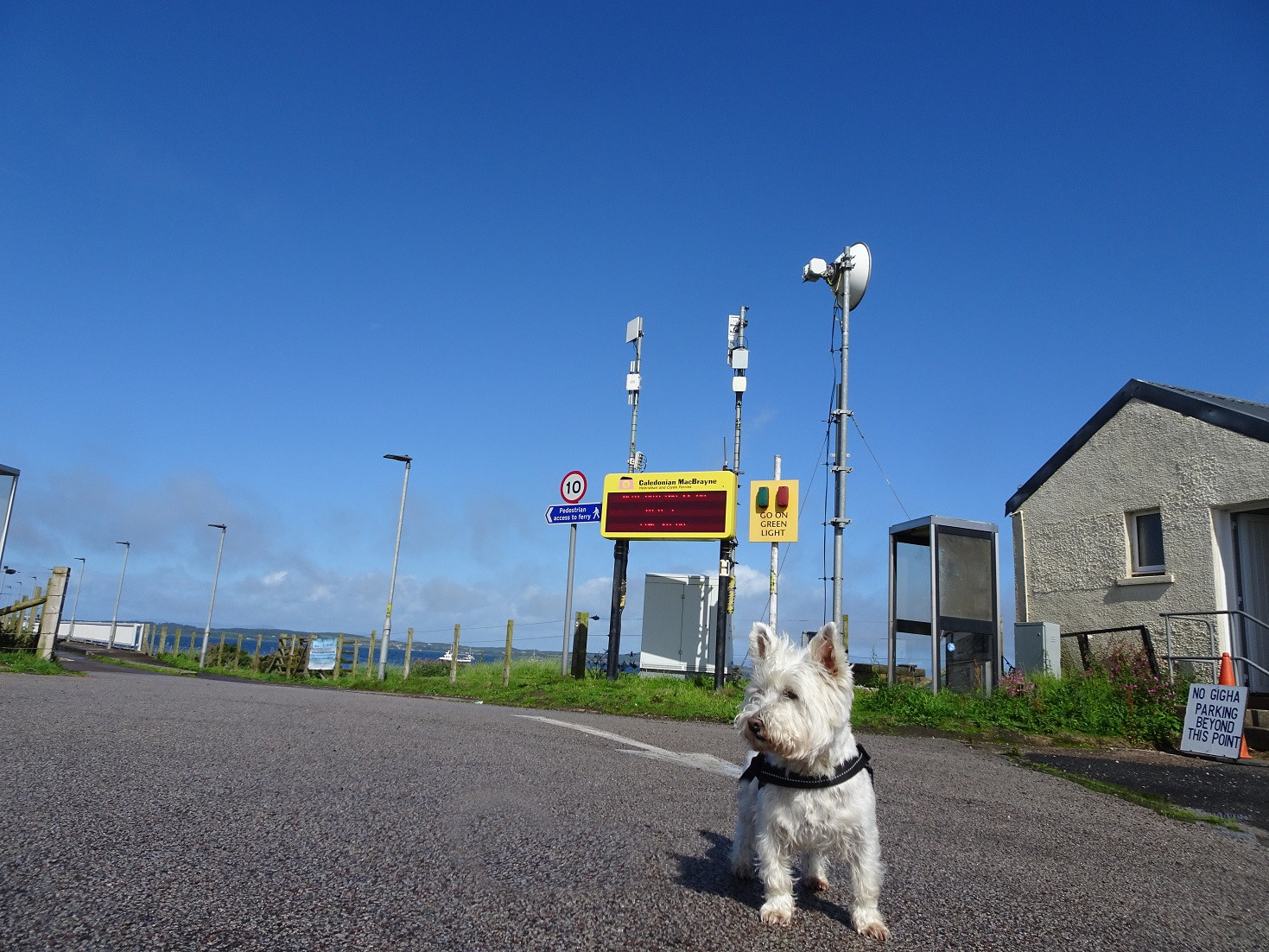 One thing poppys do like is piers. Tayinloan had a good pier, the type you can walk all the way into the water. Mum I'm off to explore.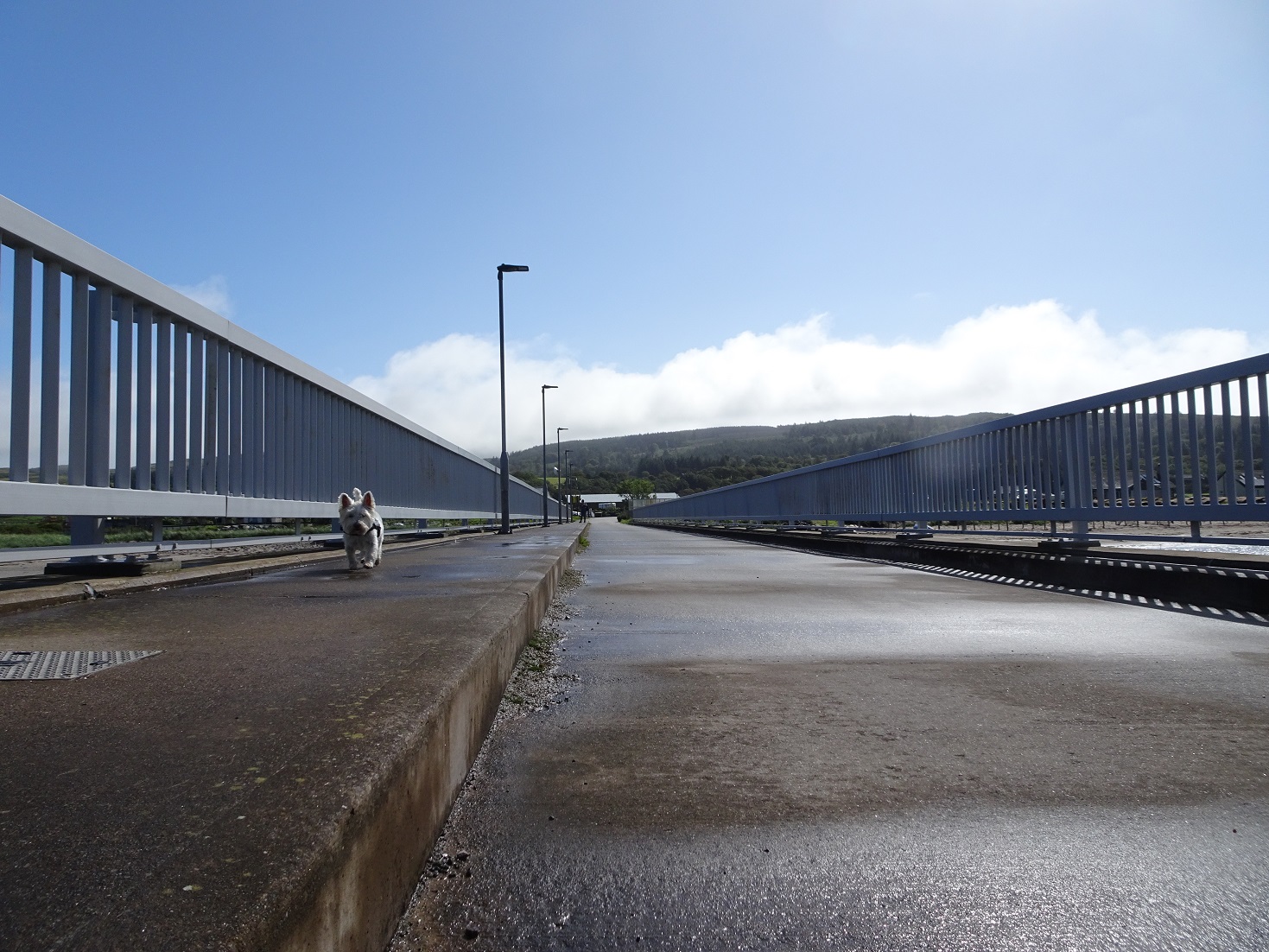 It was great, off leash and free to explore. Dad said it was ok because all the cars were back on dry land. Mmm its dry enough here dad. Soon I heard the noise of big engines, I saw the ferry coming towards us. When I was a pup they use to scare me with their big mouths that open up and swallow cars, now I know they don't eat the cars but spit them out at the other end and nobody gets hurt.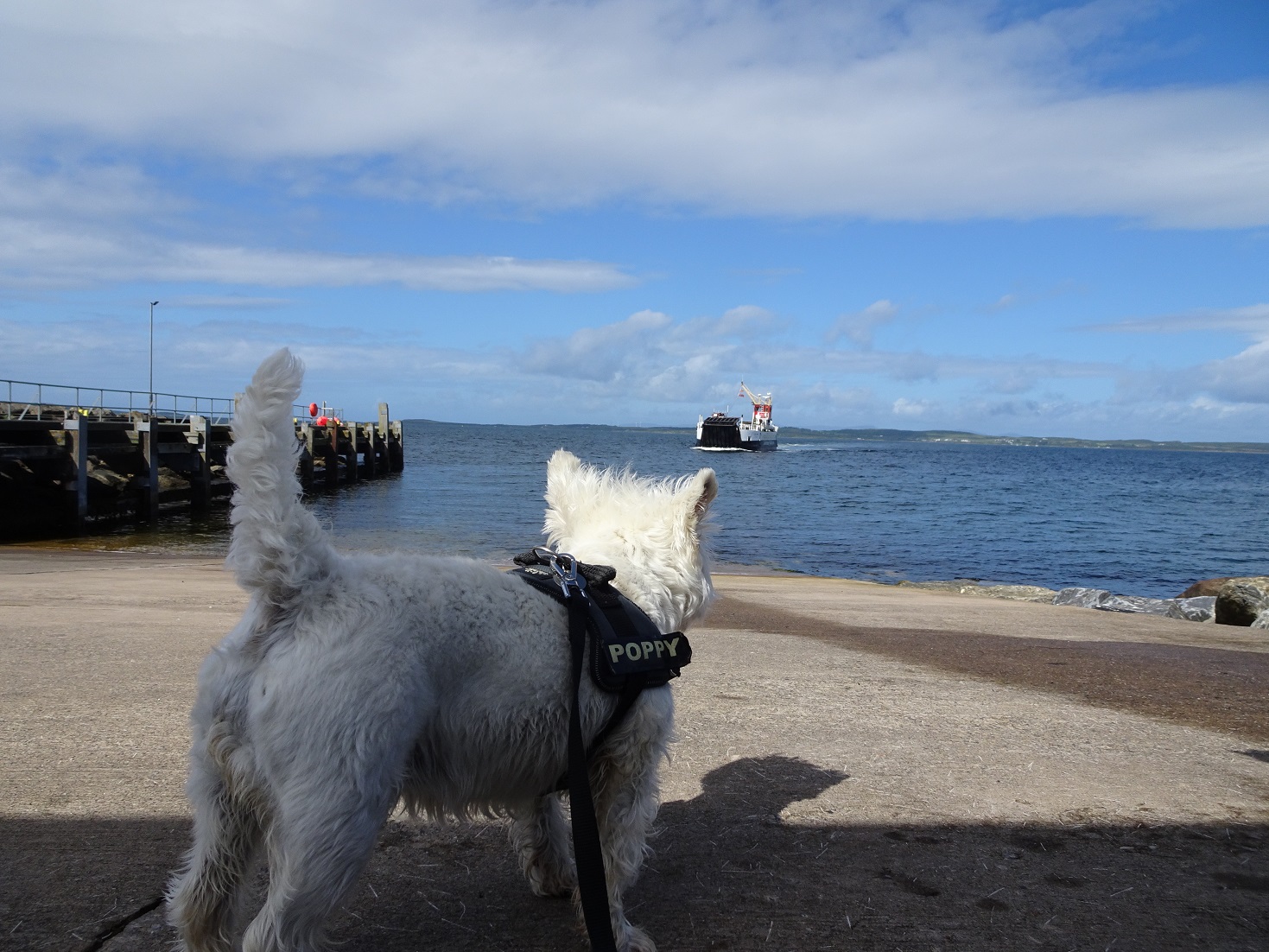 On the ferry I got to explore. The ferry had few peoplsees on it and only two dogs, it did have lots of cars and vans though. It was nice and warm on ferry. The ferry ride did not last long and soon it slowed to let us off.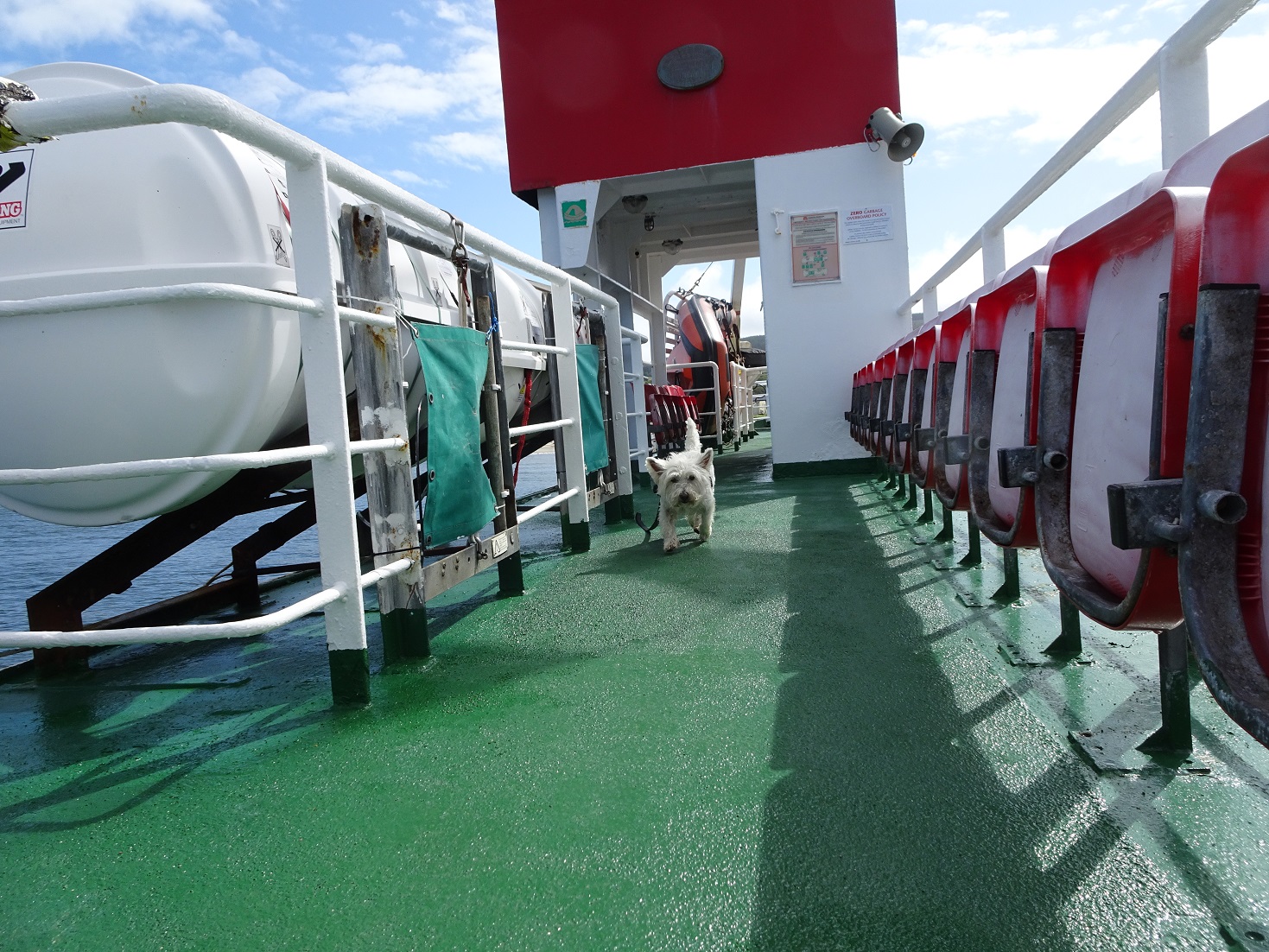 One off ferry dad let me off leash and after a good sniff about I ran to catch up with mum and dad. Dad, Dad we have bagged another island! What's this one called? "This is called Gigha" dad said.
We walked up the main road to the village of Ardminish on the way up a local peoplsee said "Welcome to Gigha" to us. Nice place Gigha I'm off leash even on the roads. Across from the hotel was a signpost for the beach, I looked at mum and headed down the path. The path went through grassland and gorse, it was easy going and as the path opened up there it was, a perfect little beach! Suns up sand sea and warm fresh air…..BALL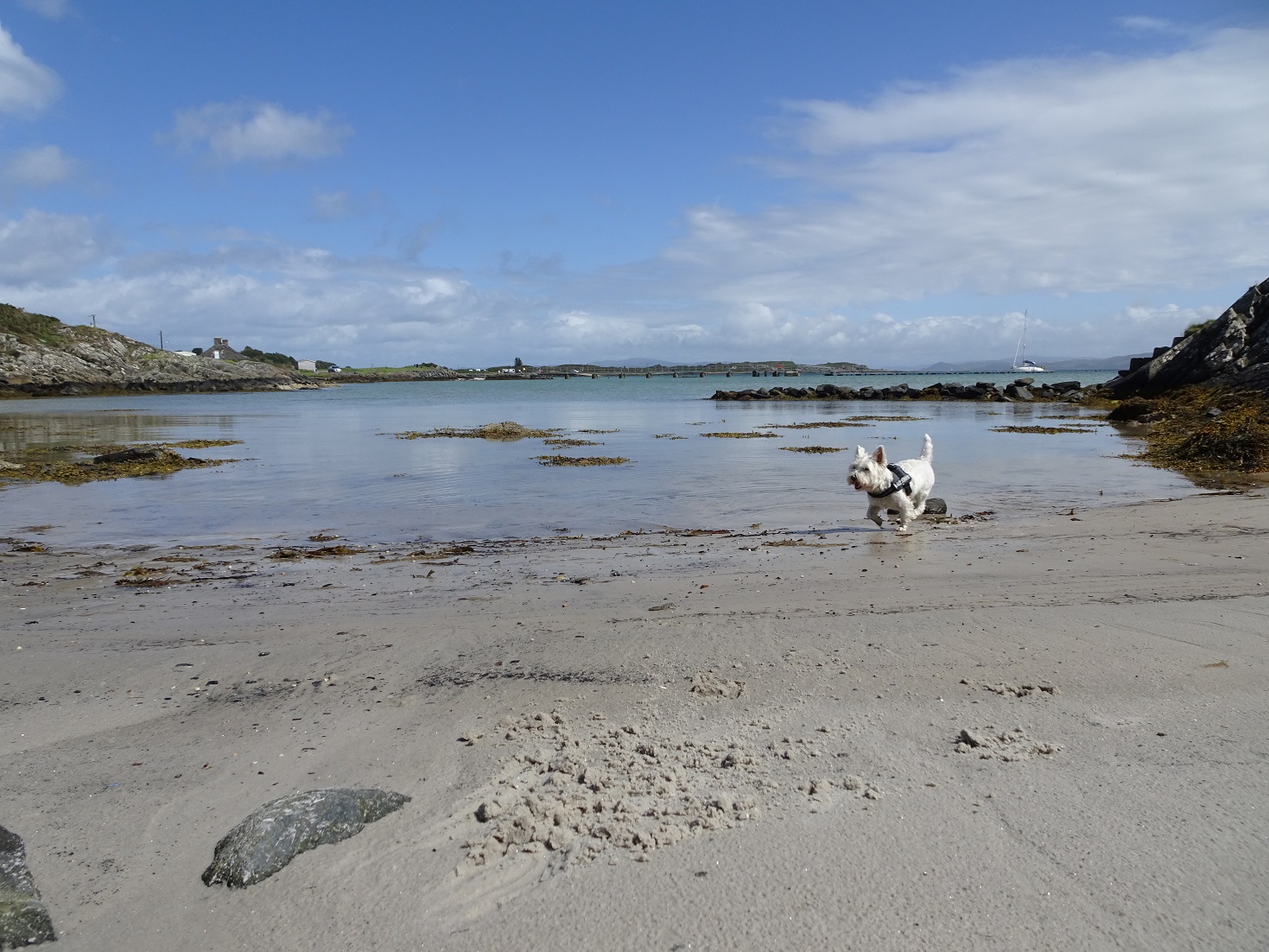 The beach was great fun I ran about like a pup and paddled in the water. We had the beach all to ourselves. There was even rocks to climb and everything!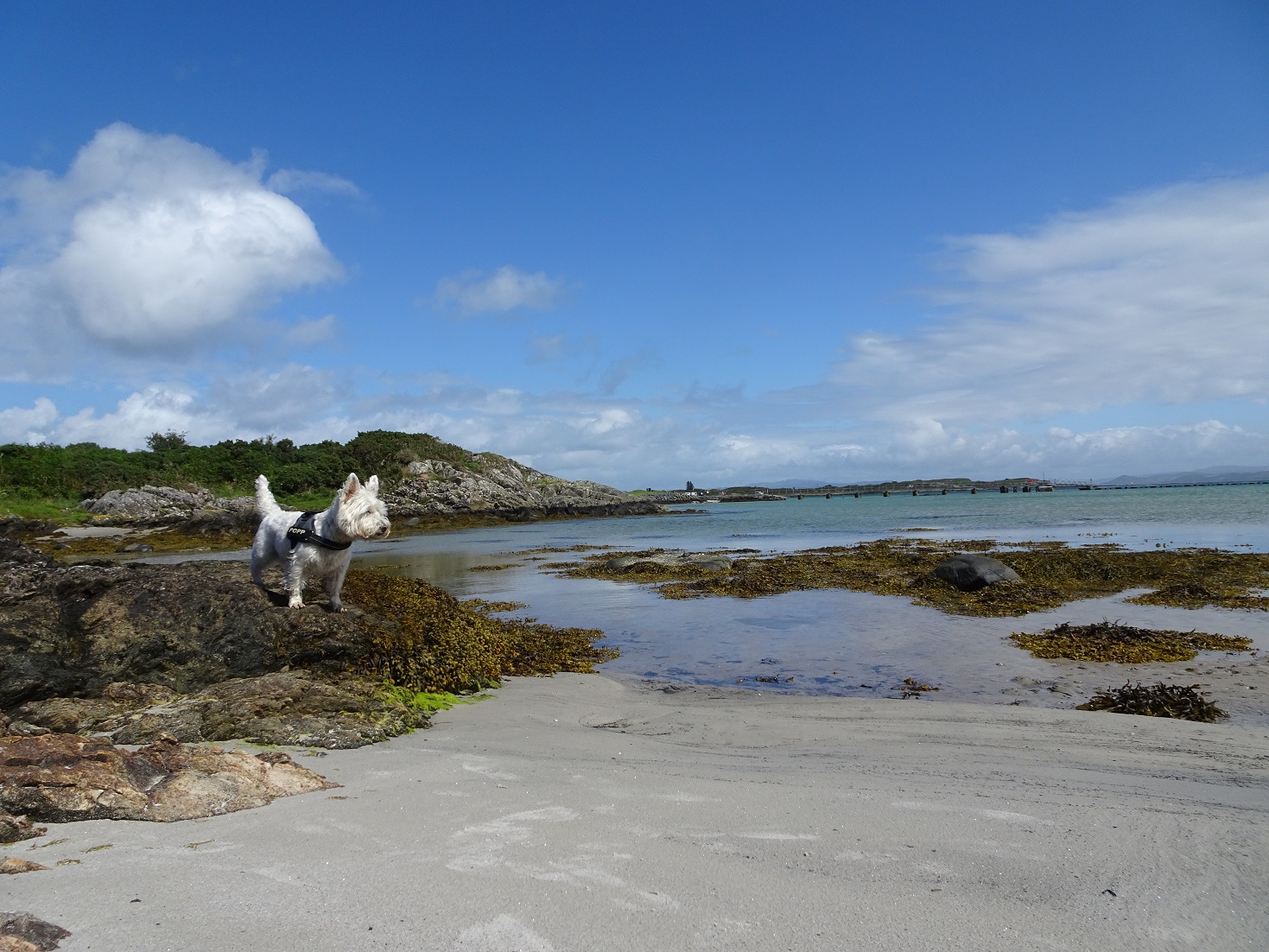 Onwards and upwards leaving the beach we went to explore the headland. It was mostly rocky but easy to climb, dad spoke to some peoplsees from Glasgow over for a wee donner round the island.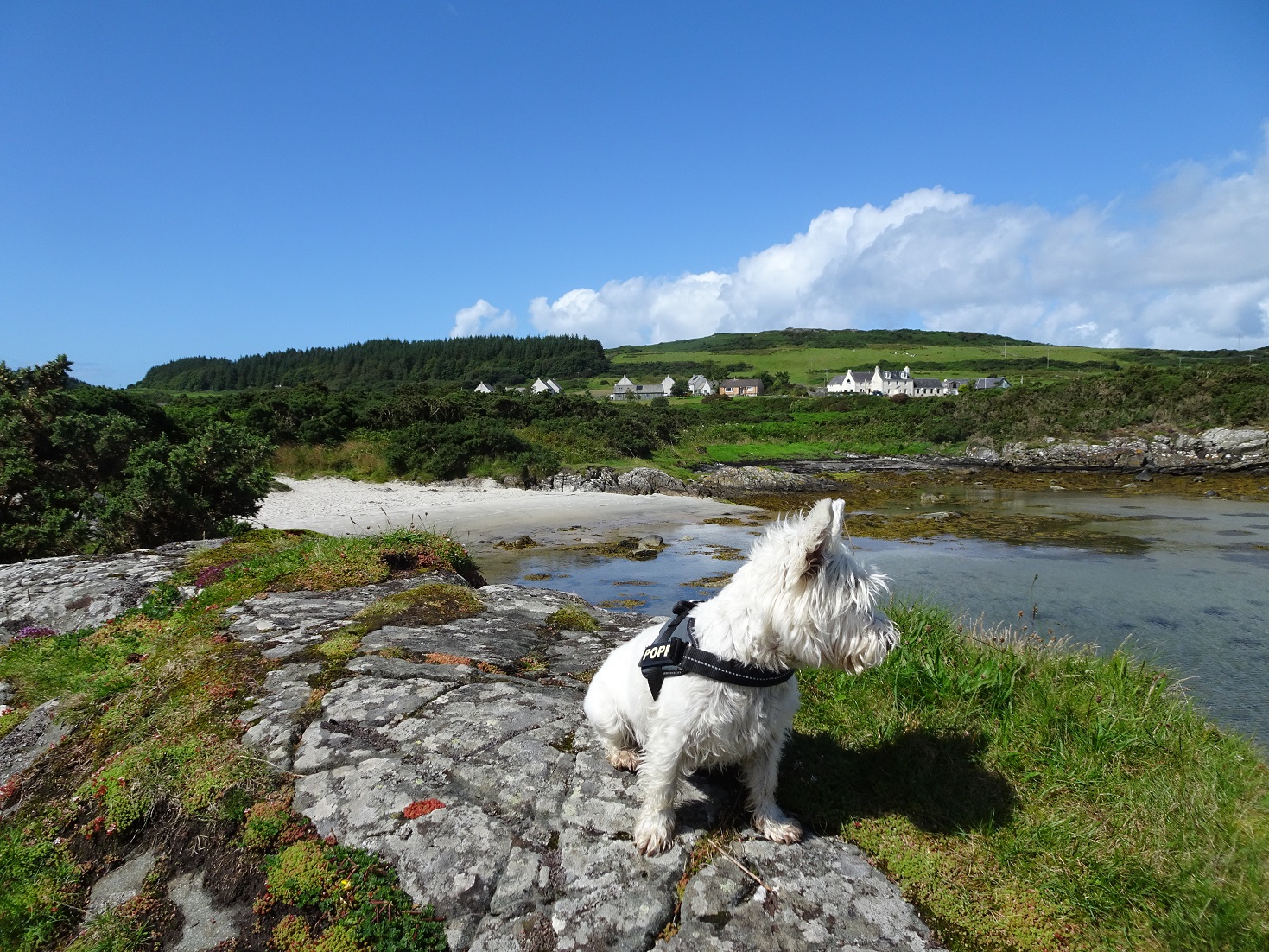 Mum had booked lunch at The Boathouse so we decided to explore the rest of the village before lunch. At the end of the village we went through a kissing gate and followed a path to its end. Nowhere forward time to head back. Dad stopped at the village store, it was only open for two hours and the whole of the island came here for their Sunday papers, car after car after car. Dad went in and bought a magnet and a bottle of milk. A bottle of milk dad? Your just daft. When dad was in the shop me and mum were outside keeping up to date on all the village gossip, one old lady just got married to a peoplsee she lived with for 15 years! I'm hungry, food? At The Boathouse dad asked if we move our table from inside to outside. Bonus. This ment I could explore. The Boathouse had a wee beach where a young peoplsee was playing sandcastles, I explored elsewhere.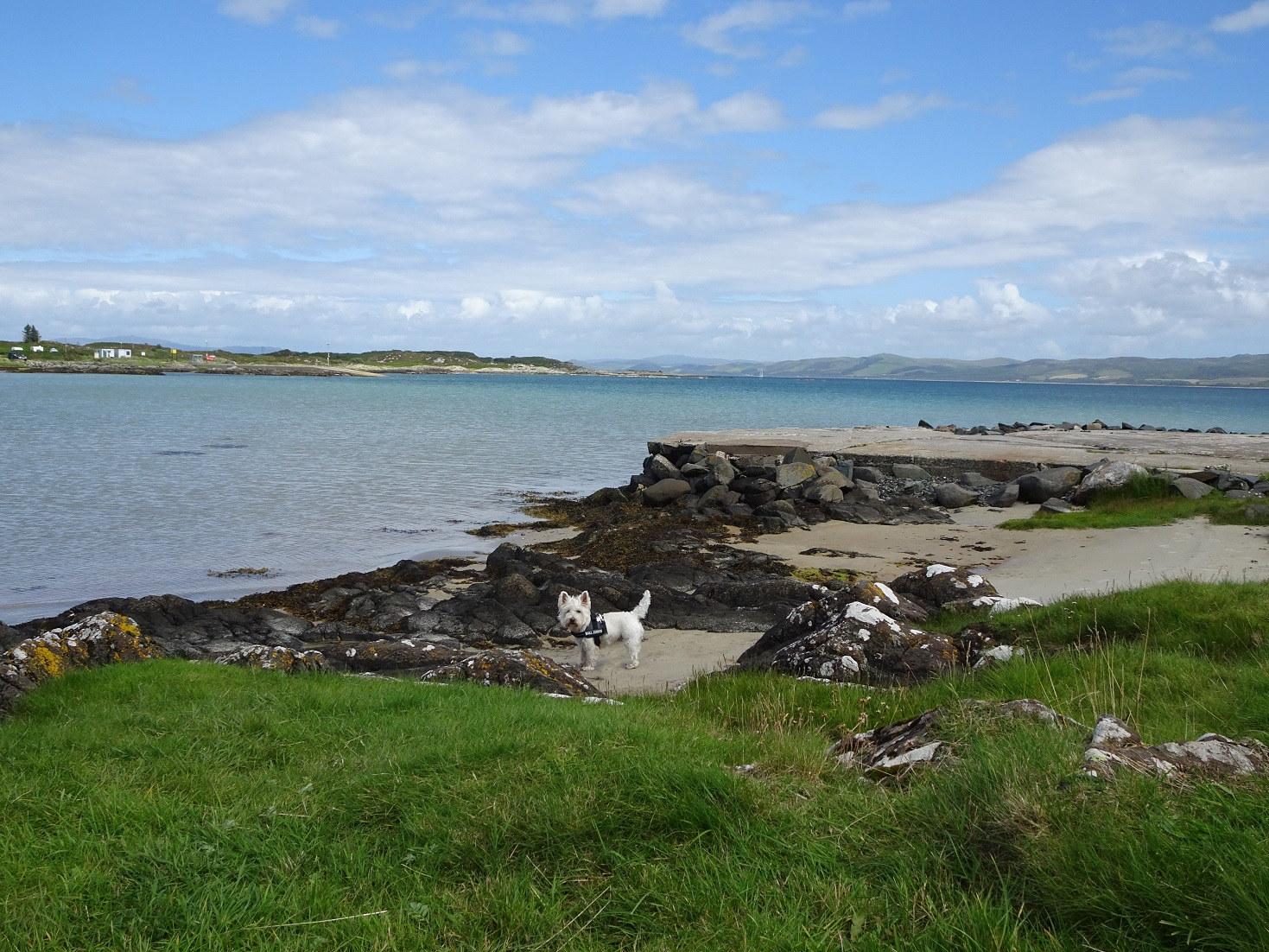 Then I could smell it……………..FOOD!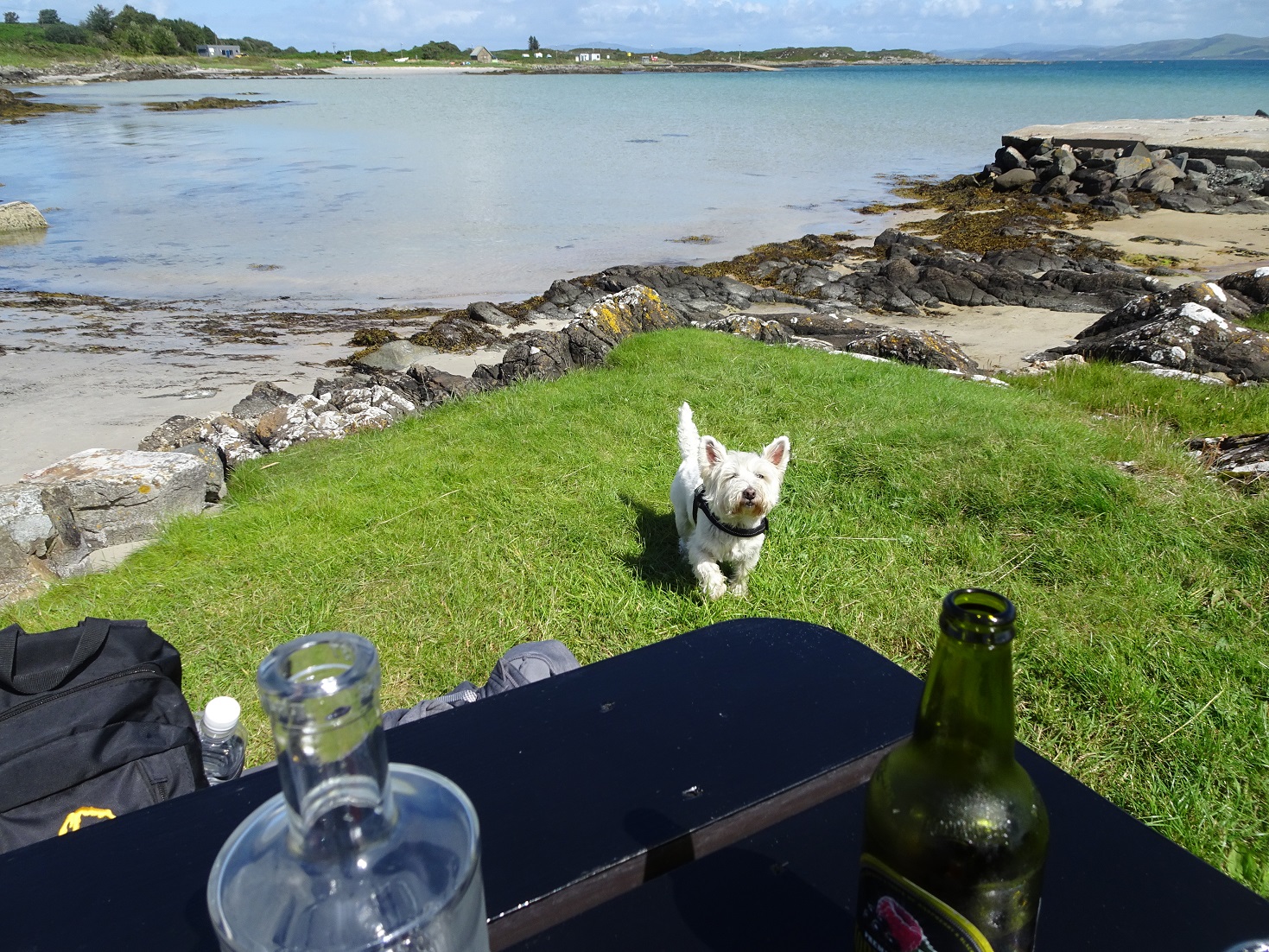 Better investigate closer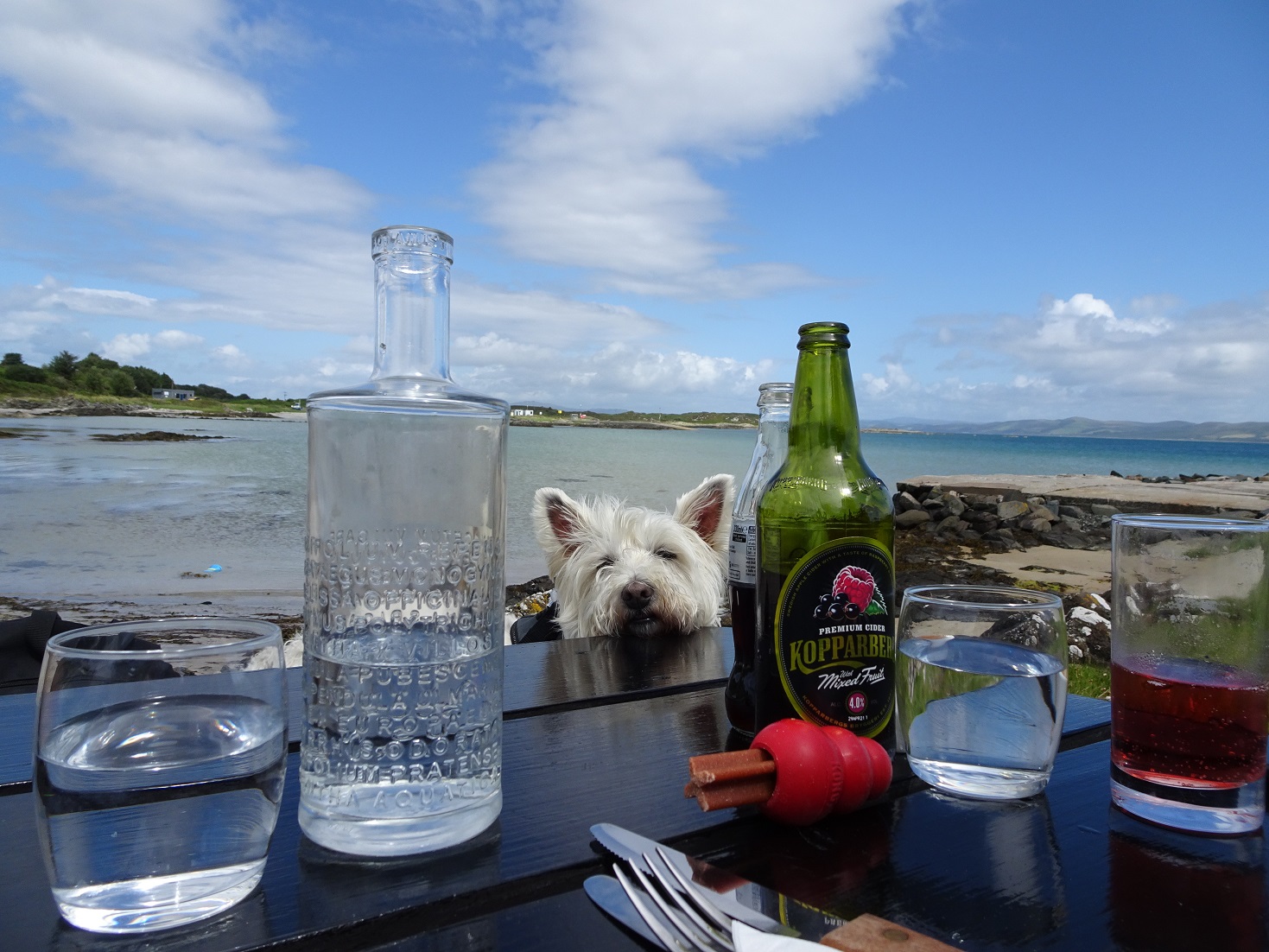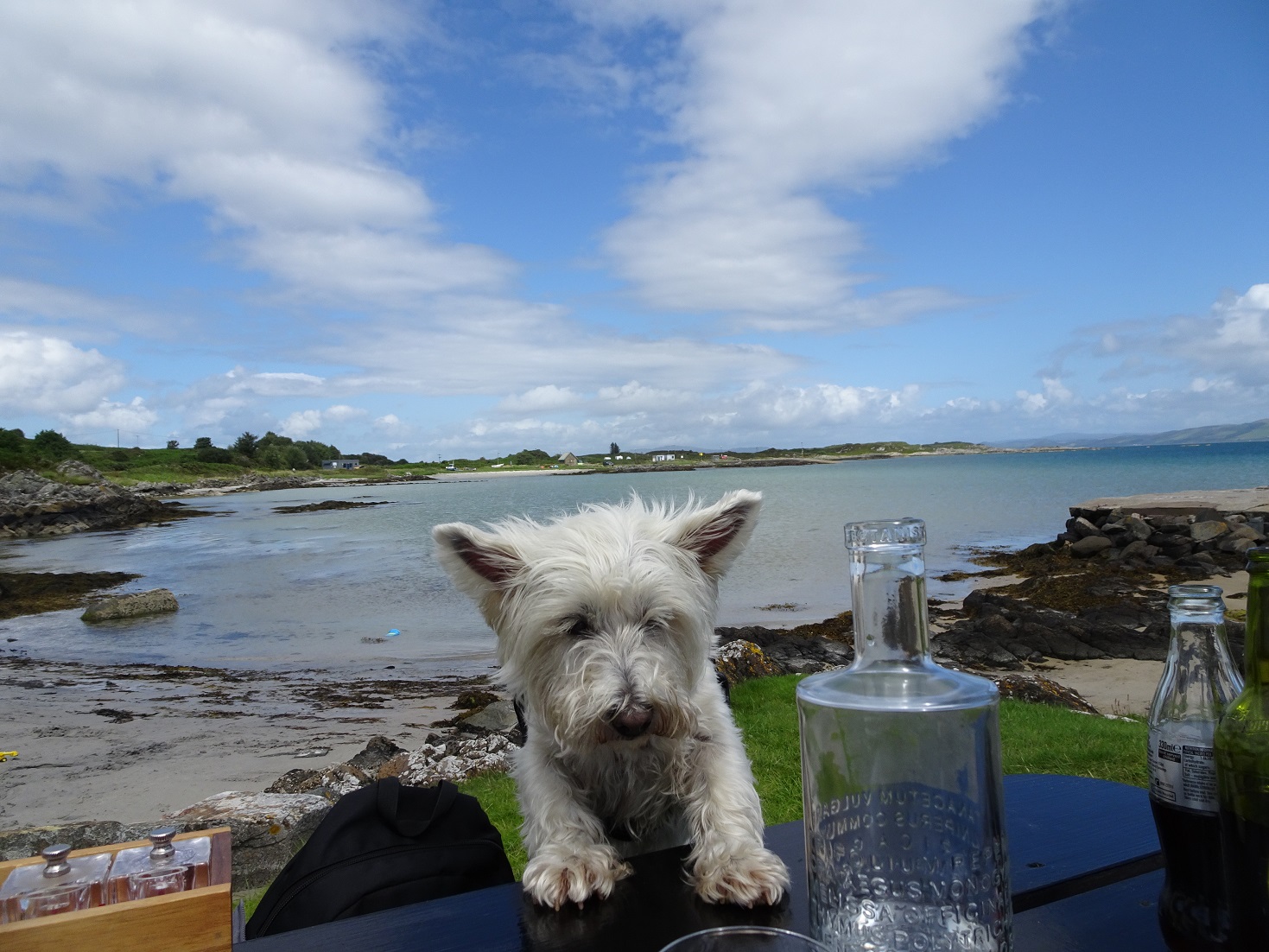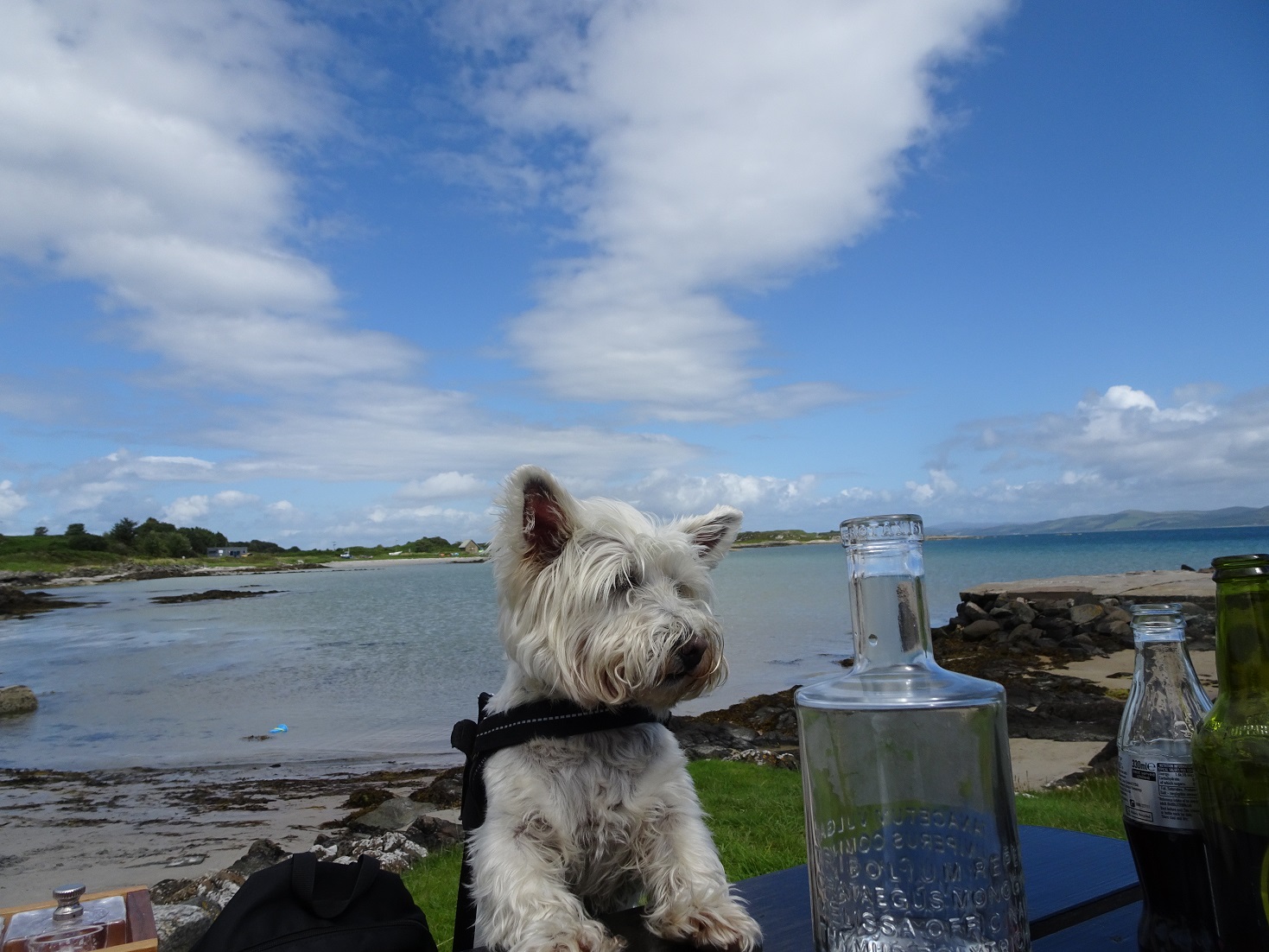 Lunch was amazing! Seafood linguini with halibut, prawns and mussels. Surf and Turf with Scallops, Prawns, Lobsters and amazing steak. Poppys like Halibuts, Scallops, Lobsters and Steaks, poppys don't like Prawns, yuck. After dad paid the bill we went to explore the jetty. The jetty was easy to walk on, not like the one at Whitby where I needed to be carried. The water looked amazing. From the end you could see for miles. Dad asked the Jetty Keeper what like it was in winter, he said it could be rough but they never get snow.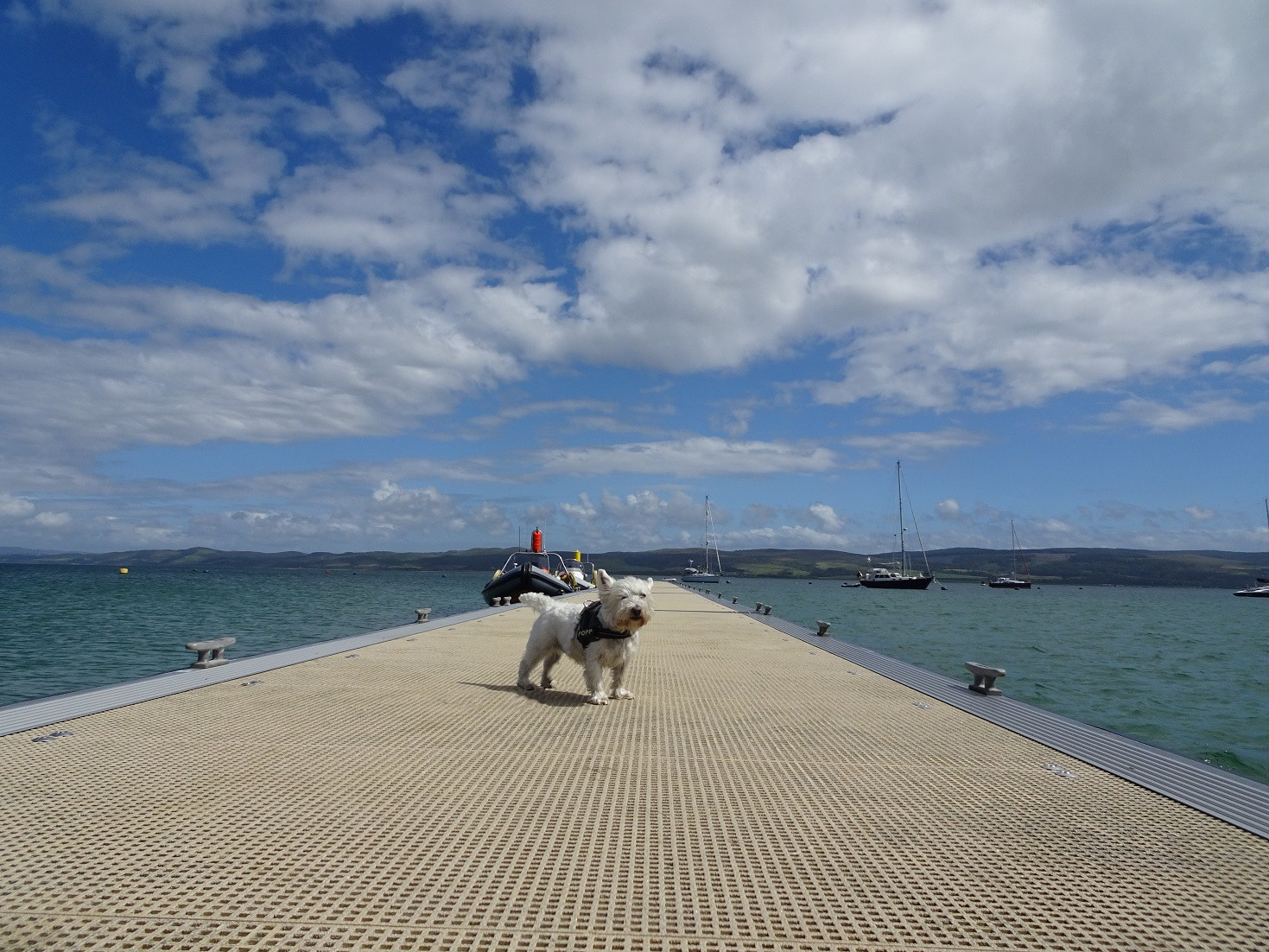 Time was getting on and we had a ferry to catch. On the way back to ferry I spied a beach. One last game of ball dad? Daft question. We played for a wee bit too long, Ferry was opening it's mouth! Dad run, we might miss it!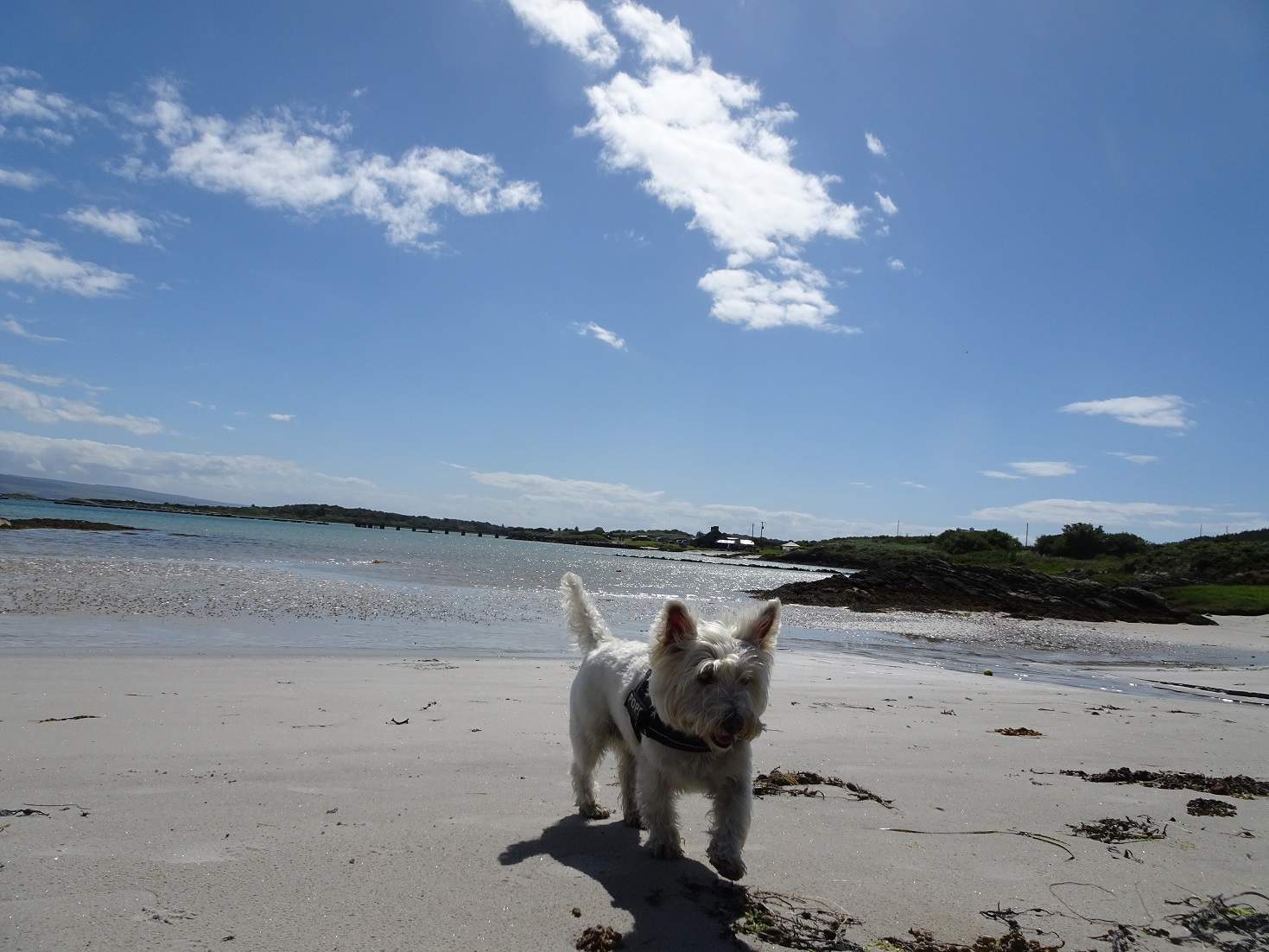 Luckily we made it, Mum and put their muzzles on and we went upstairs. It was a fun packed day and as ferry took us over the water to Kintyre in the warm sunshine it was the perfect time for a nap. Bushed.