Up and out early again this Saturday and straight up to Home Park. On the way there I met my bestis pal in the whole world Ziggy. Mum and Dad chatted with Ziggy's mum and dad me and Ziggy explored. Eventually we parted and it was off to the daffodils to play ball.
We went the new way around the park I managed to chase a few squirrels, but we didn't go down to Squirrel Ally. Instaid we headed for home. Just when I thought I was going home for a nap we went into mini. Why we not going home mum?
Mini woke up and we were off. Are we going to granpas? Nope. We must be going on an adventure. Mini took us out of the city towards the airport. Are we going camping? Can't camping because Betsy is not here. Mmmmm very strange. We left the big road and joined a small road. We left the small road and joined a vert very small road that went into a field. Nose out the window lots of interesting smells I have never come across before. Mini stopped but we did not get out. A peopolsee came up to mini and put two boxes into mini's boot then mini took off.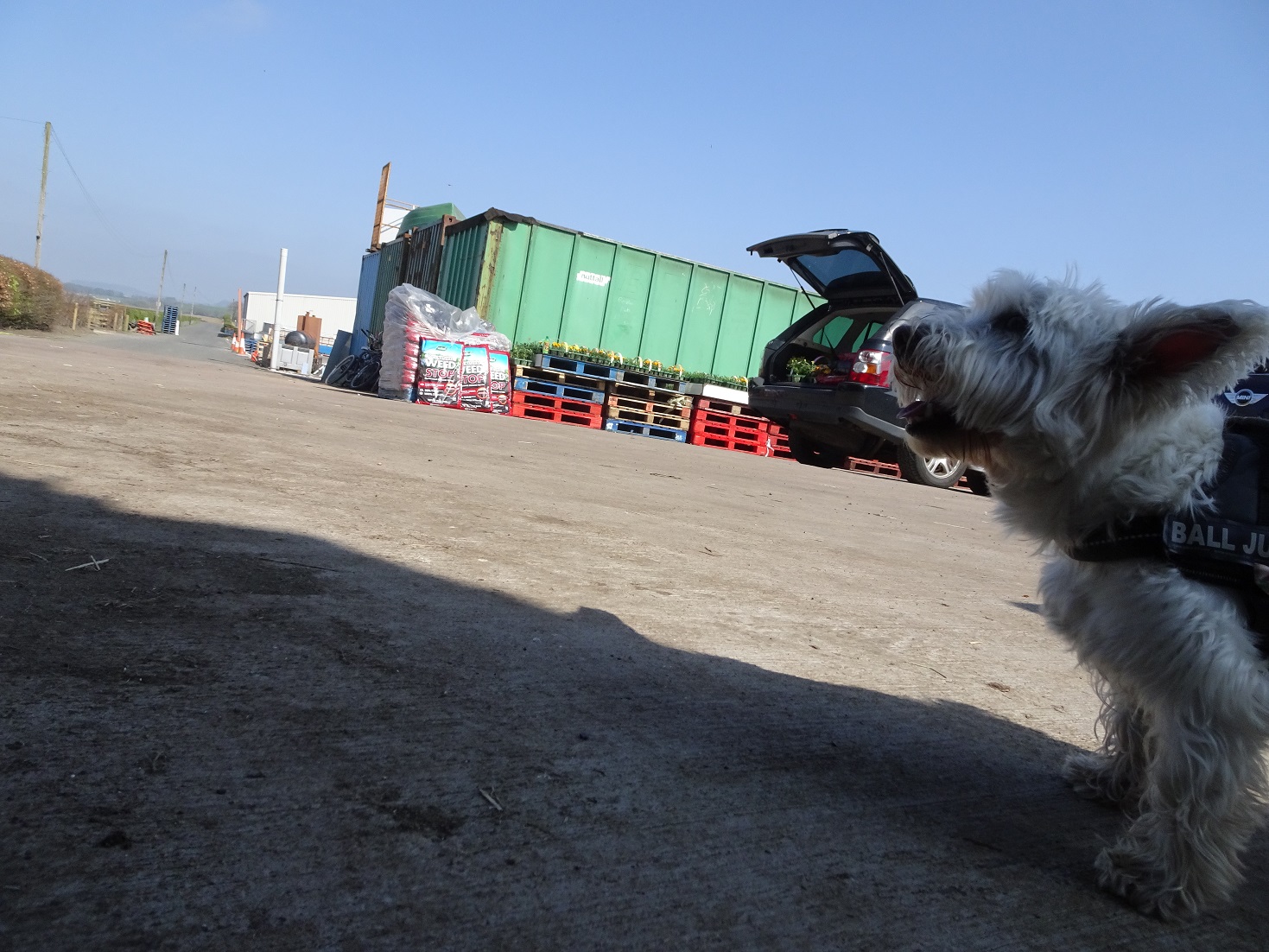 Mini stopped a little further up the lane at a place called a farm. As soon as I got out four big birds called peacocks stared at me, mmmm I don't like this, grrrrrrrrrrough, GRRRRRrrrrrrrrrrrrrrrrrrr. They moved off. Mum went up to talk to a farm peoplsee. Mum was trying to buy a bag of dirt for her flowers. The peoplesee said "hurry there was one bag left", dad went to get it, mum said "hold on dad I'm talking" a minute later "it's the one over there". Too late another peoplsee picked it up, why did mum stop dad from getting it?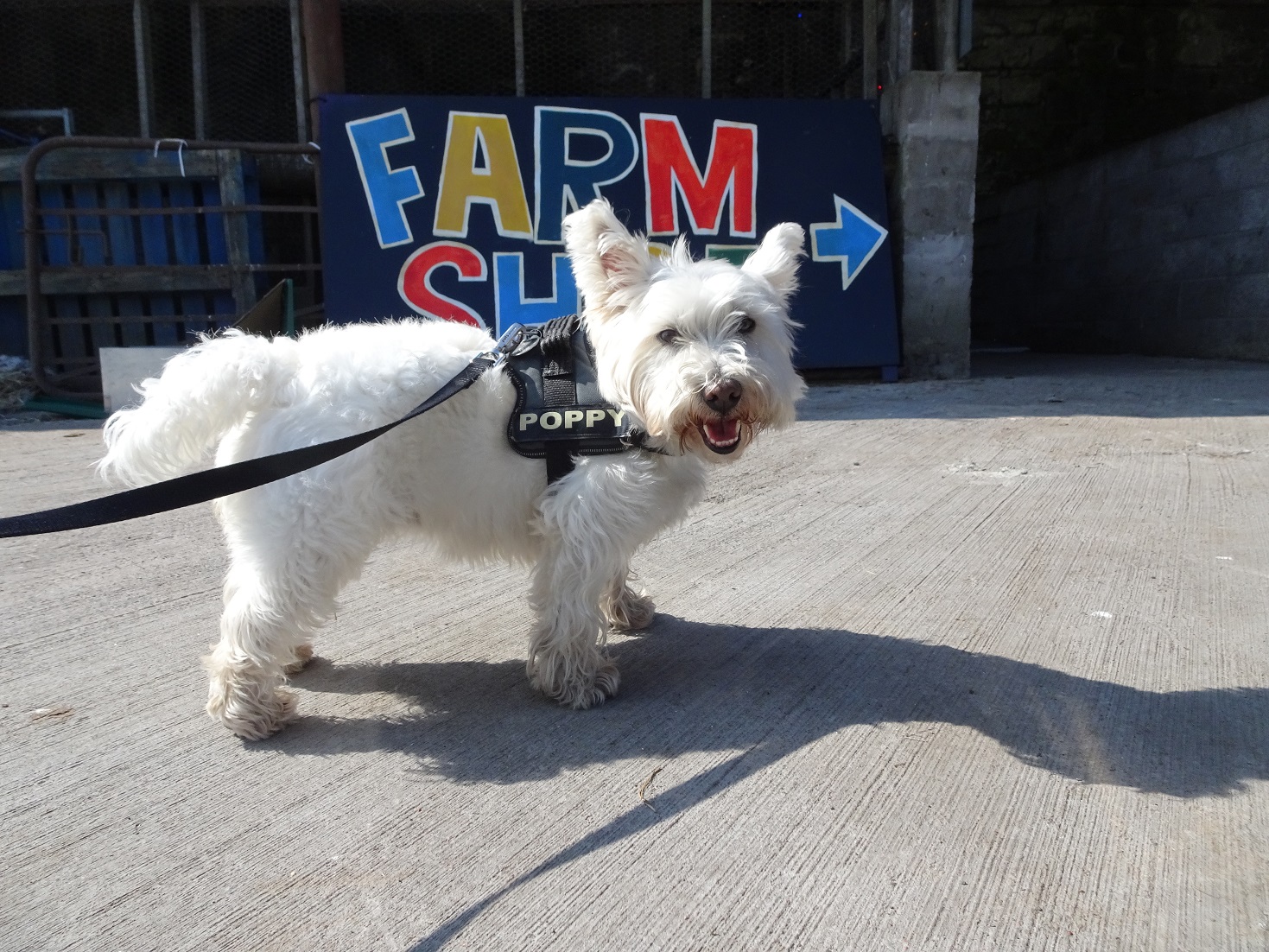 Only three peoplsees were allowed in the farm shop at one time so we went to explore the farm. First I investigated the chickens. They didn't want to play with poppys. Then I caught a very interesting sent. What could it be? I pondered and pondered, I have never smelled this before.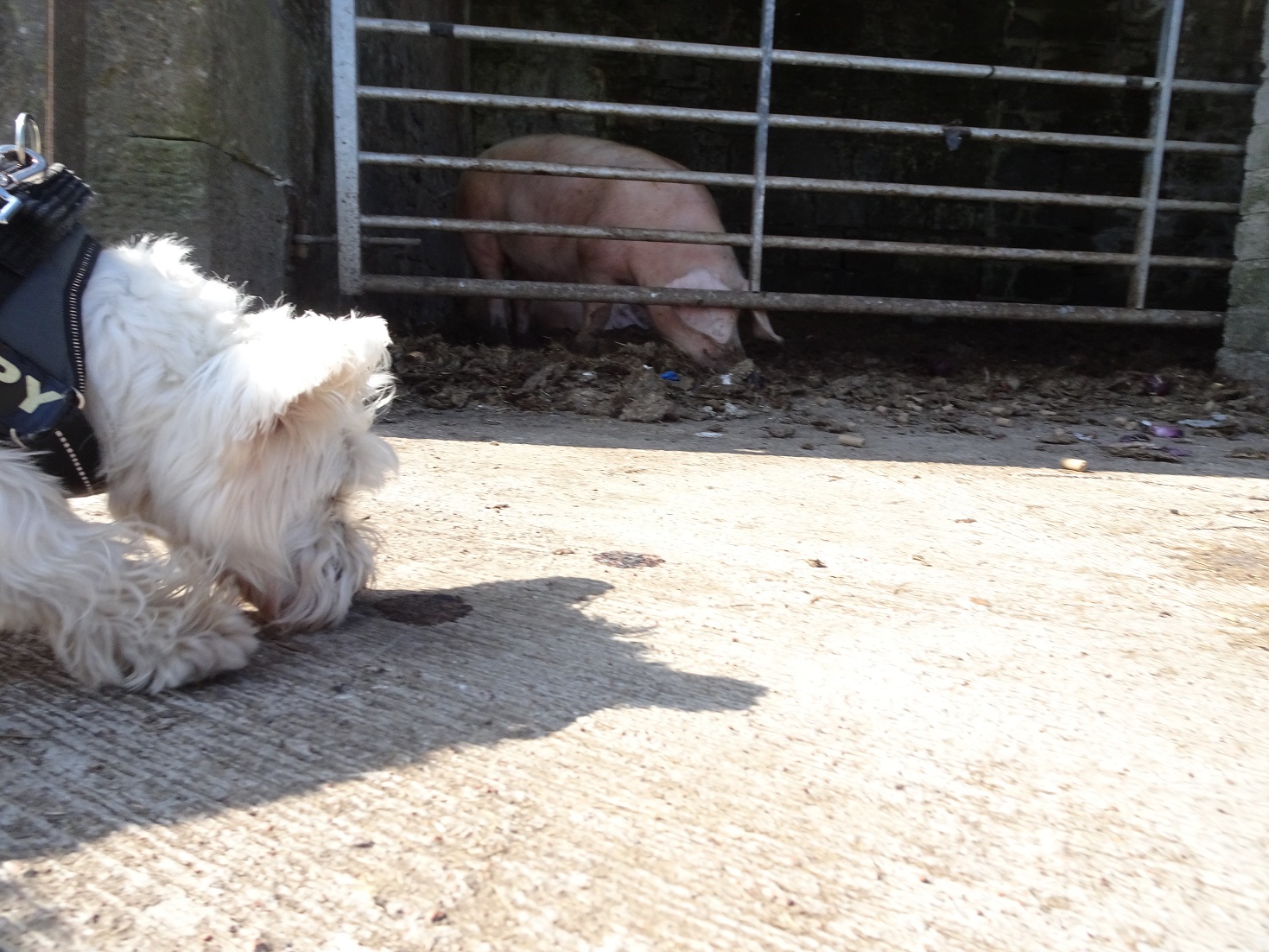 Woah! What is that! Dad, what is it? It's big. It's pink and it very manky. Its more manky than me in the park after the rain! It's talks funny, what does "Grunt grunt grunt meen"? Dad?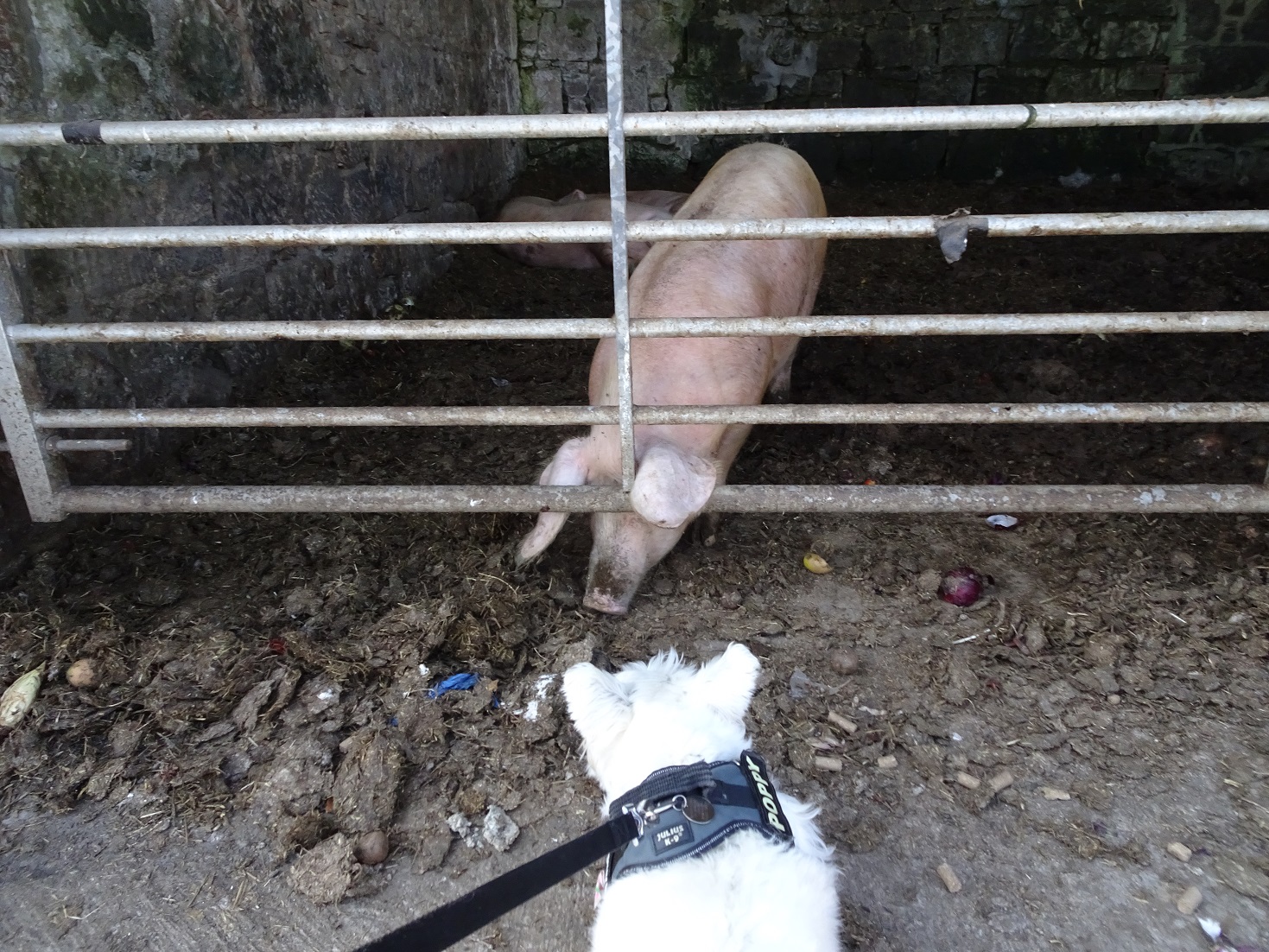 Mum was eventually allowed into the shop. She was ages. Me and dad waited outside in the sun. Mum came out with a bag of stuff that she put in the back of mini. We investigated the rest of the farm, never saw the peacocks again but saw some horses. Horses stay well clear of poppys.
On the way home we stopped off at a few places so I could stretch my legs. At a bridge dad went to take a picture of the farm we had just come from.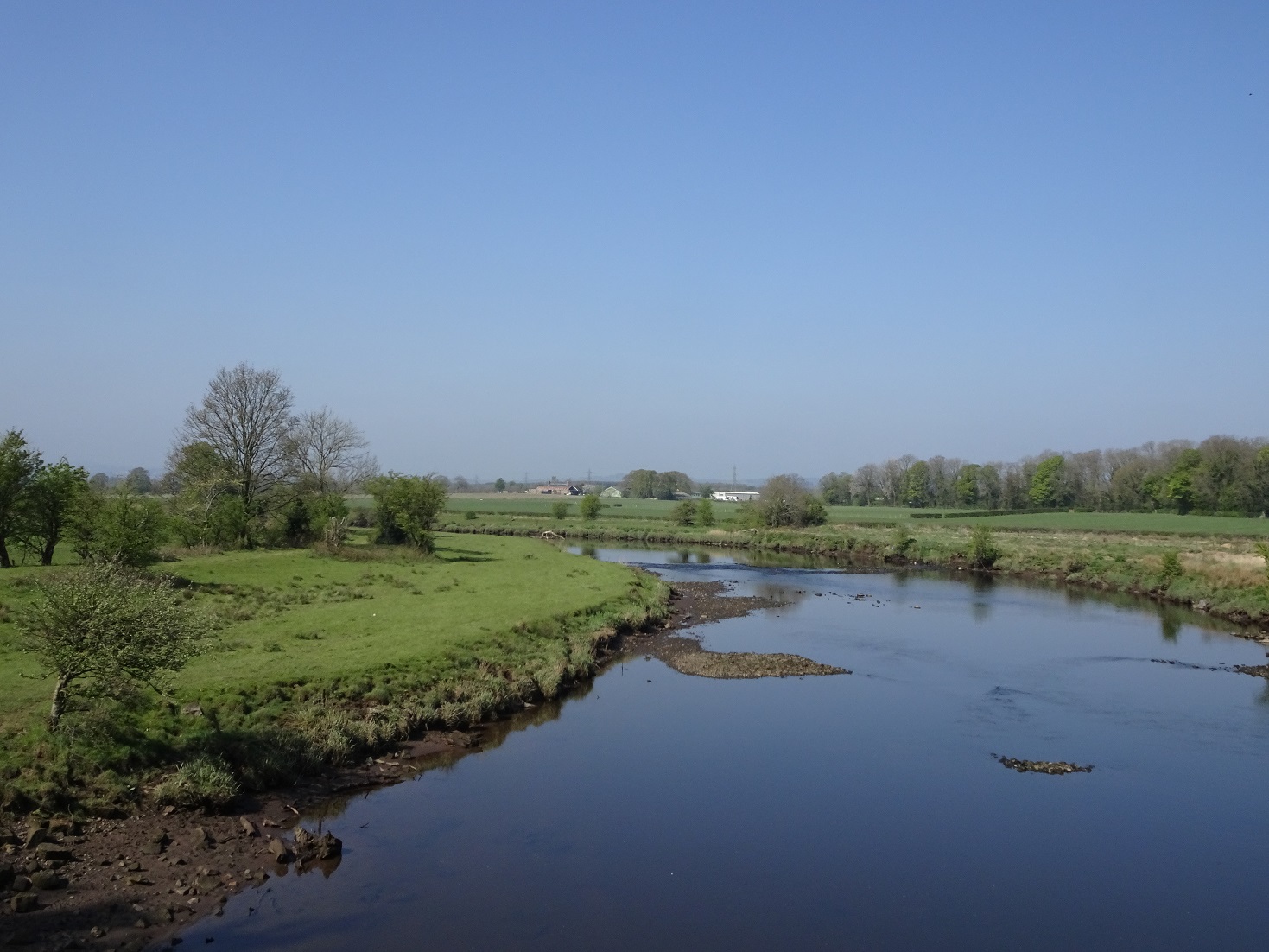 He crossed to the other side of the bridge and shouted to mum to come and look. It's just a river dad. What's the big deal? They must see something I'm not seeing or even smelling. It must be something because we pile into mini and are off.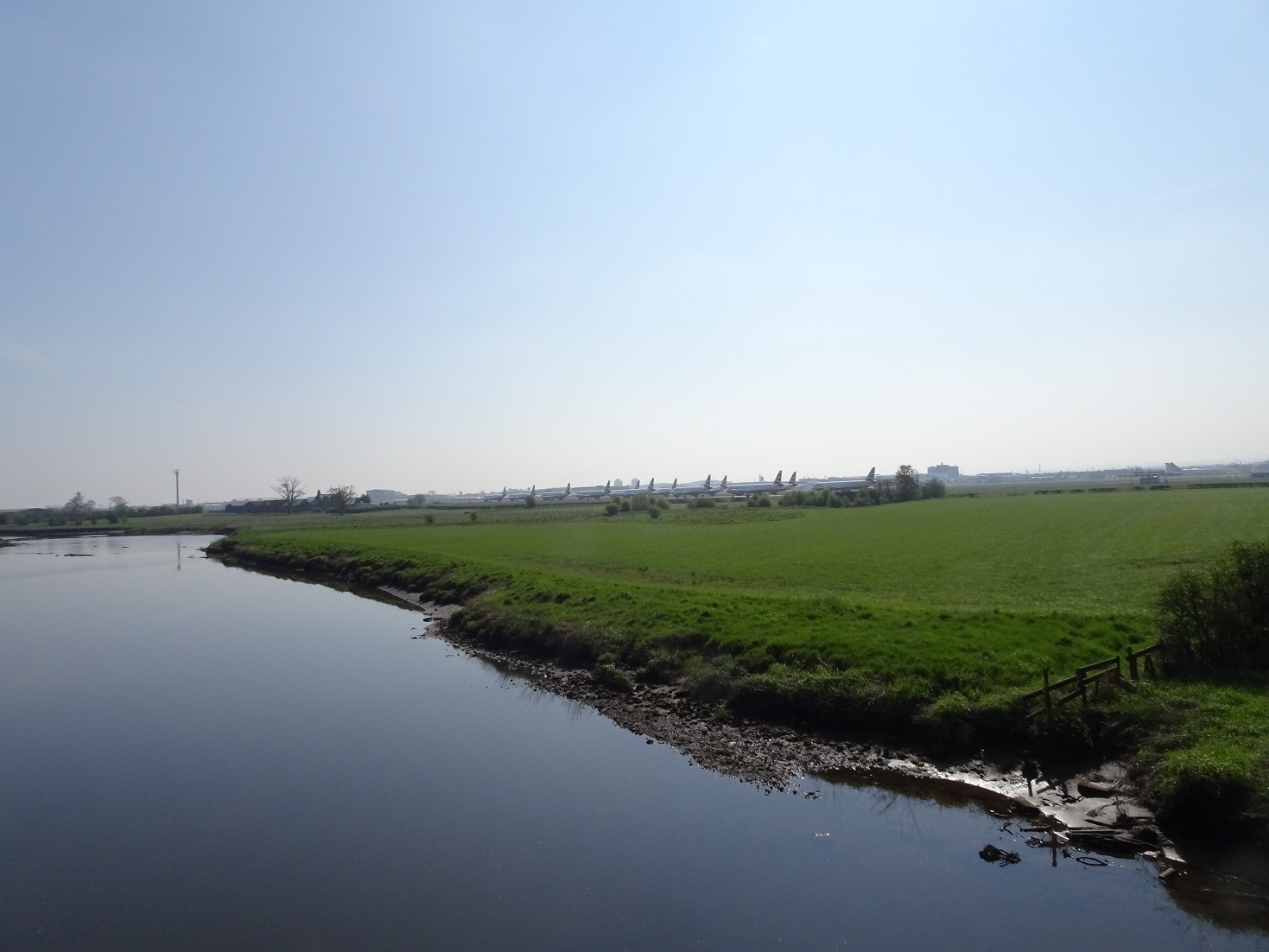 Mini pulls turns into a lane and pulls off the road. I get out, the lane is quiet so I am allowed to run free.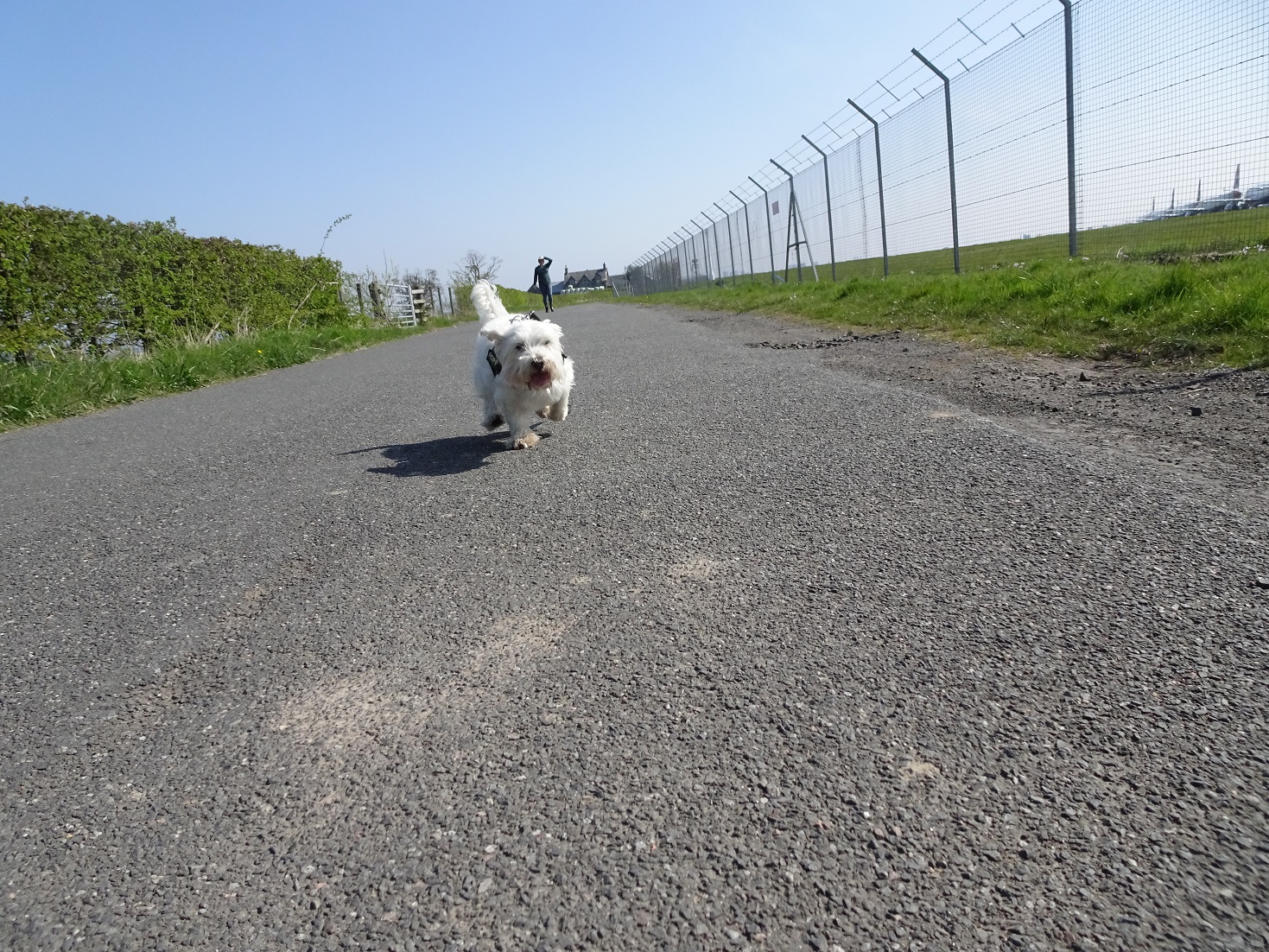 Mum and dad were looking though a fence, soon more peoplsees stopped and started peering through the fence, I just don't get what they are looking at.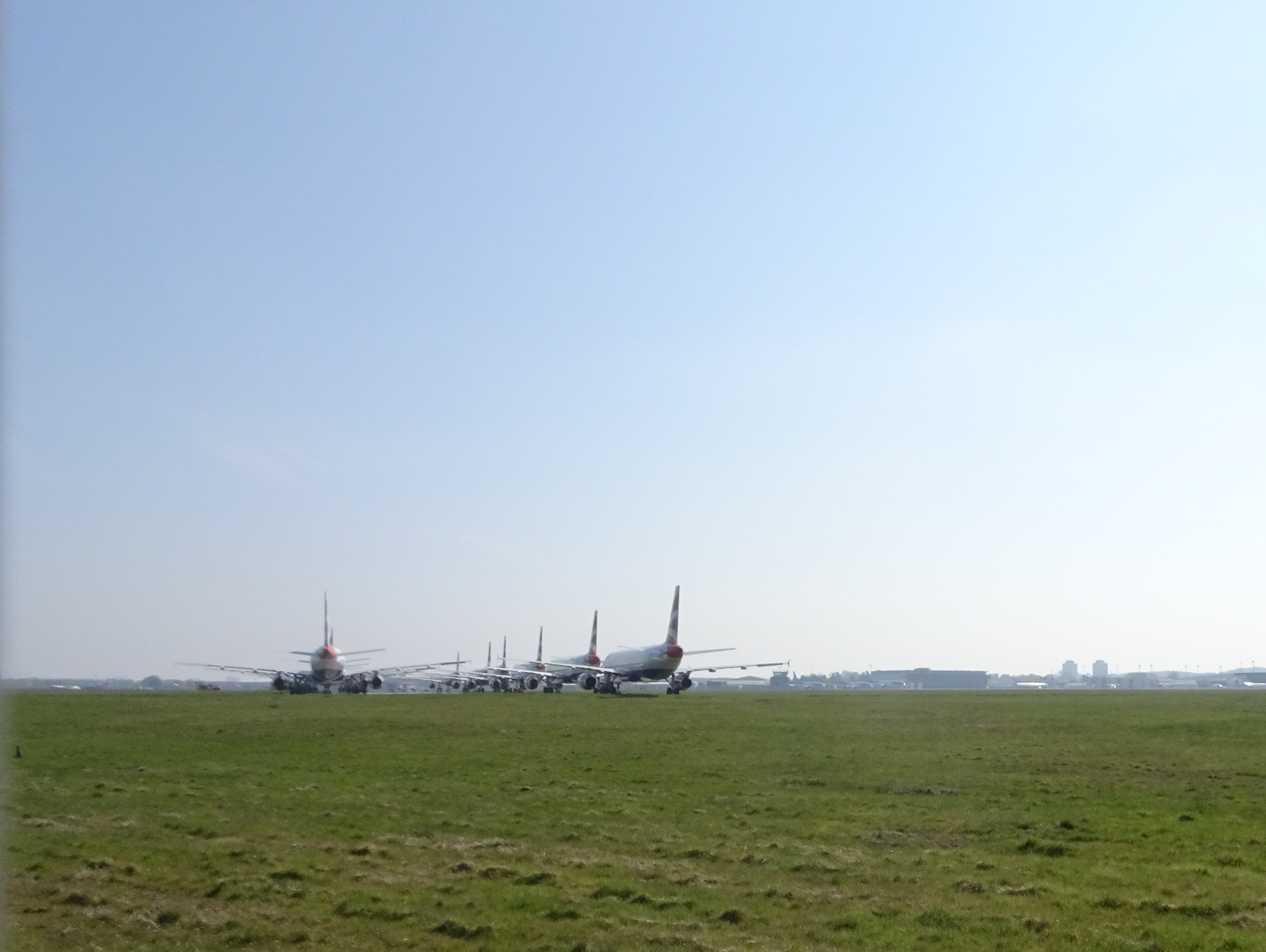 A group of cyclists stopped, got their phones out and started taking pictures. Not to be out done I wanted mine taken.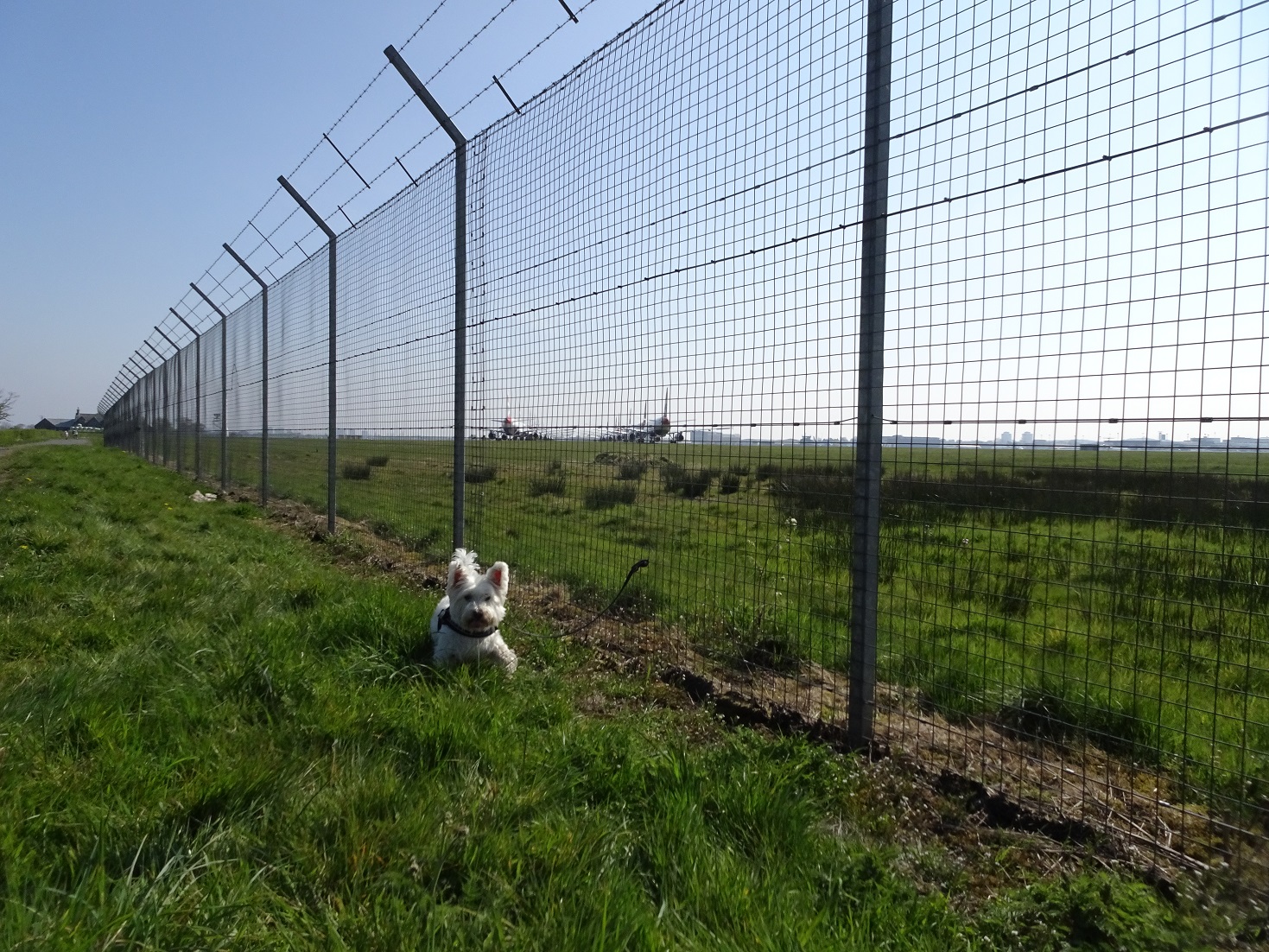 We went for a nice wander. It was just like being on holidays!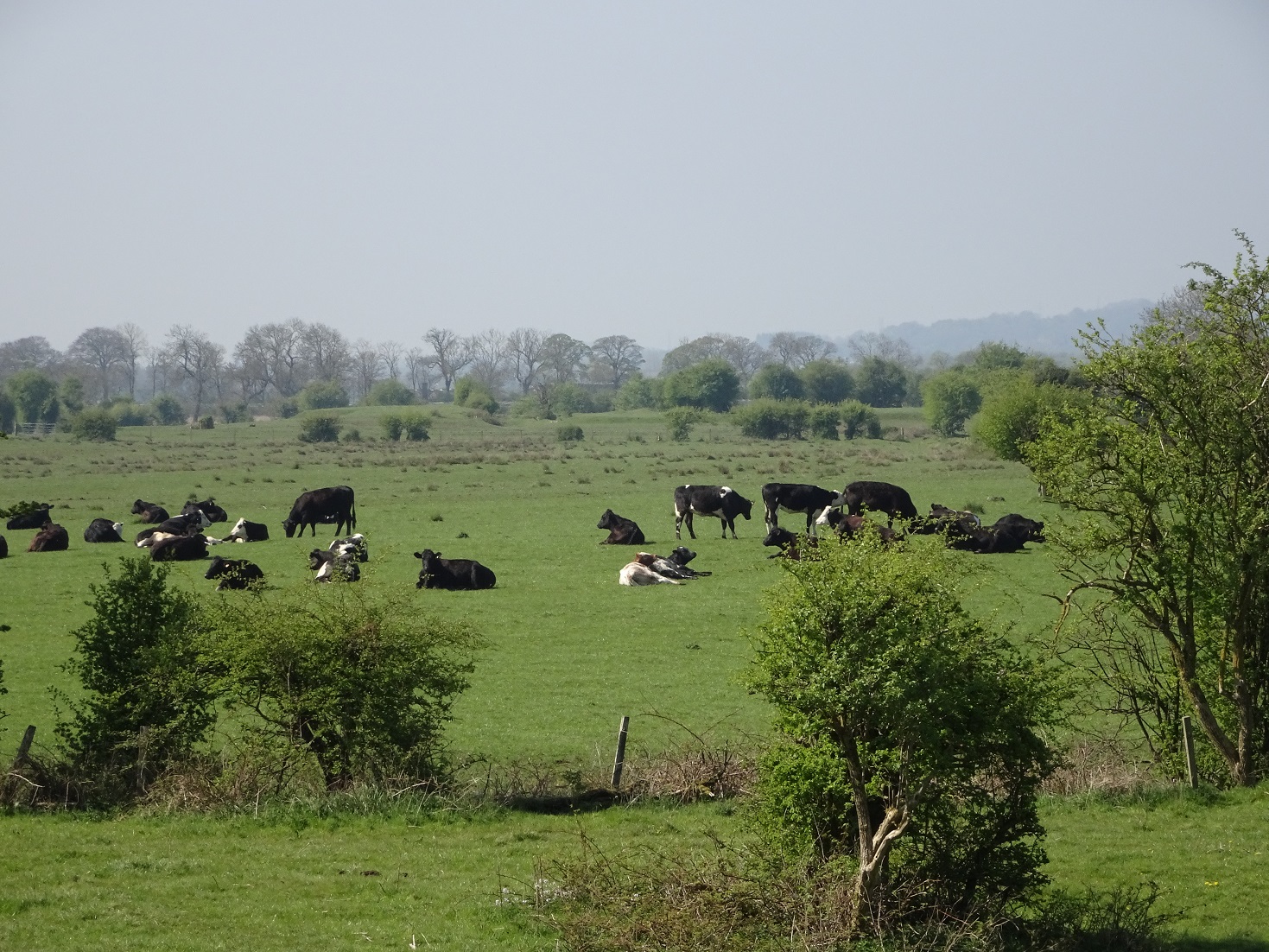 Back into mini and home. Too much excitement for one morning, time for a nap.