Wakey wakey shakey wakey, big stretch, big yawn, sniff, sniff, where's mum? Where's Dad? Mmm better investigate. When I got down stairs mum was taking lots of bags out to mini. Dad got my harness and leash "It's poppy patrol time" he said. Mmmm something's up, patrol before breaky bickys. I was right. When we got back as soon as I finished my last munch we were off in mini. We were in mini for ages. So long I had three big snoozes. I woke up as mini stopped foe a rest. Sniff, sniff, I'm at the seaside! Grough, grough let me out, I want to go to the beach. I pulled dad along my nails scraping on the pavement, lets go lets go. Where are we dad, I've never been here before. "This is Morecambe Poppy". Oh, Ok, so who is the guy in the Santa beard? Dad had an old camera because his stopped working at Christmas, I don't think he knows how to use it.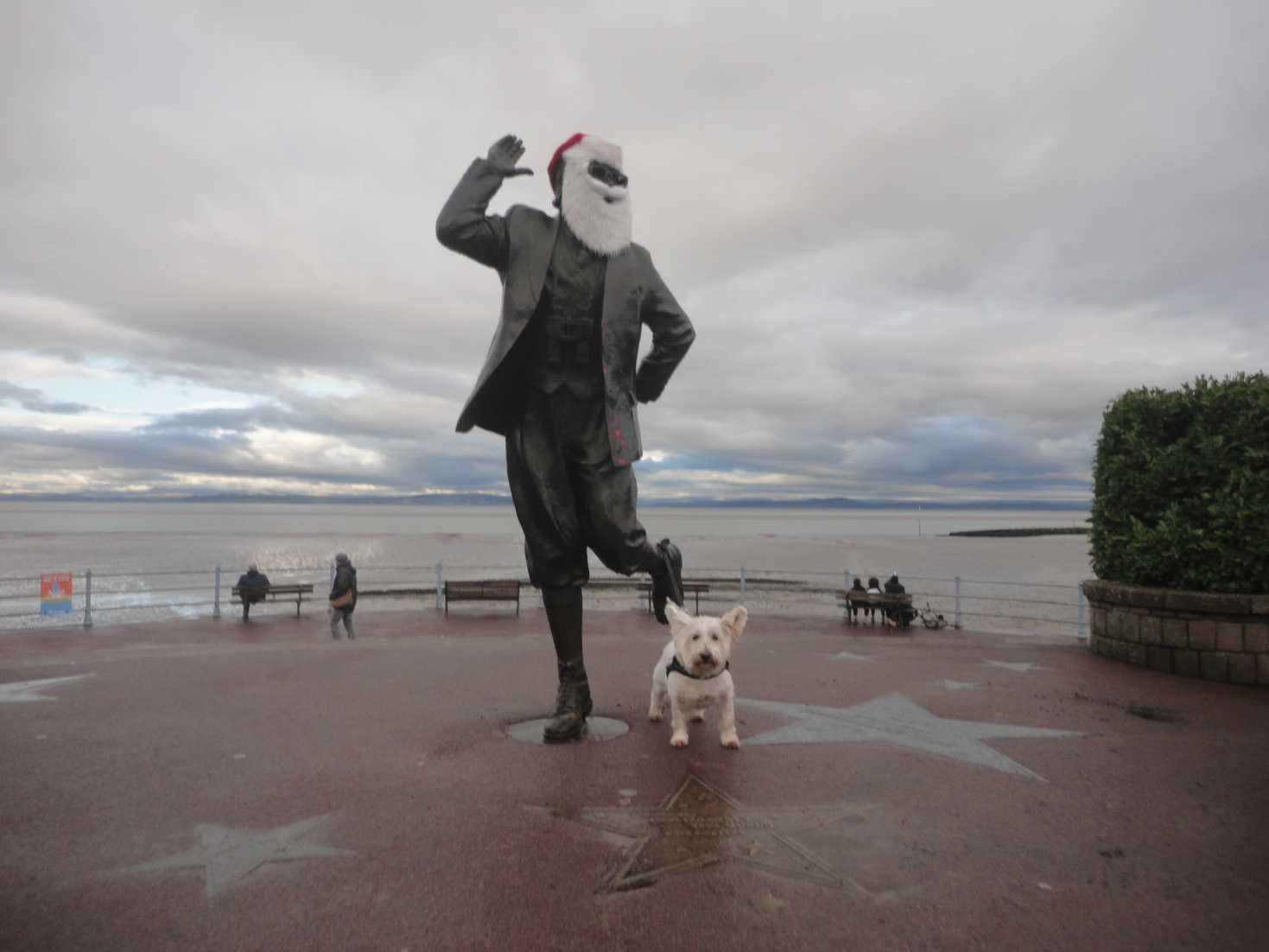 Back in Mini Dad took over the driving, I prefer it when dad drives because mum is comfier to sit on. More snoozes and when mini stopped again it was nearly dark. Where are we? "Your not in Glasgow now Poppy, your in the land of Dragons". Dragons? Dragons? Your pulling my paw! Aren't you? "Well Poppy that's you visited all of the Home Nations now, welcome to Wales" he said. We unpacked mini into a small cottage and went to investigate our new village called Glan Conwy. It had two stone parks, a pub and a Chinese. Dad didn't fancy the pub because of omicrons. Back to the cottage then? When we got back we jumped into mini and went to a big castle for pizza from Johnny Dough's at The Bridge, dad loved it.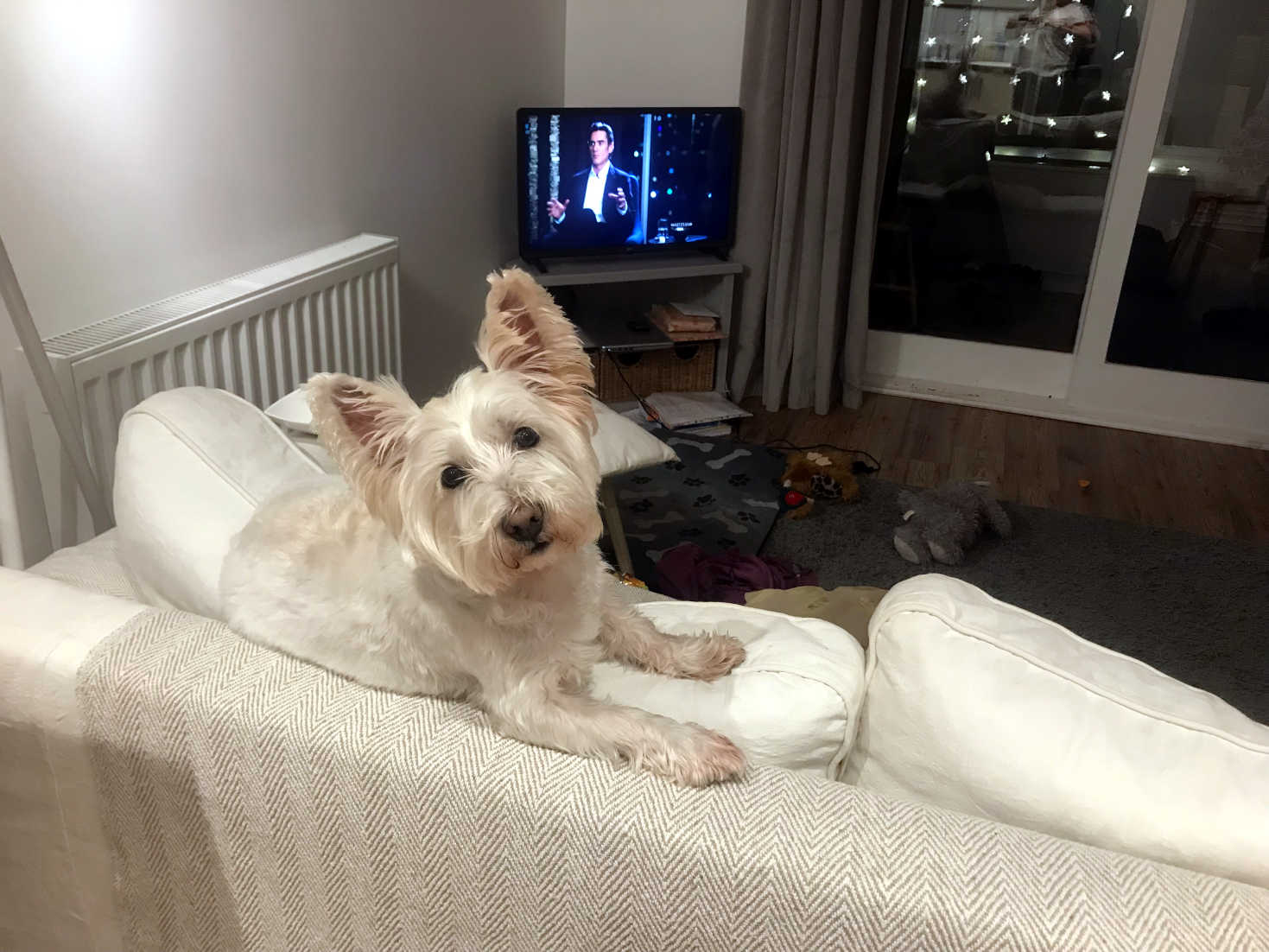 I had a great night's sleep. The bed was massive, never got kicked by mum once! After a quick walk we were off. We drove back to the big castle at Conwy. Mini found a place to rest and we went out to explore. As soon as we entered the castle I found some steps an we were up on the walls.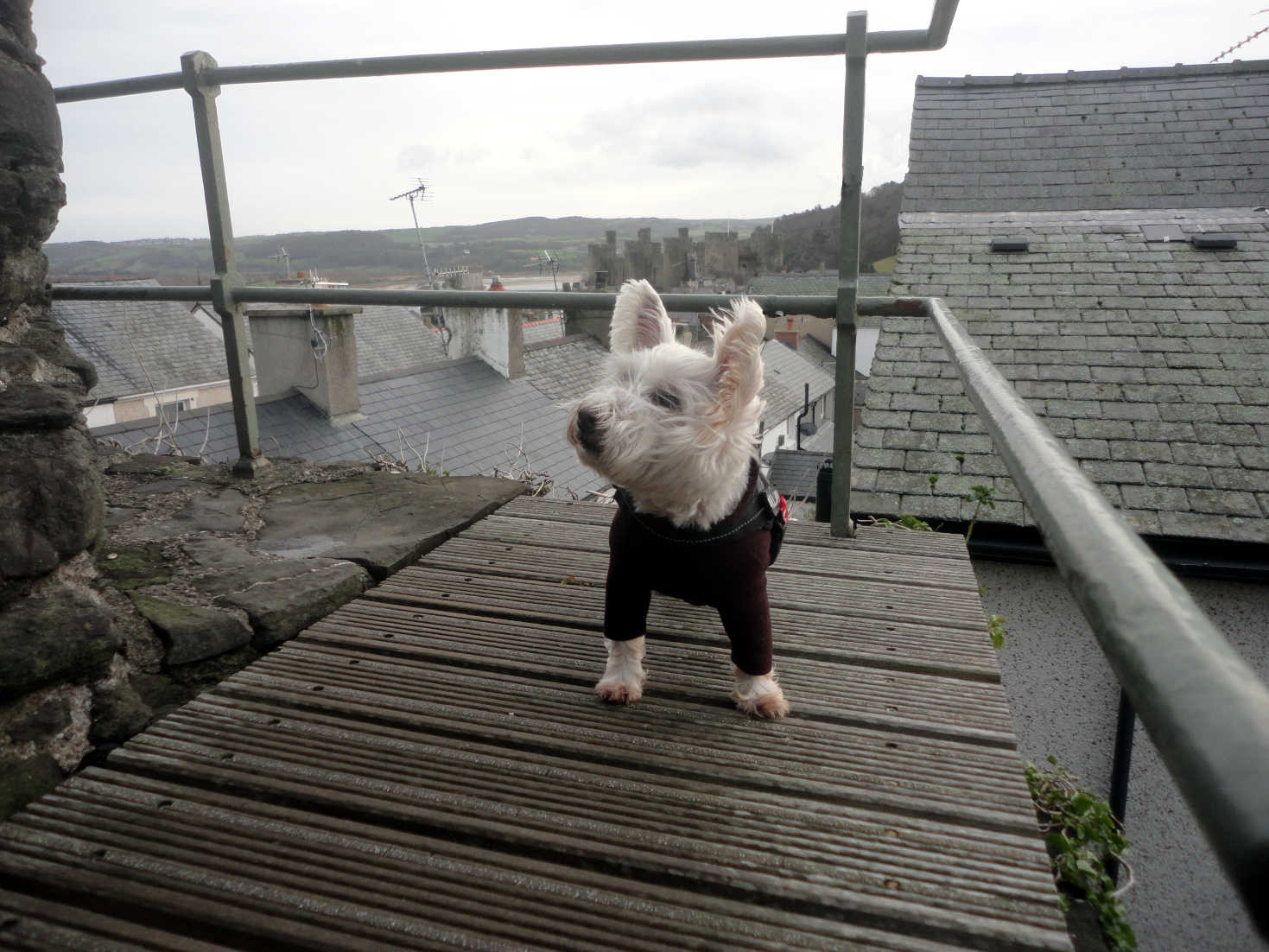 It was very windy. I nearly got blown away, Dad's hat got blown off and landed way down below in somebody's garden! We got off the walls and after going back for silly dads hat we went to visit the smallest house in Great Britain.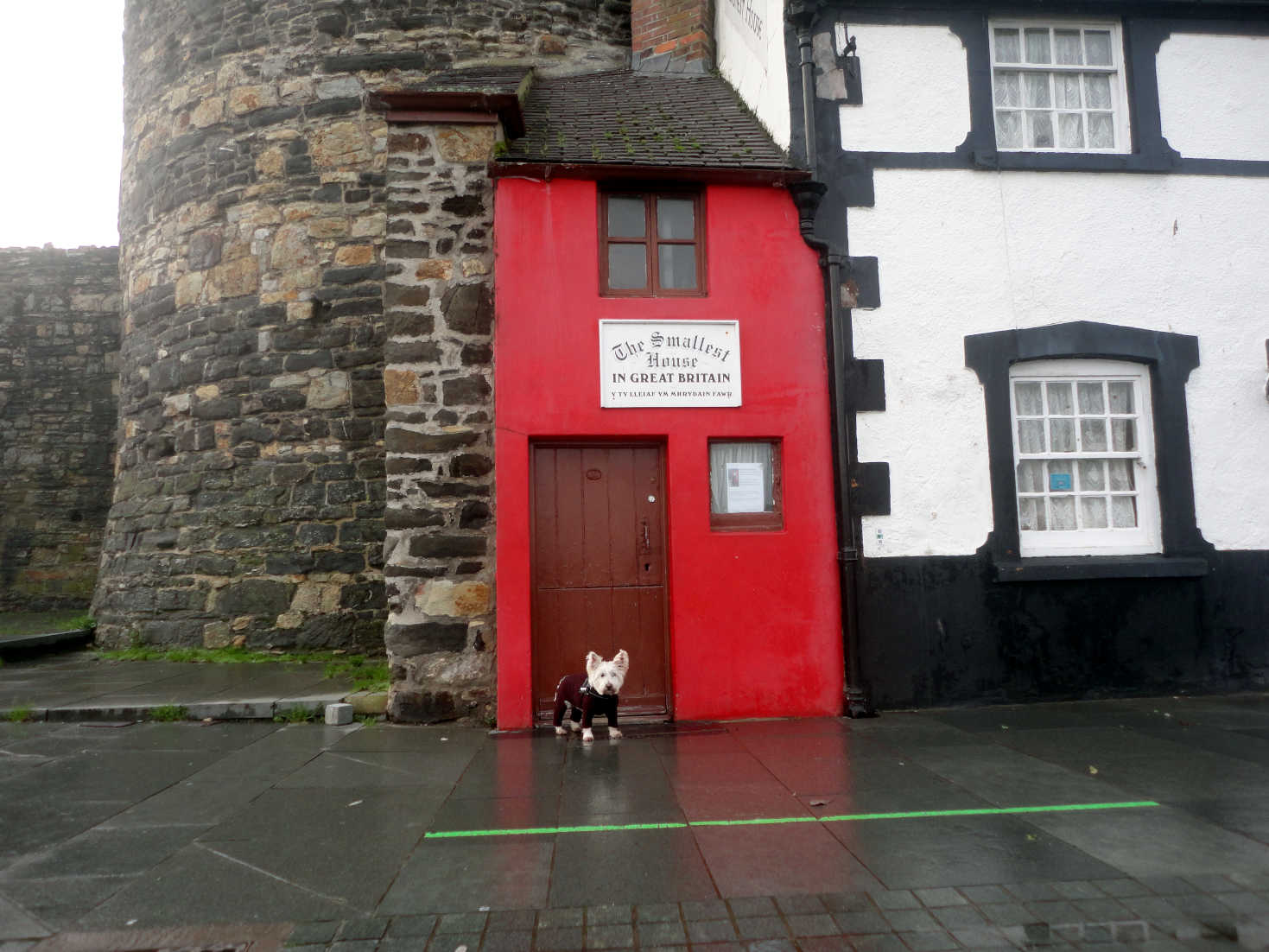 After a game of ball on a path beside the water we headed back to the castle. We were getting hungry so picked up some pastries from the Tan Lan Bakery. Dad found a nice quite spot for the picnic in St Mary's Church Yard. We would later discover the Bakery ripped mum off with dodgy pound coins and Me and dad got sore tummies with the sausage role, bad Tan Lan Bakery.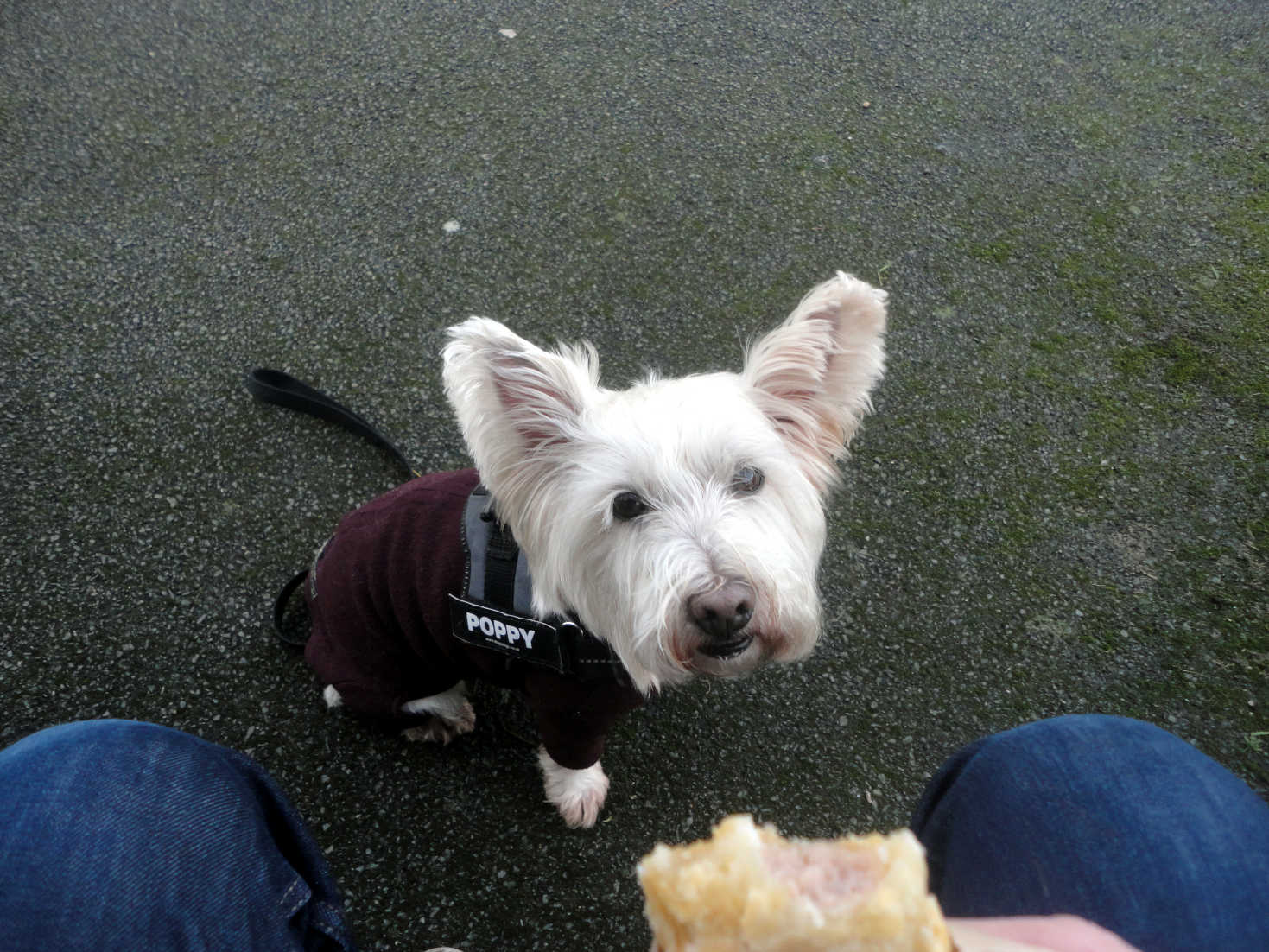 After a plod round the rest of the town we headed back to mini, we have an early dinner tonight. Early or not the Mulberry at Conwy Marina was full. We had to wait ages for a table. Was it worth the wait? I don't think so. The fishees were just OK and I got none of dad's burger, did get a bit of his bacon though.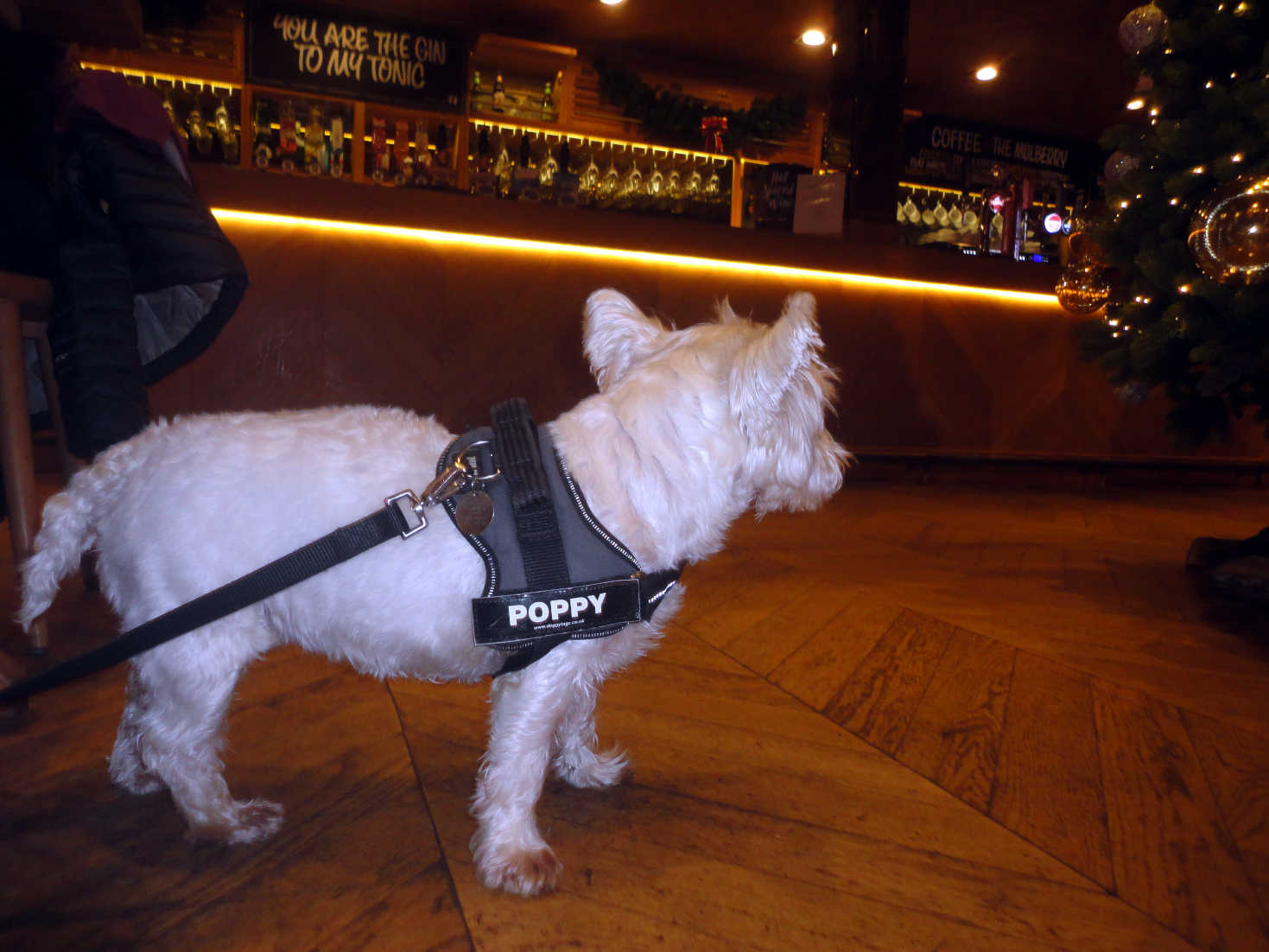 Back at base mum and dad got into their swimming costumes. What are you doing? Are you mad? Its cold. The madness continued. They went outside and into a big bath! Why would you have a bath unless you were forced to? Stop being daft get out you daftys.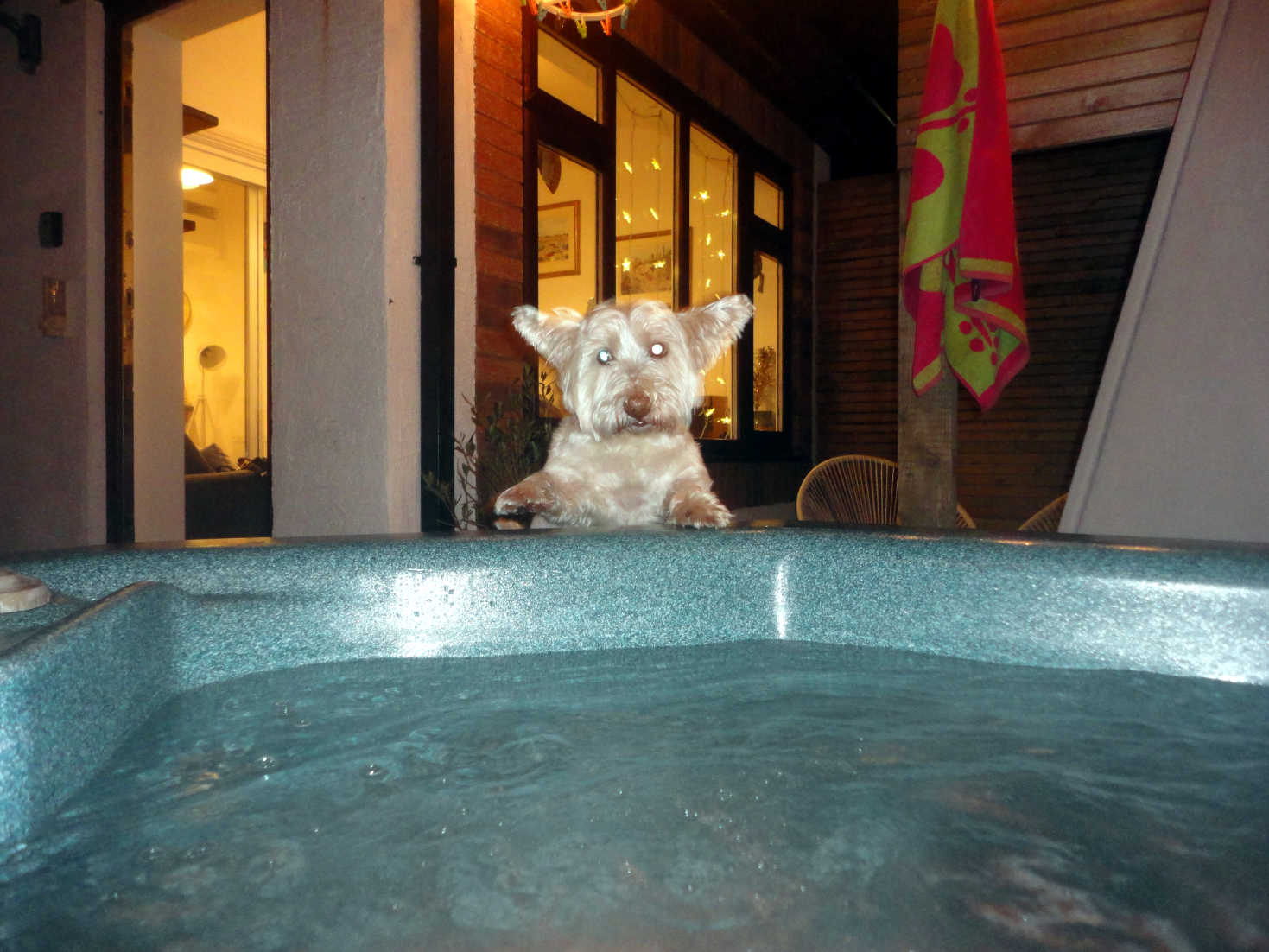 Another day quick walk and off again. Mini stopped at a place called Llandudno. We walked the pier where I met a few nice dogs and got to play ball.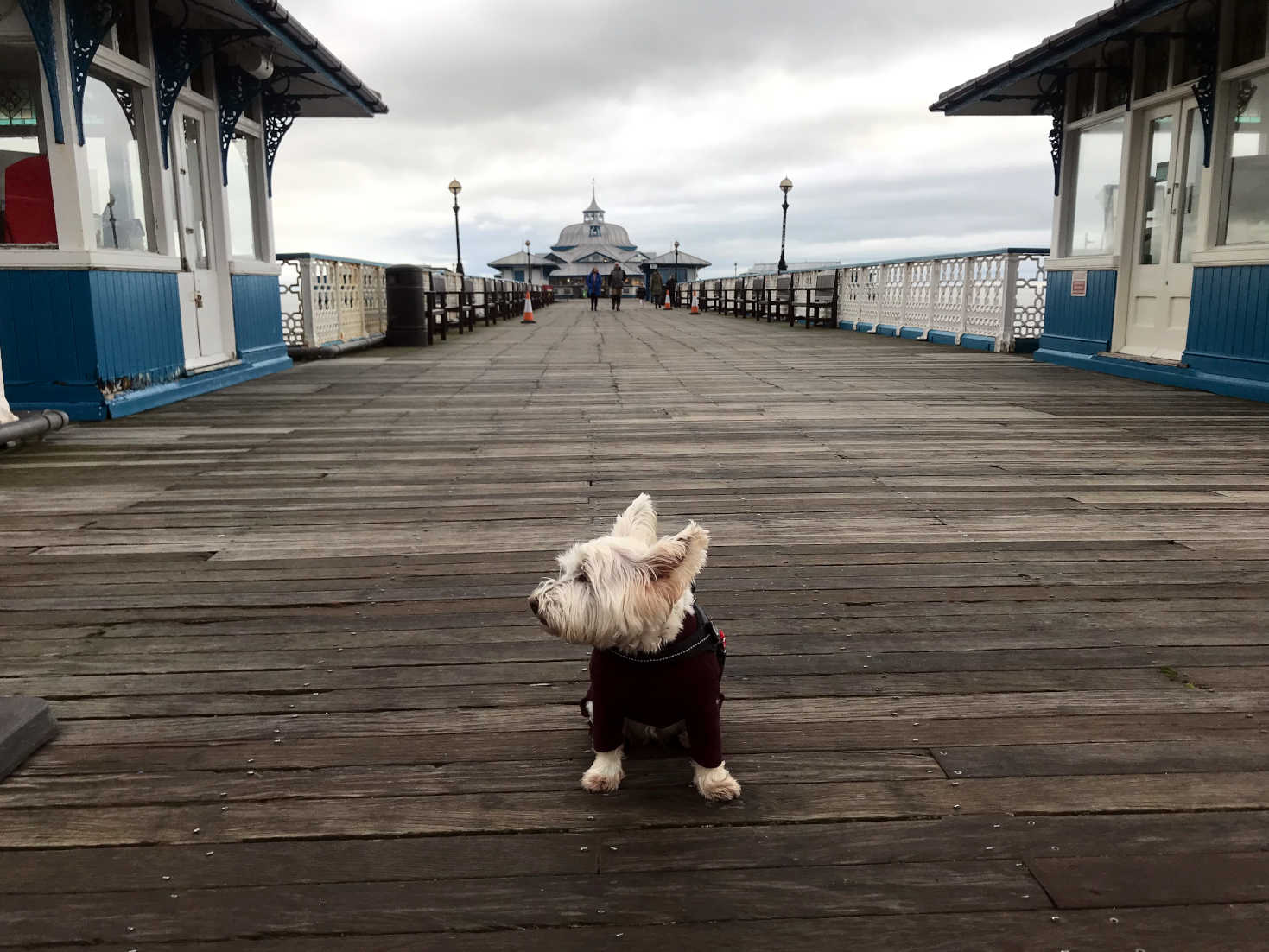 Next up the beach. Llandudno has got a great big pavement that is beside it's beach. Lots of doggies to talk to, I even met a Skye terrier! The best bit is that its grate for playing ball, loads of space. All good things come to an end as the sky started to cry.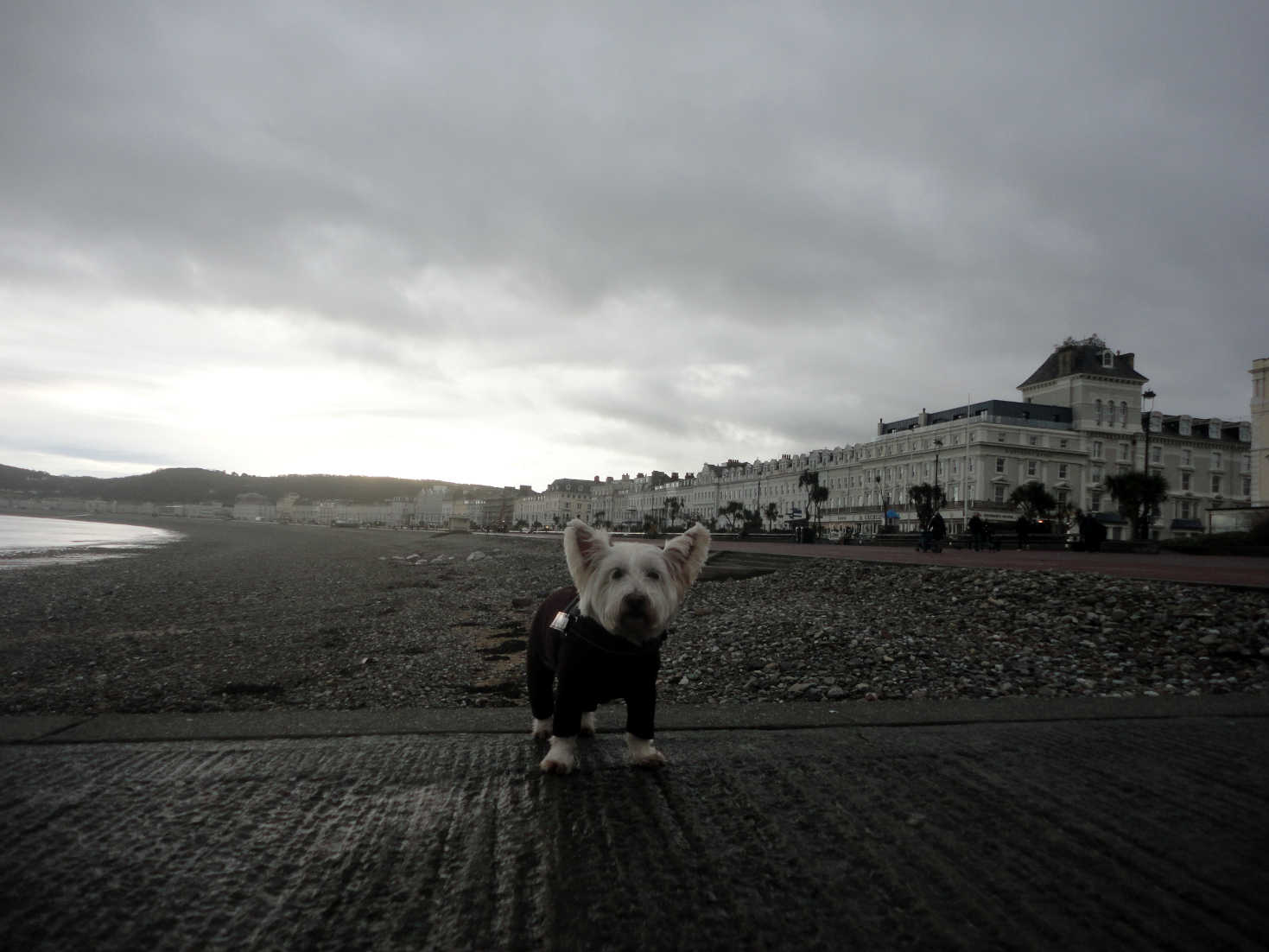 Back in mini we went up a big hill called Great Orme. Mini had to pay to use the road so she used the dodgy coins mum got from the bakery. The road was small and winding, almost like the roads in Italy's mountains! At the top the wind was howling and the sky was in floods of tears. Dad got out, I looked at mum, I'm not going out in that! She agreed. Back on the road mini took us to Rhos on Sea. We were going there for lunch at Marmalade. Full the first time, when we went back they only had a table outside. Dad liked this because less chance of omicrons. Lunch was great. I got sausage and bacons. Mum got a Welsh Rarebit. The nice man who brought the food gave Mum tips about places to visit. Next stop was Colwyn Bay, The sky started to cry again so we just drove round the town and headed back to the cottage. Tomorrow we were going to visit my Aunty Jean.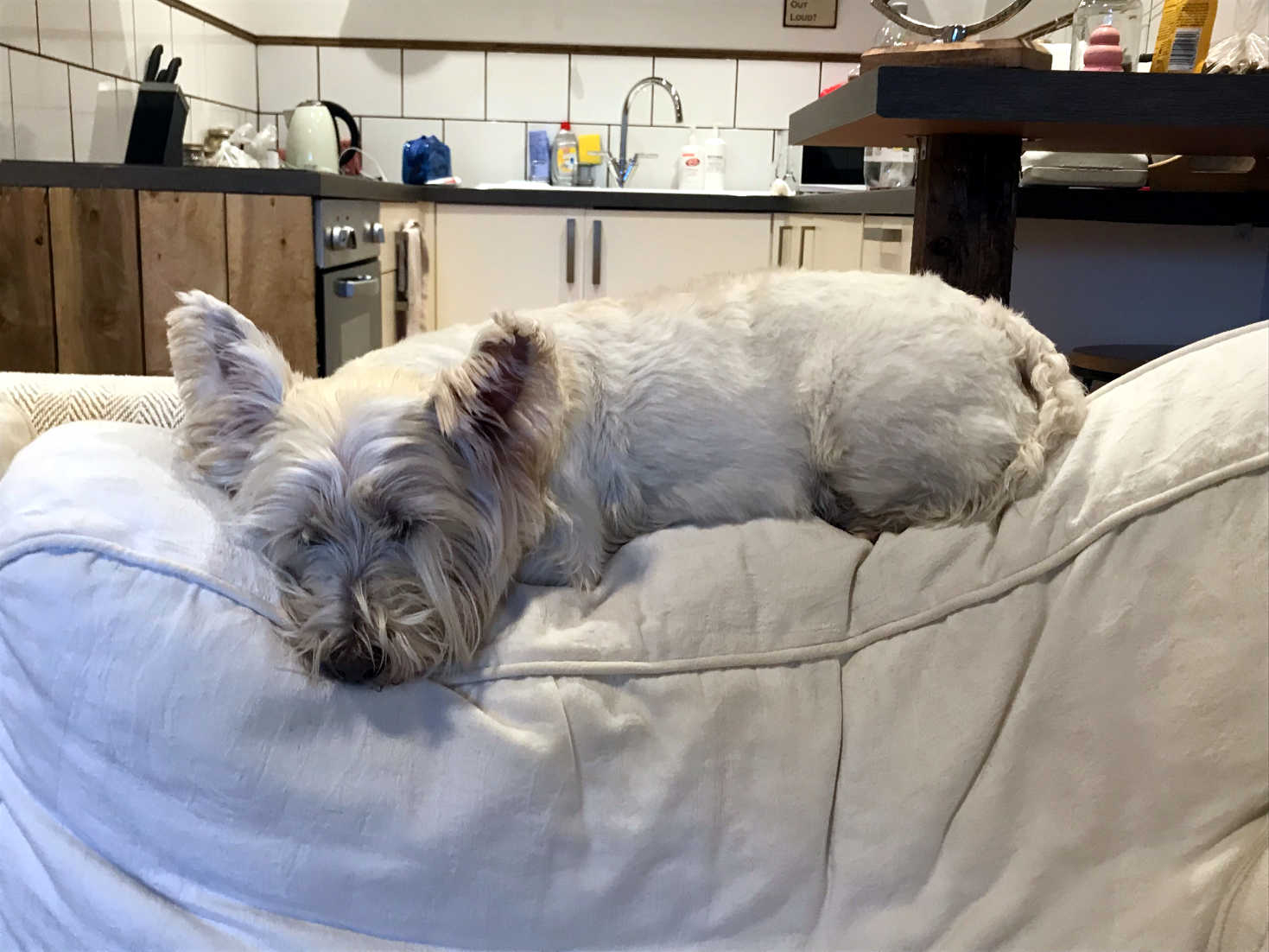 We picked up Aunty Jean in Llandudno but soon we were off to Porthmadog, I wanted to go to Portmeirion but Poppys are not allowed in Portmeirion. We were in mini for ages lots of small country roads, some were covered in water. Porthmadog was a small town only one street but its claim to fame is that Dragons live there. Sniff, sniff, I smell something…Steam trains. Where there are steam trains there are Dragons. They live inside steam trains. Dad was right. I searched and searched but could not find the steam trains, lucky Dragons, Poppys love to chase steam trains.
Back in mini and off again this time to a place called Caernarfon. When we got there we had to search for a place called Anglesey Arms for lunch. We searched the high street where Christmas trees are put out like flag poles, weird. We searched the main square, nada. Back round the castle we found it better than that we got a table without having to wait. Well we didn't wait for the table but it was ages before we got food. The puppy in the bar would get its second injection before the food came. The fishees were good though.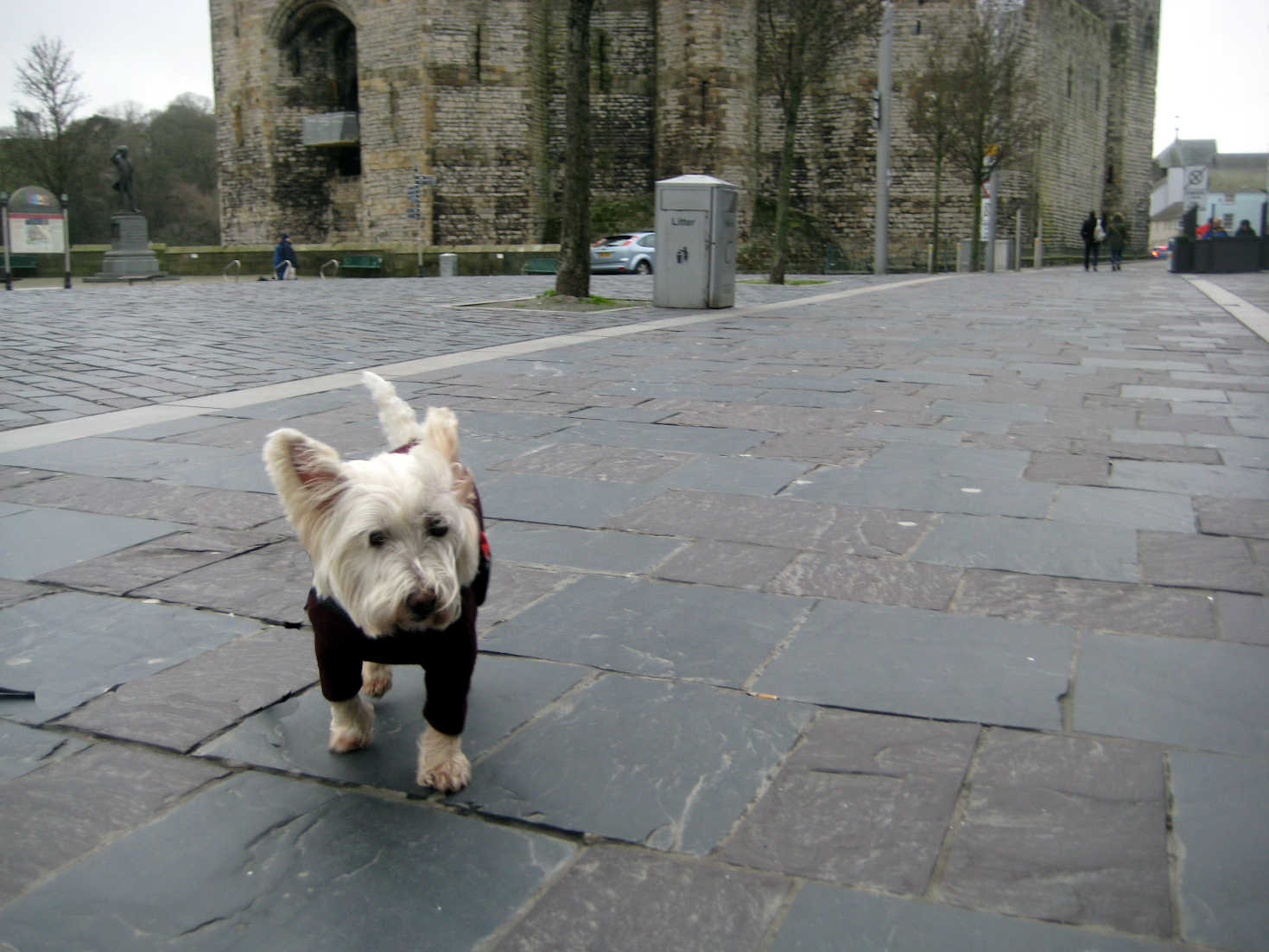 On the road again this time to a place called Betws-y-Coed. To get there we had to go high up in the mountains, passed huge quarry's and over mountain passes. It was nearly dark when mini pulled in, when we got out I could not believe the noise, there was a huge roar of water. Lets explore. I liked the water tasted good but Aunty Jean was getting tyred so we cut our visit short. Can we come back again but next time for longer dad? We dropped Aunty Jean back at here hotel in Llandudno, I had to stay at the door because no Poppys allowed at the Hydro. Not so bad, got to play ball across the road.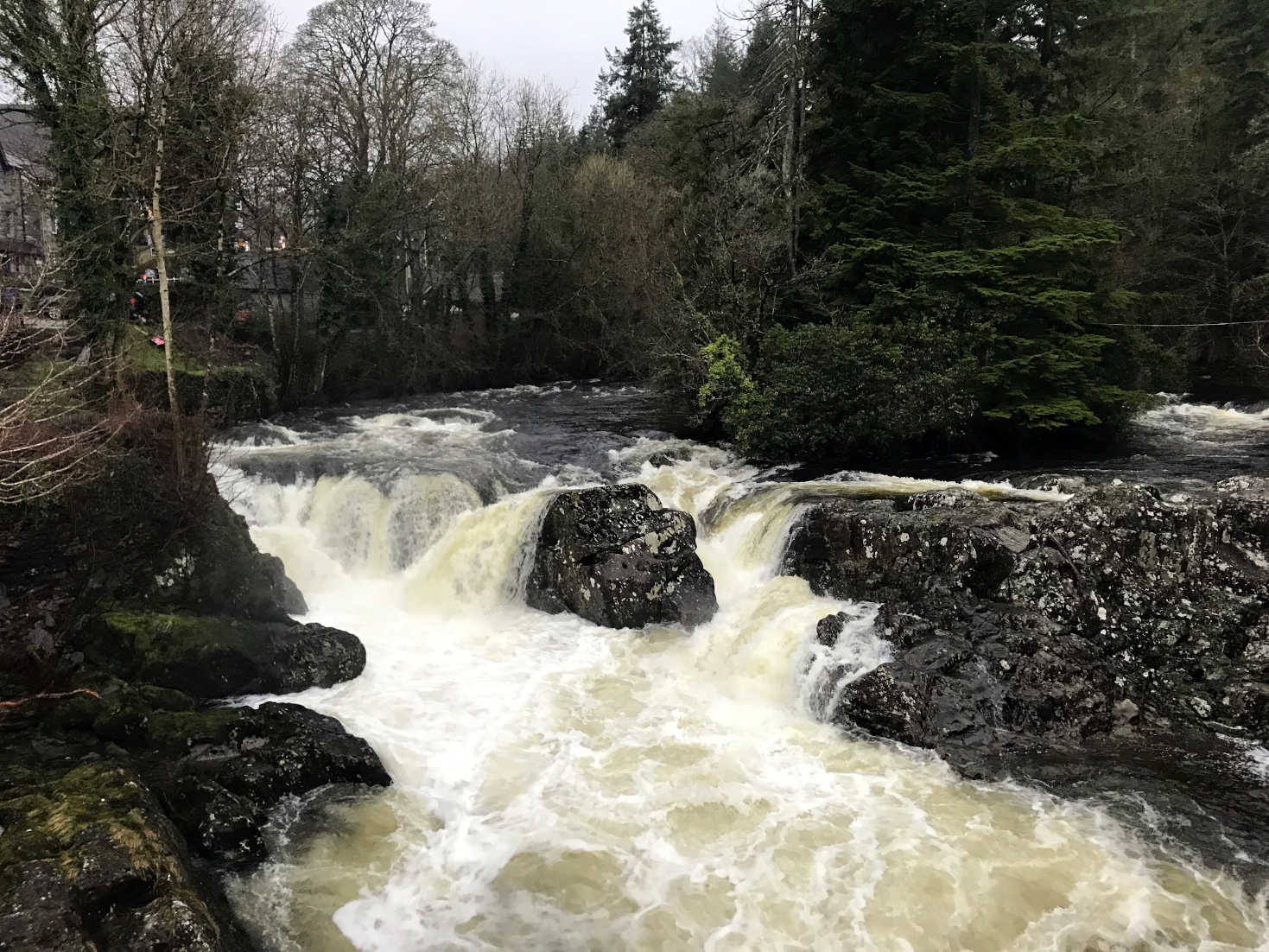 Back at the cottage the last night of the year was quiet. Mum and dad staid up for the bells, I couldn't be bothered and went to bed.