Another beautiful day, Sun shine blue skys. Mini got packed up, Dad wanted to leave quickly because of the trail of mud from the front door into our room. Mum said "that's what hoovers are for". We drove to the car park outside the club house. We got out of mini and walked to the end of the golf course. At the end there was a small path that took us down to the beach. What a beach, on it was one of my cousins! He was older than me I ran rings round him! I got to chase the ball run through burns and dip my paws in the sea.
We clambered up the dunes at the end and got back to the golf course. We walked in-between the greens and got a place called the half-way house. It was very posh. Too rich for dads blood. Time to make our way back to mini. Above our heads a small plane was doing loop to loops, I have never seen this before! Enough of him more ball!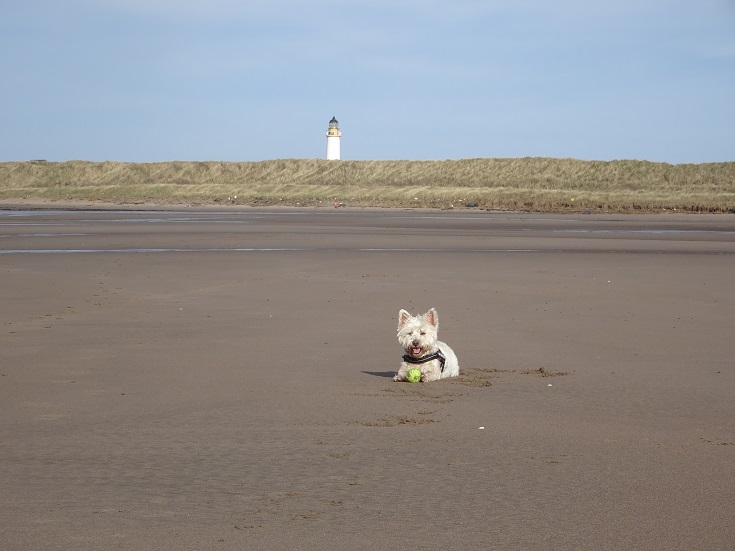 Wait a minute what's that grrrrrrr grrrrrrrrr grrrrrrrr a white pointy thing? I'm not liking this! Dad laughed at me "Poppy it's a light house" don't care what's a light house anyway? We walked past an old disused runway, funny place for planes, the middle of a golf course.
We took the coast road and passed the "Electric Brea" I was not impressed….it's just a bit of road, don't get it. On we went to a place called Dunure. Parking was non existent. We parked in a hotels car park, it was for patrons only, Dad was angry with me when I got out because I started to bark, I'm good at barking! We walked down to the cove along the beach to the castle. Another paddle and back to mini to go home. I was so tired I went for a nap on mum.