Christmas is over and Mum and Dad are taking me to Ireland, I have never been to Ireland before. It was dark when we got into Mini. It was a long drive to the port I slept on dad's lap, mum was driving because of dad's sore leg. When we got to the port dad took me for a walk. As the sun woke up a big boat came and parked. Its mouth opened up and cars and busses and trucks came out of it.
A workman told us to drive onto the boat, Mini took us into the boats mouth then stopped behind another car. I was expecting us get out but no. Mum got out dad stayed, then dad got a denti stick, YUM. He put the Denti Stick on mum's seat. In a flash I was on it! I finished the denti and suddenly noticed It was just me and mini. Where's Mum? Where's Dad?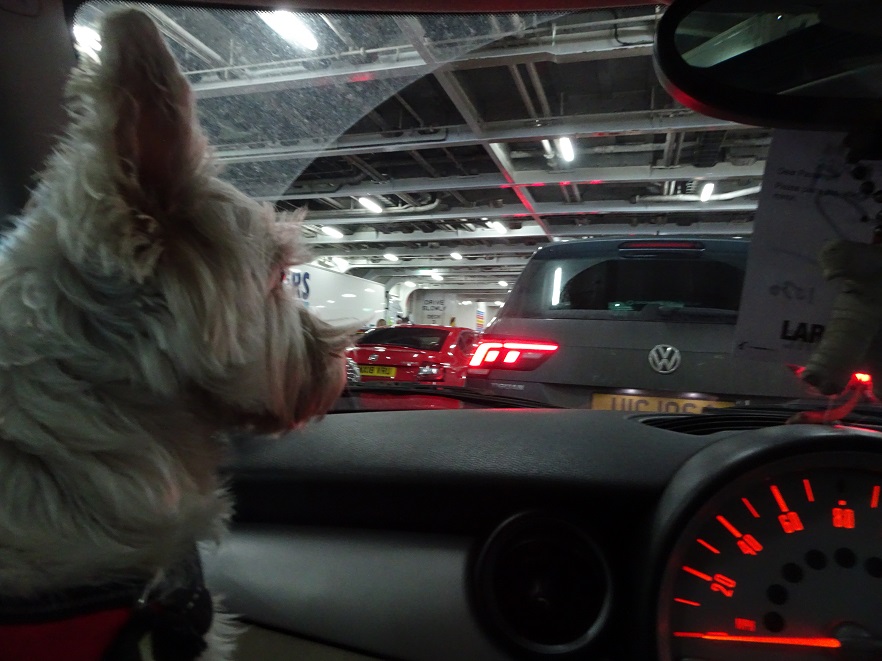 I must have fallen asleep, I opened my eyes and mum and dad were getting into mini, I'm not talking to them, they left me. Mini left the boat and we were in sunshine, off mini went into the Northern Irish countryside.
We drove and drove eventually coming to a very small road with a small muddy place for mini to stop. We all got out and walked down a country lane, we were here to see the dark hedges. I liked the dark hedges lots of smells, back to mini and off. Hours later Mini pulled into a car park, Mum got out, when she came back she had food, mmmmmm the smell, I haven't had anything to eat in ages. I have never known a smell like it. I was called McDonalds. I got a few bites YUM, Beef AND Cheese!!!
Mini never had long to rest she was off again this time to the Republic of Ireland. We passed a big town called Londonderry then back into the countryside, as it started to get dark mini pulled into a lane and stopped beside a cottage on a loch. Dad let me out and I went to explore. By the time mum and dad got everything into the cottage It was time for a snooze.