As Poppy was going to St Abbs
Today we were going for a long walk. It was tricky leaving the caravan because the ground was boggy with all the rain. Mr wind was up to his tricks again trying to blow dad's off. We left the park and headed across the cliffs. Dad had put my equafleece on me because he said the paths were going to be boggin. Don't know what he was thinking they look ok to me.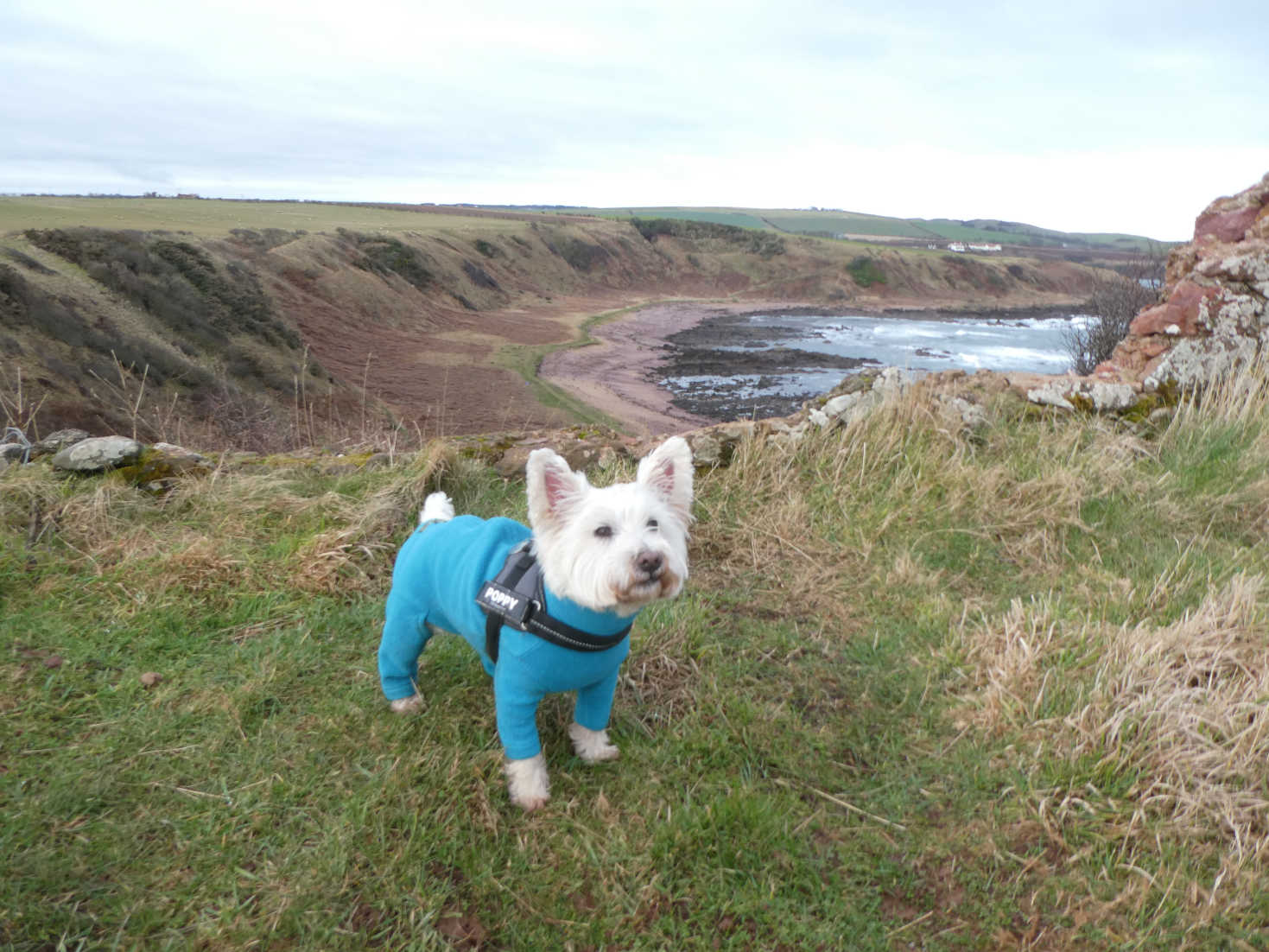 Finally the path headed down to the sea. It was quite hard going for mum and dad because they do not have four paw drive. As we went down the path started to get mucky. We had to cross a burn but some nice peoplsees built a bridge for us.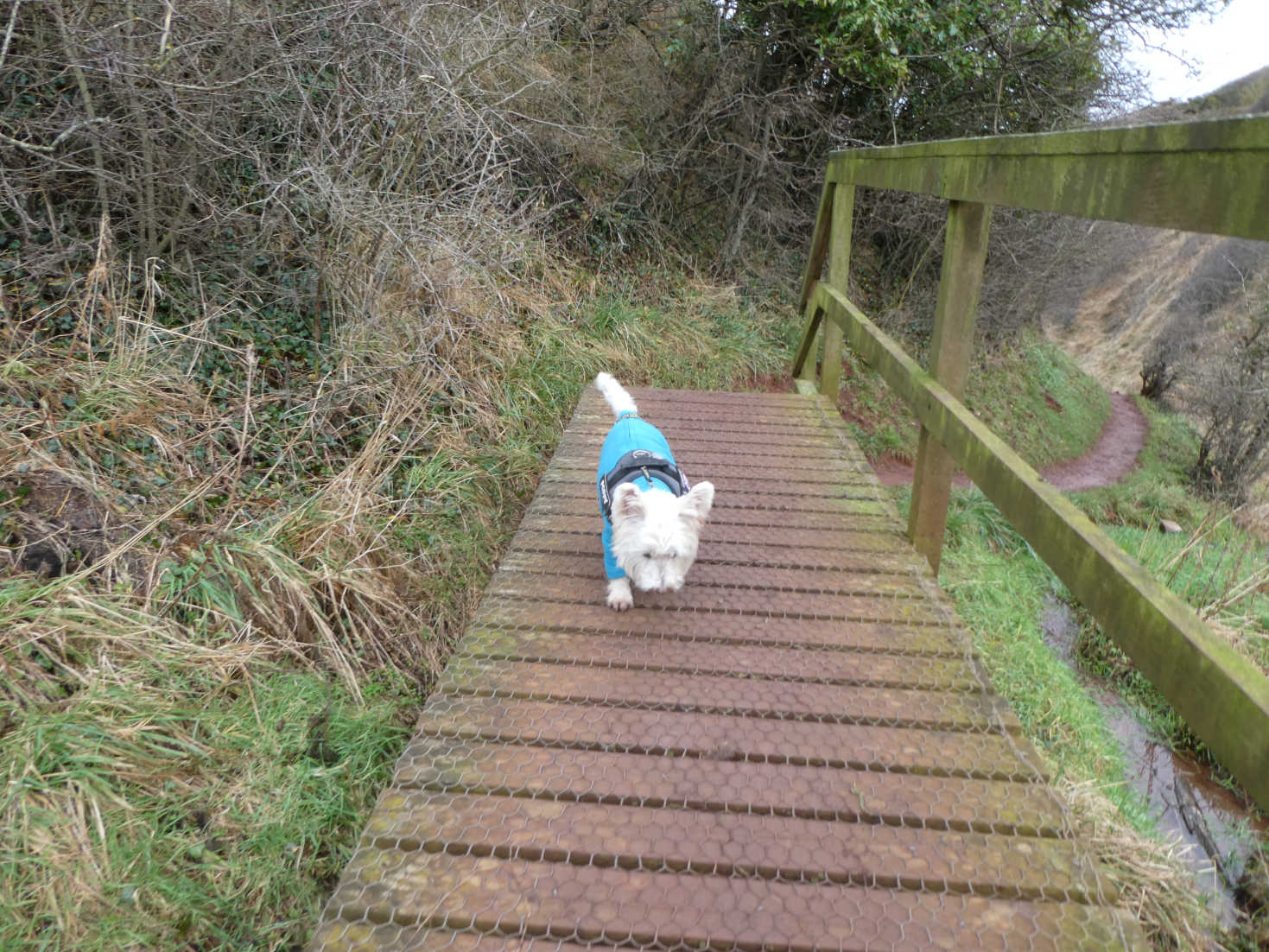 I had to wait for ages on the beach for mum and dad to catch up. As beaches go this one was ok. Not great for ball though.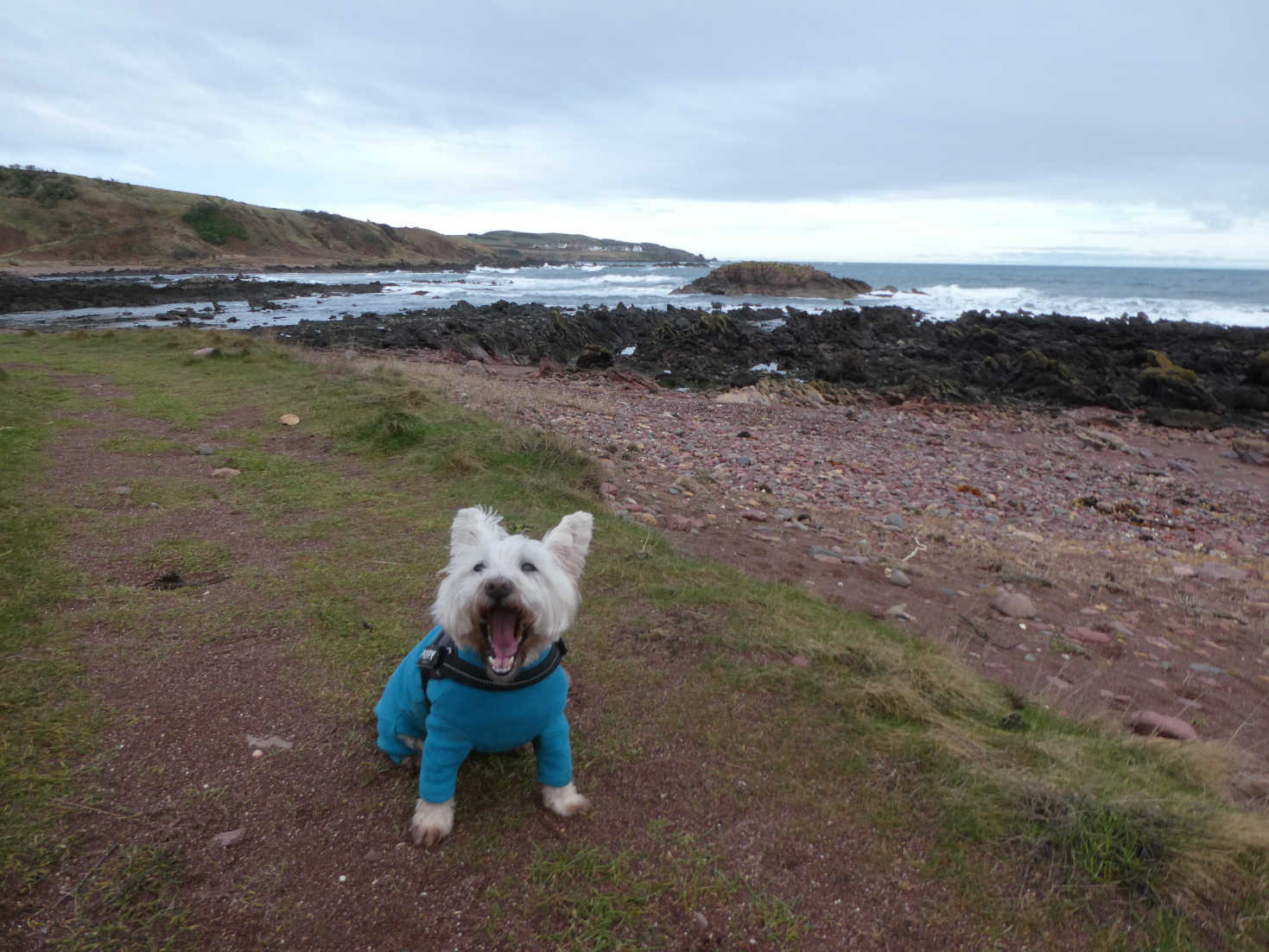 Leaving the beach behind the path went back up the cliff, not as high as the first ones though but it was tough going as the path was very muddy. More peoplsees have used this path must be getting close to somewhere. As I ran ahead to explore when I met a dog who was going home. She told me that over the hill was a great place to play ball. Well better check it out. She was right! Better go back for mum and dad.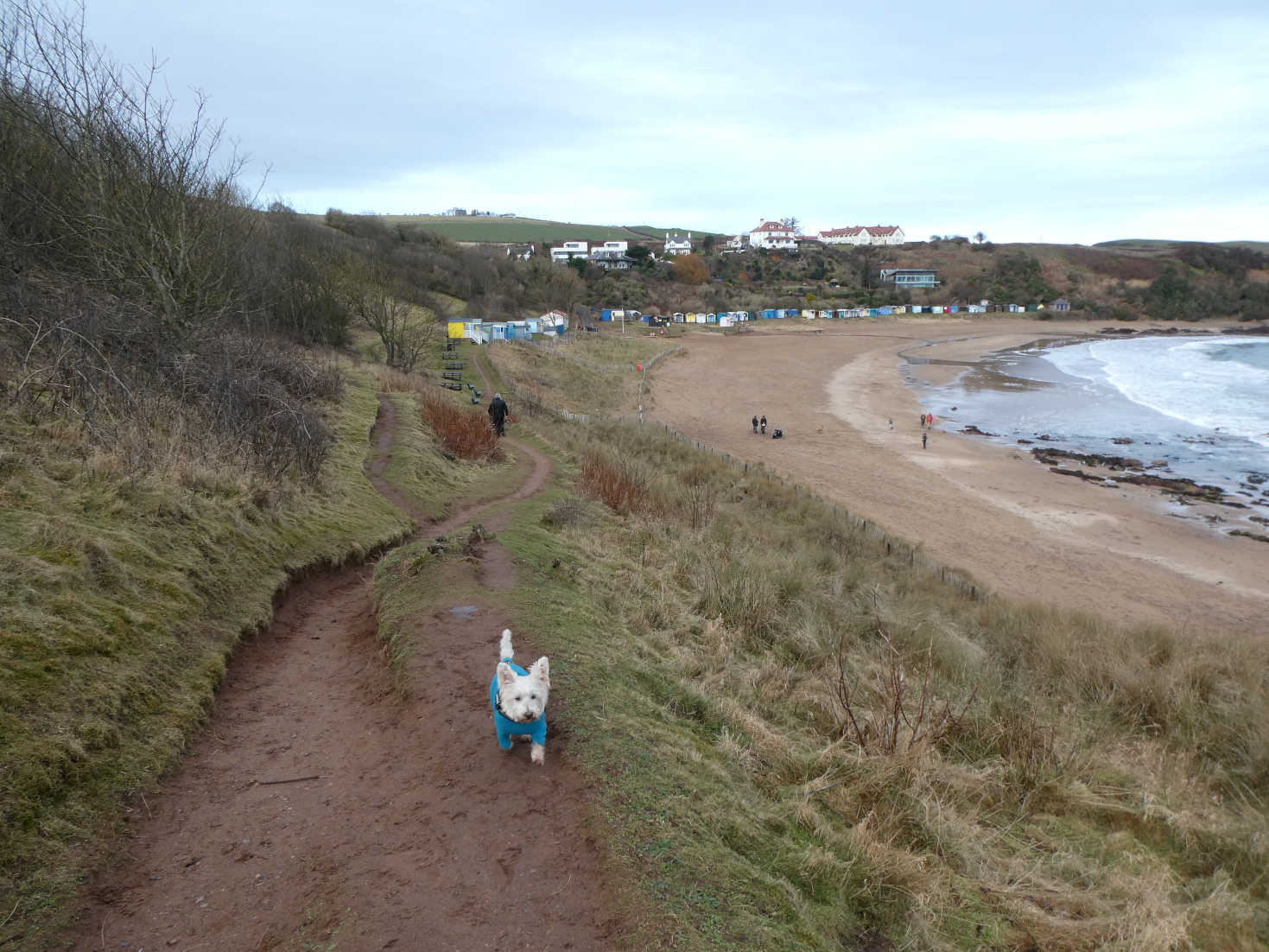 The beach was nice and sandy and Mr wind couldn't get us here well only one thing for it BALL.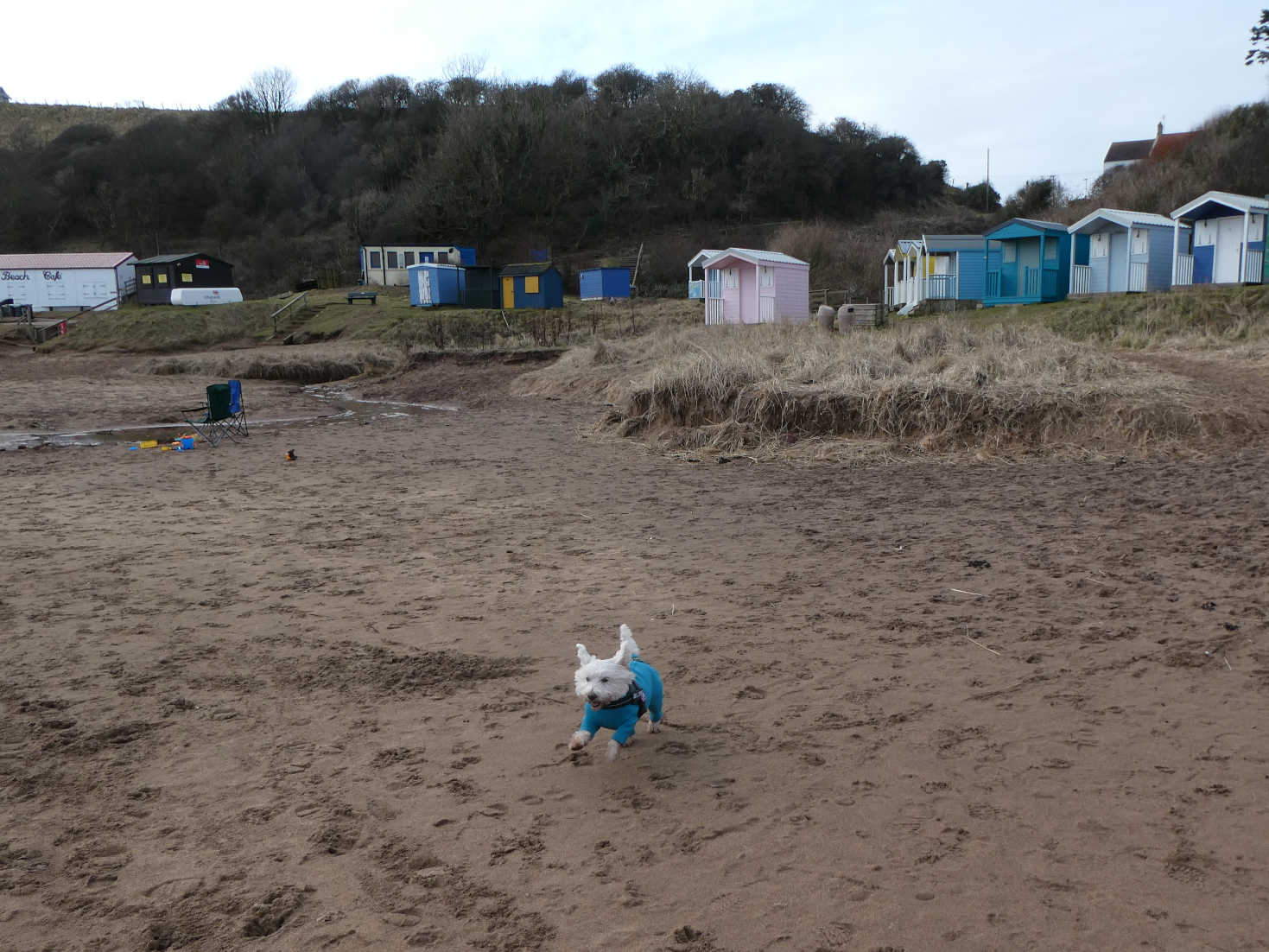 There were very few houses here. In fact there were more than twice as many wee sheds on the beach than houses in the village I wonder who owns them?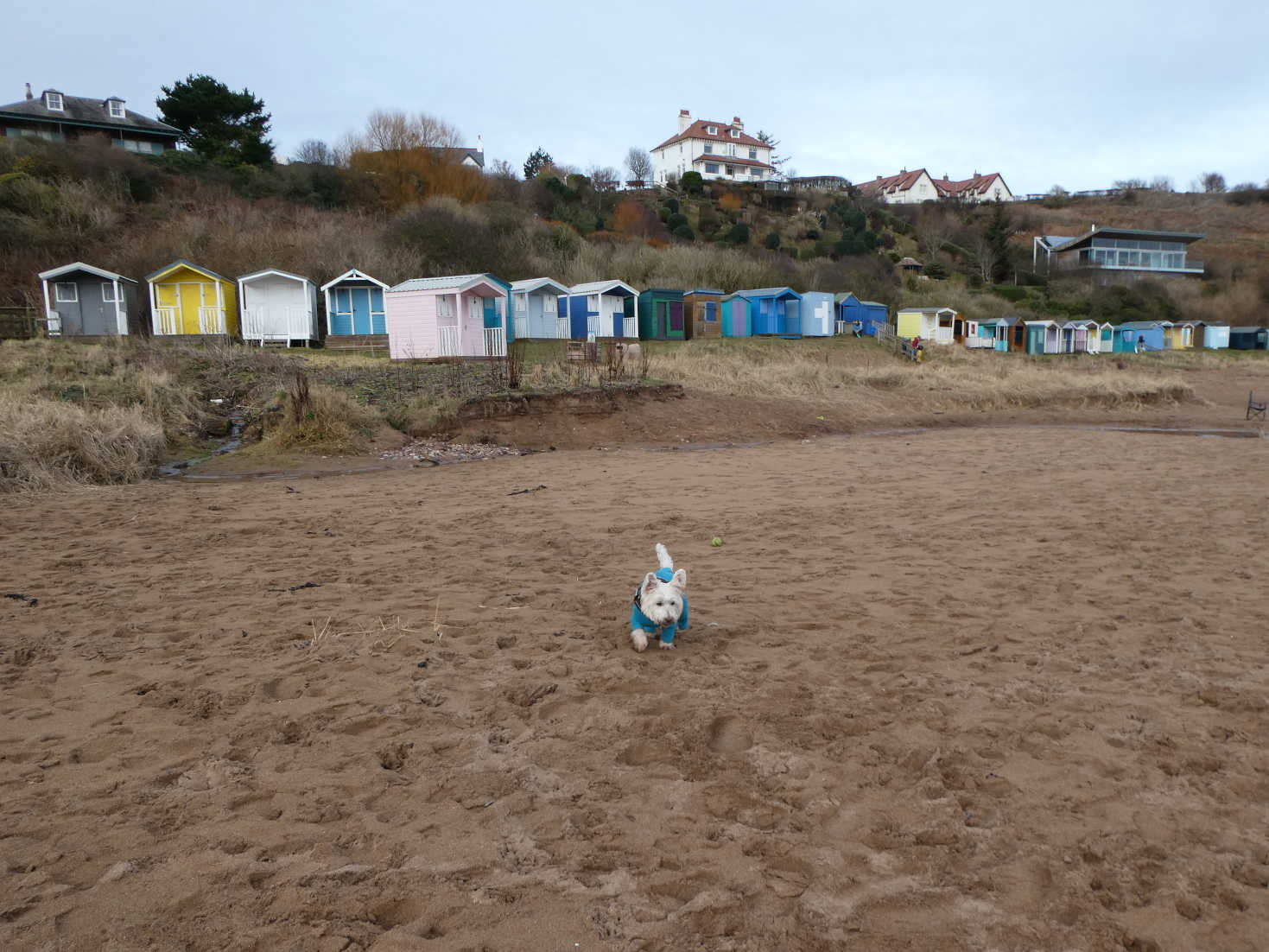 After a game of ball we plodded along the beach and found a path at the end that led up the cliffs. It went past a huge modern house. I preferred its neighbour so did mum and dad. The path to St Abbs was falling into the sea so we had to cross a field to re-join it. When we did get back on the path we were very close to St Abbs.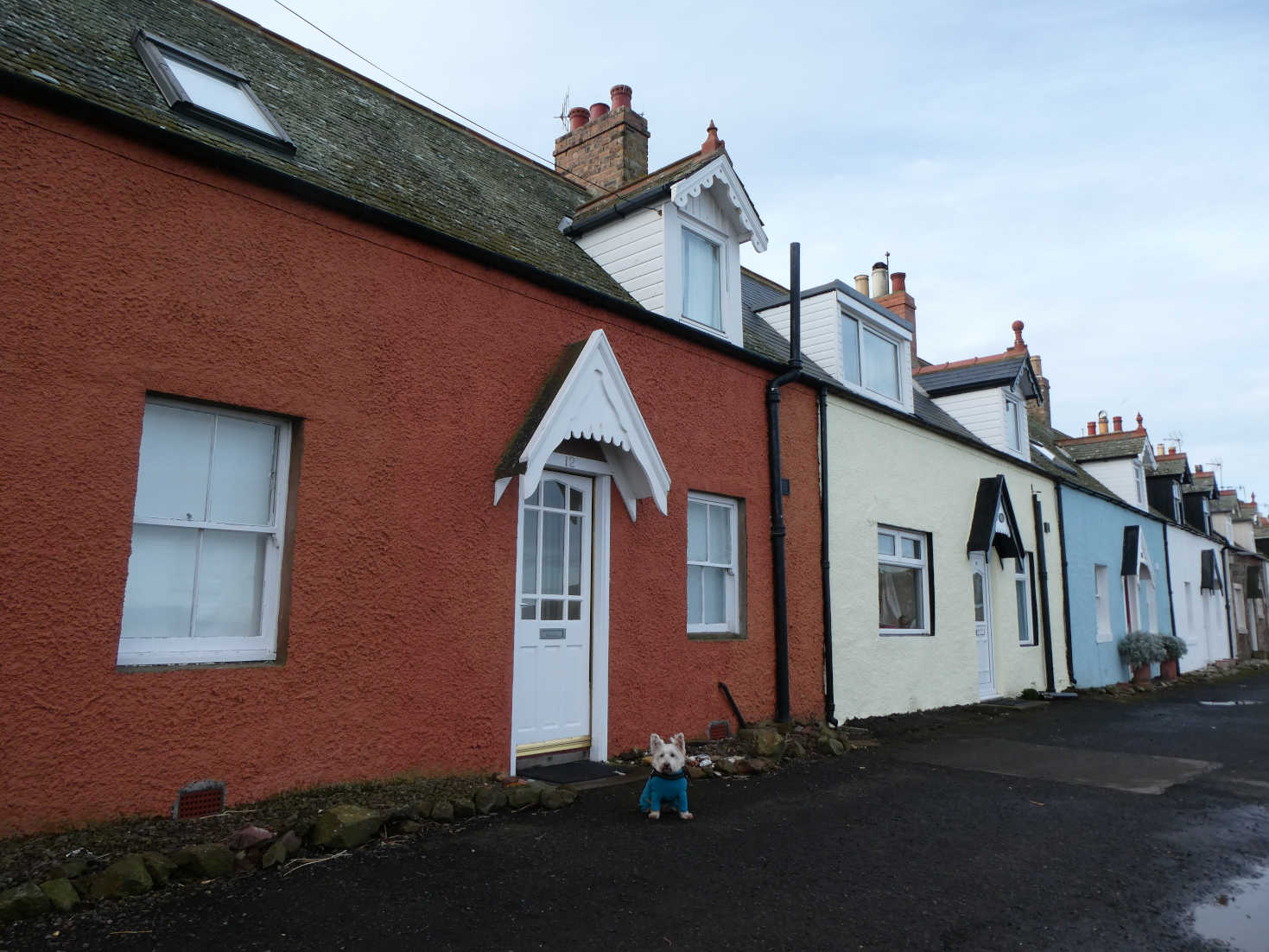 St Abbs is a small port so down to the sea we trotted. It didn't tale us long to explore and it was time for lunch. Mum said there was a nice place at the top of the hill that was poppy friendly, sounds good to me mum.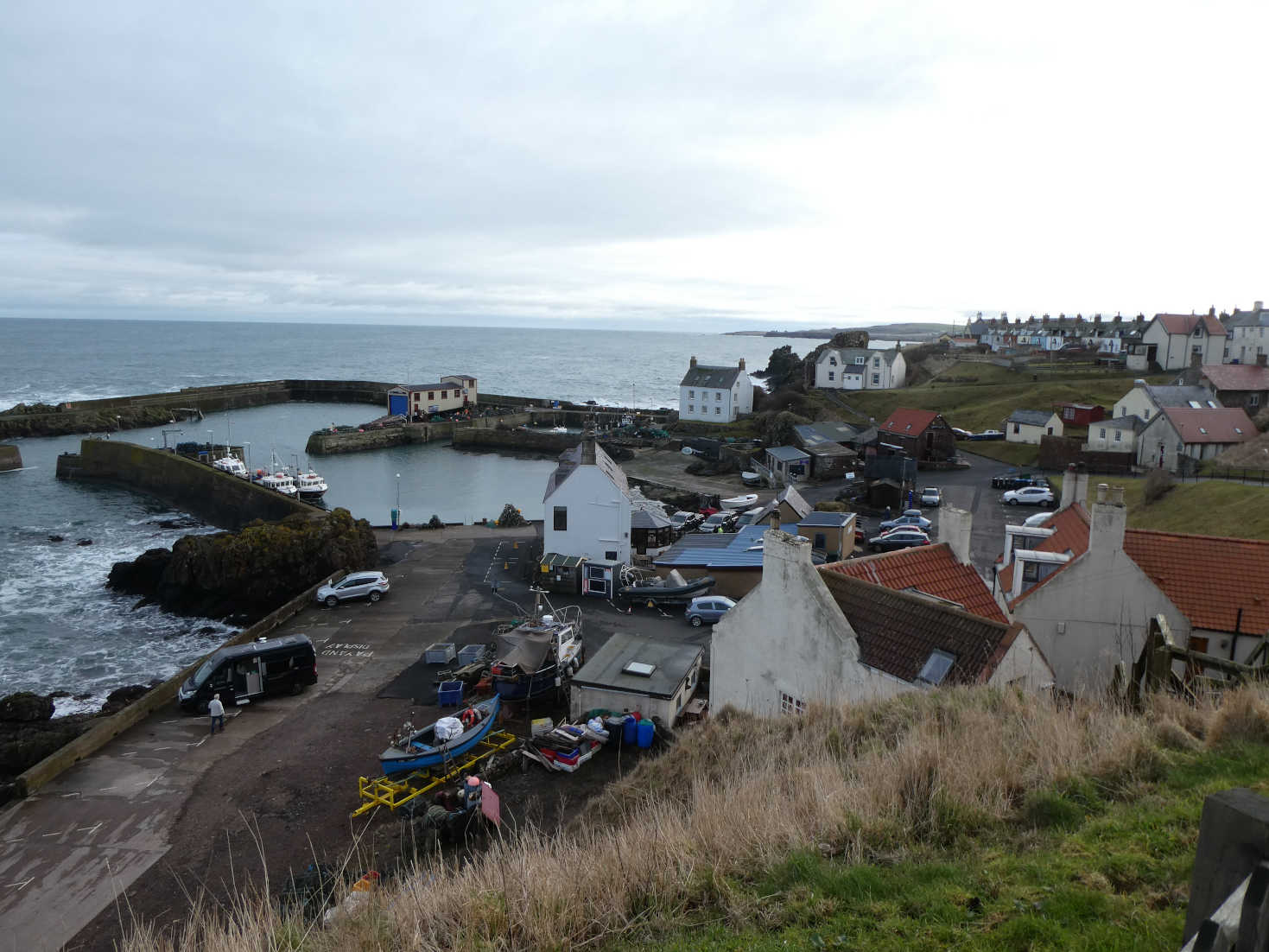 The Ebba Centre & Old School Café was busy, we met the peoplsees we bumped into on the path from the shed beach. Mum and dad enjoyed their roles and soup, I can testify the sausage was nice but even better was the large garden perfect for a game of ball. Dinner done time to head back. Instead of going back down to the harbour we took a short cut through the village. Look dad this village has its own Post Office.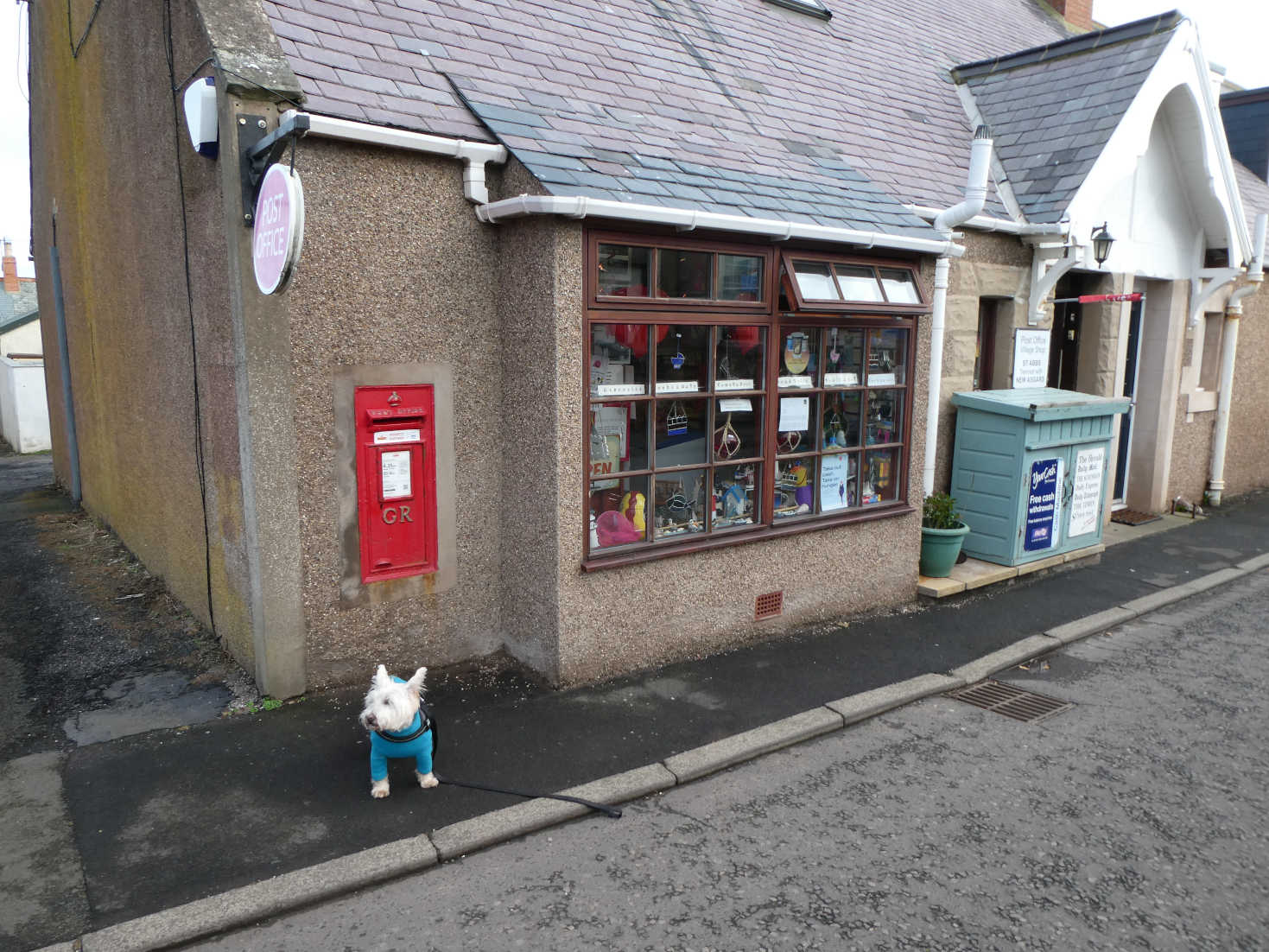 Back across the cliffs dad decided not to go back down to Coldingham Bay's shed beach. We passed through the village to the main road and headed inland. After a while we came to a village called Coldingham. It was very quiet. After mum checked out the butchers, it was closed so no sausages for me tonight then, we bumped into one of my cousins. He was looking good for his 13 years, he told me about a stone park that was just round the corner. Mum, dad lets go play ball.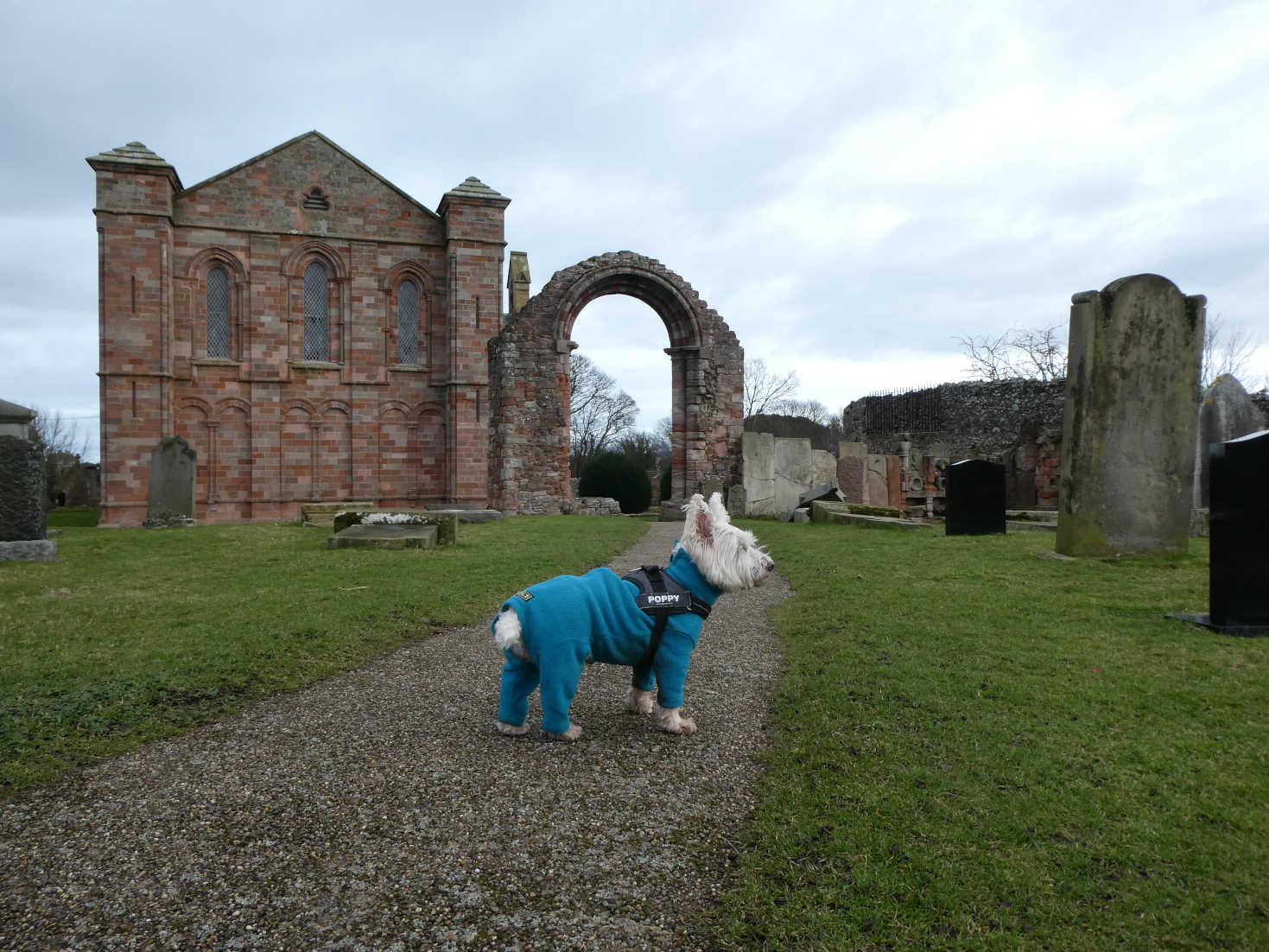 Well I was now shattered. Mum said we could get the bus back to Eyemouth. You know what mum? That's a great idea! As we chatted with an old peoplesee at the bus stop the bus came. When we got off mum and dad got lost taking a short cut. How can you get lost in a small place like this? Dad said it reminded him of East Kilbride, mmm don't like the sound of East Kilbrides. Well it was left to me to find our way back to camp. We had to climb a fence but I got us into the back of camp not far from our caravan. It was along day and as the sky started to cry again I went for a big snooze in the nice warmth of the caravan.