Mum and dad have been excited for days, we are going to see some high flying birds tomorrow. Peoplsees get excited at the silliest of things. One dogs chicken is another dogs itchy paw I suppose. The good bit about the high flying birds is that we get to go out in Betsy! Mum has been telling me I have been at Perths before so I will know the place. Hope I liked it.
Betsy headed north past the castle at Stirling and onwards. We got into Perths and drove to its river. All along the road were peoplsees with yellow jackets stopping other peoplsees from using roads. We must have been special because when they stopped Betsy dad showed them a bit of paper and we were let through.
As we got to camp I remembered, the camp on the Race Course, good grass for playing ball! Betsy was shown where to rest by a man on a bicycle. Once plugged in mum got the table and chairs outside and had a cold drink. Dad was taking me for a walk. We headed towards the Race Course through the trees, I knew where I was going so dad let me off lead. When we got there I had lots of fun on the grass with my ball. We went a different way back as dad wanted to investigate music. As we got closer there were a lot of peoplesees with long hair all wearing black leather Jackets. There was a big flag next to the entrance it said Caledonia Harley club 27th Wallace Rally. I looked at dad, what's a Caledonia Harley? What's a Wallace Rally and why have there been 26 other ones? Dad smiled. We passed by lots more long haired black jacket peoplsees, I have never seen so many of the breed in one place before!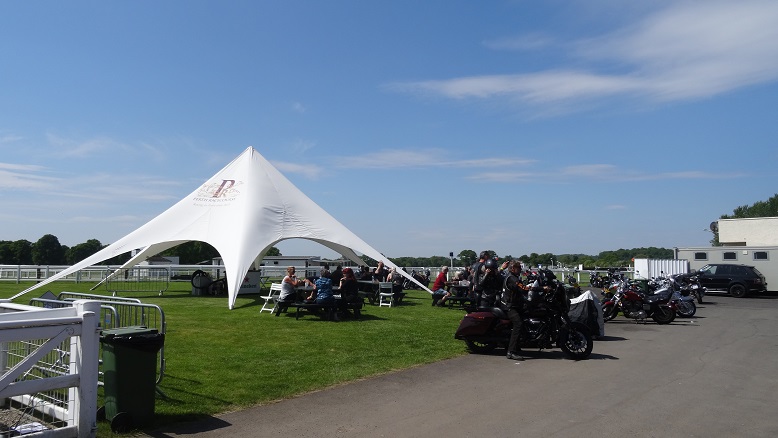 Back at camp mum had made dinner we are all eating outside tonight. As we finishing music drifted across the campsite from the Caledonia Harley encampment behind the trees. It didn't seem to bother anyone definitely not mum and dad.
Night patrol, round the camp all's well. Through the trees music filled the night. As we got closer to the race course it got brighter and brighter as the music got louder and the sound of peoplsees laughing and singing filled the air. Mmmmm it wasn't like this the last night patrol I did here. As we got to the tents dad spoke to the long hairs. The long hair peoplsees were very nice to me I got lots of pets off them one even gave me a bit of cheese, yum. Dad said good night and it was time for bed.