I knew something was up yesterday; mum and dad kept going out to Betsy.  This morning they got me up really early. Dad took me round the block and it was freezing cold. Mr Frosty was making  my paws cold. When we got back to house I checked out the garden. Last night I had to chase away the vampire dogs. One had the nerve to go into my neighbour's garden across the street, I me and dad chased him up the street. Mum came down and took another bag over to Betsy.
I got a bit of breakfast then my harness was put back on. Mmm we are going somewhere and its stupid o'clock in the morning. Hey we are going in Betsy!  Betsy's growled to life, it's been ages since I heard Betsy growl.  We were off, I was up front sitting on mum's lap, time for a nap. When I woke up we were coming into Inverness, we went over the bridge, it was same bridge we went over two years ago when I did the NC500.
We rolled into the Rosemarkie Club site and Betsy stopped outside the reception hut but no one was there. No worries down to the beach! The beach was great. I got to chase the white horses crashing on the shore. We walked back through the site mum wanted a 34. I don't know what a 34 is but I hope mum gets one. Me and dad went to the hut, the man in the hut would not let me in. Dad tied me up and I let the man in the hut know I was not happy. Back to Betsy and se got a space to rest right beside the sea. Mum was happy she must have got a 34.
After lunch, which was good, bicky, carrot and a bit of beef yum, we went for a long walk along the beach. On the way back we went through the village. We stopped at the Plough Inn so mum could get sand out of her shoes. Dad went in. The door shut so I tried to open it. The girl in the bar told dad I was allowed in, I like the Plough Inn. Dad said we would come back, good I want to go back.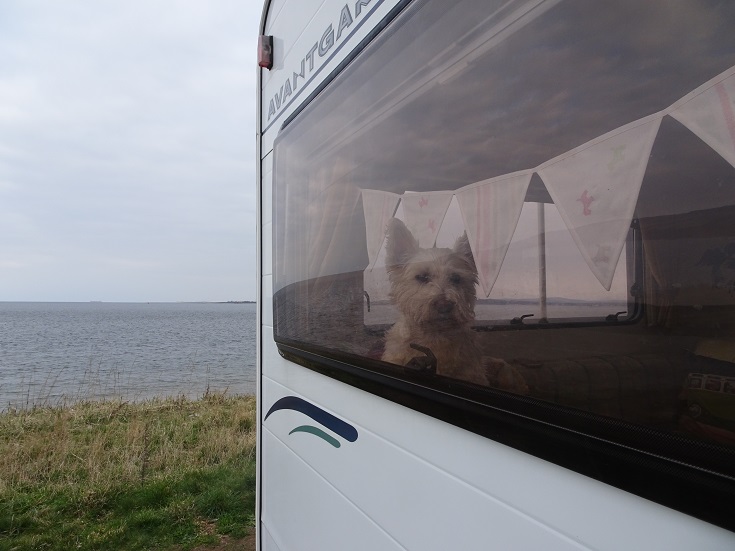 Back at camp a brand new Caravan came in I was out side, all of a sudden I heard a loud CRASH. Grrrrr awoo awoo awoo awoooooool. The caravan had hit the electricity box. Dad rushed out to help. The driver had never had a caravan before. I kept an eye on what was happening. If he hits Betsy with caravan I'll have him, nobody hits Betsy. Dad helped push caravan into its place. Safe now back into Betsy. Quick peek out the windows, time for a nap.