What a difference a day makes mum took me for my morning walk, blue sky and winter sun. Back in the room I got some biscuits when mum and dad went for breakfast. Good mum and dad brought me back sausage and bacon. We went down to reception mum was in a que because the other guests were having to stay longer. No boats off the island due to winds. I didn't mind because I got to play with the hotel dogs. They might be bigger than me but I'm quicker, dad spoiled the fun by putting me on lead.
Time to explore, first stop Isle of Mull Cheese, mmmm I love cheese when we got to the farm I was not allowed out of mini, rubbish this. Mum said there was nobody there, she still had some cheese though. Something to do with honesty boxes. Mull is strange lots of things come out of honesty boxes on this island. Next up for mum is Mull Stickmaker, Horn & Woodcraft. When we got there it was shut and the Stickmaker was in Glasgow. This workshop confused me. You don't need someone to make a stick, they are lying about all over the place, besides balls are much more fun than sticks.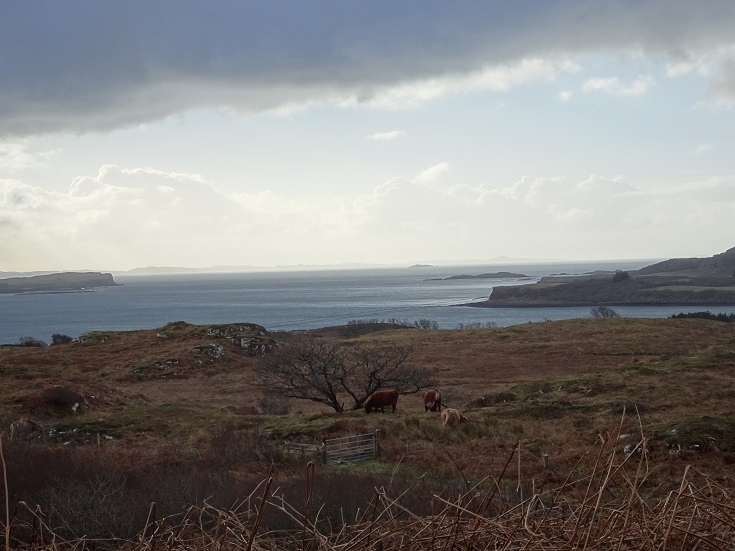 Back into Mini and off into the wilds. We passed Loch Peallach the hamletts of Achadrish and Dervaig with its weird church onwards to Calgary Bay.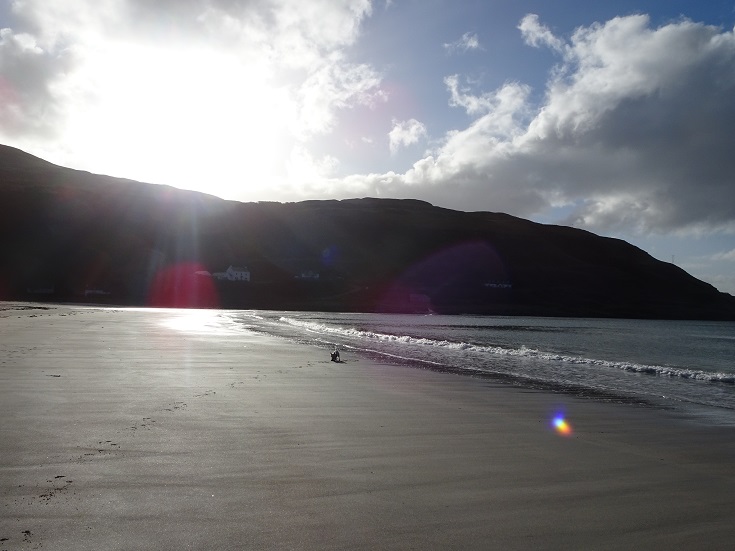 Mini stopped went tonto, I'm getting out and I'm getting out here! Mum, Dad LET ME OUT! It just too exciting. Dad opened the door I scrambled to get out, Freedom. I started barking because I wanted to make sure mum got out too. Dad look BEACH Mum where BALL? The beach was totally deserted only me, mum, dad and ball. It was great. I even got to dip my paws in the Atlantic Ocean. We stayed until I dropped the ball into a burn luckily dad got it back before it sailed away to Americas.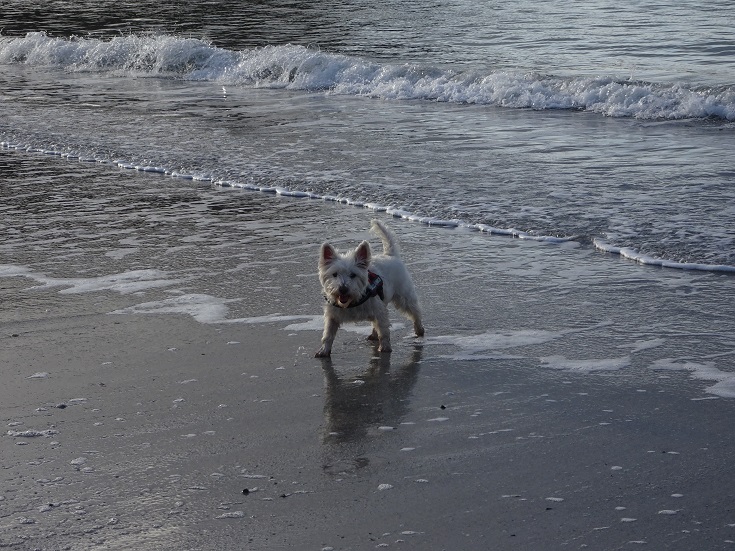 Next stop was the ferry landing at Oskamull where you can go to the Isle of Ulva, Dad had to go to the boys room when he came back he told us about an envelope with Rory written on it and it had £60 in it. It was just left on top of the toilet. People are very trusting here.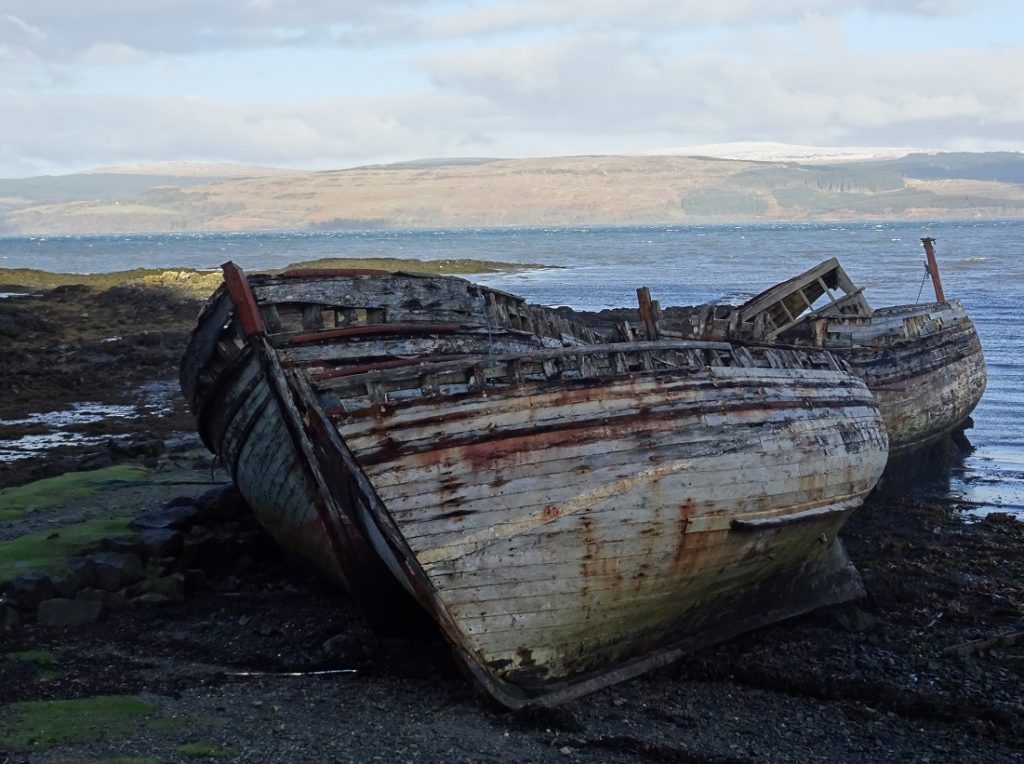 We continued on to the hotel on the way we saw small dear, big eagles and seals. Mini didn't stop so I couldn't chase them. When we parked mini we went for one last walk. This was along the coast to Tobermory Lighthouse. It was a nice walk a little muddy but easy enough. The sign post at the lighthouse said all dogs must be kept on lead. Good job I'm Westie, mum where's the ball? Dad was surprised at how many people were walking it this time of day and time of year!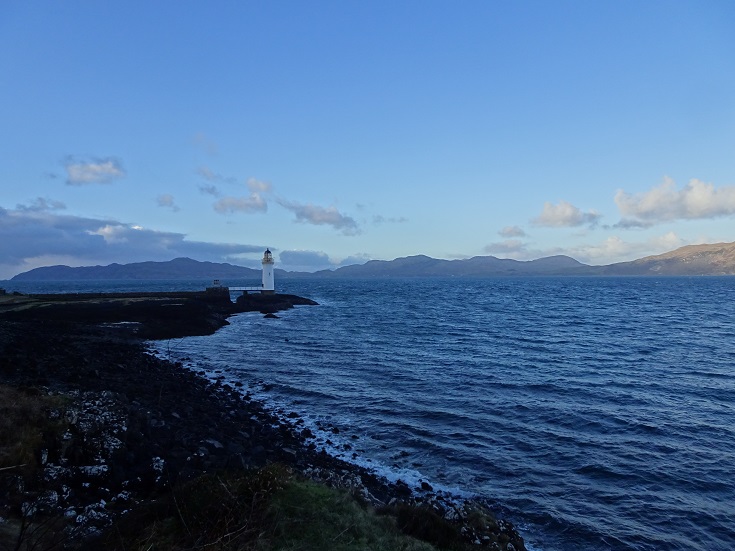 As we got back to the hotel I got petted by Italian tourists I met the night before, then dad took me into the toilets, dad I'm a girl what you doing? I soon found out. In the boys toilet there was an old small shallow bath. Within seconds my legs and paws were no longer black but back to white. At least the water was warmer than the jetty from yesterday. I wonder what the patrons will think when they see one set of paw prints across the tiles from the bath to the door.
Tonight I went out to dinner with mum and dad to a place called The Mishnish. The Mishnish is a nice pub where they love dogs, especially wee white dogs from the west highlands! I like going out for dinner with mum and dad, not only do I get treats but normally steak and battered fish YUM!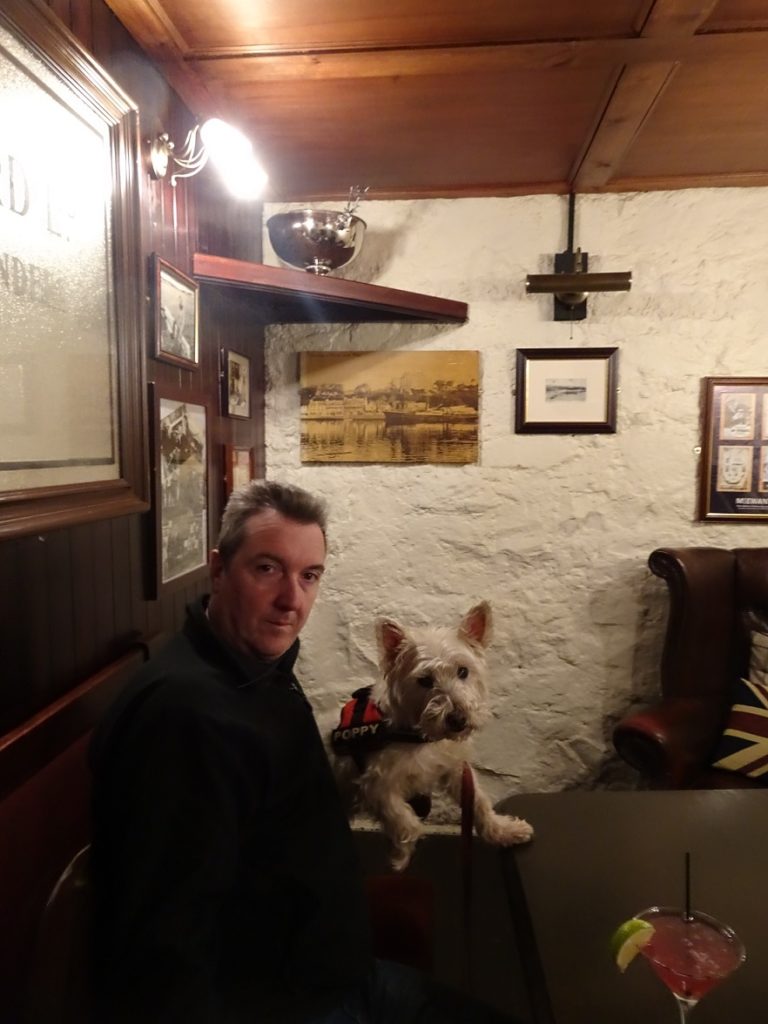 After dinner we went into the bar, I said hello to my Italian friends who were having a meal while mum found seats in the snug and settled in for the night. Before long we were making friends with everyone. When mum and dad were talking to other peoplsees I explored. Dad could not believe his eyes when he was buying a dram and I was behind the bar! The look on his face. The Italians left early to the chorus of ciao poppy! It was ok because there were lots of other peoplsees to get pets from.
At the end of the night dad had given up stopping me from getting behind the bar, the bar maid didn't mind but it was time to go. We said our goodbyes' left the bar and went up the steep hill to the hotel. Bedtime.